IMPACT
2021/22
THANK YOU
We know that life has changed for so many of you in recent years, yet despite these changes, together we continue to offer hope, opportunity, and a sense of belonging and achievement for our students. It is always inspiring to see the University's community of alumni, partners, and friends, coming together to support its students, and recently this commitment has been more significant than ever.
Philanthropic giving has significant impact at Northumbria. Your support enables people from disadvantaged and under-represented groups to access higher education and empowers our students to make valuable contributions in an increasingly complex world. Your generosity is truly inspiring, helping us to create a vibrant learning and research community and to nurture tomorrow's leaders and thinkers. Together we are pushing boundaries, encouraging excellence, and enabling our students to face the future with confidence.
In this report we highlight examples of the transformational impact your support has had during the first year of our Higher Education Without Barriers campaign. Launched in January 2022, it makes participation and progression in higher education more achievable for academically talented students, regardless of social or economic circumstances. In its first year, the Fund, which is powered by Northumbria alumni, businesses, and charitable organisations, has raised over £2m from 276 donors, and benefited more than 500 students.
It has provided vital funding in the areas of outreach, scholarships, hardship, mental health and well-being, and innovation and enterprise. It has enabled us to open the region's first IntoUniversity Centre. Based in the East End of Newcastle, the Centre inspires young people from disadvantaged backgrounds to pursue higher education, start their own business or progress into employment or further training.
The support of our donors transforms the lives of our students, enabling them to graduate with confidence and pride. We recognise that the giving of time is equally as valuable as financial donations, and we are very keen to hear from partners and alumni who can share their knowledge and expertise through volunteering. Your contributions, in all forms, make a huge difference. We hope you enjoy reading about the impact your philanthropy has had at Northumbria, and we look forward to keeping in touch with you throughout the year.
Thank you again for your support. With best wishes from everyone at Northumbria University.
Professor Graham Wynn, Pro Vice-Chancellor (Education)
Emma Collier, Northumbria Students' Union President
northumbria.ac.uk/giving 3
WITH YOUR HELP EVERYTHING IS POSSIBLE
4
HIGHER EDUCATION WITHOUT BARRIERS
The opportunity to go to university can be life changing, but for many it is out of reach. Everyone with the potential to go to university should have the opportunity to achieve their goal. With your help, we can enable all our students to excel, regardless of background, and create an enduring legacy for future generations.
Here's what we're doing:
• Developing our outreach work, including the establishment of the region's first IntoUniversity Learning Centre.
• Creating scholarships for academically able students from backgrounds where participation in higher education is traditionally low.
• Providing hardship bursaries so students can focus on their studies, with fewer financial concerns.
• Extending mental health and well-being initiatives.
• Providing opportunities for students and recent graduates to develop enterprise skills and start up new businesses.
We are committed to Higher Education Without Barriers. With your help, we can ensure no one is left behind.
northumbria.ac.uk/giving 5
OUTREACH
INSPIRING FUTURE GENERATIONS
Donor and alumnus, Nigel Gilbert "It's a very rewarding feeling as an individual to be able to help people. Everybody needs every advantage they can get".
Not everyone has a level playing field when it comes to accessing higher education. So many talented people do not apply to university or, if they do, are unable to complete their studies due to barriers outside their control. This leads to a cycle of low educational attainment and lost learning opportunities that can perpetuate for generations. Through our outreach work, we are breaking that cycle. With your support, we can expand our outreach activities to inspire more young people to pursue their future goals.
The Alumni Fund helps with costs associated to graduation such as suitable clothing and travel expenses. "I am forever in awe of the transformational effects our university has on many people's lives." Adam Serfontein, donor and alumnus.
Scholarships enable our talented students to achieve their academic and career goals.
6
LIVE LEARNING FOR LAW STUDENTS
Over 100 Northumbria Law students have gained professional experience providing pro-bono legal services to members of the public in partnership with the Newcastle Citizens Advice Bureau.
A donation from Northumbria alumnus Wee Teng Woon and the Woon Brothers Foundation, which launched the Law in the Community initiative, has enabled hundreds of people in the North East to access free legal advice.
Students studying the Law module helped over 300 clients in 2021 alone, advising on cases which include family, housing, employment, and immigration challenges.
Student Grace Ridsdale said: "Taking part in the Law in the Community Initiative has provided me with experience that no other module has so far. I have been able to put theory into practice with real clients and issues. It has been very rewarding both for myself and for the clients I have assisted."
Senior Lecturer Lyndsey Bengstton said: "The impact of the Law in the Community module has been significant. It is valued by Citizens Advice, the students, and the local community. The students not only develop their professional skills but are also empowered to understand access to justice challenges and support the local community."
The Law in the Community initiative has enabled hundreds of people in the North East to access free legal advice.
northumbria.ac.uk/giving 7 OUTREACH
CREATING UNIVERSITY PARTNERSHIPS
A new IntoUniversity Centre, which helps young people to fulfil their potential, is now open in Newcastle. Embedded in the heart of the community and supported by philanthropic funding, it involves a unique collaboration between Northumbria and Newcastle Universities, and IntoUniversity, the UK's largest university-access charity.
8
OUTREACH
The centre, which is based at Monkchester Community Centre in the East End, is the first in the North East, and the first involving two universities in the same city. It forms part of the Collaborative Newcastle Universities Agreement, which brings together the world-leading expertise and collective power of Newcastle and Northumbria Universities to support the health, wealth, and well-being of local communities.
Supporting young people aged 7-18, the centre provides academic support, soft-skill development, and career advice. It benefits over 1,000 students a year, through the delivery of after-school academic support sessions, aspiration-building workshops, and mentoring.
IntoUniversity is unique: it is the only organisation in the country to run university access centres in local communities. It starts early, with students as young as seven, works with young people of all abilities, engages families and is there for the long-term. It has powerful evidence of impact. In 2021, 66% of the students progressed to university compared to 27% from similar backgrounds.
When the Newcastle centre opened in October 2021, demand significantly exceeded provision. Not only that – it achieved a higher attendance rate than any of the other thirty-five UK centres that have opened so far.
click here to play
northumbria.ac.uk/giving 9
OUTREACH
SUPPORTING STUDENTS LEAVING CARE
The North East has a higher number of students leaving care than the UK average, but a progression rate into higher education lower than the rest of the country.
To tackle this trend, Northumbria University has been awarded a grant from the Welland Trust to raise the aspirations of young mature care experienced students aged 21-25, studying within the region's Further Education colleges.
Polly Jones, Welland Trust's Project Development Manager said: ''The initiative will enable more care experienced people to attend higher education, which is a key strategic aim of the Welland Trust. It's an exciting new development within the North East, which we would love to see rolled out to other areas of the UK."
Delivered in collaboration with the North East Raising Aspiration Partnership (NERAP), the funding enables 30 students to access events that increase their awareness of university life and to receive scholarships.
Kate Murray, Head of Regional Partnerships (Widening Participation) at NERAP said: "Northumbria is one of five universities in the region working with NERAP to establish a Care Leavers' Covenant. The grant to Northumbria will help us to achieve our ambition to encourage more care-experienced people from the region to attend higher education."
Dr Lynette Shotton, Project Lead, added: "This collaboration strengthens Northumbria's commitment to tackling inequality and improving social mobility. It builds on the strong relationships Northumbria is developing with charitable trusts and foundations that share its ambition to transform the lives of current and future students."
Alongside Lynette Shotton, the project team involves Dr Tom Disney, Professor Tim Rapley, Laura Thulman, Andrea Carrick and Monir Ahmed.
10
OUTREACH
OUTREACH northumbria.ac.uk/giving 11
SCHOLARSHIPS THE GIFT OF OPPORTUNITY
Students now face higher fees and living costs than ever before. For academically able students from low-income backgrounds, the biggest worry isn't achieving the grades they need to secure a place at Northumbria, but how they'll afford the living costs while they study.
Northumbria has launched a scholarship programme to support people seeking asylum in the UK
At Northumbria, we have a community of donors who fund a range of scholarships, bursaries, and prizes. Your support gives our students the boost they need to succeed. A scholarship is a significant investment in a person's future, with its benefits lasting a lifetime. Thanks to you, more of our students can begin their studies with a scholarship.
The Vice-Chancellor's Scholarship offers £3,500 for up to 100 Extraordinary Masters Students per year
Graduated Scholarship recipient Habeeba Haque has joined local law firm Hay Kilner as a Paralegal Sophie Mitchell presented her completed thesis to Studentship donor Lady Edwina Grosvenor in London 2022
12
POWERING THE NEXT GENERATION
Peter Rolton, Chairman of Rolton Group and an alumnus of Northumbria University, played an instrumental role in establishing the scholarships, which will pay for living costs and enable students to undertake paid placements.
The scholarships build upon the work that the University is already doing with the Rolton Group through major projects including British Volt's £3.8 billion 'gigaplant' factory, which is being developed in Northumberland to manufacture electric vehicles. As part of the partnership, the University welcomed Peter to its campus in March to deliver a public lecture on the company's decision to build its factory in the North East, and the benefits it will bring to the region.
northumbria.ac.uk/giving 13 SCHOLARSHIPS
Northumbria University has announced a new scholarship funded by the Rolton Group, one of the UK's leading engineering consultancies, to support talented women from minority ethnic backgrounds interested in studying Engineering.
click here to play
Peter Rolton - BSc Building Services Engineering, 1985
14
SCHOLARSHIPS
Joy Burge Bsc (HONS) Real Estate
EMPOWERING WOMEN IN STEM
a Facilities Management scholarship in 2021.
CBRE, the global leader in commercial real estate services and investments, is seeking to improve the participation, achievement and continuation of girls and women in STEM education and careers.
Dan Vaughan, Business Unit Leader, CBRE said: "CBRE are delighted to partner with Northumbria University and provide financial support to establish three Facilities Management scholarships for female students to 2024."
According to the UNESCO ground-breaking report 'Cracking the Code: Girls' and Women's Education in STEM', only 35% of STEM students in higher education globally are women.
Professor Paul Greenhalgh said: "We have seen a lot of success for female students on our Surveying degree. I share the sentiments and commitments to greater representation of women in our discipline of Surveying and wider Built Environment.
"The department has recently achieved a Bronze Athena Swan Charter award, which is a framework used across the globe to support and transform gender equality within higher education and research, and the University is now on the five year journey towards applying for a silver award."
One of the first CBRE Scholarship recipients, Joy Burge, is due to complete her first year of study this summer. She said: "I am lost for words and beyond grateful for this opportunity, you have no idea how much positive impact it is going to make in my life. I don't really know how to thank you all properly but just know that I am immensely grateful."
northumbria.ac.uk/giving 15
SCHOLARSHIPS
CBRE is working with Northumbria University to encourage more young women to consider a career in STEM occupations, awarding two talented female students
"We seek to enhance awareness of the importance of STEM education for girls and women by removing some of the barriers faced when accessing higher education."
LIFE CHANGING SUPPORT
16 SCHOLARSHIPS
From 2022, up to 7,000 new nurses and midwives per year will complete the final stage of their training at Northumbria University.
The Henry and Co Scholarships enabled three nursing students from under-represented backgrounds to attend Northumbria University in 2021-22.
One of the first Henry & Co scholars, Georgina Bilney said: "The scholarship will enable me to focus on my studies and progress towards becoming a registered adult nurse. It means so much to have others believe in me. I have started a placement in the RVI hospital and it is interesting to learn from the nurses as I have never worked in a hospital before. Seeing all the healthcare professionals is truly inspiring as I learn what kind of nurse I aspire to be."
Northumbria was recognised for its contribution to the health sector in 2021, securing a contract to become one of five Objective Structured Clinical Examination centres where nurses complete their training. It received its first candidates in February 2022.
Professor Debra Porteous, Head of the University's Department of Nursing, Midwifery and Health, said: "Nurses and midwives play a vital role in the UK's health and care workforce. Northumbria University and the North East are renowned for their excellence in health and life sciences and make a huge contribution to the local health sector."
The North East is the region in which young people are least likely to access higher education but it is predicted that from 2022, half of all jobs will require a higher education qualification. Scholarships like the Henry & Co remove the barriers many young people face, enabling them to achieve their potential regardless of background.
THE DRIVE TO SUCCEED
Now working for one the world's largest rental car companies, alumna Laura James, Talent Development Specialist for Enterprise Cars in UK and Ireland, retains strong links with Northumbria University.
Laura's personal experiences of receiving bursaries to study, combined with her employer's global ambition to widen access to education, inspired her to open the door for Enterprise Rent-A-Car to support scholarships for students from low-income backgrounds.
click here to play
northumbria.ac.uk/giving 17
SCHOLARSHIPS
18 SCHOLARSHIPS
NORTHUMBRIA CHANGED MY LIFE. NOW I CAN CHANGE SOMEONE ELSE'S
Michelle Poole graduated from Northumbria University with a Fashion Marketing degree in 1992 and built a successful career in the fashion industry, securing roles at major international brands including Timberland, Kangol and Converse. She is now President of global footwear brand, Crocs, based in the USA.
Michelle has created a new scholarship that will allow one student to pursue the four-year Fashion Design and Marketing degree.
As well as personally funding the scholarship, Michelle will mentor the student to support them through their university journey. She said: "I hope the scholarship provides a chance for someone to have a long and fulfilling career in the fashion industry. When you take barriers away and students add their creativity and passion for fashion - they go far. Northumbria really changed my life and I hope, by creating this scholarship, I can change someone else's."
northumbria.ac.uk/giving 19
SCHOLARSHIPS
here to play
click
SCHOLARSHIPS 20
MAKING THE IMPOSSIBLE POSSIBLE
Northumbria alumnus and Founding Chief Executive Officer of Kromek, Dr Arnab Basu, has established an Engineering scholarship to support talented students from low-income backgrounds with his donation being match-funded by the University.
The scholarships remove financial barriers to enable talented students to study Engineering at Northumbria when they otherwise would not be able to do so. Arnab, who graduated in 1999 received scholarship support during his studies. He is a passionate believer in the power of science, technology and innovation and wants everyone to have an opportunity to make a lasting impact in the world.
northumbria.ac.uk/giving 21
SCHOLARSHIPS
click here to play
HARDSHIP SUPPORT
A LIFELINE FOR OUR STUDENTS
Our students are facing increasing financial uncertainty. This year, your support has helped to relieve the financial hardship that affects their ability to study and participate in higher education.
Our students have been able to buy laptops, pay rent and eat healthily, so that they can focus upon their studies. You have provided a learning lifeline.
Tough times campaign raises over £100k for students affected by Covid-19.
The Access to Learning Fund is available to all UK students at Northumbria who are in financial hardship.
The Covid hardship fund supported students like Konark Karna during the pandemic.
Students leaving care are eligible for a bursary of £2000 providing financial support whilst studying
22
UNLOCKING TALENT, FULFILLING POTENTIAL
For many students, the Covid-19 pandemic caused financial strain as they faced unexpected costs for accommodation and bills when they were unable to travel home.
Marketing Management student, Aaron Langford, received hardship support in 2021. He said: "I was struggling to make ends meet but the funding helped me pay my rent and bills. I am classed as an estranged, independent, and disabled student (due to learning difficulties), by student finance. Due to Covid-19, I had to pay rent for two properties, work full-time on an unpaid placement year and do a part-time job.
"My mental health is now so much better. Written work is stressful for me, so the support gave me time to focus on my studies. I ended up achieving the highest grades I have ever had at university and am now receiving Firsts in all my modules.
"I have started working part-time with the University as a Student Researcher, supporting other estranged students. In the future I hope to achieve a graduate-level role in Brand Management or Digital Marketing and to help people in the community."
HARDSHIP
northumbria.ac.uk/giving 23
"I would like to thank the University's generous donors – I hope you can see the difference it has made to my life."
NURTURING DESIGN TALENT
New for 2021, the Vaughan Oliver Graphic Design Scholarships, in association with record company 4AD, is a ten-year initiative supporting talented students from low income and widening participation backgrounds in the North East.
4AD provided the hardship scholarships in recognition of the late Vaughan Oliver's contribution to the company and the esteem in which he was held. They were given in recognition of Vaughan's own journey in the design world and his personal desire to inspire a new generation of graphic designers.
Vaughan Oliver was one of the most influential British Graphic Designers and Art Directors of his generation. Graduating from Northumbria University in 1979, he went on to earn a global reputation as a visionary in his field. He is perhaps best known for his work with independent record label 4AD; building up an enviable portfolio of work for bands including Cocteau Twins, Pixies, The Breeders, Throwing Muses, Scott Walker and Modern English, to name just a few.
In February, Northumbria welcomed Lee Widdows, Vaughan's widow, to meet the first cohort of proud recipients. Lee, hosted by Senior Lecturer Andy Frith from Arts, Design and Social Sciences, was given a tour of the
Graphic Design workshops, where Vaughan had studied. In attendance were the first year Graphic Design undergraduates and scholarship recipients Mya, Ruby and Katie.
Mya said: "Meeting Lee was a wonderful experience; it was so nice to put a face to a name. I had already researched her husband's work and the amazing things that he had produced. Lee told us lots of funny stories about Vaughan, which was extremely heartwarming."
Lee provided insight into Vaughan's upbringing, background, early design interests and philosophies. She shared stories, accounts, and anecdotes to set the context for students.
Lee said: "It was an absolute pleasure to meet the students. I am so impressed with the design facilities and look forward to a continued relationship with both students and staff."
24
HARDSHIP
"The fact that Lee can see our potential is a wonderful thing to be a part of. The scholarship is really helping my design ability to grow."
Scholarship recipient Ruby Duffy
northumbria.ac.uk/giving 25
L-R, Ruby Duffy, Lee Widdows and Mya Matthews
HARDSHIP
A HELPING HAND IN TOUGH TIMES
When Covid-19 hit, Gemma's university and home life was disrupted beyond recognition. A qualified children's nurse and mother of two, Gemma is studying for a one-year Specialist Community Nurse postgraduate qualification and has ambitions to become a children's health visitor.
Having taken a reduction in income to attend university, Gemma struggled financially during the pandemic. Her husband's business was adversely affected, and her two sons were studying at home.
Gemma, whose full-time funded course involves 50% academic work and 50% practice, worked at Northumbria Healthcare NHS Foundation Trust and was due to complete her postgraduate qualification in March 2021. However, when lectures were suddenly paused, Gemma suffered a string of setbacks which
affected her online learning. She used to go to the university library to study, but when learning went online, she had to share a laptop with her sons, one of whom was studying for A levels. She then contracted Covid-19 and was ill for over 10 weeks.
Gemma applied for hardship support enabling her to purchase a laptop.
She said: "Those first few weeks were very stressful. The nature of my work meant that some of my research involved content relating
to child abuse, domestic violence or trauma in childhood and I wasn't comfortable with my boys using the same laptop. Plus, we were having to share the laptop and work in shifts.
"My laptop helped me immensely as I was recently diagnosed with a mild form of learning difficulty related to dyslexia. I was able to change my settings to read things better. Now I'm looking forward to taking on tomorrow and becoming a qualified health visitor."
26 HARDSHIP
To you, it might only be the cost of a cup of coffee but collectively, donations from alumni to our hardship fund of as little as £3, are making a significant difference to Northumbria's most vulnerable students.
CONNECTED WE THRIVE
During our 2021-22 Telethon campaigns, our team of Student Callers spoke to 1,400 alumni and raised more than £70,000 to support the Higher Education Without Barriers campaign. The team really enjoyed hearing the stories of former students, which inspired them to make the most of their time at university.
Ahsan
"I am a MSc Digital Marketing student working as a Student Inclusion Consultant, Research Assistant, a Students' Union volunteer, a Student Advice volunteer, and a Telethon campaign team member with the University. Aside from working part-time, I love exploring new interests, training as a part of the University Boxing Team and creating digital content.
"My experience as part of the Telethon campaign has been phenomenal. I've had the chance to talk to graduates at the helm of organisations forging the future. I've felt motivated, awestruck and fired up to imitate some of the successes I have come to know."
Susanna
"I am a MSc Marketing student working as an Outreach Rep at the University, as well as a Student Caller in the Telethon campaign.
"I really enjoy working as a student caller, as it gives me the opportunity to develop clear and concise communication and conversation skills, in an avenue that promotes the well-being of Northumbria University students."
During the campaign, our Student Callers took away wise words and invaluable advice that will stay with them throughout their careers:
"Don't limit yourself to one path because your greatness may lie in another."
"A dream does not turn into reality simply by desire. It takes determination, learning from failures, and hard work."
"Keep an eye out for opportunities, and once you find one, take it with both hands and turn it into a successful one."
Thank you to all our alumni who took part in our Telethon campaign, helping us to raise vital funds and inspire our students.
northumbria.ac.uk/giving 27
HARDSHIP
Ahsan
Susanna
WELL-BEING
BUILDING BETTER MENTAL HEALTH
Good mental health is essential for students to manage the challenges that university life presents. With your help, we have been able to extend the health and well-being services that we provide to our students, to help them gain independence and alleviate key stressors. Your support has also enabled us to extend our research in the area of mental health, for the support of both students and the wider community.
94
Research shows there is a strong link between regular moderate physical activity and better mental health
"Kindness should not be forgotten and returned with more kindness."
Wee Teng Woon, donor and alumnus.
"Our partnership with Northumbria supports our Social Value Pledge and further reflects our commitment to achieve Quality of Life services."
Simon Knight, MD, Sodexo Schools and Universities.
28
sport development officer meetings were held as part of NUTHINKING well-being programme
NUTHINKING
There is a strong link between regular physical activity and improved mental health. NUTHINKING is a new initiative supported by Sodexo, which provides students with a bespoke package of fitness and nutritional support that is part of Northumbria's holistic student mental health and well-being approach.
In the first year, 30 students benefited from the scheme, with evaluation showing that students gained significant improvements in their mental health.
"NUTHINKING has been helpful to students who have lost a sense of urgency, routine, and motivation during the pandemic lockdowns. It is a valuable support to students struggling more generally with motivation, low mood and anxiety. It is an essential part of a holistic approach to promoting good student mental health and well-being"
"NUTHINKING helped me to be more consistent with my fitness goals, developing daily and weekly exercise habits that have improved my health and well-being"
Ciara, Student participant
CONVERGE AT NORTHUMBRIA
Converge at Northumbria enables adults in the community who are accessing mental health services to take part in creative educational opportunities.
Participants learn fashion, drama, dance, fine art, scriptwriting, and creative print, delivered by Northumbria students, with supervision from academics and local practitioners. The focus is upon subject knowledge rather than mental health, with courses held on campus and in local cultural venues. Participants become part of the university community and access the same support from the health and well-being team as undergraduate students.
Supported by the Igen Trust, Well Newcastle Gateshead and the NHS, the programme is an innovative partnership between the University, mental health providers and community organisations in the North East.
Dawn Skelton, Converge student said: "Converge has helped me improve my mental health and make huge progress in my educational journey. I enrolled on drama, dance, and creative writing courses, which helped in my self-expression.
The Converge team made me feel like a student not a client – I was more than my mental health.
"I have since applied for an Open University Access Course on People, Work and Society. The educational confidence to do this came from Converge. I would eventually like to do a degree in Psychology or Creative Therapies and am excited about my new educational ventures. I am on a journey to find my direction, and, in turn, I am finding myself."
click here to play
northumbria.ac.uk/giving 29 WELL-BEING
Honey Summers, Counsellor, Student and Library Services click here to play
WELL-BEING 30
THE POWER OF PETS
Walking a dog has a positive impact upon mental and physical health. The University received a grant from the Cameron Grant Memorial Trust to enable students to experience the benefits of animal therapy through the Students' Union Dog Walking Society.
The Cameron Grant Memorial Trust aims to reduce the number of young people suffering from mental ill-health. It was set up by the family of Cameron Grant, who tragically took his own life in 2014 aged 21. In partnership with Borrow my Doggy, the programme was a positive and preventative healthcare initiative that enabled students to keep active, experience the outdoors, and spend time with animals.
The Trust awarded the grant because it wanted to support an activity that Cameron would have enjoyed at university. By spreading its message openly and honestly, it seeks to help other students in Cameron's memory. The Trust also produced customised coasters for the University, which give contact details for university and local mental health services.
Emma Collier, Students' Union President said: "The Cameron Grant Memorial Trust has enabled us to engage more students in our dog-walking society so that they can experience the benefits of spending time with animals. Many have pets at home and miss their companionship whilst at university. Our students have reported lower levels of anxiety because of taking part in the activity. Thank you to the Trust for providing this valuable opportunity."
northumbria.ac.uk/giving 31
WELL-BEING
CHLOE AND LIAM'S LEGACY
On 22 May 2017, Chloe Rutherford, 17, and Liam Curry, 19, girlfriend and boyfriend, tragically lost their lives in the Manchester bombing at the Ariana Grande concert. Liam was studying a sports degree at Northumbria University and was a talented cricketer, and his girlfriend, Chloe, had a passion for performing arts. Their families set up the Chloe and Liam Together Forever Trust to enable young people to achieve their ambitions in sport and performing arts as a legacy to their talented and much-loved children.
32
WELL-BEING
The Trust supported a group of students from the Sport Management programme, enabling them to gain cricket coaching qualifications and organise a cricket event. The tournament took place to launch the University's FUNdraising Friday programme, a new initiative which encourages students to give back to their local community. The event, which engaged over 80 students, raised £800 for the Trust, to enable more young people within the region to achieve their ambitions.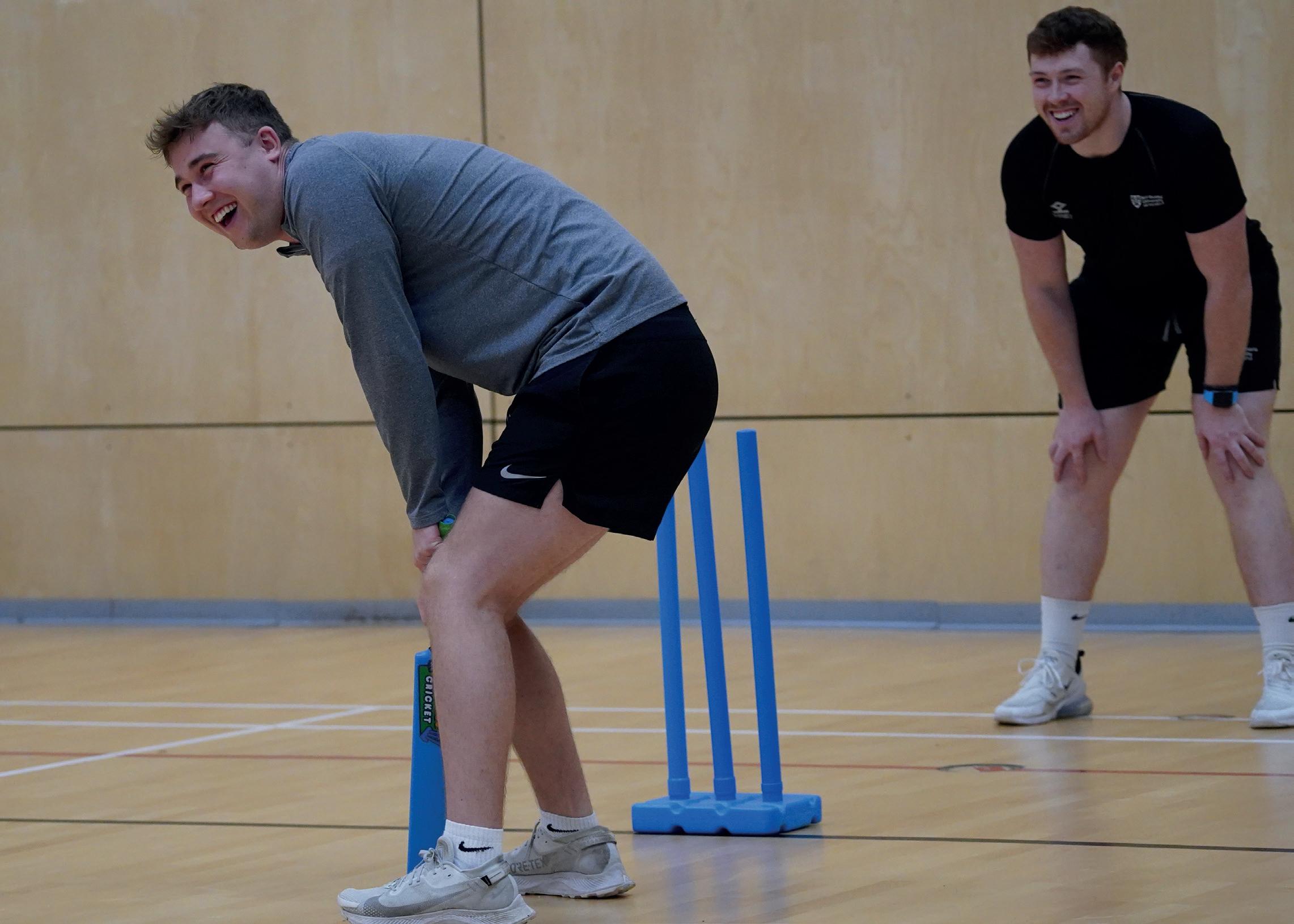 Chloe's mum, Lisa, said: "We are very pleased to be supporting the University and our bursary will go on to help the students follow their dreams."
Professor
Health
Life
added: "Liam was a much-loved and extremely talented Northumbria student. The University is extremely grateful for the support that the Trust is providing and will work with them to enable students to pursue their passions in the activities that Chloe and Liam loved. It is an exciting partnership, which will continue the legacy of Chloe and Liam and their connection with Northumbria University for years to come."
northumbria.ac.uk/giving 33
WELL-BEING
Dianne Ford, Pro Vice-Chancellor for
and
Sciences
INNOVATION
INNOVATION IN A FAST-PACED WORLD
The global market is a competitive place. Companies, big and small, work hard and fast to stay ahead of the game. High calibre employees are critical to achieving success with more employers communicating their demand for innovative and enterprising graduates.
According to the latest report by the Higher Education Business and Community Interaction Survey (HEBCIS), Northumbria is now the top-ranked North East university for graduate start-up businesses based on turnover. In the period 2020 – 2021, the combined turnover of Northumbria graduate businesses exceeded £95 million.
With your support, we have enabled more students and graduates to access our incubator, a state-of the-art facility that provides support for student and graduate entrepreneurs, giving them the best possible start in developing business ideas and establishing thriving companies.
Northumbria is among the top 5 UK Universities for student & graduate enterprise
The Business Clinic provides free consultancy advice to SMEs, multi-nationals and not-for-profit organisations.
My Northumbria experience was so formative and fundamental to my career – I want to help someone else benefit from that same experience and impact."
Donor and alumnus, Glenn Perry
WELL-BE -
34
"Witnessingfirst-handandhearingtheimpact oursupporthashadnurturingthefutureleaders of tomorrow isapleasureandaninspiration."
Emily Ruffle, Agile Business Consortium
NUIDEAS
Ten student businesses applied successfully to the NUIDEAS Fund and secured an ideation grant to help develop their business ideas. The start-ups reflect diverse sectors and, in these examples, include women's health, beauty and fashion.
Riot
Business with Enterprise student, Joanna Stoltmann, launched Riot in 2021, originally as an eCommerce business selling sanitary products. Joanna began testing the market in business-to-business (B2B) sales and decided to focus solely on B2B distribution across British pharmacies and zero waste stores.
Joanna said: "NUIDEAS helped me to develop my stock and shipping approach, pivot to B2B and grow the business more quickly. I am currently doing a one-year placement at the University's incubator hub to focus on developing the business full-time and I am due to launch a second product range (Eco-friendly haircare products)."
Gee Beauty
Gee Gee Beauty
Entrepreneurial Business Management student, Georgia Greenhow, wanted support to scale her business that she started from home. Her goal was to have a mobile beauty bus targeting events.
Georgia said: "After receiving the NUIDEAS grant, I have opened a beauty salon, Gee Gee Beauty. The salon will raise brand awareness and build clientele as a stepping-stone to launching the Beauty Bus. Since opening in September 2021, the diary has been fully booked."
Studio Sass
Fashion Design and Marketing student, Sophie Hogarth, launched Studio Sass, a sustainable handmade festival and dress brand. NUIDEAS enabled her to rebrand and focus on sustainability.
Sophie said: "I used the grant to purchase the eco-friendly fabric. I also paid for a photo shoot of my products to promote on my website. The pictures captured my vision for the brand. Without this support, I would have struggled to create professional photos which I used to establish my trading website. Over the next 12 months, I am hoping to release more stand-out fashion pieces with a focus on inclusive fashion."
"I would love to say the biggest thanks to Sodexo for awarding me the grant. It has allowed me to develop my dream further and make my vision a reality."
Sophie Hogarth, Studio Sass
"The support of partners like Student Living by Sodexo makes a significant difference to the incubator programme. It was a pleasure to include Sodexo colleagues in the shortlisting and awarding process of the 2021 NUIDEAS cohort."
Graham Baty, Head of Student and Graduate Enterprise
northumbria.ac.uk/giving 35 INNOVATION
"Words cannot express my sincere appreciation to you for your financial support."
Joanna Stoltmann, Riot
Gee
INSPIRING WEEKEND FOR YOUNG ENTREPRENEURS
In March 2021, Northumbria students attended the 17th Enterprise Weekend, through funding from Santander Universities UK. It is a unique event on campus designed to enhance enterprise skills and prepare students for the world of selfemployment and entrepreneurship.
Student Esther Levassort attended the most recent event. She said: "I 100% recommend joining and taking part in the Enterprise Weekend. The experience gave me the opportunity to pitch our business ideas in front of the jury. I was able to collaborate with my teammates and develop innovative solutions to real world problems in less than 13 hours across two days."
The participants are challenged to create a business idea, explore the important areas they need to consider when starting a business and learn what it would take to set it up. Students and recent graduates from all subjects are welcome to take part with no experience required.
36
£1.2m donated to Northumbria University SME internships sponsored since 2015 280 new supporter agreement pledged to 2025 150k students have received mobility scholarships to date 50 students on virtual internships 20 students in receipt of start-up funding (£40,000 total) in 2021/22 40 INNOVATION SOWING THE SEEDS
SUCCESS
thanks to seed funding
to
play
OF
Enterprising students at Northumbria are realising their business ambitions
donated by the Willan Trust. The Trust's support has enabled students
pitch their ideas, solidify their business plans and secure investment to kick-start their business ambitions. It is playing a vital role in developing the next generation of entrepreneurs who will make a lasting contribution to the North East economy. click here to
THINK STRONG
The Think Strong Scholarship enables talented creative writing and enterprise students to pursue their business ideas. The scholarship was made possible by the support of an international alumnus, Chris K. Jones, who studied at Northumbria on an exchange programme in the late 80s.
Chris is a life-long entrepreneur who recently left the skyscrapers of New York for the sand and surf of Barbados, where he wrote his first novel 'Headcase.' Throughout his business career, he never lost his passion for creative writing, and he valued his time at Northumbria so much, that he wanted to give something back. He inspires students by providing scholarships and committing his time as a volunteer.
Chris said: "I've kept my connection to Northumbria – my
bond with the town, the people, and England as a whole runs deep. I am delighted to support the next generation of enterprising creative writing students."
Chris K. Jones Scholarship recipient said: "I wanted to study English Literature and Creative Writing after having worked in the acting industry. In future, I would like to set up my own company to adapt my work for the screen and for the stage. This course will give me the skills I need."
northumbria.ac.uk/giving 37 INNOVATION
THE VALUE OF GIVING TIME
Innovation and enterprise have always been at the heart of Northumbria's learning experience. As a leader in this area, the University is fortunate to have a strong network of alumni who have pursued successful careers in business and are willing to give back time to share their experiences and expertise. Giving time to inspire our students can be just as powerful as financial support.
Many alumni who are leaders in business have joined our Volunteering Programme to inspire our students, stay connected to the University and build their network. In 2021, the University launched an Alumni Mentoring Programme
where graduates share their valuable knowledge and experience through 1-to-1 mentoring sessions with a current student or recent graduate.
38
click here to play INNOVATION
northumbria.ac.uk/giving 39 INNOVATION
UNION BLACK: BRITAIN'S BLACK CULTURES AND STEPS TO ANTI-RACISM
Northumbria students were amongst the first to benefit from an online learning initiative tackling racial inequalities in higher education.
In partnership with Santander Universities and the FutureLearn platform, Northumbria students have been given the opportunity to take part in a free online course exploring Black cultures in Britain. The course provides learners with an understanding of Black British history and dispels myths in order to inform, challenge and contribute to the anti-racism agenda.
Scott Burnett, Relationship Manager, Santander Universities UK said: "The Union Black programme aims to provide learners with an understanding of the origins and experience of Black British history and culture.
"The course celebrates and provides personal insights into the lived experience of Black British history and culture, by providing positive
INNOVATION
40
and affirming stories of the role and impact of Black people, from Tudor times to today. Learners will leave the course with new agency and the knowledge and tools to make positive change happen."
The short course is delivered through a mixture of online learning content, discussion forums, reading materials and interactive activities completed in the learners' own time and at their own pace.
International Project Management student Janaka Piramanage completed the course and was awarded one of 50 Santander development grants of £500. She has also been invited to take part in a live thought leadership event which will bring together high-profile ambassadors for a curated panel discussion. The Union Black programme will continue to be available to our students in 22/23 and Santander Universities will also be offering a shorter introductory version of the content, which learners can complete in an hour.
DEVELOPING ENTREPRENEURIAL TALENT
Through its Global Corporate Responsibility Programme 'EY Ripples,' global professional services provider EY offers pro-bono support to student and graduate entrepreneurs at the incubator hub.
EY hosted regular business seminars and joined Northumbria's Enterprise Weekends, guiding students on their enterprise journey.
They also provided places for Northumbria entrepreneurs to join the EY Foundation's Accelerate programme, which provides masterclasses, coaching and the opportunity to network with business experts.
Harry Hawes, Operations Director at EY, said: "Supporting Northumbria's entrepreneurs is a great opportunity for EY and key to growing business success across the North East."
Graham Baty, Head of Student and Graduate Enterprise at Northumbria University added: "Having access to free advice and guidance from leading business experts is hugely beneficial to our students looking to launch their own ventures."
northumbria.ac.uk/giving 41 INNOVATION
THANK YOU.
HIGHER EDUCATION WITHOUT BARRIERS.
CONTACT US: Advancement Office, 1st Floor, Pandon Building, Newcastle upon Tyne NE1 8ST E: nu.advancement@northumbria.ac.uk northumbria.ac.uk/giving Thank you to all our supporters this year. Your donations of money and time are invaluable, allowing us to build a stronger and more sustainable future for the University and our students.