Mid-America Jewelry News
SOUTHERN JEWELRY NEWS
Serving the Jewelry Industry in America's Heartland
Pretty much perfect retailing for Wyoming couple
By Paul Holewa
Johnston Jewelers A Good Catch
By Wanda Freeman
Fine jewelry meets flip-flops amid a casual coastal vibe at Johnston Jewelers in Florida's Tampa Bay area. Behind a head-turning turquoise façade, a team of nine operates a busy shop that serves generational return customers and fishing tournaments alike.
Jan and Jeter Case, co-owners of JC Jewelers in Jackson Hole, Wyoming, are well aware how good they have it. The couple's personal and professional lives have been intertwined since they became high school sweethearts. And, the good fortunes and earned breaks the two have experienced since then can only be described as blessings, so much so that the "JC" in the store name should denote divine intervention.
For starters, Jan and Jeter are locals. They grew up in Jackson Hole before the millionaires, and then the billionaires, decided to make the popular resort destina-
Although Johnston Jewelers recently celebrated its 50th year in Florida, the store has older roots. William "Bill" Johnston founded the business in New York in 1948. A WWII veteran, Johnston came home from the war and operated a watch-repair business
tion a seasonal playground. When they're not making sought-after custom jewelry designs the couple enjoys the incredible natural beauty of nearby Teton National Park and Yellowstone National Park.
from his home until he developed a reputation and enough clientele to open a small storefront.
He moved to Florida in 1972. Today his son Doug is the lead bench jeweler, and grandson Grant works the floor.
Co-captains Laura Morgan and Ryan McMahon, described by McMahon as adopted members of the Johnston family, help steer the third-generation business.
And, their clientele ranges from locals they've known all their lives (and the repeat business and referrals that come with being neighbors) to wealthy elites that enjoy second homes there. All of JC Jewelers' incredible jewelry retailing and custom design work happens in a tiny log cabin that's 880 square feet in size.
Morgan, who has been with the store for nine years, says her family and in-laws have been close to the Johnstons for years.
Similar to many retail jewelers' stories, Jan was looking for summer jobs as a teenager when
"My father-in-law took Doug all
Please see JC page 2
Largest LGD grower continues rapid expansion
Seeking to become direct source to retailers
continues rapid expansion Seeking to become direct source to retailers
If you sell lab grown diamonds, the odds are pretty good that you're already selling diamonds from the Bhanderi laboratory, because with 1,475 CVD machines, they say they are the largest growers on planet earth. Given their extraordinary scale, they naturally became an important source of supply for lab grown diamond (LGD) dealers, wholesalers, and jewelry manufacturers. But now, with a newly formed partnership between Bhanderi and the JB Group, retailers will be able to start procuring LGD, as well as LGD jewelry, directly from JB Bhanderi, under the Surreal brand.
ratory, because with 1,475 CVD machines, they say they are the largest growers on planet earth. Given their extraordinary scale, they naturally became an important source of supply for lab grown diamond (LGD) dealers, tailers will be able to start procuring LGD, as well as LGD jewelry, directly from JB Bhanderi, under the Surreal brand.
According to JB Bhanderi Chairman Jitu Surani: "The lab grown business is evolving at a breathtaking pace, and as the supply chain becomes more streamlined, it's inevitable that more and
According to JB Bhanderi Chairman Jitu Surani: "The lab more retailers will be searching to
more retailers will be searching to buy directly from the source. We intend to be that source."
The JB Bhanderi partnership starts with extraordinary in-
tellectual capital. The Bhanderi side brings a history of industry leading engineering excellence, including the fact that they
for Safer Mining
The Battle for Safer Mining
By Diana Jarrett
Today many global industries suffer from being painted with the broad brush of malignment. But when it comes to mining, there's so much that benefits society. We must be appreciative and aware of how our lives are made better through precious metal extraction.
suffer from being painted with the broad brush of malignment. But when it comes to mining, there's so much that benefits society. We must be appreciative and aware of how our lives are made better through precious metal extrac-
Looking at Mining
By looking at all sides of a situation, we gain a balanced perspective. National Academies of Sciences, Engineering, and Medicine a prolific publisher of scientific research addressed this
perspective. National Academies of Sciences, Engineering, and Medicine a prolific publisher of scientific research addressed this
in a report, "Evolutionary and Revolutionary Techniques for Mining."
in a report, "Evolutionary and Revolutionary Techniques for Mining."
"Mining is first and foremost a source of mineral commodities
materials are needed to construct roads and hospitals, to build automobiles and houses, to make computers and satellites, to generate electricity, and to provide the many other goods and services that consumers enjoy."
"Mining is first and foremost a source of mineral commodities that all countries find essential for maintaining and improving their standards of living. Mined materials are needed to construct roads and hospitals, to build automobiles and houses, to make computers and satellites, to generate electricity, and to provide the many other goods and services that consumers enjoy."
The diamond and gemstone trade has depended on mining for
1 Jewelry News • May 2023
Vol 36 No. 5 May 2023
"A Newspaper Dedicated to the Southern Jewelry Industry"
share a vision for the business
Zimbabwe
ore looking for gold bits. Photo
Press Journal
artisanal miners tumble
Global
(L-R) Front row: Ghanshyam Bhanderi, George Prout, Jitu Surani; Back row: Aaditya Surani, Ruten Bhanderi, Shubham Surani
Johnston Jewelers - a fine jewelry store with a casual feel.
Please see Johnston page 2
Please see Bhanderi page 8
SJN MAJN Southern Jewelry News Mid-America Jewelry News Established 1988 1 Jewelry News • May 2023 VOL 22 NO. 5
Please see Safer page 28
www.midamericajewelrynews.com MAY 2023
Jeter and Jan Case, co-owners of JC Jewelers.
tellectual capital. The Bhanderi
Zimbabwe artisanal miners tumble ore looking for gold bits.
Photo Global Press Journal
Please see page 8 page SJN MAJN Southern Jewelry News Mid-America Jewelry News Established 1988
(L-R) Front row: Ghanshyam Bhanderi, George Prout, Jitu Surani; Back row: Aaditya Surani, Ruten Bhanderi, Shubham Surani
Continued from page 1
a local custom jewelry designer hired her. At this early stage in her life Jan was "drawn to the world of jewelry, gemstones and the art of custom jewelry," she says. And she never looked back.
Within years of her first job in a jewelry shop, Jan earned her Graduate Gemologist (GG) certificate from GIA. Following that training Jan went on to earn her Certified Appraiser certificate through the American Gem Society.
Intrigued, Jeter followed Jan through her career path and studied jewelry manufacturing at GIA. "This was a natural extension for me given my brother is a sculptor, my younger brother was a gifted wood worker and my father was a machinist," says Jeter.
The couple married in 1981 and opened JC Jewelers seven years later. Even back in the 1980s, good real estate was expensive and hard to come by because 97 percent of the land is owned by the federal government. When a small log cabin came up for rent the owner's son recommended the couple for the location.
The cabin was built in the 1930s by Archie Boyd Teeter, a
well-known local naturalist and landscape painter. "Because it was built by an artist, the cabin has a distinctive charm with an angled shape not commonly found in log cabins," says Jan.
Archie may have created a log cabin with his distinctive flair, but when Jan and Jeter moved in, the cabin needed a little help.
"The cabin had no foundation, a leaky water heater, a warped floor, green corrugated plastic in the sky lights and two colors of long shag carpet," says Jan. "One might say it was a little rough around the edges."
Carpenters, electricians and plumbers performed the necessity work. An interior designer transformed the showroom, office spaces and consultation room into what has been referred to as "Manhattan in a cabin."
Given the size of the log cabin, square footage is as precious as real estate in New York City. The showroom is 400 square feet, the consultation room is 200 square feet, and the office space is roughly 280 square feet (Jan's office/gem lab). Jeter's studio and workshop is located a few blocks away.
"The showroom and the consulting rooms have custom-built furniture and jewelry cases constructed from maple, mahogany and ebony," says Jan. "Over the years we have added two crystal chandeliers, LED lighting and maintained the log cabin endlessly with love and care."
The display cases are filled mainly with jewelry creations designed and fabricated by Jeter and John Kennedy, a family jeweler who brings immense talent and dedication to the shop. John is an on-staff bench jeweler. The
couple out sources some jewelry and creates designs they inherently know will sell. A "build-itand-they-will-come" approach to selling jewelry. One look at even a sampling of the collective work at JC Jewelers and their confident methods of jewelry designing, making and sales makes absolute sense.
Jackson Hole is a play place for wealthy and celebrities alike, as well as regular folks that appreciate the natural wonders of
this special town. The couple's creative capabilities are housed in a modern studio, capable of taking a custom idea from concept to creation that people of all walks of life appreciate. Their unique jewelry designs are not only a hit with the local market but the throngs of summer tourists, wealthy elites and celebrities who frequently visit Wyoming's national treasure.
Jan and Jeter have been invited to exhibit their wares at the Emmys and the Sundance Film Festival. Not a bad accomplishment for a couple of high school
sweethearts who create jewelry in a tiny log cabin in Wyoming. But the couple doesn't let the recognition go to their head. They have been and always will be Wyoming locals. The couple prides themselves on having local hires, chief among them Angela Doering, who joined Jan and Jeter more than 30 years ago and Briann Wilson who was hired six years ago. Their dedication and hard work has helped make JC Jewelers what it is today.
1988
Editor, Bill Newnam bill@southernjewelrynews.com
Publisher, Chris Smith chris@southernjewelrynews.com
Administration
and classified advertising
Martha Osswald martha@southernjewelrynews.com
Staff Writers
Wanda Freeman
Paul Holewa
Dianna Jarrett
Deborah Yonick
Vice President Sales
Elesa B. Dillon elesa@southernjewelrynews.com
Contributing Writers
David Brown
Brad Huisken
Diana Jarrett
Mia Katrin
Chuck Koehler
Joel McFadden
Guy Pineda
Southern Jewelry News 2006 New Garden Road - Suite 208 Greensboro, NC 27410
Phone: 336-389-1950
Fax: 336-389-1952
www.southernjewelrynews.com
email: info@southernjewelrynews.com
Any views or opinions presented in this publication are solely those of the author and do not necessarily represent those of Southern Jewelry News.
2 Jewelry News • May 2023 2 JEWELRY NEWS • MAY 2023
JC
Southern Jewelry News Mid-America Jewelry News
SJN MAJN
Established
JC Jewelers is housed in this 880-square-foot log cabin in Jackson Hole, Wyoming.
The store's showroom features custom built furniture and showcases.
Jeter's studio is located a few blocks away from JC Jewelers.
Custom is a big part of the business at JC Jewelers.
On the Move
Allison-Kaufman takes the Triple Crown Fourth generation of Wesdorp family lead Jewel-Craft into the future
(LOS ANGELES) - Allison-Kaufman Co. is the jewelry industry's first ever triple crown winner. In 2022, Allison-Kaufman was voted RJO Vendor of the Year, IJO Vendor of the Year, and the #1 Top Jewelry Brand in Instore Magazine's 16th Annual Big Survey.
For over 100 years, Allison-Kaufman has upheld their motto of success is mutual. The company partners with its retailers to maximize their store profits and inventory turn by utilizing Allison-Kaufman's proprietary data analytics software, has a full-service in-house marketing team dedicated to helping its retailers, and stands behind the
salability of its merchandise. Known for its finely crafted jewelry, Allison-Kaufman manufactures everything from basic bridal to unique fashion jewelry in a diverse selection of price points.
Asked about being the first jewelry company to ever be voted for all 3 of these top honors in a single year, Ryan Kaufman said, "We are honored to have been recognized by our retail partners for this achievement. To the many stores that voted for us, we are humbled by your recognition. We thank you for your support and for making the choice to partner with us."
Scott Kaufman added, "And to those stores yet to work with us, we would love the chance to meet with you and discuss whether we could both benefit from partnering together."
Learn more about Allison-Kaufman at AllisonKaufman.com.
(ERLANGER,
Ky.)
- The impressive legacy of Jewel-Craft Inc., an industry leading jewelry repair and manufacturing facility continues as the fourth generation of the Wesdorp family take the helm. Nick, Stefanie, Ross, Jerah, Walker and Karlan, the children of brothers Gary and Benet Wesdorp, are guiding Jewel-Craft forward as owners. Gary and Benet, who have helmed the company for more than three decades, will continue offering their support.
Jewel-Craft, Inc. was founded by Earl Wesdorp in 1947 in his humble garage attic. In 1950, Earl's son Bob and his wife Dot jumped on board, solidifying the foundation of the business. Their two sons, Gary and Benet, became an integral part of JewelCraft from an early age. Bob and Dot mentored Gary and Benet throughout their teen and young adult years. During this time, Gary and Benet honed their skills as craftsmen and learned the principles and moral values that would help them grow. The pair eventually joined the family business full-time. In 1985, Bob and
Dot passed the torch to Gary and Benet.
The company flourished under their leadership. As owners and managers of Jewel-Craft Gary and Benet successfully oversaw the expansion of the company throughout the U.S. With Gary and Benet's direction, JewelCraft grew to employ 265 dedicated members of what they have dubbed their "Pit Crew". Thanks to the Pit Crew's hard work, the company has been named RJO Vendor of the Year four times.
The fourth generation of the Wesdorp family is deeply grateful for everything that Gary and Benet built over the years and are excited to lead Jewel-Craft into the future.
When asked to share their thoughts on the transition, Gary and Benet had a few things to say.
"This is a tremendous time for the company and our family," Gary said. "Jewel-Craft has grown in so many amazing ways and our family has grown along with it. Our success all comes down to a lot of hard work and
dedication. We also owe so much to our remarkable Pit Crew and loyal customers."
"Absolutely," Benet added. "It's incredible to see our children continuing the family legacy. Passing the company on to them, just as it was taken up by us, is an indescribable feeling."
For Ross Wesdorp, Gary's son, it's also a poignant moment. "Jewel-Craft has been a part of my life since birth. Taking on the next step to continue what my father, uncle, grandparents and great-grandfather built is such an incredible honor. We are very excited for the next steps and cannot put into words how much it means to us."
Going forward, Jewel-Craft Inc. will continue the practices that distinguish the company as an industry leader in repair and manufacturing. They will do this through their remarkable support and service, which they are always striving to improve.
To learn more about JewelCraft Inc., visit jewel-craft.com or email ross@jewel-craft.com.
JEWEL COUTURE celebrates 20th anniversary
Introduces '20 Best Sellers for 20 Years'
(FLEETWOOD, N.C.) -
Premier designer jewelry company JEWEL COUTURE is celebrating its 20th anniversary by announcing exciting new promotions throughout the year for its retail partners. "20 Best Sellers for 20 Years" highlights JEWEL COUTURE's 20 top best sellers, proven over two decades, making it easy for retailers to pick the best winners.
20th Anniversary Specials include discounts up to 20% based on payment at time of purchase and minimum orders. Co-op Marketing Boost allows retailers to leverage JEWEL COUTURE's powerful social media and other advertising to promote their store. The company provides retailers with dynamite created content - product images, social media scroll-stopper graphics and ads. One-for-one stock balancing is included. And the New Loyalty
Program offers free gifts with cumulative purchases.
JEWEL COUTURE is featured in over 100 retail jewelry stores nationally and regularly appears in the major trade publications and at trade shows. Owner Mia Katrin is a byline columnist at multiple industry publications and a frequently invited speaker at national industry events.
For more information, contact mia@jeweljewel.com, call or text 828-406-1105 or visit jeweljewel.com.
4 Jewelry News • May 2023
See you at JCK Booth14079 KIM INTERNATIONAL Dallas, Texas 800-275-5555 www.kimint.com sales@kimint.com K KIM ® The Romance® Bridal Collection The Most Comprehensive & Profitable Bridal Program FRESH STYLES • EXCEPTIONAL QUALITY • COMPETITIVE PRICES • IN-STOCK IN DALLAS, TX • LUCRATIVE SPIF PROGRAM QUICK CUSTOM • RETAIL WEBSITE PROGRAM • MARKETING PACKAGE • CZ SAMPLE PROGRAM • LIFETIME LTD WARRANTY
The Retailer's Perspective A year late and a dollar short
By Chuck Koehler
For a couple of years, I've been waiting for a very special upcoming anniversary. My column this May should have marked my 20th anniversary as a published columnist. The reason I've been looking forward to it for so long is because it changes my status as a 'Columnist for almost 20 years', to a 'Columnist for over 20 years'. Yeah, I know it's kind of dumb, but it has just been something I've been looking forward too.
I've thought many times about how I would celebrate, and what I would write about. Well, as it turns out, I wrote that very special 20th anniversary column about the economic situation that was occurring in May of 2022. In that 20th anniversary column, I compared the economic and housing crash of 2008 to the economic and potential housing crash of 2022. Yep, last year was my 20th anniversary, not this
year. I was a year late and a dollar short - again!
Although I've told parts of the story a few times, I thought I'd tell all of my readers about how this crazy train started, and how it's going A story you should have read last year - on my actual 20th anniversary.
To understand this story, you have to first understand what a 'masthead' is, and what it is used for. If you turn to the first 2-3 pages of most publications, you'll see a box that lists the editor, publisher, national sales manager, etc. for that publication. And for the record, myself and the team listed in this newspaper's masthead is almost the same today as it was 21 years ago. We've all been together as a team for a long time.
In 1987, I moved to Nashville seeking fame and fortune in the entertainment industry. During those years, I attended countless Chamber of Commerce breakfasts and lunches, countless charity events, and countless en-
tertainment industry parties. After every one of those events, I'd see pictures from the party in the newspaper, and I was never in any of them. That's when I learned about 'the masthead'.
I found out that you didn't have to know the people at the party to get your picture in the paper. You just had to know the people listed in the masthead. If you make friends with them, your picture gets published - a lot!
Befriend the photographer that's listed in the masthead. Pick up their bar tab on a regular basis and they will seek you out to take your picture because you're the only person they actually know at the event.
Befriend the editor and publisher and take them out to lunch every so often. While they are putting the next issue together, and they see your picture mixed in with the other 200 or so pictures of the event, they'll pick your picture to put in their publication on a regular basis. So, now
that I've spilled my secret, fast forward to 1999.
I was working with a designer on a new line of jewelry, and we had no budget for marketing and promotion. Around that time, I started getting a magazine mailed to me called, 'Bench Magazine'. It was advertised as a magazine for bench jewelers, written by bench jewelers. Then one day, just out of habit, I looked at the masthead and saw that the same person, Brad Simon, was listed as doing every job at the magazine. It was then and there that the proverbial light bulb went off in my head that started this whole thing.
Since Brad was doing all of the work himself, surely he could use some outside content to fill his pages. Since I couldn't afford to advertise, what if I wrote about how we went about designing and building the pieces for our new jewelry line? That alone would give us some free marketing and promotion right there. And as an added bonus, I was able teach
other jewelers how to do certain things that they may not know how to do. Bonus!
Brad and I (and Jurgen Maerz) worked together for years and traveled all over the United States hosting in-person seminars for bench jewelers. It was a lot of fun. Now, let's fast forward a few years to early 2002.
Once a month, when my copy of Southern Jewelry News arrived, I'd eat lunch at my front counter and read Martha Williams' column. I always enjoyed reading about Martha and her husband RB, and the things that happened to them at their jewelry
Please see Chuck page 24
6 Jewelry News • May 2023
Chuck Koehler
7
BHaNDerI
Continued from page 1
produce the machines that every diamond cutter uses to "plan" the geometry for extracting maximum yield from each rough diamond. And more specifically in the lab grown arena, Bhanderi asserts they're the largest maker of LGD CVD machines in the world. According to Bhanderi founder Ghanshyam Bhanderi: "We have pioneered development of both the equipment used to grow LGD as well as the recipe and processes for creating the best diamond material." His son, Ruten Bhanderi, adds: "At every step, our technical knowledge has provided a significant advantage, and with this new partnership, we look forward to dominating the
category, especially in larger sizes. With our planned expansion of 3,000 additional machines, we are targeting a 30 percent market share of global CVD production by the end of 2024."
The JB side brings a wellknown diamond family with an exceptional pedigree. As Shubham Surani, Jitu's son and a third generation member in the family business notes: "My grandfather started in the diamond business in 1960. The diamond business is thoroughly encoded in our DNA, and this new venture, which includes all of our family, is a natural extension of our family history. We became convinced that LGD represented the future of diamonds over a decade ago, and we see a future in which the overall diamond business can be 4-5 times larger than it is today as a
result."
Shubham's brother Aaditya shares the family's vision, taking it a step further in contrasting mined and LGD sales, stating: "For many observers, the mined vs. lab dynamic represents a zero-sum game, in which each success for one kind of diamond represents a cannibalization of the other. We have a totally different perspective, and see LGD turbo-charging the global diamond business, propelling us to market share levels in the consumer luxury vertical that were previously unimaginable."
George Prout, JB Bhanderi's recently appointed President for the Independent vertical, credits Surani for instilling an early interest in lab. According to Prout: "Jitu is really the person most responsible for my own interest and
subsequent involvement in lab grown diamonds. He predicted the current scenario with amazing clarity over ten years ago, and I think that when they write the History of Diamonds many years from now, Jitu Surani will come to be seen as the Elon Musk of lab. He has the knowledge, the deployable capital, and the commitment necessary to dominate this business."
Prout sees a tremendous opportunity for jewelry store owners as the lab business matures. "We're seeing chaotic conditions right now, as Darwinistic business processes serve to weed out the vast majority of suppliers in the lab space. The key strategy for independents will be to become aligned with the small group of growers who will ultimately control the lab grown diamond
business. In an industry where scale matters, we will be ideally positioned as the perfect supplierpartner for independent stores."
JB Bhanderi's exclusive focus on CVD provides an exceptional advantage. According to Mr. Surani: "In order to understand the current state of LGD, you must remember that the large mined diamond companies that have entered the lab sector still view LGD as a side activity, essentially a rounding error from their enormous mined diamond revenue streams. At JB Bhanderi, we believe that our single-minded focus on lab grown diamonds gives us a substantial strategic advantage, as well as providing real benefits that will strengthen our relationships with our G2B dealer network."
In order to provide the best possible customer service experience for its customers, JB Bhanderi has recently taken over a 14,000 square foot office space in the heart of New York City's diamond district. As Mr. Surani notes: "The historical importance of New York as the diamond center of North America mandates that we set up our facility here." But Surani also notes that in order to create space for the additional CVD machines in Surat, the company has recently constructed a new 750,000 square foot laboratory, which will ultimately become part of a massive complex totaling over 2 million square feet producing hundreds of thousands of diamonds per month."
JB Bhanderi's leadership team sees a huge future for LGD, as the democratization of diamonds creates accessibility for consumers at all income levels. As just one example, the engagement ring business, where ¾ carat to 1 carat diamonds have dominated for the past 80 years, is now shifting rapidly to a starting size of 2 carats. Furthermore, affluent consumers will now have access to the kinds of diamond fashion jewelry that in the past were only affordable for the wealthy and the Hollywood elite.
According to Mr. Prout: "Lab grown diamonds are the biggest disruptor for this generation of jewelry retailers, and nowhere will the impact be felt in a more positive way than with independent jewelers. Remember, it's precisely during periods of disruption that market shares are most easily changed. At JB Bhanderi, we hope to provide the products, services, and advertising ideas that will help propel our customers, as well as the diamond jewelry business in general, to unprecedented levels of success. "
For more information, email info@surrealdiamond.com.
8 Jewelry News • May 2023
LET'S
With 1475 CVD maChines, We are the largest groWer on planet earth. 1475CVD Discover the benefits of growing together The Lab space is evolving at a breathtaking pace, and while LGD revenues are increasing exponentially, the threat from growers selling directly to consumers is a catastrophic gamechanger. Fortunately, there is an answer. Partner with us, as we've done here by designating CVD Incubator #1461 for Wesche Jewelers. COmE GROw wiTH Us! For more information email us at info@surrealdiamond.com SURREAL DIAMOND • 50 W. 47th street, New York, NY 10036 SURREAL BY
GROW TOGETHER
How to drive more sales and referrals through social media
Tips to utilize Instagram, TikTok, Facebook, E-Mail Blasts
Diamond and jewelry shoppers start their purchase process online just like other shoppers, using Google and Instagram to discover brands and see what other customers think. That's why independent jewelers should take advantage of social media to attract more customers and increase foot traffic into their store.
More than generating a buzz, the marketing power of social media lies in its unique ability to generate trust in your brand. More powerful than advertisements and website copy, the organic interactions and reviews found on social media can reveal what real people think of you. This is known as social proof and, when harnessed correctly, it can drive valuable reach and referrals. Because if happy
customers are lighting up your social media feeds, others will gain the confidence they need to reach out or visit your store.
Easy Ways to Engage Customers with Social Media
A consistent social media presence automatically boosts your social proof simply by showing that you are authentic. Try these simple tactics to boost social proof even more:
• Don't be shy! Interact with other users. Take a little time (even five minutes a day) to follow new accounts and like and comment on others' content. Being active and showing interest will spark interest in your own account. And when followers are engaging positively with your posts, it sends a signal that you're trustworthy.
• Be responsive to comments and messages. Don't leave people hanging after they've sent you a DM or left a question in the comments. They've come to social media in hopes of having a more direct, personal interaction than they can find on your website.
• Share photos of real people. Share photos of regular people celebrating their life milestones with diamonds and jewelry from your store (with permission of course). You may be surprised how many customers are happy to pause for a picture when you are celebrating with them.
• Highlight happy experiences. For customers whose happiness you don't capture instore, ask them to leave a review on Facebook, Yelp, The Knot, or another site they prefer. You can get extra mileage out of positive reviews by taking a screen-shot of them to share on other social media pages.
GN Diamond Simplifies Digital Marketing
Don't stress if you don't have thousands of followers. Leverage the loyal customers and rave reviews you currently have to make other shoppers take notice. And fortunately, the Diamond Hunt platform, built specifically for independent jewelers by GN Diamond, gives you additional powerful ways to compete with online retailers.
Gain an online loose diamond database and search portal with $70 million in inventory not found on any ecommerce website and displayed with your own branding and markups. To learn how you can take advantage of Diamond Hunt, visit gndiamond. com and speak to a representative, available 7 days a week, at sales@gndiamond.com or 800724-8810.
10 Jewelry News • May 2023 Booth 12123 Stop by #sayBro TO LEARN MORE ABOUT INOX

11 Jewelry News • May 2023 WOW We're YOUR BRAND OF WOW It FLEXES, it STRETCHES, it's FLEXIE Bring excitement to your showcase by adding new styles to this already Best-Selling Collection. Most styles in stock for immediate delivery! Since 1984 sales@iddny.com 800.621.1162 Visit us at: . CBG Booth# 421,518,520 . JCK – PC-810
Networking for small business owners Building relationships for success
By David Brown
Mention networking and I often see the person I'm talking to squirm uncomfortably. Building relationships with other business owners, customers, and industry professionals can help you grow your business, expand your customer base, and gain valuable insights and advice, but it's not something that everyone feels comfortable with doing. Despite this, it's more important than ever to build a strong network of contacts and maintain those relationships over time in today's fast-
paced and competitive business world.
So, what makes it such a critical part of your small business strategy?
Increased visibility and exposure: Networking provides an opportunity for you to increase visibility and exposure to potential customers, partners, and investors. By actively participating in local business events, online communities, and industry groups, you can get your business name and brand in front of a wider audience furthering your opportunity to build sales.
Access to new customers: Building relationships with other business owners can lead to new customers and sales opportunities. For example, you may meet a business owner who is looking for a product or service that you offer, or they may refer you to someone in their network who needs your services. Customers can come both directly and indirectly from the relationships that you build.
Sharing of knowledge and insights: Networking with other business owners can also provide valuable insights and advice. You
can learn about the latest trends and best practices in your industry, and gain new ideas for growing and improving your business. Many of the industry buying groups and meetings are as much about what you can gain from a coffee or drink with colleagues as what you may get directly from the event itself.
Building a support network: The last three years has highlighted the importance of a strong support network. Networking can help you build the support of other business owners and professionals who can provide sup-
David Brown
port and advice when you need it. This can be especially valuable when you're facing a challenging business issue or decision. As the old saying goes - a problem shared is a problem halved!
Some Tips for Successful Networking
Be yourself: It's important to be yourself and build relationships based on trust and authenticity. People are more likely to do business with someone they like and trust, so be genuine and show a genuine interest in others. Don't feel being an introvert will restrict you.
Be prepared: It works for scouts and it can work for you! Before attending a networking event, research the attendees and the purpose of the event, and come prepared with a clear idea of what you want to achieve. Have business cards and a clear, concise elevator pitch to quickly introduce yourself and your business.
Focus on building relationships: Networking is not just about selling or promoting your business, it's about building relationships. Take the time to get to know the people you meet, and follow up with them after the event to continue the conversation.
Offer value: When networking, it's important to offer value to others. This can include sharing your knowledge and expertise, making introductions to others in your network, and offering to help in any way you can. By offering value to others you will establish yourself as a valuable member of the community and increase your chances of success. For more help with this, an excellent book is The Go-Giver by Bob Burg and John David Mann. Attend regular events: To be effective, networking should be a regular part of your business strategy. Attend regular events and join industry groups and online communities to meet new people and build relationships over time.
Follow up: After attending a networking event, follow up with the people you met. This could include sending a personal-
Please see Brown page 18
12 Jewelry News • May 2023
13 Jewelry News • May 2023
The one thing you can't do in a slowdown
By André Savoie
The jewelry business sure has been interesting over the last few years. When COVID hit, many jewelers backed off on their
marketing budgets in an attempt to play it safe and see what happened. Meanwhile, other stores - including many of our clientskept their marketing budgets the same. They went in, facing uncertainty with bravery, by attempting to gain market share when others went dark.
It turns out, the decision not to cut back on advertising was a good one.
You see, one of the major factors in advertising is competition. When competition is fierce, advertising costs more, and your ads earn less market share. But when competition for ad space
goes down - as it did during COVID - suddenly your marketing budget gets you way more reach for the same dollars.
We watched as our clients' ad costs went down, but their profits went up. Not only did they get to save some money while running ads, but they were able to create much more traffic and sales opportunities for better prices.
The numbers we saw spoke for themselves. The increased traffic and reach led directly to higher sales. And these "highs" were much higher than other jewelers who cut back on advertising during the pandemic. It's not hard
to believe that these cutbacks led to many jewelers reporting having a down year in 2022.
That's why, as the jewelry market appears to be normalizing after record years, the lesson for 2023 is this: don't stop your advertising to save money!
If you're still on the fence, there's some extra good news. There's data evidence that keeping up your marketing budget wasn't just a fluke during COVID.
Back in 2008, right after the housing crash of 2007, a study by the Institute of Practitioners in Advertising found that scaling back your advertising in a down-
André Savoie
turn will set your sales back for years. The survey found that cutting back on advertising did save on overhead - in the short term. But this came at the expense of losing sales and their share of market trends, which are very difficult things to reverse.
Going "dark" has a bad reflection on your brand. And if consumers don't see or hear from you, they're going to forget that you're there. The lost relationship with clients and missed opportunities are hard - and sometimes downright impossible - to make up once you resume "normal" advertising. In other words, cutting back on advertising hurt them in the long term much more than it helped in the short term.
I know that 2023 might look a little scary. Times are definitely uncertain. And while it's a smart move to study your overhead and find administrative ways to be smart in a downturn, don't do it at the expense of your long-term health by cutting off your advertising.
You'll thank me later!
André Savoie is the founder of High Level Thinkers, a digital marketing agency serving local jewelers with digital marketing, including Facebook, Instagram & Google advertising, local SEO, email marketing & more. For more information, contact André at andre@highlevelthinkers.com, 504-669-3207 or visit www.HighLevelThinkers.com.
14 Jewelry News • May 2023 *Not yet ASSURE tested for mounted Stones naturaldiamonds.com/assure BLEU Colorstone Referential Meter Natural Lab Grown? or Can you tell which is.. The Gemlogis BELIZE All–in–One Tester Can • CZ • Moissanite • CVD/HPHT/Type IIa lab grown • Natural earth mined diamonds BELIZE Portable Diamond Verifier SST-685 . See us at JCK LV Booth 55086
eNews Sign up at southernjewelrynews.com midamericajewelrynews.com
15 Jewelry News • May 2023 FINANCE We're YOUR BRAND OF CONSUMER FINANCE Drive more traffic. Close more sales. . Competitive MDF . No recourse . No sign up fees . Easy application . Instant decision . No monthly requirement Since 1984 sales@iddny.com 800.621.1162 Visit us at: . CBG Booth# 421,518,520 . JCK – PC-810
2023 BRIDAL FASHION Your Store Brand For availability in your market contact Slav Galkin at slav@gemsone.com or (917) 385-5641
You're Invited!
MAY 31 - JUNE 1
JUNE 2 - 5
VERONESE BALLROOM 2404
Gems One is thrilled to announce that we are taking your Las Vegas experience to the next level at Luxury and JCK!
• Turbocharge your traffic with our powerhouse marketing programs
• Stay ahead of the industry with our on-trend products.
• Experience Alpha, our complete lab grown collection for loose, fashion & basics. Memo available on request
• Elevate your consumers custom jewelry experience with our industry changing platform. Demonstrations on site.
• New Gems Pay financing to empower you to help consumers by providing flexible payment options
• First time showcasing multi-million dollars in Closeouts
Book your Appointments Now. Reach out to your account manager or email us at info@gemsone.com
17 Jewelry News • May 2023
Introducing the "Beating Heart" diamond
De Beers Institute of Diamonds, part of De Beers Group, is pleased to share further details of an unusual diamond within a diamond, formally named the 'Beating Heart', which was recently analyzed at its facilities in Maidenhead, UK.
The .329 carat, D-color, Type IaAB diamond was found to have an internal cavity enclosing a smaller diamond, trapped yet free to move around within the space.
Instruments developed by De Beers Group Ignite, including the DiamondView and SYNTHdetect, were used in a preliminary analysis, followed by optical and scanning electron microscopy,
Fourier-transform infrared spectroscopy, and fluorescence and phosphorescence imaging.
Initial conclusions suggest the cavity was formed due to preferential etching of an intermediate layer of poor-quality fibrous diamond. The original 'core' would have consisted of goodquality diamond growth. However, a subsequent layer of growth was likely poor and fibrous, followed by a further 'outer coating' of gem-quality crystal. Between its formation and travel to the surface of the Earth, the poor-quality layer etched away. Only the better quality material 'survived'the outer diamond and the core
- which led to a diamond that can freely move around within an inner space.
Samantha Sibley, Technical Educator at De Beers Group Ignite, explains: "I have certainly never seen anything like the 'Beating Heart' during my last 30 years in the diamond sector. Using the expertise of De Beers Group, we can shed light onto the formation and structure of this natural specimen and share these insights with a wider community of diamond professionals."
The Institute of Diamonds was alerted to the specimen in October 2022, when it was raised as a potentially interesting natu-
ral anomaly by De Beers Group Sightholder, VD Global, based in India. The rough diamond was recovered by De Beers Group at one of its four global mining locations (Botswana, Canada, Namibia and South Africa) and arrived at the De Beers Institute of Diamonds facility in Maidenhead, UK, in November 2022. It was later named the 'Beating Heart' diamond by VDG in recognition of its unusual composition.
The 'Beating Heart' now joins a small group of similar natural diamonds, including the widely publicized Matryoshka diamond from Siberia, Russia, which was first recorded in 2019.
The specimen will not be cut and polished and will instead be maintained for research and educational purposes.
Jamie Clark, Head of Global Operations at De Beers Institute of Diamonds, adds: "The 'Beating Heart' is a remarkable example of what can happen on the natural diamond journey from formation to discovery. ... A find like this demonstrates why natural diamond formation and origin is such a fascinating area of study and why it is important to strive for advancements in testing and analysis that can contribute to our knowledge of natural diamond growth."
To find out more about De Beers Institute of Diamonds, please visit www.institute.debeers.com.
BrOWN
Continued from page 12
ized email or LinkedIn message, or scheduling a coffee or lunch meeting to continue the conversation. Following up will help you build deeper relationships and increase your chances of success.
Networking is a critical component of success for small business owners. Building relationships with other business owners, customers, and industry professionals can help you grow your business, expand your customer base, and gain valuable insights and advice. By following these tips and making networking a regular part of your business strategy, you can build a strong network of contacts and achieve success in your business endeavors.
David Brown is the President of The Edge Retail Academy (sister company of The Edge), a jewelry business consulting company that provides expert advisory services to help with all facets of your business including improved financials, healthier inventory, sales growth, staff performance, retirement/succession planningall custom-tailored to your store's needs. By utilizing the power of The Edge, we analyze Key Performance Indicators that point to current challenges and future opportunities. Edge Pulse is the ideal add-on to better understand critical sales data and industry market trends to improve profitability. It benchmarks your store against 1200+ other Edge Users and ensures you stay on top of industry stats. 877-569-8657, ext. 001, Inquiries@EdgeRetailAcademy.com or www.EdgeRetailAcademy.com.
18 Jewelry News • May 2023
(800) 809-3868 BOXBROKERSGROUP.COM "We take the box and pick which insert we need and put it together. The customer is happy and we're happy." WATCH VIDEO RAY LANTZ "We like SmartPro Packaging because it reduces how much space it takes up and keeps our backroom organized. MY STAFF LOVES IT." -RAY LANTZ, THE DIAMOND CENTER. ANOTHER TESTIMONIAL CLAREMONT, CA BOX BROKERS GROUP 13 INSERTS BINS FOR INSERTS QR CODE REORDERING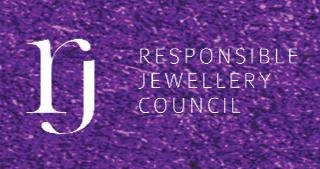 2023 Woman-Owned Lab Created Diamonds JUNE 2-5 BOOTH #15075 6120 Tarnef Dr Houston Texas 77074 USA 1-866-283-4367 www.ethoscreations.com Division of V&A Group Committed to empowering women.
JUNE 2-5, 2023 BOOTH #15075 Reinventing Elegance LUXURY 14K & 18K GOLD VS-SI1 F-G 6120 Tarnef Dr Houston Texas 77074 USA 866-283-4367 info@vandaluxury.com www.VandAluxury.com Division of V&A Group
Successful Custom A Note-Worthy Sale
By Joel McFadden
We did some custom work for this very kind jewelry store owner. He was super pleasant and could talk anyone's ear off. He was the salesman who responded to every customer's question with, "No problem" or "Sure, I can do that." Nothing seemed impossible to him, but he wasn't the person doing any of the work.
Our work started with orders that had been on hold in the store for the last several months. The owner had taken on the jobs
with the intent to find someone to do the work. Lots of stores have these types of jobs. They are those really difficult jobs that your repair guy won't touch and you are just hoping to find someone who can actually do them. We call it the holding pit of doom where it's doomed to never get finished until someone can be found who can do whatever it is that needs to be done.
In this instance, that someone was me. That's when we encountered a problem with the orders. Our store owner was relying
almost entirely on his memory for each job and all the specific details of what needed to be done.
I'm sure this was fine for some jobs, but things were not as clear or certain for some of the older jobs.
We requested the store owner reconnect with clients to clarify details but he was unwilling to bother them with questions until we had something done to give them. For some of the jobs, we were just given directions, "just do it this way," so we did. Sometimes it was right and
sometimes it was wrong. This caused stress and tension between the customer, the store, and us. There was no winning in this situation.
Having almost no notes on the jobs was certainly a huge problem. It wasn't until a little later that we realized the problem was much larger than a lack of written notes, or a sketchy memory. Worse than all that was the fact the owner who's promising he can do anything for the customer in his store, is not even really listening to what the customer wants
Joel McFadden
him to do!
One frustrated customer had been trying for months to get a custom ring designed before it came to us to do for the store owner. We followed the owner's instructions, provided a CAD render, and continued to follow the owner's instructions for revision after revision after revision before we suggested that we should just speak directly with the customer to clarify everything before we did any more revisions.
Silver Dip Cleaner 8 oz SILVER DIP. Gentle smelling silver anti tarnish dip. Simply dip silver, wait 15 seconds and rinse in clear water, for a beautiful, bright shine. Complete with strainer 8 fluid oz(.25L)
230.072 $5.95
Shino Cloth 12 x 14 inches
170.090 $705 ea 12+ @ $655 ea
Fabulustre Rouge Cloth
170.076 $860 ea 12+ @ $775 ea
Connoisseurs® Precious Cleaner for Platinum, Gold, Diamonds and Precious Stones
230.003 $4.50 ea 12 @ $4.15 ea
Connoisseurs® Silver Bath for Sterling Silver Jewelry
230.004 $4.50 ea 12 @ $4.15 ea
The store owner agreed and scheduled a consultation for us to meet the customer at the store. The meeting went very well and within the next few days, we were able to produce a render, completely different than the previous ones, that the customer loved. A couple of weeks later the customer had a beautiful custom ring they had been waiting months to get.
In the end, we saved the sale, created a happy customer, and the store owner made around $4000 just by connecting us directly to the customer.
Connoisseurs Jewelry Cleansing Foam 230.019 $5.25 ea 12 @ $4.50 ea
KEEP IT ALL SPARKLING
Q140 - 33/8 Qt Ultrasonic
• Timer & Heater. On-off switch & pilot light.
• Stainless steel multi-position drain & plastic cover
• Tank Capacity: 33⁄8 quarts.
230.140 $459.00
Cas-Ker/L&R 2 Qt Ultrasonic
• Lighted on-off switch, Electric timer & heater
• Stainless steel housing, tank and cover.
• Contemporary design & quiet operation.
• Tank Capacity: 2 quarts.
230.091 $339.00
Connoisseurs® Disposable Jewelry Wipes™
231.01850 $6.05 ea 12 @ $5.50 ea
When selling custom jobs, it is essential to really listen to the client and take great notes. Taking notes, saving pictures, and being willing to reach out to the customer later for clarifications or approvals are all very necessary parts of the process.
When we meet directly with the customers for a store, we gather all the information, do all follow-ups with the customer, and provide all those notes about the job to the store while we are working on the job.
1-800-487-0408
WWW.CASKER.COM
Connoisseurs Ultra-Soft Polishing Cloth
171.0270 Cloth for Jewelry $6.05
171.0271 Cloth for Silver $6.05
THE PROFESSIONAL JEWELER'S SOURCE FOR TOOLS & SUPPLIES
Sometimes, the best thing you can do to make the sale is to not be afraid to step back and eliminate the middleman. Every extra person who gets involved in the daisy chain line of information getting passed along to the design team adds to the chance of failure, mistakes, misinformation, and a lost sale. But every customer feels special with the personal one-on-one attention from the design team making their precious one-of-a-kind creation.
Selling custom jobs doesn't happen as quickly or easily as over-the-counter sales. Clear
Please see McFadden page 24
22 Jewelry News • May 2023
JMDJewelry.com
MentorJeweler@gmail.com
store. It was like she had a hidden camera in my store, and she was writing about what she was seeing in my store, not hers. Then, one month, the paper came, and Martha's column wasn't in it. EGAD! Then it happened again the next month, and then the month after that. Something must be done to right this wrong. So, guess what I did? Yep, you guessed it. I went right to the masthead.
I called the phone number listed and Bill Newnam, the editor, answered the phone. He told me that he and his partner Chris Smith had recently purchased the paper from the original owner. He told me that Martha had retired a while back, and since the pa-
per was changing ownership she thought that would be a good time to retire from her writing side gig as well. I was bummed! I understood the situation, but I was still bummed.
The next day, that damned proverbial light bulb went off in my head again, and I called Bill back and asked him if he needed someone to write a replacement column to fill that space in his new newspaper. He said yes. I said I'd throw something together in the next couple of days and send it to him to see if he liked it. I don't know why I did that because I had never had the desire to become a writer.
Over the course of a week or so, I hobbled together 3 columns and sent them over to see if he liked one of them. He liked all three, and that covered the first 3
months of me being a published columnist with Southern Jewelry News. Then that pesky 4th month rolled around and I had to create that magic again. I didn't think I had it in me, but I pooped out something, and I've been pooping out something new every month for the last 21 years and have never once ran a repeat column. During the ensuing years, the paper has grown into new markets, added a sister edition, Mid-America Jewelry News, and expanded readership and distribution beyond anyone's imagination. It's been a fun ride. So, that was how it started, here's how it's going Asa I write this, I'm sitting on the balcony of my hotel room on Jekyll Island, Georgia. My view is absolutely gorgeous. I'm overlooking palm trees, the swimming pool, and the Atlantic Ocean be-
cause I'm right on the beach. I'm here to speak at the Georgia Jeweler's Association this weekend. I've got my laptop on my lap and I'm writing a column about how this whole thing started and how it's going. Based upon my view, I'd say it's going pretty good! I've had the honor and privilege to travel the country to meet and speak to other jewelers for over 20 years now (I finally get to say it!) And if you want to know the truth, I think I've got another 21 years' worth of columns left in me. I look forward to seeing everyone here next month, or out on the road somewhere if your group needs a mediocre speaker to speak at your next conference or convention.
To my editor Bill Newnam, my publisher Chris Smith, my National Sales Manager Elesa Dillon, and all of my readers throughout the years, I love you all! This has been a lot of fun, and I couldn't have done it without each and every one of you. I look forward to the next 21 years!
Chuck is the owner of Anthony Jewelers in Nashville, TN. Chuck also owns CMK Co., a wholesale trade shop that specializes in custom jewelry and repair services to the jewelry industry nationwide. If you would like to contact Chuck or need a speaker or instructor for your next conference/event he can be reached at 615-354-6361, www.CMKcompany.com or send e-mail to info@ southernjewelrynews.com.
MCfaDDeN
Continued from page 22
communication between the customer, sales staff, store owner, and design team is essential. You must really listen to the customer and take great notes, save pictures, and be willing to reach out to the customer later, or simply not be afraid to step back and let the design team directly deal with the customer.
Custom guru Joel McFadden is the owner of Joel McFadden Designs in Chapel Hill, NC. He developed pricing for custom jewelry and repairs for the IJO Prototype Store, opened a business which became a million-dollar store focusing on custom, was named MJSA's first Mentor Jeweler, was the first director of the Council of Custom Jewelers, and is the creator of the Bench Jewelers Challenge. He is an industry writer and speaks at events. Available for CAD work, stone setting, and complete custom pieces for the trade. Contact Joel at MentorJeweler@gmail.com, 984-212-2217, JMDJewelry.com, Facebook and YouTube.
24 Jewelry News • May 2023
CHUCK Continued from page 6
Unit 534 27514
2x4
Joel McFadden Design
50+ Years Experience
Mentor Class Jeweler
Creator of the Tradeshows Bench Jewelers Challenge
Serving Our Wholesale Clients CAD, High-End Setting, Full Custom Services, Consultation Services & Mentor Programs
(984) 212-2217
1000 Novus Lane Unit 534 Chapel Hill NC 27514
Why Do We Use The Edge?
"We employ the use of The Edge's rewards program. And it allows us to reward our most loyal clients with a store credit on every one of their purchases. It also combats discounting for the sales associates, and keeps the clients happy, because they have free money to use in the store at their next purchase."
- Jillian Hornik, Jae's Jewelers, Miami, FL Watch all of Jillian's Edge Story
invited to The Edge Village, Booth 59052, at JCK, 6/2 - 6/5.
You're
Learn all about the total retail solution that The Edge can offer your store, meet many of our valued partners, and pick up a free demo! It Allows Us To Stay Competitive in Today's Retail Marketplace.
a FREE demo, contact us at 1-855-TRY-EDGE or sales@ajsllc.com.
For
26 Jewelry News • May 2023 VISIT US AT JCK LAS VEGAS BOOTH 10075 VIEW OUR EXPANDED GIA INVENTORY, OFFERING MORE PRICE POINTS & DEEPER DISCOUNTS 800.874.8768 | RDIDIAMONDS.COM AMERICAN OWNED & OPERATED SINCE 1992 SCAN TO SHOP NOW 1 : 1 STOCK BALANCING FREE OVERNIGHT SHIPPING STILL THE ORIGINAL LIFETIME TRADE-UP POLICY
Jewelry GRADING INCONSISTENCIES 877.620.1333 become.rareandforever.com/learn-more SCAN TO LEARN MORE WE HAVE THE SOLUTION! VISIT JCK BOOTH 10075 SHRINKING MARGINS ONLINE PRICE COMPARISONS IF YOU'RE CHALLENGED WITH RDI DIAMONDS ® PRESENTS "Rare and Forever sell themselves, there is very little convincing to do." - Nummi Jewelers
Safer
Continued from page 1
centuries to access gems and precious metals used in jewelry manufacture. With gemstone mining, the concerns focus on the disruption to the earth, the impact on water quality plus its effects on wildlife and bio-diversity.
Getting the Gold
But with precious metal mining - specifically with gold extraction - few of us are cognizant of its environmental impact. While consumers are generally in the dark as to where their gold comes from, we in the trade don't always have it on our radar, either. Granted, we're making critical inroads into recycling gold from scrap jewelry and other cast-offs, and that's to be lauded.
Environmental watchdog Earthworks.org sounded the alarm about critical levels of toxic waste from metal mining more than a decade ago. Calling metal mining the No. 1 toxic polluter in the US in 2010, Earthworks claimed metal mining was responsible for 1.5 billion lbs. of chemical waste annually. According to the researchers, arsenic, mercury, and lead were the dominant toxic pollutants. Many jewelry tradespeople today are keen
this age old travesty around by helping to create a healthier outcome for artisanal and small scale miners. On their site, mercuryfreemining.org, they explain, "The miners are not to blame. Miners often lack workable alternatives to using this potent neurotoxin in order to concentrate gold."
By partnering with members of the jewelry industry, MFM says they are discovering and implementing efficient alternatives that can keep over 15 million
them." Australian professor Dr. Justin Chalker, at Flinders University, Adelaide, won the prime minister's Prize for New Innovators award in 2020 for his process of gold recovery using simple waste sulfur and lemon oil.
Gaining Allies in the Jewelry Trade Jewelry trade members need not look outside the US to find like-minded groups intent on responsibly sourced gold.
advocates of the 'do no harm' maxim and want to be a part of the solution to this quandary.
Small Scale Miners
This puts the focus on to unregulated artisanal mining. Small scale and artisanal miners operate as individual 'freelance' miners who sometimes pay landowners to access an area. Using rudimentary tools, often not more than shovels and pickaxes, they eke out a living just like earlier artisanal miners did for centuries. Increased gold demand fueled in part by a soaring Chinese middle class, has made artisanal gold mining steadily soar.
As artisanal gold mining ramps up globally, Reuters published an insightful report "What is artisanal gold and why is it booming?" In it, they estimated that by 2020, there were some 1520 million artisanal miners laboring independently in gold producing regions.
How They Mine
These freelance miners use mercury in the extraction of gold. In the process, mercury is mixed with the gold ore, forming a mercury-gold amalgam. This is then heated which vaporizes the mercury, leaving the miners with gold nuggets.
But mercury used in this process leaks toxins into the ground and water sources, creating a potentially deadly outcome - endangering and contaminating entire communities. This can turn entire eco-systems upside down and cause untold harm to human life and the environment.
The Response
Mercury Free Mining (MFM) is committed to turning
small scale miners from poisoning themselves.
Finding Safe Alternatives
Since alternative gold recovery methods will rely heavily on imaginative forerunners, it's definitely an uphill battle, but a worthy struggle. Toby Pomeroy, MFM Executive Director, "pioneered EcoGold - socially and environmentally responsible gold from Hoover and Strong Refiners. Toby is the only US member serving on the Board of Directors of the Alliance for Responsible Mining." explains his MFM bio.
But what do-able methods can be adopted by artisanal gold miners to separate the gold from its host ore without using mercury? While much research still needs to be conducted to establish long term solutions, early indicators are promising, MFM says. "We have three [researchers] in the US, one in Colombia, one in Peru and one in Australia, [each working on different solutions,] and we're quite excited about
Hoover & Strong, a leading US refiner and manufacturer of precious metals exhibits a longstanding commitment to environmental and social responsibility. Together with the Fair Trade Jewellery Company (FTJCo), the first Fairtrade certified jeweler in North America and the first SCS007 (sustainably rated diamonds) accredited retailer in Canada, "they are leveraging their experiences as the first two companies in North American to market Fairtrade, Fairmined and responsibly sourced gold from Congo," according to MFM. In this new supply chain, Hoover & Strong takes the lead in providing refining services.
Turning around the old way of gold extraction using mercury is a formidable battle - but it can be won, says MFM's Pomeroy. "If NASA can fly a robot spaceship 250 million kilometers to asteroids and bring some rocks back, we can certainly solve this matter of mercury. It's just a matter of will."
28 Jewelry News • May 2023
NAJA
The National Association of Jewelry Appraisers P.O. Box 18 Rego Park, NY 11374 718.896.1536 www.NAJAappraisers.com Appraisal Studies Course Two Annual Conferences Business Development Series
can help you open doors to your appraisal profession!
Small scale miners wash panned gold. Photo UN Environmental Protection Agency
In Bolivia it's a family affair to pan for gold.
Photo Yale360
Mercury is used in gold extraction with artisanal miners. Photo GEF.org
Simple Secure Durable O p e n s w i t h a F l i c k 509-688-9317 info@lockshank.com Contact Us Today: L o c k s w i t h a C l i c k
back on the fast track!
You spoke and we listened. We've been working hard to improve our delivery. We are focused on the items you need the most so we don't have to compromise our industry leading quality and customer service.
We identified our core jewelry products and built stock of our most popular sizes and metals. We also prioritized our standard mill alloys to ensure they remain on the fast track.
QUICK ship GET IT FAST
We continue to offer thousands of made to order products and 38 specialty mill alloys with longer but reliable lead times. If you don't see something you need, we will work with you on a solution.
FASTER LEAD TIMES FOR MILL PRODUCTS
Grain, solder and wire foot pieces in standard metals ship same or next day. Other mill products in standard metals (14KW, 14KY, 18KY, 18K Royal and STR) ship in 4 business days.
JEWELRY ITEMS ARE IN STOCK
Settings and shanks in standard metals and sizes are in stock and ready to ship! Earrings and solitaires can be assembled in 5 days from stock components.
MADE TO ORDER MILL AND JEWELRY ITEMS will ship in less than 15 business days.
us earn back your business with our improved delivery times. SINCE 1912 SINCE 1912 MADE IN THE SINCE 1912 MADE IN THE info@hooverandstrong.com ® ® www.hooverandstrong.com
for the GET IT FAST icon to determine a stock versus a made to order item.
Let
Look
She'll be saying
COMFORT ♦ LUXURY ♦ SLIM
MINED ♦ LAB GROWN DIAMONDS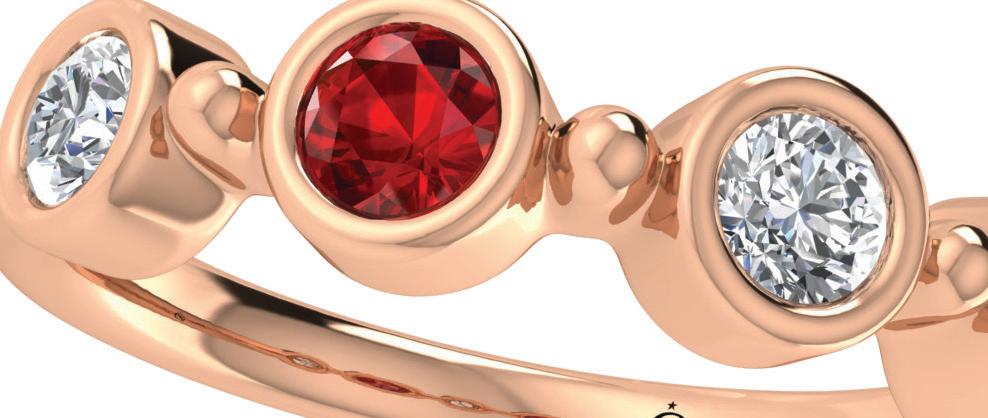 Online configurator available for immediate pricing
• Band builder i-Frame with customized markup system
• In-Store showcase kits available upon request
•
6 Months Free Trials - contact for more details
EMERALD
Innovative Modern Jewelry
30
OVAL PRINCESS ROUND
StarLUX
31 Jewelry News • M STARLAB JEWELRY Lab Grown Diamonds Toll Free- 1•866•368•5700 Sales@gemstarco.com Irving, Texas www.gemstarco.com The Venetian & The Venetian Expo, Las Vegas June 02 - June 05, 2023 #15059
Boost your website traffic with permanent jewelry trends
By Guy Pineda
As a jeweler, you may have already noticed the increasing popularity of permanent jewelry on the internet. It is a hot topic in the jewelry business right now, with some calling it forever jewelry. While it may sound extreme, this type of jewelry is attracting a diverse range of people of all ages, genders, and relationships.
With this in mind, have you considered leveraging this trend to enhance your website's traffic?
Because if you haven't - why not?
It's your chance to make your website more visible. In this article are 3 easy steps and ideas on how to use the increasing trend of permanent jewelry to grow your website's traffic.
Permanent Jewelry Trend
According to the latest Google Trend data from 2023, the United States has shown a growing interest in permanent jewelry trends over the last year. That interest reached a peak in February.
Permanent jewelry is a
Guy Pineda
unique concept in the jewelry business, where jewelry stores offer a service to consumers looking for gifts that hold a forever meaning. This involves customizing jewelry, such as necklaces, bracelets, and anklets, by welding it onto the customer (without a clasp) so that it becomes a permanent part of their body.
It's an unconventional approach, but the results are astounding, as the jewelry becomes a permanent symbol of the relationship or occasion it represents. No wonder a staggering number of best friends, bridal parties, mother-daughter families, and couples are getting permanent jewelry to signify their unbreakable #forever bond.
Now we shouldn't be sleeping on this trend, should we? Take advantage of this moment to make your website more noticeable, and here's how:
3 Steps to Boost Your Website Traffic with Permanent Jewelry Trends
#1 Create Your Own Permanent Jewelry Service Page
One of the most effective ways to do this is by creating a separate service page on your website for permanent jewelry. Start by writing about the concept of permanent jewelry, the process of making it with examples, tips, pricing, why people opt for it, as well as the meaning behind it. Adding high-quality images and videos of your work can also enhance the page's appeal to help visitors get a better idea of what to expect. A separate service page dedicated to permanent jewelry also presents an opportunity to set the site apart from your competitors.
#2 Optimize Your Service Page for Search Engines
Once you have created your service page, optimize it for search engines using SEO. This means using relevant keywords related to permanent jewelry throughout the page, including the page title, headings, body text, and alt text for images, to improve your search engine visibility and attract a steady stream
Please see Pineda page 42
32 Jewelry News • May 2023
The Story Behind the Stone The Maine Thing
By Diana Jarrett
As jewelry fans, we love hearing tales of gemstones coming back from far flung exotic locales around the globe. The more remote the better. We'll probably never go there ourselves to retrieve such natural beauties. But that only adds to their allure for both the retailer and consumer.
Born In the USA
Fortunately it turns out, some stunning gems just so happen to be local home-grown beauties. Maine tourmaline is a perfect example of a born-in-the-USA jewel with myriad enthusiasts.
What is Tourmaline?
To be clear, tourmaline is actually a group of several different minerals, each containing a similar crystal structure but with different chemical formulas. That means we'll discover tourmaline in a vast array of colors too - starting with black and colorless, then presenting some vivid blues, reds, greens, and the cap-
tivating watermelon variety. This bi-color variant is distinguished by its reddish pink tones inside of a green exterior. The unique orientation can be exploited by cutting it into charming watermelon slices. More recently in 1989, the discovery of copper-bearing Paraiba tourmaline thrilled collectors with its electric Windex Blue tint. Well-cut Paraiba seems to radiate
with a neon hue, it's claimed.
Mistaken Identity
While Spanish conquistadors to the Americas first came upon green tourmaline in the 1500s, they mistook it for emerald - an idea that held until the early 19th century when mineralogists corrected its identification.
Looking to Maine
As for the Maine thing, it wasn't until 1820, the same year that Maine became the 23rd state, that tourmaline was discovered by two boys scouting out the woods. The young mineral enthusiasts saw something green glistening in the sun at the root of an upturned tree during a tough Maine winter. When warmer weather prevailed, they returned to find several tourmaline crystals there which they sent to Yale University for identification.
Early Abundance - Modern Day Scarcity
While at one time, there seemed to be plenty of tourmaline for the taking, nowadays it's considered quite scarce. Still today, a weekend prospector can transform themselves into a miner in many areas of the state. Hobbyists looking for tourmaline are allowed at various sites for a small admission fee. Some areas of Maine are best known for producing black tourmaline. And scattered around the state in places like the Dunton Mine, Mt. Mica, or Black Mountain (Rumford) one might turn up some fine colored tourmaline.
Maine Perspective
Maine-based cutting artist Derek Katzenbach, of Katzenbach Designs is very familiar with the material. "Maine tourmalines are available but not as abundant as tourmalines found elsewhere around the world." He also confirms its difficulty in securing larger stones over 3 or 4 carats, as
well as those very top colors. Because of that, it takes some finessing to make the most of the original crystal. "Most stones are cut to the shape of the rough rather than just cutting rough into calibrated sizes because of the rarity of the material."
In the 1970s, a sizeable deposit of watermelon tourmaline was discovered. But that was the last of the big haul for that particular variety. "Today it's also becoming more scarce," he reports.
Katzenbach is mindful of Maine's limited supplies and its collectability amongst savvy gemstone lovers. They may ask for anything, and he wants to deliver. "I try to keep a large inventory of cut local stones, so I have something close to what a customer is looking for in color, size and shape." That keeps him on the hunt for fine quality local goods. "I've bought rough and finished gems for years from either miners, collectors, or other jewelers, and local gem cutters. "
crystal. This impressive natural rough currently resides at the National Museum of Natural History (part of Smithsonian Institute) in Washington, D.C.
You can get your Maine tourmaline fix at other places too. Harvard University displays a Maine tourmaline necklace made from a variety of different colored stones - all from that region of its first discovery.
Colors To Crave
Some colors definitely have greater collectability than others with gemstone fans. It follows along the lines of rarity, he points out. "The rarest colors I'd say are bi-colors and then vivid blues. The most sought after colors are greens, blues, pinks in vivid tints." The darker blues are less desirable.
Katzenbach also sees that the brighter the tone of the gem, the faster it sells. "Maine tourmaline is fantastic for use in everyday jewelry, and it cuts really wonderfully from a lapidary perspective."
Inspiration on Display
Miners keep hunting for the biggest crystals. The larger the rough, the more options a cutter has for working the material. Historically for Maine, tourmalines were sometimes found in massive crystals, like the "Jolly Green Giant," a celebrated 10-inch green
Local Gemstone Pride
Jewelry consumers today are more aware than ever about ethical practices for sourcing colored gemstones. So creating a 'homegrown' piece of tourmaline jewelry from Maine has more desirability than ever before. With its vast array of colors, consumers will find it easy to discover their personal favorite.
Award winning trade journalist and gemologist Diana Jarrett is a Registered Master Valuer Appraiser and a member of the Association of Independent Jewellery Valuers (AIJV). She's a popular speaker at conferences and trade shows. Jarrett writes for trade and consumer publications, online outlets, her blog: Color-n-Ice, and www.jewelrywebsitedesigners.com. Contact her at diana@dianajarrett.com, visit her website at www.dianajarrett.com, and follow her on Facebook and Twitter (Loupey).
34 Jewelry News • May 2023
Diana Jarrett
4.80 ct Maine tourmaline from Plumbago Mountain.
Photo Katzenbach Designs
10.86 ct Maine tourmaline with fancy yellow diamonds. Photo Katzenbach Designs
Maine's Jolly Green Giant tourmaline on display at the Smithsonian Museum.
Photo Chip Clark
Not a p a r t n e r y e t ? M a y b e it ' s t i m e t o c h a t ... . . . - . . . - . - . . or v isit our boot h at one of t hese shows Centurion | RJO | IJO | LUXURY by JCK | JCK | Prime Group
Furry Friends on the Job! FF
Do you have a furry friend that helps out in your store? Tell us about it and send a picture to bill@southernjewelrynews.com.
Meet Leo! Leonardo "Leo" is the most energetic and frequently requested employee at Keokuk, Iowa-based Cahill-Pribyl Jewelry & Gifts. He was adopted during the pandemic and has been a mainstay at work since the store reopened. Leo is a Lab/Border Collie mix. Unlike his breeds commonly known characteristics, he is very calm and laid back. Leo is eager to get to work each day and loves to greet every customer that comes in. He will even comfort customers while they get their ears pierced. His favorite part of the day is when delivery drivers bring him treats and play with him. He's a perfect t in the jewelry store and is loved by everyone!
Say hello to Asher (pronounced like the diamond) the Poodle! Asher is the furry greeter at MB Rich Jewelry in Lake Charles, Louisiana. He works alongside his human Mike, the owner of MB Rich. Admittedly, sometimes Asher slacks on his job, he's often found lounging around and taking naps. He likes to greet people - sometimes - but mostly not, unless they have snacks (we told you sometimes he's slack). As you can see, he's quite the debonair character and a staple at the store.
Introducing Zeva! Here she is in her "ready" pose as she waits for a customer to toss the ball. "Not much of a challenge as there is not far to run, but doing it non stop can get her panting," says Gino Blando, owner of Marry Me Jewelry in Countryside, Illinois. Zeva is a two year old Chocolate Boston Terrier, and comes to work with Gino's daughter Melanie 3 days a week. There are times a client will peek in and ask if the dog is in, then say I'll stop back another time if she's not. Considering how much the customers love her, maybe Zeva should start working full time.
Jewelry News • May 2023 Email: contact@pickensinc.com 480 E. Paces Ferry Rd. Atlanta, GA. 30305
Education, networking, hospitality featured at Spring Atlanta Jewelry Show
The SoHo Experience by AJS proved itself once more as a diverse, tradeshow event with just the right amount of Southern Hospitality and all the trimmings.
The event which took place March 10 - 12 at Cobb Galleria Centre in Atlanta had a weekend filled with top-notch education, immersive experiences, leading industry vendors, interested shoppers, and a plentifulness of opportunities to foster new relationships and reconnect with old friends.
Pre-Show education - consisting of 1-hour sessions and 2-hour masterclasses - was led by SoHo Pros who are industry experts in their fields. The curriculum was geared towards five areas of interest; Retailing, Digital & Live Marketing trends, Sales, and Custom Design. The program curated by Director of
Education Cindy Chandler was designed to provide retailers with the "answers you need to move your business forward." Of widespread appeal for all attendees, was a masterclass on tapping into the power of your iPhone given by Ian Van Slyke, Founder of Mac Learn.
Friday afternoon debuted a lively and engaging SHOW
SNEAK PREVIEW hosted by Gem Shopping Network's Tiffany Bayley via the private 24/7 Atlanta Jewelry Show Facebook Group. Participating vendors chatted with Tiffany and viewers about their products during the 3-hour broadcast. By 6:00 pm, attendees flocked to an evening "icebreaker" ready to socialize and catch up with friends.
An impressive lineup of exhibiting companies brought the best of products and resources to
target attendees' essential business needs. Experiences and interpersonal connections were on full display and included more live-streaming by Tiffany Bayley with vendors and buyers, and a "Build a Bliss Bag Bar" which served as a fun example of the kind of interactive experience you can implement in your own business. The AJS Kids Jewelry Camp was nothing short of thrilling for AJS "Rockstar" campers ages 6-16. Campers used professional tools to learn hand engraving and jewelry-making techniques. All show attendees were welcomed one hour each day if they wanted to pick up some skills of the trade. New exhibitors were made to feel welcome with daily champagne toasts and Saturday night's social event, Soho Night Lights, brought show attendees out in large numbers cheering each
other on with Karaoke and then dancing the night away.
"The Atlanta Jewelry Show always knocks it out of the park, providing the best experience for vendors and retailers, and creating a wonderful community," said exhibitor, Rebekah Anderson, Graduate Gemologist (GIA) and Association of Jewelry Appraisers and owner of Earth Pebbles Gemology.
"I love the AJS! It is a great place to network and shop for the latest jewelry styles. My family has been going to the AJS as long
as I can remember," said buyer, Jennifer Beatty of Wright's Jewelry, Fallston, North Carolina.
Additionally, the Atlanta Jewelry Show served as host for a GIA Gem Identification Lab Class facilitated by a GIA instructor, and the AGS/Southeastern Guild who presented an informative and well-attended session on Crime Trends and Best Practices for the fine jewelry industry presented by FBI Special Agents. The Atlanta Jewelry Show's Fall Show will be held August 26 - 27, 2023.
38 Jewelry News • May 2023 Industry Events May 30-June 1, 2023 • Caesars Palace Vegas • www.pjexpo.org • Learn New Skills from more than 25 Educational Courses • Find Key Suppliers at the World's Largest PJ Marketplace • Create Invaluable Relationships with Many Networking Opportunities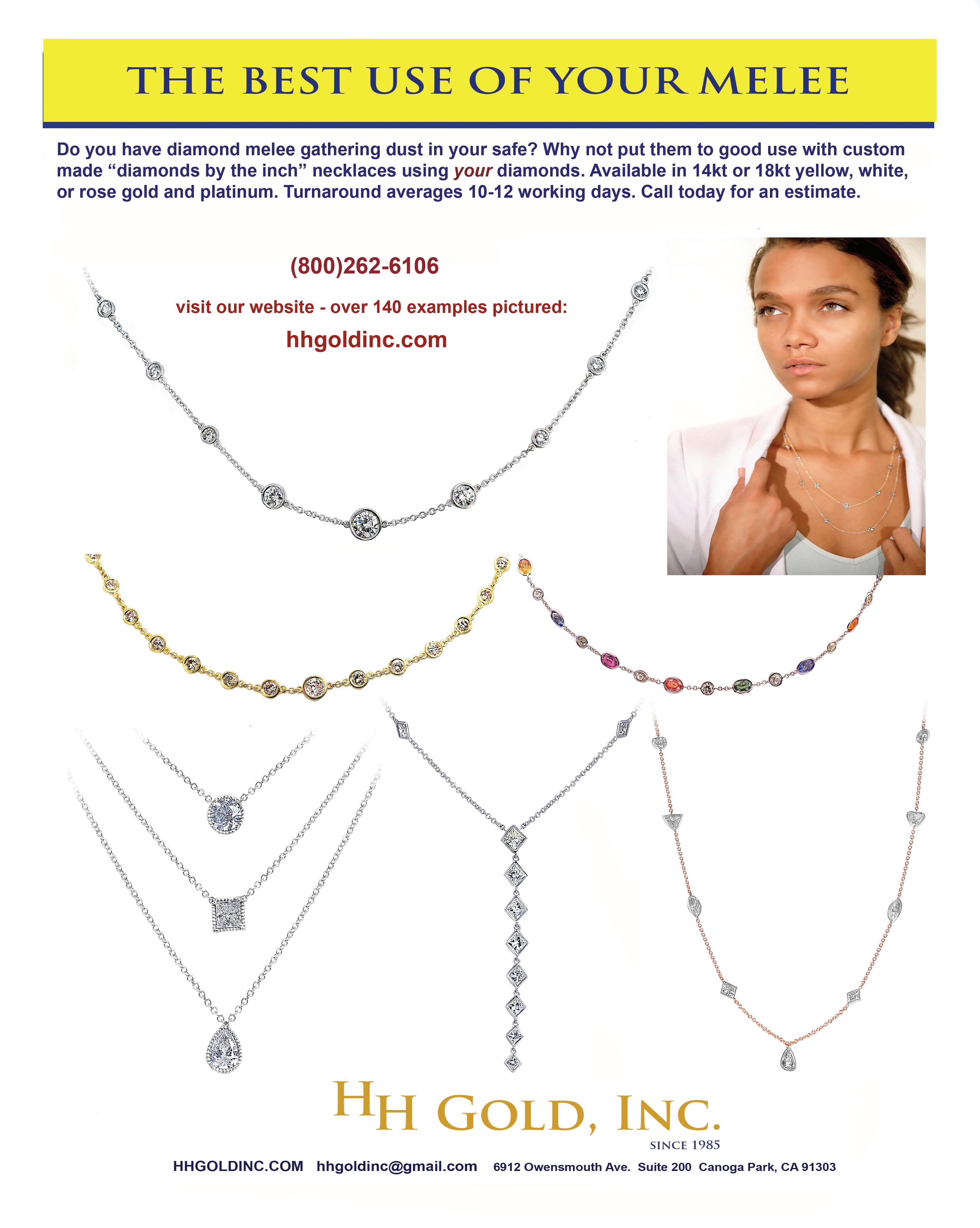 Industry Events
Multi-platinum singer Andy Grammer to headline at JCK Rocks
(NORWALK, Conn.) -
JCK has announced the headlining entertainment for this year's JCK Rocks event is Andy Grammer - the multi-platinum singer, songwriter and record producer with hits like "Honey, I'm Good" "Keep Your Head Up" and "Fine by Me".
The JCK Rocks special performance will take place on Sunday, June 4 immediately following the Jewelers For Children Facets of Hope Gala. Both events will take place in the Palazzo Ballroom on Level 5 at The Venetian. Doors to JCK Rocks will open at 9:00 pm with the Andy Grammer performance to follow (Jewelers for Children attendees will have early access). JCK Rocks 2023 headline sponsor is Brosway Italia, and open to all JCK & Luxury badge holders, no tickets are required. JCK PRO badge holders will have a private entrance and reserved area.
Multi-platinum troubadour
Andy Grammer continues to engage, energize, and empower audiences with stomping stadium-
size pop anthems meant to be shared at full volume. His observations and affirmations pick you back up when you need it, affirm your potential, and encourage you to keep going. His catalog consists of numerous bona fide hits, including the quadruple-platinum "Honey, I'm Good," platinum singles "Keep Your Head Up,"
"Fine By Me," "Don't Give Up On Me," "Fresh Eyes," "Good To Be Alive (Hallelujah)", gold
single "I Found You," and the gold albums "Andy Grammer" and "Magazines Or Novels". He has quietly generated billions of streams and lent his music to films such as Five Feet Apart. When "Don't Give Up On Me" soundtracked ESPN's 13th Annual V Week for Cancer Reach, he garnered a Sports Emmy for
Outstanding Music Direction and a Clio Award. Beyond selling out shows on multiple continents, he has electrified dozens of television shows, including The Today Show, Jimmy Kimmel LIVE!, Good Morning America, American Idol, The Tonight Show Starring Jimmy Fallon, and The Late Late Show with James Corden in addition to appearing as a contestant on Dancing with the Stars. Most recently, his 2019 offering, "Naïve", arrived to widespread critical acclaim. Parade attested, "Each song on the album magically pinpoints its emotional target with brilliant composition and performance," and People hailed it as "touching." Once again, he makes a connection on his forthcoming fifth full-length album led by the song "Lease On Life".
"JCK Rocks is the culmination event of JCK, a much anticipated evening bringing our industry together to celebrate through
the joy of music and connection. We are looking forward to an amazing high-energy private concert with Andy and his band followed by a DJ after-party for all of JCK and Luxury to enjoy. A special thanks to Brosway Italia, our headline sponsor of the 2023 edition," states Sarin Bachmann, Group Vice President, RX jewelry portfolio. "We are also excited to be taking place in the same place and on the same evening as the Jewelers for Children Facets of Hope Gala. It's a great way to bring the industry together for a great cause and to celebrate."
Visit lasvegas.jckonline.com for updates, announcements and more information.
JCK 2023
JCK: June 2 - 5, 2023
Luxury: May 31 - June 5, 2023, By Invitation Only May 31 & June 1
GEMS & JCK Talks: June 1 - 5, 2023
JIS Spring 2023 concludes with increased international attendance and expanded show floor
(NORWALK, Conn.) - JIS, the premier event for immediate and seasonal at-show jewelry delivery, concluded its three-day jewelry buying event JIS Spring on March 28 with increased overall attendance including first-time and international attendees at the Miami Beach Convention Center, Miami Beach, Florida.
"JIS welcomed thousands of buyers from across the globe to experience the wide assortment of products from the 365+ exhibiting companies. We are thrilled with the increase in attendance from the Caribbean and first-time attendees. We also saw a surge in overall international attendance," said Sara McDonough, JIS Show Director.
Strategically planned to provide jewelry retailers with timely inventory sourcing, JIS Spring featured an impressive selection of products from fine to fashion, silver, gold, diamonds and more. The expanded 75,000 sq. feet of show floor included key pavilions: The Galleria, Silver & Fashion, Fine Jewelry and the international areas, Türkiye and the new Surat Jewellery Manufacturers Association (SJMA) pavilion.
Attendees enjoyed a lively atmosphere with mimosas during peak registration hours, DJ, photo booth, daily pavilion pop up events and happy hours in the Galleria lounge. Buyers reported they appreciated the JIS expert business tips located around the show floor on column wraps and new digital enhancements aimed at reducing the event's carbon footprint.
"The warm and sunny Miami Beach weather reflected the recharged energy at JIS Spring. As the leading seasonal buying and stocking event to replenish and discover the season's must-haves, attendees could productively shop the show and enjoy mood-boosting touches and clink glasses at the networking opportunities," noted Lauren van Rensburg, JIS Marketing Director.
"JIS is the show for attendees to source what they need for their businesses now. We are continuing to grow to meet the interest and demand of our attendees and will expand and enhance the show with elevated curation of merchandise the industry is keen to discover in the future," says McDonough.
JIS Fall will take place from October 13-16, 2023 at the Miami Beach Convention Center. To preregister, please visit jisshow.com/fall/en-us/pre-register.html.
40 Jewelry News • May 2023
BOOTH #19127
Manufactured in USA At our factory in New York 10-14 Day Delivery
Band Options: Full Eternity, 3/4 way, 1/2 way, 5 Stones, 7 Stones, 9 Stones, East-West
Special Orders Free CAD & Images with Price Quote
Diamond Qualities: FG VS, GH SI
Lab Grown Available
Diamond Layout's Emerald, Oval, Cushion, Pear, Asschers, Marquise, Princess, Heart, and Rounds
Memo Support: Large inventory to ship overnight to show your customers
37W 46th Street 3FL New York, NY 212-997-4040
CURRENTS JCK LAS VEGAS
Full Eternity 3/4 Eternity Half Eternity Five Stone Eternity East West Eternity Info@sabanonyx.com
Brian Duffy and the Gabriels to be honored at JFC's 2023 Facets of Hope
On Sunday June 4, 2023 Jewelers for Children will hold their annual Facets of Hope event and mark 25 years of the industry helping to enhance the lives of children. The event will be held at the Venetian Resort Hotel Las Vegas, in Las Vegas, NV during jewelry market week.
During the event Brian Duffy of Watches of Switzerland and Jack and Dominick Gabriel of Gabriel NY will be honored. The charity will also announce the success of their fundraising efforts for the year, pledge donations to their charity partners, and mark 25 years since the industry organized to help enhance the lives of children.
"Brian, Jack and Dominick are some of the strongest honorees the charity has ever recognized," said Alan Zimmer, JFC Board Chair. "Their support of the organization is unmatched."
The event will be held in the Palazzo Ballroom at the Venetian at 6:00 p.m. with cocktails and food. A brief program will be held where the honorees are recognized, followed by dessert. The popular
JCK Rocks will be taking place immediately following the Facets of Hope event, also in the Palazzo Ballroom. Attending Facets of Hope will give you easy access to stay and enjoy the concert.
Anyone interested in attending or sponsoring can contact JFC at 212-687-2949 or info@jewelersforchildren.org. Details and participation forms are available on the JFC website, www.jewelersforchildren.org.
Jewelers for Children was founded in 1999 by the U.S. jewelry industry with the mission of enriching the lives of children. Since its inception, Jewelers for Children has raised more than $60 million for programs enhancing the lives of children through charity partners St. Jude Children's Research Hospital®, the Elizabeth Glaser Pediatric AIDS Foundation, Make-A-Wish® America, and the National CASA Association. Jewelers for Children also provides support to Make-A-Wish® International and the Organization for Autism Research.
Continued from page
of targeted traffic to your website.
But what are the related keywords to permanent jewelry that you should be using on your website? According to the Google Trend data, the keywords "bracelets" and "permanent jewelry near me" are the top related topics and queries, respectively. You can also take advantage of ChatGPT's popularity and other AI-writing tools that could generate keywords for your page.
#3 Promote Your Page
Now it's time to let people know you're also into forever jewelry. You can create social media content and blog posts on your Google business profile that link to your permanent jewelry page. Whenever you use the keyword "permanent jewelry" on any part of your website, such as your homepage and product pages, ensure to create an internal link from those pages to your permanent jewelry service page or vice versa.
And remember to explore off-page SEO strategies like building high-quality backlinks from websites in the same permanent jewelry niche. These strategies not only help potential customers find your website but also signal to search engines that your website is relevant.
Conclusion
The trend of permanent jewelry is not just a passing fad - it's an opportunity for your jewelry store website to attract more customers and boost your traffic. By creating a separate service page, optimizing it for search engines, and using related keywords throughout your website, you can increase your online presence and attract more potential customers.
If you need help with SEO or gaining more traffic to your website, contact us for expert assistance. Don't miss out on this exciting opportunity to grow your business leads with permanent jewelry!
Guy Pineda, CEO of Jewelry Store Marketers, has owned an award winning digital agency for the past 15 years and has been working in the jewelry industry for close to 30 years. Jewelry Store Marketers is niche agency that helps jewelry stores get more appointments and increase sales through Local SEO, Digital Marketing, Website Development, Social Media, Videos and more. Learn more at jewelrystoremarketers.com.
42 Jewelry News • May 2023
PINeDa
32 SJN MAJN Southern Jewelry News Mid-America Jewelry News
ARE YOU A MEMBER?
MEMBER BENEFITS INCLUDE:
Stones arrive with 3rd party lab grading certificate.
Extended memo terms for "call in" stones increase from 15 to 20 days. Ability to memo lab grown diamond loose stones, studs, solitaire pendants, and rings. Sales promotions, including trunk shows and holiday events.
Volume discounts for Certified stones purchased immediately. Discounted pricing reflected on your price list on QGold.com.

Memo a minimum of $5,000 USD of Lab Grown Diamond products to have in your store for immediate delivery.
43 Jewelry News • May 2023 VISIT US AT THE JCK LAS VEGAS JEWELRY SHOW JUNE 2ND - JUNE 5TH FOR ALL YOUR LAB GROWN DIAMOND NEEDS! TWO BOOTH LOCATIONS! QUALITY GOLD PLUMB CLUB PAVILION 230 LAB GROWN MADISON AVENUE LAB GROWN DIAMONDS LAB GROWN PAVILION 5147 Exclusively Through Your Complete Jewelry Source
LEARN MORE ABOUT BECOMING A MEMBER SHOP NOW QGOLD.COM 1-800-354-9833
AV Diamonds announces new Ethos Creations and V & A Luxury Divisions
A subsidiary of AV Diamonds of the V&A Group
(HOUSTON) - AV Diamonds, a major manufacturer, and wholesaler of bridal and fashion diamond jewelry since 1998, is excited to announce two new divisions - Ethos Creations and V & A Luxury.
Ethos Creations is a womenowned company, that supplies high-end lab-created diamond jewelry. The collection of labcreated diamond jewelry is made with VS-SI IGI certified quality goods. With state-of-the-art machinery, Ethos collections include solitaire pendants, earrings and rings, to classic bridal and highend fashion designs set in 14-karat gold. The line proudly supports the Susan G. Komen Foundation in its fight to cure breast cancer.
"Ethos is the world of ethical and sustainable jewelry, and as such, all of its pieces are made from recycled or sustainable materials," says Simran Kotak, director of Ethos Creations. "We believe that beauty and responsibility go hand in hand."
V&A Group is also pleased to announce V&A Luxury division debuting at the JCK Las Vegas tradeshow May 31st -June 6th, 2023.
The V&A Luxury team of skilled artisans and designers showcases the latest high-end diamond and gemstone products
using cutting-edge designs. A rigorous, multi-step testing phase is performed on each piece to ensure no detail is overlooked and to deliver only exceptional quality. Featuring VS-SI clarity, F-G color diamonds, and high-quality gemstones, each piece is individually selected by a team of master
jewelers.
"We're dedicated to bringing retailers exceptional products at accessible price points meant to drive your bottom line," stated Mike Bhatt, VP of Global Sales. "We consistently deliver the latest designs of the highest quality. The line is a perfect balance of
timeless elegance and fashionforward modernity."
For more information visit avdiamond.com, call 866-2834367 or 713-270-4367, or email info@vandaluxury.com. View the new collections in person at JCK Vegas booth #15075.
About V&A Group
V&A Group was founded in 1998 by Vinay Kotak and has grown to become an innovative industry leader and jewelry powerhouse, built on principles of ethics, integrity, honesty and innovation. V&A Group is based in Houston, Texas with headquarters and manufacturing centers in Mumbai. Additionally, manufacturing centers are located in India and China, enabling V&A Group to offer their customers everyday market price points with delivery in a timely manner. V&A Group are proud members of the Responsible Jewelry Council and are dedicated to utilizing the most ethical and sustainable practices.
Costar releases 2023 Bridal Book
Costar has announced the launch of their 2023 Bridal Book. This year's book is filled with Costar's best sellers as well as numerous new products that represents the latest trends in diamond bridal jewelry and diamond bands.
"This Bridal Book is a proven tool to generate more bridal sales during the year, and to ensure your success selling the most important category in your store," said Al Minor, Costar VP of Sales and Marketing.
Costar 2023 Bridal Book Marketing Program Features and Benefits:
• Bridal Book Jewelry Guide 24-page Guide can be used instore or digital to brand your store, generate traffic, develop new customers, and turn inventory while maintaining attractive margins.
• In stock position on most items in the Bridal Book with 3-5 day delivery
• 3% Advertising Co-op Program - 3% advertising subsidy against net asset purchases to offset the cost of Bridal Book print, postcards, billboards, and approved Costar ads.
• 500-1000 Books free and up to 6 months of equal pay-
ments with different purchase levels.
• Customizable - Customize your Bridal Books with store logo imprinted on the front and back covers, 'Your Story' on the inside front cover and choose your own markup.
• Brand Customization: & Custom Print E-Coupon - Use the coupon on the back cover to promote other brands in your store or to provide your customer with 'seed money' in the form of a discount for purchases.
• Digital Marketing: Digital images for social media, website, QR code, and customized digital flipbook.
• In-Store Marketing Visuals - High resolution images for customized in-store DVD loops, duratrans, and window clings. Available for co-op print media for customized ads, billboards, postcards and approved print media.
"We promise to provide the highest quality bridal and diamond fashion product and customer service experience to our
business partners," said Minor.
"Our goal is to assist you in generating more traffic in your stores, to help maximize your inventory turn, to increase and maintain your margin integrity, and to provide you with couture quality
diamond product at Main Street prices."
For more information about the Costar Bridal Book Program, call 800-726-7827, email info@ costarimports.com or contact your Costar Regional Manager.
44 Jewelry News • May 2023 What's New
Ethos Creations
V & A Luxury
45 Jewelry News • May 2023 IGI Lab Cert# 559284339 561265188 549299517 561254530 566395914 571308970 563231704 572356358 502156276 550256057 534250059 530210482 550245240 573393945 570366815 566307582 567372978 529263008 559296182 546219041 547257329 546219244 559297491 564363887 508123806 564352771 541250984 539233540 551291152 555265123 566306823 519255431 494185359 492131396 544282930 560218690 572346350 546298186 559295259 Shape BR BR BR BR BR BR BR BR BR PR PR PR PR PS PS PS PS PS EM EM EM EM CU CU CU RAD RAD RAD MQ MQ MQ MQ AS AS OV OV OV OV OV Col/Clar G-VS1 G-VS2 F-VS2 E-VS1 F-VS1 G-VS2 F-VS2 F-VVS2 D-VS1 F-VS1 G-VS1 F-SI1 E-VS1 F-VS1 G-VS1 F-SI1 F-VS2 F-SI1 E-SI1 E-SI1 F-VS2 G-SI1 E-VS1 D-SI1 E-SI1 G-VS1 F-VS1 G-VS1 E-VS1 E-VS2 G-VS1 G-VS1 H-VS1 G-VS1 G-VS2 G-VS1 F-VS1 E-VS2 D-VS2 Cut EX ID EX ID EX ID ID EX ID Polish EX EX EX EX EX EX EX EX EX EX EX EX EX EX EX EX EX EX EX EX EX EX EX EX EX EX EX EX EX EX EX EX EX EX EX EX EX EX EX Symmetry EX EX EX EX EX EX EX EX EX EX EX EX EX EX EX EX EX EX EX EX EX EX EX EX EX EX EX EX EX EX EX EX EX EX EX EX EX EX EX Discount% -98.20 -98.55 -98.20 -98.25 -98.35 -98.60 -98.60 -97.80 -96.00 -98.30 -98.35 -98.25 -98.00 -97.60 -98.05 -98.30 -98.05 -98.00 -98.95 -98.40 -98.20 -98.10 -98.55 -98.40 -98.20 -98.55 -98.00 -97.60 -97 10 -97.00 -98.30 -98.05 -97.90 -97.70 -98.55 -98.55 -98.35 -98.25 -97.50 Depth% 63.2 61.9 62.8 62.2 62.9 60.2 62 59.8 62.5 69.1 72.6 72 73.7 63.9 62.4 62.9 61.9 62.6 65.8 68 66.2 66.5 61.7 67 7 68.8 62.1 65.8 66.5 59.5 66.2 62.3 63.2 65.7 65.4 63.7 63.8 62.1 63 62.9 Table% 59.5 58 54.5 56.5 57.5 59 58 61.5 57 66.5 67.5 66 67.5 61.5 58 58 61 60 69 62.5 62.5 56.5 62 59 58 68 62.5 65 62 60 58 57.5 69 62 62.5 59 60.5 59 57.5 Total$ $4373.73 $1979.25 $2628.00 $2305.89 $1876.88 $1111.32 $1244.88 $1545.83 $575.96 $5480.63 $590.78 $478.17 $435.20 $6204.72 $2454.27 $1024.34 $619.61 $302.94 $1841.18 $453.46 $328.61 $262.20 $4068.12 $500 11 $283.50 $3262.50 $690.20 $405.89 $8152.48 $4150.35 $1208.70 $634.72 $3764.78 $859.16 $2796.83 $1802.50 $1278.75 $594.82 $496.00 Weight 5.01 4.2 4 3.61 3.5 3.24 3.12 2.99 1 19 6.26 2.31 2.07 1 7 5.02 4.06 3.09 2.05 1.53 5.01 2.01 1 63 1.5 5.01 2.07 1.5 5 2.03 1.51 5.02 4.01 3.16 2.1 5.05 2.41 5.01 4.01 3.1 2.06 1 6 22 W 48th St, New York, NY 10036, USA Call: (212)-764-7841 | Email: sales@elgdiamonds.com Website: www.sanghavisolitaire.com/Home/DailySpecial SCAN THE QR CODE TO SEE OUR INVENTORY LAB DIAMONDS AS LOW AS 98.60% OFF! Over 5000 diamonds on hand Short and long term memo programs available Booth #6109 JCK Las Vegas SEE U S A T
What's Hot Now! Latest Designer Trends 2023
By Mia Katrin
Jewelry's fun again! After a couple years of hibernation, who isn't ready to open up and express themselves? What to look for:
Bold Statement Jewelry. Statement earrings of the past are now on steroids! Bigger and bolder than before, the sky's the limit.
necklaces and bold bangles. And layering continues strong. Combine those bold statement pieces with more delicate layers for a nuanced, textured look. Hi-Lo. Even royalty like Princess Catherine, with access
not new. Coco Chanel was well known for combining designer suits with multi strands of long costume pearls. The late Princess Diana also was a trendsetter, browsing High Street for casual pins or earrings to give as gifts or a whimsical accent.
Dopamine Color. Forget minimalism. It's time to express yourself in exuberant colors that make you feel great! Dallas Prince's (dallasprincedesigns. com) signature bold but nuanced use of color has garnered her multiple Spectrum Awards and
delighted her collectors around the world.
Earth friendly ethical sourcing. Millennials and succeeding generations are increasingly aware of our impact on the environment. Dallas Prince shares, "We have an artistic opportunity as jewelry designers to find ways that repurpose, rebuild and reinvent gemstone jewelry." Her newest collections include pieces that repurpose gems using composite restructuring.
Mega Trend. Trends are emerging more and more from
Mia Katrin
street" to see what's trending. Tik Tok's viral videos are what's generating the buzz. So, feel free to toss the "experts" and seek Street Style. Or create it yourself! It's empowering.
Mia Katrin is an award-winning jewelry designer featured in over 100 stores nationally. To
Kate Middleton dazzled recently in oversize florals at the BAFTA awards. Look also for statement
to some of the rarest and most precious jewelry in the world, is branching out and combining designer gowns with "costume" statement earrings. Couture and costume? Actually, this trend is
"the street," rather than "top down." Traditionally, Pantone's Color Institute has dictated what the "color of the year" would be. (This year it's Viva Magenta).
Top designer houses - Chanel, Dior, Valentino - set trends for the upcoming season on the runway shows in Paris or New York's Fashion Week. Now, more often than not, Vogue is scouring "the
become a Jewel Couture LLC retailer, contact www.jeweljewel. com, 828-406-1105 or mia@jeweljewel.com. A recognized industry spokesperson, Mia also writes for several jewelry magazines and frequently is an invited speaker at major national trade events. She recently launched a new marketing agency to help you sell online, TheJewelersMarketer.com.
46 Jewelry News • May 2023
Bulgari Ambassador Zendaya at recent SAG awards with multigem and diamonds.
Princess Catherine of Wales wearing Zara's 30 British pound MSRP Statement Earrings at the recent BAFTA awards, with designer gown and evening gloves.
Dallas Prince United Opaques Ring with a rainbow of mineral colors.
Repurposing gems. Dallas Prince Organic Turquoise Mosaic Bangle.
"IMMEDIATE CASH"
$1,000,000 Available!!
FROM TIMEX TO ROLEX WFN Is Now Buying
Watches & Watch Material!
Large Quantities Desperately Needed For Our Domestic & International Operations!
BUYING ALL QUALITIES & GRADES FROM 5¢ TO $5,000 & UP!
• ALL WRISTWATCHES!
• ALL POCKETWATCHES!
• ALL LADIES WATCHES!
• ALL MENS WATCHES!
• ALL GOLD & PLATINUM WATCHES!
• ALL NON GOLD WATCHES!
• ALL NEW OVERSTOCK WATCHES!
• ALL UNPICKED-UP AND ABANDONED WATCH REPAIRS!
• ALL MOVEMENTS, MECHANICAL & QUARTZ!
• ALL WATCHES WORKING OR NOT
• ALL WATCH BANDS!
• ALL WATCH SCRAP!
SHIP OR CALL FOR HIGHEST OFFER! We will travel to buy your watch shop or jewelry store inventory!!
Estates and Businesses Liquidated!!!
Reasonable Commissions!!
BUYING...
WATCHES
• High Grade
• Low Grade
• New & Used
• Watch Related Items, Such As Watch Bands & Watch Material
• Ladies/Mens - Pocket & Wrist
BUYING...
FLATWARE
• Sterling Silver
• Silverplate
• Stainless Steel
• Dirilyte
• Pewter
• Large quantities always welcome
BUYING...
JEWELRY
• Karat Gold Jewelry
• Platinum Jewelry
• Scrap Jewelry
• Gold-Filled Jewelry
• Sterling Silver Jewelry
• Costume Jewelry
• Diamonds & Colored Stone Jewelry
• Coin and Related Items
BUYING...
MISC.
• China & Crystal Tableware
• Gift Items
• Coins and Coin Collections
• Christmas Tree Ornaments
• Old Fountain Pens
• Sterling Holloware & Tea Sets
• Tools and Equipment
47 Jewelry
Call 770-396-1787 • FAX 770-395-6959, email to wfn2@mindspring.com or write at 5579B Chamblee Dunwoody Rd. #215, Dunwoody GA 30338 - Dept J23
are members of SJTA. Serving the Jewelry Industry since 1974. Know of an estate or
for sale?
We
business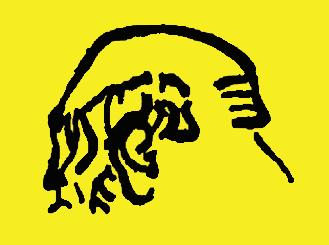 49 Jewelry News • May 2023 Importers of Diamonds and Gems* Manufacturers of Mounted Goods * Also Diamond Jewelry Virgo Star, Inc. P.O. Box 31728 Knoxville, TN 37930 "Compare Our Prices" Arvind Zaveri Raj Zaveri 800-222-8065 865-693-4939 865-694-4088 (fax) Nick Zaveri Girish Zaveri 865-694-5411 865-694-5412 865-694-5413 (fax) K-Star Corp. P.O. Box 31903 Knoxville, TN 37930 Jewelry News Classifieds SERVICES TO THE TRADE Recuts and repairs Free consultations Laser inscription Inscription removal Facet girdle Sarin reports 24-hr. emergency service Since 1972 800.654.0456 schumacherdiamond.com cutters @ schumacherdiamond.com We work with all independent jewelry stores. One-time orders gladly accepted. No minimums. No buy-ins. Custom Fingerprint Jewelry Touched Impressions www.TouchedImpressions.com 992 Davidson Drive, Suite J •Nashville, TN • 37205 (615) 354-6361 • TouchedImpressions@gmail.com WANTED TO BUY A FULL SERVICE TRADE SHOP "Helping jewelers with their repairs for 33 years" Having trouble with your repairs??? Call that shop in Oklahoma! SOONER R E P A I R Since 1990 Reliable quick - fast-turnaround service 1146 E. 61st St. • Tulsa, OK 74136 918-742-GOLD soonerrepair@cox.net REFINERS Filings • Buffings • Bench Sweeps Polishings Floor Sweeps • Gold Filled Broken Watches Dental • Gold • Silver Diamonds • Platinum No Disappointments! The best service in the business! We process and purchase all uncastable materials. Dawn Light 248-761-4949 or 866-941-4566 dlightre ners.com "The Only Choice that Puts You in Control!" Visit us online: southernjewelrynews.com Southern & Mid-America Jewelry News BUYING DIAMONDS Immediate Payment Since 1975 SHAI GUT INC 800-822-0608 ALL SHAPES SIZES & QUALITIES Up to 99% for your scrap gold Immediate Payment Melt Assay Refining Manhattan Gold & Silver We Buy Gold 45 West 47th Street New York, NY 10036 212-398-1454 www.mgsrefining.com Any Amount • Immediate Payment Sterling • Diamond Watches • Fashion WE BUY JEWELRY CLOSEOUTS! Midtown • Wes 801-694-1775 Anything Jewelry Related! Follow us on Twitter @SJMAJewelry News Like and follow us on Facebook: Southern Jewelry News southernmidamericajewelrynews Find us on Instagram Get Social with us! We would LOVE to have them in the paper on our furry friends page! Tell us about them and send a picture to bill@southernjewelrynews.com FURRY FRIENDS WANTED! Do you have a furry friend who helps out in your store? We want to hear from YOU! SJN MAJN cash cow 1_Layout 1 7/30/14 5:37 PM Page 1 Call 800.545.4367 or cmcmelee@yahoo.com Commerical Mineral Company, 2933 N. Hayden Rd. Ste 1, Scottsdale, Arizona 85251 Paris Junior College's Texas Institute of Jewelry Technology Jewelry Horology Gemology CAD/CAM www.parisjc.edu/tijt • 903-782-0380 OH# 96-04-1443T SCHOOLS/EDUCATION Midwest Jewelry Academy • Jewelry Repair • Diamond & Gemstone Setting • Design and Production • Laser and Arc Welding • Shop Management and Repair Sales Courses offered: midwestjewelryacademy.com midwestjewelryacademy@gmail.com Contact us: 260-715-4164 Call now to help. 1-800-996-4100 www.stjude.org Can you imagine... a world without children?
We are seeking experienced Jewelry Sales Reps/Wholesalers, for travel. Diamond Jewelry manufacturing & customer service team available to increase sales. Catalog & marketing material provided. Send resume: info@diasunjewelry.com or 888.342.7861
STORE FOR SALE
JEWELRY STORE FOR SALE
in the desirable, beautiful Lake Michigan city of Saint Joseph, MI Retiring after 42 years;
EVERYTHING included.
Sales are 1.5 - 2 million annually.
Yours for only $1,199,000. Phone: 269-845-6368
Have you ever thought of relocating to South Florida? Or opening a second location?
We are an established Jewelry Store located in NW Broward County, at this location 12 years within a growing community of wealthy young professionals. 1600sq ft store in a well established 100% occupied shopping center. Over 4400 customers in our data base. For more information send inquiries to Scottcook33473@gmail.com
POSITIONS AVAILABLE
in Lima, Ohio. Open Tuesday thru Saturday. 10 days paid vacation and 5 sick days. 6 paid holidays. 401k with match, profit sharing. Health Insurance. Minimum 3 years bench experience. Send resume to dennis@vonsjewelry.com
Religious Jewelry Rep Wanted
for Northeast and New England territories. Singer Company has been in business for over 80 years, with many established accounts. We are in search of a motivated individual, with jewelry sales experience and carrying more than one line. Please email Carol at carol@singer-co.com to apply.
HIGH END JEWELRY STORE MANAGER
Dynamic Proven Leader
Ability to Recruit, Hire, Train and Motivate Top Performers. Sunny Southwest Florida!
Must be a Strong Sales Closer
We are expanding. Great location. Top pay, Full Time, Full Benefits Package. $75k-120k yearly. hr@dunkinsdiamond.com
239-822-1022
Experienced Bench Jewelers and Watchmakers Wanted
Luxury operation with locations in Scottsdale, AZ and Evansville, IN. We offer exceptional health insurance, dental and vision benefits, weekly pay, PTO, retirement accounts and matching contributions. Continuing education support and upward mobility. Pay BOE. Visit brinkersjewelers.com/careers/ to learn more and apply today!
50 Jewelry News • May 2023 Jewelry News Classifieds
The Nation's Largest Restyle Event Company Seeks Experienced Jewelry Sales Representatives and Bench Jewelers who are free to travel and ready for the financial success that working for a great company offers. Salary plus commissions $80K to $120K+. Set schedule; no cold calls. 34 weeks per year travel required, security provided. Benefits include bonuses, 401K, and profit-sharing plans, dental, paid health and life insurance, commuting allowance, paid travel expenses and vacation. Fax resume to 770.499.8974 or email careers@danaaugustineinc.com www.danaaugustineinc.com JEWELERS & SALES REPRESENTATIVES GOODS FOR SALE Cutting and Repairing Lab Grown Diamonds Since 1982 800.654.0456 schumacherdiamond.com cutters @ schumacherdiamond.com LAB GROWN & ADVERTISE HERE! Get your ad in front of our 20,000 + readers For more information and rates: email: martha@southernjewelrynews.com Full time sales associate position available at upscale jewelry store based in downtown Sarasota Do you want to be part of a fast-growing community, working with Sarasota's finest jewelry store since 1979? You should have a passion for fine jewelry and a desire to offer top customer service. GIA education is preferred. We specialize in fine, estate and mostly one of a kind pieces. We offer a friendly, energetic work environment with room to grow and great earning potential. We often participate in out of store events, supporting our community. GIA gemologists will be able to utilize their education by offering appraisals, assessing jewelry to buy across the counter, as well as selling fine jewelry and gemstones. Full benefits offered for full-time positions. Please contact info@mccarvermoser.com or call 941.387.8000 Your Jeweler fo Life Bench Jeweler Opportunity Join the Vons Jewelry team! Full time position at 3rd generation Jewelry store
Allison Kaufman...................35 Anna Zuckerman................7 Apollo Manfacturing.......33 Ashi..............................3 Box Brokers.....................19 Casker.................................22 CoStar Imports......................18 Darling Imports...................23 Downeast............................8 E-filigree..........................2 Essential Lab Grown..............45 Ethos Creations....................20 GemsOne........................16,17 Gemstar.......................30,31 GN Diamond......................37 HH Gold, Inc.........................39 Hoover and Strong...............29 IDD Deal..............................15 IDD Flexi.............................11 Inox Men's Jewelry...............10 J.B. Bhanderi..........................9 J.Frank Golden..................24 JewelryStoreMarketers...32 Joel McFadden Designs..........24 Kim International...................5 Kin&Pebble.......................42 Lockshank...........................28 Mia Katrin.........................46 NAJA..................................28 Namano...........................34 Pearls of Wisdom.....14,44,50 Permanent Jewelry Expo......38 Pickens.................................36 Quality Gold.........................43 RDI.................................26,27 Rembrandt Charms...............4 Saban Onyx.............................41 Shinebright....................13 SoutheasternFindings..........40 StarStruck Gemologis............14 Stuller...................................52 Sunstone...............................51 The Edge...............................25 United Precious Metals.........48 V&A Luxury............................21 WJ Hagerty...........................6 WFN Enterprise...................47 Wilkerson.............................12 Advertisers Index
A torch is dirty, toxic, and a risk to precious stones. But with an Orion welder, you'll save time, keep a clean bench, and avoid damaging heat. Constructing a work piece, closing a jump ring, adding wire to a prong, or fixing porosity requires only a fraction of the time. With four models to choose from there's an Orion welder that will fit your studio's budget. Soldering Sucks! ™ ©2023 Sunstone Engineering LLC. Sunstone and Orion are trademarks of Sunstone Engineering LLC. mPulse as shown USD $2900. Pricing subject to change without notice. A-SJN MAY 2023 • Close a jump ring faster than solder! • Resize or repair porosity faster with an Orion welder from Sunstone! • Extend a prong faster without toxic fumes and mess! Less Soldering. More Creating! Call or text +1 801-658-0015 Orion mPulse For smaller studios Starting at USD $2,400* Orion 100c More energy and capability Starting at USD $4,400 Orion 150s Our best selling model! Starting at USD $5,900 Orion 200i For studios that want it all! Starting at USD $8,400 Add Permanent Jewelry to Your Business! The Permanent Jewelry Expo! Education. Marketplace. Networking www.pjxexpo.org MAY 30-JUNE 1, 2023 • CAESARS PALACE
Stuller.com | 800 877 7777 300+ Styles of Chain Unlock limitless possibilities with in-stock chain styles and no minimum purchase requirements. Stuller.com/ShopChain Items featured left to right: CH1207, CH1201, CH1109, CH1212, CH173, CH228, CH1099, and CH1094 Booths 13089 and 54057