Expert cardiac care
TORRANCE MEMORIAL AND CEDARS-SINAI'S AFFILIATION
CARDIOLOGY
BRINGS MORE EXPERT
CARE TO THE SOUTH BAY. More access to cardiac specialists and programs located within Torrance Memorial. More patient benefits from innovative cardiology research and the latest advancements in cardiac treatments. More expert care for our patients and the South Bay. Learn more at MoreCardiacExperts.org
Left to right: Cedars-Sinai Smidt Heart Institute: Aziz Ghaly, MD, Joanna Chikwe, MD; Torrance Memorial Lundquist Lurie Cardiovascular Institute: Ankush Chhabra, MD, Mark Lurie, MD.
just got more experts.
A Taste of Tuscany
Rolling hills, rustic farms, romantic villages. Your warm welcome awaits at The Ranch at Canyon Ridge. You'll be transported to the Italian countryside—just 130 miles from Los Angeles. Peaceful Santa Ynez Valley beckons you with stunning views of foothills and vineyards. Book your stay in the dreamy farmhouse or a charming cottage. Take a dip in the infinity pool and play croquet on the vast lawn. Gather farm-fresh eggs and visit with llamas, goats and cows. It's peaceful and perfect!
An enchanting rural getaway—not far from home.
| @ranchatcanyonridge
The Ranch At Canyon Ridge | 310-962-9481 | ranchatcanyonridge.com
ISSUE PRESENTED BY:
'Tis the season once again. It feels like January 2022 was just last month, but here I am putting away fall decor and burning a Christmas candle as I write this. As the year is quickly coming to an end, I think we all find ourselves reflecting on our accomplishments—whatever they may be. I wanted to read more this year, so I challenged myself to read 25 books through Goodreads. Looks like I have 15 more books to go, so I better get busy!
It seems like life moves faster and faster, so I have been trying to be more present and live in the moment. Take more time to breathe. Don't sweat the small stuff, which is still a work in progress for me. All in all it's been a great year, and I'm excited to see what's on the horizon.
We've had a great year here at Southbay magazine. The team has worked so hard and has done a tremendous job. We even had our first event since the pandemic to celebrate the amazing women in our community. It was a fantastic turnout, and we were so happy to see familiar faces and meet new ones. I continue to be so proud of everyone and what we do here. I hope you feel that when you turn the pages.
I am honored to have our long-term partner and friend Hamilton Butler Jewels as the sponsor of this beautiful Holiday Issue. Joni Hamilton and Shelia Butler are true artists and have been specializing in one-of-a-kind, handmade, heirloom-quality jewelry, a selection of trendsetting designer jewelry and a curated selection of vintage treasures in the South Bay for years. You feel like family as soon as you walk into their Hermosa Beach store. They listen to your needs and guide you to the perfect selection. I know they will be thrilled to help you find that perfect piece of sparkle this holiday season.
"We are thankful, grateful and blessed," Shelia and Joni shared with us. "The end of the year is a time to reflect on what makes our lives useful, valuable and meaningful. Take time to enjoy the small and big things that you experienced this year and remember there are blessings in both. We are delighted to sponsor Southbay magazine's Holiday Issue and wish our community and beyond the happiness of the season."
Our team at Southbay, along with issue sponsor Hamilton Butler Jewels, wish you a very happy holiday season. Let's take a moment to be proud of ourselves and grateful for what we have. As always, remember to support our community businesses and shop local. We appreciate you so much and look forward to seeing you in 2023.
Amy Tetherow Publisher
Stepping Out WHERE TO EAT, SHOP AND CELEBRATE THE SEASON SOUTH BAY STYLE
22200 Hawthorne Blvd. Torrance (310) 375-4471 www.MorgansJewelers.com TORRANCE EXPERIENCE THE DIFFERENCE
22200 Hawthorne Blvd. Torrance (310) 375-4471 www.MorgansJewelers.com Torrance EXPERIENCE THE DIFFERENCE
KRISTIN EGAN M.D. FACS
Super doctors 2016-2021
Minimally invasive & Surgical treatments for Skin rejuvenation
We offer cutting edge procedures to address the aging face and neck: Laser Facelift, CO2 Laser, Facial Plastic Surgery, Fillers and Botox Call 310-426-8415 for your complimentary consultation
KRISTIN EGAN, MD, FACS
2809 N. Sepulveda Blvd, Manhattan Beach 3655 Lomita Blvd, #300, Torrance www.DrKristinEgan.com
Marcus Medical is proud to be one of the first places to offer this longer-lasting neurotoxin. Daxxify is the new est FDA-approved safe and effective way to smooth away fine lines and facial wrinkles. This revolutionary new wrinkle relaxer provides immediate results that last 6 to 9 months.
Daxxify is a new, safe, long- lasting cosmetic neurotoxin.
Marcus Medical is one of the first premier locations to offer Daxxify to the market.
Introducing Daxxify Get Daxxified! www.getdaxxified.com
Get long-lasting results with only 2 TREATMENTS PER YEAR!
Dr. Keith Marcus is an award-winning facial plastic surgeon who is known for his fine surgical skills, integrity, and beautiful results. He is a double board-certified facial plastic surgeon and an active member of the American Academy of Facial Plastic and Reconstructive Surgery. As a leader in the field, Dr. Marcus is at the very forefront of facial aesthetics. He conducts clinical FDA research trials for the largest aesthetic companies in the United States and teaches and lectures across the globe on expert techniques. 1815 Vía El Prado #102 Redondo Beach, CA 90277 1000 N Sepulveda Blvd #220 Manhattan Beach, CA 90266 (424) 634-7044 www.marcusmedical.com IG: @drkeithmarcus @marcusmedicalspa Dr. Keith Marcus, South Bay's Top Facial Plastic Surgeon A game changing injectable… Get Daxxified now with Dr. Marcus
TIME TO SHINE. 516 N. Sepulveda Blvd., Manhattan Beach | (310) 970-4485 | www.ounceofsaltjewelry.com
Excellence, for you.
The Health care industry has spoken, and we are humbled by the recognition. The acknowledgement for Providence Little Company of Mary Medical Centers in San Pedro and Torrance serves as a powerful source of motivation for our employees to continue our mission: to provide our patients and communities with world class compassionate care. Your Partner in Health Care Excellence.
ChooseProvidence.org
1 2 1 9 M O R N I N G S I D E D R I V E , S U I T E 1 1 3 , M A N H A T T A N B E A C H , C A 9 0 2 6 6 ( 3 1 0 ) 8 7 1 5 3 6 0 • S I G @ S I G W A R D J E W E L R Y . C O M • S I G W A R D J E W E L R Y . C O M S H O W R O O M O P E N B Y A P P O I N T M E N T
Clinical Instructor at UCLA School of Dentistry 310.793.1000 | 1959 Kingsdale Ave, 1st floor | Redondo Beach, CA 90278 | drdavoodian.com Cosmetic Dentistry Family Dentistry Invisalign Dental Implants We've moved TO OUR NEW MODERN OFFICE ON THE FIRST FLOOR
RJ SMITH CONSTRUCTION.COM FOLLOW US ON FACEBOOK AND INSTAGRAM @RJSMITHCONSTRUCTION
For healthy births, Providence delivers.
Providence Little Company of Mary offers personalized support, including doulas, for expecting and new parents.
At Providence Little Company of Mary Medical Center Torrance, our patients receive family-centered care in a peaceful, healing environment. As part of our commitment to providing parents compassionate and individualized care, we have launched a new doula program to provide mothers-to-be physical, emotional and informational support throughout the birthing process. In addition, you and your family will receive personalized care from our maternity program's comprehensive team of experts. We offer:
• Board-certified team of OB/GYNs
• Doula program
• 24/7 on site Neonatology physician support
• 24/7 on-site OB physician support
• Pediatricians
• Midwifery program
• OB navigator providing guidance and support throughout your pregnancy journey
Whether your delivery is natural or high-risk, our support team is well-trained to provide expert clinical and compassionate care. When it comes to such a sacred moment in life, Providence Little Company of Mary Medical Center Torrance is here for you and your family.
Providence.org/ TorranceMaternity
Follow us @vistamarschool Vistamar prepares students with the skills they need to excel in college & life. Join us at an open house: Dec. 10
to do
school. Learn more at vistamarschool.org/admissions
There's a better way
high
SOMETIMES THE BEST THINGS IN LIFE... The Best Brands. The Best Prices. The Best Service. All in one Place. Fine Kitchen Appliances Decorative Plumbing Outdoor Living Kitchens www.uakc.com © 2022 Universal Appliance and Kitchen Center. All Rights Reserved *See sales associate for details and redemption information. Offer ends December 31, 2022. TRULY ARE FREE. Receive up to during the Thermador THREE FREE APPLIANCES SALES EVENT CALABASAS 818.880.0011 STUDIO CITY 818.755.1111 949.284.1811 SOUTH COAST PLAZA 310.278.0700 SOUTH BAY
00498-11/22 *Complimentary financial plan, provided by Kinecta Wealth Management, valued at $300. Offer expires January 31, 2023. The financial advisors are registered with, and securities and advisory services are offered through LPL Financial, Member FINRA/SIPC. Insurance products are offered through LPL or its licensed affiliates. Kinecta Federal Credit Union and Kinecta Wealth Management are not registered as a broker-dealer or investment advisor. Registered representatives of LPL offer products and services using Kinecta Wealth Management and are employees of Kinecta Federal Credit Union. These products and services are being offered through LPL or its affiliates, which are separate entities from, and not affiliates of, Kinecta Federal Credit Union or Kinecta Wealth Management. Certain fixed insurance products may also be offered through Kinecta Financial & Insurance Services, a subsidiary of Kinecta Federal Credit Union. Securities and insurance offered through LPL or its affiliates and fixed insurance products offered through Kinecta Financial & Insurance Services are: Not Insured by NCUA or Any Other Government Agency Not Credit Union Deposits or Obligations May Lose Value Not Credit Union Guaranteed wealth management 1120 N. Sepulveda Blvd. Manhattan Beach, CA 90266 310.643.2791 | kinectawealth.org | Count on us to help safeguard your financial future. Contact us today to receive a customized, complimentary financial plan* . L to R: Farhang Azizi, LPL Financial Advisor; Laura Tompkins, Private Client Services Manager; Paul Smith, Insurance Specialist; Whitney Bullock, CWS®, Manager of Financial Planning Headquartered in Manhattan Beach, the Kinecta Wealth Management team is dedicated to nurturing client relationships with a focus on planning and communication, especially important during times of market turbulence. • Financial Planning • Retirement Preparation and Income Strategies • College Saving • Private Client Services • Investment Management • A sset Preservation and Insurance Planning • Business Solutions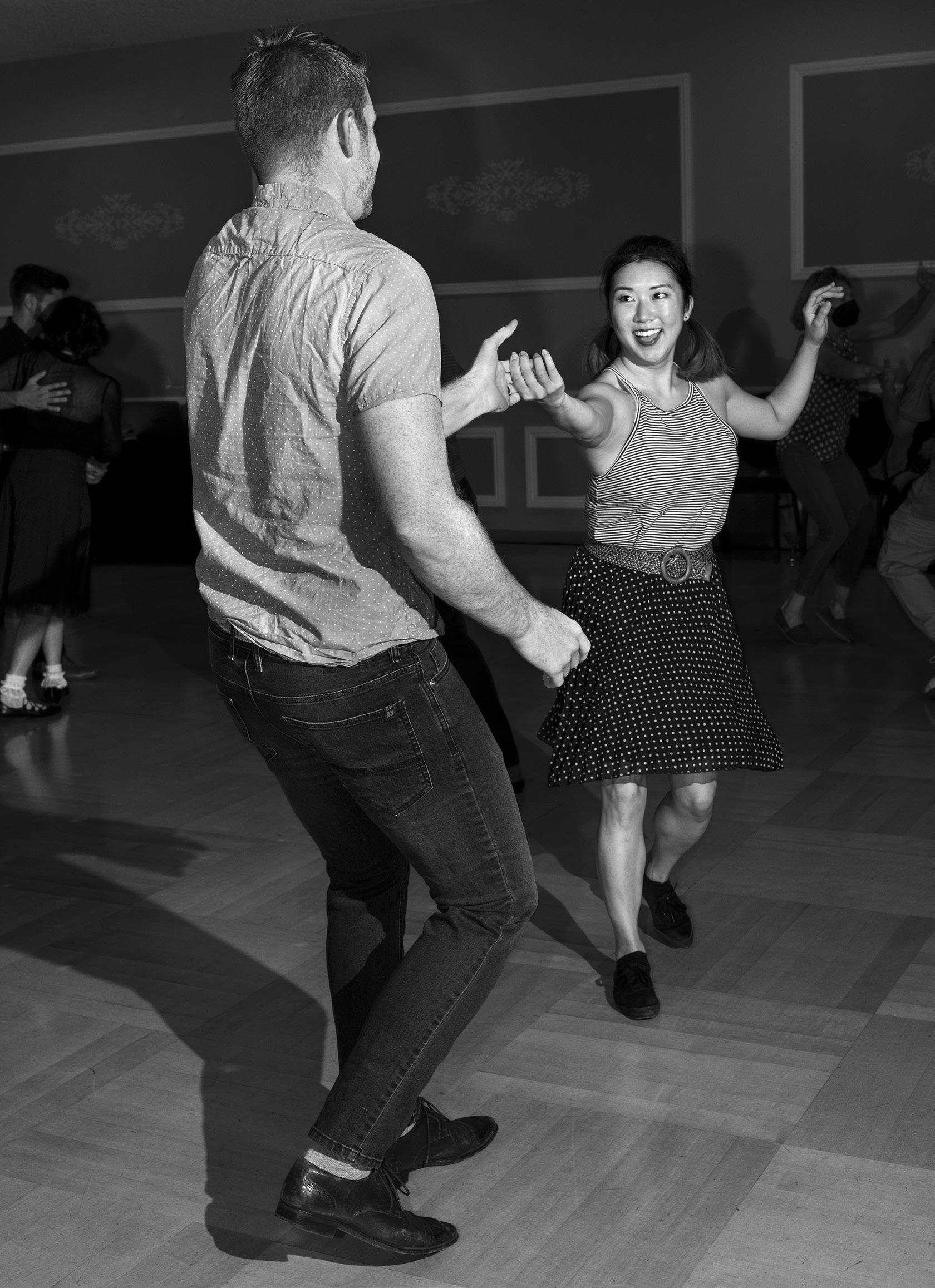 58 GOTTA DANCE Rusty's Rhythm Club 106 SEASON'S MEETINGS Local holiday events 108 PAST PRESENT Sig Ward Jewelry 122 NEW PASTURES Lilac Farm in Paso Robles 128 MELE KALIKIMAKA Oahu awaits 132 LIFE OF SERVICE Erica Mangham 142 SECOND SERVING Silvio's South American Lounge & Grill 152 SEEN Spotlight on South Bay events 170 LAST WORD Invitation to Live 58 142 122
ICING ON THE CAKE
One of Manhattan Beach's oldest businesses is also one of the sweetest. Now a fourth generation will lead Becker's Bakery into a delicious new chapter. 52
MIDNIGHT SNACK
Toast the New Year with a cozy combination of freshly made bread, scrumptious spreads and a delightfully boozy coffee. 66
HOME FOR THE HOLIDAYS
Waterleaf Interiors' Jill Johnson opens the doors to her recently renovated abode for the Sandpiper's 30th anniversary Holiday Homes Tour. 72
BRIGHTLY SHINING
'Tis the season to sparkle with festive fashions and glamorous accessories from South Bay boutiques.
112
THE FLOW STATE
The Jimmy Miller Memorial Foundation Surf Therapy program is expanding its reach to serve more participants one healing wave at a time. 146
PUSHING
THE LIMITS
A Palo Alto athlete takes on one of the toughest ultraendurance races and documents it to raise awareness and funds for cancer research.
ALSO... 48 IN GOOD HEALTH Esmeralda Gallemore EyesAndBody 62
BUSINESS SPOTLIGHT
JDS Outdoor Designs & Hope Zarro Art
81 2022 HOLIDAY WISH LIST
112 52 COVER Festive at Fox & Farrow Photographed by Shane O'Donnell Shop these styles at southbay.goldenstate.is
Curated gift ideas from our wonderful South Bay retailers 110 BUSINESS SPOTLIGHT Gilly at Sutra Salon 120 GIVING BACK The Jen Caskey Group at Compass 137 RESTAURANT GUIDE Where to dine, drink and be merry in the South Bay this season 154 REAL ESTATE Spectacular local listings
40
EDITORIAL DIRECTOR
Darren Elms
COPY EDITOR
Laura Watts
DEPUTY EDITORS
Bonnie Graves (Food & Wine)
Kara Mickelson (Food Style)
Tanya Monaghan (Style) Jennie Nunn (Home)
WRITERS & CONTRIBUTORS
Alison Clay-Duboff, Micaela Cleary, Evy Gallagher, Amber Klinck, Jam Leonard, Brenda Randall, Quinn Roberts, Marlene Stang, Jen Turquand
CREATIVE DIRECTOR
Michelle Villas
GRAPHIC DESIGNERS
Ajay Peckham and Yuiko Sugino
DIGITAL MARKETING
Paul Fisher
PHOTOGRAPHERS
Drew Altizer, Siri Berting, Adelaide Brannan, Tameka Jacobs, Samantha Klose, Shane O'Donnell, Monica Orozco, Ken Pagliaro, Team Tarlton
PUBLISHER
Amy Tetherow | 424-220-6338 amy@thegoldenstatecompany.com
DIRECTOR OF BRAND PARTNERSHIPS
Erika Carrion | 310-897-2424 erika@thegoldenstatecompany.com
DIRECTOR OF BRAND PARTNERSHIPS
Marcie Gutierrez | 424-220-6337 marcie@thegoldenstatecompany.com
DIRECTOR OF BRAND PARTNERSHIPS
Jen Turquand | 310-528-5351 jen.turquand@thegoldenstatecompany.com
IS A DIVISION OF THE GOLDEN STATE COMPANY
MANAGING PARTNERS
MARKETING & OPERATIONS
PARTNER/BRAND PUBLISHER | Emily Stewart PARTNER/MANAGING DIRECTOR, MEDIA & ANALYTICS | Warren Schaffer DIRECTOR OF DIGITAL | Charles Simmons DIRECTOR OF FILM & VIDEO | Bryce Lowe-White
OPERATIONS DIRECTOR | Allison Jeackjuntra
ACCOUNTING | Emilie Artacho, Janet De La Cruz, Tanisha Holcomb
To learn more about us, visit thegoldenstatecompany.com.
No part of this periodical may be reproduced in any form or by any means without prior written consent from The Golden State Company, LLC. Any and all submissions to this or any of The Golden State Company, LLC publications become the property of The Golden State Company, LLC and may be used in any media. We reserve the right to edit.
SUBSCRIPTIONS: info@goldenstate.is or 310-376-7800. Subscriptions are $29 per year.
TO OUR READERS: Southbay welcomes your feedback. Please send letters to Reader Response Department, Southbay magazine. Please include your name, address and email. Edited letters may be published.
200 N. Pacific Coast Highway, Suite 110, El Segundo, CA 90245 Tel 310-376-7800 | Fax 310-376-0200 | goldenstate.is | southbay.goldenstate.is
Charlie Koones Todd Klawin
SOUTHBAY
The Present
A sudden and unexpected calm hit me a few weeks ago. How's this possible, you say? This is no time for calm War still rages, big issues evoke frustration and anxiety, and to top it off, there are rumors of a turkey shortage this year! Calm? Humbug.
Hear me out. Yes, the world troubles me. How could it not? And yes, I'm prone to get charged up about what I read or watch on the news. Seems like bad stuff is everywhere these days. And while we may be powerless to control the narratives coming at us from all directions, we can choose how we want to respond to them. For me, at this moment, I'm choosing to stay present.
I recently read the book The Five Invitations by Frank Ostaseski, a leading voice in end-of-life care. As the founder of a hospice center in San Francisco, Frank discovered those approaching death have much to teach us about living. And the core message was staying pres ent—showing up fully for all aspects of life, both the joyful and the challenging. It's a poignant read.
So I'm trying to stay present. And guess what? It's not
easy. But I do recognize a newfound calm in my day to day. And with that calm I'm learning what's good about the world around me, like enjoying time with those I love more deeply; not letting small work stuff disrupt my mood or day; becoming a better listener and better friend; being grateful for even the smallest gesture. In many ways, being present is the best gift to receive and give as the holidays approach. At a time when I'm usu ally overwhelmed and stressed out, I'll try taking each beautiful, crazy moment as it comes … even the turkeys.
Our annual holiday issue is full of giving, both as a shopping list and in the spirit of the community. How lucky we are to have this moment to celebrate together. We at Southbay wish you all a safe and festive season, and we'll see you in 2023.
Darren Elms
36 |
TANYA MONAGHAN | Tanya is a fashion stylist, style influencer, editor and writer. She has worked for numerous international publications, such as InStyle and GQ, and served as fashion editor for Glamour South Africa. After relocating back home to Manhattan Beach with her husband and three children, she became a guest editor for Southbay, where she enjoys shining a light on inspirational people within the community.
KARA MICKELSON | A graduate of UCLA and Le Cordon Bleu School of Culinary Arts, Kara trained in Spain and in Napa at the famed French Laundry. She has worked with Food Network chefs Bob Blumer and Giada De Laurentiis and many others on the talk show circuit. She is an on-camera culinary expert, recipe developer, producer, writer and food stylist. Follow her @styleddelicious.
MICHELLE VILLAS | Michelle is an art director with more than 25 years of experience in publication design. After spending 16 years working on magazines in New York, she headed to California where she now calls the South Bay home. A true typophile, she carries her obsession with fonts into every project.
| 37
DECEMBER 2022/ JANUARY 2023
Hey, Sugar
Celebrating 80 years of Becker's Bakery in Downtown Manhattan Beach. More on the following pages.
icing on the cake
ONE OF MANHATTAN BEACH'S OLDEST BUSINESSES IS ALSO ONE OF THE SWEETEST. NOW A FOURTH GENERATION WILL LEAD BECKER'S BAKERY INTO A DELICIOUS NEW CHAPTER.
Written by Quinn Roberts | Photographed by Shane O'Donnell
"When I was little it seemed like the best place on the planet," she says. "I got to go back there and see my dad decorating cakes and eat whatever I wanted. My friends couldn't believe it."
A family business at its core, Becker's Bakery & Deli spans four generations. Kit, age 30, officially took over in 2021 from her father, Todd, who had run the busi ness since 1984. Located in the heart of Manhattan Beach, Becker's has been a mainstay in the community since 1942.
It all started in the 1930s when Kit's great-grand father Harry, a bakery supplier, delivered items to another bakery operating in the current location of Becker's. When that family decided to sell the business, Harry jumped at the chance to buy the property and make it his own. He eventually passed the bakery to his son Stan, who years later gave the business to his own son Todd.
When the shop first opened, it brimmed with a vari ety of breads, decadent cakes and pastries. Once Todd took over, he scaled things back to focus more on cakes and cookies. He also brought in a little extra joy with more vivid icing colors. Kit has continued with that same vision. Walking into the bakery, you immediately see sugar cookies with bright hues in the shape of surf boards and flowers, alongside colorful cupcakes.
On the bakery walls are old newspaper clippings showing the store back in the day, along with school essays written by Kit's two brothers, Max and Tommy, about their dad's hard work and determination to make the business a success. The sugar cookie recipe passed
As a little kid, Kit Becker used to sit on an icing bucket in the back of her family's bakery and watch her dad decorate cakes and cookies. Now, decades later, Kit is working her artistry.
| 43
down for generations and a delicious buttercream frost ing recipe are customer favorites that set Becker's apart from chain bakeries.
"We have people who have never been in, who see everything on the walls and think it is so cool," says Kit. "Locals still come in and are excited that they can get a cookie for $1.50. Many appreciate that it is still in the same family."
Clothing shops, restaurants and bars have come and gone, but Becker's has stayed put. It's one of just a handful of businesses in the city that have stood the test of time. The 100-year-old building housing the bakery became a historical landmark about 10 years ago.
"So many things are built up in the South Bay, but our place has easy charm to it," says Brigid Becker, Todd's wife and Kit's mom. "Every time we have thought about remodeling or tearing down the building, we always pull back—it won't be Becker's. We have made some renova tions over the years, but nothing too drastic."
Being in business for 80 years means there are plenty of stories to tell. One of the most interesting ones was back in the 1980s when Burger King was opening a new store in the South Bay. The company commissioned Becker's to make a huge cake that was 8 feet tall and 4 feet wide.
With a giant Burger King logo on the front, Todd and his team put the cake on a giant piece of plywood and planned to move it through the doorway. One problem: It was too tall. Fortunately, the team was eventually able to get the cake to the location after taking it out in smaller sizes.
Another amazing tidbit: None of the family had any formal training. Todd's decades of experience allowed him to decorate about 10 cakes an hour—something he never could have imagined at the beginning. Watching her dad in the early years and then working in the bakery throughout high school and a few years after college made the transition of taking over the bakery easier for Kit.
The family never had a formal conversation about who would take over once Todd retired. It just hap pened naturally over a matter of years. Once Kit
graduated from the University of Oregon with a film degree, she became a production assistant but quickly recognized it wasn't the right environment for her to thrive. She then went to work for her dad full time.
Kit has made a few changes since Todd retired. One of her first big decisions was designating a small spot within the bakery for Hi-Fi Espresso, a local coffee shop with two other locations. It has been in the bakery since June 2021 and is a natural fit. She's also focusing more on birthday cakes and picture cookies.
"I'm a proud dad seeing Kit take over like she has," says Todd. "I don't have to worry, and I know things will go smoothly with her. She is no-nonsense and has a great work ethic. Becker's is in good hands."
Kit arrives at the bakery by 7 a.m. every morning and immediately helps with the breakfast rolls, dipped cookies and anything else that needs to get done. As unglamorous as it may be, she's also on the computer a big chunk of the day, responding to special-order emails. That's been a holdover from the pandemic, with the majority of orders being placed via email. In fact, Becker's actually chose to disconnect its phone. "Old school with a new-school kick," jokes Kit.
Just like many other small businesses during the pandemic, Becker's wondered if it would survive. After closing the bakery for one week, the family realized that it had to do something.
"Kit and I decided to sell at the front door," says Todd. "We put down a folding table and had dipped cookies and cakes to sell. A lot of times we'd get no more than 10 people walking by an hour. We managed to make it through." Residents kept Becker's afloat, choos ing to support the bakery and other local businesses.
"We have a ton of regulars," says Kit. "I have seen a lot of kids grow up. Their moms keep coming in. They got their first birthday cake with us and now their eighth. It even makes me feel old."
The family had thoughts of selling the bakery, espe cially during the pandemic, but never pulled the trig ger. That decision became a blessing after Brigid was diagnosed with stage 4 breast cancer when Todd was
44 |
retiring. Everyone realized how precious family is and that keeping the bakery was more important than ever.
As Brigid continues to go through treatment, she opened a home decor store in August—her lifelong dream—called The Hang. It's located above Becker's, which means Kit and Brigid are just a quick walk away from each other.
"The place has given us such a great life with so many great experiences and connections," says Brigid. "It is almost like you are a little celebrity in Manhattan Beach."
When Brigid and Todd attended events at their kids' schools and people heard their last name, most would ask if they had a connection to the bakery. When they told them they owned it, people always wanted to know more and tell their own stories about visiting the bakery.
Todd always participated in career days at his kids' schools. He'd dress up and bring cookies and cakes for the students and teachers, telling them about Becker's and what he did on a daily basis.
Brigid has had a front-row seat to it all. Seeing her husband run the business and now her daughter, she is transported back to a time when Todd would bring out a pan of cookies for Kit when she was about 5 years old and have her squeeze a tube of icing onto the cookies, which they all called "star dots."
That's the kind of experience Brigid wants her grandkids to have too. Just recently, Tommy brought his young daughter Daisy to Becker's. "The first time we brought Daisy to the shop, we realized it was a fifth-generation Becker who was walking through those doors. That is incredible and important," says Brigid.
A staple in the community, Becker's has no intention of slowing down. The way things are going, expect it to celebrate its 100th anniversary.
"It is pretty simple for what I want the legacy of Becker's to be," says Todd. "We will always be a family-run business that serves quality food and keeps prices low. That will never change." ■
46 |
QUALITY HEALTH CARE FOR CHILDREN AND FAMILIES IN NEED THROUGHOUT THE SOUTH BAY
Venice Family Clinic offers a range of integrated programs and services designed to help children, adults and families have their best chance at a healthy life.
Our work is possible thanks to the generosity of our community of supporters. To learn more, visit venicefamilyclinic.org or scan the QR code:
WE ARE FAMILY
PHOTOGRAPHED BY TAMEKA JACOBS | MAKEUP BY LIVIA NEILSON
Nutritional expert and wellness coach Esmeralda Gallemore is an author, spokesperson and owner of EyesAndBody, which offers natural supplements with all-in-one formulas that promote full-body health. Her wellness website features a variety of tips, exercises and workout clothing.
Esmeralda studied at the UCLA Jules Stein Eye Institute and worked in the medical field for 18 years, with an emphasis on retina health. She studied psychology with a focus on emotional eating and eating disorders at the Institute for Integrative Nutrition and became a certified health coach.
This mom of two young children focuses on researching holistic methods that go hand in hand with science. Her approach fosters behavioral changes resulting in improved nutrition, healthier eating habits and overall increased wellness.
Esmeralda's goal is to help people become and maintain the best version of themselves. She recently wrote her fifth self-help book, So You Think The Precious You Starts In The Mirror: Eating Disorders And How To Help You Stop.
Here, she shares her thoughts on making the most of the upcoming holidays and making healthy choices while we enjoy time with loved ones.
As we maneuver through the last quarter of the year, we realize that these are the times that bring us clos est together. Holidays, gatherings, cool weather and a sense of connection blanket us as we celebrate and enjoy time with our loved ones. As we experience special moments with family and friends, it reminds us of the important things: our little ones.
Breaks from school, homework and extracurricular activities give us more bonding time and quality interactions to imprint what we feel is most important for the development and maintenance of our family unit. Our children have been absolute soldiers since the beginning of the pandemic—through all the changes and now getting back to the regular flow of things. These inconsistencies have had a tremendous impact on them.
As time goes on and each generation passes, it becomes increasingly more difficult to manage being a child or young adult. It's time we give them some credit. As social media con tinuously evolves and takes over the attention span and mind space of our children, it is important that we remind them to stay grounded in reality. The internet gives us access to endless pos sibilities and personalities from anywhere in the world. Children's minds are especially susceptible to these influences.
SOCIAL PRESSURES
Oftentimes comparison is the thief of joy, and the differences in lifestyle and privilege become visible to kids at a young age. Young folks today are influenced by older people, manner isms and life experiences, so we need to remind them what really matters: living and enjoying their own timeline and path.
SPECIAL ADVERTISING SECTION IN GOOD HEALTH
| 49
"THE HOLIDAY SEASON IS ONE OF THE MOST IMPORTANT TIMES TO BAND TOGETHER AS A FAMILY."
By ESMERALDA GALLEMORE
During the holiday break from school, it is imperative that we bond as families and do things like watch movies, pick pumpkins, travel and spend quality time together. We must reinforce the childlike wonder and joy of youth.
As my children enter adolescence, I am noticing the increasing pressure put on youth not only from societal expectations but from their peers as well. There are a variety of unrealistic images and standards that youngsters are trying to adopt. This has led to a rise in eating disorders, body dysmor phia and a myriad of unhealthy habits.
A MANUAL OF HEALTH
In today's society, people of all ages are expected to look a certain way, which led me to write my latest book, So You Think The Precious You Starts In The Mirror: Eating Disorders And How To Help You Stop. This user-friendly manual is designed to bridge
the gap between research publications and get-well guides. I wrote it to help anyone affected by eating disorders or unhealthy habits navigate back to the path of wellness.
My book cross-references in-depth stud ies and current cultural climates to pinpoint the necessary choices that we can make for the betterment of self. It includes recipes, workout routines and mental exercises to help combat the pressures and expectations of current societal trends.
With the upcoming holidays, everybody gets self-conscious. We will see friends and relatives, and food will be everywhere. An overwhelming sense of consumption—both physically and mentally—can take over. This is why the holiday season is one of the most important times to band together as a family and reinforce core values and healthy mind sets. As we spend time together, we show that we understand and are there for each other along the way.
50 | SO YOU THINK THE PRECIOUS YOU STARTS IN THE MIRROR: EATING DISORDERS AND HOW TO HELP YOU STOP BY ESMERALDA GALLEMORE EATING STOP designed research guides. It affected by back to is to assist in changes. helpful ammunition to you yourself condition approval. outline guide about how to create under towards a SO YOU THINK THE PRECIOUS YOU STARTS IN THE MIRROR Eating Disorders And How To Help You Stop
"WE MUST REINFORCE THE CHILDLIKE WONDER AND JOY OF YOUTH."
Gigi, Esmeralda and Tiger
NUTRITIONAL GUIDANCE
These issues became very important to me a while back, and for this reason I elected to enhance my skills further. I completed an advanced education degree in psychol ogy with a focus on emotional eating and eating disorders. I also obtained my certifi cation as a health coach (INHC) with areas of expertise in nutrition and healthy eating.
As I completed my certification at the Institute for Integrative Nutrition, I learned just what went into the current state of these expectations. It gave me great insight into the seriousness of what was going on. Because of the pandemic, depres sion and anxiety rose to an all-time high, and there were very few resources to help those affected deal with the repercussions. I learned as a health coach that your diet is much more than what you eat; it includes who you surround yourself with, what you watch, and what you adopt and listen to.
I have been fortunate to be featured on Tinabeth Piña's TV show LATiNAS, Mañana Latina on Telemundo, Todo es Posible and The Ed Tyll Show  I was invited to El Salvador, the Dominican Republic and Mexico to fur ther spread my knowledge about healthier lifestyles. As I shared this knowledge, I saw just how important it was to emphasize the steps to stay on a healthy path.
Today's youth and young adults need to know how to integrate their health in order to live a balanced and fulfilling lifestyle. They need tools and resources to find their way as they deal with the pressure of modern-day society.
A NEW YEAR
Oftentimes we make lofty new year's resolu tions, only to disappoint ourselves. In reality, who are we making these for? Is it for our selves or others? It is important to enjoy the time we have now.
This is possible if we implement healthy
recipes and habits during these festive times! We can all enjoy good habits—includ ing those on a well-traveled path of wellness and those attempting to transition into their ideal healthy lifestyle. We must learn to choose beneficial options, make changes for ourselves and do so in a way that we can achieve realistically. Our health is our wealth, and we must contribute to our "savings."
Support systems are incredibly impor tant, and we can dramatically increase the strength of family ties with simple gestures and quality time spent with loved ones. Together, we can establish a healthy lifestyle that will grant us even more
enjoyable moments with friends and family.
Be sure to grab a copy of my new book. For further assistance, I am also avail able for private consults. We're all in this together; let's enjoy it as a family!
ESMERALDA GALLEMORE OWNER, EYESANDBODY MANHATTAN BEACH EYESANDBODY.COM ESMIEGALLEMORE.COM IG: @EYESANDBODYWELLNESS, @ESMERALDA.GALLEMORE
SPECIAL ADVERTISING SECTION IN GOOD HEALTH
"WE'RE ALL IN THIS TOGETHER; LET'S ENJOY IT AS A FAMILY!"
midnight snack
TOAST THE NEW YEAR WITH A COZY COMBINATION OF FRESHLY MADE BREAD, SCRUMPTIOUS SPREADS AND A DELIGHTFULLY BOOZY COFFEE.
Written, produced & photographed by Kara
| 53 THE SAUCE
Mickelson
RUSTIC HONEY CREAM BREAD
Makes 1 large or 2 smaller loaves
With substance from wheat germ and depth from honey and cream, this bread feels deca dent enough to serve for the holidays but is also terrific for everyday use. Whip up the starter the night before and make the recipe the day you're serving for fresh bread to toast.
Starter
¾ cup whipping cream
1 tablespoon fresh-squeezed lemon juice
2 tablespoons water
2 teaspoons mild-flavored honey
1 teaspoon active dry yeast
1 cup all-purpose flour
Mix cream and lemon juice in a bowl or pitcher and let stand at room temperature for 15 min utes. Stir in water. Warm mixture in microwave for 30 seconds. Stir in honey. Sprinkle yeast on top and lightly stir to mix. Let rest 5 minutes until yeast bubbles or looks frothy. If there is no activity in 5 minutes, start with fresh yeast. Add flour and work into a sticky paste with whisk or fork. Cover container with plastic wrap and let rest at room temperature in a draft-free location overnight or until doubled in size (6 hours minimum).
Bread Dough
1 teaspoon active dry yeast
1 cup warm water*
3½ cups all-purpose flour*
2½ teaspoons salt, divided
1/3 cup wheat germ, not toasted olive oil
*Measurement is approximate; use more as needed.
Sprinkle yeast over starter and massage to combine. Slowly add water in small increments to mixture and then work in ½ cup flour at a time until fully incorpo rated. Knead in wheat germ. As flour and water combine, dough will look shaggy and then form a soft, pliable dough that should feel smooth and elastic, not dry or sticky. Work 2 teaspoons salt into dough and turn onto a smooth, clean work surface. Knead dough with the palm of your hands in a rolling fashion. Work dough into a smooth ball, kneading about 10 minutes. Use both hands to tuck dough under the bottom, rolling, pinching and pushing it together to create a smooth top surface.
Place dough ball in a large, lightly oiled bowl. Cover bowl with plastic wrap. Let rise in a warm, draft-free location for 1½ hours or until dough has doubled in size.
Punch expanded dough to release air. Turn onto a clean work surface and knead until smooth, about 2 minutes. Shape into a large ball or two smaller discs. Place on a baking sheet covered with parchment paper. Score dough top with a sharp razor and dust with some flour.
Cover with a clean, damp kitchen towel and let rise at room temperature until doubled, about 30–40 minutes. Sprinkle top with remaining salt. Bake until golden brown crust forms and dough sounds hollow when thumped, about 35–40 minutes. Let cool on a wire rack before cutting. Serve toasted with your favorite toppings.
54 |
STRAWBERRY, ASIAN PEAR & GINGER STOVETOP JAM
Makes 1 cup
Ditch the canning jars and complicated instructions. This recipe is quick and easy and comes together with a few simple ingredients. It is great on pancakes too!
1 (12-ounce) package frozen strawberries ½ Asian pear, seeded, diced small 1-inch piece fresh ginger, peeled, finely grated ¼ cup mild honey
1 orange slice, seeded ¼ cup fresh orange juice
1 tablespoon fresh lemon juice
Place all ingredients in a medium saucepan and bring to boil. Cook over medium heat until almost all liquid is evaporated. Stir constantly so honey doesn't burn; add small amount of water if necessary. Remove from heat and cool. Store refrigerated for up to 5 days.
CHOCOLATE GANACHE WITH SALTED PISTACHIOS
Makes about 1 cup
½ cup dark chocolate chips (at least 60% cacao) ¼ cup whipping cream 1 teaspoon butter, unsalted 1 teaspoon instant espresso 2 tablespoons salted pistachios, chopped
Place chocolate chips in a medium bowl. Heat cream to a simmer in microwave on high, about 40 seconds. Pour hot cream over chocolate chips. Slowly stir until all chips are melted. Stir in butter and espresso until completely incorporated. When ganache mixture cools, place in refrigerator for 1 hour or until firm. Before using, heat in microwave for 10 seconds until pliable. Spread a generous amount on toast and top with pistachios.
SPICED BUTTERED RUM COFFEE
Serves 1 (6-ounce coffee or 4-ounce espresso drink)
1 tablespoon butter, unsalted ¼ cup dark rum 2 cinnamon sticks ¼ teaspoon vanilla extract
1 tablespoon dark brown sugar (preferably muscovado)
4 ounces strong brewed coffee or 2 ounces espresso ¼ cup fresh sweetened whipped cream
1 teaspoon white chocolate curls
In a small saucepan over medium heat, melt but ter. Add rum, 1 cinnamon stick, vanilla and brown sugar. Bring to a boil, stirring constantly, until sugar dissolves. Turn off heat and remove cinnamon stick. Leave saucepan on burner to keep sauce warm. Pour coffee or espresso into a mug; add buttered rum mixture. Top with whipped cream, sprinkle with white chocolate curls and garnish with a cinnamon stick.
| 57
Gotta Dance
RUSTY FRANK GETS THE SOUTH BAY ON ITS FEET AND SWINGING INTO THE NEW YEAR.
Written by Jen Turquand | Photographed by Monica Orozco
They say it's impossible to be sad while you're dancing. I have to agree.
Dancing has a way of setting worries free and lifting our spirits. Yet as an adult, it is not something that I often have the opportunity to do here in the South Bay. Sure, there is dancing at outdoor festivals or weddings, but social or partner dancing is a rare find—or so I thought until I found Rusty's Rhythm Club.
My quest began after a visit to Baltimore to see my 24-year-old son. He took me to Mobtown Ballroom for a free Lindy Hop lesson followed by a night of dancing. It was such a blast that we ended up staying until after midnight. I couldn't remember the last time I felt so joyful. I left humming a tune, a little out of breath and thinking there had to be something similar for me close to home, right?
Back at the beach, I put my Google skills to work and found Rusty's Rhythm Club in Playa del Rey. Their monthly swing dances include a free intro lesson and feature live music. With plenty of free parking, a 2,300-square-foot dance floor and a full bar, how could I go wrong? So off to the dance I went, husband in tow.
Swing dancing—and specifically Lindy Hop—is a so cial dance, meaning you don't need to bring a partner. You can dance with anyone you'd like. There are two designations, lead or follow—you choose which you want to be and learn those steps at the free mini class at the beginning of the night.
It is not a choreographed routine but rather specific steps to put together as you go. Or more accurately, as
you are "led to," so each time you dance it's different. This allows anyone—coupled or single, any gender or orientation—to select your role, meet new people and get in some laughs with your cardio as you dance the night away.
"To me, the amazing thing about swing dancing is that by doing this one dance, you get the combined activity of countless others that contribute to overall well-being and happiness—including exercise, social izing, brain development and stress alleviation," shares Rusty Frank, owner of Rusty's Rhythm Club.
Rusty is a first-class tap dancer and Lindy Hopper, producer, choreographer, writer, dance preservation ist and member of the California Swing Dance Hall of Fame. In 1998, after decades of dancing all over the world, she started teaching a weekly swing dance class in Hermosa Beach at Pointe 705 and hasn't stopped teaching since.
Lindy Hop originated in the 1920s at the legendary Savoy Ballroom in Harlem. Young African American dancers at one of the only integrated dance halls of its time created the dance, and it quickly spread like a California wildfire—first across the nation, then throughout the world during the swing era of the 1930s and '40s. Now even bigger than in its heyday, you can find swing/Lindy Hop dances and lessons almost anywhere.
At Rusty's Rhythm Club, the energy is high. The live bands are amazing, and the crowd brings together a great mix of old and young, beginner and experienced.
58 |
Rusty Frank and Ron Campbell
As a bonus, each monthly dance has a different theme. These days Rusty and the club's co-owner Ron Campbell find purpose and joy in introducing people to swing dancing and Lindy Hop specifically—thus the aptly named Lindy by the Sea, their El Segundo dance school that has been offering varying levels of group dance classes for almost 25 years. "I have worked so hard to keep the classes and club joyful for all," Rusty says. "Basically, I'm trying to create the world I want to live in."
Of course, I signed up for lessons—with big plans to surprise my son with my fancy footwork the next time I visit. As the saying goes, "It don't mean a thing if it ain't got that swing." And while I am still working on perfecting my moves, it does keep me smiling. ■
60 |
THE LIVE
AMAZING,
THE CROWD BRINGS TOGETHER
GREAT
YOUNG, BEGINNER
EXPERIENCED.
THE ENERGY IS HIGH.
BANDS ARE
AND
A
MIX OF OLD AND
AND
ART MARRIES DESIGN
Hope Zarro and Jeff Stimpfig are partnering to revamp South Bay outdoor spaces into luxury living rooms that rival the comfort and beauty found indoors.
WRITTEN BY LAURA L. WATTS | HOPE & JEFF PHOTOGRAPHED BY SIRI BERTING
ASouth Bay creative power couple is joining forces professionally to transform Southern California backyards. JDS Outdoor Designs has been providing high-end exterior design-build services since 2004. The firm's specialty is connecting indoor spaces to the outdoors. Owner Jeff Stimpfig has recently added a unique service to his company's offerings: large-scale abstract art installa tions created by his wife, Hope Zarro.
The union is a natural fit, as both Jeff and Hope have had an artistic sensibility since childhood. Hope, whose parents were both artists, started drawing and painting at age 7. She continued studying and creating visual arts throughout high school and while attending The Juilliard School. In New York City, she worked as a licensed hairstylist and makeup artist, making her mark on actors in Broadway musicals, movies and television.
Hope relocated to Los Angeles and worked in television with Bravo, ABC, Style Network, HBO, VH1 and USA Network. She opened a hair and makeup salon, and her clients have included dozens of A-list celebrities.
While she enjoyed this career, her true passion remained painting and creating fine art. Behind the scenes, she spent most of her free time building her art portfolio. Hope
attended Kline Academy of Fine Art in L.A. and fell in love with large-scale, contempo rary, abstract creations—mixing colors and textures to create an experience full of emo tion for the viewer.
In recent years, her pieces have been showcased at Coast Gallery and Hugo Rivera Gallery in Laguna Beach, at the LA Art Show and at Art Basel in Miami Beach. With clients all over the United States, Hope continues to receive positive recognition for her art.
Locally, she invites new clients to her studio—typically after they've seen the art she showcases on her website and social media channels. Then she visits their home to see where they want to place their pur chase. "Whether clients are commissioning a piece or selecting my work off the floor, this process helps a great deal when estab lishing a personal relationship with them," Hope explains.
While she specializes in bold, explosive vibrant colors and a depth of textural back grounds, she also creates art with a more subdued, monochromatic color scheme that's less intense and more fitting to many interiors. "What I do is very subjective," Hope says. "It all comes down to my clients' ideas and tastes and needs. This is where my commissions come into play. Clients love
BUSINESS SPOTLIGHT SPECIAL ADVERTISING SECTION
62 |
| 63
my ability to create and execute a custom design that's perfect for their space."
Hope feels strongly that collecting art is an investment in one's health and happiness. "Acquiring a piece of my artwork is adding another dimension to the living experience in your own home," she says. "It helps people express parts of themselves in a unique way. Art brings us to the present moment, allow ing us to connect with ourselves."
Jeff had a similar introduction to art at a young age, surrounded by a family of tal ented designers, artists and architects as he grew up in the South Bay. His interest in floor plans, buildings and structures led him to
pursue an education in landscape architec ture at UCLA.
He opened JDS Outdoor Designs to combine his passions for architecture, landscape design, construction, furniture design and horticulture. While the firm is a licensed construction company, Jeff's primary focus is as a designer and archi tect with a unique creative vision for each makeover project.
He and his team offer complete architec tural hardscape makeovers and also simpler softscape, plant and irrigation installations. They can also transform a rooftop deck or balcony. Clients of JDS Outdoor Designs
are given the opportunity to visualize the upgrades to their exterior areas before the work begins, thanks to photorealistic 3D renderings and CAD drawings.
"There are no surprises," Jeff says. "Whether the project is small or large, we listen closely to our customers' functional needs, give them a clear view of what they'll be getting, and then we implement their aesthetic style into the overall project."
Jeff's goal with each project is to create a gathering spot so spectacular, the home's residents would rather be outside. "We live in paradise with perfect weather year-round," he shares, "so why not maximize your
64 |
outdoor living space—making it spectacular so your friends and family always want to come back!"
And that's where Hope and Jeff's union comes into play. While they became part ners in their personal lives years ago, their professional partnership is more recent and combines JDS' custom backyards and Hope's custom indoor-outdoor artwork.
"We're collaborating to bring these ele ments together after multiple requests by my clients," Jeff says. "We have a very unique blend of talents, and it's a unique way to showcase large-scale abstract art in the modern, architectural backyards that
we design and build from the ground up. It's not something you see every day, and my clients have said they just can't find this combo out there."
Hope's one-of-a-kind abstract panels are waterproofed and weather-resistant, adding value, depth and beauty to Jeff's luxury backyard projects. "We can trans form even the smallest yard into a multi functional, alfresco living room," says Jeff. "Clients are often shocked when they see how their yard actually looks bigger, and they are so appreciative of the elevated beauty that Hope's art installation gives their space."
JDS OUTDOOR DESIGNS
1060 AVIATION BLVD., SUITE 200, HERMOSA BEACH 310-870-7003
JDS-OUTDOORDESIGNS.COM @JDS_OUTDOOR_DESIGNS_SOUTHBAY
HOPE ZARRO ART
518 11TH ST., HERMOSA BEACH 310-658-8405
HOPEZARROART.COM @HOPEZARROART
| 65
home for the holidays
WATERLEAF INTERIORS' JILL JOHNSON OPENS THE DOORS TO HER RECENTLY RENOVATED ABODE FOR THE SANDPIPER'S 30TH ANNIVERSARY HOLIDAY HOMES TOUR.
Written by Darren Elms | Photographed by Samantha Klose
68 |
Twenty-five years ago, Jill Johnson wrote a letter to the owner of a home she admired saying she would like to buy the property if they ever wanted to sell. It wasn't until 2018 that a friend mentioned the home was finally on the market.
"When I contacted the owners, they remembered me and actually had been searching for the letter I wrote them," Jill says. "They were happy to sell it to me, and I was excited to renovate the existing home."
But she soon realized that a renovation would be tricky, as the existing structure was built on the prop erty line. Undaunted, Jill decided to start from scratch.
It helps that Jill is a seasoned interior designer. She and Suzanne Ascher founded Waterleaf Interiors in 2006 and showcase their coastal style at a shoppable studio in Manhattan Beach. For designing her home, Jill wanted to start with elements that drew her to the property in the first place.
"What I loved most about the original home was the large yard with lots of sunlight," she says. "To keep as much of the backyard as possible, I kept the footprint of the house to a minimum and added a basement. It was really important that I had a decent amount of space in the back to have a pool, pool house, pingpong table and enough grass to have a small volleyball net."
As an admirer of East Coast brownstones and London townhouses, Jill wanted the home, which she shares with her two teenage sons and the family's dog, to have a city feel but blend effortlessly with the style of Manhattan Beach. "We call the house the Coastal Brownstone," she says.
Jill incorporated many of her favorite design ele ments throughout the home using a variety of colors, patterns and textures to create a warm, inviting feeling. A wide array of wallpaper is also used throughout the home, including grass cloth, delicate block print, sepia
| 69
surf photos and fabric. The trim is painted in different colors to coordinate with the wallpaper and fabrics in each room. "My custom front door is tall and narrow with brass hardware and numbers centered on the door just like a London townhouse," she reveals.
Jill acknowledges the challenge of designing your own home when it's also your business. "With clients I trust my gut instinct, and my first choice is usually always the right choice," she says. "Unfortunately, with my own space I tend to rethink and play with many different ideas before settling on the final look. I torture myself."
In the end, Jill and her team accomplished a space that's not only personal but also beautifully crafted and curated. She notes that the front music room is a family favorite. Cabinetry, trim and a beadboard ceiling painted in Benjamin Moore's Hale Navy mingle with wallpaper,
a leather sofa, a vintage rug, zebra stools and Jill's trea sured fiddle-leaf fig to create a cozy, warm feeling.
"My sons and I like to play music—either guitar or piano—in this room, and it's often the place where we end up at the end of the night with friends," says Jill. "It is also the perfect spot for my dog, Wilson, to sit and look out the window and bark at other dogs."
Jill's home will be part of the highly anticipated Sandpipers Holiday Homes Tour, December 2-4. "I am a huge fan of the work that Sandpipers does for our South Bay community and am honored to be a part of the 30th anniversary tour," she shares. "Selfishly, it also motivated me to finish my home. I am always so busy with our clients, and joining the tour gave me a little push to get my house finally completed!"
Reserve tickets for the tour to see Jill's home in person at sandpipershht2022.eventbrite.com. ■
70 |
Unreal fur x Linda Puna Inyu jacket, $480; Wright's in Manhattan Beach. Jewel silk embroidered top by LAHIVE, $225; shoplahive.com. Beaded camisole by Current Air, $98; Anthropologie at Manhattan Village. Party flare pants, $198; Free People in Manhattan Beach. Green feather velvet heels, $119; Zara at Del Amo Fashion Center. Marisol twisted hobo chainmail bag by Whiting & Davis, $396; The Beehive in Manhattan Beach. 18kt yellow gold triple hoop 0.76ctw diamond earrings by Walters Faith, $8,950; 20kt yellow gold, ruby and diamond ring, $7,840; 18kt gold blue sapphire chain link ring by Walters Faith, $2,950; 18kt yellow gold and green emerald ring by Sylva & Cie, $14,625; 18kt yellow sapphire ring by Sylva & Cie, $30,500; 18kt gold mixed gemstone diamond ring by Hargreaves Stockholm, $11,500; 18kt gold champagne diamond heart pendant, $21,500, and 18kt yellow gold handmade chain, $8,625, both by Sylva & Cie; 18kt yellow gold chain-link 9.50ct diamond choker chain, $32,900; all from Hamilton Butler Jewels in Hermosa Beach.
brightly shining
'TIS THE SEASON TO SPARKLE WITH FESTIVE FASHIONS AND GLAMOROUS ACCESSORIES FROM SOUTH BAY BOUTIQUES.
Styled by Tanya Monaghan | Photographed by Shane O'Donnell
Hair by Jam Leonard | Makeup by Micaela Cleary | Fashion assistance by Brenda Randall Shot on location at Fox & Farrow in Hermosa Beach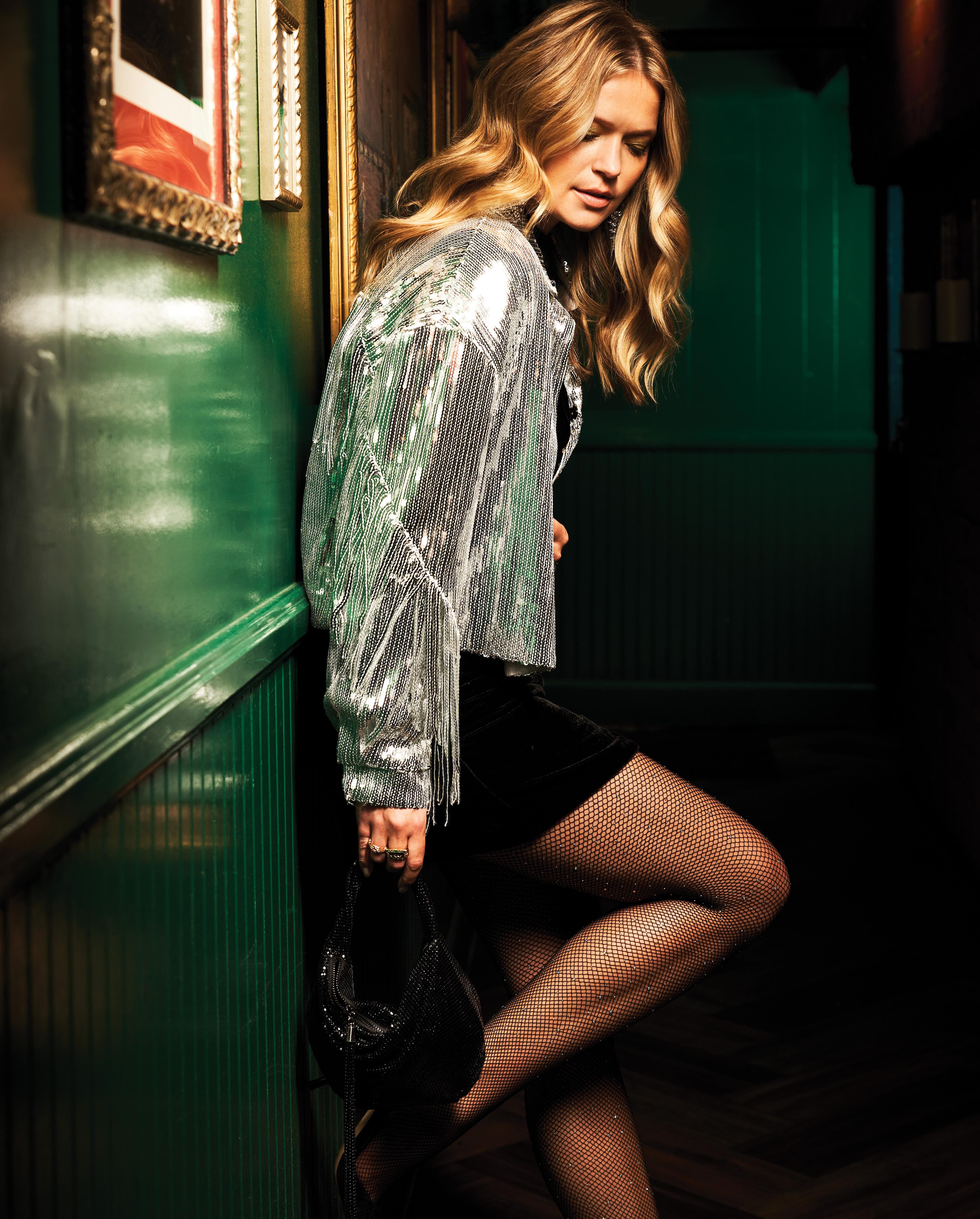 left
Sequined fringe jacket, $108; Katwalk in Manhattan Beach. Zadie black velvet dress by RHODE, $476, and Marisol twisted hobo chainmail bag by Whiting & Davis, $396; The Beehive. Diamond 18kt gold chain link ring by Walters Faith, $4,500; 14kt mixed tourmaline flat green band ring by Three Stories, $1,848; 17kt gold blue sapphire band by Walters Faith, $2,250; all from Hamilton Butler Jewels.
Black feather cuffed wrap blazer dress, $298; Anthropologie. Floral velvet foulard in burgundy, $23; Zara. Ulla top, $198, and Iza skirt, $498, by Cult Gaia; BLVD in Manhattan Beach. 18kt yellow gold emerald ring by Sylva & Cie, $14,625; 20kt yellow gold, ruby and diamond ring, $7,840; 18kt yellow gold mixed gems diamond earrings by Hargreaves Stockholm, $9,460; all from Hamilton Butler Jewels.
Organza ruffle tube top, $59, sequined fringe skirt, $158, Rhodium-plated with crystals jaguar bracelet, $52, and starry night 18 kt gold-plated bracelet, $49; Katwalk.
Faux fur jacket by Jakke, $316; The Beehive. Deep-V tulle dress, $82; Katwalk. 18kt yellow gold and green emerald bracelet, $7,800; 18kt yellow gold sapphire bracelet, $8,375; 18kt yellow gold green emerald and diamond bracelet, $15,095; 18kt yellow gold yellow sapphire ring by Sylva & Cie, $30,500; 18kt yellow gold green emerald ring by Sylva & Cie, $14,625; 18kt yellow gold/sterling silver diamond ring with four links by Spinelli Kilcollin, $6,400; 18kt gold mixed gemstone and diamond ring by Hargreaves Stockholm, $11,500; all from Hamilton Butler Jewels.
Green sequined dress, $90, and sparkly high-heel ankle boots, $199; Zara. Disco glam earrings, $54; Anthropologie.
right Wrap-over shirt in pleated lamé by Forte Forte, $912; Wright's. Deep-V tulle dress, $82; Katwalk. Fringed chainmail drop earrings, $54; Anthropologie.
Anahita top with ring choker, $328, Logan clutch, $278, by Cult Gaia; BLVD. Sequined flare pant, $188; Anthropologie. Rhodium-plated with crystals jaguar bracelet, $52; Katwalk. 18kt yellow gold/sterling silver diamond ring with four links by Spinelli Kilcollin, $6,400; 14kt yellow gold mixed tourmaline gemstone bands by Three Stories, $1,848 each; 14kt yellow gold flat green emerald band by Three Stories, $1,485; all from Hamilton Butler Jewels.
CUSTOM, CONTEMPORARY, CLASSIC Manhattan Beach By Appointment | 310-740-2267 | mk23rdst@gmail.com | mk23rdst
Holiday Wish List
SHOP LOCAL
2022
SPECIAL ADVERTISING SECTION
EDITED BY LAURA L. WATTS PHOTOGRAPHED BY SIRI BERTING & SHANE O'DONNELL
Holiday Wish List 2022
Maison Luxe
Serving the South Bay for more than 20 years, Maison Luxe is a home goods store owned by interior designer Carrie Quinn. The friendly staff offers unobtrusive but helpful service while you browse the soothing textures. Open seven days a week, Maison Luxe carries a fabric library, furniture and interesting gifts, candles, and accessories for the home  and wardrobe. Want to shop from home? Maison Luxe features an extensive online shopping experience and even offers gift boxes with some of their best collections on their website. They will ship items to your loved ones, making the gift-giving process almost effortless for you!
Carrie Quinn, Owner
138 Pier Ave., Hermosa Beach 310-372-5552
maisonluxehome.com
IG: @maisonluxehb
FB: @maisonluxe
Carrie's Picks
Snowy pine tree, small or large, $88 and $120
Metal bell on jute rope with star cutouts, small or large, $10 and $14
Winter white tin candle, small or large, $14 and $26
Stone drink dispenser, $230 Pine tree with base, 3-, 4- or 5-foot, $85, $105, $150
Pine wreath with pine cones, $31
SPECIAL ADVERTISING SECTION | 83
Holiday Wish List 2022
Holiday Wish List 2022
Waterleaf
Waterleaf opened in 2006 with a combined space for interior design and retail in its flagship Metlox location. Within five years, owners Jill Johnson and Suzanne Ascher took over the adjacent space to create a studio for their growing interior design team and opened a larger connecting retail space for Waterleaf Home. During the pandemic they launched an online store, WaterleafHome.com, which showcases a curated collection of their most popular items. Whether it's creating a beautiful tablescape or finding the perfect pillows, decor, bedding, piece of art or designing your home from the ground up, the Waterleaf team can help you. Check out their complete selection of gifts for anyone on your holiday list, including e-gift cards.
Jill Johnson & Suzanne Ascher, Co-Owners 1210 Morningside Dr., Manhattan Beach 310-546-5400
WaterleafHome.com | @waterleafhome WaterleafInteriors.com | @waterleafinteriors
Cocktail shaker, $49
Champagne glasses, set of six, $120
Whale ornament, $18
Hampton plaid navy throw, $150
Deluxe backgammon set, $350
Ornament candle, $38
Gold-filled necklace by Deb Brewer, $120
SPECIAL ADVERTISING SECTION | 85
Holiday Wish List 2022
Waterleaf's Picks
Holiday Wish List 2022
Manhattan Village
Located in Manhattan Beach, Manhattan Village offers the South Bay a premier shopping and dining experience in an open-air and indoor environment. Open daily!
3200 Sepulveda Blvd., Manhattan Beach 310-546-5555 shopmanhattanvillage.com @manhattanvillage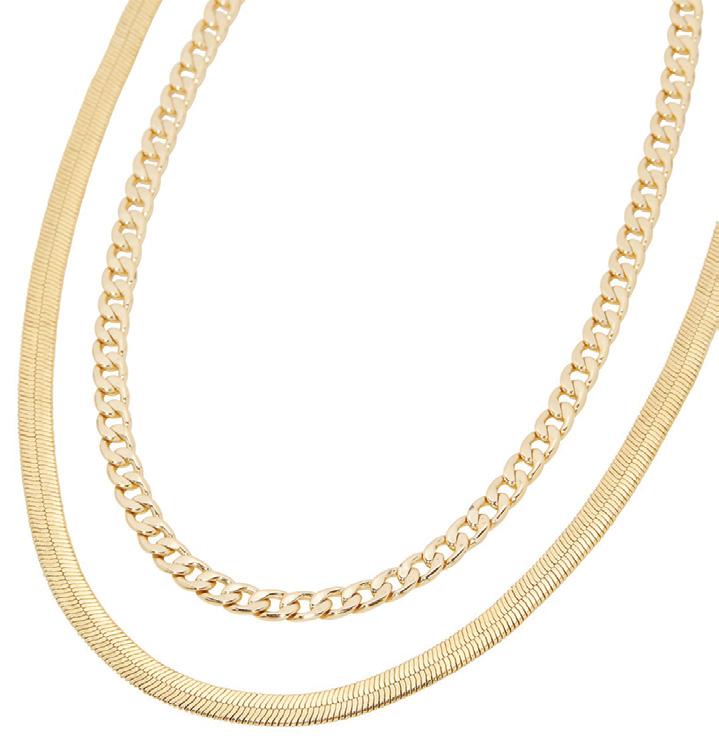 gorjana Diamond pavé alphabet bracelet, $220 Venice layering set, $108
Manhattan Village's Picks
Johnny Was Cozy blankets in vintage, claret, Tura & Laurie, $248
Martina long kimono, $375
Tommy Bahama
Women's OluKai® Ku'i Slippers in tan, $140
SPECIAL ADVERTISING SECTION | 87
Holiday Wish List 2022
Manhattan Village gift card, $25–$250
Holiday Wish List 2022
Tabula Rasa Essentials
Tabula Rasa Essentials offers the ultimate southern California shopping experience with personally curated gifts featuring local artisans and luxury brands. Owner Maureen McBride and her team provide personalized, convenient solutions for their clients' gift needs. "We always want our clients to have an amazing shopping experience—especially during the holidays," Maureen says. "We have something for everyone on your list, including corporate gifts, and we offer free gift wrap." In recent years, Tabula Rasa Essentials has won Best Woman-Owned Business, Local Love for Manhattan Beach and just last month the Small and Mighty Award through the Chamber of Commerce. "I am so proud of our team; we have an energetic, friendly vibe and always put our customers' needs first," Maureen shares. Check out the store's website, featuring a holiday guide and a tablescapes section. Trends this holiday season include opulent, vivid colors; alpine decor and home fragrances; gnomes; and magnificent tablescapes to ensure your holiday parties are celebratory and fun!
Maureen McBride, Owner 919A Manhattan Ave., Manhattan Beach 310-318-3385 tabularasaessentials.com @tabularasamb
Handcrafted resin trim cheese boards, $78–$198 each
Luster glass drinkware, $18–$28 each Sparkling cuvee 3-wick tin, $26
Maureen's Picks
Savory Baker's Delight gift set, $105 Winter gnomes, $42 each
Ornament body wash buffer, $14 Lighted swirling tree, $36–$52 each
SPECIAL ADVERTISING SECTION | 89 Holiday Wish List 2022
Holiday Wish List 2022
Gum Tree Shop & Café
Gum Tree is a beautiful home/gift shop and café with two locations in the South Bay. Husband-and-wife owners Lori and Will Ford are excited to celebrate the shop's 14th birthday this year! Lori always wanted the little blue house on Pier Avenue, and when it became available in 2008 they jumped at the chance to create a lifestyle space for the community. The Gum Tree team loves the holidays and will host their 14th annual Santa Photos event benefitting the Hermosa Beach Education Foundation on December 3–4. Over the years they have raised more than $75,000 for the organiza tion with this event. Gum Tree's gift selection includes something for everyone—from ornaments to stocking stuffers, white elephant gifts and beautiful solid gold jewelry. "We have gifts for everyone on your list," shares Lori. "We offer complimentary gift wrap all year long, but we especially love our holiday gift wrap!"
Lori & Will Ford, Owners gumtreela.com
238 Pier Ave., Hermosa Beach 310-376-8744 | @gumtreecafe
324 Manhattan Beach Blvd., Manhattan Beach 310-318-2990 | @gumtree_la
The New Cocktail Hour book, $22 Oliver the Elephant, $42
Chan Luu cashmere silk scarf in indigo, $215
Lori's Picks
pendant necklace with green peridot inset, $595
Whale bottle opener, $22 Frasier fir statement 3-wick candle, $56
SPECIAL ADVERTISING SECTION | 91
Holiday Wish List 2022
Holiday Wish List 2022
Skechers
Celebrating its 30th anniversary, Skechers has been part of the Manhattan Beach community since 1992. This footwear store carries a vast assortment of casual lifestyle and athletic styles for men, women and kids—with a full range of apparel and accessories. Their BOBS from Skechers boutique allows shoppers to support the firm's philanthropic collection of footwear, apparel and pet accessories while helping save the lives of shelter animals. Skechers makes it easy for the entire family to find their perfect look for school, work, hanging out or working out. "We're proud that we kept the business in this community we call home and love so much," says Skechers president Michael Greenberg. "We hope customers will visit any of our South Bay stores and experience our innovative comfort technologies for themselves." At this busy time of year, Skechers also offers an option to buy online and pick up curbside.
Michael Greenberg, President skechers.com @skechers
Skechers
1121 Manhattan Ave., Manhattan Beach 310-318-3116
Skechers Del Amo
21712 Hawthorne Blvd., Torrance 310-542-2333
BOBS from Skechers
228 Manhattan Beach Blvd., Manhattan Beach 424-634-7134
Skechers' Picks
The Hoodless Hoodie GO WALK Everywhere Jacket, $59
Diamond Glacier Jacket, $54
Hands Free Slip-ins: Flex Glide, $52, & Hypno-Flash 2.0 – Odelux, $58
Max Cushioning Hyper Craze Bounce – Galore, $125, & Delta, $105
Hands Free Slip-ins: Ultra Flex 3.0 - Smooth Step, $90
GO WALK Massage Fit, $109, & Upsurge, $105
Hands Free Slip-ins: Ultra Flex 3.0 - Glitter Me, $92, & Natural
SPECIAL ADVERTISING SECTION | 93
Holiday Wish List 2022
Holiday Wish List 2022
Manhattan Denim
Manhattan Denim offers beautiful clothing—from casual to dressy to denim and beyond—for the man or woman who appreciates details and enjoys feeling confident and comfortable. Audrie Benjamin, who has worked in retail her entire career, purchased the store in 2020. She is proud of the warm, relaxed ambience of Manhattan Denim—where customers kick back and are wardrobed by professionals who truly love what they do. "We are grateful when they come in so proud to show us their outfit and are smiling ear to ear," shares Audrie, who also offers personal shopping appointments before or after hours, online shopping and stellar gift-wrapping. "For your holiday shopping needs, we are here for you and we make gift-giving a beautiful experience."
Audrie Benjamin, Owner 920 Manhattan Ave., Manhattan Beach Manhattan-Denim.com
Luxe pima polo by Georg Roth, $148
Men's Italian wool sport coat, $995
Women's leather jacket, $1,495
Wool sport coat by Sand Copenhagen, $695 Vintage brass fringe earrings, $185
Stenströms dress shirt, $298
Men's leather jacket, $998
Audrie's Picks
SPECIAL ADVERTISING SECTION | 95
Holiday Wish List 2022
Holiday Wish List 2022
Ounce of Salt Jewelry
Jewelry designer Jennifer Baick-Oliak—a Manhattan Beach resident for nearly two decades—knows the South Bay vibe firsthand. Her jewelry designs feature understated luxury and sophistication, exuding the elevated level of quality this community expects.
Jen has created her own jewelry collection and also serves as a private jeweler for clients by appointment in her Manhattan Beach office. As a third-generation jeweler, she brings trustworthiness and transparency to the jewelry-purchasing process, which gives clients confidence in their investments. Jen and Ounce of Salt Jewelry have been featured in Vogue, Brides, Town & Country, The Knot and NBC News.
Jennifer Baick-Oliak, Designer & Owner 516 N Sepulveda Blvd., Manhattan Beach 310-970-4485
ounceofsaltjewelry.com @ounceofsaltjewelry
Oval diamond ring stack, $14,500
Emerald cut diamond bracelet, $16,900
Pear diamond necklace, $10,900
Jen's Picks
Moonstone & diamond cup ring, $4,350
Butterfly matte bangle, $6,900
Diamond vintage octagon drop earrings, $7,900
Multi-shaped diamond & emerald butterfly necklace, $5,600
SPECIAL ADVERTISING SECTION | 97
Holiday Wish List 2022
Holiday Wish List 2022
Beauty Treats
Beauty Treats is a spa and boutique offering skin care, lash artistry, airbrush tanning and waxing, as well as gifts and apparel. Owner Salma Bruno is an experienced esthetician and eyelash technician who has worked in the beauty industry since 2005. Located in Redondo Beach since 2016, Beauty Treats has expanded its retail space and increased its apparel selection. "I have loved getting to know our neighbors and com munity," says Salma. "Our clients love the sense of friendship we provide as a community store, and we love to see their happy faces!" Beauty Treats carries gifts at a variety of prices for all ages, and they offer gift wrapping. Online shopping is available, and Salma invites everyone to stop in for a visit during the holiday season. "We can't wait to help you—whether it's for a spa service or to pick out that perfect gift!"
Salma Bruno, Owner 1704 S. Catalina Ave., Redondo Beach 310-346-1642 beautytreatsspa.com @beautytreatsspa
LAFCO woodland spruce large candle, $70
Beaded matte onyx 1.25" hoop earring, $58
Salma's Picks
Aqua Heron robe, $180 Frasier Fir gold fragrance diffuser, $47
Malvados Puff Daddy slipper, $70
SPECIAL ADVERTISING SECTION | 99
Holiday Wish List 2022
18k yellow gold mother-of-pearl and diamond medallion pendant on an 18" paper clip chain, $2,375
18k yellow gold 9.04ct mother-ofpearl with .40ctw diamond halo border dangle earrings, $2,475
14k yellow gold .91ctw diamond multi-row fashion ring, $3,450
18k yellow gold .95ctw pavé set diamond Roberto Coin "Love in Verona" hoop earrings, $8,200
Morgan's Jewelers
The legacy of Morgan's Jewelers spans more than 76 years and three generations. Much of the company's business is referral-based, with clientele all over the country. "Our level of expertise, service and selection are unmatched, which is why we have been voted the South Bay's favorite jewelry store many times," says owner Russ Varon. "Please come in and experience the difference!" Morgan's Jewelers has expanded its boutique and designer lines, including a new men's depart ment. Look for a complete renovation starting early 2023.
Russ Varon, Owner 22200 Hawthorne Blvd., Torrance 310-375-4471 morgansjewelers.com IG: @ morgansjewelers
FB: @MorgansJewelersTorrance
Russ' Picks
100 | SPECIAL ADVERTISING SECTION
Holiday Wish List 2022
Medawar Fine Jewelers
Medawar Fine Jewelers is a third-generation family business offering fine jewelry designs, watches and clocks, and an in-house custom design and service center—all set in a warm and welcoming environment. Check out the annual Holiday Open House December 9–10 to see several exquisite new lines and custom pieces. "We get to live and work in an amazing community," says owner Robert Medawar. "We owe our customers a huge debt of gratitude for their unwavering support."
Robert Medawar, Owner 810-C Bart Earle Way, Rolling Hills Estates 310-544-0052 medawarfinejewelers.com @medawarfinejewelers
Hermès
Bizzotto
Ania Haie Gold Glam tag pendant necklace, 14kt gold-plated on sterling silver with cubic zirconia, $79
S.T. Dupont Line D Medium Rollerball Pen in pearl white, $550–$850
Robert's Picks
Arceau timepiece with diamond bezel and mother-of-pearl dial, $9,300
18kt ruby, sapphire & diamond bracelets with signature stretch design, $5,900–$6,900
SPECIAL ADVERTISING SECTION | 101
Holiday Wish List 2022
"Love-in-Rub" magnesium sugar scrub, $47
"Butter Me Better" magnesium body butter, $43
"Saving Salve" magnesium and arnica body salve, $48
"Salt your Soul" magnesium & floral bath salts, $53
TRU Center, Move to Wellness
TRU Center is a wellness studio owned by Alicia Gilbert. Her new handcrafted line, TRU Rx Essentials, is a medici nal body care system using magnesium, essential oils and coconut oil bases. These products nourish the body, help calm the nervous system—especially through the holiday bustle—and are wonderful gifts for all of your loved ones. "I believe when we truly care for ourselves, this emanates outward to all around us," says Alicia.
Alicia Gilbert, Owner 1951 Artesia Blvd., Suite 101, Redondo Beach 310-882-8732
trucentermovetowellness.com @Tru_Center
102 | SPECIAL ADVERTISING SECTION
Holiday Wish List 2022
Alicia's Picks
Bespoke by Chase
Bespoke by Chase is a menswear store specializing in luxury, tailored men's garments customized for each cli ent in both style and fit. In addition to Italian sportswear and custom suits, shirts, jeans and knitwear, the shop now carries luggage and leather toiletry bags. Owner Chase Kern recently opened a new location one block from the pier that has the vibe of a bar and lounge, where men can have a drink and watch the game on TV while they shop.
Chase Kern, Owner 1100 Manhattan Ave., Suite 104, Manhattan Beach 503-358-0332 bespokebychase.com @bespoke_by_chase
Chase's Picks
Italian-made sport coat, blue plaid with patch pockets, $1,195 Italian-made wool vest with removable jersey
Grey plaid flannel stretch sport shirt, $278 Beige cardigan with grey
103
Holiday Wish List 2022
Go Gently Nation
Go Gently Nation was founded by Kristin Coia in 2007; she opened a Manhattan Beach retail store in 2019. The com pany's clothing is designed and manufactured locally using sustainable materials and practices. Offering old-school customer service, Go Gently Nation's staff is knowledgeable about the store's eco-friendly products and passionate about customers having a wonderful shopping experience. Find gifts including baby items, children's toys, women's clothing and natural home products in a store adorned with natural and festive decorations.
Kristin Coia, Founder 1201 Manhattan Ave., Manhattan Beach 310-545-7883 gogentlynation.com @gogentlynation
Women's organic cotton & hemp Anne blouse, $88
Wood camper car & surfboard, $27
Handmade palm leaf laundry basket, $62
Eucalyptus lap tee, gauze baby pant & organic baby socks, $72
104 | SPECIAL ADVERTISING SECTION
Go Gently Nation's Picks Holiday Wish List 2022
Season's Meetings
DECK YOUR CALENDAR WITH A VARIETY OF LOCAL SEASONAL EVENTS TO TAKE YOU THROUGH THE NEW YEAR.
Illustrated by Yuiko Sugino
Manhattan Beach will host a giveback day for the Friendship Foundation with 10% of in-store and online purchases benefiting the organization.
HOLIDAY FESTIVAL
November 29-December 4 torrancememorial.org/holidayfestival
HOLIDAY SNOW SHOWERS
November 25–December 23, 6 to 8 p.m. thepointsb.com
Snow is in the forecast at The Point! Magical snow flurries hap pen every 30 minutes on Fridays and Saturdays, and every night December 20–23.
SMALL BUSINESS SATURDAY November 26
Remember to support our South Bay businesses with your early gift buying!
FRIENDSHIP FOUNDATION GIVEBACK November 26 kendrascott.com
Kendra Scott in Downtown
The magic of the holiday season will return this year under the big white tent at Torrance Memorial Medical Center. Celebrating its 39th year, the tradition of the Holiday Festival continues with decorated Christmas trees, shopping, enter tainment, sweet treats and more. Admission to public hours is $5. Children ages 5 and under are free.
HOME FOR THE HOLIDAYS COLLECTION LAUNCH PARTY November 30, 6 to 8 p.m. katelesterhome.com Kate Lester Home will showcase sea sonal wares at the Manhattan Beach studio for interior design enthusiasts.
SANDPIPERS HOLIDAY HOMES TOUR
December 2-4, 10 a.m. to 5 p.m. sandpipers.org
The South Bay organization's inperson Holiday Homes Tour features three homes decorated by local businesses and a marketplace with holiday vendors and café items.
VOLUSPA SPARKLING CUVEE EVENT
December 3 tabularasaessentials.com
Tabula Rasa Essentials in Manhattan Beach will toast the holidays with bubbly and great gift ideas.
GUM TREE PHOTOS WITH SANTA
December 3–4, 10 a.m. to 4 p.m. gumtreela.com
The Hermosa Beach store wel comes guests for photos with Mr. Claus, with all proceeds going to the Hermosa Beach Education Foundation. $20 for a digi tal photo file.
106 |
LOCAL LOVE FOR THE HOLIDAYS WEEKEND
December 3–4
downtownmanhattanbeach.com Bring your pup to participate in the Happy Howlidays Dog Costume Contest on Saturday. Experience the holiday golf cart parade through Downtown Manhattan Beach on Sunday. Strolling carolers from Mira Costa High School choirs will entertain both days while you enjoy uniquely curated boutiques and outstanding dining destinations.
TWELVE DAYS OF FITMAS December 7 beachlifefitnessboutique.com Beach Life Fitness Boutique in Redondo Beach invites participants to a holiday wellness challenge.
MARIACHI NIGHT AT THE RIV December 7, 5 to 8 p.m. therivmex.com
Riviera Mexican Grill in Redondo Beach will kick off the holiday season with mariachi music, drink specials and de licious Mexican dishes.
THE CALIFORNIA GREAT SANTA STROLL
December 10 mychals.org Mychal's Learning Center is part of this world competition for the most Santas gathered in one location. The festive event includes a 5K run and walk for all ages and abilities along The Strand from Hermosa to Manhattan and back.
MANHATTAN BEACH FIREWORKS
December 11
Start the afternoon at Skechers Snow Park for kids, 3 to 6 p.m., followed by the annual fireworks display over the Pier beginning at 7 p.m.
ROCK OUT AS A ROCKETTE December 16, 6 p.m. shinesocietyfitness.com Inspired by the famous holiday show at Radio City Music Hall in New York, Shine Society Fitness in Redondo Beach will host a special dance class featuring moves from kickline sensations the Rockettes.
WINTER SOLSTICE HIKE AT TERRANEA RESORT
December 21, 2 to 4 p.m. terranea.com Celebrate the season with an energy-boosting guided nature hike along Terranea's native plants trails. This active holiday offering will include a visit to the Pointe Vicente Interpretive Center.
NYE MYSTICAL GARDEN DINNER AT TERRANEA December 31 terranea.com
Be transported into a magi cal mystical gardenthemed family celebration. Set your resolutions for the New Year over a threecourse meal and toast a fabulous year ahead with Champagne and live entertainment. Seatings at 7:30 and 8:30 p.m. ■
| 107
Past Present
SIG WARD FINDS HEALING AND PURPOSE CREATING VINTAGE-INSPIRED JEWELRY.
Written by Evy Gallagher | Photographed by Adelaide Brannan
Sig Ward's love of jewelry started early in her life. Her mother adored jewelry, although living in a house with five kids meant jewelry was not in the budget for gifts. Her mother would save and buy herself significant pieces here and there. "I remember the joy she would get from buying her own jewelry," Sig says.
Jewelry became a topic that Sig and her mother bonded over. "I got her love for jewelry, and she got my love for jewelry," she says. The two would visit vintage stores together, and it was the story behind each piece that piqued Sig's interest. Today she creates pieces inspired by the 1920s, '30s and '40s.
Before she started designing jewelry, Sig was an acu puncturist. She says that working with people to help them heal was a fulfilling and unique experience. She loved gems and stones partly for their healing purposes.
She also loved the aesthetics of trendy, handmade beaded necklaces. One of those became a staple jewelry piece for Sig during her years in acupuncture school. She found beads like rose quartz and onyx at a store on Abbot Kinney Boulevard and made necklaces for herself and, soon after, for her friends at school. "It was the first seed," she says.
In 2012 Sig's third-grade son suffered a traumatic brain injury during a surf contest. An unleashed surf board launched toward him, and what was thought to be a gash needing a few stitches ended up being emer gency surgery, four days in the ICU, 190 stitches and a long recovery process for Sig's son and her family.
Nervous about him getting hurt again, she took time
off from her work as an acupuncturist to care for him. She needed time before she could apply her techniques to support her family in healing from the trauma. Even a year after the accident, the notion of healing others through acupuncture was still too much for her.
During this time, birthday money from her sister led Sig to peruse jewelry shops around her town. "I went to a local jewelry store, and everything was cookie-cut ter—stuff I had seen before," she says. So she started designing jewelry for herself again—adding variety beyond the beaded necklaces she had made and worn during her days as an acupuncturist.
Sig's jewelry caught the attention of moms at her children's school, and she eventually started designing pieces for those who inquired about them. At age 45, she opened Sig Ward Jewelry.
Modalities of healing that she had practiced in acupuncture transitioned into her jewelry design. The pieces she created were healing, one-of-a-kind items—each with an associated meaning. She thinks of each piece as a talisman.
Sig's jewelry is featured in luxury hotels across the country, and she owns a showroom in Manhattan Beach. Yet she says her most valuable accomplishment has been establishing a relationship with clients—one that allows them to trust her with "their money and their precious moments, milestones and mementos," she says. "They come to me because they're getting something different, something their own." ■
108 |
STREET CHIC
Hair artist Gilly Gonzalez keeps it real while he excels at his craft—and encourages others to do the same.
WRITTEN BY LAURA L. WATTS | PHOTOGRAPHED BY SHANE O'DONNELL
Gilbert Gonzalez is no stranger to hard knocks. The son of Mexican immigrants who spoke no English, Gilly grew up in a gang-infested neighborhood in Gardena. He was a poor, overweight, bullied child—he could have easily spun out of control. But at a young age, he had the inner strength and resolve to make the best of a tough situation and pave the path for his future success.
His four older sisters were busy, and his parents worked multiple jobs to make ends meet. So Gilly was alone a lot—essentially raising himself. He found solace in styling friends with his sisters' hair products and makeup. At age 14, he styled his first wedding.
For a while Gilly was doing beauty work only on the weekends, and that wasn't enough to support himself. He recognized his talent and passion for styling hair and makeup, so at age 19 he went to beauty school and got his license.
"Hairdressing saved my life," says Gilly, who is a master stylist at Sutra Salon in Torrance. "I worked hard to get out of the 'hood—although some of my family mem bers still live there, and it's nicer today. I never thought in a million years I would be where I am now, considering what I went through."
Gilly views himself as a painter and each client's hair as a unique masterpiece. An expert on styles, he is just as skilled at creating 1970s blowouts and '90s layers as he is more modern shags and bobs. "He can do anything his clients desire and make it a true expression of them," shares Amy, a longtime client. "And he does the best blowouts in town."
While he focuses more on artistry and
craft than trends, Gilly does stay on top of fashion. "Everything trickles down from designers," he says. He observes how locals are styling their hair—whether in the South Bay or during his travels abroad. "Traveling inspires me when I see the young kids—their fashion, their hairstyles. I come back to work and get creative. I like to take my inspiration from what I see out on the streets."
He also follows some of the top stylists in the world on social media and continues his education with styling seminars, product classes and hair shows. "I want to bring that knowledge back to newer stylists," says Gilly, remembering how his first boss took him under her wings and taught him so much. "I believe this career can save them like it saved me. I want them to be inspired by my story and know that with hard work and determination, you can come from nothing and still be successful."
Gilly has teamed up with his assistant, Jasmin Cortez, who has worked with him for the past eight years. "I call her my business partner, or sometimes I call her 'the boss'!" he laughs. "She's the next rising star."
He often works 13-hour days and has a two-month waiting list. Realizing he can't keep that schedule forever, he is teaching Jasmin everything he knows while he focuses on working in a more advisory capacity. "We work as a team, and she's amazing," he says. "She specializes in hair extensions and color, with a focus on balayage and blonding."
Gilly considers himself a "motivational stylist"—part therapist and part hairdresser. "I like to hype people up, bring out their best qualities and make them feel good about
themselves. Anyone in my chair gets the absolute spotlight."
Gilly enjoys taking walks with his four dogs and cruising in his classic cars—a trickedout lowrider '64 Impala and a '68 Chevelle convertible. Occasionally he treats himself to salon indulgences like mani-pedis. "I like to be the client too sometimes! I have to love myself first, or how am I going to take care of other people?"
Gilly has been sharing his artistry with the community for nearly 30 years, and he loves where he's landed. "Sutra Salon is a wonderful space, and owner Antonio Lobato is a very spiritual person. He brings a vibe of healing and wellness to his salon," Gilly says. "We are very open—no judgment. People come here and feel amazing, and when they leave, they look amazing."
GILLY AT SUTRA SALON
24235 HAWTHORNE BLVD., TORRANCE 310-387-0596 | SUTRASALON.COM
@STYLEDBYGILLY | @HAIRBYJASSMIIN @SUTRASALON
SPECIAL ADVERTISING SECTION BUSINESS SPOTLIGHT
| 111
L to R: Antonio Lobato, Gilly Gonzalez & Jasmin Cortez
the flow state
THE JIMMY MILLER MEMORIAL FOUNDATION SURF THERAPY PROGRAM IS EXPANDING ITS REACH TO SERVE MORE PARTICIPANTS ONE HEALING WAVE AT A TIME.
Written by Amber Klinck | Photographed by Monica Orozco & Ken Pagliaro
Torrance Memorial
The Jimmy Miller Memorial Foundation (JMMF) Surf Therapy program, named in memory of the local surfer who tragically took his life in 2004, was established a year later by clinical occupational therapist Carly Rogers. Its origin was inspired by Carly's experience as a Los Angeles County lifeguard working with the W.A.T.E.R. youth program.
While teaching ocean safety to kids with special needs and from underserved communities, Carly was moved by the restorative power the ocean was having on her young students. The therapeutic effect was undeniable with each smile, each increased level of confidence and selfefficacy. For a moment in time, the participants were focused only on themselves and the waves.
"That's what Surf Therapy is all about," says JMMF's program director Kevin Sousa, who is also a licensed marriage and family therapist. He describes the pro gram as "connection and being in a flow state. You are present, centered and aware in that moment."
In 2007, with consistently positive feedback from young participants, JMMF extended its Surf Therapy program to serve another demographic. After a con tinuous dialogue with the Pentagon and the command at Camp Pendleton, JMMF created a program for the Wounded Warrior Battalion-West. While the source of trauma was different for young participants living in underserved communities or struggling with domestic abuse compared to the men and women returning from war, the PTSD, anxiety, depression, social isolation and suicidal ideation were very much the same.
The introduction of Surf Therapy at Camp Pendleton wasn't intended to replace the therapy Marines were receiving through the VA or their battalion. It was
meant to offer an alternative to traditional therapy, and the cathartic release participants were experiencing in the water was palpable.
"That's because it breaks down barriers and estab lishes trust so quickly—trust that would take months of talk therapy or face-to-face therapy—because your life depends on the other person you're working with in the ocean," Kevin explains.
Andy Dellenbach, CEO of JMMF, shares some of the feedback he received: "[The Marines] commented that being in the ocean with its dynamic nature and ever-changing conditions was like being in a firefight or a war. In combat, the situation is dynamic—it's always changing. You're not sure what the enemy is doing or planning or what comes next. You don't know where the next bullet is coming from. After they did the ocean therapy session, they went back into their group therapy and said that was the closest thing they could experience to war, to a dynamic combat environ ment, but with positive memories instead of haunting nightmares."
A Surf Therapy program designed to serve veterans quickly followed, with female-only veteran sessions introduced in 2013. JMMF has proudly provided Surf Therapy to more than 500 active-duty and veteran participants annually ever since. With the uncertainty that came with COVID-19, however, everything came to a halt.
"When the pandemic hit in early 2020, we got shut down. We weren't allowed to conduct our sessions. Nobody could go on the beaches. You couldn't gather. Everybody was, as you know, completely freaked out," Andy notes. "We know from experience that for people who are already suffering from mental health issues, forcing them into quarantine or isolation is the worst thing that could happen to them. Knowing that sitting on the sidelines and doing nothing until the pandemic was over was not a solution, we huddled up via Zoom and tackled the question: 'What are we going to do to help?'"
| 115
Kevin proposed leading participants through a series of virtual guided meditations. "We would use images from Brent Broza, who is one of our board members and was Jimmy's best friend growing up. They're beach scenes that he blurs. It's a cool, soothing look," Andy says. "In the fall of 2021, restrictions thankfully eased and we started getting back on the beach."
But while COVID-19 cases began to subside, a new mental health crisis was beginning to emerge. "Doctors and nurses were having to make life decisions for people—partially because families were not allowed in the hospitals," Andy notes. "It was traumatic for them, and what we started to see was the mental and emo tional breakdown of health care givers. We realized they were starting to suffer from the same PTSD symptoms that we saw in the soldiers coming back from war. They were in a war against an enemy they didn't understand. They didn't know what the long-term ramifications were. They didn't know how to effectively deal with it. It was a dynamic enemy that wore them down and caused them to go into anxiety mode. A lot of them understandably shut down. Many called it emotional burnout; they had no more to give."
Courtney Herron has been a nurse for nine years, seven of which have been at Providence Little Company of Mary Medical Center. During the pandemic she worked six days a week, 12-hour days.
Running out of space for patients, Courtney helped open beds and create units that didn't exist. "We used gurneys and put them in the gift shop—making units wherever we could because we didn't have space for all the patients we were getting," she explains. "The first couple months were rough because we had no clue what to do or what we needed. After a while we started learning what we needed, but then we didn't have the supplies. So we were trying to come up with inventive ways to work around our problems. It was really dif ficult for a long time, and I think it scared us more than we realized—especially looking back."
When Courtney saw a JMMF Surf Therapy flyer at the hospital, she was excited about an opportunity to get in the water—but only as a recreational activity. "I had no clue about the psychological factor. I guess I didn't do my research," Courtney says. After her first session, she knew she was experiencing something special. "I got emotional. It was unexpected. I got really moved by it all."
Cari Carver, Torrance Memorial Medical Center's director of finance, needed a little more nudging before agreeing to get on a board. Torrance Memorial's coor dinator, Justin Ficke, popped into Cari's office, hoping her participation might encourage others at the hospital to give Surf Therapy a try.
"I had never in my life wanted to surf—not even an inkling—but I said, 'OK, I will try it,'" Cari notes. Immediately, she was hooked. "It was very challenging, but the staff at JMMF is so fantastic and encouraging. I was under a lot of stress with my job, [but while you're surfing] you can't think of anything stressful. All your concentration is on what you're doing with that surf board and the feel of the water. At first it's scary, those waves coming in, and then it's just soothing."
Now Cari encourages her colleagues to get out of their comfort zones and into the water. "We did get a few people to join who would not normally—once they saw the rest of us having fun," she says. "The friendships that I've made and the acceptance that they give everybody regardless of their age, their background or whatever else they might be facing—it's a safe place to be."
Surf Therapy can offer an emotional reprieve from trauma, but it's perhaps the sense of community it provides that leaves the longest-lasting impression. Which is why a collaboration between the JMMF and the Friendship Foundation, an organization that sup ports families of children and young adults with special needs, has been such a successful pairing. When the Friendship Foundation's program development direc tor, Daniel Stump, began exploring a partnership with JMMF, he sat in on a Saturday Surf Therapy session.
116 |
| 117
Providence Little Company of Mary
"I had been there for maybe 15 or 20 minutes and was like, 'Yes, we have to do this.' We've done two at this point, but the first one was magical. Every single participant was in the water. And with the population that we serve, that's most certainly not a guarantee across the board," Daniel notes.
"I love working with [the Friendship Foundation] be cause you can see in their face and their body language the way they get so excited without filters," Andy says. "We're all conditioned to suppress or temper our emo tions for societal norms, to control it and not necessar ily show the totality of our emotions. But they do."
The joy, confidence and sense of accomplishment participants feel are invaluable. But so is the experience of the family members observing their loved ones from the sand. "A lot of the parents come and set up their
beach chairs and umbrellas and watch as spectators," shares Andy. "I know a lot of parents are extremely thankful for the program."
Regardless of age, gender or background, there are so many commonalities in these participants' stories. "When I stepped in as CEO, my vision and goal for the foundation were pretty simple: to help as many people as our resources would allow," Andy says.
The evolution of the JMMF Surf Therapy program continues with Andy at the helm running strategy and logistics, as well as an incredible team of volun teers and Nancy Miller, who is forever at its heart as she continues to honor the memory of her son Jimmy. "She's at almost every session, cheering people on, giving hugs, high-fives and healing herself as we help others heal from their trauma." ■
118 |
The Friendship Foundation
L to R, back: Avery Hazelrigg, Stacia Janus, Ali Snider, Eric Fonoimoana
Front: Patrice Radden, Jen Caskey, Starr Dill
THE JEN CASKEY GROUP AT COMPASS
The Jen Caskey Group, operating under the umbrella of Compass, is a luxury boutique real estate firm with the motto "Luxury Boutique. Global Reach." Owner Jen Caskey has worked as a South Bay real estate agent for more than 30 years. She started the Jen Caskey Group at Compass in January. We asked Jen to tell us more about how the Jen Caskey Group supports philanthropic causes in the South Bay.
WHAT CHARITIES ARE YOU DRAWN TO?
There are too many to name, but one of the most important endeavors we support is the Angel Campaign for the Richstone Family Center, which provides therapy and preven tion programs for victims of child abuse and domestic violence. In fact, the demand for their services has skyrocketed since the onset of the pandemic, and there is a long waiting list for families in crisis. We believe it is crucial to support the Angel Campaign immediately to hopefully make an impact on those who need it most right here in our community. This year we once again sponsored the Skechers Pier to Pier Friendship Walk in October—one of our favorite annual events. We love supporting our local organiza tions and have a long, comprehensive list of charities we partner with on our website under "Philanthropy."
IN WHAT WAYS DOES CHARITABLE GIVING BENEFIT YOUR COMPANY?
Giving reflects the values we hold dear at the Jen Caskey Group and indicates the types of people we carefully employ—those who are also interested in giving back and believe
philanthropic efforts benefit all of us just as much as the recipients. We actively partici pate as a group in local events and have fun doing it! Everyone on our team knows how important philanthropy is to our community.
WHAT ARE SOME WAYS WE CAN ALL BE OF HELP TO OTHERS THIS HOLIDAY SEASON?
The holidays are the perfect time to pause and reflect on whatever we are grateful for in our lives. It's also an ideal season for giving to those who might need a little extra help at this time of year, which can be stress ful. You might volunteer in your community, give a little extra to your favorite charity or simply make a meal for and visit with a neighbor who is alone. From the time my sons were young, we participated together in charitable events in our community. From the P.S. I Love You Foundation's Day at the Beach Celebration to Amigos Unidos, we have enjoyed many events through the years.
WHAT ARE YOU ESPECIALLY GRATEFUL FOR TODAY?
My family and friends, as well as my clients and colleagues who have helped me build a wonderful business over the years.
WHAT DOES "THE SEASON OF GIVING" MEAN TO YOU?
It means it's the perfect time to remember others rather than ourselves. We spend so much time on our daily to-do lists, I think it's important to stop and think about how you can give to someone in need. Sometimes our time is the most important and effective gift. Do a little research into local charities, and then support those whose goals most
align with your values. Supporting the efforts of those who endeavor to better other peo ple's lives within our community is of utmost importance to us as a team. I feel that if you have worked hard and have found some success, it's vital to give back to those in your community. Also, and just as importantly: Be kind and thoughtful to those around you.
WHAT DO NONPROFITS NEED MOST FROM THEIR COMMUNITY?
Understanding and engagement. It's crucial that nonprofits communicate their goals clearly and then get the community to sup port them through fun activities. It's also helpful if they establish consistency, like hold ing an annual event to support their cause.
TELL US ABOUT THE BEST GIFT YOU EVER RECEIVED. My three boys.
TELL US MORE ABOUT YOUR FIRM. The Jen Caskey Group is so proud to offer a true boutique experience for our clients. As a Manhattan Beach native, I know this city and the surrounding communities better than most and love introducing our clients to the best place to live in California! We offer a very personalized, comprehensive yet easygoing approach to buying and selling a home and are proud of every transaction we've had the privilege of handling for our amazing clients.
THE JEN CASKEY GROUP AT COMPASS 805 MANHATTAN AVE., SUITE 201, MANHATTAN BEACH 310-200-5900 | JENCASKEYGROUP.COM
SPECIAL ADVERTISING SECTION GIVING BACK
| 121 PHOTOGRAPHED BY SHANE O'DONNELL
New Pastures
AFTER MORE THAN TWO DECADES AS PALOS VERDES RESIDENTS, GAYE AND NEIL VANCANS TRADE OCEANFRONT LIVING FOR THE RURAL ROMANCE OF PASO ROBLES.
Written by Darren Elms | Photographed by Monica Orozco
Recent empty nesters approaching retirement, Gaye and Neil Vancans asked themselves that inevitable question: What's next? The pair always dreamed of owning a bed and breakfast—a place their children and grandchildren would want to come home to, not to mention friends and other family members. Early this year, all the pieces started to fall into place after their Palos Verdes home sold in a week. It was time. But where?
"We have been going to Paso Robles for a few years for short breaks, and it always spoke to us as a destination that perfectly mixed the things we love: a beautiful environment, good people, good food, good wine and a strong sense of community and personal ity," shares Gaye, who served as community director at Terranea Resort since before its opening in 2009. "Now that we are here, we have found it to be all those things and more. We are surrounded by like-minded people and constantly surprised at how everyone is so friendly, laid-back and willing to share their town and their community."
Neil fell in love with their chosen property first, ad miring the dry riverbed and expansive views. Gaye was hesitant initially but knew the location was perfect— just minutes from the center of Paso Robles but in a hidden little valley. Best of all, they could see that the house could become what they needed.
"The area of England where we met as teenagers was very rural, so for us it was a return to where we started," says Gaye. "There was so little on the market at the time; we knew if we wanted it, we had to act quickly. So
we jumped in with both feet and made an offer."
Their agent sold the same property to the previous owners 25 years ago and offered unique insight and a welcomed inside track. "He understood what we were looking for and showed us the house before it went on the open market," says Gaye. "We had the inevitable ups and downs, and problems with our buyers and tim ing in Palos Verdes, but it was obviously meant to be because it all worked out."
With 40 years of hospitality under her belt, Gaye had definite ideas about what the finished product would look like. "We knew that our origins set us apart, so we set out to create an English-style cottage," she says. "We have incorporated English antiques brought over from the U.K. blended with modern accents, colorful fabrics and lots of wood to create a warm, in viting and informal space full of personality for people to enjoy."
Where possible, the couple and their small local team renovated and gave new life to old pieces rather than buying new—creating a "lived-in" feel that's both sus tainable and brings a sense of history and depth to the space. Adapting along the way, Gaye and Neil learned what they could and could not change in terms of construction and budget. With time of the essence, they didn't want to change the basic footprint of the house, keeping the back half with a separate entrance for their guests and the front for themselves.
"We have managed to complete the project in record time, and as always, we had amazing help from our
122 |
construction team and talented friends," she says. Newly christened Lilac Farm, this unique and charm ing getaway, offered on Airbnb, promises a bucolic retreat to relax, escape, celebrate and enjoy everything that farm life and Paso Robles have to offer. This includes local produce, farm-fresh eggs and, of course, local wine.
Lilac Farm is also home to two English cocker span iels, Tumble and Tilly, an indoor cat named Grayson, three barn cats Gaye and Neil inherited with the prop erty, four goats (Parsley, Sage, Rosemary and Thyme), eight chickens and, soon, two miniature ponies.
The two miss Palos Verdes but are glad they made the move for a new adventure. "After 26 years in PV we had established a wonderful community, and it was hard to walk away," says Gaye. "We always knew we were very lucky to bring up our children in that idyllic environment, but we also knew that it was not where we would stay."
Now settled into a rural life some three hours up the coast, they are setting their sights on their future at Lilac Farm. "We love the land, the beauty of our sur roundings and the very strong sense that it is home—it felt right from day one." ■
| 125
INDIVISIBLE ARTS and Da Vinci RISE High at Richstone Family Center are changing the lives of high schoolers connected to the foster care and criminal justice programs of South Bay. Through the Creative Wisdom Tools program we are equipping them with creativity, consciousness, and coping tools for life. We are fundraising to make this Program available to the RISE students all-year-round, and we need your help to bring that hope into a REALITY...
Scan this QR Code to Donate or visit www.indivisiblearts.org/donate
"Out of everything in my life that I have tried to reach a state of peace in my mind, from medication to hospitalization, never have I found a more impactful and life changing experience than the powerful tools I have learned under the teachings of Rafael and his mission. These lessons and tools of mindfulness have changed my life in ways that I cannot describe, from a life of suffering to a life of Hope..."
- Gabriel, RISE student
Millie – info@indivisiblearts.org // 424.383.3164
@
<<< ORIGINAL PHOTOGRAPHY // ARMAND T. // RISE STUDENT
NOV 29
"Our teens are awakening with immediate, impactful and inspired results... We are so hopeful, and so grateful"
- NAOMI LARA - RISE PRINCIPAL
™
Four Seasons Resort Oahu
Mele Kalikimaka
WE'RE OFF TO OAHU, WHERE THE SUN SHINES BY DAY AND ALL THE STARS BY NIGHT.
Written by Darren Elms
Oahu, or O'ahu, is often referred to as "The Gathering Place," an appropriate nickname for the most popu lated island in Hawaii. But this wasn't always the case. In its early history, Oahu had few inhabitants and was outranked by the status of other islands.
Eventually Oahu would become home to Hawaiian roy alty and the capital city of Honolulu. It's this storied his tory that makes Oahu a worthy visit, from royal palaces of a lost monarchy to the modern pleasures of Waikiki Beach and all the beautiful natural wonders in between.
To reach one of the most desirable destinations on the island—the perfect meeting of resort and recre ation—you must head west to Ko Olina and the Four
Seasons Resort Oahu. Located along the rugged western coastline overlooking a picturesque lagoon, the resort feels worlds away from bustling Waikiki. And with ev erything you need a few steps from your spacious room, there's no reason to leave.
Four pools await your vitamin D intake, including a pool for the kids so the adults can enjoy a little quiet time on their own. The infinity pool overlooks the Pacific and conveniently brushes up against Dr. Mai Tai's, a swim-up bar housed in a vintage van. Sunset cocktails? Check.
Dining spots include the popular Mina's Fish House— James Beard Award-winning Chef Michael Mina's spin
on a traditional Hawaiian fish house—also with pan oramic ocean views. For date night, book a table at Noe for Southern Italian fare by Michelin-starred JapaneseItalian Chef Ryo Takatsuka and served in a tranquil garden setting. La Hiki gets your day started with a breakfast buffet, and Waterman Lounge offers a seaside setting for closing it out with a drink of your choice.
Wellness figures prominently in the Four Season's itinerary, with daily yoga and fitness classes offered to guests. The concierge can book a moderate guided hike to nearby Ma'ili Pillbox along the western coast with unobstructed views. And pickleball fans rejoice … there are courts open for you and your racket. If you're in the mood for chill, experience the Muhala Sound Journey with Pi'iali'i Lawson, an intuitive energy realignment practitioner—the perfect segue to a relaxing treatment at the Naupaka Spa.
In December, the resort will introduce a new seasonal program that will appeal to many South Bay kids. Proper Rideshop Skate Camp gives mini shredders a chance to learn the fundamentals of skateboarding and safety while also building social, mental and physical skills. The kids have all the fun.
Waikiki may be bustling, but it's also a blast. It's said that the last queen of Hawaii, Lili'uokalani, built a pier deep off the coast of the beach so she could watch the surfers hit the break every morning. The new restau rant Queensbreak at Waikiki Beach Marriott Hotel & Spa takes inspiration from that tale and pairs an oasis vibe with a tasty menu from Chef Nuno Alves. Feast on fresh fare, much sourced locally, all made with love and a splash of Chef Nuno's Portuguese roots and Boston restaurant experience. Then head across the street to Pacific Island Beach Boys and take an outrigger canoe or stand-up paddleboard out into the Waikiki waters that once enchanted a queen.
More good times in Waikiki can be found at White Sands Hotel, a mid-century lodging with all the mak ings of an Elvis movie setting. Don Ho records, lava rock, striped umbrellas, tiki mugs … it's all part of the vibe. The circular bar of poolside restaurant Heyday is where the cool cats come to mingle. Sip on a tropical beverage of your choice at one of the swings surround ing the bar, and take in some live music beside the sparkling pool. Another round of piña coladas, please. ■
Hotel & Spa
Waikiki Beach Marriott
White Sands Hotel
Farm Fresh Cannabis. South Bay Roots. Free Delivery. LIC#: C9 0000103 LIC www.hightide.net
Life of Service
PALOS VERDES
RESIDENT
ERICA MANGHAM'S PHILANTHROPIC WORK TOUCHES ALL CORNERS OF THE SOUTH BAY COMMUNITY.
Written by Marlene Stang Photographed by Shane O'Donnell
Erica Mangham's first foray into the world of philan thropy occurred, unexpectedly, when she was grounded as a teen. "The deal was that I could only go out during this particular grounding if it were to help people," she says with a chuckle.
She decided to volunteer to feed the homeless with a church group based near her home in Upland, and much to her surprise, she discovered a love for serving others. "Soon after that, I decided I wanted to help kids who needed a permanent home. I was adopted, and so I asked my fellow employees at the Stater Bros. where I worked to join me in baking cookies for kids in foster care."
In the decades that followed, Erica's love for serving others grew. After earning her bachelor's degree in political science from Cal Poly Pomona, she devoted her professional life to the nonprofit sector. She's held po sitions at Best Buddies International as their California state director; Lupus Research Alliance as the Western regional director of development; Pancreatic Cancer Action Network in the northeast region; and executive director for Variety–the Children's Charity.
While at Variety, she oversaw 44 offices in 13 coun ties and worked with each office to create or improve systems to help move the mission forward. Along the way, she also earned a certificate in nonprofit man agement from UCLA and a certificate in diversity and
| 133
inclusion through Cornell University.
Today Erica is a Rancho Palos Verdes resident who serves as executive director for Camp Ronald McDonald for Good Times, a program of Ronald McDonald House Charities of Southern California. Known affectionately as "Camp" by its community, this program provides year-round, free-of-charge recreational camp pro gramming at a site in Mountain Center near Idyllwild to children with cancer and their families from across Southern California—including communities here in the South Bay.
Erica is passionate when speaking about Camp—in no small part because she's seen how the program heals places that conventional medical treatments can't touch. She shares, "I want people to know what we do, the difference we make and that Camp is available to cancer-impacted families who need us."
Ask Erica how she found her way to the South Bay, and she'll tell you it was thanks to her husband. "We met at Sharkeez in Hermosa," she says with a laugh. Her husband was born and bred in Torrance and grew up surfing the local beaches.
They live in Rancho Palos Verdes with their three children, two dogs, one bunny and two lizards. Erica finds balance with her hobbies, which include reading,
cooking, playing bunco and running bases on her co-ed softball team.
She shares that falling in love with her husband meant also falling in love with the South Bay—a pro cess that involved discovering the community of need that exists right here. She's been a longtime member of Sandpipers, the South Bay-based volunteer organi zation that leads initiatives such as an annual holiday basket drive for local families living in shelters. She now serves as president-elect for the Palos Verdes chapter of National Charity League and served on the board of Richstone Family Center and as a member of the Manhattan Beach Chamber.
Through it all, Erica has been an instrumental vol unteer for numerous fundraising events including golf tournaments, galas, local "fun runs," auctions, food and wine festivals, and charity home tours. It's her love for helping others that keeps her going.
Reflecting on her career in philanthropy and how she's approached it, Erica shares that she's been guided by the words of Maya Angelou: "I've learned that people will forget what you said, people will forget what you did, but people will never forget how you made them feel." Fueled by this wisdom, Erica's legacy of giving back to the community is still unfolding. ■
134 |
"I WANT PEOPLE TO KNOW WHAT WE DO, THE DIFFERENCE WE MAKE AND THAT CAMP IS AVAILABLE TO CANCERIMPACTED FAMILIES WHO NEED US."
to be INSPIRED... Let us
your
We offer
full-service custom-catered events. Please
our
our detailed offerings. theinspiredpalate.com - Owner & Executive Chef Aly Pedersen xx Aly @the_inspired_palate | (310) 283-4114
create an exquisite culinary experience tailored specifically to
needs, and one that will surely inspire your palate!
everything from intimate wine-paired dinners to large
visit
website to see
Restaurant Guide
The holidays are here! Our local restaurants are ready to welcome you for a delicious meal or to host a festive event. We offer a closer look at venues ready to take your reservation and give you a memorable dining experience.
ADVERTISING
SPECIAL
SECTION
Barsha
Featuring cuisine from Adnen and Lenora Marouani's cultures, travels and inspirations. Feast on Tunisian + globally influenced cuisine and libations.
1141 Aviation Blvd., Hermosa Beach 424-452-6266 barshalife.com
IG: @barshalife
COMPAGNON
Wine Bistro
COMPAGNON Wine Bistro pays tribute to the classic southern French bistros where good food, good wine and friends come together to create the special joie de vivre.
335 W. 7th St., San Pedro 424-342-9840 compagnonbistro.com
IG: @compagnon_winebistro
FB: @compagnonwinebistro
Captain Kidds Fish Market & Restaurant
Serving the freshest seafood in the South Bay since 1976. A Redondo Beach land mark in the heart of King Harbor. Multiple indoor-outdoor patios and seafood delivered daily.
209 N. Harbor Drive, Redondo Beach 310-372-7703 | captainkidds.com
IG: @captainkidds
Copper Pot Indian Grill & Café
A modern take on traditional North and South Indian cuisine. Vegan, vegetarian, gluten-free options. All halal meat, fresh nan breads, tandoor grills, curries and biryanis. Now serving beer and wine.
1511 S. Pacific Coast Hwy., Redondo Beach 310-504-0777 | copperpotla.com
IG: @copperpot.la
Casa Playa
Family-owned taqueria in Riviera Village awarded "Popular in the Southland" by the Los Angeles Times. Serving home made traditional favorites and plantbased alternatives.
1903-1/2 S. Catalina Ave., Redondo Beach 310-791-CASA (2272) casaplayarestaurant.com @casaplaya_redondobeach
Día de Campo
A blend of old-school and new-school Mexican. Join us for weekend brunch, dinner and happy hour!
1238 Hermosa Ave., Hermosa Beach 310-379-1829 diadecampohb.com
IG: @diadecampohb
SPECIAL ADVERTISING SECTION 138 | restaurant guide
Gabi James
We bring Spanish and coastal French food with California soul to the South Bay, alongside an innovative bar rooted in gin that's not to be rivaled.
1810 S. Catalina Ave., Redondo Beach 310-540-4884 gabijamesla.com IG: @gabijamesla
Great American International Seafood Market
Local family-owned seafood market with all you need to host a seafood feast during the holiday season. Special orders always welcome. Gift cards available.
Golden Cove Center
31224 Palos Verdes Dr. W., Rancho Palos Verdes 310-750-6074 | greatamericanseafoodmarket.com
IG: @great_american_seafood_market
Little Sister
Menu showcases the rich collisions of food and culture from the European colonization of Southeast Asia. Join us for lunch, dinner and happy hour!
247 Avenida del Norte, Redondo Beach 424-398-0237 | IG: @littlesisterrb 830 S. Pacific Coast Hwy., Suite 100, El Segundo 424-835-9878 | IG: @littlesister_thepoint dinelittlesister.com
Perfect Storm
Neighborhood seafood restaurant in Riviera Village specializing in lobsters, oysters, burgers and cocktails. Check out the great seafood specials and daily happy hour.
1611 S. Catalina Ave., Suite 150, Redondo Beach perfectstormredondobeach.com
IG: @perfectstormredondobeach
Primo Italia
For generations, our families have enjoyed the tradition of homemade pastas, sauces, vino e dolci—and we invite you to partici pate in that culinary heritage.
24590 Hawthorne Blvd., Torrance 310-378-4288 | eatprimo.com
IG: @primo_italia
Pura Vita
100% plant-based Italian restaurant serving house-made pastas and Neapolitan pizza. Organic, sustainable, clean ingredients and gluten-free options. Enjoy our full bar serv ing natural biodynamic wines and organic craft cocktails with a sunset view.
320 S. Catalina Ave., Redondo Beach 424-304-2247 | puravitalosangeles.com
IG: @puravitaredondo
restaurant guide SPECIAL ADVERTISING SECTION | 139
R/10 Social House
Located in Redondo Beach's Marina, R/10 Social House is a neighborhood gastropub offering farm-to-table food, handcrafted cocktails and a selection of intriguing, affordable artisan beers and wines.
179 N. Harbor Dr., Redondo Beach 310-798-2500 | r10socialhouse.com
IG: @r10socialhouse
Sea Level
Premiere waterfront restaurant at Shade Hotel Redondo Beach featuring California coastal cuisine, beach-inspired indooroutdoor seating, happy hour, weekend brunch and live music. Open daily.
655 North Harbor Dr., Redondo Beach rb.shadehotel.com/dine 310-921-8950
IG: @sealevelrb
Riviera Mexican Grill
Serving the best Mexican food in the South Bay since 1996. Enjoy our famous fish tacos and margaritas; multiple out door patios. See you at the Riv.
1615 S. Pacific Coast Hwy., Redondo Beach 310-540-2501 therivmex.com
IG: @therivmex
Slay Italian Kitchen
Fresh. Authentic. Innovative. A rustic Italian, rotating menu featuring fresh and dried pastas, meats, seafood, pizzas, local vegetables and wines from Slay Estate and Vineyard.
1001 Manhattan Ave., Manhattan Beach 424-257-8301 slayitaliankitchen.com
IG: @slayitaliankitchen
Rock'N Fish
At the foot of the Manhattan Beach Pier, this welcoming spot offers delicious food, spirits, warm smiles and American regional cuisine highlighting seafood, steaks and spirits.
120 Manhattan Beach Blvd., Manhattan Beach 310-379-9900 mb.rocknfish.com
IG: @rocknfishmb
Steak & Whisky American Tavern
Enjoy handcrafted cocktails, by-the-glass wines and classic dishes from a chef-driven menu in the cozy ambience of an intimate dining room.
117 Pier Ave., Hermosa Beach 310-318-5555 steakandwhisky.com
IG: @swtable
SPECIAL ADVERTISING SECTION 140 | restaurant guide
The Brews Hall
With four food concepts, two breweries and a full bar in partnership with George Lopez and Colin Cowherd, there's some thing for everyone!
21770 Del Amo Circle East, Torrance, 310-294-9838
73 Pier Ave., Hermosa Beach, 424-348-0800 thebrewshall.com
IG: @thebrewshall
The Strand House
Featuring 180° sweeping views of the Pacific Ocean and a California coastal menu that highlights the bounty of pro duce available year-round in Southern California.
117 Manhattan Beach Blvd., Manhattan Beach 310-545-7470
thestrandhousemb.com
IG: @strandhousemb
The Original Red Onion
Offering a wide variety of catering options to meet your budget and needs, specializing in award-winning Mexican and traditional American cuisine.
736 Bart Earle Way, Rolling Hills Estates
Catering: 310-541-5936 | jeff@originalredonion.com Takeout/reservations: 310-377-5660 originalredonion.com
The Rockefeller
The South Bay's original gastropub, with locations in Redondo Beach, Hermosa Beach and Manhattan Beach. Locally owned since 2011.
1707 S. Catalina Ave., Redondo Beach
418 Pier Ave., Hermosa Beach
1209 Highland Ave., Manhattan Beach eatrockefeller.com | IG: @eatrockefeller
Un Caffè Altamura
Locally owned cafe and wine bar indulging in the marriage of simplicity and quality. Midweek dinner club coming soon! Join the movement.
1140 Highland Ave., Manhattan Beach 310-546-4663
IG: @un.caffe.altamura
zinc@shade
Located at Shade Hotel Manhattan Beach. Fusing the coastal lifestyle and energy of L.A. nightlife, this festive, picturesque environment is perfect for your next event.
1221 N. Valley Dr., Manhattan Beach mb.shadehotel.com/dine 310-698-5559
IG: @shadehotelmb
restaurant guide SPECIAL ADVERTISING SECTION | 141
Second Serving
A BELOVED SOUTH AMERICAN RESTAURANT IN HERMOSA BEACH GETS A MAJOR REFRESH.
Written by Jennie Nunn | Photographs courtesy of Silvio's
Fourteen years ago, South Bay native Nicolle Howarth and her husband, Doug, owners of longtime Hermosa Beach Brazilian restaurant Silvio's South American Lounge and Grill, got a phone call they'd never forget.
"It was like winning the location lottery," recalls Nicolle of landing the site on the highly coveted Hermosa Beach Pier. "I remember we got the call [and we were driving], and we were screaming with excite ment. We had young kids at the time. It was tough, but it was exciting. We got together a bunch of investors, and we were lucky enough to have people believe in us. There was nothing like this when we first opened."
But realizing changing needs and customer prefer ences, Nicolle and Doug decided that the restaurant design and menu needed an upgrade. The casual eatery, based on a Brazilian food idea first conceived by Doug (also CEO of Howarth Hospitality Inc., a food innova tion and concept-creation consulting business) and former partner Silvio Correa, serves up regional dishes by Chef Paul Bentsen. These include arepas de choclo— fresh corn cakes stuffed with mozzarella and provolone; chargrilled plates such as tri-tip drizzled with rock salt and beer; and the house favorite, BBQ chicken dubbed "golden chicken" (Silvio's grandmother's recipe.)
"Coming out of the pandemic, we understood that the community was looking for something more than what we offered," explains Doug. "They wanted a chefdriven food and beverage program and something more than just Brazilian. We kept the core Brazilian menu that the community loves and expanded on that to include traditional South American dishes."
They also knew the interior needed a major face-lift. "It had started to feel kind of stale, and we thought it was time to elevate the space and the menu and give our location new life," explains Nicolle, who grew up in Torrance and worked for interior designer Kate Lester for four years. "The culture has changed here a little bit, and people's expectations are higher. We needed to up our game and reinvigorate. I wanted to keep it coastal and keep the cool factor, but I wanted to make what was existing in our dining room flow better."
Working within the current footprint, Nicolle and Doug turned to Nicolle's brother, James Mitchell of DC Mitchell Design & Construction, to help with the trans formation. "Design is a hobby of mine, and I thought, 'How can we do this within a budget?'" explains Nicolle. "We wanted to make the interior cohesive, and we needed a new floor, a redo of the bathrooms and a little bit of eye candy without making it look too clut tered. Before, it was darker and the colors were orange, bright yellow and terra cotta with travertine. It didn't weather well. We used to have a lot of sports memo rabilia in the restaurant, but the downtown aspect is changing a little. We wanted to get away from the sports scene and make it more of a destination for a date night or brunch with girlfriends."
The changes are apparent throughout, including new lighting, paint, linen napkins, silverware and staff uni forms. They also introduced an upgraded beer system and internal technology, including an LED sign and "Copacabana" tile-inspired mural.
"The lighting and paint made the biggest impact,
142 |
and the mural pays homage to the boardwalk," explains Nicolle. "I went to HomeGoods and Ikea for baskets in different shapes and sizes, took off the handles and turned them upside down. And I got some really cool light bulbs. It was a budget-friendly way of adding about 30 light fixtures."
To help overhaul the beverage program and as sist with day-to-day operations, they hired Michele Gutierrez (formerly of Patrick Molloys), who invented new libations including the Li'mosa with prosecco, fresh-squeezed lemonade, vodka, charred lemon and a brown sugar or Tajín rim, and the Frosé, a California rosé slushy with vodka, strawberry and raspberry puree. "I wanted to create a higher-level cocktail list, and I added the Li'mosa during COVID," says Michele. "It's a beautiful drink with a charred lemon on the side, and it's low-calorie. That and the Frosé are now our two biggest sellers."
She's also been instrumental in procuring local bands
such as Dani Armstrong, Kevin Sousa Band and Nate Amor for live music on the patio. "We have all kinds of music. It has been really fun, and the locals love it," Michele points out.
The team has added a weekend brunch with offerings spanning deep-fried carnitas, Breakwater chimichan gas, and a churrasco bowl comprised of two fried eggs, brown rice or breakfast potatoes, chargrilled tri-tip, bacon, Brazilian black beans, vinaigrette, shredded cheddar, chopped cilantro, diced tomato and topped with an orange slice. Future plans include reinstat ing quarterly craft beer and wine dinners replete with four- and five-course tasting menus and offering tap takeovers for local and emerging breweries.
"There are always ups and downs, and we thought about not continuing many times," explains Nicolle. "But we felt like there was still some life and some things we could do to bring it back up on top and give it another chance. I'm so glad we did. It's a labor of love." ■
144 |
Thankyou!
It was another unforgettable year of Girls Night Out on October 12, 13, and 14. We're so grateful for all who attended and for our generous sponsors:
In every issue, we share one story across our network that explores topics beyond the limits of the South Bay. These California stories speak to the meaningful impact our state and its residents are making on the global stage. To learn more about Golden State and discover more stories like this, visit goldenstate.is.
pushing the limits
A PALO ALTO ATHLETE TAKES ON ONE OF THE TOUGHEST ULTRAENDURANCE RACES AND DOCUMENTS IT TO RAISE AWARENESS AND FUNDS FOR CANCER RESEARCH.
Written by Jennie Nunn | Photographed by Drew Altizer and Team Tarlton
as seen in
Competitive athlete and cancer advocate John C. Tarlton blames his passion for cycling on two things: a close childhood friend and a harrowing cross-country ultraendurance race. "I had seen the Race Across America (RAAM) on ABC's Wide World of Sports in childhood during my first romance with the bicycle," says John, a UCLA graduate who studied engineering and was a member of the university's cycling team. "It was with my childhood friend Peter Cazalet [who later became a professional triathlete] that my love of cycling blossomed into an obsession of sorts."
After graduating from college and venturing into the business world (a family commercial real estate devel opment company, Tarlton Properties), he spent nearly 10 years working grueling hours and ignoring his fit ness and health. "Toward the end of my first decade in the workforce, I was forced to reevaluate my priorities," he says. "At this point, I was seeing a chiropractor and massage therapist multiple times a week just so I could stand upright and get to the office."
To reprioritize his overall well-being and fitness re gime, he returned to the bike when he was 30. "I knew I was good at it—at least a decade ago—and I knew that I was in the fittest shape of my life when I was competing on the bike," John explains. "What started as a ride or two a week around 'the loop,' a local ride that starts in Palo Alto and goes up to the foothills in Portola Valley and back, turned into signing up for the Davis Double Century with my riding buddy Frank. Things escalated from there."
Soon the Palo Alto resident and father of three was
hooked. "It turns out that I am better suited to racing longer distances than the 60-mile road races of my college days," John recounts. "I enjoyed the sense of accomplishment. I also liked the health benefits. Not only had I lost massive amounts of unhealthy mass, I had more energy and was able to consistently stand up straight without pain. As a side benefit, I found that distance cycling allowed me to slow my thoughts and better manage obsessive and depressive tendencies and get better sleep."
John, who lost both his parents and sister to cancer, set his mind on competing in RAAM—a 3,070-mile, 12-day, cross-country journey that surpasses the infamous Tour de France with a shorter time allowed for completion, a longer distance and vertical climb ing feet, and stages including no rest breaks for eating or sleeping. There's also one major key difference with RAAM: no prize money awarded. In 2014 John and his crew crossed the finish line.
"Looking back on my cycling journey with an ap preciation of my obsessive personality, it seems almost inevitable that I would compete in RAAM," he explains. "However, this is with the benefit of hindsight. I am not sure I—or any of the crew—knew for sure that we could do it until we crossed the finish line the first time in 2014."
In 2019 John and his wife, Jenny Dearborn, decided to document the inspiring journey and his RAAM that year with the film Until The Wheels Come Off, which was featured at the 2021 Napa Valley Film Festival. "John was raising funds for cancer research by riding in a race that not many people have ever heard of, so I knew that to be effective, we needed interesting video footage of RAAM—not just still images," explains Jenny.
The film—featuring music by Chris Phillips and produced by Matt Dearborn, Jenny Dearborn and Rick Weis—raised money for cancer research, with 100% of the proceeds benefitting the Stanford Cancer Institute. As a rolling "city" housing bike equipment, gear, food and supplies, a crew of 17 followed in vehicles behind John every mile of the 12-day expedition from Oceanside to Annapolis. The crew was comprised of the
| 149
film team and a mix of friends and family including Jenny and his three children: Jack, Cloe and Cooke.
"The heat in the early stages of the race was very challenging," recalls John, whose go-to snacks while riding include Perfect Bars, handmade granola and his daughter's cookies. "We had a plan for dealing with the heat, which fell apart before the start of the race as the equipment we expected to use was lost in transit to Oceanside. We fell back to our 2014 strategy of plac ing ice inside my socks. In the end it was successful. However, the toll that the heat took on my body showed up later in the race. My failing neck—Shermer's neck, a condition where muscles fail from fatigue and can no longer support the head—created significant challeng es. Riding a bike when your neck becomes unstable is hard, and racing with this is another level of difficulty."
There were also rough patches along the way with emotions, crew dynamics, bedbugs at one of the hotels, a traffic violation for driving too slowly and the sheer real ity of the cross-country endeavor. "It was an emotional roller coaster," admits Jenny. "I would go back and forth between being so proud of my kids and my husband to being hysterical, sobbing with the fear of John being hit by a truck and killed, and my kids being in the follow
vehicle watching it happen. Add sleep deprivation on top of the fear and anxiety, and it was awful."
But there were also shining glimpses of hope and memorable moments for John, who listens to audio books such as Harry Potter to keep his mind lightly oc cupied and steer away unwanted thoughts, body aches and discomfort throughout the race. "Riding through Monument Valley is a deeply moving experience," says John. "It is always incredibly rewarding to ride through Durango, Colorado. It's a charming mountain commu nity with a beautiful river rushing through it."
Looking back, he wouldn't trade the experience or the personal meaning he's extracted from the bike. "My cycling journey has opened my eyes in so many ways," says John, who is currently training for the Lake Chabot Ultra, a trail running race in Castro Valley. "Perceptions of my limitations were peeled away in increments. My perceptions of human limitations in general have also, as I experienced the incredible teamwork of our crew during the race and watched other competitors do in credible things. Cycling is freedom—the sense of flying, meditation, health, accomplishment and endorphins all wrapped up into one wonderful ball." ■
150 |
Laser Treatments & Injections Since 2004 310.373.5000 | www.celibre.com | Torrance, CA Lead with your confidence, not your lips. Reveal your
features with a treatment that compliments,
distracts
your
| 151
best
not
from,
appearance.
Girls Night Out
Ladies once again rocked their pink at Cancer Support Community South Bay's 18th annual Girls Night Out fun-raiser. Back by popular demand, the three-night event generated proceeds of $180,000 for CSC's free support programs for cancer patients and their families. Girls Night Out is a festive celebration in support of women affected by cancer, with evenings of fun and laughter provided by a lineup of premiere comedians.
SEEN 152 |
Laura Medina, Misty Law, Debbie Tran, Annie Ho, Jacqui Assadi
Joey Shanahan, Laura Tompkins, Donna McNeely
Nancy Lomibao and Carmelita Watson
Joey Shanahan, Andrea Dekoning, Cassidy Strawn, Jackie Suiter
Front: Becky Zimberlin, Kathie Eckert, Lori Nolan
Back: Kim Crawford, Jenn Remillard, Jackie Suiter
Front: Valerie Goodman, Jackie Halverson, Alicia Henderson, Maureen Hazard
Back: Sophie Rietdyk, Michele Bell, Jennifer Brill, Kim Brother
Jamie Born and Jacky Glass
South Bay Witches Paddle
Erin Hansen and Harbor Vibes hosted the third annual South Bay Witches Paddle on October 29 in Redondo Beach. Participants dressed in their best witch costumes and paddled on SUPs or kayaks. Afterward they enjoyed a party with music, food and fun.
Skechers Pier to Pier Friendship Walk
The 14th annual Skechers Pier to Pier Friendship Walk raised more than $3 million for children with varying abilities, schools and scholarships—a new record that has helped the event surpass $21 million in funds raised to date. With more than 19,000 participants, the event was supported by presenting sponsor Kinecta Federal Credit Union and more than 100 other generous business partners.
SEEN | 153
PHOTOGRAPHED
PHOTOGRAPHED
BY JAMES RICHARD KAO
BY WILL HARTMAN AND IAN LOGAN
Robin Curren, Amanda Kloots, Michael Greenberg, Brooke Burke, Sugar Ray Leonard, Keith Sultemeier, Yossi Mintz
Michael Greenberg with Amanda Kloots and her son, Elvis
Dani Bowman and Michael Greenberg
Panoramic ocean, coastline and city lights views from this KAA designed estate. With over 6,800 square feet and five bedrooms, this one level home is truly one of a kind. $15,000,000
Palos Verdes Estates
DRE#00967574
Unobstructed Queen's Necklace Views
From the ocean, beach, white water, city, mountains, and beyond. It has an excellent open floor plan and great privacy, 4 bedrooms plus a hobby room, 5 1/2 baths, 2-car garage with an extra pad for more parking. Truly a great renovated home with newness, privacy and unforgettable views!
Lily Liang
Strand Hill | Christie's International Real Estate 310-373-3333 | www.lilyliang.com
REAL ESTATE | 155
133 31ST STREET| HERMOSA BEACH 3 BEDS | 3.5 BATHS | 3,215 SF | $6,300,000 LISTED BY JEN CASKEY | DRE 01075946 JEN CASKEY GROUP 310.372.2200 INFO@JENCASKEYGROUP.COM DRE 01075946
Compass is a real estate broker licensed by the State of California and abides by Equal Housing Opportunity laws. License Number 01991628. All material presented herein is intended for informational purposes only and is compiled from sources deemed reliable but has not been verified. Changes in price, condition, sale or withdrawal may be made without notice. No statement is made as to accuracy of any description. All measurements and square footage are approximate. If your property is currently listed for sale this is not a solicitation. JEN CASKEY GROUP 310.372.2200 INFO@JENCASKEYGROUP.COM DRE 01075946 1086 LOMA DR | HERMOSA BEACH DUPLEX | TWO - 3 BED UNITS | $2,999,000 LISTED BY JEN CASKEY | DRE 01075946 217 11TH ST | MANHATTAN BEACH 4 UNIT BUILDING DTMB | $4,950,000 LISTED BY JEN CASKEY | DRE 01075946 540 11TH ST | HERMOSA BEACH 3 BED | 2.5 BATHS | $2,199,000 LISTED BY PATRICE RADDEN | DRE 02100059 99 BAYVIEW DRIVE | MANHATTAN BEACH 3 BED | 2.5 BATH | $16,000 PER MO LISTED BY PATRICE RADDEN | DRE 02100059 JUST LEASED
TOP 1% of agents in California TOP 1.5% IN THE US Daniel Assayag 1801 S. Catalina Ave, Redondo Beach, CA 90277 Each office is independently owned and operated Realtor®, DRE # 01762501 Daniel@LiveInLA.net 310.493.2100 • liveinla.net @dan_realestate Don't just get your home on the market. Get it the attention it deserves. Scan QR code or visit our website www.LiveInLA.net To find your next dream home.
INFORMATION HEREIN IS DEEMED RELIABLE BUT NOT GUARANTEED.
© 2022 VISTA SOTHEBY'S INTERNATIONAL REALTY. ALL RIGHTS RESERVED. THE SOTHEBY'S INTERNATIONAL REALTY® AND THE SOTHEBY'S INTERNATIONAL REALTY LOGO ARE SERVICE MARKS LICENSED TO SOTHEBY'S INTERNATIONAL REALTY AFFILIATES LLC AND USED WITH PERMISSION. VISTA SOTHEBY'S INTERNATIONAL REALTY FULLY SUPPORTS THE PRINCIPLES OF THE FAIR HOUSING ACT AND THE EQUAL OPPORTUNITY ACT.
EACH FRANCHISE IS INDEPENDENTLY OWNED AND OPERATED. ANY SERVICES OR PRODUCTS PROVIDED BY INDEPENDENTLY OWNED AND OPERATED FRANCHISEES ARE NOT PROVIDED BY, AFFILIATED WITH OR RELATED TO SOTHEBY'S INTERNATIONAL REALTY AFFILIATES LLC NOR ANY OF ITS AFFILIATED COMPANIES.
d
e billdavishomes@me.com DRE#
TONY
d
e Tony@TonyPuma.com DRE#
KEITH
d
e Keith@PalosVerdesRealty.com DRE#
VILLA ONEIRO: A HOUSE OF DREAMS IN ROLLING HILLS 4 beds + o ce | 5 baths | 6,200 Sq Ft | Portuguese Bend Road, Rolling Hills | Listed at $14,950,000 A true Mediterranean Estate overlooking the Los Angeles Bay all the way to Malibu and Point Dume. The 5 acre property o ers absolute privacy and safety with endless land use possibilities. • Richly producing farm including a vineyard with 2,500 vines, vegetable gardens, and orchard with olive and fruit trees. • Open beam construction, ample windows and walls of glass.
Queen's Necklace and city light views. • Guest house, wine cellar and oversized garage.
Private oasis-like pool area. BILL DAVIS d 310.920.8812 e billdavishomes@me.com DRE# 01374451 TONY PUMA d 310.800.7862 e Tony@TonyPuma.com DRE# 01375596 KEITH KELLEY d 310.944.5554 e Keith@PalosVerdesRealty.com DRE# 01810798 WISHING YOU A HAPPY AND HEALTHY NEW YEAR! We work tirelessly to provide the highest standard of service to our clients and look forward to celebrating future successes! BILL DAVIS d 310.920.8812 e billdavishomes@me.com DRE# 01374451 TONY PUMA d 310.800.7862 e Tony@TonyPuma.com DRE# 01375596 KEITH KELLEY d 310.944.5554 e Keith@PalosVerdesRealty.com DRE# 01810798 Keith@PalosVerdesRealty.com YEAR! highest look successes! HERMOSA BEACH PASADENA RANCHO PALOS VERDES ROLLING HILLS REDONDO BEACH PALOS VERDES ESTATES OVER $150 MILLION SOLD IN 2021 ROLLING HILLS ESTATES SAN PEDRO TORRANCE FEATUREDLISTING
BILL DAVIS
310.920.8812
01374451
PUMA
310.800.7862
01375596
KELLEY
310.944.5554
01810798
•
•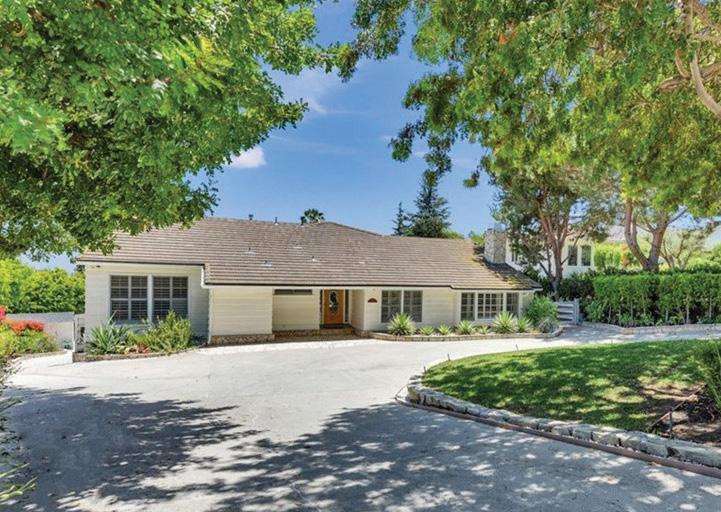 INDIO LONG BEACH BILL DAVIS d 310.920.8812 e billdavishomes@me.com DRE# 01374451 TONY PUMA d 310.800.7862 e Tony@TonyPuma.com DRE# 01375596 KEITH KELLEY d 310.944.5554 e Keith@PalosVerdesRealty.com DRE# 01810798 HERMOSA BEACH PASADENA RANCHO PALOS VERDES ROLLING HILLS REDONDO BEACH PALOS VERDES ESTATES OVER $150 MILLION SOLD IN 2021 ROLLING HILLS ESTATES SAN PEDRO TORRANCE BILL DAVIS d 310.920.8812 e billdavishomes@me.com DRE# 01374451 TONY PUMA d 310.800.7862 e Tony@TonyPuma.com DRE# 01375596 KEITH KELLEY d 310.944.5554 e Keith@PalosVerdesRealty.com DRE# 01810798 RANCHO PALOS VERDES PALOS VERDES ESTATES OVER $150 MILLION SOLD IN 2021 ROLLING HILLS ESTATES TORRANCE BEACH CITIES PALOS VERDES ESTATES RANCHO PALOS VERDES ROLLING HILLS ESTATES ROLLING HILLS CANYON LAKE NEWPORT BEACH SAN PEDRO PALOS VERDES REALTY IS THANKFUL FOR THE OPPORTUNITY TO SERVE OUR CLIENTS' REAL ESTATE NEEDS! SOLD IN 2022
Compass is a real estate broker licensed by the State of California and abides by Equal Housing Opportunity laws. License Number 01991628. All material presented herein is intended for informational purposes only and is compiled from sources deemed reliable but has not been verified. Changes in price, condition, sale or withdrawal may be made without notice. No statement is made as to accuracy of any description. All measurements and square footage are approximate. License Number 01991628, 01527235, 1527365. 310.740.5742 thekondogroup.com hello@thekondogroup.com DRE 01438455 TOP 100 Team in California by Real Trends in 2021 HAPPY HOLIDAYS AND HAPPY NEW YEAR THERE'S NO PLACE LIKE HOME FOR THE HOLIDAYS! WISHING YOU A JOYFUL SEASON. WE APPRECIATE ALL OF YOUR CONTINUED TRUST AND SUPPORT. FROM YOUR LOCAL REAL ESTATE TEAM, Tadashi Kondo, Aly Bassanelli Hill, Hanna Raine Carlson, Lorena Andrade, Meg Puccinelli, Merie Ludena Mcgrath, Michelle Nishide, Mora Sepehrnia, Poul Erik Norgaard, Shima Razipour, Lisa Martini, and Victoria Brown Paullin THE KONDO GROUP
A BEACH HOUSE FOR EVERY SEASON
Come home to The Villas and Casitas at Terranea, an exclusive collection of whole-ownership vacation homes* on the Palos Verdes Peninsula. Get
Discover an ocean-view coastal getaway that's as carefree as a vacation should be. The Villas and Casitas at Terranea afford privileged access to the best of the award-winning resort — including its world-class dining venues, championship golf course, indulgent spa and serene pool environments — while ownership comes with VIP status, preferred pricing on dining, spa treatments, shopping and golf, a personal Owners Concierge and around-the-clock upkeep. Be among the fortunate few to call Terranea your very own seaside sanctuary, every season of the year. 100 Terranea Way, Rancho Palos Verdes, CA 90275
the
for
TERRANEAREALESTATE.COM
on
list
available real estate. Call 310-947-4317
LDD
MANAGEMENT,
DRE
*California Coastal Commission conditions apply.
LONG POINT
INC.
LICENSE #1774333
MEREDITH JOHNSON DERENZIS
|
DRE#
DARIN DERENZIS
| darin@vistasir.com DRE#
ROSE GAVAGAN 713.264.1275 | derenzis@vistasir.com DRE#
Each office is independently owned and operated. Scan here to learn more about DeRenzis Real Estate As the year comes to a close we reflect on the continued support from our friends and clients. We are truly grateful! Happy Holidays, Darin, Meredith and Rose
310.600.7973
meredith@vistasir.com
01907722
310.418.6210
01760239
02157998
6426 W. 82nd Street, Los Angeles 529 Avenida Buenos Aires, San Clemente Represented Sellers | Multiple Offers Over Asking 1337 8th Street, Manhattan Beach STRAND HILL CHRISTIE'S INTERNATIONAL REAL ESTATE LICENSE #01968431. THE INFORMATION CONTAINED IN THIS DOCUMENT, INCLUDING, BUT NOT LIMITED TO, SQUARE FOOTAGE AND/OR ACREAGE, HAS BEEN PROVIDED BY VARIOUS SOURCES WHICH MAY INCLUDE THE SELLER, PUBLIC RECORDS, THE MULTIPLE LISTING SERVICE OR OTHER SOURCES. BROKER HAS NOT AND WILL NOT INVESTIGATE OR VERIFY THE ACCURACY OF THIS INFORMATION. HOME TO THE FINEST COLLECTION 310.463.9118 | lisa@lisalevin.com www.lisalevin.com Wishing You Happy Holidays! calBRE #01345434 COMING SOON 470 Linares Avenue, Long Beach Mid-century modern estate home with pool and casita in the highly desirable University Park Estates Neighborhood. Call for details. JUST SOLD 540 3rd Street, Hermosa Beach Represented Sellers | Sold Over Asking JUST SOLD JUST SOLD FOR LEASE Represented Buyers | Closed in Under a Month 4BR | Office/Den | 5BA | 4,292 Sq. Ft.
STRANDHILL.COM HOME TO THE FINEST COLLECTION OF REAL ESTATE EXPERTS IN THE SOUTH BAY. STRAND HILL CHRISTIE'S INTERNATIONAL REAL ESTATE LICENSE #01968431. THE INFORMATION CONTAINED IN THIS DOCUMENT, INCLUDING, BUT NOT LIMITED TO, SQUARE FOOTAGE AND/OR ACREAGE, HAS BEEN PROVIDED BY VARIOUS SOURCES WHICH MAY INCLUDE THE SELLER, PUBLIC RECORDS, THE MULTIPLE LISTING SERVICE OR OTHER SOURCES. BROKER HAS NOT AND WILL NOT INVESTIGATE OR VERIFY THE ACCURACY OF THIS INFORMATION. LILY LIANG +1 310 373 3333 | 310 902 7799 Text lily@lilyliang.com | www.lilyliang.com 716 Yarmouth #202, Palos Verdes Estates, CA 90274 BRE# 00837794 STRANDHILL.COM STRANDHILL CHRISTIE'SINTERNATIONALREALESTATELICENSE#01968431.THEINFORMATIONCONTAINEDINTHISDOCUMENT,INCLUDING,BUTNOTLIMITEDTO,SQUAREFOOTAGEAND/ORACREAGE,HASBEENPROVIDEDBYVARIOUS SOURCES WHICH MAY INCLUDE THE SELLER, PUBLIC RECORDS, THE MULTIPLE LISTING SERVICE OR OTHER SOURCES. BROKER HAS NOT AND WILL NOT INVESTIGATE OR VERIFY THE ACCURACY OF THIS INFORMATION. HOME TO THE FINEST COLLECTION OF REAL ESTATE EXPERTS IN THE SOUTH BAY. STRANDHILL.COM PROVIDEDBYVARIOUS INFORMATION. 605 Paseo Del Mar, Palos Verdes Estates | $32,000 /Month 6 Bd | 7 Ba | 6,872 sq.ft. | 32,943 sq.ft. lot | 3 Car Garage 629 Via Horquilla, Palos Verdes Estates | $8,900,000 and also for lease for $23,000/Month | www.629viahorquilla.com 7 Ba | 10 Ba | 7,465 sq.ft. | 26,494 sq.ft. lot | 4 Car Garage 629 Via Del Monte, Palos Verdes Estates | $5,688,000 | www.568viadelmonte.com 4 Bd+Media Room | 5 1/2 Bath | 3,727 sq.ft. | 13,939 sq.ft. lot | 2 Car Garage | Unobstructed Views and Newly Renovated NEW LISTING FORLEASE FORSALE &FORLEASE
are extremely favorable to those willing and able to sell their homes. Sadly, don't expect the inventory to pick up quickly or substan tially, but hope am wrong on that one.
"The best advice for home buyers today to keep the faith. is extremely difficult to navigate such strong sellers' market— especially when you have to buy. Because make sure that whomever they are work ing with understands that we are in a rising market. Their agent should guide them to step up now; otherwise they will likely have to step up higher on their next offer. These for reason. Without exception, when our buyers lose out on a property, we recognize in the end that the home they ultimately purchase a much better fit."
FEATURED PROPERTIES 3216 THE STRAND Manhattan Beach Strand overlooking one of the most prestigious Malibu. Four levels soaring 10-foot ceilings and floor-tonatural light. The top floor outdoor living and dining area enjoys spectacular views and privacy from the beach below. The beach area and pool table. Also on this level fully equipped gym and the home theatre along with another living area, wine cellar and allowing for interior privacy for the midlevel master suite and site home exudes luxury and discerning taste and offers unmatched Matt Morris Development 310-678-4511 mattmorrisdevelopment.com Christa Lyons, DRE #01489213 Price upon request SPECIAL ADVERTISING SECTION AGENT SPOTLIGHT WHERE THE HEART IS While assisting clients and supporting their community, the DeRenzis real estate team values relationships most of all. Lstarted with relationship. working with them in the summer 2020. next move, we discussed the possibility of nity watch them in action—promoting and our clients with the absolute best representa in the process. Meredith navigate their relationships. flu While it's enjoyable comes with that the team DeRenzis Real friends is responsibility they take seriously. Working real estate for the past 16 since 2010—has given Darin expertise buying and selling homes. And has also Darin lives for the deeply personal and family. We had vision for the home and friend group and take great pride in the all of us," he shares with laugh. Meredith and Darin have also taught me comes from forming relationships with invested their well-being and the people as well as those referred to us by clients and tionships, and I've seen firsthand how often COMMUNITY SUPPORT always an opportunity for me learn. They what being built and by whom. They are constant discussion of pros and cons on cer prefer one over the other. They describe know their expertise is deep, and equally 106 LAUREN FORBES Principal, Lauren Forbes Group Compass After working for eight years as an Manhattan Beach office. Her team special izes in the South Bay and also lists and sells on the Westside of Los Angeles and areas Orange County. to merely expand sales. Our team is so wellrounded (and dare say overqualified!). We have two attorneys, three brokers, medical doctor, former mortgage broker and the former regional marketing director from south as Lake Forest. addition our huge reach, we go above and beyond for our clients. As such, Lauren Forbes Group the #1 rated team on Zillow in both Manhattan ESTATE THIS YEAR, SPECIFICALLY IN "With so many recent changes and chal lenges due to the pandemic, it's hard to
For example, inventory where home sale prices are rising and terms
incomprehensible.
version ing or whatever the moment brings to me). one-hour workout—usually hot yoga. By 7:30 a.m. have already had near-perfect day since everything need to feed my soul is 87 STEVEN MULLINS After graduating from UCLA and earning his law degree at Loyola Law School, Steven Mullins practiced law for 15 years as corporate mergers and acquisitions attorney and then an associate general counsel. Steven WHAT DO YOU LOVE MOST ABOUT YOUR JOB? "I wake up every morning and can't wait to get my workday started. Whether I'm running on The Strand, meeting new clients or attending a school event, is great to see friends, stressed and more confident throughout what can be an emo tional process." WHAT ARE KEY FACTORS FOR FINDING A GOOD FIT WHEN tap into my legal background negotiate on behalf of my clients whether they are buying or selling. Over the years, have established solid working relationships within the real estate community. In addition, am member of multiagency, highly collaborative networking group that shares leads on "From macro perspective, real estate—like all other asset classes—will go up and down. But no other investment can serve as primary residence and largest asset some, and to others way to use debt to multiply your returns with the use other people's money. At the micro level, see our market con In the February/March issue of Southbay, we're showcasing the top real estate and mortgage professionals! Reach over 108,000 readers in the South Bay Your Business Profile includes • Professional photo shoot • Editorial interview via email and questionnaire • Design and layout • Digital promotion on our Facebook platform • Placement on our website for a year • "As Seen in Southbay Magazine " counter card display spread profile full page profile advertorial featured property For information contact Marcie Gutierrez at 310-947-5404 or marcie@thegoldenstatecompany.com DON'T MISS OUT! RESERVE BY JANUARY 9TH JOIN OUR 2023 CAST OF LEADING SOUTH BAY REAL ESTATE & MORTGAGE PROFESSIONALS Here are a few options:
love getting know new people and memories they make. love working with my team—celebrating wins and commiserating ness and am always looking for new ways to market homes to sell them faster for higher "It has taken me many years to get to the point where everything flow. Early on in thing have done to make my life extraor dinary create and follow consistent morning routine. cannot stress enough how having my 'miracle mornings' has changed my life. highly recommend some
Wishing you and yours health, happiness and prosperity in the New Year! We look forward to assisting you with all of your future real estate needs. JENNY MORANT 424.409.8976 | DRE 01874517 hello@jennymorant.com IG: @jenny_morant jennymorant.com Compass is a real estate broker licensed by the State of California and abides by Equal Housing Opportunity laws. License Number 01991628. All material presented herein is intended for informational purposes only and is compiled from sources deemed reliable but has not been verified. Changes in price, condition, sale or withdrawal may be made without notice. No statement is made as to accuracy of any description. All measurements and square footage are approximate. Happy Holidays!!!
Invitation to Live
A SOUTHBAY CONTRIBUTOR REFLECTS ON AN UNEXPECTED CALL TO ACTION.
Deep within us, lying in wait in the deep recesses of our souls, dwells our purpose. Walking through the world with purpose is a divine gift. Unearthing our inner com pass oftentimes comes as the result of a personal tragedy.
The tipping point for me was when my husband was terminally ill on hospice care. He asked me a painful question: "Al, do terminally ill people just lay in bed and wait to die?"
On that day we didn't know Ken had a choice. I didn't have an answer for my husband. But when we found out from hospice that, yes, he did have a choice, he went from despair to living again.
What I thought was the end of my life became a sur prising new beginning—a gift born from my difficult loss. Much like the painful physical experience of child birth, the physical pain recedes and is eventually replaced with supreme joy. Well, until they become teenagers.
My sadness, which was emotional and physical, meta morphosed into a call for action. Perhaps purposeless inaction brought my grief to an intolerable standstill. I need something positive to come from Ken's death.
I decided to forge my sorrow, harness the energy of my grief into a tangible, rewarding purpose, and there seemed a blindingly obvious choice. I found End of Life
Choices California and signed up as a volunteer. As a global public speaker, I will be giving presentations to various organizations, including hospices, retirement communities, senior living facilities and whoever else needs to hear that there are choices for people nearing the end of their lives.
The holiday season stokes my sense of purpose, and it bubbles up from deep within me. The end of one year and the birth of the next. This year is the second season without Ken, and I'm choosing to lay myself bare and talk about that big elephant in the room. The one bond that links us all: our mortality.
I've grown and expanded. My heart has doubled in size as I meet the challenges of this unique sort of volunteer ing. I'm talking about death while living life. It's an ac complishment—deeply fulfilling to know that my actions could bring profound joy and closure to those who seek it. I've pulled back the curtain between life and "next" by trading my sorrow for a soaring leap of faith to enlighten those who have yet to experience the need for choice.
The season of giving is upon us. Even though there is no shelf life for generosity of spirit, dig deep, open your heart, cruise around your soul and find your purpose. I promise the rewards will be immense. ■
LAST WORD 170 |
Written by Alison Clay-Duboff | Illustrated by Yuiko Sugino
hermosa beach | manhattan beach | katelesterhome.com home goods
+ interiors
WE ARE STRONGER TOGETHER
The Ambassadors program at the Torrance Memorial Foundation helps to support our community medical center and many of its health programs. Our members are dedicated to promoting and financially supporting expert care that makes a difference in helping individuals restore and regain their independence, while improving the overall quality of their lives. Learn more about how you can give back and help us provide expert care for years to come.
Start your own legacy at TMAmbassadors.org