SIXSOUTHBAY.GOLDENSTATE.ISDOLLARSSEPT/OCT2022 THE WOMEN'S ISSUE Get in Formation THE WOMEN OF ANGEL CITY FOOTBALL CLUB ARE READY TO LEVEL THE PLAYING FIELD
More Neuro Experts.
Left to Right: Richard Krauthamer, MD, Interventional Radiologist; Jeffrey Quinn, MD, Neurologist; Paula Eboli, MD, Neurosurgeon; Ben Tseng, MD, Neurologist. Opposing page: Monquen Huang, MD, Neurologist.
TO
TORRANCE MEMORIAL AND CEDARS-SINAI'S AFFILIATION BRINGS MORE EXPERT CARE AND INNOVATION THE SOUTH BAY. More access to state-of-the-art technology and minimally invasive treatments. More multidisciplinary specialists and clinical research. More expert care for our patients and the South Bay. Learn more at MoreNeuroExperts.org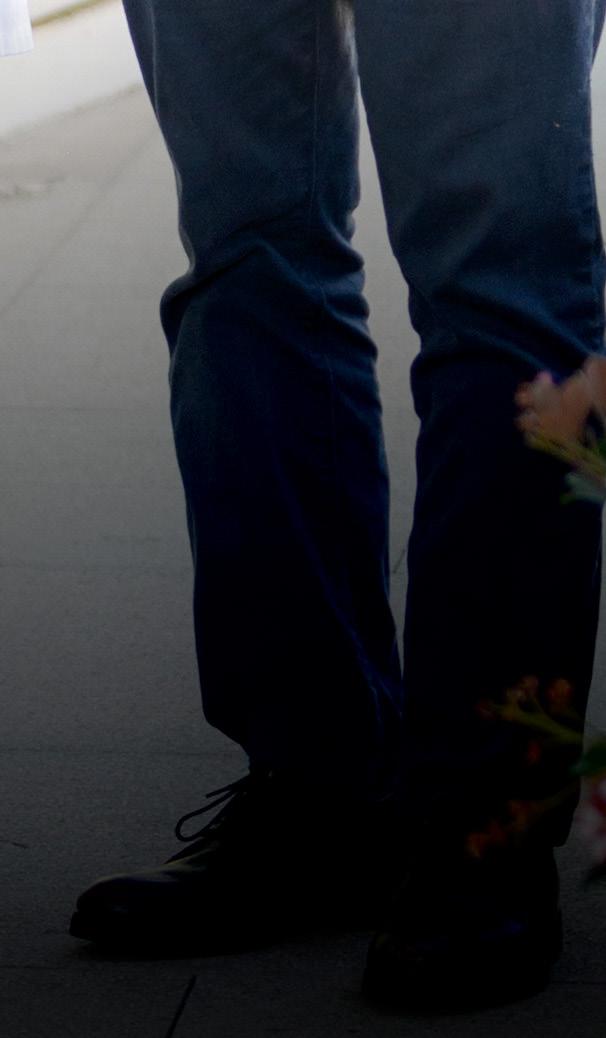 More Innovation.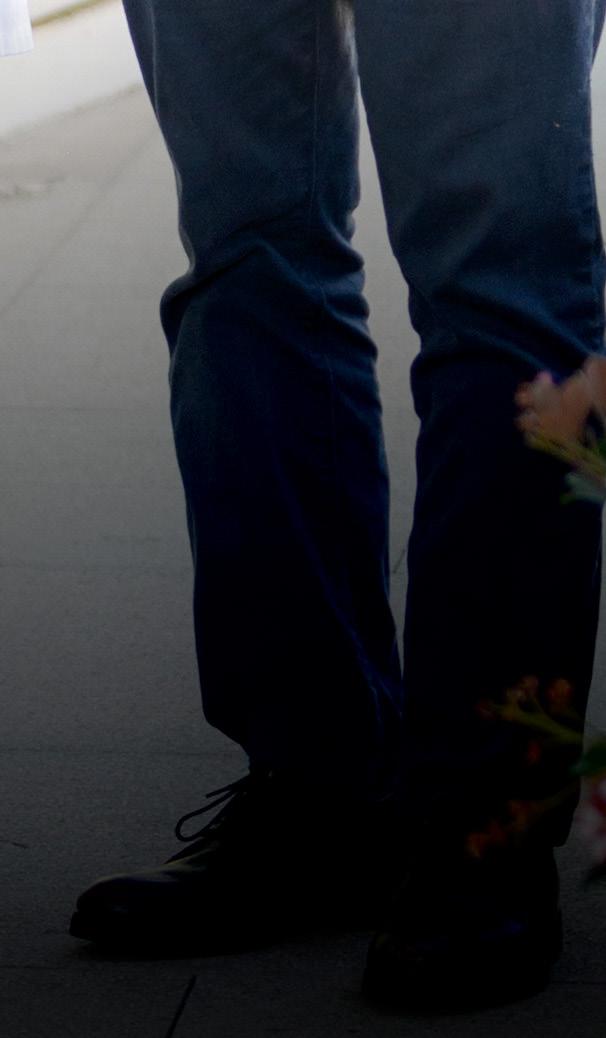 www.beachcitiesortho.com Focusing on the whole body, we offer specialized treatments to promote strong recovery and maintain optimal health. Only the best to get you better. CHIROPRACTICORTHOPEDICSURGENTCAREMASSAGE/THERAPYMRIIMAGING Pediatric Orthopedics • Full Service Orthopedics • Massage • 3D MRI Imaging • Stem Cell Therapy/PRP • IV Hydration • Chiropractic • Acupuncture • Cold Laser Therapy • Integrative Primary Care • Naturopathic Medicine • Open Saturdays: Orthopedic Urgent Care beach cities orthopedics & sports medicine
A Proud Member of the Community Since 1911 THANK YOU TO ALL OF THE FANS WHO SUPPORTED THE RACERS WE ALSO WANT TO THANK FAMILIES FOR BRINGING THEIR KIDS TO THE CHEVRON KIDS ZONE SEE YOU NEXT YEAR!
The Lundquist Institute Public Affairs 1124 West Carson Street, Torrance, CA 90502 THE LUNDQUIST INSTITUTE ON THE CUTTING EDGE OF
So far, these trials have shown that a totally reversible inhibition of sperm production could be successful, without showing any change in mood or sexual function.
The Lundquist Institute is celebrating its 70th anniversary this year. One of our hallmarks during the last 70 years is knowing that our award-winning researchers work every day at the cutting edge of scientific discovery.
SCIENTIFIC DISCOVERY INCLUDING BIRTH CONTROL FOR MEN
Here at the Lundquist, our researchers have been ahead of the curve and running clinical trials with NIH sponsorship on various male birth control methods including contraceptive gels, oral pills, and long-term injectables.
Not just women, but one man after another has come to our institute, telling us that it was time for men to step up and take responsibility for birth control.
Once FDA approved and on the market, we already know that more than 40% of unplanned pregnancies would be avoided with better and more effective male contraception options.
512www.HutchinsonDDS.com310.640.2025MainSt.,#4|ElSegundogeneraldentistrycosmeticdentistryimplantssleepapnea
22200 Hawthorne Blvd. Torrance (310) www.MorgansJewelers.com375-4471 EXPERIENCETORRANCETHEDIFFERENCE
Metlox Plaza 451 Manhattan Beach Blvd, Ste D-224 Manhattan Beach, CA 90266 www.SummerOrthodontics.com310.545.0770 Braces & Invisalign® for All Ages •Most Insurance Accepted •Flexible Payment Options •Advanced Orthodontic Technology BOOK YOUR COMPLIMENTARY EXAM TODAY! (X-RAYS & TREATMENT PLAN INCLUDED) life is a ride worth smiling about! ACTUAL PATIENTS
VENETIAN PRINCESS & PRINCESS FLOWER COLLECTIONS 50-C Peninsula Center Rolling Hills Estates Ca, 90274 310-541-2052
culturedslice.com life is good
*Complimentary Financial Plan, provided by Kinecta Wealth Management, valued at $300. Offer expires December 15, 2022. Securities and advisory services are offered through LPL Financial (LPL), a registered investment advisor and broker-dealer (member FINRA/SIPC). Insurance products are offered through LPL or its licensed affiliates. Kinecta Federal Credit Union and Kinecta Wealth Management are not registered as a broker-dealer or investment advisor. Registered representatives of LPL offer products and services using Kinecta Wealth Management and are employees of Kinecta Federal Credit Union. These products and services are being offered through LPL or its affiliates, which are separate entities from, and not affiliates of, Kinecta Federal Credit Union or Kinecta Wealth Management. Certain fixed insurance products may also be offered through Kinecta Financial & Insurance Services, a subsidiary of Kinecta Federal Credit Union. Securities and insurance offered through LPL or its affiliates and fixed insurance products offered through Kinecta Financial & Insurance Services are: Not Insured by NCUA or Any Other Government Agency Not Credit Union Deposits or Obligations May Lose Value Not Credit Union Guaranteed
Whether your goals are simple or complex, to pursue them effectively you should have a comprehensive financial strategy. Contact me today to receive your customized, complimentary financial plan. your within reach.
1120 N. Sepulveda Blvd. Manhattan Beach, CA 90266 kinectawealth.org farhang.azizi@kinectawealth.org310.643.2547
00273-08/22
wealth management Farhang "Frank" Azizi LPL Financial Advisor CA Insurance Lic. #0D57226
Imagine
Managing your finances can be easier with a professional by your side. As an advisor at the new Manhattan Beach Blvd. office of Kinecta Wealth Management, I am here to become your partner for financial independence—to make a difference for you, your family and your future.
financial goals
COWGIRL38 SURFING BeachLife Ranch DARK46 INTO LIGHT Isabelle Gray GRACE62 UNDER FIRE El Segundo Fire Chief Deena Lee STRINGS66 ATTACHED Violinist Emily V LIKE88 MOTHER, LIKE DAUGHTER Vickie Bronaugh and Mary Bronaugh AN92 INTIMATE DIRECTION Intimacy Coordinator Katie Groves YOUNG98 AT ART Young Artist Society BEYOND104 BORDERS Sophie Daushvili-Schoenfeld TRAVEL120 San Miguel de Allende HORSE126 OF KINGS From Southern Spain to Palos Verdes LISTEN142 CLOSELY Jereme Butler, MD CHOOSING144 MAGIC Author Karina Pacific LAST242 WORD Class Dismissed 98 88142
RIGHTING52
IN58 GOOD HEALTH Coastal Anti-Aging Medical Group NEW50 IN TOWN Amico Salon AGENT SPOTLIGHT 70 Lauren Forbes Group 84 Jen Caskey Group 106 Accardo Real Estate Associates 138 Homes by America Michael Team PROFILES160 Women of the South Bay REAL230 ESTATE Spectacular local listings 148 32 COVER The women of Angel City Football PhotographClubcourtesy of Angel City Football Club
PERFECT FIT
SALTWATER148
JUST108
LIKE HEAVEN Angel City Football Club is a powerful beacon of positive change. Los Angeles' newest professional soccer team is also a movement for equal rights, a women-led model of entrepreneurship, a celebration of diversity and an incubator of community.
116
DOWN74 TO EARTH Sleek silhouettes along with warm, neutral tones and bold geometric accessories fashion an alluring preview of the fall season.
AMPED32 UP Buoyed by twin passions of surfing and running her own video production company, Redondo Beach's Marci Klein is riding high.
THE132
42
130
A WRONG Like many Manhattan Beach residents, Kavon Ward had never heard the history of Bruce's Beach. But once she did, she knew she couldn't rest until justice was served.
146
A Manhattan Beach interior designer reinvents her Mediterranean-style home in the Sand Section with nuances blending East Coast and West Coast. & SISTERHOOD Lawyer, surfer and social changemaker Becky Mendoza is promoting women's empowerment by riding waves. ALSO... BUSINESS SPOTLIGHT Maison Luxe 96 Treasures Interior Design Beach Life Fitness Boutique The Portofino Hotel & Marina Tapizôn
DIGITAL MARKETING Paul Fisher PHOTOGRAPHERS Jeff Berting, Siri Berting, Adelaide Brannan, Grant Ellis, Tameka Jacobs, Kat Monk, Shane O'Donnell, Monica Orozco, Ken Pagliaro, Azahara Perez, Lauren Pressey, Kelly Sweda
PARTNER/BRAND PUBLISHER | Emily Stewart PARTNER/MANAGING DIRECTOR, MEDIA & ANALYTICS | Warren Schaffer
WRITERS & CONTRIBUTORS Diane E. Barber, Ashtyn Douglas-Rosa, Evy Gallagher, Michele Garber, Amber Klinck, Kailani Melvin, Kat Monk, Gail Phinney, Brenda Randall, Quinn Roberts, Cat Sherwin, Nancy Sokoler Steiner
SOUTHBAY IS A DIVISION OF THE GOLDEN STATE COMPANY
DIRECTOR OF BRAND PARTNERSHIPS Erika Carrion | 310-897-2424 erika@thegoldenstatecompany.com DIRECTOR OF BRAND PARTNERSHIPS Marcie Gutierrez | 424-220-6337 marcie@thegoldenstatecompany.com DIRECTOR OF BRAND PARTNERSHIPS Jen Turquand | 310-528-5351 jen.turquand@thegoldenstatecompany.com
TO OUR READERS: Southbay welcomes your feedback. Please send letters to Reader Response Department, Southbay magazine. Please include your name, address and email. Edited letters may be published. 200 N. Pacific Coast Highway, Suite 110, El Segundo, CA 90245 Tel 310-376-7800 | Fax 310-376-0200 | goldenstate.is | southbay.goldenstate.is
DIRECTOR OF DIGITAL | Charles Simmons
Charlie Koones Todd Klawin
CREATIVE DIRECTOR Michelle Villas GRAPHIC DESIGNERS Ajay Peckham and Yuiko Sugino
PUBLISHER Amy Tetherow | 424-220-6338 amy@thegoldenstatecompany.com
EDITORIAL DIRECTOR Darren Elms COPY EDITOR Laura Watts DEPUTY EDITORS Bonnie Graves (Food & Wine) Kara Mickelson (Food Style) Tanya Monaghan (Style) Jennie Nunn (Home)
To learn more about us, visit thegoldenstatecompany.com. No part of this periodical may be reproduced in any form or by any means without prior written consent from The Golden State Company, LLC. Any and all submissions to this or any of The Golden State Company, LLC publications become the property of The Golden State Company, LLC and may be used in any media. We reserve the right to edit. SUBSCRIPTIONS: info@goldenstate.is or 310-376-7800. Subscriptions are $29 per year.
MARKETING & OPERATIONS
DIRECTOR OF FILM & VIDEO | Bryce Lowe-White OPERATIONS DIRECTOR | Allison Jeackjuntra ACCOUNTING | Emilie Artacho, Janet De La Cruz, Tanisha Holcomb
MANAGING PARTNERS
Dream Big
28 |
Another year has flown by, and here we are celebrat ing our annual Women's Issue again! I am officially old because I am always talking about how time is flying. When I was a little girl, I wanted to be an actress, a store lady (I think that meant a cashier at McCowans Market) and a singer when I grew up. Turns out I didn't become any of those things. I do love to sing, but I am shy about it—and some might say I'm a bit dramatic at times. The closest I came to a store lady was when I worked at The Limited at the Courtyard Mall in Palos Verdes (you are truly from the South Bay if you know this mall). I bailed after folding too many T-shirts with a clipboard and taking different sizes of Forenza jeans and Outback Red button-downs to customers. Bye! The truth of the matter is, I have tried on different versions of myself throughout the years to see what fit career-wise. I was a nanny, an executive assistant to a CEO, sold corporate events, walked celebrities down the red carpet, etc. I guess my point is: Whatever your dream was as a child, you can be anything you want to be. Always dream big! I have been at Southbay magazine for six years now, and it has truly been an amazing experience. I am blessed with a wonderful team, mainly made of women. We all respect one another and love what we do for our community. I hope you feel that as you read through the pages of one of our most adored issues. And I hope to see you at our event on September 24 at Resin in Hermosa Beach to celebrate this issue and all the dynamic women in our community! Here's to the ladies!
Amy PublisherTetherow
Marcie is a South Bay native living in Rancho Palos Verdes with her husband and two sons. She worked in the newspaper field for 26+ years before landing at Southbay for the last six. She helps Realtors, wealth management teams and insurance agents with their brand message and strategic campaigns. Marcie enjoys travel, reading, the beach, and the sun and cool ocean breezes.
ERIKA CARRION |
JEN TURQUAND |
| 29
As a five-decade South Bay resident, Jen loves the fun-in-the-sun atmosphere of the Beach Cities. She works with medical, wellness and fitness clients as well as local restaurants. Moving from national corporate ad sales to Southbay has afforded her the opportunity to help local businesses, turn clients into friends and truly appreciate the lifestyle our community offers.
MARCIE GUTIERREZ |
Erika has South American roots, having grown up in Chile. She has been a South Bay resident for 25+ years and loves the small-community beach lifestyle. Erika has been with Southbay for 11 years, working with local businesses across all categories. She loves traveling, music and dance. When not at work, she spends quality time with family and friends, soaking up the South Bay sun.
SATURDAY, SEPT 24 // 4 - 9PM 618 CYPRESS AVE HERMOSA BEACH VEE • LIVE SPEAKERS • CURATED EXHIBIT • SOUNDBATH • AN EXPLORATION OF THE DIVINE FEMININE RISING • OVER FORTY LOCAL FEMALE ARTISTS • LIVE MUSIC • DJ ERIN VEE • LIVE SPEAKERS • CURATED SOUNDBATH • AN EXPLORATION OF THE DIVINE FEMININE RISING • OVER FORTY LOCAL FEMALE ARTISTS • LIVE MUSIC • DJ ERIN VEE • LIVE SPEAKERS • CURATED EXHIBIT • SOUNDBATH • AN EXPLORATION THE DIVINE FEMININE RISING • OVER FORTY LOCAL FEMALE ARTISTS • LIVE MUSIC • DJ ERIN VEE • LIVE SPEAKERS • CURATED EXHIBIT • SOUNDBATH • AN EXPLORATION OF THE DIVINE FEMININE RISING • - Celebrating the Release of the 2022 Women's Issue -
SheOCTOBERSEPTEMBER/2022Rocks Violinist Emily V is a little bit Janis and a little bit Stradivarius. More on page 66.
Written by Steiner by Jeff Berting
| Photographed
amped up BUOYED BY TWIN PASSIONS OF SURFING AND RUNNING HER OWN VIDEO PRODUCTION COMPANY, REDONDO BEACH'S MARCI KLEIN IS RIDING HIGH.
Nancy Sokoler
Drone piloting has come in handy for many shoots, including the San Diego-based launch of a newly built ship for a major shipping company. Her footage aired on the local news. She is currently working on Fly Girls, a documentary about five flight attendants learning to become com mercial pilots through a program with a major airline. The women have become a support group for one | 35
It's a Friday morning, which means Marci Klein is catching the waves in Redondo Beach. There's plenty of work waiting for her at the office, but Friday mornings are reserved for surfing, which feels as vital to her as, well, water. "Surfing grounds me," says Marci, who lives with her family in Redondo, 12 blocks from the beach. She lived on the Westside only a year before realizing she needed to be closer to the water. "It refreshes me and helps me be my best self. Half my ideas come to me in the water." She learned the sport while attending UC San Diego, where the campus overlooks La Jolla's beaches. "The boys were doing it, and I love the beach, so I would surf with the guys from school," says Marci, a selfdescribed tomboy who played tennis in high school and learned to fly-fish from her father. "I was one of the few female surfers at the time."
A career highlight involved working on Dick Clark's Your Big Break, which she describes as "American Idol before its time." Marci produced videos about the con testants—all hoping for their big break—which aired before they performed. She traveled around the country to film the vignettes. She left television production to raise her two sons, now 17 and 18, with her husband, Ken. In time, she started making videos for friends and acquaintances. There were bar mitzvah and vacation videos, and a video for a plastic surgeon performing a pro bono makeover.
Marci, who has taken solo surfing trips to Bali and Costa Rica, gets in the water whenever she can. "If the waves are good, I go," she says. Her video production company, Klein Creative Media, creates promotional videos for businesses and indi viduals. A recent job took her to Laguna Hills to film vignettes of therapist Chandra Baylor describing her nine areas of specialization. There, Marci and her camera operator replaced set lights and a chair to take advantage of the natural light in the room. They tinkered with Chandra's angle and the items in the background, taking photographs to get the framing just right. "Small adjustments make big differences in the picture," Marci says. She instructed the cameraman to shoot 23.98, referring to the frames per second. "It's more cinematic." With the teleprompter ready, Marci coached Chandra before beginning to shoot. "You're going to be looking directly at the camera. I'll have you do two takes so we have a backup. Be yourself and have fun." Marci's work benefits from her background in televi sion production. Starting as a production assistant, she climbed the ranks to roles of director, supervis ing producer and senior producer. She worked on E! Entertainment Television, Dr. Phil and Inside Edition and directed Greg Kinnear's first network television show, Best of the Worst. She is a member of both the Directors Guild and the Producers Guild of America.
Smitten, she gave up tennis to spend more time in the water. "Some people go to church or do yoga. For me, surfing is a spiritual experience where I can con nect with myself," she says, noting that she can adjust her work schedule to accommodate her passion.
In 2017 Marci found office and studio space five blocks from the Redondo Beach Pier and formally opened her business. Working with real estate clients, she decided she needed a drone, which at that time required users to be licensed pilots. Despite her fear of heights, Marci became a sport pilot at the age of 50.
Marci and Ken belong to the King Harbor Yacht Club and last year purchased a 35-foot motor yacht, which they named the Mar Sea. "It's like having an oceanfront house," says Marci, who recently took the vessel on a girls' trip to Catalina with two friends.
another. Marci has followed them for a year and will track them until they interview for pilot positions with theirSheairline.hasembraced her South Bay community, serving as a public arts commissioner for the city of Redondo Beach and the member services chair for the Redondo Beach Chamber of Commerce. She sits on the board of Waterfront Education, a nonprofit designed to educate students and the public about ocean stewardship through hands-on programs, classes and summer camps.
"SURFING GROUNDS ME. IT REFRESHES ME AND HELPS ME BE MY BEST SELF. HALF MY IDEAS COME TO ME IN THE WATER." really grateful because I'm living my best life," she says. "I can't believe I'm so fortunate." ■
The South Bay lifestyle clearly agrees with her. "I'm 36 |
CUSTOM, CONTEMPORARY, CLASSIC Manhattan Beach By Appointment | 310-740-2267 | mk23rdst@gmail.com | mk23rdst
Western style has taken hold of many unsuspecting households since Yellowstone became a beloved hit television series. Maybe you have been hankering for an opportunity to don some fringe and cowboy boots. Well, you're in luck … BeachLife Ranch is bringing country music and Americana to the warm sounds of the South Bay on September 16–18. BeachLife Festival founder Allen Sanford says the annual event "brings together two different cultures, finds the common ground and throws a party right on that spot."
Going a bit deeper into the South, some good
Cowgirl Surfing
Written by Kat Monk Ashley McBryde Cam
THE SECOND BEACHLIFE EVENT OF 2022 GRACES THE SOUTH BAY IN SEPTEMBER. THIS TIME, IN BOOTS.
Starting Friday, September 16, the festival kicks off with some Americana favorites: The Lumineers with none other than Old Crow Medicine Show. Both bands are sure to bring the house down. While I have never thought of Hall & Oates as Americana, the nostalgic folks here in the South Bay are beyond excited to see them perform their hits.
Brandi Carlile
old-fashioned country music takes the stage on Saturday. Grab some "Beers on Me" with the one and only Dierks Bentley, and just maybe his alter ego '90s parody band Hot Country Knights will make an appear ance. Dierks' guitar player, Charlie Worsham, formerly a moonlight player in Old Crow Medicine Show, enjoys a solo career of his own and was recently inducted into the Grand Ole Opry family.
Original outlaw Waylon Jennings passed away in 2002, but son Shooter Jennings and an all-star cast will play Waylon's songs with heavy hitters like Ashley McBryde, Yelawolf, Devon Allman, John Doe, Lukas Nelson and lead guitarist for the Foo Fighters, Chris Shiflett. And don't miss Tenille Townes. This beauty with her white cowboy boots and customized guitar hails from Canada but sings straight out of Nashville. If you get a chance, there is an amazing video clip of her "killin' some time in the dressing room" and belting out Dolly Parton's "Jolene" on Instagram. Americana and alternative country reclaim the stage on Sunday. Brandi Carlile takes over the main stage with her hits "The Joke," "The Mother" and "The Eye" or "The Story." Oozing with talent, this self-taught musical supernova crosses genres on the banjo, guitar andNotpiano.that long ago, you could see Willie Nelson's talented offspring Lukas Nelson playing with his band Promise of the Real at Saint Rocke, but after his perfor mance playing guitar for the character Jackson Maine in the recent adaptation of A Star is Born, anyone would be lucky to see him in a venue of that size these days. Drive-By Truckers is sure to be a huge hit. This Americana band has been based in Athens, Georgia, since 1996. "BeachLife Ranch is a celebration of the cowboysurfer way of life—women, men, children and families who make memories weekend barbecuing and listing to tunes, whether on a ranch or at the beach," adds Allen. So whether you city slickers prefer a band on the Hither stage or the Yonder stage, true music lovers will not be disappointed. ■
40 |
Tenille Townes Maddie & Tae
Follow us @vistamarschool Vistamar prepares students with the skills they need to excel in college & life. Join us at an open house: Sept. 10, Oct. 22, Dec. 10 There's a better way to do high school. Learn more at vistamarschool.org/admissions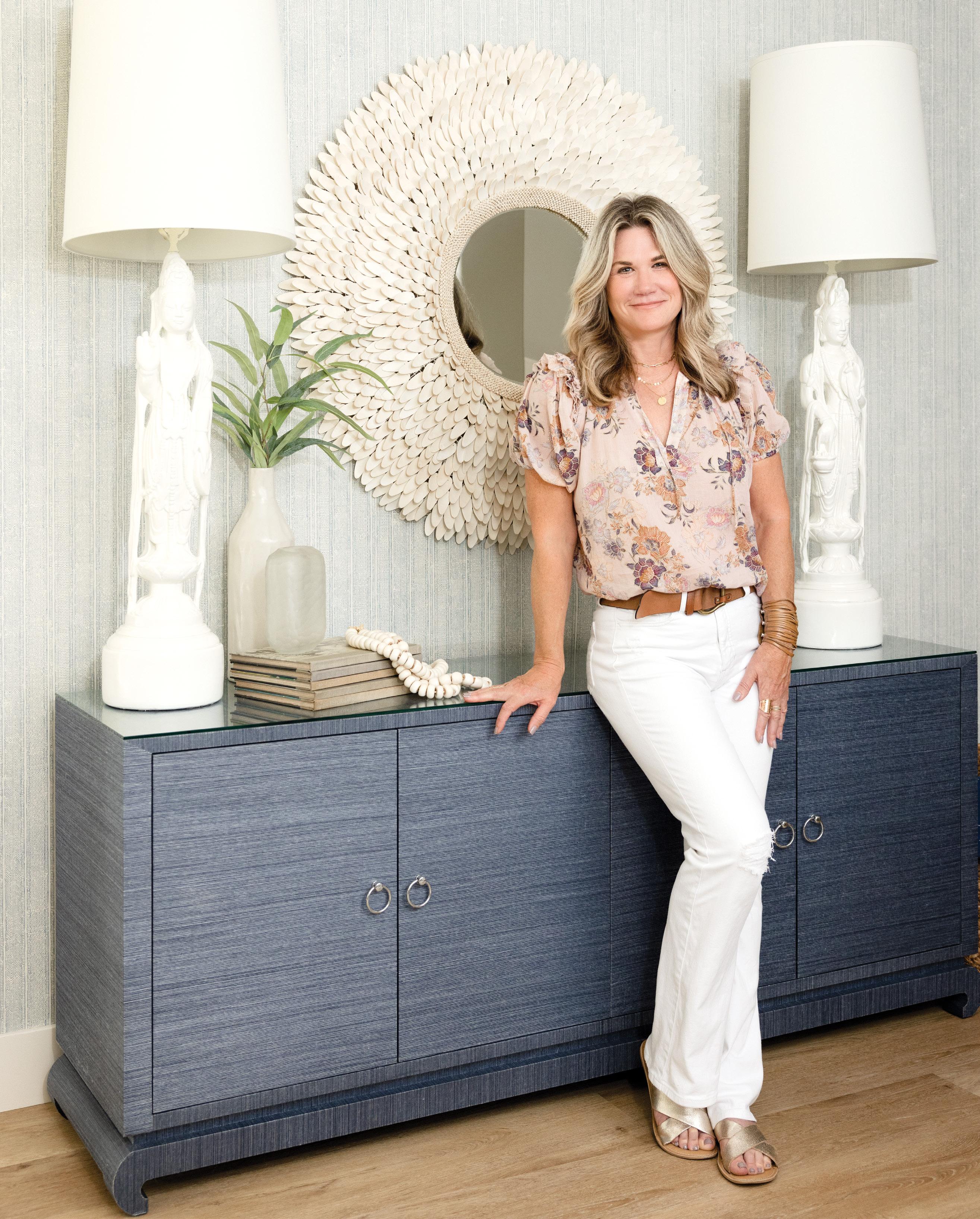 WRITTEN BY LAURA L. WATTS | PHOTOGRAPHED BY SIRI BERTING
ettle in for a cozy, openhearted conversation with a friendly profes sional who focuses all her attention on you while you share your deep est desires and goals. No, it's not a session with your therapist—it's a consultation with Carrie Quinn, an experienced interior designer who knows home style as well as she knows people.
Over the years she has learned to use instincts in her work, rather than decorating with a formula. "I need to know my clients' tastes, desires and even some of their life stories, as this all plays into creating interior spaces that are reflections of the lives they lead," she says. "I observe subtle clues, verbal exchanges, the homes they already live in and the things that excite them. I then can trust my gut that I have enough information to make choices that reflect what my clients want."
"I'm a really good listener," she shares. "For clients who don't know how to express what they're trying to convey about their house, I'm really intuitive and can pick up the vibe of what they want just from their personality or looking at a picture." So is working as an interior designer similar to being a therapist? "For sure!" she laughs. "I get to be a moderator, the tie breaker. I use my people skills and listening skills a lot in this industry, and that's part of what makes me a good interior designer … and therapist!"
Talented interior designer Carrie Quinn draws clients in with a friendly smile and a listening ear.
SPECIAL ADVERTISING SECTION BUSINESS SPOTLIGHT THE STYLE GUIDE
A graduate of the Fashion Institute of Design and Merchandising in Los Angeles, Carrie has more than three decades of experience in the world of interior design.
FULL-SERVICE SOLUTIONS
"They are a great price point and they look vintage, but they are power-loomed," Carrie explains. "So you have the look of an antique rug but the maintenance of an inexpensive rug. People are going crazy for them." With everyone shopping online these
LEANING ON INTUITION
Carrie offers complete design services for existing homes—right down to bedding and accessories—as well as styling and staging for remodels and new construction. A couple of her staple services are window treatments andTherugs.current trend for window treatments is a lot of linen fabrics, simple and not pat terned. Carrie and her team install shades— grass, automated, Roman—and stylish draperies with custom iron rods and rings. A hot choice right now for rugs is the Amber Lewis brand, and Maison Luxe is one of the few dealers in the area to carry them.
S
DESIGN DIRECTION Carrie has seen many changes in the indus try over the years. Much of the transforma tion is due to technology, with the availability of items online. "When I grew up in this busi ness," she shares, "there were showrooms all along Robertson Boulevard and Melrose. The Pacific Design Center was full of show rooms. They're all gone now. Everything's online unless you go to the trade shows." And that's exactly what she does, attend ing trade shows in Las Vegas and High Point, North Carolina, several times a year. It helps her stay on trend with her design recom mendations. She enjoys taking her team with her on these buying trips, including her assistant, Allie. "I couldn't do these projects without her!" Carrie says. Once they are equipped with the latest the trade shows have to offer, Carrie and her team are better able to collaborate with clients—mixing Carrie's professional ideas, the client's aspirations and the budget. "The end result is always a fun surprise—you don't ever know in advance what it's going to look like 100%," she says. They also take new ideas home to Maison Luxe, the retail store Carrie opened in Hermosa Beach. Customers love the vibe and how the store changes things frequently. In addition to the products they always carry, like pillows, artwork, frames and upholstery, they've been trying new things—like fashion items: sundresses, hats, sandals. "We don't want you to get bored!" she says, smiling.
days, Maison Luxe also has a strong e-commerce presence. Carrie and her team frequently add products to their website.
HOME, SWEET HOME At her own home, Carrie keeps things neutral with plenty of texture. "I have a lot of color and patterns in my store, but when I come home, I like it serene and calm," she points out. "I find it easy to live in an all-white house with sisal, seagrass and neutral art work. Most of my pieces are classic—I've had them a long time. My style is contemporary neoclassical with a bit of beach-bohemian mixed in. Not a lot of clutter. Because I'm dealing with so many items at the store, I need to have zen at home."
A perfect day off might include a walk by the ocean with Naya, her rescue dog who is a blond German shepherd. Carrie would likely devote some time to self-care, like meditating or getting a massage. Lunch with girlfriends would be a highlight of the day, and the afternoon might include a chat with her two grown sons, who both take after their mom and have an eye for quality home goods. And the evening would center around a good movie, some sushi, and her snuggle-buddy Naya by her side.
A veteran interior designer of more than 20 years, Carrie is in her element when she's working with clients who are appreciative of her tips and tricks—regardless of their budget. She's happy to share her expertise, and fre quently clients become her personal friends. With her engaging personality and her rare ability to focus all her attention on the person in front of her, it's easy to see why!
MAISON LUXE 138 PIER AVE., HERMOSA MAISONLUXEHOME.COMSALES@MAISONLUXEHOME.COMBEACH
44 |
USC EPSTEIN FAMILY CENTER FOR SPORTS MEDICINE • (323) 402-6253 • KeckMedicine.org/ToyotaSportsMed © 2022 Keck Medicine of USC The experts at USC Epstein Family Center for Sports Medicine treat all kinds of sports injuries, from simple to complex. Whether you're an athlete or a weekend warrior, the official physicians of the LA Kings and USC intercollegiate athletes can get you back in top shape. We provide a full range of services, including orthopaedic urgent care, non-invasive treatments and personalized care plans in El Segundo at the state-of-the-art Toyota Sports Performance Center. We'll treat you like a pro. Together we are FROMlimitless.PAIN TO PLAYING AGAIN Jordan's Keck Effect
| Photographed
Bewildered, she delved deeper and awoke to the real ization that she was codependent on her husband. "This kind of made me dim my light," she shares. "Not neces sarily by him, but just me not being in my full self." After years of moving around, the South Bay finally provided Isabelle with the feeling of community she craved. So when she had her second son, Noah, she had a support system in place. But Isabelle was still unhappy, and her marriage was not like it was before. Knowing she had to once again be the cocreator of her existence, she took the step to enroll in intensive hyp nosisGrowingsessions.up, Isabelle had a great sense of intuition. When Noah was 2, she found the deep urge to get back to that "magical self" and tap back into that deeper sense. Isabelle believes that hypnosis was the gateway WHEN ISABELLE GRAY ALLOWED HERSELF TO SINK INTO PAIN, FEAR, DOUBT AND DISCOMFORT, THAT WAS THE MOMENT SHE CHANGED AND RECLAIMED HERSELF.
"I went to a doctor for a checkup, and she asked me, 'How are you doing?' And I just started bawling," Isabelle shares. "She said, 'You're postpartum.' And I'm like, 'I'm not postpartum. I work out. I get dressed up every day. I throw the best parties. I'm good.' But I was not. I was dying inside. It makes me almost want to cry just thinking about it." For Isabelle, having her son was pivotal in her jour ney to self-realization. "There was so much love that came in, that the love for myself had no room," she says. "There was such a big clash that I started devel oping obsessive-compulsive disorder (OCD) behavior, and I had nightmares and fears that just were not relevant." Though she wanted to forge her own path as a new mother, she found herself repeating the same patterns as her mother had done.
Isabelle Gray is driving a female empowerment move ment. Her programs, courses and therapeutic sessions through her business A Touch Of have helped many heal from past trauma, connect to their deeper selves and un leash the potential to live happier, more fulfilling lives.
The young couple first moved to the Bay Area, then to Spokane, Washington, and then finally to Los Angeles. Getting a green card was difficult, and she in advertently became dependent on her husband and his family. This dependency became compounded when she got pregnant with her first son after their move to L.A.
| 47
On the weekends she and her husband would ven ture from their home in Pasadena to the South Bay. Captivated by the lifestyle, the young expectant couple felt inspired to live near the water and bought a house in Hermosa Beach two months before Isabelle gave birth to their first son, Finn. She remembers feeling very lonely at the time, but that was also the genesis of her awakening process.
Dark Into Light
At age 26 Isabelle moved from Belgium to the United States with her American husband. In her home coun try, she had a cozy life, living in an apartment in an old abbey above a bakery. She would wake to the comfort ing smell of bread baking before heading off to work. Yet she was independent, openhearted and ready to spread her wings.
Written by Tanya Monaghan by Kelly Sweda
As Isabelle continued on her spiritual path, she studied Reiki at Amaloa Healing Arts in the South Bay. "I remember walking by that store so many times. When I finally went in, I started opening up again, and that's when I began getting back to who I really was. Unfortunately, my marriage didn't survive that part of my development. He's an awesome person, but I just didn't feel aligned anymore." Isabelle separated from her husband during the pan demic lockdown, moved into a new place and started focusing on building her clientele. Her goal is to help other women "find their own light."
■ 48 |
"COVID gave me the time to sit with myself and do the healing that I needed to do on my own and figure out what it is that I want to do," she says. "From that place, what I learned is that we can be the cocreators of our lives and be intuitive, but we have to look at what's weighing us down. Sometimes we have to just break down the armor that has kept us from being who we are—our true selves. And that's how my business started. The more I discovered all parts of me, the more my business grew." Isabelle has also focused on healing women "through the womb." She explains: "Through this type of heal ing, we release the energetic blockages a woman holds in that part of her body. These blockages can be noticed as physical manifestations such as fibroids, infertility, low libido or any issues related to that area of the body. Mentally and emotionally, it shows up as women not feeling good in their bodies, not dreaming big, literally being turned off." Isabelle helps women be comfortable in their bodies, trust their intuition and find their purpose. Her passion is to empower women. "We're all powerful. We're all intuitive. We've just closed it off. We can all live how we want to live."
to reopening her spiritual connection, and she went on to study hypnosis through intensive training workshops in SheTexas.never thought she would practice hypnosis as part of her work, but a whole new world opened up to her, in spiring her to share the gift. "Doing what I do in my work is like a superpower," she says. "It's like I can literally feel what my client is feeling. It's through this that I can help them process what they are going through."
"SOMETIMES WE HAVE TO JUST BREAK DOWN THE ARMOR THAT HAS KEPT US FROM BEING WHO WE ARE—OUR TRUE SELVES."
A
Attendance of weekly classes and seminars in a robust apprenticeship program he created sharpens their skills and techniques.
"I have had the opportunity to build homes and cut orphans' hair through participation in missions to Guatemala four times and twice to Tijuana, Mexico, and will continue to do so," he shares.
AMICO SALON 1100 MANHATTAN AVE., SUITE 103, MANHATTAN @AMICOSALON424-294-8382BEACH|AMICOSALON.COM
"I am ourbecomechemistryandgreatstaffinparticularveryselectingwithenergyamazingtopartofteam."
"Our hairstylists are highly trained to offer guests the latest haircut, highlighting, balay age and color to fit their face shape and skin tone," he says. "I am very particular in selecting staff with great energy and amaz ing chemistry to become part of our team. We strive for our guests to feel that energy and excitement as they are enjoying their Amico Salon experience." Stephen is committed to empowering his stylists by teaching them to excel at their craft.
Amico Salon WRITTEN
Knowing that hairstyling was his chosen career path at a young age, this Connecticut native started cutting hair at age 14, appren ticed at age 15 and graduated from cosme tology school at age 18. His craft led him to salons in New York City and Beverly Hills, as well as traveling the country as an educator for Brazilian Blowout.
A Dream Come True BY LAURA L. WATTS BY SIRI BERTING
mico Salon is finally here—after months of anticipation and city approvals. Located in the heart of Downtown Manhattan Beach, steps from The Strand, the salon was designed to reflect owner Stephen D'Amico's fondness for both travel and the beauty industry.
While maintaining lifelong friends and a large, supportive extended family in Connecticut, Stephen grew to love the Southern California life after moving to this area. "I love the South Bay, especially Manhattan Beach," he says. "Living and working here for 12 years, I have made some really good friends. Guests of Amico Salon are treated like good friends and family. Our goal is for them to be confident, knowing they look their very best." Stephen has lofty goals for the future of Amico: opening multiple salons, creating a distinct brand that includes his own line of products and setting career paths for his stylists to earn six-figure incomes. He stays grounded by practicing gratitude and help ing those less fortunate.
If you happen to see Stephen on one of his early-morning walks on The Strand with his dog, Lola, stop and say hello. He will likely share with you his appreciation for the opportunity to open his own salon and live in a place as special as the South Bay.
| PHOTOGRAPHED
"I wanted to create an environment that feels like you are on a tropical vacation," he says. "I have an affection for traveling and am blessed to have traveled all over the world, but I am always ready to return to the South StephenBay."and his team of stylists are dedicated to maintaining a high level of skill and immersing themselves in all the latest beauty techniques and trends. He has long held the vision of opening a salon where clients can fulfill their beauty needs and styl ists can grow and enhance their careers in a positive environment.
50 | New in Town SPECIAL ADVERTISING SECTION
LIKE MANY MANHATTAN BEACH RESIDENTS, KAVON WARD HAD NEVER HEARD THE HISTORY OF BRUCE'S BEACH. BUT ONCE SHE DID, SHE KNEW SHE COULDN'T REST UNTIL JUSTICE WAS SERVED.
Written by Amber Klinck | by Monica Orozco
rightingawrong
Photographed
Willa and Charles Bruce, after years of harassment from racist neighbors and the Ku Klux Klan, had their land seized by the city of Manhattan Beach in 1924. The Bruces purchased their beachfront property in 1912 in order to build a resort for Black people in Southern California but were met with countless attempts to de ter visitors—until the land was eventually seized.
On Wednesday, July 20, 2022, Anthony Bruce, a great-great-grandson of Charles and Willa Bruce, along with his wife, Sandra, were presented the deed to the property stolen from the Bruce family nearly 100 years ago. And people were watching as history was | 55
Poetry has been a part of Kavon Ward's life since she was a teen. Born and raised in Harlem, expression through spoken word has served as her therapeutic outlet. The power of her poetry has served others by raising awareness through her advocacy work.
When the pandemic started in 2020, and then George Floyd was murdered on May 25 that same year, Kavon—like so many of us—found herself confined to her home and in need of community. With the help of other South Bay moms, Kavon started ARMs (AntiRacist Movements) Around the South Bay. After forming this group, Kavon received a 2007 Daily Breeze blog post that she had seen before, but it hadn't grabbed her attention. She took a closer look and learned the history of Bruce's Beach.
To raise awareness, Kavon organized a picnic at Bruce's Beach on Juneteenth 2020. It was meant to be relatively small, keeping in mind the importance of staying socially distanced. But it got the attention of the Daily Breeze, which published a story the morning of the picnic—drawing more people to the event. "Two of those people were Vivian and Patricia Bruce," Kavon shares. Having policy experience and years of advocacy work under her belt, she offered to help the Bruce family, and the grassroots movement Justice for Bruce's Beach was born. The mission was to get restitution and restoration for the Bruce family, but there wasn't a blueprint on how to do that—until now.
"It was even more baffling for me because I lived in Manhattan Beach, and I had no knowledge of this," she says. "I wanted to know if other people knew."
This inspired Kavon to focus more on television and film. So when the lawsuit settled, she decided to move to California—eventually landing in an unfamiliar beach town. "I had no knowledge of Manhattan Beach whatsoever. I just knew it was a beach community, and I love water."
"I was what people would call a poetic activist. I per formed a lot of spoken-word poetry, specifically around social justice issues and the murder of Black people. That's where I started my advocacy. Well, that's where I started my creative advocacy." Early in her career, Kavon was a Congressional Black Caucus Fellow. Shortly afterward, she worked as a lob byist in Washington, D.C. It was during this time that Kavon faced racial discrimination within the organiza tion she was lobbying for.
"I ultimately sued them," she shares. "I was 25 years old. I think that's when I realized that no matter how hard I worked, no matter how many degrees I obtained, this thing called racism would still rear its ugly head and essentially affect my life and my career. But I've always been a fighter. I grew up in Harlem during the crack epidemic in the 1980s to a mom who was addicted to drugs, to a father who was incarcerated, to a stepfa ther who was abusive. My entire life, I've had to fight."
It was during what would become a five-year legal battle that Kavon started performing spoken-word poetry. "It was my therapy, my outlet. And it ultimately opened up doors to acting. I did a lot of theatre work in New York City and D.C., Maryland and Virginia."
being made.
Kavon feels this is a calling—to help as many people as she can. The Where Is My Land organization is working tirelessly to build a stronger infrastructure, hire more people and raise more funds. We can't change our past, but we can acknowledge it, learn from it and do everything we can to make it right.
Kavon started getting flooded with requests from people asking for help getting their family's land back.
■ 56 |
"I knew that if I wanted to help all these people across the country, I needed to establish a national organiza tion—to help and to guide and to advocate. And so that is how we gave birth to Where Is My Land."
"I KNEW THAT IF I WANTED TO HELP ALL THESE PEOPLE ACROSS THE COUNTRY, I NEEDED TO ESTABLISH A NATIONAL ORGANIZATION— TO HELP AND TO GUIDE AND TO ADVOCATE."
STRINGER/MCNEWDAVIDBYPHOTOGRAPHED
RJ SMITH CONSTRUCTION.COM FOLLOW US ON FACEBOOK AND @RJSMITHCONSTRUCTIONINSTAGRAM
CHANGE YOUR MIND
As a board-certified internist who is trained in anti-aging and restorative medicine, Chong Kim, MD, focuses on disease prevention and mental health care. While he is wellversed in traditional Western medicine, early on Dr. Kim recognized its limitations and developed an alternative style of health care using a holistic, integrative approach. He emphasizes prevention in his practice and is trained in metabolic functional medicine. It's no wonder he is well aware of the need for keeping the mind sharp as we age. Here, Dr. Kim speaks about the importance of brain health. When did you last misplace your keys or not remember an important detail? Has this been happening more fre quently lately? When does simply forgetting things become a sign of early dementia?
As the command center of the body, the brain is a complex organ that must be nurtured to avoid damage and malfunc tion. Exercise, food and drink, stress reduc tion, sleep and socialization are all critically important areas we need to focus on to care for our bodies and our minds as we age.
Many of us know a friend or family mem ber who has been affected by dementia in various levels of severity. Recent research has found a genetic marker for Alzheimer's dementia, so the scientific community has been more active in looking for better pre vention methods and treatment tools.
CAUSES OF DEMENTIA Dementia can be caused by a loss of brain cells or an abnormal formation of proteins in the brain or parts of the brain that can affect memory or behavior. Simple vitamin deficiencies can also cause dementia, which sometimes can be reversible. However, most types are considered to be progres sive and irreversible—the damage that has been incurred has been ongoing for many years prior to the diagnosis. Some types of dementia are caused by diseases, such as Alzheimer's and Parkinson's.
SPECIAL ADVERTISING SECTION IN GOOD HEALTH
PHOTOGRAPHED BY SIRI BERTING
• Personality changes • Difficulty
organizing • Confusion
BRAIN HEALTH STRATEGIES
Infections and immune disorders can also cause dementia-like symptoms. Multiple sclerosis and lupus can impact the mental status. Studies have shown that persistent and untreated testosterone deficiency can lead to early dementia in men.
•
DEMENTIA-RELATED SYMPTOMS
• Depression
•
• Inappropriate behavior • Paranoia • Agitation • Hallucinations
There are typical cognitive and psychologi cal changes that are observed in various stages of dementia: Memory loss, usually noticed by some one else—family or friends Difficulty communicating or finding words Difficulty with visual and spatial abili ties, such as getting lost or forgetting the destination while driving Difficulty reasoning or problem solving with handling complex tasks with planning and and disorientation with coordination and motor functions (usually seen in laterstage dementia) and anxiety
• Difficulty
60 | "THE
• Difficulty
•
•
Here are some tips that are a good idea for all of us to incorporate into our daily lives: Reduce stress Stress is considered an inflammatory insult on the brain. Lowering stress can lessen brain decline and injury. BRAIN IS A COMPLEX ORGAN THAT MUST BE NURTURED TO AVOID DAMAGE MALFUNCTION."AND
If you feel that you or a friend or family member are demonstrating any of these behaviors, make an appointment with your health care provider or a neurologist for an evaluation. There are many alternative and functional health professionals who can also give you resources to prevent and treat dementia, such as our practice in Torrance, Coastal Anti-Aging Medical Group. Research shows that lifestyle choices can help us reduce the risk of cognitive decline. Surprisingly, brain games and apps only have a minimal effect on the prevention of dementia. Other more active treatments are better at reducing the risk and progression of cognitive decline.
For the most discerning patients, Coastal Anti-Aging Medical Group offers a unique, personalized service catered specifically to your needs. Concierge medicine allows Dr. Kim to give you individualized care at your convenience—spending more time with you than a regular office visit and enhancing the doctorpatient relationship. of the benefits of concierge
medicine are: • Shorter wait times • Same-day or next-day appointments • Easier prescription renewal • Priority access to appointments • Comprehensive annual physical exam • Expedited testing and reporting results • More time to discuss your concerns with Dr. Kim—in person or over the phone For those who are disenchanted with one-size-fits-all medical solutions and desire a more custom experience, concierge service is an excellent choice. COASTAL ANTI-AGING MEDICAL GROUP 23560 MADISON ST., SUITE 204, TORRANCE 310-426-8731 DRCHONGKIM.COM
Some
IN GOOD HEALTH | 61
CONCIERGEMEDICINE
Exercise regularly Physical activity and exercise have been shown to improve brain plasticity, thus extending the protective factor. A combination of cardio and weight resistance three to four times weekly is recommended. Reduce toxins Cut down on alcohol consumption. Reduce the risk of heavy-metal toxicity by avoiding exposure. Treat chronic fungal or bacterial infections. Nutrition Eating a diet high in vegetables and unsaturated fats has been shown to reduce the risk of cognitive impairment and dementia. Supplements Omega-3 fatty acids rich in DHA, mela tonin and tryptophan can lower the risk of dementia by 25%. Take prebiotics and probiotics, as well as vitamins that sup port brain function and integrity, such as vitamins B1, B5 and B12. Balance hormones Work with your practitioner to correct any hormonal imbalance. Dr. Kim has been practicing internal and functional medicine for more than 20 years. He earned his medical degree from Drexel University and completed postgradu ate training at the University of California, Irvine Medical Center. He opened Coastal Anti-Aging Medical Group in Torrance in 2007 and maintains an independent hospi tal practice at Providence Little Company of Mary Medical Center and Torrance Memorial Medical Center. Dr. Kim now offers Telehealth, giving patients access to high-quality medical care virtually from the comfort of home.
Written by Michele Garber by Siri Berting
62 |
| Photographed
Deena had a learning curve and needed to enhance her leadership skills while navigating the complexi ties of being a female supervisor in a predominately male workplace. It was trial by fire, but she turned her mistakes into learning opportunities, ultimately earning her team's respect and loyalty. In March 2018 Deena attended the ARISE Summit (A Reason to Include and Support Everyone) hosted by the Los Angeles County Fire Department for female firefighters in leadership positions from throughout the southland. The experience proved pivotal for her.
In 2003 Deena was hired by El Segundo as a firefight er. With her work ethic and strength, she was quickly accepted by her male colleagues. "When I started here, I dragged around the heaviest guy and then they knew, 'OK, she can pull me out of a burning building.'" Deena thrived, and in 2007 she was promoted to captain. Her promotion, though well-deserved, was not without drawbacks—leading to a more complicated period in her career. The leap from coworker to supervisor is always chal lenging, especially in the hierarchy of a fire department and before considering gender. "I had a tough couple of years," she recalls. "Every time you promote to a higher rank, you have to prove yourself all over again. When I promoted to captain I thought everyone would accept me, but I was starting over."
Growing up in Lucerne Valley, Deena Lee always had impressive physical strength and sharp protective instincts, but channeling those skills into becoming a firefighter never crossed her mind. Ironically, a simple act of responsible parenting ignited the spark that be came her lifelong passion. As a recently divorced single mom with two toddlers, Deena thought it prudent to learn CPR. She enrolled in an emergency medical technician (EMT) class, and as she recounts, "I just fell in love with it. I got 100% on all my tests and knew this is what I want to do." She promptly got a job in the emergency room at Long Beach Memorial Medical Center, a Level II trauma center, and began taking prerequisite courses for nursing at Long Beach City College. "I found it all so rewarding and exciting," she adds. While working in the ER, her stamina caught the eye of local first responders. Among her EMT tasks, Deena often performed physically demanding compression, sometimes for an hour straight without tiring, and ef fortlessly lift and move patients. Observing her abilities, Long Beach firefighters and paramedics urged her to consider becoming a firefighter. "I would ride along in the rescue ambulance with Long Beach fire stations, bringing patients into the ER where I worked," she recalls. "One day—and I get the chills just talking about it—one of the doctors said, 'Deena, you're glowing. This is your calling. This is what you're meant to do.' So I switched my major to fireDeenascience."went to a volunteer fire department in La Habra Heights and completed a 20-week academy. "I'd do a weekly 24-hour shift at the academy, work the graveyard in the ER and I was studying at LBCC," she says. "I was just paying my dues." She modestly omits that she was also a single mom while working, studying and volunteering.
Grace Under Fire THE SOUTH BAY'S FIRST FEMALE FIRE CHIEF, DEENA LEE KNOWS WHAT IT TAKES TO ASCEND THE LADDER OF SUCCESS IN A TRADITIONALLY MALE-DOMINATED FIELD.
AS
■ 64 |
"I'd never seen so many women firefighters in one place. There are only two of us in El Segundo, none in Manhattan or Redondo and only a handful in Torrance. When you promote from captain to battalion chief, your uniform changes from blue to black. I believe you have to see it before you can be it. Though I'd aspired to be chief, I needed to see the next rank up." Seeing other women in those black uniforms reig nited Deena's ambition to pursue a higher rank. Within a year she became the first female battalion chief in the South Bay. In July 2021, when her predecessor retired, Deena became acting fire chief and was officially pro moted on November 2—making her the only female fire chief in all of L.A., Ventura and Orange counties. Five months later Kristin Crowley became fire chief of the Los Angeles Fire Department, so now there are two. "I'm always striving to be a better leader," says Deena. "This position is completely different than what I signed up for in 2003. I was pulling hoses and throw ing ladders. This is administrative. There's politics, public speaking. I want everyone to have these skills before they ascend to this office."
Deena serves as vice chair on the executive board of Women's Fire Alliance, a nonprofit dedicated to supporting women in the fire service. She held Fired Up! Girls Empowerment Camp, a two-day educational experience for girls ages 12 to 19. "It was like a dream come true, and it's so rewarding," says Deena. "We tell them about all the possible jobs in the fire service. They pull hoses, climb ladders, drag dummies and extinguish small fires. It builds confidence and self-esteem. You may go in thinking you can't do it, but when you're able to do things you couldn't imagine doing, you realize you can do anything."
DESIGNING JEWELRY WITH YOU IN MIND 516 N. Sepulveda Blvd., Manhattan Beach | (310) 970-4485 | www.ounceofsaltjewelry.com
For Emily Kilimnik, also known as Emily V, it was love at first sight. At just 5 years old, she had an instant affinity for the violin. The only daughter of a family with six kids, she learned that hard work and practice get you noticed. Her passion to follow her own path paid off with a signature style that has been likened to a female version of Jimi Hendrix—with a violin rather than a Atascadero,guitar.
MUSICIAN
| 67 "HER
Written & photographed
At 16, Emily paid a neighbor $50 for a violin—a bar gain compared to the ones many of her friends owned. With her violin in tow, she would sneak into the prac tice rooms at Cuesta College to play before she headed to work. One Friday afternoon, she was confronted by a professor demanding to know what she was doing there. He asked her to play a song, and she nervously complied. Expecting to be reprimanded, she was told that she was now a music major. But it was not until she received a partial scholar ship to California State University, Long Beach that she really started to branch out and "figured out her rig."
Although she majored in violin performance, she also studied theory and composition as well as Brazilian and West African percussion. Soon she became one of the main West African dancers for that class. While in college, Emily worked as a waitress and taught violin lessons to help cover the costs of her edu cation. Still in her uniform, she would go to the Irish pub next door because they had bands playing five or six nights a week. She got to know each of the bands,
'N'ANDSEXUAL,AREPERFORMANCEANDENCHANTING,SENSITIVEFLAT-OUTROCKROLLALLATONCE."
Strings Attached EMILY V FLIPS THE SCRIPT ON VIOLIN MASTERY. by Kat Monk TONE
midway between San Luis Obispo and Paso Robles, was home to young Emily. Unlike the South Bay, strings were not an option in the elementary schools there. Her love for classic rock began at home while the family did the household chores or cooked with The Rolling Stones, The Doors, The Beatles and especially Pink Floyd filling the walls. "I remember my dad would come home from work at night, and he would go into the office after din ner. He would lay on the ground and listen to music," Emily says. She would listen to her father tell stories about what the music was about and the meanings behind the songs. Emily specifically remembers him talking about the Animals album by Pink Floyd, released in 1977. She also credits her parents for introducing her to It's a Beautiful Day, a psychedelic rock band from the late 1960s that featured an alternative violinist.
and eventually they invited her up to play with them.
Classical is not Emily's genre, and she says there are purists who believe she sold her soul. While classically trained, she figured out a rock style for herself, flip ping her violin upside down to create her sound. "I'd never seen the violin played that way before. It was like Hendrix had birthed a child with Janis Joplin and Stradivarius," says musician and friend Kevin Sousa. Her passion, energy and talent are unmistakable as she jams on stage. Locally she is known for playing alongside Kevin or as part of the band Monkey Finger Duo. Emily has toured with iconic punk band The Adicts and has performed with Gov't Mule's Jorgen Carlsson, Lukas Nelson, Blind Melon's Travis Warren and Jimmy Paxson, drummer for Stevie Nicks. Emily has her sights set on a solo career too. She is working on an album with producer Johnny Avila, for merly of Oingo Boingo. "Emily V plays her own unique style of rock and alternative violin that will satisfy your soul," shares Johnny. "Emily V rocks hard!" "Her tone and performance are enchanting, sexual, sensitive and flat-out rock 'n' roll all at once," adds Kevin. "Emily provides an edge to our music that drives the band and lifts us up at every live show. In a word, she is stunning—sonically, physically and charismatically." After watching her perform, it's apparent that every one is left with the feeling that they were lucky enough to have just witnessed a true rock star. ■
68 |
WORLD-CLASS DENTAL SPECIALISTS IN THE HEART OF THE SOUTHBAY PERMADENT | 23430 Hawthorne Blvd., Suite 345 | Torrance, CA 90505 | 310-325-9969 | DENTALREGENERATIONBONEPERIODONTALDENTALDENTALFORCUTTING-EDGEPermaDent.comTREATMENTAWIDERANGEOFCONDITIONSIMPLANTSDISEASE&SOFTTISSUEREHABILITATIONSL to LindaR R. Yang, DDS MariaElena Rodriguez, DDS Perry R. Klokkevold, DDS, MS, FACD
FEELS LIKE HOME Originally from Maryland, Lauren moved to California in 1975. When she found Manhattan Beach and Hermosa Beach in 1991, she knew it was home. She became a South Bay homeowner in 1996 and shortly thereafter became a mom to a daughter, and a son two years later. She thoroughly enjoyed her work as a lawyer with Keesal, Young & Logan in Long Beach, but after her daughter was born she knew she wanted to work closer to home. In the 23 years since, she has gained a unique perspective on home valuation and market timing, and she has topped more than $1 billion in sales. Some of her recordbreaking transactions have included the second-highest sale in the Hill Section, the second-highest price-per-foot sale ever in Manhattan Beach (on The Strand), and the Vanderlip Estate—the highest sale ever in Rancho Palos Verdes.
"MAKING A MYDIFFERENCEREALINCLIENTS'LIVESISWHATITISALLABOUTFORME."
trong ethics and professionalism— these are qualities Lauren Forbes embraced during her work as an attorney, and they serve her well today as an award-winning South Bay Realtor. Thanks to her experience in the legal industry, she is adept at finding resolutions to her real estate clients' challenges.
PHOTOGRAPHED
"Lauren is extremely diligent with the con tractual elements of the transaction, and her team manages the process from start to fin ish very smoothly," say clients Colin and Ann Cowherd, who have worked with the Lauren Forbes Group on the purchase and sale of three different properties in the past year.
WRITTEN BY LAURA L. WATTS | BY SIRI BERTING
S
The eight years she worked with a law firm informed the way Lauren is there for her real estate clients today. "I pride myself on being completely ethical and profes sional and running my business the way I learned as an attorney," she shares. "I am and have always been in this business for the long term."
"I lead an incredible group of agents selling at all levels—from entry to ultra-luxury—in the South Bay," says Lauren, who helped national brokerage Compass open their South Bay office in 2019. "We love what we do and who we do it with. We are very blessed with amazing clients who keep us busy." The team's prestigious rankings include
L to R: Roma Barba, Jagger Kroener, Michelle Ramkissoon, Kelsey Riggan, Lauren Forbes, Sean Goodsell, Bri Haydis, Trevi O'Neill
THE DREAM TEAM Lauren has a vast network of in-house support to get deals done as quickly and efficiently as possible while paying attention to the details. Her team includes one attorney, three brokers, a medical doctor, a former mortgage broker and the former regional marketing director for an international real estate broker. They have more than 65 years of combined experience and are well-versed in executing complex real estate deals.
SPECIAL ADVERTISING SECTION AGENT SPOTLIGHT LAW & ORDER Realtor® Lauren Forbes and her team set the standard for completing real estate transactions with expertise and professionalism.
WHOAMAZINGWITHCLIENTSKEEPUSBUSY."
72 | SPECIAL ADVERTISING SECTION
Client Betsy McLaughlin, the former CEO of Hot Topic, says she knew she was in the best hands possible—from their initial meet ing to closing escrow—when the Lauren Forbes Group helped her sell her home. "They set the platinum standard for the home-selling experience," Betsy says. "Thank you to the entire team!"
LAUREN FORBES GROUP 1221 HERMOSA AVE. #210, HERMOSA BEACH 310-901-8512 | DRE FB:IG: @LAURENFORBESGROUPLAURENFORBESGROUP.COM#01295248LAURENFORBESGROUP
Lauren says the accomplished real estate agents on her team are the most conscien tious group of people she's ever encoun tered. "We like each client to feel they are the only client and feel taken care of from beginning to end. We really care, and we really make them feel important."
"WE ARE VERY BLESSED
"Lauren and her team are the go-to Realtors if you want to buy or sell your home in Manhattan Beach," say the Cowherds. "We are continually impressed by their mar ket expertise and professionalism."
A BALANCED LIFE Lauren not only works hard, but she also plays hard! She enjoys hiking, brunching at one of her favorites, Un Caffè Altamura, and traveling to locales nearby, like San Diego, Palm Springs, Deer Valley, and far away, like Bali. She has fun riding her bike locally on The Strand and internationally in places like Croatia and Montenegro. She takes care of others—serving on the boards of several nonprofits including NextStep Fitness, Freedom4U and P.S. I Love You Foundation. And she takes care of her self—with hot yoga classes, working out most days of the week, cold plunging, meditating and journaling daily, and ensuring that she gets enough sleep. Lauren practices grati tude and purposely surrounds herself with positive people. She consults regularly with a spiritual/business coach who helps her stay centered so that her purpose is aligned with how she runs her business. And it's evident to her clients. "Lauren is whip-smart, one step ahead, tenacious and brings a confident energy that is priceless," Betsy points out. "I know I am helping others in this amaz ing community, and that makes it all worth it," Lauren says. "Making a real difference in my clients' lives is what it is all about for me."
being part of the Real Estate All-Stars list in Los Angeles magazine, The Top 100 Residential Real Estate Agents In L.A. County list in LA Business Journal and RealTrends America's Best Real Estate Professionals list. They are ranked #1 on Zillow in Manhattan Beach and Hermosa Beach based not only on sales but also on client testimonials.
The planned giving programs at Torrance Memorial Foundation can make a lasting difference for your community through your estate planning, such as establishing a charitable gift annuity (CGA). With your CGA donation, you receive income for life at a higher rate compared to your savings account or certificate of deposit (CD), and your charitable tax deduction is immediate. Your future gift to Torrance Memorial will help others receive expert care and treatment for years to come. GIVE BACK TO YOUR COMMUNITY AND YOURSELF Learn more about starting your own legacy at TMPlannedGiving.org | 310-784-4843
Strapless knit Kendall set by Trois, $300; BLVD in Manhattan Beach. Bag, $86; Soto in Sherman Oaks. Black puffy slides by ROAM, $140, and onyx ring by ILD, $650; The Beehive in Manhattan Beach. Statement sterling silver earrings by Released from Love, $395, and Italian brass bracelets by Nomadika, $298 each; BLVD in Manhattan Beach. Pearl spinner ring, $350; Mag.Pi in Studio City.
todownearth SLEEK SILHOUETTES ALONG WITH WARM, NEUTRAL TONES AND BOLD, GEOMETRIC ACCESSORIES FASHION AN ALLURING PREVIEW OF THE FALL SEASON. Styled by Tanya Monaghan | Photographed by Shane O'Donnell Hair & makeup by Cat Sherwin | Fashion assistance by Brenda Randall
Alba dress by Bec & Bridge, $260, and shiny black Castell bag by Hereu, $790; BLVD in Manhattan Beach. Rosie mule heels by Gia Borghini, $740; Wright's in Manhattan Beach. 10k gold earrings by Lisa Ziff Moore, $2,200: Mag.Pi in Los Angeles. Italian brass rings by 8.6.4, $99 to $127; BLVD in Manhattan Beach. right: Color-block knit dress by Staud, $166; The Beehive in Manhattan Beach. Gold earrings by Nomadika, $375; BLVD in Manhattan Beach.
Winnie knit dress by Anna Quan, $395; BLVD in Manhattan Beach. Thick snake chain necklaces, $488, and thin snake necklace, $184, both by Loren Stewart; The Beehive in Manhattan Beach. Oversized cast pearl studs by Released from Love, $350, and Italian brass bracelets, $298 each; BLVD in Manhattan Beach. Stacking rings by Hillary Heydle, from $100, and 10k open square ring by Lisa Ziff, $1,500; Mag.Pi in Studio City. right: Camel coat by Vince, $995, tan and black suede bucket bag by Hereu, $490; BLVD in Manhattan Beach. Metallic pleated dress, $79, evil eye necklace and gold-filled paperclip link necklace, $74; all at Soto in Sherman Oaks. Open square ring by Lisa Ziff, $1,500, pearl spinner ring $360, and stacking ring, $100, both by Hillary Heydle; Mag.Pi in Studio City. Italian brass ring by Nomadika $127; BLVD in Manhattan Beach. Cognac leather boots by Isabel Marant, $1,290, and brown studded belt by Calleen Cordero, $272; Wright's in Manhattan Beach.
Cream Thatcher coat by Acler, $650, Slide Dove bag by Studio Nicholson, $430; BLVD in Manhattan Beach. Burnt henna baseball cap by Isabel Marant, $180, mixed print skirt by La Prestic Ouiston, $700; Wright's in Manhattan Beach. Gold ear cuff by Released From Love, $200, bone leather slides by Solaris, $198; BLVD in Manhattan Beach.
right: Knit crop top by Zulu & Zephyr, $130, and ivory pant by Acler, $320; BLVD in Manhattan Beach. Satin sheets top by TWP, $496; Wright's in Manhattan Beach. Oversized gold bangles set by Cult Gaia, $148; BLVD in Manhattan Beach. Wood earrings by Bembien, $56; The Beehive in Manhattan Beach. Pearl spinner ring by Hillary Heydle, $350, and gold stacking rings, from $100, and 10k open square ring by Lisa Ziff, $1,500; Mag.Pi in Studio City. Italian brass ring, $127, and face necklace, $121, by 8.6.4; BLVD in Manhattan Beach.
Goose down jacket by Zentner, $498, Meg sweatshirt dress in faded black by Isabel Marant Étoile, $476; Wright's in Manhattan Beach. Gold vermeil hoops by Released From Love, $375; BLVD in Manhattan Beach.
Thank you for a successful 2022 White Light White Night! 16TH ANNUAL walkwithsally.org POWERED BY
The Jen Caskey Group toasts another successful closing at Un Caffè Altamura in Manhattan Beach—the team's favorite gathering spot.
SEVERAL OF YOU ARE TRUE LOCALS. HOW DOES YOUR KNOWLEDGE OF THE SOUTH BAY BENEFIT YOUR CLIENTS?
here are several common threads that tie together the team members of the Jen Caskey Group—a luxury real estate team formed early this year by Realtor® Jen Caskey with agents she's worked with for years. Most of them are South Bay natives, several grew up in a family of real estate professionals and they all contribute to their community and worthy causes. It's these parallels—as well as their individual talents and areas of expertise—that make the Jen Caskey Group a trusted resource for home buyers and sellers in the South Bay and beyond. We recently sat down with six of the team members (Jillian Kaplan, who splits her time between California and Tennessee, was out of state) for a roundtable-style conversation about their expertise within our community.
Avery Hazelrigg: I was born and raised in Manhattan Beach, so I have a deep level of knowledge about the city. I understand the subtleties of each street, neighborhood and school. That helps me find the perfect fit for each client's unique personality.
"Great things in business are never done by one person; they're done by a team of people." – Steve Jobs
IN GOOD COMPANY
SPECIAL ADVERTISING SECTION AGENT SPOTLIGHT
WRITTEN BY LAURA L. WATTS | PHOTOGRAPHED BY SIRI BERTING
T
Ali: When I started my career nearly 20 years ago, I worked with my mother who was a broker for more than 35 years. I love continuing the legacy of my real estate family.  Starr: The relationships I form with my clients are my favorite part of this job. Riding an emotional wave together through a transaction almost always bonds us for life.
Eric: I love sharing my knowledge and experience with new friends and old ones— stories of what the homes were like when I was a kid. There have been so many changes and upgrades in the housing market.
Stacia: Every day is different. I'm from Manhattan Beach and a family of real estate professionals, so I have a strong local networking group. Yet through my work I meet amazing people who I might not typi cally meet. And I absolutely love being on a team where the support and collaboration are amazing.
My career started in real estate in Florida, but when I moved to Los Angeles more than 15 years ago, I shifted into well ness. I was a bodyworker, Ayurveda practi tioner and yoga teacher. I eventually came full circle and started selling real estate again, but with a holistic twist.
Eric Fonoimoana: I'm also a native of the South Bay, and I love the beach, volleyball and surfing. Our weather is fan tastic, and the community is even better. We live in a little paradise that I don't take for granted.
Jen Caskey: Having grown up in Manhattan Beach and raised my fam ily here, I know everything there is to know about the South Bay—the qualities of each neighborhood, the local schools, the people. Clients will ask, "Where should I get on the list for preschool? Where should I take my parents to lunch?" I love to see people get settled and know that they are going to be so happy here.
Patrice: I spent my entire career in public relations and marketing for global consumer lifestyle brands, including more than 15 years at Red Bull Energy Drink.
The members of the Jen Caskey Group are your friends and neighbors. They are good at what they do and love where they live. Having a team like this on your side when you're going through the challenge and thrill of buying or selling a home gives you a distinct advantage. Like Jen often says: "Our friends become our clients, and our clients become our friends."
Patrice Radden: While I'm not a native of the area, I've spent more than 17 years in Manhattan Beach. I love exploring new restaurants, enjoying the wide range of outdoor activities available, and meeting new people through volunteer work in our schools and community. I also enjoy col lecting recommendations from clients and friends and passing along what we all love about the South Bay to others who may be new to the area.
Eric: Before real estate, I was a profes sional athlete traveling the world and play ing beach volleyball for 16 years. I earned a Gold Medal at the Sydney Olympics in 2000.
Ali Snider: I love its proximity to many things—the beach obviously, but we're also close to the theatre and awesome restau rants of Downtown Los Angeles. Skiing is a short drive away, as is the desert, the airport, hiking in Palos Verdes. Or we can park our cars and walk to everything within our South Bay bubble. Starr Dill: For me, it's the charm. In the big city of Los Angeles, we have managed to keep our community small and special. The beach cottages have my heart, and I always do my best to save them from being torn down if they still have life.
JEN CASKEY GROUP 805 MANHATTAN AVE., SUITE 201, MANHATTAN 310-200-5900BEACHJENCASKEYGROUP.COMIG:@JENCASKEYGROUPDRE#01075946
86 |
IT'S SAFE TO SAY YOU'RE ALL BIG FANS OF THE SOUTH BAY. WHAT ARE SOME OF YOUR FAVORITE THINGS ABOUT LIVING HERE?
AGENT SPOTLIGHT SPECIAL ADVERTISING SECTION
Patrice: I agree—it's an incredible feeling of community. I love that it still feels a bit like a hidden secret with our great beaches, fabulous schools and great restaurants. Stacia Janus: It doesn't get better than that!
Jen: Our luxury boutique firm is head quartered in Downtown Manhattan Beach but has a global reach powered by Compass. We have been so impressed with its cutting-edge technology and the Compass Concierge program, which fronts sellers the money needed for improvements.
FOR THOSE OF YOU WHO HAVEN'T WORKED IN REAL ESTATE YOUR ENTIRE CAREER, YOU HAD SOME PRETTY AMAZING EXPERIENCES BEFORE BECOMING REALTORS. TELL US WHAT YOU Starr:DID.
WHAT'S GREAT ABOUT YOUR JOB AND BEING PART OF THIS TEAM?
IT MUST BE A DREAM HELPING CLIENTS BUY AND SELL HOMES IN THIS COMMUNITY THAT YOU ALL ADORE.
Avery: Real estate is a life transaction that requires friendship, support and a little bulldog tenacity. Nothing is more fulfilling than helping others experience "home" in the South Bay.
Ali: I lived in Chicago and worked for a trans portation/logistics company. I loved my job! Stacia: I worked in the fashion/retail industry. It was an exciting line of work. I absolutely loved traveling to different cities and going to fashion week in New York City!
Front: Ali Snider, Patrice Radden, Starr Dill
L to R, back: Avery Hazelrigg, Eric Fonoimoana, Elizabeth Welch, Stacia Janus, Jen Caskey
It's dawn. Vickie Bronaugh stands on the set of Power Rangers, watching the monitor as her actors dash across the Hollywood Hills on dirt bikes. Dust swirls around her feet as the bikes zoom over the edge of a cliff.
| Photographed
"We're the same person," Vickie says. "We can never find our phones," Mary chimes in. Vickie landed her big break in the industry when she met the creator of the hit kids show Power Rangers in New York City. "As a good wanna-be director always does, I was prepared," she jokes. He asked if she had a reel, and out of her backpack she pulled a VHS tape. He, in turn, proceeded to pull out a portable VHS player.
Vickie is a Texas-born firework with auburn hair and a southern twang. Mary is a go-getter raised in the South Bay, sporting winged eyeliner and a bright smile. This mother-daughter pair are best friends, and both work in the film and television industry.
"Cut!" yells Vickie. She looks down and gasps when she sees the image on the monitor—the Hollywood sign, illuminated by the golden sun. She thinks: Dreams do come true! Little does she know that as her time with Power Rangers comes to a close, a baby girl with a mind full of stories opens her eyes in China. A girl named Mary.
Fortunately for Vickie, there was some pretty amaz ing icing on the horizon.
Having just lost her mother, Vickie and her sister were trying to urge their grieving dad off the porch to go inside and celebrate Christmas. Then he looked up into the night sky and saw the supermoon. "Dad realized the moon rises, the sun sets, tomor row's another day," Vickie says."Every story I write is about one incident." In a serendipitous moment, Granger Smith, the lead in Moonrise, was watching the same supermoon on his mother's ranch just a few miles away from Vickie.
Like Mother, Like Daughter
Vickie and her husband, Charlie, traveled from Redondo Beach to China to adopt Mary, returning to China two years later to bring home baby sister Ruby. Mere months after Mary came home, her mother took her to Hermosa Beach to play on the swings. "It was the first time in my entire life I felt 100% peace," Vickie says. "I didn't feel driven or like I had to be somewhere … this was all I wanted. Anything after was icing on the cake."
"He said 'If you are ever in L.A., give me a call,'" she says. "I was there the next day!" She was the first woman to direct multiple episodes for the series. Then one day, due to changes with the production, it stopped. "I was working, and then all of the sudden I ran into a brick wall," Vickie recalls.
Vickie considers herself more naturally a director, while Mary considers herself more naturally a writer— though both will do either job because they like car rying out their creative endeavors from start to finish.
Moonrise, Vickie's feature film, tells the story of a widowed father's journey to find wholeness again.
VICKIE BRONAUGH, A SEASONED FILM AND TELEVISION DIRECTOR, WATCHES PROUDLY AS DAUGHTER MARY GETS HER START IN THE BUSINESS.
Written by Kailani Melvin by Siri Berting
However, as one chapter of her life came to a close, a new one—the best one—began to open. Vickie always wanted to adopt, but her career ambitions had gotten in the way. "God pretty much has to shut me down for me to do the next best thing," she says.
88 |
| 91 "THE
Mary's process is somewhat different than her moth er's. Rather than drawing from real life and what she already knows, she finds inspiration in what she doesn't know. "I usually have some kind of question I'm wres tling with," she says. "My best work always comes from a burning-inside-me need to understand something." This process informed the creation of her short film Swearing Like her mom, Mary adores the experience of being on set. "The reward is in those little moments where you are enjoying the work," she says. Vickie leans over and whispers, "She's got a good eye. She's such a good director." However, being in the film industry is not easy for women, especially—in Mary's case—for a woman of color. Vickie finds power in rising above comments and focusing on the work. "No matter what I heard or what came at me," she says, "all I could think was, 'I'm the director. I got the job. I'm here, and you're not.'" Mary's struggles inform how she will lead writers' rooms in the future. "I want people to know their voice matters and we want to hear from them, even if it's hard and uncomfortable for us." In fact, giving a voice to those who are often ignored is part of the reason Mary and Vickie love their jobs so much—whether it's a grieving country singer or a little boy trying to find his place in the big city. "A large role narrative plays is helping us understand the messiness and chaos of being a human being," Mary says. Vickie adds, "Being a human is difficult, and life is difficult. If you can tell one story of how a char acter gets through something and makes it to the other side and you can impact one person in the audience, they can walk out changed." It's dusk. Vickie Bronaugh sits in a theatre crowded with people engrossed in the short film playing. She glances over in the dark at her daughter, fully grown, and watches the light from the screen dance across her face. So much anticipation builds up to this night, and it's all for the moment the credits roll: Written and directed by Mary Bronaugh
Over the next two years the Ensemble team, led by Mary, grew to 300 students and produced six halfhour episodes. The ability to teach people was the most fulfilling part of the experience. "I think that's an important skill on a team. To be able to say, as a leader, 'How can I help you be your best?' Not 'How can you do your best for me?'" Hired one month before graduating from college, Mary became an apprentice writer on the Disney Channel show Big City Greens. Shortly after, she was promoted to full-time staff writer, making her the youngest writer at Disney. She wrote five episodes across two seasons.
"It was like heaven," Vickie recalls about directing the film, which is set for release this December by Sony Pictures. "That's the feeling I'm always chasing when I'm writing," Mary agrees. When asked what attracted her to the film world, Mary jokingly gestures to her mom. "It was always part of the conversation," she says. Mary attended the highly competitive screenwriting program at USC. As a freshman, she wrote and di rected her own web series, Ensemble—a comedy/drama centered around college theatre kid antics. "I wanted to shoot the things I was writing," she says, even though that wasn't part of the curriculum.
Vickie smiles to herself and thinks: Dreams do come true! ■ REWARD IS IN THOSE THEYOUMOMENTSLITTLEWHEREAREENJOYINGWORK."
An Intimate Direction
Katie Groves didn't set out to build a career in film and television. "I kind of fell into it," she explains. "I went to school for journalism, and then it evolved into work ing in entertainment." Whether kismet or by design, for roughly a decade and a half Katie's path has led to creative opportuni ties in front of the camera, as well as behind the scenes. Friendships have evolved into partnerships—one might even lead to a reality show based here in the South Bay. But it's her relationship with director and stunt performer Mam Smith that led Katie to her role as an intimacy coordinator. "We met on a cop show in New York a long time ago. We basically kept each other sane for years. She's one of the most badass people I've ever met," Katie says. "I was the stunt double, and she was the photo double— we played the same person on TV for about four years," Mam adds. As a stunt performer, choreographer and acrobat, Mam's experience spans film and television, Broadway and Cirque du Soleil. But after roughly two decades in the industry, Mam was looking to transition into directing. She traveled to Ireland for a director's training centered around intimate themes. Shortly after she re turned to the United States, Mam learned that HBO had just mandated intimacy coordinators on set. And just like that, her new expertise was in high demand. "At first I didn't want to do it. I really wanted to direct," Mam says. "But it was an interesting posi tion, and I think it's needed. It's been an incredible experience. I've worked on shows like Westworld and Euphoria, and a new show called The Idol that's going to be amazing."
INTIMACY COORDINATOR KATIE GROVES BRIDGES THE GAP BETWEEN DIRECTORS AND ACTORS DURING THEIR MOST VULNERABLE PERFORMANCES.
Written by Amber Klinck by Ken Pagliaro
| Photographed
92 |
The term intimacy coordinator may sound relatively new, but the position itself is not. What is new is hav ing intimacy coordinators mandatory on set. In 2018 HBO became the first network to mandate the position, with heavy hitters like Netflix, Amazon and Hulu fol lowing suit. "I think mandating the position is a good idea be cause it sets a precedent for the industry and, I believe, puts a spotlight on scenes that have needed a spotlight for a while," Mam says. With intimacy coordinators suddenly in such high demand, Mam approached Katie about assisting her on a number of projects. After a few years of training with Mam, Katie started working on projects independently, forming relationships with different studios and bounc ing from one opportunity to the next. Both women's experience in entertainment gives them a unique perspective. "A lot of times you're the one put in positions where you're getting beat up, left in the street, left for dead, whatever your character is going through. So I knew what it was like to be on camera and to be exposed and vulnerable," Mam says. "I have so much experience on the other side. I take a situation and I'm like, OK, what would I need? What would I want to know? What would I want to happen now?" Katie notes. Having an intimacy coordinator on set ensures everyone is on the same page and that there won't be any surprises. "It allows us a sense of freedom if we set
healthy boundaries for the performer and the perfor mance. Then the actors have a tendency to relax and enjoy the process rather than feeling unsafe or pushed or not looped in to what's going to happen," Mam explains. Because no two scenes are exactly the same, the role of intimacy coordinator requires some nuance. "It's very different when you have one or two actors that you're hyperfocused on versus eight nude people for a magazine shoot. It ends up becoming a team effort," Katie points out. Then there's the context behind the performance itself, whether it's comedic, romantic or dark. One of Katie's most recent projects, Minx, a new comedy series on HBO Max centered around an erotic magazine for women set in the 1970s, is a prime example. "Comedy is just lighter, especially a show like Minx," she explains. "It was fun and colorful and cheeky and campy at times. It's just a really fun, smart show. Honestly, we got so lucky with everybody that's involved—from cast and crew to producers. It's like lightning in a bottle." In addition to her work as an intimacy coordinator, Katie is the COO of Poppy Montgomery's Wild Poppy Entertainment. "We've worked together for so long. It's such a big part of my life because I've literally worked with her since 2011." From New York to Manhattan Beach, Katie's career has evolved in so many different directions, and she shows no signs of slowing down anytime soon. ■
94 |
Edgar Alwin Payne, Rockbound, 1921, Oil on canvas. Gift of the Class of 1921. Sept 17 - Nov 12 Palos Verdes Art Center pvartcenter.org
@TREASURESINTERIORDESIGN310-545-9404TREASURESINTERIORDESIGN.COM
TREASURES INTERIOR DESIGN
Valerie discusses what's new, describing how technology has allowed people to try new kinds of treatments on bathroom walls. "Paper is made and installed much better than it used to be. It's more durable and can be sealed to protect it from moisture dam age." She points to beautiful vinyl wallpapers (yes, vinyl!) that look like grass cloth and are durable and long-lasting. Recently she designed a bathroom with ice-blue glazed ceramic tile on one wall and continued it on an additional wall into the shower. She mixed the patterns of the stone and complementary glass, wood and tiles to create an elegant and beautiful retreat for herSheclients.shifts her weight and continues smil ing. Almost done, she is promised.
BATHROOM BEAUTY
Valerie Sartini of Treasures Interior Design shares ideas that make a bold statement.
V
PHOTOGRAPHED BY SIRI BERTING
"Another style element I use is tongueand-groove ceilings in bathrooms," Valerie shares. "They are warm and versatile and popular at the beach." Valerie is released! She jumps down from where she sits, still enthusiastic about what she's saying. "There are so many options, dif ferent kinds of pieces that fit together when you design a bathroom that make them fun and creative to work on. And unlike other rooms, bathroom wall treatments offer so much variety. The possibilities are endless!"
| 97 PHOTOGRAPHYCAVALLOJOSHBYPHOTOGRAPHEDBOTTOM:RIGHTFAR
alerie Sartini of Treasures Interior Design sits smiling with her legs crossed, laughing easily. "Of course, I always spend time perched on a bathroom counter in a dress and heels," she says with a wink. She's front and center with a backdrop that is both beautiful and artistic—a swirl of greens, blues and greys behind her. She's being photographed on this day because she is genuinely excited and passionate about her craft. One of the things she loves is discovering what is new and unique in bathroom wall treatments and finding inno vative ways to incorporate them into her clients'"Hey,aesthetics.peoplehave been hanging decora tive paper on walls since 200 B.C., but it wasn't a thing until the late 1600s in France, where the artistry of it was really honed. Can you imagine how hard that would have been—adhering paper to stone walls? And maybe if you didn't line it up just right … well, who knows what would happen to you?" she grins. Click, shift, smile. "We've come such a long way, even recently," Valerie continues. "Now there are so many options in bathrooms: wallpaper, tile, shiplap, paneling. We love playing around with textures, colors, fabrics and placement. We may do one wall as an accent or cover all walls and the ceiling."
Valerie is not one to shy away from bold. "It makes a statement and is stunning when done properly. Take the guest bathroom. It's a place lots of people visit. And it's fun to deliver a sense of unexpected charm and surprise in that small space—to wow your guests with a splash of style. It's fun to be charmed and surprised as a guest too!"
SPECIAL ADVERTISING SECTION BUSINESS SPOTLIGHT
Written by Quinn Roberts by Monica Orozco
| Photographed
98 |
Young at Art
THREE SOUTH BAY TEENS WANT THEIR GENERATION OFF THEIR PHONES AND ON TO CREATING SOMETHING LIVE AND MEANINGFUL.
When people think of Generation Z, one of the first things that pops into their heads is an incurable at tachment to smartphones. Audrey Whitehead, Gwyn Dowdee and Sasha Lerman are trying to change that perception as cofounders of the Young Artist Society (YAS) in Hermosa Beach. The three, all 18 years old and recent high school graduates, met at Resin Gallery, where they work and volunteer. One day after working at Resin, the three walked down to the beach just a few blocks from the gallery and an idea hit them.
"We saw the adult artist collective and thought, 'How do we bring that to young people? How do we give them a way to show their creations in the same way?'" says Gwyn. "Some don't have funds. They don't have connections. Our goal is to give young people a starting point." After getting support from Resin Gallery founder Rafael McMaster, they began to promote YAS on social media in July 2021 and since then have garnered 86 members. Most of the members are in their late teens, but anyone between the ages of 15 and 25 can submit their work to be included. "It gives teenagers a positive community where dif ferent forms of creativity are welcomed and can help a lot of people," says Sasha. "I feel like we have created a family-friendly environment that is still fun. All kinds of people show up." Things quickly progressed from there, with the first show happening last September. Two local bands performed, and a handful of young artists showcased their work. After a successful show in June called Sun Jam, the three quickly began planning for another event in July called Moon Jam. Moon Jam was their biggest event yet, a nine-hour happening with 12 local bands performing and a visual art exhibit. "A lot of teens had a hard time getting back into the world. It has been easy to stay in your room the whole day. A lot of adults will look at Gen Z right now and think we are just connected to our screens and are antisocial," says Gwyn. "When you have experiences like we did in July, not an iPhone was in sight. We cherish those experiences." There was a noticeable buzz in the air. Those who were not right near the stage were socializing on couches in the back, while others were scattered on the sidewalk listening on their skateboards and bikes. All three said they found new friends at these shows who share similar interests and passions. "We got texts saying this is the coolest thing they'd ever been to," saysAfterGwyn.Moon Jam, YAS worked with local band Acolyte to throw another event in August called Music Mingle. Musicians could perform together, but they couldn't play with their own band and nothing could be Audrey,rehearsed.Gwyn and Sasha each have their own passion within the arts community, which is one reason why YAS is so successful. Audrey and Sasha plan to attend Pratt Institute in Brooklyn this fall, while Gwyn plans
" BEING IN A
BEFOREGIVEEACHHAVE.ANDEVERYONEENVIRONMENTCREATIVEBRINGSTOGETHER,THATISWHATWEWEAREN'TLETTINGOTHERGO.IWILLUPEVERYTHINGLOSINGTHIS."
Even though they will not all be in the South Bay this fall, all three are still devoted to YAS and want it to be more than just a local movement. "The South Bay will always be my home, and I feel so dedicated to making things better here—especially for the teenag ers and young artists to help elevate their voices," says Sasha. "Our dream would be to have that in the South Bay and beyond."
Friends for about two years since meeting at Resin, all three believe that being in such a unique environ ment allowed them to become close very fast. "Being in a creative environment brings everyone together, and that is what we have," says Gwyn. "We aren't letting each other go. I will give up everything before losing this."
■ | 101
to stay in the South Bay and continue to work and volunteer at Resin and YAS. The passion Gwyn felt for planning these events with local musicians is some thing she wants to continue. Sasha's focus moving for ward is on illustration. She designs everything related to YAS and even designed T-shirts for Moon Jam that raised around $1,000.
"My dad is an immigrant and my mom is the child of an immigrant, so it has always been in me to remember and tell their stories," says Sasha. "I want to listen to others and hold space for them. I want to be an illus trator so I can take stories and make them into art." Before Resin, Audrey didn't do much to express her creativity. Now she's more focused on that and in the future wants to help others by becoming an art teacher. She's seen firsthand how much the arts can help people's mental health.
GRAND CHAMPION RIBBON $25,000+ TheAnonymousMichael Grannis Family The Tuffli Family Foundation RESERVE CHAMPION RIBBON $10,000+ Terry & Wally Durham The Farman Family The Harman Family Foundation Lomita Sheriff's Station Los Angeles County Karen & Michael Learned Pat & Rich Lucy Chuck Miller Family The Scharffenberger Family Lon V Smith West Coast Footings BLUE RIBBON $5,000 Beach Cities Orthopedics & Sports Medicine/Mary & Bill JeffChouraCapitalMealerGroupEventsEarle/The Original Red JamesOnionGiacopuzzi, DVM Giuliano's TheTheSusanGardenaDelicatessen,&MichaelGrayPatrickF.LeeFamilyMurphyFamilyFoundationLisa&ChuckNoskiPowerTripRentalsDorothyProcterWhittierTrust RED $2,500–$4,999RIBBON Cook's Doors & Windows Eberhard Equipment Cathy & Chuck Farman Storm Management, Inc. in memory of Georgia Claessens The Kathy & Kirk Johnson TheFamilyHonorable Kathryn Barger, L.A. County Supervisor The Honorable Janice Hahn, L.A. County Supervisor The Honorable Holly Mitchell, L.A. County Supervisor Shari & Morgan Moore III Dena and Annie Occhipinti Anne Poulson The Recknor Family Rolling Hills Nursery of Long Beach The Romer Family S & S Bankcard Systems/ Jeff CynthiaSkelton&Ken Sanders & MarciaFamily& Mike Schoettle South Bay Magazine Mr. & Mrs. Eric Stuckman U.S. Storage Centers Lisa & Gerry Van Nortwick Alan and Kelli Vieweg Family Watson Land Company Whitney Young Children's SueFoundation&KirkWilkinson * as of August 15, 2022 THANK YOU TTO O UR OSPONSORS* 64TH PORTUGUESEANNUAL BEND NATIONAL HORSE SHOW
Emily Luxford, MS, RD, IFNCP, CLT WWW.LUXFORDNUTRITION.COMEmily@LuxfordNutrition.com424.247.6060 TAKE YOURBACKHEALTH DIGESTIVE DISTRESS WOMEN'S HEALTH CHRONIC FATIGUE ANXIETY AND MOOD SWINGS UNWANTED WEIGHT GAIN IRRITABLEINFLAMMATIONBOWEL SYNDROME
Written by Gail Phinney by Monica Orozco
Once a child of war and now a single mother of two, Sophie is committed to making her children feel safe while giving them the tools to navigate adversity in the world. A survivor, she isn't afraid to embrace the trauma that shaped her. "In a way, personality doesn't form without trauma," she shares. "We have to have trauma in order to over come and figure out who we are despite it, what we are made of and what we are able to survive."
■
Her mother was a psychiatrist; it was in her blood. Moreover, the work appealed to her creative side. "Every time you're with a new person, you have to put your creative hat on to understand their framework and learn their language," she offers. "In that sense, I'm constantly learning new languages, and it connects to my history overall." Sophie's creativity extends to her Urban Voodoo line of jewelry and fashion as well as her visual art creations, which she considers deeply personal. Reluctant to label herself an artist, she sees her creative process as thera peutic. "It comes from a place in me that has no words," she explains. An immigrant who lost everything, she holds on to the belief that the things she makes are the only things she can truly call her own.
AS A NEW CONFLICT RAGES IN UKRAINE, SOPHIE DAUSHVILI-SCHOENFELD REFLECTS ON HER OWN WAR-TORN CHILDHOOD AND OVERCOMING PAST TRAUMA.
| Photographed
One relative died at the hands of the Red Army dur ing the Russian Civil War; another helped develop the H-bomb that ushered in the Cold War. As for her father's family, "They were gangsters," she says with a smile.
| 105
Although the Republic of Georgia regained its in dependence in 1990, the country was in chaos. Three years later, her father fled to Russia with a price on his head, and she became a refugee living in London with her mother. With only a rudimentary knowledge of the language and even less familiarity with Western culture, she recalls, "It felt surreal to be transported to this very different world." Despite the difficulties, she reinvented herself as a British teen. Her remarkable resilience and ability to adapt have served Sophie well since moving to the United States in 2003 and making San Pedro her home. But it wasn't until she started therapy to process her early childhood trauma that she found her vocation and embarked on a career in clinical psychology. It seemed like a natural progression.
As a licensed therapist, Sophie brings all her life expe rience to bear in serving the South Bay community from her Palos Verdes location. Highly skilled in the treatment of trauma, her practice focuses on families in transi tion—often battling their own internal war. Her tumul tuous history has given her the unique ability to facili tate resolution in high-conflict situations, making her a trusted guide in each client's journey. She shares her perspectives on mental health and her social commentary in a monthly column for San Pedro Today.
For Georgian-born Sophie Daushvili-Schoenfeld, wartime trauma is more than a lived experience. It is embedded in her DNA. Her mother's family included prominent intel lectuals and separatists who shaped the country's history and engaged in its century-long battle for independence from Soviet rule.
On April 9, 1989, she became a witness to history when her parents survived what would later be called the Tbilisi Massacre—an anti-Soviet demonstration that was brutally crushed, killing 21 people and injuring hundreds.
Russian tanks rolled into the Georgian capital, military rule was established and everything changed. She was only 11, but the visions of death and destruc tion still haunt her—recently triggered by images of the war in Ukraine. For Sophie, it's all too relatable.
Beyond Borders
AGENT SPOTLIGHT SPECIAL ADVERTISING SECTION STRENGTH IN NUMBERS The powerful women of Accardo Real Estate Associates exceed their clients' expectations—and have fun doing it! WRITTEN BY LAURA L. WATTS | PHOTOGRAPHED BY MEREDITH GRADISHAR, ZOOM THEORY PHOTOGRAPHY 106 | L to R: Jacqueline Enriquez, Samantha Littrell, Penny Wales, Marina Accardo, Carly Potter, Karina Castillo
"Who you work with matters," Marina points out. "Our team is committed to being localTheexperts."National Association of Realtors reports that currently 65% of all Realtors are female, and the women of the AREA team are proud to represent the high standards of this industry. They each bring an entrepre neurial spirit, professionalism and expertise to their clients.
As president of AREA, Marina Accardo (@accardo_realestate) collaborates with Tony to deliver a truly comprehensive real estate experience to clients. She supports the team with personalized digital marketing strategies to maximize each seller's home value. Marina has a keen eye for design, staging and remodeling and keeps clients informed with weekly real estate blogs. This mom of three is an advocate for supporting local community businesses.
SPECIAL ADVERTISING SECTION AGENT SPOTLIGHT What does a true team look like?
Two other women support the team in an administrative capacity: operations man ager Amy Raabe and marketing and digital media manager Alexa Evans. Collaborating with these eight strong women are three men who bring their A-game to the AREA team—Tony, his brother John Accardo and Realtor Mike Naylor.
According to Aristotle, "The whole is greater than the sum of its parts." When you work with the Accardo Real Estate Associates (AREA) team, you get great "parts"—each Realtor® is chosen carefully by the firm's founder, Tony Accardo, and his wife and marketing expert, Marina. "Team culture is very important to us, and we celebrate our diversity because we believe it makes us stronger," says Tony, who was recognized as Realtor of the Year for 2022 by the Palos Verdes Peninsula Association of Realtors. "We take the stress out of buying or selling a home, and we encourage our team to lean on one anoth er's experiences to get the deals done."
"Our dynamic team has been handselected for their individual strengths to help complete the big picture," says Marina.
ACCARDO REAL ESTATE ASSOCIATES 1820 S. ELENA AVE., SUITE H REDONDO BEACH | @ACCARDO_REALESTATEACCARDOREALESTATE.COM310-855-3557DRE#01863340 Tony & Marina Accardo
A South Bay resident since 2000, Penny Wales (@penny.wales.realtor) is a former retail and wholesale executive who honed her skills for negotiation over her 30-year career. Her strength as an agent is in her ability to draw out clients' needs and goals.
Clients benefit from the team's deep knowl edge of the real estate industry; a powerful marketing strategy; an in-house design firm; exclusive fix-to-sell services; all-cash offers; and the technology of Compass. These advantages help clients sell their homes faster and at higher prices.
"We aim high because we want to be our clients' Realtors for life."
Carly Potter (@carlypotter_realestate) is a South Bay native who worked as a leasing consultant and real estate assistant before becoming a Realtor. She holds the distinction of making the highest neighborhood sale in San Pedro's The Gardens. Carly volunteers with the children's ministry at her church. For two decades, Jackie Enriquez (@1southbayladyinrealestate) has worked in both real estate and mortgage. She is a strong resource for her clients through the buying and selling process, including residen tial and investment properties, second homes and new construction. Jackie has three children and volunteers with the Peninsula Education Foundation and the Palos Verdes Peninsula Association of Realtors. Before becoming a Realtor five years ago, Karina Castillo (@itskarinacastillo) worked in corporate America with a high-profile mutual fund company. She is familiar with neighborhoods throughout Los Angeles County, Orange County and the South Bay and speaks fluent Spanish.
The power of teamwork can immensely elevate the real estate experience. And that's exactly what clients discover when they work with Accardo Real Estate Associates, which was included in RealTrend's 2022 list of the top 1.49% real estate professionals nationally.
Samantha Littrell (@sam.littrell.realestate) was born and raised in Manhattan Beach, giving her keen insight into the Beach Cities as well as a network of connections through out the area. She specializes in residential real estate and was named Rookie of the Year for representing a buyer on a $9 million oceanfront property purchase only a year after entering the business.
AREA's team members are active in their community, passionate about helping others and invested in continuing their education to bring the very best to their clients. "Our goal is to impress clients every time," shares Tony.
justheavenlike ANGEL CITY FOOTBALL CLUB IS A POWERFUL BEACON OF POSITIVE CHANGE. LOS ANGELES' NEWEST PROFESSIONAL SOCCER TEAM IS ALSO A MOVEMENT FOR EQUAL RIGHTS, A WOMEN-LED MODEL OF ENTREPRENEURSHIP, A CELEBRATION OF DIVERSITY AND AN INCUBATOR OF COMMUNITY. Written by Tanya Monaghan | Photos courtesy Angel City Football Club
Natalie is passionate about building more aware ness to increase representation and fairness for female directors and actresses. She joined the board of the Time's Up movement, fighting for a future where no one was harassed, assaulted or discriminated against at Onwork.the board, Natalie met Becca Roux, executive director for the U.S. Women's National Team (USWNT) Player's Association, who was deeply involved in the lawsuit against the U.S. Soccer Federation—battling for equal pay for women athletes. Her fight resonated with Natalie. As she learned more about the pay inequity for women in sports and met the players, she became invested in them and their success—culminating in the idea of launching a women's professional soccer team in Los Angeles.
In May the USWNT finally won their suit, granting equal pay and benefits to both U.S. women's and men's teams. This victory ignited a global movement for equal ity in national sports and formed an inspiring backdrop for Angel City Football Club's inaugural season. Launching ACFC was a massive undertaking. The
The joyful crowd deliriously cheered to victory the National Women's Soccer League's newest expansion team, as the outpouring of emotion crowned a monu mental building process that had begun years before.
The club was founded by award-winning actress, di rector and activist Natalie Portman, technology venture capitalist Kara Nortman and entrepreneur Julie Uhrman, who is Angel City's president. ACFC's ownership and leading investors boast an iconic and diverse group of well-known performers, sports figures and business moguls including such powerhouses as Alexis Ohanian, Serena Williams, Billie Jean King, Becky G, Rachel Zoe, Christina Aguilera, Sophia Bush, Jessica Chastain, Glennon Doyle, Abby Wambach, Mia Hamm, Gabrielle Union, Cindy Holland, Jennifer Garner, Cobi Jones, Eva Longoria and many more.
110 |
As we deal with our current challenging times of disharmony and struggle for equal rights in America and beyond, Angel City Football Club (ACFC), Los Angeles' new women's soccer team, has created glorious moments of unity: selling out soccer stadiums, giving back to communities and empowering women all along the way. Its mission is as ambitious as it is inspiring—to make an impact on and off the field, and to provide an opportunity to some of the best professional female athletes in the world to play on a stage as powerful as Los Angeles.
ACFC played its first game in April, selling out the Banc of California Stadium in Downtown Los Angeles.
Julie spent most of her career in the male-dominated gaming, technology and entertainment world, and she is accustomed to being one of the only women in the room. Her grit and determination power her success, and when Natalie and Kara were looking for someone to help bring a professional women's soccer team to L.A. in 2019, it seemed no one was more fitting for the role of Breakingpresident.down barriers is built into the DNA of the club. Natalie played a significant role in shining a light on gender inequity in Hollywood entertainment. "There was a strong push toward female empowerment and women demanding equal pay and equal representa tion," shares Julie. "And certainly in Hollywood there were cases of abuse where women were kept quiet. But women were starting to use their voices, and Natalie was a significant vocal player."
One of the greatest challenges they faced was how to tap a crowded market—there are 11 professional sports teams in the area. But the bigger question was whether there were enough soccer fans to support three L.A.-based soccer teams (including LA Galaxy and Los Angeles Football Club). The answer to that question has been a resounding yes. ACFC has found a way to stand out, which Julie at tributes to "being intentional about defining who we are, what our values are, building Angel City with the com munity and having a different identity in the market."
The ACFC team culture is a positive one. Management wants to ensure their players are happy, fulfilled and feeling supported—and not just while playing. That's why Angela Hucles Mangano, Angel City's vice presi dent of player development and operations, is so in vested in the Player 22 Future Program. This innovative fund aims to support retired National Women's Soccer
| 113
L.A. market is already home to many successful sports franchises, yet the three female founders were deter mined to make it happen and are running the business like a start-up.
"We built Angel City differently," explains Julie. "We are raising money as we go, as we choose certain goals and milestones, and eventually we're working toward being profitable. We wanted to build Angel City as an organization where mission and capital coexist—with out sacrificing one for the other." They also found an incredible advocate, ally and supporter in Alexis Ohanian, a successful entrepreneur and husband of Serena Williams, who came on board as a controlling owner. Instead of having all female owners, the founders believed in the idea of uniting with those who were fully supportive of their mission regardless of gender.
L.A. has the largest community of youth female soc cer players in the U.S., and Angel City has now be come a beacon for them. Julie is passionate about that responsibility."There'sthe saying, 'If you can see it, you can be it.' Right? There is this general perception that people don't care about women's sports and people won't watch women's sports. Well, that gets recycled because you couldn't watch them, and so it's almost a selffulfilling prophecy." But Julie contends that ACFC is the visceral proof that the women's game is thriving. Social impact is a massive part of ACFC's mission, and it leads with its values. The club gives back 10% of all its sponsorship dollars to the community through their platform of equity, essentials and education. ACFC has also given their players a stake in ticket sales, which encourages them to tell stories to their network of Thefans.club's social impact program involves running coaching clinics and clinics for kids, teaching about leadership, bringing STEM into schools, as well as feed ing those who don't have access to food. They have also partnered with Nike to donate 22,000 sports bras to young girls in need, to encourage more participation in theAccordingsport. to Julie, their model is working. "We're seeing that our relationships with our partners are extending beyond what we originally signed up to do." She believes this impact model will bring in other brands and sponsors who understand their values and want to align with them.
ACFC has been very intentional about creating a game-day experience that is not only entertaining but connects with the entire community. L.A.'s response has been overwhelming, selling out stadiums while cre ating an inclusive, welcoming and electric atmosphere. Their first victory was more than just three points in the league; it was a celebration for all women and girls watching in the stands. "We want to be recognized as a global brand," Julie says. "We want people around the world to know who Angel City is because we believe the greater awareness we have, the more impact we can have."
League players who are interested in careers in the sports industry as they move on to the next chapter in theirAngela,lives.a two-time Olympic gold medalist with the U.S. Women's National Team, knows only too well the challenges these current players face. "Because of my background—both as a player and then seeing the sport in a variety of roles, from commentating to coaching to working in corporate and nonprofit management—my approach to player development is a very holistic one," she says. "There's a unique opportunity, especially within the platform of Angel City, to think about how we can better the player experience through off-field player development. We need to look for opportunities, resources, connections and education we can provide our players to not only enhance their experience right now, but also to start to build those connections and networks. The idea is that they are prepared when they leave the sport as a player and already have a road map for their future." Many of the players are already entrepreneurs in their own right. Team captain Ali Riley has written a vegan cookbook. Jasmyne Spencer has a business creat ing fashion to support climate change. And goalkeeper DiDi Haračić is a talented photographer.
Three years after its launch, re—inc is still her baby. "We serve a beautiful community of reimaginers that inspire us every day." They have grown almost entirely organically—their community has found them either through following their careers in soccer or through their fight for pay equity.
■ 114 |
"WE SERVE A BEAUTIFUL COMMUNITY INSPIREREIMAGINERSOFTHAT US EVERY DAY."
ACFC's first signing and star player Christen Press is a former resident of the South Bay who graduated from Chadwick School in Palos Verdes. She is a key player for the USWNT, and along with Tobin Heath, Meghan Klingenberg and Megan Rapinoe—other titans of the women's game—founded a brand called re—inc that creates collections, content and a community that pro pels changemakers to boldly reimagine the world. Along with creating eco-conscious and gender-free fashion, their goal is to amplify narratives from under represented voices and unite a global community of folks interested in social service. Christen is extremely pas sionate about their mission. "In our own recognition of how status quo structure had devalued us as professional athletes, we were motivated to build something that would help be the change the world needs," she says.
Christen says re—inc is for equity, creativity, prog ress and art. "It's where I get to be creative. It's where I get to lead. It's where I get to be my best and most authentic self. And for that, I'm forever grateful to my team and community." Angel City is much bigger than a club. It's a purposedriven organization striving for equity. As a team mainly operated by women, there was no example for them to follow. So they had to step up to be the first. "Just because it doesn't exist doesn't mean it can't exist," Julie emphasizes. "We wanted to show what is possible. Our team is motivated by the tremen dous project that is Angel City. We are inspired by the community of people who have rallied around us to celebrate sport and equity and progress. It's a huge honor to represent a new future that brings us together on and off the pitch. We're lighting the fire that catches and spreads everywhere."
Payton
BUSINESS SPOTLIGHT SPECIAL ADVERTISING SECTION
Beach Life Fitness Boutique offers female-focused fitness in a welcoming, inclusive atmosphere. PHOTOGRAPHED BY SIRI BERTING 116 | Front:
Crawford, Carolyn Smith, Danielle Spangler, Faye Naples, Allison Heilmann, Manuela Schraner
SUPPORT SYSTEM Kelsi Knudson and Cahalan Back, L to R: Alyssa
"WE
Front: Megan D'Amore & Leah Breen
| 117L to R, back:
& Alyssa
M
The compassionate teachers—certified in Pilates, prenatal and postpartum fitness, functional movement, private trainer and kinesiology—have the skill set to assist clients with any modifications they might need due to injury or limitation. "Our team of instructors are some of the best I have ever had the pleasure of working with," says Danielle. "They are amazing teachers, and they share my core values of creating an exercise studio space that is welcoming and nonintimidating."
SPECIAL ADVERTISING SECTION BUSINESS SPOTLIGHT
"Our intention is to create an atmosphere that helps our customers have a positive and effective fitness journey, and that is what WANT TO HELP OUR THEIRLOOKCUSTOMERSANDFEELBESTFROMTHEINSIDEOUT." Danielle Spangler Crawford
eet Danielle Spangler, owner of Beach Life Fitness Boutique and creator of the Core Mom Fitness program. This tireless powerhouse and mother of three to Lilly, Jake and Ben is serious about bringing safe and effective exercise pro gramming to the South Bay. She is a 30-year veteran of the fitness industry and has brought her experience working for all kinds of fitness facilities—from gyms to universi ties to small fitness studios and all-inclusive resorts in the Caribbean and Mexico—into her Pilates studio that she opened more than three years ago.  Beach Life Fitness Boutique offers smallgroup Pilates reformer classes, prenatal and postpartum programming with Core Mom Fitness and JumpSport mini-trampoline workouts, as well as private training in a beautiful space a block off the beach in South Redondo seven days a week.
Hillary Lewis & Yaya Margarita
The studio recently partnered with Shine Society Fitness, a local favorite for more than five years. Owners Hillary Lewis and Yaya Margarita offer high-energy, "burn to the beat," dance-based fitness classes. "This partnership has been great for expanding our class options," says Danielle.  Bringing people together and form ing community bonds is one of her pas sions, and Beach Life Fitness embodies that message. Danielle and her team have created an inclusive, welcoming culture.
Once clients sign up using the Beach Life app, studio manager Allison Heilmann wel comes them and helps customize their work out based on the client's needs and goals.
The Beach Life Fitness Boutique team of rock-star instructors includes Kelsi Knudson, Manuela Schraner, Michelle Gierst, Alyssa Crawford, Payton Cahallan, Allison Heilmann, McCall Richards, Cory London, Erica Hawkins, Fabienne Naples and Carolyn Smith.
BUSINESS SPOTLIGHT SPECIAL ADVERTISING SECTION you get with small boutique fitness," says Danielle. "We want to help our customers look and feel their best from the inside out."
The studio's main demographic is women and mothers. For the past 20 years, Danielle wrote continuing education courses on prenatal and postpartum fitness for the National Academy of Sports Medicine, MedFit Network and Fitness Learning Systems. She created her Core Mom Fitness program (Corrective Obstetrical Related Exercise) when she saw a lack of exercise programming specifically for pregnant women and new mothers. Alyssa Crawford is the director of Core Mom Fitness classes and has helped manage medically vetted, highly effective functional movement exer cise program since 2018. Pre-pandemic Core Mom was offered as a satellite workout program in other fitness facili ties, and Danielle is hoping to do that again post-pandemic. Beach Life is now part of MedFit Care and can accept HSA accounts for private training with an exercise prescription.  Beach Life Fitness Boutique also serves as a co-op for other mom-owned small wellness businesses and has expanded to three beautiful spaces in the same building. These businesses include White Light Sounds (sound bath classes), South Bay Jazzercise and Access the Light Meditation, as well as pelvic floor health physical therapist Julie Gillespie, DPT, who treats patients three days a week. Beauty partners include Everly Reese Esthetics, owned and operated by experienced esthetician and brow shaper Vellany Nelson, and Elevated Beauty (offering Endermologie Body Scuplting and brow and eyelashTheselifts).partnerships help make Beach Life Fitness Boutique a one-stop shop for custom ers while supporting other local businesses that align with the studio's mantra "Fitness that feels good in a feel-good space."
BEACH LIFE FITNESS BOUTIQUE 312 S. CATALINA AVE., REDONDO BEACH toHigh-performance@EVERLY.REESEandMusic-driven@SHINESOCIETYFITNESS@BEACHLIFEFITNESSBOUTIQUE310-890-7216BEACHLIFEFITNESSBOUTIQUE.COMAPP:BEACHLIFEFITNESSSHINESOCIETYFITNESSHILLARYLEWIS&YAYAMARGARITASHINESOCIETYFITNESS.COMworkoutsinaninclusiveempoweringenvironmentEVERLYREESEESTHETICSVELLANYNELSONEVERLYREESE.COMskintreatmentsrenew,refresh&relax
"WE ARE SO EXCITED ABOUT THE FUTURE OF BEACH LIFE FITNESS BOUTIQUE."
Vellany Nelson
"We are so excited about the future of Beach Life Fitness Boutique," shares Danielle. "We have a lot of really cool offerings on the horizon, so please follow us as things unfold. We are grateful to the incredible South Bay community for the support we have received the past few years and look forward to growing even more."
SPONSORED BY: Jacqueline Glass Family • Jim & Lana Speer • Walt Zipperman & Deborah Arnold • Torrance Memorial Medical Center South Bay BMW • City of Hope- South Bay • Kaiser Permanente Providence Little Company of Mary Medical Centers– Torrance and San Pedro • Seagen Inc. • Ruth Schriebman Brian & Pauline Harris • Chevron • Southbay Magazine Daily Breeze • The Beach Reporter • Palos Verdes Peninsula News The Grunion Gazette • Easy Reader • Peninsula Magazine Call your girlfriends, throw on a boa, and join us as a line-up of premiere comedians (as seen on SNL and Comedy Central) bring laughter and entertainment to this inspirational evening. Food, drinks, and fun are all-inclusive! Proceeds benefit CSC South Bay, providing education, support, and hope to cancer patients and their loved ones. COMEDY SHOW FOOD + AUCTIONDRINKS+PRIZES $175 per person For details & tickets, www.CSCSouthBay.orgvisit CSCSOUTHBAY.ORG An annual event celebrating women and honoring those who have been affected by cancer. OCTOBER 12 • 13 • 14 Neptunian Woman's Club Manhattan Beach
WHERE TO STAY
The most recognizable appeal of the hillside town is the 16th-century Spanish Colonial Baroque architecture, vividly painted in a warm and welcoming palette. But look deeper, and you'll find that San Miguel is more than just a pretty face.
First, there's anticipation. The private car rolls through arid grasslands and hills of Guanajuato state in central Mexico, revealing the occasional cactus and roadside restaurant. The expectancy builds slowly during the two-hour ride from the nearest airport as signs begin to appear for your final destination. Buildings along your path transition from white and beige to earthy yellows, oranges and reds, as if a magic paintbrush suddenly colored your journey. As the hues become more vibrant, so do the people—tourists and locals commingling on a narrow cobblestone street, a vintage VW Beetle trying to navigate around them while a vendor with a dozen hats stacked on his head looks for customers. There's the sweet fragrance of blossoms and fresh fruit. There's music. There's joy. This is San Miguel de Allende.
El Corazón
SOULFUL SAN MIGUEL DE ALLENDE OFFERS A FEAST FOR ALL THE SENSES.
WHERE TO EAT The Rosewood offers first-rate dining on property. Ideal for both breakfast and dinner, 1826 Restaurant celebrates the region's rich heritage and culinary tradi tions. Dine inside or alfresco on farm-to-table cuisine featuring locally sourced ingredients from nearby farms and food producers. The adjacent 1826 Tequila Bar of fers more than 120 labels of tequila and more than 20 mezcals—guided by a resident tequilier (tequila som melier), who will gladly walk you through the process, traditions and folklore behind the vast selection.
Though only opened in 2011, Rosewood San Miguel de Allende skillfully recreates the historical charm of this beloved Mexican city. Dramatic courtyards, lush gardens and locally significant art pieces set a beau tiful stage upon arrival. Guests can choose from 67 handsome rooms and suites featuring wood-beamed ceilings, hand-carved furniture, fireplaces, spacious bathrooms, balconies and more. If you're visiting with a large group, the resort also offers private residences for rent, each with a fully functional rooftop, Jacuzzi and grill—perfect for outdoor entertaining.
HOW TO GET THERE There are no airports serving the town of San Miguel de Allende, so you will need to fly to a neighboring city like Guanajuato, Querétaro or León. Expect at least a one- to two-hour car ride from any of these airports. Fortunately, resorts like the Rosewood offer door-todoor shuttle service to make your journey less hectic. You won't need a car in San Miguel, so skip the rental. If you're feeling ambitious, package your trip with a stop in Mexico City, about three hours away.
120 |
A missionary town that dates back to 1542, San Miguel el Grande was an important stopover on Spain's silver route. It also played a vital role during the Mexican War of Independence and was renamed to honor the famous son and local hero Ignacio Allende in 1826.
Written by Darren Elms
WHAT TO DO Once you've taken a dip in the pool and indulged in a signature treatment from Sense, A Rosewood Spa, it's time to hit the town running. Although small, San Miguel de Allende is layered with quaint streets that climb to the Parish of St. Michael the Archangel and the main square, El Jardin. Though the church itself dates back centuries, the neo-Gothic facade was introduced in 1880 by self-taught architect and master stonemason Zeferino Gutiérrez. A grand fantasy with soaring turrets, the church is one of the most photographed in 122 |
Luna, on the Rosewood rooftop, is your destina tion for tapas, sunsets and spectacular city views. A wonderful place to sit, sip and converse, it will be hard to keep your attention on your company with such an incredible city vista surrounding you. For special occasions, reserve a seat in La Cava, the private wine cellar paying homage to iconic artist Frida Kahlo, and sample one or more of 800 bottles of wine from Mexico and around the world. The resort will also happily arrange a grilled feast at a private residence or elsewhere on the gorgeous grounds.
| 123 Mexico. On most days the plaza outside comes alive with musicians and a variety of food vendors.
Leisurely strolls off this main axis will introduce you to all kinds of shopping, including jewelers, artisans and antiques. Lucas Rise, an Argentinian artist known for his vibrant patterns, recently opened a clothing store called Rise, featuring his flair for color and shape. If you're interested in his technique, Lucas frequents Rosewood with private art lessons. Fabrica La Aurora is home to the city's largest col lection of art galleries and design studios, housed in a former textile mill. If you're looking for folk art, Mercado de Artesanías links three blocks of stalls and storefronts with hand-painted pottery, textiles, toys, tableware and more. When your shopping bags and stomach are at capac ity, take some time to just wander. Enjoy the uneven ness of the stone streets under your sandals. Reflect on the charming residential fountains that locals relied on as a water source. Dare to use one of the metal door knockers shaped like a hand on someone's wooden door. Who knows what waits on the other side? ■
GRAY WHALE GIN TASTE YOUR WAY ALONG THE PACIFIC COASTLINE JUNIPER Big Sur LIMES Temecula FIR TREE Sonoma SEA KELP Mendocino Coast MINT Santa Cruz ALMONDS Central Valley A ward WINNING G luten FREE Seven Times DISTILLED PROUDLY SUPPORTING L earn M ore Perfected CalifornianWith BOTANICALS Gray Whale Gin. 100% Grain Neutral Spirits. 43% Alc./Vol. | ©2022 Golden State Distillery www.graywhalegin.com. Please Enjoy Responsibly.
"The wind of heaven is that which blows between a horse's ears" is an Arabian proverb that resonates with horse lovers around the globe. Those words profoundly speak to the unequivocal pleasure that many equestri ans experience with their equine partners. In a quest to learn more about my horse Jesse's ac claimed Spanish Arabian lineage, I traveled to southern Spain 18 years ago. An internet discovery and leap of faith led me to the province of Seville in Andalusia for an incredible riding adventure at Epona Equestrian Centre, which was named after the ancient Celtic god dess Epona, the protector of horses. Unbeknownst to me at the time, my equestrian life would be forever changed, and Spain would become my home away from home in the years to follow. During that first soulful explorative journey to the Spanish countryside, I rode horses through olive groves, explored trails with sightings of architectural remnants of the Roman Empire and galloped on the beach at a nearby nature preserve. I also toured the farm where Jesse's grandsire hailed from and visited the Royal Andalusian School of Equestrian Art (Royal School) in the city of Jerez, where I watched the beautifully choreographed world-famous show How the Andalusian Horses Dance. As I relished every step of the pageantry in wonder, I dreamily whispered to myself, "I am going to ride horses in that arena someday." Spanish horses were revered as the horses of kings for centuries, both on and off battlefields. Renowned for their captivating beauty, courage and gentle spirits, their pure bloodlines have been safeguarded for hundreds of years. I was familiar with the noble Andalusian breed (also known as Pura Raza Española or PRE) from Hollywood films, such as Lord of the Rings, as war horses portrayed in historical paintings in muse ums and as statues adorning architectural buildings abroad. Experiencing them in person, however, was (and still is) otherworldly. Not long after I returned from Spain, my friend and South Bay veterinarian Alice Villalobos called me and proclaimed, "I am going to Europe with a group of vet erinarians for a 21-day equine trip through Spain and Portugal. Would you like to join us?" Without hesitation I replied, "Absolutely!" As luck, or perhaps fate, would have it, the cultur ally rich itinerary included visiting the Royal School, where I again found myself perched in the grandstands of the coliseum—wide-eyed as the elegant Andalusians performed. Afterward, I had a behind-the-scenes op portunity to visit the stables. It was there that I met the school's lead veterinarian, who invited me to apply for a two-week intensive dressage training course with the show horses that I dreamed of riding. I was accepted and returned a short three months later with my vastly different American western-style riding background and a heightened sense of adventure in tow. Esteemed Olympic medalist and head of the Royal School's riding program Rafael Soto was my personal instructor, assisted by his then full-time student Vivi Garcia. Fantasy became reality as I rode some of the school's world-class performance horses not once, but a few times every day in the coliseum where I had
| 127
| Photographed
Horse of Kings
SOUTHBAY CONTRIBUTOR AND SEASONED EQUESTRIAN DIANE BARBER SHARES THE JOURNEY OF HER NEW ANDALUSIAN HORSE FROM SOUTHERN SPAIN TO PALOS VERDES.
Written by Diane E. Barber by Azahara Perez, Epona Equestrian Centre & EEM
been an awestruck spectator. I also experienced their immense power and grace while carriage driving in the palace's outdoor arena. I have since returned year after year to train at the school and at Vivi's family-owned Epona Equestrian Centre to experience countless memorable moments with Spanish horses. Each time, I immersed myself in the local culture as my dressage riding improved, which always left me longing for more. Then, with encour agement from my husband, Alex, I decided to import a horse to enjoy in California that was trained for me by my Spanish "family." Tentador ("the tempter") found me, I believe. Vivi saw him by chance at a friend's stable in Spain in 2021, soon after I asked her to keep an eye out for my dream horse. When she sent videos of him to me and I realized that he was not a grey horse as I hoped for, I was un sure until we spoke. Vivi's enthusiasm was contagious, and I trusted her keen professional trainer instincts. When I asked her why she specifically chose him for me, she said, "When I rode Tentador the first time, I loved him right away and thought he would be amaz ing for you for several reasons. He is kind, sensi tive and comfortable to ride with great smooth gaits. Though he is young, he is very keen to please his rider and willing to work, which will help you both learn and grow together. And, of course, I knew you would love him because he does your favorite movement— the Spanish walk!" After passing a rigorous prepurchase evaluation by Dr. Antonio Andrades, who specializes in equine orthopedics and is the veterinarian for some of the top horses in Spain, I purchased Tentador. He was then moved to Epona Equestrian Centre to continue his advanced training with Vivi before being exported to the UnitedWhenStates.Imet him in April, I knew he was the perfect horse for me. Rafael also confirmed that I made the right decision when he coached me riding him. "Diane, you have a super horse! The more I see him, the more I like him." When I asked about his preferred color of Spanish horses, he wisely shared, "The best color of a horse is a good horse!" Tentador will be exported to the United States by Belgium-based European Horse Services (EHS)—an elite, full-service equine transportation company. He will first travel by road to Belgium for a brief stay-over at EHS headquarters and then on to Amsterdam for a nonstop flight in October to Los Angeles in a specially equipped cargo plane. Upon arrival (with his horse passport, of course) Tentador will be received by Apollo Equine Transport headquartered in Playa del Rey. He will quarantine for a few days before clearing customs and traveling by trailer to his new home in Palos Verdes. According to Dr. Andrades, who has personally flown with horses internationally, "Tentador will have blood tests before he travels and more tests during quarantine upon arrival in the United States, which is paramount to avoid spreading diseases to other countries. Each country has different rules and requirements. Regarding the flight, some people worry about horses traveling by air in portable stables, but it is safer than road travel. The rate of incidents is far less, and it is more comfort able for them without constant stops, turns and road vibrations. Horses may have a little stress in the begin ning before they are in the stable and with takeoff and landing. But once they are stabled with hay and water, with people caring for them on board, they do not usu ally worry about flying." From the Iberian Peninsula to the Palos Verdes Peninsula, our new family member, Tentador, is about to blaze an exciting trail in my heart as Jesse has for many years. There will undoubtedly be moments that will take my breath away, as often happens with horses—espe cially when the wind dances between his ears. ■
128 |
THE PORTOFINO HOTEL & MARINA 260 PORTOFINO WAY, REDONDO BEACH 310-421-4195HOTELPORTOFINO.COM THE PORTOFINO ISN'T JUST A PLACE TO GET AWAY. IT'S A PLACE TO TOGETHER.GET
The hotel recently completed a multimillion-dollar refresh that includes an updated waterfront Living Room lobby perfect for sunset cocktails with next-level views. The upgraded guest rooms, baths and luxury suites evoke a glammed-up beach feel with mirrored glass décor and crisp nautical details. Rooms on the ocean side come with private balconies that seem to float over the water, while rooms on the marina side offer dock views of sailboats and basking sea lions. Celebrating the outdoors is a must at this 161-room resort. The heated pool and jacuzzi overlook the ocean. The oceanfront bike path spans more than 27 miles along the California Coastal Trail—all the way to Malibu! Complimentary cruiser bicycles are always available, and the on-site Dockside Activity Center offers kayaks, paddleboards and more for those looking for ocean adventures. The resort's restaurant is nationally renowned for its light mood and top-notch food. BALEENkitchen and BALEENlounge offer unparalleled marina views complete with firepits, providing a romantic backdrop for playful seasonal menus and out-of-the-box craft cocktails. Like all hotel and resort brands within the Noble House Hotels & Resorts col lection, The Portofino Hotel & Marina offers modern amenities and impeccable service for the perfect Southern California getaway.
SPECIAL ADVERTISING SECTION BUSINESS SPOTLIGHT A LOCAL ESCAPE
We'll see you soon at this nearby oasis featuring lighthearted luxury. Nestled on a serene Redondo Beach peninsula within the historic South Bay area, The Portofino Hotel & Marina is a haven that feels worlds away but is just a stone's throw from the excitement Los Angeles and Hollywood have to offer. Sophisticated but never pretentious, The Portofino isn't just a place to get away. It's a place to get together. Opened in 1962 by race car enthusiast Mary Davis, The Portofino was famously the final destination of The Cannonball Run—a car race from New York to Los Angeles that first was held in 1971 and eventually was the basis of a feature film. Race enthusiasts still make the trip today, and the hotel has built a following on its luxury-with-a-touch-of-levity vibe.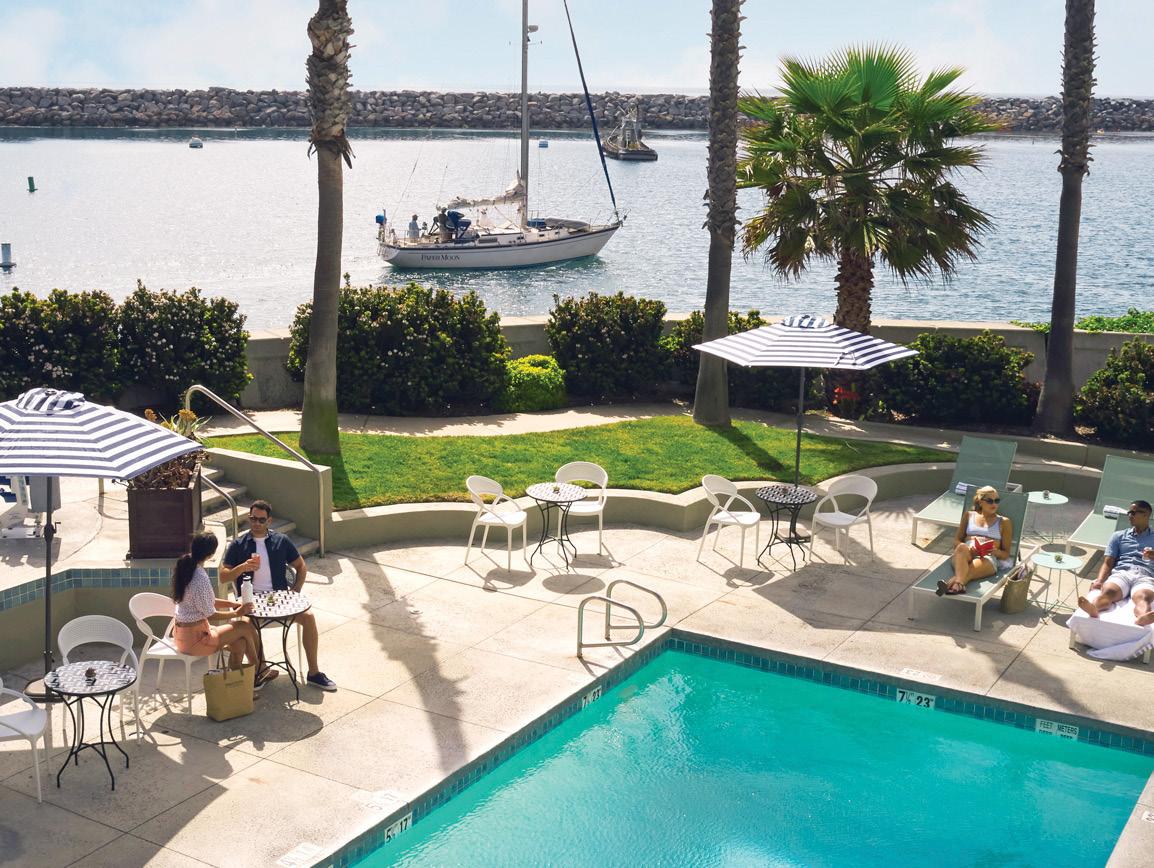 the perfect fit A MANHATTAN BEACH INTERIOR DESIGNER REINVENTS HER MEDITERRANEAN-STYLE HOME IN THE SAND SECTION WITH NUANCES BLENDING EAST COAST AND WEST COAST. Written by Jennie Nunn | Photographed by Lauren Pressey
"We had been looking for months and not finding the right thing," recalls Mary Beth, who relocated to the area for David's job. "This house popped up on my online search, and we called our Realtor about it. She said, 'Oh, it's really dark and dated.' She didn't think we would like it. We scheduled a visit anyway, and the minute my husband and I walked in, I just knew it was our house. It was a great location, and it had great bones and tons of natural light." But the original finishes in the 5-bedroom, 5½-bath residence with a salmon pink-hued facade weren't aligned with Southern California living and its prox imity to the ocean. "There were stained doors and cabinets, coffered ceilings and there was brown tile even on the range hood," explains Mary Beth about the house, which has an upside-down configuration—the kitchen and main living areas are upstairs. "My joke is that all of the light fixtures were something out of Game of Thrones; they looked like they could hurt you. They were primitive and old-world. All of the finishes together gave the home a very specific look." Initially the kitchen was outfitted in travertine tile, but there was little cohesion with wood floor ing on either side in the living room and family room.
When Mary Beth Christopher, founder and principal designer of MBC Interior Design, and her husband, David, moved to Manhattan Beach from Atlanta five years ago with their two daughters, their search for the perfect home took much longer than they expected.
"Everything was painted a dark taupe color, and it felt disjointed. The fireplaces had heavy stone, and it all felt very heavy," says Mary Beth. "But the irony is, I'm actually grateful for those details because it's those fin ishes that caused the home to be overlooked by others.
It was a diamond in the rough, and it was meant to be our home."
For the 10-month transformation, Mary Beth— originally from Massachusetts—turned to RJ Smith Construction to help with a kitchen remodel; new exterior and interior paint; a full gut of the primary bathroom; refinished French walnut floors; and skimcoating of the walls. "We got lucky because there are so many Mediterranean homes that have big, heavy concrete balusters and wrought iron curlicue detailing, but none of that was on this house. So that made it feel like a clean exterior and lent itself to be easily modernized. We knew we had to lighten it up with paint; just paint ing it white made all the difference," says Mary Beth. "The walls were all muddled textured walls. We went through the process of skim-coating the entire home, which was the most time-consuming. But it's one of those subtle details that was totally worth it, and I'm so glad we did it." They kept the existing layout and cabinet boxes in the kitchen and replaced cabinet doors and added a breakfast nook and office area. "I never had an allwhite kitchen in previous homes, and I always wanted one," explains Mary Beth, who incorporated color and texture into the space with custom counter stools up holstered in Susan Connor Indro fabric in lake oyster. She continues: "A white kitchen will always be timeless, and I was trying to figure out a way to make the breakfast room my office but still keep a breakfast nook. It took some convincing, and I saw it right away but second-guessed myself when both my husband and the contractor thought it would feel like it was blocking the walkway into the family room. We finally decided to go for it, and we flanked it with two china cabinets. It feels like a purposeful space that blends in nicely with the rest of the kitchen." For the adjacent light and airy living room, Mary Beth appointed the space with a rug from Jaipur Living, 134 |
"IT COMBINES OUR EAST COAST AND WEST COAST LIVES AND THE HISTORY OF WHERE WE HAVE LIVED AND WHO WE ARE."
a pair of Brooks table lamps by Visual Comfort, a metal parquet table from RH and a sofa lined with Perennials' Whippersnapper fabric in sea salt. A bold yellow ab stract original painting by Bert Carpenter hangs above the"Itfireplace.wasgifted to David from his grandmother," shares Mary Beth. "It's kind of a surprise in there; it sort of goes and doesn't go. And it has meaning to us."
Each room throughout the home has thoughtful and meaningful touches blended with pieces from their pre vious homes, including their youngest daughter's bed room with a rattan hanging chair by Serena & Lily and lavender-hued accent pillows and an accent wall clad in Galbraith & Paul's Little Lotus wallpaper in phlox. The dining room is home to a reclaimed wood table, a black iron Linear Branched chandelier by Visual Comfort and an abstract painting by Michelle Armas from Gregg Irby Gallery in "OverallAtlanta.whatwe did was honor the bones of the home, but I think it still feels like it belongs in L.A.," explains Mary Beth. "It combines our East Coast and West Coast lives and the history of where we have lived and who we are." ■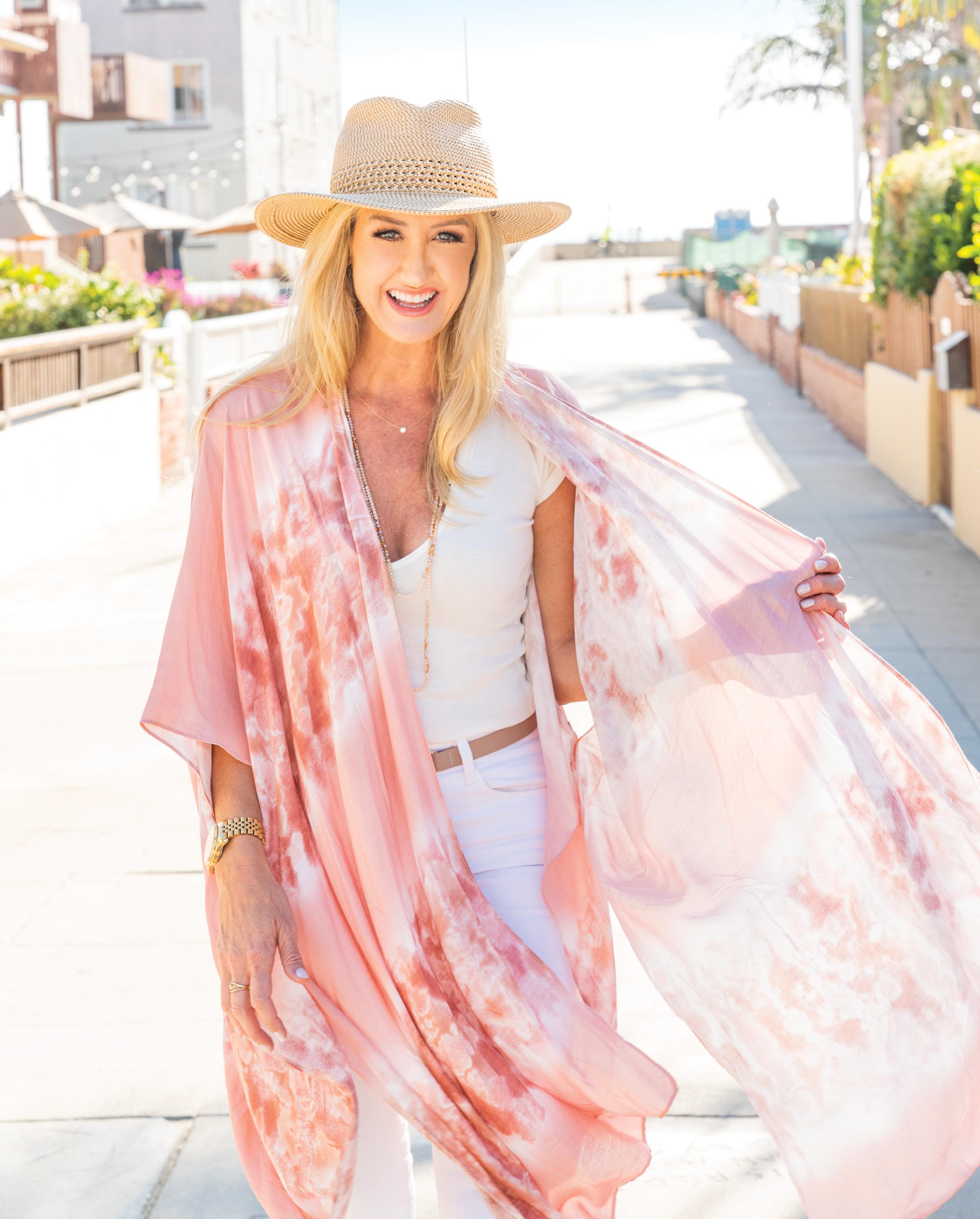 SPECIAL ADVERTISING SECTION AGENT SPOTLIGHT
You never know where life is going to take you. Just ask Realtor® America Michael.
eople have no idea what I've been through," says America Michael about her unbeliev able journey over the past couple years—a story that she described to me recently through tears and laughter.
WRITTEN BY LAURA L. WATTS | PHOTOGRAPHED BY SHANE O'DONNELL
THE WILD BLUE YONDER
"P
FEMININEWOMANLUCKYTOBEAMONGSUCHSPECTACULARFORCES!"
America was born in Hawaii, so it was only fitting that the love of her life was also a native islander. Tyler McMillan was born in Australia and was living in Canada when he and America met on a beach in Puerto Vallarta, Mexico, while on separate vacations. They both loved to travel, and together they visited many destinations "I AM A
"It's the saddest yet most beautiful thing I've ever experienced."
In the spring of 2021, Tyler's immigration approval finally came through. To celebrate, the couple returned to Puerto Vallarta. And then tragedy Completelystruck.outof the blue, Tyler suffered a catastrophic aneurism due to arteriovenous malformation—a genetic condition where arteries and veins rupture, causing bleeding into the brain or spinal cord. While in some cases it can be treated, Tyler fell into an almost-instant coma from which he neverAmericarecovered.stayed by his bedside in a Mexican hospital, while multiple friends jumped on flights to be with her and support her—without her even having to ask. "There are so many angels in this story," she says. "So many people showed up." Before Tyler passed away on April 16, 2021, America spoke with fertility doctors in Mexico and the U.S. about her options for parenting a child with her husband—regard less of his prognosis. For months after Tyler's passing, America endured multiple medi cal procedures and repeated trips back to Mexico—and her tenacity paid off. Thanks to the miracle of modern medicine, when she's ready she will be able to carry and birth a baby that is biologically hers and Tyler's.
AN UNEXPECTED TWIST
"I loved very much having him involved in the business and conversation," America says. "We aligned on future goals, and he was wonderful at adding value to our team."
America & Tyler America at The Wild Blue, her new desert home
AGENT SPOTLIGHT SPECIAL ADVERTISING SECTION during their long-distance relationship. Eventually Tyler relocated to California to be with America. When they decided to marry in mid-2020, the coronavirus pandemic shutdown was in full swing. So they came up with the perfect solution: "My husband and I were able to elope in the desert during the pandemic in a very private ceremony," America shares. "It was simplyTheyperfection."wereplanning for a honeymoon and, when the time was right, a baby. They worked hard to finalize Tyler's immigration to the United States and to keep America's real estate business, Homes By America Michael Team, thriving during such strange times. Tyler helped out by volunteering to handle the administrative and systems operations.
MICHAELAMERICAOFCOURTESYPHOTOS
It was difficult for America to return to the home she shared with Tyler, but she knew she needed to get back to work—both for her own sake and that of her clients. In May, she gathered with friends and family in Yucca Valley—where she and Tyler had eloped—to celebrate his life with a Peruvian despacho ceremony. She also took a long road trip through some national parks across the West to spread her husband's ashes. "Grief is really hard. I did my best with how I handled it," she says. "Telling this story is my way of honoring Tyler. He would have "TELLING THIS STORY IS MY WAY OF HONORING TYLER."
MOVING FORWARD
encouraged me to pull myself out of this hole and live my life." As a nod to the significance of the location and a step forward in her healing journey, America recently bought a home in Yucca Valley to share with friends and family. "I've been visiting there for about five years," she says. "I've made a new community of friends there, and I intend to expand my market there as well." The house will be ready this fall, and she has given it a name: The Wild Blue.
One of the things that brings America hope today is helping others—in all sorts of ways.
America often meditates near the altar she created to honor Tyler's memory.
HOMES BY AMERICA MICHAEL TEAM 1221 HERMOSA AVE. #201, HERMOSA BEACH 310-817-0960 | DRE IG:HOMESBYAMERICA.COM#01902672@HOMESBYAMERICA
| 141 SPECIAL ADVERTISING SECTION
BACK TO WORK Back home, America and the Homes By America Michael Team banded together and barely missed a beat throughout this ordeal—continuing to deliver outstand ing service while assisting clients with their luxury residential real estate needs. "I am so proud of my team for persevering, and I am honored to have such wonderful clients who stuck with us at such a trying and devastat ing time," she shares. Rest assured that America is finding her way in the midst of her new normal. While she will forever cherish the memories of her marriage and her soulmate, she is boldly pressing forward—servicing her clients with a high level of dedication, preparing The Wild Blue home as a desert retreat and considering the possibility of motherhood one day. Through her heartbreak, she's living a great life—surrounded by the community she"I'mloves.constantly in awe of the circle of women I surround myself with—both in real estate and in my social circles," she says. "These women are all so dynamic and inspire me with their hearts, intellect, talents, business acumen, drive and all they bring to the table. I am a lucky woman to be among such spectacular feminine forces!"
A HELPING HAND
"Over the years I've helped many widows and widowers in the process of buying and selling their homes, and now I have a new perspective on it. I know how complicated and exhausting grief is. I know that when family, money and real estate are involved, it only gets more complicated." She also hopes her story offers support to those going through fertility issues, or buying a second home in a new location, or even someone who is learning to be gentle with themselves. While that's been a tough lesson for America, she presses on and starts each day with a gratitude practice. "The South Bay is truly a special community," she smiles, "and I am grateful to be a part of it."
|
Written by Kailani Melvin
Everyone remembers the feeling of visiting the doctor as a child. Sitting on the crinkly paper, staring at the bone dia grams on the wall and squirming uncomfortably as you wait for the physician—a figure who seems untouchable—to enter the room. For most, the story ends with a pediatrician quickly administering a checkup, then curtly running off to finish the rest of their day. But not with Jereme Patricia Butler, MD. "I like to treat every patient how I would want to be treated or how I'd want my child to be treated," she says, "like they're the only one who exists."
Photographed by Siri Berting
PEDIATRICIAN
Born in Maryland, Dr. Butler grew up in a robust fam ily—her mother was one of 13 children. "I had hundreds of cousins," she says, laughing. "There was always a baby!" Combine this with her parents' occupation as teachers, and you have a recipe for little children always needing care. Closely JEREME BUTLER LENDS BOTH EAR AND HEART TO HER YOUNG PATIENTS.
Listen
142 |
Much of her happiness comes from spending time with her two daughters and husband, who encourage and support her career. Dr. Butler's joy is infectious (pun intended!). Her optimistic outlook is something we can all admire. "When you are helping others, you are learning and re ceiving that blessing tenfold," she says, her smile lighting up the room. ■
"That's where my love for children came from," she says. She graduated magna cum laude from Wake Forest University in North Carolina before moving to California to complete her residency at Children's Hospital of Orange County. For the past 22 years, Dr. Butler has been a pedia trician for Kaiser Permanente in Harbor City. Her ability to speak Spanish and American Sign Language allows her to see a broader range of patients, including the children of her former Althoughpatients.sheloves every aspect of pediatrics, Dr. Butler delights in working with adolescents. She is the listening ear teenagers need but often don't find. "With a 2-monthold, every two hours something is needed. Teenagers take care of things for themselves, but my office gives them a chance to communicate." With the stress teenagers face, Dr. Butler provides a safe space for them to open up. "We all want to be heard," she says. "I think when [teens] know they're heard, that's where the love comes in. Knowing they were heard can help them take better care of themselves."
The program stresses the importance of doctors ask ing for help and taking care of their well-being. Dr. Butler teaches students the power of collaboration and asking questions. With increased levels of burnout due to the coronavirus pandemic, mental health awareness has be come a priority. "Power naps!" Dr. Butler answers, laughing, when asked what she does for self-care. She also makes sure to consume | 143 enough water and finds bliss through prayer and positiv ity. "You have to sleep, you have to drink water, you have to take care of yourself," she advises. "When things get chal lenging—because they will—stop, breathe and rebalance."
Diving into the next chapter of her career, Dr. Butler is becoming a REACH coach at the Kaiser Bernard J. Tyson School of Medicine. "REACH was developed to provide medical students resilience and problem-solving skills that will help them now and in the future," she says. The pro gram—which stands for Reflection, Education, Assessment, Coaching, and Health and well-being—emphasizes di versity, leadership and inclusion practices, so doctors can become aware of their own preconceived biases. "It's a beautiful thing to learn how to see other perspectives and learn to give yourself grace," she says.
Written by Evy Gallagher by Adelaide Brannan
When she first moved to the South Bay in 1999, she saw how the community helped charities and took part in local service opportunities. It was an aspect of the South Bay that she took seriously and wanted to be a part of. Karina has supported many philanthropies over the years—fundraising for water wells in her hometown in Mexico, volunteering at Richstone Family Center and currently serving as the community service board member of the Redondo Beach Rotary Club. Inspired by other people's journeys and the charac ter development in classic movies and novels, Karina believed she had a story to share. The film adaptation of The Miracle Worker made a strong impact on her, encouraging her to "use pain and struggles for fuel" to overcome anything, she explains. She started writing about her own character develop ment, hoping to help others overcome similar struggles. She called the story Choosing Magic. The book dives deep into her personal trauma while presenting an optimistic outlook on life. Karina says the book-writing process did not come naturally at first. With no experience in writing, the first draft was essentially a therapy session. Words poured out onto paper, and with a little guidance from friend and poet Stellasue Lee and proofreading and designing by artist Jenny Mendoza, Choosing Magic was completed. Karina points out that these women were fundamental in the creation of her book and that she is appreciative that they helped her bring this idea to life.
Karina Pacific was determined to change her life for the better. Once a fatherless girl growing up in Mexico, a victim of child abuse and daughter of a reticent mother, she is now a successful Realtor, author and dedicated philanthropist living in the South Bay with a family of herKarinaown. attributes much of her success to her strong faith. "[In Mexico] Catholicism is fed to you like beans and rice," she says. Karina recounts stories about growing up with daily guidance from priests and nuns who offered her silent protection and taught her about discipline and the importance of accepting God into herShelife.speaks of the people who have nudged her in the right direction. Karina believes that friends, acquain tances and strangers were sent her way to act as angels, some staying in her life for good and others just pass ing through to share their wisdom. Karina's mother, with whom she did not have a close relationship, showed her the security of homeownership, eventually leading Karina to pursue a career in real estate.
After moving to the United States, Karina went through her fair share of toxic relationships before starting to chart her path. She read other people's sto ries of transformation and changing the path they were given, and it ultimately led to a period of self-healing.
REAL ESTATE AGENT AND WRITER KARINA PACIFIC TURNS A TROUBLED CHILDHOOD INTO A MESSAGE OF HOPE.
| Photographed
After seemingly living a thousand lives—an ex tremely difficult childhood, struggling through early adulthood, and then turning her life around and helping those in need—Karina has maintained an extremely positive attitude. "It's more fun," she explains about her happy perspective. "Don't you feel better when you're optimistic?" Karina appreciates the beauty of every day and believes that good things come from your outlook on life. This practice has helped her maintain a positive mindset and the power and ability to change. ■
144 |
Choosing Magic
450TAPIZÔNMAIN ST., EL SEGUNDO 310-648-8401 | TAPIZON.COM
As career restaurant guys, Almir and Eric believe the purpose of restaurants is to serve the community—in more ways than just feeding them. They have beautified their landscaping, volunteered with the El Segundo Education Foundation and local chambers of commerce, and held several community events on their property. And they're thrilled to bring a taste of their favorite place in the world to the South Bay— one delicious bite at a time.
From Ipanema Beach to the Beach Cities, two friends deliver their shared passion for connecting people through healthy food and a festive atmosphere.
I
WRITTEN BY LAURA L. WATTS | PHOTOGRAPHED BY TAMEKA JACOBS
A friend told Eric about a dilapidated cor ner in El Segundo that reminded him of his NYC restaurant Luna Park. "I went to look at it," Eric shares. "I took a picture, sent it to Almir and instantly we both knew this corner had to be the birthplace of Tapizôn!" El Segundo might not bring to mind thoughts of "sensual" and "exotic," but Eric and Almir are creating that vibe inside the doors of Tapizôn. As anyone who has lived or vacationed there knows, Brazil is brimming with color, rhythm and beautiful people.
Eric was born in Florida, graduated from the University of Miami and traveled the world working in the fashion industry for six years. He landed in New York City and owned several successful restaurants, includ ing Live Bait, Luna Park and The Coffee Shop, which counted many celebrities among its clientele over 28 years of business.
"Tapizôn is a place where the cultures of Rio de Janeiro, the Amazon and the South Bay come together," Almir says of the restaurant that opened in January. "We're recreating the warmth and exotic feeling of Brazilian tropical living here in SoCal."
"Our creative minds went into overdrive!" Eric exclaims. "By fusing natural ingredients and original recipes with Brazilian flavors and culture, we could create our own res taurant to bring people together and enjoy exciting new experiences." Both being family men—Eric has three grown kids, and Almir's three still live at home—they knew they wanted a location for their dream restaurant that was familyfriendly and had plentiful parking. Los Angeles didn't fit the bill, so they researched other California locales starting in 2018.
Almir left Rio at age 18 and graduated from the University of Florida. In 1990 he relocated to NYC, where he worked for years in the hospitality industry—including 12 years with Eric's restaurant group. He met his wife, Juliana, also a native of Brazil, and they had their first child. They relocated to her hometown of Sao Paulo and had two more children while Almir operated a successful consulting business. After Eric's NYC restaurants closed and Almir moved back to Brazil, the two always stayed in touch. About five years ago, Eric visited Almir in Sao Paulo. They were eating tapioca, and the two had an epiphany.
| 147
SPECIAL ADVERTISING SECTION BUSINESS SPOTLIGHT
Where it all began: Almir and Eric in 1989,  high above Ipanema Beach
Most of the food is gluten-free, thanks to the use of tapioca. A daily happy hour (except Mondays, when they're closed) features small bites and drink specials. Customers rave about the 1918 Original Caipirinha, Brazil's national cocktail.
t's been a mystery for three years—the changes happening at the corner of Main Street and East Pine Avenue in El Segundo. Tapizôn is finally open, after years of plan ning, development and a pandemic. The restaurant's name is part "tapioca"— a starch extracted from the cassava plant, native to Brazil—and part "Amazon." Tapizôn aims to transcend borders and unite cul tures with a fusion cuisine that owners Eric Petterson and Almir Araujo call Tropi-Cali: modern Brazilian fare with a SoCal flair. This venture was born from a friendship more than 30 years in the making. The two met by chance in the streets of Almir's birth place, Rio de Janeiro, while Eric was there on a research trip with business partners in 1989. They operated restaurants together in New York City for years, reconnected in Sao Paulo and now make their homes in the South Bay.
"We hope to give the South Bay a very special experience—something new and dif ferent," Almir says.
BLAME IT ON RIO
saltwater & sisterhood
Written by Ashtyn Douglas-Rosa |
Photographed by Grant Ellis In every issue, we share one story across our network that explores topics beyond the limits of the South Bay. These California stories speak to the meaningful impact our state and its residents are making on the global stage. To learn more about Golden State and discover more stories like this, visit goldenstate.is. as seen in
LAWYER, SURFER AND SOCIAL CHANGEMAKER BECKY MENDOZA IS PROMOTING WOMEN'S EMPOWERMENT BY RIDING WAVES.
In 2009, she started Action Sports Law Group and be gan working on contracts and obtaining visas for worldclass athletes. All the while, she never stopped surfing. Becky never dreamed of starting a nonprofit post-bar exam, but CTF eventually evolved one year after an in jury she sustained while surfing her home break—right before a planned trip to Nicaragua. "I did the splits on my board tucking into a barrel, pulled my hamstring really bad, and my PT was like, 'You're probably not going to surf,'" she shares. "Rather than canceling my trip, I made the decision to start fundraising to take water filters with me. I ended up getting enough to take 50 water filters. Afterward it was just one of those things where I was like, 'I can't not do this.'"
One of CTF's projects is the Women's Outreach Mentorship Program (WOMP), a surf camp that em powers young girls to discover their strengths, find sisterhood and protect the ocean. Each week the orga nization shuttles the group of girls from a local Boys & Girls Club to the CTF headquarters, where they're provided with wetsuits, a surf lesson, free gear, dinner and various lectures on breath work, journaling, body positivity, protecting the environment, ocean safety or, in this week's case, female physiology.
Everything about the scene seems like a normal camp—wetsuits hanging in the background, talk of last week's session, a colorful mural of a woman noseriding. But the topic of discussion for this afternoon's lesson, led by a local female physical therapist, is any thing but wave-related. We're talking menstrual cycles.
A year later (with her surf injury healed), Becky at tended a wedding in Mexico near Puerto Vallarta and took more filters with her, distributing them to locals in need of clean water. She ended up returning to the area three more times; helping disadvantaged com munities was as much in her blood as was surfing and practicing law. When she returned home after one of her trips south, Becky got on a FaceTime call with four of her best friends—Anna Santoro, Jianca Lazarus, Leah Dawson
At that, the teenagers nod their heads in empathy.
150 |
Anyone who's crossed paths with Becky knows she is the antithesis of a mean person. Originally from Miami, she didn't learn how to surf until she was in her second semester of law school. "I didn't even get up on a wave my first time, and I got sun poisoning on the back of my legs. But I was so determined," she remembers. "The fact that I kept going back, I was like, 'OK, this is something I'm going to learn.'" She was instantly hooked. Between her law classes (while also earning a master's degree in sport adminis tration), Becky spent all her free time traveling up and down the East Coast improving her skills in the lineup. After graduating from law school in 2004, she moved to the wave-rich coast of Encinitas to work as a contract attorney for Major League Baseball players.
When the conversation veers toward the cocktail of hormones that lead to PMS, Becky offers her experience to the group. "Right before my period, around when I start to eat chocolate, I'm kind of mean," she laughs.
In the parking lot behind the Encinitas building rented by Changing Tides Foundation (CTF), a women-led organization aiming to empower young girls through the act of surfing, a group of middle school girls are seated in a circle beneath an E-Z Up. They are ready to start their fifth week of an eight-week surf camp.
Surrounding the crew of young girls (who under standably break out blushing and snickering at times) are CTF founders and volunteers, including 41-year-old contract lawyer Becky Mendoza. Becky started CTF six years ago alongside some of her closest friends with the goal of creating a diverse community of people who feel connected to the sea and want to advocate for the planet and its inhabitants.
"THE MORE GIRLS WE GET INTO THE OCEAN, THE MORE GIRLS ARE GOING TO WANT TO PROTECT IT."
In the following years, the crew broadened their scope, first partnering with an organization in Panama called Give and Surf to develop a 10-week WOMP program, which taught teenage girls—in a community struggling with high teen pregnancy rates and few ca reer and educational opportunities for young women— how to swim, surf and be stewards of the ocean. They then went to the Dominican Republic to administer a one-week WOMP, followed by two more in Peru and El Salvador. The more volunteer work they did, the more opportunities arose to help empower young women on a global scale.
"The more girls we get into the ocean, the more girls are going to want to protect it," says Becky. "And I think that's our bottom line here, that's the thing that resonates with us: How do we get more people to care about taking care of our planet? Surfing is a great tool for that. And it's got all these other benefits—saltwater therapy, empowerment and sisterhood." ■
The break forced them to turn their attention stateside to their own community. "We realized that there's a need here," admits Becky. "There are kids who live 20 minutes inland who have never been in the ocean. For us, it was important to bring our WOMP program here by switching from a travel-based organization to a community-based organization. In the future we'd like to have different chapters that run WOMP programs all over the country, all over the world. The hope is that we can implement this curriculum on a broader scale and invite more inclusivity and diversity in the ocean."
| 155
But for now Becky is working on building connec tions, both in and out of the water, with this specific group of middle schoolers–even if that means she has to disclose some of her premenstrual tendencies in front of them. She knows that helping young girls feel recognized and emboldened will ultimately benefit the community and the environment as a whole.
and Leane Darling Horton—to talk about starting an official nonprofit with the aim of helping communities wherever their travels (which were mainly wave-hunt ing in nature) took them. The women were all game, and CTF was born. They returned to Mexico as a group in 2016 to continue the work Becky had started.
For Becky, teaching young girls how to surf is so much more than just pushing them into waves. It's about showing the next generation of young women the power of lifting each other up and looking at their fel low female peers as allies rather than rivals. "Growing up, I was totally a tomboy," she says. "I was the youngest of eight cousins and brothers and I was the only girl, so I learned to speak the boy lan guage. I didn't grow up in a very welcoming female en vironment and often looked at women as competition. I never really understood the power of female com munity, especially in sports, until I found the girls [the CTF cofounders]. Once I felt that connection, it was like nothing could stop us. I felt incredibly empowered— more empowered than I've ever been in my life—from other women. When I reached that deeper connection with nature and my female friends, it was so soothing for my soul. I think I would have been very different if I had been exposed to that at a young age."
Now that CTF has found its sea legs, so to speak— with an HQ that regularly hosts community events— Becky is moving to a more hands-off approach, stepping down as executive director to serve as a board member and also to set her sights on other socially conscious entrepreneurial opportunities. "I don't know what's next for me," she says. "I just really, really want to help people— not only in a way that helps them pursue their passions but also that those passions could make the world better. It's this social, entrepreneurial feeling I have inside me. I feel connected to bringing people along to experience beautiful things."
As CTF began gaining momentum with its global initiatives, the COVID-19 pandemic reared its ugly head and grounded Becky and her team for most of 2020.
Michael Zislis, Sam Sheth, Bharti Sheth, Kay Sheth, Allen Alpay, Allen Lay
Patricia Padelford and Steve Nash
SEEN 156 |
SerenaLinNgan and John Ngan
Evening
Torrance Memorial Patrons In appreciation for their generous support, Torrance Memorial treated its Patrons to dinner under Air Force One at the Ronald Reagan Presidential Library and Museum on July 30. Donors toured the museum and posed for photos at the entrance to Air Force One before enjoying an elegant dinner.
DAVIDSONDEIDREBYPHOTOGRAPHED
Paul Hennessey and Jennifer Hennessey
Darrin Del Conte, Michelle Del Conte, Noelle Giuliano, Paul Giuliano Major
Chevron Manhattan Beach Grand Prix
The 59th annual Chevron Manhattan Beach Grand Prix was a fun-filled day for cyclists, runners and their families. The event consisted of professional cy cling races, the Manhattan Mile running race and the Chevron Manhattan Beach Grand Prix.
SEEN| 157
Racers line up at the start/finish line of the 59th annual Chevron Manhattan Beach Grand Prix.
JACOBSTAMEKABYPHOTOGRAPHED
Dave Lin and son Oliver run the Manhattan Mile. Manhattan Beach Mayor Steven Napolitano waits to present Chevron Manhattan Beach Grand Prix winners with their medals. Kids' Community Race competitors speed to the finish line on their tricycles. Chevron Kids' Zone visitors walk their balloon dogs.
Manhattan Mile women's first-place winner Casey Monoszlay.
Front: Karen Odom, Diana Brandt, Cindy Hagelstein, Lisa Noski Back: Linda Artiano, Grace St. Clair, Elaine McRae Wolf, Natalie Muckley, Hunter, Hunter, Pinto, Wennekamp Deborah Wong and Kenneth Wong
Front: Cynthia Williams, MD, Christy Abraham, Nadine Bobit, Kak McKinnie Back: Patricia Sacks, MD, Pat Lucy, Kathleen Krauthamer, Angela Furkioti, Judith Gassner, Ann Zimmerman
Jim
Anna
Celebrate Wellness 2022 Cancer Support Community South Bay's 25th annual Celebrate Wellness generated proceeds of more than $260,000 to benefit free support programs for cancer patients and their families. More than 500 guests sam pled fare from 30 of the finest restaurants and beverage companies as they strolled through the late-afternoon garden party.
Tati
Women of the Ambassadors program of the Torrance Memorial Foundation gathered for a luncheon at Shade Hotel to hear about the Lundquist Lurie Cardiovascular Institute's new Women's Heart Health Clinic from director Nadia Jafar Curran, MD. She spoke about the in equities and gap in cardiovascular care for women, emphasizing the importance of preventing heart disease by knowing risk factors and symptoms.
SEEN 158 |
DAVIDSONDEIDREBYPHOTOGRAPHED
Joanne
Christy Barner, Kathleen Johnson, Jackie Suiter, Jacqui Withers, Kate Peters, Mindy Webster, Sharon Lam
Lynn
Healthy Hearts for Women
discover southbayon instagram@OURSOUTHBAY Natural, appreciable results for you, but undetectable by others. Our way of helping you look your best without looking overdone. Laser Treatments & Injections Since 2004 310.373.5000 | www.celibre.com | Torrance, CA | 159
"I cherish my relationships with my clients before, during and after an escrow. When you go through an escrow, it's incredibly layered. It hits on so many levels—from financial to emotional and everything in between. I am grateful my clients have chosen to work with me, and they often express great gratitude to me for guiding them through every step of the way. By the time I turn over the keys, my clients know I have their back and am always here for them."
–
JENNIFER CARAS, JENNIFER CARAS REAL ESTATE
WOMEN OF THE SOUTH BAY EDITED BY LAURA L. WATTS PHOTOGRAPHED BY SIRI BERTING, TAMEKA JACOBS, SHANE O'DONNELL, LAUREN PRESSEY SPECIAL ADVERTISING SECTION 162 JENNIFER CARAS JENNIFER CARAS REAL ESTATE | VISTA INTERNATIONALSOTHEBY'SREALTY 164 MARCUS MEDICAL SPA 166 CARI CORBALIS & BRITT AUSTIN CARI & BRITT PROPERTIES | VISTA INTERNATIONALSOTHEBY'SREALTY 168 DR. KRISTIN EGAN 170 BRYANNE DEGOEDE BLND PUBLIC RELATIONS LLC 172 GRETCHEN TIERNAN & MEGAN TIERNAN SAND SPA 174 DR. HEIDI SMITH LIFE CHIROPRACTIC | HEIDI SMITH CHIROPRACTIC INC. 176 MEG MADEWALKERBYMEG CATERING | LA VENTA INN 178 WENDY RICH-SOTO & RACHEL RICH-SOTORODRIGUEZ&ASSOCIATES | KELLER WILLIAMS SOUTH BAY 180 ROLLING HILLS PREP, REACH & RENAISSANCE SCHOOLS 182 DR. HEIDI GASTLER & NATALIE PHYSICALMOUNTAINECKHARDTTOSEATHERAPY 184 SOLANGE CULTUREDCOMERSLICELLC CHEESE SHOP & SANDWICH SHOP 186 KATHY MORRIS & ROBIN SMITH KATHY MORRIS & ROBIN SMITH ASSOCIATES | COMPASS 188 LINDA SHESEZGRASSO 190 ROCKIT BODY PILATES 192 TAMMY TRENTA KNOWLTON FAMILY FINANCIAL LLC 194 NICOLA LOWREY N2 AESTHETICS 196 A. MICHELE BROWN LIFESTYLES BY MICHELE BROWN 198 DR. CLAIRE DELCAMBRE HEY BABE PHYSICAL THERAPY & WELLNESS 200 DR. STEPHANIE CULVER, JOHANNA MOONEY, PATTY WU MENOSPLAIN 202 MAURA BEAUTYDAVISATTHE BAY 204 ANITA LUGLIANI & ALEXANDRA LUGLIANI ASPYN METHOD 206 JULIE LYON, STEPHANIE LYON, LESLEY LYON TEAM LYON INC. | LYON STAHL REAL ESTATE 208 DR. LISSA VIBRANCYSOLISWELLNESS 210 MANHATTAN BEACH CHAMBER OF COMMERCE 211 NICOLE LONGO NEAT METHOD SOUTH BAY 212 MOLLY HOBIN WILLIAMS THE HOBIN COMPANY AT BAYSIDE 213 AMANDA MODERNARTDEWYSOCKIMEDSPA & SALON  214 JESSICA LOCOCO CANNIS TOWN SOCIAL EVENTS, INC. 215 AMERICA MICHAEL & STEPHANIE CROTHERS HOMES BY AMERICA MICHAEL TEAM | COMPASS 216 NICOLLE HOWARTH & MICHELE GUTIERREZ SILVIO'S SOUTH AMERICAN LOUNGE & GRILLE 217 CAROL GLOVER & MARIA ZUNIGA SALZMAN REAL ESTATE TEAM | ENGEL & VÖLKERS – LA SOUTH BAY 218 CINDY SHEARIN THE SHEARIN GROUP | STRAND HILL –INTERNATIONALCHRISTIE'SREALESTATE 219 DR. RONNA PARSA PARSA ORTHOPEDICS & SPORTS MEDICINE INSTITUTE 220 AUDREY JUDSON AUDREY JUDSON REAL ESTATE | STRAND HILL PROPERTIES 221 MORA SEPEHRNIA THE KONDO GROUP | COMPASS 222 ERIN ENNIS SKIN TOPIC SKINCARE 223 DIANA TURNER VISTA INTERNATIONALSOTHEBY'SREALTY 224 DEBORAH RICHIE-BRAY,RICHIE-BRAYINC. 225 DR. LESLIE IRVINE 226 AMBER CAUDLE, BETH HANNEMANN, CINDY VAN PELT NINE24 KITCHEN, SOURCE CAFÉ & SWEETRISE 227 ALY PEDERSEN THE INSPIRED PALATE 228 DR. CINDY P. CHUN PENINSULA HERITAGE SCHOOL
WHY DID YOU CHOOSE THIS LINE OF WORK?
I never dreamed I'd sell over $100 million of homes in a single year. That's a level I didn't think was attainable since I don't have a large team of agents working for me. Last year I sold close to $120 million, which exceeded my expectations and is an all-time career high. It's proof that bigger isn't better; it's about quality not quantity.
I always remind clients that I'm on their side, and the more I know about their thoughts about a particular property, the more it will help me during negotiations. You have to be a team player, having solid relationships not only with clients but with other real estate colleagues as well. Being trustworthy and standing behind your word goes far in this business.
WHAT ROLE DOES YOUR FAMILY PLAY IN YOUR CAREER? My family plays a critical role in my career. I truly could not do it without their love and support. My husband is a developer, commercial broker and licensed contractor, so he understands my business and is very hands-on with help whenever I need it. I've also fondly dubbed my twin daughters "the interns" since they were little. Now that they're entering high school, they are legit interns helping their mama!
TELL US YOUR PHILOSOPHY ABOUT WORKING IN THE REAL ESTATE INDUSTRY. My business is so much more than just helping clients buy and sell homes. It's about being relatable and understanding while incorporating my experience and knowledge and fostering relationships. I am committed to providing the highest quality of service in each step of the transaction, and I pride myself on being approachable and consistent.
I landed in real estate after a successful yet unfulfilling career in pharmaceutical sales. My husband encouraged me to get my real estate license, and initially I was just trying to find lots for him to build on. After forming a handful of valuable client relationships in the first few years, my heart was in it and it continued to grow and expand year after year.
WHAT ADVICE DO YOU GIVE YOUR KIDS?
Be kind. I believe this wholeheartedly— whether you're a child in school, an adult at work or just running errands at the grocery store. You never know what is going on in other people's lives. Our oldest child has special needs, and when others look at him and smile and are compassionate, it makes such an incredible difference to him and our family. Kindness matters, and we can never have enough of it in this world.
WHAT IS THE BEST ADVICE YOU LIVE BY? Be authentic. As simple as that sounds, I think it's been critical advice and a key to my success. I don't "sell" my clients on a home I don't think is right for them. I may lose a sale in the short term, but it's about putting the needs of my clients ahead of everything else. That is what is valued in the end and where the trust is earned. The trust I build with my clients by being genuine and honest generates more long-term value than any individual sale.
HOW DO YOU ENCOURAGE HONEST, OPEN CLIENT DIALOGUE?
HOW HAS YOUR PROFESSIONAL PERFORMANCE EXPECTATIONS?EXCEEDED
I have a renewed passion for traveling as a family! We just returned from two weeks in Greece, an itinerary originally planned for 2020. I think it was that much sweeter that we had to wait until 2022 to embark on the journey. We were so grateful to finally be there again. We soaked in every moment and didn't take anything for granted.
TELL US YOUR FAVORITE QUOTE.
HOW DO YOU STAY GROUNDED?
JENNIFER CARAS Realtor ®, Jennifer Caras Real Estate | Vista Sotheby's International Realty SPECIAL ADVERTISING SECTION162 | 1144 HIGHLAND AVE., MANHATTAN BEACH | 310-367-9129 | JENNIFERCARAS.COM | IG: @JENNIFERCARASREALESTATE | DRE #1466213 WOMEN OF THE SOUTH BAY
ALos Angeles native, Jennifer Caras attended Marymount High School and graduated with a degree in psychology from the University of California, Santa Barbara. She has worked in real estate for almost 18 years and has been recognized as one of the South Bay's top producing agents for the last decade.
"You miss 100% of the shots you don't take." – Wayne Gretzky
WHAT HAS BEEN A GAME CHANGER IN YOUR CAREER?
TELL US ABOUT A FEW OF YOUR PASSIONS.
I started my career with a smaller, local boutique firm in 2004. In 2015 our brokerage became Vista Sotheby's International Realty. Having the backing of Sotheby's—a global real estate firm with a long history of excellence and prestige—has taken my career to the next level.
WHAT HAS BEEN THE MOST SIGNIFICANT BARRIER IN YOUR CAREER? Lack of inventory! Which is why it's so critical to be working with the right agent first and foremost—one who is connected with and respected by other top agents, has knowledge of off-market and coming-soon properties, and is a fierce client advocate with a proven track record.
I've been through an incredible amount of loss in my life, between losing my sister at a young age and my dear father more recently. I'm a firm believer that my strength and tenacity have brought me through these tough times. My colleague recently referred to me as "velvet steel," relaying that I was kind and empathetic yet have a strong backbone. I took it as a massive compliment!
HOW DO YOU ENCOURAGE OPEN AND HONEST DIALOGUE IN THE WORKPLACE?   Kelly Gutshall, registered nurse: By being open and honest myself. It is inevitable that things come up that need to be addressed—especially in the workplace— but someone has to open that door. I have learned it is easier to initiate and better done by example.
WHAT ADVICE DO YOU GIVE TO YOUR CHILDREN?  Kelly: Be kind. This is the #1 thing I want to instill in my children. Many of my patients come to me to address an insecurity. While there is an anatomical and tangible component, there is also a mental and emotional one. While addressing and relieving my patients' insecurities is one of the most rewarding aspects of my work, it has made me acutely aware of how one quick, cruel moment can last a lifetime. I never want my children to be that memory.
HOW DO YOU FIND TIME TO FIT IT ALL IN?  Donna Duffy, registered nurse: Those who know me will attest: I have a lot to fit in. I am a part of several pickleball groups, one of which I manage weekly. I am in a book club that meets bimonthly, as well as The South Bay Film Society. At my center is my family. We are intentional with our time together, whether a sunset walk along the beach on a weekday or a weekend getaway. Practicing aesthetic medicine on a daily basis can be as demanding as it is rewarding, but these are the things that replenish and ground me. They are what invigorate me to show up focused, ready to collaborate with my clients and coworkers.
HOW DOES YOUR FAMILY PLAY A ROLE IN YOUR CAREER?
WHAT IS THE #1 THING YOU DO TO ENSURE YOUR BUSINESS IS SUCCESSFUL?
WHY DID YOU CHOOSE TO WORK FOR THIS SarahPRACTICE?Ozer,physician assistant: I chose Marcus Medical because of their stellar reputation and aesthetic values that reflected my own. After moving to the South Bay, I was looking for a workplace to call home. Marcus Medical has been that for me. It has given me roots in this community and an enriching environment to grow in.
M arcus Medical Spa offers a wide variety of aesthetic treatments— both surgical and nonsurgical—for facial rejuvenation and body contouring. These services are performed by a team of experienced nurses, physician assistants and aestheticians, led by founder Keith Marcus, MD. Marcus Medical is involved in various community activities in the South Bay and donates time and facilities to benefit local schools and charitable programs each year.
TELL US YOUR FAVORITE QUOTE.
Krista Jacobson, esthetician: I'm beyond blessed to have a supportive husband. He works from home and is a superdad, allowing me the freedom to grow my career. I'm able to focus 100% of my attention on my clients and their care, assured that my boys are taken care of at home. If I need to train or test out new products, he's the first to raise his hand! WHAT ARE SOME OF YOUR FAVORITE WAYS TO STAY GROUNDED? Sarah: Connecting with others has always kept me grounded. This is one of the reasons I went into aesthetic medicine: I wanted that ability to connect with my patients, oneon-one. Outside work, I have my network of friends and the Sandpipers, a South Bay philanthropic group I joined this past year. Their mission, as well as the women that comprise it, ground me not only in myself but also in my new home in the South Bay.
Stephanie: "Without music, life would be a mistake." – Nietzsche
Dr. Marcus is a great mentor, and I have learned so much from him and the other providers here at Marcus Medical.
Dr. Samra: I don't always, but being intentional with my time—as well as flexible and forgiving with myself, because not everything can be planned—allows me to strike a balance between my personal and professional lives. I use a paper planner to write my long-term and short-term goals. By making these tangible, I am able to prioritize and shape my day in a way that feels both balanced and productive.
Sheena Samra, MD, facial plastic surgeon: To be present in the moment and take your time. This advice came from my family and has been my guiding light both personally and professionally. I love the artistry in aesthetic medicine. It is something I know I would not be able to attain without presence and patience as my foundation.
Donna: Through modifying my work schedule (I am out of the office on Wednesdays). Still, it is important that I'm available to my loyal clients, many of whom I have seen for nearly 18 years, so I now accept new clients through referral only. This keeps my schedule full without existing clients having to wait months to see me.
HOW DO YOU BALANCE WORK AND PLAY?
WHAT IS THE BEST ADVICE YOU'VE HEARD?
Krista: Wear SPF! Starting now (my boys are 11 and 7), and apply it daily! Unlike my generation, which basked in the sun unprotected and unaware of the damage we were causing, my boys will have the knowledge to protect themselves. They will be able to prevent sun damage, early aging and, worst of all, skin cancer. They may hate it now, but they will thank me later!
Stephanie Walsh, esthetician: Continuous communication with clients is the key to my success. When I first meet with a client, I discuss their history, current skin care regime and goals. Then I formulate a customized treatment plan, write their regime step-by-step, and discuss the timing of regular appointments and follow-ups in between if needed.
MARCUS MEDICAL SPA SPECIAL ADVERTISING SECTION164 | 1815 VIA EL PRADO, REDONDO BEACH | 1000 N. SEPULVEDA BLVD., SUITE 220, MANHATTAN BEACH 310-316-1400 | MARCUSMEDICALSPA.COM | IG: @MARCUSMEDICALSPA WOMEN OF THE SOUTH BAY
to
L R, back: Dr. Sheena Samra, Stephanie Walsh, Kelly Gutshall, Donna Duffy; front: Sarah Ozer, Krista Jacobson
SPECIAL ADVERTISING SECTION166 |
Britt: Cari is my role model. Growing up, I watched how hard she worked and still was able to be a spectacular mom to not only myself but my three siblings as well. She is the hardest working person I know while still having fun and maintaining a strict moral compass. I've never seen anyone with as much energy as my mom.
WHAT ADVICE DO YOU GIVE YOUR KIDS?
|
ari Corbalis and Britt Austin are a mother-daughter real estate team specializing in residential sellers and buyers throughout the South Bay. Together they have decades of experience in the industry. They started their firm, Cari & Britt Properties, in 2011.
WHY DID YOU CHOOSE TO WORK IN THIS CAREER FIELD? Cari: I took a real estate law class in college and thought it was fascinating. This led me to take a real estate licensing course. During the summer I started working at a local real estate company and never looked back.   DESCRIBE YOUR LEADERSHIP STYLE.  We don't look at our leadership as leading as much as collaborating with our other team members. It's important that everyone on our team is happy and feels supported. Our team is not just about work; it's an extension of our family.
WOMEN OF THE SOUTH BAY C
Owners, Cari & Britt Properties | Vista Sotheby's International Realty 1801 S. CATALINA AVE., REDONDO BEACH | 310-938-9167 CARIANDBRITT.COM
HOW DO YOU FIND TIME TO FIT IT ALL IN? We have built an amazing team that allows us to maintain a high level of service as we have grown over the years. There is a lot that goes on behind the scenes, and it's important for us to make it look seamless. The goal for our clients is that the moving process is as easy as possible. With our incredible team, we do a great job accomplishing this.
WHAT ROLE DOES YOUR FAMILY PLAY IN YOUR CAREER? Family is a huge component in our career, considering we are a mother and daughter working very closely together. We are a team both personally and professionally. If someone is at an open house, maybe the other one is preparing a family dinner. We are also lucky to have many other immediate family members in the South Bay who help support us by babysitting Britt's kids or running errands needed to keep things rolling along.
WHAT IS THE #1 THING YOU DO TO ENSURE YOUR BUSINESS IS SUCCESSFUL?
The majority of our business comes from referrals. We always answer our phones, and we are always honest with our clients even if it hurts us. We go the extra mile and don't take the easy way out. It's because of these things that we have a loyal group of clients who promote our business. It's so gratifying.
CARI CORBALIS & BRITT AUSTIN
HOW HAS YOUR PROFESSIONAL PERFORMANCE EXCEEDED YOUR CLIENTS' EXPECTATIONS? We always put ourselves in our clients' shoes. Some people like to have separation between work and personal life; we tend to blur the lines. Each client is treated as if they are our own family, and we advise them as such. This is felt by every client we work with. They know they can trust us and we truly want the best for them, regardless if it results in a sale or not.
Do what you love and are good at. Success will come. If you don't have a direction, take aptitude tests! There are hundreds of them free online. Everyone likes to know what they are naturally good at and have a proclivity for. It's fun and interesting!
TELL US ABOUT A FEW OF YOUR PASSIONS. Because we are mother/daughter and we work together, we make it a priority to have a fun Sunday family dinner and game night each week. It gives us a chance to shed the work clothes and bond as a family. Our game nights can get very competitive.
TELL US YOUR FAVORITE QUOTE.
"You miss 100% of the shots you don't – Waynetake."Gretzky
TELL US ABOUT SOMETHING YOU RECENTLY LEARNED THAT SURPRISED YOU.
FB: @SOUTHBAYREALTOR | IG: @CARIANDBRITT.REALESTATE
DESCRIBE A RECENT HAPPENING THAT RESTORED YOUR FAITH IN HUMANITY. Many times a real estate transaction can get very emotional for both buyers and sellers and result in hurt feelings. We had two recent transactions that had quite the opposite outcome. When we went to a final walkthrough with the buyers and sellers, there was wine and cheese and we watched the sunset together. They have since forged a friendship. We also had a client whose wife just passed away, and he is very close with the sellers of the home he bought. They keep an eye on him. It's so gratifying when we see these friendships form because of the people we connected.
WHAT IS THE BEST ADVICE YOU'VE RECEIVED? Don't follow the money. Work hard with moral integrity, and success will come.
WHO IS YOUR ROLE MODEL?
We just learned that Palos Verdes was the most extensive suburban community commission ever undertaken by the Olmsted Brothers, who had numerous high-profile projects including national park systems, universities and state capitols. Under their planning, Palos Verdes became a case study in thoughtful, ecologically minded design adapted to the special conditions of Southern California—very forward-thinking for a community that was planned in the 1920s.
I consider myself extremely fortunate that, despite the hiccups and bumps along the way, I would not want to "do over" anything. I have accomplished a career in the field that fascinates me. I live and work in the beauti ful beach community that I only dreamed about growing up. I have a supportive team at work and family/team at home that allow me to practice every day. For that I will be eternally grateful.
Love what you do! I love seeing patients improve and feel better about themselves. I love operating and performing procedures in the office. I enjoy each day that I can use my skills and training in helping others.
I talk to my daughters about following their passions. They are young, but my hope is that starting this conversation early will influ ence them someday. In the meantime, I look for sparks of interest and support them with books and travel. I try to expose my daugh ters to varied experiences so they develop an understanding of what they like and dislike. I am keen for them to learn about various careers by talking to other adults and possibly shadowing in different fields as they grow. I do my part by spending time with students who are interested in my field. 310-426-8415 310-361-3650
DESCRIBE YOUR LEADERSHIP STYLE. In the operating room, the surgeon sets the tone for the whole room. While everyone works as a team, I think it is important to lead well. In order to lead most effectively, I believe a calm, knowledgeable demeanor is vital to keep the team relaxed and focused on the tasks at hand. It is important for everyone to be focused in order to ensure the best results for the patient.
IF YOU COULD BEGIN AGAIN, WHAT WOULD YOU WANT TO "DO OVER" IN YOUR CAREER?
WHAT ADVICE DO YOU GIVE YOUR KIDS?
TELL US ABOUT YOUR WORK.
KRISTIN EGAN, MD, FACS SPECIAL ADVERTISING SECTION168 | 2809 SEPULVEDA BLVD., MANHATTAN BEACH |
WHAT TREND IS DEFINING YOUR SPECIALTY TODAY?
DRKRISTINEGAN.COM WOMEN OF THE SOUTH BAY
HOW DO YOU ENSURE THAT YOUR PRACTICE IS SUCCESSFUL?
Patients are increasingly requesting less invasive procedures with less recovery time and the ability to return to work quickly. More patients are turning to the multiple in-office services that can be done without general anesthesia or a long recovery period. For those patients who want minimal recovery time and an in-office procedure without the need for general anesthesia to address their jowls and neck, LazerLift is the perfect option. LazerLift is a one-time, one-hour, mini mally invasive treatment designed to tighten the skin of the face and neck and remove excess fat using SmartLipo technology and no scalpel. It uses the latest technology to take laser energy underneath your skin and stimulate collagen production in the dermis, which leads to improved skin elasticity, thick ness and texture.
3655 LOMITA BLVD., SUITE 300, TORRANCE |
WHAT IS YOUR ADVICE FOR THOSE WHO CHOOSE A HEALTH CARE CAREER?
I am dual board-certified in otolaryngology head and neck surgery as well as facial plastic and reconstructive surgery. My practice incorporates my surgical skills with a focus on aesthetics and the desire for a more youthful and natural appearance. I am cognizant that a healthy, active lifestyle pre dominates in the South Bay and that patients desire subtle changes to their appearance to restore an image of themselves that matches how they feel.
WHAT CAN PATIENTS EXPECT WHEN THEY VISIT YOUR OFFICE?
DESCRIBE WHAT IT'S LIKE TO BE A WOMAN WORKING IN YOUR FIELD.
WOMEN OF THE SOUTH BAY Dr. Kristin Egan specializes in facial plastic surgery and otolaryngology. She earned her medical degree at Albert Einstein College of Medicine and completed a residency program at the University of California, San Francisco. Upon completion, she joined the staff of the school's Department of Otolaryngology. After a fellowship in facial plastic and reconstructive surgery in New York, Dr. Egan opened her practice 11 years ago.
I have been extremely lucky in my career to have cisgendered males in leadership/men tor relationships who were supportive and encouraging of my ambitions and interests— from medical school to current day. I have been welcomed into the field of surgery, and being a woman has never been used as a reason to exclude me.
I have won numerous research awards and have published widely, including multiple chapters in the main textbook used to teach facial plastic and reconstructive surgery fellows. I have been in Manhattan Beach for 11 years and was a clinical instructor at UCSF before moving to Southern California.
I treat each patient in the same manner I would treat a family member, and I work hard to ensure that if they need care outside my purview, those concerns are facilitated as expeditiously as possible. I stay in contact with my patients through different means of communication and am always available to address their questions and concerns.
I pride myself on taking the time to truly listen to my patients and find what is bothering them. As we age, gravity and sun damage take a toll on our skin and soft tissues. Patients desire a return to the characteristics associ ated with youth, to look more well-rested or simply to eliminate lines and wrinkles that bother them when they look in the mirror. There are both surgical and less invasive procedures to help achieve these goals. Discussion with each patient to find out his or her goals and desires allows me to better tailor a plan to achieve that.
WHAT IS THE BEST ADVICE YOU'VE HEARD?
I hate to sound cliché, but I wouldn't change a thing. I'm a big believer in "everything is meant to be" and that you are made up of all of your experiences. If something happens that I feel could be negative, I will always put a positive spin on it and trust that the universe knows what it's doing. You can't control the things that happen to you, but you can control the way you feel about them—and this often ripples into your life.
IF YOU COULD BEGIN AGAIN, WHAT WOULD YOU WANT TO "DO OVER" IN YOUR CAREER?
HOW DO YOU BALANCE WORK TIME AND PLAYTIME?
HOW DO YOU ENCOURAGE HONEST, OPEN EMPLOYEE DIALOGUE?
I try to lead by example and serve as a mentor for my team. My door is always open for them to chat with me or ask questions, and I encourage them to bring their ideas to the table, knowing it is a space free of judgment. While I try to be very hands-on, I also ensure that they have the freedom to make and learn from their own choices without too much micromanaging.
I remind myself of how far I've come in my career and stay grateful for the opportunities and challenges that have led me to where I am today. I also try to give myself some me-time at least once a week, like taking a spin class, relaxing in a hot bath or enjoying a cold glass of sauvignon blanc.
I never stop pushing. When I've hit all my goals, I make new ones. I firmly believe that there is always more room to grow and get better. As an entrepreneur, success is a never-ending process and you always strive for more. I think that mindset has helped ensure BLND never stops growing, and I never stay stagnant in my career.
PR is an industry that is always on, but I've continuously emphasized to myself and my team to have a strong sense of work-life balance. As a mom to an almost 2-year-old, it can be hard to juggle a business, time with family and time for myself. But at the end of the workday, I try to shut off the computer and spend quality time with my husband and my baby boy. Ultimately, when I prioritize my personal life as much as my professional success, it allows me to be refreshed, productive and a better leader for my team.
It's not easy, but I stay very organized with my calendar and prioritize my tasks. I'm big on to-do lists and get a rush every time I'm able to check something off before moving on to the next project. I actually thrive on stress and love a fast-paced environment that is constantly moving and evolving—so this lifestyle really works for me.
WHAT ARE SOME OF YOUR FAVORITE WAYS TO STAY GROUNDED?
BRYANNE DEGOEDE Managing Partner, BLND Public Relations LLC SPECIAL ADVERTISING SECTION170 | 1316 HERMOSA AVE., HERMOSA BEACH | 310-594-7989 | BLNDPR.COM | FB & IG: @BLNDPR WOMEN OF THE SOUTH BAY
My business mentor once told me that I needed to learn how to live in the "uncomfortable." As a business owner, there are bound to be unexpected twists and turns that could derail your plans or completely throw you off. Being able to stay calm and adapt in even the most trying situations is essential, and for the right person, you can not only survive but thrive in the uncomfortable.
HOW DO YOU FIND TIME TO FIT IT ALL IN?
WHY DID YOU START YOUR BUSINESS? When I was first introduced to the world of PR, I worked at a firm in Beverly Hills and had a terrible experience. The industry itself was tired, and the atmosphere was catty and exclusive. After leaving that position, I worked as an investment banker before switching to a role with a South Bay newspaper. I realized that many local businesses needed better external communications and PR. I've always had an entrepreneurial drive, so I took the plunge into business ownership and opened BLND in Hermosa Beach. Today—nearly eight years later—we're one of the top boutique PR firms in the country.
B LND Public Relations is a boutique communications agency for lifestyle, beauty and wellness brands. Owner Bryanne DeGoede and her team blend media relations, social media management and influencer marketing to increase brand awareness, reach and revenue. Bryanne has worked in public relations, marketing, branding and events for 14 years. She earned her bachelor's degree from the University of California, San Diego, and started BLND in 2014.
DESCRIBE YOUR LEADERSHIP STYLE.
WHAT IS THE #1 THING YOU DO TO ENSURE YOUR BUSINESS IS SUCCESSFUL?
I'm very transparent and open with my team about my ideas or day-to-day challenges, and I encourage them to be the same with me. I've cultivated a workplace where mistakes aren't punished, but instead they're looked at as opportunities to learn and grow. With that mindset, my team understands that they can come to me with questions, concerns or ideas; feel comfortable giving their honest opinions; and know that their voices are heard and taken seriously.
WHAT IS THE #1 THING YOU DO TO ENSURE YOUR BUSINESS IS SUCCESSFUL?
AVE., LOS
TELL US ABOUT A FEW OF YOUR PASSIONS. We are passionate about overall health. Recently we overhauled our diets and have had a lot of fun with that. Gretchen loves to cook, and Megan loves her spin bike! We work out together during the week, and we love our dogs (Shark, Sally and Shrimp).
GRETCHEN TIERNAN & MEGAN TIERNAN Owners, Sand Spa, Polish by Sand Spa SPECIAL ADVERTISING SECTION172 | 3408 &
PIER AVE., HERMOSA BEACH |
As Tim Grover said in his book Relentless: From Good to Great to Unstoppable, "There is no off-season when you're serious about being a winner." We show up every single day and do the work. We've evolved so much since we were the 23- and 24-year-olds who opened Sand Spa, and we still do the things we did when we started. 3219 & 327 952 N. SYCAMORE ANGELES IG: @THESANDSPA
SAND-SPA.COM |
S and Spa, founded by Gretchen Tiernan and Megan Tiernan in 2014, is a selfcare brand composed of three pillars: body, skin and polish. Sand Spa has five brick-and-mortar locations as well as partnerships with several hotels. This onestop, affordable spa offers highly flexible, customizable treatments and services such as massages, facials, skin care, waxing and nail care.
HOW DO YOU BALANCE WORK AND PLAY?  We are always improving and evolving in this area of our life. We got married last September and decided to fully lean in to that moment. We had been together 10 years, we own businesses together, we survived a global pandemic and one wedding postponement, so we really wanted to enjoy every second of finally getting married and what we have been able to create for ourselves since opening Sand Spa. The vision for our brand is vast, but if our foundation isn't solid and if we aren't watering our relationship, how can we expect to add bricks on top of a cracked foundation? Being married and also being business partners is not easy. It is a weekly and sometimes daily challenge, but we wouldn't want it any other way. We're on the same team, we have the same goals, and this relationship is our springboard for all our big ideas and dreams.
We celebrate everyone, and we celebrate our differences. Being inclusive is a continuous process for us. We hire people who understand the importance of inclusion and who always keep an open mind. We want everyone to feel comfortable expressing themselves and have a safe space for everyone's beliefs.
WHAT IS THE BEST ADVICE YOU'VE HEARD?
HOW DO YOU ENCOURAGE HONEST, OPEN EMPLOYEE DIALOGUE?
Encouraging honest and open employee dialogue is a part of our culture. We ask employees for their input; we've created services and implemented efficient ways to share ideas so that we are evolving too. To take it a step further, we take feedback from clients and are constantly finding ways to improve where we can. Our employees are like family to us. We know their kids and their families, and we do things together.
WOMEN OF THE SOUTH BAY TRUEWHAT'SCREATEBYPHOTOGRAPHED
WHAT IS THE #1 THING YOU DO TO ENSURE YOUR BUSINESS IS SUCCESSFUL?
To never stop growing and learning as a person. The more you learn and grow, the better your life will become. Grow your current professional skill level. In Malcolm Gladwell's book Outliers, he states that to achieve greatness in an area, you need to spend 10,000 hours of deliberate, focused practice developing your skill in that area. Beyond expertise in work, we emphasize people skills, leadership skills, our attitude and ability to handle difficult situations, creativity and problem-solving skills.
WHAT ARE SOME OF YOUR FAVORITE WAYS TO STAY GROUNDED? Constantly checking in with ourselves and with each other while practicing gratitude. We get to do this life! We are very excited and blessed to be around the people who surround us on a daily basis, and this community has changed our lives. Connecting with this community championed the ways we believe in ourselves. It is important for us to lead from a place where we prioritize mental and emotional health. While advocating for self-care, we are able to have a little fun along the way!
We have spent more than eight years creating a culture around our clients and their needs. At Sand Spa, it is our privilege to meet client expectations and to strive to go above and beyond for our client base. Clients are the focal point of all decisions related to delivering our products, services and experiences to create customer satisfaction, loyalty and advocacy. Our keys to winning are to treat customers with respect, offer great services and build relationships with them. We have deep roots in the Beach Cities, and serving this community isn't something we take lightly. We feel very fortunate to have businesses here and very grateful to have had the community support over the years.
HIGHLAND AVE., MANHATTAN BEACH | 325
TELL US YOUR FAVORITE QUOTE. "Get comfortable being uncomfortable or find another place to fail." – Tim S. Grover
HOW DO YOU FIND TIME TO FIT IT ALL IN? We prioritize and plan ahead. We must have a baseline for each day. Things that need immediate attention, things we can delegate and things we can outsource. As business owners, we wear many hats, but we really try to manage our energy. The core problem with working longer hours is that time is a finite resource. Energy is a different story!
WHAT STRATEGIES CAN WORK WELL TO PROMOTE INCLUSION IN THE WORKPLACE?
Disclaimer: This is for informational use only. It is not intended to be a substitute for professional medical advice, diagnosis or treatment. Health is a state of optimal physical, mental and social well-being, not merely the absence of disease or infirmity. Health is individualized, and it is recommended you seek direct advice from a qualified health care provider if you have questions regarding a medical condition or treatment.
Growing up, I took hours of ballet classes every week. The first time I visited a chiropractor was to tune up my body after years of injuries that resulted from ballet. I also had a positive experience with chiropractic and healing after a major car crash when I was in high school. It was fascinating how much my chiropractor knew about my injuries without me having to verbalize it. Chiropractic helped me heal without a lot of residual effects.
WHAT ROLE DOES YOUR FAMILY PLAY IN YOUR CAREER?
HEIDI SMITH, DC
WHY DID YOU CHOOSE TO GO INTO THIS CAREER FIELD?
TELL US ABOUT A FEW OF YOUR PASSIONS. I love dance and anything that keeps me active. I work on maintaining flexibility at home and even when teaching patients certain stretches and exercises—a nice perk of my profession! I like strength training, Pilates, yoga, waterskiing, walking my dogs and playing with my kids.
They play a huge role. When I was going through chiropractic school, my mom and in-laws were supportive and watched my daughters while I was in class. I saw firsthand how chiropractic affects pregnancy, birth and postpartum, which was motivation for me to get additional chiropractic education regarding pregnancy and birth. Chiropractic has helped my kids—from the time they were toddlers to the present— grow into happy, healthy humans ready to thrive on the field or in the classroom. They are great walking testimonials! My older daughter just started filling in at the front desk at my practice and will (hopefully) continue to do so until she graduates next year. My husband is very supportive of my practice. His teaching job allows him to drop our kids off at sports practices and start dinner most nights.
IF YOU COULD BEGIN AGAIN, WHAT WOULD YOU WANT TO "DO OVER" IN YOUR CAREER?
WHAT IS THE BEST ADVICE YOU'VE HEARD?
I enjoy seeing my patients thrive! I ask about their goals—not just about health but the whole picture. I've had patients who gave up trying to do the things they enjoy because of injury or fear of injury. We work together to unlock their potential. Their body heals, and they can continue doing things that bring them joy. I have a great team of assistants who have the same mindset—helping people realize their health potential.
HOW HAS YOUR WORK PERFORMANCE EXCEEDED YOUR EXPECTATIONS?
L ife Chiropractic is a family wellness office that serves patients of all ages, including newborns and pregnant moms. After receiving her Bachelor of Science degree from Azusa Pacific University, Dr. Heidi Smith earned her Doctorate of Chiropractic from Cleveland Chiropractic College, Los Angeles, graduating cum laude. Dr. Smith worked as an associate chiropractor in Torrance before she moved her practice to Redondo Beach and merged with Life Chiropractic in 2019.
That life is not a competition. It's OK to be competitive, but it's you vs. YOU, not you vs. others. Honor the commitments to yourself and stand strong in your convictions to YOU, or you'll be unable to lead anyone else! Things will test you … we've seen that in the last few years, but having a victim mentality only hurts yourself.
Owner, Chiropractic Smith 310-376-5433
This is something I am still working on! There are weeks where there is very little downtime unless I'm intentional about setting it up and scheduling it. It sounds counterintuitive to schedule downtime, but even though I enjoy being social, if I don't get time to recharge I can get burned out. I usually schedule something fun to look forward to: a concert, a staycation or a trip. If there's a weekend full of kids' activities, we enjoy the time spent cheering them on and hanging out with other sports parents. If Weezer is playing, I'm likely in the pit dancing and singing along!
Life
| Heidi
Chiropractic Inc. SPECIAL ADVERTISING SECTION174 | 510 N. PROSPECT AVE., SUITE 207, REDONDO BEACH |
| DRSMITHFAMILYCHIRO.COM FB & IG: @DRSMITHFAMILYCHIRO WOMEN OF THE SOUTH BAY
WHAT IS YOUR ADVICE FOR TRYING TO STAY POSITIVE?
Our thoughts change our physiology. So when you speak with positive intention, your brain (both consciously and subconsciously) will work toward that. For example, if you say, "I am bad at kicking the soccer ball with my left foot," your brain will "believe" you and you will always be weak in that area. If you say, "I am learning and working on making my left foot stronger," your brain will work out how to increase coordination and strength on your left side and even increase balance on the right side. I'm a firm believer in positive affirmations and encouraging others to view things positively.
I would have gotten a mentor early! When I graduated, I knew nothing about how to run a business. I was passionate about helping people, I just didn't know how to market myself and my practice. It was a long time before I was able to shift my mindset and have confidence as a business owner. I invested in myself and joined a great group of chiropractors who have the same heart to help people but also have balance in life.
HOW DO YOU BALANCE WORK AND PLAY?
TELL US ABOUT YOUR NEW HEADQUARTERS. I'm so excited to have just purchased a new building in Torrance that is being custom-built for the new Made by Meg headquarters. The design, permitting and build-out process is one of my favorite mountains to climb. 2023 will surely be an exciting year!
SPECIAL ADVERTISING SECTION176 |
WOMEN OF THE SOUTH BAY MEG WALKER
WHAT ARE SOME OF YOUR FAVORITE WAYS TO STAY GROUNDED?
My mother is the fountain of my courage and strength. Without her, I wouldn't be who I am today.
There is a firm schedule of work time and family time in my life. Whenever work crosses into family time, it has to be important. I try to integrate my daughters into playtime, but my time is in the morning before anyone wakes up, on my Peloton.
CEO & Executive Chef, Made by Meg Catering Operator, La Venta Inn 234 S. PACIFIC COAST, HWY. 101, REDONDO BEACH, 310-376-8600 | MBMCATERING.COM | FB & IG: @MADEBYMEGCATERING 796 VÍA DEL MONTE, PALOS VERDES ESTATES, 310-373-0123 | LAVENTA.COM | FB: @LAVENTAINNPV | IG: @LAVENTAINN_PV
WHAT ROLE DOES YOUR FAMILY PLAY IN YOUR CAREER?
Always be nice. My 2- and 4-year-old are both learning their words and really starting to communicate with the world, so right now especially, this is something I always remind them of. If you can be nice, 99% of the time everyone gets what they need and we're all happy about it. There is no need to create unnecessary frustration or hurt someone's feelings. One of my favorite quotes is, "If you can be anything, be kind."
M eg Walker's professional life began as a financial advisor with Merrill Lynch and Smith Barney for five years, but her passion for cooking eventually became undeniable. She attended culinary school at Le Cordon Bleu in Pasadena, and during the final school semester—while still working her financial advising job—Meg started an externship at Michelin-starred restaurant Ortolan in Los Angeles, working with chef/owner Christophe Émé. During that stint, she agreed to cater a small dinner for her friend's company. After that night in 2007, the private catering event requests never stopped and Made by Meg Catering was born. The catering service, which employs more than 250 people, focuses on fresh, seasonal cuisine and a high caliber of service at more than 700 events each year, such as milestone celebrations, weddings, sporting events and movie premieres. Recently, Made by Meg expanded to operating La Venta Inn, an iconic landmark venue on the Peninsula. Following a 2021 interior and exterior refresh led by Meg and local interior designer Dannielle Albrecht, the venue continues its legacy of hosting intimate seaside gatherings.
WHO IS YOUR ROLE MODEL?
TELL US ABOUT SOMETHING YOU RECENTLY LEARNED THAT SURPRISED YOU.
WHAT IS THE #1 THING YOU DO TO ENSURE YOUR BUSINESS IS SUCCESSFUL? Show up. As the saying goes, "75% of life is showing up." Be on time, be present and do what you say you're going to do. If you can't do anything, don't offer. As a woman and an inherent people-pleaser, I want to offer to do it all. The hardest part of growing as a business has been showing discipline in knowing my bandwidth.
Family is everything. It sounds cliché, but it's true.
HOW DO YOU BALANCE WORK AND PLAY?
TELL US ABOUT YOUR PASSIONS. Being on the water. My husband, Anthony, and I love being on boats, traveling by boat and spending time on boats. There's something so soothing about the ocean—it's where I grew up. I need to see the ocean once a day—it's a grounding point for me emotionally. Also, I love planning the trips in our house and being an amateur travel agent! Everything from finding the perfect hotel and delicious local restaurants to the quintessential experiences. It's amazing how much more you can enjoy a well-deserved trip when you take the time to envision what you want from it.
WHY DID YOU CHOOSE TO GO INTO THIS CAREER? When I was 13, my parents decided to travel for the holidays, so I hosted the family for Christmas dinner. As you can imagine, the cooking left something to be desired at that age, but the family smiled through it all. That experience showed me that cooking brings people together and that I loved that feeling. In catering, we play a part in bringing people together 700 times a year—that's a lot of parties!
TELL US YOUR FAVORITE QUOTE. "Breathe. Focus. Perform." Sometimes I only have a short amount of time to do a really important project, and all I want to do is procrastinate. However, I always try to just take a few deep breaths and then push through it with my best effort.
WHAT ADVICE DO YOU GIVE YOUR KIDS?
Coming home at the end of a long day. There is no greater equalizer than being a parent, and after a day of meetings I love coming home to big hugs from my girls and getting immediately pulled into something they want to share with me.
As I get busier, the word "priority" continues to show up in a new way. The meaning has emerged as knowing what really is important and what is just filling time. Learning how to politely turn down projects, relationships and toxic patterns has made room for real growth and connection with my family. Time is short when you're not immortal!
WHAT IS THE #1 THING YOU DO TO ENSURE YOUR BUSINESS IS SUCCESSFUL?
Help others get what they want so you can also have what you want. Seek first to understand. Find out what their needs are so you know how to help them get those things.
Wendy: When I moved to the South Bay in September 2008, I was at Main Street Realtors in Long Beach, which was owned by Geoff McIntosh. He was the broker of record and always seemed to have time for me even though I wasn't a top producer at the time. Geoff has been the president of the California Association of Realtors multiple times and had a thriving business of his own as a Realtor. Yet he had time to give me one-on-one advice and guidance to help me help my clients.
TELL US YOUR FAVORITE QUOTE.
Geoff was and is an inspiration to me. He always puts others ahead of himself, and it showed in all that he did. That opened me up to giving all I have to help others just like he has done. 310-944-8062 424-536-7511
WHY DID YOU CHOOSE THE REAL ESTATE CAREER FIELD?
(WENDY) |
Wendy: Two of my daughters are also Realtors. It is a privilege to work with Rachel and have the experience that she brings to our team from corporate America to enhance our clients' experience. My other daughter is great with marketing and helps us with video production and social media exposure. We come from a long line of business owners and Realtors. Our family has an entrepreneurial spirit. I have coached multiple agents to success, and teaming up in partnership with Rachel is actually a dream come true!
HOW DOES YOUR PROFESSIONAL PERFORMANCE EXCEED YOUR CLIENTS' EXPECTATIONS?
(RACHEL) SELLINGLASOUTHBAY.COM | IG: @WENDYRICHSOTO_SOUTHBAY_REALTOR WOMEN OF THE SOUTH BAY
Stay hungry and stay passionate in what you want. Go after your goals with tenacity.
Wendy: I've always known that I wanted to be a Realtor® since I was a child. I was always going to open houses and model homes with my grandmother. As an adult, I was buying a new home and needed to sell my existing home. My broker had his daughter list my home, but she didn't do much to help sell it. It was very stressful. I decided to be my own Realtor at that point and sell my own home. I was successful, and the broker was so impressed he offered me a job. The rest is history. I love helping people, and I know what it is like not having someone help you when you need it. I take great pride in the work that we do and always make sure we are there for our clients 100% of the time.
Rachel: I would describe my leadership style as "servant leadership." I say this often: "Know your audience." It is so important to understand who you are leading so you can explain, teach and recognize them in ways that make sense to them. No two people are the same. Trying to use a one-size-fits-all approach may get things done, but tailoring the experience to whom you are working with results in a much more successful, rewarding experience for the leader and those being led.
WENDY RICH-SOTO & RACHEL RODRIGUEZ Co-owners, Rich-Soto & Associates | Keller Williams South Bay SPECIAL ADVERTISING SECTION178 | 23670 HAWTHORNE BLVD., TORRANCE |
WHAT ADVICE DO YOU LIKE TO SHARE?
R ich-Soto & Associates has been in business since 2001 and operates under the umbrella of Keller Williams South Bay. Owner Wendy Rich-Soto started her real estate career in Northern California and spent five years working in new home development, marketing and sales. Moving to San Pedro in 2008, Wendy started working under the Keller Williams umbrella with her own team and was CEO for Keller Williams market centers in City of Industry and Long Beach. Wendy has sold more than 1,200 homes so far during her career. Her daughter Rachel Rodriguez gained professional management experience by working for years with large corporations before she joined Rich-Soto & Associates.
We build a relationship with each client that will go beyond the close of a transaction. It is important to gain someone's trust not just as a professional but as an individual in their community. We cherish our relationships with clients and work to maintain them.
WHAT IS THE BEST ADVICE YOU'VE HEARD?
WHAT ROLE DOES YOUR FAMILY PLAY IN YOUR CAREER?
Wendy: "You gain strength, courage and confidence by every experience in which you really stop to look fear in the face. You are able to say to yourself, 'I have lived through this horror. I can take the next thing that comes along.' You must do the thing you think you cannot do". – Eleanor Roosevelt Rachel: "Begin with the end in mind." – Stephen R. Covey
DESCRIBE YOUR LEADERSHIP STYLE.
WHO IS YOUR ROLE MODEL?
We are problem-solvers. We listen to clients' needs and wants and work to remove obstacles and find creative solutions. Our goal always is to exceed clients' expectations. We utilize a variety of market strategies. We make ourselves available to our clients, other agents and other consumers who may be interested in the properties we represent. We have a strong network of local vendors as well as access to the connections and services that Keller Williams provides nationally and internationally. We are plug and play.
EXCEEDED YOUR EXPECTATIONS?
We believe that high performance does not happen by accident. We are a diverse team with varied backgrounds, lived experiences, and skill sets. Through this lens, our intention is to guide our school in such a way that is supportive of the needs and expectations of the community. We strive for excellence in ourselves and our team every day.
Jennifer: My grandmother, who homeschooled all seven of her children, ran a children's theatre and had an extremely creative spirit. Her dedication to the community and children has informed my path in education.
TELL US YOUR FAVORITE QUOTE.
WHO IS YOUR ROLE MODEL?
Christina M.: My role model is my mother, a highly skilled medical doctor who emigrated from India in the 1960s. Her experience taught me that love, compassion and resilience are the key ingredients that will sustain me in life.
ROLLING HILLS PREP, REACH & RENAISSANCE SCHOOLS SPECIAL ADVERTISING SECTION180 | ONE ROLLING HILLS PREP WAY, SAN PEDRO | 310-791-1101 | ROLLINGHILLSPREP.ORG | FB & IG: @RHPANDREN WOMEN OF THE SOUTH BAY
DESCRIBE SOMETHING THAT RESTORES YOUR FAITH IN HUMANITY. Our community of schools restores our faith in humanity daily. We have a community with a lot of variety, in terms of our beliefs and backgrounds. In a community with so much diversity in beliefs, we encourage everyone to share their stories and listen to the stories of others. We understand that our differences bring us closer together rather than push us apart.
Christina P.: My role models have been those who have stood in the gap and in service for others, including Ruth Bader Ginsburg, John Lewis and Maya Angelou. These individuals acted with bravery and selflessness for the benefit of the greater good of others that is purposeful and impactful.
Sharon: My role models have been the college students and my chosen family with whom I have had the privilege to build relationships. They have shown me future possibilities of what our world could look and feel like with our collective action, especially BIPOC, queer and trans community members who have shared their beauty and stories and their light and love with me.
WHAT ARE SOME OF YOUR FAVORITE WAYS TO STAY GROUNDED?
We lead by listening and being curious. We are intentional leaders who approach every situation first with compassion and seeking to understand, then providing support. Being school leaders, we have to make difficult decisions all the time. We always want to listen to others to hear how they are experiencing situations. When it is time to make a difficult decision, it is important to understand what the student experience is like, the faculty and staff experience, and the family experience. We lead our school community every day by being vulnerable and staying curious.
DESCRIBE YOUR LEADERSHIP STYLE.
Rolling Hills Prep, REACH & Renaissance Schools are three independent schools and one school community specializing in a college prep program for both neu rotypical and neurodiverse students.
We believe all students deserve educational experiences that support their unique needs. We specialize in an approach that is the "right fit" education. We all believe strongly in the mission of providing a high-level educational experience where all students have what they need to be successful and feel like they belong. We know that students are most successful when they are challenged academically, supported emotionally and given an environment where it is safe to be who they are. Our schools aspire to create this space for our students daily.
Amy: My mom, grandma and mother-in-law were/are very strong women. I am lucky to have grown up seeing women who are loving and strong. My professional role models are Elena Aguilar and Brené Brown. They are both vulnerable, and their work and stories resonate with me.
HOW HAS YOUR WORK PERFORMANCE
We start every team meeting with a check-in about our personal lives. We always take time to hear what is going on in each other's lives, connect and understand each other.
WHY DID YOU START YOUR SCHOOLS?
WHAT HAS BEEN THE MOST SIGNIFICANT BARRIER IN YOUR CAREER?
Our identity markers, gender, race, etc. We are a strong leadership team with excellent qualifications. Sometimes people see a group of female leaders and have biases about our abilities and/or lack of gender balance on our team.
Amy Hollinger, Head of Schools: "Tell stories to help others understand your beliefs and opinions. Offer your stories, not in the hope that they will change anyone else, but because they are your stories to tell and they deserve to live outside you. And when you are a listener, allow the stories of others to change you." – Elena Aguilar Christina Morse, Director of Counseling & Wellness: "No mud, no lotus."–Thich Nhat Hanh Christina Pak, Associate Head of Schools: "People will forget what you said, people will forget what you did, but people will never forget how you made them feel."–Maya Angelou Jennifer Stroud, Director of Schools for Academics: "I am still learning."–Francisco Goya
Sharon Chia Claros, Director of Diversity, Equity & Inclusion: "To live our lives based on the principles of a love ethic (showing care, respect, knowledge, integrity and the will to cooperate), we have to be courageous. Learning to face our fears is one way we celebrate love. Our fear may not go away, but it will not stand in the way. Those of us who have already chosen to embrace a love ethic, allowing it to govern and inform how we think and act, know that when we let our light shine, we draw to us and are drawn to other bearers of light." – Bell Hooks
L to R: Amy SharonChristinaHollinger,Morse,JenniferStroud,ChristinaPak,ChiaClaros
WHAT SHOULD WE KNOW ABOUT YOUR NatalieTEAM? : We offer more than just physical therapy. I became a full-spectrum doula and have been developing a postpartum planning program and childbirth education course centered on postpartum recovery and care. It's something I never even considered doing before joining Mountain to Sea and discovering major gaps in pregnancy and postpartum care. But I've found a new career path, and I really enjoy it. Working with this company gives me the space, confidence and support to do this work and help the people of the South Bay while raising my family.
"The women whom I love and admire for their strength and grace did not get that way because shit worked out. They got that way because shit went wrong, and they handled it. They handled it in a thousand different ways on a thousand different days, but they handled it." – Elizabeth Gilbert
WHAT HAS BEEN THE MOST SIGNIFICANT BARRIER IN YOUR CAREER?
M ountain to Sea is a physical therapy clinic offering treatment for pelvic floor, orthopedic and sports disorders; manual therapy ( myofascial release, cupping, Graston Technique, trigger point) and modalities (ultrasound, taping, electrical stimulation) ; and personalized exercise programming. Owner Heidi Gastler is a doctor of physical therapy who has worked in the medical field since 2005 and opened Mountain to Sea in 2016. Natalie Eckhardt joined the practice in 2019 as business administrator and also serves as a postpartum doula and perinatal educator.
Mountain to Sea is the hub for your overall wellness. We know we can't fix everything, so we sometimes connect patients with other providers who may move their care along faster—whether it be chiropractic, acupuncture, functional medicine or other specialists. By tying all of those threads together, we make real progress and see more improvement in a person's overall mental and physical health. Our office is light, airy and your space alone for the entirety of your session. We want you to be comfortable and the only focus of our time and attention. That means you can come as you are, say what you want and be yourself. If you're in pain that day, you can be in pain that day. If you need to vent during your bodywork, we're all ears.
WHY IS PELVIC FLOOR HEALTH SO IMPORTANT?
Dr. Gastler is a medical advisor for Tabu, a company that focuses on sexual health and wellness, and we work with other wellness practitioners, coaches and trainers to educate them on the pelvic floor and how to address it with their own clients.   We're building a gym space to include weight-lifting equipment precisely to help patients in this area. The equipment helps us simulate activities where patients are loaded with weight. The therapy not only helps athletes in powerlifting, Olympic lifting or CrossFit pursuits, but it can also help average people learn how to manage their core when being loaded with weight for everyday tasks.
WHAT IS THE BEST ADVICE YOU'VE HEARD?
Just start. Stop waiting for the perfect timing or for everything to line up. If you want something, jump in and work toward your goal. Don't hold back; keep pushing forward.
The South Bay embodies so many things I love. The sun, ocean and nearness to nature are just part of why I chose the area for my practice. People here put a value on being active and investing in their health. Everyone tries to maintain a healthy lifestyle regardless of their age or abilities. I enjoy being part of such a wellness-oriented community.
Dr. Gastler: In 2020 my life was flipped upside down when I was diagnosed with brain cancer. It was inconceivable that I had been running my business, powerlifting and crushing long weekend hikes with a tumor the size of a baseball in my head. Suddenly other things like my diagnosed fertility issues and recurrent foot weakness began to make sense. They were all a product of cancer. Since then, I've had two brain surgeries, kept my business open and navigated it all through a pandemic. My illness has put my dreams to have a family on hold, but I hope to fulfill them in the future. I'm now undergoing chemo and radiation. Through it all the business is still thriving, and we're looking to hire another doctor of physical therapy who shares our patientcentered, community care approach.
WHY DID YOU CHOOSE TO START YOUR PRACTICE?   Dr. Gastler: After more than 10 years in the business, I decided that I wanted to offer the kind of physical therapy that I'd want for myself. I wanted to take patients out of the therapy "mill" and give them a unique, oneon-one experience. Mountain to Sea is what that looks like: a highly personalized, deeply skilled, holistic approach to helping all types of people obtain their goals.
WHAT MAKES MOUNTAIN TO SEA DIFFERENT FROM OTHER CLINICS?
Orthopedic injuries, back pain and other issues patients experience are often tied to pelvic floor dysfunction. Many people think that pelvic floor physical therapy only applies to pregnant or postpartum women, but that's a myth. Everyone has a pelvic floor, and people of all ages and genders can benefit from improved pelvic floor health.  We enjoy working with others in the wellness community to help spread the word on pelvic floor health because it's so vital to our stability, breathing and core.
HEIDI GASTLER, DPT & NATALIE ECKHARDT Mountain to Sea Physical Therapy SPECIAL ADVERTISING SECTION182 | 3212 HIGHLAND AVE., MANHATTAN BEACH | 310-567-2293 | MOUNTAINTOSEAPT.COM | @MTN2SEAPT WOMEN OF THE SOUTH BAY
TELL US YOUR FAVORITE QUOTE.
Dr. Gastler, Natalie Eckhardt & Doc
WHAT ROLE DOES YOUR FAMILY PLAY IN YOUR CAREER?
WHAT ADVICE DO YOU GIVE YOUR KIDS? Dream big and persist. And never say never!
Honestly, myself. I get in my own way a lot, and sometimes it takes me a while to clear the path. I am an overthinker at times, and that can hinder creativity, progress and growth.
I am pretty sure my balance is off, but I believe "you gotta work hard to play hard."
HOW DO YOU BALANCE WORK AND PLAY?
I grew up in the South Bay and remember there was cheese shop here in the '80s. When I decided to make a career change, I thought about the possibility of opening my own cheese shop and filling that void. It was crazy, daring and something I knew nothing about (other than my own love for cheese and charcuterie). But I had nothing to lose and so much to gain. My dad had just started hospice, and I told him about my crazy idea. He loved it. He believed in me and said, "Go for it, kiddo." That's all I needed to take a giant leap of faith with something that terrified me. I chose to take this path to push myself. To try some thing new. To service the community that I grew up in and love so much. And to make my dad proud.
Solange Comer has always been inter ested in food, making things look pretty and feeding people. For years her dinner party guests would suggest she start her own catering business. After teaching preschool for 22 years, she retired from that career and started selling cheese and char cuterie platters that she made at home. Her dream of operating her own food store came true in 2017 when she opened Cultured Slice Cheese Shop, featuring cheese and charcute rie from around the world. This summer she opened Cultured Slice Sandwich Shop. Both stores also offering catering services.
As a parent I want my child to be happy and thrive. So to do that, I say think big and out side the box. Surround yourself with people who make you feel good about who you are and what you do. Those will be the people who will help you stay true to what you believe in, and to yourself.
WHAT IS THE #1 THING YOU DO TO ENSURE YOUR BUSINESS IS SUCCESSFUL? Be on site and have excellent customer ser vice. The public likes to see the proprietor of the business behind the counter. It's important to me to be at the shops to establish relation ships with my customers. I like being able to greet everyone by their first name and know what they order. My customers are why I am still in business and why I have been success ful. Offering the very best customer service is a small way to say thank you.
My businesses mean everything to me, but remembering to take time for my family and myself is just as important. If these last few years have taught me anything, it's to not take time for granted and to take the chance. Eat the cheese. Book the vacation. And put 110% into everything you do.
WHAT ARE SOME OF YOUR FAVORITE WAYS TO STAY GROUNDED?
WHY DID YOU CHOOSE TO START YOUR BUSINESS?
WHAT HAS BEEN THE MOST SIGNIFICANT BARRIER IN YOUR CAREER?
My mom has had a huge role in my foodie career. She is an incredible cook and shared many family recipes with me. She would feed me grown-up foods as a small child and expand my palate whether I liked it or not. I was eating Stilton cheese at the age of 2, and my mother would catch me with my hand in the pickled onion jar. Lamb chops and mint sauce, pâté and many assorted cheeses were often for dinner.
I am self-taught, but I do attribute my French-Italian background and being born in Brazil to influencing my culinary journey. I was lucky to have so many amazing European and South American food and drink influ ences growing up. They definitely contributed to my love for food and playful approach to flavor combinations and recipes.
Having my feet in the sand and the sun on my face. The beach has always been my happy place. And music grounds me when I feel like I am floating around trying to figure out what's next. I have pretty cool stacks of old vinyl from my dad's collection and my own that I love to spin on my player. There's just something soothing about when the needle drops and the sound of the crackle. 424-390-8153 424-237-2032
SOLANGE COMER Owner, Cultured Slice LLC Cheese Shop & Sandwich Shop SPECIAL ADVERTISING SECTION184 | 229 PCH, HERMOSA BEACH,
I honestly believe I was destined to be in the food world. And owning a cheese shop ain't so bad either!
I get asked this question often, and my answer is: I have no idea! I tend to thrive on chaos, and the busier I am, the more I get done. Not only do I have the two businesses, I am on the executive board for the Hermosa Beach Chamber, and I have a 16-year-old son. Life is busy, but I love it.
Right now my work life is outweighing my play life, but I expected that after recently opening my second location. I did manage to sneak away to Mexico after my grand opening for a much-needed vacation with my son, Max.
HOW DO YOU FIND TIME TO FIT IT ALL IN?
One of my all-time favorite memories is from my grandmother's kitchen in Brazil with my mom, grandmother and greatgrandmother making gnocchi. My greatgrandmother spoke Italian and only very broken English, but she and I found a way to understand each other. No matter what lan guage you speak, you can understand food. It connects people, and that's important to me.
| 136 PIER AVE., HERMOSA BEACH,
CULTUREDSLICE.COM | FB: CULTURED SLICE-CHEESE SHOP | IG: @CULTURED_SLICE WOMEN OF THE SOUTH BAY
TELL US YOUR FAVORITE QUOTE: "You have brains in your head. You have feet in your shoes. You can steer yourself any direction you choose. You're on your own. And you know what you know. And you are the one who'll decide where to go."– Dr. Seuss
HOW DO YOU FIND TIME TO FIT IT ALL IN?
DO YOU HAVE A SPECIAL SKILL FOR YOUR INDUSTRY? We come from a construction family and both have personal experience with remodels and building homes from the ground up. Our clients appreciate our knowledge of this industry and the resources we have to help them not only with a vision of what can be done to add value, but also the connections to help them get it done.
WHAT ARE SOME OF YOUR FAVORITE WAYS TO STAY GROUNDED?
WHAT IS YOUR BEST PIECE OF ADVICE FOR A WOMAN JUST STARTING IN YOUR LINE OF WORK? We are mentoring a few brand-new agents right now. Our biggest advice to them is to stay positive no matter what the challenge. Every problem has a solution, so trust yourself to find it and make it happen. And don't be afraid to ask questions! Remember that everything is hard before it is easy, so keep moving forward with a smile.
We are super proud this year to have been recognized by RealTrends as being in the top 1.5% of agents nationwide. We have been working diligently on our behind-thescenes business over the past seven years. It paid off when the pandemic hit. Not only did we have kids home 24/7, but the real estate market got very busy! Because of our experience, reputation and the systems we had in place, we were able to service more new client referrals and repeat business than ever before while still keeping our households running.
The transactions we handle are deeply personal and important to the people we work with on all sides of the deal. We hustle by going above and beyond in our quest to exceed our clients' expectations, and we do everything by following our hearts. Isn't happiness the main goal for everything in life, after all?
In this busy industry, it's so important to stay grounded. We both have our ways of maintaining stability. Kathy enjoys yoga and sound baths and recently got her Reiki and crystal practitioner certification. Robin enjoys her time at The Blueprint L.A. gym, playing pickleball and traveling with her family.
KATHY MORRIS & ROBIN SMITH Owners, Kathy Morris & Robin Smith Associates | Compass SPECIAL ADVERTISING SECTION186 | 21250 HAWTHORNE BLVD., SUITE 750, TORRANCE |
We are so grateful to have each other! It's not every day that you find a business partner (not to mention a family member) whom you can work with day in and day out and not drive each other crazy! We trust each other completely, and our personalities and different strengths complement each other perfectly. Thankfully, because there are two of us, we can take turns with personal time off to recharge while the other one makes sure our business doesn't skip a beat!
|
We are founding members of the "Compass Queens"—a powerful group of top women Realtors from across the country. We meet weekly to support, connect and help build each other's businesses. We love the close relationships we have made with these women, and it's been so helpful to have strong referral partners everywhere in the country. Whether you are moving to Northern California or North Carolina, we have amazing Realtors whom we know on a personal level and wholeheartedly trust to take care of our clients. Locally we are part of a women's networking group that we meet with and collaborate with regularly. We know that supporting each other and networking make us all stronger.
WHAT ADVICE DO YOU GIVE YOUR KIDS?
HOW DID YOU COME UP WITH YOUR MOTTO "HUSTLE & HEART"?
HAS MOTHERHOOD MADE YOU A BETTER ENTREPRENEUR?
Follow The Four Agreements: 1. Be impeccable with your word. 2. Don't take anything personally. 3. Don't make assumptions. 4. Always do your best. 310-902-1121 213-447-2668
IN WHAT WAYS HAS YOUR PERFORMANCE AT WORK EXCEEDED EXPECTATIONS?
| KATHYANDROBIN.COM | IG: @KATHYANDROBIN WOMEN OF THE SOUTH BAY
HOW ARE YOU SUPPORTING OTHER WOMEN IN YOUR INDUSTRY?
WOMEN OF THE SOUTH BAY S ister-in-law Realtor® duo Kathy Morris and Robin Smith operate with the motto "Hustle & Heart." Kathy has worked in real estate in the South Bay for more than 18 years. After graduating with a degree in communication disorders from UMass, Amherst, she returned to her hometown of Redondo Beach and bought her first property at age 23. Five years later she turned her love of real estate into a career. Before partnering with Kathy, Robin's background was in health care. From a small town in Northern California, she migrated south to attend USC and earned her real estate license in 2015. The two have been business partners ever since.
Having kids has taught us both how to multitask very well! We are motivated every day by the fact that we want to be strong role models for our children and teach them the value of hard work and perseverance.
L inda Grasso is a Los Angeles-based veteran journalist who has worked in every medium. After a 17-year career as an on-air reporter/anchor and entertainment correspondent, Linda stepped away to raise her two sons. When she tried to return to the workforce several years later, she experienced challenges. Linda switched gears—ultimately getting her mojo back—by helping launch Ventura Boulevard (the sister platform to Southbay), which covers lifestyle in the San Fernando Valley. That experience led her to launch the SheSez podcast. In the 40-minute show, Linda interviews fascinating, inspiring, accomplished women–from Fortune 500 executives to Oscar winners to women who have pulled off remarkable midlife pivots. The common thread? All are achieving success—no matter how they define it—on their own terms.
Sometimes I'm the one sharing the how-to, but in most cases I'm the student.
WHO ARE YOUR LISTENERS ON SHESEZ?
We also discuss struggles and stumbles, keying in on how challenges were overcome. With each show, I want the listener to walk away with at least one solid takeaway. If she hasn't learned something that inspires her or she can apply to her own life, I've missed my mark. I like to think of SheSez as a master class for the modern woman.
That's why if you go to SheSez.com and SheSez's Instagram and Facebook pages, you'll see a lot of those kinds of posts.
They tend to be educated and savvy. They realize what is important in life. And they want accurate, meaningful information to apply to their own lives. In addition to featuring inspiring women, I also have a fair number of guests in health and wellness. But it's not what you typically see on womencentric podcasts, which is guests who are trying to sell product.
I tap my contacts as editor of Ventura Blvd—well-known and accomplished chefs, landscape and interior designers in L.A.—and query them. My curiosity, essentially what got me into this business, is endless. Sign up for the SheSez twice-a-month newsletter on our website if you want to come along for the ride.
LINDA GRASSO SheSez SPECIAL ADVERTISING SECTION188 | SHESEZ.COM | FB: @SHESEZ | IG: @SHE_SEZ | SHESEZSHOW@GMAIL.COM WOMEN OF THE SOUTH BAY
The founders of successful brands like Yasso, Beauty Pie, Barney Butter, One Kings Lane, Koia and News Not Noise have all come on SheSez and talked about how their ideas were repeatedly shot down by people "in the know." Most of us hear a succession of no's and think: This must not be a good idea; they must be right. Sticking to what you know to be true—in the face of abject rejection—is a talent I admire.
I try to have candid, compelling conversations. I key in on the how and why of a guest's story and keep the discussion relatable. So yes, we share what the woman has done or is doing, but I avoid unnecessary puffery. I believe we are all more alike than different and we can all grow by sharing honestly.
WHAT DIFFERENTIATES THE SHESEZ PODCAST FROM OTHER SHOWS THAT ARE AIMED AT WOMEN?
WHAT ARE YOU PASSIONATE ABOUT?
If we are talking about antiaging, for example, I'll have a guest who has conducted research about what to look for on product labels—specific ingredients that can make a difference. On another episode with a well-regarded beauty industry critic, we examined this: Retinol can reduce the appearance of fine lines somewhat, but in the long run is it damaging your skin? When it comes to health and wellness, I interview scientists, researchers and physicians who are immersed in state-ofthe-art medicine. I just interviewed two National Institutes of Health researchers, for example, about studies they're conducting that show a link between low estrogen and depression. Ever wonder why so many women experience depression for the first time in their 40s and 50s? It has to do with the fact that they are perimenopausal and menopausal. And the studies are part of an effort to develop a pharmaceutical drug specifically for midlife women suffering from depression.
WHAT INSPIRES YOU?
AFTER FIVE YEARS OF HOSTING SHESEZ AND INTERVIEWING SO MANY WOMEN, HOW DO YOU REFLECT ON YOUR STRUGGLES WITH REENTERING THE WORKFORCE?
The detail-oriented, multitasking skills that a stay-at-home mom develops can be applied to a multitude of mid- and high-level jobs—not to mention her ability to manage stress. A stay-at-home mom's stress would bring most Fortune 500 CEOs to their knees.
I think: Geez, I was at my peak. In my early 40s and after five years at home, I finally knew who I was and was smarter and more capable than I'd ever been! But I let all this crap get into my head and wipe out my professional confidence.
There are so many negative messages from society for women who have been at home raising children. You are out of the loop, dated, irrelevant, and you don't know the latest technology. It is ridiculous. Does the ability to learn somehow get obliterated after the age of 35?
I am an avid cook and gardener (flowers, citrus and veggie), and I love interior design.
I get inspired by women who are able to step over the no's—women who repeatedly get rejected and have their ideas shot down but are somehow able to overcome it and forge ahead until ultimately they're successful.
I encourage them to make their own decisions. I guide them through the possible outcomes but ultimately leave the answer for them to discover. I want them to be independent free thinkers, not influenced by other people or circumstances.
|
HOW DO YOU FIND TIME TO FIT IT ALL IN? I don't sleep—LOL!
WOMEN OF THE SOUTH BAY R ockIt Body Pilates first opened in 2009. After teaching there for 10 years, Kaci Bacher bought the business in July 2019 and brought in Jennifer Chan and Brooke Ricciardi as business partners at the beginning of 2020. The studio offers an upbeat workout that tones, strengthens and elongates clients' bodies. Here, Kaci shares more about RockIt Body Pilates with us.
HOW DO YOU ENCOURAGE HONEST, OPEN EMPLOYEE DIALOGUE? I am kind but direct. Life is precious, and time is fleeting. I don't believe in wasting it by not speaking the truth or beating around the bush. I take time to listen. I try to see situations from a different perspective, and I take time to process before I respond. I never react.
WHY DID YOU CHOOSE TO GO INTO THIS CAREER FIELD? Health and fitness have always been a priority, but it wasn't until about 15 years ago that I was able to turn my passion into a career. I graduated from Baylor University with a degree in business marketing. My first job moved me from Texas to California. Ten years later, I got a degree in fashion design and had a clothing line until I became a mom, which lead me to career #3: fitness. I was teaching a couple of Pilates classes for fun when I became a single mom. I needed to go back to work to care for my three boys, but I had been home with my kids for 10 years so the thought of getting a full-time corporate job seemed daunting. Fitness offered flexible hours, so I was able to tailor my work schedule to be home when the kids were with me.
HOW DO YOU BALANCE WORK AND PLAY?
TELL US ABOUT SOMETHING YOU RECENTLY LEARNED THAT SURPRISED YOU.
TELL US YOUR FAVORITE QUOTE.
We offer an innovative upbeat workout to music that will keep you motivated and having fun while toning, strengthening and elongating your body. Along with an incredible workout, we have developed a close-knit community that celebrates momentous victories and supports each other through adversity and challenges.
| ROCKITBODY.COM FB & IG: @ROCKITBODYPILATES WOMEN OF THE SOUTH BAY
There are two: "Don't knock on opportunity's door. Kick that b*tch in, smile and introduce yourself."
WHAT WOULD YOU LIKE CLIENTS TO KNOW ABOUT ROCKIT BODY PILATES?
WHAT STRATEGIES HAVE YOU USED TO PROMOTE INCLUSION IN THE WORLD OF PILATES? Although Pilates has predominately been practiced by women, it is certainly not "just for women" and the benefits are certainly not gender-biased. After all, Pilates was developed by a man. Because Pilates has been around since the 1920s and practiced mostly by women, we needed to bring greater awareness to imagery and cueing.
Absolutely nothing! I believe our path is our path. We learn and grow from our mistakes. We don't look back and continue to move forward.
Sometimes work can consist of listening to fun music during a sweat session or a planning meeting over a Friday happy hour. When I'm "not working," I'm working out, enjoying the beach or stuffing my face in the company of the exact same people.
To put it simply, I lead by example. There is not a job or task I haven't done or won't do if it needs to be done. Nothing is "beneath" me. That being said, I'm also a get sh*t done type of person. I'm not a micromanager, and with my team I give ownership to projects. If a task is assigned, I let it go and expect it to be done because I believe in their capabilities.
For example: "stand up on your highheel shoes" (lift your heels) or "tighten your corset" (pull your ribcage in). Most men have never experienced wearing high heels or wearing a corset, so we have changed the language in our teacher certification to be more inclusive. We are practicing being more deliberate with our language choices to be relevant and relatable to all genders.
Work time and playtime are synonymous. When I'm "working," I'm surrounded by clients and employees I call friends.
WHAT IS THE #1 THING YOU DO TO ENSURE YOUR BUSINESS IS SUCCESSFUL? Keep it real. IF YOU COULD BEGIN AGAIN, WHAT WOULD YOU WANT TO "DO OVER" IN YOUR CAREER?
DESCRIBE YOUR LEADERSHIP STYLE.
The first line of "Fancy" by Iggy Azalea does not say "First things first, Cin-da-realla" (slang for Cinderella). It says, "I'm the realest." I've been saying it that way for years and don't plan on changing it anytime soon.
WHAT ADVICE DO YOU GIVE YOUR KIDS?
– Dwayne Johnson
WHAT IS THE BEST ADVICE ANYONE HAS GIVEN YOU? Do what you love, and you'll never work a day in your life.
"I get up every morning determined to both change the world and have one hell of a good time. Sometimes this makes planning my day difficult." – E.B. White BEACH 424-452-6040
ROCKIT BODY PILATES SPECIAL ADVERTISING SECTION190 | 1834 N. SEPULVEDA BLVD., MANHATTAN BEACH | 1718 S. CATALINA AVE., REDONDO
L to R: studio manager  Cameron Paulson; owners Brook Ricciardi, Kaci Bacher & Jennifer Chan
TELL US ABOUT A FEW OF YOUR PASSIONS.
TAMMY TRENTA KNOWLTON Founder/CEO, Family Financial LLC SPECIAL ADVERTISING SECTION192 | 1117 5TH ST., UNIT D, MANHATTAN BEACH | 310-486-6763 | FAMILYFINANCIAL.BIZ FB: TAMMY TRENTA KNOWLTON | IG: @TAMMYTRENTA WOMEN OF THE SOUTH BAY
HOW DO YOU FIND TIME TO FIT IT ALL IN?
It's an interesting dynamic, but to me it's simple. I think you genuinely need to care. At some point, as companies grow they start to focus on the wrong things. If your clients feel that you care and your team members feel that you care, success comes naturally.
WHAT ADVICE DO YOU GIVE YOUR KIDS?
I grew up on the East Coast in a middle-class family, and my parents were big spenders. During my first year of college, I received a call from my dad that my parents were splitting up. They were highly leveraged in real estate and ended up losing everything— including my college fund. In order to finish college, I took on student loans, waited tables and then applied to law school. However, the thought of incurring more debt for my education without having a clear career path gave me pause. I decided to work for a few years to see what type of career resonated withWhenme. I discovered finance, I was extremely motivated to become financially literate so I could support myself, make good financial decisions and prevent what happened to my parents from happening to me. It was at that point that I decided to pursue my MBA in finance and obtain my CFP. Now I have the privilege of helping others.
WHAT HAS BEEN THE MOST SIGNIFICANT BARRIER IN YOUR CAREER?
HOW DO YOU BALANCE WORK AND PLAY?
HOW DID YOU CHOOSE YOUR CAREER IN FINANCE?
I'm not sure how well my 5-year-old son, Jack, listens to my advice. I think it has to be more of an experience at this age. He has a piggy bank, and there are some ways he can earn money. I help him sell or donate his clothes and toys. He gets the money and can count it and decide what he wants to spend it on. It's fun to see him make choices, trading one want for another—immediate gratification versus delayed gratification. It gives him a sense of accomplishment and freedom.
WHY DID YOU CHOOSE TO START YOUR FIRM?
I am passionate about teaching others and about health, wellness and longevity. I also enjoy cooking and hosting dinners with family and friends.
WHAT IS THE #1 THING YOU DO TO ENSURE YOUR BUSINESS IS SUCCESSFUL?
Family Financial is an independent investment adviser registered with the U.S. Securities and Exchange Commission. Registration does not imply a certain level of skill or training. More information about Family Financial's investment advisory services and fees can be found in its Form ADV Part 2, which is available at www.familyfinancial.biz.
You need to experience the highs and lows in order to grow as a person. I have certainly endured my share of challenging times, but it has made me appreciate all that I have achieved and has undoubtedly made me a better financial advocate for my clients. I think you need to look back and be grateful for those experiences that shape you as a person. If I could change one thing, I wish I had started my firm 10 years ago.
In addition to work and play, I think you need to include "me" time. I am in a profession that requires me to serve others. I think it's important to periodically take some time for myself so I can show up at my best for others. Spending a long weekend at a wellness spa definitely helps me recharge my batteries.
Thinking back, I believe that each career move has been a stepping stone to starting my firm. After 26 years of professional experience and two or three major life experiences, I realized that my passion for helping people and my specific skills could be best utilized by having the freedom to advocate for clients without conflict of interest, corporate objectives or bureaucracy. It is incredibly empowering to know that nothing gets in the way of helping my clients achieve their financial goals.
Time is without question our most valuable asset. I love that many of us have gotten some time back by having the freedom to work from home and spend quality time with family. I encourage it because I know how much I value it. I think the trade-off to remote work is the risk of losing connection with your team and your employees. I like to set up quarterly retreats to spend quality time with my work family. Feeling happy and fulfilled both personally and professionally helps maintain relationships and inspires a good work ethic.
Disclaimer: This should not be considered investment advice or an offer to sell any product.
T ammy Trenta Knowlton's financial advisory firm has one specific focus: helping clients accelerate their wealth and keeping more of what they earn. They provide financial planning, investment management, estate planning, tax preparation and other business management services. Tammy launched the company this year and has worked in the financial industry for 26 years. She is a Certified Financial Planner, a Certified Tax Coach and a Certified Exit Planning Advisor.
It's hard not to look inward to see what holds us back. Fear has been my most significant barrier. Fear of rejection, failure, the unknown—it clouds good decision-making. There will always be an excuse or reason standing in the way of a goal or dream. I no longer allow it to control me or define me.
IF YOU COULD BEGIN AGAIN, WHAT WOULD YOU WANT TO "DO OVER" IN YOUR CAREER?
HOW DO YOU BALANCE WORK AND PLAY?
TELL US YOUR FAVORITE QUOTE.
This is the eternal struggle. I need balance. I don't perform well in any of my roles in life without it. But opening a business and having a very busy career will tend to squash this. It's been a challenging couple of years, but I am realizing it is all for nothing if I don't take care of myself. I am scheduling it in. I am making it a priority. It is just as important as anything else. That's it! Non-negotiable.
As a medical provider, never in a million years could I have guessed what social media could do for my practice. Four years ago I was hesitant to start marketing myself on Instagram. Now, 78,000 followers later and with more patients on my waitlist than I could ever imagine, I realize the magnitude of what social media platforms can do.  WHO IS YOUR ROLE MODEL?
"It is not the critic who counts: not the man who points out how the strong man stumbles or where the doer of deeds could have done them better. The credit belongs to the man who is actually in the arena, whose face is marred by dust and sweat and blood, who strives valiantly, who errs and comes up short again and again, who spends himself in a worthy cause, who at the best knows in the end the triumph of high achievement, and who at the worst, if he fails, at least fails while daring greatly."
HOW DOES SOCIAL MEDIA IMPACT YOUR BUSINESS?
|
WHY DID YOU GO INTO AESTHETICS?
N 2 Aesthetics offers skin care, injectables such as Botox and fillers, and regenerative treatments such as microneedling and PRF. The business was founded by Nicola Lowrey, who has practiced medicine for 19 years. She spent many years working in emergency medicine after graduating from Keck School of Medicine of USC. In 2004 she became certified as a cosmetic injector and split her time working in both specialties. Five years ago Nicola started her journey as a clinical educator in the aesthetics industry and retired from the emergency room. She opened N2 Aesthetics early this year and celebrated with an official grand opening in Manhattan Beach in June.
I have always been artistic. I was a ballerina growing up. I am a Libra and eternally attracted to beauty. Somehow I was able to mesh my love of science, anatomy and beauty and turn it into a career with many facets of complex yet fulfilling opportunities!
WHAT ROLE DOES YOUR FAMILY PLAY IN YOUR CAREER? My husband is a huge part of my career. Not only is he my #1 cheerleader (OK, my mom would say she's #1), but he runs the business side of N2 Aesthetics. There is no one I trust more in this world, and I'm so lucky to do this with him. It's no longer my goal, it's our goal!
|
WHAT ADVICE DO YOU GIVE YOUR KIDS?
Aesthetics SPECIAL ADVERTISING SECTION194 |
WHAT IS THE #1 THING YOU DO TO ENSURE YOUR BUSINESS IS SUCCESSFUL?
TELL US SOMETHING OUR READERS MAY NOT KNOW ABOUT YOU.
Giving advice to kids doesn't work. Believe me, I have two teenage boys! I hope my kids see how hard I work and how much I love what I do, and that this sets an example for them. I hope they can appreciate that achieving your dreams comes from a deep passion, major grit and a willingness to work hard for what you want.
— Theodore Roosevelt N2 3500 N. SEPULVEDA BLVD., SUITE 220, MANHATTAN BEACH 310-510-6262 N2AESTHETICS.COM IG: @N2AESTHETICS, @PA_NICOLA
|
WOMEN OF THE SOUTH BAY
It's funny—I have a hard time identifying as a "leader," even though I am often told that I am one. I feel like I am still learning every day what it means to lead well. Heck, I am still learning after 15 years how to be a better parent! But I think it's important that we continually work at it. I value honesty, vulnerability and hard work. The best leaders lead by example, and I hope that how I am choosing to live my life both professionally and personally helps my team evolve as individuals and collectively.
NICOLA LOWREY, PA-C Founder,
I am a big health nut. I love to run. I live for delicious, healthy food. I truly believe that youth and beauty start from the inside out. Nutrition. Exercise. Restorative sleep. These are passions of mine and have been since I was in my early 20s. My undergrad degree was in exercise science, and it laid a strong foundation for my lifestyle choices. I think it's one of the reasons I love living in the South Bay. We are all aligned with our lifestyle and health choices—it makes it easy to maintain.
It's all about the team. No business can be successful if there isn't a team of people working in concert toward that common goal. I have hired some of the most talented, intelligent, sophisticated and experienced injectors. We spent months together training on all of my signature techniques so I could ensure that each provider is offering the same level of care to our patients. I have learned that creating success is creating a reproducible model where the experience you provide is always at a level that is expected. This doesn't happen often in aesthetics. Outcomes often vary greatly from provider to provider. It takes time invested in the consistent education of your providers, and I offer this to our amazing team. Whether you see Diana, Ashely, Cambria or me, you can trust that your results will be natural, consistent, safe and beautiful.
One of my greatest role models and mentors is our medical director, Dr. Steve Yoelin. I met Steve over 12 years ago. He was one of the first and most impactful educators in my career and one of the kindest, most generous humans I had ever met. He was once my teacher, and now we often share the stage and present together! I am so grateful and feel so blessed to be able to partner with him now at N2 Aesthetics. DESCRIBE YOUR LEADERSHIP STYLE.
L to R, back: Ashley Lundy, Cambria Hunter, Diana Rand, Hilary Moore; front: Nicola Lowrey, Emmalee Hershberger, Amanda Trutanich, Natasha Dutko
WHAT IS THE #1 THING YOU DO TO ENSURE YOUR BUSINESS IS SUCCESSFUL? Constantly checking with our clients and our agents to see how we can better serve them.
TELL US ABOUT SOMETHING YOU RECENTLY LEARNED THAT SURPRISED YOU. My 14-year-old niece, who is in a culinary arts program, advised me to peel garbanzo beans before using them in recipes.
WHAT ROLE DOES YOUR FAMILY PLAY IN YOUR CAREER? Their support is the most important role they play. Love, joy, happiness and ultimate trust are huge too.
TELL US ABOUT YOUR COMPANY. Through the years of meeting and exceeding clients' expectations, our clientele grew and so did the services we offer. The root of our success is that we maintain absolute confidentiality, discretion and integrity with our clients at all times. In order to expand our brand to the degree that our business had expanded, we changed our business name from Michele Brown & the Real Estate Professionals to Michele Brown Lifestyles.
Listen to "the voices"—follow your intuition. And follow your passion—do the things that bring you joy and happiness.
A. MICHELE BROWN CEO, Lifestyles by Michele Brown SPECIAL ADVERTISING SECTION196 | 310-465-2334 | REALESTATEPROFESSIONALSINTERNATIONAL.COM | DRE #01165450 WOMEN OF THE SOUTH BAY
We pride ourselves on our dedication to providing an extraordinary client experience, offering a complete customized package tailored to fit clients' property and lifestyle. High-level digital marketing campaigns include professional photography and video, as well as catered open houses that highlight the home's lifestyle and the benefits and features of the city and neighborhood. We provide a carefully curated team of service providers to help prepare homes for sale or assist our buyers when moving in, decorating or furnishing their new home. We are available to act as project managers for clients to ease the stress and remove any inconvenience. A specific, customized strategy is created for every client who is buying or selling a home.
WHAT ADVICE DO YOU GIVE YOUR KIDS?
HOW DO YOU BALANCE WORK TIME AND PLAYTIME? With intention. Important dates for holiday celebrations, birthdays, vacations and family celebrations are scheduled for the year in advance. However, the nature of our business is to be available to our clients when they are not working. It takes a bit of juggling and partnering with team members.
The Team Comes First. We meet weekly to maintain a shared vision for ourselves and each one of our clients. Communication is key on so many levels—within the team and with our clients. To be learning-based, and always come from curiosity. We keep things simple; simplicity provides structure without confusion that comes from convoluted goals and objectives. Being present and listening to new ideas, frustrations, successes and tolerance for risks.
TELL US ABOUT A FEW OF YOUR PASSIONS. My work is my passion. I love what I do, and that makes me good at it. Also, delivering a "wow factor" to someone every day—family member, friend or client. Make someone's day brighter: random greeting card, putting extra money on their Starbucks card, an inspiring text, Sunday morning breakfast delivered on their birthday!
DESCRIBE YOUR LEADERSHIP STYLE.
WHAT DO YOU OFFER YOUR CLIENTS?
R ealtor® Michele Brown began her career in Dallas 40 years ago. She relocated to the South Bay in 1992 and opened a property management/ apartment locater company. In 2006 she joined KW Commercial, a real estate company affiliated with Keller Williams Realty International. Michele's team serviced commercial as well as single-family residential and luxury property clients and frequently won top producer and Realtor of the year Duringawards.thattime, Michele served as president of the South Bay Association of Realtors for a year. She was awarded the regional ambassador position for Keller Williams' Sports + Entertainment community of agents—one of only 32 agents in the United States awarded that designation. The Sports + Entertainment agents are a national network of vetted specialists dedicated to serving exclusive clientele with confidentiality, integrity and discretion. Michele was also chosen as one of five agents with Keller Williams South Bay to represent KW Relocation.
WHY DID YOU CHOOSE TO GO INTO THIS CAREER FIELD? A love of real estate, a passion to educate clients every step of the way and a dedication to integrity, transparency and confidentiality.
WHAT IS THE BEST ADVICE YOU'VE RECEIVED? To hire talent smarter than me and to always come from curiosity.
HOW DO YOU ENCOURAGE HONEST, OPEN EMPLOYEE DIALOGUE? By always bringing honest open dialogue to them. Everyone is encouraged to share their thoughts and opinions, because their perspectives and ideas matter. And never shut down their dialogue. Well, almost never!
Being a woman is not a life sentence to pain or discomfort! Women deserve a space where they can find answers to their very valid questions and where their concerns will be heard and addressed—in a fun healingCommonenvironment.symptoms we treat women for include painful periods, peeing a little when you laugh/sneeze/jump, pain during or after sex, chronic UTIs without positive lab cultures, increased frequency to pee when you are less than 36 weeks pregnant, and any pain related to pregnancy. All these symptoms are completely treatable, no matter how old you are or how long you have been living with these issues. Being a woman is hard enough; you deserve to have these issues managed so you can focus on the other things in your life that matter to you.
CLAIRE DELCAMBRE Owner, Hey Babe Physical Therapy & Wellness SPECIAL ADVERTISING SECTION198 | 1200 ARTESIA BLVD., SUITE 305, HERMOSA BEACH | 310-529-3191 | HEYBABEWELLNESS.COM | FB & IG: HEYBABEWELLNESS WOMEN OF THE SOUTH BAY
Having worked in extremely busy physical therapy clinics before, we understand how chaotic, noisy and crowded it can feel. Trust us, we don't like that either. We felt that patients weren't healing optimally due to time limitations and distractions in the clinic. We provide our patients with higherquality care by giving them more time and individualized attention in their private treatment rooms so they can feel safe to share pertinent information about their health without concern of being overheard by others.
If you are perimenopausal or postmenopausal, we can help address and prevent a lot of the common issues that arise due to hormonal changes by working with you and your doctor to create an effective treatment plan.
H ey Babe Physical Therapy & Wellness is a woman-owned and operated clinic specializing in treating women, men and children for sports and athletic-related injuries, pelvic floor dysfunction and pain. Owner Claire Delcambre earned her undergraduate degree in exercise science and her doctorate in physical therapy from Mercer University in Atlanta. She moved to Los Angeles in 2019 and started Hey Babe in 2021.
DO YOU TREAT MEN TOO?
Furthermore, if you are pregnant, we work to optimize your birth outcome and postpartum healing times, reduce your risk of tearing and improve your body's adjustment throughout the pregnancy. We recommend seeking our help either when you start to experience pain or symptoms or between weeks 32 and 34 to begin birth prep! If you are postpartum, you can see us between four to six weeks after birth or later. We highly recommend seeing a physical therapist prior to returning to exercise to make sure your body is ready for activities like running, strengthening, intervals or whatever else you would like to get back to.
Absolutely! We treat all genders and believe that all people are deserving of specialized, individualized care tailored to their needs. We're here for you!
WHAT SERVICES DO YOU PROVIDE? From pain and injury to injury prevention and wellness visits, we treat individuals for all conditions related to sports and orthopedic physical therapy including athletic injuries like ankle sprains or rotator cuff tears; orthopedic issues like low back pain or knee osteoarthritis; and individuals who are post-op from orthopedic surgeries. We treat a variety of pelvic floor conditions, which can affect all genders (yep, even guys!). These conditions include urinary urgency and frequency, incontinence, pelvic organ prolapse, pelvic pain, painful periods, endometriosis, PCOS, constipation and bloating, prostatitis, pregnancy and postpartum, menopause and individuals after gender affirmation surgery.
WHAT WERE YOUR GOALS IN OPENING THE CLINIC?
The first indicator is pain or injury anywhere. We treat every joint and body region and are experts in pain and healing the body. However, pain is not the only indicator. Generally, those who experience pain or discomfort with sex, significantly increased urinary frequency (once an hour or more), constipation, or urinary or fecal incontinence should seek a pelvic floor physical therapist.
TMI? Never heard of her! We are here to help our patients deal with all the "private" and "taboo" topics. We are a source of knowledge, empathy and comfort with any and all uncomfortable details. Our approach to physical therapy is to first listen to our patient's concerns and symptoms. We will always follow up with related and pertinent questions to guide our assessments. We will examine your movement, mobility and strength, asking open-ended questions to discover what is important to you. Next, we educate you on why you may be experiencing pain and what may exacerbate the symptoms, and we provide treatment to strengthen muscles and improve dysfunction. This method provides an opportunity for the therapist to dive into concerns and truly listen to the patient to understand the demands in their lives and limitations caused by their pain.
HOW DO YOU ENCOURAGE HONEST, OPEN DIALOGUE WITH PATIENTS?
WHAT ARE A FEW KEY THINGS WOMEN SHOULD KNOW ABOUT THEIR HEALTH?
WHAT ARE THE SYMPTOMS THAT LET ME KNOW I NEED PHYSICAL THERAPY?
HOW DO YOU HELP YOUR PATIENTS REALIZE THEIR BEST OUTCOMES? We connect with our patients. Our role is to understand our patients' stories, the demands of their lives and their goals, and develop care plans with these considerations at the forefront. We empower patients by providing them with the tools and information they need to thrive and improve long term, so they can move forward with confidence and independence in their health. We believe in a comprehensive approach to health and communicate with your other providers to ensure synchronized care.
L to ArielR:Andrade-Trevvett, Physical Therapy Aide Weslynne Rosa, Doctor of Physical Therapy Claire Delcambre, Doctor of Physical Therapy
WHY DID YOU CREATE MENOSPLAIN?
We were shocked that although we are highly educated women with different backgrounds and experiences, we knew next to nothing about menopause. That pushed us into action, and the first thing we did was find an expert. We were so fortunate to find one close to home, and with Stephanie's expertise, we decided to start Menosplain. Menosplain's goal is to empower women to take charge of their physical, emotional and mental transitions. We want to normalize menopause so the next generation embraces this stage as an opportunity to live, realize the best years are ahead, and have the medical and emotional support to be ready and eager for the journey. Our ultimate wish is for women in our community to be part of this mindset of agency and liberation from what has defined us previously. Menosplain is committed to making it happen. We are creating a supportive community and culture for women starting right where we are with the fantastic women of the South Bay.
We strive to lead by example and by ensuring our work encompasses values of empathy, respect, honesty and sense of purpose. Numerous scientific studies show that people live better and are happier when they have meaning in their lives. As leaders, we wish to work with other community leaders to unlock untapped resources for women who recognize that a sense of purpose is critical to well-being and longevity.
WHAT STRATEGIES CAN WORK WELL TO PROMOTE INCLUSION IN THE WORKPLACE?
Women have been pressured by societal beliefs to see lack of sleep, weight gain, incontinence and even silent conditions such as osteoporosis as natural and acceptable as we age. Women do not need to settle. We can create our own narrative with knowledge, wellness and advocating for solutions for a better quality of life. As a patient empowered with information, you can pose the right questions to your physician and both of you can work together to find solutions or specialists.  DESCRIBE YOUR LEADERSHIP STYLE.
There is much talk about inclusion in the workplace. Our perspective is that it needs to be rooted authentically in the appreciation of the contribution that different life experiences, views and backgrounds can make to enrich the culture of and performance of an organization. It requires honest intention to listen and willingness to give the other person grace and sincere appreciation for their point of view and what they can contribute.
Disclaimer: Content on Menosplain should never be used as a substitute for direct medical advice from your doctor or other qualified clinician.
TELL US ABOUT SOMETHING YOU RECENTLY LEARNED THAT SURPRISED YOU. It has been documented that both women and their doctors know very little about menopause. Knowledge gaps and misunderstandings prevent women from receiving standard care and options. It is troubling that even some of the most educated women we've spoken to in our community have been ill-prepared for the second half of their lives. Women want evidence-based solutions and trustworthy resources to ensure our lifestyle choices are the best to maintain a strong, healthy, vital outlook.
Let's acknowledge that we are battling many fronts: 1. Society's prejudices. 2. Our own prejudices (you know you judge too). 3. Physical and mental changes—our bodies and minds are testing us at every turn, and the experiences vary widely among women. Many women find transitions a time for accepted challenges, an opportunity to reinvent ourselves and the freedom to be who we are once more. Menosplain is a community that engages women to walk side by side along the way through this natural process. Why not? Our community has strength in numbers and expertise. Midlife women have nothing to be ashamed of or afraid of. Instead we should seize the opportunity to enjoy life and laugh at all the changes and opportunities it brings—together! We were driven to change legacy prejudices, celebrate shared experiences and provide scientific, evidenced-based education. When women are educated with the correct information, we are equipped to have a more directed and successful conversation with our health care providers and more agency in shared decision-making for our wellness.
WHAT ARE SOME MYTHS ABOUT MENOPAUSE?
STEPHANIE CULVER, MD, JOHANNA MOONEY, PATTY WUFounders, Menosplain SPECIAL ADVERTISING SECTION200 | MENOSPLAIN.COM | FB: @MENOSPLAINFORMENOPAUSEHACKS | IG: @MENOSPLAIN WOMEN OF THE SOUTH BAY
Topics surrounding midlife and menopause can cause misconceptions, taboos and stereotypes, all of which we seek to dispel.
M enosplain's mission is to help women thrive during perimenopause, menopause and beyond with education, insights, practical solutions by health professionals, and candid conversations with women. Founders Johanna Mooney, Patty Wu and Dr. Stephanie Culver started Menosplain in 2020. Dr. Culver is a board-certified OB-GYN, a fellow of the American College of Obstetricians and Gynecologists and a North American Menopause Certified Practitioner (NCMP). Patty and Johanna both earned their MBAs at Harvard Business School.
Dr. Stephanie Culver & Johanna Mooney (not pictured: Patty Wu)
MAURA DAVIS Owner, Beauty at the Bay SPECIAL ADVERTISING SECTION202 | 831 N. HARBOR DR., REDONDO BEACH | 424-383-1898 | BEAUTYATTHEBAY.COM | @BEAUTYATTHEBAYRB WOMEN OF THE SOUTH BAY
WHAT DO YOU DO AT BEAUTY AT THE BAY?
HOW WOULD YOUR CLIENTS DESCRIBE YOUR SPA?
This is a great question. Honestly, everything! I feel very fortunate to have been born and raised in the South Bay. Being a visual person, I appreciate the beauty of my home: the blue ocean, the rocky cliffs, the sandy beaches and the uniqueness of the cities within. These things never fail to inspire me! But the best part of living here is sporadically running into friends I have known for decades!
TELL US YOUR FAVORITE QUOTE.
WHAT ADVICE DO YOU GIVE KIDS?
My absolute favorite time of day is bright and early in the morning, between a cup of coffee and getting ready for the day. I put my favorite face mask on and take Milo for a walk. This is a peaceful time when I can clear my mind and set my intentions for the day ahead.
I have 22 nieces and nephews whom I absolutely love. Coincidentally, as I was preparing for this interview, my nephew Mark came into the spa to visit. I mentioned this question, and he answered: "You have always encouraged me to go after my passion. You have also modeled exactly that. I have watched you work hard and take on every obstacle with a great attitude as you achieve all that has been set out to do."
A beauty and wellness retreat and medical spa, Beauty at the Bay was founded by Maura Davis in 2013. Maura grew up in Southern California and graduated from Studio Makeup Academy at the Gower Studios and Aesthetic Treatment Technology of Southern California. She has worked in aesthetics for 32 years. Beauty at the Bay offers a variety of treatments including vitamin IV infusions and booster shots, colon hydrotherapy, Emsella pelvic floor strengthening, EmSculpt treatments (burn fat and build muscle), cellulite reduction, skin tightening and overall body contouring, medicalgrade facials, peels and laser treatments, microblading, eyelash extensions, waxing and massage.
Our guests always describe Beauty at the Bay as relaxed, fun, professional and friendly. Our goal for everyone who walks in the door is that they feel at home. Quite often we receive the compliment that a guest wishes they could live here at the spa. It is one of the best compliments we hear.  WHY DID YOU CHOOSE TO WORK IN THIS INDUSTRY?
A love of enhanced beauty led me to the field of skin care, where true beauty resonates. It is my passion to bring nonsurgical and therapeutic treatments to my clients. The greatest gift you can give yourself is the gift of confidence and prolonged youth through today's groundbreaking technologies.
WHAT IS YOUR FAVORITE TIME OF DAY?
TELL US ABOUT YOUR PASSIONS. I am passionate about my family. Both the family I was born into and the family I married into mean the world to me. I am passionate about all animals and the proper care of them. I am very passionate about my rescue dog, Milo, and all the time I get to spend with him. I have long been passionate about travel. I love everything about traveling—experiencing new environments, new people, new food and new music. Finally, I am passionate about people. Whether I am traveling or here in the South Bay, I love spending time and creating memories with friends new and old.
I'm an optimist by nature, and my eyes are always set on the rainbow. The quote is: "You have to go through the rain to get to the rainbow." I have learned throughout the process of running a medical spa to appreciate and embrace the rain. Even if that means difficulties and challenges, they become lessons and opportunities for growth. I'm forever learning and believe it is OK to slip and fall here or there on the way to reach your goals—as long as you do it with grace and a great sense of humor.
WHAT DO YOU LOVE ABOUT LIVING IN THE SOUTH BAY?
We offer everything from medical-grade facials to the newest treatments such as EmSculpt and Morpheus8. If we do not provide a specific service, we find the best providers in the community who do. We currently collaborate with life transformation coach Mandy Demetsky and Lissa Solis, the founder of Vibrancy Health. It has been a habit of mine to keep my finger on the pulse of the newest, safest and most effective technology. As the owner, I'm so proud of the climate we have created and excited to see where we have yet to grow.
HOW HAS YOUR PROFESSIONAL PERFORMANCE EXCEEDED YOUR CLIENTS' EXPECTATIONS? Some assume that aesthetic beauty is superficial. This notion cannot be further from the truth! At Beauty at the Bay, it is not only about aesthetic beauty but also about the health and wellness of the whole person. We are here to make you feel beautiful inside and out!
WHAT IS YOUR FAVORITE ASPECT OF THE BUSINESS YOU CREATED?  My team and our guests! Every day I have the pleasure of working with my team of incredible, professional women, who are every bit as passionate as I am about meeting our guests' needs. My other favorite aspect is the people in the community whom we are privileged to meet.
front: Helen B., Laura A., Maura D., Milo, Alicia Y., Lily M.
L to R, back: Sue G., Camilla B., Connie S., Patty P., Lissa S., Heather C., Latisha J.; middle: Olivia W., Mariah M., Tami MandyD.,D.
HOW DO YOU ENCOURAGE HONEST, OPEN EMPLOYEE DIALOGUE?
DESCRIBE A RECENT HAPPENING THAT RESTORED YOUR FAITH IN HUMANITY. This year our staff member Gracie experienced a life-threatening event, and we didn't know if she was going to pull through. This was felt throughout our entire community and triggered a wave of love and support in and out of the studio. We managed to raise more than $10,000 in four days to provide medical assistance funding. It was incredibly humbling to see our clients view our staff as though they are family. Thankfully Gracie made a full recovery and is back with us teaching at her favorite studio.
Work and play balance can be difficult no matter what field you work in. Building a team you can rely on is critical. It takes time to get to a place where you're not trying to catch up with yourself. Knowing you can depend on the people working with you is key to managing a business and enjoying life.
HOW HAS YOUR BUSINESS EXCEEDED YOUR EXPECTATIONS?
WHAT ROLE DOES YOUR FAMILY PLAY IN YOUR CAREER?
WHAT DOES YOUR STUDIO OFFER?
Family is a large part of what makes our studio so unique. We run the studio sideby-side as mother and daughter, creating an atmosphere that feels like a home away from home for our clients. We went through our Pilates certifications together and have been a team since the inception of Aspyn Method. We're very fortunate to have each other to bounce ideas off of and also to lean on when life gets a little crazy.
Transparency is key when it comes to keeping an open dialogue with our employees. Every decision we make for the studio always comes with a detailed explanation. This way everyone stays on the same page and feels they are in the know.
We have an open-door policy at Aspyn Method so our instructors know they can come to us with ideas and or concerns. Our entire team is incredibly invested in making Aspyn the very best place to take a class, so we are all constantly brainstorming together.
IF YOU COULD BEGIN AGAIN, WHAT WOULD YOU "DO OVER" IN YOUR CAREER?
Start smaller. Overhead can be a killer (especially when the world closes). We've learned it's much easier to expand than to grow into a large space. Hindsight is 20/20, so as we grow as a company we'll get to smooth out the kinks and learn from mistakes for future locations.
ANITA LUGLIANI & ALEXANDRA LUGLIANI Owners, Aspyn Method SPECIAL ADVERTISING SECTION204 | 800 TORRANCE BLVD., REDONDO BEACH | 213-946-4946 | ASPYNMETHOD.COM | FB & IG: @ASPYN.METHOD WOMEN OF THE SOUTH BAY
Time and energy are currency; spend them wisely.
A spyn Method offers a variety of Pilates and other fitness classes to clientele of all levels. Anita Lugliani and Alexandra Lugliani, a mother-daughter duo, opened the business in 2019. Anita grew up in Sweden and enjoyed the outdoor, athletic lifestyle that surrounded her. After working as a flight attendant and having four children, she often suffered neck and back pain and migraines. A physical therapist introduced Anita to Pilates 16 years ago, and her body responded so well that her chronic pain went away. She loved the results so much that she became certified as a Pilates instructor and an integrative nutritional health coach. A South Bay local, Alexandra took her first Pilates and barre classes 12 years ago. She is a certified Pilates instructor, trained in both classical and contemporary methods. She is the founder of Aspyn Method's teacher training program.
HOW DO YOU BALANCE WORK AND PLAY?
Pilates is one of the most inclusive and accessible forms of exercise. We have clients in their 20s up to their 90s! It can be intense and body-sculpting or rehabilitative and restorative. We wanted to create a place where we can offer both styles and reach more people. Our goal is to offer a style of fitness that is results-driven and good for the body in the long term. Pilates is not something that you should have to phase out of your life when you reach a certain age.
WHAT IS THE #1 THING YOU DO TO ENSURE YOUR BUSINESS IS SUCCESSFUL?
WHY DID YOU START ASPYN METHOD?
TELL US YOUR FAVORITE QUOTE. "Wisdom consists of the anticipation of consequences." – Norman Cousins
Despite all of the challenges we've faced together and individually, we've exceeded even our highest expectations. We are incredibly proud that Aspyn has become a place where our clients can come to connect, support and motivate one another in fitness and in life. We have come together to create a community of the strongest, kindest, most genuine people—including Aspyn's clients, instructors and trainees. We have forged a culture where friendships made in the studio extend far beyond our classes and reflect a brand of loyalty that is simply unparalleled.
WHAT IS THE BEST ADVICE YOU'VE BEEN GIVEN?
At Aspyn Method, we pride ourselves on offering a variety of Pilates classes to all levels of clientele. Our Reformer Pilates classes offer both the foundational classical methods created by Mr. Pilates himself as well as targeted contemporary repertoire. This combination allows our instructors to teach dynamic classes that restore, tone and align the body. We pride ourselves on our ability to make fitness accessible to clients of all ages and stages of life.
We are constantly running business health checks. We are lucky to be in an industry that generates so much data on a daily basis. This allows us to run projections into the future. We see what is working and what isn't, and then we make the necessary changes. It's not the most exciting part of business ownership, but it has helped us tremendously.
WHAT IS THE #1 THING YOU DO TO ENSURE YOUR BUSINESS IS SUCCESSFUL?
WHY DID YOU CHOOSE TO WORK IN REAL ESTATE?
TELL US ABOUT YOUR TEAM. Team Lyon's passion, work ethic and integrity allow us to provide unparalleled service and market knowledge to clients and investors who are buying and selling real estate. We pride ourselves on our reputation for consistent hard work and professionalism. We help our clients make well-informed real estate decisions throughout the buying and selling process. We have decades of real estate experience, plus a wealth of knowledge of the Beach Cities. We are all well-informed about current residential projects and historical trends in the South Bay community and the surrounding coastal area.
Excellent communication. We answer our phones whenever possible and give clients our honest opinion—whether it's news they want to hear or not. We treat our clients like family and hope to make them feel they are the only clients we have at that time. Attention to detail, savvy negotiating and thoroughness are other key factors in our business that are very important in ensuring our success.
Always be kind, and go out of your way to make someone smile. You never know what that person is going through. If you commit to something, follow through and be polite, honest and positive. When friends and family need help, be there for them. Work hard to make a difference in your life and the other lives around you.
In our free time, we love going to the beach, boating on the lake, golfing, playing tennis, traveling, and spending time with family and friends.
WHAT IS THE BEST ADVICE YOU'VE HEARD?
WHAT IS YOUR FAVORITE QUOTE? "You ask, 'What if I fall?' Oh, but my darling, 'What if you fly?'" – Erin Hanson We absolutely love this quote and have it framed in our office. Don't doubt yourself. We cannot let the fear of falling keep us from spreading our wings. Fly high above the clouds and the storms. Live fearless, confident and strong!
WHAT ARE SOME OF YOUR FAVORITE WAYS TO STAY GROUNDED?
We chose real estate because we love interacting with people and the bonus of the new lifelong friendships that are created. This career is a dream for us. We wake up every morning thankful and excited to go to work. Lyon Stahl Investment Real Estate is fun, engaging, vibrant and has the most amazing culture. Every agent in this office pushes each other in the most beneficial way while cheering each other on! We are blessed to work in a family-owned business.
Work hard, play hard. Life is short, enjoy every minute of every day and never take anything for granted. Our clients are our top priority, but you might find us on a Friday afternoon enjoying the backyard pool or a nice round of golf. When you take time to focus on yourself, you are a better worker, friend and mate. Make work and play indistinguishable.
TELL US ABOUT A FEW OF YOUR PASSIONS.
Family is truly everything in our career! We are blessed to get to work together every day. Each person in our family has their own unique strengths that enhance our desire to push harder and be better at what we do in our profession.
DESCRIBE YOUR LEADERSHIP STYLE.  Lead by example. Allow people to learn from their mistakes. If they don't take risks and try, they are never going to succeed. The sky's the limit! Dream big and support one another.
JULIE LYON, STEPHANIE LYON, LESLEY LYON Team Lyon Inc. | Lyon Stahl Real Estate SPECIAL ADVERTISING SECTION206 | 239 OREGON ST., EL SEGUNDO | 310-345-1239 | TEAMLYON.COM | FB: TEAM LYON | IG: @TEAMLYONRE WOMEN OF THE SOUTH BAY
WHAT ADVICE DO YOU GIVE YOUR KIDS?
WHAT ROLE DOES YOUR FAMILY PLAY IN YOUR CAREER?
It can be hard when we get swept up in everything, but it's all about taking a step back and appreciating what we have been given. At the end of each day, it's thinking about the highs and the lows and how to make tomorrow even better than today.
J ulie Lyon, owner of Team Lyon Inc., has a background in sales and owned a sporting goods company before starting her real estate career in 2005. She and her husband, Derrell, a builder, have raised three children in Manhattan Beach. Their son Sean owns a construction company with Derrell that focuses on remodeling and building custom homes. They have helped many of Team Lyon's clients prepare for a listing, remodel or build their home. Their son Brett owns Lyon Stahl Investment Real Estate; Julie joined the firm in 2017 to head residential luxury sales. Rounding out Team Lyon are Julie's daughter, Stephanie Lyon, and her daughterin-law, Lesley Lyon. Like her mom, Stephanie is a lifelong resident of Manhattan Beach. She began her real estate career in 2013 after attending USC Annenberg School for Communication and Journalism. She recently purchased her first home in Redondo Beach, followed by a major renovation. Lesley grew up in Huntington Beach and graduated from the University of Southern California in 2010 with a bachelor's degree in communications and a minor in marketing and advertising promotion. She worked in advertising for several years before joining Team Lyon in 2019. Lesley lives in Manhattan Beach with her husband, Brett, and their two children.
Stephanie
Team Lyon, L to R: Lesley, Julie and
WHAT ROLE DOES YOUR FAMILY PLAY IN YOUR CAREER?
TELL US YOUR FAVORITE QUOTE. So many amazing quotes to choose from; it is hard to choose just one. At the top of my list is Deepak Chopra: "For everyone, wellbeing is a journey. The secret is committing to that journey and taking those first steps with hope and belief in yourself." This message is something I try to instill in my patients to help them commit and trust in their healing journeys.
My favorite way to stay grounded is to get out into nature regularly. Californians are lucky to have the ocean, mountains and desert in close proximity. Walking barefoot in any of these magical places is grounding. After work, I love walking on the beach with my kids and dipping my toes into the waves even during our winter months.
WHAT ADVICE DO YOU GIVE YOUR KIDS?
Single-mom life guarantees that my kids play a big part in my career. Becoming pregnant inspired me to dive deep into wellness, as I wanted to give them the healthiest start. When they were little, bedtime stories often included medical books so I could simultaneously study while spending time with them. Taking my kids to work with me was sometimes necessary, so they have seen me in action. I love when they ask me questions about what I do. Watching my kids grow motivates me to learn more so I can continue to encourage them to live healthy and happy.
HOW DO YOU BALANCE WORK TIME AND PLAYTIME?
WHO HAS BEEN YOUR ROLE MODEL?
I tell my kids how important it is to stay true to themselves and that it is OK to take as much time as they need to figure that all out. There is no rush to grow up, and they should appreciate the little things in life as much as the big stuff. And of course I am always giving them advice about how to make healthy choices.
WHAT HAS BEEN THE MOST SIGNIFICANT BARRIER IN YOUR CAREER?
Luckily we live at the best playground: the beach. This makes it easy to ensure plenty of playtime. When I am not working you can find me boogie boarding, roller-skating, biking or skateboarding on The Strand.
LISSA SOLIS, DACM, A-CFMP, DIPL. OM, LAC Owner, Vibrancy Wellness SPECIAL ADVERTISING SECTION208 | 727 2ND ST. #101, HERMOSA BEACH | 310-779-1563 | VIBRANCYLIVEWELL.COM | IG: @VIBRANCYLIVEWELL LEEDAVIDBYPHOTOGRAPHED WOMEN OF THE SOUTH BAY
HOW DO YOU FIND TIME TO FIT IT ALL IN?
V ibrancy Wellness provides individualized health care by integrating Eastern and Western medicine to address the root cause of illness and prevent disease. Dr. Lissa Solis utilizes functional medicine, acupuncture, Chinese herbal medicine, cupping and red light therapy for holistic healing. She specializes in gut health, chronic illness, mental health, nutrition, women's health, pain management and longevity. Dr. Solis started Vibrancy Wellness in Hermosa Beach in 2018. She earned a bachelor's degree in psychology from the University of Texas, completed a four-year master's program in traditional Oriental medicine at Emperor's College, earned a doctorate with a focus in integrative medicine at Pacific College of Health and Science, and holds the ADAPT certification in functional medicine from Kresser Institute. She is currently working on IFM certification from the Institute for Functional Medicine.
My life is a balancing act. Some days I feel like a wonder woman, and other days I feel like a hot mess. On the days of chaos, I give myself grace and take comfort in knowing that each new day is an opportunity to make everything better.
My parents have been my biggest mentors. They have always encouraged me to follow my heart, pursue my passions and never give up. Thanks to them, I have learned how to follow my dreams, I know that it is never too late to make changes, and I can always pick myself up and try again when things don't go as planned.
I became a single mother of two toddlers in the first semester of pursuing medicine. I do not have family in California, but my parents along with other relatives took turns coming out to help me take care of my kids. It was extremely challenging, but I was able to graduate with my class due to the loving support of my family.
WHAT ARE SOME OF YOUR FAVORITE WAYS TO STAY GROUNDED?
WHY DID YOU CHOOSE THIS CAREER FIELD? My own health struggles led me to this career. In my youth, I saw multiple specialists with no resolution of my poor health. I chronically felt ill, experienced immense pain and had terrible weakness that kept me in bed. I was prescribed many different medications, which often made me feel worse. After years of struggling, I decided to step outside conventional medicine and seek other therapies. I saw an acupuncturist and a functional medicine doctor; together they took all of my pain away, corrected my deficiencies, regulated my digestion and rebalanced my entire body. I felt amazing for the first time in years and even got pregnant easily after previously being told I would not likelyRegainingconceive.my youth and vitality inspired me to help others. I switched careers from law to medicine, and I found my true path. I decided to study both Chinese and functional medicine to offer integrative care in my practice. My own experience and understanding help me compassionately support my patients.
The Manhattan Beach Chamber of Commerce stands for helping businesses, organizations and people in Manhattan Beach and throughout the South Bay to thrive. We want to promote a strong local economy by partnering with local govern ment, the business community, and local nonprofit and business organizations.
WHAT'S NEW AND EXCITING WITH YOUR BUSINESS? Recently, the Manhattan Beach Chamber of Commerce initiated a community-based newspaper, The MB Pier Review, that will be sent to all Manhattan Beach residents, businesses and Chamber members. Content and advertisements will be exclusive for our members, creating a unique benefit that sets the Manhattan Beach Chamber apart.
HOW DOES YOUR BUSINESS PROVIDE CLIENTS A COMPETITIVE ADVANTAGE?
MANHATTAN BEACH CHAMBER OF COMMERCE (MBCC)
425 15TH ST., MANHATTAN BEACH | 310-545-5313 | MANHATTANBEACHCHAMBER.COM
A Manhattan Beach Chamber of Commerce membership immediately gives you credibility and signals to consumers, other businesses and potential investors that you support the community and are serious about business ethics, integrity and scaling your brand. We do business better in the Beach Cities, and having a membership with the Chamber offers a vari ety of benefits to help you build your brand.
MBCC has a dedicated and active mem bership base that is successful in making its mark within our community. Those members work in tandem not only with the Chamber but also with other members to promote longterm partnerships and strategic plans to help achieve business goals. It is our mission to help you grow your sales channels, educate you on best practices, and get you the exposure you need to promote your products and services.
SPECIAL ADVERTISING SECTION210 |
WOMEN OF THE SOUTH BAY L to R: Latrice McGlothin, Kinecta Federal Credit Union Foundation & past chair of the board, MBCC; Jill Dunn, Chevron & chair of the board, MBCC; Abby Waddell, Compass; DeAnn Flores Chase, Chase Law Group; Tamala Lewis, Dignity Health Sports Park; Jill McCurry, Manhattan Village; Hibah Samad, Manhattan Beach Unified School District; Maureen McBride, Tabula Rasa Essentials; Danica Dusevic, MBCC finance manager, Beachfront Business Services; Ann O'Brien, El Camino College Not pictured: Jordan Austin, Residence Inn MB; Robin Curren, Skechers; Cristan Higa, Beach Cities Health District; Sherry Kramer, Continental CorporationDevelopment
T he Manhattan Beach Chamber of Commerce drives a strong local economy by promoting the community, providing valuable business connec tions and representing business with govern ment. The Chamber was founded in 1941 and is led by president/CEO David Archer. It has 13 women serving on its board of directors includ ing two women on the executive board.
IN WHAT WAYS DO YOU EMPOWER WOMEN TO SUCCEED IN BUSINESS? In March 2022 we held a virtual event called Phenomenal Women: Unite. Empower. Inspire. Denise Austin was the keynote speaker, along with four local women serving on the discussion panel: Tanya Monaghan, social influencer and deputy editor of Southbay magazine; Peilin (Payleen) Pratt, founder and principal of Peilin Pratt Advisory; Jennifer Clay, VP of corporate communications and marketing at Skechers; and Malissia Clinton, senior vice president, general counsel and secretary at The Aerospace Corporation. They addressed topics such as inequity and stereotypes in the workplace; support ing women in the workplace; celebrating differences and diversity with family; and being intentional about breaking barriers.
WHAT DOES YOUR COMPANY STAND FOR?
WHAT MAKES NEAT METHOD UNIQUE?
SPECIAL ADVERTISING SECTION | 211
NEAT Method is a full-service organizing business that deliv ers order, function and style to clients' homes—from the working professional to the stay-at-home mom. The busi ness was founded in 2011, and a Manhattan Beach fran chise was formed in 2020. Nicole Longo took over the franchise at the beginning of this year and expanded it to the entire South Bay. Before transitioning to this career, she worked for 15 years as an entertainment and tech marketing executive with firms includ ing Snapchat, Sony Pictures and Paramount Pictures.
WHY DID YOU CHOOSE TO GO INTO THIS BUSINESS? When your passion comes knocking, you open the door. I've always enjoyed organizing, planning and visual aesthetics. I'm a Virgo who also grew up in a military family that moved often, so the art of purging, unpacking and organizing are second nature to me. In 2021, I started organizing on the side for my friends and family as a creative outlet while working a full-time job as a marketing executive. I quickly realized that transforming spaces for other people was fulfilling my sense of purpose while allowing me to lean in to a passion at the same time. When the opportu nity arose to own NEAT Method Manhattan Beach and expand it into a larger business, I knew it was the right time to make a bold move and change careers.
HOW HAS YOUR PROFESSIONAL PERFORMANCE EXCEEDED YOUR CLIENTS' EXPECTATIONS? We often hear from our clients that organizing is life-changing. When everything has a place (with labels!), you can find things easier and faster and move about your day more seamlessly. Having a composed living space also helps get rid of mental clut ter; when you see an organized space, you aren't wasting mental space thinking about cleaning it.
NICOLE LONGO Owner, NEAT Method South 310-402-6447Bay | NEATMETHOD.COM | FB: @NEATMETHOD | IG: @LASOUTHBAYNEAT WOMEN OF THE SOUTH BAY
WHAT IS THE #1 THING YOU DO TO ENSURE YOUR BUSINESS IS SUCCESSFUL? We take a realistic and honest approach to containing clutter and customize every system to fit the needs of each household. We also provide a white-glove experience that includes a lifestyle consultation, shopping for and implementing products, and donating unwanted items, which leaves our clients with nothing left to do but enjoy their space.
NEAT Method is the largest home organizing company in the indus try, with 95+ markets across the U.S. and Canada. The business was founded by women and is operated by a beautiful community of entrepreneurs who are passionate about helping others live NEAT and empowering each other to grow. We also design a line of organizing products based on years of experience in clients' homes.
SPECIAL ADVERTISING SECTION212 |
HOW DO YOU BALANCE WORK AND PLAY?
I recently stopped at a gas station on a road trip and got coffee, doughnuts and a newspaper. When I checked out, the cashier said, "The lady next to you just paid for your items." I could not believe it. She said, "Pass it on, it is God's will." She made my day, and I could not stop thinking about how nice she was to do that! There really are good people out there, and you run into them when you least expect it.
TELL US ABOUT A FEW OF YOUR PASSIONS. I am passionate about connecting people and helping people who are new to our community. My website, justaskmolly.com, is a great resource for clients, friends and family. It has a curated list of local vendors, favorite hot spots and a calendar of events. People who are new to the area love it and use it frequently.
I have always believed in "work hard, play hard." I am available to my clients 24 hours a day, seven days a week, but I also make time for fun and traveling and spending time with my family and friends. It is a balancing act, but I love what I do—so it does not feel like work.
HOBIN WILLIAMS
MOLLY
T he Hobin Company at Bayside is a full-service boutique brokerage firm with offices in Downtown Manhattan Beach and Palm Desert. Molly Hobin Williams is the fourth generation of her family to run the firm, which was started in 1925 by her great-grandfather. She has worked in real estate for 41 years.
TELL US ABOUT THE TV SHOW YOU ARE ON!
DESCRIBE A RECENT HAPPENING THAT RESTORED YOUR FAITH IN HUMANITY.
President & CEO, The Hobin Company at Bayside 904 MANHATTAN AVE. #3, MANHATTAN BEACH | 310-318-1212 | THEHOBINCOMPANY.COM FB: @THE HOBIN COMPANY IG: @THEHOBINCOMPANY BAY
WOMEN OF THE SOUTH
Right after college, when I was working in commercial real estate, someone told me on a Friday afternoon that I needed to learn to play golf. I realized that if I did not do it, I would be sitting in the office on Friday afternoons while the guys were out playing golf and doing deals on the golf course. I learned the sport, and it has been amazing how many clients I have met while playing golf or through our country club.
WHAT IS THE BEST ADVICE YOU'VE HEARD?
I recently was selected as a host of a nationally syndicated lifestyle TV show, The American Dream: Selling Southern California. I have filmed six episodes so far, and although it is completely out of my comfort zone, I have enjoyed it and am having fun coming up with the content, interviewing people in our community, and highlighting local businesses and our current listings.
|
Olga
DESCRIBE A RECENT EVENT THAT RESTORED YOUR FAITH IN HUMANITY. Our esthetician Olga, who has been part of the ModernArt MedSpa family for six years, is a Ukrainian immigrant whose entire family still lives in the war-torn country in the city of Kyiv. The outpouring of love, support and charitable donations that our clients and extended community have shown her has been truly heartwarming. Amid all the negativity and chaos over the past couple years, it's a beautiful thing to be reminded of the innate goodness of humankind.
Amanda
WHAT'S THE BEST ADVICE ANYONE HAS GIVEN YOU?
Don't try to do everything. It's tempting, especially in this industry, to get excited by every new technology and want to do it all. But often people who try to do everything end up being great at nothing. I was reminded recently at a conference that the general public isn't as comfortable with new technology as we clinicians are. Most people prefer the least amount of intervention and the most natural approach possible—another reason we remain focused on the quality of services we offer and not the quantity. It's the Zen principle of "do one thing well" that has helped get me to this skill level and in turn has helped the whole business thrive.
Rousey, Tara Liebergen  WOMEN OF THE SOUTH BAY
TELL US ABOUT A FEW OF YOUR PASSIONS. I am very passionate about music. I play the piano and a little ukulele and I sing—loud, proud and daily. I'm not great at any of it. The secret is: You don't have to be! I'm also a dedicated yogini of nearly 20 years, and I have an overwhelming wanderlust that is rarely satiated. R: Voloshyna, deWysocki,
We listen to our clients. My two medical estheticians, Tara and Olga, and I have a combined 52 years of experience, and our loyal clientele is a testament to that. Sometimes listening means choosing an appropriate treatment only after understanding our client's goals, expectations, lifestyle and budget. And sometimes it means being a sympathetic ear to talk to. Our clients have become like family over the past eight years, and we want them to know how much we appreciate them.
SPECIAL ADVERTISING SECTION | 213 M
AMANDA DE WYSOCKI, RN Owner, ModernArt MedSpa & Salon  1620 AVIATION BLVD., SUITE A, REDONDO BEACH | 310-374-7878  | MODERNARTSPA.COM | IG: @MODERNARTSPA L to
odernArt MedSpa & Salon specializes in injectables, medical-grade skin care, body sculpting and other popular minimally invasive aesthetic procedures. Owner Amanda deWysocki has been a registered nurse for 16 years. She earned bachelor's degrees from both UC Berkeley and Arizona State University and completed graduate coursework at both Cal State Fullerton and Grand Canyon University. She made the leap from ICU nursing to aesthetics in 2009, opening ModernArt MedSpa & Salon in 2014.
HOW DO YOU ENSURE YOUR BUSINESS IS SUCCESSFUL?
The first rule for choosing vendors is to avoid those who suggest that your budget isn't sufficient. The planning process should be about taking your ideas and making them work. And when you select a team of the right professionals, trust them to have your best interest in mind.
When the wedding planner becomes the bride! As an event/ wedding planner, I see it all. From early prep to the day-of magic, I am there every step of the way. I wear the hat of a therapist, a friend, a boss, a confidant, a guide. But taking on the role of bride for my own wedding was a wildly different experience. I learned so many valuable lessons through the planning process. After accomplishing our fairytale dream wedding, I am now a better event planner and can offer specific insight to clients.
SPECIAL ADVERTISING SECTION214 |
TELL US YOUR FAVORITE QUOTE.
WHAT IS THE BEST ADVICE YOU'VE HEARD?
Town Social Events is a full-service event planning company based in Southern California. Before starting her own firm in 2013, owner Jessica Lococo Cannis worked for a red-carpet event production company creating high-profile parties.
IF YOU COULD BEGIN AGAIN, WHAT WOULD YOU WANT TO "DO OVER" IN YOUR CAREER?
TELL US ABOUT SOMETHING YOU RECENTLY LEARNED THAT SURPRISED YOU.
The vendors I work with are the best in the business, and they listened to our budget requirements and executed what we wanted. We met new vendors who have become part of the Town Social family, and I am thrilled to bring them on for future events. Take all the photos, hire the videographer, buy that dream dress you feel best in, make sure to add the small details that are important to you … so many things that I learned.
"A wedding is a party, not a performance. If at the end of the day you are married to the one you love, then everything went per fectly." I had to constantly keep this in mind and make our wedding about us, rather than focusing on it being a Town Social event. My husband and I centered everything around our beautiful, inspir ing love story, and this is crucial when I plan clients' weddings. I do my job in creating a gorgeous wedding and allow the bride and groom to make it personal and celebrate their own love story.
I would have started my business sooner. I find the things that give me the most joy are also the ones that scare me the most. I get to play the role of producer, collaborate with colleagues and clients, immerse myself in creative conversation, surround myself with things that inspire beauty, happiness and celebration, work with an amazing team of people and create relationships that will last a lifetime.
JESSICA LOCOCO CANNIS President, Town Social Events, Inc. 324 33RD PLACE, MANHATTAN BEACH | 310-529-8686 | TOWNSOCIALEVENTS.COM | FB & IG: @TOWNSOCIALEVENTS WESTATPHOTOGRAPHYWATANABELYNBYPHOTOGRAPHED DRIFT BEACHMANHATTAN WOMEN OF THE SOUTH BAY
HOW HAS YOUR PROFESSIONAL PERFORMANCE EXCEEDED YOUR CLIENTS' EXPECTATIONS?
Stephanie: Telling stories and creating collaboratively with other artists has been a longtime passion of mine! I grew up as a classi cal dancer, studied the dramatic arts at USC and joined a theatre company after graduating. A knee injury led me into other creative avenues, and one day I decided I'd teach myself how to paint. Over the years, I scaled my painting skills up to larger canvases and recently began doing murals. I have also been hired as a scenic painter for theatre productions around Los Angeles! 310-817-0960 424-218-6392
AMERICA MICHAEL & STEPHANIE CROTHERS Realtors ®, Homes By America Michael Team | Compass 1221 HERMOSA AVE. #201, HERMOSA BEACH |
(AMERICA) |
SPECIAL ADVERTISING SECTION | 215
TELL US ABOUT A FEW OF YOUR PASSIONS.
(STEPHANIE) HOMESBYAMERICA.COM | IG: @HOMESBYAMERICA, @STEPHANIECROTHERSRE | DRE #01902672, 02075685 WOMEN OF THE SOUTH BAY
America: I've been an avid traveler since I got my driver's license—it recalibrates and inspires me. I'm also really into nature and love to hike and explore, climb a mountain and be in the trees. I'm proud to say I've hiked Half Dome in Yosemite, although I was absolutely terrified. I also love design, home projects and fixing up spaces. It's something I've been doing since I was young and have loved the thrill of taking something from before to after and making it feel and look better.
WHAT IS THE BEST ADVICE YOU'VE RECEIVED?
Realtors America Michael and Stephanie Crothers special ize in Los Angeles and South Bay luxury real estate and residential properties. America founded Homes By America Michael Team, which operates under the umbrella of Compass. She has worked in real estate for more than a decade and is a Certified Negotiations Expert. Stephanie joined Homes By America Michael Team in 2019 and has worked in real estate for four years. When she's not assisting real estate clients, she also works as a stage actress, scenic painter and muralist.
We've been tasked with some interesting challenges over the years, as not all properties are quite plug-and-play or necessarily easy to sell. Our mission to find the answer to any objections, creatively think outside the box and ultimately put our clients' needs first has given us the results we've aimed for and more than 100 5-star reviews! We pride ourselves on our determination and thrive on taking as much as possible off our clients' plates—starting with our initial meeting to create our "master plan." It's often a collaborative effort, as not all clients work the same. But we know how to pivot and cater to our clients' vast needs. I'm proud of how nimble we've become over the years, as it shows our commitment to the job and how extensive our list of resources has gotten.
Stay true to yourself and above anything, do the right thing. Be a good human. Be someone you are proud of. Live life fully. Give to others and share your talents and gifts. The world is an abundant place—so come from abundance!
GM Michele Gutierrrez grew up in a family that owned and operated restaurants in Las Vegas. She studied communications at the University of Nevada, Las Vegas and was a mixed martial arts athlete competing on the MMA circuit around the world before she joined the Silvio's team this year.
NICOLLE HOWARTH & MICHELE GUTIERREZ
Michele: I have a passion for the bar and restaurant industry as well as the music industry. I've owned a music booking company for a few years now and have developed a great local following. The pandemic has allowed musicians the space to work in the South Bay and share their talent with the community. My ultimate goal is to own my own restaurant/bar/music venue.
Michele: I am focused on making the guest experience memorable. Bringing in live music has been an amazing addition that people are loving. I try to talk with every table and make a connection with all of our guests. Coming on board at Silvio's during the remodel and rebranding has been a whirlwind! My goal has been to build a team that is just as focused on the guest experience as I am. I've also been instrumental in developing the new beverage program. Lots of yummy concoctions to enjoy!
Nicolle: The pandemic was a difficult time for our family and the business. We decided that my husband would go back to school to earn his MBA, and I would step into his role as managing partner of the business. The plan was a light rebranding of Silvio's—giving it a fresh new look and feel, coupled with new management. And Silvio's South American Lounge & Grill was born!
18 PIER AVE., HERMOSA BEACH | SILVIOSLOUNGEANDGRILL.COM |
HOW DO YOU ENCOURAGE HONEST, OPEN DIALOGUE WITH Nicolle:EMPLOYEES?
TELL US ABOUT A FEW OF YOUR PASSIONS.
Silvio's South American Lounge & Grille S
SPECIAL ADVERTISING SECTION216 | WOMEN OF THE SOUTH BAY
TELL US ABOUT THIS NEW PHASE FOR SILVIO'S, AN ICONIC SOUTH BAY RESTAURANT.
HOW HAS YOUR WORK PERFORMANCE EXCEEDED YOUR CUSTOMERS' EXPECTATIONS?
ilvio's South American Lounge & Grill, formerly Silvio's Brazilian BBQ, has been a part of the South Bay community since 2008. COO Nicolle Howarth is married to one of the original owners of Silvio's and worked there for a short time when they first opened. She has worked in the hospitality industry for 30 years on and off and rejoined Silvio's this year.
FB: @SILVIOSBBQ | IG: @SILVIOSGRILL
You need to walk the walk and talk the talk. I can't expect my employees and manager to be honest and open and have continuous dialogue if I'm not doing the same. Giving a bit of grace during the growth process is also a big part of it. Without that people will hold back, and that doesn't serve anyone. I think that's one of the reasons Michele and I work so well together.
We were both introduced to real estate at an early age through our families and experienced how quickly it can build and sustain wealth. After working in the practice of real estate law, we realized that we worked well together. We also saw how problems can quickly emerge if people are not properly represented. Real estate transactions are complex, and you need a good "tribe" around you to succeed. We have both had great advisors and mentors along the way, and we feel strongly that it is up to us to help others get on the real estate escalator to building wealth.
Carol has worked as a real estate broker, developer and real estate attorney since the 1980s. Maria has been involved with real estate since 1992, initially as a certified real estate paralegal and then transitioning to sales as a broker.
SPECIAL ADVERTISING SECTION | 217 The Salzman Real Estate Team serves the Greater South Bay real estate market from LAX to Long Beach, representing both buyers and sellers of residential and multifamily properties. Realtors® Carol Glover and Maria Zuniga specialize in working with individuals and families to build generational wealth.
WHAT ROLE DOES YOUR FAMILY PLAY IN YOUR CAREER?
WHY DID YOU CHOOSE TO WORK IN THE FIELD OF REAL ESTATE?
WHAT QUALITIES DIFFERENTIATE YOU FROM OTHERS IN YOUR FIELD?
Carol: Family is everything. Dave Salzman, who works as our team lead, is my husband and partner. We are highly collaborative—especially on our development projects—because we both bring our special talents to the deal. 2022 was an exciting year for us as we assisted our kids, who are 32 and 27, in purchasing homes in Brooklyn and New Orleans.
HOW HAS YOUR PROFESSIONAL PERFORMANCE EXCEEDED YOUR CLIENTS' EXPECTATIONS?
Maria: My husband has been my partner in all of my real estate ventures and is supportive of everything we've done.
To quote one client, "They showed us that we mattered and made us feel like we were their only client." We are highly responsive and "walk the talk." We are both longtime owners and investors and know how critically important it is that we understand our clients' needs and goals. In this role, we are advisors to our clients and transform their ideas into successful purchases and sales.
We envelop our clients with 360 degrees of support. Dave is a real estate finance guru, Carol is a real estate attorney and together they share expertise in development projects. Maria excels at deal structuring and is our customer service ace. Working our respective strengths enables us to provide our clients with full-service attention before, during and after the transaction.
Following our lead, our kids, who are 18 and 23, are building nest eggs to create their own real estate portfolios.
CAROL GLOVER, JD & MARIA ZUNIGA Salzman Real Estate Team | Engel & Völkers – LA South Bay 1147 HIGHLAND AVE., MANHATTAN BEACH | 310-545-2260 | SALZMANTEAM.COM | @SALZMANREALESTATE | DRE #01738368 WOMEN OF THE SOUTH BAY
HOW HAS YOUR PROFESSIONAL PERFORMANCE EXCEEDED YOUR CLIENTS' EXPECTATIONS?
Some of the most modestly priced improvements can have a huge impact. Changing hardware in the kitchen and baths is a perfect example. Other high-impact changes are updating light fixtures and changing out accessories. Fresh paint can magically transform a whole space.
WHAT IMPACT DO YOU THINK THE CURRENT STOCK MARKET VOLATILITY AND INCREASED MORTGAGE INTEREST RATES MIGHT HAVE ON REAL ESTATE VALUES IN THE SOUTH BAY?
C indy Shearin has worked in South Bay residential sales and development for the past 30 years. Among her many certifications, she is a Certified Luxury Home Marketing Specialist, Certified Residential Specialist, GRI graduate, Certified Senior Resident Specialist and e-Pro Certified.
SPECIAL ADVERTISING SECTION218 | CINDY SHEARIN Founder, The Shearin Group | Strand Hill – Christie's International Real Estate 1131 N. MORNINGSIDE DR., MANHATTAN BEACH | 310-200-8318 | THESHEARINGROUP.COM | DRE #00925580 WOMEN OF THE SOUTH BAY COTTERLINDABYPHOTOGRAPHED
There continues to be low inventory, as well as recognition of the South Bay as one of the most desirable communities in the United States. These factors create strong support for home values in our area. There is currently a modest cooling and a move toward more normal conditions in our market, but the South Bay will continue to be a highly sought-after community.
I consider myself a generational Realtor because my excellent client retention rate often extends to many generations in a family. Many clients started as first-time home buyers, and their young adult children are also becoming clients. Also, I listen! I attribute my success to my ability to interpret and deliver my clients' dreams and visions with seamless transactions every time; my clients trust that all my decisions are motivated solely by their best interest.
AS A DESIGNER, WHAT ARE SOME OF THE NEWEST TRENDS IN THE REAL ESTATE INDUSTRY?
I deliver a very hands-on approach. My clients know that they will deal directly with me and that I am always available via my direct cell number: 310-200-8318. I'm not just a highly skilled Realtor®; I design both the exterior and interior of homes, develop projects from the ground up, select all the finishes for homes I create and personally stage my listings.
WHAT ARE SOME TIPS FOR ENHANCING A HOME TO PREPARE IT FOR MARKET IF YOU DON'T WANT TO DO A FULL REMODEL?
HOW DO YOU ENSURE THAT YOUR BUSINESS IS SUCCESSFUL?
With so many people working remotely, there is more demand for home office space. Likewise, home gyms and workout areas are near the top of the list; it is not surprising to see a stationary bike in someone's living room these days. There are fundamental shifts in how people work and live in the post-COVID world. The movie theatre room has morphed into multipurpose rooms to include theatre, bar, pool/game tables … it becomes a flex space for the whole family. Aesthetically, we see more neutrals, textures and wood-stained cabinets ranging from neutrals to greys instead of mainly paint-grade cabinetry. And yes, gold and black are still in!
RONNA PARSA, DO, Board-Certified Orthopedic Surgeon, Parsa Orthopedics & Sports Medicine Institute 1200 ROSECRANS AVE., SUITE 110, MANHATTAN BEACH | 424-220-4411 | DRRONNAPARSA.COM | IG: @DRPARSA_
P
FAAOS
WOMEN OF THE SOUTH BAY SPECIAL ADVERTISING SECTION | 219
Dr. Ronna Parsa is a board-certified orthopedic surgeon who specializes in sports medicine. She started her private practice in the South Bay in 2017.
I value and care for my patients with the same respect as I would a member of my family. I know the importance of trust and confi dence a patient must have in their physician to be able to reach the best results. My patients and I work together as a team, not only to ensure the greatest outcome but also to optimize their overall health and maximize their quality of life.
I trained under the world-renowned sports surgeon and my men tor, Dr. James Andrews, who taught me the importance of team work, leadership and communication when treating patients. His support and encouragement throughout my career have inspired me to continue to pay it forward by teaching and mentoring the next generation of surgeons.
As a female going into a career in surgery—especially a field like orthopedics—there were plenty of challenges and barriers to over come. I quickly learned to turn my perceived disadvantages into advantages and use them as sources of motivation. Nonstop dedi cation to hard work and staying focused on my goals have allowed me to excel in even the harshest of environments.
WHO HAS BEEN YOUR MENTOR?
TELL US ABOUT A FEW OF YOUR PASSIONS.
arsa Orthopedics and Sports Medicine Institute helps indi viduals of all levels achieve a healthier quality of life using regenerative therapies, like PRP, and minimally invasive treatments, like arthroscopy, to accelerate healing and ease recovery.
HOW HAVE YOU DEALT WITH BARRIERS IN YOUR CAREER?
HOW DO YOU ENSURE THAT YOUR BUSINESS IS SUCCESSFUL?
Growing up in the South Bay with a family and a community dedi cated to an active lifestyle, I have always loved year-round outdoor sports—from tennis, golf and swimming to running on the sand and The Strand. These activities have helped me fully realize my pas sion to get patients back to their favorite activities as quickly and as safely as possible. I use a comprehensive approach to address any issues that may be slowing down your recovery.
WHAT ADVICE DO YOU GIVE KIDS AND THEIR PARENTS?
Never stop pursuing your dreams no matter how many obstacles you think stand in your way. Don't be afraid to try new things and see what you love best. Play all types of sports to help support and build all muscles of a growing body. Studies show that children who play only one sport have a higher risk of injury and burnout. Overuse injuries have become a significant issue, especially in young athletes. Learn more at STOPsportsinjuries.org.
A
fter earning a degree in mechanical engineering from USC, Audrey Judson moved to the South Bay to be close to work and enjoy the beautiful Beach Cities. She purchased a home and was intrigued with the process, so she decided to obtain her real estate license—not with the intention of becoming a full-time Realtor but rather to learn more about real estate contracts and laws. When the engineering company she was working for was sold, she decided to pursue a real estate career temporarily—planning to return to a career in alternative energy. In the meantime, she realized that she enjoyed helping people purchase or sell their homes. "I love living in the South Bay and realized that I'm passionate about sharing my excitement for this area," Audrey shares. "It's easy to sell something I believe in!" She has now worked in the real estate industry for more than 30 years.
My mother and grandmother taught me what unconditional love and support are. They persevered through unbearable times. They are and always be my role models.
WHO HAS BEEN YOUR ROLE MODEL?
WHAT IS THE #1 THING YOU DO TO ENSURE YOUR BUSINESS IS SUCCESSFUL?
I also enjoy exercising outdoors—running on the Greenbelt and beach, biking, walking/hiking, and climbing Sand Dune Hill each week. The fact that I live in an area perfect for outdoor sports is one of the reasons I love living here.
AUDREY JUDSON
TELL US ABOUT A FEW OF YOUR PASSIONS.
Realtor ®, Audrey Judson Real Estate | Strand Hill Properties WOMEN OF THE SOUTH BAY
SPECIAL ADVERTISING SECTION220 | 1300 HIGHLAND AVE. #208, MANHATTAN BEACH | 310-902-3234 | AUDREYJUDSONHOMES.COM | DRE #00872303 FB: @AUDREYJUDSONREALTOR | IG: @ AUDREYJUDSON
I treat my clients with care and respect. They are never just another sale to me. Many have become close friends. I think my clients understand and appreciate my honesty and my com mitment to helping them achieve their goals, which is why my business is primarily made up of repeat business and referrals.
My family is everything to me. I have an amazing husband. We've been married for 35 years, and he makes me laugh every day. I couldn't be prouder of my son and daughter. My daughter is a Division 1 student-athlete at Columbia University where she is pursuing a career in sustainable development while being a member of their crew team. My son works in finance and was recently married to a wonderful young woman. They just bought a home and had a baby boy—lots of changes in their lives that past year. And my husband and I are officially grandparents! My only regret is that they live so far away. There are going to be a lot of trips back and forth to the East Coast in the coming years.
| THEKONDOGROUP.COM | DRE #01969527 WOMEN OF THE SOUTH BAY
HOW HAS YOUR PROFESSIONAL PERFORMANCE EXCEEDED YOUR CLIENTS' EXPECTATIONS?
It comes down to how much I care—that's what makes me stand out among the crowd. I want every client to feel they have my 100% focus and attention. Every Realtor can put up a for-sale sign in front of a house or suggest staging or projects to get the home ready for the market, but it's that extra mile that takes home buying and selling from good to extraordinary. I don't want to meet clients' expectations, I want to exceed them.
"Eddie would go!" It was given to me by one of my first mentors in California, Matt Jacobs—God rest his soul. He always encouraged me to keep going and be courageous in this business. You have to be self-motivated in this business, and this motto reminds me to stay committed and persevere through any hurdles.
WHAT ADVICE DO YOU GIVE KIDS YOU KNOW?
Although I don't have any kids of my own, my advice for all kids is to be bold, be fearless, stand up for what you believe in and to follow your passion.
WHAT IS THE BEST ADVICE YOU'VE RECEIVED?
T he Kondo Group is a full-service real estate team working under the umbrella of Compass. Led by Tadashi Kondo since 2014, the team is comprised of 12 agents and staff with more than 60 years of combined experience. Realtor Mora Sepehrnia joined The Kondo Group more than seven years ago. She started her real estate journey in Toronto in 2010 while completing her bachelor's degree in business from York University. Later she met her husband, moved to the United States and obtained her broker's license in Chicago. The couple moved to Los Angeles about eight years ago, and Mora acquired her California real estate license. In 2019 she also became licensed in Abu Dhabi.
WHO IS YOUR PROFESSIONAL MENTOR? When Tadashi Kondo asked me to join his team, The Kondo Group, I thought I may only stay for a couple of years. But here I am seven years later, still under his wing and learning something new every day! He's created a great team, and I love getting to collaborate with top agents. SPUR 110, 626-233-6637
RD., SUITE
MORA SEPEHRNIA Realtor ®, The Kondo Group | Compass 550 SILVER
SPECIAL ADVERTISING SECTION | 221
TELL US ABOUT A FEW OF YOUR PASSIONS. I am a very passionate person, being moved by art, music, performances, stories and anything that can deliver a message. Art and a good song can give me goose bumps and make my heart race. Whenever I need a creativity boost, I enjoy creating art.
RANCHO PALOS VERDES |
rin Ennis has been a licensed esthetician since 2004. She opened Skin Topic Skincare in 2010 to offer clients targeted, results-oriented skin care backed by science and delivered therapeutically. The business is an authorized retailer of Éminence Organic Skin Care products and offers services such as facials and waxing, plus red and blue LED light therapy.
I am 45 and really proud of my innate perseverance and accomplishments thus far. I am happy with my dramatically improved skin, my health, my thriving skin care business that is going on year 12 (voted the South Bay's BEST Skin Care in 2021 and 2022 in the Daily Breeze's Readers' Choice Awards) and my ability to use my experience and expertise daily to help my clients achieve their goals.
TELL US ABOUT A FEW OF YOUR PASSIONS. Dancing; I still take a class once a week. I love the ocean and enjoy staying healthy, mentally and physically. I am blessed to be able to live and work in the South Bay! 740, 310-308-8421
My facial services are more than just skin care. A client's concerns with their skin may be what initially brings them in, but I offer more value with my services beyond just a great moisturizer. Wellness of body and mind are so important, and this is the environment that I strive to create. During a service, the client can decompress so their body can reset and align from within and they can better receive the benefits of my treatment and therefore obtain optimal results. At Skin Topic Skincare, the best foundation you can wear is healthy, glowing skin!
We all have experienced various roadblocks in our lives. Adapting to change has been my biggest tool navigating my journey. I started out in life as a dancer. I had some unfortunate injuries in other activities that required three knee surgeries, two back surgeries and even a broken elbow. This derailed me from the path of professional dancing.
When I was in college pursuing a degree in fashion merchandising, my mother tragically and suddenly passed away. While I was coping with her loss, I gravitated toward wellness. Having grown up struggling with cystic acne for most of my teen and young adult years, I turned my focus to skin care and became a licensed esthetician. I discovered that skin care and helping others is my life's passion!
WHY DID YOU GO INTO THIS CAREER FIELD?
HOW DO YOU ENSURE THAT YOUR BUSINESS IS SUCCESSFUL?
TELL US YOUR FAVORITE QUOTE. "If you love what you do, you will never work a day in your life." I am so grateful for the ups and downs that ultimately led me to realize that wellness is my purpose in life! I get to live my life's passion every day as an esthetician. I consider myself very lucky!
ERIN ENNIS Owner, Skin Topic Skincare 4201 TORRANCE BLVD., SUITE
TORRANCE |
| SKINTOPIC.COM | @SKINTOPICSKINCARE WOMEN OF THE SOUTH BAY
SPECIAL ADVERTISING SECTION222 | E
WHAT IS THE BEST ADVICE YOU'VE RECEIVED? Be prepared. Know the market and latest sales. Have an ear to the ground for off-market buys too. At home, have emergency kits at the ready with medicines handy, in case a flu suddenly happens.
HOW HAS YOUR PROFESSIONAL PERFORMANCE EXCEEDED YOUR EXPECTATIONS? In the last couple years, I've received some important awards such as a Top Producer for Vista Sotheby's, ranked in the top 1.5% in the nation by RealTrends and was named a Real Estate All-Star by Los Angeles magazine. My wonderful clients have helped me achieve this. And the Sotheby's global brand elevates us to the next level.
DESCRIBE SOMETHING THAT RESTORES YOUR FAITH IN HUMANITY. I'm a big believer in random acts of kindness. It costs nothing and makes a big difference in someone's day. This is why I enjoy shop ping at certain stores where employees are so pleasant, such as Trader Joe's and Skechers.
HOW DO YOU BALANCE WORK TIME AND PLAYTIME? This balance is very important. I like to combine both, such as being a member of the Trojan League of the South Bay. We have fun raising funds for USC scholarships to give to local South Bay students. And I managed to fit in some trips this year to islands off Seattle (fishing for our dinner) and a friends' reunion in Hawaii. TURNER Real Estate Advisor, Vista Sotheby's International Realty 2501 N. SEPULVEDA BLVD., SUITE 200, MANHATTAN BEACH | 310-213-2450 | LOSANGELESBEACHHOME.COM | DRE #01442365
TELL US ABOUT SOMETHING YOU RECENTLY LEARNED THAT SURPRISED YOU. How well we managed work during COVID-19. In spite of all the uncertainty and physical challenges to show homes, we masked up and took precautions following rules. Videos were created more, and buyers bought homes—sometimes without actually walking into them. We made it through with record sales.
It's good! There is still big demand for our area. Our beach com munities always endure economic storms better than other areas. Where else can you find our fabulous weather, beautiful beaches, great schools, fantastic shopping and restaurants with easy access to LAX?
SPECIAL ADVERTISING SECTION | 223 D
HOW IS THE REAL ESTATE MARKET?
DIANA
iana Turner grew up in West Los Angeles and Palm Springs, where her father was a successful real estate broker. After graduating from the University of Southern California with a Bachelor of Arts degree in journalism and communications, she worked in major media for 20 years at Good Housekeeping, Redbook, Los Angeles magazine and Disney Internet. She started her career as a Realtor® in 2004.
WOMEN OF THE SOUTH BAY
WHY DID YOU CHOOSE THIS LINE OF WORK?
WHAT IS THE #1 THING YOU DO TO ENSURE YOUR BUSINESS IS SUCCESSFUL? Each project has its own identity starting with our clients' wish list that they fill out on our website. Since no garden is the same, both hardscapes and planting designs are uniquely individual expressions of our clients, the architecture and the site. I pride myself on being able to communicate with my clients—quickly and openly—under standing their needs and creating designs that will fulfill and exceed their expectations.
TELL US YOUR FAVORITE QUOTE. "If you can imagine it, you can create it. If you can dream it, you can become it." – William Ward Gardens are like this too. It's the imagination that holds the possibilities, but we some times must slow down enough to create our dreams. By listening, we get to help our clients' dreams come true. RICHIE-BRAY, ASLA Owner, Richie-Bray,PALOSInc.
DEBORAH
WOMEN OF THE SOUTH BAY
Richie-Bray, Inc., a landscape architec ture studio owned by Deborah RichieBray, offers custom designs on both the East and West coasts that encompass commercial and residential properties as well as numerous horse farms and estates in Kentucky and Rolling Hills. Deborah founded her studio in 2004, designing lawns, gardens, pools, spas, BBQs, fireplaces and water features. Installations highlight diversity, low water, low maintenance and fire safety.
WHAT ROLE DOES YOUR FAMILY PLAY IN YOUR CAREER? Both my mother and father appreciate gardens and the natural landscape. They volunteered to enhance forests by protecting trees for the future. I've learned to appreciate the beauty of natural textures and layers. The future of the land depends upon us protect ing our natural resources. Native plants will grow better without a lot of water or mainte nance. I've become an expert on trees, native plantings and low-water gardens. I love the organic forms of nature and the classic struc tures of architecture. Combining both creates unique outdoor environments.
A design of a modern farmhouse is shown above. Completed projects include the master plan for the South Coast Botanic Rose Garden on the Palos Verdes Peninsula and Descanso Beach Club on Catalina Island. Recently licensed in Tennessee, I'm getting back to my roots—designing new and old estate proper ties with my Southern, classic style.
DESCRIBE SOME OF YOUR MORE RECENT PROJECTS.
Do what you love, and you will love what you do, and you will live a rich life.
SPECIAL ADVERTISING SECTION224 |
VERDES, CA; BARDSTOWN, KY; WINCHESTER, TN | 310-377-5868 | RICHIE-BRAY.COM
WHAT IS SOME GREAT ADVICE?
I knew at a very early age that I had a passion for garden design, which led to my degree in landscape architecture from the University of Kentucky and extending studies at UCLA. Early on I was given the opportunity to work on horse farms and landmark prop erties in Kentucky and later on the Getty Villa in Malibu in 1998.
The Richie-Bray, Inc. portfolio includes residential estates in Southern California.
TELL US ABOUT A FEW OF YOUR PASSIONS. Outside of work and spending time with my husband and three small children, I enjoy running and Pilates—which help me with my endurance for long workdays. I also love cake decorating. This therapeutic and creative outlet has become a great way to bond with each of my kids. I am grateful that my family and I have become a part of this wonderful South Bay community!
WHY ARE YOU CONSIDERED A GO-TO PERSON IN THE COMMUNITY?
SPECIAL ADVERTISING SECTION | 225 O riginally from the Midwest, Dr. Leslie Irvine has spent the last decade in Southern California as a dedicated head and neck surgeon and facial plastic surgeon. She gradu ated from Harvard College and Harvard Medical School before completing her residency at USC and her fellowship in Beverly Hills with one of the top rhinoplasty surgeons in the world. After practicing in Santa Barbara, she moved to the South Bay in 2019 and opened her facial plastic surgery practice in Manhattan Beach. Dr. Irvine specializes in facial rejuvenation and nasal surgeries with an emphasis on rhinoplasty, considered one of the most complicated and high-pressure plastic surgeries.
I chose otolaryngology (ear, nose and throat surgery) because I love the fine details of the head and neck anatomy, and I chose facial plastic surgery to help people with more complex anatomy. My favorite surgery to perform is rhinoplasty with septoplasty. It can help significantly with quality of life, making people who need it both breathe and look better.
WHY DID YOU CHOOSE TO GO INTO THIS CAREER FIELD?
LESLIE IRVINE, MD Facial Plastic Surgery1200 ROSECRANS AVE., SUITE 110, MANHATTAN BEACH | 424-225-1280 | DRLESLIEIRVINE.COM FB: @DRIRVINEFACIALPLASTICS | IG: @DRLESLIEIRVINE WOMEN OF THE SOUTH BAY
HOW DO YOU ENSURE YOUR BUSINESS IS SUCCESSFUL?
My goal is that patients' results exceed their expectations. This means I have to understand their goals and also their anatomy to find treatment options that work for them. I listen to patients and am honest with them. I am fortunate to have the advantage of more than a decade of surgical experience and years of continued followup on my patients, so I can really get a sense of how my work holds up over time.
I am known for doing complicated nasal surgeries including revision cases. I am double board-certified, and I trained on some of the most complex revision surgeries during my fellowship with Dr. Paul Nassif on the TV show Botched. After treating extremely tricky revi sion patients, I have learned what complications can arise and how to manage and avoid them. Local physicians and patients choose me because I have the experience to not only make the shape of the nose look beautiful on the outside, but also to breathe beautifully on the inside.
Amber: I wanted to create an environment where our team members feel they have a voice. We have worked hard to build an open dialogue with all of our teams. We are honest with our employees about what we need, and they feel safe coming to us whenever they need to voice something. We allow space for everyone to be heard. When there is an issue, nothing is swept under the carpet. We deal with it, find a solution and move on. 301-921-8505 @NINE24.KITCHEN
Cindy: I'm so excited about our newest Source Collab addition, Sweetrise. It's a passion project of mine and has definitely been a labor of love. As an alternative baker, I strive to twist traditional sweets into clean, allergen-free treats. Seeing the happiness on kids' faces when they try something new is such a source of joy for me.
WOMEN OF THE SOUTH BAY L to R: Amber COO/pastryCindyCEO/chef;Caudle,VanPelt,chef; Beth Hannemann, CFO
WHAT IS THE BEST ADVICE YOU'VE HEARD?
NINE24 KITCHEN, SOURCE CAFÉ & SWEETRISE 924 N. SEPULVEDA BLVD., MANHATTAN BEACH |
HOW DO YOU ENCOURAGE HONEST, OPEN EMPLOYEE DIALOGUE?
WHY DID YOU CHOOSE TO GO INTO THIS CAREER FIELD?
Beth: All of the struggles and failures will make you stronger on the other side. Don't dwell on the past—move forward and learn from your mistakes. The more you take care of your health and well-being, the better you will be to all others in the world.
| NINE24KITCHEN.COM | IG:
SPECIAL ADVERTISING SECTION226 | C
Amber: I opened The Source Café 10 years ago when my health took a crash and I was desperate to feel better. I was determined to heal my body with nourishing food and also inspire others about the importance of what we put into our bodies. To this day, my mission is to make a paradigm shift in the world through food.
hef Amber Caudle, Beth Hannemann and Cindy Van Pelt began their partnership in 2018 and established Source Collab hospitality group in 2022, which features Source Café in Hermosa Beach, Nine24 Kitchen in Manhattan Beach and the soon-to-be-launched custom cake company Sweetrise. Amber and Cindy have worked in the restaurant industry since they were young teenagers, and Beth worked in data analytics before joining the team.
Beth: After dealing with daunting family and health issues, I left the corporate world to focus on my health and well-being. Once I met Chef Amber, I finally found a place where my passions for food and numbers collided.
Cindy: I like to lead our team with a style that says coworker before boss. We are in the service industry, and being of service to each other is the perfect segue to how we as a team treat our guests. It's really important not to micromanage our team members. When they have the freedom and support to do what they do best, then we are all shining in our own light.
TELL US ABOUT SWEETRISE.
DESCRIBE YOUR LEADERSHIP STYLE.
CRENSHAW
he Inspired Palate offers full-service custom catering and private chef services in the South Bay and surrounding areas. Chef-owner Aly Pedersen has worked in the culinary education and catering industry for the past 11 years, including with many high-profile clients such as the Los Angeles Kings and professional athletes.
WHAT IS THE #1 THING YOU DO TO MAKE SURE YOUR BUSINESS IS SUCCESSFUL?
I constantly ask for feedback from my sous chefs and team leads. Oftentimes we come up with solid solutions and ideas together. We test recipes, have honest communication about how we can improve, and simultaneously we put those ideas into action.
T
DESCRIBE YOUR LEADERSHIP STYLE.
ALY PEDERSEN Executive Chef
WHAT HAS BEEN A SIGNIFICANT BARRIER IN YOUR CAREER?
HOW DID YOU COME UP WITH THE NAME OF YOUR BUSINESS?
When you have a small business, each and every client is valu able and important. We make sure to create a unique experience customized to the clients' needs. We are especially good at creat ing dishes that are flavorful and fun but also fit a wide range of dietary restrictions. In southern California, it's key to cater to a range of dietary requests. Everything from the food and service to special touches is what makes us stand out.
Work-life balance can be a struggle. This past year I made a list of nonnegotiables to stick to so I could have better boundaries and not feel overworked. In doing that, I have been able to enjoy my personal time more and not feel pressed to get everything done immediately. It's made me a better person and business owner. Time to reset and refresh is vital!
| THEINSPIREDPALATE.COM PHOTOGRAPHYWATANABELYNBYPHOTOGRAPHED
HOW DO YOU ENCOURAGE OPEN EMPLOYEE DIALOGUE?
I have always been described as a natural leader. I lead with trust, established between myself and my crew. I push my team to do great work by building them up with encouragement and support. Their achievements are a reflection of me, and I want nothing more than to see my team thrive.
When I started culinary school, my dad gave me his copy of The Silver Palate—my most treasured cookbook. Combining my inspi ration and love of that cookbook, The Inspired Palate was born. & Palate 18509 BLVD., TORRANCE 310-283-4114
|
WOMEN OF THE SOUTH BAY SPECIAL ADVERTISING SECTION | 227
Owner, The Inspired
I was a competitive swimmer for 10 years and still lap swim several times a week. The pool is my sanctuary—a place for me to let go, unwind and just flow. Some of my best appetizer ideas have popped up mid-lap when my mind is fresh and free. There is nothing better to start the day!
WHAT ARE YOUR FAVORITE WAYS TO STAY GROUNDED?
Our small class sizes provide each teacher and associate teacher the opportunity to assess every child's academic, social and emotional profile and continually create engaging programs that maximize each student's learning. Parents frequently express their appreciation for our caring attitude and our teachers' con nection with their students and genuine interest in their progress and success.
DR. CINDY P. CHUN
WOMEN OF THE SOUTH BAY SPECIAL ADVERTISING SECTION228 |
F ounded in 1961, Peninsula Heritage School serves kinder garten through eighth grade students. Under the direc tion of head of school Dr. Cindy Chun, Peninsula Heritage welcomes students who represent diversity in ethnicity, backgrounds and talents from Palos Verdes and throughout the South Bay, as well as international exchange students.
School,
School 26944 ROLLING HILLS RD., ROLLING HILLS ESTATES |
TELL US ABOUT YOUR NEW POSITION WITH CAIS. While I continue as head of school at Peninsula Heritage, I have been selected to serve on the California Association of Independent Schools (CAIS) board of directors. CAIS accredits nonprofit inde pendent schools, holding member schools accountable to high standards of curriculum, care for students and management of resources while providing ongoing training and networking opportunities for school leaders. I will work with the board setting the standards to which schools are held and ensuring that CAIS continues to proceed effectively. I am so honored and look forward to being a part of the leadership team of our accrediting organiza tion and to giving small schools a voice on the bigger stage.
TELL US ABOUT YOUR BACKGROUND. I am a native Hawaiian. I have a deep sense of family and an "aloha spirit." I've been an independent school educator and administrator for more than 20 years and consider myself a life long learner, a world traveler and always a teacher at heart. I teach a class every year to stay connected with the students.
Head of Peninsula Heritage 310-541-4795
HOW DOES YOUR SCHOOL EMPOWER STUDENTS? Students can exercise their decision-making skills in all areas of the curriculum. Classroom discussions and authentic writing oppor tunities enable students to express their views and decisions, and opinions are carefully discussed and honored. Individual students' passions and areas of personal focus are celebrated, and teachers provide encouragement and resources to further knowledge acqui sition in these selected areas. We understand that the foundation of a successful student is a happy child who knows they are valued.
| PENINSULAHERITAGE.ORG
Peninsula Heritage School prides itself on cultivating learners who are poised to be compassionate innovators of the future. With the skills, intellectual curiosity and strength of character they develop during their years at our school, our graduates flourish in the South Bay's most challenging high schools—and in their lives thereafter.
WHAT WOULD YOU LIKE US TO KNOW ABOUT YOUR SCHOOL?
Palos Verdes Estates Panoramic ocean, coastline and city lights views from this KAA designed estate. With over 7,200 square feet and five bedrooms, this one level home is truly one of a kind. $16,900,000 DRE#00967574
One of the most beautiful remodeled homes in the Malaga Cove area, with sweeping and unobstructed views— from the Queen's Necklace, white water, city lights and L.A. basin all the way to the mountains. Beautiful 4-bedroom,4-bath, 3,337 square-foot home on an 11,500 square-foot lot with an oversized, two-car garage. The resort-like backyard backing the Parkland offers a pool, spa, waterfall and BBQ area. This home is on a sweet spot of the hill: It's close enough to walk or ride bikes to the beach, less than 10 minutes to the Hollywood Riviera, and up on the hill far enough away from the city that it feels calm and tranquil. It's really the "best of both worlds"! 581 Via Del Monte, Palos Verdes Estates | $4,750,000 Lily Liang | Strand Hill Christie's International Real Estate 310-373-3333 | lilyliangpv@gmail.com | DRE #00837794
REAL ESTATE| 231
Stunning Malaga Cove View Home
LEFT TO RIGHT: AVERY HAZELRIGG (DRE 02094523). ELIZABETH WELCH (DRE 01501746), ALI SNIDER (DRE 011221875), JEN CASKEY (DRE 01075946), STACIA JANUS (DRE 02033099), PATRICE RADDEN (DRE 02100059), STARR DILL (DRE 02102888), ERIC FONOIMOANA (DRE 01432787), NOT PICTURED: JILLIAN KAPLAN (DRE 09144325) JEN CASKEY GROUP DREINFO@JENCASKEYGROUP.COM310.372.220001075946 JENCASKEYGROUP.COMJENCASKEYGROUP 2022 IS OFF TO A GREAT START!
Compass is a real estate broker licensed by the State of California and abides by Equal Housing Opportunity laws. License Number 01991628. All material presented herein is intended for informational purposes only and is compiled from sources deemed reliable but has not been verified. Changes in price, condition, sale or withdrawal may be made without notice. No statement is made as to accuracy of any description. All measurements and square footage are approximate. If your property is currently listed for sale this is not a solicitation. MONTEREY BLVD, HB $30,000,000 Sold – Represented Buyer 1714 STANFORD AVE, RB $1,580,000 Sold – Represented Buyer 1500 WALNUT AVE, MB $2,600,000 Sold – Represented Buyer 2808 VIA NEVE, PVE $5,300,000 Sold – Rep. Seller & Buyer 125 BREEZE AVE, VENICE $2,485,000 Sold – Represented Buyer 651 OXFORD AVE, VENICE $3,150,000 Sold – Represented Seller 9 AVOCADO LN, RHE $1,350,000 Sold – Represented Buyer 515 GERTRUDA AVE #9, RB $1,527,000 Sold – Represented Buyer 2024 W 159TH ST, TORRANCE $1,200,000 Sold – Represented Buyer 5413 PASEO DE PABLO, $2,236,575 Sold – Represented Buyer 1014 10TH ST, HB $3,950,000 Sold – Represented Buyer 623 S IRENA, RB $3,025,000 Sold – Represented Buyer 429 21ST PL, MB $2,800,000 Sold – Represented Buyer 2105 N MEADOWS AVE, MB $3,025,000 Sold – Represented Seller 3521 ELM AVE, MB $2,300,000 Sold – Represented Buyer 425 2ND ST, MB $6,500,000 Sold – Represented Seller 812 5TH ST, MB $9,000,000 Sold – Represented Buyer 557 3RD ST, HB $3,500,000 Sold – Represented Seller 8218 HANDLEY AVE, LA $1,460,000 Sold – Represented Seller 8100 AIRLANE AVE, LA $2,100,000 Sold – Represented Buyer 301 4TH ST, MB $4,200,000 Sold – Represented Seller 316 7TH ST, MB $4,240,000 Sold – Represented Buyer 1208 THE STRAND #A, MB $4,850,000 In Escrow – Represented Seller 615 23RD ST, MB $6,250,000 In Escrow – Represented Buyer 207 S REDONDO AVE, MB $4,300,000 In Escrow – Rep. Seller & Buyer
629 Via Horquilla, Palos Verdes Estates | $8,900,000 www.629viahorquilla.com 7 Bd | 10 Ba | 7,464 sq.ft. | 26,494 sq.ft. lot | 4 Car Garage STRANDHILL.COM HOME TO THE FINEST COLLECTION OF REAL ESTATE EXPERTS IN THE SOUTH BAY. STRAND HILL CHRISTIE'S INTERNATIONAL REAL ESTATE LICENSE #01968431. THE INFORMATION CONTAINED IN THIS DOCUMENT, INCLUDING, BUT NOT LIMITED TO, SQUARE FOOTAGE AND/OR ACREAGE, HAS BEEN PROVIDED BY VARIOUS SOURCES WHICH MAY INCLUDE THE SELLER, PUBLIC RECORDS, THE MULTIPLE LISTING SERVICE OR OTHER SOURCES. BROKER HAS NOT AND WILL NOT INVESTIGATE OR VERIFY THE ACCURACY OF THIS INFORMATION. LILY LIANG +1 310 373 3333 | 310 902 7799 Text lily@lilyliang.com | www.lilyliang.com 716 Yarmouth #202, Palos Verdes Estates, CA 90274 BRE# 00837794 STRANDHILL.COM STRANDHILL CHRISTIE'SINTERNATIONALREALESTATELICENSE#01968431.THEINFORMATIONCONTAINEDINTHISDOCUMENT,INCLUDING,BUTNOTLIMITEDTO,SQUAREFOOTAGEAND/ORACREAGE,HASBEENPROVIDEDBYVARIOUS SOURCES WHICH MAY INCLUDE THE SELLER, PUBLIC RECORDS, THE MULTIPLE LISTING SERVICE OR OTHER SOURCES. BROKER HAS NOT AND WILL NOT INVESTIGATE OR VERIFY THE ACCURACY OF THIS INFORMATION. HOME TO THE FINEST COLLECTION OF REAL ESTATE EXPERTS IN THE SOUTH BAY. STRANDHILL.COM PROVIDEDBYVARIOUSINFORMATION. 581 Via Del Monte, Palos Verdes Estates | $4,750,000 www.581viadelmonte.com 4 Bd | 4 Ba | 3,337 sq.ft. | 11,500 sq.ft. lot | 3 Car Tandem Garage or oversized two car garage 30533 Camino Porvenir, Rancho Palos Verdes | $3,198,000 www.30533caminoporvenir.com 5 Bd | 4 Ba | 3,520 sq.ft. | 11,163 sq.ft. lot | 3 Car Garage NEWLISITNG2513 Via Sanchez, Palos Verdes Estates | $2,100,000 www.2513viasanchez.com 3 Bd | 2 Ba | 2,284 sq.ft. | 5,654 sq.ft. lot | 2 Car Garage REDUCTIONPRICE
310-704-4014 | cariandbritt.com | Britt: DRE# 01799654 | Cari: DRE# 00850678 4400 Via Azalea, Palos Verdes Estates 3,800 sq. ft. | $2,999,000 Nestled in the prized Valmonte neighborhood sits this gorgeous home with sweeping city light views, vaulted ceilings, remodeled kitchen and manicured gardens. The family room, anchored by a cozy fireplace, leads through beveled glass doors to the backyard oasis which includes a pool, spa, complete outdoor kitchen and a relaxing gazebo. Rarely do you see this much living space combined with a triple car garage in this intimate community.
© 2022 VISTA SOTHEBY'S INTERNATIONAL REALTY. ALL RIGHTS RESERVED. THE SOTHEBY'S INTERNATIONAL REALTY® AND THE SOTHEBY'S INTERNATIONAL REALTY LOGO ARE SERVICE MARKS LICENSED TO SOTHEBY'S INTERNATIONAL REALTY AFFILIATES LLC AND USED WITH PERMISSION. VISTA SOTHEBY'S INTERNATIONAL REALTY FULLY SUPPORTS THE PRINCIPLES OF THE FAIR HOUSING ACT AND THE EQUAL OPPORTUNITY ACT. EACH FRANCHISE IS INDEPENDENTLY OWNED AND OPERATED. ANY SERVICES OR PRODUCTS PROVIDED BY INDEPENDENTLY OWNED AND OPERATED FRANCHISEES ARE NOT PROVIDED BY, AFFILIATED WITH OR RELATED TO SOTHEBY'S INTERNATIONAL REALTY AFFILIATES LLC NOR ANY OF ITS AFFILIATED COMPANIES. INFORMATION HEREIN IS DEEMED RELIABLE BUT NOT GUARANTEED. TOP 1% of agents in California TOP 1.5% IN THE AssayagDanielUS Recent 2022 Redondo Beach Sales 1801 S. Catalina Ave, Redondo Beach, CA 90277 Each office is independently owned and operated Realtor®, DRE # 310.493.2100Daniel@LiveInLA.net01762501•liveinla.net@dan_realestate 1710 Clark Ln #B, Redondo Beach Sold For: $2,350,000 703 Esplanade #4, Redondo Beach Sold For: $2,700,000 748 Avenue A, Redondo Beach Sold For: $3,300,000 New Construction New Construction
Scan here to learn more about DeRenzis Real Estate Our neighborhood, your home. Over the last 25 years I have bought and sold nine homes working with very seasoned realtors, but I have never experienced the level of expertise and professionalism that Meredith provided. She handled the sale of two properties for me simultaneously in a very hot market in the South Bay. Her analytical approach to pricing, marketing and multiple offer comparisons left no doubt that we were making the right decisions throughout the entire process. It was great having Meredith in our corner and I would highly recommend her for all your real estate needs." -Joni, Redondo Beach, CA MEREDITH JOHNSON DERENZIS 310.600.7973 | meredith@vistasir.com DRE# 01907722 DARIN DERENZIS 310.418.6210 | darin@vistasir.com DRE# 01760239 ROSE GAVAGAN 713.264.1275 | derenzis@vistasir.com DRE #02157998 Each office is independently owned and operated.
Home is Palos Verdes & Hermosa Beach Compass is a licensed real estate broker with a principal office in City, XX and abides by all applicable Equal Housing Opportunity laws. All material presented herein is intended for informational purposes only. Information is compiled from sources deemed reliable but is subject to errors, omissions, changes in price, condition, sale, or withdrawal without notice. No statement is made as to the accuracy of any description. All measurements and square footages are approximate. This is not intended to solicit property already listed. Nothing herein shall be construed as legal, accounting or other professional advice outside the realm of real estate brokerage. Meet our Agents and learn more about our real estate programs and services. 1221 Hermosa Ave, Suite 201, Hermosa Beach 90254 550 Silver Spur Rd, Suite 110, Rancho Palos Verdes 90275 PV: 424.208.1270 | HB: 310.362.0596
What we've been up to so far this year • $28+M in closed and pending transactions YTD • 100 % of our listings have CLOSED/SOLD Work with the team who knows how to close! JENNY MORANT jennymorant.comIG:hello@jennymorant.comDRE424.409.897601874517@jenny_morant Compass is a real estate broker licensed by the State of California and abides by Equal Housing Opportunity laws. License Number 01991628. All material presented herein is intended for informational purposes only and is compiled from sources deemed reliable but has not been verified. Changes in price, condition, sale or withdrawal may be made without notice. No statement is made as to accuracy of any description. All measurements and square footage are approximate.
A victim of declining enrollment and pandemic-era finan cial woes, much has been written about what went wrong with MCU. As an adjunct professor in arts and media from 2013 to 2019, I'd like to reflect on what went right. Because what went right goes to the heart of what made Marymount, in all its iterations, so beloved. In 2013 Marymount was in transition, and so was I. A newly minted professor, I was admittedly green. The faculty, admin istration and staff were always gracious whenever I needed assistance, and in my first year that was often. The culture at academic institutions can be fiercely competitive, but if that was the case at MCU, I never saw it.
One great carryover from its junior college days was an infrastructure designed to prepare students to transition to the rigors of a four-year institution. Small classes with individu alized instruction were an important component; so were the resources at the library and Learning Center that supported students who needed a little extra help along the way. Art can be a controversial subject, and I wondered if my curriculum would be scrutinized at a Catholic university. In my six-year tenure at MCU, I was always encouraged in my efforts to expose students to a wide variety of artists with multiple perspectives on the world. It was an open learning environment.Moreimportantly, the school had a conscience. Messaging about social awareness was integrated into student life, and the commitment to environmental stewardship was visible in daily operations on campus. International students enriched the student body, making it a more global and inclusive com munity of caring. So we bid adieu to MCU and its beautiful campus with ocean views. Your legacy lives on in the hearts of grateful faculty like me and the thousands of students who found their footing in your hallowed halls over the past 54 years.
A PROFESSOR SAYS GOODBYE TO THE NOW-SHUTTERED MARYMOUNT CALIFORNIA UNIVERSITY.
■ LAST WORD 242 | Class Dismissed
What I saw was a team of professionals dedicated to helping students succeed. "Meet the students where they are," was my department head's mantra, but sometimes they were struggling.
Written by Gail Phinney | Illustrated by Yuiko Sugino
It was a shock to learn that Marymount California University, a fixture on the Palos Verdes landscape since 1968, would be permanently shuttered on August 31. You may remem ber it as a Catholic junior college called Marymount College, Palos Verdes. In 2013 it was renamed Marymount California University (MCU) to reflect its expanded offerings as an under graduate and graduate degree-granting institution.
Come experience the newly refreshed Portofino Hotel & Marina, your premier oceanfront staycation destination. With complimentary cruiser bicycles, an onsite Dockside Activity Center offering ocean adventures, elegantly-appointed guestrooms and suites, top-notch food and out-of-the-box craft cocktails at BALEENkitchen—meet the all-new Portofino. Explore the new side of a California Classic HOTELPORTOFINO.COM | 260 PORTOFINO WAY, REDONDO BEACH, CA | 310.372.1202
DON'T DELAY YOUR BREAST HEALTH AND SCHEDULE YOUR ANNUAL MAMMOGRAM TODAY. Torrance Memorial's Polak Breast Diagnostic Centers offer advanced diagnostics, 3D imaging and expert analysis to detect breast cancer in its earliest form. Mammograms can find small tumors before they can be felt in a physical examination, allowing for the most successful and least invasive treatment options. South Bay Locations: Manhattan Beach • Rolling Hills • Carson • Torrance Rhonda Gil, TorrancePatientMemorial&BreastCancerSurvivor
Schedule your annual mammogram today. TMMammogram.com310-517-4709
HeroOwnYourBe