When David Marchi's life crashed twice, he finally found his true self
////// TIME FOR YOU /// SELF CARE! SPA TREATMENTS FOR MEN TAKING A MOMENT FOR MEDITATION BENEFITS OF PILATES MARATHON TRAINING THIS FALL GILBERTIE'S FARM-FRESH FOOD CESSA LEWIS One of this year's "Teens to Watch" The tenacitygenerationnextshowsushowfartalent,andheartcantakeus ThinkBIG A-LISTathome'sFINALISTSREVEALED Yourblackbookforhome-designpros pg.90
WESTPORTMAG.COM SEPT/OCT 2022 | $6.95 jackets & knits Plus: Q&A with Sarah Easley  A STARTNew
by diane talbot sembrot STATUS REPORT
BUZZ
by diane sembrot
THE ACCIDENTALARTIST
49 PEOPLE + PLACES 56 MONEY MATTERS 111 INDEX OF ADVERTISERS 112 POSTSCRIPT by donna
The emerging generation of local leaders—isthinkers,hotshots—doers,all-stars,andready.Here'syoursneakpeekatourfuture.
13
58
THE BRIGHT SIDE
Menopause; Pilates Girl on power moves; training for a marathon; local events
68
DO
contents SEPT/OCT 2022 departmentsfeatures
by timothy dumas
84
above: Artist David Marchi
A LITTLE HE TIME
The spa treatments that men are trying these days, from simple treatments to invasive procedures.
Pause + Purpose meditation: Linda Colletta's art exhibit; Compo sweats for pink; Gilbertie's at 100
by tom connor
David Marchi never thought of himself as an artist, but then a drastic accident revealed new truths about himself.
56 WESTPORT SEPTEMBER/OCTOBER 2022, VOL. 24, NO. 5. WESTPORT (USPS/ISSN 1941-9821) is published bi-monthly by Moffly Media, Inc., 205 Main St., Westport, CT 06880. Periodical postage paid at Westport, CT, and additional mailing offices. POSTMASTER: Send address changes (Form 3579) to WESTPORT, PO BOX 9309, Big Sandy, TX 75755-9607. U.S. Subscription rates: $19.95/1 year, $34.95/2 years; Canada and Foreign $40/1 year, $69/2 years. on the cover cessa lewis | photography by highpoint pictures
The big fashion trends for fall; plus, a Q&A with the founder of MaisonMarché
A-LISTathome'sFINALISTSREVEALED Yourblackbooktohome-designpros pg.90
GO Island travel; Emily Liebert's book picks for fall moffly
vol. 24 | issue 5 CONTRIBUTED westportmag.com 2 10 EDITOR'S LETTER
SHOP
Find care today at nuvancehealth.org/heart
Together, we can do your heart a world of good
Your well-being is our top priority. That's why we're teaming up with Cleveland Clinic's Heart, Vascular & Thoracic Institute to give you access to a heart program guided by a national leader in cardiovascular care, paired with the caring treatment you've come to expect from the Nuvance Health Heart & Vascular Institute. Together, we'll implement best practices in the delivery of cardiovascular care—and do your heart a world of good.
Now affiliated with the nation's leader in heart care
@STAMFORDMAG Visit fordirectoriesourresources
westportmag.com 4 WESTPORTMAG.com digital content & MORE sept/oct 2022 CELEBRATING THE BEST OF WHERE WE LIVE FOLLOW US ON: SEMBROT;DIANEBYOTHERSBURKE;LULIBYRESTAURANTCUGINE'SOFNEALONSTHE ADOBESTOCK.COMBYIPHONE ENJOY OUR ARTICLES AND POSTS ON INSIGHTFUL LOCALS WHO HELP US ALL LIVE BETTER JUMP ONLINE PLUS! LIGHT A FIRE Join us for the most inspiring event of the year as we thank those who volunteer and give back! Get details and tickets at ilovefc.com/lightafire 2022
Show us your love and us on social!
Find out about store openings, see what's coming up in the magazine, and enjoy photos of iconic places around the area— follow us on Instagram, like us on Facebook. Together, we make living here the best!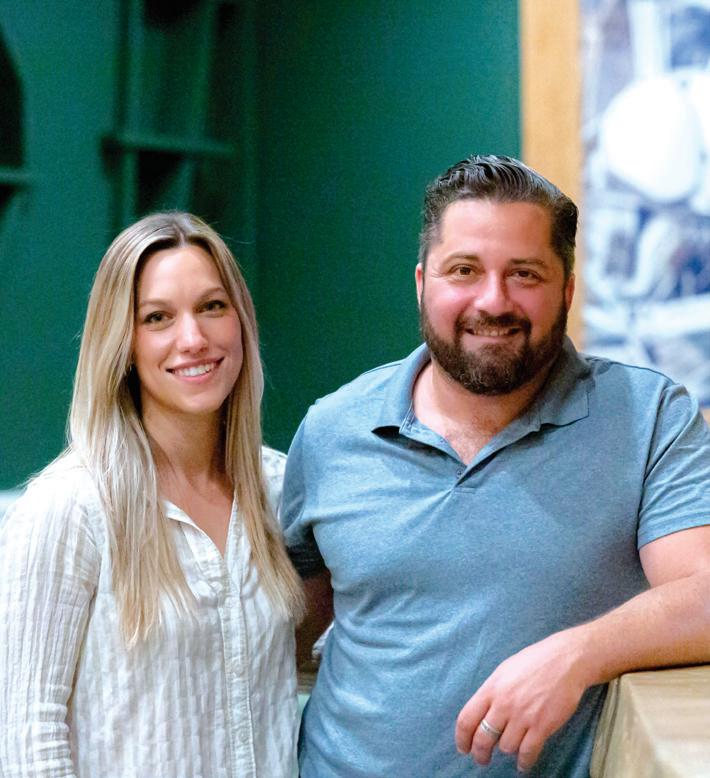 LET'S FRIENDS!BE
Amy Vischio–creative director-at-large, athome copy editors
vol.
Julee Kaplan editor, new canaan • darien
director of content strategy Diane Sembrot
Rachel MacDonald–rachel.macdonald@moffly.com
senior art director
Venera Alexandrova venera.alexandrova@moffly.com
senior art director
FOR QUALITY CUSTOM REPRINTS/E-PRINTS, please call 203-571-1645 or email reprints@moffly.com.
TO SUBSCRIBE, renew, or change your address, please email us at subscribe@westportmag.com, call 1-877-467-1735, or write to WESTPORT magazine, 111 Corporate Drive Big Sandy, TX 75755
Cristin Marandino–cristin.marandino@moffly.com
Janel Alexander
Veronica Schoor—assistant editor, athome
G. Kenneth Bernhard, Bridgett Csapo-DiBonaventura, Nancy Conroy, Nancy Gault, Caren Hart Nelson, Jennifer O'Reilly
assistant art director
©2022 WESTPORT magazine is a registered trademark owned by Moffly Media. The opinions expressed by writers commissioned for articles published by WESTPORT are not necessarily those of the magazine.
Diane Sembrot–diane.sembrot@moffly.com
Since 1909, Cummings & Lockwood has provided sophisticated legal representation to individuals, families, family offices, closely held businesses, other commercial enterprises and charitable entities. Our core services include:  Wills, Trusts and Estate Planning  Wealth Protection Planning  Philanthropic Giving  Probate and Estate Administration  Fiduciary and Trustee Services  International Estate and Tax Planning  Business Succession Planning  Corporate and Finance  Litigation and Arbitration  Commercial and Residential Real Estate STAMFORD | GREENWICH | WEST HARTFORD | NAPLES | BONITA SPRINGS | PALM BEACH GARDENS www.cl-law.com BOB PHOTOGRAPHYCAPAZZO(203)273-0139 westportmag.com 6
U.S. subscription rates: $19.95/1 year, $34.95/2 years; Canada and Foreign, U.S. $40/1 year; $69/2 years Prices are subject to change without notice.
digital media
style & community editor
Bob Capazzo
contributing writers
All rights reserved. No part of this periodical may be reproduced without express permission of the publisher.
Terry Christofferson, Lynne Piersall, David Podgurski, Scott Thomas
digital marketing manager
Liz Barron, Tom Connor, Carol Leonetti Dannhauser, Timothy Dumas; Kim-Marie Evans, Jill Johnson Mann, Elle Vail
Elizabeth Hole–editor, custom publishing
digital assistant
Tim Carr–tim.carr@moffly.com
art
editorial editorial director
books correspondent Emily Liebert
Lisa Marie Servidio–lisa.servidio@moffly.com
Weddings@Editor@Calendar@Moffly.comWestportMag.comWestportMag.com
editor: westport, fairfield living, stamford
editorial advisory board
Megan Gagnon–editor, athome
contributing editors
Garvin Burke garvin.burke@moffly.com
Lloyd Gabi lloyd.gabi@moffly.com
24 | no. 5 | september/october 2022
production director
senior photographer
CALIFORNIACLOSETS COM MAKE ROOM FOR ALL OF YOU CALL OR VISIT US ONLINE TODAY TO SCHEDULE YOUR COMPLIMENTARY DESIGN CONSULTATION CONNECTICUT 565 WESTPORT AVE, NORWALK 203.924.8444 WESTCHESTER 16 SAW MILL RIVER RD, HAWTHORNE 914.592.1001 @caliclosetsct #0657205HICCToperated.andownedindependentlyFranchisesreserved.rightsAllInc.Company,ClosetCalifornia©2022
Visit us at Hollowtreestorage.com 203.655.2018 131 Hollow Tree Ridge Road Darien, CT 06820 WINE STORAGE NOW AVAILABLE Our secure temperature control facility will provide private spaces for any size collection Visit our website for more details 0222 MOFFLYMEDIA
Jonathan Moffly publisher, athome, fairfield living publisher-at-large, jonathan.moffly@moffly.comgreenwich
Lemuel Bandala sales lemuel.bandala@moffly.comassistant
cofounders
PUBLISHERS 205 Main Street, Westport, CT 06880 phone: 203-222-0600 mail@moffly.com
GabriellapublisherMays gabriella.mays@moffly.comwestport•weston•wilton
or email
business manager Elena elena@moffly.comMoffly
SUBSCRIPTION INQUIRIES: email subscribe@westportmag.com or call
sales & marketing Andrew Amill publisher, andrew.amill@moffly.comgreenwich
Hilary Hotchkiss account hilary.hotchkiss@moffly.comexecutive
OF GREENWICH FAIRFIELD LIVING NEW CANAAN • DARIEN • ROWAYTON WESTPORT STAMFORD and athome magazines
Gina Fusco publisher, new gina.fusco@moffly.comcanaan•darien•rowayton
Karen Kelly-Micka publisher, stamford, ocean karen.kelly@moffly.comhouse
director of content strategy Diane Sembrot
Eillenn Bandala business eillenn.bandala@moffly.comassistant
business president Jonathan W. Moffly
INQUIRIES: Lemuel Bandala
Rachel Shorten events rachel.shorten@moffly.comdirector
Kathleen Dyke partnership and big picture kathleen.godbold@moffly.commanager
ADVERTISING 20 3-571-1610 advertise@moffly.com 877-467-1735
chief revenue officer Andrew Amill editorial director Cristin Marandino
John W. Moffly IV & Donna C. Moffly
westportmag.com 8 vol. 24 | no. 5 | september/october 2022
325 Riverside Avenue, Suite 100 Westport, CT 06880
Gastroenterology - 203-375-1200
Digestive Health Center
Bariatric - 203-785-6060
At the new Digestive Health Center in Westport, patients now have easier access to a comprehensive range of digestive health specialties. Here, experts from Yale Medicine and Northeast Medical Group work in tandem to provide the most advanced care for each and every patient. Bringing the Digestive Health resources of one of the nation's leading health systems right to your doorstep.
Gastroenterology - 203-375-1200 The greatest of care in Westport for your digestive health.
At the new Digestive Health Center in Westport, patients now have easier access to a comprehensive range of digestive health specialties. Here, experts from Yale Medicine and Northeast Medical Group work in tandem to provide the most advanced care for each and every patient. Bringing the Digestive Health resources of one of the nation's leading health systems right to your doorstep.
Hernia - 203-785-6060
Digestive Health Center
Hernia - 203-785-6060
Colorectal - 203-785-2616
The greatest of care in Westport for your digestive health.
325 Riverside Avenue, Suite 100 Westport, CT 06880
Bariatric - 203-785-6060
Colorectal - 203-785-2616
Youthful exuberance, creative spirit, and a perfected and pampered body? Sounds like the overachieving Westport that we all love. Let's get to it!
westportmag.com 10
GOAL GETTERS
SEPT/OCT 2022 / DIANE TALBOT SEMBROT
diane.sembrot@moffly.com SCAN TO VISIT US HOW TO SCAN: OPEN, AIM & TAP
TAUFICWILLIAM
Take our teens in "The Bright Side," this year's "Teens to Watch" feature story. Don't underestimate what local high school and college students are doing these days. When I asked them about their accomplishments and what they do each day, I was amazed. I work on this story each year, so you would think I would get used to talking to young people who win theater awards, organize charity tennis tournaments, tutor students in another country or score top grades year after year. But I never do. I'm always in awe. Additionally, parents, know that your teens are not only hard-working, but also kind and have
eptember always has a way of making me sit up straight in my chair and want to start filling in my to do list with serious and important tasks. Time to get things done. Learn new skills. Prioritize, take charge and accomplish. Do, do, do! The fun of summer is over, so it's time to pack up the margaritas and colorful beach towels and get down to business. Because my children are in school, I still run on its schedule, and September is a new start.
a great sense of humor. I enjoyed getting to know them and hearing about what they have planned next. Look inside for this feature—I think you'll like these locals, and they might just get you to move some items from your "some day" list to your "now" list.
editor's letter
S
I'm also inspired by you and this town. Someone, somewhere, is always doing something amazing—enough to make me ask, Why didn't I think of that? Or sometimes it's, How can I start doing that? We learn from one another (I know I pick up the energy of the motivated people around me), and I try to share their stories with you in each issue.
We also share the story of an artist who didn't know about his extraordinary talent until an unlikely and drastic tragedy happened. In recovery, buried skills emerged and the artist stepped along a new path as he introduced himself to a new version of himself. Meet the brilliant artist David Marchi in an illuminating conversation with the talented writer Tim Dumas—who knows about the art world in which Marchi has made a name for himself. This is a story about art, but it's also about life-changing self-discovery, authenticity andOfacceptance.coursewith all this self-actualization, we need time to breathe and reset. One such place to do this is at a local spa. Women are well acquainted with the range of services and results, so we check in to ask what men are getting done these days.
WWW.HCREIDJEWELERS.COM WWW.HCREIDJEWELERS.COM Each Doves piece is an eye-catching and wearable heirloom, a unique treasure combining 18 karat gold, diamonds and precious gemstones T. 203-255-0447 | 15 91 Post Road, Fairfield, CT 06824
A
Four-time Olympic medalist, world champion high jumper and breast cancer survivor Fashion Show
ANNUAL
ANNUALLUNCHEON& FASHIONSHOW CELEBRATION
11AM — 2PM
Ann Caruso
October20, AUTHENTICITY2022COURAGEBEAUTY,
Celebrity fashion stylist, tastemaker and two-time breast cancer survivor and Chaunte Lowe
BREASTCANCERALLIANCE
Erica Blob, Meagan Davis, Erica Juneja and Julie Stein
BREAST CANCER ALLIANCE LUNCHEON & FASHION SHOW 2022
PRESENTED IN COLLABORATION WITH OUR FASHION PARTNERS AND CELEBRATION OF
BACOURAGEUTHENTICITYUTHENTICITYEAUTY,THURSDAY,OCTOBER 20,
WESTCHESTER COUNTRY CLUB, RYE, NY AND VIA LIVESTREAM Guest Speakers
OF
Silent & Live Auction * Raffle Models of Inspiration
For tickets, tables, sponsorships and full event details visit: bidpal.net/BCA2022
Carolina Herrera Spring 2023 Fashion Show with guest appearance by Creative Designer, Wes Gordon with DJ April Larken Event Co-Chairs
Innovative research Surgical fellowships Community outreachYEARS BOLD A
Why the name Pause + Purpose?
by diane sembrot
PHOTOGRAPHYKIRKEEMILY
When did you decide to open the studio?
SEPTEMBER/OCTOBER 2022 WESTPORT 13 SPECIAL! SEPT.15 •7-8:30p.m. ExperienceFallofferingsshowcase.afreesampleofthenewseasonofclasses;plus,discountonearlysign-upmembership. SEPT.22 •6-7p.m. ofFallequinoxcelebrationmeditationandcommunitydiscussion($20)
"Members are offered a diverse mix of unlimited ninety-minute mindfulness classes, facilitated by our wellness providers. We are also a community center where anyone can drop in for self-led meditation, family time or twentyminute classes. Most importantly, we offer a supportive community of staff and members. Each session is a mix of meditation, discussion, movement and journaling that helps everyone work through their feelings in a safe container."
"I had been facilitating the creation of expertly written meditation guides so that people could lead their own groups during the pandemic, but what I realized, as the
Take Breatha
How do you recharge?
STOPPING IN AT THE MEDITATION STUDIO PAUSE + PURPOSE
above: The calming minimalist space of Pause + Purpose's meditation studio
"My background is in design, photography and supporting nonprofits in the mental-health sector. I have my MBA with an emphasis on marketing and entrepreneurship. As a child, meditation was a way for me to cope with the arguing in my family, to which I was extremely sensitive. It helped me safely retreat into my inner world and channel my feelings into creativity."
U
"I read the words pause and purpose together in an article while I was trying to come up with a name that encapsulated what I was trying to do. I thought, What a perfect name to express what I want to give people—that quiet space in their inner world to realize their purpose; that safe container to explore their true selves."
nchecked stress can make even small things seem like they're too much. That's why it makes sense to do a "systems check" occasionally. We asked Emily Vartanian-Tuttle, founder of Pause + Purpose (pauseandpurpose.com), about reflection and mindfulness. Her Westport studio offers no-experience-needed classes—with meditation, sound baths, breathing work, light movement (tai chi, yoga, etc.), cardio (dance, Pilates, HIIT), journaling, and more. Kids explore the practice through dance and "Family Hour" (a free session of activities for the whole family, 10-11 a.m.). VartanianTuttle started out of her home before opening the studio. Initially, she focused on new mothers but has since broadened to help others deal with stress, work through trauma or develop daily resiliency with the guidance of instructors. We found a moment with her to discuss the power of stillness, discovered one deep breath at a time.
buzz
STATUS REPORT
world was coming back to business in the fall of 2021, was that I really wanted to be around these mindful people in person. My neighbor Courtney [Krankall], who was a huge fan of my business, was realizing this at the same time. I asked her to be the studio manager and was able to find a space and open in December 2021."
What did you do before this?
What do you offer your clients?
"I dance to get my adrenaline out. I sing or go out with friends to feel free. I meditate to find my inner voice. I walk on the beach to feel grounded."
ARTISTTHEOFCOURTESYPHOTOGRAPHS:
Frommoment."herstudio in Bridgeport, she creates unplanned abstracts in acrylic, oil stick, spray paint, ink, graphite and remnant materials, including vintage painter drop cloths with their overlooked story told in drips, dirt, tears and bulky seams. With more than twenty-five years of experience, she started out painting backdrops for MTV and VH1 before venturing out on her own. Her pieces have been shown at Scope Miami Beach, L.A. Art Show, Art Market Hamptons and more as well as sold to private collectors, such as Google, Justin Bieber and the de Cordova Museum. Close to home, interior designer Denise Davies uses Colletta's work in her projects for D2 Interieurs.
by diane sembrot
left: Nooks and Crannies, part of Linda Colletta's solo exhibition Electro-Woven, which explores the intersection of abstract expressionism and fiber art, with a contemporary twist right: The artist flanked by Carolyn Tobey Dolan, Shannon Stirling, Sarah Weiland and Jessica Manela—supporters who attended the studio opening
As for divisive societal issues, she recently took on one of the biggest there is: gun violence. In July she hosted a fundraiser
One of the exhibitpiecesartist'sinthe Wovens
A
rtists are brave. They bring the unsaid forward and express life's complexities. Take Linda Colletta (lindacolletta.com). Who would guess she is a recovering compulsive overeater? So she recently put it forward in abstract artwork that explores various angles of food obsession and body image. Her large-scale, brightly colored paintings, in the exhibit All You Can Eat, use her signature repurposing: leftover paint, paint water, scraps of old canvas (what she calls "a collage of past and present"). It's her take on a "personal and societal battle with food and the mental mania of obsession and addiction."
Say Something
Also, look at Electro-Woven, her reaction to the restrictions of, and turmoil released during, the pandemic. In the pieces, color "functions as a device to mine psychic space; one that playfully nods to adolescence and the Electric Youth culture of the 1980s."
above: This past summer, Colletta auctioned off her Vans sneakers, which are part of her painting process. All proceeds benefit Moms Demand Action.
and awareness event just three days after the Highland Park shooting. She auctioned off her paint-covered Vans sneakers. "I think many of us feel enraged and helpless as we witness gun violence continue and yet nothing seems to change to help prevent it. So many people have asked to buy my painting sneakers over the years, but they are sacred to me—they are infused with countless hours of passion, dedication and covered in a perfectly random mess of paint," she notes. "This felt like the right
Stop by the artist's studio space at 33 Elm St., Westport. It will be open and accessible to the public through September.
It also pushes at gender boundaries by using fabric. "By combining weaving (traditionally a female sphere) and painting (traditionally a male sphere), the process became a healing approach that symbolized the inclusion of women into the Modern Art canon," Colletta says.
westportmag.com 14 buzz
LINDA COLLETTA brings the art discussion to the public
Landscape Architecture Pool Design Garden Design Property & Pool Care Connecticut Neww York 203.762.2000
THE NEW COMPO BEACH SWEATSHIRT —LOOK GOOD AND FIGHT BREAST CANCER
buzz
above: Friends gather round Ilka Gregory in a show of support for her breast cancer experience.
"Less than a year later, I was diagnosed with breast cancer after a routine mammogram. The group of friends we just met rallied around us during this very difficult time— and for the first time as a family, we felt a sense of community. I was gifted the sweatshirt as something cozy to lift my spirits. I reached out to the owner of Shelter Isle, Ana Gambuto, and told her I wanted to order one for each of the amazing women who supported and took such good care of me and my family. She offered to donate a portion of the sale to a charity of my choice. Together, we chose Pink Aid."
ompo Beach Sweatshirt from Shelter Isle Apparel will keep you warm as fall winds hit the beach. Plus, purchasing it will help breast cancer patients—a portion of proceeds goes to Pink Aid. And that's because of one breast cancer survivor here in Westport, Ilka Gregory. "We moved to Westport in 2020, not really knowing many people," says Ilka.
above: Ilka Gregory had just moved to Westport when she was diagnosed, but she quickly found friends who stepped up to support her.
westportmag.com 16
C
When Ana happened to be passing through Westport last June, she snapped a photo of Ilka and her crew on Compo Beach. "I knew it was a big ask for my friends to take time out of their day," says Ilka, "but they showed up just like they showed up when we didn't even know how much we needed them. There were twenty-six of us on the beach that day wearing our Compo sweatshirts. It was the most beautiful sea of pink. What a magical town we live in." Shop at shelterisleapparel.com.
PRETTY IN PINK
As good as you imagined. And your imagination is pretty good. WITH UNIVERSAL ACCESS TO 50,000+ agents | 1,500+ offices | 50 states 12 Countries & 3 Continents Find your forever agent and lifestyle advisor. WESTPORT | 20 WILTON ROAD | 203.227.5117 www.bhhsneproperties.com ©2022 An independently operated subsidiary of HomeServices of America, Inc., a Berkshire Hathaway affiliate and a franchisee of BHH Affiliates, LLC. Berkshire Hathaway HomeServices and the Berkshire Hathaway HomeServices symbol are registered service marks of HomeServices of America, Inc.® Equal Housing Opportunity.
GILBERTIE'S HERB GARDEN IS STILL GROWING STRONG AND HEALTHY AT 100 YEARS by elle vail
ONLY NATURAL
westportmag.com 18
above: Gilbertie's Herb Garden has farmland in nearby Easton and a retail center in Westport
hen one considers a Westport retail store, the kind of ethereal experience Gilbertie's Herb Garden provides is often not the first thing that comes to mind. After all, the store sells garden supplies, but somehow the Gilbertie's experience is about being fully immersed in the uplifting beauty and restorative tranquility of nature as well as inspiring shoppers to stock up and nurture their own gardens at Recentlyhome.itcelebrated its centennial— the store and garden have deep ties to the Westport community. It's a family business, now on its fourth generation, that embraces sustainability. In fact, it is certified USDA Organic and certified Organic by State Organic Certifiers. Its local ties and
With the soil taking years to perfect, Gilbertie's micro greens, specifically, are optimized for nutrients, essential oils and taste. The champion is Sal Gilbertie, who provided delicious recipes online to encourage customers to use micro greens. He includes instructions on how to use them and other fresh produce in salads, dinner entrées and even desserts.
commitment to healthful offerings have made it an essential part of the Westport Farmers' Market. Gilbertie's grows its plants at its farm in Easton, with a year-long prep to affirm its organic certification. The inventory includes more than 300 herbs, 100 vegetables and 50 cold crops and five acres of greenhouse. This establishes Gilbertie's as the largest crop grower in Connecticut.
@GILBERTIESWESTPORTINSTAGRAMPHOTOGRAPHS: @GILBERTIESORGANICSAND buzz The largestincludesinventorymorethan300herbs,100vegetablesand50coldcropsandfiveacresofgreenhouse.ThisestablishesGilbertie'sasthecropgrowerinConnecticut.
W
THE CROWN JEWEL OF SAUGATUCK ISLAND
NEW CONSTRUCTION MASTERPIECE 2022 Nest Seekers International. All rights reserved. Licensed Real Estate Broker NY, NJ, CT, FL, CA, CO, LDN. Nest Seekers International fully supports the principles of the Fair Housing Act and the Equal Opportunity Act. 1114 E. Putnam Avenue Greenwich, CT 06878 TEL 203-204-9555
DANIELLE MALLOY 203-921-9987 DanielleM@nestseekers.com JESSICA LANE ALSINA 203-979-8356 JessicaL@NestSeekers.com NESTSEEKERS.COM
CTWESTPORT,
CONTEMPORARY
Art and life blend together at this stunning contemporary new construction masterpiece settled along the shores of Saugatuck Island in Westport, Connecticut... Rare opportunity to live in a moving picture. Heated pool, dock, private beach, lush lawns and rooftop terrace all share in sensational water views. Enter the main living area from the Savaria panoramic glass elevator and experience breathtaking vistas through floor to ceiling windows. Open floor plan and transparent railings on outdoor patios and decks make for unobstructed views throughout the 5,000+ square foot interior. Absolutely striking state-of-the-art gourmet chef's kitchen featuring illuminated waterfall Cristallo Quartzite double islands, custom epoxy painted glass and aluminum frame cabinetry, Miele and Thermador appliances including 3 ovens and seperate full-sized Thermador refrigerator and freezer and custom cabinetry. Primary bedroom suite leaves nothing to be desired with fireplace, private Juliet balcony, acrylic freestanding tub with romantic suspended ceiling fill overlooking water views, steam shower with rain head, custom lighting and sound, fully fitted custom closets and soundproof sitting room. Complete with 4 Double Bedrooms not including primary with option for office, four car garage, ground level gym / spa area and 1450+/- square foot rooftop terrace with option to fit out full kitchen and jacuzzi. Located in a well protected enclave of the Long Island Sound and built to withstand the ocean elements with a virtually maintenance free exterior, enjoy all the best of waterfront living with reassurance. Close to yacht clubs with tennis, beaches, kayaking and more. A true crown jewel, showcasing the masterful blend of architecture and nature. WebID 2436911 $9,995,000
135 HARBOR ROAD 135HARBOR.COM
KNITSEXTREME SUITED-UP DAYBLACKNIGHT CROPPEDJACKETS It's high time to FALL IN LOVE with the best of this season's style!
DESIGNERS/BRANDSOFCOURTESYIMAGESALL shop westportmag.com 20
produced by alexander
janel
To learn more about our in-person and virtual appointment options, visit HSS.edu/StamfordHealth
Most major insurance plans accepted.
BETTER MOVEMENT. BETTER LOCATIONS.
195 Danbury Rd., Suite 200 Wilton, CT 06897
2080 Whitney Ave., Suite 280 Hamden, CT 06518
1 Blachley Rd. Stamford, CT 06902
Hospital for Special Surgery and Stamford Health bring the world's finest orthopedics closer to you. In Stamford, Hamden, and now Wilton, expert care is around the corner.
PRADA Re-Edition 2000 Sequined Nylon Mini Bag, $2,250; modaoperandi.com
Black for daytime is a great way to easily pull together a look. Mix like a pro by incorporating textures like knit, leather and shine with grounding elements like matte fabrics and easy footwear.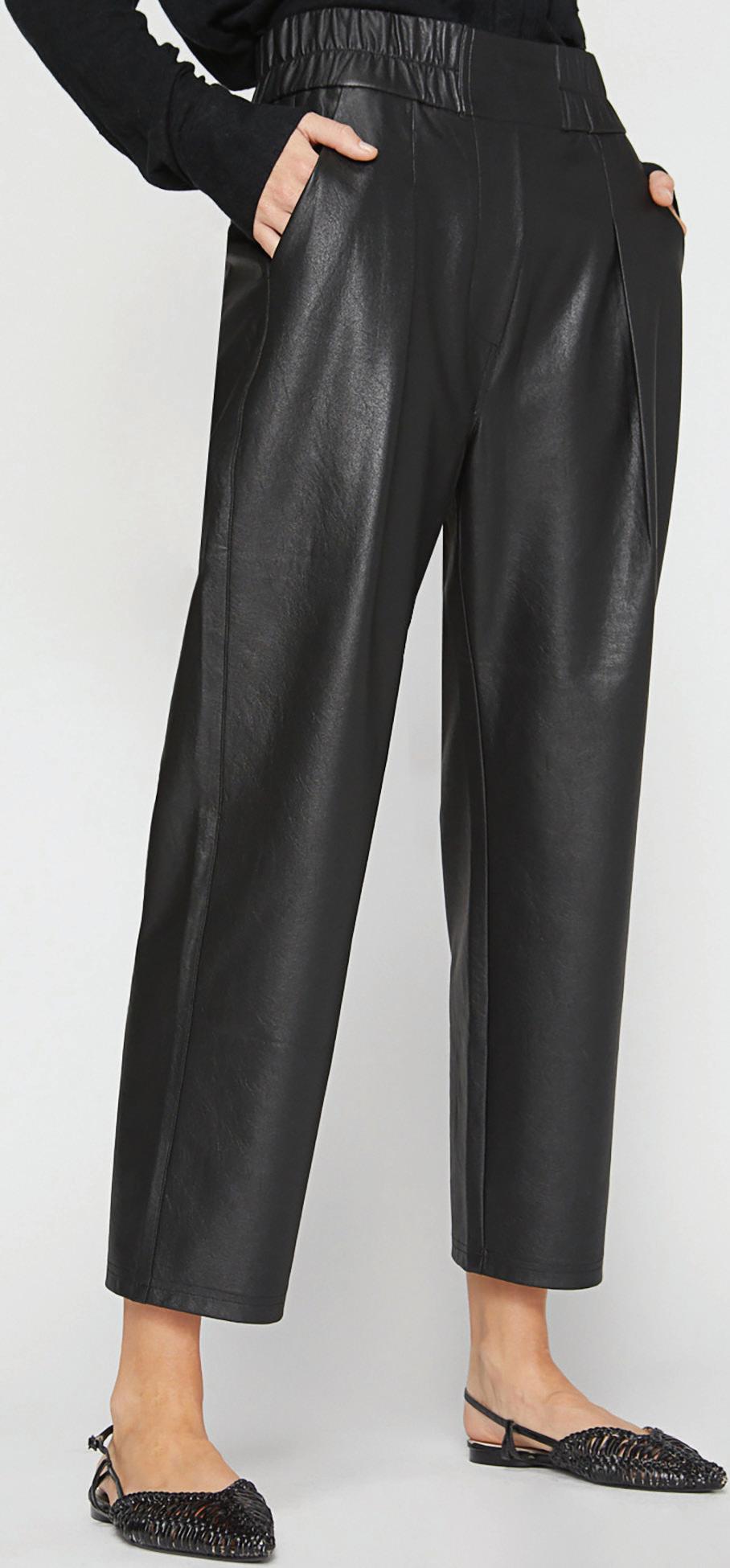 AISLING CAMPS
TORY BURCH
NILI LOTAN Short puffer coat, $1,650, Darien Sport Shop; dariensport.com
After a summer of color, black is back! The fall season sees a shift to urban-chic black, interspersed with sequins and shine, becoming the perfect backdrop for that one good pop. Bring on the black!
westportmag.com 22 1 2 3 4 5
BLACK is BACK
DAY brochuwalker.com shop DESIGNERS/BRANDSOFCOURTESYIMAGESALL
NIKE Dunk Low Sneakers, $251; farfetch.com
Blanket Stitch Bolero Cardigan, $795, and tank, $285; kirnazabette.com
Connecticut 203.353.8000 | marciaselden.com | New
Nothing brings people together like great food. York 212.921.4100
Finish
PVC Jacket, $440; modaoperandi.com
MACH & MACH Sophie Embellished Satin Pumps, $1,275; net-a-porter.com
J.CREW Collared Belted City Dress in Wool, $268, Greenwich, New Canaan, Westport; jcrew.com
DES PHEMMES
CHRISTIAN SIRIANO Black Shimmer Side Ruched Long Sleeve Dress, $1,595, The Collective, Westport; christiansiriano.com
DESIGNERS/BRANDSOFCOURTESYIMAGESALL
Micro
NIGHT
modaopeandi.com 1 2 3 4 6 5 shop westportmag.com 24
SIMONE ROCHA Acrylic Beaded Heart Clutch, $975;
TORY BURCH Diamond Belt, Greenwich;$248, toryburch.com
The LBD gets a kick of sophistication with updated accessories and textures. with one less-thanexpected contrast accessory to stand out from the crowd!
NOT LIFESTYLES.
Orthopedics so precise, it changes outcomes.
CONVENIENT LOCATIONS GREENWICH, STAMFORD, HARRISON, WILTON, DANBURY ONSMD.com | In network with most major insurance plans.
You live your own life. You do your own thing. Your orthopedic treatment should be your own as well. ONS. Fellowship trained specialists designing a treatment plan to your specs. Working in tandem with in house PTs. Listening as much as examining. It's orthopedic medicine that adapts to your lifestyle. Not the other way around.
FRAME Cropped Shearling Moto Jacket, $2,595, Greenwich; frame.com CROPPED VINCE Combo Collar Leather Jacket, $1,395, Greenwich, Westport; vince.com 1 2 3 4 5 doorLeavethistopperrightbyyourfrontsoyouaremostlikelyto"grabandgo"withit!Don'tkeepyourclothesasspecial—wearthem!! STYLIST TIP DESIGNERS/BRANDSOFCOURTESYIMAGESALL
$2,795;
ALTUZARRA JACKETS This shorteraboutlayeringseason,isallcombiningshapes with other items that play yourvisualpantwithsweaterantheseproportion.withPullcoatsoveroversizedorpairabaggytogivemoreinteresttoseparates! NANUSHKA Jacket,BreastedDoubleCropped$900; farfetch.com SAINT LAURENT
NILI LOTAN Carole Shearling Short Coat, nililotan.com
HO ME ELEISH VAN BREEMS CELEBRATING 25 YEARS WESTPORT • NANTUCKET | EVBANTIQUES.COM
KNITS Interesting links are taking over your loungewear this season! Designers play with raw edges, cut outs and patchwork designs that are comfortable yet intriguing to the eye! SEA NY Agnes Sweater; $525. Sea-ny.com ZADIG VOLTAIREAND Allany Wews Coat, Greenwich;$1,398, voltaire.comus.zadig-etGABRIELLA HEARST CLERGERIE Hester Rafia Platform Sandals, $1,490; Greenwich; saks.com STELLASTELLAMCCARTNEYBYSTELLA 3D Sweater,Stripes$1,395; modaoperandi.com LALIGNE Patchwork Cable Sweater,Greenwich;$395,. lalignenyc.comMOLLY GODDARD STELLA MCCARTNEY STELLA BY STELLA 3D Stripes Wool Midi Skirt, $1,095; modaoperandi.com whenTheseknitsgetanextraliftpairedwithunexpectedbottoms,likeleatherortulle! STYLIST TIP 1 2 3 4 5 6 DESIGNERS/BRANDSOFCOURTESYIMAGESOTHERALLMONAHAN;SEANPHOTOGRAPHERNY**SEA
HartfordHealthCare.org/Cosmetic You want to look and feel your best. And you want to ensure that you entrust your care to the most skilled and fellowship-trained medical professionals. That's the type of expertise you'll receive with the cosmetic surgery services from Dr. E. Stirling Craig of Hartford HealthCare Medical Group. Procedures offered include: • Breast augmentation • Tummy tuck • Liposuction • Face lift • Injectable filler
More ways to help you look and feel your best
Call 475.210.7002 for an appointment E. Stirling Craig, MD 1505 Post Road East Westport
final two shows of the season! All dates, titles, and artists are subject to change. tickets on sale now WESTPORTPLAYHOUSE.ORG  203 227 4177
VERONICA BEARD Destry Dickie Jacket, $748, Bennet Vest, $448, and Montlake Pant, $428. Greenwich veronicabeard.com
NILI LOTAN Carey Sweater in Chestnut, $750. nililototan.com
SEPTEMBER/OCTOBER 2022 WESTPORT 31
Tonal dressing made easy. Suits are back and a great way to transition from your summer dress rotation. Look for styles with textures and colors that fit your personal style and consider a three-piece variation!
2 3 4 5 6 1
FRAME Di Cord Jacket, $698, and Pintuck Cord Trouser, $378. Greenwich; frame.com
The true power of a suit comes in breaking it apart to multitask the items as separates.—the blazer as a fall layer, the pants with your favorite sweater. Soon you will see how the investment pays off and answers the dreaded wardrobe question: What do I wear today?
Grey/Black Prince of Wales Blazer; $760 and Jogger; $465 Greenwich Richards, Westport Mitchells. mitchellstores.com
STYLIST TIP
Stretch Crepe Blazer, $2,000, and Pant, $1,000; modaoperandi.com
CHRISTIAN SIRIANO Matrix Blue Shimmer Blazer, $1,695, and Wide Leg Trouser, $895, The Collective, Westport; christiansiriano.com
DESIGNERS/BRANDSOFCOURTESYIMAGESALL
GOLDEN GOOSE
ALEX PERRY
What happens in your body that triggers "the change?"
When we are born, we have about 1 million eggs in our ovaries, and then once we get to puberty, that number has decreased to 300,000 to 400,000. While during each "cycle" we only release a single
It's important to note a few things, first being that even during perimenopause while you may or may not ovulate in any given cycle, you still may get pregnant so contraception is important if you do not want to have a baby. Second, it's important to note that for each human, each week/ month/or year may offer different symptoms or no symptoms during perimenopause.
Third, I encourage everyone to know that once they've passed perimenopause and become "menopausal" as they've finished the year without a period, they will often feel better as the fluctuations of the hormones are often what triggers the most concern.
Can your doctor do any sort of tests to confirm you're perimenopausal?
O
Can I still get pregnant once I've entered perimenopause?
It's good to know that after menopause, the vasomotor symptoms may continue up to five or seven years but for most women they will eventually go away and can be managed with a variety of modalities, holistic and medical. On the other hand, the vaginal atrophy that causes pain with sex will progress more each year but can be dramatically improved with various lubricants, moisturizers and most importantly vaginal estrogen formulations.
MENOPAUSE. THERE'S AVOIDINGNOIT. DR. GHOFRANYSHIEVACHATS ABOUT HOW WE CAN BEST MANAGE THE CHANGE
CARSONANDREA
What is perimenopause?
h, we know. Menopause is the stage of life that many women do not look forward to. While it means an end to monthly periods, it also means that symptoms like hot flashes, night sweats, weight gain, hair loss could start happening. The good news is, there are ways to manage it all. We had a chat about the subject with Shieva Ghofrany, MD, a physician at Coastal OBGYN in Stamford and co-founder of tribecalledv.com, a site with the goal to increase knowledge and decrease anxiety about everything related to ob/gyn health.
What are some common symptoms?
The best way to define perimenopause is to start with menopause—which is defined as the moment where you have had 12 months with no period. The average age is 51 or 52 at this time. Up to 10+ years before menopause, you can have fluctuations in your hormone levels that are defined as perimenopause as your ovulation and the quality of ovulation changes. Rather than your cycle before perimenopause, which is typically very cyclic and predictable, the period of perimenopause is hallmarked as predictably unpredictable. For example, your hormonal changes will be all over the place. That said, it's important to realize that this is a normal part of our bodies' changes and not pathological.
egg during ovulation, the process entails many of the eggs to essentially disintegrate. As we get to perimenopause, our hormones don't necessarily continue with the nice predictability we discussed, meaning the quality of ovulation may be different and/or you will have cycles where you don't ovulate at all because of the hormonal fluctuations. And once we reach the age at which our hormones have decreased so much that they cannot trigger the ovulation to occur at all for 12 straight months we are considered having "gone through menopause."
westportmag.com 34 do
by liz barron
experience any or all of the symptoms and that the knowledge of this coupled with the ability to improve the symptoms is where the magic lies.
What can lead to much confusion is the thought that we can somehow test for and rule in or rule out perimenopause. Of course if someone outside of the expected age range (less than 38-40) and is missing their period or having significant hot flashes/sweats then a specific panel of hormone tests is important and warranted to ensure they are not in need of specific treatment (ie: for thyroid issues, abnormal prolactin hormone levels which can signify a pituitary issue or premature ovarian insufficiency/premature menopause). In women who are merely exhibiting milder symptoms (though let me highlight that they may still feel lousy!) and they are in their 40s, "checking their hormones" (specifically FSH/LH, estradiol/progesterone) is not of value and can actually confuse the picture. This is because the hallmark of perimenopause is that it is "predictably unpredictable" and this means the hormones can fluctuate day to day, week to week and month to month—so any given blood test is only a snapshot in the moment and doesn't change the management. We know there are many providers who encourage lenwgthier/ more costly testing through blood/saliva or urine, aimed at "evaluating the whole month/cycle" to gain knowledge—but again once we understand that each month can and likely will fluctuate we understand that this is not of value.
Changes can include but are not limited to hot flashes, night sweats, mood changes, weight changes especially often in the midsection, hair changes (more on your chin, less on your head), more ovulation pain and breast tenderness, period irregularities and less elastic skin. Perimenopause is very clearly what our bodies just go through naturally, though again, we do not just need to grin and bear it. Each person may
How long do symptoms last?
The word
Seymour Founding Resident
The chef creates a true culinary experience and I love dining with my neighbors and friends every day.
An LCB Senior Living Community. More than 25 years of excellence in New England 203-303-9223 residencewestport.com at Westport Westport's Only Independent, Assisted & Memory Care Community GourmetEveryday Select apartments available. Ask about our Emerald Suite concierge.
A six-month intensive training program, 400 apprenticeship hours, and many Equinox and Reebok Sports Club NY clients later, Newshel relocated to Westport, established her business here and now teaches classes out of her home
Newshel's clients—from fit thirty-somethings to pregnant women to eightyyear-olds—tell her that Pilates changes the way they move outside the studio, whether on the tennis court, hiking or lifting a suitcase.
above: Jessica Newshel, founder of Pilates Girl in Westport
Strike a Pose
PILATES PLUSES Ready to give Pilates a try? Lots of good reasons to do it. 1 TOTALWORKOUTBODY 2 RESISTANCETRAINING 3 NO IMPACT = STRONGER CORE 4 POSTUREBETTER 5 BALANCEBETTER 6 FLEXIBILITYINCREASED 7 BACKREDUCEDPAIN 8 INJURYREHABILITATIONPROTECTION/
her calling about a decade ago. The strengthPilatesenthusiastsports-and-fitnesshadreturnedtotorebuildhercoreafterhavingher
GETTING FIT WITH PILATES GIRL JESSICA NEWSHEL
by jill johnson mann
New client special: $120 for two duetsessions.fifty-five-minuteBookaprivateorat pilatesgirl.com.
"Pilatesstudio.isa mind–body exercise; that is the one way it is similar to yoga. The focus is on core strength, which is so fundamental to exercise and feeling good in your body," she says. "Having a strong core helps support the spine, so you stand up taller, have less back pain and just generally move better. I structure my workouts so my clients leave feeling better about themselves, not exhausted and needing to take a nap."
A former Newshelplanner,urbanJessicawasanew
mom looking for a more flexible job when she found
westportmag.com 36 do PHOTOGRAPHYTONEVELLIEPHOTOGRAPHY:
son. "I had an aha moment on a mat in class," recounts Newshel. "I found the instructors knowledgeable, caring and sensitive to different bodies and needs. I thought, This could be something that I do next."
SEPTEMBER/OCTOBER 2022 WESTPORT 37 866.280.1667 | SALES@NOPESTS.COM | WWW.NOPESTS.COM NY Bus Reg #08690 | CT Bus Reg #B-1086 It's not just about killing bugs! At JP McHale Pest Management, our goal is to provide a superior client experience at every point of interaction. Simply stated, we treat our clients likeCallfamily.usto protect your home today! Providing peace of mind to the local community for 50 years.
2
W
// NEGLECT REST. "It's during the rest that our bodies actually make the adaptations."
do
// SWIM: Swim stroke video analyses ($110/session) // RUN: Run gait video and field analyses ($100/session) // RUN: Field-testing run is one hour with a twenty-minute test and coaches give personalized run pace zones and racing pace guidelines ($100) // BODY: TTEndurance Movement Analyses of flexibility/agility/strength/body composition ($100) // BIKE: Field-testing bike includes one hour with twenty-minute power test with Powertap and HR; coaches  provide personal training zones and your power profile ($100)  testing, testing! TTE offers various tests to see how well prepared you are for that upcoming marathon or triathlon—as well as see your improvement along the way. A few options to consider… STOCK.ADOBE.COM:-BABAROGA©MARATHONPHOTOGRAPHY: STOCK.ADOBE.COM-MARIDAV©RUNNER
1 // TRAIN WITH TOO MUCH INTENSITY. "Too many people train too hard, too often, at paces that are too fast. Interval training creates a lot of stress and inflammation, leading to overuse injuries."
// UNDER EAT. "Many runners are overly focused on weight and limit calories, which leads to problems, as does low sugar intake during aggressive training. Elite marathoners ingest 500 to 1,000 grams of carbs per hour during marathons. Aim for at least 50 percent of that."
eneas freyre's tips
Freyre suggests new runners allow a year to prepare, but seasoned runners can ramp up in two to three months. What does that mean? "It's really based on the individual," says Freyre. "To improve your endurance capacity, you should do a minimum of four significant endurance runs per week. Depending on what your body can handle as far as the impact of running, those may be forty-five minutes to two hours per session, at 70 to 80 percent of your maximum heart rate." Freyre warns that marathons aren't for everyone; injuries can be an issue.
1 // GO AEROBIC. "Focus on aerobic training, not intensity."
ith the New York Marathon coming up on November 6, it's time to get moving! TTENDURANCE (ttendurance .com) owner and duathlon world champion Eneas Freyre has a few tips for those aiming to run twenty-six miles that day.
A LOCAL PRO'S TIPS FOR MARATHON TRAINING
3 // FUEL UP. "Focus on sugar intake when training longer distances. Ingest an energy gel or drink (more readily absorbed than solids) every twenty minutes during runs. This will give you more energy, limit muscle damage and improve mental clarity."
don ' t
by jill johnson mann
// GET SUPPORT. "Have a sounding board—a friend or coach—to keep you on point, help resolve problems and lend support."emotional
2
3
THE LONG RUN
westportmag.com 38
OCT. 7– APR. 30
1940S JAZZ: SEPT. 17
westportmag.com 40 do
This September and October, step back in time with local history centers.
RICHARDAG.CORPORATIONSCARRYRICHARDTHEBY2022©COPYRIGHTSCARRY: AG.;CORPORATIONSCARRYRICHARDTHEOFTRADEMARKREGISTEREDAISSCARRY SOCIETYHISTORICALWESTONCOURTESYEVENT,PEMISSION;WITHUSEDIMAGE
by diane sembrot
left: Vince Giordano's concert at the Weston Historical Society right: Huck Cat from Richard Scarry's Busytown
WALKSHISTORYGUIDED
COLLECTION:ART THRU OCT.
SCARRY:RICHARDILLUSTRATOR
SEPT. 3
Fairfield Museum & History Center (fairfieldhistory.org) hosts incredible interactive, multilayered exhibits, and so we expect to lose ourselves in "THE ROAD TO BUSYTOWN; RICHARD SCARRY'S LIFE IN FAIRFIELD COUNTY," featuring original artwork and rare family photographs. Curator Chelsea Garth says, "Illustrator Richard Scarry wanted his books to not only be educational, but fun. Scarry's beloved Busytown was created while he lived in Westport, and it teaches children how communities work: what people do, the transportation they use, and the places they go."
TRYTHIS
Enjoy a trip back to the 1940s through music at the Weston Historical Society. The show features Grammy award-winning VINCE GIORDANO AND THE MINI HAWKS 7 , performing outside, 2-6 p.m. Special guest Miss Maybell & The Jazz Age Artistes with Charlie Judkins & Brian Nalepka join the fun. Swing to Duke Ellington, Tommy Dorsey, Artie Shaw, Sinatra and more. This fundraiser will include food, cocktails, cars from the 1940s, and more. Get your tickets at westonhistoricalsociety.org.
Enjoy art through the ages with the exhibit "LIVES AND LANDSCAPES: ART FROM THE PERMANENT COLLECTION OF THE WILTON HISTORICAL SOCIETY ," through October. It includes rarely seen portraits and landmarks from the Colonial era through the 1970s. See more at wiltonhistorical.org.
Get ready to learn by doing with the " WESTPORTDESTINATION " series by Westport Museum for History and Culture. It starts with Saturday, Sept. 3 (2-3 p.m.) at Evergreen Burial Ground for a guided walking tour. It continues on dates through the end of October, covering: Gatsby, Women's Stories, Black Stories, Sanitarium, and Hidden History: Dark Past (embalmers, coffin makers, ghosts and more). Register online at westporthistory.org.
Before & After School spots www.westporty.orgavailable ENROLLING NOW! SCHOOL AGE CHILD FAMILYWESTONWESTPORTCAREYMCATGRLEARNOWHRIVE SATURDAY, SEPTEMBER 17, 2022 TICKETS ON SALE NOW! THE WILTON Y | 404 DANBURY RD | WILTON, CT YYRockRockattheatthe featuring Join us on for our Outdoor Benefit Concert!
arbour Island has been the secret of the swell set for over half a century. Those who frequent this little dot of an island barely visible from the casinos and towering hotels of nearby Nassau would like to keep it that way. The enclave is hard to reach and is often referred to as the Nantucket of the Caribbean. In centuries past, locals made money plundering the shipwrecks of the unfortunate captains who made the mistake of trying to sail over the world's third longest barrier reef. But modern navigation and regular flights to nearby Eleuthra (Harbour Island has no airport) have eased the challenge of arrival, yet the exclusivity remains. Unlike Nantucket, the water is warm, the sand is pink and powder-soft, and the unique reef systems keeps the water sparkling blue year-round.
IN-THE-KNOW TRAVELER TIP: Fly directly to Eleuthra to avoid the chaos of Bahamian customs in Nassau and the white-knuckle puddle-jumper flight. CHEAP FLIGHT TO NASSAU TOPUDDLE-JUMPERNORTHELEUTHRA TAXI TO DOCKTHE TEN-MINUTE BOAT RIDE TO THE ISLAND YOU ARRIVED!!!HAVE 1 GettingThere DUNMORETHEOFCOURTESY westportmag.com 42
go
Island Treasure
H
HARBOUR ISLAND MAY BE TOUGH TO GET TO, BUT IT'S WORTH EVERY FLIGHT, BOAT TRIP AND CAB RIDE
by kim-marie galloway
executive retreats
e Westy Guarantee…
WESTY guarantees your total satisfaction. If you are not totally satisfied for any reason within the first seven days of signing your Agreement, Westy will refund all your money and void your Agreement.
The Domestic Violence Crisis Center is committed to promoting the fundamental right of all individuals to be safe in their personal relationships. Our professional staff offers confidential services at no charge, including court and legal services, group and individual counseling, temporary shelter, housing services, children's services, medical advocacy, multilingual services, PeaceWorks prevention education and a 24-hour hotline (1-888-774-2900).
Phone: (203) 853-0418
TOLL-FREEwww.dvccct.org24HOUR HOTLINE: 1-888-774-2900
DVCC is the only domestic violence agency serving the communities of Stamford, Norwalk, Westport, Darien, New Canaan, Wilton and Weston.
Phone: (203) 588-9100
SEPTEMBER/OCTOBER 2022 WESTPORT 43
WESTY guarantees that a Customer's rent will not be increased for two years from the Agreement date.
777 Summer Street, Suite 400 • Stamford, CT 06901-1022
WESTY guarantees that there will not be a registration or administration fee.
"Most Luxurious Hotels in The United States for CEOs" CEOWORLD Magazine winvianfarm.com
5 Eversley Avenue • Norwalk, CT 06851-5821
CORAL SANDS
All hotels on the island close from mid-August to mid-November. When they reopen most have minimum stay requirements of at least three days, and many demand a full week when booking around the holidays.
PINK SANDS
This is the newest property on the island, a venture of the ultra-luxe Eleven Experience company. The eleven-room property sits in the heart of Dunmore town. The freshwater pool and Bond-style tiki bar are the centerpiece of the property that feels less like a hotel and more like a stay with your wealthy aunt. You can be that aunt by buying out the property for $7,800 a night and inviting your twenty-one favorite people.
Choose from the mix of garden- and ocean-view rooms. Some of the larger villas have private pools. Need even more space? Book Pink Sands' Banyan Tree house and you get a bonus guest house for friends— or teens who don't want to be seen with you.
The property offers a mixture of hotel rooms and postcardworthy private residences. Where the Sands hotels are beach chic, Dunmore House is self-described as having "the atmosphere of a private club and the charm of a different era."
This resort was recently renovated, a big deal on an island where the nineteenth-century cottages only occasionally freshen up their pastel paint. Coral Sands also recently built private residences for guests who need more space. The villas, called Hilltop and Sol Y Mar, each have three bedrooms, living room, dining room and kitchen, along with a one-bedroom, one-bathroom guest house.
The PinkHotel,DunmoreCoralSandsandSandsline up next to each other along the beach and offer a variety of options from hotel rooms to beach bungalows.front to Stay
BAHAMA HOUSE
go
2 Where
THE DUNMORE
westportmag.com 44 RESORTSTHEOFCOURTESYIMAGES
The waters surrounding Eleuthera are home to a disproportionately large number of shipwrecks. Wrecking was an important source of income for the island's early inhabitants In the eighteenth century, residents of Harbour Island carried special licenses to assist wrecked ships in return for a third of the recovered loot.
For dinner, locals prefer the Rock House, while tourists favor the mansion).(designeranLanding.restaurant,neighboringTheTheRockHousehasbeenislandmainstaysincethe'40sandwasdecoratedbyJ.WallaceTuttofGianniVersace'sMiamiAskforapoolsidetableandenjoyyourlobsterandgoombaysmashunderthepalmtrees.
SEPTEMBER/OCTOBER 2022 WESTPORT 45
othing. The point of traveling to this tiny island is the chance to finally finish the book you've started several times or take a nap on the pink sand beach. If you must do something, snorkeling or diving the reef is an obvious choice. Various tour operators offer turtle feeding and swimming tours. Who doesn't want to meet a sea turtle? There are the usual water sports and spa treatments best enjoyed on vacation. Rediscovering the lost art of leisure is the main pursuit—and your therapist would tell you, a worthy one.
N
The only mode of transportation, besides the feet God gave you, are bicycles and golf carts.
WHAT TO DO
LITTLE-KNOWN FACT: Harbour Island, Eleuthera and Spanish Wells were settled by Puritans seeking religious freedom. They survived with the aid of New England Puritans who sent supplies. The settlers of Eleuthera and Harbour Island repaid the debt by shipping hardwood and dyewoods to Boston with the provison that the proceeds from the sale go to Harvard College.
The Landing was renovated by the island's Hemingway-meets-andHicks,resident,well-knownmostIndiawhogavetherestaurantbaranErnestGraceKellyfeel.
3
The cool bohemian vibe only enhance the experience at the Landing.
go
The most famous spot Sip Sip recently closed for good. So the tea sipping and gossiping (where the name Sip Sip was derived) had to find a new home. Arthur's Bakery, serving up the island's famous banana bread, is a great alternative.
The most coveted souvenir is the monogrammed straw bag from A & A Hidden Treasures.
It's often said the unique bright pink sand is due to the coral, but it's actually created by insects that live on the coral. Their crushed bodies are washed ashore, giving it the world famous color. This also keeps the sand cool even in the scorching heat summer.of
Where to Eat
STOCK.ADOBE.COMBYSANDPINKEXPERIENCEELEVENOFCOURTESYBIKEANDBEACHTHEONCOUPLE@CHINOISERIECAY;BYRIGHTTOPANDTOP
WE'VE GOT ONE SIMPLE WORD FOR YOU
westportmag.com 46 CONTRIBUTED
In this powerful debut— narrated through alternating perspectives of husband and wife—Kiester investigates the complexities of a modern-day marriage.
BY VIOLA SHIPMAN
Set along the glistening shores of Lake Michigan, this thought-provoking novel follows Sutton Douglas, a woman shattered by the untimely death of her mother, Miss Mabel, who was a deeply private Southern seamstress with a furtive past. In Sutton's pursuit to find answers about her family history and her own place in the world, she purchases a collection of buttons at an estate sale from Bonnie Lyons, who could very well be the grandmother she never knew. As Bonnie takes Sutton into her confidence, secrets are unearthed and Sutton comes to realize that she may have inadvertently played a role.
Based on the true story of Nellie Bly—the world's first female journalist—thisinvestigativecompellingworkofhistoricalfictionpaintsaspellbindingportraitofawomanaheadofhertimeandherworld-alteringquestforthetruth.Thebook,setin1887,shadowsNellie'spursuittobecomeaseriousreporterinNewYork.Withlittlemoneyinherpocket,sheconcoctsaperilousschemetofakeinsanitysoshe'llbecommittedtotheasylumonBlackwell'sIsland,inordertorevealitswretchedconditions.Butgoingundercoverinanasylumisfarmoretraumaticthansheexpected.Isolatedandstarving,Nelliequestionswhyshesubjectedherselftosuchcrueltyofherownfreewill—andifshe'lleverescapetheterrorsurroundingher.
FALL INTO FALL WITH SEVEN OF THE MOST CAPTIVATING BOOKS YOU'LL READ THIS YEAR . FROM A WOMAN UNCOVERING HER MOTHER'S CLANDESTINE PAST AND A COMING-OF-AGE ROMANCE TO A PROFOUNDLY POIGNANT MEMOIR AND A NOVEL ABOUT THE WORLD'S FIRST FEMALE INVESTIGATIVE JOURNALIST, THERE'S SOMETHING FOR EVERYONE ON THIS SEASON'S LIST.
BOOKS TO FALL FOR
THE TRUTH ABOUT BEN AND JUNE BY ALEX KIESTER
by emily liebert
ACCOMPLISHED BY AMANDA QUAIN
In this Pride & Prejudice retelling, it's universally acknowledged that protagonist Darcy should haveGeorgianabeenexpelledafter"theincident"withWickhamFosterthepreviousyear.Well,atleastthat'swhatherPemberleyAcademyclassmatesbelieve.And,whileshedidmanagetoskirtexpulsionasaresultofherfamilyname,shecan'tavoidthedisappointmentofherolderbrotherFitz,thecontemptofthewholeschool,orWickham'sinfluence.Now,returningforherjunioryear,it'sGeorgiana'smissiontopolishhertarnishedreputationbymakingamendswiththemembersofthemarchingband,byignoringWickhamandhisdamaginglies,andbydivertingherhelicopteringbrotherwithloveinterest,LizzieBennet.Herplantobethe"PerfectDarcy"maybeconvoluted,butshe'scommittedtoseeingitthrough…untileverythingcomescrashingdown.
MAD WOMAN BY LOUISA TREGER
When June, a new mother, disappears one morning, her husband, Ben, is forced to retrace the recent events of her past in a desperate attempt to bring her home. But the question remains, what caused June to vanish in the first place? Perhaps if she hadn't relinquished the lead role in a famous ballet in order to have a child things would be different. Maybe it was the mysterious petition her friends all seem to know about or June's falling-out with another mom. The more Ben exposes about June— including her bizarre fixation on a Greek myth—the more he realizes how little he really understands her.
go
THE EDGE OF SUMMER
SEPTEMBER/OCTOBER 2022 WESTPORT 47
From the creator and host of the award-winning podcast Moms Don't Have Time to Read Books™, comes this intensely personal memoir about a woman's journey to find her voice through the rewriting of her storied past. If you're in the publishing industry or even tangentially connected to it, you know Zibby Owens as the smart, ambitious, authentic champion of authors across all categories and well-respected author in her own right. Her passion for the written word began in childhood, as she was exposed to the influence that books and libraries had on her own family. But after enduring the loss of her closest friend on 9/11 and the subsequent stress of motherhood, Zibby nearly forgot what the literary world meant to her. Just as her life seemed exceptionally austere, Zibby revisited her affinity for all things books and writing and fell head over heels for her now husband—a tennis pro turned movie producer. He led her along the path to a meaningful career, true love and finally finding her voice, currently heeded by millions of listeners. If you're in search of a heartrending story about relationships, affection, food issues and finding one's true calling, this is the book for you.
THREE KISSES, ONE MIDNIGHT BY ROSHANI CHOKSHI, EVELYN SKYE AND SANDHYA MENON
What's not to love about a love story? Especially one written by three New York Times bestselling authors. Add in a little Halloween magic to revive the town of Moon Ridge and you have a potion for everlasting romance. That is, according to the founder's fable. And best friends Onny, Ash, and True—otherwise known as "The Coven"— aren't going against that. After brewing their theoretical love tonic from Onny's grandmother's recipe, they all attempt to lure the objects of their affection. Of course, the best laid plans never turn out exactly as one expects. Regardless of the outcome, this book will keep you under its spell and engaged well past the witching hour.
THE MATCHMAKER'S GIFT BY LYNDA COHEN LOIGMAN
BOOKENDS: A MEMOIR OF LOVE, LOSS, AND LITERATURE BY ZIBBY OWENS
Two extraordinary women from two different eras come together to share their unique gift of finding soulmates in the most unforeseen places. Even as a young girl in 1910, Sara Glikman knows her knack for making matches. Still, amidst the bustling streets of Manhattan's Lower East Side, Sara's ability is viewed by devout older men as a threat to their traditions and livelihood. With a decade of covert matchmaking to her name, Sara is determined to assume her rightful place among her peers and be acknowledged for the talent that has benefited so many. Fast forward two generations to Sara's granddaughter, Abby, a forever.whichquestions,theygrandmother'sjournalsherpassesaffluentrepresentingManhattanprosperousdivorceattorney,thecity'smostclients.WhenSaraaway,Abbyinheritscollectionofhandwrittenwiththedetailsofhermatches…andraisealotofinterestingtheanswerstomaychangeAbby'slife
go
people&PLACES
Bravo!
NEAR & FAR AID / Spring Gala at Mitchells
597 65 2 3 by diane sembrot SEPTEMBER/OCTOBER 2022 WESTPORT 49
t was all smiles at Near & Far Aid's twenty-seventh annual gala fundraiser, held at Mitchells, to help the organization provide more than 100 grants throughout the year to charities. The theme "La Vie Est Belle" gave guests permission to celebrate the joy of togetherness, with Côte d'Azur elegance. Along with dinner and dancing, the event showered attendees with all the extras: a runway fashion show, creative cocktails, fantastic silent and live auctions, lively jazz music and more. The sold-out gala raised enough money to grant over $1 million. Missy Harmon and Karen Mitchell serve as current co-presidents of the all-volunteer run Near & Far Aid. Its Golf Classic is September 12. See more at nearandfaraid.org.
1 Jim Keplesky, Sally Cadoux, Karen Jacobs, Peter Cadoux, Sarah Stone, Pete Romano and Gabriella Mays 2 Cochairs and Steering team: (front) Liz Bechtold (co-chair), Katerina Powers and Kelly Scinto; (back) Elora Sweedler (co-chair), Karen Mitchell, Bob Mitchell, Danielle Perdue (co-chair) and Kim Meier 3 Kelsey Kalapos, Jenna Crandall, Meri-Leigh Daniele (President's Council) and Brooke Tredway 4 Coastal Bridge Advisors 5 Fashion show 6 Greenwich Med Spa 7 John and Stella Seo with Joan Panagos (Board member) and Steve Panagos 8 Paul Blanco with his daughter Jennee 9 Georgia Adams (Board member), Roberta Conroy and Co-President Karen Mitchell
FOCUSINFOREVERBYPHOTOGRAPHY 41
»
I
people westportmag.com 50 1 BASSSTACYBY5GRAHAM,JERRIBY61-4,PHOTOGRAPHS
Off Script
WESTPORT LIBRARY / BOOKED for the Evening
I
2 3 4 5 6
f you hoped for a drama-free evening out, you were celebrating with the wrong crowd. The fundraiser BOOKED for the evening—with delicious food and a vibrant social scene—was sold out, and for good reason. The successful event, held at Westport Library, honored the one and only Shonda Rhimes, the writer, executive producer and all-around creative force behind such huge TV hits as Bridgerton, Grey's Anatomy, Private Practice, Scandal and Inventing Anna. The nearly 500 lucky guests enjoyed not just a film about her extraordinary achievements, but also accolades from some of the stars of her hits, including actors Tony Goldwyn, Scott Foley and Marika Domińczyk. Rhimes, who accepted the award that night, also charmed guests with heartfelt words in a moderated discussion with Radhika Jones, editorin-chief of Vanity Fair. The event, cochaired by Candice Savin and Wendy Brown, is an annual affair. Past recipients, over twenty-three years, include Itzhak Perlman, Frederic Chiu, Justin Paul and Alan Alda. See more about the event series at westportlibrary.org. »
1 Actors Marika Dominczyk, Scott Foley and Tony Goldwyn 2 A few members of the BOOKED Committee: Maggie Mudd, Pat Wieser, Jennifer Blankfein, Jody Beck, Stacy Bass, Wendy Brown, Ngassam Ngnoumenn, Candice Savin, Lucy Johnson, Trish Schwartz, Meena Pellerin 3 Sold-out attendance 4 Performance by Staples students Lucy Doctor and Ella Shi 5 Westport Library Executive Director Bill Harmer and BOOKED for the evening honoree Shonda Rhimes 6 Radhika Jones, editor-in-chief of Vanity Fair, interviewing Shonda Rhimes
6 Austin Donis of Evarito's; Paul Scoran of The Boathouse at Saugatuck; and Natanael Figueroa and Galo Aleman of Tablao 7 Long-time CLASP supporter Tom Reese with Deirdre Price, owner of the Party Partner
people westportmag.com 52 LAMOTTAJANEBY7CLASP;BY62,VIDELER;JOHNBY54,3,1,PHOTOGRAPHS
1 2 3 4 5 6 7
2 Roaming Raw Bar by Nordic Fish with Celine Bozukluian
CLASP / Taste of Westport
Good Taste
»
3 Westport First Selectwoman Jennifer Tooker and Tracy Flood with Proclamation
n a beautiful summer evening, CLASP celebrated a big milestone: forty years! They hosted their annual benefit at The Inn at Longshore, their sixteenth year and back after a two-year hiatus because of Covid restrictions. The best part? It was sold out. Meaning the food and drinks from more than two dozen local restaurants, the socializing and dancing to live music, and the variety of auction items did a lot of good work in one evening. All of the funds raised directly support CLASP, which provides lifetime care for adults with autism and developmental disabilities throughout Fairfield County. See more at tasteofwestport.com and clasphomes.org.
1 President of CLASP Tracy Flood and Development Director Robin Hammond
O
4 CLASP supporters Pat and Jeff Wieser 5 Volunteers from Staples High School: Luca Caniato, Sebastian Rodriguez and Bruno Guiduli
Don't miss the 15th anniversary of New York City's premier wine and food festival. Must be 21 or older with valid ID to consume alcohol. The Festival promotes responsible drinking. Photos: Courtesy of Getty Images | Sponsors confirmed as of 7.29.2022 Get Tickets: NYCWFF.ORG PLATINUM MOBILITYOFFICIALPARTNER PREMIEROFFICIAL AIRLINE BEER AND DISTRIBUTORWATER ® OFFICIALPARTNERRADIO HEADQUARTERHOTEL tickets on SALE ! For more information, please call 800.764.8773 PRESENTING AND OFFICIAL CREDIT CARD AND BANKSPIRITSWINEPROVIDEREXCLUSIVEOFANDHOSTED BY TITLE GOLD DIAMOND OFFICIAL DRY DRINKS & MIXOLOGY RETAILER Book your stay at our Headquarter Hotel, Conrad New York Midtown, a luxury, midtown hotel.
PHOTOGRAPHY BY: BOB CAPAZZO, KRISTIN HYNES, MELANI LUST & MARSIN MOGIELSKI MEDIA
Moffly Media is one of the leading providers of professional event photography and marketing services in Fairfield County. We capture compelling, high-quality images of individuals and groups at meaningful events. With our wide range of capabilities from video to social media, Moffly will customize a marketing program that's just right for you. LEARN MORE! CONTACT KATHLEEN GODBOLD AT KATHLEEN.GODBOLD@MOFFLY.COM OR 203.571.1654 PHOTOGRAPHY VIDEOGRAPHY SOCIAL
3 4 5
We welcome wedding announcements together with candid photographs. Weddings should have a current Westport, Weston or Wilton family connection and must be submitted within three months of the wedding day. Regretfully, we are unable to run every wedding submitted.
ABILIS / Golf Scramble
Fore Others
SEPTEMBER/OCTOBER 2022 WESTPORT 55 people STUDIOSCALLALILLY-GILBRIDECARABYPHOTOGRAPHS
bilis' third annual Golf Scramble was held this summer at the E. Gaynor Brennan Golf Course in Stamford. The nonprofit provides services and support for more than 800 individuals with special needs and their families in Fairfield County. The event— which included breakfast, a round of golf, a BBQ lunch and a raffle at Zody's 19th Hole restaurant—does a lot of good. "Funds raised from this fun event will go toward supporting new initiatives at Abilis that will improve the quality of life for our Abilis community members throughout their lifespan," noted Amy Montimurro, CEO and president. Founded in 1951, Abilis is a leader in serving the special-needs community in the area. The upcoming Dancing Stars of Greenwich, on September 17 at the Tamarack Country Club, will benefit Abilis. More at abilis.us W
1 62
YOURCELEBRATE06880WEDDINGSTOCK.ADOBE.COM
1 Avi Siwlal, Nick McKay, Nick Purdy and Paul Ciabatti 2 Pio Bruzzese with his daughter, Margaux, and his son, Vincent 3 John D'Elia, Christine Colasurdo, Katie Douglass and Tony Lupinacci 4 Hank Falcone, John Sandonetti, Darlene Dwyer and John Dwyer 5 Matt Karlin, Anthony Abdy, Roger Dean and Tom McKeon 6 Lunch at Zody's 19th Hole at the E. Gaynor Brennan Golf Course, where the Abilis Golf Scramble was held
A
Send Information to: Diane.Sembrot@moffly.com Westport Magazine 205 Main Street Westport, CT
westportmag.com 56
"I personally don't love the options in a 529," says Jeffrey Costa, CFP, a portfolio manager and financial planner for Scholtz & Company in Stamford, and a parent of two little ones. "They're
pretty limiting."
Like most everything else in personal finance, where put money for college depends on timeline, cash flow and diversification. Lately, Costa has had clients ask about Series I Savings Bonds. The reason: I bonds purchased through October pay 9.26 percent interest, an astounding amount compared to other relatively safe options. While I bonds can be a great addition to a portfolio, there are caveats worth considering. Purchases are limited to $10,000 per year, the bonds can't be cashed until they are a year old, and if they're cashed within five years of purchase, you forfeit the last three months of interest.
where to place the assets. The minor is technically the account holder, but needs permission from the custodian (in this case, the parent) to do anything with the money. "You can be a bit more tactical, rather than just being stuck," Costa says. When college time comes, you spend the money where you see the need. That could also be a negative, however. In Connecticut, an UTMA is transferred to the child at age twenty-one. If Buddy would rather have a BMW than a bachelor's degree, it's his choice. The other piece of the puzzle is financial aid. "Assets in a 529 plan versus an UTMA versus a brokerage account, all get treated differently. Certain items get counted much higher," Costa says. On the FAFSA (Free Application for Federal Student Aid), an UTMA is considered a child's asset and can reduce financial aid by 20 percent of the account's value. A 529 is a parent's asset and can reduce aid by 5.6 percent. A 529 in a grandparent's name wouldn't count at all toward a family's expected contribution. "It really depends on the overall picture, and understanding how that's derived."
"Withyear.any investment goal or asset allocation, typically you're getting more conservative as you're getting closer to when you need the money. We're in a time when bonds and stocks are getting clobbered; bonds are down doubledigits, and stocks are down. With anything in planning you want to have a mix of options, and money in different tax-treated buckets. Each one has its benefits."
BY CAROL LEONETTI DANNHAUSER
Jeffrey Costa, CFP
CONSIDER OPTIONS TO PAY TUITION
CONTRIBUTED
money matters
MAKE A PLAN Time your money moves
"People often default to their state plan because they get the tax deduction," Costa said, "but what you might get in a one-time tax deduction, you might lose out in performance or mutual fund fees."
"The Connecticut plan is really as competitive as any now. It's a good place to have some money, but I don't think it's the place for all the money. It's a piece of the pie, but I don't think it should be the whole pie."Nearly all CHET portfolios took a hit in 2022. The 2022 target date fund—among the more conservative of the equity
hen it comes to paying for college, the days of set it and forget it are over. For years, the 529 college savings plan was the darling of parents and financial planners. Parents stashed cash away each month in a stock-heavy portfolio and watched their balance grow, grow, grow as the stock market soared.And then came COVID. And then, inflation. And suddenly, the tuition bill. In the meantime, many 529s didn't grow, but shrunk, just when Muffy needed them most.
to
A 529 plan enables people saving for college to invest after-tax money into a special account where it grows tax-free. When the money is withdrawn to pay for qualified college expenses, such as tuition, books and housing, there aren't any taxes on the gains. Connecticut residents may deduct 529 contributions from state income taxes, up to $10,000 annually for a couple.
offerings—lost more than 8 percent in the first half of this year. Some growth options plunged 20 percent or more—a staggering amount for a student already in college or about to start. Account holders didn't know whether to stay the course or jump ship altogether.
W
BACK TO COLLEGE
In 2021 Fidelity took over management of the Connecticut Higher Education Trust (CHET), increasing the number and quality of investment options, Costa said.
One way to wrangle the different buckets is in a custodial account, which is opened by an adult at a bank, brokerage, credit union, etc., for the benefit of a minor. Costa suggests an UTMA (Uniform Transfers to Minors Act). "That's the most flexible. You have 100% control" over
With 529 plans, there is little room for indecision—per IRS rules, account holders can change investment options only twice a
Friday, November 4 • 8 p.m. Carl WashingtonLens:FocusingBernsteinaJournalisticWatergateto2024 Tuesday, October 18 • 7:30 p.m. Friday, September 30 • 8 p.m. MUSIC Mariachi Herencia de México with Lupita Infante 203.254.4010 QuickCenter.com Unmatched Prices Unbelievable Performances Become a Season Member Today!
David Marchi at work in his studio in New London. A longtime former resident of Wilton, he also has studios there and in Vermont. A broken back suffered in a boating accident unleashed the artist within him. Now he is seldom found away from his paints and canvases.
storyamazingTheof marchijohndavid talentuncovered's
by timothy dumas
SEPTEMBER/OCTOBER 2022 WESTPORT 59
Today, Marchi is neither a high-fly ing adman nor married to the lovely Brenda. The first of two massive up heavals in his life swooped in qui etly, during a business trip to Taos. He'd taken Brenda with him. At a dinner gathering one night, the talk turned to gay men—"how pretty and perfect they were, how they shaved their chest hair and were always in shape"—and as the evening wore on, Marchi realized the glib generalizing had gotten under his skin. This was 1999; he was forty-three years old and had been married for twenty-one years. That night, lying in bed at the hotel, he said to Brenda, "I've got to tell you something." The tears began to flow. "I'm gay." Brenda lay there
answer is: "I just suppressed it." Fleshing that out a little, Marchi re ports that he was raised in a blue-col lar, "front-row pew" Catholic Italian family in Wallingford. "When I was growing up, I thought that if I could take a pill to make me straight, I'd do it," he says. Brenda adds, "He's the oldest son in an Italian family, and yowza, that's not easy." But his parents, John, a retired builder, and Concetta, a gifted photographer, proved marvelously accepting, if a little puzzled. "My mother, God bless her, goes, 'When did you be come gay?' I'm like, 'When I came out of your vagina, probably.' "
avid John Marchi was once a high-flying ad vertising and marketing man. He spearheaded the shimmery black Pepsi can emblazoned with Luke Skywalker, Darth Vader and other Star Wars icons. He placed kegs of Heineken beer in the James Bond movie Tomorrow Never Dies. And he was the marketing force (for good or ill) behind Pizza Hut's stuffed crust pizza. Marchi's personal life, too, was a resounding success. He and his wife, the blonde, blue-eyed Brenda, had four happy children, and they lived in a big, beautiful house on Wilton's Spectacle Lane.
in stunned silence. When she finally spoke she said, "I thought you were going to tell me you're having an af fair with a Naturallywoman."thisstory raises a lot of questions. Did Marchi always know he was gay? Well, yes. When he was a boy, he and his friends would build tree forts in the woods and festoon them with Playboy centerfolds. "Of course," he says, "my tree fort had curtains and a fireplace." He adds nonchalantly, "My centerfold was punctured with pins so the light could come through. To me, it was a piece of art, not a naked woman."
Why then, knowing what he knew, did he not come out sooner—before getting married, perhaps? The short
westportmag.com 60
above: 49 Yellow Squares—Marchi finds endless variation in simple patterns. Usually, he dreams his paintings at night and begins to paint them in the morning.
David had fallen in love with Bren da quite young—in college—with
Back at the loft, weary and stressed, David and Brenda sat the children down and broke the lifealtering news. "For them it came out of the blue," Brenda says. "They had no indication anything was up, be cause we never fought."
his 1974 mind firmly in suppressive mode. When he came out all those years later, she might have reacted with justifiable brimstone, followed by unrelenting permanent frost. "But that night I just held him and said, 'It's OK, it's all right,' " Brenda re calls. "My feeling was, this was not something he ever chose. This was something he dealt with." David says, "She was by my side for the entire thing. She is the most amaz ing woman in the world." And who could possibly disagree?
I gotta do this….' "
Thewounds.splitfrom
This detonation in the lives of the Marchi family was notably non-de structive. Brenda recalls that their third child, a sensitive soul named
above: Among Marchi's primary influences is Hans Hofmann, a renowned painting teacher who made his own best paintings after turning sixty.
So came the pitiless task of inform ing the children that (a) David was gay, and (b) as a practical necessity, he and Brenda would be getting di vorced. The plan was to have a pleas ant family outing—a Yankees game out at the stadium—and then drop the bombs as gently as they could. It so happens that David is not a base ball fan. Further, this particular game proved interminable, giving David oceans of time in which to halluci nate his big reveal going disastrously awry. "How many innings are there in a fucking baseball game?" he asks now, reliving the horror. "This one, I think, broke records. And I'm sitting in my seat going, 'I gotta do this…
John, said to David, "Daddy, I'm just so sorry you had to carry this all this time by yourself." While the boy's wise words neatly exemplify the Marchi spirit, both Brenda and Da vid take pains to say that adjusting to the new reality "wasn't all roses," as Brenda puts it. "There were some difficult, difficult times, because of David's struggling through relation ships as a gay man. Some of them were very difficult for us." That is to say, David had no talent for picking suitable partners. "Horrible, oof," Brenda says, under her breath, of Da vid's past gay relationships. But she and the children were always sup portive. Indeed, when David married wedding dress designer Matthew Christopher Sobaski in 2012, it was Brenda and their daughter, Eliza beth, who gave him away. And when that union acrimoniously collapsed in 2019, it was to Brenda's house in Wilton that Marchi retreated to lick his
David and Brenda decided to keep mum—the kids were then ages five to twelve—while they tried to figure out how to cope with the new state of affairs. They settled on a gradualist approach. "We took a loft in the city, and David kind of lived Monday through Thursday as a gay man, just to experience it, and he came home to Wilton on the weekends," Brenda says. "Wow, when I think about it now!" she adds, laughing. "Well, we just wanted to make sure it was real and true—and it was real and true."
CONTRIBUTED
"My oldest was a little contempla tive," David recalls. "My daughter, who's a bit of a drama queen, got up and started crying, 'All my friends' parents are getting divorced!' Noth ing about Dad being gay." Then, in a general state of exhaustion, all six of them adjourned to a favorite res taurant called (with a dash of comic irony) Jekyll & Hyde.
SEPTEMBER/OCTOBER 2022 WESTPORT 61
Matthew is not the second great upheaval to which we refer. No. The second upheaval came mid-second-marriage, during a busi ness trip to Tampa. The day before the meeting, David and Matthew partook in a speedboating excursion on Tampa Bay. It was a sunny Sun day with a light breeze, and the boat traffic on the bay was heavy. Inex plicably, the fellow at the wheel of the small craft kept zipping across the wakes at full throttle, pounding and plunging through the saltwater spray. "It was like mogul skiing," Marchi recalls with a slightly seasick
As Brenda recalls it, "We had given him as a Christmas gift one year a set with acrylic tubes and such. One night he woke up and just had this consuming need to paint. And he found this set. Most of the tubes had dried up, but he put water in them and brought them back, and he start ed painting. And he really hasn't stopped since."
Marchiobsession."issitting
outside a café in Easton, having stopped to meet us on his way to a doctor's appointment in Stamford. These days he lives in Niantic with his eminently suitable partner, Jim Finnegan, a retired in surance executive. Marchi shuttles between three art studios—one in New London, another near his house
above: Quilty Pleasure Marchi likes to use tools, such as boards, kitchen utensils, masonry tools, electric sanders, to create unusual textures.
westportmag.com 62
the dreams were hazy, formless, but they recurred with such strange insis tence that he was overcome with the desire to paint. In his adult life Mar chi had never so much as touched a paint brush. What was happening?
In the film Close Encounters of the Third Kind, the Richard Dreyfus character is transfixed by a waking dream of an odd-looking mountain that turns out to be Devils Tower, a butte in Wyoming. One night at the dinner table, he commandeers the bowl of mashed potatoes and sculpts the butte, right there on his plate. Then, noticing his family gawping, he bursts into tears and says, "Well, I guess you've noticed something's a little strange with Dad." That scene evokes Marchi's own inex plicable urge to paint the images engraved on his dreams. "I moved the furniture out of the dining room and started laying canvases down," he says. "It became—well, the word is
The fracture did not heal properly. Back pain insinuated itself into ev ery nook of his daily life. On June 2, 2016, the surgeons finally went to work, cutting, fusing, installing rods
and plates and screws. But the pain remained chronic, and the added trauma of the operation produced a very curious side effect, if we dare call it that: the dreams of painting went big league. That is, the am biguous mash of color solidified into compositions so fully realized that they could have been hanging on a gallery wall.
expression. As he stood there grip ping a metal cleat in a blue-knuckled hand, the boat struck a wake with ex ceptional force, breaking Marchi's hold and tossing him into the air. He landed on his back, fracturing it; his wrists, too, were badly damaged. "I lost consciousness. When I came to, I was lying on the deck in excruciat ingBackpain."in New York, Marchi's phy sicians decided against the violence of surgery, and instead put him in a titanium brace—his hot, itchy pris on for the next six months. It was in this period that the dreams be gan. Dreams of color, of anonymous hands pushing the color around, mashing it together. "As the colors were being moved," he recalls, "new colors were being created." At first
In his professional life, he was the master of his drive. Now, in his ar tistic life, his drive had turned man ic, and was careening at high speed into the mists of the unknown. "At first this thing was so exhilarating— the adrenaline was always flowing," he says. "Everything was new, ev erything was great. It was like open ing a package on Christmas morn ing: 'Wow, this is so cool… Did I ask for this?' "
One day in 2018 while sitting on the toilet—an enforced break from the tyranny of art—he got a phone call from his attorney: "Quick, turn on CBS!" Sunday Morning was airing a segment on acquired savant syndrome, a rare condition where by a trauma to the central nervous system switches on a narrow but su percharged ability, typically in mu sic, art, math or memory. Acquired savant syndrome is quite rare— there are eighty-six known cases, including Marchi's, according to Dr. Matthew Doll, a director at the SSM Health Treffert Center in
above: Marchi with Larry Poons, a contemporary master who is also Marchi's teacher along with his wife, Paula, at the Art Students League in New York. David and Larry are pictured with a painting of Marchi's Poon River, which recently won the ASL's "Best in Show." Marchi has been invited to exhibit in a prestigious ASL show this fall called "We Fancy," curated by Eric Shiner, featuring queer creators.
Then the exhilaration shaded into abandon; he felt like a garden blooming wildly out of control. "I couldn't calm my mind down," he says. "There were times when I'd paint twenty-four hours at a stretch, and not eat. I couldn't stop. There was so much shit in my head to get out. I found that when I did stop, like to try to eat, the urge was so strong that I literally had to go back to my studio and just keep painting—and painting and painting."
in Vermont, and the third in Wilton— as if he can never stray too far from his paints. The spigot is always on.
CONTRIBUTED SEPTEMBER/OCTOBER 2022 WESTPORT 63
once dazzled George Lucas with his concepts for the Pepsi–Star Wars tie-ins. "He's always been driven," Brenda says. "Everything he's done in his life, he's done 110 percent."
Marchi is a smallish, sturdily built man of sixty-five, though with his short dark hair, frayed baseball cap and auspicious genes, he manages
to look eternally boyish. At first he seems soft-spoken to the point of shyness, but soon one detects the undercurrent of confidence and willpower that led to success on the upper slopes of advertising and mar keting. He is, after all, a man who
The Sunday Morning segment fea tured the acquired savant Alonzo Clemons, a Colorado janitor who suffered a catastrophic brain injury in a childhood fall. Unable to read or write, he has the brain develop ment of a six-year-old and an IQ of 40. And yet he sculpts animals with gorgeous sophistication. (Back in 1987 his life-size bronze Three Frolicking Foals sold for $45,000.)
Treffert told him, "Unfortunately, that's part of the whole savant syn drome. All this stuff is in you, and it's not like you can just delete it."
In 1994, Tony Cicoria, an orthopedic surgeon, was struck by lightning in a New York phone booth and devel oped "an insatiable desire" to play and compose classical piano mu sic. In 1986, Derek Amato became similarly possessed after hitting his
above: Rust Never Sleeps (60 x 40) was inspired by Neil Young's song suggesting complacency is a creeping threat to an artist's credibility
"Oh my God," he thought. "That's me."Soon Marchi learned the stories of other acquired savants. In 1979, at the age of ten, Orlando Serrell was struck on the head by a baseball; now he can tell you the weather and what he was wearing and doing on any given day since the accident.
Wisconsin, the world leader in the study of savant syndrome. (Less rare than acquired savant syndrome is congenital savant syndrome, in which a person born autistic or otherwise neurologically impaired possesses a talent in mysterious abundance— a so-called "island of genius." The most famous congenital savant was Kim Peek, who inspired the Oscarwinning film Rain Man. Diagnosed as mentally retarded at birth, Peek nevertheless memorized thousands of books and musical scores. He could spontaneously answer arcane questions in any field: Who were the four members of Washington's cabi net? Who was the winning pitcher in game three of the 1926 World Se ries? On what day of the week was Sir Walter Raleigh executed? "I have so many things in me that you can't even guess them all," he said.)
westportmag.com 64
Dr. Treffert believed that acquired savant syndrome hints at the poten tial for genius locked inside every human brain: "There's a little Rain Man in each of us," he once told a TED Talk audience. In other words, Dr. Doll says, "It would appear that these skills are already present in us. We're just not accessing them." New research, he adds, is focusing on just that—accessing our personal genius using transcranial magnetic stimulation and other methods.
After watching the Sunday Morn ing story, Marchi could not resist contacting Dr. Treffert. When they first talked, Marchi told him, "I feel like I'm going crazy, because it just won't turn off—it's there when I'm sleeping, it's there when I wake up."
Dr. Darold A. Treffert, the reigning expert on savantism until his death in 2020, explained to CBS's view ers that an acquired savant's injury appears to "rewire" his brain as if in compensation for the damage suf fered, unleashing latent capabilities in the process. Marchi listened in amazement. Vaguely he knew about the Rain Men of the world, who in less-sensitive days were called "idiot savants." But he'd never heard about
normal people who had been bonked on the head—or in the back—and metamorphosed into prodigies.
head in the shallow end of a swim ming pool. Almost immediately he could play keyboard pieces of such intricacy that it seemed to him "the ghost of Beethoven jumped into my body." But Amato's gift had a dark side: extreme migraines. "This gift isn't for everyone," he has observed. "It'sTheexhausting."sciencebehind acquired sa vantism is not clearly understood. Matthew Doll reports that the injury commonly occurs in the brain's left hemisphere. "And that's a particular area of the brain that does some sup pression work," he says. "So, when it's disrupted, it may allow more ac cess to right hemisphere skills and abilities." (The right brain is said to be the seat of creativity, and the left brain the seat of logic, though it's far from that simple.)
might add, given the sentimentality now attached to it. But Marchi does it surprising justice: one painting in particular, a cityscape in red, black, umber and ochre, evokes a sense of impending terror and shattering violence.
He sips his coffee contemplatively. "Remember National Lampoon's Christmas Vacation?" In the film, there's a little country girl who goes cross-eyed when she falls into a well and gets cured when she's kicked by a mule. To this day Marchi dreads get ting kicked by a metaphorical mule. But what if that happens—what if the gift evaporates tomorrow? "Oh, God," he says, a look of terror flit ting across his brow. "I'd have to go out and break my back again."
Recently he completed his larg est painting yet, a fifteen-footer ti tled Galaxy, which resembles both Jackson Pollock's dense spatter and the swirling Milky Way in which we live. Galaxy showcases Marchi's ar ray of techniques for applying color. Some paint is squeezed directly out of the tube and onto the canvas in great globs; other paint is flung on with spoons. Marchi uses mason ry tools, sanding machines, cloth, boards, tires—anything, really— in addition to boring old brushes. Once, he lost control of an electric drill with a paint-mixing attachment. "It sprayed all over the canvas, and I thought, 'Hmm, that looks pret ty good.' Fuck-ups become art at times." »
SEPTEMBER/OCTOBER 2022 WESTPORT 65
Marchi does not sleep well. But when sleep comes, so do the images: floods of them, smears and sprays and blocks of color. He keeps an iPhone and pen and paper by his bedside in order to capture sleep's bounty. Come morn ing, he selects the colors he saw in his dreams and lays them out on the floor. Then, before picking up a brush, he sits and stares at the white canvas on the wall, mentally projecting what he saw in his sleep.
Most of Marchi's paintings de rive from nature. Niantic Sun Dance suggests a Turner-like scene of wa ter and sky. Fault Line, a field of angry Tyrolean red with a yellow streak and patches of blue and green, evokes an earthquake on the Whit tier fault that shook Marchi violently one morning many years ago.
Treffert suggested therapy to better control the gift that gave too much. But after some reflection, Marchi re jected the idea. "I said to myself, 'You know, I don't want to control it.' "
"It's almost like meditation," he says. "Everything goes away. There's no sound. There's no disruption. There's just the white canvas and my colors."
Marchi had ample time to absorb, as it were, the great Atlantic and its vast shifting light. Or there might be pinks, whites, golds and coppers, as in Field of Gold. "That came from my house in Vermont," Marchi re ports. "We had a huge field, maybe five acres, and I planted wildflowers there, and it was absolutely beauti ful. And the sunlight there is incred ible. So one morning I'm having a cup of coffee, looking at the field, and the flowers were embedded in the grass, but the grass was dry and when the sunlight came through, it photographically 'snapped' in my mind. I didn't think of a paint ing then. I just thought, there's sun, there's this hay kind of stuff and there are little colors in there. That night I went to sleep and I saw the painting. I woke up, I drove to my studio, four miles away, and painted it." He smiles a little shyly. "That just sold to a family in Newport."
Sunspot is pure sunlight on canvas, with subtle gradations of gold-yel low-orange. The delicate, drippy If a Tree Falls is surely a forest in win ter. Spring Forward implies a frenzy of blooming wildflowers. The large and impressive Summit came from a dream of mountains.
Many savant artists are considered good only in the context of their dra matic stories; if you didn't know those stories, you would think their art is no better than average. Dr. Treffert him self once noted that only a handful of savants rise to the category he called "prodigious"—a talent that is striking on its own merits.
There might be blues and whites and silvers, as in his painting Aqua Vita, made during a residency at the Dune Shacks in Provincetown, where
Marchi is certainly one. By 2019 he had his first solo show, at Art Ba sel Miami, the prestigious interna tional art fair. New York Magazine critic Jerry Saltz, examining Aqua Vita, noted the "Cezanne-like" veils of color that typify Marchi's work. Like the great abstract expressionists of yore, Saltz noted, Marchi has "no fear of scale."
One series of paintings not in spired by nature takes as its sub ject the Twin Towers. An artisti cally unpromising subject, one
mous. If I never sold another paint ing, I would be OK."
applied colors to create a blurred ef fect. Marchi had done the same thing, and in those paintings the similari ties to Richter are uncanny—not just in technique, but in texture, layering and complexity. As Marchi delved deeper into Richter's work, he made a discovery that stopped him cold. "I found a series he did called Hands. I looked at them, and there were the hands—the hands that I'd seen in myMarchidreams."has largely integrated his painterly influences into a rich, au thoritative style all his own. Now his paintings are landing in the private collections of millionaires. This was never the goal, he maintains; cer tainly he never succumbed to "the mania for instant reputation" that the late, great critic Robert Hughes considered a blight on the American art scene. "It's not about selling the work," Marchi says. "I don't need the money. I don't need to be fa
above: Fault Line (50 x 50) was inspired by an earthquake that shook Marchi many years ago in Whittier, California.
westportmag.com 66
Kandinsky said, "Painting should grow out of an internal neces sity," and it's hard to imagine an internal necessity greater than Mar chi's. From the first touch of paint to canvas, he was visited by a profound sense of calm. "Painting is my ther apy for pain," he explains. "When I go into my studio, no matter how much I'm hurting, the pain kind of goes away. My mind goes into a trance of painting—it's medicine for me." He has come to believe that art can be medicine for everyone. "Art heals," he says. "But you need to open yourself up to it. If you can open yourself up to it, no matter what kind of trauma you've had— it doesn't have to be a boat or a car accident, it could be a bad divorce, it could be cancer—my message is always, art heals. I encourage peo ple, when they're down and out, to
Being in his sixties himself, Mar chi finds Hofmann's biography dis tinctly encouraging. (Marchi paint ed his homage to Hofmann, By His Side, in part beside Hofmann's grave in Truro, Massachusetts. In April he exhibited the piece at a two-man show at New Canaan's Carriage Barn Art Center; the other artist was fellow acquired savant Alder Crock er, of Fairfield, who suffered a bro ken neck in 2018 after a fall while jogging in Mexico.)
Equal to Hofmann in Marchi's pantheon of heroes is Gerhard Rich ter, widely regarded as one of the greatest living artists. Marchi dis covered his affinity for the German master totally by chance, when he showed his work to the interior de signer David Scott. "David looks at my work and goes, 'Wow, this is great, you're influenced by Gerhard Richter.' And I say, 'Oh, uh, yeah,' or something like that. When he left, I Googled Gerhard Richter, and I'm like, 'Holy crap.' " In some pieces, Richter drags a board across freshly
Marchi knew little about art and art ists before his accident. These days he studies them with the avidity of one making up for lost time. Wasily Kandinsky, Piet Mondrian and the contemporary painter Larry Poons, a teacher of Marchi's at the Art Stu dents League, emerged as particular favorites. Soon he discovered that his work vividly echoes that of Hans Hofmann (1880–1966), a renowned art teacher who produced his own major paintings after turning sixty.
above: Field of Gold (60 x 40), an abstraction of a field of grass and wildflowers in Vermont below: Aqua Vita (52 x 70) was done during a residency at The Shacks in Provincetown, where Marchi spent a week studying the changing light on the Atlantic Ocean. Aqua Vita was critiqued by New York Magazine art critic Jerry Saltz.
also, God bless him, of all of us. He is happy—and that's all that any of us ever wanted for him." A while ago Brenda sold her house in Wilton and moved into an apartment, the
His own life journey has been akin to recovering the freewheeling joys of childhood. After two radi cal shifts in identity, Marchi is once again purely, unselfconsciously, himself. "Where I am now is where I always should have been," he ob serves. "But isn't it amazing that, if I didn't have the accident, I never would have known? When I came out [of the closet], it felt like, 'Wow, I can be myself.' With my art, it felt like, 'This always was myself.' I just didn't"Davidknow."is more at peace right now than he's ever been in his life," Brenda says. "He has a wonderful partner, who is accepting of him and
lease of which expired in June. "Did he tell you?" she says, chuckling.
SEPTEMBER/OCTOBER 2022 WESTPORT 67
pick up a pencil and a pad, to walk outside with your kids' watercolor set. Try it for ten minutes and see if it doesn't get your mind off your horrible divorce or your cancer, or whatever."Scienceagrees with him. Studies demonstrate that music calms neural pathways, and that visual art soothes the intense emotions around illness, and can even reduce the need for pain medication. Doing science one better, Kurt Vonnegut recommended practicing art—any art—in order "to find out what's inside you, to make your soul grow." Something strange happens to us as we exit childhood, Marchi believes. The habit of mak ing art that comes so naturally to children—and which adults encour age in the same way they do good hygiene or good nutrition—seems to drain out of us by adolescence. Official encouragement via our pub lic schools wanes as well, as do of ficial funds. "Art is in everybody," Marchi says. "Why do we squash it? Why don't we nourish it?"
"I'm going to move in with David and Jim for a while. So our bizarre little story continues."
T
by diane sembrot
CONTRIBUTEDOTHERS,@VINTAGEVIZUALS;LAU,PHOTOGRAPHS: westportmag.com 68
BTHERIGHTSIDE
hese days we could all use a bit of inspiration. Usually, we would think to turn to famous athletes, talented musicians or world leaders, but then we realized we have so much to admire close to home. We're talking about the upcoming generation. What local teens are accomplishing in school and beyond is extraordinary. They seem to have no limit to getting good grades, making big sports plays, doing intense academic research and standing at center stage—and, of course, giving back in some way. Some of them do all of that. That's why we caught up with a few of them. Not only to shine a light on all that they're doing, but also to let a bit of their fire and determination renew our fighting spirit. The upcoming generation has plenty to teach us about going after what matters and how to pack a day full. Read on to be motivated by impressive local teens.
THE ACCOMPLISHEDOFGENERATIONNEXTINSPIRINGANDVERYTEENS SEPTEMBER/OCTOBER 2022 WESTPORT 69
If I had to pick one, currently my favorite subject would be chemistry. This is largely because of how chemistry links math with the elements to describe how our world works. At first, I found challenge in the complex material, but I was interested in the real-world applications and experiments we did in the lab. My critical thinking skills were tested on every homework assignment and quiz, and my teacher advised me to approach the more difficult problems from multiple angles. It worked, and since then I have been able to break down what seem like overwhelming assignments. Building on my success, I will be taking Advanced Chemistry my senior year with the same teacher, Mr. LeBris.
I'm proud that my achievements and the person I am becoming make my parents and family proud. For as long as I can remember, making my parents proud of their son has been a goal of mine, and hearing what they have to say about me now as a near-adult lets me know that what I am and have been doing is working. At the same time, I would say that my father's and mother's guidance and model behavior is ultimately what created the groundwork for me to succeed. My parents have always told me, "There's nothing more you can do than your best," and this is an idea I have and will continue to carry with me in life.
Do you have a favorite subject?
Do you have a motto?
TAKESQUICK
westportmag.com 70
Recent success?
I was offered spots at both West Point's Summer Leader Experience and U.S.N.A.'s Summer Seminar in Annapolis. When I heard I was accepted into both programs, I was overwhelmed with excitement, as each provided unique and intensive experiences to grow as a leader and experience life at the Academies. On my second day at West Point, I received a token from the Command Sergeant Major for "Demonstrated Excellence" and was given responsibility for a day of my platoon's guidon (flag). I carried the guidon with me all day, marching and forming up in front of the 113-person platoon. It was a huge honor and role I was not expecting.
A proud accomplishment?
"If not me, then who…" I heard this at West Point in a presentation given by the Travis Manion Foundation. Travis's story is heartbreaking, yet he sets an example of character and leadership I hope to one day match.
What is your favorite club?
Favorite local place: My own backyard.
A good friend and classmate of mine started a club last year called Building for Non-Profits. We have built picnic tables, birdhouses, Christmas ornaments and desks, which we have donated to local nonprofit organizations who came to us with their specific needs. This was a hugely rewarding hands-on club, and I had a blast throughout the year trying, failing and succeeding with my friends and helping the greater community one design lab project at a time.
What is it about leadership that you like?
What do you like about your high school?
Superpower pick: Good luck.
arrison Bennett, of Fairfield, may be young, but he has already learned what works for him—goals. Now a senior at St. Luke's, he's a goal-focused teen who set his sights on being a leader. He recently attended both the Army and Naval academy summer programs for rising seniors—it's hard enough to get into one, but both? Impressive! He hopes to "attend a college that not only provides strong academics, but also builds leaders of character and well-rounded graduates ready to serve their communities in a number of fields." He's a strong student, even a Senior Member of the St. Luke's Honor Council, and three-season athlete—he plays lacrosse, basketball and football (he's captain of the varsity team). Plus, he's service-oriented, as he is the vice president of the Building for Non-Profits Club, volunteers as an Admissions Ambassador, and serves as the vice president of the St. Luke's Student Council. Now in his senior year, the world continues to simply unfold for him, but perhaps that's just as he planned it.
I've realized in high school my capacity to be a leader, and I have centered my goals around developing myself and my skills to tap into this potential. Specifically, I have grown as a public speaker, taken on larger athletic and nonathletic leadership roles, and made a greater effort to act with integrity and character. I will continue to work toward the same goals in my college years and beyond.
2022 in five words or less… "Boy, that escalated quickly."
H
–Ron Burgundy
HARRISON BENNETT
What I like most about St. Luke's is the people. I know it sounds cliché, but I really mean it. I've learned so much from my peers, as they've exposed me to new perspectives and different ideas. The relationships that I've made with classmates and teachers have helped me to grow into a more understanding and well-rounded individual.
I can vividly remember visiting earlier this spring and walking around campus and listening to the types of conversations taking place casually among students all around me. And I know that many other people described this to me as well when I was first going through the college process and I didn't find it helpful, but I was stricken with a feeling. A feeling that I could see myself walking those beautiful streets, and being part of those conversations, and widening my perspective the way I could see unfolding all around me.
D
I like all of my different subjects for different reasons. I love the integration of different stories and perspectives in history and English, and the analytical problem solving in math. I love how biology and other sciences teach you how seemingly small processes combine to define the way that the world around you works.
I was really drawn to the different ways I could simultaneously explore while expanding my view of the world around me. I have had the opportunity to carry out independent research during my time in high school, so I was also drawn to the many different research opportunities that Harvard has to offer. This also ties in to one of my favorite things about my high school—that learning is taken beyond the classroom—because there are a myriad of opportunities at Harvard to be involved with both larger global communities and smaller local communities on campus and in the Boston area. Additionally, I have always been drawn to people, and so I look forward to the immensely diverse perspectives.
If I could do one thing better: Speaking languages.more
espite all of the balls Shealeigh Crombie keeps up in the air, she maintains a sense of humor. Asked if she has a nickname, she replies, "Honestly any mispronunciation of my name." In the graduating class of 2022, she heads from Greens Farms Academy to her dream school: Harvard University. The Westporter is certainly headed in the right direction. In high school, she was valedictorian, Student Council Chair, Varsity Soccer Captain (twice), member of a nationally ranked ECNL soccer team (Connecticut Football Club) and Academic All-American First Team for Soccer. Clearly, she can juggle a lot—even with her feet.
Want to meet: Malala Yousafzai
SHEALEIGH CROMBIE
One of the biggest challenges I have had to face is my journey with injuries. Soccer has always been a huge part of my life, but when I was a freshman I tore my ACL and meniscus and was devastated that I would have to have surgery and would be unable to play soccer for nine months. However, this recovery taught me so much about determination, what it means to really work for a goal, how you can be a teammate without playing, and so much more. When I came back I was not only a stronger player but also a new person, and I am so grateful for all that the recovery process taught me. Earlier this past year, I tore my other ACL and meniscus, and while I was disappointed I also knew from the first recovery that it would only make me stronger. It has allowed me to take a step back and appreciate all the amazing things soccer, my teams and the unwavering support around me have given me.
I have never been in a more supportive and multifaceted community, and I love how I can look around and always see talented individuals pursuing what they find interesting. All individuals at GFA pursue many different interests and curiosities at the same time, and I love how interconnected the disciplines and activities are. I also love how much GFA fosters a sense of community and gives students the autonomy and often the flexibility to take their learning beyond the classroom to something that each student is passionate about.
When did you know for sure?
My personality: Compassionate, loyal, optimistic, and driven
SEPTEMBER/OCTOBER 2022 WESTPORT 71
One of my recent successes was finally being able to complete my individual research project as a part of my advanced inquiry at GFA. Through the advanced inquiry program at GFA, seniors can explore any topic that fascinates them in depth with the collaboration of faculty and a variety of different resources. I explored organ transplant acceptance as seen through sea squirts, a type of marine invertebrate that shares a lot of biological similarities to humans. Being able to share my work at the end of the year marked the culmination of a project where I ended up exploring more tangents than I could have imagined, where I got the opportunity to collaborate with a variety of faculty throughout GFA as well as imbibe external publications, and where I got to see how my inquiries fit within the context of the field.
What do you like about GFA?
One of your recent successes?
Do you have a favorite subject?
What about a challenge you faced?
TAKESQUICK
My motto: Be true to your best self in everything that you do.
Why Harvard?
Who motivates you?
Dream destination: China; I want to see where my ancestors are from.
St. Luke's School to Northwestern
and fulfills Christmas wishlists for patients and their families at the Smilow Cancer Center in Fairfield). She volunteered at a boys basketball clinic in Connecticut as a summer service activity. College offers started back in middle school, but Northwestern, ultimately, won her over. She is committed to continue her academic and athletic excellence at the school.
She has been a varsity basketball team starter since eighth grade and led the team in points, rebounds and assists in both her freshman and sophomore seasons. Caroline received First Team All-FAA recognition in both her freshman and sophomore seasons and was named a NEPSAC All-Star the past three seasons and to the All NEPSAC First Team her sophomore and senior years.
Any thoughts on your future career?
ewly graduated from St. Luke's School, Westporter Caroline Lau is now at the prestigious Northwestern University. She was able to maintain balance between her commitment to excellence in academics, with AP and Honors classes, as well as in athletics. She is outstanding in both, which nurtured in her high school years, clearly attracted the university. Excellent at soccer and basketball, she played Varsity basketball since seventh grade and finished with over 1,800 points (which if in basketball scoring is huge for a high school student) and helped lead her team to six consecutive FAA championships and NEPSAC championship game appearances in 2020 and 2022.
TAKESQUICK
@VINTAGEVIZUALS westportmag.com 72
I don't completely know what my future career will be, but I hope that it will be something in sports. I also hope that I end up working in a field that allows me to give back to those in need.
N
Who could have guessed that when she started playing basketball at Westport Rec in second grade, and with her older two brothers, that she'd rise to the top? There were hints along the way. In fourth grade, she started playing on the Westport PAL travel team. By fifth grade, a star was in the making. She was invited to try out for the USA U16 national team that would compete in the FIBA Americas. She also plays AAU for Exodus, a national Nike EYBL team out of New York City. As a soccer player, she has also crushed it on the varsity playing field.
CAROLINE LAU
What do you like about your high school?
Would like to meet: Adam Sandler—he is my favorite actor, and he seems to have an amazing personality.
Tip for succeeding in high school: Work hard in school and in whatever else you want to achieve activities. orschool,whether it'sathleticsextracurricular
I am academically motivated by my younger sister, Sarah. She is one of the smartest people and I try to model my academics after hers.
Why Northwestern?
My proudest accomplishment was working with a charitable cause my older brother created called the Loved Movement. The Loved Movement gave back to those in need during the holidays. For Thanksgiving, we collected donations of blankets to give to kids and parents who were going through cancer treatments. For Christmas, we asked for lists of gifts from parents receiving treatment that couldn't afford to buy their kids gifts for the holidays. We collected more donations and went out to stores to buy all of the gifts on the lists. We delivered the wrapped gifts to the treatment center right before Christmas. This is one of my proudest achievements because we had a major impact on the kids and also helped out parents in need.
Do you have a favorite local place?
I am going to Northwestern because it fits both my academic and athletic interests and goals. I hope to further my education while playing basketball at a high level. I hope to grow as a student, athlete and person.
As for volunteer work, she twice co-chaired the Loved Movement (a club that collects blankets at Thanksgiving
Bridge Academy in Bridgeport. I grew up practicing at Bridge Academy with my siblings. When I was little, I went with my older brothers and now my younger sister and I go almost every day. I've worked out there consistently with the guy who runs the gym, Greg, since I was in fourth grade. It is definitely my favorite local place.
You've achieved so much. Any moment in particular stand out to you?
I like that I was able to go to high school with my siblings. The people there are great and made my experience the best it could be.
I made a lot of great friends during high school. They were always there for me, and I'm grateful that I met every single one of them. I also like how there was a good school community and everyone looked out for one another.
One of my favorite teachers, Mr. Papp, helped me develop one of the major goals I have in my life. I remember him telling me the rocking chair scenario, where when you are old and sitting on a rocking chair, what do you want to look back upon? He inspired me to chase after my dreams, and leave my mark on the world.
What did your favorite teacher bring out in you ?
Do you have a favorite subject?
I want to have a bunch of new and crazy experiences. I am an adventurous person, and I always strive for crazy things. I also want to make a lot of good friends, and help prepare for my future.
What do you like about Staples?
My proudest accomplishment was leading a discussion about racism at one of the elementary schools in my home town. During my childhood, I experienced racism in many different ways, whether it was in school or just casual talk with other students. I wanted to help create change in my
A challenge you had to face?
I haven't pinpointed exactly what I want to do for my future career, however I know that I want to find a way to help others. When I'm sitting on my rocking chair as an old man, I want to look back and know that I made the world a better place.
My generation: TherePerseverance.wereand will continue to be many unexpected changes in our everyday lives, but we all strive to push past these chal lenges and embark on our own journeys.
hometown regarding the subject, and I am glad that the discussion was so well received by the students and teachers.
What is your proudest accomplishment?
I think one of the biggest challenges I had to face was the journey of embracing my own identity. As mentioned with the racism I dealt with, there were times where I didn't like who I was. Growing up in a predominantly white town, I didn't like being different or standing out. However, as the years went on and I learned more about myself and my nationality, I fully accept who I am and I love my racial identity.
TAKESQUICK
What do you want from your college experience?
Math. I like how you have the power to come up with your own way to solve a problem. There is no one specific route to success, and it's your choice to use your skills and knowledge to overcome it.
Getting into and committing to UCLA. It was a long journey throughout high school, with the difficult times and stressful nights, however it paid off in the end.
What motivates you?
JACOB LEE SEPTEMBER/OCTOBER 2022 WESTPORT 73
extracurricular:Favorite High school swimming. The many memories we had couldn't be beat.
I am going to UCLA because of its wonderful opportuni ties, the huge school spirit, and the location. L.A. is one of the most influential cities in the world, and having it as my backyard could not be more exciting. The beautiful weather and amazing beaches are also a plus! When thinking about the colleges I wanted to go to during junior year, I always thought of going to a school in California. I go there often, because of family, and throughout my childhood, it has always been a second home. Now, it is my home.
Why did you choose UCLA?
Want to meet: Rob ert Downey Jr.
Any thoughts on your future career?
M
Tip for freshmen: Try everything. High school is full pealthingsyouopportunities,ofandwanttofindthethatreallyaptoyou.
My desire to impact the world—although that may have sounded corny, I want to become someone who inspires and helps others. Further, my friends and family members also motivate me because we cherish one another's successes and learn from our failures together.
His t-shirts should all read, "Nothing ventured, nothing gained," because he is never reserved about trying a new experience—or taking a big bite out of life. He cooks new dishes and tries new kinds of food, including even a sampling of bugs. While in New York City with friends, he checked out the restaurant Black Ant, which serves, yes, bugs. He went for it. But he's also a good cook, we assume without bugs. To work it all off, he swims competitively (and has since fourth grade) and, each summer, teaches the sport to three boys. He gets along with kids, who also have a wide-open spirit for learning about the world.
Think of one of your recent successes—what is it and what did you have to do to reach it?
omentum is the principle that once something is in motion, it stays in motion. Jacob Lee embodies this. The Staples High School student is known for traveling to new places, always meeting new people and, of course, trying new food like a true adventurer.
W plus awards in history, English, leadership studies, French language, music and theater, Francesca "Cessa" Lewis embodies center-stage charisma and intellectual drive. She even won the Honor Award for epitomizing her school's virtues of honesty, kindness, respect and responsibility while also being a member of the school's student-led Equity Leadership Team. People tend to like her right away. In fact, because the universe is paying attention, she was nominated for an award for bestsupporting actress for her role as, of course, Mary Sunshine in Chicago. She is sunshine—likeable and powerful. She is involved in theater and singing at St. Luke's (nominated for a Seven Angels' Halo Award for best-featured actress as well as St. Luke's Thespie Awards; she was selected for the CMEA (Connecticut Music Educators Association) AllState Treble Choir; and she is a member of the Westport Country Playhouse Youth Council. She and her twin sister are also copresidents of the 2023 LiveGirl Leadership Council and St. Luke's first feminism club, which Cessa cofounded during her freshman year. She enjoys engaging with her school peers on feminist issues and cocreated with her sister a website called F.A.C.C.T. (Feminists Are Creating Change Today) which gives students the tools to start high school feminist clubs and facilitate school conversations.
Recent successes?
What do you like about St. Luke's?
FRANCESCA "CESSA" LEWIS
In November, in the midst of the Taliban taking over Afghanistan, my Feminism Club had the incredible opportunity to Zoom with Fereshteh Forough, the founder and CEO of Afghanistan's first coding school for girls. Her 300 students were able to get jobs working for companies worldwide. Her school became a target for the Taliban and had to shut down. But Fereshteh didn't lose sight of her vision. She is working to build an online coding academy for Afghan girls. Our discussion ended with her saying, "If I stopped, then who? If I don't use my voice, then who? I'll do it because I think I have a responsibility." Her presentation impacted how I think about my role in the world. Responsibility is the opposite of powerlessness. We each have a responsibility to our visions and to our community. She reminds me that no effort, no matter how small, is ever wasted when it is fueled by purpose.
I recently received a Sondheim nomination for my supporting role as Mary Sunshine in the musical Chicago One of the critics described how even when I wasn't speaking, I was always in character and supporting the ensemble. I really took pride in the nomination and that comment in particular because it's something I value in myself. I love performing and even if I'm not the focus of the scene, I'm having fun playing my character. The nomination was a reminder that while you might not always be the star, you never have to dim your light; you can still be impactful in a collaborative way.
It doesn't force me to be just one version of myself. I play center defense for my field hockey team, sing in the choir and in an a capella group, perform in the musicals and am involved in many interesting clubs. That's on top of being passionate about my academic classes. While playing field hockey in the fall means I can't participate in the fall play, I can still perform in the winter musical and spring play. And although Blues Band is a fall event, the teacher who runs it allows me to be a guest singer and dance backstage. With the encouragement of the school and my teachers, I feel free to have fun, experiment and try things on for size.
was blown away by her ideas on difference; not seeing it as a threat, but as a creative force. I'm reminded in English to never assume you have it figured out because someone will come to class with a totally different and interesting interpretation.
English holds a special place in my heart. I really enjoy reading aloud and bringing characters to life. This past year, whenever my teacher asked someone to read to the class, everyone turned to me, which always made me happy. Nothing compares to that magical moment when you read a sentence that perfectly conveys a thought and feeling you've had but have never been able to articulate. I love female literature and learning about how women with different experiences view the world and think about social change. I did a project on Audre Lorde my junior year and
My motto: Treat yourself like you would a best friend.
westportmag.com 74
Do you have a favorite subject?
Who motivates you?
Tell us more about St. Luke's first feminism club. It's been really rewarding but it hasn't been easy. People enter conversations about feminism and diversity with a range of perspectives, experiences and knowledge. I received some pushback on the club and had to learn how to engage people in a constructive way. I learned how to have uncomfortable conversations without judging people who think differently from me and how to look for ways to connect and build bridges.
Tips for succeeding: Keep a bag of Lindor chocolates in your locker to pop in your mouth to celebrate finishing a test or something you're proud of. It attractschocolatemeetit'sdisappoints!neverAlso,agreatwaytopeople—thelockereveryone!
St. Luke's School
Advice to freshmen: Show up to things that slightly terrify you. You might find yourself surprised.pleasantly
TAKESQUICK
Favorite club: Cheese club! Nothing has lived up to its name more than this club. We sit in a room, eat cheese and talk about how cheese pretty much solves any life problem. As you can imagine, it's the best thing ever.
A World of Difference
A PreK-12, coeducational day school in Westport, CT Come see what GFA could mean for you www.gfacademy.org | 203.256.7514
TAKESQUICK
Throughout this fall, I organized a fifty-plus player charity tournament to raise funds for Grassroots. While the planning of this event was time-consuming—including recruiting players, designing merchandise and acquiring food—I knew that helping this organization that I have
I love speaking French. I began conversational lessons online early in high school as a way to explore my passion for the language and culture. When I met Fabien, speaking French became one of my favorite hobbies. Fabien, a fortyyear-old French native currently living in Brazil, believes that conversation is the best and most fun way to learn a language. I soon found that to be true. To begin each session, he and I discuss what has happened in our lives since we last saw each other. Because we live so far away from each other, it is often comical to compare the worlds around us. For example, Fabien once grumbled about the soulless architecture in his city. After searching for my town on Google, which features historic New England architecture, he said, "Mon immeuble est juste comme ca" (my building is just like that), and we both laughed. We ended up investigating different kinds of American architecture for the rest of the session.
Your favorite extracurricular?
L
Any other highlight?
grown to love over the years would make their positive impact only more widespread and significant.
Why does this learning work for you?
Future plans:
eaving Greens Farms Academy behind, Westporter Sam Lublinsky closes out his high school years full of accomplishments. He was music director and member of the Beachside Express, an a cappella group; member of the Jewish Students Association; Junior coeditor and writer for the Beachside Press newspaper; co-vice president of the Tri-M Music Honors Society; member of the Teen Awareness and Conversational Opportunities (TACO); a Math Center adviser; French tutor; captain of the varsity tennis team; and even found time to intern for the successful Caroline Simmons mayoral campaign. As for his GPA: It was through the roof, as he earned Head of School distinction.
What has shaped your life?
University of Chicago, planning to major in economics, perhaps a minor in data science or statistics
How did you deal with it?
What is one of your favorite subjects?
SAM LUBLINSKY
Greens Farms Academy to University of Chicago
My most enjoyable and rewarding extracurricular experience was working as a tutor and a tennis coach at the Norwalk Grassroots Tennis & Education Organization. Grassroots is a nonprofit community outreach program that provides academic help and athletic instruction to students ages five to eighteen. While it was my first experience as a tutor, I tried to employ tactics that my teachers have used with me, such as slowly prodding students in the right direction instead of moving through the material too quickly. I smile as I watch the gradual development of the players I worked with on the tennis court. When I first met my favorite student, Luis, he struggled to make contact with the ball on his strings, and now he can consistently hit balls deep in the court.
Fierce competitiveness and knowledge for its own sake represent two opposing attitudes toward learning. Of course, there are environments where one of these attitudes is more useful than the other, yet I strive to maintain a balance of each in my life. While I am not sure where this ethic will take me, I know that these building blocks will enable me to succeed at university and beyond.
The casual nature of our sessions works best because it is the most fun. From privatized space flight to the effectiveness of ketogenic diets, this method works well because I discuss a wide range of amusing topics while reaching fluency without even knowing it. In my last, we began by discussing a handball controversy in the Olympics and ended by discussing the origins of Spanish paella!
I am presently shaped by two main environments in my life: my family and my high school. While they both encourage opposing dispositions toward learning, they create a balance that has come to define me. My senior class fosters a wildly competitive atmosphere. From my middle school days, the obsession over comparing grades and achievements was rampant. This competitiveness is only amplified by the digital age—I recall the creation of exclusive text chats reserved only for people who were deemed "smart" (whatever that means).
westportmag.com 76
Extracurriculars: The Chicago Men's A Cappella Group and Club Tennis
The academic culture of my family is different. My grandfather's job as a physics professor in Moldova and my dad's immense success in Soviet math Olympiads meant that our family would value learning greatly. I realized that my family's emphasis on success was based on the thirst for knowledge—learning for the sake of learning. Whether it was doing logic puzzles or discussing the Iraq War at the dinner table, my family emphasizes learning for its own sake.
So, the takeaway for you?
The Lau family of Westport: Steven, Sarah '24, Caroline '22, Jennifer, Charlie '26, and Michael (Andrew '20 not in photo)
"Our greatest hope for Caroline was that she would find a school and classmates that she loved and that pushed her to be her best self. We wanted her to love learning and be in an atmosphere that builds confidence. St. Luke's was the perfect choice for our family." -Jennifer Lau, Mother of Caroline Caroline attends Northwestern University. Visit Us: www.stlukesct.org/visit St. Luke's is a secular (non-religious), college-preparatory day school for grades 5-12 serving 30 towns in Connecticut and New York. (203) 801- 4833 | admissions@stlukesct.org | www.stlukesct.org 377 North Wilton Road, New Canaan, CT 06840 Above Beyond&
I have come to see history not just as a sequence of events, but as a series of patterns and evolution of ideas. When people say that history repeats itself, they're right! It really does! And although some may label history as boring or irrelevant, I frankly find that position difficult to justify. Maybe those people have just been studying history through the memorization of dates as opposed to the process of understanding the evolution of human perception of the world. History translates into law, culture, language, current events,and any other field you can possibly imagine. It is, ultimately, because of my AP World History class at Staples that I have become fascinated with the breadth of history tied to every single region of the world.
Advice to freshmen: The social scene in high school can be a tricky one to navigate sometimes, so don't worry if you ever feel alone. I promise you that you're not. If there's something that makes you "weird" or separate from the mold, it's most likely something cool and interesting. So lean into what you love, and you'll find your people.
SASHA MASKOFF
asha Maskoff has been playing piano since she was only five years old. For her, music is not just a proud long-standing commitment that she will continue in college, but also a freeing and creative outlet for her personally. That dedication to perfection and joy also reveals itself in her academics. A wonderful musician, she is also a bright and accomplished student. This year, she played the piano at the Candlelight Concert as she became more involved in Staples' music department. She has played (and practiced) her whole life, so she was ready. Sasha even performed at Carnegie Hall. Clearly, she is hardworking and seeks constant improvement, but mostly, she enjoys the thrill of facing a challenge.
I love English not only because I am constantly in awe of how certain poems or books make me feel, but also because it helps me learn about what it means to tell stories. Ultimately, studying novels, Greek plays, poems and so much more for the past four years has spurred me on to find the confidence in becoming my own writer (especially a creative writer), both in and outside of class.
I was a bookworm all throughout my childhood. I basically became best friends with the librarians in elementary school (I think I read around half of their library) and wrote outside of school. In middle school especially, I wrote stories (mostly based on fantasy) and dreamed of finishing
westportmag.com 78
I have always been interested in storytelling; after all, people are, and have always been, storytelling creatures. But the question of how to tell stories in a way that is compelling or original has always been a complicated one.
When did you know that English was important to you?
Do you have a favorite subject?
What about history?
a novel. But it was in ninth grade English that I truly began to hone my skills as a writer.
I was immediately drawn in by UChicago's essay prompts, which are unlike those of any other school. They're unique and strange and interesting, and any place that has people who embody those adjectives is a place I want to be.
I generally enjoy the humanities, and I have loved nearly all my English and history classes in high school.
A big accomplishment?
One of my proudest accomplishments is probably learning French outside of school. During Covid, I started speaking with a French speaker over Zoom, and she has become both my mentor and close friend. For these past two years, I have grown more as a speaker than I ever could have imagined, and I have gained confidence in my ability to learn any language. If I go to France this summer, I'll finally be able to have conversations fully in French and, perhaps most importantly, order as many baguettes and croissants as my heart desires.
What is growing up in Westport like?
It definitely has its downsides, like the pressure to succeed and the culture of competition and comparison between kids and families. But it is also such a privilege to live in Westport, where we have access to incredible opportunities like theater, sports, music, arts—the list goes on.
You're headed to University of Chicago. Why there?
TAKEQUICK
Who motivates you?
S
My teachers have always motivated me to learn and work hard, whether in academics or the arts. Outside of school, it was my piano teacher who helped me overcome my fear of playing in places like Carnegie Hall and who always challenged me—she's like a third parent to me now. But beyond all that, I have always been inspired and guided by my family. My mom and dad have always been my greatest supporters, and I am constantly inspired by my brother, whose talent and love for singing and playing has motivated me to always keep going.
Staples High School to University of Chicago
SEPTEMBER/OCTOBER 2022 WESTPORT 79
What did you like about your high school?
And after college—any thoughts about a future career yet?
What do hope to get from your college experience?
Favorite subject at Fairfield Prep?
I love many things about Fairfield Prep, the main one being the brotherhood. The advertised brotherhood may appear
to be forced or inauthentic, however it's manufactured by the 750 or so boys in the school. Every Prep student is taught the idea of being a Man for Others, which throughout your four years, you slowly learn what that means. It is not just having each other's back, it's going out of your way into something that may be typically uncomfortable for one another. We are taught to run into the fire for our brothers.
Did you have a favorite coach?
For my future career, I want to do something that involves psychology. I have always been interested in learning about why people do certain things or why many think a certain way, so this career path seems fitting for me.
Rowing is a hard sport, which makes it extremely reward ing. It takes a lot of work to be successful in the sport. It is entirely a fruit of your labor type of sport and that's what I love about it. It is a very gritty and brutal sport, but pushing yourself and being able to compete in the meantime is what I love about rowing.
eet Westporter James McGarry, who just graduated from Fairfield Prep. He's one to look up to. Why? Because at six-feet, five-inches, he's tall, which helps him as one of the captains of his school's crew teams as well as row in the varsity eight. He pushed himself to improve every single day, and it's a model he lives by. Also, he's a giving, caring person—he was even co-president of Fairfield Prep's Mental Health Awareness Club. This fall, he is walking the leafy campus of Bucknell University and pushing off at the docks with his new rowing crew. While he stands out in a crowd, he seems to find his power best as part of a team, whether in a boat or the classroom.
M
Motto:
2022 in fewer than five words: A year of adjustment
I have really enjoyed political philosophy classes, as well as some history classes throughout my years of learning. One class, in specific, was titled How to Rule the World, which discusses the beliefs of many famous political philosophers, such as Niccolò Machiavelli. There have been many key points throughout the course that have fascinated me about the way people think and the differences between certain famous people in world history.
What do you like about rowing?
Superpower pick: To fly
One of my most recent successes was obtaining a 3.9 GPA for my senior year at Prep. This achievement was due to the challenges and the things I learned throughout my freshman, sophomore and junior years. I was able to use my slipups for experience and achieve the highest GPA I have had during my four years.
TAKESQUICK
My favorite coach, who ended up being a mentor as well is my current rowing coach, Ed Feldheim. He is extremely supportive and goes out of his way to do many things for us. He is a leader in his own way and to do things the way he does is extremely admirable and what I wish to be like one day. Coach Ed has taught me many things by chal lenging me. He expects a lot out of me, but it always has a positive reasoning behind it. He sees something in me which draws me to find it as well. I have been challenged to be stronger physically and mentally, to be a better leader for the younger rowers and to be a better man.
I am attending Bucknell University in the fall, I fell in love with the campus in the process, and the rowing team is competitive. I liked the area and I just think it's the perfect size. I want to learn in a smaller environment, where I can be myself. In college, I want to be able to find a good balance between rowing, school and a social life, one that will leave me satisfied with my time at Bucknell.
Placing top twenty in the country at Youth Nationals. It was the first time Fairfield Prep had qualified for youth nationals and we were proud of our final placement. For an all boys, scholastic, day school, competing with the club programs is hard, but we proved that we can compete with the best.
What are some of your biggest rowing accomplishments?
"You've got to shake your fists at lightning now." –Joni Mitchell
JAMES McGARRY
How about a big success in high school?
If I could meet anyone it would be: David Bowie
Fairfield College Preparatory School to Bucknell University
westportmag.com 80
Be Ignited!
Fairfield PREP.org Oct. Nov.
Open House Sun.,
Fairfield College Preparatory School is a Jesuit, Catholic high school of excellence, which transforms young men to Be Innovative, Be Creative and Be Men for Others.
SEPTEMBER/OCTOBER 2022 WESTPORT 81
To Khalada helped save this year, 122 more
show you all of the seriously ill children that local health worker
we'd need
2 Sat.,
pages. HELP ONE.SAVE MANY. See where the good goes at GoodGoes.org
19
Yesmin
I really like that my high school is such a supportive place ,and it truly feels like one big family. Whether it's going to a high school sports game or participating in a club, everyone uplifts each other. It is so easy to get involved and feel like you belong. Wilton High School is such a caring place that provides so many opportunities to be a Wilton Warrior.
AP U.S. History is your favorite class. Why? This class is just really interesting because of the variety of topics we cover. …my teacher Ms. Palmer has found interesting ways to teach us about these topics. In this class I really enjoy the student-led discussions, where we read historical opinion pieces on topics we are learning in class and we get to give our own opinions on those topics. Furthermore, I also really like the collaborative research projects we do, which allows us to go in depth on a variety of events and innovations throughout the course of U.S. history. Overall, this class just gives me a voice, where I can share my opinion and work with others.
at. Sometimes they realize that they're good at a lot of things. Take Wilton High School senior Colin Tsai. Academics aside (for a moment), his extracurricular activities include: vice president of the student government, Marching Band, Jazz Ensemble, Model Congress, Cross Country team, Lacrosse team, Tennis team, recreational basketball and summer camp counselor at Shorehaven Country Club. More? He founded the American Conversational Exchanges (to help students around the world practice conversational skills in English); cofounded and is copresident of Wilton Community Outreach (a nonprofit group at Trackside, a teen center, to serve the community); volunteers at Top Soccer (as a mentor to young athletes with disabilities); serves as head coach at ¾ Recreational Basketball (kids ages eight to nine); and volunteers with Service League of Boys (sons and parents work on charitable initiatives). Somehow, he is also an honor roll student and senior class president this year.
My personality: Motivated, kind, organized, open-minded.creative,
T
Wilton High School
westportmag.com 82
I learned that this subject was important to me when we learned how history is not really linear and how it is circular. History teaches us that we must break the cycle of what has happened in the past, to shape our future. In order to shape our future, we must learn about history.
What is your proudest accomplishment?
My motto: Do something now— your future self will thank you for it later.
How did Covid impact your high school experience?
Señora Hernandez was my Spanish teacher during my sophomore year. She was a great mentor because she taught me about the importance of understanding different cultures and "globalism." She is one of the reasons I have worked so hard on ACE because I want to give myself as well as students an opportunity to take part within the global community and talk to people outside our country.
Covid taught me to value quality time with friends and family and how important human connection is, no matter in person or remote. Remote learning and using Zoom was a different way of connecting during high school. Although we were not together in person, we were still together, which allowed us to continue to learn from one another and share ideas with one another. Because of Covid and the need for remote learning during high school, it also gave me the idea to create a company called, American Conversational Exchanges (ACE), which is something I am very proud of.
TAKESQUICK
What do you like about your high school?
My generation: Very strong social values in regards to inclusivity, diversity— just being a good person who helps others.
Dream destination: Athens, Greece.
My favorite extracurricular endeavor is the international tutoring program I founded. ACE is a free tutoring program that allows underserved students in Colombia to practice their conversational English with native speakers (American high school students). Our tutors lead classes and one-onone conversations about culture, current events and their day-to-day lives. ACE has held over 600 tutoring sessions with thirty tutors. I came up with ACE during the winter of freshman year, when we went into lockdown. It started when I began talking to my cousins in Taiwan more. They mentioned how they wanted to improve their English, but there wasn't a casual or affordable way to do it; they also noted how it was tough to learn since everyone was in lockdown. I figured this was an issue in other places, too. I researched places to tutor in Taiwan, however when we partnered with this certain tutoring center in Taiwan, it was tough because of the time-zone difference. I then went to Colombia, where the time zone was closer to ours and we were able to work more easily. I started doing tutoring sessions on my own, but the interest from the Colombian students just kept growing, so I took the idea to my Spanish class, where I presented my program and recruited tutors. As ACE grew, I recruited more tutors from the high school and around Connecticut. Overall, I attribute my success to my family and teachers who taught me the value of education and the duty to help others and serve the broader community.
Who is your favorite teacher?
When did you realize you like history?
COLIN TSAI
SEPTEMBER/OCTOBER 2022 WESTPORT 83 www.LauraltonHall.orgwww.LauraltonHall.orgAPPLYNOW!APPLYNOW! Schedule a tour of our historic campus located in Milford, CT. Interested in Shadowing? Early appointmentsSeptemberavailable. Plan Your VisitPlan Your Visit 203.877.2786 x125
Our Mission
The mission of Breast Cancer Alliance is to improve survival rates and quality of life for those impacted by breast cancer through better prevention, early detection, treatment and cure. To promote these goals, we invest in innovative research, breast surgery fellowships, regional education, dignified support and screening for the underserved.
breastcanceralliance @BCAllianceCT @breastcanceralliance
To learn more visit breastcanceralliance.org
Breast Cancer Alliance, 48 Maple Avenue, Greenwich, CT 06830 Yonniinfo@breastcanceralliance.orgWattenmaker, Executive Director
above: Massage is just one of the options men are trying these days.
long, they've been trying to get the men in their lives—husbands, boyfriends, fathers, brothers and sons—to experience them, too.
W
e had been looking at ourselves on-screen for more than two-anda-half years, and it wasn't pretty. The pandemic left many men with more wrinkles and weight, less hair and energy, and a general disapproval of the way we look.
"Studies show that the increase of webinars and virtual meetings have led to an increase in facial dissatisfaction overall," notes Kim Nichols, M.D., the celebrity dermatologist and owner of NicholsMD of Greenwich.
MINDBODY,ANDSPIRIT westportmag.com 84
Coming off-screen and back to in-person meetings and dating, guys want to look and feel not like their old selves, but like their new, post-pandemic selves—youthful, healthy and ready to re-engage with the world. by tom connor
So what? We're guys—who cares how we look? Well, it's finally time to admit the obvious: We do!
Now, as guys are back to inperson meetings and dates in real time, we're having to do so without Zoom's "Touch up my appearance" feature or the filter that smooths wrinkled skin. In fact, we're steadily leaving virtual rooms and showing up in lightfilled, calm and soothing spas in record numbers. According to the International SPA Association, men's presence in spas has shot up from 31 percent ten years ago to 47 percent today.
Women, of course, have long known both the benefits and the sublime pleasures of spa treatments. And for almost as
A little He Time
STOCK.ADOBE.-ŽIVKOVIĆMILJAN©LEAFPHOTOGRAPHS:
In the past, guys had to travel to the grand spas of Europe for aesthetic treatments or to only a handful of iconic American spas— The Golden Door in Southern California during Men's Week, for example, or the Homestead in Hot Springs, Virginia (full, obnoxious disclosure: I've been to both).
But the intersection of Covid-19, prolonged screen time and men's growing concern for their health and wellness has given rise not only to new aesthetic centers, but also to the opening of half a dozen or more medical spas across Fairfield County in the past two years alone.
Launched in 2013, Zoom reported 200 million free and paying daily meeting participants in March 2020, the first official month of the Covid pandemic. According to Business Insider, by the following month another 100 million users were participating in daily Zoom meetings. (But enough about them! Seeing myself on Zoom one night earlier this year, I realized I looked like Ted Kaczynski, the Unabomber, the day the FBI pulled him from his remote cabin in rural Montana after more than two decades of living in isolation. I felt like turning myself in.)
"The Zoom Effect is a real phenomenon," says Merry Thornton, who opened ELEMENT MEDICAL AESTHETICS on Main Street in New Canaan in March of this year. "The pandemic has increased sensitivity to looking old and tired."
CONTRIBUTEDOTHERS,ALLSTOCK.ADOBE.COM;-BONNINTURINA©MASSAGEFACIALPHOTOGRAPHS: SEPTEMBER/OCTOBER 2022 WESTPORT 85
Bags under the eyes and flabby skin on the neck—these, she and others say—are the result both of the stress from pandemic isolation and from the virus itself.
NICHOLSMD OF FAIRFIELD , the third office of Nichols,dermatologistcelebrityKimM.D.,who,
with perfect skin, has appeared on The Today Show and The Dr. Oz Show. The office opened in May of this year in the Brick Walk near Fairfield's downtown.
above: Treatment options include injectables
above: Kim Nichols, M.D.
Alyson, a youthful-looking registered nurse, has me lie back on a comfortable white lounge chair. After she washes my face—something I clearly should be able to do myself—she uses a laser device with HydroPeel Tips and Vortex-Fusion technology on the skin. The device, I learn, creates a vortex-like effect to vacuum up dead skin and extract "debris," as she calls it, from the pores.
The final step in the treatment has her infusing the pores with nourishing serums and fabulous.andwithsaturatingmoisturizersintenseandthesurfaceantioxidantspeptides.Ileavelooking
SYNDROMEPAINTED-WALL
FACING OURSELVES
Faces are multifaceted, so medical spas like NicholsMD divide treatment sessions into facial units that require different solutions and that offset the potential danger of too much treatment in one area. The problem with these treatments, however, is similar to that of painting one wall of a room: By comparison, the other walls immediately cry out for repainting. I make an appointment to see Merry Thornton at Element Medical Aesthetics.Locatedin a good"ame.proteinandfrequency—topenetrateneedling—forty-nineadministeringsuggestseasierlookingmyme.mildlyprocedureandtipthing,towashesmedicaluncluttered.is2,000-square-footsecond-floor,space,Elementsuper-clean,white,brightandAfterreviewingmyhistoryandconcerns,Merryandappliesnumbingcreammyfaceandneck.It'sagoodtoo,becauseshenowrunstheofanUltralasergunup,downacrossthesurfaceofmyskin,athatfeelslikearegimentofagitatedyellowjacketsstingingNomatter;thetreatmentleavesfacefeelingwarmandtinglyandslightlysunburned,andfartofacemyselfonscreen.Formoreseriousskinissues,MerrytheGenius,asystemforradio-frequencymicro-tinyneedlesthattheskinandemitradiogetridofdeadskinencouragecollagen,astructuralthattightensit."It'sabituncomfortable,"shetellsActually,theUltratreatmentwasbituncomfortable,"soIthinkI'mfornow,Itellher.
above: Men can work on skin perfection with deep-cleansing facials.
above: The calming minimalism of Element Medical Aesthetics
THE EFFECTZOOM
Given prominencethe of the face, an ideal starting point for post-Zoom care is a thirtyminute Hydrafacial, a isspaneck.hydratescleans,spadeep-cleansingtreatmentthatextractsandtheskinandAndanidealforthetreatment
(A superficial detail that, nonetheless, preoccupies me: The "debris" from the vacuumed pores gets captured and collected in a trap. Trust me, you really don't want to know anything more about this.)
above: Making changes to one's face takes time—and a strategy.
For unwanted body hair, medical spa personnel suggest laser treatments, in which the emission of light and heat damages hair follicles. The drawbacks are that it's uncomfortable (some have likened it to a rubber band snapping against the skin), and it can be expensive (as many as six treatments may be required, to the tune of roughly $250 each treatment, and then permanent removal isn't guaranteed).
Even before the pandemic, Stephanie Torres, the manager of the DELMAR GREENWICH HARBOR SPA , saw a significant number of men making appointments for a range of spa treatments but especially massages— Swedish, Sports, Deep Tissue. "The kind of massage," she says, "depends on whether clients want to relax or work on specific muscles and areas of the body that need to be stretched and massaged."Whatmay be helpful for some guys to know is that spa treatments aren't only for the highpowered Greenwich male. For years, one of Torres's male clients let the gift certificates from his wife pile up before manning up and giving it a try. "He finally came in and he was blown away," she says. "Now he's booking appointments every two weeks." The gentleman's occupation? Greenwich police officer, which makes a lot of sense: Standing in the middle of Greenwich Avenue directing Range Rovers and appointmentwithreducingenoughpedestrianswell-heeledisreasonforregular,stress-massages.Theproblemschedulinganwith
MINDBODY,ANDSPIRIT STOCK.ADOBE.COM-CAPTURESINNOVATED©REMOVALHAIRANDMASSAGE westportmag.com 86
THE MASSAGE IS THE MESSAGE
above: Not all massages are just about relaxation, some work on athletic recovery.
Unless we've been wearing baseball caps in Zoom meetings, another noticeable fallout from the pandemic has been the fallout of our hair. Spa owners report an uptick in male clients inquiring about medical treatments to encourage hair growth in bald or thinning areas of the scalp.
country when her son was diagnosed at age four with rheumatoid arthritis. "I always hid my big hands," she says, "until I realized why I was given them." After seven years of massaging her son's limbs and joints to relieve his pain, she accepted her calling to become a massageEmployingtherapist.amix of soft Swedish massage and harder deep-tissue massage, she uses long sweeping strokes to massage the back and leg muscles and her fingers find and relieve tension knots in the shoulders and neck. "When we are stressed, we lower our heads and raise our shoulders," she says.
Stephanie Torres? She's so in demand that she's booked out a month and evenStandingmore. appointments for weekly or monthly massages is the norm among male clients at ARTISTEX SALON & SPA in Westport, which merged with Born of Earth Spa earlier this year. "A massage helps male clients de-stress," says Anna, a masseuse at the spa for the past nine years. "Sitting in a chair all day hunched over a laptop can cause a lot of stress on the neck muscles and back muscles, even leg muscles. But beyond physical stress, there is mental and emotional stress, and I think men see the spa as somewhere they can get away from theJustworld."offthe busy Post Road near downtown, stepping into one of the massage rooms at Artistex feels like a full retreat from life outside. The room is narrow, the dark walls a relief from the stark white of medical spa treatment rooms. I strip to shorts and lie under warm sheets on the massage table. Anna, who is Polish and has large, strong hands, attended university to become a teacher but found her calling in this
above: While many men want hair added to thinning areas, others are interested in removing it from unwanted places.
One new treatment expected to be rolled out this summer at DREAM SPA & SALON has owner Lori Dodd mincing words. "I don't know if you're ready for this," she tells me, "but we'll soon be offering manscaping in the form of manzillians"—in other words, Brazilians for men. (Note: I should have stopped Lori at "I don't know that you're ready for this." I wasn't.)
The massage lasts an hour, though time is blurred by the background listeningtable,dointhinkwomen:treatmentstheworkersantlers.inHimalayanplayed,flutes,andmusic—wind,ambientstormswavesmixedwithstringsandhornsitseemstome,byspiritsherpasyurtsblowingintoyakOrsomething.There'satermspausetodescribeeffectofmultipleonmenand"Spabrain."IitmaybekickingbecauseallIwanttoislieonthismassagetalkingtoAnnaandtothismusic.
One of the more popular treatments for hair restoration is PRP (platelet rich plasma). For the procedure, a patient's blood is drawn, spun in a centrifuge, then injected into the scalp with microneedling—forty-nine tiny needles that open channels in the follicles to encourage hair growth. (Think of this as a bag of liquid Scott's Turf Builder dumped onto the bald areas of scalp then worked in with a sharpened spade.)
HAIR THERE, BUT NOT EVERYWHERE
A faster and far less expensive method of hair deforestation is traditional waxing. Here, strips of cloth dipped in hot wax are laid on a victim's skin, then ripped off one strip at a time. (On second thought, I'll take the snapped rubber bands!)
Jeannie recommends that men come back for a pedicure every four to six weeks, which is when toenails have grown long enough to be in need of clipping. I leave feeling not only grounded, but being able to see my reflection in my polished toenails.
This is because men have slowly been discovering the benefits of well-tended feet that have spent most of their lives imprisoned in boots or shoes, where some of the nastiest conditions on Earth prevail.
RENEWABLE ENERGY
pleasure, and a little information can go a long way to getting men in the door for this muchneeded treatment. As I learn from Jeannie, who has been rejuvenating feet at Dream Spa & Salon in Westport for sixteen years, the feet contain more sensory nerve endings per square centimeter than any other part of the body, continually supplying information about the surfaces we're trodding for better balance, stability and shock absorption. With more than 250,000 sweat glands there, each foot can produce four to six or more ounces of perspiration a day. Enough said.
As with other spa treatments, gift certificates for pedicures are what usually drag men in the door for the first time. "They'll come in for a pedicure because they have a gift certificate from a wife or daughter or girlfriend," Jeannie says. "A lot of the guys will say that when they cut their own toenails, they usually end up bleeding."Ichange my socks and go see her.
Younger males are skipping hair treatments and for good reason: All their hair is on their heads! Instead, they're making appointments for I.V. vitamin and hydration drip bags at sites such as ELIVATE MED SPA in Old Greenwich.
The pedicure room at Dream is a small, clean, warm room set off from the rest of the spa so that men don't feel self-conscious in a sea of chattering women, says Jeannie. She is Greek and has a natural Mediterranean warmth that itself is soothing.
"I.V. therapy was a hit, especially in the beginning of the pandemic, because everyone wanted to be as strong as possible in case they did get sick from Covid," says Melissa PulciniButtine, the founder of Elivate, which opened just before the start of the pandemic, closed for several months and reopened in June 2020. Now, they're coming in to renew energy, as are older male clients, and to boost athletic performance.
Fortunately, spas are as much centers of health information as they are palaces of
above: Pedicures for men at Dream Spa & Salon include foot baths with essential oils and nail shaping.
above: Options at Dream Spa include massages, which complete a fully relaxing visit.
A room for I.V. forcustomwhichtreatments,aremixedeachclient
CONTRIBUTEDOTHERSALLSTOCK.ADOBE.COM;-POPOVANDREY©PEDICURE SEPTEMBER/OCTOBER 2022 WESTPORT 87
above: Athletically minded men are trying I.V. vitamin and hydration drip treatments at Elivate Med Spa.
With the ordeal of medical spa treatments behind us, it's time for treatments that both feel good and are good for us. One of the first steps for guys seeking a new lease on life is a pedicure. That's right: A pedicure!
GETTING GROUNDED
The procedure begins with slipping the bare feet in a warm, shallow bath of powdered milk water mixed with lemon-grass essential
As at other spas across the county, men are coming in on their own these days as opposed to being dragged in by the women in their lives.
Clients at Elivate lounge in comfortable leather recliners in one of two I.V. rooms and watch movies on a large flatscreen TVs as the vitamins—zinc, vitamin C, vitamin D, vitamin B-12 and immune booster cocktails—course through their veins.
The vitamins are custom mixed based on a consultation with Pulcini-Buttine or on blood work done in the on-site lab. Treatments, which take about an hour, provide multiple benefits—improved mood, energy, weight loss, immune system strengthening, enhanced athletic performance— with the intravenous vitamins absorbed far faster and more effectively than if taken orally.
oil. After drying them on a towel on her lap, Jeannie clips the nails without blood or digit loss, then applies cuticle eliminator ointment to soften the dead skin on the nails that is pushed back and scraped off. Next, she files the calluses with soft and gritty sandpaper-like files, and finally washes and massages the feet and calves with a washcloth and vanilla-orange and brown sugar scrub, the sugar giving a mild grit to the wash. I feel special.
body and sun-dappledstudioKohler'sspirit.Westportisaspacious,spacein an old house furnished with antique Oriental carpets and a simple, cushioned massage table. "Before clients get on the table, I look at their structure —how they're standing, how they're breathing and how they're moving," she says. "If the ankles and shoulders and ears aren't aligned, there are issues that will continue until they'reKohlerresolved."focuses on the fascia—the connective tissue of the body—to realign posture and to open tissue that's tightened due to stress, injury or other factors that
Finally, treatments are not recommended for men scheduled to give presentations, say, the same day of a spa visit or at the first signs of spa-brain. Then again, who cares? Just explain that you've just come from a pedicure and aren't wearing shoes so that you can look at yourself in your polished toenails. Spa men will understand.
CAVEAT
STOCK.ADOBE.COM-PHOTONEJRON
cause chronic pain and limited mobility. Some issues involve ingrained habits of sitting, walking and breathing that inhibit daily functioning. Other issues are emotional.
"What we do is purely discretionary, so men have to be able to afford it," says Dream Spa & Salon's Lori Dodd.
of spa treatments, both medical and aesthetic, might be with a visit to JANE KOHLER , a Westport-based structural integration therapist and masseuse, who is much sought after for her holistic approach to bodywork. In addition to feeling really good after one of her long sessions, clients receive an education across a wide, free-ranging spectrum of maintainoptimizeusesChineseQigong,Rolfing,yogainformation—fromandmeditationtoreflexologyandatraditionalmedicinethatmovementtoenergyandhealthymind,
MINDBODY,ANDSPIRIT westportmag.com 88
Spa treatments can also be addictive. The Greenwich police officer who disregarded gift certificates from his wife the way scofflaws disregard parking tickets, now schedules monthly appointments at the Delmar Greenwich Harbor Spa for stresseliminating massages.
The Ultra laser treatment Merry Thornton administered at Element, for example, normally runs $850. The Hydrafacial at NicholsMD in Fairfield, $225. Basic pedicures at Dream, $55. At Artistex, the sixty-minute massage I received, $130. And an hourand-a-half session with Jane Kohler costs $180 and is worth every dollar. As with most treatments, packages of three to six lower the cost per treatment considerably. (A second, more obnoxious disclosure: All of the above services were free for me. As with difficult tasks in life, someone had to do them!)
Kohler uses a mix of slow, deep, haveIknots,appliesmassagesrealignschange.ofcanbeenand/oremotions,fascial.pressuremovementsstretchingandappliedtobalancetheThereleaseofmemoriestraumasthathavestoredinthetissuemakeclientsawaretheopportunityforShestretchesthelimbs,theframe,gentlysorespotsandpressuretotensiononeareaatatime.leavefeelingbetterthanIinyears.
One warning, of sorts: Spa services for men aren't for the faint of wallet. Aside from prescriptions, which PAs can write, most spa treatments are for those with disposable dead skin, tension and income.
BODY, MIND AND SPIRIT
MEET FLOWCODE, THE NEXT GENERATION OF QR CODES
Go ahead, try it out. Point your phone's camera at the Flowcode to scan.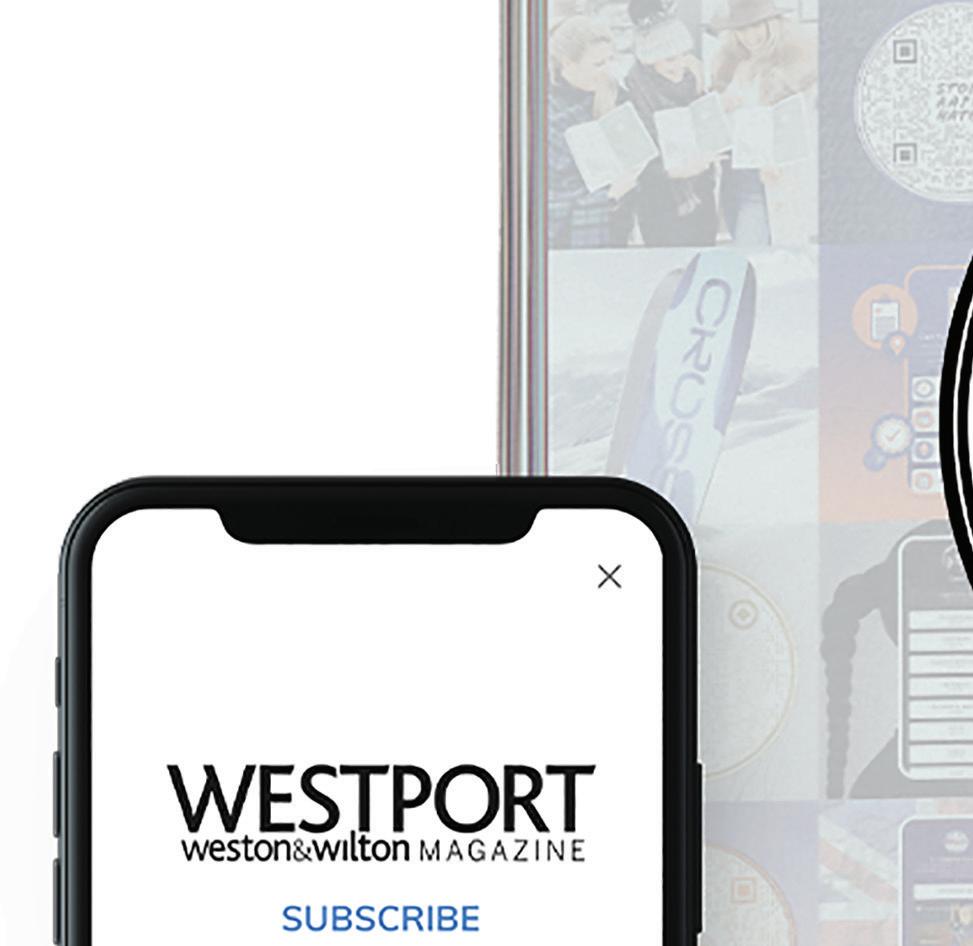 at home thepresentsmagazine 13SEPTEMBERTUESDAY,ONCELEBRATIONOURATREVEALEDWINNERS DESTINATION!WATERFRONTSTAMFORD'SVILLAGE,THEATPM6AT13 th ANNUAL 2022AwardsA-List JUDGES seetohereScan projects,finalists'the judges!ourandsponsors,our westportmag.com 90 WRIGHTDOUGLAS ArchitectsWrightC.Douglas MAINEKATIE&JASON DesignMaine MOYLERJOY InteriorsMoylerJoy SIEGELEDWARD ArchitectSiegelEdward WILLIAMSKEITH WilliamsNievera
vision.evolvinganbetocontinuesdesignoffutureThe uncertaintytheembracedhascommunitytalentedOur challengesdespiteahead,forgedandyearsfewlasttheof partnerships,collaborativethebyinspiredWe'reremain.that thedefinedhavethatcreativitytheandinnovation,cleverthe esteemedOurentrants.year'sthisbyprojectscompleted year—thisfacesfreshsomeincludesjudges—whichofpanel trulyafromfinaliststhechoosingoftaskdifficultverythehad judgesourthankweandsubmissions,ofpoolimpressive competition.year'sthistoexpertiseandtimetheirgivingfor finalistsAwardsA-List2022theoflistingaisfollowingThe entrant'stheincludeslistingthisthatnotePleasecategory.by project.finalisteachforinformationcontactandname projecteachforcreditedprofessionalsoflistfulltheviewTo athomealistawards.comvisitpleasephoto,projectaaswellas "page"finalistEachprogram.AwardsA-Listdigitalourviewto pageeachtolinktheandmedia,socialonsharedbecan email.viaforwardedorwebsiteaonincludedbecan forward-thinkingtheirwithfinalists,ofsetyear'sthishopeWe beenhaveyouinspirationthejustisprojects,imaginativeand winnerThespaces.livingownyourreimaginetoforlooking 202213,Septemberonrevealedbewillcategoryeachof ourwishWeceremony.awardsandgalanetworkingourat luck,muchfinalists wellasentered,whoallthankweand havewhosponsors,generousourandjudgesouras possible.celebrationthismade
SPONSORPLATINUM
BRIGHTA OUTLOOK
toWelcome athome magazine's Awards.A-Listannualthirteenth
westportmag.com 91 SPONSORVENUESPONSORSUPPORTINGsponsorsour SPONSORSGOLD
SPACE:LIVING Transitional/Modern Falotico&Brooks @brooksandfalotico Falotico&Brooks 203-966-8440Canaan;New brooksandfalotico.com InteriorsHomeClarity @clarityhome InteriorsHomeClarity 203-340-2468Greenwich; clarityhomeinteriors.com HOMElulu @luluhome.cami @luluhome.alana LuppinoCami IrwinAlana HOMElulu 914-234-8684Greenwich; luluhomedesign.com
ARCHITECTUREMODERN ArchitectureBeinfield @beinfieldarchitecture ArchitectGoodwin,Mark Whittington,Elizabeth Architect ArchitectureBeinfield Norwalk;South 203-838-5789 beinfield.com
InteriorsJonesMerrin @merrinjonesinteriors JonesMerrin InteriorsJonesMerrin 203-253-0714Westport; merrinjonesinteriors.com
DESIGNKITCHEN InteriorsBecca @beccainteriors CaseyBecca InteriorsBecca 203-642-4536Norwalk; beccainteriors.com Inc.DEANE, @kitchensbydeane CampbellVeronica Inc.DEANE, 203-327-7008Stamford; deaneinc.com DesignPattonMolly @mollypattondesign DesignPattonMolly 203-520-0598Fairfield; mollypattondesign.com InteriorsLongB.S. @sblonginteriors InteriorsLongB.S. 972-803-6304TX;Dallas, sblonginteriors.com
LANDSCAPE: Acre1ThanGreater LandscapeByersRenée Architect @reneebyers_landscape- architect LandscapeByersRenée P.C.Architect, 203-489-0800Greenwich; reneebyers.com LLCDesignSanniRosalia @rosalia_sanni_design LLCDesignSanniRosalia 203-918-4619Greenwich; rosaliasanni.com LandscapeCohenSusan Architect @susancohenlandscapes FASLACohen,Susan LandscapeCohenSusan Architect 203-554-7536Riverside; susancohenlandscape architect.com
BEDROOMKID/TEEN NestCurated @curatednest NestCurated 914-222-0752Cob;Cos curatednest.com HOMElulu @luluhome.cami @luluhome.alana LuppinoCami IrwinAlana HOMElulu 914-234-8684Greenwich; luluhomedesign.com
SPACE:LIVING Traditional/Classic DesignZikasGeorgia @georgiazikasdesign DesignZikasGeorgia Hartford;West 860-904-5902 georgiazikasdesign.com
DESIGNBATH InterieursD2 @d2interieurs DaviesDenise InterieursD2 646-326-7048Weston; d2interieurs.com
ENTRYWAY InterieursD2 @d2interieurs DaviesDenise InterieursD2 646-326-7048Weston; d2interieurs.com LLCArchitects,Saniee LLCArchitects,Saniee 203-625-9308Greenwich; sanieearchitects.com ArchitectsVanderHorn @vanderhornarchitects VanderHornDouglas ArchitectsVanderHorn 203-622-7000Greenwich; vanderhornarchitects.com
RosensteinGracebyRoan @atelierroan inRosenstein,Grace FitzStudiowithcollaboration RosensteinGracebyRoan 630-776-7345Westport; atelierroan.co InteriorsRoughan @roughaninteriors InteriorsRoughan 203-769-1150Weston; roughaninteriors.com
ParkerScottDavid Architects @dsparkerarchitects FAIAParker,David ArchitectsParkerScottDavid 203-259-3373Southport; dsparker.com ArchitectsDeanRobert @robertdeanarchitects ArchitectsDeanRobert 203-966-8333Canaan;New robertdeanarchitects.com
andArchitectsVanderHorn DesignCo&Henry @vanderhornarchitects @henryandcodesign VanderHorn,Douglas Architect ArchitectsVanderHorn 203-622-7000Greenwich; vanderhornarchitects.com WoodmanseeStephanie DesignCo&Henry 917-388-3436NY;York,New henryandcodesign.com
ArchitectsVanderHorn @vanderhornarchitects VanderHornDouglas ArchitectsVanderHorn 203-622-7000Greenwich; vanderhornarchitects.com
DesignandHomePrudence LLC @prudencehomeanddesign PrincipalBailey,Prudence DesignandHomePrudence LLC 203-859-9499Canaan;New prudencehomes.com
DesignInteriorHogue @hogueid HogueMichelle DesignInteriorHogue hogueid.com
InteriorsMcCory @kristenmccory InteriorsMcCory County;Litchfield 860-922-8727 mccoryinteriors.com
PM6/13SEPTEMBER/CELEBRATIONAWARDS westportmag.com 92
ArchitectsCardello @cardelloarchitects ArchitectLaPierre,David ArchitectsCardello 203-853-2524Westport; cardelloarchitects.com
UNCOMPROMISING.UNCOMMON.DOORS.ANDWINDOWSTISCHLER 06901CTStamford,Avenue,SuburbanSixLtd.(USA)SohnundTischler www.tischlerwindows.com•203/674/0600Telephone STOFFTCOONEYARCHITECTS SPONSORPLATINUM PM6/13SEPTEMBER/CELEBRATIONAWARDS westportmag.com 93Ltd.(USA)SohnundTischler DDRESS:A AvenueSuburbanSix 06901CTStamford, PHONE: 203-674-0600 WEBSITE: tischlerwindows.com andwindowswoodmahoganycustommanufacturesSohnundTischler Germany.indoors andprofilesdomestic-styleandEuropeanbothofconsistproductsThe unsurpassedprovidingindustry,theinbenchmarkthebetocontinue durability.andquality cutlaser-broken,thermallyoffersTischlerclientsourservebetterTo systemoperatingslidingaluminumanandproductsteelstainless upunitsfixedandfeetelevenbyfeetfiftytoupsizesofcapable aincorporatesproductThisfeet.elevenbyfeetfivetwentyto withstandcanthatsystemgasketpneumaticpatentedrevolutionary specificationswithavailableareproductsAllpressure.windextreme hurricaneforrequirementsCodeBuildingFloridaandDademeetthat areproductsTischlerinfiltration.waterandairandresistance,impact technicians.factory-trainedourbyready-to-installdelivered
YORKNEWCONNECTICUT••NEWJERSEY hobbsinc.comwww.203.966.0726RENOVATIONS&ADDITIONSHOMES,DISTINCTIVE SPONSORGOLD Inc.Hobbs, DDRESS:A |NJRiver,SaddleNYYork,New|CTCanaan,NewInc:Hobbs, NYBridgehampton, NJRiver,Saddle|CTCanaan,NewCare:Hobbs PHONE: 203-966-0726 WEBSITE: hobbs-care.comhobbsinc.com; inhomesdistinctiveofbuilderaward-winninganisInc.Hobbs, IanandScottBrothersJersey.NewandYorkNewConnecticut, andqualityintegrity,oflegacythehonortoproudareHobbs Theodorefounder,andgrandfathertheirbyinstilledserviceclient ago.decadessixoverHobbs,deFreyne withrelationshipscollaborativestrong,sustainscompanyThe constructiontheindesignersandarchitectsrespectedmostthe andprofessionalsdedicatedexperienced,employTheyindustry. "Hobbstheofstepeveryexecuteandplantocraftsmentalented inapartmentanrenovatingWhetherproject.eachforApproach" orHamptonstheinhomewaterfrontaconstructingCity,YorkNew constantinisteameachConnecticut,inretreatfamilyabuilding fromexperiencebuildingsuperioradelivertocommunication Hobbs,ofdivisionaCare,Hobbsbeyond.andcompletiontoconcept maintenancecomprehensiveprovidetoclientstoavailableisInc., services.improvementhomecontinualandrenovationsprograms, synergytransparency,theirbymarkedissuccesscompany'sThe thatservicesclientandvaluesthetoadheretodeterminationand great.companythemake westportmag.com 94 PM6/13SEPTEMBER/CELEBRATIONAWARDS
12601NYPoughkeepsie,|AvenueViolet68 452-8444845estimate:freeaforCall fairviewhearthside.comofInstallationandSalesinLeaderThe ServingKitchensOutdoorandFireplaces CountiesWestchesterandeldFairfiofInstallationandSalesinLeaderThe ServingProductsHearthOutdoorandFireplaces CountiesWestchesterandFairfield westportmag.com 95HearthsideFairview DDRESS:A AvenueViolet68 12601NYPoughkeepsie, PHONE: 845-452-8444 WEBSITE: fairviewhearthside.com namefirstValley'sHudsontheisHearthsideFairviewyears,40overFor Violet68atshowroomoutdooranaddedrecentlyWeproducts.hearthin fireconcretepre-castartisanalourdisplayingNY,Poughkeepsie,inAvenue verythewithdesignersandarchitects,builders,servetocontinueandbowls sets.logandfireplaceswoodandgasincludingindustry,hearththeofbest thoughtcarefultakesininvolvedisHearthsideFairviewthatprojectEach thewithworktoabilitytheonourselvesprideweandplanningand needs.andstyletheirsuitsbestthatfireplacethechoosingincustomer project,yourcompletetoservicesmanyoffersHearthsideFairview follow-upthethroughachievetowantyouthatlookthedesigningfrom amaintainWecome.toyearsforproducthearthyourofmaintenance wellastechnicians,ensuredfullyandwell-traveledexperienced,ofstaff yourthatconfidentareweandteamDesignSales/ourinspecialistsas cleanliness,thoroughness,professionalism,withhandledbewillproject mind.insafetywithand highamaintainingwhileserviceextraordinaryandelivertoispledgeOur committedareWefairness.andforesight,integrity,professionalism,oflevel satisfaction.customercompletethroughHearthsideFairviewgrowingto freeaforhomeorsitejobyourvisittohappybewouldteamsalesOur 452-8444(845)atcallausgivePleaseproject!dreamyourforestimate speaktohappybewillweandinfo@fairviewhearthside.comatusemailor you.with SPONSORGOLD PM6/13SEPTEMBER/CELEBRATIONAWARDS
InterieursD2 @d2interieurs DaviesDenise InterieursD2 646-326-7048Weston; d2interieurs.com GingerandSage @sageandgingerdesigns FuhrmanEmily GingerandSage 917-843-5173Canaan;New sageandginger.com andArchitectsVanderHorn DesignCo&Henry @vanderhornarchitects @henryandcodesign VanderHorn,Douglas Architect ArchitectsVanderHorn 203-622-7000Greenwich; vanderhornarchitects.com WoodmanseeStephanie DesignCo&Henry 917-388-3436NY;York,New henryandcodesign.com
Associates&Wormser Architects @wormseraia WormserPeter Associates&Wormser Architects 203-981-7901Westport; wormseraia.com ROOMDINING Co&Crosby @crosby_and_co WilburCharlotte Co&Crosby 917-981-9820Canaan;New crosbyandco.com
PlayroomsSmart @smartplayrooms Bowen-PooleKarri PlayroomsSmart 914-260-3042NY;Rye, smartplayrooms.com
SPACECOMMERCIAL ArchitectureBeinfield @beinfieldarchitecture Beinfield,Bruce PresidentFAIA Pather,Seelan PrincipalAPLeed Gonzalez,Cristian AssociateSenior Grotheer,Colin AssociateSenior Sansevera,Jessica DesignerInteriorNCIDQ Beinfield,Carol StylistInterior ArchitectureBeinfield Norwalk;South 203-838-5789 beinfield.com
CaneCalla @callacane CaneCalla 858-345-1975Rowayton; callacane.com ArchitectsGranoff @granoffarchitects ManagingGranoff,Richard Founder+Principal PrincipalZambell,Erik SeniorBrehm,Robert ArchitectLandscape ProjectGrant,Matthew Manager
KIDSPACE:PLAY InteriorsGraceCamden @camden_grace_interiors ZajacJulia PiccoloEllen BarberJeanne InteriorsGraceCamden 617-721-6580,Hartford; camden-grace.com PlayroomProject @projectplayrooms DaviesDenise Bowen-PooleKarri PlayroomProject 914-473-1308Weston; projectplayroom.com
westportmag.com 96 PM6/13SEPTEMBER/CELEBRATIONAWARDS
InterieursD2 @d2interieurs DaviesDenise InterieursD2 646-326-7048Weston; d2interieurs.com HOMElulu @luluhome.cami @luluhome.alana LuppinoCami IrwinAlana HOMElulu 914-234-8684Greenwich; luluhomedesign.com
RENOVATION InteriorsBecca @beccainteriors CaseyBecca InteriorsBecca 203-642-4536Norwalk; beccainteriors.com ArchitectsCardello @cardelloarchitects LaPierreDavid ArchitectsCardello 203-853-2524Westport; cardelloarchitects.com HomeHarrisonMorgan @morganharrisonhome HarrisonMorganMichelle HomeHarrisonMorgan 203-594-7875Canaan;New morganharrisonhome.com
ArchitecturalEpelbaum,Jane Designer/Interiors ArchitectsGranoff 203-625-9460Greenwich; granoffarchitects.com BEDROOM InteriorsHomeClarity @clarityhome InteriorsHomeClarity 203-340-2468Greenwich; clarityhomeinteriors.com InteriorsMcCory @kristenmccory McCoryKristen InteriorsMcCory County;Litchfield 860-922-8727 mccoryinteriors.com RosensteinGracebyRoan @atelierroan inRosenstein,Grace FitzStudiowithcollaboration RosensteinGracebyRoan 630-776-7345Westport; atelierroan.co InteriorsLongB.S. @sblonginteriors InteriorsLongB.S. 972-803-6304TX;Dallas, sblonginteriors.com
LandscapeJancskiSean Architects @sjlandscapearchitects LandscapeJancskiSean Architects 914-967-1904NY;Rye, sjlandscapearchitects.com
InteriorsRoughan @roughaninteriors InteriorsRoughan 203-769-1150Weston; roughaninteriors.com
LANDSCAPE: Acre1ThanLess
LandscapeAcresSeventy DesignandArchitecture @seventy_acres ClarkBrook LandscapeAcresSeventy DesignandArchitecture 203-491-2405Hook;Sandy seventyacres.com
OFFICE/LIBRARY
D'AngeloMichael ArchitectureLandscape @mdlandarch D'Angelo(MichaelMDLA Architecture)Landscape Glastonbury,andMABoston, 203-592-4788CT; m-d-l-a.com
ADULTSPACE:PLAY StudioRaeChristian @christianraestudio StudioRaeChristian 203-292-3090Fairfield; christianraestudio.com HomesFineHemingway @hemingwayconstruction HomesFineHemingway 203-625-0566,Greenwich; hemingwayconstruction.com LLCArchitectsSaniee LLCArchitectsSaniee 203-625-9308Greenwich; sanieearchitects.com
ElectricisFutureThe EVBlazerChevy EVSilveradoChevy today!yoursReserve 2023Coming SPONSORGOLD westportmag.com 97infoundedbusinessfamilythird-generationaisChevroletKarl ofneedsautomotivetheservesKarlCT,Canaan,NewinBased1927. CountyWestchesterandFairfieldtheinbusinessesandconsumers dealertop-ratedAservice.personalizedhallmarktheirwithmarkets DealerRater,andCars.com,CarFax,likesourcesindependentby sales.digitalofagetheinflourishtocontinuedhasreputationKarl's serviceandsalesoutstandingtoaccesshavecustomerslocalWhile appreciatedhavecountrythearoundfromshoppersexperiences, beginning,theFrombusiness.toapproachno-hassleChevrolet'sKarl topossiblevalueoverallbestthedeliveringonbeenhasfocusKarl's thehonorsKarldemand,thematternomeans,Thatcustomer.each marketorpremiumachargingnevervehicles;newonpricingMSRP do.tothingrightthesimplyIt'sadjustment. becomingquicklyvehicles,electricofworldtheembracedfullyhasKarl andEVBoltChevytheforNortheasttheinretailerstoptheofone thewelcometoexcitedisdealershiptheahead,LookingEUV.Bolt Inyear.nextthewithinEVBlazerandEVSilveradoChevroletall-new supportedactivelyhasKarlEVs,ofwavecomingtheofanticipation aroundstationschargingEVpublicofdeploymentthesponsoredand morelearntoChevroletKarlVisitelectric.isfutureTheCounty.Fairfield ride.theenjoycanyouhowaboutChevroletKarl DDRESS:A StreetElm261 06840CTCanaan,New PHONE: 203-652-8008 WEBSITE: karlchevy.com PM6/13SEPTEMBER/CELEBRATIONAWARDS
800•390•1000|RingsEnd.com Expertise.OurInspiration.Your Congratulationstheto Winners!AwardListA2022 SPONSORGOLD EndRing's DDRESS:A AvenueWest181 06820CTDarien, PHONE: 800-390-1000 WEBSITE: RingsEnd.com milestoneThisEnd.Ring'sofAnniversary120ththemarks2022 helm,theatleadershipofgenerationthirdthewithcelebratedis companytheserviceandqualityoftraditionthecontinuetoexcited remainedhasEndRing'shistory,theirThroughouton.builtwas thebetovisiontheirtotruestayingoperated,andownedfamily full8withNowindustry.supplybuildingtheinresourcepremier largesttheisEndRing'scenters,paint12andlocationsservice MooreBenjaminanddoorsandwindowsMarvinbothofretailer andexpandingonfocusedcontinuallyNortheast,theinpaint emergingwithproactiveAlwaysleader.industryanasevolving empoweringtocommittedtechnology,embracinglines,product theininvestingandsucceed,totoolsthewithcustomerstheir alignedpartnerswithrelationshipsbuildingbyplanetouroffuture traditiontheircontinuetopoisediscompanythesustainability,with Ring'sage.moderntheforvisiontheirtotrueremainandserviceof theirtogratefulandheritagetheirofproudimmenselyisEnd support.andloyaltycontinuedtheirforcustomers westportmag.com 98 PM6/13SEPTEMBER/CELEBRATIONAWARDS
SPONSORGOLD westportmag.com 99 byproducedvideoYour journalistsreal. justphotosStillvideo.qualityhighaneedsbusinessYour thanbettercompanyyouroryousellcanNothingit.cutdon't toengagingmorefararesoundandpicturesMovingvideo. multipurbecanvideosBusinessclients.andcustomers forpresentations,forusewebsite,yourenhancetoposed: isVideoon.soandsites,networkingsocialfore-newsletters, everyone.toaccessibleeasilysoisandtodayofwaythe FARNKENDRA aisFarnKendrawinningAwardEmmy Sheanchor.andreporternewsTVveteran WNBC-TVandWCBS-TV,atyears13spent largestcountry'stheCity,YorkNewin market.television FINZNOAH veteranaisFinzNoahwinningAwardEmmy createdHeanchor.andreporterSportsTV NetworkSportsVantagethemanagesand Hesports.CThighlightingFrontierfrom forDirectorSportsasyears18spent affiliate.ABCConnecticut'sWTNH-TV, pgarynproductions.com 722-5401(203) Marvin DDRESS:A WayPearson2 06082CTEnfield PHONE: 800-966-2784 WEBSITE: marvin.com living.ofwaysbettercreateandimaginetodrivenareweMarvin,At morebringtostrivewemake,wedoorandwindoweveryWith deepercreatetoandhomes,intoairfreshmoreandlightnatural ofcentertheatpeopleputWeworld.naturalthetoconnections andworkandlivepeoplehowfordesigningbydoweeverything andhappiertocontributecanproductsourwaysnewimagining homes.healthier company,operatedandfamily-ownedfourth-generation,aAs Ourvalues.ourlivingtocommittedcultureafostersMarvin together,strongerworkingthing,rightthedoingtocommitment Craftedday.everybetterbetousinspiresdifferentlythinkingand see,canyouqualitydeliverproductsourskill,exceptionalwith standsthatperformanceandjoy,bringsthatbeautyfeel,andtouch time.oftestthe goespeopletocommitmentourpossibility,ofspiritabyDriven andlong-lastingtocommitWemake.weproductsthebeyond channelcustomers,employees,ourwithrelationshipstrusting communities.andpartners marvin.com.atmoreLearn PM6/13SEPTEMBER/CELEBRATIONAWARDS
HOUSEPOOL
ArchitectsHiltonCharles @charleshiltonarchitects HiltonCharles ArchitectsHiltonCharles 203-489-3800Greenwich; hiltonarchitects.com Inc.DEANE, @kitchensbydeane CampbellVeronica Inc.DEANE, 7008203-327-Stamford; deaneinc.com LLCArchitectsSaniee LLCArchitectsSaniee 203-625-9308Greenwich; sanieearchitects.com
ArchitectsVanderHorn @vanderhornarchitects VanderHornDouglas ArchitectsVanderHorn 203-622-7000Greenwich; vanderhornarchitects.com
RaissisThompson Architects @thompson_raissis_ architects ArchitectsRaissisThompson 203-399-0100Darien; tr-architects.com
REMEMBER...AND theAll winners' and finalists' bewillprojects infeatured athome issueNov./Dec.
's
PM6/13SEPTEMBER/CELEBRATIONAWARDS
TRADITIONAL ARCHITECTURE: 7,000ThanGreater FeetSquare StudioRaeChristian @christianraestudio StudioRaeChristian 203-292-3090Fairfield; christianraestudio.com
TRADITIONAL ARCHITECTURE: 7,000ThanLess FeetSquare StudioRaeChristian @christianraestudio StudioRaeChristian 203-292-3090Fairfield; christianraestudio.com
westportmag.com 100
ArchitectsVanderHorn @vanderhornarchitects VanderHornDouglas ArchitectsVanderHorn 203-622-7000Greenwich; vanderhornarchitects.com
CelebrationAwardsA-ListtheforusJoin StamfordVillage,Thepm6at202213,Septemberpremierthe competitiondesignhomeawards design!innightbiggestthemissDon't athomealistawards.com westportmag.com 101 now!availableareTickets details:moreforsiteourVisit SPONSORSGOLDSPONSORPLATINUMSUPPORTINGSPONSORVENUESPONSOR

the premier home design competition awards Visit athomealistawards.com for more information and to purchase tickets. Act fast-space is limited! PLATINUM SPONSOR GOLD SPONSORS get your tickets now! for the 13th A-ListAnnualAwards 2022 JUDGES DOUGLAS WRIGHT Douglas C. Wright Architects JOY MOYLER Joy Moyler Interiors KEITH EdwardNieveraWILLIAMSWilliamsEDWARDSIEGELSiegelArchitectJASON&KATIEMAINEMaineDesign SUPPORTING SPONSOR Tuesday, September 13, 2022 The Village, Stamford VENUE SPONSOR
SEPTEMBER/OCTOBER 2022 WESTPORT 103 Sat., October 15, 2022 7 p.m. Featuring N o t a b l e s o f t h e P ro h i b i t i o n E ra G a m e s S i l e n t & Live Au c t i o n s O n g o i n g E xh i b i t i o n s & P revi ews a n d m o re. . . For more info & tickets: LockwoodMathewsMansion.com 2022 GALA DISTINGUISHED BENEFACTORS: 2022 SEASON SPONSORS: 2022 GALA SUSTAINERS: FOUNDING PATRONS: The Estate of Mrs. ClarkCynthiaBrown LEADERSHIP PATRONS: The FoundationSealark 2022 GALA MEDIA SPONSOR: 2022 GALA GRAPHIC DESIGN SPONSOR: 2022 DISTINGUISHEDSEASONBENEFACTORS: 295 West Avenue, Norwalk, CT . 203.838.9799 ext. 4
● Comprehensive in-shelter care for birth to 18-year-old children in need.
Visit kidsincrisis.org to learn how you can help and pledge your support.
In response to an exponential rise of mental health crises in children, Kids In Crisis continues to expand and enhance our services and programs to help protect the well-being of Connecticut children and youth. Our goal is to reach an additional 25,000 children in need by 2025.
KIDS IN CRISIS PROVIDES
Do you know a child who needs help?
● Restorative justice and advocacy work for children at the national, state, and local levels.
REACHING 25,000 MORE CHILDREN BY 2025
westportmag.com 104
Not sure? Call our Helpline at 203.661.1911
● All services provided at no cost to children and families.
Kids In Crisis One Salem Street Cos Cob, CT 06807
JOIN OUR PLEDGE TO HELP CONNECTICUT'S CHILDREN
● Crisis prevention, intervention, education and counseling.
Michael
2022—2023SEASON LightandLoveRevealed AlisaWeilerstein November19&20,2022 Nature'sLight DalíStringQuartet March4&5,2023 Light,Rightand FanciFuL FLight Mark BeBBington &Joel thoMpson May13&14,2023 YOUR BRIGHTEST SEASON EVER STARTS NOW
Stern MUSIC DIRECTOR AGalaEvening withMariaFriedman September24,2022 NewWorlds AwadaginPratt October15&16,2022 FireworkswithJoshuaBell JoshuaBell April1&2,2023 PalaceSeries The Palace Theatre 61 Atlantic Street Stamford, CT Calendarforalistingofall2022-2023SeasonViewthefullconcertsandcommunityeventsOrchestraLumos.org StayConnected STicketstartingat$25
westportmag.com 106 AirliftSaturday,BenefitOctober1,2022|6p.m.Destination:PuertoRico Hosted by Craig Melvin News Anchor, NBC News' TODAY and Co-anchor, 3rd Hour of TODAY CITI AVIATION FACILITY HANGAR E-2 Westchester County Airport | West Harrison, NY americares.org/airlift2022 HEADSHOTMELVINCRAIG NEWS/TODAYNBCFROMHEADSHOTMELVINCRAIG NEWS/TODAYNBCFROM
Presented
Communityby:Partners: Supporter:Jeffrey Selden, Mixologist Judge Media Partner: Thank You to Our Partners Participating Restaurants & Bars:
CONTEST BEST BARTENDER MAGAZINEby 10 TH ANNUAL
SEPTEMBER/OCTOBER 2022 WESTPORT 109
westportmag.com 110 FAIRFIELD COUNTY'S SUMMER CONCERT HOME! HARTFORDHEALTHCAREAMP.COM | GET TICKETS AT For the most up-to-date event schedule visit EARTH, WIND & FIRE3 WED 6 SAT JASON MRAZ 7 SUN BRIT FLOYD9 TUE STEELY DAN 11 THU GREENSKY BLUEGRASS 25 THU BOYZ II MEN28 SUN DISPATCH & O.A.R. 30 TUE JASON ISBELL & 400 UNIT 13 TUE TENACIOUS D14 WED OUTLAW MUSIC FESTIVAL WILLIE NELSON & FAMILY, BILLY STRINGS & MORE 15 THU STYX & REO SPEEDWAGON W/ LOVERBOY 16 FRI JON PARDI 23 FRI RINGO STARR & HIS ALL STARR BAND AUGUST 1 THU DARIUS RUCKER2 FRI VAN MORRISON SEPTEMBER JULY LYNYRD SKYNYRD WITH THE OUTLAWS 2 SAT MAREN MORRIS7 THU 13 WED CHEER LIVE15 FRI JACKSON PRETTYHALESTORMBROWNEW/THERECKLESS20 WED 29 FRI STEVE MILLER BAND BIG TIME RUSH24 FRI THE BLACK CROWES27 MON JUNE LEE BRICE3 FRI DISCO BISCUITS WITH UMPHREY'S MCGEE 9 THU SAMMY HAGAR & THE CIRCLE W/ GEORGE THOROGOOD & THE DESTROYERS 10 FRI H.E.R.2 THU 19 FRI THE BEACH BOYS & THE TEMPTATIONS 11 SUN THE DOOBIE BROTHERS W/ MICHAEL MCDONALD PHIL LESH & FRIENDS WARREN HAYNES, JOHN SCOFIELD, JOHN MEDESKI, JOHN MOLO 1 FRI 31 SUN PAPA ROACH 12 FRI GOO GOO DOLLS STING9 FRI 13 SAT AKEHLANIDAYTO REMEMBER5 FRI 16 TUE LANY SCAN FOR TICKETS AMP - Moffy Ad - 5-22.indd 1 5/4/22 7:53 AM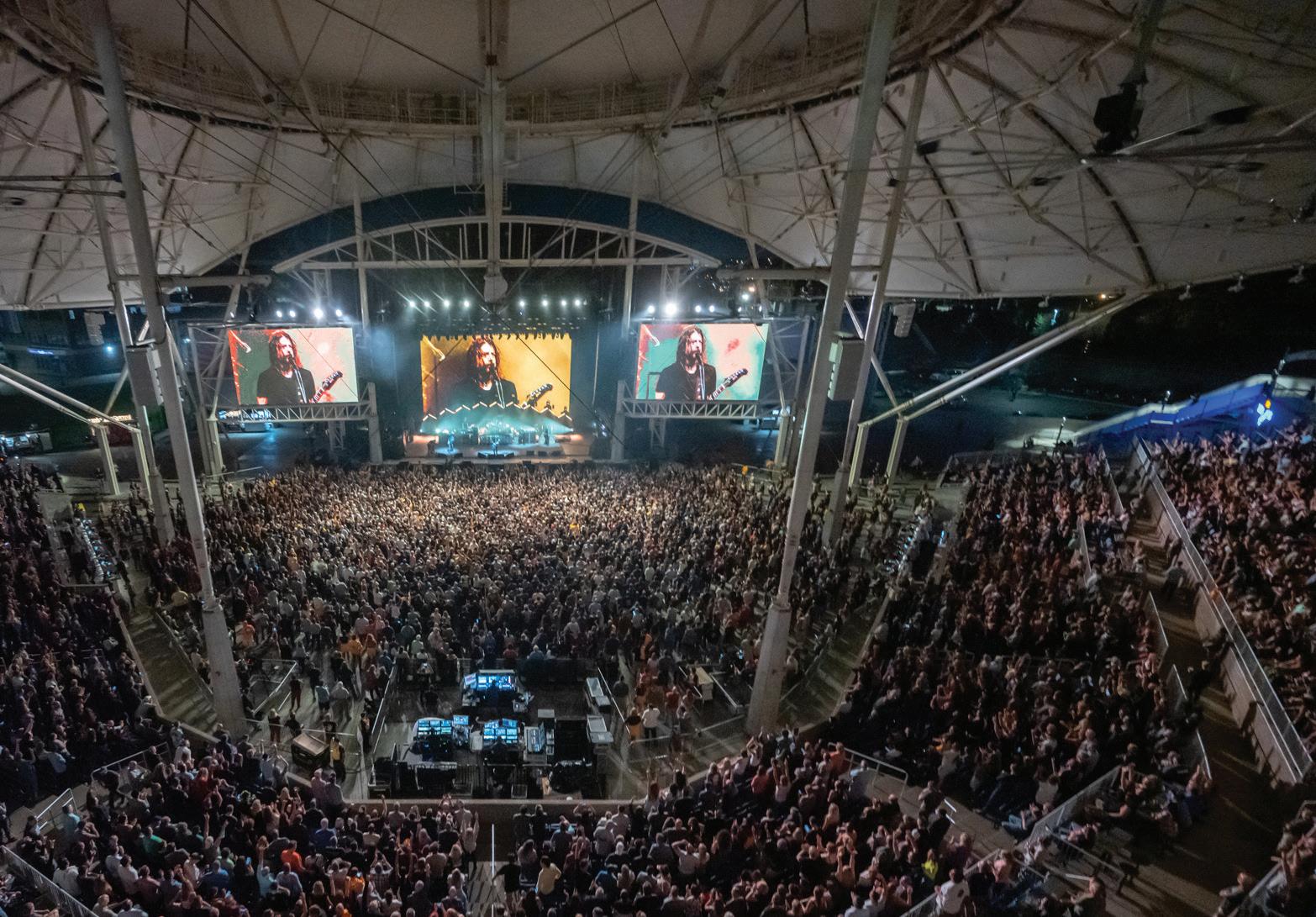 Henry C. Reid Jewelers 11
A-List 102
Marcia Selden 23
The Residence at Westport 35
SEPTEMBER/OCTOBER 2022 WESTPORT 111
EVENTS & ENTERTAINMENT
Manfredi 5
Cory Lloyd & Co. 37
2022-2023INDEPENDENTSCHOOLADMISSIONS BRUNSWICK SCHOOL FAIRFIELD WINSTONWHITBYEDUCATIONSTAMFORDST.SCHOOLSEVENRYEPUTNAMNEWLONGLAURALTONKINGSCHOOLGREENWICHGREENWICHGREENSPREPERATORYCOLLEGESCHOOLFARMSACADEMYACADEMYCOUNTRYDAYSCHOOLHALLRIDGESCHOOLCANAANCOUNTRYSCHOOLINDIANFIELDSCHOOLCOUNTRYDAYSCHOOLACRESMONTESSORILUKE'SSCHOOLBOARDOFSCHOOLPREPERATORYSCHOOL OPEN HOUSES & VISIT DAYS For a complete schedule of admissions events at the above schools. Please ilovefc.com/visit:openhouses
Lockwood-Mathews Mansion 103
Berkshire Hathaway Westport 17 Nest Seekers International 19
Breast Cancer Alliance 83 Domestic Violence 43
Nuvance Health 3
AUTOMOTIVE
P Garyn 9
Junior League of Stamford-Norwalk Centennial Gala 106
Hartford HealthCare 29 Hospital for Special Surgery 21
California Closets 7
JEWELRY
REAL ESTATE & SENIOR LIVING
Eleish Van Breems 27
Quick Center for the Arts 57
Artistex Salon & Spa Cover 3
Kids in Crisis 104
Scap Chrysler Jeep 39
Alzheimer's Association 104 Americares Airlift Benefit 106 Breast Cancer Alliance Luncheon 12
TMK Sports & Entertainment Health Expo 103
Big Picture Photography 54 Flowcode 89
Hartford HealthCare Amphitheater 110
Hollow Tree Self Storage 8
HEALTH, HOSPITALS & BEAUTY
Winvian Farm 43
Ring's End 98, Cover 4 Tischler Und Sohn 93 Westy Self Storage 43
NONPROFIT
The Palace 105
Lux Bond & Green Cover 2, 1
YMCA 41
Karl Chevrolet 97
Near & Far Aid 110 Save the Children 81
Cummings & Lockwood – Greenwich 6
Bob Capazzo 6
Stamford's Best Bartender 108
Lauralton Hall 83
Westport Rotary Lobster Fest 107
Levitt Pavilion 51
FOOD, CATERING & LODGING
NYCWFF 53
Fairview Hearthside 95 Glen Gate 15 Hobbs, Inc. 94
ARCHITECTS, BUILDING & HOME IMPROVEMENT
EDUCATION
Winston Prep 79
Seven Acres Montessori 81
Fairfield Prep 81 Greens Farms Academy 75
MISCELLANEOUS
King School 79
JP McHale Pest Management 37
St. Luke's School 77
advertisers index
Speaking of Women 109
Adopt-a-Dog 83
BUSINESS, LAWYERS & FINANCE
ONS (Orthopaedic & Neurosurgery Specialists) 25 Yale New Haven Health 9
Westport Country Playhouse 30 Westport Museum for History and Culture 48 William Raveis Ride + Walk 109
'll admit it. September is my favorite issue, because we get to highlight some remarkable "teens to watch"—talented, civic minded, living proof that you can put an old head on young shoulders. We need that reassurance, especially as I recall the pain (and fun) of those growing-up years in my distant past.
SEPTEMBER/OCTOBER 2022 / DONNA MOFFLY CTGREENWICH,PHOTOGRAPHY,VENTURE
Teens are creative. The Sinclair gang also made a very realistic dummy and strung it up the flagpole at the yacht club. When the groundskeeper came to raise the flags in the morning, he was stricken to find a body hanging from the yardarm. The boys were reprimanded but later would hoist some beach furniture up there, too.
Teens deal with bullies—eventually. My brother Mike was only about five-five in high school. Wearing a necktie borrowed from Dad, he went to a party where a guy asked: "Do you like your tie?"  "Yah," answered Mike. "Well, have two of them," said the bully, taking out a pair of scissors, cutting it in half and stuffing the loose end in Mike's breast pocket.
postscript
On stage at Hathaway Brown School, I was singing "Tahitian Love Song" complete with hula to a packed audience when my sarong came unpinned. As I grappled with it and sped to the wings, the University School boys in the front rows peppered me with loose change.
I
Teens are prone to automotive mishaps. The minute I got my license, I drove four girls over to University School to check the scene. But when I waved out the window to a young man I knew, my other hand turned the wheel to the right, we jumped the curb and ran into a large Maple tree. Nobody would ride with me for a very long time.
Oh, to be young again. Well, come to think of it, maybe it's better this way.
westportmag.com 112
John Sinclair and Craig Fanning drove the family car from the Riverside Yacht Club parking lot backward all the way across the Post Road to Scott Dykema's house near North Mianus School.
Fifty years later and now six-foot-five, Mike finally had his revenge. When he and his wife, Sue, walked into the country club, there across the room was the same guy who, by the way, hadn't grown an inch. Mike whipped into the club office for some scissors, then went over to him and said: "Hey, I like your tie!" "Thanks," replied the gent. "I do, too." "Well, have two of them," said Mike, taking out the scissors and returning the favor. "Oh, my Gawd," said the man, pointing up at Mike.  "You were that kid!" "Yup," said Mike, putting his arm around his shoulder. "I'll buy you a beer."
"Beer cans rolled out of the car, and the boys spent the night in the slammer."
Driving home from a party in Philadelphia, an underaged Jack Moffly and friends were stopped by the Springfield Township police. Beer cans rolled out of the car, and the boys spent the night in the slammer. When his father came to claim him the next morning, the judge asked his name. "John Wesley Moffly III," came the reply. "Perfect," said the judge. "We've been looking for you. You owe us for a whole bunch of parking tickets!" Jack's father didn't speak to him for days.
Teens are easily embarrassed. When my brother Lee took a date necking for the first time, he pulled into a secluded country lane. But before they got in their first smooch, a policeman shined a flashlight in his face, announced they were trespassing on private property, then turned the light on the girl and said: "Oh, no, not you again!"
OF TEENS TO WATCH OUT FOR
Teens are daring. They think they're invincible. Jonathan Moffly and Jimmy Sheehan scaled up the underside of the I-95 bridge over the Mianus River to catch pigeons and were spotted by the cops. "We had to come down," says Jonathan, my son, "because they had our bikes."
Award winning Color Salon, Day Spa and Barber Shop committed to our clients, beauty team and sustainability. Offering traditional, natural and organic services and products. Professional experts in what we do making you look and feel great.
260 Post Road East Road East Westport | www.artistexsalon.com | 203 222 0344 SCAN TO LEARN ABOUT OUR SERVICES OPEN CAMERA, AIM, CLICK
Your Inspiration. Our Expertise. Lumber | Building Materials | Hardware Moulding | Millwork | Kitchens | Paint & Design Since RING'S1902END COLOR OF THE YEAR 2022 October Mist 1495 / CC 550 RingsEnd.com | 800-390-1000 MODERN Marvin Signature Collection KravitzTROUSDALEDesignfor Rocky Mountain Hardware