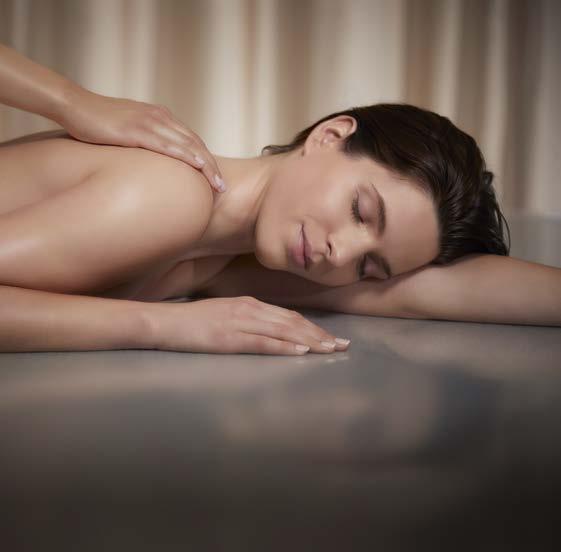 hiver 2022/2023
lepalaismegeve.com
SPA ESPACE BIEN-ETRE & SOINS
OFFREZ UN MOMENT DE DETENTE
espace
bien-être & soins spa
hiver 2022/2023
Commune de Megève - Décembre 2021 Document non contractuel. Ne pas jeter sur la voie publique.
Crédits Photos : Commune de Megève, Phytomer, Fleur', Gel-vernis 1944, AdobeStock. Impression : Riccobono (Le Muy)
T. +33 (0)4 50 18 87 95 spa@megeve.fr lepalaismegeve.com & @lepalaismegeve 247, route du Palais des Sports 74120 - Megève
3
Bienvenue au Spa Espace bien-être & soins
Situé au cœur du plus grand complexe sportif et de bien-être des alpes, le SPA vous accueille toute l'année dans un cadre chaleureux, au design épuré et apaisant pour un voyage aux sources de la relaxation.
Notre équipe saura vous guider pour choisir le soin qui répondra le mieux à vos attentes.
Nos nombreux rituels de soins corps ou visage vous permettront de vous évader du quotidien pour une parenthèse de douceur entre les mains expertes de nos praticiennes.
Il ne vous restera qu'à fermer les yeux et lâcher prises pour un bien-être absolu
Welcome to the Spa Espace bien-être & soins
Located in the heart of the largest sports and wellness complex in the Alps, the SPA welcomes you all year round in a warm setting, with a sleek and soothing design for a trip to the sources of relaxation. Our team will guide you to choose the treatment that will best meet your expectations.
Our many body or face care rituals will allow you to escape from everyday life for a parenthesis of sweetness in the expert hands of our practitioners. All you have to do is close your eyes and let go for absolute well-being.
Nos Recommandations
• Nous vous conseillons de vous présenter 15 minutes avant le début de vos soins.
• En cas de retard et afin de ne pas perturber les autres soins planifiés, la durée de votre soin pourra être raccourcie dans le respect de nos protocoles.
• Nous vous signalons que les conditions d'annulation de rendez-vous sont sans frais jusqu'à
48H avant la date du soin. En cas de non présentation ou d'annulation tardive les soins seront facturés dans la totalité.
• Pour votre confort et votre sécurité, merci de nous aviser en cas de problèmes médicaux ou contre-indication.
• Nos massages sont des soins de relaxation et de bien-être et n'ont en aucun cas des buts thérapeutiques et sont non médicalisés. Ils sont réalisés par une équipe de professionnelles diplômées.
Our Recommendations
• We suggest you to arrive 15 minutes before the beginning of your cares.
• In case of delay and in order not to disturb other planned cares, the duration of your treatment may be shortened in accordance with our protocols.
• We inform you that the appointment cancellation policy is free of charge until 48 hours before the date of the treatment. In case of absence or late cancellation, you will be charged for the whole care.
• For your comfort and security, we thank you to inform us in case of medical problems or contraindication.
• Our cares are provided for relaxation and wellness and have in any case therapeutic purposes. They are made by our professional graduated team.
Notre espace bien-être & soins sont sur réservation au 04.50.18.87.95
Entrée simple / Access
2 heures | 2 hours ........................18.40 €
Entrée formule liberté* | Liberty formula* 18 € *En vente aux caisses du Palais Prêtdeservietteettongsinclus
spa ado | teen spa
De 11 à 14 ans accompagnés d'un adulte. Accès au SPA 30 min avant le début des soins (hors saunas).
From 11 to 14 years old accompanied by an adult. 30 minutes access to the SPA before your treatment is included (except for saunas)
SOIN VISAGE POUR UNE JEUNESSE
ETERNELLE /FACIALFORETERNALYOUTH 45 min 70 € Massage relaxant | Relaxingmassage 45 min ........................................ 75 €
soins enfants découverte |
my first cares
forfait « Enterrement de vie de célibataire » | « bachelor(ette) party » forfait
À partir de 10 p. Accès SPA + 1 soin 25 min corps ou visage offert à le ou la futur(e) marié(e). Starting 10 p. SPA access + 25 min body or facial treatment (for the bride/groom to be).
De 6 à 10 ans accompagnés d'un adulte (sans accès au spa).
From 6 to 10 years old accompagnied by an adult (Spa access not included).
mon 1er massage | my first massage Dos, bras, mains ou visage Back, arms, hands or face 20 min 36 €
tarif | rate
Par personne | For 1 person 23 €
tandem parent/enfant | children/ parent moment 20 min 85 €
4 5
|
soins visage | facial
éclat express | skinradianceexpress 30 min 60 €
kobido visage | Facialkobido
Moment de profonde relaxation. Massage trapèzes, cervicales, visage, oreilles, crâne. Chasse le stress accumulé au cours de la journée. Moment of pure relaxation. Massage of trapezius, neck, face, ears, head. To chase the accumulated day stress away.
PIONNIER JEUNESSE SUPREME/ SUPREMEYOUTHPIONEER
Soin d'exception visage, contour des yeux, cou et décolleté. Ultimate facial treatment, face, eye contour, neck and decolleté. 90 min 160 €
EXPERT JEUNESSE/EXPERTYOUTH
BLOMMEA
Appareil permettant de traiter les irrégularités cutanées.
Soin en 3 étapes : macro exfoliation, massage par microvibration et luminothérapie A device that treats skin irregularities. 3 steps facial : macro exfoliation, microvibration massage and light therapy
MODELING COUP D'ECLAT/ RADIANCE BOOSTMODELING
30 min ............................................... 75 €
Vague californienne | California Wave
Massage californien relaxant à l'huile de massage Phytomer. RelaxingcalifornianmassagewithPhytomeroil. 25 min ............................................... 65 € 55 min 110 € femmeenceinte|pregnantwoman 25 min 65 € 55 min ............................................ 110 €
kobido visage | facialkobido 45 min 80 €
kobido visage + gommage | facialkobido+facescrub 50 min ...............................................85 €
Soin correction rides Wrinkl correction treatment. 60 min 100 €
Peau Neuve au Masculin |  RenewyourselfforMen
kobido visage + gommage + masque |facialkobido+facescrub+face mask 60 min 95 €
Soin visage désaltérant, repulpant ou fraîcheur de peau anti-pollution. Moisturizing, pumpling or freshness skin anti-pollution facial care. 60 min 90 €
ACNIPUR
1001 Fleurs | 1001Flowers
Hydratation intense. Intense hydration. 60 min .........................................90 €
Soin solution imperfections. Blemish solution treatment. 50 min 80 €
HYDRA ORIGINEL/HYDRAORIGINAL
Floraskin | Floraskin Repulpant jeunesse. Plumping youth. 70 min 100 €
Soin hydratant aux algues Bio. Plumping thirst-relief facial with organic algae 60 min 90 €
Perfect Regard | Perfect Eye
SMOOTHIE DE FLeURS | Flowers smoothie
Soin visage hydratant, éclat, énergisant, booster d'éclat. Moisturizer, radiance, energizing, radiance boosting facial care. 50 min .........................................80 €
Soin lissant éclat des yeux. Eye radiance smoothing care. 40 min ......................................... 50 € combiné à un soin visage 30 €
Cyfolia Bio | cyfoliaorganic Soin repulpant éclat et contour des yeux. Plumping face and eye contour massage. 60 min ....................................... 110 €
OPTION GOMMAGE OPTIMA/ OPTIMA SCRUBOPTION 15 €
Consultation/ consultation Obligatoire avant toute cure. Mandatory before any cure. 40 €
CURE MODELING COUP D'ECLAT/ RADIANCEBOOSTMODELINGCURE
.............................. Nous consulter / Consult us
CURE MODELING expert/ MODELING EXPERTCURE Nous consulter / Consult us
massages | massages
Notre équipe saura vous conseiller un massage sur-mesure en fonction de votre temps et de vos besoins. Massages sans but thérapeutique. Rely on our team to recommend cares tailored to your needs and availability. Not for therapeutic exercises.
relaxant personnalisé | RELAXING 25 min 65 € 55 min 110 € fidélité ................. - 50% sur le 6e (55 min)
SPORTIF | DEEPTISSUE
55 min 125 € fidélité - 50% sur le 6e (55 min)
AROMAVEDIC | AROMAVEDIC
Massage à l'huile d'abricot. Apricot oil massage.
50 min 115 € relaxant à la bougie | CANDLERELAXING
Massage ultra-réparateur à la bougie. Ultra-repairing ritual with candle-balm. 50 min 115 €
REFLEXOLOGIE PLANTAIRE | PLANTAR REFLEXALOGY
Procure une grande détente, inspiré des techniques Thaïlandaise et Chinoise. Provides great relaxation, inspired by Thai and Chinese techniques. 75 min 100 €
LA CARTE DE FIDELITE*
La 6e prestation à -50% uniquement sur les massages sportif et relaxant 55 min, les vernis semi-permanent O.P.I et gelvernis vegan 1944.
Thesixthperformanceat-50%onlyon relaxing and deep tissue 55 min massages and semipermanentnailpolish O.P.I.andvegan1944.
6 7
* valable 1 an
formules soins | treatments
PARCOURS Détox | detoxitinerary
Gommage corps + Massage drainant sous affusion + Soin visage + Pressothérapie. Bodyscrub+Drainingmassageunderaffusion + Facial care + Pressotherapy. 110 min 220 €
Sportif | Deeptissue
Massage sportif + pressothérapie et cryothérapie. Deep tissue massage + pressotherapy and cryotherapy. 50 min + 20 min 160 €
Relaxant pour 2 | RELAXINGFOR2
Massage détente. Relaxing massage. 45 min ........................................... 195 €
évasion | evasion
Massage + éclat express Massage + skin radiance express 50 min 120 € soinshydro&gommages| hydrotreatments&body scrubs
Massage sous Affusion | UNDERAFFUSIONMASSAGE
Massage du corps décontractant effectué sous une fine pluie d'eau. Relaxingbodymassageunderathinrainofwater. 20 min 65 €
Gommage corps | BodySCRUB
Les gommages nettoient et exfolient la peau. Scrubs clean and exfoliate the skin. 25 min 65 €
Gommageausavonnoir|softsoapscrub
Idéal pour nettoyer la peau en profondeur et lui rendre éclat et douceur. Ideal soap to deep cleanse the skin and make it glow and soft. 25 min 70 €
soins spécifiqueS | Specifictreatments
pressothérapie | pressothErapy
Stimulation et dynamisation de la circulation par un gainage de la jambe exerçant des pressions progressives de bas en haut. Objectif : soulager les sensations de jambes lourdes. Stimulationofthebloodandlymphaticcirculation by progressive pressure of the legs from toes to thighs. Objective: relieve heavy legs. 20 min 45 €
cryothérapie | CryothErapy
Bandes de crêpe imprégnées d'une lotion cryogénique, pour soulager les jambes lourdes. Vasoconstriction par l'effet du froid. Objectif : améliore le retour veineux.
Cryogenic lotion impregnated crape strips, to relieve heavy legs. Vasoconstriction due to the cold. Objective: improve blood circulation. 20 min 45 €
Pressothérapie et cryothérapie | pressothErapyandCryothErapy 30 min 65 €
soins du corps | body treatments
OLIGOMER SPA/OLIGOMER SPA
Gommage et massage ressourçant et reminéralisant. Both rejuvenating and remineralizing massage and scurb 90 min 130 €
SEATONIC / SEATONIC
Enveloppement et massage fermeté Body wrap and firming massage 60 min 100 €
Minceur P5 (Anti-Rondeurs) | P5Slimming(RefineCurves)
Massage et enveloppement à la confiture d'algues. Massage and body wrap with algae jam. 60 min 100 €
Morpho Designer | Morpho Designer Soin contours parfaits, gommage et massage affinant. Perfect contours treatment, exfoliation and refining massage. 60 min 110 €
Golden spa (Sérénité du Corps) | GoldenSpaComfortingSoothing BodyTreatment
Le pouvoir régénérant exceptionnel de l'or 24 carats s'allie à deux fleurs aux vertus anti-âge pour sublimer le visage et le corps. The exceptional rejuvenating power of 24 carat gold combined with two flowers of anti-ageing propertiesforthebeautyoffaceandbody.
60 min 120 €
RITUEL AROMAVEDIC | AROMAVEDIC
RITUAL
Massage à l'huile d'abricot et un soin sublimateur visage. Apricotoilmassageandabeautifyingfacial. 90 min 150 €
Rituel corps délicieuX | Delicious bodyritual
Soin beauté du corps, exfoliation et modelage douceur au coquelicot. Beauty treatment for the body, Gentle Poppy seed exfoliatingmassage. 60 min 115 €
9
8
9
beauté des mains et des pieds | hands and feet beauty
Vernis semi-permanent O.P.I |
Semi-permanentnailpolisho.p.i
Des ongles impeccables jusqu'à 2 semaines. Immaculatenailsforupto2weeks.
pose + manucurie 45 € dépose 30 € Retouche 10 € fidélité ...................... - 50% sur la 6e pose
Gel-vernis vegan 1944 |
Vegangelnailpolish1944
Vegan et cruelty free, ingrédients d'origine naturelle, tenue jusqu'à 10 jours. veganandcrueltyfree,ingredientsofnaturalorigin, forupto10daysofwear.
pose + manucurie 45 € dépose 30 € Retouche 10 € fidélité - 50% sur la 6e pose
beauté des pieds « express » | beautyoffeet«express»
Bain massant, coupe + limage, cuticules, modelage.
Massagingbath,cutting+filing,cuticles,modeling. 45 €
beauté des pieds « sérénité » | beautyoffeet «serenity»
Bain massant, coupe + limage, gommage, callosités, masque, cuticules, modelage, pose de base.
Massaging bath, cutting + filing, exfoliation, calluses,mask,cuticles,modeling,basecoat. 65 €
beauté du regard | eyes beauty
épilations | waxing
Lèvres/Sourcils|Lips/Eyebrows 15 €
Demi-jambes + Maillot Simple + Aisselles | half legs+simplebikiniline+armpits 58 €
manucurie«express»|manicureexpress Cuticules, limage, modelage. Cuticles,filing,modeling. 40 €
manucurie « caresse » | manicurecaress Limage, gommage, masque, cuticules, modelage, pose de base. Filing,scrub,mask,cuticles,modeling,basecoat. 60 €
teinture | colouring Coloration des cils et/ou des sourcils pour embellir votre regard.
Eyelash and/or eyebrow colouring to beautify your eyes. cils 25 € sourcils 20 € cils + sourcils 40 €
Lèvres + SourcilS | Lips+Eyebrows 20 €
Maillot Simple | simpleBikiniline ....... 19 €
MaillotBrésilien|BrazilianBikiniline 32 €
Demi-Jambes + Maillot Brésilien + Aisselles | half legs + Brazilian Bikini line + armpits 70 €
MaillotIntégral|hollywoodBikiniline40 €
Aisselles|armpits .............................. 15 €
Demi-Jambes| halflegs 29 €
Demi-Jambes + Maillot Intégral + Aisselles | half legs + HOLLYWOOD Bikini line + armpits 76 €
Jambes Entières + Maillot Simple + Aisselles | fulllegs+simplebikiniline+armpits 70 €
Cuisses| thighs 32 €
JambesEntières| fulllegs.................... 42 €
Bras/Avant-bras|arms/forearms 20 €
Jambes Entières + Maillot Brésilien + Aisselles | FULL LEGS + Brazilian Bikini line + armpits ........................................................ 80 €
Dos |back 34 €
Jambes Entières + Maillot Intégral + Aisselles | FULL LEGS + HOLLYWOOD Bikini line + armpits 87 €
10
11