The Designer Issue
DESIGN +DECOR CONNECTICUT NEW JERSEY NEW YORK $7.99 US/$8.99 CANADA DISPLAY UNTIL 12/19/22
DESIGN
CONNECTICUT
COOL MODERNISM
Four Apartments are Masterfully Combined into a Single Family-Friendly Space on the Upper East Side
Story by Meryl Siegman
Photography by David Jiang + Marco Petrini
ROMANCING THE HOME
2022 Annual Design Issue
by Kathleen Syron
SECOND CHANCE
New Rochelle couple makes a family home out of a house they almost lost.
Story by Heather Shoning
Photography by Hulya Kolabas
VOLUME 19 ISSUE 5 | 2022
+DECOR
NEW JERSEY NEW YORK
Editor's Letter Ask the Experts In The Field 12 16 24 DEPARTMENTS Melange Profile 14 102
The
46
A
Stories
34 90
EDITOR'S
DESIGN +DECOR
Editor-in-Chief
Matthew J. Kolk mattkolk@me.com 203-820-1092
Managing Editor
Contributing Writers
Contributing Photographers
all brings many exciting changes: cooler temperatures; leaf colors turning bright yellow, orange and red; the beginning of football sea son and tailgating parties; and anticipation about the upcoming holi days. Don't get me wrong—I love New England summers—but fall is by far my favorite time of year. As the temperatures drop, we spend more time inside, and that means nestling into our homes.
FJane Beiles, Michael Biondo, Phillip Ennis, Tria Giovan, John Gruen, John Hannon, Paul Johnson, Neil Landino, Mark La Rosa, Tim Lee, Daniel Milstein, Durston Saylor, Eric Striffler, Carl Vernlund, Jonathan Wallen, Woodruff/Brown Photography
Ilove this time of year in the Northeast. The weather starts to become warmer on a regular basis, allowing us to spend more time outdoors, the grass is green and the beauty of our area shines.
Copy Editor Elena Serocki
Not to be too sentimental, but home really is where the heart is, and in this, our Annual Designers Issue, we explore the meaning of "Romancing the Home." We're talking not just about the romantic style, but of how we de velop a relationship with our spaces: the mystery of navigating a design and how it plays out in our lives, and the careful balancing act between femininity and masculinity in creating a romantic style.
Graphic & Web Design East Coast Home Publishing Group Publisher Shelley E. McCormick sm@dd-mag.com 203-545-7091
This year, we finally get a step back to normalcy: vac cinations are available to all, and we can start packing away those pesky masks. What a fantastic gift to bring in the summer months.
We had a great time putting together this year's Outdoor Spac es Issue. Our wonderful partners shared some fabulous outdoor spaces with us, and we think these impressive projects will inspire you to take your own home to the next step.
Account Managers
In our "Profile" department, we learn about an exciting time for internation ally renowned designer Cindy Rinfret, as she brings her daughter, Cindy, into the interior design business. "In the Field" covers how to make a house a home with some tips from top architects and designers about important yet often overlooked design elements. And don't forget to check out our out standing picks, "Fabulous for Fall," in the "Melange" section.
Matthew O'Brien
Kelly Ames Smith
Our feature stories, "A Classic in the Country" and "Modern in Montauk," are also top-notch. Both projects have that wow factor, and their attention to detail is nothing short of magical.
Design + Decor
With each and every issue, Design + Decor delivers informative and inspir ing articles on the very people and brands that create homes. We are their storytellers, and we are so proud to share each and everyone's experience— how they started, what motivates them and where they're headed. If you have a story you'd like to share, let Design + Decor be the one to tell it, because everyone loves a good story.
We hope you enjoy this special issue of Design + Decor, and we look forward to sharing our Amazing Transformations Issue—my personal favorite—in July. We'll be showcasing great projects in a variety of styles. If you'd like your project or firm to be a part of this, please reach out to us.
Best,
349 Forest Hills Boulevard Naples, Florida 34113
Design + Decor is published six issues per year. To subscribe: www.dd-mag.com. Back issues can be purchased at www.dd-mag.com. For editorial inquiries: Editor, Design + Decor, 349 For est Hills Boulevard Naples, Florida 34113 or e-mail: mk@dd-mag.com. For advertising inquiries: Please call Publisher Shelley McCormick at 203-545-7091 or sm@dd-mag.com. Reproduction whole or in part without permission is prohibited. All projects described in this publication are for private, noncommercial use only. No rights for commercial use or exploitation are given or implied. The opinions expressed by writers for articles published by Design + Decor are not necessarily those of the magazine.
Also, a huge shout of to Apadana Rugs, the location for this years cover shoot. Thank You! It was great!
Matthew Kolk - Editor-in-Chief
Matthew J. Kolk Editor in chief
EAST COAST HOME PUBLISHING
349 Forest Hills Boulevard Naples, Florida 34113
DD-MAG.COM
LETTER
James Eagen
Deborah Brannon, Lisa Gant, Susan Heller, Alder Grove, Anna von Stelzer-Worth, Kait Shea, Anastasia Storer
VOLUME 19 ISSUE 4 - 2022
EDITOR'S LETTER
Arik Levy Waterstorm Collection for Compac
Arik Levy shows a great interest in geometric bodies, be ing clearly reflected in his works. Like those created for COMPAC in which it is inspired by the nature of water for its creation, since it is an important element in the production of highly complex forms, mymarbleworks.com
Koi Vanity Cabinet
Koi carp is a recurring symbol of Japanese culture, which is highly appreciated for its deco rative purposes, not only in water gardens but also in Irezumi prac tice or, most commonly, in tattoos. maisonvalentina.net
This fluid and unusual chair transcends design and jewel lery. Conceived from a cuff bracelet, the Mandy chair will embellish any setting with its supple upholstery and a base in twisted high-gloss metal. bykoket.com
The Mandy Armchair
The Curated Kitchen
Design + Decor chats with Maria N. Tanzi of Majestic Kitchens and Bath Story by Elena Serocki
T he kitchen is undeniably the heart of the home. It's where family and friends gather for food, fellowship and fun, where memories are made to be cherished. To learn how to create such an essential part of the house, we spoke with Maria N. Tanzi, a designer with Majestic Kitchens and Bath in Mamaroneck, NY. She gave us the latest insight on how to design a kitchen that is both timeless and modern—yet tailored to our own specific wants and needs.
D+D: Can you please give us some suggestions for creating a timeless kitchen with the use of colors and cabinet styles?
MT: A Shaker-style door has always offered a classic/timeless look, with a shade of white as the natural pairing. If you start with those basics, you have the ability to take the timeless kitchen in any direction— whether it be more contemporary or more traditional—all with simple changes like decorative hardware, a different style of pendant lighting, window treatments or a wallpaper accent. Islands help maintain a bit of a timeless look, too, even if they come in a color like a pale green or light gray, or a wood tone. Marble countertops also help preserve the timeless look in a kitchen, as it is a material that never goes out of style.
D+D: What kitchen design trends will help create a more functional kitchen?
NT: Kitchen sinks have a lot more offerings available, with workstations that include accessories like integrated cutting boards, colanders and draining racks for more versatile and efficient use.
Open shelving can create easier access to everyday plates and cups, as well as provide a beautiful aesthetic. Walk-in pantries or tall pantry cabinets with roll-out drawers or shelves help organize kitchen staples and snacks. Under-cabinet lighting or task lighting helps to illuminate your work surface, making prep so much easier!
Smart appliances have been edging their way into "tech-savvy" homes, too. These include ovens you can connect to your phone to begin pre heating while you're out, or a refrigerator that keeps an inventory and creates a list of items you are low on for easier grocery shopping.
D+D: How can you create more storage space within designated stor age spaces?
NT: Any cabinet can be a lot easier to access with the use of inserts from companies like Rev-A-Shelf, Hafele or Kesseböhmer. Awkward blind corner cabinets have easy access with new inserts like the Magic Corner from Hafele, or with Lemans Blind Corner Pull Out Shelves. Gone are the old-fashioned corner Lazy Susans, with the dreadful cen
ASK THE EXPERTS 16 www.dd-mag.com
ter pole. In are the new revolving shelves that independently rotate on their own shelves with no center pole.
Sometimes a design will leave you with a narrow base cabinet that could incor porate an organized spice pull-out or a pull-out that has bins or canisters for utensils, leaving your countertops free of clutter. Tray dividers in a short cabi net over a refrigerator or at the top of an oven cabinet turn all your cutting boards, baking sheets, cooling racks, muffin tins and roasting pans verti cally (instead of stacked, one on top of the other), making access to any one of them so much easier.
Trash and recycling bins inserted into a cabinet make every kitchen more effi cient, rather than having a loose recep tacle just sitting in the middle of the space.
D+D: Can you please give us your top three picks for fun backsplashes?
NT: Stone Impressions has some amaz ing and unique backsplash designs: they
are artful imprints on natural stones that are customizable. Stonebridge has some beautiful mosaics that are made with traditional marble material in a new and modern application. A classic subway tile, but in a bold or hint of color, can always be fun—along with a change of direction in installation. Vertical works, too!
D+D: What sink materials are you seeing in kitchens?
NT: Stainless steel is always a top pick, as it is easy to clean and maintain, and it is affordable. There is a high demand for the white farmhouse-style sinks; we recommend Fireclay sinks. There has also been some interest in black sinks. Blanco offers a material called Siltgranit, which is a composite material with easy maintenance.
Resource: Maria N. Tanzi Majestic Kitchens and Bath 700 Fenimore Road Mamaroneck, NY 10543 914.381.1302, ext. 144 914.579.8306 (direct) majestickitchens.com
The Organizational Magic of California Closets
For more than 40 years, California Closets has delivered pre mium design and service— completely transforming how its clients live within their homes. As the name suggests, the firm specializes in design work and products for rooms used for storage, such as closets and mudrooms. While these rooms might seem like an afterthought, California Closets consistently proves that the way we store and organize the things we use in our daily lives can change the way we live—for the better. We caught up with Califor nia Closets designer Norma Zagreda for details about the transforma tive work the company does with its luxury storage solutions.
D+D: Who are the experts of California Closets?
NZ: The experts of California Closets are a team of talented designers who are masters of space, aesthetic and design. We provide each cus
tomer with a personalized experience from the initial consultation to installation. They are some of the friendliest people you will ever meet!
D+D: What are the benefits of working with an expert on a home storage solution project?
NZ: Do-it-yourself projects are trending these days, but it is important to work with an expert when tackling certain projects, such as reconfig uring a closet or mudroom. We are trained to assess a customer's inven tory, understand their needs and budget, measure the space, and create a design that solves their specific storage difficulties. We talk through everything, which makes the process more fun and collaborative.
D+D: How does your 3D software help simplify the design process?
NZ: The 3D software is fabulous because I'm able to bring the black
20 www.dd-mag.com ASK THE EXPERTS
How a good designer creates more space in the home with Norma Zagreda
Story by Hunter Powell | Photography by Stefan Radtke
and white drawing to life. I can show my customers exactly what their new closet will look like! With the click of a button, I'm able to change the finish and show the same design in different colors. The 3D software is an amazing tool when explaining details such as heights and depths. For example, imagine explaining what an eight-foot-tall bookshelf looks like versus showing what it looks like in 3D. We can even put the bookshelf in a 3D room that matches the actual space down to paint color and flooring.
D+D: How are you able to overcome challenging spaces, such a narrow, tight area, slanted ceilings and obstructions?
NZ: Challenging spaces are not a problem! The use of a laser tape measure certainly helps. Most homes, apartments and condos have obstructions such as access panels or vents, so this is to be expected. The California Closets CAD software gives the designer the ability to add these obstructions to the room and work around them without sacrificing precious storage space.
D+D: Do you work to assess the way the client lives in the home—the flow of traffic and the living patterns?
NZ: When you are in someone's home for an hour or more, you get a pretty good sense of the "vibe," which perhaps translates to traffic flow and living pattern combined. I observe the aesthetic, assess areas where storage could be beneficial and, most importantly, listen to what the customer is saying to deter mine how I can help. I also take lots of notes.
D+D: What does the installation process entail?
NZ: The installation date is determined based on earliest availability and the customer's convenience. California Closets installers are professional, prompt
Design + Decor 21
and polite! They show the customer the ease of adjustability upon completion, which is a helpful reminder that the closet will grow with them. They also always wear booties and make sure to leave your home spotless.
Resource: California Closets Norma Zagreda 1625 York Avenue New York, NY 10028 914.592.1001
16 Saw Mill River Road Hawthorne, NY 10532 914.592.1001
26 Varick Street New York, NY 10013 646.486.3905
565 Westport Avenue Norwalk, CT 06851 203.924.8444 californiaclosets.com
MAKING A HOUSE A HOME
Story by Kathleen Syron
n this issue's "In the Field," Design + Decor reached out to top architects and interior designers to give us insight about some of the most overlooked elements in residential design: natural light, kitchen faucets and mudrooms. These critical and fundamental features don't usually get the attention they deserve, so we de cided to aim the spotlight on them this month.
Contributing to this discussion are:
Christopher Pagliaro (CP)
Christopher Pagliaro Architects, LLC
Dawn Corbo (DC)
Torrco Kitchen and Bath Showroom
Dinyar Wadia (DW)
Wadia Associates
Stephanie Rapp (SR)
Stephanie Rapp Interiors
Michael Smith (MS)
Michael Smith Architects
Denise Davies (DD) D2 Interieurs
ARCHITECTURE
Exploring light and the health benefits that architecture can bring to design, with Christopher Pagliaro Architects and Wadia Associates.
D+D: Scientists and medical professionals at leading institutions, including Johns Hopkins University, the Mayo Clinic and the Uni versity of Texas, now document the health benefits of fine design and architecture. What do you see as your responsibility when de signing a project?
CP: I absolutely believe that good design contributes to a healthier lifestyle. In fact, I believe that is the very essence of architecture— the subconscious and "how we feel" in the environment around us, whether in a natural landscape, a designed outdoor living environ ment or, of course, a shelter. Consider how one feels when on va cation: the sensory experience of what surrounds us. It could be the aroma of a spa, the music, lighting, the scale and comfort of a space, the view—which could be of snow-covered fields, the colors of autumn or the water. I'm often told by my clients that they feel as
IN THE FIELD
I 24 www.dd-mag.com
Christopher Pagliaro Architects
though they "come home to vacation" and are energized by it. The moment they pull into their driveway, they tell me, their difficult day is forgotten because of the pleasure of being in a mentally comfortable living environment. It is my interpreta tion of "lifestyle," and my duty to create it.
D+D: How can we use more natural light in the overall de sign?
CP: Natural light is an essential part of creating good design. It expands the living space into the landscape, and it creates optimism and curiosity that transcends the vertical walls of the shelter. Light draws us; it makes us want to know where it's coming from, and it sparks curiosity that makes us want to experience more. It draws our eyes through a room, expanding the experience.
DW: Architecture and nature coalesce in three-dimensional space, and that's never more apparent than when you look at the natural light that enters a home. We always stress the build ing orientation with our clients. On every site, we determine the path for sunlight throughout the day, and make sure there is optimal light that meets the client's requirements.
Design styles can play a big role in how natural light enters your home. We look at both direct and indirect light, the way light will travel down a staircase, or how light reflects off the ceiling in your breakfast room. On one project, we used clere
Wadia Associates
D2 Interieurs
story windows in an Arts & Crafts-style home to showcase the mountains in the distance, and to block the part of the view that was less desirable. In another project, in the Jacobean style, there are turrets that hold bay windows with mullions and with small, diamond-shaped glazing for visual interest and additional light. While wildly different in their approach, each design was used to maximize natural light.
KITCHEN
Torrco's own Dawn Corbo gives us the inside scoop on kitchen faucets.
D+D: Which kitchen faucets do you recommend for homeowners?
DC: For kitchen faucets, the single-handle pull-down is most popular because of its ease of use, cleanability and style. Most people use this for their main sink in the kitchen. Secondary and bar sinks are smaller and don't get as much use, so the two-handle style is appropriate for this application. The two-handle styles are also popular for those who love a classic look in their kitchens. A good two-handle faucet to consider is the Hansgrohe brand Central Bridge.
Smart and touchless technology activations minimize cross-contamination, improving the overall wellness of the kitchen. In addition, the peripheral position of the sensor minimizes false starts and optimizes water usage. I would recommend the Brizo Smart Technology and VoiceIQ, which allows for every function to be done by voice, such as changing temperature, turn ing on and off, and dispensing measured water. I also recommend the Brizo VoiceIQ Module, which allows you to dispense the exact amount of water
Michael Smith Architects
you need completely hands-free, so you're able to move freely—and work smarter. Just command your faucet to turn on and off, warm up or dispense exactly the right amount of water, all without lifting a finger. Another great touchless faucet can be found in House of Rohl's Perrin & Rowe Armstrong collection—just a wave of your hand turns it on and off.
Many companies have matching styles of different faucets to create a suited look. For example, Perrin & Rowe Armstrong Instant Hots match the whole line.
MUDROOMS
We asked Denise Davies of D2 Interieurs, Stephanie Rapp of Stepha nie Rapp Interiors, and Michael Smith of Michael Smith Architects how they incorporate style with function in a mudroom.
D+D: How would you elevate your mudroom/laundry room?
DD: I would recommend MTI's Jentle Jet Laundry Tub, which is great in the laundry room for delicate washables and bathing suits, and for soaking stained items. The powerful micro-jets thoroughly launder delicate washables and are available in drop-in or under mount application.
SR: There are several things you can do to create a beautiful space that is still functional. A well-designed, high-end mudroom entails using materials in interesting ways and adding luxury features. I like to design using a lot of trim work, even in casual settings such as a mudroom.
In this mudroom, I put in my signature shiplap, a 22- by 24-inch medium density fiberboard (MDF) shiplap, and a step ceiling. This clean and sophisticated look immediately changes the feel of the room from necessity to luxury. I also matched the ceiling with the family room, so the mudroom is connected to the overall design scheme of the house, and not an afterthought. The most elegant color combina tion is deep black with crisp white, both with some amount of sheen to make it even more special. I think the combination of luxury with more natural elements elevates the space as well. I used white oak in a panel form for the lockers, and a stone-like tile on the floor, creating a balanced feel and making it an elegant but livable space.
MS: We've seen mudrooms in particular evolve into more diverse and flexible functional spaces with multiple uses, in addition to be ing used for basic family storage. These include potting sheds, pool cabanas, mini laundry rooms, and home office/command centers. In addition, these spaces are becoming more well-appointed with higher
28 www.dd-mag.com
Stephanie Rapp Interiors
Torrco Home
Wadia Associates
quality finishes in cabinetry, trim and tile surfaces. They've become a more important part of the overall aesthetic of the home, rather than just a serviceable secondary entryway or storage room.
DD: The first project I ever worked on as an interior designer was a mudroom, and I've had an affinity for them ever since creating my own hashtag, #rememberthemudroom. I don't look at the mudroom as an afterthought. I design every room as if it's just as important as the next—especially the mudroom, as it is one of the most used rooms in the house. Just as I do with any project, I speak to the family and learn how they live and use the space, finding out what's important to them, as every family is different. I ask about kids, ages, hobbies, shoe storage and laundry. I incorporate the design of the mudroom to coexist with the rest of the home, but try to have some fun and use color and patterns in the mudroom if the clients are up for it. And why wouldn't you want to be a little daring in the mudroom? It's the perfect place for fun.
Resources:
Christopher Pagliaro 320 Post Road Suite 160 Darien, CT 0682 203.838.5517 christopherpagliaroarchitects.com
Michael Smith Architects
41 N Main Street #101 Norwalk, CT 06854 203.563.0553 michaelsmitharchitects.com
D2 Interieurs 646.326.7048 d2interieurs.com
Wadia Associates 134 Main Street New Canaan, CT 06840 203.966.0048
375 S County Road Palm Beach, FL 33480 561.282.9449 wadiaassociates.com
Stephanie Rapp Interiors
489 Post Road East, Suite 201 Westport, CT 06880 203.216.5835 stephanierappinteriors.com
Torrco Home
For a location near you: torrco.com
DESIGN +DECOR
Four Apartments are Masterfully Combined into a Single Family-Friendly Space on the Upper East Side Story by Meryl Siegman | Photography by David Jiang + Marco Petrini
COOL MODERNISM
Acouple with two college-bound sons have lived in the same New York City apart ment for well over two decades. Only it wasn't just a single apartment – it con sisted of four units that were purchased one by one over the years. Located on the Upper East Side, the spaces had been combined in a way that could be best de scribed as haphazard. The owners finally realized it was time to hire the right ar chitect to pull the whole space together to create a cohesive, flowing look with a family-focused vibe.
It all started several years ago, when they invited West Chin over to give them some advice on lighting for their foyer. The simple question, "What would you do if this were your place?" eventually led to a full-gut renovation of the entire apartment by West Chin Architects and Interior Designers (WCA). Established by West Chin in 1992 as the foundation for his architectural practice, the firm is known for its modernist style and em brace of minimalism that doesn't sacri fice functionality. Chin's work is defined by an uncluttered look and clean lines that create fluid, light-filled, spacious environments.
Design + Decor 35
The fiberglass carpet is Limited Edition's Extreme Carpet. The lounge chair is from Moroso. The sofa is from Gentry and the armchairs are from Talma.
According to Chin, "We were fortunate to provide everything from the inte rior architecture to the furnishings and accessories, and were lucky to work with a family who was as excited about even the smallest details as we were. Working around structural columns and building systems, we combined all four apartments seamlessly by taking clever and calculated steps."
The result was the successful conversion of the four twenty+ year-old units into an elegant and sophisticated 4000 s.f. apartment with three bedrooms and five bathrooms, spread over two floors. It was designed as a forever home for the family.
Sitting on a Gold Mine
"What often happens in New York City," Chin explains, "is that people pro crastinate, because renovating a home there takes a lot of time and effort. Often, they are sitting on a home that has a great deal of potential, but they would rather live with what they have rather than initiate the process."
In Chin's opinion, "If your home doesn't work for you, and you and your fam ily could have a better life, and you have the means to do it, then you should go for it. Developers make it easy for clients to buy a finished apartment and just move into it. These owners had something even better than what was on the market – they just had to initiate the process."
When asked what his clients hoped to achieve with the renovation, Chin re sponded that their priority was a modern, minimalist apartment designed in creams and neutrals. Another requirement was to create an uncluttered, dustfree environment, because both owners suffered from serious allergies. Ulti mately, they wanted a space for them and their family that really felt like home.
To accomplish this, they put their complete trust in WCA. They got rid of
36 www.dd-mag.com
The counter stools with full grain leather are from de Padova. Counters are from Caesarstone. Island is Boffi; back cabinets are Boffi in Arctic White.
almost everything they had accumulated to furnish the apartment and moved out for a year as the firm worked its magic.
Architectural Features
One of the most outstand ing architectural features of the home is the installation of a stunning bronze wall. It divides the kitchen from the dining area, while cunningly concealing the columns and risers that run through the wall and could not be relo cated. Chin describes it as "an artistic endeavor that really spoke to clients and created a sculptural pres ence within the space."
Rather than being a feature to "contend with," it was created instead as a feature wall what was both inter esting and beautiful. WCA hired an artist who built it off-site, etched it with a design that resembled tree branches, and then pieced it together on-site.
Another awe-inspiring ar chitectural detail is the custom stone staircase de signed by WCA, leading to the mezzanine on the up stairs level. As Chin puts it, "It cantilevers off the wall with effortless grace. It's a floating presence that adds sculpture to the space and creates a mystery about what's upstairs."
Then there's the gym, a room designed to lure the kids out of their bedrooms. Its most notable feature is the graffiti installation which highlights the boys' favorite sports and quotes to live by, creating a multidimensional space for the entire family to use. It was a collaborative process, in which WCA and the clients met with the graffiti artist to discuss the general de
Design + Decor 39
The Brooklyn graffiti artist collaborative Klughaus created the graffiti wall.
sign direction and colors they wanted to incorporate.
Furnishings and Fixtures
Some of the furniture, fix tures and accessories used throughout the home were sourced from West/Out East, a home décor show room created by West Chin Architects, with locations in New York City, East Hamp ton and Westport, CT. The showrooms offer modern, high-end indoor and out door furniture, decorative and architectural lighting, kitchen and bathroom fix tures, rugs and flooring, and home accessories with an emphasis on comfort able and functional modern design. They also feature WCA's furniture and acces sory collection, FTF Design Studio, an extension of the custom designs that WCA created for its clients over the years.
White-washed wide plank maple flooring was used throughout the house.
Kitchen and Staircase Area
WCA used neutral and cream backdrops with pops of color in places that can easily be changed over time, such as small furnishings. You'll easily notice the hanging chair in the space next to kitchen leading to the staircase. It is actually an outdoor piece, Swingme from DEDON.
The design was inspired by using "leftover space" that was not quite large enough for a couch. "We put it in a transitional space between the kitchen and the stair case, so we needed some thing that was a functional, but also fluid piece of furni ture," Chin tells us.
The owners added the re
Design + Decor 43
Wallpaper behind the bed is Maharam's Village Tweed
cord player, a cool, modern and functional interpretation that com plements the architecture of the home. Beneath the staircase is a purple upholstered window bench that was specifically designed for hanging out for long periods of time, as evidenced by the nearby plug-in jacks for headphones.
Living and Dining Rooms
The kitchen, living and dining rooms are designed as an open space. One long wall, stretching from the living room, through the din ing room and to the custom-made wine rack, presented a great op portunity for storage: the wooden doors behind the sofa mask the entrance to a long-term storage area. According to Kristen Forman, the Interior Design Director at WCA who worked on the project alongside Chin, sufficient storage is a big issue in New York City, where most apartments just don't have enough of it. "Our job is to maximize storage," she states. "Even if there is lots of it, it is never as much as you would find in a single-family house outside of the City."
Due to their allergies, the clients originally told the design firm that they did not want any rugs at all in their new home. Down and feath ers were completely out. But Kristen believes rugs are very impor tant in defining a space, especially in an open concept. She sourced ones that would not exacerbate the clients' allergies. The one she specified for the living room is Limited Edition's Extreme Carpet,
composed of PDC plastic and fiberglass, that does not collect dust. The custom dining room table is extendable, an important feature in tight New York City apartment space, to accommodate eight.
Master Bedroom
The design firm worked with the contractor a create the integrated side table in the master bedroom. The wall behind the bed with its low headboard was another opportunity to create additional storage. Because the ceiling is low, it was partially dropped to provide cove lighting to give the appearance of height.
In the end, it was worth the wait. Upon entering, one would never know this apartment spanning two floors was seamlessly created out of four single units. It serves as an extraordinary "forever home" for its owners.
Resource:
West Chin Architects and Interior Designers
Out East West Chin 237 Fifth Avenue, 12th Floor New York, NY 10010 212.242.4945
Design + Decor 45
West
wscarchitect.com
The His and Hers closets are from Porro, an Italian brand represented by West/Out East
ROMANCING THE HOME
2022 ANNUAL DESIGN ISSUE
Stories by Kathleen Syron
MICHELLE HOGUE
HOGUEID.COM
Photos by Emily Sidoti
Design + Decor 47
During COVID, a young family of five escaped the city with trips to Con necticut, where they were drawn to the charm of downtown Ridgefield. They found a bucolic property with an 1850s Victorian on a historic main street and set to make it their own. While the property had undergone several renovations, the interior was commensurate with the period of the home, making it feel stuffy and antiquated. Having seen her work via This Old House, the homeowners called on Michelle Hogue of Hogue Interior Design (HID), a full-service design-build interiors firm known for taking care of the details, with its blueprint-tobar-soap approach. The clients trusted the HID team explicitly, giving them design carte blanche. And the team delivered, reimagining and creating a beautifully balanced modern romantic aesthetic.
48 www.dd-mag.com
Hearkening back to 18th-century Europe, romanticism was a reaction against industrialism with an emphasis on spirituality. Foundational to the movement was aesthetics, a focus on beauty with a connection to nature, and a desire to uplift the human spirit. Hallmark architectural features included asymmetry, vaulted ceilings, turrets and spires. Interiors were whimsical and feminine, with botanicals, pastels and delicate fabrics. While Michelle Hogue still incorporates the ethereal, her personal interpretation of modern romantic style emphasizes a balance of femininity and masculinity: "Fiery versus floral, alluring but unassuming, and definitely sexy," she says. With curves in both architecture and furnishings, textiles that are pleasurable to touch, and the inclusion of scents like Santal 33, Michelle balances more masculine and desirable modern architectural elements.
At the Ridgefield home, HID started with the floor plan, creating func tional spaces while maximizing the amount of natural light. The view of this special two-acre property from the solarium's oversized, leaded windows showcases the mature landscaping and historic barn. HID designers painted the window mullions black, making the arches of the leaded detail and the exterior flora pop. Without being direct or overbearing, Michelle envelops the client with natural elements. Clean and minimal furnishings in neutral but family-friendly fabrics evoke femininity, with generous curves and fab rics that feel good to the touch. The canvas throughout the home is mostly neutral, with whites, grays and subtle greens and blues. Layering textures and decor adds interest and warmth to the home, encouraging its inhabit ants to relax, unwind and lounge—a feeling and response associated with the romantic style of yesteryear.
Design + Decor 49
DIANE DUROCHER
DIANEDUROCHERINTERIORS.COM
Photos by Mike Van Tassel
Clients of Diane Durocher Interiors were finally relocating from London to New Jersey, 13 years after purchasing an 1850s Vic torian home. They understand that owning and living in an older home is not for the faint of heart. These homes are laborious in their care, requiring constant maintenance and attention. Throughout this home's 160-plus years, it has weathered design styles including Victorian, Arts and Crafts, Art Nouveau, the more modern movement of Art Deco and what is now referred to as Mid-Century Modern. In the desire to modernize these "old girls," the details that made these houses unique to the Victorian era are often removed. Unfortunately, this home had become a victim of modernization. The homeowners hired Diane Durocher to address their design needs as well as aid in restoring and preserving the home's original romantic charm of a bygone era.
The living room, with the exception of the fireplace, has many original architec tural details. The clients wanted this room to have a formal ambience, which would have been expected and originally intended, but with updated, more tran sitional furnishings. The inspiration for the palette of the living room was the stunning brocade fabric that is upholstered on the back of the chairs and on the sofa accent pillows. The teal silk drapery panels frame the windows while accentuating the height of the room. The sofa is upholstered with a geometric chenille fabric that is durable and stunning. The teal Oushak rug adds warmth, anchoring the sitting area.
Design + Decor 51
The dining room—with its direct adjacency across the entry hallway from the living room—was completely stripped of all its original detail and mold ing. The petite French fireplace mantel was all that remained. It was im portant that these two formal rooms with their ornate details "spoke" to one another. Diane and her team installed crown molding and two astragal moldings with curved corner details on the ceiling, which would have been expected in a Victorian home. Painting the ceiling in three colors again re spects the Victorian's love of color and detail. The neutral damask pattern wallcovering adds texture, interest and warmth, and is the perfect backdrop to the dining room's furnishings, which are more traditional in design. The silk drapery is the same neutral tone as the wallcovering, continuing the un interrupted backdrop. The large Asian inspiration floral artwork accentuates the height of the room, and the palette is repeated with floral arrangements. Diane also incorporated additional organic elements into the design.
The family room is an addition to the original home. Its fresh, youthful ambience is supported with soft celadon and cream floral window treatments and casual slipcovered sofas that are anchored by the Oshak rug. The large fireplace, one of seven in the home, is the focal point of this room. As with the living and dining rooms, Asian-inspired artwork accessorizes the space, as does the cabinet. The swan, found at an antique store, adds a sense of whimsy.
At a time when the trend is "out with the old, in with the new," and tearing down these beautiful old homes has become commonplace, it's wonderful to see this gracious, romantic Victorian restored and preserved as a part of history.
Design + Decor 53
LARA MICHELLE
LARAMICHELLE.COM
Photos by Chuan Ding
Some designers are naturally drawn to a particular style, even if they are not aware of it. For Lara Michelle of Lara Michelle Beautiful Interiors, many of her designs have a natural romantic nature about them. "In my designs I use a lot of elements that one may associate with the romance design style, which means using materials and finishes that evoke a feeling of love," explains Lara. "I like spaces to be elegant and soft." If Lara were to specifically create a romantic room, she would use light colors and fabrics of whites and soft pastels. The fabrics would be sheer with perhaps a bit of modern lace, the furniture upholstered in luxe materials,
Design + Decor 55
and the lighting with touches of crystal. It just so happens that is the exact design that Lara created for a client—without even knowing it.
Lara Michelle's clients were a young family with middle school children. Their house was a new build with plenty of architectural charm, but it was un dressed. The homeowners asked for an open floor plan that included the kitchen, dining room, family room and study area. They wanted all the areas of the open space to flow together, while also being part of the whole design of the house. Their design style leans contemporary and transitional, and they prefer neutrals with little punches of color.
Design + Decor 57
LIS ARCOS LISARCOSINTERIORS.COM
Every designer has his or her own style and interpretation of known genres. For Lis Arcos, founder of Lis Arcos Interiors (LAI), "The romantic style does not necessarily mean a flower pattern or rococo style; I believe a romantic atmosphere can be created through loving emotions—adding rich textures, cozy materials, pastel colors, etc. It's a space a de signer creates for a client that they can fall in love with, generating passionate sensations."
Lis did just that with a recent project in the mountains of Vermont. Her client, a single wom an who loves the winter and especially skiing, always dreamt about having a weekend house in the mountains. Five years ago, her dream came true when she purchased a 5,500-square-foot mid-century-style house in Vermont. The client reached out to Lis for an overhaul, and LAI ren ovated the master suite and all the bathrooms while also redecorating the rest of the house.
Lis works very hard to cultivate a relationship with her clients so she can portray them accu rately in her designs. They work together for months, establishing a partnership to design a very personal, meaningful project: their home. This client has a contemporary aesthetic and asked for a timeless and sleek design that was cozy and unique at the same time. She also asked that her bedroom be a place where she can
60 www.dd-mag.com
both relax by herself or have a passionate weekend. Lis likes build ing rooms using natural elements such as wood or an exotic piece of art. She designs a balanced atmosphere that can set one's imagi nation free and lead the homeowner to fall in love with the space. This client, explains Lis, "wanted to reflect the outdoor nature in her master bedroom; we were inspired by the wintertime, nature and the forest to create that unique space. We incorporated wood, rich textures, fire and bigger windows into the room, bringing the outdoors to the interior."
Lis took inspiration from the landscape. She imagined the white mountains as a background, embracing the passionate aesthetic in the bedroom. She conceived a design around sculpted elements,
such as the suspended fireplace and the womb chair, with luxurious rugs and draperies. This fine art of balancing feminine and mascu line components is the key to a comprehensive and holistic design.
In the master suite, Lis created a space that is intimate but at the same time embraces the outdoors. She brought in the forest and mountains by incorporating a floor-to-ceiling sliding window, and then installed a suspended fireplace to be the heart of this mag nificent room. A womb chair and a cowhide rug grace a cherished corner where the homeowner enjoys peaceful hours during the winter, while a platform bed with luxurious bedding and a wood slat headboard complete the room—which her client did indeed fall in love with.
Design + Decor 61
LISA DAVENPORT LDDINTERIORS.COM
Photos by Neil Landino
When we think of romance, we think about fall ing in love.
We think about being in relation ships. To have a great romance, you need to be in a strong relationship. "Good, solid relationships foster a healthy mindset and overall physi cal well-being, and we all need this now more than ever," says Lisa Davenport, founder and CEO of LDD Interiors. "There is another relationship that is just as impor tant to a sound mind and body, and that is the one we have with our homes. It is where our life stories are written, where we find comfort and security, a place of belonging. It is our oasis, and we shouldn't compromise the value or impor tance of creating something we truly love."
"When a home is designed well, clients have a romantic relationship with their dwelling; they literally fall in love with their home," con tinues Lisa. When she is working
Design + Decor 63
with clients, Lisa applies the same elements to the design process that go into a successful intimate relationship: open communica tion, respect, honesty, trust and integrity.
Lisa utilized all these qualities when designing a Florida vacation home for her clients, a semiretired couple from Canada. She wanted to help them fall in love with their home, and started by getting to know them inside and out. "You really have to get to know your cli ent to give them a personal relationship with their home," she says. "The idea is that everything in the home has meaning or interest to the client."
The couple recently purchased a condo, but it had the impersonal feeling of a second home. When they reached out to LDD to refresh the entire condo, they were not expecting a life-changing adventure, but that's exactly what Lisa gave them. After getting to know the couple through numerous conversations, shopping trips and visits to the home, Lisa, with builder Cotter Construction, created a place they loved.
One of the activities the couple enjoys the most is entertaining friends in front of their amazing view or watching the game on TV.
Lisa enclosed an existing lanai and created a small bar and serving area out of an unusable nook. Now the couple has a place to enter tain where they hadn't before.
For most people, the bedroom is one of the most important rooms in the house. These clients were no different, but their requests were a bit extreme. The couple can sleep only in complete dark ness—indeed, they even put a piece of tape over the TV power light. This meant Lisa had to eliminate anything in the room that would break the darkness. She gave the windows blackout shades, planta tion shutters and additional drapery panels to make sure not one sliver of light got through.
When designing the bath, Lisa enlisted the help of the homeowners. The wife takes baths only, so a suitable tub had to be a feature of the room, not an afterthought. And although Lisa at first hesitated when the clients insisted that the mirrors extend to the ceiling, it turned out to be a great design feature. Having homeowners in volved in the design makes the process personal, and they easily fall in love with their home.
64 www.dd-mag.com
JEANNE COLLINS
JERMARDESIGNS.COM
by Jen Holt
Photography
Interior design projects can often feel in timidating and confusing for homeown ers. Everyone wants to love their home, but they may not have the imagination to know what they want. And love can quickly turn to hate if the house is not work ing for them. Jeanne Collins, the founder and principal designer of JerMar Designs in New Canaan, CT, takes the mystery out of design with a professional approach that is grounded in her experience in corporate business. Her personal understanding of the lifestyle challenges of her clientele makes her unique in the design world. Jeanne's concierge design services, com bined with her business and creative strengths, make the design process joyful, organized and on budget.
A recent project of Jeanne's was to design an office for a young family in Greenwich, CT. JerMar Designs was tasked with taking a bor ing, all-white spec home office and transform ing it into a space that reflected the style of the homeowners, while also supporting the needs of two distinct businesses. The Green wich homeowners wanted to feel connected to their office, yet the challenge was how to integrate form and function that would ap peal to them both. As first-time homeowners, the couple needed all new furnishings, which offered JerMar Designs the exciting possibility of a blank slate. "This was a rewarding design project," Jeanne recalls, "as the clients wanted spaces that felt like them, yet chal lenged their design sense, which they understood would result in a home
Design + Decor 67
that felt like it was not only theirs, but unique."
The husband works in finance, and he is often managing multiple screens while on Zoom calls with clients who have high standards. Likewise, the wife, who works with a private middle school, required a background that would reflect her per sonality and professionalism while on Zoom calls with parents and educators. Designing an office used by both hus band and wife required a delicate balance between femininity and masculinity. Just as in a romance or relationship, it is the balance that makes the whole greater than the sum of its parts.
Great design is all about balance and curation. For this couple, Jeanne played up a black and white palette to acknowl edge the dichotomy, and then layered in rounded decor and subtle pops of red.
Jeanne's custom-designed desk is a great example of the mix between masculin ity and femininity. The deep black piece with a thick top is softened by rounded corners. A curated mix of feminine and masculine accessories brings harmony to the bookshelves. Semigloss black wain scoting stands in contrast to a grass cloth wallcovering with elegant metallic accents, thus continuing the sophisti cated balance of strong and soft, delicate and bold. "I love how fresh cut flowers breathe life into a room." says Jeanne. "Soft materials such as throw blankets and sumptuous pillows simply look and feel good. A beautifully designed room makes you feel at rest and inspired. What is more romantic than that?"
Design + Decor 69
JONATHAN GORDON
THEJONATHANS.COM
Photos by Robert Norman
The romance style or aesthetic is not widely discussed in the design industry, so its definition and interpretation can be nebulous and highly interpre tive. Jonathan Gordon, founder and owner of Design by the Jonathans, based in New Haven, CT, explores the style from both historical and modern perspec tives. "The Romanticism Era is a defined artistic movement of the late 18th through the 19th century," he explains. "It was nostalgia for the past." The period emphasizes imagination and emotion, so any design that evokes emotions, especially feel ings of love, can be considered romanticism.
The modern interpretation is less precise. "Many designers feel the
Design + Decor 71
romance style is 'femininity' with an edge," continues Jona than. That may sound like an oxymoron, but if done correctly it can evoke feelings of love and wonder. Classically feminine design characteristics, such as curvature and soft color palettes, are often used to create emotion, no matter the style genre.
Jonathan's client, a retired attorney who's studying forensic sci ence, did not ask for the romantic style when she hired The Jonathans to redesign her home. She did ask for the inclusion of things she truly loved, so the resulting spaces are arguably an exercise in romantic design. Her main request was the creation of a glorious space that would make people stop and stare. Jonathan started in the kitchen by giving his client absolutely everything she needed to make the room work seamlessly with her busy life. This included excess storage, custom cabinet in serts, double ovens and a side-by-side refrigerator freezer. Jona than found a circular tile of varying shades of blue glass that reminded his client of Morocco, one of her favorite destina tions. The tile was patterned specifically for this kitchen, and the results are mesmerizing—a showstopper that makes every visitor's jaw drop. Jonathan highlighted the blue tile with light pastel blue cabinets. The fairly unusual color for a kitchen adds to the shocking allure the client wanted, but with the softness she loves.
Jonathan took the modern definition of romanticism and ap plied it to the powder room. He used neoclassical fixtures and a magnificent royal purple Thibaut wallpaper that hearkens back to earlier design periods. The stylized nature scene of the wallpaper is a strong and bold backdrop to the "feminine" antique mirror. The brass metal accents and amethyst crystal hardware give the room its edge.
Design + Decor 73
JAN HILTZ CHRISTINE HILTZ JANHILTZINTERIORSLLC.COM
Although Jan Hiltz Interiors LLC (JHI) has never been asked to create a romantic design for any of its clients, its designers can imagine using soft blushes of textural fab rics with light, airy sheers mixed with organic pieces—definitely feminine-forward. But for JHI, ro mance also needs a bit of the mas culine. Jan Hiltz always tries to mix masculine and feminine elements to get a holistic design that is attrac tive to men and women alike.
JHI's clients, a young family of four, bought a builder's spec home in Westchester County, NY. The
Design + Decor 75
homeowners were not enamored with the house, but the property was a gorgeous, lush escape. The clients had worked with JHI on a pre vious home, and they had built a strong rapport with the designers and trusted them implicitly. They asked Jan and Christine Hiltz to customize their new home with a higher level of design and sophisti cation than the spec house offered. After finishing an outdoor pool project for the family, JHI was asked to tackle the first-floor guest bedroom, which is off the patio and would also be used as a changing room.
The wife's style has a naturally feminine aesthetic, but the designers knew they couldn't decorate with pink roses and floral wallpaper. They needed to balance the feminine with masculine elements. The hotelinspired white linens against a pink velvet headboard under a dangling chandelier of intertwining strands of shells evoke the typical idea of romance. JHI added stronger elements, however, like the linear bed, textured woven wallpaper and wood furniture to create a truly bal anced romantic room.
Design + Decor 77
TORI MCBRIEN MCBRIENINTERIORS.COM
Photos by Neil Landino + Alex Taylor
McBrien Interiors has been successfully helping clients find true love for years. Owner Tori Mc Brien is not a matchmaker, however—she is an interior designer who r eally knows how to in corporate the language of love into all her de signs.
" To me, romance isn't a particular design style. It's a feeling,
a mood—energy-specific to every client and every home," says Tori. "It's felt in the carefully chosen shades of color for a spalike primary bathroom, or the balance of light in a formal living room, or the family-friendly functionality of an eat-in-kitchen. A client's love for their home is embodied in the little details, like incorporating furniture or art that have meaning to them and capture their particular essence. By utilizing our thought ful and intuitive design approach, we are able to curate spaces
Design + Decor 79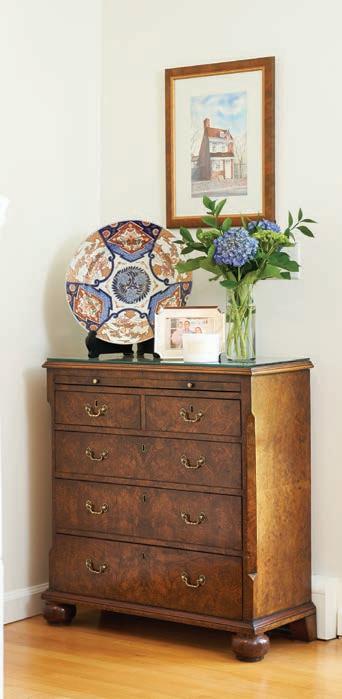 that reflect our clients' particular tastes and needs, and allow them to develop a unique and loving relationship with their home." Thus, romantic designs differ from home to home, but every design is romantic if the client falls in love.
One of Tori's clients had a family-friendly romance style. The client wanted functional spaces with a casual, lived-in feeling for her busy family. Since the house was large and quite grand, Tori needed to find a way to make the home comfortable and more acces sible to the whole family. She started with the kitchen, wher e most family activities take place. They needed seating for small and large groups, so Tori gave them many places to gather. She provided contempo rary wood barstools that are covered in a modern take on a chevron pattern on the is land, and then placed a mid-century modern table with Parisian bistro chairs as an eat-in option. The juxtaposition of the different styles gives the home interest and charm with a subtle, casual feel. Tori gave the same treatment to the formal living room, where her client wanted a room where she could entertain her friends, but which would not be too formal for the children. Tori used neutral contemporary furniture with decor items in fun pastels. The more traditional sofa and coffee table mix seamlessly with sea-green and coral accessories.
Another of Tori's clients was whimsical and fun. She liked traditional furniture, and even had a few antiques she wanted to be included in the design. She asked Tori to place them in a cheerful atmosphere.
Another example of Tori's romance design interpretation was for a family-focused client. Tori was asked to design their en tryway, which they considered one of their home's most important ar eas. The home owners wanted a familial welcoming so their guests would develop a sense of be longing. Although a relatively small space, it is packed with information. The antique chest of drawers was found while the couple was antiquing. The vintage Japanese Imari plate symbolizes their love of travel, while the painting above the bureau, by the cli ent's grandmother, emphasizes their fam ily's strong bond. Traditional decor items such as a crown, topiary and tassels give a hint to the homeowner's style.
Design + Decor 81
LAUREN VALLARIO
LAURENVALLARIODESIGNS.COM
Photos by Tracy Wind
Ayoung couple barely out of their newlywed stage was moving from Brooklyn, NY, to Darien, CT. They had recently purchased a traditional center hall colonial that they loved, but the house did not reflect who they were or how they lived. They reached out to Lauren Vallario Designs, Inc., based in Westchester County, NY, to help them create a warm, sexy retreat that would welcome them and their guests like a big hug.
Design + Decor 83
The project started with the kitchen and master suite, and quickly expanded to a whole house remodel. The clients want ed to keep the traditional integrity of the home but modernize it with current finishes. "They were a young, hip, fashionable couple in love, and I wanted their house to mirror them," re members Lauren. She sought to design a romantic style that evokes a sense of warmth with a moody or glam element. For Lauren, romantic is "anything that makes you feel like you want to pour a glass of wine, turn on some music and luxuri ate in your surroundings." The designer found a way to mix the traditional with modern aesthetics to create a sexy (yet romantic) feel in the home. She filled the house with lush finishes and stunning pieces of brass, gold, glass and crystal, surrounded by deep tones.
The biggest project was the kitchen. Lauren worked with Ex ecutive Craftsman of Fairfield County, CT, to remodel the entire space, giving the homeowners an eat-in kitchen with
an abundance of storage and plenty of sex appeal. To set the tone, Lauren chose a dark, moody charcoal color for the cabi nets and the island. The kitchen maintains its traditional style with crown molding, but is updated with quartz countertops and backsplash. She dressed the room in sexy black and brass elements, with the centerpiece being a La Cornue range and matching hood. The color scheme is repeated with brass chairs and black and brass globe pendants.
Lauren transformed the husband's office—originally a dark, traditional mahogany space —with the use of modern ele ments. "I wanted to update the room but still keep it mascu line," she says. She used a medium-gray tone on the paneling and dressed the windows in luxurious floor-to-ceiling white drapery. The now bright room is anchored by a large herring bone desk and a leather Chesterfield sofa.
Design + Decor 85
LEA SHULMAN
LEASHULMANINTERIORS.COM
Photos by Kyle Norton
An eclectic couple moving from Las Vegas to Greenwich, CT, came to Lea Shulman to design their dream home. They relocated to the area to be near family, especially the grandkids, so they need ed space to entertain, but also cozy niches for just the two of them. The professional semiretired world travellers were starting fresh in Connecticut, but they brought a few pieces they truly loved and wanted to be incorporated into their new residence. In any other home, these treasures might be overlooked; for this couple, however, these keepsakes were very special and brought back strong memories that warmed their hearts and made their new house a home.
Lea Shulman Interiors, with the help of architects Mark Maidique and Sharon Shoemaker, and expert execution by Quinndico Custom Home Builders, set about reconfiguring the home, once owned by actor Henry Fonda! The team designed a modern home with an edge, focusing on bringing the outside in. However, the design could arguably be considered a romance style as well. "Ro manticism is all about emotion and individualism, and that is the epitome of this design," explains Lea. The couple surrounded themselves with their prized possessions to make them feel welcome and settled in their new unique home.
Design + Decor 87
The existing kitchen had recently been remodeled, so the homeowners didn't feel it necessary to change it completely. Lea drew from the architect's drawings and helped customize the space for her clients by repeating the concrete color for the hood (which mimics the drift wood finish in the concrete stair base) and its surround ing shelves for the new island counter. This was Lea's jumping-off point. The homeowners liked the simple style, the blue and white color scheme and the fact that they could save money. Lea took all these factors under consideration when designing their home.
One of the challenges for Lea was revamping the main bathroom. The shower was encapsulated in a rusty/ brown marble, and the floor tile in a green/beige tint. Removing and replacing the tile and stone was costprohibitive. Lea then expertly matched the rusty marble color to a fantastic floral wallpaper by York that had jewel tones of green and red with soft pinks. She then painted the bathroom a dark green to complement the wallpaper. The clients fell in love.
Design + Decor 89
Malka used repeated curved details throughout the home to create continuity in the design and to draw out the Mediterranean feel. The club chairs with satin brass and cabinets with arched tops, all from Four Hands, define the living room space.
A New Rochelle couple makes a family home out of a house they almost lost. Story by Heather Shoning | Photography by Hulya Kolabas
SECOND CHANCE
Miriam and Ari Loren have five boys. That's a lot of sports, a lot of rough housing and a lot of food! As the boys were grow ing, the family needed a larger home and more outdoor space for activi ties. "We were looking for a home that would fit our needs, which perhaps are unique to others' needs, given the size of our family," Miriam says. "And since we were not new homeowners, we knew what we were looking for. We were hoping to find a piece of land and perhaps a property we could customize for our own needs."
Ari spotted a home not far from their current home in New Rochelle, NY,
Design + Decor 91
Malka designed the 14-foot dining table to fit the family and plenty of guests. Design Master chairs feature the signature curved detailing, and the dark wood beams draw in the Mediterranean feel. Above the table, a Corbett Lighting fixture brings a flowing, natural element into the space.
that had potential. It was a 1911 Colonial that, through previous remodels, had taken on a bit of a Mediterranean feel—at least from the exterior. The interior needed a complete makeover. But the couple was up for the challenge. "My husband had the vi sion, and I was sort of along for the ride," Miriam says. So, with architect John Woodruff and an engineer, the couple toured the home and began to imagine how they could expand and convert
the house to fit their family's needs. And then the home sold out from under them.
Although the couple wanted to move, nothing piqued their inter est until a year later when, driving by, Ari saw the same home for sale. The homeowners had started renovating it, but the project was too much for them. So, the Lorens snatched it up and, this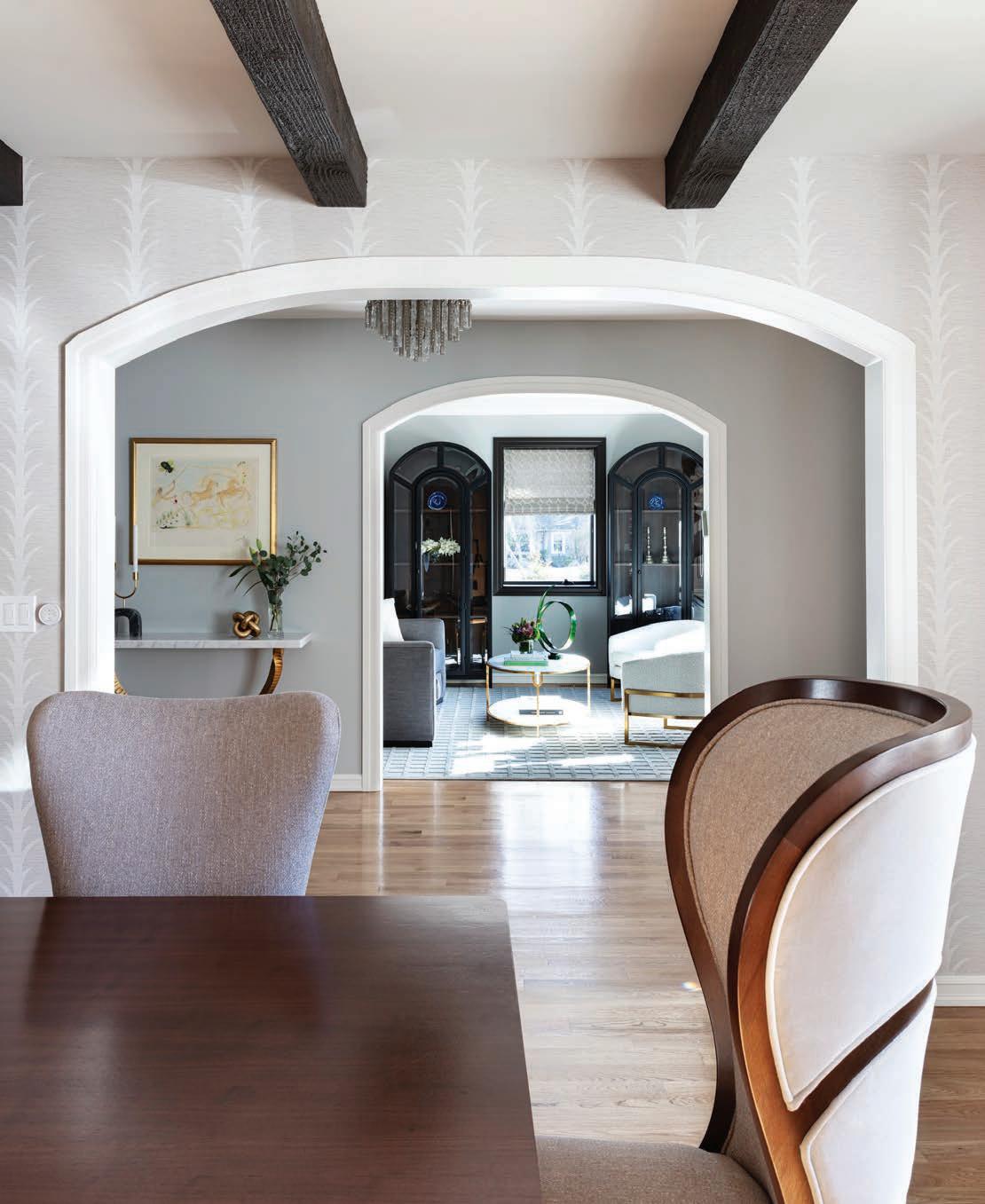 Design + Decor 93
For a family of seven with a kosher kitchen, Malka worked with Silva Cabinetry to custom design the perfect look and fit for everything the family needs. Although she might normally steer a busy family with several children away from a natural countertop material, the Taj Mahal quartzite was the best option to bring together the silver and gold tones that punctuate the home.
time, had a mostly hollowed-out home as the starting point. "It was gutted," says the couple's designer, Malka Helft, of Think Chic Interi ors in Westchester, NY. "It was very old, and it took a while to figure out the real features of the house." The family decided to embrace the Mediterranean aspects of the home and design around that.
"Part of the reason we went with this Mediterranean feel is because it fits their personality so well," says Malka. "They have five boys and they love hosting, so their house is constantly filled with people. The warm, inviting Mediterranean feel worked so perfectly." To accomplish the look, Malka focused on creating arches and exposed beams throughout the home and using creamy, warm tones for the walls. All the window trim is painted a dark bronze to match the frames for a seamless look. In addition to remodeling the existing home, the homeowners nearly dou bled the size of the floor plan, including expanding the basement's size and creating family spaces for working out, watching movies and more.
Comfort and livability were vital when it came to furnishing the home. "We wanted to make sure we would not be nervous about the kids en tering any of our rooms," says Miriam. "We didn't want to be hovering over them or making them anxious about ruining something. So, for the most part, all our stuff is quite durable and can withstand the wear and tear from kids." They spend a lot of time together in the family spaces of the home, so these needed to be durable and kid-proof, but still look
Design + Decor 95
This family takes family time seriously, and they spend it together in the home's public spaces. The furnishings needed to look great and stand up to wear and tear. The Kravet vegan leather sofa sets the tone for this room—it's both comfortable for a large family, and looks great for guests.
beautiful for entertaining. Many tables have rounded corners for safety, the wallpapers are washable, and Malka guided them toward performance fabrics for upholstered furnishings. "We picked high-performance fabrics for our chairs to the point where we splattered chocolate, orange juice and grape juice on the fabric swatches and then cleaned it up to see for ourselves that it was, in fact, durable to withstand that sort of stuff," Miriam says.
A somewhat challenging consideration Malka faced was that the family needed a kosher kitchen to feed seven people—plus guests. This meant she had to creatively design the space with double everything. Malka presented her clients with a stepped Shaker cabinet door style, and Taj Mahal quartzite that blankets not only the island but also the entire backsplash. "Quartzites have a bit of a translucent feel to them, where you actually feel the move ment of the stone," Malka says. Employing traditional upper and lower cabinetry and a large island, Malka had plenty of space to add two full-sized sinks, two dishwashers, two ovens plus a warming drawer and double spaces for all kitchen cutlery, cookware and more.
And because the homeowners love to entertain, the dining room features a 14-foot table that seats up to 14 people. For possibly one of the most es sential rooms in the home, Malka designed the table with a three-inch-thick top that features rounded corners. The host chairs at each end boast a regal look with high backs and wood details, while the side seating is slightly less adorned. Yet they all circle back to the roundness that repeats throughout
96 www.dd-mag.com
This lovely primary suite includes the bedroom and a sitting room that leads to the bathroom and closet. The Ambella Home smooth upholstered bed takes center stage in this cozy space. The valances and Roman shades lend to the quiet, tailored look.
the home, lending to the Mediterranean feel.
Malka used satin brass and nickel throughout the home in a way that they complement each other. "I always find it more interesting mixing metals throughout," she says. "It feels more authentic to me because, otherwise, it feels like you're just stuck with a trend." In the dining room, the chandelier and the hutch are silver leaf, add ing a softness to the space. The cabinet is significant to Miriam and displays heirlooms that symbolize the family's strong sense of closeness. "I came to this country when I was three years old with my sister and my parents as political refugees from Czechoslovakia," she says. "We came in 1982, and it wasn't until 1989, when communism fell, that we were able to go back to what is now Slovakia and visit our family. Most of our memories regarding holidays or the Sabbath were spent with us alone as a foursome, sometimes with friends, but it wasn't family." When the family reunited, Miriam received special family heirlooms, including a tablecloth, candlesticks and Moravian glassware. "I want my children to know about their past and to rec ognize that it is important to learn about one's history," she says. "Let them see there's something beautiful about this part of the world that they belong to."
Design + Decor 99
The family room is perhaps the one place in the home where durability, beauty and family to getherness are most evident. The sofa is a beau tiful azure vegan leather and sits in front of a bank of built-in homework stations. The por celain fireplace surround and natural wool rug are designed to withstand the test of time—and kids.
The living room near the home's front door plays up the Mediterranean style, with the double curio cabinets in rich black with arched tops. Malka added more curves to the room with a curved-front sofa; an oval, marble-topped cof fee table; and a pair of round-back club chairs. The textured fabrics and geometric-patterned rug bring both softness and a contrast to the curves of the furnishings. In making furniture selections, Malka says the homeowners were mainly concerned not with trends, but with what would be best for their family. "What I found fascinating with them is that they didn't lean to a certain trend or look—it was more what worked for them," she says. "It was more saying, 'Oh, this looks fantastic, and it will work for our home.' I love that about them. They weren't married to anything."
That being said, Miriam notes she can some times be too decisive because she simply wants to move on to the next decision. "I appreciated so much that Malka didn't allow me to do that if she could read from my body language, my facial expressions or even my voice that I wasn't in love with something, but I was willing to set tle on it. She wasn't willing to allow me to do that. I respected that."
Without making snap decisions, the Lorens, with Malka's guidance, were able to create their perfect family home. "We had a wish list of things we hoped for in our ideal home, and we were able to check everything off," Miriam says. "Ari was able to see a home where we were not on top of one another, a home that was hom ey—with no museum rooms—which is what we wanted. It's a home that can be filled with a ton of guests because we love to entertain for meals and for people to stay there. It's very rare that we don't have somebody staying in our house."
Resource: Think Chic Interiors Malka Helft 47 Soundview Avenue White Plains, NY 10606 212.533.8941 thinkchicinteriors.com Design + Decor 101 Malka selected a white and marble mosaic flooring that would give the primary bathroom a sense of history against the fresh, new Silva Cabinetry. The soothing blue walls contribute to the feeling of relaxation in this retreat for the homeowners.
Award-Winning Interior Design Firm Features a Talented Mother/Daughter Team
Rinfret, Ltd. founder Cindy Rinfret welcomes her daughter, Taylor Stebbins, to carry on the firm's legacy.
PROFILE
Story by Meryl Siegman
Cindy Rinfret, the founder and principal designer of Rinfret, Ltd., has been creating iconic interiors for more than three decades.
With design studios in Greenwich, CT, and Palm Beach, FL, and projects across the country, the firm is highly respected by its peers, and has received multiple design awards and extensive editorial cover age in magazines, including Traditional Home, House Beautiful and Harper's Bazaar and of course, Design + Decor. Best known for her luxurious yet livable design aesthetic, Cindy has authored two books, Classic Greenwich Style (Rizzoli, 2006) and Greenwich Style: Inspired Family Homes (Rizzoli, 2013), both of them glimpses into the elegant colonial, Tudor and English country-style homes populating the storybook town of Greenwich.
Cindy's daughter, Taylor Stebbins, brings her impressive international expe rience to Rinfret, Ltd. In addition to working for leading design firms in the U.S. and renowned vendors such as de Gourney in Paris, London and New York, the New York-based senior interior designer has also worked in marketing and banking. With a degree in advertising and psychology from Southern Methodist University in Texas, Taylor offers an eclectic and wellrounded background as the perfect complement to her mother's many skills and talents.
Growing up exposed to the exclusive world of high-end interior design, which included after-school internship experience, Taylor was cut out to join her mother's firm. "When you're surrounded by something your whole life that you really love, it's natural to want to pursue it," Taylor says. "But first I want ed to do something different and excel at it." After a successful career in public relations and banking, she was drawn back to the interior design industry, and found work on both the design and vendor sides. Then, in 2021, she joined Rinfret, Ltd. "My mother and I have always been super close, and working together was always in the back of our minds," Taylor explains. "When she asked me to join the firm, the timing was perfect."
While contemplating plans to grow the business together with Cindy, Taylor is quick to say that the internationally awarded design firm is already well established, and that her mother is still captain of the ship. "When I think of expansion," she says, "it's more about brand awareness and possibly a third
book. We're already at the top of our game with interior design, having a long-established reputation for offering the highest level of interior design for clients here in Greenwich, as well as all over the country. The next step is to continue to exceed our discerning clients' expectation for service and design, and to amplify brand recognition beyond those who are already in the know."
When asked about their professional relationship, Taylor says that mother and daughter work exceedingly well together, in part because of Cindy's collabora tive spirit as principal designer. "She is involved in every project," notes Taylor. "When we work as a team, she is always open-minded about others' input and suggestions. Working together has been wonderful." As for being the daugh ter of the firm's principal designer, she always feels at liberty to speak her mind without being in fear of her "boss," which serves to enhance the collabora tive relationship. "But I don't abuse that relationship," she adds. "My mom is absolutely incredible at what she does, and I try very hard to soak it all in."
Questioned about how she complements the relationship, Taylor responds that, though both mother and daughter gravitate towards similar design styles, the younger designer offers a modern, digitalized approach to the prac tice, while her mother has an incredible network of artisans—as well as de cades of expertise—that is passed down to Taylor. As a team, they both have a lot to offer clients from different generations.
"It's been so wonderful working with her," Taylor concludes, "especially after the years during COVID that were so difficult for everyone. I am lucky and thankful that I get to stay close to my family, and to work with someone so talented—who happens to be my mother."
Resource:
Rinfret, Ltd. Interior Design 39 Lewis Street Greenwich, CT 203.622.0000 rinfretltd.com
Design + Decor 103
Crownpoint Cabinetry
Construction and renovation proj ects are not for the faint of heart. They can be exhausting, nerve rack ing, time consuming and just plain stressful. "Our job is to not to add to that stress, but to relieve it," says Brian Stowell of Crown Point Cabinetry, a custom cabinet crafting com pany based in Claremont, NH.
For Brian and his team, that means holding to their promises and doing whatever it takes to solve any issues as they arise. "Let's assume a door is scratched," Brian says, using a rare but plausible occurrence. "They let me know, and we get the door replaced. We take full responsibility."
It's that same go-the-extra-mile attitude that's had clients returning to Crown Point Cabinetry again and again since Brian's father founded the company almost 45 years ago. What started out of the family garage quickly became a family affair, with Brian's mom and all seven children joining in. "We were like the Waltons, only we were in the cabinet busi ness," Brian jokes.
The company has grown exponentially in the years since. Today, Crown Point Cabinetry's clientele spans the country, ranging from all over the East Coast to Illinois, Texas, Utah, California and even the Caribbean Islands. The firm's high-quality, handcrafted custom cabinetry has been featured in projects with Home Again with Bob Vila, Country Living's
House of the Year and This Old House. Crown Point has been recognized by Builder Magazine as having one of the top-quality cabinets on the market, and a universal access kitchen the firm worked on made the cover of Fine Homebuild ing.
Clients can choose from two lines of cabine try: Crown Point and Crown Select. "We used to have just the Crown Point line, but people started asking for options at a lower price point," Brian says. Crown Select offers clients the same quality, fit and finish as the Crown Point line, but with a more limited range of customization.
But for Brian and the rest of the folks at Crown Point Cabinetry, it's as much about taking care of the client as it is about providing stunning cabinets. "We focus on making sure people are thrilled with us from start to finish," he says. "Our whole goal is to make life easy for our clients."
Resource:
Crown Point Cabinetry Brian Stowell
462 River Road Claremont, NH 03743 800.999.4994 crown-point.com
104 www.dd-mag.com
PROFILE
Story by: Tiffany R. Jansen | Photography by: Crown Point Cabinetry