AUSTRALIAN Three best dual-cabs // Tech's most wanted revealed Understand the hydrogen hype
Unlike traditional traps that uses a water trap within a bulky 'U' bend pipe, Abey's Space Save has an internal membrane which opens under water pressure to allow discharge to flow freely and then closes to form a seal to prevent foul odour or sewer gas entering the building. THIS
NEW ABEY SPACE SAVER UNDER VANITY WASTE NO MORE OF
Abey's new Space Saver with Self Closing Waste Valve has been designed for bathroom basins to give you back your valuable vanity space. Bulky ugly waste traps are a thing of the past. Low profile in design the Space Saver Waste valve brings the pipe plumbing straight to the back of your vanity giving you more storage space below the basin cabinet.
WV-1-AWaterlessHorizontalTrap
20417TCC
THEabeytrade.com.auTRADESMAN'SCHOICE SAVE SPACE IN YOUR BATHROOM Self-Closing Space Saver Waste Valve ABEY FANTASTIC PLASTIC PLUMBING PRODUCTS
t Unbeatable manufacturer direct pricing on premium quality Worcester & German made residential boilers and accessories t Our broad range includes standard efficiency and condensing boilers t Local after sales and customer service support t Trusted Bosch quality and reliability t Easy to use Online Shop nowAccessoriesBoschwww.bosch-thermotechnology-shop.com.au-HydronicHeatingBoilers,&SparePartsareavailabledirectfromBosch. Buy direct from Bosch Great reasons to buy from Bosch 30kW & 37kW boiler Scan QR code to create an Online Shop account and start buying today! Buy now using the NEW Bosch Online www.bosch-thermotechnology-shop.com.auShop Available for trade customers only
4 | Australian Plumbing Industry Magazine | Spring 2022 Hydrogen strategy Leading the way with Melbourne's sustainable sewerage treatment See page 14 Contents Australian Plumbing Industry magazine 15/306 Albert Street Brunswick VIC 3056 australianplumbingindustry.com.au Subscription changes To change your details or to unsubscribe, call 1800 133 871 or email info@plumber.com.au Print post number: PP100019076 Contacts Master Plumbers General enquiries (03) 9329 9622 Publisher The Master Plumbers and Mechanical Services Association of Australia (MPMSAA) E australianplumbing@plumber.com.au Advertising Marc Wilson T 0419 107 143 E advertising@plumber.com.au Suppliers ddmail.com.ausoutherncolour.com.ausaltcreative.com.au The new world order Disclaimer API is published for the plumbing industry and Master Plumbers Members by the Master Plumbers' and Mechanical Services Association of Australia (MPMSAA) ABN: 56 296 473 997. Responsibility for comment in respect of elections in Master Plumbers is taken by Peter Daly of 15/306 Albert Street, Brunswick, VIC, 3056. Advertising: No responsibility is accepted by the publisher for accuracy of information contained in advertisements in API. Publication of any advertisements does not constitute endorsement by the publisher of any product, nor warrant its suitability. Advertisements are published as submitted by advertisers. Copyright: No part of this magazine may be produced without the publisher's written permission Contributors: The views of external contributors and advertisers are not necessarily the views of Master Plumbers. Master Plumbers supports green printing initiatives. This magazine has been printed on FSC® certified paper using vegetable based inks by Southern Colour under ISO 14001 environmental certification. R U OK? Welcome 7 From the President and CEO Industry news 8 From science labs to the suburbs Take a tour 14 Victoria's hidden treasure Green energy 16 Focus on the future Tech's most wanted 18 Find the answers to some of the most asked questions Regulations 20 Get to know the 3500's Around the nation 22 What's happening in plumbing, locally and nationally Member profile 30 Helping the next generation of plumbers Vehicle reviews 32 Our dual cab 4x4 decider Health and wellbeing 36 Managing your mental health Member news 38 Heritage collection 40 Product news 42 Australia explores ways to meet its target of zero net emissions by 2050
Is your Discover our Lead Safe range TM TM tapwareNCC2022compliant? galvinengineering.com.au Water Solutions for a Healthier Environment
'Above-and-beyond' customer service has always been in our blood. It's a key pillar to our reason for being. The pandemic has only reaffirmed and strengthened our duty to our trade customers. We'll always prioritise coming together and finding the best solution. Turning our customers into mates isn't just a nice tagline, it's what we aspire to do every day.
Expert advice is part of our DNA.
2022 is set to be a year of growth for the trade industry and trade businesses need partners they can rely on. Plumbing Plus members are here to help you get the job done.
If you want to experience The Better Way to Trade™ you can find your local Plumbing Plus member at plumbingplus.com.au plumbingplus.com.au
Plumbing Plus has a long history of superior service and helping customers get the job done. Now, in our post pandemic 'covid-normal' reality, good old fashioned customer service is more important than ever.
As Australia powers forward, here at Plumbing Plus we're committed to our customers more than ever.
toDedicatedthetrade.
Here to help you get the job done.
Plumbing Plus was established to service the trade community. We do that with our $2 billion buying power – giving you the best brands at competitive prices. What's more important, however, is the expert advice that comes along with it.
Plumbing Plus is a network of knowledge and expertise as much as it is a network of members. It's a group of independents that are united in their unwavering dedication to the trade community.
Now that,s a Because service is more important than ever before.
Not only does this have implications for training and upskilling our workforce, but it also shines a light on the importance of attracting more plumbers into the trade.
President , Master Plumbers Peter Daly Chief Executive Officer, Master Plumbers from the President and CEO
Plumbers and gasfitters are the natural trade occupation to carry out the installation and ongoing maintenance of hydrogen systems in Victoria. Hydrogen skills are an adjunct to those existing competency-based skill sets, rather than the creation of an entirely new skill set or trade. There will be extensive opportunities for gasfitters to play a critical role in the installation and maintenance of hydrogen alongside traditional gas, such as natural and LPG, which remain an essential component of the energy mix in the transition away from carbon-based fuels in the medium-term.
Our opportunity to lead a nation-wide push towards green
Scott Dowsett
The plumbing and gasfitting industry has grasped the exciting opportunity to lead a nation-wide push towards green hydrogen, which is in line with the commitment several Australian states and territories have made to produce net zero emissions by 2050. Hydrogen can be safely added to natural gas supplies at 10 per cent by volume without changes to pipelines, appliances or regulations. Over time, and with modifications to the existing gas networks and appliances, hydrogen has the potential to completely replace natural gas for domestic cooking, heating and hot water.
| 7
The Master Plumbers' Board, along with our industry partners, PPTEU, PICAC and other stakeholders have already strategically invested large amounts of member funds, and are actively lobbying and campaigning to raise further funds in excess of $40M to ensure that we collectively have the capability to train the industry using world class technology, state of the art training facilities and curriculum to be at the forefront of this energy Meanwhile,revolution.incoming months, more than 180,000 students will complete year 12. Some of these students will be undecided as to their future. And there are also many students who will decide to not continue onto year 12. Unfortunately, many don't truly understand what a career in plumbing entails and where it can lead you, which is not helped by the 'university-first approach' in many school programs. We need to create more awareness of the scope of work that plumbers do to protect the health and sanitation of our nation by building and maintaining Australia's infrastructure. Green hydrogen is just one of the exciting aspects of what plumbing looks like today and tomorrow. Stay tuned for the next edition of Australian Plumbing for a special Plumbing Careers feature and see what your industry association is doing with its partners to secure the future of plumbing into the next generation.
Welcomehydrogen www.plumber.com.au
In this edition we focus on the future of our industry, from the transition to green-energy solutions to the critical role plumbers will continue to play in keeping our communities sustainable and safe.
Hydrogen can be produced as a gas or liquid and can be delivered through existing gas pipelines.
Green hydrogen, which is entirely emissions-free, is produced by a renewable energy-fueled electrolyser that sends an electric current through water to split hydrogen from oxygen.
"Unlike solar panels, the pumps, valves, compressors and air conditioning systems will require regular maintenance. If building and industrial heating shifts from natural gas to hydrogen, there will be considerable work required to upgrade the appliances and in-building pipes."
"Producing hydrogen by splitting water is simple in principle, but complex in practice. Each large-scale electrolyser needs a lot of skilled work to connect it to balance off plant equipment such as air conditioning, water deionisation units, hydrogen gas compressors and pipelines," he explains.
And with a National Hydrogen Strategy guiding Australia's short and long-term futures, it is clear that hydrogen will play a major role in Australia for generations to come.
The National Hydrogen Strategy, released in 2019 and developed by a Taskforce led by Dr Finkel, sets out a vision for a clean, innovative, safe and competitive hydrogen industry. The strategy outlines the piloting, trialing and demonstration of hydrogen projects before large-scale market activation from 2025 onwards.
With hydrogen now being used in part to power households, cars and barbecues across the country, the sky is the limit as to how far the clean, green alternative fuel can take us.
Industry news 8 | Australian Plumbing Industry Magazine | Spring 2022
Dr Alan Finkel (pictured opposite page), who served as Australia's Chief Scientist between 2016 and 2020 and is now the Special Adviser to the Australian Government on low-emissions technology, says having plumbers and gasfitters upskilled to work with hydrogen will be critical.
Over time, and with modifications to existing gas networks and appliances, hydrogen has the potential to replace natural gas for everyday activities like domestic cooking as well as heating and hot water.
The world's most abundant, efficient and cleanest burning substance is gaining more and more prominence as Australia explores ways to meet its target of zero net emissions by 2050.
So, what does the plumbing industry need to know and what role can it play as part of the transition towards a zero-emissions future?
From the science labs to the suburbs, hydrogen is officially here. Kathryn Kernohan interviews the experts to find out how it will impact our industry and our world.
Understand hypehydrogenthe
Master Plumbers is laying the groundwork for future demand for hydrogen skill development and training, including through our partnership with the Plumbing Industry Climate Action Centre (PICAC) which is developing a $20m state-of-the-art Hydrogen Training Centre of Excellence in Queensland.
The existing state-of-the-art PICAC training facilities in Brunswick and Narre Warren in Victoria are also being equipped with world-class hydrogen training equipment, including separate zones where training can be structured towards hydrogen gas.
Having plumbers and gasfitters upskilled to work with hydrogen will be critical Green hydrogen is emissions-freeentirely
"We need to give our consumers the satisfaction that hydrogen won't be dangerous – a big part of that is making sure that we do safety really well, to keep customer satisfaction and confidence at the highest level."
www.plumber.com.au | 9
"However, in some ways we're almost the last stakeholder to be involved outside of the consumer. We need the manufacturers to get on board because if we don't have the appliances that are ready for hydrogen, it impedes us installing gas systems for hydrogen.
Brendan Gould, Master Plumbers' Executive Manager Training Services, is confident that the industry is ready to start adapting to a new-look future and can play a vital role in supporting the wider public to understand the role and benefit of hydrogen.
Most states and territories have also produced their own hydrogen plans citing the important role of the plumbing industry in supporting the transition towards clean energy. Victoria's Renewable Hydrogen Industry Development Plan highlights the opportunity a hydrogen economy presents, particularly its capacity to bring new jobs and investment to our state. Victoria is currently home to 28,000 licensed plumbers, of which 20,000 are gas fitters, demonstrating the strong foundations to transition to working with hydrogen.
"We don't really know yet where things will end up, but we want our industry to start becoming aware of the fact that there will be opportunities to upskill and we will be presented with challenges moving forward. I like to think we have the capacity to transition into a space using a new fuel," he says.
"We continue to work collaboratively with industry and Government to let them know that hydrogen is a bona fide opportunity to transition to cleaner fuel," he says.
Brendan says a key role the plumbing industry will play is in educating the broader community that hydrogen is safe – in fact, safer than many commonly used fuels.
Other developments across the country include Australia's first modular hydrogen production and integrated fuel cell electric vehicles (FCEV) refueling operation in Truganina, Victoria. The site will eventually be able supply approximately 3,000 kilograms of hydrogen, with capacity to fuel more than 100 vehicles per day.
According to research conducted for the Federal Government, demand for hydrogen exported from Australia could be more than three-million tonnes each year by 2040, which could be worth up to $10 billion each year to the economy by that time.
"We are a trusted international energy supplier, and we have substantial experience in large scale resource and project development," he says. "As a large-scale producer of renewable electricity and hydrogen, we could domestically supply all the energy we need for a zero-emissions transport sector. Thus, our national energy security would be massively improved because we would not rely on oil imports. The hydrogen we export will help other countries to reduce their emissions and will give them a trusted alternative to their traditional fossil fuel supplies."
This is because, at some temperatures and pressures, high concentrations of hydrogen gas can degrade the quality of metal and older plastic pipes and potentially make them more brittle. Hydrogen is also a much smaller molecule, which makes some pipes and connections more prone to leakage. This can be addressed with ongoing retrofitting of parts of the existing network and through lining of pipes as we have done in the past in potable water and sewer networks.
"We believe that if Australia is to truly embrace and take advantage of the possibilities and opportunities provided by hydrogen, more training facilities will be needed in the future," Master Plumbers CEO Peter Daly says.
Australia's first refueling operation and the manufacturing movement
Australian Gas Networks has devised a hydrogenpowered, zero-emissions BBQ which produces the same results as a regular barbecue.
There is also movement in manufacturers exploring how hydrogen can power everyday appliances.
"The plumbing and gasfitting industries can be at the forefront of the push across Australian states and territories towards net-zero emissions, of which hydrogen energy sources can play an enormous role.
"We'd like to think similar products could be manufactured to use hydrogen as a fuel source and effectively burn fuel cleanly to make sure that we get the same level of output from the appliance, just from a different energy source," says Brendan Gould.
Hydrogen is not all about sustainability. It could provide a lucrative export.
10 | Australian Plumbing Industry Magazine | Spring 2022
"We know that moving forward there will be extensive opportunities for gasfitters in the installation and maintenance of hydrogen alongside or in place of natural gas and LPG."
A shift to hydrogen may require some infrastructure upgrades. For example, in Victoria, existing infrastructure is expected to accommodate blends of gas with 10% hydrogen but further upgrades and retrofitting pipes may be required if we move to high blends or pure hydrogen.
Dr Finkel sees a future where Australia is a potential hydrogen producing powerhouse, assisted by our sunshine, land and wind being conducive to producing renewable energy.
Australia is a potential hydrogen powerhouseproducingWe are a energyinternationaltrustedsupplier
"The overarching point to be made is that the requisite skill sets already exist within the plumbing and gas fitting workforce. Hydrogen skills should be thought of as an adjunct to those existing competency-based skill sets, rather than the creation of an entirely new skill set or trade."
According to Dr Finkel, who says the level of interest in hydrogen is at the high end of his expectations, the country is ready for the transition ahead.
Toyota takes on the hydrogen challenge
www.plumber.com.au | 11
Mitchell Park, South Australia
The renewable hydrogen is blended with natural gas at volumes of up to 5% and supplied to homes via the existing gas network.
"The public wants to be assured that the adoption of hydrogen will be safe and cost effective, but other than that a lot of people are ready for the shift to clean electricity and hydrogen fuel."
The pilot is part of the $14.5m Hydrogen Park South Australia (HyP SA) project, in which renewable hydrogen is produced using a 1.25MW Siemens Proton Exchange Membrane electrolyser with water and renewable electricity.
The current blend of up to 5% renewable hydrogen in natural gas is Australia's largest renewable gas project, residents do not pay any more than if they were receiving 100% natural gas, and households have noticed any changes to their gas supplies since the pilot was launched.
Indicative of the levels of curiosity and support of the shift to hydrogen, all of the more than 700 households in the Adelaide suburb of Mitchell Park who were approached to participate in a pilot to power their homes with a renewable hydrogen blend agreed to take part.
Mitchell Park
Toyota recently launched the second generation of its hydrogen fuel cell electric vehicle Mirai. The car's only by-product is water vapor. Hydrogen is stored in the Mirai's safe, durable and purpose-built tanks before being released into the fuel cell system. In the fuel cell system, hydrogen and oxygen from the air combine in a chemical reaction that creates electricity to power the electric motor. Much to learn but hydrogen is an important element to sustainable energy
While there is much to be learnt on the pathway to Australia meeting its 2050 obligation, Master Plumbers reiterated the enormous opportunity provided to its members in a 2021 discussion paper.
"There will be extensive opportunities for gasfitters to play a critical role in the installation and maintenance of hydrogen alongside or in place of traditional gas, such as natural and LPG," it says.
Dr Alan Finkel says, "It is professionally built, with the intention that it be a long-term capability rather than an experiment."
As initial steps are being taken across the Australia market with a view to potentially using 100% hydrogen as a residential energy source, Rinnai started demonstration testing in South Australia and Victoria to help drive the consideration of H2 as a part of the Australian energy-mix future.
In a world first, Rinnai Japan has developed a Continuous Flow hot water system for the domestic market, which uses 100% hydrogen-combustion technology and features zero-carbon emissions in a way that also addresses the issues of "explosion risk" and provides "combustion stability" sometimes associated with hydrogen fuel usage.
In addition, Rinnai also showcased its new Geoflo Hybrid 22 geothermal and inverter hybrid system, fully designed, and manufactured in Australia.
Rinnai Australia
Leeds Are you a plumber or a business working in the green-hydrogen space and want to tell your story? Email your thoughts membership@plumber.com.auto
The project is in line with the UK Government's pledge to reach net zero emissions by 2050.
Leeds, UK
Demolition and clearance of a major gas holder site in Leeds began in April 2022. It will be replaced by green hydrogen facilities which over time will service rail demand from Inverness station and a significant portion of the area's heavy goods vehicles and bus fleets.
The English city of Leeds is known for a worldfamous rock festival, having the oldest running commercial railway in the world, and now, an industry-leading project to convert the gas network to 100% hydrogen.
The Geoflo Hybrid 22 geothermal system utilises the abundantly free-renewable underground energy to deliver superior energy-efficient heating and cooling all-year round while also diverting surplus energy to the generation of essentially free hot water to the home.
These two new key innovative product developments will feature as part of Rinnai's rapidly growing renewable energy product portfolio, which already includes Solar Hot Water and high Coefficient of Performance (COP) Heat Pump system.
12 | Australian Plumbing Industry Magazine | Spring 2022
Rinnai Australia has unveiled two new renewable product technologies designed to support Australia's clean energy-mix future.
The H21 Leeds City Gate report found that the UK gas networks are the correct capacity to be converted to 100% hydrogen and that appliances could be converted to operate on 100% hydrogen. It found that the total cost to convert Leeds including hydrogen production and storage, all associated infrastructure and appliance conversions would be in the region of £2b.
"Unless or until the electricity network capacity is significantly expanded (given current policy settings, at consumers' cost) to meet the higher, persistent demand for electricity for winter heating load, full electrification will potentially cripple the networks at peak times."
For more information, visit engage.vic.gov.au/climate-action-target-2035
The economic benefits are also clear with the Council of Australian Governments (COAG) Hydrogen Working Group projecting that developing a Hydrogen Industry could create more than 7,600 new jobs and inject $11 billion into our economy by 2050.
As the submission points out, "The existing network capacity is already stretched, especially at peak times, and where short demand spikes occur, demand already exceeds the capacity of the network.
As the Industry asserts, Victoria is in a unique position to take advantage of a hydrogen-focused future.
Find out why peak bodies back Hydrogen
"Pipe infrastructure is key to hydrogen utilisation. Hydrogen cannot be safely distributed to and connected in homes and businesses without pipelines and related infrastructure. Victoria has in place some of the most extensive and well-maintained pipeline infrastructure in the world."
Master Plumbers has joined the Plumbing Industry Climate Action Centre, the Plumbing and Pipe Trades Employees Union, the National Fire Industry Association and the Air Conditioning and Mechanical Contractors' Association to make a submission to Victoria's Department of Environment, Land, Water and Planning's development of an appropriate state-wide emissions reduction target for 2035.
The submission highlights that while the long-term pathway towards net zero emissions is inherently uncertain, the planned transition away from natural gas towards green hydrogen will play a key role.
Also critical is ensuring that the electricity network capacity, which is limited, is used efficiently and acknowledging that premature full electrification of the network would have a detrimental impact on existing gas connections and in turn hinder the development prospects for green hydrogen production.
"Hydrogen has the potential to change the game in terms of renewable energy. Hydrogen can be burnt for heat in place of natural gas across a range of uses – homes and businesses, in heavy industry and for electricity generation," reads the submission.
That means that the current policy direction which appears focused on full electrification as the key to reducing energy sector emissions should not be considered mutually exclusive with hydrogen substation – rather, the two measures should work in parallel.
"Victoria has one of the most sophisticated and safe gas pipeline systems in the world [and] some of the best hydrogen enabling infrastructure in the world," reads the submission.
Instead, Industry recommends an emissions reduction plan recognising the potential value of the state's gas networks to distribute hydrogen, while considering options to retaining and maintaining the gas connection and distribution architecture will keep Victoria's energy options open. The submission also emphasises the importance of developing industry skills to adapt to climate change and reduce greenhouse gas emissions, a key part of which is safely using hydrogen.
"We see hydrogen as playing a key role going forward and so have focused heavily on preparing the industry to safely use hydrogen… if hydrogen is incorporated into the Victorian energy mix, plumbers' gas fitting training can easily be modified to ensure the safe operation of the gas networks and facilities powered by hydrogen gas, as well as the safe maintenance of household gas appliances."
For Victoria to not only be able to set but achieve its emissions target, it needs to retain, maintain and potentially adapt its existing gas pipeline infrastructure.
"This is primarily because Victorian residents are much more reliant on heating than residents of most other Australian jurisdictions; and significantly more reliant on natural gas to provide the energy for that heating than any other State or Territory."
The target to reduce Victoria's emissions by 65 per cent by 2035 is ambitious yet achievable, according to leading organisations representing the Victoria's plumbing and fire protection industries.
Victoria already has over 20,000 licensed and registered gasfitters and ultimately, a focus on adopting hydrogen as part of Victoria's energy mix would preserve the skills of those already in the industry, while opening the door for thousands of highly skilled, long term and low carbon jobs.
The Victorian Government will set an emissions reduction target for 2031-2035 by March 2023.
www.plumber.com.au | 13
And while the state is also more reliant on gas as a fuel source than any other state or territory – with more than two million connections and 65 per cent of the nation's total residential use – this can be seen as a competitive advantage.
Sustainability
14 | Australian Plumbing Industry Magazine | Spring 2022
It's the size of Phillip Island, a refuge for some of the world's rarest bird and frog species, was added to the Victorian Heritage Register in 2021 and is a leader in sustainable sewerage treatment and the production of recycled water.
Take a tour
Ultraviolet light and chlorine can be used to further disinfect the water to reach Class A standard. Each year, the plant produces 40 billion litres of recycled water.
The Western Treatment Plant is often referred to as one of Victoria's hidden treasures. And not just because it is an amazing habitat.
Alanna says that recycled water is vital for Melbourne's future, as population growth and climate change create a 'new normal' for water storage levels.
And what of the role that the plumbing industry plays in the effectiveness of the Western Treatment Plant?
www.plumber.com.au | 15
"Plumbers also play a role in educating the community around what can and can't go down the toilet or sink to help prevent contamination or sewer spills.
"We encourage plumbers to follow the new Western Treatment Plant Online Community Hub to keep up to date with the latest news - you'll also be the first to know when we run community tours, open days and when we want your thoughts on the future of the site."
The Western Treatment Plant's history dates all the way back to 1897, when the first homes were connected to what was then known as the Metropolitan Farm in Werribee. Its low-energy sewage treatment process takes about 30 to 35 days to produce Class C recycled water.
Melbourne Water, which operates the Western Treatment Plant, estimates that the amount of sewage that needs to be processed could almost double by 2050. Alanna says the organisation has a vision for a resilient and adaptable sewerage system that supports thriving, healthy communities and a liveable flourishing environment.
Each year, the plant produces 40 billion litres of recycled water
"Without improvements and innovations, that enormous sewerage network would reach capacity and our waste would impact on the health of our environment. Keeping our city healthy is essential to our way of life today, tomorrow and for generations to come."
"We are already working on how to achieve that and have collaborated with Melbourne's water retailers to develop an ambitious 50-year strategy which sets the direction for wastewater management," she says.
"Sewage flows slowly through these lagoons, gradually becoming clearer as bacteria break down the organic material in the water. Some of the lagoons have large plastic covers, about four times the size of the MCG, which are designed to keep out oxygen. These plastic covers also capture biogas that is produced by the bacteria."
"This reduces the plant's greenhouse gas emissions by about 500,000 tonnes of carbon dioxide annually and keeps energy costs down," she says.
"We also have an active program of re-using biosolids, the solid organic material created as a result of the sewage treatment process. Governed by some of the strictest guidelines in the world, the re-use of biosolids is being trialled offsite to improve the soil of agricultural farmland in western Victoria."
"The site provides an amazing habitat for birds thanks to a variety of landforms, lots of different tree and plant species, permanent water supply and plenty of insects to eat.
"One of the main challenges in wastewater treatment is peak wet weather flows when the flow received by the plant can increase fourfold. Plumbers play a key role in minimising this by ensuring that only sewage is connected to the sewerage system while downpipes are directed to the stormwater system," explains Alanna.
The Plant is also part of the circular economy, capturing biogas in the covered lagoons and converting it to renewable Approximatelyenergy.70,000 megawatt hours of renewable electricity is generated each year, which is currently 85 per cent of the Western Treatment Plant's electricity needs.
Alanna says a recent upgrade will generate more than 100 per cent of the site's needs – with the excess to be exported to the grid.
"We can use recycled water to water parks, sporting fields, gardens and for other non-potable uses. This helps take pressure off our precious drinking water supplies.
"In a changing climate that is becoming hotter and drier, it is going to be increasingly important to have recycled water available for the environment," she says.
"Class C recycled water is used on site for agricultural, environmental and conservation purposes. Class A recycled water is supplied to offsite customers for agricultural irrigation, parks and gardens as well as in cooling towers and third pipe systems."
In 1983, the site was declared an internationally-significant wetland for waterfowl under the Ramsar Convention. Its variety of habitats continue to make it one of the country's best sites for birdwatching.
A number of threatened species can even be found there including the brolga, orange bellied parrot and the red kneed dotterel," says Alanna.
"The Western Treatment Plant sustainably treats more than 182,500 million litres of sewage a year, or more than half of Melbourne's sewage, using a combination of mechanised treatment and a series of large ponds called lagoons," explains Alanna Wright, Manager Western Treatment Plant and Sewerage Transfer.
"Whenever the cost of energy can be reduced, it's always an advantage.
"Plumbers have always been focused on water saving and energy reduction, introducing products into the market that meet the needs and expectations of their clients."
The business works with residential and commercial clients including new and existing hospitals, residential towers and commercial towers such as 101 Collins Street and 222 Exhibition Street.
"Two years ago, the majority of systems that Thermal Energy Solutions was designing were predominately energized by natural gas. The shift towards emission reduction has seen our range evolve to meet this trend – our SmartCube tanks provide a primary energy source that is off-grid," says Jon.
"Thermal Energy Solutions is training at TAFEs throughout Australia to educate plumbers, apprentices and plumbing lecturers on new technologies. So, when they're confronted in the field or discussing something with a client, they can say that they have the confidence and the knowledge of the new energy expectations of everyday Australians."
Across his decades of experience in the heating and energy industries, Jon Palfrey has never witnessed a time like the present. Kathryn Kernohan reports.
"We have other components in our range that can control solar energy yield and distribute it into our thermal batteries in tanks, which the industry is now recognising as being pivotal in the shift away from the traditional energy source of natural gas."
The people involved in the purchase of plant equipment are always going to be looking at a bottom line result. But even the financial controllers are identifying that this isn't just a bottom line decision – this is far greater reaching.
"The current state of the commercial and residential water heating market is at its most pivotal and interesting that I've experienced in my career, with a significant shift towards carbon emission reduction and renewable energy," Jon Palfrey Commercial Manager of Thermal Energy Solutions says. Thermal Energy Solutions designs and manufactures high-efficiency heating solutions utilising energy from several sources including grid electricity, gas, solar PV and heat pump.
The business' systems utilise the innovative heat exchange tank ENERMAX, which has stainless steel exchange coils to heat water for consumption and the capability to heat water to as high as 85°C.
Focus on the future Green energy
16 | Australian Plumbing Industry Magazine | Spring 2022
Jon believes that plumbers have always been at the forefront of sustainability, and will continue to play a critical role in Australia's push towards net zero emissions by 2050.
Jon says clients are attracted by both the energy reduction benefits and the cost saving. As an example, a four-bedroom home in NSW self-generated 2,281kWh of electricity in 12 months using the 300L ENERMAX SMARTcube.
"We are all about energy efficiency, energy reduction, clean energy, carbon reduction and cost reduction. We're excited by the fact that we can visually see solar kilowatt input via DC current, that can be established on a screen to the hour, to the minute, showing what is being achieved, which gives people proof of the end result of the system operation."
Over a 12-month period the residents spent just $59 on AC electric boost-backup from the grid.
www.plumber.com.au | 17 +GST$3,999 Was $4,693 +GST NOW CHECK OUT THESE GREAT DEALS ON SEWERCAMS SEWERCAM C15 DRAIN CAMERA WIFI (SR60-2WL)CAMERA SR602DL 60M PUSH DRAIN CAMERA ZR60PTZ PAN & TILT DRAIN CAMERA $68 +GST* Per Week Total $13,900 +GST FINANCE $84 +GST* Per Week Total $16,677+GST FINANCE $170 +GST* Per Week Total $ 33,850 +GST FINANCE NEW TECHNOLOGYWIFI SCDSEWERCAMMONITOR 8.4" high definition TFT LCD screen SCD MONITOR 8.4" LCD TFT Sunlight Readable Monitor Call us on 1800 816 830 to find out more. enviroline.net.au * Based over 5 years with a $1500 deposit Earn while you learn and embark on a career that can take you anywhere. Plumbing has an essential role in maintaining public health and ensuring the environmental sustainability of our community. Qualified plumbers have skills and knowledge that will always be in demand and plumbing is one of the top paid trades in Australia. Have Plumbing?aconsideredyoucareerin Scan for more info
What does this mean? You can't convert back on the vertical plane. With the transition period now over for the Type 21 (POL) to LCC27 connections and valves, please ensure that any LPG installation work you are doing that involves leisure cylinders (typically, portable 4.5 or 9kg bottles) connected to BBQ's, outdoor appliances, caravans and boats, that were manufactured or had a compliance certificate issued after the 1st April 2022 have the new LCC27 connections. We are receiving a high volume of calls regarding charged storm water lines. With the removal of the technical solution sheet surrounding charged storm water, people are left wondering what to do. The answer: It is a requirement that all charged storm water lines/systems have a performance solution in place.
18 | Australian Plumbing Industry Magazine | Spring 2022 PE piping is simple and easy to use but there have been many instances of it being incorrectly used and its limitations not being adhered to.
What are (PE)Polyethylenelimitationstheofgaspipe?
Finally, a warning: Make sure you have insurance coverage for performance solutions or it could cost you dearly. With the ever-increasing number of jobs that require performance solutions, many plumbers are being left without insurance without knowing it. Please check that your insurer covers you for performance solutions, as many policies do not.
Further to this, Clause 5.4.7 Termination of plastic pipe and metallic continuation states: 'In Australia, plastics consumer piping shall terminate horizontally at least 300 mm below ground level and be connected to a metallic riser, which complies with the requirements of Table 4.1 for underground pipe'.
Tech's most
In our regular Master Plumbers' Series, our technical advice team share the answers to some of the most asked questions. For our Spring Edition, Aaron Bridger takes on the questions that send chills down the spine of plumbers and are a risk to consumers.
According to AS/NZS 5601.1, PE, like many other plastic pipes, is not permitted to be installed beneath buildings or above ground, undercover carparks and verandas are considered buildings and this seems to be commonly overlooked.
Do LPG connections?valvesconnectionscylinderandneednew
The AS1428.1 standard, which was updated in 2021, sets out the requirements for disabled bathrooms, except class 9B & 10 buildings and there have been some changes. This means that information provided in the Technical Solution Sheet 1.04 that was released by the VBA, has been withdrawn while under review. Master Plumbers is currently compiling an updated information sheet on this and will notify members as soon as it becomes available.
Do charged solutionalines/systemsstormwaterneedperformanceinplace?
Can you answer the wanted
www.plumber.com.au | 19 FAQs?
Cross connection control and backflow prevention. Several parts have been removed from AS3500.1 and upgraded to the NCC volume 3, Plumbing Code of Australia (PCA). The suitability of device chart is in the Australian standard, with the list of fixtures/appliances and corresponding hazard ratings relocated to schedule 41 of the PCA (pg 101). Cross connection/ and backflow information is in Part B.
Master Plumbers is seeking further clarification on water temperature provisions changes from the regulators. Visit plumber.com.au/AS3500 for more info.
A new drawing/figure, 5.5.2.1 (C) on pg 34 shows the minimum distance required for hole spacings in metal studs, when installing water piping systems.
Part 2: plumbingSanitaryanddrainage
Installation of water services located in metal framed walls.
Part 1: Water services
2 Other installations –The entry level of the branch drain may be on grade: • for repairs or extensions to existing installations; • where WC pans are not connected upstream; or • where the main and branch drains are not DN 100.
Master Plumbers Technical Advisor Aaron Bridger reports.
a) Electrical or telecommunications conduits. b) Electrical or telecommunications wires or cables. c) Consumer gas pipes. Sanitary plumbing and drainage. e) Storm water drainage. Other above-ground water services. g) Any other services. Where a pipe is insulated, the measurement shall be from the outer edge of any insulation or wrapped material applied to the pipework. Sizing of branches from circulatory heated water systems. Appendix Q has been added to improve the amenity of users and reduce wastage. Heated water temperature provisions. Information regarding delivery temperature and controls of temperature have been removed from AS3500.4 and are now covered in the PCA. One very interesting addition are scenarios covered in B2D5: • a heated water service is installed on the premises for the first time; or • the water heater forming part of an existing heated water service is: replaced with a like-for-like water heater; or replaced with a different type of water heater; or relocated, and is reconnected to, some or all of the sanitary fixtures to which it was previously connected; or more than one existing sanitary fixture is replaced with new similar fixtures; or an existing heated water service on the premises is altered or extended to serve additional sanitary fixtures.
d)
The maximum length of commercial dishwashing machine discharge pipes without venting and with the nominated minimum DN sizes shall be in accordance with Appendix B. Part 4: Heated water services Proximity to other services. This has been amended to bring it into line with Part 1: Water services. 4.3.2.2 Above-ground services. Separation of at least 25mm shall be maintained between any above-ground water service and many other services:
The end of the transition period for the 3500 suite of standards is here.
Junctions for drains installed at grade include: 1 New installations – Where a junction is used to make the connection of a DN 100 branch drain to another DN 100 drain, the entry level of the branch drain shall be elevated at an incline of not less than 15°.
f)
Commercial dishwashing machines.
Get to know the 3500's Regulations 20 | Australian Plumbing Industry Magazine | Spring 2022
www.plumber.com.au | 21 AUSTRALIA'S FUTURE OF CERTIFICATION IS THE IAPMO GASMARK FIRST IN FAST, PROFESSIONAL CERTIFICATION 7-11 Fullard Road | Narre Warren, Victoria 3805 | Australia | (+61) 3 8684 9580 | info@iapmooceana.org | www.iapmooceana.org GASMARK THE ONLY MARK YOU NEED
22 | Australian Plumbing Industry Magazine | Spring 2022
Business continues to boom in Tasmania with high work demand throughout the state. To meet this demand, we have been working with key stakeholders to address workforce shortages for the immediate future. These discussions have resulted in the rollout of a fully funded TasTAFE Certificate 2 in Plumbing for 100 participants.
Welcome Tasmanian Members
Our new Centre of Excellence for Water, Energy and Trades is on track for completion in March 2023. Hansen and Yuncken are doing a tremendous job in realising the dream of a state-of-the-art facility for plumbing training in Tasmania. To support our members and the wider plumbing community we have released 20 new CPD Courses on industrial relations for employers. These courses were built by MPAT, Master Plumbers Association of Queensland (MPAQ) and Pointsbuild, and are now available on our CPD Toolbox platform. Courses are subsidised by Keystone Tasmania. MPAT has also been busy consulting with CBOS on some key reforms. Just released are the new Occupational Licensing Supervision of Prescribed Work Code of Practice (CoP) 2022. The new CoP provides more flexibility in the supervision of apprentices whilst maintaining quality safeguards and work health and safety obligations. The new CoP can be found here at cbos.tas.gov.au We have also launched ERIC, an exciting on-line, plumbing-industry specific business reporting and management dashboard that helps tradespeople manage their business with the same themarket,themanagementIt'sthatprofessionalism,understanding,andconfidencetheymanageprojects.real-time,structuredbusinesstooltohelpmanageimpactofthevolatilityoftheincreasingmaterialcosts,costandretentionofstaffandotherday-to-daychallenges.
Our new Centre of Excellence is on track for completion in March 2023 Tasmanian news
•including:
or
What happens when two iconic Tasmanian businesses join forces? The answer is a partnership between Master Plumbers Association of Tasmania and MyState Bank – and amazing deals and savings for Master Plumbers members.
A final reminder to members that we have a range of resources and services available including access to AS 3500 (heavily discounted), contract templates, employment contracts and IR/HR support to help our people run successful businesses. We pride ourselves on being responsive to member and industry needs in Tasmania and we thank our members for working with us to achieve this outcome.
"MyState is a proud Tasmanian bank, and we are heavily involved in the Tasmanian community," says Jackie Green, Area Manager Home Lending – North at MyState Bank. MyState offers a range of services including award-winning home loan and savings accounts, general insurance through CGU and referred health insurance through an agreement with St Luke's Health. Through its TPT Wealth arm, which has been part of the financial landscape in Tasmania for 134 years, the bank offers managed funds, trustee services (such as Wills and estate planning, estate administration and charitable trusts) and commercial lending.
• Lower interest rates: .10 basis point discount off advertised Basic Variable rate –new home loans only Earn more interest: 0.05% p.a. additional interest on term deposits
•
MyState Bank also supports a range of Tasmanian companies including Football Tasmania, Tasmania JackJumpers (NBL), Layne Beachley's Awake Academy and is a naming rights sponsor of the MyState Bank Student Film Festival. With a new partnership with Master Plumbers Association of Tasmania, there has never been a better time for members to join MyState Bank and take advantage of the range of benefits and specials. learn more about how MyState Bank can help you, call Jackie on 0484 140 009, email com.aujacqueline.green@mystate. visit the MyState Bank website at www.mystate.com.au
www.plumber.com.au | 23
Special deals and savings for members
We are currently trialling ERIC for three months with a group of members before rolling it out to the broader industry.
Anthony Balik
• Discount on St. Luke's Health insurance: Enjoy the benefits of discounted health insurance premiums when your direct debit is withdrawn from a MyState Bank account
To
• 10% Discount on general insurance policies: Car, Home, Contents, Landlord
Find your local association Master Plumbers and Mechanical Services Association of Australia (Victoria) T (03) 9329 9622 Master Plumbers Association of Tasmania T (03) 6272 2199 Master Plumbers Association of Queensland T (07) 3273 0800 Master Plumbers & Gasfitters Association of Western Australia T (08) 9471 6661 Master Plumbers Association ACT Inc T (02) 6112 8630 Master Plumbers Association of South Australia T (08) 8292 4000 Master Plumbers & Mechanical Contractors Association of New South Wales T (02) 8789 7000
MyState Bank is offering a range of discounts and special offers for Master Plumbers members,
Award-winning accounts: Open a Glide transaction account or Bonus Saver Account and enjoy no monthly account fees
• 100% discount on TPT Wealth Will preparation fees with TPT Wealth as your Executor (Tasmania only)
MasterPresident,Plumbers of Tasmania
24 | Australian Plumbing Industry Magazine | Spring 2022
Skyline Roofing & Sheetmetal was established to provide contractors with specialised expertise in metal cladding and went on to become one of Tasmania's largest commercial and industrial roofing and cladding companies.
"I remember when I was younger, Dad was always busy and Mum did the accounts and admin for the business, so it was great for me to see how their jobs worked and how they were able to support the family while managing the business."
After he finished university, Scott ended up working in in civil construction drafting and in 2013, he joined Kaylee at Skyline Roofing & Sheetmetal. Two years later, the pair took over the business.
Tasmanian news Flipping good partnership
"When we met, I was working part-time while I was at uni(versity), and Scott was in Year 12. My parents had established Skyline Roofing & Sheetmetal in 1984, so I had a lot of exposure to the construction industry when I was growing up and for as long as I could remember, it was always something I knew I wanted to move into," recalls Kaylee.
When they met as teenagers at their part-time job at Hungry Jack's, Kaylee and Scott Coppleman couldn't have predicted that their relationship would take them from flipping burgers to managing Tasmania's largest dedicated commercial and industrial roofing contractor.
While the transition to ownership was smooth, it wasn't without "Wetrepidation.started the wheels in motion of taking over from Mum and Dad when Scott came on board in 2013, but the scariest part of it happening was the amount of financial risk we were taking on, which we probably didn't understand earlier on," says Kaylee. Participating in business training was also an important part of Kaylee and Scott developing the skills and confidence to take over the thriving business.
www.plumber.com.au | 25
I had a lot of exposure to the construction industry when I was growing up Skyline Sheds is a rapidly growing part of the business
Skyline Roofing & Sheetmetal also has more than 10 roof plumbers and apprentices, two sheet metal workers with welding backgrounds and three project managers as part of the team.
The business has completed major projects for clients including Woolworths, Launceston Airport and the University of Tasmania, as well as re-roofing two sheds at the Inspection Head Wharf in Beauty Point for the Tasmanian Ports Corporation, where the original roofs constructed in the 1950s and 1960s were badly corroded due to exposure to salt water. Skyline Sheds, which distributes industrial sheds, garages, carports and barns, is a rapidly growing part of the business that has boomed during COVID as more and more people looked to make improvements at home.
"We've seen a lot of increased demand, and we're probably selling two and a half to three times more sheds than pre-COVID, so we've had to put on a few extra crews," says Scott. With the entire Tasmanian construction industry going from strength to strength, Kaylee and Scott say things couldn't be going better for Roofing Group Tasmania.
"We're actually booked through to July next year, which is fantastic for us. We expect things will normalize a bit after that, but we will continue to tick along and allow us to keep doing what we love."
"We have three young kids, so it's resulted in a better work-life balance for us."
"It was really beneficial; I'd recommend it to anyone. It gives you the building blocks and the key foundational skills to go to the next level," says Scott. These days, the pair also manage the day-to-day operations of Frank Hill Roofing in Southern Tasmania and Skyline Sheds in Northern Tasmania from their Launceston base. Over time, all brands will come under the one banner of Roofing Group "WeTasmania.havea team of about 65 people all up across the three businesses. We've expanded in the last year or two which has been great because before that it was Kaylee and I doing bulk management tasks ourselves. Now, we have a guy who started doing sheet metal for us who has become our GM of Operations Support," says Scott.
The increase took effect in July 2022. Employers who are paying their employees above the minimum rates may absorb the increase into the minimum rates payable under the Plumbing and Fire Sprinklers Award 2020 (PFS Award). For classifications covered by the PFS Award, the hourly rates are inclusive of allowances payable under the PFS Award.
26 | Australian Plumbing Industry Magazine | Spring 2022
The Fair Work Commission has increased the award wages in accordance with the Annual Wage Review Decision 2022.
What about apprentices?
Victorian news Know the new wage rules
The decision provided for an increase of:
The hourly rates for a 1st Year Apprentice, 2nd Year Apprentice, 3rd Year Apprentice, 4th Year Apprentice and/or a 4th Year Adult Apprentice are inclusive of the allowances payable under the PFS Award. The hourly rate includes the federal minimum wage plus the industry allowance.
Where an employer requires an apprentice to provide tools, other than basic consumables, the employer will be required to either reimburse the employee the cost of providing the tools or pay the employee the tool allowance to compensate for the purchase and maintenance in efficient working order of tools required for the performance of work. How does it work with allowances? In many cases, the allowances payable under the PFS Award have also been increased. It should be noted that neither the Tool Allowance, nor the Compensation for Tools and Clothes Allowance, have been increased. For more information, contact Phil Eberhard, Master Plumbers Senior Workplace Relations Adviser on phil.eberhard@plumber.com.au or call 0425 790 722
• $40.00 to the National Minimum Wage (the new National Minimum Wage will be $812.60 per week or $21.38 per hour); or • $40.00 per week for award minimum wage rates below $869.60 per week; or • 4.6% for award minimum wage rates above $869.60 per week.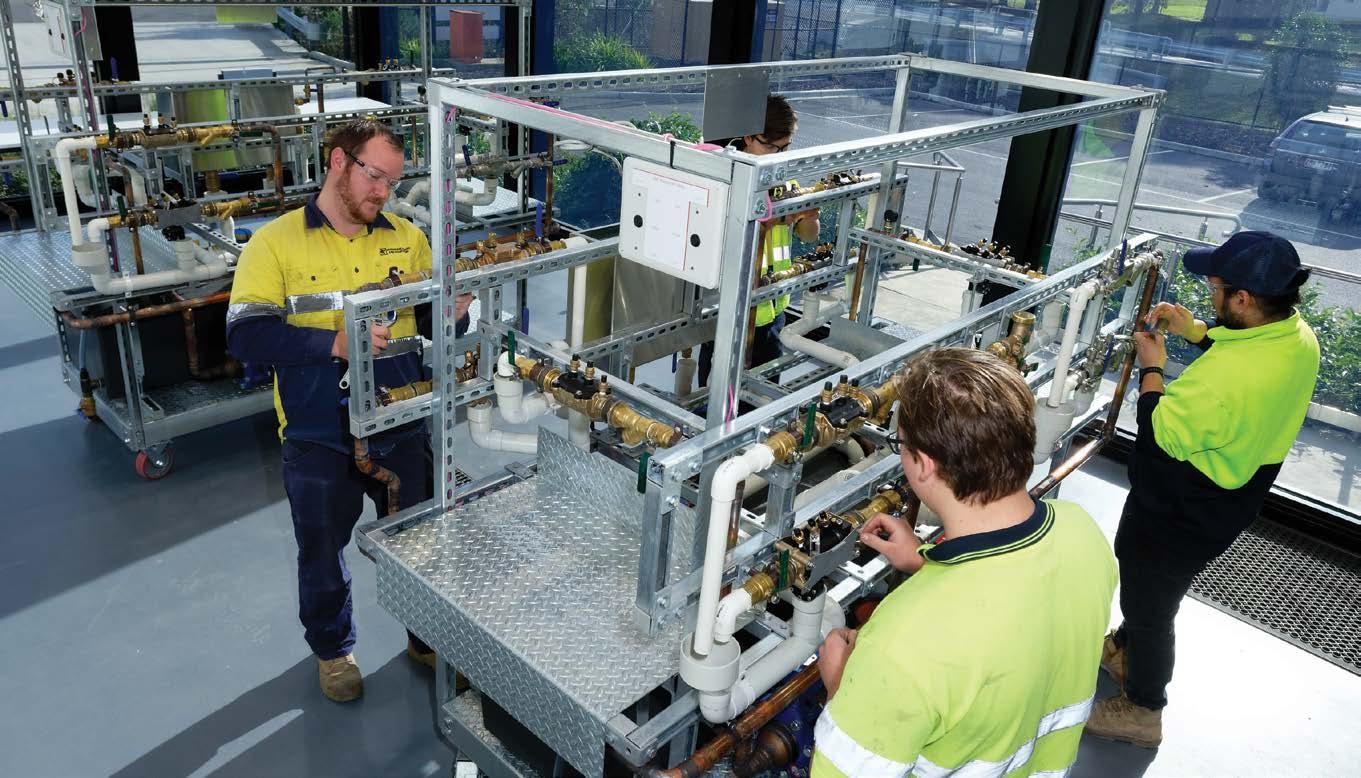 The Minister for Employment and Workplace Relations, Tony Burke, announced that the Commonwealth Government was amending the Code for the Tendering and Performance of Building Work The amendments to the Building Code took effect from 26 July 2022. The amendments were contained in the Code for the Tendering and Performance of Building Work Amendment Instrument 2022 (Interim Building Code).
National DomesticStandardsEmployment–FamilyandViolenceLeave
| 27
factsfastfromaroundthestate
70,463 New residential building approvals in Victoria in 2020-21 64,785 Works completed in Victoria in 2020-21, despite the pandemic $25.7 billion
The Minister has separately announced that the Fair Work Ombudsman and the Federal Safety Commissioner will now be tasked with enforcing the Fair Work Act 2009 (C'th) and certain safety measures provided for in the Building Code in the building and construction industry.
The Minister also introduced into Federal Parliament that, if passed, would entitle all employees to take up to 10 days (per annum) of family/ domestic violence leave. The Fair Work Amendment (Paid Family and Domestic Violence Leave) Bill 2022 (Paid FDV Bill) seeks to introduce into the National Employment Standards a non-accumulating entitlement. Under the Bill, the changes will take effect from 1 February 2023. However, for a small business employer (that is an entity that employs fewer than 15 employees) the changes will take effect from 1 August 2023. Master Plumbers will provide further details if the Paid FDV Bill becomes legislation.
For more information, contact Phil Eberhard, Master Plumbers Senior Workplace Relations Adviser on phil.eberhard@plumber.com.au or call 0425 790 722 www.plumber.com.au
As a result of the Interim Building Code, entities will no longer be required to have an ABCC Letter of Compliance to work ABCCwork.Commonwealth-fundedonbuildingFollowingonfromthatthehaveadvisedthattheywill no longer issue a Letter of Compliance. Additionally, there will no longer be a requirement to submit and have approved a Workplace Relations Management Plan. The Interim Building Code repeals certain compliance monitoring and enforcement powers of the ABCC.
The BuildingCommonwealthCode
Understand new workplace changes
Employers who are paying above the minimum rates may absorb the increase The award wages increase took effect in July 2022
Generated from building works in Victoria in 2020-21
• Carrying
and Regulations; • Failing
inspection for sanitary drainage; and • Lodging a with"PlumbingqualifiedworkBrockmanofTheTruganinaEpping,acrossTheaCertificate,Compliancewhichcontainedmisstatementoffact.offendingoccurredatsitesVictoria,includinginKew,Dallas,BurnsideHeights,andWheelersHill.VBA'sExecutiveDirectorRegulatoryOperationsDavidsaidmostplumbinghadtobedonebyaprofessional.workisvitalandcarriesitsafetyrisksiftheperson
The fined plumbing work without a registration out gasfitting and mechanical services when not licensed to do so; out drainage work and gasfitting that did not comply with the Building Act to book an does not know what they are doing, which is why it's important you only engage a registered or licensed professional."
28 | Australian Plumbing Industry Magazine | Spring 2022 Victorian news Flouting laws doesn't pay
The Victorian Building Authority and more than $40,000
individuals impersonating plumbers
"Anyone found to be working without qualification, or not abiding by the Building Act and Regulations, will face the consequences," Mr Brockman said.
six people $44,855.79 for offences, including: • Conducting
VBA
(VBA) penalised plumbing practitioners
or licence; • Carrying
for breaching regulations.
www.plumber.com.au | 29 Packaged Pump Stations for Wastewater & Surface Water Kingspan's pump station range has been built using more than 65 years of global experience and knowledge, so you can benefit from proven and trusted engineering and design. The range is available Australia wide and is suitable for domestic and commercial projects 1300 736 562 kingspan.com.au/wastewaterwastewater.au@kingspan.com Let Kingspan help you with your next project. Speak to an expert today. Plastic Channels:USING SOLAR ENERGY Allproof Channel Drainage Systems Designed for commercial and residential applications with load class rating A-E (AS3996). Polymer Concrete stocked in 100mm and 200mm clear opening. Polymer Concrete, South Melbourne,Wharf,Victoria PolymerAllproofConcrete,Factory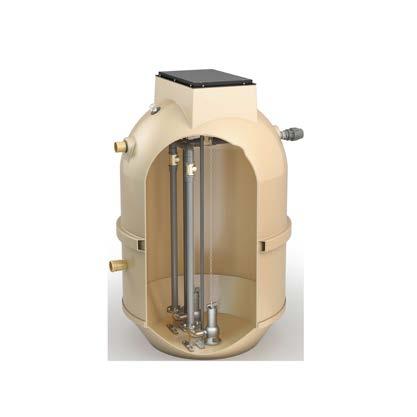 Member profile Remembering back to his own apprenticeship powers Beau Lesueur's passion for a coaching approach to management, Kathryn Kernohan reports. Be a leadergreat 30 | Australian Plumbing Industry Magazine | Spring 2022
Beau got his start in the industry by completing an apprenticeship through Master Plumbers' Group Training Organisation, Plumbing Apprenticeships Victoria (PAV), in 2017.
These days, Master Trade Services has a team of six workers on the tools supported by two administrative staff based in the businesses' Frankston office. Master Trade Services provides a wide range of plumbing services, and also specializes in air conditioning installation and repairs, from large industrial ducted air conditioning systems to split-systems and smaller units.
www.plumber.com.au | 31
Beau's time is evenly split between working on the tools and tending to the business side of the operation, such as quoting and invoicing.
"I started out doing domestic general plumbing for my first year and then switching between domestic and commercial work," he says. "It was a fantastic opportunity to work for multiple companies including some big Oneones."ofthe companies he worked for was Triple A Airconditioning, who then kept him on once he was qualified. "I worked for them for about a year and then felt I was ready to start my own business, which was always my goal."
Having learned a variety of skills throughout his apprenticeship –PAV apprentices gain experience with a minimum of five plumbing streams – Beau eventually became licensed across all six streams including mechanical services. Starting his own business, Master Trade Services, and trying to build up a base of clients along the Mornington Peninsula proved challenging at first.
With a keen interest in wanting to help the next generation of plumbers, Beau decided to join about 250 other businesses across Melbourne in becoming a PAV Host Employer.
"Any new business starting out can't predict how much work they will or won't have and being a Host Employer is just so flexible in getting people when you need them. On top of that, you don't have to worry about sick leave, annual leave or WorkCover stuff because Master Plumbers handles it all. I'd definitely recommend it to others."
I try to manage in the same way that helped me when I was starting out. It's great to be able to teach young guys and see them develop their skills.
"When I started out I was a one-man band and it was tricky to get my name out there. It was hard and it took a long time. I took on all kinds of jobs and slowly but surely word of mouth kicked in and I started to get more and more clients," he explains.
"I've been a member of Master Plumbers for as long as I've been in the industry and when I was starting my business, they helped me get all of my background bits organised, such as insurance and Safe Work Method Statements (SWMS) for commercial jobs," he says.
Beau Lesueur still fondly recalls the positive experiences he had with his employers when he was an apprentice and how they helped him to kickstart his career. That's why he strives to provide the same type of leadership and mentorship for his own apprentices.
With Master Plumbers taking care of recruitment, onboarding and contract-administration, and flexibility for Beau to request staff for however long he needs them, it has been a positive and rewarding experience.
"So, when business was really busy and I needed some extra help I became a Host Employer. The best thing about it is how flexible it is, I can get apprentices just for the time I need them which means I can take on new jobs and not have to worry about maintaining a certain workload afterwards.
"I definitely remember what it was like to be in their shoes, and how I picked up things from people who taught me, which have stayed with me the whole way through," he says. "I try to manage in the same way, and only do things in the way that helped me when I was starting out my career. It's great to be able to teach young guys and see them develop their skills."
"My goal was always to do a lot of commercial air conditioning work because that's what I got the most experience in as an apprentice. I've always liked that type of work because it throws up some challenges and gives you different problems to work with. To begin with, I looked to get my foot in the door wherever I could and some of the relationships I built as an apprentice were really helpful in getting me started."
How does the redesigned Ford Ranger shape up against the perennial-favourite Toyota HiLux and rising all-rounder Isuzu D-Max? Byron Mathioudakis, experienced, independent car reviewer looks under the hood. Australians love a pick-up. Since 2016, the Toyota HiLux has been our bestselling vehicle, jostling with the Ford Ranger for outright honours, while Isuzu's D-Max isn't too far behind.
Welcome to our dual cab 4x4 decider!
orderworldnewThe 32 | Australian Plumbing Industry Magazine | Spring 2022
Vehicle reviews
The competition between Toyota, Ford and Isuzu is intense, and decades-old too, given that the D-Max's predecessors wore Holden Colorado and Rodeo badges before that.
Now, there's a new and improved Ranger to ruffle some feathers. To find out which is best, we take a look at the 2023 Ranger Wildtrak and assess it against the HiLux Rogue and D-Max X-Terrain.
Calling all plumbers We want to know what you think are the best utes in the market and what makes them so great for you. Please email your comments to info@plumber.com.au and we will print the best insights.
www.plumber.com.au | 33 TECHNICAL SPECIFICATIONS Ford Ranger Wildtrak Bi-Turbo Double Cab 4x4 Engine 2.0-litre 4-cyl twin-turbo diesel Transmission 10-speed automatic Power 154kW @ 3750rpm Torque 500Nm @ 1750-2000rpm Kerb weight 2341kg Power-to-weight ratio 65.8kW/tonne Average fuel consumption 7.2L/100km CO2 189g/km Fuel tank 80L Warranty 5-year/unlimited kilometres Service interval 12 months/15,000km Turning circle 12.8 metres Length/width/height/wheelbase 5370/1918/1884/3270mm Ground clearance 234mm Towing capacity braked/unbraked 3500/750kg Payload 939kg ANCAP pending ANCAP rating
Ford Ranger Wildtrak Double Cab Bi-Turbo 4x4 auto from
$67,190Ford on-roadBeforecosts
newDoesBi-Turbo:WildtrakRangeritsetthestandard?
It's remarkable for something that – like the others – features a leaf-sprung back end and 3500kg towing Steppingcapacity.inside, the Ranger scores with the most space and best seats by far, perfect for those plumbers using their vehicles as offices! It also has an excellent driving position and, of course, Ford's intuitive multimedia system. Configurable electronic instrumentation, thoughtful storage, a 360-degree camera and contemporary finishes are further highlights.
This year's most-anticipated launch, the latest Ranger is a thorough redesign of the previous PX III, bringing upgrades to the chassis, suspension, steering, engines and transmissions. Few parts carry over.
Finally, the Ford's larger tub seals the deal, with new side-wall cappings and a powered roller shutter, and is unique with load-bearing side bars, a 12-volt outlet, surround-vehicle lighting, an integrated box step, tailgate lift-assist and Euro-palette carrying capacity. Even a decade on, the old Ranger was a class leader. Now, the new Wildtrak moves the game on. What's next? As far as future changes to the Ranger are concerned, expect a hybrid version to appear inside the next three years, along with a facelift to keep it fresh. An all-new model isn't due until about 2028.
Though the world's only Australian designed and engineered pick-up, the new model's design strives for a more American, Ford F-150 truck-like, look. That's why the nose is blockier and bodywork beefier, to accommodate wider tracks as well as a new-to-Ranger V6 option. The result is transformative. The Wildtrak's standard, revised 2.0-litre four-cylinder twin turbo-diesel, dubbed Bi-Turbo, is a gem. While behind the roaring Toyota away from the traffic lights, it powers up quickly and smoothly, reducing the gap as speeds rise. Mercifully, Ford's 10-speed automatic is also improved, eliminating the old endless to-ing and fro-ing through the gears. However, for another $3000, the 3.0-litre V6 turbo-diesel amps everything right up, with heaps more muscle, for a fast and effortless cruiser. There's also full-time 4WD for constant traction, building on the Bi-Turbo's (and others') traditional part-time 2L/4L/4H 4x4 set-up. If budgets allow, the big six is the pick. That said, the new Ranger's real strengths lie in its comfort and composure. Around town, the steering is as light as the others', yet always feels more connected.
The Ford corners with a planted confidence, without the top-heavy sensation felt in the other two. And the suspension is in another league, soaking up bumps and isolating its occupants, without feeling floaty.
Kudos to Isuzu/Mazda, too for raising the segment's safety bar back in 2020; many airbags, autonomous emergency braking (AEB), lane departure warning/prevention, blind spot monitoring, rear cross-traffic alert and adaptive cruise control are all included. The Ford's since caught up, but not the Toyota.
$67,500IsuzuD-MaxX-Terrain:Isitthebestall-rounder?
Isuzu's dashing third-generation D-Max debuted during 2020, and it's never looked back. Cutting ties with the now-defunct Holden Colorado, it instead joined forces with Mazda to also bring us the BT-50, after the latter's break away from the old Ranger. Corporate-look front-end designs apart, the Thai-built twins are virtually identical. Larger, stronger and more comfortable than before, today's D-Max ushers in an attractive, car-like dashboard that's big on modernity. Along with the obligatory central touchscreen, the X-Terrain flagship offers an appealing mix of analogue/digital instrumentation, classy toggle switchgear, a relaxing driving position, loads of storage and ample ventilation. Little wonder buyers are queuing up.
The X-Terrain's tub lacks many of the Ranger's functionality details and lifting the tailgate remains a workout, but – like the HiLux – matches the latter by being lined and fitted with a powered shutter and sports bar.
Isuzu D-Max X-Terrain Crew Cab 4x4 auto from
Good looking inside and out, and massively better than before, the D-Max is a worthy runner-up to the rampaging Ranger. What's next? A D-Max facelift is in the pipeline for about 2024, with updates to the nose, interior and technical specifications. Engine upgrades are also rumoured, bringing some level of electrification to help cut consumption and emissions. An all-new Isuzu is planned for around 2028.
Likewise, though light and easy, the Isuzu's steering feels numb, lacking the Ranger's connection and Toyota's agility, making its handling seem cumbersome by comparison, while the suspension is miles more comfortable than the punishing old D-Max's but well short of the Ranger's pleasing suppleness.
34 | Australian Plumbing Industry Magazine | Spring 2022 on-roadBeforecosts TECHNICAL SPECIFICATIONS Isuzu D-Max X-Terrain Crew Cab 4x4 Engine 3.0-litre 4-cyl turbo diesel Transmission 6-speed automatic Power 140kW @ 3600rpm Torque 450Nm @ 1600-2600rpm Kerb weight 2130kg Power-to-weight ratio 65.7kW/tonne Average fuel consumption 8.0L/100km CO2 207g/km Fuel yank 76L Warranty 6-year/150,000km Service interval 12 months/15,000km Turning circle 12.5 metres Length/width/height/wheelbase 5303/1880/1810/3125mm Ground clearance 240mm Towing capacity braked/unbraked 3500/750kg Payload 935kg ANCAP HHHHH
On the other hand, the D-Max can't match Ranger for rear cabin space or seat Additionally,comfort.despite its biggercapacity engine, the Isuzu's 3.0-litre four-pot turbo-diesel is about on a par with the Ranger Bi-Turbo's performance-wise, so also behind the high-flying HiLux. That said, the D-Max doesn't hang about, with a hefty surge of oomph off the line and instant throttle response on the go. But it's neither very quiet nor smooth compared to the civilised Wildtrak – which ultimately pulls ahead above 80km/h – while the Ford V6 creams it.
The HiLux rules for many reasons. Historically, resale values are strong (recent diesel-engine particulate filter failures pending). It is a good-looking ute. There is Toyota's renowned durability. And add onto that the low-servicing costs and, of course, they're easy to drive.
www.plumber.com.au | 35 on-roadBeforecosts TECHNICAL SPECIFICATIONS Toyota HiLux Rogue Double Cab 4x4 auto Engine 2.8-litre 4-cyl turbo diesel Transmission 6-speed automatic Power 154kW @ 3400rpm Torque 500Nm @ 1600-2800rpm Kerb weight 2231kg Power-to-weight ratio 69kW/tonne Average fuel consumption 8.4L/100km CO2 220g/km Fuel tank 80L Warranty 5-year/unlimited kilometres Service interval 6 months/10,000km Turning circle 12.6 metres Length/width/height/wheelbase 5325/1900/1865/3085mm Ground clearance 247mm Towing capacity braked/unbraked 3500/750kg Payload 819kg ANCAP HHHHH
Consequently, the HiLux leads in performance against its fourcylinder competitors, with a superior power-to-weight ratio that sees it launch off the line, punch though the gears and provide ample thrust in reserve if required. But the Toyota diesel could be quieter and smoother, though. And the Rogue costs Wildtrak V6 money, so it ain't Worryingly,cheap.today's HiLux is showing its age against Ranger and D-Max in some important areas.
Finally, the tub is functional and hardy and also includes a powered shutter, but – again – is rudimentary with few frills, lacking the Ranger's extensive attention to detail.
What's next? Thankfully, it is coming – at least for the Rogue. By the end of this year, the Rogue will be upgraded, with substantially wider tracks, revised suspension, better brakes, more ground clearance (+20mm) and improved safety systems, for better-overall handling, stability and security on and off-road.
updates.thesewaitadvicelook.toughergiveshouldmudguardsBroaderalsoitaOuristofor2023
Toyota favouritetheHowRuggedHiLuxX:doesperennialfare?
Toyota HiLux Rogue Double Cab 4x4 auto from $70,200
In a nutshell, people trust Toyota. A halo model, the Rogue builds on these attributes with distinctive styling, more power, Australianmarket steering and suspension tunes and upgraded towing capacity to now match most rivals.
Additionally, the seats seem too small and pokey; the driving position doesn't suit longer-legged people; rear-seat entry/egress and space feel tight in this company, the backrest a too upright and thigh support is woefully lacking.
Toyota's Australian-suspension tuning has definitely improved the Rogue's crisp-steering response and cornering control, but both trail the Wildtrak for feedback and handling smoothness. And the overly firm suspension means the ride feels busy and unsettled.
For starters, the cabin seems too narrow, dated and cheap. Yes, everything is where it should be, with simple controls, legible dials, effective heating/cooling and plentiful storage… but just look at the Rogue's flashy rivals.
Ineveryone.October each year, Safe Work Australia asks businesses, employers, and workers across Australia to join National Safe Work Month and commit to building safe and healthy Aworkplaces.safeworkplace starts with safe foundations, which are the policies and procedures that cover a business' ways of working and responsibilities.
Substantial differences remain in some areas where the Victorian legislation actually requires a higher degree of vigilance and compliance than the model laws. These centre around notification procedures, duties to consult (in particular around the obligations of HSRs), the formation and activities of HSR Committees, issue resolution (including default procedures being mandated in the Regulations in Vic).
The definition of safety is far more than keeping our plumbers physically safe. It is also about keeping them free from psychological harm. No plumbing job should be unsafe, and no death or injury onsite or in the office is acceptable. A safe and healthy workplace benefits
Safe Work Australia developed a single set of work health and safety (WHS laws) for jurisdictions to implement across Australia. These are known as 'model' laws. Each state and territory, and the Commonwealth, has its own WHS laws, including an Act, regulations, and codes of practice.
36 | Australian Plumbing Industry Magazine | Spring 2022
In Victoria there are also a significant number of prescriptive compliance codes and codes of practice that operate to be the minimum standard in Construction in Victoria. We have found that most often the Victorian codes represent the highest standard of compliance across the country, but this changes all the time. The important thing to remember is if you are working across state borders always ensure your policies and procedures refer to the laws and codes of practice in that state.
Health & wellbeing
The model laws have been implemented since early 2012 in a similar fashion across Australia with Western Australia being the last State to do so on 31 March 2022. Victoria remains the exception, where the laws weren't adopted wholly as drafted but many of the principles have been incorporated instead.
October is National Safe Work Month; a time to commit to building a safe and healthy workplace, according to Master Plumbers OHS and Risk Manager Zane Martin.
www.plumber.com.au
What is an OHSMS?
An OHSMS is a coordinated and systematic approach to managing health and safety risks. OHSMSs help organisations to continually improve their safety performance and compliance to health and safety legislation and standards. In doing so, they establish safer working environments that protect people at work by eliminating, or better managing, health, and safety hazards. It includes:
| 37
Why plumbersshouldcare about R U OK? Day? Those working in the construction industry, including plumbers, are 50% more likely to take their own lives. Male construction workers aged 15-24 are more than twice as likely to take their own lives, compared with the general Septemberpopulation.82022,is R U OK? Day, a national day of action when we remind Australians that every day is the day to ask, 'are you OK?'. On this day, and every day, we need to start meaningful conversations whenever we spot the signs that someone is struggling. Bluehats was designed by industry, for industry as a peer-to-peer support network providing education, training and support to workers on a site-by-site basis. Incolink and their partners Worksafe Victoria and Cbus Super refreshed the Bluehats training model in 2021 to deliver both on site and digitally.
Zane is a highly-experienced Licenced Plumber and a qualified Work Health and Safety Advisor.
orConductingPersonaBusinessUndertakings(PCBU)
For more information, contact Zane Martin on 0425 770 013 to get a no obligation assessment of your current OHS systems.
How safe is workplace?your Duties of a
• improving business opportunities – many companies have preferential purchasing policies that favour purchasing products or services from companies with an OHSMS • providing measurable systems that can verify OHS performance • demonstrating that the organisation is meeting legal Researchrequirements.shows that there are clear links between good OHS management systems and long-term business efficiency.
A PCBU has a primary duty to ensure the health and safety of workers and others who may be affected by the carrying out of work. A person can have more than one duty under the model WHS laws. For example, a self-employed person may be simultaneously a PCBU and a worker. A person is not a PCBU where they are engaged solely as a worker or officer of the business or undertaking. Whether a person conducts a business or undertaking is a fact to be determined in each case.
• helping create safer work environments • reducing injuries and injury-related costs
The growing number of females interested in plumbing was also evident with many exploring the Expo and taking in the panel discussion about the opportunities available to women in the industry.
Students exploring a career in trades, apprentices and plumbing enthusiasts descended on the Plumbing Industry Climate Action Centre (PICAC) in Narre Warren when the doors opened to the public for the Plumbing on Show Expo, presented by Master Plumbers.
Industry stalwart and plumbing instructor Shelley Decker hosted the panel of business owners and managers and prompted shared experiences from all involved to discuss the variety of opportunities that are possible for women who want to get involved in plumbing.
Member news
"It's such an exciting time in the industry I wish I was starting my career again now," he said. Those looking to kick off their careers in plumbing were treated to an array of hands-on plumbing training demonstrations including guttering, PVC pipe work and silver braising.
Henry, aged 10, was chuffed. "My dad is a plumber and I've seen a lot of the stuff that he does but to actually do it myself today has been really exciting. Joining the copper pipes with the torch was fun and looks really cool with the big flame."
Plumbing on Show Expo
With the support of event sponsor, Apprenticeships Victoria, and sponsors, Women in Plumbing and Plumbing Apprenticeships Victoria, the Expo kicked off with a keynote presentation from industry experts Paul Bonsak, Managing Director at IAPMO and Jon Palfrey, Commercial Manager at Thermal Energy Solutions, who shared their knowledge on plumbing sustainability, clean energy and new technologies. Mr Palfrey remarked that there is plenty to look forward to in the realm of plumbing.
The state-of-the-art plumbing training complex in Melbourne's thriving southeast was the perfect setting to showcase the latest developments in the industry, ranging from careers information and training demonstrations for those looking to enter the trade, right through to exhibitor demonstrations and keynote presentations from industry experts for the seasoned professionals looking to keep up with the latest developments in plumbing.
"There are so many customers I see on the job who, for a variety of reasons, prefer to have a female tradesperson in their home to do a job. I'm proud that I'm able to facilitate this need for them."
38 | Australian Plumbing Industry Magazine | Spring 2022
For information about a career in plumbing or hosting an apprentice, visit pav.info@plumber.com.au
"For a long time, I've had a dream to develop a business that had a sole focus to employ and empower female plumbers." said Kymberley Smyth, of Hey Sista Plumbing.
The free coffee, bacon and egg rolls, and sausage sizzle on the hydrogen BBQ courtesy of the Australian Gas Infrastructure Group were also a big hit.
There's a variety of opportunities for women interested in the industryplumbing
Host Recognition Award CDC Investment Group Pty Ltd Host Recognition Award Kilburn Plumbing Pty Ltd Host Recognition Award Project Plus Plumbing Services Pty Ltd Host Recognition Award Wilson Plumbing & Drainage Pty Ltd
Peter Pratt 2nd Year PBA Safety Jack Forbes Don Pritchard 3rd Year Michaela Healey : Anthony O'Shea Brien Bransden
:
The Master Plumbers Apprentice Awards and Graduation ceremony celebrated the skill, effort and commitment of the students within the Master Plumbers RTO and Plumbing Apprenticeships Victoria (PAV) programs. Master Plumbers RTO Awards Nominees: Riley Loton, Jake Holstein, James Fisher, Jasmine Garner, Shi Tong, Daniel Cooper, Maxx Doyle, Bolin Zhou, Nathan Brown, Cara Cutri, Naomi Taylor, Michael Edwards, Patrick Riley, Justin Jongsma, Jordan Tait, Hexiang Gao, Peter Cutera Winners: Most Outstanding 1st Year Apprentice Award Sponsored by Milwaukee: Maxx Doyle Most Outstanding 2nd Year Apprentice Award Sponsored by Plumbing Apprentices Victoria: Justin Jongsma Most Outstanding 3rd Year Apprentice Award General Plumbing Sponsored by Reece: Hexiang Gao Most Outstanding 3rd Year Apprentice MechanicalAwardServices Sponsored by Rheem: Riley Loton Plumbing Apprenticeships Victoria Awards Nominees: Austin King, Hadi Mohammadi, Flynn Read, Martin Brennan, Michael Macdonald, Anthony O'Shea, Clint Maloney, Jack Forbes, Kade Perry, Matthew Glen, Michaela Healey, Jill Melville, Louis Gaud, Michael Langdon, Nathan Brien, Jessah Iliopoulous Winners: Sir Rohan Delacombe 1st Year Apprentice Award Sponsored by CBUS: Clint Maloney
Don Pritchard 3rd Year Apprentice Award Sponsored by Incolink
Alfred Atherton 4th Year Apprentice Award Sponsored by Insinkerator: Nathan
Apprentice Award Sponsored by
2021-2022
GraduatingApprenticesPlumbingVictoriaApprentices Mitchell Butt, Darren King, Shane Pattinson, Matthew Perriman, Gabriel BeckGodoy, Shashi Deka, Blake Di Medio, Joseph Galluccio, Dimitrios Guicas, Adam Janousek, Ryan Lamb, Mohamed Rasool, Harley Volgyesi, Justin Brook, Toby Geeves, Nicholas Parveez, Kade Perry, Samuel Wignall, Marco D'Aversa, Mitchell Day, Alexander Forbes, Joel Impeduglia, Rhys Kirkpatrick, Michael Langdon, William McEvoy, Alexander Mitrevski, David Pacovski, Shaun Scott, Benjamin Ambrosi, Jiaen Zhang Award Sponsors are Cbus, PBA Safety, ReecePlumbingVictoria,PlumbinginSinkErator,Incolink,Milwaukee,ApprenticeshipsTheWomeninProgram,andRheem. Celebrating our apprentices www.plumber.com.au | 39
The Women In Plumbing Program Encouragement Award Sponsored by Women in Plumbing: Hayley
Apprentice Award Sponsored by Incolink:
Heritage collection
1970: Bernie's eldest son, Greg, started his apprenticeship, followed by a second son Michael two years later.
From one plumbing legend to another: Long-term member Greg McQuinn tells history enthusiast Peter Jensen about his family's story and shows off some of the heritage.
The story of many McQuinns
1940: Stan's son, Bernie, began working with the family business, which carried out general plumbing, made galvanised rainwater tanks and milk cans, and installed and repaired windmills.
Recently I wrote about a Vintage Rally in Cobden. I turned the event into a road trip and, after all the lockdowns, it was a wonderful getaway filled with great folks, interesting items and some plumbing legends. One of the legends was long-time, Master Plumbers member Greg McQuinn who I have known for a number of years. We decided to meet at his shop on the Sunday morning. On the nature strip in front of the shop is a board (part of the Cobden story) dedicated to the four generations of the McQuinn family who have served the community for more than 90 years. The chronology runs something like this:
2008: Greg and wife Leanne's, son Stephen, joined the business becoming the fourth generation of the McQuinn plumbing dynasty.
Greg told a great yarn: While having Christmas drinks one year Greg and his work mates promised they would get together and make another tank the good old way. I would love to be there for that and record the processes. When looking through the showroom it was nice to see an Australian made product, Brass Ball Valves from a locale company Alderdice in Warrnambool. That's just a little history about one of our members.
Greg took us on a tour of the premises. The showroom had a good collection of old tools and equipment. Out the back of the original front office is the old workshop where the tanks and milk can were made. The rollers, folders, seamers, and all the various specialised hand tools are still there from when it was a busy and productive workshop. The McQuinn's would solder a small brass name plate to each tank – Made by T.S. McQuinn Cobden.
40 | Australian Plumbing Industry Magazine | Spring 2022
1927: Greg's grandfather Thomas Stanley (Stan) McQuinn acquired a plumbing business from his employer, Tinny Wilson.
plumber.com.au/paq FLEXIBLE AND COST SOLUTIONSAPPRENTICEEFFECTIVE plumber.com.au/pav Job-ready apprentices available on short and long-term agreements. You put in the request, we do the rest.
Big changes are coming with the inclusion of the new requirement for lead-free plumbing products to Volume Three of the NCC 2022. The requirement sets the limit for the weighted average lead content to not more than 0.25% for products intended for use in contact with drinking water. This change means that from 1 September 2025, plumbing products that do not conform to the lead-free requirements will no longer have valid certification and will not be authorised for installation. As Australia's leading experts in lead-safe water solutions, we already have a big selection of compliant low lead DZR brass and lead-free stainless steel tapware for drinking and handwashing solutions in healthcare, education and public areas available. information 1300 514 074
For more
Galvin Engineering
Allproof products
"The process is as important as the product," is a principal that has driven Allproof's manufacturing focus. As a manufacturer of market-leading plumbing and drainage products, Allproof understands its environmental responsibility and is striving to be an environmentally conscious manufacturer while continuing to produce premium products for the plumbing industry. Allproof have recently completed the installation of 449 solar panels. This will provide Allproof's main facility with nearly 50% of its energy needs sourced from self-generated, clean solar energy. To give context, this is enough power to supply approximately 59 average homes in the state of Victoria. This impressive solar panel installation saves 50 tonnes of CO2 from entering the atmosphere every year. more information visit allproof.com.au or call (03) 9394 1883
visit www.galvinengineering.com.au or call
For
An forconsciousenvironmentallymanufacturertheplumbingindustry Product news Big changes are coming for lead-free plumbing products 42 | Australian Plumbing Industry Magazine | Spring 2022
United
Cbus investment
To learn more the project visit starofthesouth.com.au and for more information about Cbus visit cbussuper.com.au or call 1300 361 784 This information is about Cbus and doesn't take into account your specific needs. You should look at your own financial position, objectives and requirements before making any financial decisions.
363 262. 45,460 litres The amount of water a small leak can waste per year 3,000 BC The earliest record of standardised plumbing factsfastfromaroundtheglobe
ABN 75
ABN 46 006 261
Cbus Super has taken a 10% interest in Star of the South, Australia's first offshore wind project, which has the potential to power about 1.2 million homes and supply up to 20% of Victoria's electricity needs. Star of the South is owned by Copenhagen Infrastructure IV, one of the largest developers of offshore wind projects globally. This offshore wind project is to be located off the south coast of Gippsland in Victoria. "Star of the South is a landmark investment for Australian superannuation into the local offshore wind sector," Cbus Chief Investment Officer Kristian Fok said. "Cbus is excited to be partnering with CIP, one of the world's largest and most successful developers of offshore wind, while helping to pioneer the offshore wind industry in Australia."
The Aussie Pumps Jetter revolution changed the way plumbers cleared drains in Australia and through the South Pacific and more recently, Israel, Singapore and Hong Kong. The 4,000 and 5,000 psi high-pressure, drain-cleaning machines, Aussie's Cobra and King Cobra range, have enabled plumbers to do difficult time-consuming jobs in a matter of minutes. However, the reality is Jetters can be dangerous. To keep operators safe, Australian Pump have launched a free training program available online. "We recommend everybody watches it. The course enhances your understanding the use of high-pressure piston pump technology, builds respect for the machine and the necessity for its maintenance. Personal protection for the operator is also vital. The course also deals with the difference between Class A & B machines. Simply scan to access the course.
Aussie Pumps
Read the relevant Cbus Product Disclosure Statement to decide if Cbus is right for you. Call 1300 361 784 or visit cbussuper.com.au for a copy. Also read the relevant Target Market Determination at cbussuper.com.au/tmd. Issued by Cbus' Trustee: Super Pty Ltd 623 AFSL 233792 Cbus 493
POSTAGE PAID AUSTRALIA PRINT POST PP100019076 toreturnundeliverable,If 214BoxPO 3056VICBrunswick changes,subscriptionFor or8711331800call info@plumber.com.auemail Prefer digital? If you'd prefer a feature-packed digital version of Australian Plumbing Magazine delivered straight to your inbox, just let us know... go to plumber.com.au/godigital or email communications@plumber.com.au Or scan this QR code with your phone camera and we'll take you straight there!