&style swagger
© 2022 Sotheby's International Realty. All Rights Reserved. Sotheby's International Realty® is a registered trademark and used with permission. Each Sotheby's International Realty o ce is independently owned and operated, except those operated by Sotheby's International Realty, Inc. The Sotheby's International Realty network fully supports the principles of the Fair Housing Act and the Equal Opportunity Act. *Ranking source: BrokerMetrics via BAREIS, #1 individual agent based on total number of Marin County transactions, 1/1/2018-12/31/2021. Sales volume gures via BAREIS MLS.| Nicholas Svenson DRE: 01918616 Leaving No Stone Unturned When Buying and Selling in Marin County
Nick 415.505.7674MarinSFhomes.comnick@marinsfhomes.comSvenson # 1 Agent by Transactions in Marin Sotheby's International Realty, Inc. 2018-2021*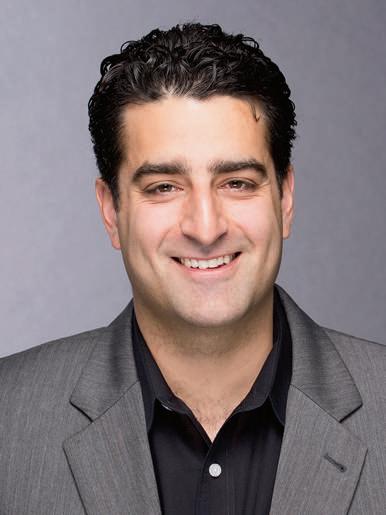 ● Brand Identity and Development ● Logo Creation ● Copywriting ● Photography ● Marketing Plans ● Media Buying ● Event Production ● Video ● Direct Mail
Creating and defining your identity is our passion. What your business needs is an aggressive marketing plan to separate you from the competition. Now is the time to put your plan in place. We can help. Communicating and delivering your strategic message is the difference between winking in the dark and actively wooing customers to your business. Let us develop a full creative and marketing strategy for your business. About Us We are a group of talented creative and marketing professionals who have turned decades of experience into a new Marin County media company. five19 | publishing includes Marin Living magazine and five19 | brandstudio. Contact Jessica Cline at 707.302.0850 or jessica@marinlivingmagazine.com to get started. www.five19brandstudio.comCheckOutOurNewWebsite!
A Legacy of Building Relationships for Generations BowmanRealEstateGroup.com @THEBOWMANGROUP MARIN MATTERS Providing Marin families more of what they want
BOWMAN REAL ESTATE GROUP | 415.755.1040 Team@BowmanRealEstateGroup.com DRE# 01933147
The value of our business is measured in the quality of the relationships we build. "We recently purchased a home in Greenbrae and worked with Jennifer and the Bowman team. We highly recommend them because they live and work in Marin giving them a great grasp of the many different neighborhoods, they're on top of the market conditions, they had our best interests in mind at all times with a warm personality, but the ability to be direct. Ultimately, Jennifer and the entire Bowman team are smart, personable, responsive, detail-oriented, and really know their stuff."
Nilesh and Payal Bhandari
THEY HAD OUR BEST INTERESTS IN MIND AT ALL TIMES
Want to love where you work? follow us on social @marinlivingmag + subscribe to our newsletter at www.marinlivingmagazine.comwww.marinlivingmagazine.com/newsletter We are searching for passionate sales executives like you who value the ability to express their professional opinion and enjoy working in a positive, transparent company culture. At MarinLiving you will have boundless room for professional growth and will benefit from an unrivaled commission structure. We function from a place of individual strengths and team support where goals are clearly identified and celebrated. Our CRM system is state-of-the-art and we have an open-territory structure — not to mention our casual work-from-home environment, ability to create your own schedule and unlimited vacation time. And most important, you have a love for creating marketing strategies for clients across multiple platforms and a passion for print. If this sounds like a perfect fit, send your resume to Jessica Cline and tell us how you can contribute to our success. jessica@marinlivingmagazine.com, 707.302.0850
SELLING SAN FRANCISCO + MARIN COUNTY FOR THREE GENERATIONS Susan Hewitt + C.J. Nakagawa 415.407.8349 | 415.407.2151 s.hewitt@ggsir.com | sf2marin@gmail.com LIC.# 00996144 | www.TheMarinGroup.com01913564 Scan the QR Code to connect with The Marin Group on Instagram + follow along on both sides of the Golden Gate Bridge.
114Granada.comCorteMadera O ered at 19Highland.com$1,995,000LarkspurO ered at $5,395,000OMill304Ricardo.comOMill5TartanRoadMV.comValleyeredat$5,795,000Valleyeredat$1,995,000 #1 TEAM BY NUMBER OF TRANSACTIONS IN 2021 AT GOLDEN GATE SOTHEBY'S INTERNATIONAL REALTY 1097 Green Street Unit 6 San Francisco Sold for $1,500,000OSan188SouthPark7.comFranciscoeredat$1,895,000 Each O ce is Independently Owned and Operated.
Volume 3, Issue 7. Marin Living® magazine is published in Marin County by Five19Publishing, Inc., Mill Valley, CA 94941. All rights reserved. ©2022 Five19Publishing, Inc. Marin Living® is a registered trademark of Five19Publishing, Inc. Reproduction of Marin Living is prohibited without the expressed, written consent of Five19Publishing, Inc. Unsolicited materials cannot be returned. Marin Living is mailed 10 times a year to homes and businesses in Marin County and San Francisco. POSTMASTER: Send address changes to Marin Living magazine, PO Box 16895, North Hollywood, CA 91615-6895. www.marinlivingmagazine.com JessicaCEOCline jessica@marinlivingmagazine.com  707.302.0850 CaseyCreativeGillespieDirector casey@marinlivingmagazine.com  DanielExecutiveJewettEditor dan@marinlivingmagazine.com EDITORIAL Associate Editor Caitlin Hamer Contributing Designers Roberto Avalos, Jamie Bankston, Madeleine Hannes, David Sebo Contributing Writers Keri Bridgwater, Bob Cooper, Nick Czap, Eva Hagberg, Casey Hatfield-Chiotti Contributing Illustrator Tiffany Dang Copy Editor Cynthia Rubin Mailing Address Marin Living PO Box 2104 Mill Valley, CA 94941 Office phone: 707.302.0850 Editorial or Press Inquiries casey@marinlivingmagazine.com,  dan@marinlivingmagazine.com Subscriptions Customer Service mlmcs@magserv.com818.287.2940 To subscribe, manage your subscription or change your address: marinlivingmagazine.com/subscriptions To sign up for our newsletter: marinlivingmagazine.com/newsletter Marin Living magazine is delivered complimentary to residents of California. Dina AdvertisingGrantDirector dina@marinlivingmagazine.com  707.238.2030 ADVERTISING Wine Country Advertising Consultant Chet chet@marinlivingmagazine.comKlingensmith707.216.1780 Hawaii Region Advertising Consultant Meredith meredith@marinlivingmagazine.comLow808.388.2644 Advertising Consultant Kim kim@marinlivingmagazine.comMcGinnis415.640.4504 Advertising Consultant Courtney courtney@marinlivingmagazine.comRoberts415.297.4507 Client Services Manager Julie julie@marinlivingmagazine.comCline415.300.0908
OPENING THIS SEPTEMBER The Village at Corte Madera, Marin — castjewelry.com Fine Jewelry for the Curious
With unparalleled privacy, scale, and panoramic views, this rare 14-acre Ross Estate is now offered at $19,750,000. 8 BED | 9 .5 BATH | 1 1,565 SQFT QUAILHILLROSS.COM
NEAL WARD DREneal@compass.com415.269.993301052285
Quail Hill is a mid-century masterpiece set into the natural landscape with unsurpassed views overlooking Mt. Tamalpais and Ross Valley, with the iconic San Francisco skyline in the distance. Built on a naturally flat building site, the multi-wing 11,565 sqft home offers an extremely rare single-level floor plan with six bedroom suites, expansive living spaces, serene outdoor living and gardens, and pool pavilion. It is truly a unique opportunity to invest in and acquire one of the largest and most private estates in Marin County.
nealwardproperties.com
Compass is a real estate broker licensed by the State of California and abides by Equal Housing Opportunity laws. License Number 01527235. All material presented herein is intended for informational purposes only and is compiled from sources deemed reliable but has not been verified. Changes in price, condition, sale or with drawal may be made without notice. No statement is made as to accuracy of any description. All measurements and square footage are approximate.
table of
88 40
JewelryCastChandon;Coronado;DelHotelofcourtesyright:topfromClockwise
marin.spotlight 22 news. The Tiburon Library gets a new look and a new art exhibit; Hardly Strictly Bluegrass returns; openings and live music in Wine Country. 34 local splurges. Stylish picks for anyone looking to upgrade a fall wardrobe. 36 eat & drink. Canned adult beverages are definitely having a moment and we find out more about two local brands that are leading the pack.
14 september 2022 marin living.
places.going 80 about last night. We teamed up with Newton Vineyard and Barrel House Tavern for one unforgettable evening. 82 land & sea. Meet the wine industry CEO who took his passion for cars to the next level. 86 new digs. See what Serena Dugan has been up to in her Sausalito studio. 88 voyager. Enjoy an endless summer in San Diego: here's where to stay, eat and explore. 96 drawn together. This entrepreneur is helping industry pioneers start cannabis businesses. from the team. 18 from the ceo. 20 from the creative director. contents. september 2022 40 local getaways. Yountville is always a fun getaway — with so much to do, eat and drink, better make a weekend of it. 44 take note. A TEDxMarin speaker talks about a massive experiment aiming to find out why Americans are so politically polarized. 34
"After working on this Kentfield estate and two other properties, we are convinced that Payam is the only realtor we'll ever need. Payam's knowledge, professionalism and terrific instincts have consistently guided us through to excellent outcomes. Payam Ghafoori is the perfect balance between tough and charming. We've found that he keeps his client's best interests in laser-focus and you can always trust that he is on top of every detail, big and small, which brings great peace of mind in any real estate transaction. If you are buying or selling a home, do yourselves a favor and hire Payam Ghafoori!!" Client's
—
DRE payamghafoori.com01935373@payam_ghafoori Payam Ghafoori payam@compass.com415.577.5252 Buyer Represented on Truckee and Kentfield sales and Seller Represented on the Larkspur sale. Kentfield photography by Jason Wells Photography & Larkspur by Circle Visions. Compass is a real estate broker licensed by the State of California and abides by Equal Housing Opportunity laws. License Number [license number to be inserted by region]. All material presented herein is intended for informational purposes only and is compiled from sources deemed reliable but has not been verified. Changes in price, condition, sale or withdrawal may be made without notice. No statement is made as to accuracy of any description. All measurements and square footage are approximate.
Testimonial 16284 Tewksbury Drive $6,900,000 | 7 Bed | 9 Bath | 15,866 Sq Ft Largest home sold in Truckee's history comprising of 15,866 Sq Ft on 20 Acres. 29 Drakes Cove Court $3,750,000 | 4 Bed | 4.5 Bath | 3,979 Sq Ft Highest per square foot sale in Drakes Cove's History in Larkspur, California. 135 S Ridgeway Road $16,000,000 | 6 Bed | 7.5 Bath | 10,120 Sq Ft Most expensive home sold in Kentfield's history. RECORD BREAKING SALES
MerklJohn On the Cover Electric bikes are fall's must-have item and Bluejay gets top marks for style and sustainability. Photograph by Ashley Batz Photography. &style swagger 46 Art in the Heart Mill Valley is home to some of the most exciting arts venues in Marin; get to know them all. 50 Coming Up Daisies Designer Laurel Harrington is changing the face of design one adorable chair at a time. 56 Love at First Ride Ride into autumn on a Bluejay electric bike — locally designed, eco-friendly and as stylish as they come. features.
Innovative Match, Ross | 415.259.8714 | www.innovative-match.com
What is it about relationships that make people healthier? Couples in healthy relationships tend to take fewer risks or engage in substance abuse. Satisfied partners provide a constant source of support. Married people tend to help each other maintain healthy habits and are more likely to follow their doctors' recommendations. I've found the desire to connect with a partner, and the connection itself, even if platonic, helps with depression, fear and sadness. What can a client expect when working with you? CASSIE: Innovative Match clients are a wonderful community of like-minded, kind, dedicated, educated, successful professionals who are open to new thoughts, ideas, and, most of all, the possibility of finding love. My work is my passion, and all of my clients get 100 percent of my effort and enthusiasm. They come away from the experience more confident and optimistic about the future. I can do that for you.
How can human connection help your health? Health and human relationships are inextricably linked. In general, people in loving, supportive relationships (from good friends to companions to spouses) live healthier, longer lives and experience greater overall life satisfaction than people in unsatisfying relationships or those who are socially isolated. People in healthy relationships are happier, have fewer health problems and live longer.
Why did you hire Cassie? ANDREA (Cassie's client): I had tried online dating many times and never got results. I was on Match and Tinder but kept seeing the same guys. I also kept picking the wrong guys. The whole thing seemed futile, and I felt frustrated and sad. I never once thought of using a matchmaker, but I kept seeing Cassie's ads, was curious, and figured I'd reach out.
How to Take the Leap to Love Cassie Zampa-Keim is the Bay Area's top concierge matchmaker. A satisfied client explains why she chose Innovative Match.
18 september 2022 marin living.
PhotographyAltizerDrewforSchrikNatalieBatista;TealBeccabyPortrait from the ceo.
Action Packed
WELCOME TO OUR 20TH ISSUE! When we started our company, we set out to do two major things: produce a magazine that represents Marin's inspiring beauty and create an emotionally safe space and life-first culture for our teammates. I'm proud to say we are living up to our commitment on both of these fronts and loving the journey. It's been an action-packed and exciting summer for us. We hosted our first event with Newton Vineyard at the Barrel House Tavern in Sausalito featuring a five-course wine-tasting dinner. It was an honor to have Newton winemaker Andrew Holve and chef Maicky Velasquez pair wines from the Newton library with some of the chef's signature dishes. This was an exquisite evening shared with more than 50 of Marin's entre preneurs, partners and friends. Connecting is important to us and we have already begun planning a series of networking events that will extend to include our partners and readers. We want to create safe and meaningful (and fun!) opportuni ties to meet our businesses goals, but also our innate need for human connection. Stay tuned for more details. In other news, we have a new website, two to be exact! Through our brand studio we continue to help businesses dust off their current creative assets and develop new brand identities. There's nothing more exciting than helping business owners grow their customer base and revenue. We truly love the process. Take a look at our branding work at www.five19brandstudio.com and let us know what you think — and how we can help you. Our new www.marinlivingmagazine.com website has had a face-lift.
Jessica Cline, CEO and Co-Founder In gratitude, Chet Klingensmith, Jessica Cline, Dina Grant, Casey Gillespie, Kim McGinnis and Daniel Jewett
It was time to increase our page speed and better reflect the beauty of the printed magazine. You'll also find a new feature that allows you to add your own events in a "community calendar." We want our website to be a trusted resource and one that helps residents explore Marin and the North Bay. Is it awards season already? Yes! Last year we won a Folio Eddie and Ozzie award for best new regional magazine In. The. Country. Yeah, that feels good to say. This year we are up for several awards in design and photography and, for us, that's important. Beautiful design and photography are at the center of our aesthetic and we pride ourselves on delivering the best, so being acknowledged is particularly gratifying. We'll keep you updated. We also want to say a bittersweet farewell to our client services manager, Casey Hatfield (our clients know her as Casey H., not to be confused with creative director, Casey G.). Casey is special to us for many reasons. She was our first teammate beyond the original four. She's grown with us and helped design our client experience beautifully. The thing is, Casey is a writer first and she is going back to what she is passionate about. The good news is she's still going to be penning our travel features, so it's hardly a goodbye, just a see you on a different Zoom channel.
And finally, welcome, Julie Cline, our new client services manager. Julie is a fun and warmhearted addition to the team and is already making an impact. We are thrilled to have her. You can expect a call from her soon reminding you of your deadlines and your artwork specs (with a giggle and a smile, of course).
As for me, I've never been happier to be living in Marin and watching it come back to life. We are all indeed lucky to be here.
Allison Salzer A PATH TO HOME Why Work with Allison • Data Driven Intelligence • Win-Win Deal Making • Design and Vision Learn more at AllisonSalzer.com Allison Salzer DREallison.salzer@compass.com415.297.211001978463 223 Kent Avenue, Kentfield Kentfield Flats Charmer Flexible Floor Plan | Call For DetailsFOR SALE FOR SALE 931 Pennsylvania Gulch, Murphys $1,475,000 3 Bd | 2.5 Ba | 2,880 Sq Ft $150M+ in Sales Volume Top 500 Wall Street Journal Real Trends Ranking 10% Average achieved over list price Compass is a real estate broker licensed by the State of California and abides by Equal Housing Opportunity laws. License Number 01527235. All material presented herein is intended for informational purposes only and is compiled from sources deemed reliable but has not been verified. Changes in price, condition, sale or withdrawal may be made without notice. No statement is made as to accuracy of any description. All measurements and square footages are approximate.
GROWING UP IN THE SOUTH
Joy A Bluejay Electric Bicycle
Autumn
20 september 2022 marin living. from the creative director.
Casey CreativeGillespieDirector and Co-Founder Batista;TealBeccabyPortrait (above)PhotographyKelloggSummer
I always had mixed feelings about the month of September. As we started back to school (the height of youthful excitement), I dreamed of dropping temperatures, new fall clothes and changing leaves, but what we actually got was stifling humidity, frizzy hair and hurricanes. My entire childhood I fantasized about chunky sweaters and jeans, knee-high boots and cozy scarves — but it was never cool enough to wear any of it. And sure, September in the Bay Area is more like a bonus summer, but somehow that seems like a gift instead of a disappointment. And we get to wear sweaters and jeans the rest of the year so no complaints here. As I write this we are still in the throes of summer and delightfully so. The time period between April 2020 and now feels like a blur, with the last few months proving to be a full-fledged revival of all things summer and unbridled fun (something my younger self would be very pleased about). Picnics with friends, barbecues galore, the return of live music, pool time, happy hours in the afternoon sun, food-and-wine festivals — it somehow proved to be better than pre-pandemic summers. Sweeter in the best way possible. There was one thing that I wasn't quite expecting, though: how difficult it has been getting dressed to be seen in public again. The last 24 or so months have been a blissful blur of leggings and sweatshirts, no makeup and hair tied up in a bun. Jeans now feel like medieval leg prisons and shoes some sort of ancient torture device. Clothes that I once loved from what I like to call "the before times" have been consigned to The Real Real and my half-empty closet is once again taking shape. I mean, is it just me? As you probably guessed, this is our annual "Style and Swagger" issue, and it is positively bubbling over with both. New fall fashion finds for men and women, those stylish (and delicious) canned drinks that people can't get enough of, a jaunt to the ever-posh Yountville, honeydudley designer Laurel Harrington's adorable Mill Valley cottage and Bluejay Electric Bicycles, which you are undoubtedly seeing on streets all over Marin. Hopefully, we've tapped into some things you'll want to fill your closet/fridge/garage with as autumn sets in, and we hope that summer was a joyful prelude to an equally social fall season. And what is that lurking on the horizon? Yep, the holidays … just around the corner.
DISCOVER. NURTURE. CHALLENGE.
Aleishall Girard Maxon's "Overlap 17" is on exhibit at the Belvedere Tiburon Library until November 11
MaxonGirardAleishallofCourtesy
22 september 2022 marin living.
"The concept of layering is in itself a form of renewal given that hiding or revealing what's beneath something can offer a fresh perspective or deeper contemplation."
spotlight marin.
— ARTIST ALEISHALL GIRARD MAXON
On September 17, the Belvedere Tiburon Library (www.beltiblibrary.org) is celebrating the completion of its major remodel with a grand opening. The event will also feature an inaugural art exhibition, RENEWAL: The Act of Becoming New Again, in the library's new entry gallery, with 17 Bay Area artists and their pieces addressing renewal across a variety of media. The exhibit will be on display from September 17 to November 11, with an opening and artist reception on September 22.
The Setting Wines' (www.thesettingwines.com) new tasting room at Bacchus Landing for Bordeaux-style wines. The Setting Wines has just opened in Bacchus Landing.
Aleishall Girard Maxon's "Overlap 17"
The recently opened Il Fusti Olive Oil (www.il-fusti.com) sells Califor nia-produced vinegar and its own locally grown olive oil, while Oyster, which will be opening this fall, will offer a seasonally inspired raw bar complemented by a Champagne and sparkling wine list. Those headed to Healdsburg can enjoy a Kingsborough performance on September 24 at the final show of this year's Summer Concert Series at Orsi Family Vineyards timeenthusiastsorsifamilyvineyards.com).(www.Winewillalsowanttomaketovisit
All Is New Again
24 september 2022 marin living. news. News by Caitlin Hamer
(bottom)WinesSettingTheofcourtesy(top);MaxonGirardAleishallofCourtesy
Wine WelcomesCountryFall Charles Krug Winery (www. charleskrug.com) is wrapping up its Blue Note Napa Concert Series this September. The outdoor shows have featured multiple acts all summer, and this month's lineup includes The Brian McKnight 4 on September 3 and 4. Over in Sebastopol, The Barlow outdoor market district (www.thebarlow. net) is seeing new developments that foodies won't want to miss.
Curated by his daughter Ricki Blakesberg the tome features his earliest photographs alongside original essays, as well as a foreward by The Flaming Lips' Wayne Coyne and an introduction by musician Michael Franti. Copies can be purchased through Rock Out Books (www.rockoutbooks.com).
What has it been like archiving these photos with your daughter? It's been great. Ricki comes to it with a different eye than me. Allowing her to dig through the archives and find stuff that resonates with her and her gener ation has been really eye opening.
Jay Blakesberg
BlakesbergJayofcourtesyAhlquist,Taylor
A Rockin' Career
What are you trying to capture when you shoot live perfor mances? I'm looking for that magical moment that tells the story of who the band is and what their personality is— I want to capture the feeling and vibe of what's coming off that stage. I want my photographs to tell the story of that experience we're all having together as fans. What keeps bringing you back to books? I really like the process and I like the fact that it's sort of like a vinyl record; you hold it in your hand, take it out of the sleeve. I feel like a book has that same tactile, tangible experience.
26 september 2022 marin living.
news.
Renowned San Francisco–based pop culture photographer Jay Blakesberg (www.blakesberg.com) is celebrating the release of his 16th coffee-table book, RetroBlakesberg – Volume One: The Film Archives (Rock Out Books).
AT HOME, ON THE WATER. luxury bayside residences now leasing Styled interiors, stunning views, social amenities. The Cove is a unique enclave of waterfront homes with a focus on outdoor experiences and a fun, laid-back vibe. Visit today and join in, or level up and tour our exclusive residences at The Pointe collection, which offer unobstructed views of the SF skyline. 50 BARBAREE WAY | TIBURON, CA 94920 415.930.9957 | THECOVEATTIBURON.COM/WATERFRONT
www.stock.adobe.com/Tierney news. State Budget to Benefit Marin Schools The recent $308 billion state budget signed by Governor Gavin Newsom is paving the way for Marin County public schools to receive a large boost in funding. County schools are set to receive millions of dollars more, with a 13 percent increase in the amount of per-student subsidies for state-funded school districts. 988callortext 28 september 2022 marin living. New Behavioral Health Crisis Number A new phone number has been established for behavioral health emergencies. Rather than calling 911, people should call or text 988 when someone is in danger of self-harm or suicide. "Our trained counselors can provide callers with de-escalation, safety planning, connection to resources, and engagement with mobile and emergency response teams as needed," says Buckelew Programs chief executive officer Chris Kughn.
Image: Kev Choice plays at the Great Meadow by Travis Lange Media Sponsors Event Sponsors Marie & Barry Lipman Elman Family FoundationKaren & David Crommie The San Francisco Garden Club Jane & Tom SingerSteven Kelly Ruth & Ken Wilcox Info & Tickets: sfbg.org/flowerpiano SUNSET PIANO & SAN FRANCISCO BOTANICAL GARDEN PRESENT FLOWER PIANO ® Five Days of Pianos in the SEPTEMBERGarden 16-20
For the very first time, an exhibition focusing on Ramses the Great will be presented in San Francisco. Until February 12, 2023, guests can visit the de Young Museum (deyoung.famsf.org) to witness the exclusive West Coast presen tation of Ramses the Great and the Gold of the Pharaohs. This exploration of one of the most famed rulers in world history brings more than 180 objects to San Francisco, many of them are newly discovered. The immersive experience includes the pharaoh's royal sculpture, along with multimedia productions.
30 september 2022 marin living.
(bottom)Youngdetheofcourtesy(top);BluegrassStrictlyHardlyofCourtesy
Freenews.
Music in the Meadows After two years of online-only perfor mances, the Hardly Strictly Bluegrass Festival (www.hardlystrictlybluegrass. com) is returning to San Francisco's Golden Gate Park. On September 30 through October 2, the popular music festival will feature artists like Allison Russell, Las Cafeteras and Marcus Mumford. The event is free to the public and takes place at Hellman Hollow, Lindley Meadow and Marx Meadow in San Francisco. Gogol Bordello Ramses the Great Comes to San Francisco
Traci & Beth Your Trusted Real Estate Advisors With over $400 million in combined sales, we have the knowledge, experience and insight to help you take your next steps in real estate. traci &beth Marin SF Wine Country 415.793.0111 | t.thiercof@ggsir.com | tracithiercof.com | Lic.# 01817886 415.990.7186 | b.sasan@ggsir.com | bethsasan.com | Lic.# 01433542 180 De Burgh Drive San Anselmo 4 Beds | 3 Baths | ±2,923 Sq. Ft. Sold for $2,400,000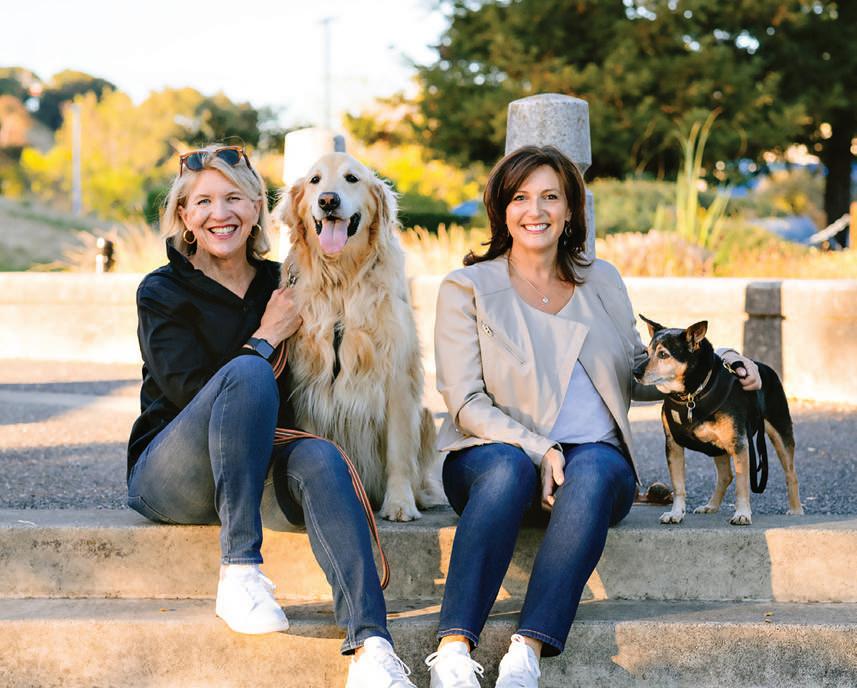 By the PreventionWildfireNumbers The Marin Wildfire Prevention Authority (www.marinwildfire.org) is developing strategies to create a fire-resilient future for the county. The 2022–2023 plan outlines goals in areas that include vegetation management, evacuation, grants, public outreach and home hardening. $20 Million Proposed budget for these projects 100 Roughly the number of fire fuel reduction and defensible space projects to be funded by this plan 14,000 At-risk buildings located in the interfacewildland-urbanareainNovato 83 Miles of fuel breaks planned in Ross Valley and Novato 5.5 Miles of fire roads cleared in San Rafael in the last year 13 Miles of roads that have been prepared with evacuation improvements in San Rafael 20 Percentage of Measure C revenue allocated for community-level wildfire prevention mitigation32news.september 2022 marin living. www.stock.adobe.com/Osaze
marin living. september 2022 33 C M Y CM MY CY CMY K C M Y CM MY CY CMY K
34 september 2022 marin living. brandstheofcourtesyimagesAll local splurges.
5. One of the best parts of living in California? Sweatshirts are always in fashion. Our favorite fall find is this one by Aviator Nation in heather gray. Available at Aviator Nation (129 Miller Avenue, Ste. 700, Mill Valley) or www.aviatornation.com, $165 6. Cast Jewelry's The Go-Go Ring in sterling silver and 14K gold featuring a citrine stone (from the Mad Mod collection) is a stylish accent to any outfit, day or night. Available online at www.castjewelry.com, $1,200
2. Step into fall with Lululemon's Daily Stride Low-Ankle Sock 3-Pack — extended toe cushioning and arch support will make these his new favorite go-tos. Available at Lululemon (The Village at Corte Madera) and www.lululemon.com, $34
2 1 3 5
1. Allbirds' newest addition, the Tree Flyer, is a runner's dream. The Swift Foam sole is light as air, supremely bouncy and sustainable. Available at Allbirds (The Village at Corte Madera) or www.allbirds.com, in women's and men's sizes, $160
3. Touted as the best men's tees on the market, Buck Mason's Tough Knit Curved Hem Tee is a smart addition to any guy's closet. Available at Buck Mason (568 Hayes Street, San Fran cisco) and www.buckmason.com, $45 Style It Out Start a his-and-hers seasonal wardrobe refresh with these fashionable finds. By Casey Gillespie 4 6 4. Cuyana's System Tote is the perfect work and travel companion — and a must-have for fall. It is completely customizable with inserts and attach ments. Available at Cuyana (2116 Fillmore Street, San Francisco) and www.cuyana.com, $278
THE TWIN SISTER TEAM PRESENTS: Exquisite Custom Estate in Historic Larkspur Mt. Tam & Bay Views! 5 BR/4 BA | $6,250,000 | 80MarinaVista.com JuliaandVictoria.com Julia Bernardini & Victoria Clemons DRE:team@juliaandvictoria.com415.827.655201895525|01972746
eat &
West Shore Wine Co.
Meghan DeRoma, Christine Peck and Alexi Cashen, the co-owners of St Hildie's Botanical Spiked Seltzers (www.drinkahildie.com), first conceived the idea for their brand in March 2020. After noticing how many people were reaching for cans of spiked seltzers in an effort to consume something with fewer calories and less sugar, they realized there was a lack of nutritional labels on these drinks. Sensing a window of opportunity to create a transparent brand that fit into this niche market, they began to look for a way to do it better. drinkBottoms
PhotographyLarsonMike
These fizzy, boozy drinks are overflowing with both flavor and style.
36 september 2022 marin living.
THERE'S SOMETHING DELICIOUS BREWING in Marin, and it seems to be specifically bubbling up in Mill Valley. With canned alcoholic drinks gaining popularity as the libation of choice, the female founders of two local beverage companies have tapped into that trend, standing out with a dedication to flavor and quality.
Up!
By Caitlin Hamer
We are the spark that ignites business growth. Join our vibrant group of business collaborators! srchamber.com | 415.454.4163 • Create connections in the community • Boost your brand awareness • Access Influencers and Policy Makers
"We knew we could make something delectable and considerate, which was not what we were seeing on shelves," says Cashen. "Something elevated." Thus, St Hildie's was born. Named after 12th-century mystic and polymath Saint Hildegard von Bingen, these fizzy creations honor a muse who wrote at length about using plants for holistic health. "As a nod to the real St. Hildie and our own high stan dards, our spiked seltzers are made with all real botanical ingredients, juice and extracts, for a light-but-complex and balanced imbibe," explains DeRoma. St Hildie's currently offers three crisp and lightly fruity Tincture Tonics to choose from: Guava Ginger, Lemon Turmeric and Elderberry Hibiscus, every can sporting a colorful label that corresponds to the flavors within. "Each Spiked Seltzer is made to be its own tiny universe of flavor experience," says Peck. "And each recipe includes our blend of extracts of lemon balm, holy basil and eleuthero."
Meg Edwards and Robyn Sebastiani, the co-founders of West Shore Wine Co. (www.westshorewine.com), also began their venture as an effort to fill a gap in the alcoholic beverage market. Officially launched in November 2021, this small-batch wine company has been gaining fans with its California-grown, -canned and -packaged bubbly rosé wine. "When I became a mom, I felt like my life totally changed and my priorities changed, but I still wanted to be able to meet up with friends and have an occasional wine on the go," says Edwards. Dissatisfied with the canned wines available in stores, and preferring not to drink beer, Edwards and Sebastiani opted to create something portable, convenient and aligned with their taste preferences. The women were able to connect with friends and colleagues from within the local wine industry to bring their dream to fruition, and they launched West Shore with a dry rosé, adding a bit of fizz to boost the refreshing qualities of the wine.
St Hildie's
And these cans fit the bill: the West Shore team worked with a graphic designer to come up with a label expressing the vibes of the drink. "I came to her with a color-washed vision, like a sunset meets the ocean, and she was able to bring it perfectly to life," Edwards says. Both companies are planning on expanding offerings, with West Shore considering making a white wine, while St Hildie's is working on creating new flavors, including seasonal offerings. The beverages can be found at a handful of local retailers, but can also be purchased on the brands' respective websites. And one thing is for sure: no matter how long the can fad lasts, these women know how to make a good drink, and that's giving them staying power.
"It's for everyone, but we made the wine with our demo graphic in mind to fit into our lifestyle," says Edwards, adding, "We wanted to find something that's fresh, bright and fun and embodies the NorCal lifestyle that we love."
38 september 2022 marin living.
eat & drink
Hildie'sStofCourtesy
"Lei Ann sold our home and set a new high for price per square foot in our neighborhood. Her design choices were spot on. Her crew was on time, on budget and did excellent work. Lei Ann expertly navigated unexpected issues from our inspection. Her communication throughout the process was clear, timely and reassuring. The whole process from start to finish was professionally managed. We highly recommend working with her and her team." —C.B. & J.B., Larkspur Expertise Built on Experience Your Real Estate Advisor Top 1% of All Marin County Agents Lei Ann Werner The Werner License#415.710.0117Group|l.werner@ggsir.com00994572 $42+Million Sales Volume in 2021 352 Riviera Circle, Larkspur 3 BD | 2 BA | 2,163± SQ. FT. Sold Over Asking | $3,205,000
local getaways.A Day Out in Yountville By Casey Gillespie Enjoy an afternoon feasting on gourmet bites and bubbles at Chandon.
While Chandon is Napa's go-to for incomparable sparkling wine, a visit to the winery also spotlights chef Juan Cabrera's gastronomic prowess. Try the Epicurean Experience, a five-course food-and-wine pairing that incorpo rates not only sparkling wines, but some of the estate's impressive still wines, too, with an inventive, seasonal menu that will both surprise and delight. Finesse, The Store
Chef Thomas Keller's presence is felt throughout Yountville and so it would be a crime to leave without a little something to remind you of that. Whether it is a K+M Milk Chocolate Truffle Fries artisanal chocolate bar, kitchen shears or a French Laundry scented candle, this store is a must.RH Yountville
6540 WASHINGTON STREET www.alchemyworks.us
6526 YOUNT STREET www.bardessono.com
A trip to Yountville is an escape like no other. Consid ered by many to be the culinary heart of Napa Valley, the walkable village has a laid-back, small-town feel punctuated by personable service, first-class wines and an air of total relaxation (wine time is a thing). The area was originally owned by Mexico, but in 1836 George C. Yount received an 11,887-acre land grant from the Mexican government that stretched from Yountville to just below the southern border of St. Helena, extending the width of the valley. It wasn't until the 1850s that Yount created the six-block stretch with a public square that we know as Yountville today. And because of Yountville's distinct microcli mate, it has its own AVA (American Viticultural Area). Here is where we'll be eating, drinking, shopping and staying this fall.
marin living. september 2022 41 (opposite)Chandonofcourtesypage);(thisRHofCourtesy
Surely a day packed with culinary delights merits a visit to a local pampering oasis? Situated in the middle of town, b Spa incorporates local botanicals — and ingredients hand-picked from the on-site garden — into each of its treatments. Bliss awaits.
Chandon 1 CALIFORNIA DRIVE www.chandon.com
6540 WASHINGTON STREET www.finessethestore.com
Alchemy Works
This is where Coastal California meets the South of France and we are here for it. With breezy wardrobe additions, dreamy coffee-table books and small must-have items like Earl Home cereal bowls, chic coin purses and luxurious body oils, it's a store we'll return to again and again. b Spa at Bardessono
(opposite)StarkChristopherpage);(thisWineryTridentSilverofCourtesy
Hestan Vineyards 6548 WASHINGTON STREET www.hestan.com
RH Yountville 6725 WASHINGTON STREET www.rh.com
A tried-and-true favorite — no visit to Yountville is complete without a meal at RH. Chandelier-laced olive trees and an air of whimsy make for an unforgettable visit every time. And if you haven't experienced the RH Wine Vault yet, it's time. Small, inde pendent winemakers from both Napa and Sonoma are the specialty, with many available only here and at the wineries themselves.
The Model Bakery is famous for its fluffy English muffins and irresistible buttery pastries and this shrunk-down version of the original does not disappoint. While tourists queue up around the block at Bouchon, join the locals here. Priest Ranch Wines Tasting Room 6490 WASHINGTON STREET www.priestranchwines.com
Silver Trident Winery 6495 WASHINGTON STREET www.silvertridentwinery.com
A stark — and welcome — contrast to other tasting rooms in the area, Silver Trident feels like stepping into the home of a dear friend. The coziness is due in no small part to the floor-toceiling Ralph Lauren Home Collection decor, which pairs perfectly with every glass of wine. Don't hesitate to ask about the design items and art; they are available for purchase. Mini Model 6523 WASHINGTON STREET www.themodelbakery.com
Hestan was born out of the owners' deep passion for delicious food and great wine. So it is no surprise that in addition to a delectable wine tasting experience, you can find the crème de la crème of cookware (Thomas Keller even has a revered line of pots and pans here) and dining accessories. Your kitchen is going to thank you.
Priest Ranch cabernets are the embodiment of what Napa Valley is known for, but don't take our word for it: stop into the Yountville tasting room and sip for yourself. If you want to enjoy something truly memorable, look no further than the Bacon & Wine experience and prepare to be wowed.
Regiis Ova Champagne and Caviar Lounge 6480 WASHINGTON STREET www.regiisova.com
local getaways.
SilverTrident's tasting room
Maison Fleurie 6529 YOUNT STREET www.maisonfleurienapa.com
Caviar is definitely having a moment and at this newly opened lounge right in the heart of Yountville you have the opportunity to learn more about this go-to delicacy. Go all out and try the tasting, but don't underestimate the deliciousness of a Royal Caviar Deviled Egg or the Waffle and Eggs with Siberian caviar.
42 september 2022 marin living.
Part of the Four Sisters hotel group, Maison Fleurie is a little slice of provincial heaven in the heart of Wine County. Reminiscent of a quaint French country inn, this boutique hotel offers spacious rooms and suites, top-notch service (expect a call when your room is ready for check-in) and a homestyle breakfast included with every stay.
Regiis Ova Champagne and Caviar Lounge
Saving Democracy
At an upcoming TEDxMarin event, Stanford professor Robb Willer will release the results of one of the largest social science experiments of its kind ever conducted — one that he hopes will find solutions to America's worsening political partisan divide.
take note.
By Daniel Jewett
Launching the Strengthening Democracy (www.strengtheningdemocracychallenge.org)Challengetwoyears ago, he and his team began asking the public for "interventions" they thought could serve to cool the political temperature. "What we did was try to set up a sort of tournament structure, in an experiment where we could crowdsource ideas from many, many people for how to effectively intervene on Amer icans' democratic attitudes and partisan animosity," he says. Expecting 50, they instead received 250 ideas that came from all types of people in 17 different countries.
The next step was to run a massive experiment, likely the largest of its kind, that would expose an equal number of Republicans and Democrats to one of the 25 selected interventions (or none, providing for a control group) and see if it changed their attitudes.
According to Willer, the 2022 and 2024 contests will be extremely important tests of democracy and the legitimacy of U.S. elections. "There's a real risk here, if we let things get out of hand, that things could go really, really sideways," he warns. "We can't approach these problems with enough urgency."
The TEDxMarin Rethink events includes Willer and several other speakers and takes place September 17 at 6 p.m. at the College of Marin. www.tedxmarin.org Robb Willer
"We have two camps of people [Democrats and Repub licans] that are deeply entrenched in their views and have strong animosity towards each other," he says. "And I under stood that if I wanted to work on those problems, I was going to need to study that really specifically and up-close."
marin living. september 2022 45 (opposite)www.stock.adobe.com/zimmytwspage);(thisBusinessofSchoolGraduateStanfordofCourtesy
Arguing that Americans are the most divided they have been since the Civil War, he says the problem appears to have started at the elected-officials level. "If you look at graphs of voting in Congress, you can see Democrats or Republicans used to have substantial overlap in their voting patterns. You don't see that at all anymore," he says. "So the polarization happened there first and then the identity of being Democrat and Republican just was more meaningful, and people were able to more cleanly divide into one of those identities or the other."
As to what solutions he hopes his project will reveal, Willer says it looks like two interventions are rising to the top: people in positions of power and influence need to be seen reaching across the aisle — as Republican Sen. Mitch McConnell did when he endorsed the outcome of the 2020 election — and Americans need to start trying to understand the other side outside of the media echo chamber. "We need to give people accurate information about what Americans and rival partisans think about democracy or about partisan violence and political issues," Willer says. "For example, we have found that Americans tend to overestimate the levels of support for partisan violence among rival partisans by something like 400 percent."
AMERICANS STRUGGLING TO FIND BALANCE in a
Willer (www.robbwiller.org), who is professor of Sociology, Psychology and Organizational Behavior and leads an innovative Polarization and Social Change Lab on campus, says Stanford was the best choice because it was where he could really scale up his research.
politically fractionalized country might one day look back and be thankful that Robb Willer finally had enough of delivering pizzas and washing dishes and decided instead to follow in his father's academic footsteps and become a professor at Stanford.
Realizing that polarization is blocking social progress in the United States, he decided to look for ideas to counter it and, in the process, chose to include 31,000 of his closest friends.
After that, Willer believes, mass media and social media amplified the divisions and "just threw gasoline on the whole thing."
"This design allowed us not only to compare what does experiencing these 25 interventions do to people on average, relative to not intervening with them at all, and being able to compare them against each other," Willer says, adding that the experiment is almost complete and he'll be able to reveal the most effective ideas at TEDxMarin. "So it's a bit of a horse race structure where we can say 'which of these ideas work and which of these ideas work the best' — and that's something that prior studies couldn't do."
marin living. september 2022 47
HeartArtinthe
The announcement of new cultural districts is expected in December.
"If Mill Valley doesn't get a cultural district designation, no town should," says Golden, who promoted arts venues in Miami-Dade County before arriving in Marin. "Artists, musicians and actors have been coming to Mill Valley since before the bridge was built."
WHILE STROLLING through downtown Mill Valley, Marin arts promoter Michael Golden noticed that he couldn't go for more than a block without ambling past a gallery, theater or music venue. So, when he heard about the California Arts Council's (www.arts.ca.gov) call for proposals for the second round of California Cultural District designations — downtown San Rafael was among the first 14 cities to be honored in the 2017 first round — he instantly thought of Mill Valley. The city council and chamber of commerce there agreed and put him on the case.
Downtown Mill Valley brims with culture — and may become a California Cultural District.
The proposed downtown designation would highlight 21 venues, most of them walking distance apart. If approved, it should give the outlets a boost, as most are nonprofits that have had to scrape by throughout the pandemic on state, county and foundation grants.
In addition to the downtown Mill Valley venues and events described here, others are about a mile away: the Marin Theatre Company features new plays and presents the Macbeth sequel Dunsinane Sept. 22 to Oct. 16; the 50-year-old Mill Valley Chamber Music Society performs a Bach concert at a Mill Valley church on Oct. 2; and the O'Hanlon Center for the Arts hosts its annual Wabi-Sabi exhibit on Sept. 15 through Oct. 29. Cultural spots with historical significance include the 1892 Lumber Yard (now a collection of 17 artist studios, shops and eateries); the 1902 Outdoor Art Club (a Bernard Maybeck–designed clubhouse); and the 1928 Depot Cafe and Bookstore (a train station-turned-cafe/bookstore).
By Bob Cooper Illustrations By Tiffany Dang
Throckmorton Theatre, built in 1915, is a multi-genre performing arts center featuring live music, comedy and even free puppet shows. Curtain Theatre stages free Shakespeare plays just up the street in Old Mill Park each summer (Two Gentlemen of Verona is playing through Labor Day).
Theaters and Music
One is Aerena's fourth North Bay location, which began showcasing a variety of artists and genres, including photography and midcentury furnishings, after opening in July. And in January 2023, Anthony Meier Fine Arts, the S.F. Pacific Heights gallery, will open a 4,000-square-foot space previously occupied by two stores near the Sequoia Theater.
48 september 2022 marin living.
The fact that two new downtown galleries are opening after two years of pandemic shutdowns is a sign of downtown Mill Valley's robust appeal.
Sweetwater Music Hall celebrates its 50th anniversary in November with special performances by legendary rock, pop and jazz musicians. Until then, the storied venue will continue to showcase local and tribute bands almost nightly. The CinéArts Sequoia, a 1929 art deco gem, is owned by the nonprofit California Film Institute, which operates the Mill Valley Film Festival (more on that later). Renovations will soon expand it from two to four screens.
The Seager/Gray Gallery is a woman-owned gallery featuring Renée Bott's digitally modified Renaissance etchings and engravings (Sept. 1–29) and Devorah Jacoby's figurative and abstract paintings (Oct. 1–30). And, Poet and the Bench displays the work of more than 50 artists, artisans and jewelers.
The Desta Gallery moved to Mill Valley from San Anselmo in 2020 and displays contemporary art with an emphasis on socially relevant works; Archie Held, Isabelle Maynard and John Wood and will exhibit through Oct. 15.
The proliferation of galleries downtown began in 1969 with Robert Green Fine Arts, which specializes in abstract expressionist art. Painter Ed Moses' work will be displayed Sept. 30 to Oct. 30. The Kim Eagles-Smith Gallery, which relocated from San Francisco in 2019, will present a group show in September and work by Marin landscape artist John McCormick in October.
Galleries
and
Events
The Mill Valley Fall Arts Festival (Sept. 17–18) has been a popular event in the redwoods of Old Mill Park since 1957, with musicians entertaining the festival-goers all weekend. Also this fall, the Sequoia theater will serve as the primary home of the prestigious Mill Valley Film Festival (Oct. 6–16) for the 45th year.
and exhibits), Concerts
The Mill Valley Arts Commission puts on three events at the Depot Plaza: First Tuesday ArtWalks (monthly except in January, 16 that host receptions in the Plaza (eight bands, Morrison Caledonia on Sept. 10–11), Comedy in the Plaza in June.
galleries and other downtown venues
in
THEATERS AND MUSIC Curtain Theatre www.curtaintheatre.org Sweetwater Music Hall www.sweetwatermusichall.com Throckmorton Theatre www.throckmortontheatre.org AerenaGALLERIES www.aerenagalleries.com Anthony Meier Fine Arts www.anthonymeierfinearts.com Desta Gallery www.destagallery.com Kim Eagles-Smith Gallery www.kesfineart.com Poet and the Bench www.poetandthebench.com Robert Green Fine Arts www.robertgreenfinearts.com Seager/Gray Gallery www.seagergray.com MillEVENTSValley Arts Commission www.marinarts.org Mill Valley Fall Arts Festival www.mvfaf.org Mill Valley Film Festival www.mvff.com TheOTHERSDepot www.depotcafeandbookstore.com Lumber Yard www.millvalleylumberyard.com Marin Theatre Company www.marintheatre.org Mill Valley Chamber Music Society www.chambermusicmillvalley.org O'Hanlon Center for the Arts www.ohanloncenter.org Outdoor Art Club www.outdoorartclub.org The Venues
&
including Shana
50 september 2022 marin living.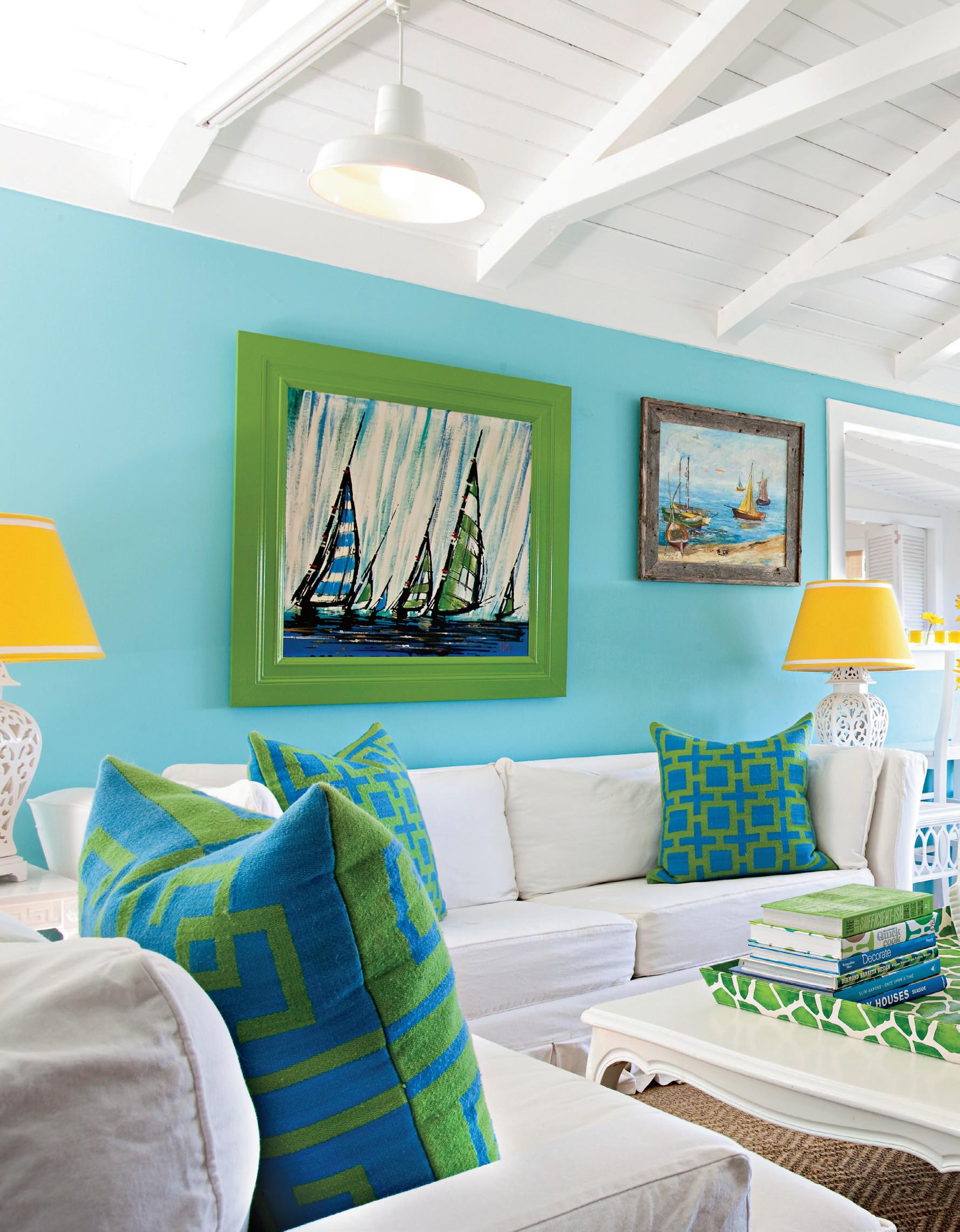 ByEvaHagberg
MerklJohn
DesignerLaurelHarrington's100-year-oldcottagecomesaliveinariotofplayfulcolors.
Harrington's Mill Valley cottage
nearly infinitely customizable chairs, tables, stools and a bed, and which combines graphic imagery — the flagship product is the Daisy Doo chair, a polished base that comes in either oil-rubbed walnut or American white oak and features a poppy iconographic floral daisy-inspired back, made with sophisticated materials and a keen attunement to craftsmanship. The bed, whose headboard is a series of jigsaw puzzle pieces, comes in color combinations that are unusual for an interior designer. All of which is inspired by both the consultant Eve Ashcraft, who saw an early iteration and offered to help Harrington come up with colors, and the fact that Harrington lives in an extraordinarily colorful house.
not to be afraid to be a creative person," Laurel Harrington says. It's shocking, to someone who's been aware of her interior design work — which spans high-end residential projects for San Francisco's toniest families to wineries like Silver Oak, which she did in collab oration with local architect Daniel Piechota, not to mention a new furni ture line (which we'll get to) — to hear her say that she ever had an iota of fear. But this industry, even as it might be filled with iconoclasts, can push even the most creative person toward a subtle median, gently shaving off all the parts that make them them. It takes someone with a combination of strength, perseverance and a partic ular affinity for joy to really make it — and make something new. A few years ago, Harrington, who founded Harrington (www.harringtondes.com)Designin 2002, was working with three families on interior design projects and found a common thread. "They didn't want to feel like their kids were off somewhere else," she says of the families, each of whom had a bunch of children. "In those years we were constantly searching for fabrics that were interesting and playful and fun, or pieces of furniture that were timeless." Harrington's clients tend to fit a similar profile — a design-driven wife and a hardworking husband, both of whom are devoted to creating a family life worthy of the work they've put into building comfortable lives for them selves. And those clients "don't want something formulaic; they like to collab orate." Being pushed — and supported — by these clients, in combination with a general distaste for disposable furniture or super design-y pieces, eventually led to the creation of says(www.honeydudley.com).honeydudley"It'snotkids'furniture,"Harringtonoftheline,whichencompasses
(opposite)MerklJohnpage);(thisArrowoodTarabyPortrait
52 september 2022 marin living.
Laurel Harrington
Daisy Doo chairs; painting by Nancy Spoelhof, "Bus Rides and Jolly Ranchers," oil on canvas, 37" x 60"
Eschewing the drama and chaos of San Francisco for Mill Valley, Harrington has been in the same 100-year-old farmhouse for decades, though for the last seven years she's shared it with her son, Crosby. Built as a summer cottage and supremely modest in scale compared to a number of the houses that directly abut it, the house is a living laboratory for Tiburon native Harrington. "I was the only person who didn't want to tear the house down," Harrington says of making an offer and of going up against a developer who wanted to get rid of the house, split the generous lot and make a buck. The house's existing owner, a woman who had raised her four kids there, refused to sell for decades, even when presented with the juiciest of offers. But something about Harrington clicked. Maybe it was the fact that she had a dog, as the owner had; maybe it was her dedication to preserving the spirit of the house; or maybe it was just one of those ineffable connections that can happen over a plot of land and a collection of building materials. In any case, Harrington moved in and made it her own. "I love living here," she says. "We have beautiful views everywhere; it's little; it just has a good vibe." Indeed, the house does have a very good vibe, from the striking green door that opens up into a turquoise entryway/ living room furnished with extremely comfortable-looking (and probably feeling) white beach-y furniture that's half Stinson, half New England, and all Harrington's take on Mill Valley. Whitepainted Daisy Doo stools featuring blue-painted petals and a deep emerald upholstery line the navy-cabineted kitchen, a layered Daisy Doo table anchors the collection, and that jigsaw headboard makes a surprise — and surprisingly fun — appearance. Her own bedroom is tiny by luxury standards, but makes up for the lack of usable footprint with the introduction of bright kelly green painted walls, the deeply hued wooden panels meeting the bright white-painted ceiling and creating a feeling of playfulness, interiority and deepThesolace.house is a respite for Harrington, who's no stranger to the hard work of launching a successful and much-lauded furniture line while keeping up with her busy schedule as an in-demand interior designer. And it allows her to continue to return to her creative origins, the kind of energy that led to honeydudley and all that's to come. It may have taken her whole life not to be afraid, but she's made it.
Harrington's 100-year-old Mill Valley cottage
54 september 2022 marin living. opposite)andpage(thisMerklJohn
The jigsaw headboard and bed, part of the honeydudley collection
love at first ride
Bluejay Electric Bicycle
marin living. september 2022 57 opposite)andpage(thisPhotographyBatzAshley By Keri Bridgwater It's no secret that electric bikes have become the au courant eco-lifestyle accessory since the pandemic. Perhaps none more so than the Marin-based and woman-owned brand Bluejay, whose vintage-inspired rides crush city cycle lanes and country hills with panache.
58 september 2022 marin living. opposite)andpage(thisPhotographyBatzAshley
"MOVING TO MARIN is really at the heart of this story," says fashion and marketing executive turned e-bike entrepreneur Jen Cohen Bogan. Despite family roots in Southern California and a decade spent working in New York, the Harvard Business School grad and her husband agreed Northern California — specifically Marin — would become home for their young family one day. "We always loved the outdoor lifestyle here, but after moving up from San Francisco, I started seeing people around town on these bikes with their kids on the back. It was 2017, and I had no idea what they were and had to ask my husband about them," she says. Having stepped back from her position as VP of global marketing and digital at Sephora subsidiary Kendo Brands, Cohen Bogan planned to spend more time with their children, but always knew she wanted to create something for herself. "I wasn't sure what that would be or look like and decided to take time out, be with my family and see what percolated," she says. "When my husband was like 'that's an e-bike,' it piqued my interest from a business standpoint, and I immediately had to try one."  Aside from "riding up a hill with no effort," Cohen Bogan's "lightbulb moment" was realizing the world e-bikes could open — taking the kids to school, cycling to the office, going to lunch — all without sacrificing comfort or style. Zero emissions and reducing carbon footprint also appealed to the sustainably minded new Marinite. "I could get around the neighborhood faster than in my SUV, but the freedom I felt from riding a bike and being connected to nature resonated. Who wants to be sitting in their car in Marin?"
The only issue was finding a bike that matched her aesthetic vision and offered a rider experience she found lacking in available brands. Research trips to bike shops and the Marin Museum of Bicycling (which displayed a Susan B. Anthony quote about how the bicycle became a symbol of women's emancipation) served as significant sources of inspiration. A visit to Amsterdam, "where everybody cycled and looked stylish, no spandex in sight," followed by factfinding trips to Germany (the world's most advanced cycling market) and Asia to meet manufacturers, helped fine-tune design language, hardware and finish choices. "Forget the glass ceiling. Instead, make your own ceiling," says Cohen Bogan, who hopes brands like her Bluejay Electric Bicyles (www.bluejaybikes.com) will inspire more women to pursue their entrepreneurial dreams.
marin living. september 2022 59
60 september 2022 marin living.
opposite)andpage(thisPhotographyKelloggSummer
Eyeing a market for kids and teens — her children are now "begging for their own Bluejays" — Cohen Bogan says additional models and customizable options will eventually round out the fleet. Thanks to a core collection of attractive neutrals and limited-edition shades, including a custom blush so popular it's now permanent, the most challenging decision might not be getting a Bluejay, it's picking a color.
Mad Dogs & Englishmen in Mill Valley (her first sales partner, who designed the pet-friendly sidecars) and Breaking Away Bicycles in Ross are two local purveyors, but the brand's new stand-alone boutique in Newport Beach showcases both models alongside their entire accessories range — from rattan pannier baskets to chic bamboo bike bags. "You'll be seeing more Bluejay shops in the future," Cohen Bogan says. "Our office-meets-warehouse and demo HQ in Larkspur is a great place to stop in for a test ride, but when it's time for a second store, Marin will be top of the list."
Her debut Premiere Edition, an elegant Dutch-style stepthrough cruiser, topped must-have lists when it presciently launched in the fall of 2019 and has since been joined by the Bluejay Sport, a more dynamic all-road ride with a top speed of 28 mph. "The secret at LVMH was always how do you create a timeless brand that's on the forefront and offering some thing new?" she says. "I set out to create a bike people wanted to ride because it's awesome and just knew the risk going into business as a total industry outsider was one worth taking." Precision engineered with elegant design details — from the "stop on a dime" Tektro hydraulic disc brakes and Bafang mid-drive motors to hand-stitched faux leather saddles and handlebar grips — Bluejay bikes are beautiful to behold. There's a growing celebrity fan list (think Gwyneth Paltrow and Melissa McCarthy), but Cohen Bogan also worked hard to build early brand recognition with pop-ups around Marin and road-tripped to meet dealers in ski towns like Park City, Jackson Hole and Sun Valley during the Covid summer of 2020.
marin living. september 2022 61
Organic to the Core Since 1969 Good Earth is an independent natural and organic grocer, proudly serving Marin since 1969. From our early days at 123 Bolinas Road to today, we've remained committed to advocating for a healthier and more sustainable food system, and providing our community with the highest quality organic food available. With locations in both Fairfax and Mill Valley, Good Earth offers the largest selection of organic takeout in Marin, as well as a carefully curated mix of products from pantry staples and bulk goods, to artisan cheese and 100 percent organic produce. www.genatural.com | questions@genatural.com Fairfax | 720 Center Blvd., Fairfax, CA 94930 Mill415.454.0123Valley|210 Flamingo Rd., Mill Valley, CA 94941 415.383.0123 Picture Perfect Living As a California-based photographer and filmmaker, working with interior designers, homebuilders, architects and design firms, I've found my passion in capturing interior design and architecture. My process is centered around accurately capturing my clients' visions and I look forward to continuing to photograph the spaces in which my clients work and live their dreams. Steven J. Magner www.stevenjmagner.comsteven@stevenjmagner.comPhotography|/@stevenjmagner Reiki of Marin: Embark on Your Healing Journey Your healing journey is a co-creative experience with you as an active participant in your healing. Our work together uses a proven mind+body+spirit formula of three important building blocks: Knowledge: Uncovering and understanding your current blind spots; Practice: Putting guidance and strategies into real-life practice; Healing: Reiki energy healing relieves you from stress and restores you to a natural state of well-being. Together we set a foundation of strength and resilience so you're able to confidently (feel it in your bones) change course toward the life you've been wanting. Jennifer Brinn, founder of Reiki of Marin info@jbrinn.com | www.reikimarin.com415.430.5813|/@jenniferbrinnreiki PROMOTION Community Minded
approachable?andbetterWhatwww.marinlivingmagazine.comisfaster,lookingmoreOurbrandnewwebsite! Visit the revamped www.marinlivingmagazine.com to get the latest on all things Marin, discover past issues and upload your local events to our new (free) Community Calendar! You'll see, it's just better.
In this issue, MarinLiving honors local experts who specialize in how to live more beautifully. Whether it's self-care or beautifying one's home, this special section provides readers with an inside look at top experts, services and products. How these professionals conduct business exemplifies their passion, commitment and love for what they do and sets them apart from the competition. And that is beautiful. beautiful living
LifehouseAuffenbergJennifer
18LifehouseProfessional Center Parkway San Rafael, CA | www.lifehouseagency.orgmail@lifehouseagency.org415.526.5300
Jennifer Auffenberg with direct caregiver Patricia Schermerhorn
beautifulliving
What unique services does Lifehouse provide to help you enjoy beautiful living? I receive support that is perfect for my needs. Patricia Schermerhorn, one of my direct care staff, helped me find my own apartment. She and I searched until I found one that I loved and was within my budget. Sometimes I run around my apartment singing "I love my apartment!" Patricia and my other direct care staff help me with every thing from meal choices and grocery shopping, to planning movie and lunch dates with my boyfriend, Peter. How do you feel about yourself and your home? Patricia gives me lots of choices of things to do. She starts the day by saying "This is your day! What would you like to do?" Lifehouse provides structure in my life and that really helps me.
An interview with a person supported by Lifehouse illustrates how this organization helps those with intellectual and developmental disabilities.
ABOUT LIFEHOUSE What makes Lifehouse a leader in the nonprofit industry? Lifehouse is at the forefront of imple menting "Person Centered Thinking" (PCT) in California and has become the expert in this field. PCT is at the core of the services offered to people with intellectual and developmental disabilities (I/DD): put individuals first, listen carefully and learn who they are and what they want from life.
PROMOTION
This July, Encore Consignment marked its 36th anniversary of serving Marin County and Bay Area customers as an upper-end ladies' resale shop. What sets your business apart? Encore's staff carefully curates each item it receives. Items must be a "good label," current and in next-to-new condition. Encore works closely with personal organizers who handle wealthy clients. Wardrobe specialists seasonally bring their clients' castoffs to Encore, and then take their clients shopping again. It's a win-win, and helps lessen the earth's carbon footprint.
The perfect place to score upper-end clothing deals.
What unique products do you offer? Encore always has a beautiful collec tion of gowns and cocktail attire for special occasions and you can often find a Gucci, Yves Saint Laurent or Prada dress. We also have plenty of Lululemon and other brand-name sportswear, dresses by designers like Ulla Johnson or La Vie and shirts by Johnny Was and Joie. In winter we are well stocked with cashmere sweaters such as Brunello Cucinelli and a collection of boots by Prada or Paul Green. Any recent developments? At the beginning of this year, Encore moved to a new location on 4th Street in San Rafael. Encore Consignment 401 Fourth Street, San Rafael, CA 94901
Does your business have a notable Bay Area history?
PROMOTION LindaConsignmentEncoreHensley
www.encoreconsignment.comencoresr@gmail.com415.456.7309/encoreconsignmentmarin/@encoreconsignmentmarin
beautifulliving
(bottom)PhotographyMagnerJSteven(top);TestiChristophe
How are you staying ahead of the competition? I have a true passion for continued education in medical aesthetics, and I am always seeking out the newest products and treatments on the market. As technology advances, I strive to bring the most effective treatments to my patients for the best possible results. What unique services do you offer to help your clients enjoy beautiful living? At Belle Marin, all of our services and products are carefully curated by myself. Whether our patients are seeking our medical aesthetic procedures, body contouring or highly luxurious facials our goal is always to make our patients feel like the most beautiful version of them selves, and leave Belle Marin feeling refreshed. We strive to offer the most advanced options on the market for results-driven services that many of our competitors may not have, all the while creating a beautiful boutique environment with top-notch service. What new services do you offer? At Belle Marin, we are always offering the most advanced and effective technology on the market. Most recently, we have added the TruBody and AviClear services. TruBody consists of a combination of TruSculpt iD and TruSculpt Flex+. TruSculpt iD helps reduce fat, while TruSculpt Flex+ strengthens and builds muscle. We are also very excited to offer AviClear, which is the first and only FDA-cleared energy device for the treatment of mild to severe acne.
PROMOTION
Belle Marin Aesthetic Medicine 250 E Blithedale Avenue, Ste. B Mill Valley, CA 94941 415.887.8718 | /@bellemarincahello@bellemarin.com Dr. Faye Jamali Belle AestheticMarinMedicine Quality aesthetic services in a boutique-like setting.
beautifulliving
beautifulliving
Licensewww.trailscapeinc.comrandy@trailscape.net530.852.5155#915774 Randy Martin Trailscape Safeguard your home from fire while also adding enjoyment and value.
PROMOTION
129TrailscapeParkDrive, Roseville, CA 95678
What unique services do you offer to help your clients enjoy beautiful living? Trailscape builds trails for private landowners and public entities. Our functional trails allow families access to impassible land and act as a protective fire break. In addition, they provide endless hours of enjoyment and exercise, whether it be hiking, running or biking. How are you helping clients feel good about their properties? Our trails provide our clients more freedom to access their beautiful properties and gives them a deeper sense of belonging to their land. Our trails become a feature for every home and desirable selling point.
What are you doing in business that nobody else is? Our clients can access a calm and tranquil environment or have an adventurous hike in nature, without having to travel to crowded public parks and trails. What do you want people to know about your business? We want people to know we are addicted to the grins of gratitude that we receive from our clients when they no longer have to imagine access to beautiful places because they can experience it directly every day.
What does beautiful living mean to you? Beautiful Living involves both appre ciating our life and the beauty around us as well as embracing practices that cultivate beauty. Beautiful people have an inner glow and an open and peaceful presence. In addition to the lifestyle practices we cultivate, we often need to seek out support for our physical well-being, too. What is your philosophy about maintaining vibrancy while we age? I begin with the understanding that we are not separate from nature, rather we are one and the same. Appre ciating the magnificence of nature and learning to live in resonance with nature contributes to vibrancy as we age. For me, that means spending time outdoors in the fresh air, soaking up sunlight, especially first thing in the morning, and eating healthy, ideally locally sourced, organic food.
PROMOTION
Beth McDougall, JyzenM.D.Labs New, advanced technology can put your wellness goals within reach. beautifulliving
Jyzen Labs 100 Shoreline Highway, Building A, Ste. 210, Mill Valley, CA www.bethmcdougallmd.comwww.jyzenlabs.com94941/@bethmcdougallmd|/@jyzenlabs
How does Jyzen Labs support wellness and healthy aging? At Jyzen Labs we have brought more than two decades of medical research, resonance physics, and leading-edge wellness technologies under one roof. We offer our clients the opportunity to optimize both mind and body through customized programming. Our goal is to empower our clients to reach their goals and live in their best radiant health.
PROMOTION
How are you disrupting your industry? When we began NovaSculpting over 8 years ago, our 100 percent focus was noninvasive body contouring utilizing the very best technology in CoolSculpting Elite. We made a decision for our clients to have the very best body contouring and to build an entire brand delivering clinically superior results to our clients. Have you introduced new services in your industry? We offer our clients a complete and comprehensive noninvasive body trans formation with the best technologies on the market. CoolSculpting Elite is the No. 1 noninvasive permanent fat reduction treatment coupled with CoolTone to tone and define muscles and our medical grade at-home skin care products to treat cellulite and enhance permanent fat elimination.
NovaSculptingWoodhouseMichele The best techniques for the best body. beautifulliving
www.novasculpting.cominfosf@novasculpting.com415.638.6244San3214NovaSculptingFillmoreStreet,Francisco,CA94123
NovaSculpting is a top 10 national provider of CoolSculpting Elite and CoolTone. Our Body Contouring Specialists are highly trained and CoolSculpting Elite Masters certified. At NovaSculpting we develop a customized body contouring treat ment plan to help our clients achieve their optimal results. It is truly the "NovaSculpting Difference."
What is it about your business that makes it a great choice for clients?
Lisa LAFACEAlexanderSkincare
What/@lafaceskincaredifferentiates
LAFACE from others in the market?
PROMOTION
LAFACE Skincare | San Francisco, CA 94109 | info@lafaceskincare.com | www.laface-skin-care.myshopify.com
To me, beautiful living comes from the inside. It involves living in alignment with ourselves and being able to tap into a sense of calm, balance and inner freedom, regard less of the circumstances we may find ourselves in. But in these challenging times, many of us — especially women — have been feeling stretched far beyond our capacity. We are also spending much of our time indoors, in front of screens. This is what prompted me to create Mindful Nature Practice. What makes you a leader in your industry? To my knowledge, I am the only licensed psychotherapist in Marin who is certified both as a professional mindful ness teacher and mental health nurse practitioner, and who practices exclusively outdoors in nature.
LAFACE is focused on taking the prevailing consumer emphasis away from "Anti-Aging" to "looking your best at every age." The LAFACE brand is about prevention. Preventing damage is much easier than treating already damaged skin. LAFACE products are specifically formulated for and focused on the mature woman/mature man segment. The products are developed for specific skin care needs such as acne, eczema, hyperpigmentation, psoriasi and sensitive skin; it is ideal for those who have undergone chemotherapy. What does LAFACE do to meet the needs of aging skin? Our focus is to meet those constantly evolving skin challenges with effective formulations and guide our clients along the way with exceptional customer service.
Dr. Denise Belanger Mindful Nature Practice Access professional therapy, outdoors. Denise Belanger, Ph.D., PMHNP, CMT-P | Mindful Nature Practice Licenses:www.mindfulnaturepractice.comNP#23844|PMHN#574 | CMT-P #0272 What unique services do you offer to help your clients enjoy beautiful living?
Helping clients look their best at any age. beautifulliving
A new book to help you navigate the slippery slope of life.
What unique services do you offer to help your clients enjoy beautiful living?
PROMOTION beautifulliving
Transformational Soul Work | angela@angeladesalvo.net www.angeladesalvo.net |
What/transformationalsoulwork/@angelacdesalvonewproductdoyouhavetooffer?
Shop the City | 415.484.6710 | info@shopthe.city www.shopthe.city | /shopthecityus | /@shop_the_city
My first book has just been published! It's called Soul Warrior: How to Liberate Yourself from Survival Mode and Thrive Through Any Challenge. "Take an emotional ride through a Soul Warrior's journey from wounded child to liberated adult in this riveting and inspirational self-help memoir." I invite you into my life-story while challenging you to decipher the architecture of your own. What do you want people to know about your business? The Soul Work that I do with others brings to light the unconscious motivations that keep you chasing what's been missing — safety, love and the desire to be seen and heard for simply being you. You learn to show up unapologetically, in the authentic expression of you, because I see you.
With over 18 years of experience and having worked with more than 200 clients, I am very well versed in many different styles and budgets for my clients. I know fashion and style, and can help you understand it as well. How are you helping clients feel good? I help my clients find beautiful clothes and outfits that make sense and feel "them."
Angela TransformationalDeSalvoSoulWork
My wardrobe audits and personal shopping sessions allow you to find beauty in the clothes you have and the clothes that you buy. I design outfits that make you radiate confidence and beauty from within. What makes you a leader in your industry?
Sahra Brandt Shop the City Find the clothes and style to make you feel beautiful.
HairToStay | 13 Peninsula Road, Belvedere, CA 94920 | 415.999.7121 darya@hairtostay.org | bethany@hairtostay.org | www.hairtostay.org /@coolerheadsprevail | /HairToStay | EIN #45-3419887 What unique treatments do you provide to help your clients enjoy beautiful living? Hair loss is one of the most feared and traumatic side effects of chemotherapy. HairToStay provides subsidies for the scalpcooling treatments that can help cancer patients preserve their hair, and along with it, their privacy, normalcy and sense of well-being. What makes you and your team a leader in your industry? We are the first and only national nonprofit organization dedicated to this mission of helping cancer patients afford scalp cooling. You can find out more, support our mission and purchase tickets for our event on October 9 at Club Fugazi in S.F. at hairtostay.org. It will be a high-flying evening of strength, balance and resilience. PROMOTION Bethany Hornthal HairToStay Helping low-income cancer patients keep their hair during treatment. beautifulliving Darlene Kiehl Some Like it Hot Yoga & Boutique Feel reinvigorated with these hot classes. Some Like it Hot Yoga & Boutique | 408 Ignacio Boulevard, Novato, CA 94949 | 415.234.6727 | enjoyWhatwww.somelikeithotyoga.comdarlene@somelikeithotyoga.com|/@some_like_it_hot_yogauniqueservicesdoyouoffertohelpyourclientsbeautifulliving? Our classes are heated with a perfect blend of heat and humidity — imagine being in the jungle. We offer BikYasa Hot Yoga, Inferno Hot Pilates and Hot Vinyasa Flow. Every class is designed for all levels and every class is HOT. This style energizes and detoxifies the body and mind; you will leave class with smile on your face and skin that glows. How are you helping clients feel good about themselves? Our practice allows a complete mind and body escape. We will help you realize the powerful benefits of yoga and Pilates; including a stronger, toned, more flexible body and an improved state of mind. We encourage self-acceptance, awareness and relaxation.
BethGroundLaDove and Caitlin McVarish This store offers all you need for ideal indoor-outdoor living. Ground | 1520 Tiburon Boulevard, Tiburon, CA 94930 | 415.797.6057 hello@groundgoods.com | www.groundgoods.com | /@ground.goods What unique products do you offer to help your clients enjoy beautiful living? Set in a former nursery, our store features 10,000 square feet of indoor and outdoor space styled with gorgeous, unusual plants and house goods. This includes textiles, rugs, ceramics, apothecary and tableware curated with an emphasis on natural materials, local and interna tional makers, and ethical sourcing.
What do you want people to know about your business? Ground, we offer our vision of ideal California living, coordinating indoor and outdoor spaces to increase beauty and utility. Our showplace functions as a shop, garden, event space and headquarters for landscape design and styling businesses. We literally cover a lot of ground!
| www.peaceoutjunk.com
our
Chad K MacDonald Peace Out Junk A hauling company that focuses on diverting waste from the landfill. Peace Out Junk | 884 Bodega Avenue, Ste. 1, Petaluma, CA 94952 415.571.6275 chadkmac@gmail.com
PROMOTION beautifulliving
With
What unique services, do you offer to help your clients enjoy beautiful living? We offer fast, friendly, full-service hauling with a commitment to diverting the volume of waste that ends up in a landfill. How are you helping clients feel good about themselves?
|
Everyone loves the feeling of clearing out a cluttered space. Peace Out Junk's clients have the added benefit of knowing that usable goods and materials they give to us will find a second life. What are you doing in business that nobody else is? We have developed relationships with other businesses, nonprofits and individuals who can use the things that my clients no longer need.
Breaking Away Bicycles Ollie Sloane Explore Marin on a diverse selection of quality bikes. Breaking Away Bicycles | Ross Commons, Ste. 95, Ross, CA 94957 415.461.2959 | Whatwww.breakingawaybikes.comollie@breakingawaybikes.com|/@breakingawaybikesseparatesyourbusinessfromthepack? Our shop is located in Ross Commons down the road from the Natalie Coffin Watershed, which offers hundreds of trails that connect Ross to the rest of Marin. These scenic trails are accessible from downtown Ross, and our busi ness also offers a diverse selection of bikes for sale and rentals in case you and your family want a last-minute day outdoors. Our mechanics are longterm employees and from the community, they offer the highest quality of customer service. What are you doing to stay connected with the local community? Since we are a family-owned business and frequent riders ourselves, we know the local community and the trails extremely well. PROMOTION beautifulliving Amy Thompson Brand Photography | Fairfax, CA | 510.410.5424Whatwww.amythompsonbrandphotography.comamy@amythompsonphotography.com/@amythompsonphotographyuniqueservicesdoyouoffertohelp your clients enjoy beautiful living? I help take the stress out of marketing for your business by creating on-brand authentic photos that really speak to who you and your business is. How are you helping clients feel good about themselves? I pride myself in being in touch with people and connecting on a personal level while taking their photos. I can tell when clients are feeling timid about having their photos taken, or when they need some helpful guidance or even when they need a breather. At the end of the photo session my clients are always surprised at how much fun they had and how beautiful they felt. Amy Thompson Amy Thompson Brand Photography Let your personality shine with the perfect photo.
Belinda Wickwire Jewelry | 526 San Anselmo Avenue, San Anselmo, CA 94901 | 415.785.7519 | Whatwww.belindawickwirejewelry.combelinda@belindawickwirejewelry.com|/@belindawickwirejewelry/belindawickwirejewelryuniqueservicesandproductsdoyouprovide? We are not just a store with beautiful jewelry, but rather a team of creatives who custom-style pieces for you. We love to mix the old with the new and offer each customer a piece unique to them. What do you want people to know about your business? This September is a special month at Belinda Wickwire Jewelry. Not only are we celebrating our two-year anniversary in this location, but we are opening our second location next door. How are you disrupting the industry? I have become known for sitting and designing with my customers, combining multiple charms, layering necklaces and styling pieces in an unpredictable way. PROMOTION Belinda Wickwire Belinda Wickwire Jewelry Get to know your personal jewelry stylist. beautifulliving follow us on social @marinlivingmag + subscribe to our newsletter at Tellwww.marinlivingmagazine.comwww.marinlivingmagazine.com/newsletterYourStoryOctoberIssue:BayAreaDesignIn the October issue of Marin Living we will honor the Bay Area's top designers, architects, realtors and home goods providers. This advertorial feature will provide readers an inside look at design industry leaders and it is the perfect place for your business to showcase what sets you apart in your industry. Let us tell your story and showcase your unique talents, projects, services and products. Our readers are home and design enthusiasts and this is the perfect place to reach them. Contact Jessica Cline for more info: jessica@marinlivingmagazine.com
San
That
going places. Autumn Life Making the most of San Diego in September; taking a scenic drive through Marin in a stylish BMW Alpina; and spending time with a local artist in Sausalito. Diego's
Addison restaurant AddisonofCourtesy 78 september 2022 marin living.
All dates, prices, programs, artists, and productions subject to change. Tickets subject to availability. Illustrations: Brian Stauffer. TICKETS AVAILABLE NOW | SFOPERA.COM | (415) 864-3330 EUN SUN KIM CAROLINE H. HUME MUSIC DIRECTOR MATTHEW SHILVOCK TAD AND DIANNE TAUBE GENERAL DIRECTOR YEARS T H E F U T URE O F O P E R A OneginEugeneCleopatraAntony CarmelitesDialogues ButterflyMadame Die SchattenFrau El FridasueñoúltimodeyDiego SEP 10–OCT 5, 2022 SEP 25–OCT 14, 2022 NOV 11–DEC 3, 2022OCT 15–30, 2022 NOV 15–DEC 1, 2022 JUN 3–JUL 1, 2023 JUN 13–30, 2023JUN 4–28, 2023 All dates, prices, programs, artists, and productions subject to change. Tickets subject to availability. Illustrations: Brian Stauffer. TICKETS AVAILABLE NOW | SFOPERA.COM | (415) 864-3330 EUN SUN KIM CAROLINE H. HUME MUSIC DIRECTOR MATTHEW SHILVOCK TAD AND DIANNE TAUBE GENERAL DIRECTOR YEARS T H E F U T URE O F O P E R A OneginEugene La TraviataCleopatraAntonyand CarmelitesDialoguesofthe EurydiceOrpheusand ButterflyMadame Die SchattenohneFrau El FridasueñoúltimodeyDiego SEP 10–OCT 5, 2022 SEP 25–OCT 14, 2022 NOV 11–DEC 3, 2022OCT 15–30, 2022 NOV 15–DEC 1, 2022 JUN 3–JUL 1, 2023 JUN 13–30, 2023JUN 4–28, 2023 1226 Fourth Street • San Rafael, CA 94901 • 415.459.5808 stephanhill.com The California Collection Why do we live here? These iconic pendants in 14k gold with diamonds and sterling silver with white sapphires remind us of the places and landmarks that we love. The Golden Gate Bridge, Mount Tamalpais, Stinson Beach and Muir Woods, to name a few. All are unique to this region. Visit our new website where they can be purchased online at www.stephanhill.com and shipped directly to you.
Photography by Natalie Schrik for Drew Altizer Photography party.
80 september 2022 marin living. AND WHAT A NIGHT IT WAS On August 9, more than 50 of Marin's business owners and movers and shakers gathered at Barrel House Tavern in Sausalito to enjoy a five-course dinner paired with Newton Vineyard wines. As the sun set over Richardson Bay, many toasts were made celebrating the delicious collaboration between these two perfectly paired brands.
Strawberry sorbet, one of the evening's two desserts bout Last Night with a view
A
Carolanne James, Edgar Avina and Elizabeth Suzuki
Dinner
marin living. september 2022 81 Belinda and Brad Wickwire King salmon with risotto paired with Newton Pagoda Series Chardonnay 2017, Mariah Vineyard Brigitte Lank, Shenna Moe and Steffanie Stoker Newton Vineyard winemaker Andrew Holve and Barrel House Tavern chef Maicky Velasquez The moment before guests arrived
Force
If you are looking for an automobile that epitomizes the phrase "where style meets substance," then look no further than BMW's sleek and sexy Alpina.
IT WAS A SUNNY MORNING in Sausalito, with a cool, crisp hint of the just-departed fog. As I feathered the BMW Alpina B8 Gran Coupe along the waterfront, its quad stainless-steel exhaust murmured so softly that only a passing connoisseur would have known that a 612-horsepower bi-turbo V8 lurked beneath the hood. But I, for one, couldn't forget, for every time I glanced at the hand-finished Lavalina leather wheel, a red-and-blue emblem at its center, depicting a throttle and a crankshaft, reminded me that this particular B8 Gran Coupe was no ordinary BMW, but a hot rod as hot as they come.
When we think about hot rods, we tend to think of Amer ican cars — whether prewar, postwar, midcentury or modern — with rumbling engines modified to the max, and far-out paint schemes and interiors to match. What we don't tend to think of are BMWs, and big BMW sedans in particular.
sea.Driving
82 september 2022 marin living. BMWofCourtesy land &
By Nick Czap BMW Alpina B8 Gran Coupe
But for the past 50 years, Alpina, a family-owned firm in the Bavarian town of Buchloe, has been creating BMW hot rods that are among the fastest and most powerful cars on the planet, and some of the most visually striking and exquisitely luxurious as well.
Introducing a familiar place to shop, dine and unwind. RED ShoppingHILLCenter 834-916 Sir Francis Drake Boulevard, San Anselmo, CA 94960 www.redhillshoppingcenter.comALLCOVID-19PROTOCOLSFOLLOWED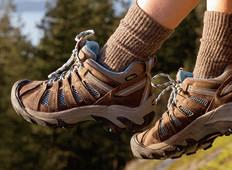 84 september 2022 marin living. AlpinaofCourtesy
The roots of Alpina reach back to 1962, when its founder, Burkard Bovensiepen, a young business and engineering student, developed a Weber dual carburetor to boost the performance of BMW's new 1500 sedan. BMW engines equipped with Alpina carburetors quickly drew acclaim from the automotive press and garnered the admiration of BMW's sales boss, Paul G. Hahnemann, and in short order, BMW awarded the full factory guar antee to BMWs with the Alpina system. In the ensuing decades, Alpina became increasingly involved in the development of BMWs for the racetrack and the road, and as the relationship between the two companies deepened, so did the complexity of Alpina's engineering work, to the extent that today, two to three years before a new BMW goes into production, Alpina has already begun calculating the output potential of the base engine and considering the attendant modifica tions to all of the other systems, from braking, suspension and steering to cooling and aerodynamics. At the northern end of Bridgeway, I aim for the freeway, and as I prod the throttle, the B8 Gran Coupe rushes forward on a massive wave of torque, punctuated by one after another satin-smooth shift, courtesy of its Alpina Switch-Tronic-equipped eight-speed automatic transmission. The sensation is electrifying, yet I feel completely at ease: the paradoxical effect of Burkard Bovensiepen's personal predilection for cars that are as easy to drive as they are powerful and potent. And therein lies the difference between an ordinary hot rod and a BMW Alpina. For whereas the former wears its emotions on its sleeve, or perhaps tattooed on its biceps, a BMW Alpina is far more discreet, a mysterious stranger with a sartorial streak, gliding along a boulevard leaving whispers of awe and admiration in its wake. Cutting through the redwoods on Lucas Valley Road, the B8 Gran Coupe's Alpina Green Metallic coat shim mered in the shadows. The atmosphere in the cabin — clad to Alpina standard in buttery Merino leather — was cool, tranquil and supremely comfortable. I lowered the windows and listened to the wind. And as excited as I was for my destination — the deliciously uplifting Saltwater Oyster Depot in Inverness — and in spite of the fact that I was behind the wheel of an automobile that could sprint to 60 in 3.3 seconds and easily top 200 miles an hour, I found myself not speeding up, but slowing down, taking the time to savor every graceful shift. The BMW-Alpina collaboration is synonymous with luxury. An example of Alpina's hand-finished details. land & sea.
Cele ating the Beauty of ganic 1121_GoodEarthNaturalFoods_V1.indd 1 10/15/21 6:01 PM Funeral Home & Cemetery Natural Green Burial & Traditional Crypts & ChapelCrematoryNichesOn-Site&Reception Center Pre-Planning Available We now offer Natural Green Burial in our Garden of Tranquility. Novato Chamber Small Business of the Year 2021 Recycled water used. 415.897.9609 | valleymemorialpark.com 650 Bugeia Lane, Novato, CA 94945 info@valleymemorialpark.com COA377-CR206-FD2295 /valleymemorialpark @valleymemorialpark All of your service needs in one location. Respectful, Traditional, Contemporary, Simple Pre-Arrangement Counseling, and Insurance Funding for Future Expenses.
86 september 2022 marin living. FrankelLauriebyimagesAll new digs.
Cut From a Different Cloth Serena Dugan's head-turning textiles are making waves. By Caitlin Hamer ON A PIER ON THE SAUSALITO WATERFRONT, the ideal spot for morning sunlight, sits an airy studio. Though the artist-in-residence originally intended the studio as a space purely for painting, she eventually found herself exploring the world of textile print design. Now, as she applies her artistic talents to fabrics and wallpapers as well as paintings, Serena Dugan (www.serenadugan.com) is once again leaving her mark on Marin and beyond. While Dugan first took over the studio space in 2018, her artistic history goes much further back than the past few years. After graduating college, she attended art school, with an emphasis in painting, from there becoming a decorative painter. Dugan specialized in bespoke hand-painted patterns on walls but, wanting to learn how to replicate the designs she was creating, decided to return to school to study textile design. She then launched her first textile collection, made of blockprinted fabrics, which ultimately led to the creation of popular Marin-based home and lifestyle line Serena and Lily.
Serena Dugan
Dugan's striking designs, whether they end up on your wall, on your sofa or even as a sofa, can easily transform a room. Whether on the canvas or in her fabrics, the patterns and colors have a vibrancy that's always in style.
Reflecting the artistic experience under her belt, her website is chock-full of unique patterns and eye-catching prints. Dugan finds ideas for her designs from travel, fashion, vintage textiles, art and craft, but like many artists, she notes that inspiration can be less about what's in front of her and more about her frame of mind.
marin living. september 2022 87
"When I'm open and firing, I could find inspiration just by walking out the door and truly noticing what's around me," she says. "When I'm stressed and busy, I get desensitized to beauty and I have to go further and deeper to find it."
Dugan's fresh fall designs "When I first met Lily Kanter in 2003, she saw my textile collection and said that she could see the fabrics as crib bedding," Dugan explains. Together, they launched Serena and Lily with this nursery concept in mind, and it grew from there. Dugan designed the majority of the textiles for Serena and Lily over the course of her 14 years at the brand before leaving to return to the studio and reconnect with her artistic roots. In 2020, Serena Dugan Studio officially launched its textile line. With an aesthetic she describes as "crisp, breezy, opti mistic and art-driven," the textile products available at Serena Dugan Studio include pillows that can be created out of all 101 available fabrics; screen-printed linen fabrics; outdoors fabrics; and 41 wallpapers including printed grass cloth, paper-weave and conventional paper. All textiles are designed by Dugan in Sausalito, and while the majority are printed in California, the outdoor collection and block print collection are produced in Connecticut and India, respectively. While Dugan's collections can be found in showrooms throughout the world, swatches are available for perusal and purchase on her Duganwebsite.doesn't hold to a strict seasonal release schedule for her artisanal fabric lines, instead aiming for one big release a year, typically in the spring, with a refresh in the fall. And while trends tend to cycle through the seasons, Dugan says that she tries to acknowledge trends but float above them. "I don't want what I design to get time-stamped by being 'of the moment,' " she says. However, she does have a signa ture style: "I see loads of color and pattern used fearlessly. I see style and period references mixing in a rather ruleless and exciting way. I see interiors getting more daring and expressive, and this thrills me!"
88 september 2022 marin living. voyager. SoCal's Shimmer While September marks the end of summer in much of the country, San Diego is only getting started. Here's where to stay, eat and explore while you take in Southern California's endless summer. By Casey Hatfield-Chiotti
marin living. september 2022 89
THE 1915 PANAMA-CALIFORNIA Exposition in Balboa Park put San Diego on the map as an interna tional travel destination. In the 1920s, Hollywood stars started meandering down Highway 101 in search of laid-back fun in the sun in destinations like Oceanside, Del Mar, La Jolla and downtown San Diego. These tony beach towns and the city have renewed luster thanks to new and recently renovated luxury hotels and imag inative new restaurants and bars. Adding to the appeal, nearly every day in September warms to over 70 degrees and the month often boasts plenty of 80-degree days. September through November is considered transitional "shoulder season," so there are fewer crowds than the busy summer travel season and far better deals on accommodations. Here's where to go in San Diego to experience the golden era shimmer this fall. Del Coronado
CoronadoDelHotelofCourtesy Hotel
floors; an ocean-view pool and bar; a bistro; and an indoor-outdoor living room. As part of The Del's major reno vation and revitalization, architects have created five resort neighbor hoods, including the more modern Cabanas where guest rooms have sunburst mirrors and terraces with fire pits and the Victorian (from $489 per night), the hotel's original Queen Anne–style structure. Historic elements such as the grand lobby with ornate wooden wall paneling and front porch veranda, including the Queen Calafia stained glass window, have been restored. Book a room here should you feel inclined to channel your inner Hollywood starlet or leading man.
The Marilyn Monroe and Tony Curtis flick Some Like It Hot was filmed at The Del in the 1950s. has unveiled a new design with bespoke furnishings, an enhanced ocean view and a new California-Mediterranean menu with subtle Mexican influences. We're particularly excited that the hotel's Whaling Bar, which counted Dr. Seuss, aka author Theodor Geisel, as a regular, is slated to make a return before the end of the year.
voyager.
Shore House at The Del Hotel del Coronado's $400 million master plan reimagination will be considered complete when the posh Shore House at The Del (from $1,299 per night; www.hoteldel.com) opens in September. Located on the Coronado beachfront, Shore House features 75 seaside one-, two- and threebedroom residences; a dedicated resort entrance with blond wood La Valencia Hotel La Jolla's famed "Pink Lady," the Spanish Revival–style La Valencia Hotel (from $519 per night; www.lavalencia.com) on the La Jolla coastline, debuted in 1926 and became a glamorous getaway for stars like Mary Pickford and Ginger Rogers. In the 1940s, the "La Jolla Play house era," the hotel was a gathering place for the actors like Gregory Peck who performed at the famed summer theater. The hotel is in the midst of a 95th anniversary year filled with celebrations and exclusive experiences, such as a suite package that includes a cocktail butler who will serve in-room libations to order like the Gilded Icon cocktail featuring bourbon, Grand Marnier, Champagne and dehydrated Valencia orange. La Valencia's signature restaurant, the Mediterranean Room, La Valencia Hotel
90 september 2022 marin living. HotelValenciaLaofCourtesy
WHERE TO STAY
A STYLISH GUIDE TO NORTH COUNTY Take Highway 101 north from San Diego and stop at these off-the-beaten-path spots.
Solana Beach, a town known for approachable surfing and the famed live music venue the Belly Up Tavern, is also where visitors will find some of San Diego's best shopping, in the Cedros Design District. Pop into Solo, an industrial warehouse with eight women-owned boutiques under one roof for unique souvenirs, from 18th-century antiques to design books.
In Carlsbad head inland to Leo Carrillo Ranch Historic Park (www. carrillo-ranch.org). Actor and conservationist Leo Carrillo, who played palamino-riding Pancho in The Cisco Kid and served on the California Beach and Parks Commission for 18 years, renovated the ranch and 19th-century hacienda located in a 27-acre canyon. Open to the public since the early 2000s, the area includes romantic handcrafted adobe buildings, antique windmills, a reflecting pool and citrus orchards. Be on the lookout for the colorful peacocks that live on the property.  With its art galleries, museums and surf culture, the community of Oceanside was designated one of the 14 inaugural Cultural Districts by the California Arts Council. Oceanside Museum of Art (www.oma-online.org) is housed in two buildings, including one designed by modernist master Irving Gill and a newer building by Frederick Fisher. OMA showcases fine art by California artists as well as rotating exhibitions. If you'd like to stay awhile, several new hotels have opened recently in Oceanside including the sister properties  The Seabird and Mission Pacific Hotel (www.hyatt.com), on the beachfront near Oceanside's iconic wooden pier, and The Green Room (www.thegreenroomhotel.com), a bohemian-and-surf-inspired boutique hotel in a renovated 1950s motel.
Rancho Valencia Resort & Spa Rancho Valencia (from $999 per night; www.ranchovalencia.com) may not be nearly a century old like La Valencia (many of the resort's Spanish Colonial hacienda-style buildings were constructed in the 1980s), but it still recalls a bygone era. Southern California's only Relais & Châteaux property — set in a Rancho Santa Fe canyon — was a eucalyptus farm in the early 1900s and the lush landscape with citrus groves and olive and palm trees is a glimpse into what SoCal looked like before there was so much develop ment. Not one to rest on its laurels, Rancho Valencia renovated its spa in 2021. Additional spa treatment areas, including three state-ofthe-art facial rooms, have tiled outdoor showers. Rancho Valencia also partnered with Doug Mansfield, the resort's original architect, and Megan Hersch Studio MG Interiors on two expansive new villas available for guests including the four-bedroom Spa House and the five-bedroom Casa Valencia with MexicanMoroccan design and a private pool.
www.stock.adobe.com/Elie
Del Mar Beach Hotel Del Mar's only hotel on the beach reopened in June following a multimil lion-dollar redesign. Del Mar Beach Hotel (from $399 per night; www. delmarhotel.com) is a quintessential Southern California beachside hotel with a twist. The hotel has wooden plank floors and headboard murals depicting coastal scenes, but guests are welcomed with a glass of fine wine at check-in from the Cruvinet Wine Dispenser in the lobby and treated to scoops of artisanal gelato by An's Hatmakers of Del Mar Plaza. All the best SoCal style living is on offer: beach cruisers for biking into Del Mar's quaint village, sunset yoga sessions on the beach and fire pits for roasting s'mores. Solana Beach
Addison
Callie San Diego native Travis Swikard gained an appreciation for the bright flavors of the Mediterranean while working as executive chef at French chef Daniel Boulud's Boulud Sud in New York. After 10 years in New York, he moved back to San Diego to open his first solo project. Callie (www. calliesd.com), which means "the most beautiful" in Greek, is a love letter to the flavors of Greece, Spain, Italy, Morocco and other Mediterranean countries, but it showcases the bounty of San Diego (San Diego County has more organic farms per capita than any other county in the U.S.). Dishes include uni toast with Ibérico ham, tomato bread and garlic aioli, and lemon saffron spaghetti with local king crab, uni and bottarga breadcrumbs. Kingfisher Kingfisher (www.kingfishersd.com), a new Vietnamese restaurant in San Diego's Golden Hill neighborhood, offers a touch of decadence in every thing from the cuisine to the decor. The interior's focal point is a 23-seat bar with a gilded art nouveau crown dangling from the ceiling. Largeformat dishes conceived by executive chef Bautista, like the half smoked dry aged duck — which requires two weeks of chilled air-drying time — and wagyu smoked beef rib with beef-palm sugar glaze are absolute showstoppers, and cocktails like a mezcal margarita with papaya and black lava sea salt are a worthy accompaniment.
The design of Part Time Lover (www. parttimeloverhifi.com), a listening bar and record store in North Park that opened in June, is inspired by Frank Lloyd Wright's East-meets-West Prairie School aesthetic. While working on the Imperial Hotel in Tokyo, Wright was heavily influenced by Japanese art and culture. Record collectors can spin their favorites in the space with clean, angular lines and plenty of warm wood (the custom chandelier is made out of eight oak framed triangles) or relax on a bar stool with a Japanese highball featuring a custom ice spear and listen to the analog tunes on the hi-fi sound system.
92 september 2022 marin living. CallieofCourtesy Callie voyager.
The Michelin Guide began recognizing Southern California restaurants in 2019 and Addison (www.addisondelmar. com), a restaurant on the grounds of the Fairmont Grand Del Mar, became the first San Diego restaurant to earn two Michelin stars last year. Chef William Bradley has championed Cali fornia's brand of gastronomy for over a decade. His respect for local ingre dients, love of various cuisines and fine technique are on display in the ninecourse tasting menu featuring dishes such as kanpachi sashimi with salted kiwi, shiso and melon and barbecued squab with red cabbage syrup, porcini and wild arugula.
Part Time Lover
WHERE TO EAT AND DRINK
marin living. september 2022 93 AddisonofCourtesy Addison
THE
OPERA BALL CENTENNIAL CELEBRATION
Opera Ball: The Centennial Celebration is made possible, in part, by Opening Weekend Grand Sponsor Diane B. Wilsey. With additional concert support by Jan Shrem and Maria Manetti Shrem. Illustration: Brian Stauffer.
CONCERT AND AFTER-PARTY TICKETS ON
SFOPERA.COM/OPERABALLNOW
Opera Ball: The Centennial Celebration is made possible, in part, by Opening Weekend Grand Sponsor Diane B. Wilsey. With additional concert support by Jan Shrem and Maria Manetti Shrem. Illustration: Brian Stauffer.
SEPTEMBER 9, 2022
SEPTEMBER 9, 2022
CONCERT AND AFTER-PARTY TICKETS ON SALE SFOPERA.COM/OPERABALLNOW OPERA
San Francisco's biggest night of the year supports the future of opera and music education in the Bay Area. Together we can ensure the next 100 years of musical excellence. SALE
San Francisco's biggest night of the year supports the future of opera and music education in the Bay Area. Together we can ensure the next 100 years of musical excellence. BALL CELEBRATION
THE CENTENNIAL
subscribe to our newsletter at let'swww.marinlivingmagazine.comwww.marinlivingmagazine.com/newslettergetsocial!Want to be featured in our feed? Follow us on social @marinlivingmag and tag us in all your Bay Area photos by using #wearemarinliving!
In the end, for Davis, it comes down to a desire to balance the economic and social scales. "I want to create an opportu nity for people who have historically been shut out of tradi tional capitalism or have had trouble accessing opportunities to create wealth within the formal economy."
Davis says there are significant hurdles to getting a cannabis business off the ground that start with the cost and complexity of getting a license and acquiring land and space for cultivation or retail. "As in all industries, the numbers are pretty abysmal in terms of the ability of women and people of color to raise venture capital and private funding," she says, pointing out that it's the people who are already politically and financially connected who can more easily achieve those goals. "So that's part of the role that I've been playing in this industry, helping entrepreneurs network and connect with sources of capital and helping to develop strategic plans for their businesses and go-to market strategies."
Davis is also giving back; she has carved out some of her time to offer mentorship to underrepresented groups through accelerators like Our Academy and Eaze's Momentum. "Through Growing Impact, I work with compa nies that are larger and more well-funded, and that pays my bills and enables me to have some additional bandwidth to be able to advise and consult, for free, with founders that I am mentoring and advising."
Annie Davis
96 september 2022 marin living. DavisAnnieofCourtesy drawn
By Daniel Jewett AFTER GRADUATING FROM HARVARD Business School in 2007, Annie Davis and her husband wanted to move to the West Coast for the culture and lifestyle. But there was something else about the way people approached life here that also attracted Davis. "I was really interested in pursuing the function of marketing and brand building so that I could be at the forefront of creating more socially conscious and responsible businesses and companies," she says. And when Proposition 64 passed in 2016, legalizing adult use and cultivation of cannabis, Davis saw another chance to innovate. "I can think of few other examples in my lifetime where we have an opportunity to really build and shape a brand new industry from the ground up," she says, and so in 2019, in her Petaluma home, she started a consulting firm, Growing Impact (www.growingimpact.co), which provides marketing strategy and business development for people in the cannabis industry. And after discovering how much better cannabis was than pharmaceuticals for treating her insomnia and postpartum depression, she already believed in the health benefits of the product: "I wanted to be able to contribute to normalizing this plant so that more people, but especially more new moms and more women, would feel comfortable trying it." But Davis was after more than helping only those with deep pockets. "Prior to legalization, the people who really cultivated cannabis, pioneered the genetics and distributed and sold cannabis were people of color and women," she says. "If you have fewer economic opportunities you might feel compelled to do something more risky. But as we remove the risk by making something legal, there should be more opportunities for people of diverse backgrounds to create wealth in this industry."
GreenThetogether.OtherRevolution
Annie Davis is making the lucrative cannabis business accessible to those who pioneered it.
GROWN WITH GRIT crafted with grace
It's
A visit to Patz & Hall is more than a wine tasting. a journey through California's top family-owned vineyards. The grit of our grower partners, plus our winemaker's graceful influence, is evident in each sip. Join us in Sonoma among the vines and explore our range of single vineyard Noir and Chardonnay.
Scan to reserve your experience 95476CASonoma,Hall,&Patz©20221909522PTZ21200 8th Street East | Sonoma, CA 95476 | (707) 265-7700 | PatzHall.com
Pinot