Free / Gratis
THE BEST WEEKEND OF THE YEAR!
7th Annual
TASTE OF EAST CAPE
By: Steve Reed
Saturday December 3rd 6pm at Laguna Park. Set aside Saturday December 3rd for our most popular event of the year, TASTE OF EAST CAPE. Our Taste of East Cape annual fundraiser and social event kicks off at 6pm on December 3rd in Laguna Park, Los Barriles. This is the quintessential event of the year in BCS. Even with 300 seats, the Taste always sells out, so get yours soon or not at all. Expect live music and a sweet silent auction after you've eaten. With as many as 18 local restaurants fixing up their finest, the Taste is a date your partner will long remember. Just don't forget the tickets or you'll run the risk of never being a hero again. It only comes around once a year, so watch this space for more updates, or email Ken at bajadays@aol.com
Holiday Art Show at Colina del Sol
December 4, 10am 3pm
It is not too early to think Holiday! December 4th at Colina de Sol neighborhood just north of Los Barriles is the home of the first big art show in Los Barriles, Holiday Art Show at Colina del Sol. Centered around the pool at the club house of the Colina del Sol neighborhood, will be some of the finest artists in BCS all displaying their original works in the lovely setting. Original oils, acrylic and watercolors, jewelry, wooden originals, sewn creations, cards, candy, Christmas decrations, clothing, traditional Mexican art and everything you need to complete your holiday shopping in one simple place! And in between your shopping, you can have a cold beverage (a fund raiser for AdA!), breakfast or lunch and spend time catching up with friends.
October November 2022 October November 2022 Issue 100
Continued on Page 3
Recycle by sharing with a friend or return to East Capers Rack!
Advertising in East Capers
Advertising in the East Capers gets the word out about your business AND your ad money supports the 3 week 'Cursos de Verano' summer school, for over 120 local children, provides art supplies for 19 East Cape public schools, baseball camps, just to name a few things the Asociación de Artes does!
In addition to space in the printed version, your color ad appears in the online version at no additional cost. You can download the 2021-22 Advertising Kit by visiting our website at: www.eastcapearts.com
Contributions Can Be Made to the Asociación de Artes
The Asociación de Artes del Mar de Cortez A.C., Los Barriles, B.C. Sur, Mexico is a legal Asociación Civil Mexican corporation not affiliated with any other organization, association, club or business.
Volunteers Needed!
The Asociación de Artes needs volunteers to help support their programs that bring the arts to the local communities and the schools.
To learn more about these programs, visit: www.eastcapearts.com If you would like to volunteer, send an email to: eastcapearts@gmail.com
Call for Articles
East Capers is looking for fiction and true stories about our region and items that affect our residents. If you are interested in submitting articles, recipes, stories or your personal experiences in Baja, email your 1,000 words or less article to: eastcapersmagazine@gmail.com
Thank You!
This publication is possible with the help of the board members of the Asociación de Artes and members of the community.
East Capers Periódico
Publisher
Asociación de Artes del Mar de Cortez A.C., Los Barriles, BCS, Mexico
Editor
Christine Kenck Courtright Copy Editor
Eliza Mendoza
Circulation
Brian Cummings Advertising
Contributors
Gary Graham Christine Courtright Adam Greenberg Sheryl Segal
Sefi Held Steve Reed Lane Sykes Priscilla Duran Emma Nicholson DeDe Bacon Theresa Comber John Plotkin Steve Reed Michelle Meheles
East Cape Health Center Team Penny
s Forever Mom Capri
s Foster Mom
Treasurer
Wolf Property Management www.wolf pm.com
Los Barriles, BCS, Mexico
Printer
Imprenta Ciudad Los Niños, La Paz, BCS, Mexico
To learn about Ciudad Los Niños, visit their website at: http://ciudadninoslapaz.org/english/home.htm
Newsletter Email Address
eastcapersmagazine@gmail.com
The opinions expressed within the articles in East Capers are those of the author and do not necessarily reflect the opinions of the Asociación de Artes del Mar de Cortez A.C.
October November 20222
'
'
Read the color version online at www.eastcapearts.com
Holiday Art Show Continued From Page 1
This show has become a gathering place for many to see friends that are returning from their time up north. We have plenty of seating under shade, plenty of drink and food and plenty to complete the task at hand holiday shopping! And now that the Taste of East Cape is the night before, invite friends for the weekend and show them a great time here in Los Barriles! Complete details at www.eastcapearts.com go to the Holiday Show page where we will keep you up on all the details of this great event!
Holiday Show at Colina del Sol and Other Exciting News From Asociación de Artes!
By: Christine Courtright
Well, another great 'busy season' is upon us and those of us that have to leave our winter paradise here in the East Cape are thrilled to be back! With high hopes of our world returning to kind of normal (as much as a new covid world will allow), we are excited about being able to have all three of the events that Asociación de Artes (AdA) produces. Starting with the Holiday Show at Colina del Sol on December 4th, Artist Studio Tour on February 8th and finally Festival de Artes on March 19th! Three great events, that are the fund raisers for the projects AdA supports.
Now, for those of you that don't remember or know what the money raised goes towards, Asociación de Artes (also referred to as Arts Association or East Cape Arts) supports 19 East Cape area schools with everything from pencils and paper to AC units, to paint for classrooms, to new classrooms to ceiling fans. Our mission is "To help make the educational experience the best it can be". Over the years we have found the quality of the education to be excellent and they are doing it on a shoestring budget! Think about your property taxes here in the Baja. Now think about just that portion of your property taxes you pay up north that is solely dedicated to the schools. If you are like me, I pay more in just my school portion in the States than I pay for my entire property tax here… and property tax here includes garbage service! So, that is why there is a gap that we are here to fill.
I can tell you from personal experience that I know the education here is very good. It might be the basics, reading, writing, arithmetic and history, but it is quality. A few years ago, I learned how good. We were delivering supplies and one of the Junior High's Principals needed something special. Curriculum books he said. I told him to send me a list of books and here is the list he sent: Diary of Anne Frank, Jules Verne , Frankenstein, and a few others classics. At the time, I had a nephew in junior high in the States, so I asked what the classics he was studying and his school's 'classic' was Harry Potter. That did it for me. I know the schools here may have very limited resources, and shorter class hours, but the quality of the education is superior (in this writers opinion).
And that experience made the job we do even more important. We bridge the gap between the government provided and the educational needs of the student/ teacher's. It put a fire under this writer and the rest of our small but mighty group here in Asociaci ón de Artes. We are the 'fire starters' to the love of education that gives the Guild Scholarship Program so many applications. And we are proud of that! Come see us at the Signathon Event at the Ronival Real Estate office in Los Barriles on November 22nd from 4pm 8pm and you can learn more about what we do and how you can be involved.
We are very proud that with our raffle baskets and silent auctions, every cent goes to the schools. We watch every penny, so we are not wasting our resources and try to make each dollar go farther. The Holiday Show has raffle baskets and a bar that is a fund raiser! Artist Studio Tour is a good fund raiser, so make sure you buy your ticket you will have a great time! And Festival de Artes in its about 28th year (couple covid 'leap' years) is not only a great fund raiser for us, but a great event for our guests and we are proud to say it has
October November 2022 3
Continued on Page 4
Recycle by sharing with a friend or return to East Capers Rack!
Asociación de Artes Continued From Page 3 become known as a great all day event all in the lower Baja! With fantastic traditional Mexican Folkloric entertainment, great food, selected artists and vendors and our great bar, what more could you ask for?!! So, we are asking you to support our events, baskets and auctions and help the kids and the schools and in the long run, help the community, county and state!
Check out our web site at www.eastcapearts.com
A Note From Cortez Rescue -
Fostering is quite possibly the most significant and life enhancing volunteer work one can do for rescue dogs. We repeatedly hear from Foster Families that fostering is a very rewarding experience and that they quite possibly got more benefits out of it than they gave. You don't have to be in East Cape Baja to foster, like Capri's foster was in Oregon. Cortez Rescue needs fosters in the US and Canada. You can foster wherever you are here in Baja or elsewhere. Please give it a try. Be a foster home or set up a foster network in your hometown if you travel back to the US or Canada in the Summer season. Please contact Cortez Rescue and let us know when and where you are able to Foster and save a life, info@cortezrescue.org
October November 20224
version
Read the color
online at www.eastcapearts.com October November 2022 5
Recycle by sharing with a friend or return to East Capers Rack!
Living Large With Rotary
By: Steve Reed
With our incoming rush of new visitors and activities, Los Barriles can only hope the Covid is now waning rapidly behind us. As Club Rotario Los Barriles emerges, we are eager to renew our commitments to our community and get back to work. We especially want to reassure any neighbors in need that we are alive and well, and eager to return to serving our East Cape friends again. For those new to our community, a little bit of history will introduce you to our International Rotary club, our members, and all the ways we can provide assistance for those in need.
We were initially chartered by Rotary International in 2006 to address the damages done by Hurricane Juan and we have been serving the local community ever since. Some of our past projects include providing potable clean water to many of the small pueblos in East Cape, creating various projects to fulfill the needs of youths in the community, such as the El Ancon athletic complex, improvements to the library, maintaining and upgrading our Laguna Park, providing new bathrooms and changing rooms and improvements to the La Cancha to give our kids a safe place to play. But just to play, our kids must stay healthy, so we also provide free health. We have worked with many clubs from the US to provide numerous improvements and equipment for the East Cap Clinic and
Centro De Salud. Free health checks are offered to all school children annually.
Our current projects include beautification of the Los Barriles cemetery, and improvements and maintenance for the ever popular visitors photo op at our community fountain. Continuing maintenance and improvements are also planned for Centro De Salud, our Earth Day project cleans up the streets, and Day of the Dead and Carnival parades and events sets tones only known to the young (and young at heart).
Future projects are a Cabo Pulmo teacher exchange program with the visiting Monterey Rotary club, and the ongoing construction of improvements to the El Ancon athletic complex/ community center, a long task yet to be completed. We are pleased to introduce four new members: Brant Dyer, Linda Snider, Jazmin Rodriqiuez, and Rebecca Ijebah.
Of course, our ambitious plans require funding. We contribute from our own pockets, but an ongoing source of income is necessary in order to maintain as consist a level as is needed. No child in our purvey will go to bed hungry or cold.
A reality is the pandemic has lessened all gatherings. If we are to accomplish our ambitious goals, we must have a successful fund raiser. Enter our 7th Annual Taste of East Cape (and silent auction) on Saturday December 3. Three hundred friends will attend, and tickets will sell out long before we gather in Laguna
6
Read the color version online at www.eastcapearts.com October November 2022 7
Recycle by sharing with a friend or return to East Capers Rack!
The First Los Barriles Signathon!
By: Dede Bacon & Emma Nicholson
Los Barriles and the northern East Cape is not only a beautiful place to live, but it also has a beautiful community heart. Through collaboration across the town, many non profit organizations have been established some long standing and some new to support a variety of needs. From dogs and cats to scholarships and health, there are plenty of good causes designed to help make this a great community to live in.
If you are new to the area, or are curious to find out what non profits are currently in operation, the first Los Barriles Signathon event will be hosted by Ronival real estate in Los Barriles at the Ronival office on Costa Brava from 4pm to 8pm on the 22nd November 2022. There will be music, drinks and refreshments while you circulate around the non profit groups.
The idea is to provide the whole community with a chance to meet with all the non profits in town in one location at the same time. It will be a chance for people to learn about the organizations' plans for the upcoming season as well as signing up as a volunteer, as a donor or simply getting to know our wonderful community. So far, we have the following non profits attending the event:
• East Cape Guild
• Cortez Rescue
• East Cape Health Center
• Leaders2Give
• SNAP
• Feeding the Hungry
• Caps for Cancer
• East Cape Recycling Baja
• Asociación de Artes
• Crescent Moon Project Art for Children
• Bomberos Cabo Este fire first responders
• Grupo Tortuguero saving the turtles
Even better, everyone that attends the first Signathon will have the chance to vote for their two favorite non profits in order to help them win a cash donation. Simply talk with the non profits at the event, and then place your two tokens (given to you on arrival) in any of the twelve (or more) jars marked with the names of the non profit organizations. So there's all to play for! At the end of the night, the top three non profit jars with the most tokens will receive a share of $5,000.00 USD kindly provided by Nick Fong and Rocio Montaño, founders of Ronival real estate.
Bring your friends and family either before or after dinner put the date in the diary and let's have fun while helping some worthwhile causes. We look forward to seeing you on the 22nd November!
Any non profits wanting to take part should email enicholson@ronival.com or send a WhatsApp message to 206 678 4956.
Event Information
The First Los Barriles Signathon. 22nd November 2022. 4pm 8pm. Ronival Los Barriles offices.
On Costa Brava opposite Beans & Rice.
8
Read the color version online at www.eastcapearts.com October November 2022 9
Recycle by sharing with a friend or return to East Capers Rack!
There's No Business Like Show Business
By: Sheryl Segal
Baja Shakespeare is back! This season will mark our 23rd year bringing community theater to the East Cape. After 2 long years, we are looking forward to staging a full scale production in spring of 2023.
Although we had to scale back due to the pandemic, our troupe kept busy. We offered several smaller shows including Love Letters, The Mystery at El Triunfo, and Clue. We just can't stop performing!
Now, finally, plans are underway for a "really big show complete with singing, dancing, and of course, laughing. Our troupe is excited to get started in late fall, giving everyone ample time to return to Baja following their summer hiatus. It takes months of preparation to bring a great show to the stage, and we are always looking for new friends to join us. We need actors, musicians, singers, and dancers. Whether you are experienced or brand new to the stage, we invite you to be part of Baja Shakespeare. Not sure about performing on stage? Why not consider one of many behind the scenes roles? We need people to help with makeup, costumes, props, lighting, sound, and publicity. Are you super organized? We are seeking a sta manager to assist our director, Camilla Ford. This is a great way to join us and put your finger on the pulse of community theater. Whether you're looking for a role onstage or off, Baja Shakespeare offers something for everyone.
Several people involved in Baja Shakespeare have been there since its inception. Others have only recently joined, but all agree that it's great fun. Performing or behind the scenes, we need you. People often ask what really goes on behind the curtain. Come "play" with us and find out!
For more information, contact Sheryl Segal at ssegal34@yahoo.com
10
Read the color version online at
www.eastcapearts.com October November 2022 11
Recycle by sharing with a friend or return to East Capers Rack!
A Huge Announcement at Leaders2Give
By: Adam Greenberg
Have you heard of Leaders2Give? We have some SUPER EXCITING NEWS to share with you so stay tuned while we give a quick summary of who we are for those who aren't familiar with our work.
We are a US 501©(3) non profit whose purpose is to protect vulnerable children in developing communities and communities in crisis. Much of the work that our all volunteer organization does is centred right here in the East Cape and is made possible, only through the generosity of people like you!
Our organization is far reaching and proudly partners with several local organizations and community groups doing important work here:
Our partner ecosystem includes:
SNAP: Developing future leaders to help solve the problem of unwanted pet litters and creating educational programs to increase responsible pet ownership.
New Creation Kids: A temporary home for children while their families experience a crisis such as extreme poverty, violence in the home, addiction, prison, and homelessness.
East Cape Guild: Providing educational scholarships for eligible families who cannot otherwise afford to send their children to school.
East Cape Health Centre: Providing free medical care to children who cannot otherwise afford it.
Feeding The Hungry: Providing food security to the most impoverished and vulnerable families across the East Cape.
Leaders2Give is also embarking on an ambitious project to build a temporary home for children whose families are experiencing a medical crisis. This home is being built on donated land in El Cardonal and is mostly focused on single mothers and children living in poverty. Children across Baja
California Sur are eligible to live there and will be selected by DIF, the government organization responsible for child and family welfare.
Now for the GREAT NEWS!
John Gullo, a generous donor from this wonderful community has stepped forward and offered to donate $100,000 to Leaders2Give for the purpose of completing construction at the El Cardonal Children's Home in exchange for naming rights. We look forward to erecting new signage at the property to honor the Gullo family soon!
October November 202212
Read the color version online
Leaders To Give Continued From Page 12
To release the gift, Leaders2Give must raise all but the final $100,000 required to complete construction and begin operations Mr Gullo has also pledged $10,000 each year for the first 3 years of operations for staffing and sustainment.
If you would like to create a legacy for yourself or your family, please reach out to us as naming rights are still available for other buildings and areas within the property. Sign up for our newsletter at leaders2give.org to learn more.
Most of us have been touched by cancer or another terrible illness in our lives, whether we've directly experienced it or suffered alongside one of our loved ones; however, few of us have had to abandon a child to seek treatment for ourselves or for one of several children in the family.
This is the exact scenario which inspired the donation of land for this project, and which inspired our all volunteer board of Leaders2Give to roll up our sleeves and dedicate ourselves to this important initiative.
To learn more about Leaders2Give, our amazing partners, our plans to build and sustain a home to protect vulnerable children, the story of the local family who inspired this project, or to donate, please visit Leaders2Give.org
It Takes A Village To Make A Village The East Cape Guild Educates
By: John Plotkin
The East Cape Guild, the oldest non profit in the East Cape, has helped Mexican students from the East Cape attend high school for over 25 years, funding 143 High school students and 75 college scholarships for the 2022 23 school year. Why does this matter? Because the Mexican government only pays for children to attend school through the 9th grade, leaving less fortunate children unable to afford additional schooling. The Guild's scholarship recipients include local business owners, architects, engineers, and community leaders (including the Mayor of La Ribera). The Guild has helped build a better and more cohesive community for the local citizens and expats.
This year the Guild will hold several fundraising events to try to meet its annual increasing fundraising needs
The Parade of Homes and Poker Run, first held in 2021, will occur on November 30th, 2022. Look for details on Everything Los Barriles and on the Baja Pony Express.
The Guild will bring back Monte Carlo night, one of the most popular events in the area. Monte Carlo night will Continued on Page 14
at www.eastcapearts.com October November 2022 13
Recycle by sharing with a friend or return to East Capers Rack!
Guild Continued From Page 13
take place in February 2023 at the Spa Rancho Buena Vista, one of the Guild's longest and most loyal supporters.
Back by popular demand will be the Guild scavenger hunt in March, 2023. Last year was the first scavenger hunt/dinner and fun was had by all.
Finally, the Guild is excited to announce it will host its very first Music Festival in spring of 2023. Dates are being finalized but the event will include a group of song writers from Nashville, Rob Lamothe (a songwriter/performer and lead singer of RiverDogs) and some other talent. Look for more information on Everything Los Barriles and on the Baja Pony.
In addition to these fundraisers, several Guild members and supporters have conducted independent fundraising activities that will recur this season. Jackie Reeves has conducted several fundraisers including movies and presentations at the Yoga Garden. Bruce and Jill Borrgreve sponsor an annual fishing tournament benefitting the Guild with participants travelling to Baja from California. Several local fishing tournaments raised money for the Guild last year. Open Mic Nights at La Fogata raise money for the Guild. Mike at Eastsideepic.com will again hold a bicycle race to raise money for the Guild. Homes & Lands donates money for every sale made and referred by Guild members. Rancho Spa Buena Vista and the Baja Shakespeare troupe annually raise money for the Guild through their performances. IT REALLY DOES TAKE A VILLAGE.
How can you help? Join the Guild; annual membership is only $50 USD, and the Guild meets once a month during the season. Participate in the fun by attending the fundraisers. Donate vacation homes, paintings, services, and gift baskets that can be auctioned off at an event. Consider sponsoring a child (a high school scholarship costs $300 $500 depending upon transportation needs) or donate through the East Cape Guild website or by making a tax deductible contribution (for US citizens) to the Guild through Leaders2Give.
John Plotkin's annual East Cape calendar this year will benefit the Guild. The calendar will be available for purchase at the Los Barriles
Saturday markets beginning in December, at Guild meetings and at the Pickleball Tournament.
The Guild's first meeting of the season will take place a on October 20th @ 11:00. Guild meetings are open to the public. Learn more on how you can help our community by providing education.
October November 202214
Read the color version online at
Starlink, Yahoo, Cables & Tags
By: Lane Sikes
Starlink the satellite based internet is here in the US and Baja. One important thing to consider, we are in a high wind zone in the East Cape. The Starlink Antenna is engineered to be withstand : rain, snow, hail, sleet and dust. Nothing mentioned about hurricanes. Starlink V1 has an ethernet port but is not as weather proof. V2 does not have the ethernet port but has built in WiFi. No definitive word on the range of the WiFi; initial reports show 200' range. If you have V1 (round antenna) with the ethernet port, you should be able to add a router. If you have V2 (square antenna, no ethernet port), there is a new mesh router available, at extra charge. Starlink speeds and latency are very, very good. Remember only about 16% of the planned satellites are currently in orbit, your speeds may very. Here is a link to some extensive research: https://provscons.com/category/internet/ starlink internet/. Most important, there is no local tech support for Starlink!
Do you have a Yahoo or AOL email address? Yahoo sold that service years ago to Verizon who sold it to Apollo Global Management which is an asset management company. I would highly suggest that you begin a transition to an alternate email. Tech shows are starting to show increasing signs of trouble with emails from
that will check and import your Yahoo and AOL accounts. Open Gmail on your web browser, select the "gear" icon, select "see all settings", select the Tab "Accounts and Import", scroll down to "Import mail and contacts". That will allow you to have Gmail check all your Yahoo and AOL accounts. Now if you are locked out of your account, you can have a back door to your email. My recommendation would be to start the transition now.
A close friend lost her husband a couple of years ago. She had all of her photos on the computer that was about 10 years old. In "computer years" it was OLD. Last month the motherboard failed. Dead computer with NO backup plan for all those memories. Luckily, I was able to remove the hard drive and recover all those photos. She was lucky. If the hard drive fails, you will lose everything. All hard drives will fail. All portable devices including your phones will fail at some point. The easiest solution is Google Photos and/or Amazon Photos. Installed on your Iphone or Android phone, all your photos will be backed up to the cloud automatically. As an Amazon Prime member, that's at full resolution with unlimited storage. Google limits you to 1 TB at 12 megapixel resolution. Yes, use both in case you are locked out of your account. By the way, I take extensive photos of our US house just before we leave and the same when we leave Baja.
Not all cables are created equal. Almost every mobile device that we use has some sort of cable. Just because it fits doesn't mean that it's the correct, even safe cable. Most of the cheap cables sold at OXXO or any convenience store
www.eastcapearts.com
Recycle by sharing with a friend or return to East Capers Rack!
Starlink, Yahoo, Cables Continued From Page 15
an Apple cord, look for MFI certification. My favorite cables are made by Anker. Not all cables have data transfer capability. Some are just made for charging only. When you pack for Baja, bring extra cables and chargers. Don't forget your laptop charging cords.
The new charging cord standard (thanks to the EU) will rapidly change to USB C. Yes, the beloved Iphone will convert from the lightning connector to USB C within the next year. Most likely that will happen with the Iphone 15. The newer Ipads have already switched. The USB C has a very high data transfer rate; eventually we will have to carry just one cable for all.
HDMI cables are made to connect your TV to an external device. HDMI cables are not all alike as well. There several different models with 2.1a aka eARC (Enhanced Audio Return Channel) being the newest. HDMI eARC provides enough capability to handle all the newest audio formats. Those newest HDMI cords are very difficult to find in Baja.
Apple Airtags and Tiles are very handy to track your luggage, purse, wallet, cell phone, etc. Airtags are a product of Apple. Tiles are produced independently and are usable on Iphones and Android devices. They both share similar technology. These small transmitters use Bluetooth to send out their location to anyone who will listen. That means any Iphone or Android phone are always listening for those signals. Those signals are relayed to the mothership and then to you. People have been able to track their lost luggage worldwide.
Los Barriles Saturday Market
By: Michelle Melehes
The Los Barriles Community welcomes you all back for the 2022 2023 season. After a couple of challenging years, we are back to celebrate our 13th year and we just keep getting better! As Los Barriles faces growth and change the Community Market provides us all with yes, a sense of community!
Over the years the LBCM has attracted great vendors from all over the East Cape region who provide us with an incredible variety of produce, prepared foods and great on site local eateries. Regional artists add their colorful wares to create a wonderful balance to the market.
The East Cape has become an agricultural hub for organic products and the market showcases how much our area has to offer from local cheeses, seasonal produce, coffee, bread to ice cream and regional sweets. We have a dedicated group of vendors, many who have been with us from the very first market. They show up faithfully every Saturday morning to provide us all with their tasty treats and handiwork. Because of our location, many vendors drive long distances to provide us with their products and all are grateful for the support our community offers. All your favorite vendors will be back with new and creative products this year. The LBCM strives to keep a balance of food products and local crafts while continuing to grow. Our local non profits are on site to educate the community about their wonderful causes and we provide a great platform for fundraising and awareness. Saturday mornings are a day to look forward to at the La Laguna Park from 9am 12pm.
We hope to open Nov 12 and run EVERY Saturday through mid April. Come on out Saturday mornings and do your one stop shopping at the Los Barriles Community Market.
See you at the Market!
October November 202216
October November 2022 17
Recycle by sharing with a friend or return to East Capers Rack!
October November 202218
Read the color version online
been demolished. As new gangs of developers attempt to improve nature with their vision of a better mouse-
In those early years, camping out in the middle of nowhere and fishing uncharted waters was not considered risky by most. Now that is not the case, and few are willing to risk their safety to bask in the isolation that drew many early tourist to Baja.
My how things have changed since then as more and more tourists discovered the wonders of Baja. Cabo San Lucas went from a small village in the fifties to a large city today. Along with San Jose and La Paz. With the growth the remote isolation that was such an attraction dimmed. Literally as bright city lights dimmed the star filled heavens to a mere shadow of what they use to be.
Last summer I was invited to fish in a Dorado tournament Villa Del Palmar at the Islands of Loreto located approximately 30 miles south of Loreto.
Described in their brochure as a luxurious 181 room hotel set on an astounding natural setting along the shore of Danzante Bay is part of a 4,447 acres resort that features of unspoiled beauty? Offering three different restaurants, five swimming pools, a 39,000 square foot luxury spa, tennis courts, miles of hiking trails, glass bottomed kayaks, sport fishing, and a nearly finished Rees Jones
Continued on Page 20
Cortez enjoying the isolation of it all. Often there would even be another soul there. The entire beach to ourselves. The sounds of Baja, campfire crackling, fish fillets sizzling. All the while, the Sea of Cortez gently slurped against the coarse sand beach.
Supper finished, fire reduced to embers surrounded by silence broken occasionally by one critter or another asserting itself. As our gaze was drawn to the heavens. Moon, stars along with a planet or two seemed so close if felt like we could've reached out and touched them.
That was many, many years ago and served as the foundation for much of our family folklore. Too many of those spots have been lost to developers, who thought they could improve on nature with hotels, housing developments, RV parks, Marinas and so on.
One of our favorite spots was Santa Maria Cove nestled between the iconic Cabo San Lucas Hotel and Twin Dolphin hotel. Eventually there were even two story condos build behind the berm in cove.
Today, all of those seemly state of the art developments have
at www.eastcapearts.com October November 2022 19
Recycle by sharing with a friend or return to East Capers Rack!
Continued From Page 19
designed golf course; in short offering every modern amenity a Baja Tourist could hope for anywhere.
While I had seen the entrance on numerous trips just before where Mex 1 turns westward near Ligui towards the grad that leads up toward Villa Insurgentes. I had never turned in to check out the property.
What struck me as I drove past the guard shack and entrance was that while the description seemed similar to many luxury hotels that have sprung up in and around the larger cities in Baja Sur.
Here there were no neighboring developments surrounding this resort. It was literally out in the middle of nowhere all by itself. Reminiscent of some those old camping spots we frequented many years ago. I have to admit combining all the creature comfort features and amenities seemed appealing.
Here I was in a remote location on the shores of the Sea of Cortez with an uncrowded beach with all the water toys one could imagine. Plus, just a few mile up the road was the Puerto Escondido with both pangas and cruisers that could be charter for fishing trips.
While I had seen the entrance on numerous trips just before where Mex 1 turns westward near Ligui towards the grad that leads up toward Villa Insurgentes. I had never turned in to check out the property. What struck me as I drove past the guard shack and entrance was that while the description seemed similar to many luxury hotels that have sprung up in and around the larger cities in Baja Sur.
Here there were no neighboring developments surrounding this resort. It was literally out in the middle of nowhere all by itself. Reminiscent of some those old camping spots we frequented many years ago. I have to admit combining all the creature comfort features and amenities seemed appealing.
Here I was in a remote location on the shores of the Sea of Cortez with an uncrowded beach with all the water toys
one could imagine. Plus, just a few mile up the road was the Puerto Escondido with both pangas and cruisers that could be charter for fishing trips.
That night after an excellent dinner at one the three restaurants. I strolled past the various pools down to the almost deserted beach. Out in the middle of the small bay were several SUPs with people slowly paddling them across the bay. Not so unusual you say? These were the coolest ones I had ever seen equipped with underwater lights. While I didn't have time on that trip my next visit will include a little night fishing on one of those tricked out SUPs. However later that night as I sipped my final for the night gazing at the starlight Baja sky I had remembered from decades past. I was delighted to realize Baja remoteness could be mixed with amenities without diminishing either.
I guess you might say I found a way to turn back time…
October November 202220
October November 2022
Recycle by sharing with a friend or return to East Capers Rack!
Body Movement and Exercise
By: Sefi Held
Perhaps you have a rough understanding how movement and exercise affects your health, weight, energy levels, and overall wellbeing. Let's review briefly what happens when we choose to move more and quiet the mind.
Moving your body has very powerful effects on your brain. It creates neurogenesis, neuroplasticity, and neurochemistry. Short term: it creates neurons, improves how existing neurons work, and releases transmitters that improve your brain function. This means big benefits for you: decreased stress, decreased social anxiety, improved process of emotions, and improved memory. Did you know that anxiety changes your brain? Movement and exercise can help reprogram the brain. During these movements, our flight or fight system responds, specifically neurons that release GABA (Gamma aminobutyric acid) transmitters, which prevents others from firing easily. This means: if you frequently exercise and move, you are more equipped to manage stress which, in my opinion, is more important now than ever.
Movement and exercise will help lower cortisol and adrenaline: the two stress hormones and increase levels of dopamine and serotonin: the hormones for motivation, willpower, and decision making which in turn will have a ripple effect in all other choices you make with your nutrition, work, and daily tasks. Chances are, once you start moving more frequently, you will feel healthier, and this will have a synergistic effect in shaping positive outcomes right now and improve your sense of wellbeing and control.
At Yoga Garden we offer a variety of classes by certified instructors to diverse populations, and we ensure that the classes offered are not "cookie cutter" and also believe that small changes in behavior can make a total change in someone's life by cultivating commitment and shared purpose.
One of my long time students became a yoga teacher recently and asked me why I liked to begin some of my classes with Savasana, since in her own teacher training this was never done.
Let's come back to the reason why we do yoga in the first place. The ancient sage Patanjali stated that Savasana was intended to quiet the fluctuations of the mind and when you get still and meditate you do just that. Management of the mind was first and foremost. I taught high impact aerobic, Step, Bootcamp, HIIT and Zumba, etc. for many years and really loved the endorphin rush from these fast paced classes, but saddest thing about fitness style yoga was that it had excluded huge segments of the population, many, many folks that could actually use yoga and meditation to heal, both physically, mentally and spiritually. I had to mature to learn this! One of my teachers, Mark Whitwell, always stated to his yoga classes to "Do Your Yoga" and this statement has served me well over the decades.
As teachers, some of us realize that we're certainly not going to help people by teaching only what I call the "Party Poses", the most physically, difficult, showy poses. A slower, more mindful approach is what we need in this stressed out world of ours. In a world of infinite opportunities for distraction, this skill has become more vital in sustaining a relevant, safe practice. When we get still, stop moving, stop talking, watching the breath, that is the time when insights can flow in, or at the very least, that is time when we can get to know ourselves, learn what we need and hopefully to grow.
Our Yoga Garden instructors have been teaching and promoting the benefits of movement for a very long time and we look forward to sharing our new knowledge acquired over the summer. Some new classes will be on the schedule this season as well as your favorites. The re opening of Yoga Garden is on Monday, November 14th. Check out our website: YogaGardenBaja.com
Did you know that your attendance at Yoga Garden supports many of our local non profit groups? Every year Yoga Garden sends at least one student to High School by donating to the East Cape Guild scholarship program. We are actively supporting our local Recycle Program by donating funds from the events at the studio, donating to SNAP for their spay and neuter clinics and supporting the Asociación de Artes by direct donations, donating class passes for their fundraising raffles and advertising in the East Capers Periodico. Yogic philosophy - giving back and supporting our beautiful community.
Move and feel better by attending our classes and supporting the non profit associations. Meet you on the mat where profound changes can occur.
October November 202222
New Artisanal Beer Coming to Los Barriles
By: Chris Courtright
By the time you are reading this, FOUR new Artisanal Beers will be available in Los Barriles. And certainly, you'll be surprised with their flavor and quality… with only 4.2% percent alcohol content, planned so that you can drink a few more than usual without falling on your face.
The brand is MOSCHCAT, which in the Nahuatl dialect means Volcano. Why? Glad you asked. One of the brains behind MOSCHCAT is Igly Huerta, the Masseuse that runs the Spa at the Palmas de Cortez and Playa del Sol hotels. Igly is independent and leases the facility from the Van Wormer family. In her search for new, quality services, she found out that there was a new treatment called "Beer Massage." She was intrigued, researched the term and found out that the biggest Beer Massage salons were located in Central Mexico.
Igly booked a trip and learned all about Beer Massage, which is done in a bathtub filled with an infusion of malt, hop and warm water. You spend an hour in there it's great for your skin and hair and then you get a massage with MOSCHCAT, the volcanic rocks.
During that trip, she thought about bringing Artisanal Beer to Los Barriles, toured a brewery and came back to Los Barriles with a plan: to sell the Palmas de Cortez hotel their own beer, with their own tag, to commemorate the 50th anniversary of the foundation of the resort. The Van Wormer's were delighted with the idea and bought 50 cases, half of them of an Ultra Lager and the rest of a Vienna Lager.
The Van Wormer's were so happy that MOSCHCAT became the Van Wormer Resorts fishing tournaments sponsor of Beer Tastings… for life. The last three
were a success for MOSCHCAT. One Angler tried the Ultra Lager and loved it so much that he bought one case right there!
History was in the works. Seeing the great acceptance that her beers had, she booked a trip to Europe, had fun at the Oktoberfest in Bavaria and learned more about beer brewing. Once she was back, Igly invited a longtime friend, David Flores (you know Gringo Gazette newspaper editor), to form a partnership. Once David tasted the beers, he saw the potential but wanted to expand the plan. Why Los Barriles only? And why only two beers?
Igly wanted to try a beer with Damiana, the aphrodisiac herb, and another with a Jalapeño kick. David wanted to keep the Vienna Lager, to date the brand's bestseller, and replace the Ultra Lager with a Pilsner.
David found a distributor in Todos Santos, Chris Cerón, a Sushi Chef who owns Derek's Sushi Bar, several artisanal beer bars in La Paz that will carry the brand and is working on a deal with a distributor for Los Cabos.
Seeing the scope of David's project, Igly opted out of the partnership and sold the brand to David but remains as the East Cape distributor, in addition to tending her busy Spalmas de Cortez Spa, and continue with her popular Beer Massages.
To date, in addition to the Van Wormer resorts, several other restaurants in the area signed up to sell MOSCHCAT beers. Among them, Pizzeria Don Roberto, Tico's restaurant, Cactus restaurant and El Panzón restaurant just outside of town on the road to La Paz. More are expected to become sales points as MOSCHCAT becomes better known.
And that, folks, is what will be available in Los Barriles this same month. The delivery got delayed because there is a global shortage of glass bottles and David didn't want to use cans we may have to try to change his mind to get it to our homes faster! But they will be here this month, as MOSCHCAT will be showcased in the Todos Santos Beer Fest at the end of October.
Read the color version online at www.eastcapearts.com October November 2022 23
Recycle by sharing with a friend or return to East Capers Rack!
From Egypt to Bosnia to Baja…
By: Theresa Comber
And also, Japan, Australia, Canada, USA, Chile, Argentina, Peru, Venezuela, Mozambique and even more countries from an English girl from Manchester whose moto is 'I ride horses and travel the world!' And what an incredible journey that Samantha Yates has been on the past 15 years, living her best horse life. And now, coming in November to Baja to manage the herd that began as rescue horses at Baja's Awesome Beach Rides as she continues her life's dream.
Samantha will be a balm on the hurt from saying goodbye to the awesome 'Cowboy Felix', who so deftly cared for horses and humans with love, thoughtfulness, kindness and security the past three and a half years. So many local kids learned to ride with Felix (especially during the free month long summer camp we offered when the kids were sidelined from Covid). And many of these kids keep riding and learning the joys, and responsibilities, of riding horses. Awesome "Horse Lovers" from all over the world rode through the woods, up and down the arroyos, beaches and into the Sea of Cortez enjoying the 'view between the ears' and most especially their time with Felix. Countless visitors swung into the saddle and experienced our beautiful Baja from the back of a horse. But when our deeply knowledgeable Orthopedic Dr Cardenas warned Felix that his unstable spine would no longer tolerate being a full time professional horseman, Felix made the incredibly hard decision to end his horse career. So we have said good bye for now, but not forever, as Felix is just over the hill in La Paz.
In a juxtaposition of worlds, before horses Samantha worked indoors for England's gaming industry, and just as she was offered a position managing a casino, she realized she'd better jump in the saddle and get out. And has she! Samantha says the past 15 years she's been living an amazing dream life. She makes is successful around the world with her deep knowledge of horses and horse training, her love for people and showing
riding, and her desire to explore. Although this is her first time in Mexico, Samantha speaks Spanish, which has helped her in the five other Spanish speaking countries she's worked.
It was a 'small world' happenstance that introduced Samantha to Baja. And opened our eyes to the draw that our special East Cape holds around the world. We know people travel to Scuba dive, and are especially drawn to Cabo Pulmo. There's also a segment that looks for places to both dive and horseback ride! (Who knew?) On a ride in Egypt a year ago, Samantha was sharing that she would soon be looking for the following winter's position, one that she hoped would be somewhere in Latin America so she could be in the Spanish language. As luck would have it, two women had JUST been to the East Cape to Scuba dive with 'Dive in Baja' and to horse ride with 'Baja's Awesome Beach Rides'. They enthusiastically suggest she must come to Baja. That idea didn't germinate until this summer and two days after Cowboy Felix would need to resign. The connection was made, an intuitive spark was felt, and when the (cowboy) hat fits, we should wear it!
The responsibility of caring for 12 horses and a mule is huge, but most important is the immense care it takes for those riding them. After riding literally around the world, Samantha will be an awesome woman to join our community and to have in the saddle. Bienvenidos Caballoranga!
October November 202224
Read the color version online at www.eastcapearts.com October November 2022 25
Recycle by sharing with a friend or return to East Capers Rack!
The early years of 2000 allowed us to see what it was like to live in a small community. The primary concern was when faced with a medical emergency, who could we call for support…and do we even have phone service? There didn't seem to be consistency in physician support. No one seemed interested in developing a comprehensive clinic atmosphere.
Our model was to serve the local community at costs they could afford. Equally, we began servicing tourists, part time residents, and fishermen. This model remains true today.
What we have accomplished
We were awarded 2 Global Grants by the local Rotary Club. The first was for Diabetes Mellitus: identification, treatment, vision and education. The second was for Diagnostic equipment: X ray, laboratory and Ultrasound for the newly formed East Cape Health Center. We are grateful to
our donors who have allowed us to expand our services. Over the last year we´ve acquired a new microbiology machine for the lab, Fuji portable x ray for our emergency room making us the only clinic in the area with these diagnostic capabilities.
We´re also fortunate to have been gifted donations for a new fully equipped ambulance to round out our emergency services.
With the local Rotary group we´ve worked together for bi annual screenings targeting youth health gaps such as poor oral hygiene, juvenile diabetes, and problems with vision. Over the years we've helped hundreds of families and many patients depend on us for treatment of chronic conditions.
Ultimately, our primary goal is to develop as many services and sites as possible to address the health needs of the East Cape area. To help avoid long delays with specialists for treatment and solutions for common treatable medical and dental issues before they become chronic. But our main accomplishment will always be a grateful and happy patient whose life has been benefited by our services.
Where we are going
As our next step towards reaching more people and with the only purpose of providing high quality services to our community ECHC is developing the following projects:  Clinic, Laboratory and Pharmacy at La Ribera After serving our community through all these years we´ve decided to expand by establishing a satellite clinic in La Ribera. This will allow us to provide that area with our same high quality medical services, laboratory, and pharmacy. Located on the Cabo Pulmo Road, just across from Pemex and delegation.
Gynecological room at Los Barriles Clinic
We´re always thinking about what's most needed for our clients, by developing a room for gynecologic evaluations, our female patients will feel more comfortable in a safe private environment during their examination. The room will feature a 3D ultrasound with specific accessories to evaluate pregnancy terms, and fully diagnose women's health issues.
Working hand in hand with the gynecologist we hope to develop a culture focused on education and preventive medicine around women's health that will benefit our community.
October November 202226

meeta on the community
Crescent Moon Updates!
By: Priscilla Duran
I am happy to give you a little update on Crescent Moon Art and culture for children project. might remember, we started this project on February last year (2021), to open a space where children could learn about art at no cost. During this +1 year, we have had art and craft programs, we have painted murals, and we keep pursuing our goal of having many more workshops available for children, without charging children a single peso.
During the summer, we paused our craft club program due a lack of resources, but the painting workshop stayed open and we even got more students and new volunteers! Special thanks to Melissa Fujimoto and Sarah (Sally) Lask who are part of our very talented volunteers helping children to develop their own skills and learning new technics in every class.
After a year of working at my mom ria Restaurant), we took the risk of finding our own place, the Crescent Moon's art studio! We found a place by Palmas the Cortes storage area (it is one of the offices, not a bodega), where Melissa McDonald has been working very hard to make it look as art stimulating, cozy and welcoming for our children as possible! It was a huge challenge to move all of our things and art supplies from the garage to the art center, but it totally worth knowing that our kids will be on a more arts related environment. Meanwhile, we thank Sally Lask for welcoming us and our kids to her art studio during the summer, this experience has been amazing for them, and to be around her receiving her guide and advices will reflect in their work in a positive way. If you haven't seen her art studio, you should! It is a magical place, and Sarah is a great artist. In order to pay the rent for a year in this new place, we made a special fundraising, we found 12 sponsors to pay a month of rent each, and they got to choose a theme for a month, and a canvas painted by one of our students related to that theme, plus a calendar. We are grateful to all of the sponsors we got, having our place is for sure one of our biggest dreams and goals for this project.
Being a non profit project is not easy, especially if we cannot be sure if we'll be able to cover our expenses in the future, but our community has been great to us and our project and has stepped up every time we need them, we appreciate all the support we get and we are grateful for having the opportunity of serving our community.
Priscilla Duran
Crescent Moon Art and Culture for Children founder Club Rotario Los Barriles Cabo Este President 2022 2023
Read the color version online at www.eastcapearts.com
Recycle by sharing with a friend or return to East Capers Rack!
October November 202228
"DIY " Recycling is the Bomb & Movie Nights are Back!
By: Theresa Comber
As we remained committed to our planet through Covid, we implemented the 'Do-It-Yourself' method and it's been the BOMB on recycling day ever since!
The first Thursday of the month folks arrive with their recyclables cleaned, stomped, sorted and ready to put into designated one ton bags. Plastics clear, milky, color; crushed aluminum; metals; polystyrene; plastic bags and broken down and bundled cardboard come ready are received and processed with love! And we believe that this love is a reflection of our community's commitment to our precious environment and the health of the one planet that we live on. And that's the bomb about the amazing East Cape.
If you are already recycling with us, we are grateful. If you haven't yet started, make your first month here the beginning! It's an amazing and gratifying mindset shift to separate your trash from your recyclables. Simply create two places, trash in one, rinse recyclables in another. You'll be amazed at the difference as your trash container shrinks and your recycling container grows. Just before recycling day, take a few minutes to love the planet and prepare for the DIY drop off by separating the recyclables into their specific bags. Or, bring it like it is and do it at the center. We'll walk you through the horse shoe style drop off with the one ton bags and their designated signs for what goes where. Whatever you choose, choose East Cape Recycling & Environmental Education, choose to recycle, and choose to protect the only planet we have. And a footnote of goodness? All $120 peso per family per month donations go to East Cape Environmental Education!
Grab your Popcorn! Grab your chair! Pick a spot and get ready for Friday night movie night!
As we carefully waited through Movie Night, we knew we 'd be back, and here we are! Friday night movie nights with popular, first run movies will be shown at 7 pm at the Parque Laguna Concha beginning in December and going until April. The community has embraced this winter long fun
every other Friday night out, to raise money for "Curso de Verano", the children's three week environmental and sports summer camp for 100 kids aged 6 12 and 20 kids aged 13 15. This is the only summer camp in Baja offered completely FREE for families of our children's community. East Cape Recycling & Environmental Education and Asociación de Artes has been alongside the Los Barriles Mayors, members of DIF and community sports leaders for nearly a decade to offer hands on, engaging environmental education and experiences to set a love and understanding of our precious planet.
Join us! Grab a date and put these dates in your calendar for Friday night movie night at the Concha! And make room for popcorn, candy, Theresa's famous Kahlua brownies, wine, beer (even bring your own container). Here's to you, here's to our planet and see you at the movies!
East Cape Health Center Has New Recycling Goals
The medical world has lots of plastic. Now, some is not recyclable because of contamination, there still is lots of packaging, and other medical use parts that are recyclable. Viviana, a nurse at ECHC teamed up with Theresa Comber to learn how and organize a program to recycle medical and dental products, like plastic syringes, syringe wrappings, empty plastic IV solutions bottles, cardboard, paper, and all clean medical grade materials that once went in the trash can. There is even have a can at the door for plastic bottles that patients bring in!
ECHC is very proud of their new recycling program and how well it is going. The new recycling program is not only good for our earth, but as patients come in and see what ECHC is doing, maybe, just maybe, the importance of recycling may hit home and they take up the example that is set!
The more businesses we can get to recycle, the better it is for our beautiful East Cape and our precious Sea of Cortez and its residents!
Read the color version online at www.eastcapearts.com October November 2022 29
Recycle by sharing with a friend or return to East Capers Rack!
Hooked on Pickleball, Sunshine & Tacos
By: Christine Courtright
Right here in the once hidden gem of the Baja, Los Barriles, Tres Palapas Pickleball is open for play, clinics, lessons, happy hour, drop ins and so much more. Voted as #1 must see destination, you can indulge in a pickleball adventure or just chill and enjoy the atmosphere and vibe. Oh! And can I mention they were just voted "Top Global Pickleball Destination" by Mike Brannon, author of "Joy of Pickleball"… Amazon #6 Best Seller! Either way, they love meeting new people, and they are not going to break the wallet!
Whether you are a beginner or active player or just want the experience of what is going on, they welcome your visit and are accommodating and friendly. Named the 2018 "Top Baja Must See", and "the #1 Pickleball Destination in all of Mexico", and now Tres Palapa was named the "Top Global Pickleball Destination". They must be doing something right for them so early in their existence (open 6 years ago) get to the top of so many lists!
Besides the fun of the game, you know the benefits of physical activity, but pickleball not only changes your body, it changes your mind, your attitude and your mood. And to top it off, the facility being situated next to miles and miles of beautiful beaches, what more could you ask for?
So, check it out and see for yourself this fantastic place, right here in Los Barriles! Go for a game or two, breakfast, lunch or early dinner or try one of their famous taco grill and fresh fruit margaritas!
You will find them located 2km north of town on the coast road. Tres Palapas Café, Taco Grill & Bar is open 7 days a week 8am = 6pm. Remember, Happy Hour is every day from 3 5!
So now that you know there is no excuse, it is time for you to go and see what all the world wide fuss is about!
October November 202230
Our Miracle Cortez Rescue Dog Capri (aka Penny)
By: Capri's Foster Mom and Penny's Forever Mom
Capri is a lovely, light brown, 30 pound little girl with beautiful dark brown eyes Cortez Rescue pup. She was 7 months old when we began fostering her. Her litter was twice quarantined and as a result, she didn 't get much socialization and she was fearful of humans. Capri and her sister were put in a foster home in Oregon where they stayed for 3 months. Sadly, they clung together and were not making any strides toward engaging with humans. It was finally decided that the best thing for the girls was to split them up. The foster mother kept the sister and send Capri to us. Capri was scared and missed her sibling terribly, she wouldn't come out of her crate for the first 24 hours.
Wherever she was, in the house or the yard, she always hid from us. A few days after we had her, I picked her up from the backyard and put her on my lap. It took her 45 minutes to relax and stop panting, eventually falling asleep. We had Capri for 6 weeks and although she continued to make steady but ever so slow progress toward engaging with us, she never approached us and continued to hide. Often, I would pick her up and put her on my lap even though she would hide in the farthest corner and tremble whenev-
or the yard, she always hid from us. A few days after we had her, I picked her up from the backyard and put her on my lap. It took her 45 minutes to relax and stop panting, eventually falling asleep. We had Capri for 6 weeks and although she continued to make steady but ever so slow progress toward engaging with us, she never approached us and continued to hide. Often, I would pick her up and put her on my lap even though she would hide in the farthest corner and tremble whenever I approached her; which broke my heart every time. Once she was on my lap, she would remain there for hours. She enjoyed the petting (even gave nudges when we stopped), and usually fell asleep.
Read the color version online at www.eastcapearts.com October November 2022 31
Recycle by sharing with a friend or return to East Capers Rack!
Miracle Dog Continued From Page 31
After 6 weeks, we were beginning to wonder if she was ever going to find her home. Then one day, a young family was interested in meeting her. They have a 7 year old boy, a 5 year old girl and a male dog named Chase, who was similar looking to Capri but was 2 years older. We met the mom and Chase in a parking lot to see how the dogs would get along. Capri actually took a step toward the mom and sniffed her, which she had never done with anyone before. After a little bit, we decided to take Capri to their home to meet the family. The two kids were sitting in their chairs in the driveway, all excited to meet Capri. I took Capri in the house, she never once pulled on the leash or tried to hide. The two children approached her with a toy, and she didn't try to get away. After a little bit, we decided to leave Capri there for a trial overnight home visit. It seemed as though Capri knew she belonged here and felt comfortably at home.
As I was leaving, I asked the mom to send me a video of her wagging her tail as we had never seen her do that. That night, she sent me a video of Capri out in the middle of the room, playing with a toy. The mother called her name, and she wagged her tail! Her tail had a curl in it, which I didn't know because it was always tucked between her legs when she was with us. I received another video of Capri playing with the boy running and jumping on the couch. The boy followed her and sat next to her and started petting her. Then Capri was walking off leash and jumping into a river and swimming. It was a true miracle!
Capri was adopted and is happily in her forever home. Here is the update from Capri 's family; they renamed her Penny: nose does take her on new adventures on the property, but she has learned to come back when called. "Penny is been doing really well. She is silly, sassy, and very curious.
Tag is her favorite game, and she will often play whether you know you are in the game or not. Penny wants to go with us whenever we get ready for a car ride. Penny has taken to my son as her person. He is helping her to continue to grow, getting her out of her nervous shell and being a good alpha for her. When he is out riding his dirt bike Penny runs with him and keeps a close eye on her boy. She is very vocal and 'talks' back all the time. She makes funny grumble sounds that sound like she is muttering under her breath.
well worn path around the property. Penny will tease Chase by taking his toys and taunting him if he doesn't want to play. He has his special toy, and she knows which one will get his attention. When they aren't wrestling, they are curled up on the couch cuddling or being lazy in the bedroom.
She continues to be more relaxed and at ease with her home life, the more we challenge her comfort the more she blossoms." Penny's Mom
October November 202232
Cooling off this summer
color version
Read the
online at www.eastcapearts.com 33
Recycle by sharing with a friend or return to East Capers Rack!
October November 202234
The Eastside Epic Bike Race
Be Epic! It is not too early to begin training or spreading the word. The Eastside Epic Bike Race is happening again this February 9th, and we want you to participate. This is a FUNdRacing event open to electric and acoustic bicycles. Entry fees and donations go directly to the East Cape Guild and their worthwhile efforts in funding education for students of the East Cape. Hope to see you there!
Learn more about the race here: https://eastsideepic.com
Jesus Araiza Honored at Tommy Gifford Awards
A great honor has come to a beloved captain from Los Barriles. Jesus Araiza is one of 5 receipts of the prestigious award for the recognition of their extradentary contributions to the advancement of sport fishing through innovation, outstanding angling achievements or noteworthy examples of leadership in their trade. The IGFA Tommy Gifford Award is named for one of the greatest saltwater skippers of all time and recipients are selected through a rigorous process conducted by the Legendary Captains and Crew Committee. This is indeed a great honor for the Araiza family! He is one of the first Captains in Mexico to receive the honor. The award ceremony is October 27 in Fort Lauderdate,
Read the color version online at www.eastcapearts.com October November 2022
Recycle by sharing with a friend or return to East Capers Rack!
Getting Into Hot Water in Spa Buena Vista
By: Emma Nicholson
If you have ever walked along the water's edge in front of the Buena Vista Oceanfront & Hot Springs Resort (colloquially called the Spa Hotel in Spa Buena Vista), you may have experienced the surprise of hot water running through your toes.
The hot water is thanks to an underground spring carrying thermal waters that runs directly underneath the grounds of the hotel to its destination: The Sea of Cortez. What many don't know is that there's also a large well, created over eighty years ago, brimming with pure thermal waters.
The story began in the early 1900s when a sizeable thermal spring was discovered on a ranch in Buena Vista. The ranch was located in the area that we now know as Spa Buena Vista. For years the spring continued to run into the sea in obscurity until its thermal waters began to attract attention. The health benefits of thermal waters had long been recognized by the Mexican elite, including high ranking generals in the Mexican army, as a way to treat aches and pains, arthritis and joint problems. One such general was General José Agustín Olachea Avilés. He wasn't just a general, he was also twice Governor of the region as well as President of the PRI party and secretary of defense. The General was also rumored to be very good friends with President Adolfo López Mateos.
1Actively seeking out thermal waters to ease his aches and pains, General José Agustín Olachea Avilés found out about the Buena Vista ranch, that was then a fairly remote area of Baja, and subsequently bought it. Almost immediately he set about making it his home and his own spa. Firstly, he created his own well by tapping into the underground spring. The design was highly effective as the well structure has remained largely intact since the 1940s. A covered stairway takes you down to the well itself where you will find a sunken platform and seating area that was originally designed to be filled by the waters.
Here the General bathed often and especially so once as his own arthritic joint conditions worsened. Today, you can find the well hidden behind a small rustic door. On opening this door, you are met by a cloud of steam and the most beautifully clear blue green water that is far too HOT to touch!
Once the well was fully functioning, General José Agustín Olachea Avilés created a number of Greek style baths where he could entertain his friends and family. While you can still see these on the property, they are now closed off to the public. He also created a bathtub in his bedroom that was fed directly by the thermal waters allowing him to bathe in privacy.
Several tales have endured the test of time about General Olachea Avilés and his thermal spring including one that involved the President. It is said that this friendship allowed him to fly the President's plane over to Buena Vista to collect barrels of the spring water to take back to Mexico City. The General (and perhaps the President?) then used the water to make their daily coffee. Fast forward to today and the current owners of the hotel also use the hot spring water to make their own coffee!
The origins of the thermal waters in the underground spring are still hotly debated. Over the years, scientists and experts have studied the geology and water sources to determine the source of the spring's warm water. While not conclusive, it is thought that the underground spring is fed by four canyons: San Dionisio, Cañon de la Zorra, San Jorge and el Chorro. El Chorro canyon water, while being furthest away, has the closest match to the water minerals and characteristics that are present in the well water. Therefore, the theory is the El Chorro canyon is largely responsible for the underground spring and its thermal waters.
And the water itself is unique. Usually, thermal waters are known for their high Sulphur content that can give them a strong smell and yellowish color think Yellowstone Park. But the thermal waters at the Buena Vista Oceanfront & Hot Springs Resort are odorless and pure. In fact, the water is drinkable directly from source. Frequent studies are conducted with official water laboratories, and they consistently Continued on Page 37
October November 2022
Read the color version online at www.eastcapearts.com
Hot Springs Continued From Page 36 confirm that all the minerals and compounds are well within the safe drinking water ranges.
Another unique characteristic is the temperature. It is thought by the experts that a break in the tectonic plates causes the water to heat. Most hot springs globally measure between 51 degrees and 54 degrees Celsius. However, the spring at the hotel is over 60 degrees Celsius it's hot!!!
This is part of he reason why Jesus 'Chuy' Valdez bought the Spa Buena Vista property In 1976 as a hotel. He could see the benefit of the thermal waters and used the spring to supply the Spa Buena Vista hotel with high grade drinking water.
Today that vision has been taken one step further by the next generation. Chuy's sons, Axel, Esaul and Felipe now own the hotel with Axel as the General Manager. The water continues to be used for drinking water and cooking and specifically to make a traditional soup that's famous in the region. The jacuzzi hot tub is heated by thermal spring water and then the water is recycled to water the plants around the hotel grounds. The swimming pool also uses the spring waters and is maintained through a careful balance of the thermal waters and chlorine.
The thermal spring at the hotel is yet one more fascinating feature of our rich environmental landscape in Baja California Sur and our surrounding area. If you haven't
done so already, the hotel invites you to come and experience the beautiful, rich and mystical thermal waters that hold so many health and wellness benefits; from the swimming pool and jacuzzi to the drinking and bottled hotel guest water.
This winter the jacuzzi hot tub will be hot throughout the day and night so that guests can soak in warm comfort while also watching the stars! Another wonderful Baja evening activity to add to this season's list.
Buena Vista Oceanfront & Hot Springs Resort Information: Paying hotel guests can enjoy all the facilities of the hotel. Day visitors can purchase a day pass for $30 USD where $20 USD is returned to you as a credit for drinks/food from the restaurant and pool bar. Day visitor hours are 10am to 6pm. Non day pass visitors are also welcome to join us for a drink and/or food but can only use the facilities on purchase of a day pass
October November 2022 37
Recycle by sharing with a friend or return to East Capers Rack!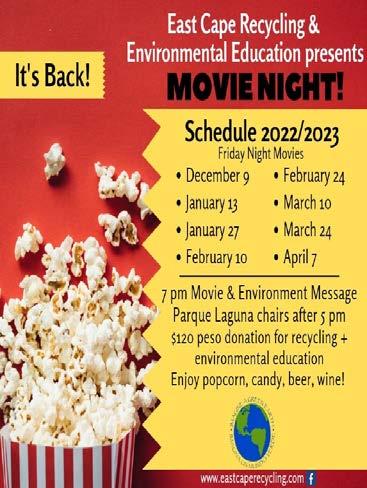 October November 202238
October November 2022 39
October November 202240