4 minute read
1852 Brew Co
Story by Natalie Caudle | Photos by Topograph
North downtown Visalia is being revived with the unique pairing of footy and brews. Scheduled to open in the Summer of 2022, the 1852 Brew Co. will soon open its doors to craft beer lovers. Will Peltzer is the talent behind the brewery; his background in brewing combined with his local roots and laid-back energy made him a perfect fit for the downtown project. In partnership with Jeremy Schultz of 1852 Visalia, soccer and beer are being brought together under one roof for a winning match.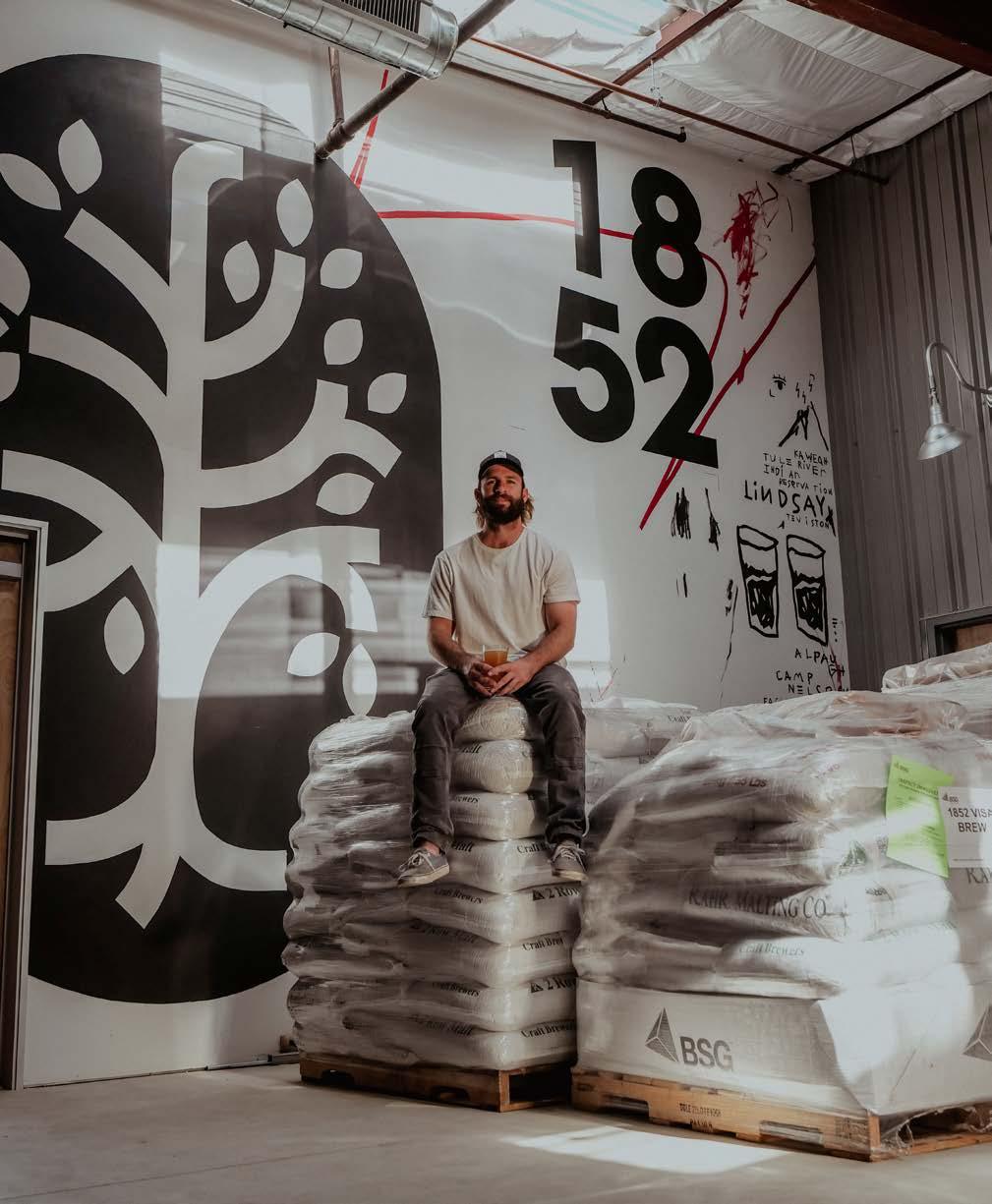 Crafted onsite, each batch Will brews is made with precision, down to the finest detail. Ingredients, timing, and temperature are carefully orchestrated, creating the perfect hometown brew. All recipes are designed and carefully concocted by Will. Each of the six beers on tap is uniquely named with a nod to soccer. "I'd say our Mexican Style lager (El Clásico) best represents the Valley. Our locals really enjoy light drinking beers and I think this beer will attract most drinkers. There are mild notes of corn for all the corn farmers," reflects Will on his current brews. "Our hazy is very citrusy as well. People always ask what citrus I use in the beer. I don't use any! But certain hops have relative characteristics to give that citrusy flavor we all enjoy in our brews." As 1852 Brew Co. settles in and Will broadens his recipe box, he plans to brew different styles with local honey and fruit while incorporating Valley citrus from his family's ranch.
Not only is Will passionate about creating a fine craft brew, he also hopes to bring a fresh taste to beer lovers. "I want non-craft beer drinkers to be open-minded to new beers. Don't get me wrong, I love when the mountains are blue, but craft beer is so good!"
I think this is going to be a great, safe place for anyone and everyone to come together, play some soccer, and enjoy some craft beer.
For the true brew fan, or those who simply want a peek behind the curtain, packages are available to create, brew, and name a personally crafted lager—a unique opportunity for beer aficionados. This small batch system creates two full-size kegs of beer: one to take home and the other to put on tap for all to enjoy.
Footy will keep the north side of the building fully abuzz, but for the patrons who simply want to sip and relax, the tap house and beer garden host an urban atmosphere with a local spin. An abstract mural by Jordan Wiebe divides the open-air beer garden from the taproom and features every Tulare County city, township, and community. When reclining in the beer garden to connect or watch a televised soccer match, guests are encouraged to bring in bites from local eateries. The downtown location is adjacent to a variety of homegrown restaurants while fan-favorite food trucks will be parked nearby on various nights.
Whether through soccer, brews or corporate meetings in the party room, 1852 is bound to be the new gathering place in town and Will couldn't agree more: "I think this is going to be a great, safe place for anyone and everyone to come together, play some soccer and enjoy some craft beer. Visalia's been needing another stomping ground and we're stoked to be able to provide that to our community."
Be it footy or brews, locals will have a new place to kick it at 1852 Visalia. Stay tuned for their grand opening date slated for August.