5 minute read
Modern Metals
Words by Natalie Caudle | Photos by Topograph
Beneath the modern farmhouse façade, a structural skeleton of steel shapes a distinctively built house that marries energy, efficiency, and beauty.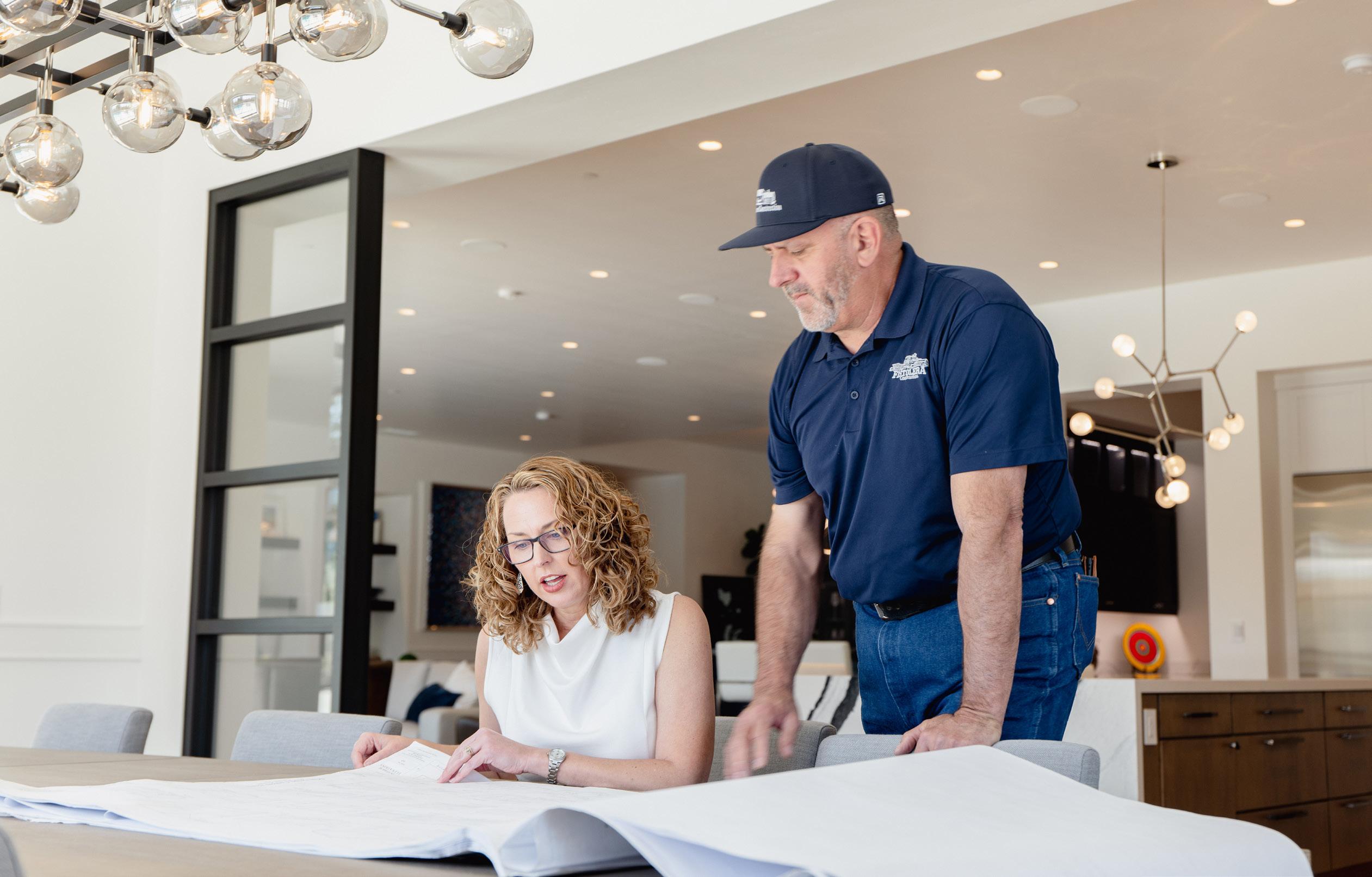 Third-generation construction manager Kevin Fistolera and architect and designer Julia Kroonenberg jumped at the opportunity—and outside of the traditional box—when envisioning the components of this 5,500-square-foot home.
Owner Matt Delph yearned for a unique home that represented his style and interests. Kevin, a quick problem solver with construction expertise, was eager to attempt a new type of home building and knew Julia was the perfect choice for a modern-thinking architect. And so the dream team was established.
Springing from the idea of a barndominium, an energy-efficient metal building with affordable living spaces, Kevin saw the benefit of an all-metal structure and endeavored to move the product from industrial-only use to architectural. The result is a one-of-a-kind home.
Unlike traditional wood structures, this house lacks load-bearing columns and walls. Instead, the ceilings are suspended from wires attached to steel beams above the modular construction, allowing for easy future remodeling.
Julia's steel entryway design nods to the industrial elements of the house and beckons guests into a colorful and open space. "I like trying new things," remarks Julia, who seeks to cultivate an agreeable balance of function and design. "My style is my client's. I take it personally that they feel at home and comfortable."
Kevin saw the benefit of an all-metal structure. The result is a one-of-a-kind home.
Form + Function
The kitchen boasts two large islands, commercial-grade appliances, and a five-foot range. With Cambria quartz waterfall countertops and a matching backsplash, the white and black marbling pairs well with the soft-close, dove white kitchen cabinets. Abounding with storage, the butler's pantry tucks away a built-in coffee maker and sous vide. The kitchen is the core of the public space within the house, serving as a hub for entertaining or an escape for dabbling with a new recipe.
My style is my client's. I take it personally that they feel at home and comfortable.
Matt's personality is evident throughout the home, with bright modern murals and creative fixtures. The color changing options of the Lutron Creston light system aid the mood and fun atmosphere. When adding decor, Julia chose shoe art and photographs of golf courses as a hint to Matt's hobbies.
Two walk-in closets, a fireplace, steam shower, and heated flooring transform the primary bedroom into a private wing. Built with convenience, the main closet opens to a laundry room with dry cleaning capabilities.
Each bedroom, brightly colored and bold in design, hosts a full bath. And every shower contains a custom-designed geometric tile pattern: hexagon, triangle, and honeycomb shapes mesh ideally within each space, adding bits of texture.
In keeping with the unique structure, Matt desired a high-tech home. "My goal for whatever I design is to improve my client's life," says Julia. Matt can control everything from his phone: music, lights, and window coverings. A tech closet stores the connections and wire, ensuring a clean and minimal look.
Lively + Refined
Technically built as a shop, the fifth garage takes the concept of a man cave to a new level. Equipped with a golf simulator, flat-screen TV, bar, and workout equipment, the Golf Room is the envy of many. Morning sun filters through the floor-toceiling rolling door, while honeycomb lighting and Tetris-patterned carpet squares bring warmth and fun to the industrial space.
With the extra square footage of a double lot, multiple gathering spots are nestled within the backyard, from the oversized fire pit to the pavilion with a fully equipped kitchen and entertainment area. Each element of the yard was thoughtfully designed, adding useful, outdoor space to the property.
In building this home, energy efficiency was at the heart of the dream team's vision. With solar panels, a steel structure, and a no-gap construction, the house requires little heating and cooling. As a result, a room can hold a temperature for days, keeping energy costs low.
Matt gives all of the credit to Kevin and Julia: "They came up with the design, and it's working out very well. I wanted something that was eco-friendly that I could have fun with, and that's what it turned out to be."