Questa collezione è realizzata con l'esclusiva tecnologia antibatterica Protect ® .
This collection is made with the exclusive antimicrobial Protect ® technology. with
Questa è una collezione che comprende materiali ultrasottili e ultrasostenibili, con le emissioni di CO2 totalmente compensate.
This is a collection that includes ultra-thin and ultra-sustainable materials, with CO2 emissions completely compensated for. Neutral
CO2
Anthology. 01 Introduction 04 02 Abstract 06 02a Colors 08 02b Surfaces 20 02c Mosaics 22 03 The Collection 24 03a 01 White 26 03b 02 Desert 36 03c 03 Earth 48 03d 04 Gray 56 03e 05 Dark 70 04 Info 82 Panariagroup 84 Slimtech 86 Protect 88 Think Zero 90 Color shading 92 Sizes 96 Item codes 98 Technical characteristics 102 Packing 104 Certifications 105 Intended uses 106 Overview 108 Gres porcellanato Porcelain stoneware Spessore/thickness: 9,5mm Gres porcellanato spessorato Extra thick porcelain stoneware Spessore/thickness: 20mm Anthology overview Formati / Sizes Colori / Colors Mosaici/Mosaics Muretto 30x60 cm 12"x24" NATURAL Mosaico 36 30x30 cm 12"x12" NATURAL 60x60cm 24"x24" NATURAL/ WORN/ ROUGH 30x60cm 12"x24" NATURAL/ WORN/ ROUGH 60x120cm 24"x48" ROUGH L2 60x120cm 24"x48" NATURAL/ WORN/ ROUGH Formati speciali/Special sizes 14,5x49,8cm 5 3/4"x19 1/2 " NATURAL Fondi/Plain Tiles Fondi/Plain Tiles L2 02 Desert 03 Earth 04 Gray 05 Dark01 White Mosaico Break 29x31 cm 12"x12" WORN EXPLORE IN 360° ON REAL.LEACERAMICHE.COM 20mm
Lea Ceramiche
Anthology0502
A surprising mineral anthology.
Una sorprendente antologia minerale.
Lea Ceramiche
01.
Anthology è un'inedita e sorprendente raccolta di pietre ceramiche ideali, nate dalla calibrata fusione di numerosi, straordinari riferimenti naturali. Dall'impasto armonico di marmi e pietre dal temperamento anche opposto scaturiscono cinque stupende tipologie minerali, nuove e originali, che esprimono altrettante personalità, forti e inconfondibili.
Cinque supremi modelli estetici che celebrano l'incanto e la bellezza imprevedibile della natura. Anthology ricapitola un'appassionante ricerca estesa all'intero globo che testimonia una sfida ambiziosa: emulare l'inesauribile creatività della natura.
Le qualità tecniche ed estetiche del gres porcellanato e del gres laminato Slimtech di Lea Ceramiche fanno di Anthology un catalogo di soluzioni di design originali e distintive, all'altezza di ogni progetto architettonico. Versatili e resistenti, sono superfici ceramiche facili da igienizzare e che, grazie alla tecnologia antibatterica integrata Protect, eliminano fino al 99,9% dei batteri.
Anthology is a new and astonishing collection of ideal ceramic stone resulting from the calibrated fusion of numerous extraordinary natural references. The harmonious combination of various types of marble and stone with opposite styles results in five splendid new and original mineral forms that express five strong and unmistakable personalities.
Five outstanding aesthetic models that celebrate the charm and unpredictable beauty of nature. Anthology encapsulates an exciting research that spans the entire globe and that testifies to an ambitious challenge: to emulate the inexhaustible creativity of nature.
The technical and aesthetic qualities of Lea Ceramiche porcelain stoneware make Anthology a catalogue of original and distinctive design solutions suited to any architectural project. Versatile and resistant, these ceramic surfaces are easy to sanitise and, thanks to their integrated Protect antibacterial technology, they eliminate up to 99.9% of bacteria.
Introduction.
Anthology0706
UNA SELEZIONE INEDITA E ORIGINALE
Superfici ceramiche nate dalla calibrata fusione di pietra e marmo.
CINQUE CARATTERI
Rappresentano cinque soggetti minerali del tutto unici e diversi tra loro.
INTENSO REALISMO
TATTILE E VISIVO
La perfetta sinergia di percezioni visive e tattili crea un effetto tridimensionale di assoluto realismo.
UNA SUPERFICIE ESCLUSIVA
Worn è il distintivo effetto anticante generato da un perfetto allineamento della grafica alla struttura che ricrea l'azione levigante del tempo sulla pietra.
/ A NEW AND ORIGINAL SELECTION
Ceramic surfaces resulting from the calibrated fusion of stone and marble.
/ INTENSE REALISM, TACTILE AND VISUAL
The perfect synergy of visual and tactile perceptions creates a highly realistic three-dimensional e ect.
/ FIVE PERSONALITIES
They represent five completely unique and di erent mineral subjects.
/ AN EXCLUSIVE SURFACE
Worn is the distinctive ageing e ect produced by the graphic design's perfect alignment with the structure, which recreates the smoothing action of time on the stone.
02.
Lea Ceramiche
3-TECH PROJECT
La collezione si articola in 3 diverse tecnologie produttive, con spessori specifici per le varie tipologie di applicazione: 6 mm, 9,5 mm e 20 mm.
TRE SPECIALI SUPERFICI
Natural (R10B) Worn (R9)
Rough (R11C)
SLIMTECH THINK ZERO
Le emissioni di CO2 di Slimtech Anthology sono compensate al 100% per avvicinarci all'impatto zero.
ESCLUSIVA TECNOLOGIA
ANTIBATTERICA
Superfici sane, sicure e protette perché la tecnologia antibatterica integrata PROTECT elimina fino al 99,9% dei batteri.
3-TECH PROJECT
The collection is available in 3 different production technologies, with specific thicknesses for various kinds of applications: 6mm, 9.5mm, and 20mm.
/ THREE SPECIAL SURFACES
Natural (R10B) Worn (R9) Rough (R11C)
/ IDEAL RANGE FOR DESIGN
Modular sizes on the 3 surfaces, di erent non-slip performance, outdoor solutions on two thicknesses and matching decorations.
/ EXCLUSIVE ANTIBACTERIAL TECHNOLOGY
Healthy, safe and protected surfaces, because the integrated PROTECT antibacterial technology eliminates up to 99.9% of bacteria.
Abstract.
Anthology08 09
02a. Colori Gres / Stoneware Colors 01 White 02 Desert 03 Earth 04 Gray 05 Dark Materiali / Materials Gres porcellanato / Porcelain stoneware 9,5mm Finiture / Finishes Natural, Worn, Rough Formati / Sizes 60x120cm 24"x48" 60x60cm 24"x24" 30x60cm 12"x24" Formati speciali / Special sizes Gramma 72 49,8x14,5cm 19 1/2 "x5 3/4 " Materiali / Materials Gres spessorato L2 /Extra thick porcelain stoneware L2 20mm Finitura / Finish Rough L2 Formato / Size 60x120cm 24"x48" Lea Ceramiche Colori Slimtech / Slimtech Colors 01 White 02 Desert 03 Earth 04 Gray 05 Dark Materiale / Material Gres porcellanato laminato / Laminated porcelain stoneware 6mm Formati / Sizes 60x120cm 24"x48" 120x120cm 48"x48" 120x278cm 48"x109 1/2 "
Colors. 02 01 05 03 04 Anthology11010
01 White. C'è la luce di un mattino estivo in questa calda e accogliente pietra ceramica. Deve il rasserenante impasto cromatico al sovrapporsi di svariate sfumature che vanno dal bianco all'ambra, passando per i toni più luminosi del beige. Presenta una grana che va da finissima a medio-fine e venature, ora chiare ora scure, dallo spessore variabile: intrecci di filamenti non direzionati provenienti da cave iberiche e mediorientali e ricalibrati a livello cromatico.
01 White. This warm and welcoming ceramic stone evokes the light of a summer morning. It owes its calming chromatic mixture to various overlapping shades that range from white to amber and brighter tones of beige. It has a very fine to medium-fine grain and veins of varying thickness, both light and dark: a weave of undirected strands from Iberian and Middle Eastern quarries, chromatically recalibrated.
Un bianco caldo, una delicata trama di venature.
A warm white and a delicate weave of veins.
Lea Ceramiche
Anthology10 11
Lea Ceramiche
Nuvolature dorate su un fondo color sabbia.
Golden cloud effects on a sand-colored background.
02 Desert. Nasce dalla fusione di una pietra calcarea di grana grossa cavata in Russia e di un marmo turco dalle ampie nuvolature piuttosto contrastate, con rare venature, scure e sottili. Solare e intensamente naturale, Desert emette avvolgenti vibrazioni di intimo benessere che sembrano affiorare dalle profondità della terra. Il generale color sabbia del fondo si arricchisce di toni giallo paglia, grigio chiaro e perfino di delicate note arancioni.
02 Desert. The result of the fusion of coarse-grained limestone quarried in Russia and Turkish marble with large, somewhat contrasting cloud effects and dark, thin rare veins. Radiant and intensely natural, Desert emits enveloping feelings of intimate well-being that seem to rise from the depths of the earth. The general sand colour of the background is enhanced by straw yellow, light grey and even delicate orange notes.
Anthology14 15
Inconfondibile e scenografica miscela di minerali grigio-beige.
An unmistakable and striking combination of grey-beige minerals.
03 Earth. In questa seducente texture minerale si leggono tanto l'irruenza primordiale della natura quanto il lento succedersi delle ere geologiche. Ne nasce un'affascinante tavolozza di grigi e di beige, con diffuse foschie dorate, inclusioni variopinte e venature ampie e frastagliate. Pietra ceramica dal carattere deciso e dalla vocazione decorativa, a tratti scenografica, Earth racchiude in sé riferimenti naturali per lo più italiani, che ricolora in modo originale e convincente.
03 Earth. This seductive mineral texture conveys both the primordial power of nature and the slow succession of geological eras. The result is a captivating palette of greys and beiges, featuring a widespread golden mottled effect, colourful inclusions and large, jagged veins. A ceramic stone with a bold character and a decorative, sometimes spectacular style, Earth features mostly Italian natural references, which it recolours in an original and convincing way.
Lea Ceramiche
14 15 Anthology
Lea Ceramiche
Venature limpide solcano questo grigio neutro e luminoso.
Clear veins cut through this bright and neutral grey.
04 Gray. Rigore monolitico e fascino prezioso si armonizzano in questa luminosa pietra ceramica grigia equidistante da ogni dominante cromatica. Il fondo è caratterizzato da una granulometria media, punteggiata da inclusioni millimetriche tono su tono. Un'architettura minerale pura ed essenziale, sorretta da poche venature molto incisive che risalgono a un pregiato marmo italiano: tra i toni brillanti che vanno dal bianco all'argento si insinuano note di beige e perfino punte color miele.
04 Gray. Monolithic rigour and exquisite charm harmonise in this luminous grey ceramic stone, in which no colour dominates another. The background is characterised by a medium grain size, dotted with minuscule tone-on-tone inclusions. A pure and essential mineral structure, enhanced by a few very incisive veins reminiscent of a precious Italian marble: the brilliant tones ranging from white to silver are complemented by notes of beige and even honey-coloured touches.
Anthology18 19
05 Dark. Raffinato e moderno, presenta un fondale grigio scuro con calde nuvolature color seppia. Lo punteggiano costellazioni anche molto fitte di fossili minuti che provengono da una pietra spagnola. Deve invece a un raro marmo nordafricano le ampie screziature antracite, imbrigliate da suggestivi reticoli di fini venature grigio-ambra. Con Dark Lea Ceramiche forgia una pietra ceramica che sembra racchiudere il mistero stesso della natura e del suo inesauribile slancio creativo.
05 Dark. Sophisticated and modern, it features a dark grey background with warm, sepia-coloured cloud effects. It is speckled with very dense constellations of tiny fossils that originate from a type of Spanish stone. A North-African marble is the inspiration for its large charcoal streaks, tempered by evocative lattices of fine amber-grey veins. With Dark Lea Ceramiche forges a ceramic stone that seems to encapsulate the very mystery of nature and its inexhaustible creative drive. Intenso e profondo, quasi enigmatico. Intense and deep, almost enigmatic. Ceramiche
Lea
Anthology20 21
Tra i punti di forza di Anthology ci sono le tre finiture superficiali, disponibili in tutti i formati di spessore 9,5 mm. Ciascuna prevede un preciso allineamento di grafica e di struttura superficiale: impasto cromatico e trama tattile rispondono all'unisono alla luce, raggiungendo livelli estremi di realismo.
01. Natural. Superficie opaca con fine struttura (R10), perfetta per un gran numero di impieghi residenziali e commerciali; esprime tutto il ricco temperamento naturale delle cinque pietre ceramiche di questa antologia minerale.
02. Worn. Superficie anticata, dal tenue riflesso lucente (R9), che meglio evidenzia la sinergica sovrapposizione di grafica e di struttura della collezione. Morbida e irregolarmente ondulata, ripropone la fisiologica usura da calpestio tipica dei marmi e delle pietre naturali.
03. Rough. Superficie da stampo che riproduce una lieve sabbiatura, dall'elevata resistenza allo scivolamento (R11C). Disponibile anche in spessore 20 mm, specifico per le applicazioni outdoor.
Anthology's standout features include three surface finishes, which are available in all 9.5 mm-thick sizes. Each features a precisely aligned graphic design and surface structure: the colour mix and the tactile texture respond to the light in unison, reaching extreme levels of realism.
01. Natural. A matt surface with a fine structure (R10), perfect for a large number of residential and commercial uses; it conveys all the rich natural temperament of the five types of ceramic stone in this mineral anthology.
02. Worn. An aged surface with a delicate shiny reflection (R9), which further highlights the synergistic overlapping of the graphic design and the collection's structure. Soft and irregularly undulating, it reproduces the natural wear typical of marble and natural stone.
03. Rough. A moulded surface that reproduces a slight sandblasting effect, offering high slip resistance (R11C). Also available in the 20 mm thickness, specifically for outdoor applications.
02b. Lea Ceramiche
Surfaces. 01 02 03 Anthology22 23
02c. Mosaici / Mosaics 01. Mosaico Break Worn 02. Mosaico 36 Natural 03. Muretto Natural Materiale / Material Gres porcellanato / Porcelain stoneware 9,5mm Formati / Sizes Mosaico Break 29x31 cm 12"x12" Mosaico 36 30x30 cm 12"x12" Muretto 30x60 cm 12"x24" Lea Ceramiche
Mosaics. 01 02 03 Anthology24 25
Lea Ceramiche
03. The Collection. Anthology26 27
White illumina e scalda, accoglie e amplia la percezione dello spazio. Finiture superficiali e mosaici rispondono a ogni esigenza pratica ed estetica: dal pavimento della doccia (in versione Rough) al rivestimento in mosaico Break, ideale compendio delle mille sfumature di questa pietra ceramica.
White illuminates and warms, welcoming and expanding the perception of space. Surface finishes and mosaics satisfy every practical and aesthetic need: from the shower floor (in the Rough version) to the Break mosaic covering, a perfect compendium of this ceramic stone's thousand different shades.
03a. FLOOR 01 White 60x60 Worn 01 White 60x60 Rough WALL Mosaico Break 01 White Worn
Lea Ceramiche
01 White. Anthology2928
Lea Ceramiche
La finitura Worn simula l'azione del tempo sulla pietra, quando l'uso ne ammorbidisce la superficie, su cui la luce scorre leggera. Il rivestimento 30x60 rivela la ricchezza della texture minerale creata dalla fusione di molteplici esemplari naturali.
The Worn finish simulates the effect of time on stone, when use softens its surface, on which light gently streams. The 30x60 covering reveals the rich mineral texture created by the fusion of multiple natural forms of stone.
FLOOR 01 White 60x60 Worn 01 White 60x60 Rough WALL Mosaico Break 01 White Worn Anthology30 31
01 White 30x60 Worn Lea Ceramiche
Anthology32 33
01 White Rough
01 White Natural
Lea Ceramiche
Anthology34 35
FLOOR 01 White 120x120 BACKSPLASH 01 White 120x278 Lea Ceramiche
Anthology36 37
Calda e mossa, Desert è una pietra ceramica dal temperamento vivace che non si rifà ad alcun esemplare naturale. Dona a ogni ambiente un grande senso di naturalità, una vibrazione che infonde benessere, particolarmente intensa quando la scelta cade sui grandi formati del gres laminato Slimtech.
Warm and rugged, Desert is a ceramic stone with a lively personality that conforms to no natural specimen. It gives every room an intensely natural feeling instilling a sense of well-being, which is most evident when using Slimtech large-format laminated stoneware.
03b. FLOOR 02 Desert 120x120 WALL 02 Desert 120x278
Lea Ceramiche
02 Desert. Anthology3938
Lea Ceramiche
Calda e mossa, Desert è una pietra ceramica dal temperamento vivace. Pur non riproducendo alcuna pietra esistente in natura, dona a ogni ambiente un'intensa sensazione di naturalità, una vibrazione che infonde benessere. La grafica articolata di Desert veste un'architettura dalle strutture rustiche e dal rigore nordico. Il pavimento multiformato in gres porcellanato, col ritmico cambio di direzione del formato 60x120, esalta il movimento delle nuvolature e dei salti di tono di questa calda pietra ceramica.
Warm and textured, Desert is a ceramic stone with a lively character. Although it does not reproduce a type of stone that exists in nature, it gives every room an intensely natural feeling, instilling a sense of well-being. Desert's articulated graphic design covers a rustic structure with Nordic precision. The multi-size floor, featuring the rhythmic change of direction of the 60x120 format, enhances the movement of this warm ceramic stone's cloud effects and colour jumps.
FLOOR o2 Desert 60x12060x60 Worn Anthology38 41
FLOOR o2 Desert 60x12060x60 Worn BACKSPLASH Mosaico 36 02 Desert Natural Lea Ceramiche
Anthology42 43
FLOOR o2 Desert 60x12060x60 Worn Lea Ceramiche
Anthology44 45
Ognuna delle tre finiture disponibili (Natural, Worn e Rough) presenta specifici dettagli grafici per un'ottimale resa estetica complessiva: una sinergia di dato visivo e di dato tattile che genera una tridimensionalità dal realismo assoluto.
Each of the three available finishes (Natural, Worn and Rough) features specific graphic details for an optimal overall aesthetic result: a synergy of visual and tactile data that produces a highly realistic three-dimensional effect.
Lea Ceramiche
02 Desert Worn Anthology46 47
Lea Ceramiche
FLOOR 02 Desert 120x120 BACKSPLASH 02 Desert 120x278 DESK 02 Desert 120x278 Anthology48 49
Il sofisticato impasto cromatico e il fascino quasi primordiale di Earth ne fanno una pietra ceramica scenografica, qualcosa di totalmente unico, soprattutto in versione Slimtech. La profondità, la definizione e il numero delle texture grafiche messe a punto compongono superfici che emulano l'accostamento di lastre di pietra naturale.
The sophisticated colour mix and the primordial charm of Earth make it an impressive ceramic stone, especially in the Slimtech version: something totally unique which, for this very reason, is suitable for striking combinations with many other ceramic coverings. The depth, definition and number of graphic textures developed form surfaces that emulate the juxtaposition of natural stone slabs.
03c.
FLOOR 03 Earth 120x120 WALL 03 Earth 120x278 Lea Ceramiche
03 Earth. 5150 Anthology
FLOOR 03 Earth 60x120 Natural WALL 03 Earth 60x120 Natural Lea Ceramiche
03 Earth 60x120 Natural Anthology52 53
Lea Ceramiche
03 Earth Worn 03 Earth Natural 03 Earth Rough Anthology54 55
FLOOR 03 Earth 120x120 WALL 03 Earth 120x278 Lea C eramiche
Anthology56 57
Una spa affacciata sulle Alpi, dagli spazi ampi e rarefatti che i numerosi toni neutri di Gray, percorsi da venature limpide, fondono con lo scenografico contesto. Inassorbente e resistente a funghi e muffe, il gres porcellanato Lea Ceramiche è pratico e facile da igienizzare, ideale per questo ambiente dedicato al benessere.
La finitura Rough, disponibile sugli spessori 9,5 e 20 mm, ha elevate proprietà antiscivolo che la rendono perfetta per il bordo piscina.
A spa overlooking the Alps featuring large and rarefied spaces which the many neutral shades of Gray, crossed by clear veins, blend with the scenic context. Non-absorbent and resistant to fungi and mould, Lea Ceramiche porcelain stoneware is practical and easy to sanitise, making it ideal for this wellness environment.
The Rough finish, available in both thicknesses (9.5 and 20 mm), has high non-slip properties that make it perfect for the poolside.
03d.
FLOOR 04 Gray 60x60 Natural WALL 04 Gray 30x60 Natural Muretto 04 Gray Natural Lea Ceramiche
04 Gray. Anthology58 59
FLOOR 04 Gray 60x60 Natural WALL 04 Gray 30x60 Natural Muretto 04 Gray Natural Lea Ceramiche
60 61 Anthology
04 Gray Natural Lea Ceramiche
FLOOR 04 Gray 60x60 Natural WALL 04 Gray 60x120 Natural Anthology6362
Lea Ceramiche
Anthology64 65 FLOOR 04 Gray 60x60 Rough WALL 04 Gray 60x120 Rough 04 Gray 30x60 Rough Muretto 04 Gray Natural
Lea Ceramiche
Anthology66 67 FLOOR 04 Gray 60x120 Rough L2 Costa retta angolare Rough L2 04 Gray Costa retta Rough L2 o4 Gray WALL 04 Gray 30x60 Rough
Lea Ceramiche 04 Gray Worn
Equilibrio cromatico e perfetto bilanciamento di grana lapidea e di venature: Gray è una pietra ceramica pura ed essenziale. In finitura Worn la superficie appare tornita e disseminata di piccoli solchi e di fini incisioni che non ne compromettono l'assoluta pulibilità.
Colour harmony and a perfect balance of stone grain and veins: Gray is a pure and essential ceramic stone. In the Worn finish, the surface appears turned and covered with small grooves and fine engravings that do not compromise the total ease with which it can be cleaned.
Anthology68 69
Dal living al terrazzo, dal rivestimento della doccia al bordo piscina col medesimo look pietra semplicemente adeguando spessore e finitura al contesto di utilizzo. Articolato in tre tecnologie ceramiche, Anthology è un corredo completo di soluzioni per l'interior e l'outdoor design in grado di massimizzare il potenziale estetico del progetto abitativo.
From the living room to the terrace, from the shower cladding to the pool edge, maintain the same stone look and simply adapt the thickness and finish to the context of use. Available in three ceramic solutions, Anthology offers a complete range of surfaces for both indoor and outdoor design, capable of unravelling the full aesthetic potential of any residential project.
Lea Ceramiche
FLOOR 04 Gray 60x120 FLOOR 04 Gray 60x120 WALL 04 Gray 12x278 Anthology70 71
Ogni pietra ceramica del progetto Anthology esprime un codice estetico unico, compiuto e inimitabile. Alle molteplici ispirazioni naturali si aggiungono le performance del gres porcellanato Lea Ceramiche e il valore di decori e formati di design, come Gramma 72, utilizzabile sia a pavimento che a rivestimento.
Every ceramic stone in the Anthology project expresses a unique, complete and inimitable aesthetic code. As well as many natural inspirations, the project boasts the performance of Lea Ceramiche porcelain stoneware and the value of design decorations and sizes, such as Gramma 72, which can be used for both the floor and wall.
FLOOR
03e.
05 Dark 60x60 Natural WALL Gramma 72 05 Dark Natural Lea Ceramiche
05 Dark. 70 73 Anthology
Lea Ceramiche 05 Dark 60x120 Natural
Per le qualità tecniche e la facilità di manutenzione, il gres porcellanato è ideale anche per spazi pubblici e contesti commerciali, ai quali Dark conferisce un'eleganza preziosa e sofisticata. Tanto a pavimento quanto a rivestimento le numerose facce disponibili per il formato 60x120 creano pose che emulano l'accostamento di lastre di vera pietra.
Due to its technical qualities and ease of maintenance, porcelain stoneware is also ideal for public spaces and commercial contexts, to which Dark lends a refined and sophisticated elegance. Both on the floor and the wall, the numerous surfaces available for the 60x120 size create layouts that emulate the juxtaposition of real stone slabs.
Anthology74 75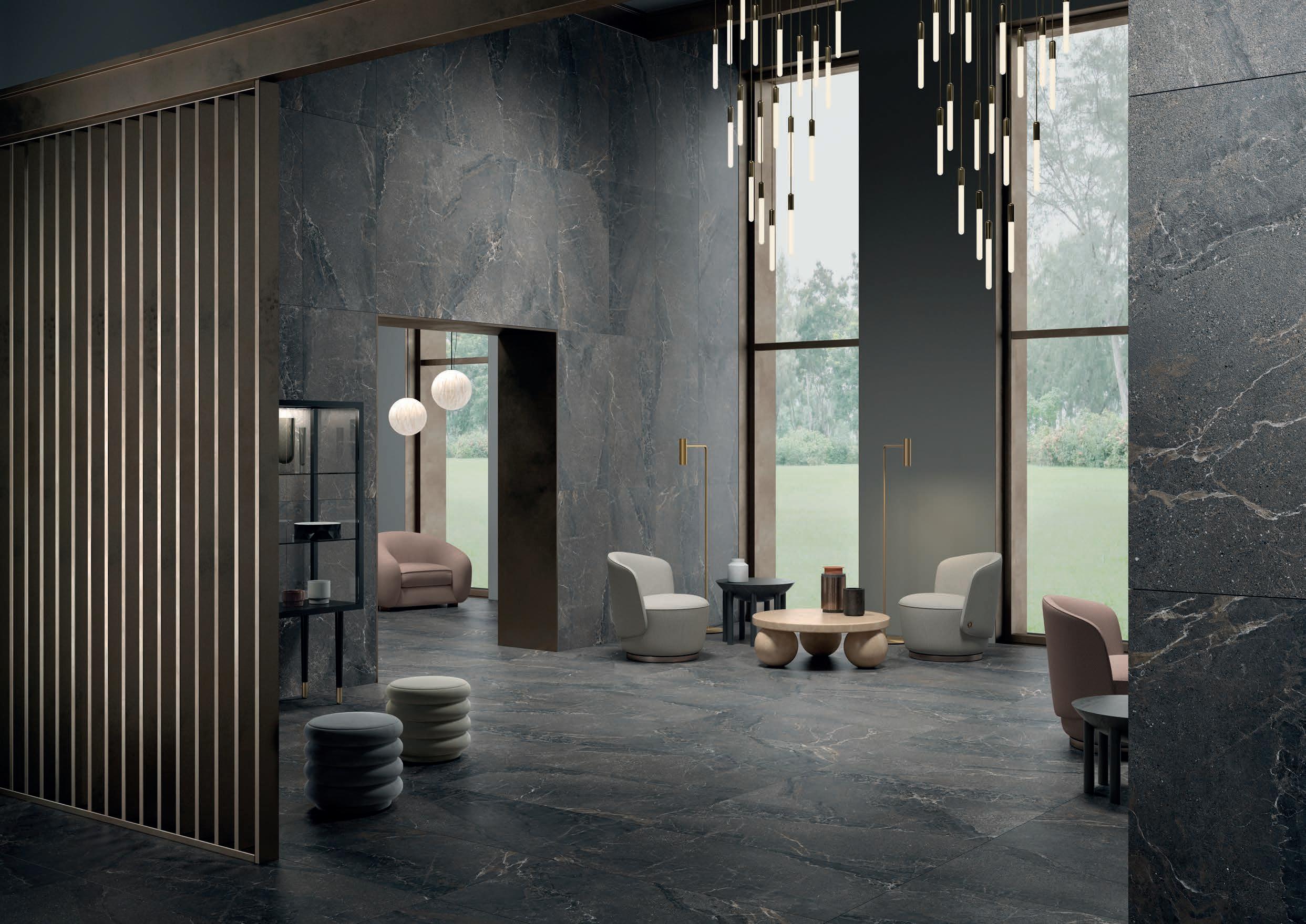 Lea Ceramiche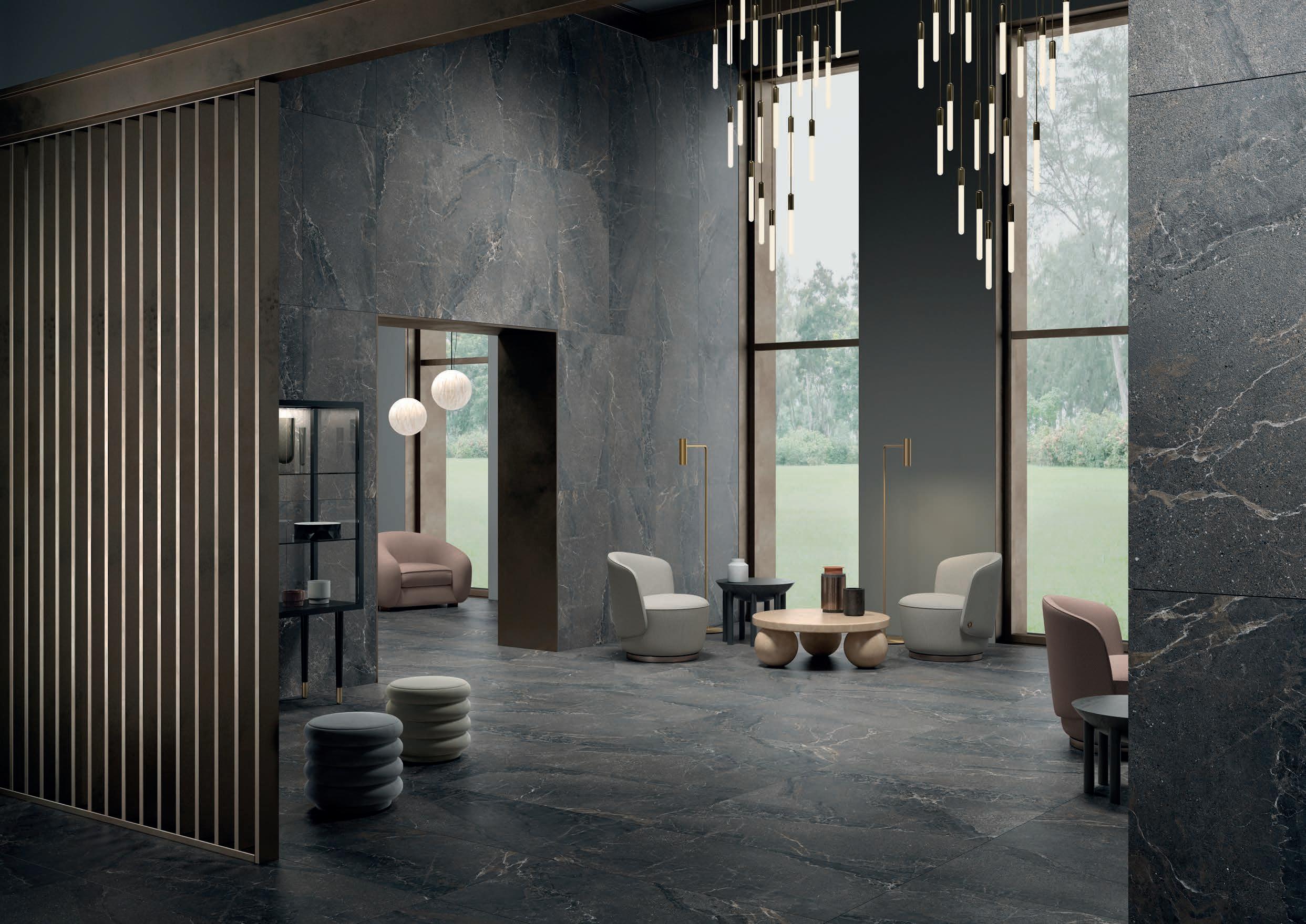 Anthology76 77 05 Dark 60x120 Natural
05 Dark Worn Dark Natural Ceramiche
05
Lea
WALL 05 Dark 30x60 Natural FLOOR Gramma 72 05 Dark Natural Anthology78 79
Lea Ceramiche
Anthology80 81 FLOOR 05 Dark 60x120 Rough WALL 05 Dark 60x120 Natural
Lea Ceramiche
FLOOR 05 Dark 120x120 WALL 05 Dark 120x278 Anthology82 83
WALL Gramma 72 05 Dark Natural 05 Dark 60x120 Natural FLOOR 05 Dark 60x60 Natural Lea Ceramiche
04. Info. Anthology84 85
CERAMICS. A SAFE CHOICE.