SERVING LAKE NORMAN SEPTEMBER 2023 Art & Festivals! No-demo Remodel Troutman Pet Pantry • Weekend Getaway Endless options for fall fun In 'Grandmillenial' style Help for our furry friends Enjoy Georgia's Museum City
Stewart/Owen Dance
Saturday, September 23 | 2pm and 8pm
Contemporary Dance: Stewart/Owen Dance, the resident dance company of Asheville's Wortham Center for the Performing Arts, is a contemporary dance company that works to cultivate the craft of storytelling through movement. Ticket Price $30-$50
Saturday, October 21 | 2pm and 8pm
Theatre: This family friendly multi-media adventure mixes classic story telling with projected illustrations to tell the story of Buck, the magnificent cross-bred offspring of a St. Bernard and Scottish Collie. Ticket Price $25-$35.
Trey McLaughlin & the Sounds of Zamar
November 4 at 8pm | November 5 at 4pm
Southern Gospel Choir: Trey McLaughlin & the Sounds
Of Zamar are known for their rich harmonies and beautiful blends. Transcending cultural boundaries, the group's music is sung all over the world. Ticket Price $40-$60.
PRESENTED BY
Education • Community Inspiration • Entertainment Cain Center for the Arts • www.cainarts.org • 980.689.3101
Order
Tickets Today! Call of the Wild
You rely on your teeth to eat, speak and smile with confidence! If you have missing teeth, you owe it to yourself to restore those areas with the next best solution: Dental Implants!
Our exclusive 3D diagnostic and planning technology allows us to plan and precisely place the implant based on factors that are crucial to its long-term success.
Trust your Dental Implants to the experience and reputation of Dr. Michael Coleman and Dr. Michael Foran
LAKE NORMAN CURRENTS | SEPTEMBER 2023 2
L ake N orma N ' s T rus T ed C hoi C e F or o ra L s urgery s i NC e 1985
Restoring Quality of Life Drs. Coleman & Foran 19910 North Cove Road Cornelius / 704-892-1198 carolinaoms.com
D rs . m i C hael C oleman an D m i C hael F oran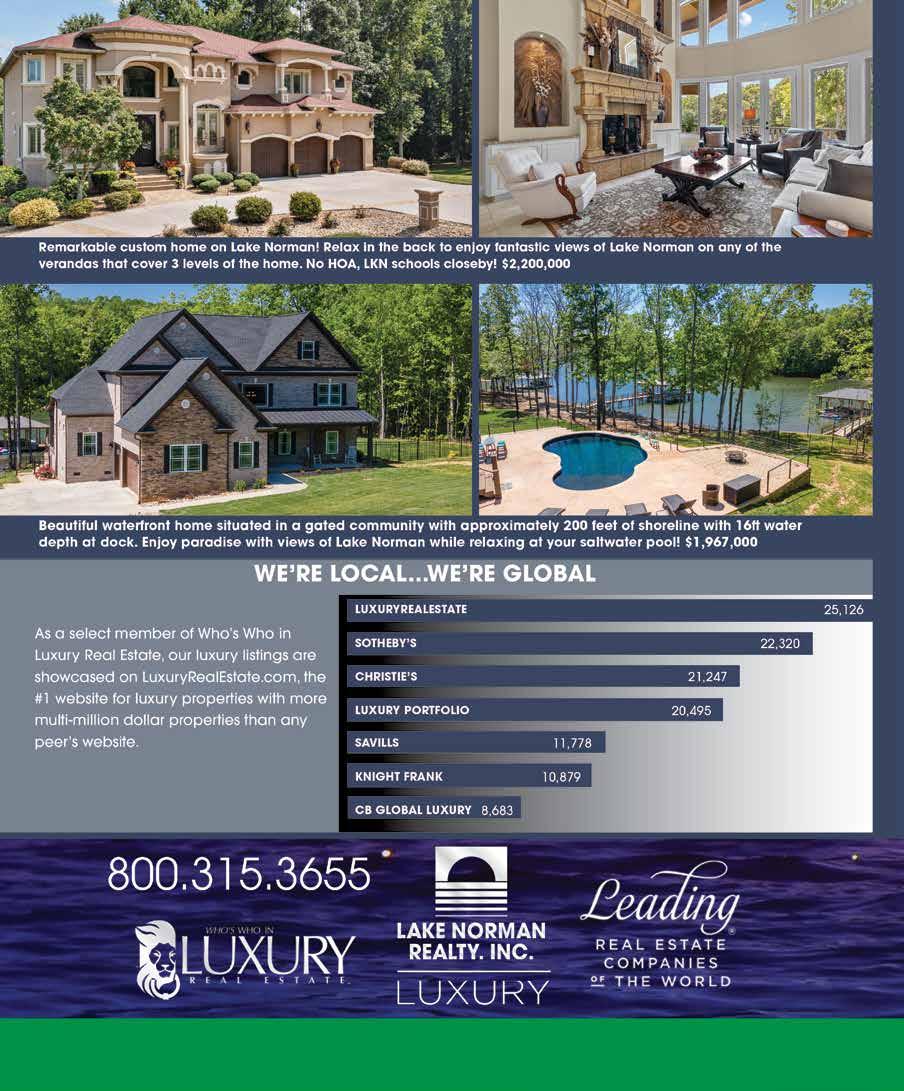 Mooresville, Denver, Lincolnton, Statesville, Maiden, Shelby, Mount Holly, Hickory, Winston Salem, West Jefferson, Wilkesboro, Yadkinville, Pilot Mountain, and Mount Airy
PARTNER CARRIERS
LAKE NORMAN CURRENTS | SEPTEMBER 2023 6 AUTO | BUSINESS | FARM | HOME | LIFE | RETIREMENT 888-230-0030 | www.leavitt.com/elite/
Mike Griffin, CEO Mooresville
Kortney Houston Mooresville
Carrie Starnes Hickory
Michael Holdenrid, VP Mount Holly
Paul Renegar Statesville
Tonya Shook Hickory Logan Canipe Lincolnton
Leon Brown, III Statesville
Leyda Martinez Denver
Shana Vielie Statesville
Lauren Yount Maiden
Melissa Armstrong Mooresville
Dennis Long Statesville
Barbi Dellinger Lincolnton
Rich Schrader Mount Holly
Chad Hampton Mooresville
With 14 locations… we have you covered!
Tim Buri Mooresville