2 / R / December 1, 2022
DEAR READERS,
Winter is here.
What a joy it is to wake up and look outside to see the snow falling. I know there are some of you out there who loathe this kind of weather. Sorry, but I say let it fall.
The week in random review
By Ben Olson Reader Staff
phone hacks for fat fingers
I'm one of those weird people who spell out every word in their text messages. I just can't write these silly abbreviations and text speak that make it look like the sender has suffered a health crisis and collapsed onto their phone. Because of that — and my fat fingers — I'm constantly forced to go back and edit my texts before hitting send. Often, I'm unable to tap exactly where the cursor should go, which occasionally leads to having to erase the whole word and type it again. Then I saw someone do a little trick on their phone that blew my mind. They held down the spacebar and could suddenly move the cursor left or right, pinpointing the right place to stop and correct mistakes. Funny how these little tricks can save you so much frustration. Now if they could only figure out how to stop that guy trying to reach me about my car warranty...
what a bunch of winers
Ask anyone on the street which state drinks the most wine per capita, and most would probably answer California. Not only does California have a plethora of wineries and vineyards, but its wine country in the central and northern region of the state is a destination for tourists to act like they know how to discern good wine from swill (see the movie Sideways for a good laugh). Most people would be wrong, though. Lo and behold, the state that drank the most wine in 2021 was our very own Idaho, consuming 1.21 gallons of wine per capita, according to the National Institute on Alcohol Abuse and Alcoholism and VinePair. I can almost hear the chants of, "We're Number 1!" from our red-stained mouths.
When the fences appear
I always hate when I see the fences appear around a business in downtown Sandpoint. They signal the end of something and the beginning of another. I just wish it wasn't historic buildings being ended and luxury condos beginning. I've been staring out my office window at the fence erect ed around the old Petal Talk building on Cedar Street and Second Avenue, wondering how many days will pass before this unique historic building (a gas station many decades ago) is torn down to make room for whatever will replace it. I just wish we honored history more in this town. Nobody drives through a town and says, "My, all those condos, strip malls, self-storage facilities and ground-level real estate offices sure do make that place beautiful." The more we eradicate our history, the more we become like every other sprawling town, unsure of its character and tenuously hanging onto its soul. Conversely, it makes me happy to see locals who do preserve history, like Duffy and Mickey Mahoney, who own Mick Duff's Beer Hall and Restaurant. They moved into the old City Hall/library building on Second Avenue and renovated it expertly — both preserving its historic character and modern izing it. We need more of that in this town.
One to end on
"Suburbia is where the developer bulldozes out the trees, then names the streets after them."
— Bill Vaughn, columnist and author (1915-1977)
A heavy winter is what North Idaho is all about, and getting snow like this before December is a great sign. Shoveling until you're blue in the face, trudging through shin-deep snow to work, howling down the mountain with rooster tails of powder flying from the back of your skis or board — that's what we do here in North Idaho.
It's not a life for everyone, which is more of a blessing than a curse if you ask me.
Special thanks to all of our plow drivers for working hard to keep our roads clear after such a prolific snowfall.
Make sure you give yourself a bit of extra time to get where you need to go. Drive slower than usual, be kind with people and try to embrace the season.
Let it snow, let it snow, let it snow.
–Ben Olson, publisher
111 Cedar Street, Suite 9 Sandpoint, ID 83864 (208) 946-4368
www.sandpointreader.com
Publisher: Ben Olson ben@sandpointreader.com
Editorial:
Zach Hagadone (Editor) zach@sandpointreader.com
Lyndsie Kiebert-Carey (News Editor) lyndsie@sandpointreader.com
Cameron Rasmusson (emeritus) John Reuter (emeritus)
Advertising: Jodi Berge Jodi@sandpointreader.com
Contributing Artists:
Woods Wheatcroft (cover), Ben Olson Zach Hagadone, Patricia Ericcson, Colton Moore, Bill Borders, Allison Turcotte Photography, Lyndsie Kiebert-Carey
Contributing Writers:
Zach Hagadone, Ben Olson, Lyndsie Kiebert-Carey, Lorraine H. Marie, Brenden Bobby, Clark Corbin, Kevin Richert, Phil Hough, Rane Stempson, Aly Bean, Ed Ohlweiler, Jen Heller, Mike Wagoner, Marcia Pilgeram
Submit stories to: stories@sandpointreader.com
Printed weekly at: Tribune Publishing Co. Lewiston, ID
Subscription Price: $155 per year
Web Content: Keokee
The Sandpoint Reader is a weekly publication owned and operated by Ben Olson and Keokee. It is devoted to the arts, entertainment, politics and lifestyle in and around Sandpoint, Idaho.
We hope to provide a quality alterna tive by offering honest, in-depth reporting that reflects the intelli gence and interests of our diverse and growing com munity.
The Reader is printed on recycled paper using soy-based ink. Leftover copies are collected and recycled weekly, or burned in massive bonfires to appease the gods of journalism. Free to all, limit two copies per person
SandpointReader letter policy:
The Sandpoint Reader welcomes letters to the editor on all topics.
Requirements:
–No more than 300 words
–Letters may not contain exces sive profanity or libelous materi al. Please elevate the discussion.
Letters will be edited to comply with the above requirements.
Email letters to: letters@sandpointreader.com
Check us out on the web at: www.sandpointreader.com Like us on Facebook.
About the Cover
Holly Walker skis across the streets of Sandpoint. Photo by the one and only Woods Wheatcroft.
READER
December 1, 2022 / R / 3
Investigation into late-fair director continues
Smith in Oct. text messages to county commissioner: 'I didn't do what they are accusing me of'
By Lyndsie Kiebert-Carey Reader Staff
As the Sandpoint Police Depart ment continues to investigate "the potential misuse of public funds" at the Bonner County Fairgrounds on the part of late-Fair Director Darcey Smith, public records show that Smith underwent police questioning in the days prior to her death by apparent suicide.
Smith, who worked as fair director since 2018, died Oct. 31.Bonner County Prosecuting Attorney Louis Marshall, Bonner County Sheriff Daryl Wheeler and Sandpoint Police Chief Corey Coon released a joint statement Nov. 14 encouraging community members to "avoid incendiary ac cusations and finger pointing" and to stop directing "unfounded accu sations and threats" toward county employees and other individuals associated with the investigation.
Smith filed a grievance in August against four county employees, alleging harassment both during and leading up to a Fair Board executive session in July, during which county offi cials from the prosecutor, risk management and human resources departments introduced a number of actions. While initial allegations against Smith from Fair Board members and a fair employee had also prompted the meeting, those allegations were not discussed at that time.
Marshall confirmed Nov. 22 to the Reader that Smith's grievance was not formally investigated.
"I reviewed the grievance and it did not allege anything that could be construed as a viola tion of Bonner County policies," Marshall wrote in an email, noting that while he typically wouldn't comment publicly on personnel matters, "in this circumstance it was already made public." "Harassment is well defined in the Bonner County Personnel Policy and the communications between the employees were clearly very
professional and not harassing," Marshall continued. "Additionally it did not allege any type of dis crimination or workplace conduct that would trigger state or federal law violations."
Ultimately, Marshall said "there was nothing to investigate."
"[Smith] was troubled by the attendance at the Fair Board meeting of some of my employ ees," he said. "I had instructed the employees to attend the meeting to assist the Fair Board. Regardless, Fair Board meetings are open to the public anyway."
SPD officially opened its investigation into Smith on Sept. 20 following a referral from Mar shall, almost two months after the executive session prompted by the initial allegations.
In total, according to Coon, those allegations include "fail ing to follow county policies on part-time employees, completing contracts with said employees and issuing 1099 to said employees for tax purposes"; "using Bonner County Fair funds for personal use"; and "misappropriation of donations from [Sandpoint High School] grad night."
According to text messages between Smith and Commissioner Dan McDonald, obtained through a Bonner County public records request, Smith said she spoke with Coon on Oct. 26. She relayed this to McDonald, then asked him if there had been "more allegations" made against her.
"I am not in that loop. They are actually keeping me out of it," McDonald told Smith in a text re ply, noting that the commissioners had met with Coon the day prior for a briefing and McDonald had encouraged him to bring each of the "concerns" directly to Smith.
"Just cooperate with the inves tigation so we can get past this," McDonald added.
Smith wrote to McDonald that she was "tired of being under attack," and questioned whether the allegations were simply "con cerns," or whether someone was
attempting to "sue" or "fire" her.
"Dan I've never been more concerned or embarrassed [in] my life!" she wrote.
"I'm not aware of anyone trying to sue you and we are res olute that we won't take an action unless there is proof of some thing," McDonald replied. "That's why I told Corey he needs to meet with you and go over what he had questions about."
According to records, Smith met with Coon the next day on Oct. 27. She texted McDonald afterward, telling him that she was "read [her] rights" and was "shocked" and "embarrassed" to
have been called in to meet with Coon and two detectives.
"I am angry, I am confused," she said. "I didn't do what they are accusing me of."
According to Smith's recount ing of that meeting with Coon, she offered to provide the depart ment with "any and all documents they want." She also said that the officers told her a forensic auditor would be taking part in the investigation, and asked her to schedule an executive session with the Fair Board, SPD and an attorney for Nov. 1.
"He then suggested that I come in and do a polygraph …
which I declined," Smith told McDonald. "I personally don't believe in those."
"I would recommend you do the polygraph," McDonald re plied. "While it's not admissible in court it can help you plus it shows you are cooperating."
Sandpoint officials did not reply to follow-up questions before press time, so it is unclear whether Smith participated in the polygraph test, or the circumstanc es surrounding why she had been asked to submit to one.
The investigation is ongoing.
Generosity pours in for Panida Century Fund
By Reader Staff
The Panida Century Fund took a big jump ahead in the effort to re place the theater's leaking roof. In dividuals donated $7,402.82, which with a match from Ting Internet will yield a total of $14,805.64 collected during the week.
That means the Century Fund drive has now passed the ¾ mark, with a total of $209,431.77 raised toward the first-year goal of $273,100.
"We want to give a shout out to the Shook Twins, who passed the hat during their Giving Thanks concert on Nov. 26 and collected more than $1,600 for the Panida that night," said Panida Board Chair Jim Healey. "But of course, big thanks go to the individuals who contributed there, as well as
all the others who donated this week. The Giving Tuesday this week was a big part of it as well."
Healey noted that "it feels as if we're on the home stretch," but with almost $64,000 left to reach the goal and fully fund the theater roof replacement, there is still a way to go.
"The Panida holds such a dear place in people's hearts, we're hopeful we will make it," Healey said. "This week's snowfall makes replacing the roof even more immediate and important. And of course, if you can donate, the Ting match will double your donation. Major thanks again to Ting."
The internet provider pledged to double all donations of $5,000 and under, up to a total of $200,000 over the course of the campaign.
PANIDA CENTURY FUND
$209,431.77 raised so far! Year 1 goal: Fix the roof!
The Century Fund has a fiveyear goal broken out in annual phases to raise a total $1.9 million to address long-deferred main tenance needs leading up to the Panida's 100th anniversary in November 2027.
To donate, or see detailed plans for the campaign itemizing expenses, visit panida.org.
NEWS 4 / R / December 1, 2022
The Bonner County Fairgrounds. Courtesy photo.
$209,431.77
Idaho legislators select caucus leadership teams and committee chairs
Organizational session begins Dec. 1 at the Idaho State Capitol in Boise
By Clark Corbin Idaho Capital Sun
Idaho legislators will set the stage for the 2023 legislative session this week in Boise by se lecting critical leadership positions for the Idaho House of Represen tatives and Idaho Senate.
Legislative leaders will then appoint new committee chairs and select committee members — another important step in gearing up for the session and figuring out which legislators will play which roles.
Although the 2023 legislative session does not gavel in until Monday, Jan. 9, the leadership and committee assignments will be sorted out this week.
Legislators met in private Nov. 30 to elect a slate of caucus leadership. Caucuses are grouped together by legislative chamber and political party. That means Republicans in the Idaho House elected the speaker of the House and majority leadership positions, while Democrats in the House elected their minority leadership team. Similarly, Republicans in the Senate elected the Senate president pro tem and majority leadership officers, while Demo crats in the Senate elected minori ty party officers.
The Idaho House and Idaho Senate will then officially vote on the top leadership positions Thursday, Dec. 1 during the organizational session of the Idaho Legislature at the Idaho State Capitol.
Betsy Russell, of the Idaho Press, reported on the makeup of the contested legislative leadership races on Nov. 20.
The top leadership spots in the Idaho House and Idaho Senate are contested, setting up a high-stakes week at the Statehouse.
Top leadership post in the Idaho House is up for grabs House Republicans are ex pected to elect a full new slate of leadership officers due to a sort of domino effect created after out going Speaker of the House Scott Bedke, R-Oakley, ran for and was elected lieutenant governor.
House Majority Leader Mike Moyle, R-Star, and House Assis tant Majority Leader Jason Monks, R-Meridian, are running for the vacant speaker's seat, which is the top leadership position in the Idaho House. The speaker presides over the Idaho House, is involved with negotiations between the House, the Senate and the gover nor's office, and is involved with appointing committee chairs and committee members.
Moyle has served 12 terms in the Idaho House — spanning 24 years — and will be by far the longest serving legislator in 2023.
With all the turnover coming to the Idaho Legislature in 2023, Moyle said his experience makes him the best choice for speaker.
"I have the institutional knowl edge that is lacking in other people running [for leadership posts]," Moyle told the Idaho Capital Sun in a telephone interview. "We kind of have a split caucus, which I would like to pull together. I think I'm the only one who has the abil ity to run the floor. The knowledge I have will help the House be successful."
If he's elected speaker, Moyle said he would work to help flatten the learning curve for new legis lators and work to find roles for them where they can contribute to the Idaho House.
"I have institutional knowl edge; I've been through this before when we've had high turnover and brought everybody together," Moyle said.
Monks has served five terms in the Idaho House and currently serves in leadership as the assis tant majority leader.
Monks said he supported Moyle for the past 10 years but is running for speaker because he thinks there needs to be a change in leadership style. Monks said he has met with all new incoming members of the Idaho House and would prioritize bringing them up to speed and unifying the House.
"Something that has been lacking is really a unified ap proach to what our priorities are going forward, and in order to have a unified approach, you have to ask your caucus what are their priorities," Monks told the Sun in a telephone interview. "A good speaker is somebody who can set aside their own priorities and put priorities the caucus wants ahead of their own."
Monks also says he has the experience to do the speaker's job, with 10 years in the Idaho House under his belt. His leadership po sition of House assistant majority leader has prepared him to take on greater responsibilities, he said.
"I have the right working rela tionship with the executive branch and the Senate," Monks said.
Moyle and Monks abandoning their current leadership roles also sets up a series of secondary lead ership races downstream.
Russell reported that Reps. Megan Blanksma, R-Hammett, and Vito Barbieri, R-Dalton Gardens, are running for majority leader, while Reps. Sage Dix on, R-Ponderay, and Jon Weber, R-Rexburg, are running for assistant majority leader. Reps. Barbara Ehardt, R-Idaho Falls, James Holtzclaw, R-Meridian, and Dustin Manwaring, R-Pocatello, are running for majority caucus chairperson.
Republicans in Idaho Senate to vote on top leadership post as well
Sen. Lori Den Hartog, R-Merid ian, is challenging Senate President Pro Tem Chuck Winder, R-Boise, for the highest ranking leadership
position in the Idaho Senate.
The Senate president pro tem is the highest ranking member of the Senate and presides over the Senate and when the lieutenant governor is not there. The Senate president pro tem is the second in line of succession for governor, behind the lieutenant governor. It is not uncommon for the Senate president pro tem to serve as acting governor for short periods of time, such as when the governor and lieutenant governor are outside of the state and unable to perform their duties. By law, the Senate president pro tem becomes the act ing lieutenant governor in all cases where the lieutenant governor succeeds to the office of governor.
Den Hartog has served four terms in the Idaho Senate, where she is chairwoman of the Senate Transportation Committee. Den Hartog said she has considered running for leadership since the summer.
"With taking a look at how the Senate was going to be changing, I thought that there was a need, a time and an opportunity to bring some changes to the leadership team," Den Hartog told the Sun in a telephone interview.
Throughout her four terms in the Senate, Den Hartog said she has focused on supporting school choice options for children and families alongside supporting the public school system. She also focused on transportation infra structure and projects through the committee she chairs.
Den Hartog said she believes she is in the best position to unify a changing Senate.
"My sense from my current colleagues and new colleagues coming in is we have a lot more in common than people might realize or what may be portrayed, partic ularly from a policy standpoint," Den Hartog said.
Winder has served seven terms in the Idaho Senate. He served for the past two years as president pro
tem following the retirement of previous Sen. President Pro Tem Brent Hill, R-Rexburg, in 2020. Prior to that, Winder served as majority leader.
Winder could not be reached for comment.
Russell also reported that incoming freshman Sen. Ben Adams, R-Nampa, is challenging Assistant Senate Majority Leader Abby Lee, R-Fruitland, for her leadership position.
Finally, Sens. Janie Ward-Engelking and Melissa Wintrow, both D-Boise, are running for the Senate minority leadership post that is becoming vacant with the retirement of Sen. Michelle Stennett, D-Ketchum, Russell reported.
Training for new Idaho legislators starts today
A new legislator orientation program ran from Nov. 28-30. During their orientation, the new legislators met with Idaho State Police to discuss security protocols, learned about parliamentary procedure and drafting bills, received their state-issued laptops, learned about public records laws, met with representatives of the news media, and participated in respectful workplace training and ethics training, said Legislative Services Office Director Terri Kondeff.
The new legislators will be sworn in Thursday, Dec. 1 and receive their committee assignments during the organizational session.
This story was produced by Boise-based nonprofit news outlet the Idaho Capital Sun, which is part of the States Newsroom nationwide reporting project. For more information, visit idahocapitalsun.com
NEWS December 1, 2022 / R / 5
University of Idaho considering scenarios for spring semester as murder investigation continues
By Kevin Richert IdahoEdNews.org
As the University of Idaho concludes a fall semester marred by tragedy, university officials are weighing their options for spring.
And that might include expanded on line offerings for students who are uneasy about being on campus.
Before the holiday break, the U of I hopes to have a spring semester plan — which will be a fluid plan, as police con tinue to investigate the slayings of four U of I students, found dead in an off-campus house on Nov. 13.
"We're thinking through a variety of scenarios, and I think we'll have news on that soon," U of I provost and executive vice president Torrey Lawrence said in an Idaho Education News interview Tuesday.
The spring semester begins Jan. 11, in roughly six weeks.
On Monday, classes resumed after Thanksgiving break, with some students returning to campus, and some students wrapping up fall semester remotely.
It's unclear how many students re turned this week, and how many stayed home. But based on what he has seen and heard from faculty, Lawrence says he believes more students are back on campus — compared to the days after the slayings, when a significant number of students went home ahead of the Thanks giving break.
However, Lawrence said the U of I will try to remain flexible through finals week, knowing some students might still change their minds about staying on campus.
"We're frankly just trying to help students get through this semester success fully and safely and in a way that they are comfortable," Lawrence said.
Another change on campus this week is an enhanced security presence. The Idaho State Police — which is working with the Moscow Police Department on the homicide investigation — has assigned troopers to help with campus security. The university has also ramped up its "Safe Walk" program, which provides escorts upon request.
During Tuesday's interview, Lawrence emphasized the U of I's relationship with law enforcement. The U of I receives twice daily briefings on the investigation, he said. And while police say they have not identified a suspect — and have never
publicly explained why they believe the slayings were a targeted attack — the U of I continues to base its decisions and protocols on the advice of law enforcement.
"At this point, they have the most information," he said.
Lawrence also praised the work of U of I faculty and staff, as they grieve the loss of the four students. Instructors have changed their learning plans quickly, drawing on the lessons they learned during the COVID-19 pandemic. And counselors and support staff have "excelled" during a trying time for the campus community.
"That is hard difficult work, to walk into a fraternity or sorority who has lost a brother or sister and talk to them and grieve with them," Lawrence said.
Investigation update
As classes resumed on campus Monday, Moscow police released no new details on the investigation into the deaths of the four students: Ethan Chapin, 20, a freshman from Mount Vernon, Wash.; Kaylee Goncalves, 21, a senior from Rathdrum; Xana Kernodle, 20, a junior from Post Falls; and Madison Mogen, 21, a senior from Coeur d'Alene.
Instead, police debunked two rumors about the case: They said a February death in Moscow was due to an overdose, and was unconnected with the slayings, and dismissed online reports that connected a red Ford Mustang to the scene of the homicides.
Police again appealed for tips.
"Detectives are looking for context to the events and people involved in these murders," Moscow police said in a statement. "To assist with the ongoing investigation, any odd or out-of-the-ordinary events that took place should be reported. Our focus is the investigation, not the activities. Your information, whether you believe it is significant or not, might be a piece of the puzzle to help investigators solve these murders."
Tips can be submitted at (208) 8837180, tipline@ci.moscow.id.us or at fbi. gov/moscowidaho.
Kevin Richert writes for Idaho Education News, a nonprofit online news outlet supported by grants from the J.A. and Kathryn Albertson Family Foundation, the Education Writers Association and the Solutions Journalism Network. Read more at idahoednews.org.
Bits 'n' Pieces
From east, west and beyond
East, west or beyond, sooner or later events elsewhere may have a local impact. A recent sampling:
A potential railroad strike that could begin Friday, Dec. 9 may be influenced by the response of typically anti-union Senate Republicans who vote on a bill to stop the strike. Whether they will vote politically to favor shipping chaos that discredits President Joe Biden is a key question. Prounion Biden, who helped broker a deal between the unions and railroad business leaders, is attempting to dodge threats to the economy if rail activity ceases due to four unions (representing 60,000 rail workers) out of 12 unions disagreeing with contract compromises made so far.
Concerns include the fall-out from 30% staff reductions in recent years, unpre dictable shifts due to chronic understaff ing, lack of substitute workers and failure to address sick leave issues. The unions approved an almost 25% rise in wages by 2024, according to The New York Times.
Sick leave in the U.S. would not be an issue if Congress had passed the Healthy Families Act, which would have provided sick leave to all. Currently, of 22 highly developed nations, the U.S. is the only one not requiring employers to provide paid sick leave. Belgians get one month, employees in the UK get 28 weeks and workers in Spain get 16 days.
And the U.S. railroad industry can afford $668 million in annual paid sick leave. According to stats reported by Pop ular Information, BNSF logged $6 billion in profits last year — a 16% jump over the prior year. Union Pacific raked in $5.4 bil lion in profits the first nine months of 2022 alone, while CSX recorded a profit of $3.1 billion in this year's first nine months.
According to former-Labor Secretary Robert Reich, Elon Musk's big business mistake with his Twitter purchase is failing to consider workers and their knowledge as assets, and regarding them only as costs. Twitter workers, half of whom were fired after Musk bought the company, know how to innovate, know what needs improvement, and where the company's strengths and weaknesses lie, Reich pointed out.
Musk also threatened to fire those who would not commit to "long hours at high intensity," causing more than 1,000 more employees to head for the door. The value of the company Musk paid $44 billion for is likely to plummet without its knowledgeable employees.
By Lorraine H. Marie Reader Columnist
Chaos at Twitter was illustrated with a fake Twitter account posing as being from pharmaceutical company Eli Lilly. It stated "insulin is now free" and remained in place for four hours, due to a staff stretched thin by layoffs. Eli Lilly's stock then "took a nosedive," NPR reported.
According to Media Matters, 100 of Twitter's top advertisers are now absent from the website, and seven others have slowed their ads to "almost nothing."
"Quiet Quitting" is when an employee no longer goes "above and beyond" — for which they are not paid — and instead only fulfills the requirements of their job. Mean while, the Economic Policy Institute recog nizes "Quiet Fleecing," a long-term policy whereby an employer does not compensate workers for going "above and beyond."
Norway is paving the way to earth-friendly roads by replacing the fossil-fuel bitumen binders with plantbased lignin. The lignin is cheaper and more durable when roads are rebuilt, Optimist Daily reported. A Norwegian company has equipment that crushes used asphalt and rocks into fine materi al for reuse as new roads and i's bound together by the flexible lignin, which does well with temperature extremes.
There were 15 climate disaster events in the first nine months of 2022, according to the National Oceanic and Atmospheric Administration, with total losses in excess of $1 billion each.
Numerous media reported that days after announcing his presidential can didacy, Donald Trump dined with artist and anti-Semite Ye and white suprem acist Nick Fuentes. Fuentes, who has compared himself favorably to Hitler, is a Holocaust denier (and 2020 election denier), as well as a fan of authoritarian Russian President Vladimir Putin and the Taliban. He has claimed that "if we [he and like-minded followers] didn't exist, the Republican Party would be falling backwards all the time." He also opposes voting rights for women.
Landlords have raised rent by an average of 15% nationwide, according to The American Prospect.
Blast from the past: The difference between the 2007 Great Recession and the 2020 COVID Recession: It took 75 months to recover from the private sector jobs lost in the Great Recession, according to the Economic Policy Institute. The COVID Recession recovery took 28 months, due to a more vigorous federal response.
6 / R / December 1, 2022
NEWS
Right: Shook Twins, consisting of twin sisters Katelyn, left, and Laurie, right, play with their band at the Panida Theater Nov. 26. The "Giving Thanks" show is an annual fundraiser through which Shook Twins support various causes. This year, the twins donated to the Panida Century Fund. Photo by Ben Olson.
Bottom left: Mark Terry, manager of the 219 Lounge, splits a giant pile of wood to burn on the back patio at the bar this winter. "I'm just out here doing the Lord's work," he said.
Photo by Zach Hagadone.
Bottom right: "Just seeing my first moose of the season — a momma and two babies."
Photo by Patricia Ericcson.
December 1, 2022 / R / 7
To submit a photo for a future edition, please send to ben@sandpointreader.com.
Bouquets:
• A Bouquet goes out to the small business owners of greater Sand point. These hardy souls are the lifeblood of a community. They are the ones who shovel the sidewalks on snowy mornings, leave bowls of water out for thirsty pooches on hot summer days and donate priz es to fundraisers without batting an eye. They arrive early, stay late and often pay themselves less than their own employees. Honor our small business owners by patroniz ing their shops this holiday season. Avoid the big box stores as much as you can, because when you spend a dollar at a small business, you're supporting the community.
Barbs:
• I received a phone call earli er this week that frankly angered me. This caller complained because Editor Zach Hagadone referenced the slave trade in his article about the origins of Thanksgiving food in the Nov. 23 edition. When asked why she was offended by a histor ical fact, the reply was, "Look, it happened a long time ago, why do we have to keep hearing about it?" After sharing exactly how I felt about such ignorance, the last thing I heard before slamming down the phone was a threat to "call all your advertisers." I guess to let them know that she's annoyed about be ing reminded of the historical real ity of slavery. What in the world is wrong with people? Let me break this down so everyone knows the score here: slavery happened. No amount of complaining or attempt ing to silence those pesky historical facts will change the fact that the United States — along with many other countries — systematically captured, transported, sold and of ten murdered human beings from Africa for hundreds of years. It doesn't mean you hate your coun try for pointing this out. It doesn't mean you're promoting "critical race theory" or "grooming" or whatever dumb new buzzword is trending on Fox News. It means facts are facts. It happened. I re fuse to be berated by some ignorant caller because they don't like the way history makes them feel. Learn from history, don't repeat it.
Dear editor, By most accounts, the Demo crats scored an impressive victory in the midterm elections. With pre-election polls showing the usual defeat of the party in control at the midterms, the Democrats surprised pollsters and others.
Even though they lost control of the House by a narrow margin, they did regain control of the Senate. And a number of state and local races were won against Republicans backed by Donald Trump.
The Democrats achieved this victory by combining the votes of many women and others rebelling against the conservative Supreme Court overturning Roe vs. Wade, and younger and minority voters turning out in greater than predict ed numbers.
The election showed strong support of measures achieved by President Biden's administration in his first two years. They eclipsed anything Trump achieved in four years, including the American Res cue Plan, helping us and our econo my recover from COVID, and a badly needed infrastructure improvement bill that never got out of Trump's office when he was president.
These midterm election results will give Democratic candidates a real boost in the next election, especially with Trump announcing he will run again in 2024.
Jim Ramsey Sandpoint
Dear editor,
As a 50-year property taxpayer near Vay and Dufort roads, I object to the proposed zone change from Rural Residential to (so-called) Neighborhood Commercial at that location. [Opinion, "Rural no more? Rezone request at Vay and Dufort roads is the 'classic definition of spot zoning,'" Nov. 17, 2022].
Two nearby existing businesses adequately serve and are soundly supported by the community. They're at locations where commercial enter prises have existed for decades.
Longtime residents of the Vay/ Dufort vicinity are accustomed to buying gas in Priest River, Sagle, Westmond and Spirit Lake.
This zone change proposal devi ates from standard Comprehensive Plan processes. Such bypasses set an inappropriate precedent. Failure to follow the process opens all rural areas of Bonner County to develop ment without proper planning.
Environmental Impact Studies should be provided. Depth of water table, potential negative impact of underground gas tanks and other environmental concerns need to be considered.
Feasibility studies should be pro vided: 1. gas stations located near Vay/Dufort, in years past, failed due to lack of financial viability; 2. Vay Road isn't necessarily the best lo cation when a more highly traveled north/south route exists elsewhere off of Dufort Road; 3. need of an other gas station in Bonner County is questionable, as electric vehicles will eventually take precedence.
Dear editor, I just read in the Wall Street Journal that a woman in Jersey City, N.J. received notice from her landlord that her rent on a two-bed room (waterfront) apartment would go up 40% to $6,000 per month if she renewed her lease.
The woman and her neighbors in their 19-story building organized and filed petitions, finding that the city's rent control administration agreed. The result: The landlord can only raise rent 4% annually.
With hundreds of workers needed in Bonner County, but whose salaries are under $20 per hour, the city or county should consider rent control measures. Perhaps put it up to a vote.
The purchase of a house is no longer possible for the majority of the under 40 years of age popula tion — without an inheritance!
Who will work at checkouts, stocking and sales positions if there is no place to affordably live and to raise a family?
Richard Johnson Clark Fork
'Lame duck rezone'...
Dear editor, "Lame Duck Rezone," "Do Your Damage Then Leave," "UN-electable Commissioners Hit and Run" — it is difficult to decide what to call this. If you haven't heard of the rezone at Dufort and Vay roads, listen up.
with endless lawsuits for either following the new precedent or fol lowing existing law. Either way, the county (us taxpayers) get sued.
If you would like to help protest this and ask our commissioners (preferably before Saturday, Dec. 10)to delay the decision for this un til the new commissioners come on board, call them at 208-265-1438.
Maureen Paterson Priest River
Dear editor, While flying a rainbow flag on our company truck to show support for the victims of the Colorado Springs shooting last week, it was unfortunate how many Christian men with flags containing the F-word in front of our president's name were offended by our display of solidarity.
We don't care if it makes you uncomfortable. What should make you uncomfortable are the senseless massacres happening to our fellow citizens for just being themselves in our free nation.
Dear editor, More kudos to reporter Lyndsie Kiebert-Carey for her continued coverage of the tragic circumstanc es involving the Bonner County fairgrounds [News, "Layers of fairgrounds investigation unfurl in public records," Nov. 23, 2022].
Your efforts demonstrate that the demise of small-town journalism is not yet complete.
Though not mentioned, the article may shed new light on the notice(s) of tort claim filed by their former civil counsel against county commis sioners. A tangled web indeed.
Mike Brown
Former news director, Blue Sky Broadcasting Kootenai
Traffic studies should be under taken to assess the cost to Bonner County taxpayers of upgrades and maintenance of adjacent roads.
Undefined development could take place on five acres that is proposed to be subdivided into one-acre parcels, while longtime neighbors are stringently limited in the density or type of development undertaken on their acreage.
Commercial development and res idential density will lead to eventual demand for similar change to this rural agricultural environment. Once it's gone it will never be restored.
Please join in objection at the county commissioners' 1:30 p.m. meeting on Wednesday, Dec. 21, County Administration Building, 1500 Hwy. 2, Sandpoint.
George Loustalet Priest River
A developer bought 11 acres in a Rural five-acre zone. So he can have two lots of five acres. But, of course, he wants more. So, the Bonner County Planning Depart ment allowed him to skip the step of applying for a Comprehensive Plan change and go straight to a rezone. He wants to change to a Commercial zone, with five one-acre parcels and a larger lot. The problem is that all the surrounding parcels are Rural five-acres, so changing it to Com mercial would set a huge precedent.
They call this "spot zoning" and it is unlawful and it will be the source of endless legal battles in the county. Taxpayers beware. Also, there is already a Commercial zone less than a mile away. So, goodbye rural Idaho.
It gets better! Two-thirds of our commissioners will be leaving 10 days after the Wednesday, Dec. 21 meeting that decides this. So the new commissioners will be faced
Your insecurities in your own sexuality are at the root of your im mature reactions and your display of outdated toxic masculinity makes you look foolish. If you want the freedom to carry these ridiculous guns you tote around with bibles and flags, then act more maturely when entrusted with them. Wearing your fear in a holster, disguising it as hate and intolerance is a tired tale. Do better. Heal your own insecurities so that you don't create more victims of your ignorance.
Hate speech always turns into acts of hate and we don't support it, no matter how uncomfortable it makes you.
Onward, Nishelle Gonzales
7B Clean, 7B
Handyman and Contracting Sandpoint
Got something to say? Write a letter to the editor. We accept letters under 300 words that are free from libelous statements and excessive profanity. Please elevate the con versation. No trolls.
8 / R / December 1, 2022
Midterm results will boost future Dem candidates…
Fairgrounds coverage may shed light on 'tangled web'…
'Do better'…
We need rent control to protect our workers…
Residents should oppose Vay-Dufort rezone…
James
Voices in the Wilderness
Wild places are among the blessings for which we should be grateful
By Phil Hough Reader Contributor
We gather around friends and families during the holiday season — frequently counting our many blessings. While we're at it, let's include wild places among them.
We have families we were born into. We have families made of those close friends with whom we have surround ed ourselves. Neither set of re lationships are always perfect. Or smooth. Sometimes they are rough around the edges. In some cases, call it love/hate even. But "family," it's been said, are those people who will always take you in when you show up on the doorstep. And for whom you would always do the same. Our connection is unconditional.
Early-December on our doorstep is like a friend or fam ily member on our doorstep; you always take it (or them) in, no matter what. Accepting it on its own terms is an act of unconditional love. The care free days of hiking in summer shorts are gone. The promise of a brilliantly blue sky reflecting off pristine powder, a place where you can make "first tracks" in the snow has not
yet — or only just — arrived. Sure, autumn leaves in all their red, orange and yellow glory are nice, but they overstay their welcome when they fall and need to be raked. And those 36-degree Fahrenheit days with an all-day rainy drizzle or slushy mush truly require a special love.
Late-fall must be taken on its own terms. Maybe that's why some of us love this sea son the most of all. Compas sion for the less than perfect. We can, at least, thank the sea sonal transition for the lessons it continues to teach us about acceptance and understanding.
Wilderness is like that, too. To experience the wild means to accept that panoramic views come at the cost of an arduous climb; that hard-packed trails will turn to mud; that beautiful dense forests become a con stant dripping mess; that the mosquitoes that feed the trout also first draw blood from our thighs.
It's this love/hate that creates the strongest of bonds — the closest of connections. These are the times and places for which I am most thankful.
To live fully is to feel every thing. And the Scotchman Peaks, among the wettest
places in the interior West, we have plenty of cold and wet to learn how to love and learn to live fully.
I think Bob Dylan was, per haps, speaking in the voice of Mother Earth, and addressing each one of us, when he wrote the opening lyrics to "Make You Feel My Love":
When the rain is blowing in your face
And the whole world is on your case
I could offer you a warm embrace
To make you feel my love
Bob was channeling the ways of wilderness, calling out to us. Give thanks to the wild, for it makes us always feel welcome in her embrace, when we most need it. Wilderness accepts us all, unconditionally — and requires that we do the same for her.
I'm grateful we still have such places to go, lessons to learn and opportunities to live fully.
Phil Hough is executive di rector of Friends of Scotchman Peaks Wilderness. Learn more about the nonprofit organiza tion at scotchmanpeaks.org.
Idaho Trails Assoc. seeking new members
By Reader Staff
Nonprofit organization Ida ho Trails Association is looking for new members to join in its mission of keeping Idaho's hiking trails open for all.
The organization under takes volunteer trail mainte nance work across the state — completing more than 66 projects this year alone — and is running a drive through the end of the year to find new members interested in lending a hand in 2023.
The need is great. Idaho boasts a network of more than 10,000 miles of trails, which require routine maintenance to ensure safety and access. How ever, funding for the care and upkeep of Idaho's hiking trails is far short of what is needed.
ITA was formed in 2010 to help meet that challenge.
Memberships begin at $25 per year, with funds raised during ITA's membership drive going to help purchase supplies and tools for volunteer trail maintenance projects, fund spe cial programs like ITA's WOW (Women Only Weekend/Week long) and Youth Trail Crew, support trail education and Leave No Trace efforts, and cover other expenses related to the stewardship of public lands and trails.
ITA members are given the opportunity to sign up for volunteer trail projects before the schedule is released to the public. ITA has fly-in, jet boat, pack-in and all-meals-provided trips that range in length from one-day to week-long.
Visit idahotrailsassociation. org/membership to learn more.
December 1, 2022 / R / 9 OPINION
Photo by Ben Olson.
Science: Mad about
By Brenden Bobby Reader Columnist
"We choose to go to the moon in this decade and do the other things, not because they are easy, but because they are hard; because that goal will serve to organize and measure the best of our ener gies and skills, because that chal lenge is one that we are willing to accept, one we are unwilling to postpone, and one we intend to win, and the others, too."
— President John F. Kennedy, Sept. 12, 1962
"Not because they are easy, but because they are hard" has been a rallying cry ever since President Kennedy spoke those words 60 years ago. Though he did not sur vive to see it, JFK kept his promise when Americans took one giant leap for mankind by setting foot on the lunar surface on July 20, 1969.
Some of you reading this paper may recollect that day, while I admittedly wasn't born for another 21 years after Apollo 11 made history. Now, it seems I may get to witness a moon landing in real-time during my lifetime.
The Artemis Program has been in the works for a long time. Though it was conceptualized in 2017, its roots go back to at least 2005 during the George W. Bush presidential administration. Four presidents later, the first Artemis spacecraft took flight on Nov. 16 of this year.
To avoid any confusion mov ing forward, Artemis I is the mis sion designation, while Orion is the name of the actual spacecraft performing the mission.
Before we get too excited about landing on the moon, it's important to know that there aren't any people onboard the Orion spacecraft, nor will it be actually landing on the moon. It is un crewed, having only robots and
mannequins aboard, and there are very good reasons for this.
The primary objective of Artemis I is to test the technology the rest of the program will be utilizing and to make sure that humans can reach the moon and return home to Earth safely. It's been almost exactly 50 years since humans last set foot on the moon, so it's important that NASA tests this new technology on manne quins before we put people at potential risk.
The spacecraft is currently in the middle of its mission, and should return to Earth for its con clusion by Sunday, Dec. 11.
Orion deployed a number of CubeSats during the mission. These all contained a number of experiments developed by external contractors, ranging from analyz ing the effects of cosmic radiation on rehydrated yeast to testing lowthrust plasma propulsion in space. The spacecraft performed two close loops around the moon, and is now headed back toward Earth. A number of high-resolution imag es have been taken of the mission so far, which are easily found on nasa.gov/artemis-1.
The final stage of the mis sion will be a test of Orion's heat shields as it re-enters Earth's atmo sphere. As an object falls at high speeds through the atmosphere, it meets resistance from the air molecules, which creates friction and heat. This is a similar princi ple to how the brakes on your car work, as they're converting energy into heat with friction and slowing down your vehicle in the process.
Aerobraking is an efficient way to slow down a spacecraft with out burning through an immense amount of fuel. It's also best done at an angle to give the craft the maximum amount of time to slow down and not slam into the ground at ridiculously high speeds. How ever, the craft needs protective material formed into a heat shield
to keep that intense heat away from the instruments and crew.
Upon re-entry, Orion will be traveling at nearly 25,000 miles per hour, or 11,000 meters per second. It's going to need to slow down to around 13 mph, or six meters per second, by the time it splashes down to avoid destroying the spacecraft. The friction gen erated by Orion moving through the air that quickly is going to generate an immense amount of heat, subjecting the heat shield to temperatures in excess of 5,000 degrees Fahrenheit, or 2,760 Cel sius. That's more than enough to melt iron, and frighteningly close to melting tungsten.
This mission lays the ground work for Artemis II, which will send a group of astronauts around the moon and back to Earth. Arte mis III is set to take place in 2025, which will mark the first crewed lunar landing since Apollo 17 in 1972. This mission and the fol lowing missions will provide the infrastructure for future astronauts to perform experiments and set up habitats, rovers and deployment on the lunar surface, which will make future landings and return missions much simpler.
These missions will be critical for future crewed missions to Mars or beyond. Additionally, this opens the possibility of mining precious metals from asteroids or the moon itself to avoid further contaminating the surface of the Earth, though that could still be decades away.
Putting a spacecraft anywhere near the moon is a complicated process. It's not as simple as point ing a rocket at it and flying in a straight line. Objects in orbit move in a circular pattern around their host. NASA engineers need to use these circular motions to their ad vantage, tracking when the space craft will be moving at its fastest or its slowest before applying thrust in the desired direction to "sling"
the spacecraft where it needs to go. Once caught in the gravity well of another object — the moon, in this case — the spacecraft needs to ap ply thrust in the opposite direction to slow itself down to either orbit the object or eventually descend to the surface.
It's a lot to explain in 1,000 words, so if you'd like to see it in action, come take a look at Kerbal Space Program at the library. KSP makes rocket science an approachable subject by letting you build, launch and pilot rockets
the artemis program Random
Don't
with realistic physics, atmospheric conditions and more.
While you don't need a degree in astrophysics in order to enjoy it, you can apply real-world algebra and calculus to maximize your efficiency.
If you're interested in checking it out with friends or family, send me an email at brenden@ebon nerlibrary.org and I can set up an appointment for you to explore the program.
Stay curious, 7B.
Corner
know much about the atlantic slave trade? We can help!
* This topic selection was chosen specifically to benefit a closed-minded person who called to angrily complain to the Reader for mentioning the slave trade in a recent article. Hopefully they read this and learn something about the history of this awful practice. Igno rance is a terrible thing. —BO
•Over the period of the Atlantic Slave Trade, from approximately 1526 to 1867, around 12.5 million captured men, women and children were forc ibly put onto ships in Africa. About 12% of those didn't survive. About 10.7 million arrived in the Americas, where they were forced to work.
•The Portuguese, however, began trafficking African captives in the 1440s or earlier.
•The British abolished their participation in the international slave trade in 1807, followed by the United States a year later, on Jan. 1, 1808. While the importation of foreign-born slaves officially ended, the domestic trade (put more direct ly as the intentional breeding and sale of American-born human beings for forced labor) continued to flour ish into the 1860s. The last known
slave ship, which carried captives to Cuba, sailed in 1866.
•The enslaved population in the U.S. nearly tripled during the 50 years following the congressional decision to end international slave importation, displacing approxi mately 1.2 million men, women and children — the vast majority of whom were born in America.
•By 1850, most enslaved persons in the United States were third-, fourth- or fifth-generation Americans.
•During the U.S. Civil War, roughly 180,000 Black men served in the Union Army. Another 29,000 served in the Navy. Three-fifths of all Black troops were formerly enslaved.
•President Abraham Lincoln issued the Emancipation Proclama tion, officially called Proclamation 95, on Jan. 1, 1863, stating that, "[A]ll persons held as slaves within any State or designated part of a State, the people whereof shall then be in rebellion against the United Stated, shall be then, thencefor ward, and forever free ..."
10 / R / December 1, 2022
Brought to you by:
PERSPECTIVES
Sandpoint Nordic Club annual fundraiser a success
By Rane Stempson Reader Contributor
In November, Sandpoint area residents visited Pine Street Woods to enjoy the Sandpoint Nordic Club's (SNC) Winter Welcome-Annual Fundraiser and Member ship Drive. Attendees enjoyed treats from Jupiter Jane's Traveling Cafe and beverages from Powder Hound Pizza. Participants also socialized by the bonfires and learned about the clinics and programs SNC offers to the community, including ski rentals at its Outdoor Recreation Center.
The club was grateful to all the amazing Sandpoint businesses that donated raffle and auctions items, including: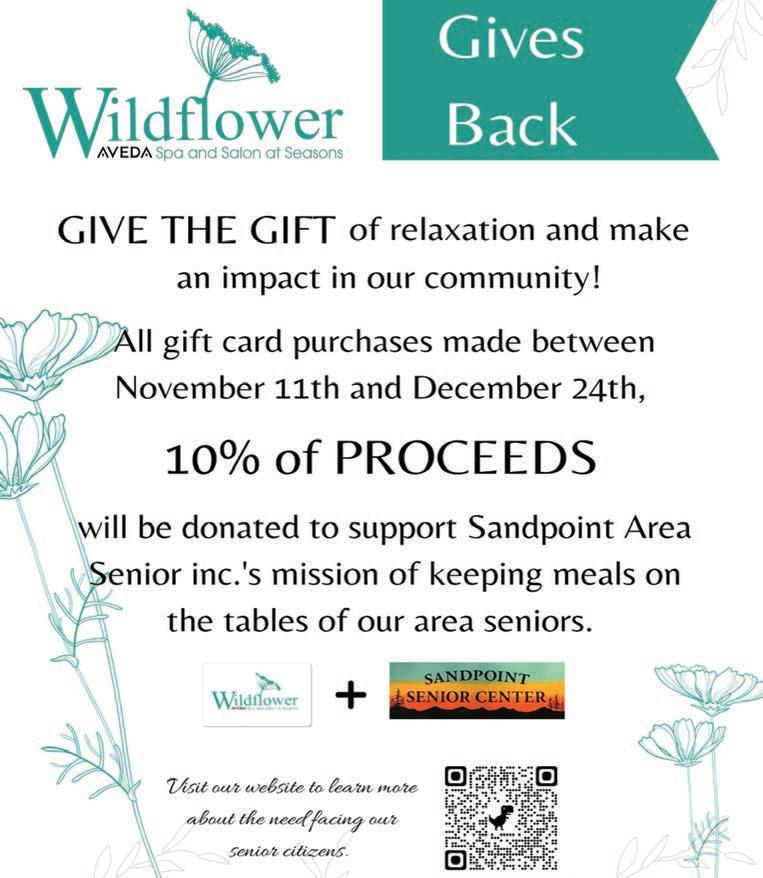 7B Boardshop, 219 Lounge, Alpine Shop, Azalea Handpicked Style, Bella Terra Boutique, Bellissima, Carousel Emporium, City Beach Organics, Creative Edge, Eichardt's Pub, Finan McDonald, Greg Smith, I Saw Something Shiny, Jalapenos, LMT Mountain Lake Therapy, MickDuffs Brewing Company, Outdoor Experience, Panhandle Cone and Coffee, Pend d'Oreille Winery, Pickled Kitchen, Refined Aesthetics Med Spa, Rossignol,
Schweitzer Mountain Resort, Spuds Wa terfront Grill, Stylebar Beauty Bar, Sugar Tooth, Syringa Cyclery, Thunder's Catch, Uniquely Sandpoint, Whiskey Jack Pottery and Zwazo Nich (Bird Nest).
Please support these great companies — just as we had such great support, with many attendees walking away with raffle and auction items.
The nordic club raised $2,500 with more than 100 memberships so far, which is up from last season. Members enjoy discounts at Evans Brothers Coffee, Heart Bowls, Outdoor Experience, Sandpoint Medical Massage and Bodyworks, Syringa Cyclery and The Shed.
Membership dues go toward grooming the trails in Pine Street Woods for all to use, plus supporting SNC's programs, in cluding its School Program, a cross-coun try skiing field trip for elementary school students, Youth Ski League, after-school program for youth aged 6-18, adult clinics with lessons for beginners to advanced skiers, and affordable ski rentals offered through the Outdoor Recreation Center in Pine Street Woods.
There is still time to register for a 2022-
'23 season membership. Visit sandpointnor dic.com to find out how. SNC also provides scholarships for families in need.
With the recent snow, we are hopeful to have our trails ready to ski soon — fingers crossed.
Rane Stempson is Recreation Classic 1 assistant coach with the Sandpoint Nordic Club.
December 1, 2022 / R / 11
Sandpoint Nordic Club supporters gathered at Pine Street Woods for their Winter Welcome Annual Fundraiser and Membership Drive. Courtesy photo.
The future of winter recreation and tourism in Idaho
How ski resorts and recreationists can help lessen the effects of climate change
By Aly Bean Reader Contributor
I grew up in Colorado, but didn't get into skiing until I was in college in Durango. The local resort was named Purgatory, but the name officially changed to "Durango Mountain Resort" in 2000 after new owners secured the purchase. This just didn't feel the same to us locals, who liked the idea of skiing in a gorgeous area whose name meant the space between heaven and hell.
Resorts in Colorado and Idaho have enjoyed heavenly winters for decades, but what does the future hold for winter sports?
As an employee of the Idaho Conservation League, I have the honor of working to protect our quality of life from the harmful effects of climate change. We know Idaho's climate is changing from the Idaho Climate-Economy Impacts Assessment released last
year by the University of Idaho McClure Center for Public Policy.
Temperatures have risen almost 2 degrees Fahrenheit since 1900. This may not seem like much, but it has equated to fiercer storms, increased intensity of wildfires and, importantly, a change in our water regimes — including snowpack.
Under projected climate chang es, we will likely see increasing precipitation in the winter and early spring, mainly in the form of rain, as well as decreasing summer precipitation. An increase in rain-on-snow events is also likely, which can lead to more flooding, as well as land and mudslides. This is important to note for winter recreation and tourism at resorts like Schweitzer, where the bottom of the Stella Chairlift is only 3,900 feet in elevation.
Meanwhile, our Western states have seen snowfall decrease by 40% in the past 40 years, which equates to about 35 fewer recre
ation days. This means our resorts are opening later in the season and entire communities are feeling the financial impact of shorter winters.
Changes in our mountain snow pack not only affect winter recre ation and tourism — which provides about $475 million in annual tax revenues and boosts our economy by nearly $4 billion — but agricul ture, plants and wildlife as well.
In our waters, fish spawning can be disrupted when changes in snowmelt alter the timing and abundance of insects and stream flow. On land, certain types of trees rely on snow for insulation from freezing temperatures; and, as seen with Laclede near Priest River, mills may need to be retooled to accept tree species that grow on drier sites.
What's more, bark beetles are thriving in these warmer temperatures, killing trees and providing fuel for wildfires. Along with having more fuel, warmer temperatures, drought and earlier
snowmelt are leading to longer and more intense fire seasons.
How did this happen? These changes in the temperature, timing of snowmelt and declining mountain snowpack are due to burning fossil fuels like gasoline, oil and coal. When these fuels are burned for energy, manufacturing and transportation, carbon dioxide (CO2) enters the atmosphere in ever increasing amounts. This builds up CO2 around the Earth, increasing the heat-trapping blan ket and causing both air and water temperatures to warm.
Ski resorts around the country are taking steps to reduce their contribution to climate change, as well as find ways to adapt — after all, their business depends on it.
Many are helping, as Durango Mountain Resort did: by adding a shuttle bus to reduce gasoline usage. To maintain forests that convert CO2 to oxygen, some re sorts are avoiding expanding their ski trails into undisturbed forested areas, while simultaneously incor porating wildlife habitat and forest protection into their plans. These efforts should be applauded — and you can do so by telling your local resort that you support them protecting forests and environ mentally-sensitive terrain, taking policy positions that support the environment by reducing traffic and emissions, and conserving water and energy.
A ski resort during low snow times. Courtesy photo.
These efforts are becoming increasingly important to winter recreationists when choosing des tinations, as they should.
Idaho's winter recreation industry can play a leading role in protecting our winters and reducing harmful greenhouse gas emissions. If we are going to tackle climate change and ease its most dire impacts, we are going to need to work together to advance clean energy projects, accelerate the adoption of electric vehicles and support Idaho's decision mak ers to move at a quicker pace for our climate.
Durango Mountain Resort is named Purgatory once again and pays homage to its roots. Their slogan now includes the phrase, "close to heaven, fun as hell." If we are to protect Idaho's winters and the places that feel like heav en, then we must act on climate change. Idaho's winter recreation industry, outdoor recreation oppor tunities and our quality of life depend on it.
For more information on how you can get involved visit idahoc onservation.org/take-action.
Aly Bean is a Climate Cam paign coordinator for the Idaho Conservation League. She lives and works in Moscow, Idaho.
12 / R / December 1, 2022
PERSPECTIVES
Christmas tree permits available for Idaho Panhandle National Forest
By Reader Staff
For those looking to harvest a Christ mas tree from public land, now is the time to apply for a permit, available online at recreation.gov.
Permits cost $5 each, entitling the permit holder to cut one Christmas tree. Three tree permits are allowed per household and online purchases will incur a $2.50 administrative fee.
Fourth-grade students are eligible for one free Christmas tree permit through the Every Kid Outdoors program. To col lect the permit, students need to present a valid EKO pass or paper voucher to a Forest Service office or online at recre ation.gov. To obtain a pass or voucher, visit everykidoutdoors.gov.
Forest Service officials caution that winter weather can change rapidly and
most National Forest roads are not maintained for winter driving. Wouldbe Christmas tree cutters should bring traction devices and a shovel, extra food, drinking water, winter clothing, blankets, a flashlight and first aid kit. Of course, don't forget a tool for cutting the tree and a rope or cord to secure it to vehicles.
Tree cutting and travel may also take longer than anticipated, so officials cau tioned to let a friend or family member know where you are going, get an early start and leave the woods well before dark.
For more tips and information, and to obtain permits, visit Idaho Panhandle National Forest Christmas Tree Permits — which offers a quick link to recreation. gov via go.usa.gov/x7pes — or visit the Idaho Panhandle National Forests website at fs.usda.gov/ipnf.
BTAA to waive pet adoption fees for national 'Empty the Shelters' event
By Reader Staff
Like many animal shelters across the country, Better Together Animal Alliance is experiencing an increase in animals entering its care center, leading to longer stays. To help pets find homes faster, BIS SELL Pet Foundation is hosting its "Empty the Shelters — Holiday Hope" event from Thursday, Dec. 1-Sunday, Dec. 11.
Located at 870 Kootenai Cutoff Road in Ponderay, BTAA is one of more than 275 participating shelters across the country, waiving adoption fees for all adult animals, including cats older than six months and dogs older than one year. As the nation's largest funded adoption event, "Empty the Shelters" has helped 126,000 pets in 47 states and Canada find homes through sponsoring reduced adoption fees of $50 or less since its inception in 2016.
"Shelters are overcrowded and in des perate need of support due to slowed adop tion rates and increased length of stay for pets," stated Cathy Bissell, who launched the BISSELL Pet Foundation in 2011.
"With so many people seeking to add pets to their family around this time of year, our 'Empty the Shelters — Holiday Hope' event is the perfect opportunity to make a difference in your community by
Tortie is one of the many dogs at BTAA that is look ing to find a new home for the holidays. You can view Tortie's profile and other animals available to adopt at bettertogetheranimalalliance.org/adopt.
saving a life and creating space to give another homeless pet a chance," she added.
Serving Bonner Boundary and Koo tenai counties, nonprofit animal welfare organization BTAA assists approximately 2,400 stray or surrendered animals every year and more than 6,000 pets through its community-based programs.
For more information, visit betterto getheranimalalliance.org.
December 1, 2022 / R / 13 COMMUNITY
Photo courtesy of Allison Turcotte Photography.
An eye on affordability
Spec-Techs aims to offer efficient vision care to North Idahoans at a lower price point
By Lyndsie Kiebert-Carey Reader Staff
For many, the prioritization of certain health care services over others is a monetary ne cessity. Dental work falls by the wayside in favor of paying for an important medication, or the cost of an emergency room visit puts an elective surgery on hold.
Spec-Techs is aiming to change this reality — at least in the realm of local optometry. The business, which is co-lo cated with and owned by Pend Oreille Vision Care at 514 Oak St. in Sandpoint, started taking patients in October with the goal of offering an affordable option for individuals in need of a basic eye check-up.
The name Spec-Techs is an ode to many facets of the eye care profession: specialized and/or technological solutions, the highly-trained technicians who perform the exams and, of course, good ol' spectacles.
"It's a clinic within a clin ic," said Jen Heller, business manager of Pend Oreille Vision Care. "It's a completely different business."
By not accepting any in surances and streamlining the process to minimize the time the eye doctor spends with each pa tient, Spec-Techs is able to offer eye exams for $70. The business
is geared toward healthy people between the ages of 14 and 50 who suspect they may need cor rective lenses, or who just need an updated prescription.
"Over the years, we've been brainstorming different ways to make a system that meets that demographic — particularly now, with inflation," Heller said.
Spec-Techs is also offering contact lens fitting, which typi cally costs between $25 and $95.
The exam process is per formed by a refractive techni cian using some of the newest screening technologies to gauge the patient's overall optical health, then imaging and notes from each exam are reviewed by an optometrist.
"By having video recording and imaging he can review, you're still getting very, very close to the same quality of eye care," Heller said, adding later: "This is more of a wellness exam — like your [primary care physician] visit. Then, if we find something, we go to the next step."
That next step might be to meet with Dr. Nate Harrell at Pend Oreille Vision Care for further testing and diagnosis. However, in the case that the clinic doesn't accept a patient's insurance, Spec-Techs refractive technicians have been known to help patients find alternatives.
Recently, technician Lore
Lei Henry paired a Spec-Techs patient with an optometrist in Spokane who accepted his insur ance plan.
"She went above and beyond to make sure he got in [to a doc tor]," Heller said.
Patients are able to schedule a Spec-Techs appointment entirely online by going to spec-techs. com. Medical information can be collected at the time of sched uling, further streamlining the
process.
While Spec-Techs is current ly only offered in Sandpoint out of the Pend Oreille Vision Care office, Heller said she could see the model expanding in time as a way for rural optometrists to serve even more patients in an efficient and affordable manner.
"It's about helping people make sure that their health care needs are being met," she said.
Spec-Techs is located at 514 Oak St. in Sandpoint, inside Pend Oreille Vision Care. Learn more and schedule an appoint ment at spec-techs.com. Those with questions should call 208-265-7965 or email info@ spec-techs.com.
VA taking appointments in Priest River
By Reader Staff
Bonner County Veterans Service Officer Bryan Hult will be at VFW Post No. 2909 between 9 a.m. and 2 p.m. on Tuesday, Dec. 13. Hult will assist with ongo ing claims, answer questions about current veteran's benefits, and can take new claims for benefits for eligible veterans and their dependents.
VFW Post No. 2909 is located at 113 Larch St. in Priest River. To ensure attendees are given quality time, they are advised to schedule an appointment by calling 208-255-5291.
If there are no appointments scheduled for this outreach, or if conditions pro hibit travel, the outreach will be canceled.
14 / R / December 1, 2022 BUSINESS
Spec-Techs refractive technician LoreLei Henry performs an eye exam.
Photo by Lyndsie Kiebert-Carey.
Art Works Gallery to host annual holiday reception Annual Holiday Artists Shop open in Newport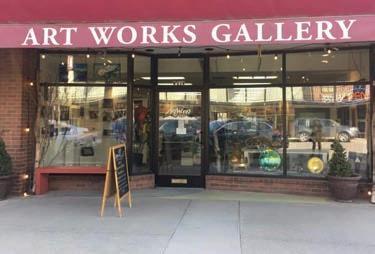 By Reader Staff
Local artist cooperative Art Works Gallery is inviting the public to attend its annual holiday reception, featuring the work of more than 30 member artists.
Visitors can meet and mingle with artists Friday, Dec. 2, from 5 p.m. to 7:30 p.m., enjoy refreshments and take advantage of the opportunity to purchase original art pieces for a 10% discount, available only during the re ception at the gallery, located at 214 N.
First Ave. in downtown Sandpoint.
This year, the gallery is featuring a Christmas carousel horse — one of 36
horses that are part of the Carousel of Smiles, a 100-year-old carousel that is being restored by volunteers under the direction of owners Clay and Reno Hutchison. The restoration work has taken years, with 18 horses completed to date and 18 more to go before the finished carousel finds its permanent home in Sandpoint.
Contact Denys Knight at bfnorthi daho@gmail.com for additional details and information on the holiday recep tion or the carousel project.
LPO Repertory Theatre offers stage opportunities for ages 8 to 85 this winter
By Reader Staff
LPO Repertory Theatre has partnered with the Pend Oreille Arts Council to pro vide Winter One-Acts — a tuition-free theater produc
tion program for students ages 8-17. Find details and enrollment information at lporep.com/edu cation.
In addition, LPO Rep's next main stage show is Into the Woods, with auditions scheduled for Mon
day, Dec. 5-Tuesday, Dec. 6. Audition sign-ups and details can be found at lporep.com/events.
Contact Courtney Roberts with any questions or for more info at 541-6319555.
By Reader Staff
Create Arts Center, located at 900 W.Fourth St. in Newport, Wash., will present its annual Holiday Artists Shop from Thursday, Dec. 1 through Sunday, Dec. 4, featuring the work of more than 30 regional artists.
Items offered for sale include hand made baskets, digital-printed dragons, fi ber arts, Kimekomi, journals, copper wire items, hand-turned wood bowls, visual arts, pottery, books, fabric items, hand made cards, bags, fused glass and more.
Hours are 10 a.m.-6 p.m., Thurs day-Saturday, and 10 a.m.-3 p.m. on Sunday. The sale features a wide range of prices and refreshments will be available.
"Shopping locally keeps our econo my strong and helps artists support their families and talent," organizers stated.
Visit createarts.org for more info.
December 1, 2022 / R / 15 COMMUNITY
Courtesy photo.
Feeling thankful for the Fall Folk Festival
It's not just a 'Spokane thing'
By Ed Ohlweiler Reader Contributor
My wife Pam and I have been attending the Fall Folk Festival for 15-20 years now (let's just say "umpteen" years for argument's sake); and, once again, the festi val has brought so much beauty, grace and gratitude into our lives.
In those umpteen years, my brain has compiled a montage of magical moments, stunning performances and feelings of community-mindedness that all came flooding back in the middle of the night between the most re cent performances in November.
While technically it is in Spo kane, the influence of the festival
comes to North Idaho and North Idaho comes to it. You'll see friends from home among the volunteers and audience. Local favorite musicians like Bridg es Home, Truck Mills, Patrice Webb, Folk Remedy, Leon Atkinson, Doug Bond and others have all graced the stages there.
Not to mention that it is a family-friendly event and shows on all of the six to eight stages are completely free. It operates on a budget of goodwill. Vol unteers pull the whole thing off — including the musicians, who don't get paid to play.
While this seems a little tough, considering folk musi cians can expect to make hun dreds of dollars in their lifetimes,
as the joke goes, it does make me treasure the performances even more — their song is their gift, and they send it out to the universe with an open heart.
You can be walking around and run into Sandpointians like Susan Bates-Harbuck, sporting her volunteer lanyard, or Emily Faulkner calling out the contra dances. The Powell brothers, Anthony and David, have had the distinction of both playing on stage and manning a booth featuring their famous Tonedevil harp guitars.
I mention all this to dispel the myth that the Fall Folk Festival is just a Spokane thing. You'll find crafts from throughout the Northwest — and the world
— as well as makers of fine instruments, gem collectors and booths full of information.
Pam and I actually have a strategy for the festival, some thing akin to "no friends on a powder day": We travel in our separate little circles (I some times work a stage) and meet up at the shows neither of us would miss in 100 years, like Float ing Crowbar, 2 Bit Jug Band or Free Whiskey. The place is big enough to be pleasantly surprised when you run into your wife or friends, but small enough that we can always find each other when we're going to the same show. Though some times you have to hustle to see two acts you've been hoping to see on different stages.
Musically, you can expect folk, Celtic, bluegrass, world fusion, klezmer, marimba, taiko drumming and Chinese zith er — and songs of peace by The Raging Grannies. Or you can just hang out in the lobby all day and join the jam ses sions. There are also dance performances and workshops for dance or music.
Watching Bridges Home this week end brought back a highlight memory of the time they played about eight years ago. Dave Gunter sang a song he wrote for wife and mu sical partner Tami Belzer-Gunter for their wedding night, and there were a lot of moist eyes in the audience. Later they received a standing ovation.
This reminded
me of how the festival personally touched my own wedding. At our very first festival, umpteen years ago, a band member was intro ducing a song and I whispered to Pam, "I know that voice — that's Kevin Brown [from the Front Porch Bluegrass radio show]."
The woman on the other side of me proclaimed, "That's my husband!" proud as all get out and giddy as a teenager. I swear her dimples were showing. Cut to several years later and that same band, Big Red Barn, was playing our wedding and Pam and I were dancing our first slow dance to a love song that Kevin wrote for his wife, Joan.
Since then, we've even been invited over to their place for a house concert — the generosi ty of the folk crowd knows no bounds.
For instance, I'd always wanted to see the folk legend Bill Staines, who didn't get out West much. I discovered that although we couldn't get him in Sandpoint, he was going to play a house concert in Spokane and there was a phone number. I called up the house, found out the couple were members of the Spokane Folklore Society and we bonded over stories of past festivals. Next thing I knew, we were watching the now late-Bill Staines in someone's living room with 35 other people.
This year saw the return of Dan Maher, the debut of Brittany Jean and those lucky enough to be there for Heat Speak were treated to another beautiful festi val highlight. Then there was that year the world fusion band had both a hang drum and a tabla.
The montage rolls on in my head, but I really just wanted to express my sincere thanks for the Fall Folk Festival, all the performers and volunteers and all they bring to our lives.
Ed Ohlweiler is an occa sional Reader contributor and longtime folk lover.
16 / R / December 1, 2022 PERSPECTIVES
Street (skiing) life
'Peaceful, solitary and friggin' beautiful'
By Jen Heller Reader Contributor
Each season that rolls around, as the weather shifts, I look out the window with a smile and say, "Ahh… this is my favorite season." (Every month except August, that is. Yes, August, I thumb my nose at you, with your dry vegeta tion, talc-y trails, hot restless nights, and constant threat of smoke or fire. Who needs August?)
The best thing about winter is the reemergence of my favorite secret society: a siblinghood of cheapskates, who emerge in the dark hours and glide silently through the still intersections. That's right, street skiers — I'm talking about you.
Street skiing is both an artform and an exercise, like the best of guilty plea sures. When I pass a fellow street-skier with my dog clipped to my waist, all of us trotting smoothly through the quiet of dawn, we give each other smug little nods as if to say, "Isn't it silly that we're the only ones out here?"
I picked up my love of street skiing at my grandma's house in rural Mich igan. In the '90s, my brother and I would strap on her oversized adult skis and just head out, anywhere, with the kind of mind-boggling freedom that we rarely experienced in our childhood. We could go at any pace we chose, any place we chose and, so long as we stuck together, the town was ours. Glide… kick. Glide… kick. Glide… stum blestumblestumble… glide… Don't get me wrong — in our tenfold-larger town of Sandpoint, I'm thrilled that official venues for cross-country skiing are experiencing an explosion of interest. The Sandpoint Nordic Club has worked some wonders in the past decade, first at the Univer sity Extension and now at Pine Street Woods.
I can rattle off more than five groomed areas that I can XC ski just in east Bonner County; and, for those
Sandpointians willing to make a slightly farther pilgrimage, Priest Lake beckons with its own beautiful courses. There's all the endless Forest Service roads with their edgy potential adventures. And then there are all our favorite summer locations, with the bonus of less traffic in the winter months. Ross Creek Ce dars? Round Lake? Sandpoint-to-Dover along the receded lakeshore beaches? Peaceful, solitary and friggin' beautiful.
For those of us who work nine-tofive — or longer — there is nothing like being able to roll out of bed and ski straight out your front door. I ski to the grocery store. I ski the dog's morning walk. I ski at 9 p.m. before bed or at 6 a.m. before work. I ski to the library and then ski to the bank, dog running happily at my side.
My friends roll their eyes when they get yet another text pushing an inap propriately early adventure: "Anyone wanna get up and street ski before the plows ruin it?"
Yeah, the pavement isn't very forgiving when you fall, but you only need an inch or so of mediocre quality snow on cold asphalt and one set of car tire tracks to drop your skis into, and suddenly you're this close to being a feathered fiend.
No powder on Schweitzer? Street skiing loves a compressed and crappy snowfall! Sandpoint's snow plows running be hind? Ski to work! Want to start your day with an openmouthed grin? That one's for you to answer.
Street Skiing Tips for Noobs
•Procure a pair of skis and poles solely dedicated to your street-skiing activities. This should be the cheapest possible secondhand gear you can find — my first XC ski setup cost me $30, when all I could afford to eat was Ramen and boiled potatoes. Why go cheap? Your pole tips will break off after contacting asphalt enough times, and you will scratch your ski bottoms when you carelessly pretend you can make it through a graveled intersection without taking them off.
•Be smart and be courteous. If a plow is anywhere nearby, bail! Yield to any and all other forms of traffic. Skiing in the dark? Wear lights or reflectors. The legality of being a street skier isn't quite at the level of graffiti artist, but you're the one putting yourself at risk. Don't be the answer to a questionable activity. Townies skiing snowy city roads should wear dark clothes so they pop out against the bright background of the snow.
Top right: The author and Lina ready them selves for another urban Nordic skiing mission. Courtesy photo.
•Want your canine buddy to enjoy the glide with you? Wear a small hiking backpack and clip a long-lead to the bag (around 12 feet long). If they spot a squirrel and forget what they're doing, they're less likely to pull you off balance when the energy is transferred first to the bag instead of your waist. Don't worry, though, once you've flailed-and-failed a few times, any intelligent pup will decide that the last thing they want is for you to take a tumble. No species enjoys an accidental ski pole to the head.
December 1, 2022 / R / 17 OUTDOORS
events
December 1-8, 2022
THURSDAY, December 1
Bonner Classical Academy Interest Meeting
6pm @ The Envision Center, 130 McGhee Rd. Ste #220 Come meet and learn about the school.
Learn more: info@bonnerclassicalacademy.com
Sip and Shop for Boys' B-Ball 4-8pm @ Pend d'Oreille Winery
A percentage of proceeds from the evening will benefit the SHS basketball team
FriDAY, December 2
Live Music w/ Bright Moments Jazz 5-8pm @ Pend d'Oreille Winery
Santa comes to Annie's Orchard Antiques
10am-2pm @ Annie's Orchard Antiques Hwy 200 in Clark Fork
Live Music w/ Frytz and friends
2:30-7:30pm @ Pend d'Oreille Winery
Live Music w/ The Cole Show 6-9pm @ The Blue Room
Ladies Shopping Night @ Various downtown retailers
Join for in-store giveaways, music and snacks. Pre-party at Barrel 33 starts at 3pm, afterparties at 219 Lounge and Pend d'Oreille Winery where you can stamp your passport and win $1,000 grand prize!
SATURDAY, December 3
Live Music w/ The Traveling Huckleburys
6-9pm @ MickDuff's Beer Hall Unplugged country/folk/rock
Live Music w/ Harold's IGA
9pm-midnight @ 219 Lounge Indie rock originals and covers
Live Music w/ Bright Moments Jazz
7-9pm @ The Back Door
Live Music w/ Jackson Roltgen Trio
7pm @ Eichardt's Pub
Free First Saturday at the Museum 10am-2pm @ BoCo History Museum Free admission
Live Music w/ Rich Beber's Sax Quartet
2-4pm @ Evans Brothers Coffee
Polar Express movie fundraiser
2:30pm @ Panida Theater All ticket proceeds go to Panida fund
Live Music w/ Lauren
4:30-7:30pm @ Pend d'Oreille Winery
FOL monthly book sale
10am-2pm @ Sandpoint Library Holiday, science fiction and art books will be featured. Media will be half off Festival of Trees @ Bonner County Fairgrounds Tickets SOLD OUT, but donations are al ways welcome: kinderhavensandpoint.com
Santa comes to Annie's Orchard Antiques 10am-2pm@ Annie's Orchard Antiques
Winter Faire & Children's Festival (FREE) 10am-3pm @ Heartwood Center Hand-made gifts, local artisans, kid's crafts, food, treats by Sandpoint Waldorf School
Live Music w/ Mike Wagoner Trio 5-8pm @ Pend d'Oreille Winery
It's a Wonderful Life movie fundraiser 7:30pm @ Panida Theater All ticket proceeds go to Panida fund
Live Music w/ Ken Mayginnes 5-7:30pm @ Drift in Hope
SunDAY, December 4
Sandpoint Chess Club • 9am @ Evans Brothers Coffee Meets every Sunday at 9am
monDAY, December 5
Monday Night Blues Jam w/ John Firshi
7pm @ Eichardt's Pub
Group Run @ Outdoor Experience
6pm @ Outdoor Experience
3-5 miles, all levels welcome, beer after
Lifetree Cafe • 2pm @ Jalapeño's "Great Love and Great Suffering"
Parade of Trees (Dec. 5-8) 8am-4pm @ BGH classroom, 520 N. 3rd BGH Volunteer Council's annual Parade of Trees, decorated in different holiday themes to auction off. Winners pickup trees Dec. 9
wednesDAY, December 7
It happened in a small-town North Idaho bar, where perhaps the last old-time jukebox was still operational… pumpin' out those old "real country" tunes. My little brother and I entered the place, shook the snow off our coats, looked around and felt it best to just hang at the end of the bar by ourselves.
It wasn't long before a woman ap proached… put her arms around us both while still accommodating her cigarette by way of wedging it into a handy space between her teeth.
"I haven't seen you guys before," she said. "You ain't from around here, are ya?"
It wasn't long before she whisked my little brother away to a corner table, leaving me alone, where I passed some time study ing the numerous colorful quotes on the back wall of the bar.
I think it was during a Johnny Cash tune,
By Mike Wagoner Reader Contributor
Winter Whiskey Woman
"Ring of Fire," when he came back, leaned into my ear and said, "dude, we gotta get outta here."
"Why?"
"I'll tell you in the truck."
So, we're out knockin' the snow off the windshield, when she shouted from the bar porch, her cigarette flipping up and down, "You guys takin' off?"
After a few miles, my brother filled me in. He was willing to look past the dangling cigarette, but when she took out her glass eye to show off… well.
We got home pretty late but found ourselves, guitars in hand, documenting our recent experience in song. "Winter Whiskey Woman" was the result… a tune I recorded in Nashville. It is included in the array of songs I've posted on Spotify and Apple Music.
A Celtic Christmas
7pm @ Panida Theater
Live music/ballet/dance performance, featuring much loved Celtic and Christmas classics by Enya, Riverdance and more
Christmas concert w/ Bridges Home 6-7:30pm @ Memorial Comm. Center Free show, wine and beer avail. to buy
Live Piano w/ Dwayne Parsons 5-7pm @ Pend d'Oreille Winery
ThursDAY, December 8
Artist Reception: Sara Taylor • 5-7pm @ Pend d'Oreille Winery
Come meet the artist and enjoy her acrylics
18 / R / December 1, 2022
Panida hosts Christmas classics PolarExpress and It's a Wonderful Life
By Zach Hagadone Reader Staff
The Panida Theater is hosting two of the biggest Christmas clas sics with a special double-feature screening Saturday, Dec. 3 of Polar Express and It's a Wonderful Life. Neither film needs much of an introduction, but for those who are somehow not in the know, suffice to say the season wouldn't be the same without them.
Polar Express will screen at 2:30 p.m., thrilling and inspiring audiences with the story of a young boy who has begun to doubt the magic of Christmas, but is reminded of its wonder when he's whisked away on an extraordinary train ride to the North Pole.
Adapted from
the children's book of the same name by Chris Van Allsburg — and featuring an animated version of Tom Hanks as the conductor of the titular train — it's a seasonal staple in many homes, reminding viewers of the power of belief.
It's a Wonderful Life will be up next at 7:30 p.m., bringing the iconic 1946 film directed by Frank Capra to the historic Pani da big screen.
Christmas classics at the Panida
Polar Express: doors at 2 p.m., show at $2:30 p.m.; It's a Wonderful Life: doors at 7 p.m., show at 7:30 p.m.; $9.27.
Panida Theater, 300 N. First Ave., 208-263-9191, get tickets at panida.org.
Though 76 years old, the story of George Bailey (Jimmy Stewart) still feels immediate — an ambitious young man whose greater aspirations are thwarted by circumstance, he contemplates ending it all, reck oning that it would be better for everyone if he'd never been born.
Desperate and alone on a snowy
bridge, George comes close to carrying out his final act, except for a mysterious stranger, who suddenly appears and jumps into the icy river below. George leaps in to save the man, who turns out to be his guardian angel, Clarence (Henry Travers), sent from Heav en to show him the true value of his own life.
Clarence's lesson comes amid Christmastime, miraculously giving George a glimpse of how his loved ones' lives would have played out without him in them. Spoiler: They'd all be much worse off, and that goes for his home town as a whole.
Christmas movies don't get much more traditional than It's a Wonderful Life, and seeing it at the Panida on a snowy December eve ning would be the quintessential "Bedford Falls" experience.
Doors open for both screenings 30 minutes prior to showtime, and tickets are a mere $9.27 — priced
with ticket fees waived and in celebration of the opening of the Panida in 1927.
Even better, catching either or both of the films counts as a good deed, with all proceeds from ticket sales going to the Panida Century Fund — a five-year capital campaign aimed at raising $1.9 million to pay for critical maintenance, renovation and operational goals in time to celebrate the the ater's 100th birthday.
Internet provider Ting has pledged $200,000 in matching funds for every donation of $5,000 or less, which means every dollar given to the Panida up to that amount is doubled. To learn more about the Century Fund, and to donate, visit panida. org/panida-century-fund.
Everdream bringing A Celtic Christmas to the Panida
By Reader Staff
Irish musical group Ever dream will kick-start its acclaimed A Celtic Christmas tour on Wednesday, Dec. 7 at 7 p.m. at the Panida Theater in downtown Sandpoint. Vocalist Emer Barry, violinist Mary McCague and harpist Teresa O'Donnell first performed at the Panida three years ago, and the show sold out.
"We are so looking forward to returning to Sandpoint," Mc Cague said. "The welcome we received in 2019 was so warm."
A Celtic Christmas will fea ture Celtic and Christmas clas sics, including songs by Enya, music from Riverdance, some unique Irish Christmas songs, magical movie songs, toe tap ping reels and jigs, the group's chart-topping version of "O Holy Night" and their now famous rendition of the Habanera.
Everdream will be joined by special guest Howard Crosby, who along with his talented accompanist, Randy Kaping, will regale the audience with stories of his Uncle Bing and perform some of his most famous songs.
The members of Everdream are masters of their instruments and between them, have per formed on stage and on televi sion with some of the biggest acts in the world, including Michael Bublé, Il Divo, Mike Batt, Rod Stewart and Katherine Jenkins. Aside from their caliber as musicians, what also sets them apart from other groups is the ease with which they inter act with audiences. Irish charm, glamour, natural wit and banter are all combined in this trio, ensuring that audiences will feel fully engaged in the show.
Formerly known as Affinití, Everdream has been bringing
A Celtic Christmas to U.S. au diences since 2014. Following sell-out shows in 2019, a 2020 tour had to be halted due to the COVID-19 pandemic. After a two-year gap in their touring, the members of Everdream are particularly excited to be returning to the Pacific North west and felt that a fresh start
warranted a new name.
A Celtic Christmas will mu sically transport listeners to Ire land to hear beloved songs, old and new, performed by three of the country's most accomplished musical artists in a relaxed setting. It will be a night of song and dance not to be missed.
Adult tickets are $15 in
advance at panida.org, or $18 at the door. Youth and senior tickets are $12 in advance, and $15 at the door. Doors open at 6 p.m. and the show begins at 7 p.m.
December 1, 2022 / R / 19 STAGE & SCREEN
The musical group Everdream, which will perform A Celtic Christmas at the Panida Theater on Wednesday, Dec. 7. Courtesy photo.
One of the most iconic scenes from It's a Wonderful Life. Courtesy photo.
The Sandpoint Eater Fowl play
By Marcia Pilgeram Reader Columnist
Holy fowl, last week, I was reminded that a 26-pound turkey goes a long way — especially when there are last-minute guest cancellations. Sadly, daugh ter Casey and family could not make it due to a couple of sick youngsters. For the first time since I can remember, my Thanksgiving gang could sit around the dining room table, and I knew my son-in-law Russ was secretly thrilled. (He didn't need to move and measure the living room furniture, recreating a movie set-worthy dining room scene for 24 guests).
We didn't even bother with an elaborate tablescape this year, forgoing the Royal Doul ton wedding china and even the standard four-stems-per-person Waterford crystal (handwashing, be damned!).
Some traditions never die, and young granddaughter Fern singlehandedly shook a chilled canning jar filled with cream until, much to her delight, we had a ball of butter for the din ner rolls and buttermilk for the mashed potatoes.
These young people are all stepping up, and grandson Alden is no exception and has taken over Aunt Casey's mashing duties. We remain a family of mashed potato lovers (and critics) who gather around the pot, spoons in hand, tasting until we agree that we've got the perfect amounts of warm cream, butter, white pepper and salt added to the pot. The potatoes are always mashed by hand, and there's no greater shame to the masher than serving up an errant lump. We found ourselves a wor thy new masher.
We also found ourselves in no hurry to clear the table and lingered long over the meal (and wine), regaling one another with past Thanksgiving anecdotal history that even the grandchil dren found amusing. It's hard to believe that the older ones have passed the threshold to adoles cence and continue to develop their wicked sense of humor.
Back to that huge turkey. There were only six carnivores at our table; and, with a fridge full of fowl, Ryanne was loath to let me prepare anything else. So, we had a variety of leftover turkey dishes to sample (before I packed them up for a week's worth of Moscow meals-to-go).
I recently purchased a rice cooker and have been anxious to use it. Still, the Japanese-to-En
glish-translated manual direc tions were a bit confusing; so, with Ryanne in charge of the rice cooker operations, I chopped and sauteed leftover crudites for an Asian-style turkey dish.
When I first mentioned to Ry anne that I had comprehension anxiety with the manual, my professor-daughter alleged that it was, perhaps, a "lack of learning effort" on my part. Say what?
Eventually, Ryanne and I agreed on the manual's complex ity. Soon after that, she offered up a cooker filled with white rice that we spooned over Thai-gin ger turkey and vegetables. It was pretty darn tasty.
Next, we whipped up a batch of our favorite turkey salad for lunch. There was still more than enough turkey for yet another
meal, so the following day's entrée was a spicy Panang-cur ried turkey, ladled over — yes — another batch of rice (I'm becoming a rice cooker pro).
Ryanne is frugal like me, making us a pretty handy duo in the kitchen, where we incorpo rated nearly all of the remaining leftovers into the curry. I am happy to report that according to my grandson, Will, even the vegetarian version was practical ly worthy of a Michelin star.
According to Ryanne, both leftover turkey dishes deserve a written recipe for future Thanks giving-gathered generations. But, of course, we already have plenty of family recipes, some dating back to our poor Irish ancestors (Irish potato stuffing), and we never tire of the stories
we serve with the food. But though I cherish the recipes and the origins as I know them, I wish I knew the whole story of all the foods we so love.
I have a recipe many deem the best potatoes they've ever eaten. The first time I made them, I was trying to find a use for an unopened quart of soon-to-ex pire whipping cream. The dish drew rave reviews and numerous recipe requests, so I carefully measured and timed the process the next time I made them.
Rosemary au gratin potatoes are now a beloved mainstay at my table; and, even though there's nothing I love more than an embellished story, there is nothing more to add to their con ception. I hope you and your fam ily like them as much as we do.
Scalloped rosemary potatoes
These rich and savory potatoes are perfect accompaniment to beef, lamb or chicken
Preheat oven to 375 degrees Fahrenheit. Wash and peel potatoes. Slice washed and peeled potatoes as thin as possible; put them in a bowl filled with cold, salted water; set aside.
Saute shallots (and garlic, if using) in a medium-sized saucepan, stirring until soft. Add fresh rosemary sprig and bay leaf. Add the cream and slowly bring to a boil, stirring until it begins to thicken. Turn down heat and simmer a few minutes to infuse herb flavor. Remove bay leaf and rosemary sprig, add 1 tsp salt and 1 tsp pepper, and stir. Make sure you have all the shallots (and garlic) mixed well).
Mix minced rosemary, and sea salt in a small dish, set aside.
Butter a 9- x 12-inch oven-proof pan. Add ⅓ of the well-drained potato slices in layers. Pour ⅓ of hot cream over the potatoes, repeat with remaining potatoes and cream, finishing with cream. Sprinkle top with the rosemary and salt mixture.
Bake uncovered on middle rack of oven for about an hour, until potatoes are soft and top is lightly browned (cover loosely with foil if they are browning too quickly).
Garnish with additional rosemary sprig — you can use a biscuit cutter to make individual rounds of pota toes for fancy holiday dinner plates.
20 / R / December 1, 2022
•8 medium Russet potatoes •1 quart heavy cream •1-2 garlic cloves, minced (optional) •2 shallots, peeled and finely minced •1 fresh rosemary sprig •1 fresh bay leaf •1 (more) fresh rosemary sprig, finely diced •2 tsp sea salt (split in half) •1 tsp fine ground white pepper
INGREDIENTS: DIRECTIONS:
Serves 6-8
MUSIC
A captivating collaboration
Allegro Dance Studio and Suzuki String Academy team up to present 4th annual winter performance
READ
Short-story writer
Clark Ashton Smith is all but forgotten, and that's a pity. The con temporary, correspon dent and friend of H.P. Lovecraft and Conan the Barbarian creator Robert E. Howard, Smith was probably the better writer of the three (and likely inspired the other two), contributing his fantastical, horrifying and trailblazing sci-fi visions to the same crop of "weird fiction" magazines in the 1930s and '40s. A good intro is his collec tion The Abominations of Yondo, originally published in 1960.
LISTEN
By Lyndsie Kiebert-Carey Reader Staff
Two organizations dedicated to helping local youth develop skills in the arts — Allegro Dance Studio and Suzuki String Acade my — have discovered that, in the case of their annual winter recital, teamwork makes the dream work.
They will team up for the fourth time this year to bring This Christmas Night: Into the Land of the Nutcracker to the Panida The ater stage for four performances on Friday, Dec. 9 at 7 p.m.; Satur day, Dec. 10 at 2 p.m. and 7 p.m.; and Sunday, Dec. 11 at 2 p.m.
The collaboration will feature 65 dancers and 30 musicians, all local and ranging in age from 7 years old to adult. Violins, violas and cellos will provide the soundtrack as
ballerinas carry the audience on the Nutcracker journey.
This is the first year that new Allegro Dance Studio owner and director Devyn Vaughan-Jolley has taken part in a performance of This Christmas Night.
"Even though this is my first year being involved in this pro duction, many of our dancers have been involved every year to date," she told the Reader. "As with all shows, I enjoy the hard work building up to the performance. To see the dancers in their costumes on stage is magical.
"Sharing what I love with the community gives me so much joy," she added.
Apart from the four Panida showings, there will also be two pre-show galas hosted at 113 Main St. on Friday, Dec. 9 and Satur
day, Dec. 10. Both galas will take place from 4:30-6:30 p.m. and feature hors d'oeuvres, desserts, a complimentary drink and — most important — live music from Suzu ki students. There will also be a hot cocoa bar for young guests, as well as a chance to have their photo taken with the Sugar Plum Fairy.
"We are so grateful for all the local businesses who have contrib uted to this event," said Suzuki String Academy owner and director Ruth Klinginsmith, not ing that there will also be an auction of hand-painted violins and ballet slippers, with
proceeds benefiting a scholarship program to help students further their arts educations.
This Christmas Night: Into the Land of the Nutcracker
Friday, Dec. 9, 7 p.m.; Saturday, Dec. 10, 2 p.m. and 7 p.m.; Sun day, Dec. 11, 2 p.m.; doors open 30 minutes before showtime; $65 for an adult ticket including entry to a pre-show gala, $35 for a standard theater seat. Panida Theater, 300 N. First Ave., 208263-9191. For more info call 208-610-0188. Get tickets at 26360.danceticketing.com.
"This is such a unique experi ence and opportunity for local mu sic and dance students to collabo rate together and share something meaningful and creative with our community on the historic Panida Theater stage," Klinginsmith said.
"This is a time for the commu nity and local organizations to come together and celebrate the arts in Sandpoint."
A snapshot of notable live music coming up in Sandpoint
This year the old Christmas carol may need to be adapted, swapping out "four calling birds" for Four Saxes — the name of the quartet led by renowned local saxophonist Rich Beber.
Beber most definitely knows his way around the horn, earning music degrees with his alto sax at Ball State University in the 1960s and '70s, performing with the likes of the Panhandle Symphony Orchestra and Pend Oreille Cho rale and Orchestra, and serving
as an instructor for the Festival at Sandpoint's Summer Youth Camp.
His quartet will perform a mix of jazz and Christmas tunes for a special Evans Brothers show Sat urday, Dec. 3, with proceeds from a donation jar going to the Bonner Community Food Bank.
— Zach Hagadone
2-4 p.m., FREE, donations benefit the Bonner Community Food Bank. Evans Brothers Coffee Roasters, 524 Church St., 208-2655553, evansbrotherscoffee.com.
Local musicians Dave and Tami Gunter aren't ones to shy away from dabbling in a variety of genres. To describe their duo, known as Bridges Home, is to list a handful of styles: Americana, singer-songwriter, folk and Celtic, to scratch the surface. Perhaps the most accurate way to describe Bridges Home is to call it a true community band — one that's eager to share the joy of music in all its forms.
Folks on the east side of the
county will play host to a Bridg es Home Christmas concert on Wednesday, Dec. 7 at the Memo rial Community Center in Hope. While there is no admission fee to enjoy the music, the community center will be offering beer and wine for purchase.
— Lyndsie Kiebert-Carey
6-7:30 p.m., FREE. Memorial Community Center, 415 Wellington Place, 208-264-5481, memorial communitycenter.com.
If you'd rather get your Christ mas season creep on aurally (the famous Christmas song does, after all, refer to "scary ghost stories"), check out the podcast HorrorB abble. It features free audiobooks of fantasy, horror and sci-fi writ ers of old (including Clark Ashton Smith — see above), all impecca bly produced and mostly narrated by creator Ian Gordon. His York shire accent and low-tenor timbre belies his young age. Coolest of all, you'll discover some new-toyou writers. Find it at horrobabble. com (and most every other audio streaming service).
WATCH
In keeping with the theme of this week's "RLW," the new Net flix series Wednesday is highly recommended for fans of the Add ams Family mythos — created, lest we forget, by New Yorker cartoon ist Charles Addams in 1938. Un like the many adaptations of Add ams' original "family," this series focuses on the one character that we all love: charmingly disturbed daughter Wednesday. There's no room for much more description, nor spoilers, other than to say it's horribly good fun to watch.
December 1, 2022 / R / 21
This week's RLW by Zach Hagadone
Rich Beber's Sax Quartet, Evans Bros., Dec. 3 Bridges Home, Memorial Community Center in Hope, Dec. 7
Photos courtesy Colton Moore.
From Northern Idaho News, Dec. 4, 1903
ONE FORGER CAUGHT; ANOTHER GETS AWAY
During the past week a forgery came to light in Sandpoint and a forger was arrested.
On the 18th of November, G.M. Walker cashed a check for J.M. Powell, who has been working this fall for Ed Gibson, who has a seal ing contract on Pack river. The check was on the Traders bank of this city and was purported to be signed by Mr. Gibson. It was in the sum of $83.50, and Mr. Walker gave Powell $51.75 in money and the rest of the amount in cloth ing. The forgery did not come to light until last Saturday when the check was returned through the First National bank of Missoula. Mr. Walker had sent the check to the Missoula bank along with other commercial paper, and it was not known that the paper was a forgery until the Missoula bank had received a report to that effect from the Traders' bank in this city. Powell has been in this locality since last spring and came here from Snohomish, Wash. It is supposed he used the money to get out of the country, as he has not been seen since, and, so far as could be learned, he did not attempt to pass more of the bad paper.
Powell is a slender fellow of about 35, not weighing over 135 pounds. He has a crooked nose and can be easily located if he is still in this part of the country.
BACK OF
THE
BOOK Not far from the tree
The melancholy of living in the town where you were born and raised
By Ben Olson Reader Staff
When I was younger and someone asked where I was from, I'd tell them I was born and raised right here in Sand point. They might ask the usual questions: "Who did you have for English at SHS?" or, "Where do your dad and mom work?" There was no surprise, because chances are they were from Sandpoint, too.
Nowadays, I tell someone I was born right here at Bonner General and their mouths open in astonishment, as if I told them I was hatched from a giant egg.
"Really?" they ask. "I bet this place has changed since you were a kid, huh?"
Yes, it sure has — some for the better, but mostly for the worst.
You couldn't pay me enough to stay in Sandpoint after high-school gradua tion. Like many teenagers, I wanted out. I wanted adventure, peril, fun. I wanted to prove myself in the world.
I grew up hiking and skiing in the mountains, adventuring up rivers and val leys in an attempt to explore places that have captured my attention for decades.
But I also spent hours parked at the City Beach, killing time with friends while we debated what to do with our lives. We shared dreams of travel, of exciting new lives in big cities, surround ed by the culture we were all hungry for after growing up here in the Shire.
I did get out. I went to college in Col orado, then spent time living in various cities around the West. I found a new career in Los Angeles and quickly left it because the city was changing me. I roamed quiet highways with my thumb
out, eager to catch a ride from a stranger and hear their stories about life. I filled notebooks with writings that documented my search, my plight, my desire to wring as much out of life as I could before I grew old and gray.
Along the way, a funny thing kept happening. I kept returning to Sandpoint. I'd come back to visit my family, but when they all moved away from here, I began returning just to feel that connec tion to the only root I had ever grown. Driving home across the Long Bridge always seemed to center me when my wayward travels spun me a little too fast.
As I lived in more distant places, I kept finding they all paled in comparison to this somewhat unknown corner of heaven in the mountains of North Idaho.
Then I met someone, fell in love and suddenly found myself living in Sand point again as a 30-year-old who was a bit weary from a decade of chaotic travel and life. I settled down, paid rent somewhere for the first time in six years and ultimately brought back this little newspaper that my friends started almost 18 years ago this month.
I've spent three-quarters of my life living in Sandpoint. I've watched this town evolve from a funky little secret in the mountains to what it is now, which I can't even put into words without my blood pressure rising.
I encounter fewer faces that I rec ognize. I have fewer interactions with family friends on the sidewalk or former teachers at the grocery store. When I head to the bar for a drink after work, sometimes I don't recognize a single person other than the bartender. I see
Sudoku Solution STR8TS Solution
strangers living in this once-familiar town and I want to ask them, "Where did you all come from?"
I'm proud to be from Sandpoint, but I'm also cursed because of it. Some times I long to live in a town where I don't care if they tear down the historic buildings to erect condos for rich people. I long to live somewhere that doesn't re mind me daily that I am getting old, that the place that was once so familiar now feels like an estranged relative. I yearn to be in a place that has already fallen to the forces of greed, instead of watching the slow decline.
Many changes this town undergoes come at the behest of Johnny-come-late lys who seem to be more interested in padding their resumes and moving on to further their careers than they are acting stewards to this beautiful community.
Crossword Solution
People were always talking about how mean this guy was who lived on our block. But I decided to go see for myself. I went to his door, but he said he wasn't the mean guy, the mean guy lived in that house over there. "No, you stupid idiot," I said, "that's my house."
22 / R / December 1, 2022
Laughing Matter Solution on page 22 Solution on page 22
By Bill Borders
CROSSWORD
1.Horde 6.Winglike 10.Marine mammal 14.Infantile paralysis 15.Opera star 16.Desire 17.Grain disease 18.Baking appliance 19.The top edge of a container 20.Enduring 22.Alone 23.Jargon 24.Femme fatale 25.Jetty 29.Upset 31.Try 33.Back up 37.Focusing glass (plural) 38.Superficiality 39.Superficial amount 41.Sympathy 42.Extreme 44.River to the North Sea 45.Majestic 48.Flow controller 50.Dugout shelter 51.Child 56.Midday 57.Decorative case 58.Eagle's home 59.Oversupply
34.Bobbin 35.Belgrade native 36.Coastal raptor 40.Engrossed 41.Oxydize olfaction /ol-FAK-shuhn/ [noun] 1. the act of smelling. "The dog took one whiff of the escaped prisoner's garments and took off with his nose to the ground, a master of olfaction."
Solution on page 22 9.Sounded a bell 10.A gradual sinking 11.Mistake 12.Nimble 13.Tart yellow fruit 21.Slipped by 24.One more than six 25.Buddies 26.Detail 27.Europe's highest volcano 28.Bridles or chains 30.Spin 32.Nickel or steel 60.Not fatty 61.Places for tenting 62.Consumes food 63.Inactive 64.Secret meeting Word Week of the Corrections: In last week's Reader, we wrote that the Burger Dock would be serving pumpkin pie with their annual free pre-Thanksgiving meal. Alas, it was a pumpkin milkshake, not a pie. We heard they were delicious, too. Thanks for looking out for the community, Burger Dock!
DOWN
1.Gush forth 2.Had on 3.Seaweed 4.Violent disturbance 5.Wool eaters 6.One who adores 7.Enduring 8.Retaliator
December 1, 2022 / R / 23
Copyright www.mirroreyes.com
ACROSS by heating 43.Informal 45.Scope 46.Deadly virus 47.Thin mortar 49.Legislate 51.Sandwich shop 52.Darling 53.Military 54.Bites 55.Exam