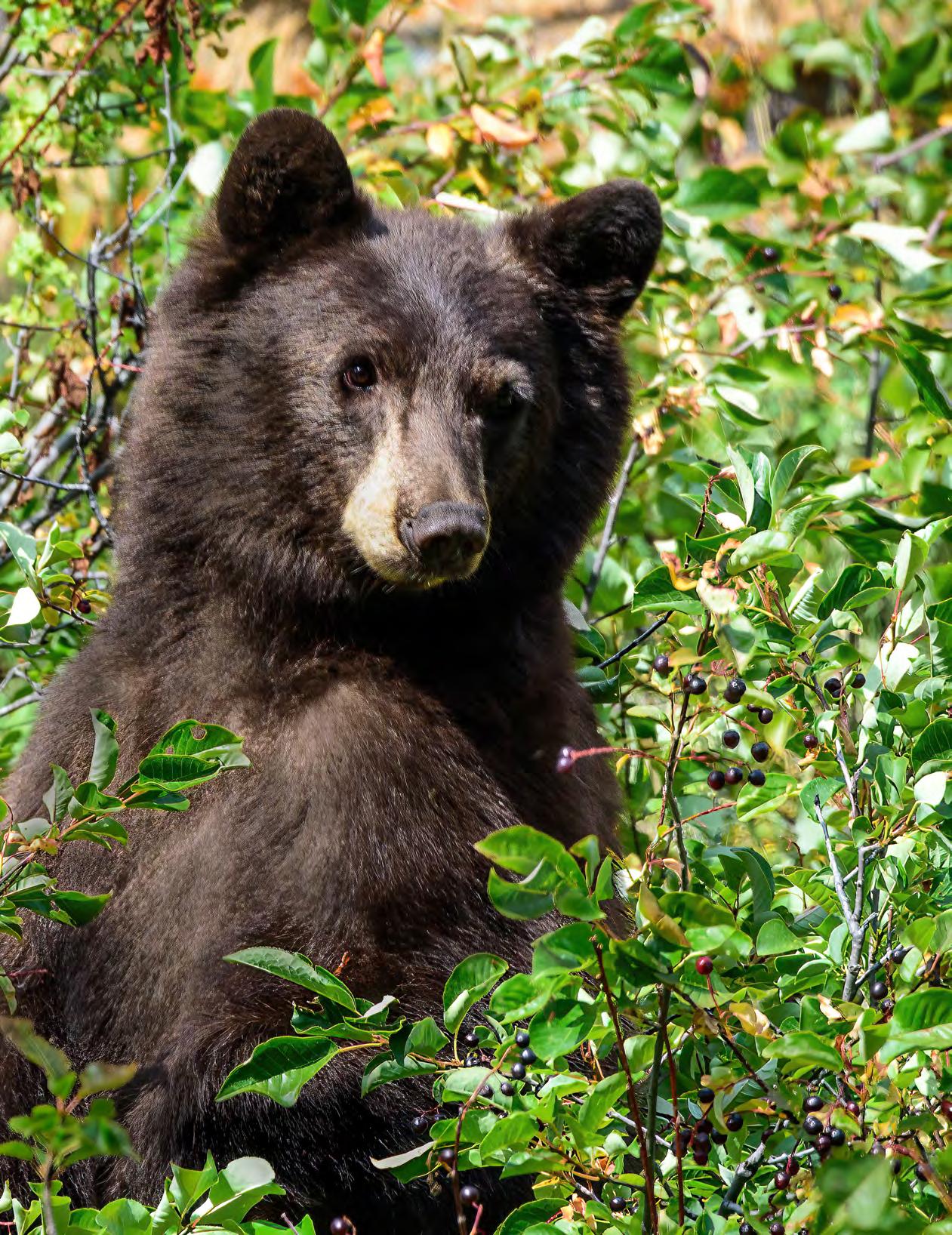 INSIDE: sandpoint Visitor Guide Summer 2023 SUMMER 2023 Ode to our favorite wild fruit The Magnificent HUCKLEbearY RACING FOR SPACE From Sandpoint to ... the stars A FAMILY AFFAIR County fair inTENTS for some I'M SEXY & I THROW IT Disc golf growing phenomenon
IdahoClubScenicView.com $699,500 Block 5, Lots 3 & 4 White Cloud Dr., Sandpoint, ID 1.59 ACS @ e Idaho Club Double Lot * Water & Sewer Included HomeOverLakePendOreille.com $3,395,000 21 Last Ridge Rd., Sagle, ID 6924 SF + Guest Home * 25.58 ACS * 2 Parcels PendOreilleHome.com $4,695,000 494 Snug Harbor Rd., Sandpoint, ID 4546 SF * 130 FT Shoreline * .87 AC * Ample Parking HomeAtForeverView.com $2,399,000 1003 Forever View Rd., Sagle, ID 4568 SF * 5 ACS * Room For Shop NorthIdahoScenicView.com $1,695,000 183 Porcupine Dr., Sagle, ID 3152 SF * 20 ACS * Room For Shop SandpointAirportLot.com $499,000 Lot 4 Airli Way, Sandpoint, ID .56 AC Hangar Lot * Access To Runway Power On Site HopeWaterViewProperties.com Starting @ $239,000 Alyssa Ct. & Sasha Pt., Antler Pt. Estates, Hope, ID 1+ AC Lots * Utilities To Each Lot Water & Mountain Views Nothing Compares. Cindy Bond, Associate Broker, GRI, CRS www.CindyBond.com cindy.bond@sothebysrealty.com 208.255.8360
Boathouse - call for a private showing.
Fairway Drive Gold Hill Trail
Priest Lake Golf Course home with everything you need for a get-away! Recreation in all directions and in all 4 seasons right from your front or back door. Beautifully finished custom home, spacious rooms and expansive decks in a well developed, quiet neighborhood. Best value in the area! Call for an appointment today!
Rare offering in Sourdough Point! Pristine 4 bdrm, 3.5 bath Timberframe estate with unobstructed Lake Pend Oreille & mountain views. Stunning architectural design & custom finishes. This home at Sourdough Point includes a private boat slip, access to the private island and beach, tennis court, boat ramp and so much more!
North First Ave. Farmer Lane
Arguably one of the best locations in the Selle Valley! This wide open 10 acre parcel is minutes to the Idaho Club, LPO, and downtown Sandpoint. Excellent soils and in an area of good wells. Ready for your private estate plans.
Nothing Compares. Nothing Compares. Dedicated To The Extraordinary The Exceptional And The Unique. Chris Chambers www.ExtraordinaryIdaho.com 208-290-2500 chris.chambers@sothebysrealty.com 200 Main, Sandpoint, Idaho Jeff Hurst 208-304-4043 jeff@hurstsothebysrealty.com Jill Rush 425-422-7447 jill.rush@sothebysrealty.com © MMVII Sotheby's International Realty Affiliates, Inc. All Rights Reserved. Claude Monet's "Marine View With a Sunset," used with permission. Sotheby's International Realty® is a licensed trademark to Sotheby's International Realty Affiliates, Inc. An Equal Opportunity Company. Equal Housing Opportunity. Each Office Is Independently Owned And Operated, Except Offices Owned And Operated By NRT Incorporated. Sandpoint office: 208-263-5101, 200 Main Street, Sandpoint, ID 83864. 25 Red Fir Trail A stunning execution of a masterplan that was laid out to create a family home that offers ample room for the many activities that come with lakefront living. Spectacular views from the home allow your family and guests to enjoy this estate regardless of the weather. Accommodations include 6 bedroom and 7 baths are spread out through 3 buildings, two homes that are fully amenitized. Lighted Pickleball Court, motorized Float Plane lift,
Regionally iconic, the Cedar Street Bridge is a fee simple commercial opportunity for an owner occupied or leasehold operation. More details with NDA.
Serving North Idaho For Over 50 Years! LOCAL EXPERTS WITH GLOBAL REACH 202 South First Ave Downtown Sandpoint 208-263-6802 cbsandpoint.com 166 Village Ln #201A Schweitzer Mountain 208-265-1649 WATERFRONT | SCHWEITZER PROPERTIES | RANCHES | CONDOS | VACANT LAND
Kent AndersonKelly Armstrong Paul BaumanHeather BouseSteve Carlson
Coral EdwardsBobby GAudra GabicaNathan HesterCindy Hunter
Karin
Don't go to just anyone... Connect with one of our local realtors today. Whether buying or selling, we've got the right agent for you!
Daniel & VlastaDave WilsonShari KeelinCassandra Cayson Jeff Woodall
Jenna
MillerRachel NordgaardenCiara Normandeau Randy & Darla Jean TillotsonBob LesniewskiDarla Sherwin
Willroth
LIVE IN IDAHO'S PLAYGROUND Endless NOW SELLING IN SANDPOINT! *Brokers/Realtors please register your clients prior to their first visit to the community in order to be eligible for a cooperation fee. Please see Community Manager for specific details. All information provided herein, including pricing, square footages, home features, and community amenities, is Preliminary and subject to change without prior notice or obligation. Photo is of builder's professionally decorated model home. Models do not reflect racial preference. Copyright © 2023 Williams Homes. All rights reserved. Equal housing opportunity. Exceptionally Appointed Single Family Homes 3 & 4 Bedrooms 1,917 to 2,561 Sq Ft From the mid $700,000s 208.494.2266 641 University Parkway Sandpoint, Idaho Big time adventure abounds just outside your front door at Base Camp. Schweitzer Mountain Resort, Lake Pend Oreille, Popsicle Bridge Scenic Trail, the shops and eateries of Downtown Sandpoint are all within easy reach. Come tour the model homes and find your own piece of Idaho right here at Base Camp. WILLIAMSHOMES.com BROKERS WELCOME* MODEL OPEN WEDS – SUN 12 to 5PM Exclusively Represented by Gretchen Vedel, Realtor COLDWELL BANKER SCHNEIDMILLER REALTY 208.494.2266 | gvedel@williamshomes.com N Not to scale. N Boyer Ave Airport Way Sandpoint Airport Schweitzer Mountain Resort Base Camp Baldy Mountain Rd Moscow St 95 95 2 Lake Pend Oreille
Because Your Dream is Our Passion (208) 263-2853 Building Homes in Sandpoint for 44 Years WWW.DSSBUILDS.COM
Staying in the best homes has its benefits. Daugherty Management offers a wide selection of gorgeous properties including: private waterfront homes, family reunion retreats, Seasons condos, Dover Bay homes, Schweitzer ski in/out & even longer term stays! Every home is fully appointed and exceptionally cleaned. Call and or book direct and save: www.StaySandpoint.com • 208-263-1212 208-263-1212 101 N. First Ave., Ste 2, Sandpoint
Estate Seasons at Sandpoint
Villa Z
Sandpoint's Finest Idaho Club Homes Dover Bay Homes www.StaySandpoint.com Luxury Vacation Home Rentals
Chadwick Place
www.Evergreen-Realty.com // www.SchweitzerMountain.com 321 North First Avenue, Sandpoint, ID Toll Free 800.829.6370 // Office 208.263.6370 // Fax 208.263.3959 Evergreen Realty is pleased to sponsor our local Habitat for Humanity "Top producing Independent Real Estate firm for the past 37 years!" Kathy Robinson 208-255-9690 William Mitchell 206-390-2751 Becky Freeland 208-290-5628 Charlie Parrish 208-290-1501 John Dibble 208-290-1101 Charesse Moore 208-255-6060 Courtney Nova 208-290-7264 Brian Jacobs 208-610-3188 Chelsea Nova 208-304-8979 Danny Strauss 208-290-2946 Kris Kingsland 208-290-1509 Luke Webster 208-255-8597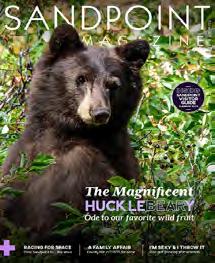 SandpointMagazine.com SANDPOINT MAGAZINE | 7 80 I'm sexy and I throw it Disc golf a 'hole' better way to throw 84 a wild passion Huckleberries are North Idaho's truest gem 90 meeting the goal A 50-year quest into Boundary County's named lakes 94 a family affair County fair as a 24/7 experience 40 a new kind of pow Sandpoint's the next great trail town 44 It's All About the Journey Overland rally brings offroaders to town 52 tour the loops Discoveries on the backroads 59 one piece at a time Unsung heroes keep trash in its place 63 land of generosity Foundations guide the giving journey 67 playing it forward Parks to see massive makeovers Features SANDPOINT MAGAZINE SUMMER 2023, VOL. 34, NO. 2 It's not unusual to have company when picking huckleberries, but it's best to leave the area if the company is a bear. This shot was taken with a drone camera. Photo by Erik Stensland 84 152 44 90 94 Main features On the cover: SandpointMagazine.com MAGAZINE | 7
FROM TOP: EXPLORING PYRAMID LAKE IN BOUNDARY COUNTY.
PHOTO BY FIONA HICKS. GETTING OFF ROAD. COURTESY PHOTO. BABIES LOVE HUCKLEBERRIES. PHOTO BY KARA BERLIN. A MOUTHWATERING BURGER. COURTESY PHOTO. NAPS ARE NECESSARY.
PHOTO BY AMY PETERSON
PUBLISHER'S NOTE
Today I shall extoll the benefits of babyholding. It's something that comes to mind in part due to our delightful photo essay, "Growing Up Wild Here," and musings about the abundant wild adventures my own son and his cohort enjoyed growing up here in the 1990s–2000s. It's hard to imagine a better place to be a kid.
Of course these are times of change and challenge. We're in one of the fastest-growing counties in the fastest-growing state in the country. The growth creates stresses for housing, cost of living, employment, traffic. Global trends—political disunity, climate change and now, AI—could transform the way we live.
Which brings us back to baby-holding. A few days ago said son Nate and wife Brooke produced grandgirl No. 2, Pepper Rion. Want to get a good dose of hope and optimism? Hold a brand-new baby, that amazing act of creation, and just imagine the places she'll go and the things she'll do. The future may be unknowable but holding new baby Pepper with all her unguessable potential is a tonic. Babies inspire hope for our future.
In case you don't have a new baby handy, there are a bunch of stories in this issue that also inspire hope and optimism, and a dose of wild adventure. From the philanthropic organizations doing good to people reaching for the stars to outdoor pursuits of all types, there is a lot of good to seize here.
Pepper Bessler is about to have the best summer of her life. Here's hoping all the rest of us do, too.
- CB
Eats & Drinks
Publisher Chris Bessler
COO Jeff Lagges
Editor Trish Gannon
Events Editor Misty Grage
Advertising Director Clint Nicholson
Art Director Pamela Larson
Design Team Robin Levy, Dan Seward
Digital Marketing Laura Walsh, Jenifer
Rowan, Erica Larson
Office Manager Susan Otis
IT Manager Ethan Roberts
Sales Mitchell Fullerton
Distribution Panhandle Special Needs, Inc.
Contributors:
Desi Aguirre, Maddie Albertson, Cameron Barnes, Caren Bays, Kara Berlin, Sandy Bessler, Bonner County History Museum, Scott Bourassa, City of Sandpoint, Hannah Combs, Sandy Compton, Rich del Carlo, Susan Drinkard, Patty Ericsson, Dan Eskelson, Joe Foster, Beth Hawkins, Zach Hagadone, Fiona Hicks, Cate Huisman, Lindsey Kiebert-Carey, Korinne Koszarek, Jenny Leo, Annie Love, Marianne Love, Mansfield Library Archives & Special Collections, Kirk Miller, Ben Olson, Amy Peterson, Tamara Porath, Renee Sande, Spokane Historical Society, Cameron Rasmusson, MarieDominique Verdier, Corey Vogel, Pam Webb, Jason Welker, Woods Wheatcroft
Sandpoint Magazine is published twice yearly, in May and November, by: Keokee Co. Publishing, Inc. 405 Church St., Sandpoint, ID 83864 208-263-3573 • www.keokee.com
Printed in USA by Century Publishing, Post Falls, Idaho.
©2023 by Keokee Co. Publishing Inc. All rights reserved. Reproduction in whole or in part without written permission is prohibited. Subscriptions: $12 per year, payable in advance. Subscribe at www. SandpointMagazine.com.
contents 8 | SANDPOINT MAGAZINE SUMMER 2023
10 almanac 27 calendar 31 interview: barry stoddard 47 history mystery: e.l. bonner 50 Pictured in History: County Fair 96 Photo Essay: growing up wild 133 natives and newcomers 160 milestones
Estate/Business 102 Sandpoint has style Several styles, in fact 109 A multi-modal curve Dub's sale brings focus to street plan 117 surrounded by stuff New residents bring lots of new things to store 123 homes as habitats Opening spaces to other species 127 happy plants, happy Gardeners Going native with your landscape
NATE, BROOKE AND BIG SIS WREN PRACTICE BABYHOLDING NEW ARRIVAL PEPPER, AGE ABOUT 10 HOURS.
Real
140 mountain bounty Idaho's huckleberry adds local flavor 145 doin' the q Barbecue is a summer favorite 148 The hive is alive Venue reopens to rave reviews 150 classic combination Alehouse now serves up pizza 151 113 Main Launch yourself into Sandpoint's nightlife 152 special food at a special place District offers fine dining/cozy atmosphere Departments
The pattern is all too familiar. High-value properties can linger on the market in North Idaho. When the approach is 'list, wait and hope', valuable time is often lost. Because nearly all buyers of prime properties come from outside the area. A handful at a time.
So, some property listings fail repeatedly – a painful experience for all. And when this happens, either the price or the property itself is blamed. But neither is actually the problem.
The missing ingredient is effective marketing. How to identify, intrigue and engage high-net-worth buyers – that's the real challenge. Tightly targeted marketing does just that. And we alone are utilizing it. We're skilled and seriously experienced marketers, not just agents. A talented team that will spend up to 5X more than others to market your property.
Interested in learning more? Scan the QR code below and we'll send you a FREE copy of our step-by-step, 48-page A Field Guide to Selling Your Prime Property. This book is yours for the asking.
So, when you're ready to sell your prime property, we're ready to serve you. Shall we talk?
Idaho Luxe | www.idaholuxe.com | 208.209.3499
YOUR HIGH-VALUE
This owner just listed his high-value North Idaho home for sale. Again.
SELLING
PROPERTY
BELOW THE RADAR BEYOND YOUR EXPECTATIONS
BUFFY ENJOYS HER NEW HOME AT SURVIVORS RESCUE INC. STAFF PHOTO