Wentworth House Rail Systems
Capability overview
2023
Keltbray is a specialist engineering and construction solutions group
Our purpose is to redefine the way sustainable development is delivered. Based on our collective experience, we collaborate at the earliest stage to design and self-deliver innovative customer solutions across technically demanding built environment and infrastructure sectors. Working in partnership with our stakeholders, we are actively contributing to economic growth, social advancement and environmental protection.
Contents
GROUP OVERVIEW
EXECUTIVE SUMMARY
2
6
Design capability 8
Project experience 10 Digital engineering, BIM and CDE 14 Resources 14
In-group and supply chain management 15 Health, safety and wellbeing 15
1 Wentworth House Rail Systems | Capabilities overview | 2023
Group overview
A SUSTAINABLE BUSINESS MODEL
We are focusing our integrated services on solving customers' engineering challenges in a rapidly changing world.
The resilience of the Keltbray model and the commitment of everyone in the business has shown the resourcefulness, agility and above all else, the dedication to the customers we serve and the communities in which we operate.
WHO WE ARE
Keltbray is a UK-leading specialist engineering and construction business, offering a range of self-delivered solutions for blue-chip public and private sector customers.
WHAT WE DO
Operating in highly-regulated sectors, we are a key player in developing and maintaining Britain's economic infrastructure and built environment, and in selective overseas markets.
Our customers trust us to deliver certainty on their projects – to specification, safely, on programme, within budget and with care for the environment and the communities that host us.
Our integrated delivery approach is underpinned by the significant investments we are making in the development of our people, our specialist delivery capabilities and our research and development agenda. It focuses our business on engineering innovation and delivery excellence to provide greater value for all our stakeholders.
WHY WE DO IT
Our purpose is to redefine the way sustainable development is delivered. Our deep expertise means that we offer standalone and holistic services, to meet our clients' complex and changing engineering demands to enhance, upgrade and decarbonise their capital assets.
HOW WE DO IT
SCAN TO WATCH OUR FILM
Watch our corporate film to find out what we do and how we are redefining the way sustainable development is delivered
Keltbray's distinctive delivery model is based around a set of complementary capabilities that together constitute the way we go to work to deliver certainty through the smart solutions we provide for our customers.
2 Wentworth House Rail Systems | Capabilities overview | 2023
Our progressive approach seeks to break down the barriers to success inherent in traditional contracting models. Clients need to feel confident entrusting their investments with a delivery partner capable of turning vision into reality. They need to be certain the end result will meet their expectations – and will be completed to the agreed programme, budget and specifications.
We believe that our unique delivery model has the potential to address these challenges – and the key to unlocking its benefits lies in deep and trusting client relationships that allow us to engage early on projects as a prerequisite to delivering greater value. It is only when clients and delivery partners – along with designers and others with vested interests – collaborate from the outset, as part of an integrated team, that opportunities for innovation in engineering can be fully exploited.
STRATEGIC CUSTOMER RELATIONSHIP MANAGEMENT
Inherent in the way we go to work is a different kind of client/delivery partner relationship management approach – one based on establishing and maintaining long-term strategic relationships where both parties' interests are aligned to deliver mutual benefit.
INNOVATIVE ENGINEERING EXCELLENCE
We work collaboratively with our clients, supply chain and industry partners to de-risk project delivery and engineer solutions with a high degree of outcome certainty. Our multi-disciplined network of professional engineers can design, contract and supervise sustainable, high performance engineering and construction services in the public and private sectors.
INTEGRATED SELFDELIVERY MODEL
By drawing on our specialist in-house delivery businesses and directly employed workforce, we have greater control over quality and productivity. It enables us to be more responsive, rectify issues and interface clashes quicker and achieve greater integration across the project phases. This brings an operational focus and intensity to project delivery that is very different to the traditional subcontracting model.
"Our sustainable business model provides progressive, long-term environmental, social and economic value to the stakeholders we serve"
HOW WE CR E ATE VALUE OUR KEY E NABLERS Delivery certainty Strategic customer relationship management Innovative engineering excellence Integrated self-delivery model Talented people Future-proofed digital technologies, processes and equipment Financial resilience 3 Wentworth House Rail Systems | Capabilities overview | 2023
Our services and sectors Industry-leading business services
From its formative years as a demolition and environmental remediation contractor, Keltbray has extended its coverage across the client value chain. Today we offer a diversified portfolio of specialist engineering and construction services through our Built Environment and Infrastructure businesses, as we drive our diversification into new growth sectors and customer revenue streams.
Keltbray operates an integrated engineering and construction business model. This is proving highly effective in diversifying our income streams across targeted sectors, locations and different phases of the value chain, helping to deliver a sustainable performance over the longer term.
Specialist engineering and environmental services
– Demolition – Geotechnical engineering – Environment – Contaminated soil / ground water – Asbestos removal – Site remediation – Decommissioning
Construction services
– Engineering design –Wentworth House Partnership – Civil engineering – Piling – Sub and super structures – Transport piling – Transport structures
Infrastructure
services
– Rail systems design –Wentworth House Rail Systems – Rail civil engineering – Rail overhead line electrification and distribution – Power transmission – Energy network distribution – Renewables – Highways civil engineering
Support services
–
Preconstruction and commercial management – BIM and digital engineering – Civil engineering plant, lifting and haulage equipment – Project delivery support services: – Recruitment – Operational safety training – Occupational health and wellbeing
4 Wentworth House Rail Systems | Capabilities overview | 2023
WHAT DIFFERENTIATES KELTBRAY Sources of
Building Residential / Commercial • Manufacturing Industrial Energy Civil / Nuclear Power Networks Renewables Rail UK Network Mass Transit • High Speed 2 Transport Highways Aviation • Marine Government Infrastructure Defence Health Flood protection Utilities Infrastructure networks • Waste management Customer sectors
competitive
The unique combination of highly experienced teams; innovative self-delivery capabilities; financial resilience; strong, enduring partnerships and our 'can do' reputation across all elements of our business are what we believe sets us apart from our industry peers 5 Wentworth House Rail Systems | Capabilities overview | 2023
advantage
Executive summary
6 Wentworth House Rail Systems | Capabilities overview | 2023
Wentworth House Rail Systems Ltd (WHRS), as part of Keltbray's Infrastructure division, is a leading provider of electrification design and consultancy services to both Network Rail and numerous rail companies and contractors worldwide. WHRS and Keltbray can offer the complete range of multidisciplinary design and build services covering both existing and new-build railways, including: – Feasibility studies – Outline and detailed design – Project management – Technical assistance and site supervision of installation – Testing and commissioning – Building information modelling and digital engineering 7
Rail
| Capabilities overview | 2023
Wentworth House
Systems
Design capability
WHRS provide a full range of electrification design services for both heavy and light rail for the UK and International rail industry. Our personnel offer our clients many years of experience in, initial feasibility studies, option selection and development, basic design, detailed design, construction, commissioning and handover requirements.
Furthermore, we are able to call upon the services of rail experts through our supply chain to provide multidisciplinary solutions to the Rail industry as a whole.
DETAILED DESIGN
From the clients' technical specification and system design requirements, WHRS can provide detailed OLE design from simple structure replacement projects to complex station remodelling staging works. WHRS have the experience and capability to deliver a fully-integrated OLE design compliant to British and International standards for a range of engineering assurance deliverables, including:
layout plans
– 2D
– OLE
– Switching
– 3D
– Bill
– Bonding
– Dropper
– Structure
–
–
8 Wentworth House Rail Systems | Capabilities overview | 2023
structure cross sections
and Feeding Cross sections
models
of materials
plans
and DEP schedules
analysis and clearance assessments
Section diagrams, major feeding diagrams, isolation diagrams and instructions
Basic design
CONSTRUCTION SUPPORT
WHRS are able to provide design support during the installation stage of a project. This service involves the assessment of the allocation design, determination of installation methodology, identification of necessary change to allocation design to meet changes in site conditions or construction constraints. Components supplied are matched with a bill of quantity to ensure compliance.
The safety and quality of installation is managed to ensure safe construction and rail operational compliance. Our design team can also provide a rapid response to field change requests and technical queries issued through the site team to ensure minimal effect on construction progress.
FEASIBILITY STUDIES
Using our expertise of allocation and construction design, WHRS can support the client in the development of OLE design options to suit track and infrastructure restraints. As many rail projects are multidisciplined, our experience and understanding of each discipline is invaluable to feasibility studies. Our familiarity of the integration of design is essential in ensuring the development of the optimum solution in order to meet, or better, the clients' expectations.
WHRS can also identify planning consent requirements, environmental considerations, and potential land uptake and add value through consideration of international best practice while maintaining the overall requirements of our clients.
TECHNICAL WORKSCOPE PRODUCTION
WHRS can provide technical workscope documentation to allow the engagement of contractors. Our understanding of what is required is based on our experience in working for various clients. We understand that this documentation is to give clear and concise instructions of the clients' requirements and the standards and parameters that the works need to meet.
The documentation should provide clear details as to how the contractor will achieve full compliance. It is recognised that it must provide clear parameters in situations where the standards have not been prescribed. We can assist the client in providing these parameters so that contractors can exhibit a valid design against recognisable standards.
9 Wentworth House Rail Systems | Capabilities overview | 2023
Project experience
Wentworth House Rail Systems has been operating for over 10 years within the electrification design industry and within this short period of time has worked on a diverse range of internationally recognised major projects in both the UK and overseas.
We have worked for a range of clients and pride ourselves in ensuring that projects delivered exceed expectations. Our clients have included, Network Rail, Heritage England, Greater Anglia and Transport for New South Wales as well as supporting many of the major alliances, consultants and contractors.
GREAT WESTERN ROUTE MODERNISATION (GWRM)
The GWRM programme was a major infrastructure upgrade of the Great Western line between Maidenhead in the south east of England, through to Swansea in south Wales. WHRS were involved with the OLE elements for Route Section Special Area in Bristol Temple Meads, Route Section 6P in Bristol Parkway, Route Section 8 in Newport and Circuit Main Earth Switching designs for the whole route.
WHRS provided OLE designs through the full life-cycle of the project including initial optioneering development, basic design, detailed design, construction support and as built hand back. Working via consortiums and as a direct designer to Network Rail, WHRS delivered major design infrastructure for Bristol Temple Meads Station, Bristol Parkway Station, Bristol Hitachi Depot, and Newport Station.
The project involved many multidisciplinary interfaces with all aspects of the railway corridor including signalling upgrades, substations, National Power Grid Overhead Wiring, English Heritage infrastructure, stations, bridges, and track remodelling.
10 Wentworth House Rail Systems | Capabilities overview | 2023
CROSSRAIL NORTH EAST
The Crossrail North East project, is a major infrastructure upgrade of the traction power system on the Great Eastern (GE) lines between Pudding Mill Lane and Shenfield.
Working direct to Network Rail and with Keltbray's Rail business' construction team, WHRS provide a diverse range of designs in OLE and civil engineering. The project is on a brownfield site
MORE TRAINS MORE SERVICES (MTMS)
MTMS is a portfolio of investments in New South Wales Australia, delivering capacity, reducing complexity and providing improved connectivity on the heavy rail network. The South Works Package addresses upgrades to the T4 (Eastern Suburbs & Illawarra line) and South Coast Lines.
WHRS are providing design services to Transport for Tomorrow, an Incentivised Delivery Entity (IDE) formed by Kellogg Brown & Root Pty Ltd (KBR) and Laing O'Rourke) and engaged by Transport for NSW (TfNSW).
WHRS provide 1,500V D.C OLE traction design to suit the
and requires full interface consideration with existing OLE infrastructure, signalling, London Underground, stations, bridges and depots.
WHRS provide design works involving clearance mitigation assessments, switching, feeder cabling, isolation diagrams, troughing routes, safety screens, Autotransformer Feeders, short circuit testing devices and earthing and bonding routes.
WHRS also engage and manage sub-consultants to be able to provide the client a 'one stop' design organisation for all aspects of the project requirements.
proposed station, track and stabling upgrades (including new and modified OLE structures at both Waterfall and Wollongong), as part of the Stabling and Platform extension works which include new switch designs to support the delivery staging. The design is to take due cognisance of the operational and maintenance requirements as well as the safety in design considerations.
In addition, WHRS have been requested to provide a Power Upgrades Assessment to cover the overhead wiring and feeder supply upgrades between Como and Jannali. The purpose of this assessment is to provide engineering assurance to TfNSW, and where necessary to make recommendations for modifications or upgrades to, and maintenance of the existing OLE system.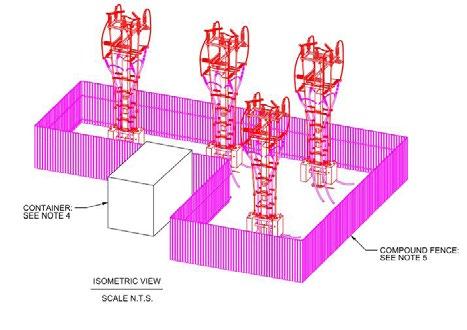 11 Wentworth House Rail Systems | Capabilities overview | 2023
TRANSPENNINE ROUTE UPGRADE
The Transpennine Route Upgrade (TRU) is a major, multibillion-pound programme of railway improvements which will bring better journeys to passengers travelling across the Pennines between Manchester, Huddersfield, Leeds and York.
WHRS are providing OLE design support to the Transpire Alliance, across the route on packages W1, W2A, W2B, W2C and W3. The project is a brand new electrification scheme on an existing railway corridor with a large quantity of tunnels, stations,
bridges, embankments and cuttings originally designed only considering steam locomotives. WHRS are working closely with the client to ensure the most cost effective design solution is achieved utilising our knowledge and experience to reduce required clearances to prevent additional expensive major civil works. We have teams involved in all stages of the project including initial concept development, basic design, detailed design, construction support and as built hand back.
Project experience cont.
12 Wentworth House Rail Systems | Capabilities overview | 2023
NORWICH VICTORIA SIDINGS
As part of the Abellio Greater Anglia renewed franchise agreement, the entire fleet on its routes were to be upgraded with a combination of Bombardier and Stadler trains. During the new fleet roll out, the NEAT Programme identified the need to create additional capacity during an interim period to stable the new fleet of trains. The existing dilapidated site at Norwich Victoria was identified as a location to provide part of that stabling requirement.
Working with Keltbray's Rail business as the principal contractor, WHRS provided OLE design for the project. The sidings required a complete modernisation involving new ground work retaining walls, signalling, track works, porta cabins, lighting systems, walking routes and car parking facilities. WHRS assisted in the full co-ordination of the design to enable the OLE structures to be integrated into the existing Network Rail infrastructure and the new sidings retaining wall to allow for adequate walking routes. WHRS worked with multiple design consultants and clients to develop and achieve the project requirements both for construction and the end user at the most costeffective solution.
13 Wentworth House Rail Systems | Capabilities overview | 2023
Digital engineering, BIM and CDE
Our digital engineering processes are designed to manage the diverse and complex data projects generate throughout their life-cycle. We use a connected Common Data Environment (CDE) strategy to provide seamless integration, collaboration and information sharing between multiple organisations.
WHRS understand the need for projects to work collaboratively using CDE, and BIM throughout the project life-cycle. We train and employ staff with the experience and capability to achieve the project digital engineering goals and work collaboratively with our clients and other design consultants during the process.
We are committed and continue to strive for best industry practice in relation to electrification design utilising the latest software and standards. WHRS recognise that technology is beneficial for the client and invest in innovative software packages that can improve project workflows and effective design solutions.
Resources
Wentworth House Rail Systems is a company that is led and managed by engineers with previous design experience. This gives clients the confidence that there will be an understanding of the project works and that they will ensure quality of work does not suffer to maintain margins.
Our main office is based in the north west of England, between Liverpool and Manchester at Preston Brook.
Our design team has a mixed range of experience inclusive of chartered engineers to help innovate and generate a collaborative team ethic. We embrace new work processes and ensure everyone in the team has a voice so that the client ultimately has the best and most cost effective design solution. Our team have many years of construction, OLE and structural design experience in both the UK and overseas, in countries such as Australia, New Zealand, and South Africa.
As part of Keltbray Group, this ensures a client is engaging with a consultant with the backing of multimillion pound organisation with large diverse industry experiences. We can utilise Keltbray construction experiences to ensure that our design is not only theoretically appropriate but is the best solution from a construction methodology point of view. We have access to strategic partnerships with companies which include signalling, track, power, E&P, distribution, surveying, track access management, possession management, environmental and geological services and designers.
14 Wentworth House Rail Systems | Capabilities overview | 2023
In-group and supply chain management
GROUP
– Civils – Piling – Geological – Environmental – Operations – Survey
SUPPLY
CHAIN
– Signalling – Distribution – PWay – ETE – Telecoms – E&P
We provide the following services across the project life-cycle: – Concept and strategic planning – Project and programme management – Contract and commercial management – Interface management – Design and engineering management – Project delivery
CLIENT'S TRUST
Wentworth House Rail Systems have a proven track-record of successfully delivering projects to a high standard, safely, on time, within budget and with care for the environment and our communities.
We approach every project as a partnership, providing expertise and a desire to make the project succeed.
By establishing close working relationships with all of our partners and clients, we are able to understand their changing needs and demands, and promptly meet them via extensive training programs, innovation and investment.
Health, safety and wellbeing
As a Group company, WHRS utilise the Keltbray's Rail business' HSQE team for professional support and advice with respect to health & safety. This is predominantly provided by working closely with the Head of HSQE.
WHRS is in our tenth year of trading and we have an impeccable health & safety record
15 Wentworth House Rail Systems | Capabilities overview | 2023
Contact us
SYSTEMS
Director
Director
Projects
Commercial
16 Wentworth House Rail Systems | Capabilities overview | 2023
WENTWORTH HOUSE RAIL
Dave Speakman Managing
+44 (0) 7710 094 025 dave.speakman@keltbray.com Kieran McLeod Engineering
+44 (0) 7720 741 182 kieran.mcleod@wentworth-house.co.uk Paul Batty Head of
+44 (0) 7939 327 343 paul.batty@wentworth-house.co.uk Chris Williams Head of
+44 (0) 7718 478 401 chris.williams@wentworth-house.co.uk enquiries@railelectrification.com railelectrification.com
This report was written, designed and produced by Keltbray Communications Team. No part of it may be reproduced without the prior permission of Keltbray Holdings Limited.
17
| Capabilities overview | 2023
Wentworth House Rail Systems
St Andrew's House Portsmouth Road Esher, Surrey KT10 9TA T: +44 (0) 20 7643 1050 E: director@Wentworth-house.co.uk wentworth-house.co.uk © This document is the copyright of Keltbray Holdings Limited. Any unauthorised reproduction or usage by any person other than the addressee is strictly prohibited. SAFE, EFFECTIVE AND INNOVATIVE DESIGN SUPPORT FOR UK AND OVERSEAS CONSTRUCTION