THE FUTU R E ACCELE R ATED Luminate Finals 2022 Wednesday, October 19 12:30 - 2:00 PM EDT
Norma Holland
Norma Holland has always balked at others' definitions of her. A storyteller at heart, Norma spent the first 23 years of her career as a broadcast journalist at the #1-rated news station in her hometown market of Rochester, NY. A multiracial Latina who fought against traditional standards of "TV beauty," Norma advocated fiercely and unapologetically for telling the unheard stories of underrepresented communities.
When the opportunity to combine storytelling with advocacy appeared, she eagerly joined the anti-racism effort at the University of Rochester. There, Norma serves as director of public relations and engagement for the Office of Equity and Inclusion at the School of Medicine and Dentistry. She also serves as Chief of Staff of the University of Rochester's Institutional Office of Equity and Inclusion. Norma is passionate about promoting equity in healthcare and creating productive spaces where people can explore their own journey into living and working as anti-racists.
An avid volunteer, Norma currently serves on the boards of the Alzheimer's Association, Bivona Child Advocacy Center, and Causewave Community Partners. She lives in Rochester, NY with her husband, two daughters and a dog, named Bear. She's also a 12-year member of the sketch comedy troupe, Estrofest.
LUMINATE FINALS 20222


LUMINATE FINALS 2022 3 Welcome and Opening Remarks A Word from Our Sponsor, Optica Cohort 5 Company Pitch Overviews Alertgy • Axion Technologies • Custom Surgical • LIDROTEC • LightSpeed Photonics • Keynote Discussion with Dr. Susan Houde-Walter Cohort 5 Company Pitch Overviews MEETOPTICS • QD Solar • Quantopticon • SCOUT • Stratio • Audience Choice Voting Awards Final Words TODAY'S PROGRAM
WELCOME TO OUR FUTURE!
When The Jetsons premiered 60 years ago, viewers got to envision how novel technologies would transform their everyday lives. Since then, many of these inventions have become a reality, from robotic devices and autonomous vehicles, to smart watches and pill cams. I simply can't imagine how we would have gotten through the pandemic over the last few years without video conferencing!
These inventions became a reality because someone dared to ask, "Is there a better way?" And then had the fortitude to discover the answer and make it available to the world. This is what Luminate is all about — providing the support, connections, and resources to early-stage companies that want to accelerate what's possible. During our event, you'll hear about new capabilities that are coming to aerospace, manufacturing, healthcare, clean tech, and much more.
Optica's Frontiers in Optics + Laser Science provides a perfect setting for us to share these innovations with you, and we're grateful Optica is sponsoring our Finals for the third year in a row!
LUMINATE FINALS 20224 October 19, 2022
As our founders take the last step in Luminate by graduating from the world's largest accelerator for optics, photonics, and imaging, and competing for up to $2 million in follow-on funding, you'll have the opportunity to vote for your favorite. Winning the distinction of "Audience Choice Award" will provide the startup with $10,000!
Regardless of whether a team wins money or not, all will remain within Luminate's portfolio and ecosystem to advance their innovations, as well as the vision of Empire State Development's (ESD) Finger Lakes Forward initiative, which continues to elevate our leadership as the optics capital of the world.
We hope you enjoy the show!
Sincerely,
Dr. Sujatha Ramanujan Managing Director, Luminate
GET SET GO!
LUMINATE FINALS 2022 5
LUMINATE FINALS 20226
THANK YOU TO OU R FUNDE R
R
MAKERS
LUMINATE FINALS 2022 7 FUTU
E
We invite all new ventures to look to Optica for resources as well. In addition to in-person events, online sessions, and industry market reports, Optica provides its members with an enormous roster of resources customized around each organization's needs and interests. Because we understand the importance for startups to connect with key suppliers and potential customers, our staff conducts conference calls with each member to understand their needs and identify ways we can help. Our extensive industry network enables us to make personal introductions that are often critical to our members' success. Based on a company's funding round, technology, and market, we can also formulate introductions with investment and venture fund contacts such as VIGO Ventures and TRUMPF Venture.
Optica also advocates for policies before the US government to support our industry. For example, Optica co-led the National Photonics Initiative (NPI) effort to bring about legislative initiatives like AIM Photonics and the landmark 2018 bill, the National Quantum Initiative Act (NQI). NPI is supporting workforce development and coordinated with New York companies, universities, and congressional leaders to create the first-ever Optics & Photonics Caucus on Capitol Hill.
To foster Luminate participants' innovation and growth, Optica is happy to offer them a 25% discount on Optica corporate membership dues in 2022/2023.
Sincerely, Liz Rogan Optica CEO
LUMINATE FINALS 20228
Congratulations to Luminate on another successful Startup Accelerator Finals Competition. Optica is delighted to be a sponsor of the event and is grateful to Luminate for all its support of the startup community.
LUMINATE FINALS 2022 9 THE 2022 LUMINATE COHORT Alertgy Axion Technologies Custom Surgical LIDROTEC LightSpeed Photonics MEETOPTICS QD Solar Quantopticon SCOUT Stratio
ALERTGY
Transforming the world of diabetes management
Alertgy gives diabetics and the world's 2 billion pre-diabetics a way to non-invasively monitor their blood glucose levels on demand, providing trending information and automatic alerts if levels are too low or high. Using advanced materials and sensor technologies enabled by a smartphone application, Alertgy's patented wristband platform eliminates the need for implanted sensors, patches, or devices that use chemical reactions or fluid transfer through the skin, or other intrusive measurement techniques.
Mark Rippen, CEO | Melbourne, Florida alertgy.com
LUMINATE FINALS 202210
AXION TECHNOLOGIES
Enabling tomorrow's data expansion
Axion Technologies develops Quantum Random Number Generators (QRNG) and optical splitters/multiplexers. Its patented technique for scrambling light provides quantum random numbers for use in numerous computing applications, including encryption and data simulation. These applications protect data and expand the usefulness of simulations for more secure networking. Axion's technology allows 200+ nodes to be served using a single QRNG device. The same technology can be used to split a single laser signal into 200+ or to combine 200+ laser signals, enabling the design of unique solutions to meet the growing bandwidth needs of IT networks.
Dr. Carol Scarlett, CEO | Jacksonville, Florida axiontechnologiesllc.com
LUMINATE FINALS 2022 11
CUSTOM SURGICAL
Digitizing microscopes for earlier pathology detection and better treatment
Custom Surgical is modernizing ophthalmology by providing an effective way to record, store, and analyze medical procedures and leverage them to diagnose and treat patients. Its optical system, the MicroREC, allows ophthalmologists to connect any smartphone camera to the optical path of their microscopes, while its data management platform allows them to easily store and share their videos and images on the cloud. Custom Surgical is simultaneously developing mobile applications that use Augmented Reality and Artificial Intelligence to help train eye surgeons, improve surgical outcomes, and allow early diagnosis of eye pathologies.
Federico Acosta, CEO | Munich, Germany customsurgical.co
LUMINATE FINALS 202212
LIDROTEC
Accelerating microprocessing with lasers and liquids
– literally cutting edge
LIDROTEC's patent-pending wafer-dicing laser technology enables thinner cuts with a virtually 0% damage rate, providing significant cost savings and productivity increases to the semiconductor industry. Its innovation is in the efficient use of liquids in the laser processing zone, which cool and rinse wafers while the laser cuts out the chips. The benefits of this unique technology are thinner cuts with higher precision, no damages to the material, clean surfaces without debris, and higher processing speeds — all with no adaptations needed to the production process. Alexander Igelmann, CEO | Bochum, Germany lidrotec.de
LUMINATE FINALS 2022 13
LIGHTSPEED PHOTONICS
Building next-generation optoelectronic interconnects and processors for high-bandwidth processing
LightSpeed Photonics' mission is to enable future datacenters with at least 10 times more data processing capabilities than what current systems are capable of. LightSpeed's technology is modular, scalable, multi-processor systems with free-space optical interconnects. Their team is building proprietary optical interconnects and modular processors with co-packaged optics for data centers and edge cloudlets, addressing the need for increased real-time processing of data bandwidth-intensive applications like video streaming, AI, cybersecurity, and smartNICs (Network Interface Card) at low power. Their core technology IP is to integrate lasers which enable multi-terabit communication between computing chips through the air.
Dr. Rohin Yeluripati, CEO | Singapore lightspeedphotonics.com
LUMINATE FINALS 202214
MEETOPTICS
The first specialized search for optics and photonics components
MEETOPTICS is building an Artificial Intelligence (AI)-driven platform that helps engineers and researchers in the optics and photonics industry access and compare products and technologies from trusted manufacturers. With MEETOPTICS' comprehensive, up-todate database, users can quickly discover specialized suppliers and available products in minutes instead of weeks. Photonics-tech manufacturers have a direct channel to customers at the moment of purchase and can showcase updated technical capabilities without investing resources.
Dr. Bárbara Buades, CEO | Barcelona, Spain meetoptics.com
LUMINATE FINALS 2022 15
QD SOLAR
Delivering higher efficiencies and energy density than traditional solar technologies
QD Solar combines two light-absorbing nanomaterials — perovskite and quantum dots — to take solar beyond efficiencies achievable using silicon solar cells. Incorporating these active materials in a tandem cell architecture efficiently harvests more of the sun's available radiation in real-world conditions. With nine patent families across nine countries, QD Solar can offer a roll-to-roll solar sheet that is low cost, flexible, durable, and lightweight, and that can be easily integrated into existing solar panel manufacturing supply chains.
Daniel Shea, CEO | Toronto, Canada qdsolarinc.com
LUMINATE FINALS 202216
QUANTOPTICON
Empowering next-generation chip makers with quantumphotonic modeling tools
Quantopticon offers design automation software to support the rapid, cost-effective development of high-quality, peak-performing quantum-photonic devices. Its modeling software, Quantillion, eliminates the need to carry out multiple-iteration, trial-and-error prototyping. By ensuring right-the-first-time, optimized device designs, Quantopticon will unlock the pathway to rapid, high-yield, low-cost manufacturing of quantum-photonic systems, revolutionizing the design process in the emerging quantum technology industry.
Dr. Mirella Koleva, CEO | Guilford, United Kingdom quantopticon.co.uk
LUMINATE FINALS 2022 17
SCOUT
Enabling a new era of space safety, mission assurance, and transparency
SCOUT is changing the way space operations can be done by building vision-based autonomy solutions for Earth and space that let systems better identify and avoid risks and failures. Space traffic will grow 40x this decade, and understanding the congested orbital environment is key for space safety and mission assurance. SCOUT provides alternatives to the terrestrial sensing paradigm with on-orbit imaging systems and autonomy software for automated detection, tracking, and characterization of space objects and orbital debris.
Eric Ingram, Co-Founder & CEO | Alexandria, Virginia scout.space
LUMINATE FINALS 202218
STRATIO
Putting shortwave infrared (SWIR) technology in the palm of your hand
Stratio offers infrared imaging solutions for Advanced DriverAssistance Systems (ADAS), medical imaging, precision farming, laser material processing, and food/plastic sorting. Stratio's BeyonSense® is the world's first smartphone-compatible shortwave infrared (SWIR) camera, designed to be 5x lighter and 20x less expensive than technology currently on the market, at 10x less power consumption.
James (Jae-Hyung) Lee, CEO | San Jose, California stratiotechnology.com beyonsense.io
LUMINATE FINALS 2022 19
Three companies participated in Luminate in 2022 to gain access to regional resources, and two companies were runners-up. While they are not eligible to compete in Finals 2022, their program involvement and contributions deserve recognition.
REGIONAL PARTICIPANT EMGENISYS
Improving breeding success with real-time embryo health evaluation
EmGenisys is enabling genetic progress in animal production by maximizing the efficiency of in vitro fertilization (IVF) and embryo transfer (ET). Using computer vision to train machine learning models to analyze embryo cell changes, EmGenisys developed a noninvasive, onsite software test to evaluate embryo health in real-time. The result is a comprehensive embryo health evaluation which delivers standardized and consistent results, empowering ET practitioners to manage their embryo programs with objective data and improve pregnancy outcomes of IVF/ET up to 20%.
Dr. Cara Wells, Founder & CEO | Houston, Texas emgenisys.co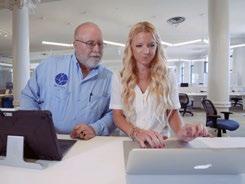 LUMINATE FINALS 202220
HONORABLE MENTIONS
RUNNER UP OPTOBIO LABS
Revolutionizing optogenetic research with smart illumination devices
Opto biolabs develops smart illumination devices for optogenetic research. Current leading light device suppliers do not meet researchers' need for homogenous, programmable cell sample illumination and temperature control, or the need for experimental flexibility. Opto biolabs aims to make optogenetic experiments reliable, efficient, and reproducible, establishing optogenetics as a standard method in research labs worldwide. Its highly customizable, highly scalable devices enable homogeneous, reproducible illumination and prevent the heating of cell samples.
Dr. Kathrin Brenker, CEO | Freiburg, Germany optobiolabs.com
RUNNER UP SYNCHROPET
Transforming PET imaging
SynchroPET builds the world's smallest, most versatile PET scan devices. Designed to retrofit existing PET, MR, PET/CT, and PET/ MR devices, SynchroPET's technology offers researchers mobility within the laboratory and the potential for instantaneous clinical assessment with combined functional and anatomical imaging. These advances will accelerate the creation of new pharmaceuticals to treat cancer, Alzheimer's, and Parkinson's diseases, as well as provide superior imaging technology to make all PET scans more quantitative.
Marc Alessi, CEO | Stonybrook, New York synchropet.com
LUMINATE FINALS 2022 21
KEYNOTE SPEAKE R
Dr. Susan Houde-Walter serves as the Director of the Chester F. Carlson Center for Imaging Science at the Rochester Institute of Technology. She is the inventor/co-inventor on 26 patents, and has published 100+ papers and invited talks on optoelectronic design and optical materials.
Houde-Walter received her doctorate at the University of Rochester Institute of Optics where she subsequently joined the faculty and earned tenure as Professor of Optics. In 2005, she left the University to run LaserMaxDefense, a certified ITAR, Women-Owned Small Business WOSB(8m) that she co-founded, to manufacture laser systems for government customers. She currently serves as the CEO for the company which is now called LMD Power of Light Corp.
She serves on the National Academy of Sciences' Intelligence Science and Technology Experts Group (2017-present), the Special Operations/ Low Intensity Conflict Division Board, National Defense Industry Association (2018-present), and the Strategic Planning Council of the Optical Society (OSA, 2015-present). She was elected to the Board of the Optical Society and later was elected to serve as President in 2005. She has served on the US Army Science Board (2006-2015; 2018-2021) and the US Air Force Science Advisory Board (2012-2016). Her honors include the 2020 Stephen D. Fantone Distinguished Service Award (OSA, 2020), the Rochester Engineer of the Year (Rochester Engineering Society, 2019), the Keeper of the Flame Award, National Women's Hall of Fame (2019), Entrepreneur of the Year, New York Photonics/RRPC (2017), the Commander's Award for Public Service, Dept. of the Air Force (2016), and the Commander's Award for Public Service, Dept. of the Army (2014).
LUMINATE FINALS 202222
LUMINATE NY IS PLEASED TO WELCOME SUSAN HOUDE-WALTER, PHD TO FINALS 2022!
As the world's largest accelerator for startups working on optics-, photonics-, and imaging-enabled applications (OPI), Luminate offers an incomparable environment for growth. Nestled in the middle of the Finger Lakes Region — long recognized as the imaging capital of the world — Luminate taps into an ecosystem rich with scientists, universities, precision manufacturers, and investors to help companies speed the commercialization of their ideas.
Each year, Luminate accepts 10 companies into the program, and provides them with $100,000 in immediate funding and the chance to compete later for up to $2 million. This opportunity also comes with comprehensive support, from mentors seasoned in OPI and how to run a business, to access to labs, investors, and regional resources.
To get here, apply by January 9, 2023 at luminate.org/apply.
Want to learn more before applying? Join Luminate for one of four upcoming info sessions, which are being held from November 17 to January 4, 2023. Find out more and register at: luminate.org/cohort-6-info-sessions
Since joining Luminate, we have raised over $5M in new funding. The program has been instrumental in our growth.
Dimitri Chernyak, CEO, Intelon Optics, Cohort 1, $500K recipient
LUMINATE FINALS 2022 23
Good ideas can be born anywhere. But most require a special place to take off.
"
EXPLORE MORE GLOBAL AND REGIONAL PROGRAMS THAT HELP STARTUPS MOVE FORWARD FASTER
NextCorps is located at the center of Rochester, in the region's Innovation Zone. As a nonprofit that helps innovative technology companies launch and grow, NextCorps offers a suite of services, including technology commercialization for early-stage opportunities, business incubation for high-growth-potential startups, and growth services for manufacturing companies seeking to improve their topand bottom-line performance. This includes international programs such as Luminate, Venture For ClimateTech, and Scale For ClimateTech, and regional programs like the Embark software accelerator.
Explore how NextCorps can help your company. Visit nextcorps.org
LUMINATE FINALS 202224
WHY ROCHESTER
From the Mars Rover to the James Webb Space Telescope, viewing new worlds is possible thanks to scientists in Rochester, NY — the world leader in optics, photonics, and imaging. Take advantage of our area's educated workforce, industry expertise, and resources.
HERE'S JUST A GLIMPSE OF WHAT WE OFFER:
• $3.5 billion in economic output annually from OPI supply chain
• 150+ optics, photonics, and imaging companies
• 17,000 employed in the industry
• 60% of optics PhD's in the US conferred here
• #1 per capita in patents in the nation — 95% of OPI patent holders still live in Rochester
• Home to the nation's Laboratory for Laser Energetics
• University of Rochester Institute of Optics
• Rochester Institute of Technology Chester F. Carlson Center for Imaging Science and Lobozzo Photonics and Optical Characterization Lab
• Monroe Community College Optical System Technology Program
LUMINATE FINALS 2022 25
Jenifer
TO OUR ADVISORY BOARD
Bunis, Principal, Westlake Photonics Milton Chang, PhD, Managing Partner, Incubic Management Stu Elby, PhD, SVP, Advanced Engineering, at Madison Square Garden Ventures Stephen D. Fantone, PhD, Founder and President, Optikos Corporation Don Golini, Founder, SANICA Ventures; Chairman of the Board, Luminate Michael Jackman, Chief Operating Officer, Leidos Health Group Jay Kumler, President, Jenoptik Optical Systems Duncan Moore, PhD, Vice Provost for Entrepreneurship, University of Rochester Dr. Ryne P. Raffaelle,VP for Research and Associate Provost, RIT Darius Sankey, PhD, Managing Director, Innovation Acceleration Capital James S. Senall, President, NextCorps Linda Smith, ASA President, CERES Technology Advisors, Inc. THANK YOU
THANK YOU TO OUR PROGRAM PARTNERS NY PHOTONICS SONY IMAX THOR LABS IEEE OPTICA SPIE GRE ROCHESTER
CHAMBER OF COMMERCE AIM MCC CORNELL
SILICON
CATALYST COUNTY OF MONROE QBITS VENTURES UR RIT
MORE INFORMATION AT: LUMINATE.ORG Follow Us #LuminateFinals22 LuminateROC LuminateAccelerator nextcorps THANK YOU FOR ATTENDING LUMINATE FINALS 2022!