SYNEDRIO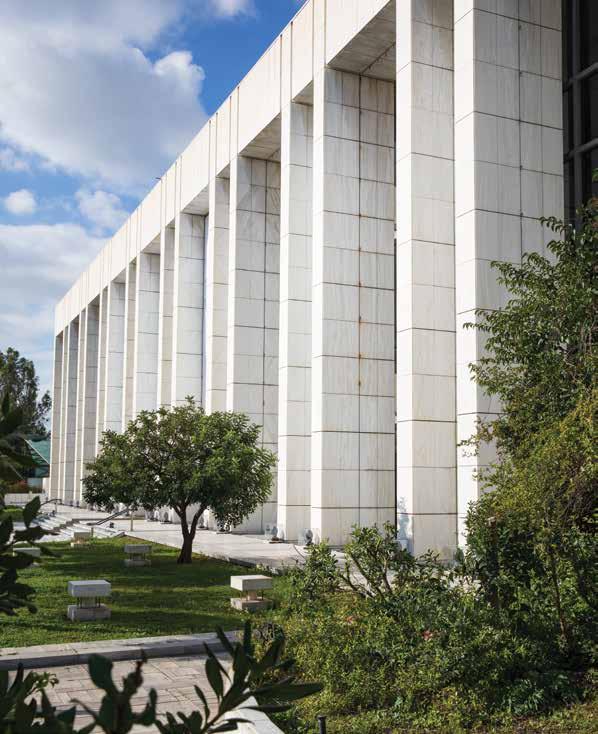 The CONGRESS + EVENT Magazine and Guide www.SYNEDRIO.gr No 50 Autumn / Winter 2022 2023 Karagouni Media
Megaron Athens International Conference Centre
Photography: Yannis Bournias
CATEGORY: Luxury 5 Star Hotel
ABOUT THE HOTEL: Your first choice for business hotels in Athens The stylish interiors and unsurpassed facilities at Life Gallery athens make it the perfect venue for corporate and business events in the northern suburbs The hotel features five conference rooms with state of the art audio visual equipment, modern facilities and all the amenities needed for a successful corporate event Each venue has its own aesthetic concept so that it matches your need, from a sunbathed conference room ideal for product launches to an exclusive space with subtle natural light ideal for presentations and board meetings
FACILITIES & SERVICES:
The hotel features five conference rooms with state of the art audiovisual e q u i p m e n t , m o d e r n f a c i l i t i e s a n d a l l t h e a m e n i t i e s n e e d e d f o r a successful corporate event The hotel's extensive leisure facilities are also available for break out events run in parallel to the meeting room activities, such as coffee breaks, dining and tasting sessions Life Gallery athens offers a mix and match approach to business services, allowing f o r a
machines, private secretary hire and more. In collaboration with our vendors we can offer specialised services such as translation booths, 3d holograms and much more so that we can enhance your event From
corporate board meetings and team incentives and workshops to product launches and end of year presentations, Life Gallery athens looks forward to hosting your seamless business event in the contemporary style it deserves For the ultimate in corporate privacy, exclusive use of the entire hotel complex can be arranged upon request, with a minimum stay of 2 7 days
ACCOMODATION: 29 rooms / 58 pax
GALLERY ATHENS
103, Thisseos Ave, 145 78 Ekali, Athens, Greece Tel: +30 211 10 67400, Fax: +30 210 62
E mail: info lifegallery@bluegr
c u s t o m i s a b l e p r o g r a m m e o f a d d o n s i n c l u d i n g p r i n t i n g , f a x
LIFE
29353
com www.lifegallery.gr CONFERENCE & EVENT FACILITIES Halls Sqm Theatre Classroom U Shape Cocktail Banquet (prs) (prs) (prs) (prs) (prs) AGORA 105 100 45 35 120 55 APERITTON 68 40 30 20 40 60 LIBRARY 38 18 AVATON 40 25 20 14 16 PHOS 40 12 15 12 10 12 15
τις ηγετικές στη χώρα μας, διαθέτει σύγχρονα γραφεία και εξοπλισμό, μεταφράζοντας σε 50 γλώσσες Στους διαδικτυ ακούς τόπους της εταιρείας www alc gr, www tsertsidis gr και www experttranslations gr, μπορείτε να βρείτε λεπτομερέστατες πληροφορίες για κάθε ξεχωριστό θέμα από το χώρο της μετάφρασης, καθώς και συστάσεις από υψηλόβαθμα στελέχη κορυφαίων επιχειρήσεων. Όλες οι
τεχνικών κειμένων (προσφορές, μελέτες, •διακηρύξεις, περιγραφές έργων, τεχνικά εγχειρίδια, οδηγίες χρήσεως συσκευών και μηχανημάτων, τεχνικές προδιαγραφές, ιστοσελίδες, κ.α.) νομικών κειμένων (καταστατικά, •συστάσεις κοινοπραξιών, Ιδρυτικά έγγραφα, πληρεξούσια, συμβάσεις, δικαστικές αποφάσεις, αγωγές, εξώδικα, πρακτικά συνεδριάσεων, νομολογία, κ α ) οικονομικών κειμένων (ισολογισμοί, •βεβαιώσεις ελέγχου, αναλύσεις, εκθέσεις χαρτοφυλακίων, οικονομοτεχνικές μελέτες, χρηματο οικονομικά, πτυχία, διατριβές) ιατρικών κειμένων (φαρμακολογία, βιοχημεία, •κλινικές μελέτες, φάκελοι προς έγκριση από τον ΕΟΦ, ιατρικά πιστοποιητικά, βεβαιώσεις, πορίσματα τομογραφιών,
E.T. Expert Translations EL TSERTSIDIS & CO Professional Translation services Επαγγελματική και Έγκυρη Μετάφραση Η μεταφραστική εταιρεία ΕΛ ΤΣΕΡΤΣΙΔΗΣ & ΣΙΑ Ε Ε , μέλος του Επαγγελματικού Επιμελητηρίου Αθηνών, διαθέτει καταξιωμένη επαγγελματική εμπειρία άνω των 50 ετών στο χώρο της εξειδικευμένης μετάφρασης. Η εταιρεία, σήμερα πλέον από
εργασίες εκτελούνται υπό καθεστώς επαγγελματικού απορρήτου Η εταιρεία είναι πιστοποιημένη κατά ISO 9001:2015 και ΕΝ 15038:2006, τηρώντας έτσι τα αυστηρότερα ποιοτικά κριτήρια της αγοράς O διευθυντής της εταιρείας, Ελευθέριος Τσερτσίδης, πέραν των Ακαδημαϊκών σπουδών σε Οικονομικές Επιστήμες (Β.Α. Business Adm., London Metropolitan University), διαθέτει επαγγελματική εμπειρία ως διπλωματούχος μεταφραστής Αυτό και μόνο το γεγονός αποτελεί την καλύτερη εγγύηση για μια άριστη εργασία - ΥΠΗΡΕΣΙΕΣ ΜΕΤΑΦΡΑΣΗΣ:
μικροβιολογικά τεστ, ανοσολογία, ορθοπεδική, οδοντιατρική, ογκολογία, καρδιολογία, κλπ ) ΕΠΙΚΥΡΩΣΗ ΜΕΤΑΦΡΑΣΕΩΝ: Η εταιρεία ΕΛ ΤΣΕΡΤΣΙΔΗΣ & ΣΙΑ Ε Ε , συνεργαζόμενη με μεγάλο αριθμό επιφανών γλ ωσσομαθών δικηγόρων, προσφέρει έγκυρες (επικυρωμένες) μεταφράσεις σε ένα μεγάλο αριθμό γλωσσών Η εταιρεία αναλαμβάνει επίσης τη γλωσσολογική επιμέλεια μεταφράσεων και την επικύρωσή τους ως προς το πιστό και ακριβές ΙΩΝΟΣ ΔΡΑΓΟΥΜΗ 3, 11528, ΙΛΙΣΙΑ, ΑΘΗΝΑ Τηλ: 210 7560926 7, 210 7562150 1, Κιν : 6949206611 Email: el tsertsidis@yahoo gr, el tsertsidis@gmail com Website: www.alc.gr, www.experttranslations.gr, www.tsertsidis.gr, www.interverbum.gr Ε Λ . Τ Σ Ε Ρ Τ Σ Ι Δ Η Σ & Σ Ι Α Ε.Ε.
focus on health
εκδόσεις |επικοινωνία | διαφήμιση focus focusonhealth
πολυεθνικές εταιρείες δείχνουν την προτίμησή τους στην Ελλάδα και διοργανώνουν τα συνέδριά τους στα νησιά ή την ενδοχώρα, φέρνοντας μαζί τους εκατοντάδες συνέδρους και στελέχη εταιρειών που έρχονται όχι μόνο για να παρακολουθήσουν μια διάλεξη ή μια ημερίδα, αλλά και για να νιώσουν τη μοναδική ελληνική φιλοξενία, την υπέροχη κουζίνα του τόπου μας και πολλές φορές για να συνδυάσουν το ταξίδι τους με ολιγοήμερες διακοπές Είναι επισκέπτες που αφήνουν αρκετά χρήματα στην τοπική αλλά και την εθνική οικονομία και πολλοί από αυτούς επιστρέφουν στην Ελλάδα με τις οικογένειές τους για τις καλοκαιρινές ή τις χειμερινές τους διακοπές Ωστόσο, δεν πρέπει να ξεχνάμε ότι η άνοδος του Συνεδριακού Τουρισμού στην Ελλάδα οφείλεται και στις άρτια καταρτισμένες εταιρείες του χώρου, με εξειδικευμένο και καλά εκπαιδευμένο προσωπικό που μπορούν να ανταπεξέλθουν στις απαιτήσεις κάθε πελάτη, χτυπώντας
συμβολή της PODIMATAS GROUP στο Συνεδριακό
PODIMATAS GROUP είναι ένας κορυφαίος
εταιριών
στη δημιουργία και παραγωγή
εκδηλώσεων, ικανοποιώντας τις υψηλές προσδοκίες των πελατών του Με 38 χρόνια πρωτοπορίας στον κλάδο, η τεχνογνωσία και η εμπειρία του Ομίλου ξεχωρίζει στη βιομηχανία παραγωγής εκδηλώσεων Ως περήφανα μέλη της AV Alliance (AVA) και του Congress Rental Network (CRN), οι άνθρωποι
τις ανάγκες των πελατών
μοναδικές εμπειρίες σε παγκόσμιο επίπεδο. Με έδρα την Αθήνα και υποκαταστήματα στη Θεσσαλονίκη, την Κρήτη, τη Ρόδο
Βελιγράδι, η PODIMATAS GROUP αναλαμβάνει κάθε είδους
κοινωνικής εκδήλωσης, όπως VIP
συνέδρια, παρουσιάσεις, εκθέσεις μόδας, γάμους, εκδηλώσεις πολιτικού περιεχομένου, ζωντανές παρ αστάσεις και φεστιβάλ Άλλωστε, η επιχειρηματική δραστηριότητα του Ομίλου
εκδηλώσεων επισφραγίζεται με την εξαιρετικά επιτυχημένη διοργάνωση του μεγαλύτερου Airshow της Νοτιοανατολικής Ευρώπης, της Athens Flying Week
είναι το συγκριτικό πλεονέκτημα της PODIMATAS GROUP; Από το 1984, ο Όμιλος PODIMATAS GROUP πρωτοπορεί και αναπτύσσεται με βάση τα πιο σύγχρονα πρότυπα λειτουργίας και εξοπλισμού Η εμπειρία και η τεχνογνωσία όλων αυτών των ετών μεταφέρεται στον πελάτη, ικανοποιώντας και τις πιο σύνθετες ανάγκες και απαιτήσεις με το αποτέλεσμα να ξεπερνά κάθε προσδοκία Το συγκριτικό μας πλεονέκτημα, άλλωστε, είναι οι άνθρωποί μας Οι άνθρωποι που στελεχώνουν την P C
PODIMATAS AUDIOVISUAL S A , την εταιρεία παραγωγής εκδηλώσεων με τελευταίας τεχνολογίας και σύγχρονο οπτικοακουστικό εξοπλισμό, την PPDA Archdesign Group που ειδικεύεται στις κατασκευές, τη διακόσμηση, τη δημιουργία εκθεσιακών περιπτέρων και τη διοργάνωση κάθε είδους event, από τη σύλληψη της ιδέας μέχρι την υλοποίηση, την Upbeat Music Services που εξειδικεύεται στο entertainment κομμάτι μιας εκδήλωσης, από το DJ και τη μουσική μέχρι τους καλλιτέχνες που πλαισιώνουν ένα event, και φυσικά την Congress Rental Serbia, το υποκ ατάστημα του Ομίλου μας στο Βελιγράδι της Σερβίας. Όλοι αυτοί οι άνθρωποι που βρίσκονται κοντά μας από την αρχή της πορείας μας
PODIMATAS
Πώς βλέπετε το μέλλον του Συνεδριακού Τουρισμού στην Ελλάδα και ποιοι παράγοντες θα βοηθήσουν; Ο Συνεδριακός Τουρισμός είναι μια ιδιαιτέρως ανερχόμενη μορφή του ελληνικού τουρισμού που προσφέρει πολλά οφέλη τόσο στην ελληνική οικονομία όσο και στο brand name Ελλάδα Η χώρα μας, λόγω της εξέχουσας γεωγραφικής της θέσης και των εύκρατων κλιματολογικών συνθηκών, με τον ήλιο να λάμπει τις περισσότερες ημέρε ς του χρόνου, μπορεί να αναλάβει τη διοργάνωση σημαντικών συνεδρίων 365 ημέρες το χρόνο. Ήδη βλέπουμε ότι αρκετές
μάλιστα και το διεθνή ανταγωνισμό σε τιμές και παρεχόμενες υπηρεσίες Με όλα αυτά τα δεδομένα και την υπεραξία που έχει αποκτηθεί, πιστεύω ότι η καθιέρωση της Ελλάδας ως του ιδανικότερου προορισμού για το Συνεδριακό Τουρισμό στην Ανατολική Ευρώπη και τη Μεσόγειο, είναι μονόδρομος Ποια είναι τα οφέλη της ελληνικής οικονομίας / κοινωνίας από τα Συνέδρια; Τα Συνέδρια έχουν αναρίθμητα οφέλη, θα ήθελα όμως να επισημάνω δύο πολύ βασικά Πρώτον, ενισχύουν την οικονομία με σημαντικούς πόρους, τους οποίους έχει ανάγκη η Ελλάδα αλλά και κάθε τόπος που φιλοξενεί Συνέδρια, είτε μιλάμε για ένα μεγάλο αστικό κέντρο ή μια περιφερειακή πόλη, είτε για κάποιο νησί ή έναν τουριστικό προορισμό Η αλυσίδα της οικονομίας ενός συνεδρίου είναι τεράστια Ξεκινάει από το ξενοδοχείο που θα φιλοξενήσει τους Συνέδρους, τις εταιρείες που θα αναλάβουν την τεχνική κάλυψη και την υλοποίηση του Συνεδρίου, με δεκάδες ακόμη κλάδους που εμπλέκονται, και φτάνει μέχρι τα εστιατόρια, τα μπαρ και όλες τις δραστηριότητες, τις οποίες μπορεί να απολαύσει κάποιος που έρχεται στην Ελλάδα για λίγες ημέρες. Δεύτερον, ο τόπος που θα φιλοξενήσει ένα καλά οργανωμένο Συνέδριο μπαίνει αυτομάτως στον τουριστικό χάρτη Αναπτύσσεται, αποκτά brand name, κερδίζουν και οι κάτοικοι, ενός ακριτικού νησιού για παράδειγμα, από τη συναναστροφή τους με επισκέπτες από κάθε γωνιά της γης Μόνο οφέλη μπορεί να έχει ένα Συνέδριο Ποια η
Τουρισμό; Η
όμιλος
παραγωγής, ο οποίος ειδικεύεται
των πιο προηγμένων
του Ομίλου αναγνωρίζουν
και δημιουργούν
και το
εταιρικής και
εκδηλώσεις,
στον κλάδο των
Ποιο
αποτελούν το μεγάλο πλεονέκτημα της
GROUP Ποιοι είναι οι στόχοι της PODIMATAS GROUP για τα επόμενα χρόνια; Ο βασικός στόχος που έχουμε πάντα στο μυαλό μας είναι η ανάπτυξη Να μεγαλώσουμε ακόμη περισσότερο και ως Όμιλος αλλά και οι δραστηριότητές μας Και ο στόχος αυ τός ανανεώνεται κάθε χρόνο Διότι, όπως βλέπετε και από την Athens Flying Week, η οποία φέτος έκλεισε 10 χρόνια, κάθε χρόνο γινόμαστε όλο και μεγαλύτεροι. Η διοργάνωση που ξεκίνησε το 2012 στο Τατόι, πλέον συγκεντρώνει το ενδιαφέρον εκατοντάδων χιλιάδων θεατών από ολόκληρο τον κόσμο αλλά και ανθρώπων τους οποίους συναρπάζει η Αεροπορική Ιδέα και είναι πιστοί στο ραντεβού μας στην Αεροπορική Βάση της Τανάγρας όπου λαμβάνει χώρα η Athens Flying Week Η διοργάνωση αυτή έχει μπει για τα καλά στον παγκόσμιο χάρτη των πιο επιτυχημένων Airshow και για εμάς αποτελεί πρόκληση ώστε κάθε χρόνο να ανεβάζουμε τον πήχη των προσδοκιών. Και έτσι θα συνεχίσουμε και στο μέλλον σε όλο το φάσμα των δραστηριοτήτων μας, κάνοντας πάντα το καλύτερο για τους πελάτες μας, με σεβασμό στις ανάγκες τους και έχοντας ως γνώμονα το συμφέρον του κλάδου και της χώρας με τον Παναγιώτη Ποδηματά, Managing Director PODIMATAS GROUP INTERVIEW 06