•Hygenic alternative to traditional communion
•Saves time by minimizing set up & effortless to clean up
•12 month shelf life, freshness is guaranteed
A stunning new storybook
This Advent, listen for the voice of God.
Bible
978-1-5138-1226-7. HC. $32.99
PERFECT FOR CHURCH SERVICES, MINISTRY EVENTS, HOME GROUPS, AND MORE! 788200564958 Pk 50 | $19.99 788200564927 Pk 500 | $129.99 788200564941 Pk 25 | $14.99 788200564910 Pk 250 | $72.99 788200564934 Pk 1000 | $249.99 788200564903 Pk 100 | $32.99
978-1-5138-1320-2. PB. $16.99
•Unleavened wafer & Concord grape juice
All Is Bright When God Came Down One Silent Night
Experience a fresh and beautiful telling of the Nativity in this rhyming story framed by the lyrics of Silent Night
See Jesus' humanity and divinity wrapped up in the precious child born to Mary and Joseph. And discover how the baby born in the manger changed the world.
9781732241862 | $18.95 | Available Now!
READER REVIEWS
"Clay Anderson has done it again, he's created MAGIC. Another book that is captivating and awe-inspiring."
"Wow, what a beautiful book. We have many Christmas books in our house and this is now a new favorite."
This I Know Seeing God in the World He Made

Join a family on an unforgettable road trip, as they witness the wonder of God's world. And see how all of creation confirms what the Bible tells us: Jesus loves me, this I know.
9781732241848 | $17.95 | Available Now!
READER REVIEWS
"I think this book is quite possibly THE best children's story book ever written about faith and trusting in God."
"... simple and fun enough to read to my 4-year-old ... so much depth and beauty in every page that it led me to a great conversation with my 10-year-old ..."
"Such a refreshing read...I had to choke back tears."
978-1-64123-912-7
Speedy: 222697
978-1-64123-913-4
Speedy: 222698
979-8-88769-018-6
Speedy: 312841
SEEK AND YOU SHALL FIND!
For every age reader on your list.
979-8-88769-017-9
Speedy: 312842
Whitaker House brings you six new sources of inspiration, reflection, and learning God's Word. From easy-to-read large print word searches to fun and entertaining puzzles that will keep kids immersed in Scripture, these collections improve vocabulary and spelling, develop pattern recognition, and sharpen problem solving. A great way to curb screen time for kids and adults with a more rewarding, relaxing, and engaging activity that helps you grow your language skills while you enrich your faith.
$12.99 each | $17.49 can
978-1-64123-915-8
Speedy: 222700
978-1-64123-914-1 | Speedy: 222699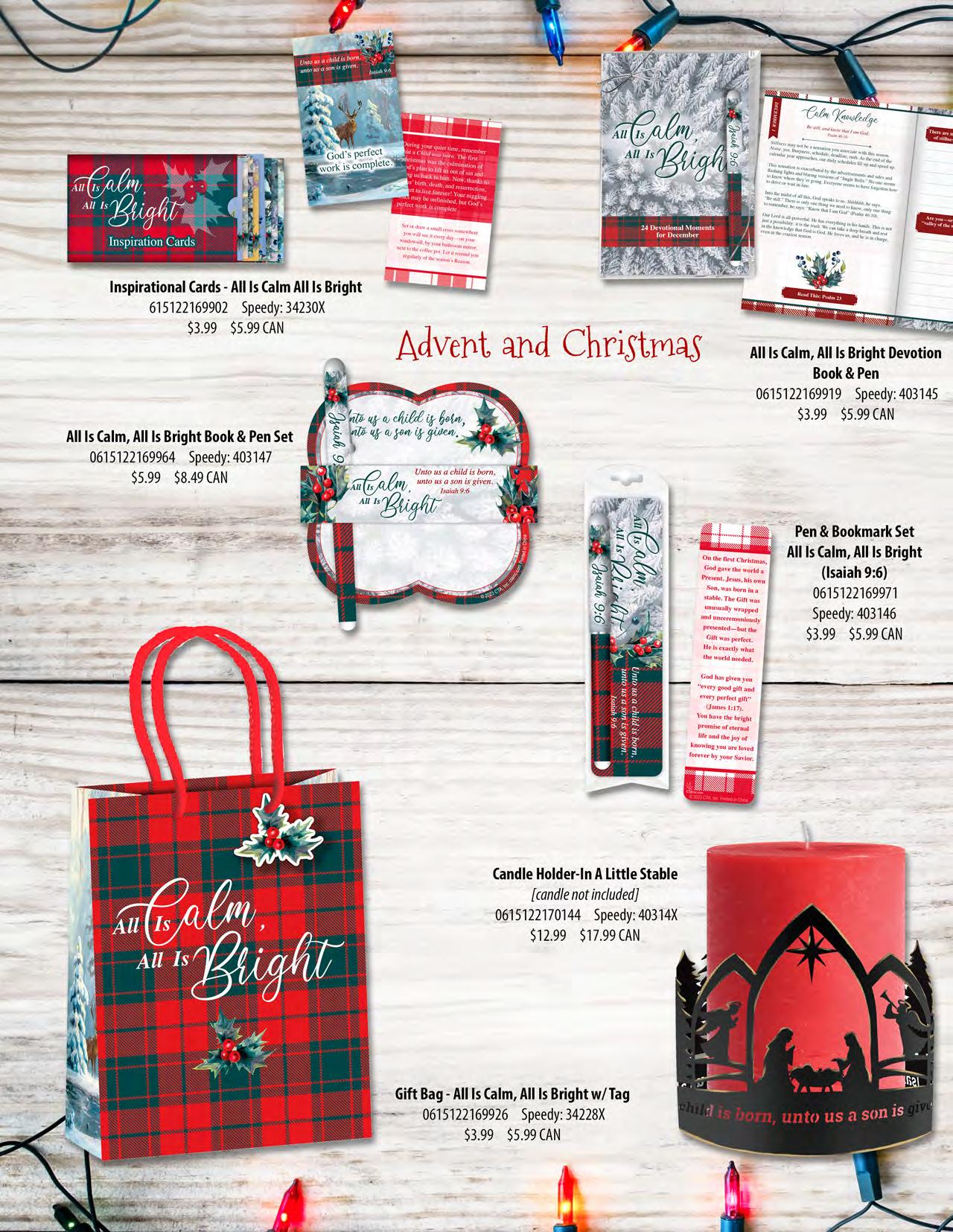 "EveryMomentHolyhas become a guide and companion for me as I am learning to pray. Having these liturgies to jumpstart my prayers has made so many daily tasks more intentional and meaningful."
New prayers and liturgies for daily life
by DOUGLAS KAINE McKELVEY
NEW: Releasing November 3
VOLUME III: The Work of the People
Releasing November 3, 2023
7"x 9" HARDCOVER: 9781951872168 | $35.00
VOLUME I
7"x 9" HARDCOVER: 9780998311234 | $35.00 5.5" x 7.25" FLEXI POCKET EDITION: 9781951872021 | $24.99 4" x 6" PADDED HARDCOVER EDITION: 9781951872137 | $18.99
VOLUME II: Death, Grief, & Hope
7"x 9" HARDCOVER: 9781951872052 | $35.00 5.5" x 7.25" FLEXI POCKET EDITION: 9781951872090 | $24.99
— Annie F. Downs, author of 100 Days To Brave
Secret Garden BLUE PEACOCK COLLECTION Secret Garden GREEN BEE COLLECTION US $16.99 SRP JLH009 US $12.99 SRP MUG1019 US $19.99 SRP SMUG252 US $5.99 SRP GBA367 US $16.99 SRP JLH005 US $16.99 SRP COA018 US $4.99 SRP TOT176 US $29.99 SRP BBL780
Secret Garden TEAL BUTTERFLY COLLECTION Secret Garden PINK BUTTERFLY COLLECTION US $29.99 SRP BBL779 US $12.99 SRP MUG1017 US $19.99 SRP SMUG250 US $16.99 SRP JLH007 US $19.99 SRP SMUG251 US $6.99 SRP MGS050 US $12.99 SRP MUG1018 US $16.99 SRP JLH008