PATHWAYS TO EMPLOYMENT GRANTS PROGRAM 2022 Supporting prosperous, connected and cohesive communities in Melbourne's inner north since 2007
A big thank you to you all for supporting the Foundation and your community.
A note from IntoWork CEO
Poul Bottern IntoWork Australia founded the Inner North Community Foundation in 2007, creating Vibrant Futures in the inner north of Melbourne through employment pathways and social inclusion. As a not-forprofit organisation, IntoWork focuses on Employment, Skills and Support through its services, and both directly and indirectly supports many people who are needing additional support to gain meaningful
So, in May of 2022, we were proud to announce that IntoWork, Darebin City Council, Moreland City Council, Yarra City Council, and the Foundation had entered into a 30-year partnership to support pathways to employment for people in the inner north of Melbourne. The arrangement means that the councils have relinquished their controlling interest in IntoWork, which recognises the breadth and reach of IntoWork, and have committed to support an enduring partnership for the benefit of people in the inner north of Melbourne.
Poul Bottern Group CEO - IntoWork Australia
Sinceemployment.1983,Darebin, Moreland, and Yarra City Councils have worked through and with IntoWork to strengthen and deliver pathways to employment in Melbourne's inner north. The Foundation was founded to support the shared vision of fostering employment opportunities and economic inclusion.
I would like to congratulate the Foundation Chair, Carolyn Phiddian, CEO Ben Rodgers and the rest of the team at the Foundation for the work they do with and through local community groups, helping to remove the barriers that people face in gaining meaningful employment. With funds generously donated by hundreds of businesses, families, and individuals, the Foundation ensures that the community receives the maximum benefit that befits this generosity.
Carolyn Phiddian Chair, Inner North Community Foundation PATHWAYS TO EMPLOYMENT GRANTS
Since 2007, the Inner North Community Foundation has made grants to projects that remove the barriers people face on their journey to work. From Richmond to Reservoir, and Fitzroy to Fawkner, passionate local groups have turned those funds into community value that creates opportunities for local people.
Foreword from Foundation Chair
This year celebrates the start of a new partnership between the Darebin, Moreland and Yarra City Councils, the Inner North Community Foundation and IntoWork Australia to address disadvantage through employment opportunities in the inner north of Melbourne.
For the next 30 years – until 2051 - funding from IntoWork will support the 'Pathways to Employment Fund' with an annual contribution of over $200,000 and additional funding that contributes to the core operational costs of the Foundation. It will impact the lives of thousands of local people, and signal to the community that we are not going anywhere.
The following pages contain summaries of the projects funded via the 2022 Pathways to Employment grant round. This year, 10 community organisations across Darebin, Moreland and Yarra will receive a grant of The$20,000.projects were assessed by a group of people with local connections, who recommended them for approval by the Board. The Grants Assessment Panel consisted of Foundation Directors Rachel English (Committee Chair), Rose Barletta, Eamonn Fennessy, Hiruni Peiris and were joined by Julie Beckers, Onyeka Okwchime and Susannah Dax, all of whom have strong connections to the region. We all have a role to play – business, not-for-profit, and individuals –in supporting local communities to thrive. As always, we thank and applaud all our hard-working community organisations providing critical services that make such a difference for the people participating. Our communities are much more resilient and caring as a result.
PROGRAM / 3
2022
We are thrilled to strengthen our existing partnership with Councils and IntoWork Australia and note the leadership of Elizabeth Board and Poul Bottern on behalf of the IntoWork Directors, and Sue Wilkinson, Jodie Watson, Diarmuid McAlary, and Sue Vujcevic who led the process on behalf of Councils.
Carolyn Phiddian
/ 4
Pathways Employmentto 2022 – GRANTS OVERVIEW 2022 PATHWAYS TO EMPLOYMENT GRANTS PROGRAM / 5
The Boîte has been in the inner north for over 40 years
The Boîte represents and supports a large community of culturally and linguistically diverse musicians, founded in 1979. They support artists from diverse cultural communities through the dynamic presentation of unique cultural experiences, nurturing creativity, collaboration, access to and active participation in the arts.
/ 6
• Professional introductions to a network of suppliers, venues, media, promoters, labels, publishers and bookers. Ticketed concerts showcasing the artists.
PORTFOLIO 2.0 will support 40 artists in the following areas:
THE BOÎTE PROJECT TITLE: PORTFOLIO 2.0
• Targeted professional development and the resources required to develop a full suite of marketing materials.
•
• Mentoring in a series of promotional and audience development activities like smaller showcase events, radio appearances and print editorials.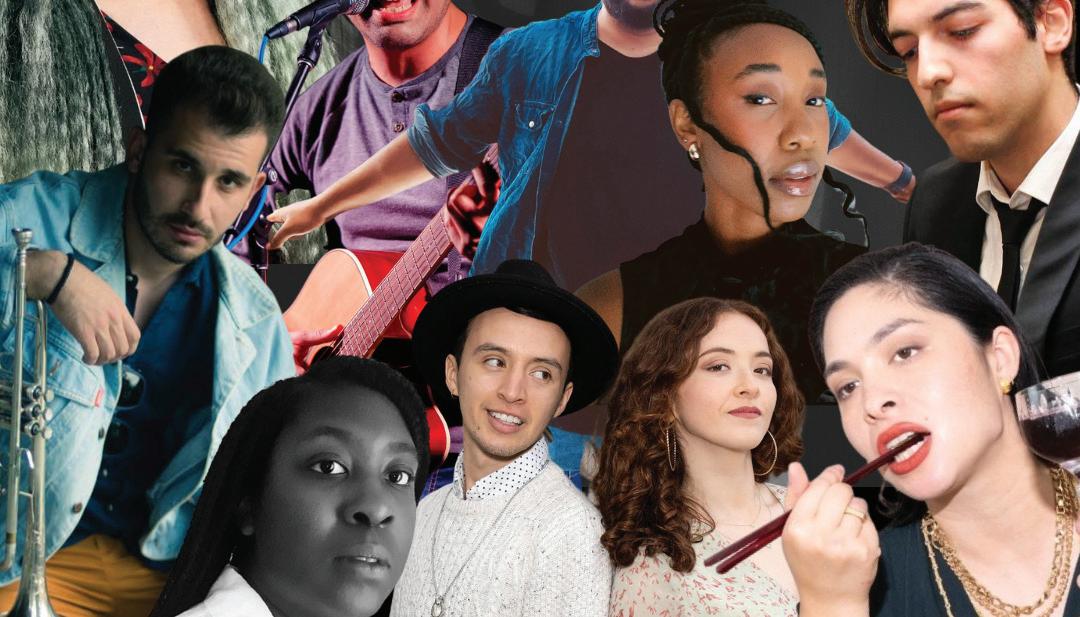 • Heart - Connection to self, others and a purpose
• Head - Learning and gaining knowledge
This structured program will be delivered across eight months, where participants complete hands-on courses, volunteer placements, and real-world challenges through project-based learning.
GRANTS PROGRAM / 7
The program design will consider the following four parts:
• Earth Service - Initiative, innovation, self-management and professional practice
Green Gap Year is a flagship program for CERES School of Nature and Climate that builds skills, nature connection, wellbeing, and confidence in young people to work for purpose, for the earth, and for a better future.
CERES provides alternative education and training pathways, volunteer opportunities, disability programs and work experience within farm and food programs, environmental education, horticulture and permaculture.
• Hands - Applied skills and real-world experiences
Community volunteers working on the CERES Farm 2022 TO EMPLOYMENT
PATHWAYS
CERES PROJECT TITLE:
GREEN GAP YEAR CERES is an environmental education centre, community garden, urban farm and social enterprise hub spread across four locations, linked by the Merri and Darebin Creeks on Wurundjeri Country, Melbourne.
FITTED FOR WORK PROJECT TITLE: Women's Economic Empowerment Program Fitted for Work helps women and non-binary people in Australia experiencing disadvantage to get work, keep work, and navigate through working life with success. Their free programs assist women to secure work, enhancing selfdetermination, capacity and confidence in searching for and gaining employment. The benefits flow on to their families and communities and contribute to breaking the cycle of poverty, abuse, and insecurity. Through the program, women will have access to: 1. Pre-Employment Job-Readiness Services: • Personal outfitting • Job application skills and support 2. Skill Building – Workforce Development: • Digital literacy to enter tech or tech-enabled roles • Retail Experience Development Program • LinkedIn Workshop & SMAART Recruiter Workshops. 3. Recruitment and Placement: • Sustainable work opportunities • Education and information sessions • Short-term telephone mentoring 4. •Post-placement:One-to-oneMentoring support for up to 6 to 12 months. Fitted for Work team member / 8
For Change Co in Brunswick 2022 PATHWAYS TO EMPLOYMENT GRANTS PROGRAM / 9
The Module 3+ program creates partnerships with local employers across a broad range of sectors to host suitable trainees.
For Change Co. offers consistent support during this program while young people begin to learn new and different skills in their workplace, and develop a network of connections that they can utilise for their future employment pathways.
For Change Co. empowers young people to break the homelessness cycle themselves. For Change Co. offers evidence-based programs that focus on the key impact pillars of housing, education, confidence, employment and community.
FOR CHANGE CO. PROJECT TITLE: Module 3+
Young people supported by this project will directly benefit by forming connections and networking with a broad range of people from the community, giving them the opportunity to open up to and explore future employment pathways.
• Employment - Two shifts per week in the catering kitchen
•
Commercial Cookery, Training and Employment (CCTE) is a comprehensive program designed to provide meaningful benefits and supported employment. The project aims to equip participants with the skills, tools, and connections to enter the workforce.
• Wellbeing - Therapeutic assessment and intervention by trained mental health and social work practitioner Community - Culturally specific celebrations and social events Networking - Referrals for next steps into employment or education
/ 10
• Education - Access to a Certificate 3 in Commercial Cookery with translating support
Commercial Cooking Training and Employment Free to Feed is a social enterprise creating empowering employment opportunities for refugees and people seeking asylum through the creation of shared food experiences.
•
The project's research-validated design incorporates five core pillars. These pillars structure program engagement and provide participants with tools to empower themselves and support their communities.
FREE TO FEED PROJECT TITLE:
Commercial Cooking Training and Employment (CCTE) program participants in action
Vocational Mentoring Exchange (VME)
The Inner Northern Local Learning and Employment Network (INLLEN) is an independent community organisation which develops partnerships and strategies to support young people across Darebin, Moreland and Yarra to successfully move from school to further education, training and employment.
VME program - mentor and mentee Glenroy College
The Vocational Mentoring Exchange (VME) program assists students to develop their career action plans and work readiness skills, exposes them to industry, and builds their confidence for a positive transition from school to work.
INNER NORTHERN LOCAL LEARNING & EMPLOYMENT NETWORK
2022 PATHWAYS TO EMPLOYMENT GRANTS PROGRAM / 11
VME recruits, trains and supports vocational mentors who volunteer to assist young people from the inner north of Melbourne on their career journey. VME is coordinated by the INLLEN with funding support from multiple partners.
PROJECT TITLE:
/ 12
• Provide
JIKA JIKA COMMUNITY CENTRE PROJECT TITLE: Bikes to Work
• Assist
• Increase
Jika Jika is a Neighbourhood House located in Northcote. It is a space for local residents to be empowered, learn something new and fun, and access necessary community supports.
Bikes to Work is an internship program designed to: young people in developing work ready skills confidence in a work environment mentoring and support to young people who have struggled in other settings meaningful work experience that be can documented on resumes
• Offer
Over 6 to 8 weeks, young people will complete 20 hours of work experience guided by their Bikes Program Manager. This work experience will be delivered in the form of a paid internship ($25/hour). offer important opportunities for young people who are disengaged or at risk of disengaging from formal education.
Internships
Jika Jika getting the space ready for bikes
•
OUTER
•
This program provides solid pathways to employment with wraparound support for each associate artist and arts worker, pairing them with established artists, creative technicians, producers, distributors and marketers to develop, resource, produce and place their work within live and digital markets.
Ruci Kaisila – photo Meredith O'Shea
The Associate Artists program identifies, trains and employs a minimum of 30 diverse emerging artists and arts workers from our northern region who are seeking to advance their arts practice, creative output, employment and visibility.
Program activity will fall into three key areas: New development Post production and presentation Marketing and distribution
Associate Artists - Live and Digital Training and Employment Pathways 2022-2025 Outer Urban Projects is a performing arts company that creates new forms of contemporary performance imagined from the life experiences of young emerging artists from the outer northern suburbs. Outer Urban Projects gives voice to the unexpressed aspirations and creative potential of ghettoised, culturally diverse emerging artists whose origins span five continents.
•
URBAN PROJECTS
2022 PATHWAYS TO EMPLOYMENT GRANTS PROGRAM / 13
PROJECT TITLE:
SISTERWORKS INC. PROJECT TITLE: Resilience and Wellbeing to Employment for CALD Women
3. During employment
1. Employment search 2. Pre-employment
As the Resilience and Wellbeing Project will form a crucial component of our Employment Support Program, all Sisters entering the program will participate in the workshops: approximately 100 Sisters over 12 months. The workshops will take place in our Abbotsford Empowerment Hub within the City of Yarra.
SisterWorks' mission is to support women who are refugees, asylum seekers or migrants so they can improve their confidence, mental wellbeing, sense of belonging and economic outlook.
SisterWorks Empowerment Hubs are workplaces and training centres that provide women who are refugees, asylum seekers or migrants with meaningful opportunities to develop pathways of education, employment, entrepreneurship and leadership.
The aim for the Resilience and Wellbeing Project is to make it an essential component of SisterWorks Employment Support Program, focusing on mental health in three key stages:
Sisterworks Sisters in classroom together / 14
2022 PATHWAYS TO EMPLOYMENT GRANTS PROGRAM / 15
They offer voluntary programs that include practical training, new skill development and meaningful employment pathways.
Second Chance Cycles participants in the workshop
The Victorian Association for the Care and Resettlement of Offenders (VACRO) supports new beginnings for clients of the correctional system and their families, building safer and stronger communities.
Participants will also be required to maintain the workshop and assist the public with sales and repairs. In the process, they will learn employability skills including problem solving, customer service and appropriate workplace behaviour.
Participants build practical skills, recycle discarded bicycles, and provide affordable reconditioned bicycles to members of the local Collingwood community.
VACRO PROJECT TITLE: Second Chance Cycles
The Second Chance Cycles program provides a supportive learning space for people on community corrections orders or day release from prison, those who want advice on how to maintain their bikes, and anyone who enjoys tinkering.
Give with us
Over time, the Foundation has expanded its reach and relevance, with more than 400 people giving gifts, large and small, that have a positive impact on their local community. There is a growing momentum of partnership with donors of all levels of wealth, with 31 Named Funds giving people and businesses a deeper sense of their own legacy in the region.
Over the past 14 years the Foundation has given $5.2 million to more than 300 community groups across Darebin, Moreland and Yarra.
As an independent community based resource, the Foundation works to build prosperous, connected and cohesive communities. Our contributions build on the long tradition of Melbourne's north, wherein people collaborate to ensure shared opportunity and choice in life. Our model allows local donations to be pooled to respond to emerging challenges.
/ 16
TO SHARE OUR EXPERTISE
TO CREATE A LEGACY FOR FAMILIES AND COMMUNITIES IN THE INNER NORTH
TO VOLUNTEER WITH US We have a talented and committed team of volunteers willing to give time and talent, sharing networks, raising money and welcoming involvement as part of our growing Foundation community. 8689
OK... BUT WHAT DO I DO NEXT? Call Ben Rodgers on (03)
Many organisations have built partnerships by working together with us, advancing the vitality and prosperity of our region. People with more modest amounts of money are also giving through regular workplace donations, gifts in wills, transfer of assets prompted by wind-up clauses and generally joining in the fun with fundraisers
TO INCREASE THE REACH OF EXISTING PROGRAMS BY WORKING TOGETHER
1967 Get involved: 2022 PATHWAYS TO EMPLOYMENT GRANTS PROGRAM / 17
A growing number of individuals, families and organisations have established Named Funds that reflect their sustained commitment to the inner north of Melbourne, and express their priorities as a donor.
The Foundation can point donors to opportunities to invest in our region, provide links to partnerships and programs, and help bring money to life through place-based philanthropy.
Our donors reflect the diversity of our community. They contribute for different reasons, but are connected by a sense of the importance of place-based giving and philanthropy.
The 2022 Pathways to Employment Grant Program is a proud partnership of the Cities of Darebin, Moreland and Yarra, IntoWork Australia and the Inner North Community Foundation. Since 2007, IntoWork Australia has supported the 'Pathways to Employment Fund'. A new commitment in 2021 re-affirmed this partnership, with IntoWork providing an annual contribution of over $200,000 and additional funding that contributes to the core operational costs of the Foundation.
Contact us (03) 8689 @innernorthfoundation@InnerNorthCFinnernorthfoundation.org.auinfo@innernorthfoundation.org.au1967 ABN 59 127 058 682