OCTOBER 2022 Complimentary OCTOBER 2022 Complimentary
Charming history.
Creative hospitality.
Here, we mix old and new to create the perfect package: An intimate venue with uncommon charm ideal for peaceful escapes, personal celebrations and professional retreats
Housed in a beautiful, century-old manor, the Surrey-Williamson Inn is just steps away from Skidmore College's vibrant campus in the heart of Saratoga Springs, New York.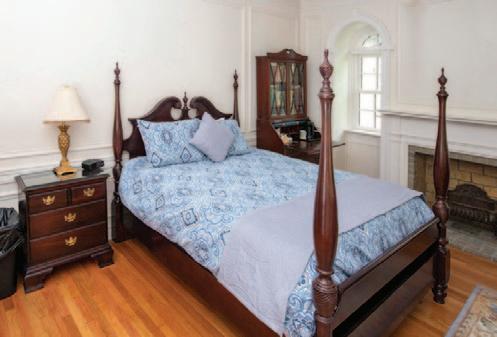 TheSurreyInn.com
.
227-8199
CONTRIBUTORS
Carol St.Sauveur Ferris, Karen Richman, Rona Mann Chandler Stevens, Lawrence White, Kirsten Ferguson, Alan Richer, Crystal Cobert Giddens, Nellie Ackerman-Vellano, Kristina Watrobski
Welcome to the October issue! We hope you're enjoying the cool fall weather and all the Halloween decorations that seem to be going up ev erywhere. October is the time for pumpkin carving, a fall hike and the smell of warm cider donuts. The leaves are thinking of turning and the switch from col d to warm beverages is in full effect.
This year's list of fall festivals is long! Ghost tours, haunted houses, corn mazes and pumpkin patches, apple picking and special events th roughout the entire Capital Region to name a few. The possibilities for fa mily outings seem endless, so many it's daunting to choose where to go.
Curl up in a warm comfy spot, maybe with a Pumpkin Latte and enjoy the October issue! As always, our goal at 518 PROFILES, is always to focus on the good, the beautiful and the positive by publishing stories with heart and soul. We strive each month to deliver authentic and un ique content about creative people and interesting destinations . Enjoy!
Founder / Publisher
Sweet Nostalgia
Old School TV... "How 'Bout That?"
LIFEspa
Springs, NY
518 Profiles LLC All rights reserved. All content of this publication including but not limited to text, graphics, and photos may not be reprinted or reproduced without written consent f rom the publisher. 518 Profiles is not held responsible for graphics or images submitted for contribution to this publication. Every issue is printed using 100% Soy based ink.
www.518PROFILES.com
42
Ayurveda and the Vata Season pg. 44
October Events pg. 47
Events throughout the Capital Region
Stephanie Sittnick
ENCORE CENTER STAGE OCTOBER 2022 North Country's Force of Nature Barbara Linell Glaser pg. 12 Empowered by Nature Painter Teri Malo Never Stops Being Inspired pg. 4 A "Destination" Restaurant Right Near Home Iron's Edge at Ballston Spa Country Club is OPEN TO THE PUBLIC! pg. 30 The Art of Espresso, The Espresso of Art And Coffee Artist, Ilona Zabolotna pg. 22 518 PROFILES 587 Grand Ave, Saratoga
12866 PUBLISHER / FOUNDER Stephanie Sittnick COPY EDITOR Elisabeth Allen WEBMASTER Tony Rivera ADVERTISING SALES Stephanie Sittnick - Director of Sales ( 860)
advertising@518mag.com
Vol 3 Issue 12
pg.
2
3 Give the gift of art Stuyvesant Plaza, Albany 518-438-8409 pearl grant richmans Shop online at www.pearlgrant.com Explore the largest variety of unique, hand crafted and one of a kind gifts in the Capital Region. 
4
Empowered by Nature
Painter Teri Malo Never Stops Being Inspired
by Rona Mann
Her office is in a busy, bustling city, yet she has no commute.
The place were she creates – her quiet place –is some 23 miles west, but she never minds the distance; rather, she embraces the solitude.
Within that busy, bustling city she shares her home with 45 other creatives and loves every minute of it.
And when the Boston Red Sox are "hot," they can all hear the cheering of the crowd and the crack of a bat as oils meet canvas.
Meet Teri Malo, artist extraordinaire who is the epitome of living the dream. Fulfilled? No, of course not because what artist of this caliber is ever fulfilled? There is always that reaching on tiptoes for the stars. To see more. To do more. To create more, and that inspiration and challenge
seem to empower Teri Malo and thoroughly color her world.
As a child, she grew up southwest of Boston in a tiny town dotted with dairy farms near the Rhode Island border. From earliest childhood she always loved to draw. "From the time I could hold paper and crayon I was at it," she laughs. But this child was also a creative and free thinker from the get-go.
"First Signs" 36 x 92 diptych oil on panel
panel
5
"In Silence" 30 x 60 oil on
"There were pieces of sheetrock around, and I found them just perfect for drawing on the driveway. When it rained and washed my work away, I just created something new. I even tried to crush stones to make paint, but that never worked," Teri added with a chuckle.
She enrolled in the Fine Arts Program at Emmanuel College in Boston and speaks with high regard of an associate professor who mentored her through out her time there. Michael Jacques, an Associate Professor in Drawing and Painting has had more than 40 one-man exhibitions with his work appearing in over 125 national art shows as well as at the Smithsonian and Boston Museum of Art. Jacques is highly regarded in his profession, and Malo considers herself extremely fortunate to have had him as both her teacher and inspiration. Even before she received a Bachelor's Degree in Studio Art from Emmanuel and an MFA in Printmaking from the University of Massachusetts at Amherst, Teri had begun her work as an artist while still in graduate school. She had been showing
"Here Comes Autumn" 30 x 36 oil on panel
"Slow Drift" 30 x 50 oil on panel
6
her work at Pucker Gallery on Newbury Street in Boston and was then hired by Bernie Pucker upon graduation to work at the gallery full time. "I was everybody's assistant, but in so doing I learned every facet of running a gallery from promotion to layouts to helping to curate shows. The experience was invaluable, and I truly believe that everyone who is serious about art should have this kind of experience."
Now married, she and her husband moved to Amherst so he could finish his education while Teri continued to pursue her printmaking interests and exhibit at galleries. While living in Amherst she created a studio in the spare bedroom and both taught and worked full time.
When the couple returned to Boston they moved into the historic Fenway Studios, a national historic landmark "built in 1905 for artists
so that they weren't tempted to move to New York," Malo said. It is the oldest purpose-built structure in the country erected after a dev astating fire claimed the work of many artists in 1904. Members of the Copley Society and the St. Botolph Club joined forces to help get it off the ground, then in 1981 a group of artists bought it, and it became a true artists' co-op. Malo and her husband moved there in 1983, and Teri is extremely active in running the co-op.
"I'm very invested in this," says Teri who points out the building's simplicity. "It's four double-stories high with big windows and is based on French studios and fosters a true sense of community." Once or twice a year the public is invited in during an Open Studio event.
"The Heart Has Its Own Reference"
diptych, oil on panels
"Everything that could be seen, and some that couldn't (aka Winter
on panel
7
36 × 80
Morning) " 30 x 60 oil
Although this place doubles as home and office, Malo maintains yet another studio in Framingham, a town just west of Boston where she both teaches and does her primary work."
Teri Malo grew up surrounded by the outdoors and thus is fascinated by nature. It inhabits her canvasses and speaks to her soul. "I approach my work by walking. I take walks over and over in the same area until I know it in depth, the "gestalt" of the place. I document my impressions with photos...many, many photos. I have thousands of photos in binders at my studios." Some of those favorite walks include time spent in the nearby Hamlen Woods and Mainstone
Farm Conservation Area where she especially loves the stark beauty of winter. All the winter ice pond series paintings come from Hamlen Woods ("I love the patterns of ice as they melt on the pond)" which has many diverse environments. Here it allows Teri to hike and photograph for hours, ultimately bringing her impressions back to the studio.
She also spends time within the seven-plus acres of the World War IIstyled Fenway Victory Gardens and also at Purgatory Chasm, a state park in Sutton, Massachusetts where the artist favors winter treks. "I am extraordinarily grateful for it all."
"Spring Reaches the Pond" 30 × 40 oil on panel
Malo describes how she approaches the work as "a collage of im pressions pieced together like the making of a quilt." She takes photos both of the distance as well as up close, and often pieces to gether parts of perhaps 10 or 12 different photos into one painting Her oil paintings of flowers explore the very heart of the blossom showing pistil and stamen and every nuance of petal. There are pondscapes and creeks, woodlands and trails, but the one thing all Malo's work has in common is a kind of simplicity and honesty, those very things she appreciates most in nature and has been able to successfully capture.
Although Teri's work defies labeling into any one specific style, she readily admits, "I tread between abstraction and realism. My goals are driven by the artwork itself, finding an interesting process for recording what I honestly see and feel, and getting the paintings out in the world," which she does constantly. Her work is shown in galleries throughout the United States, and most recently she sent a truckload of her work to a Virginia gallery for a special show.
So while Teri Malo finds solace in the forests and lakes and nature trails of Massachusetts, she finds her true joy working in the solitude of her suburban studio in Framingham. "I am fortunate to have wonderful friends and colleagues at both Fenway Studios and the Tripp Street studios in Framingham."
Malo delights in sharing living space with a passel of like-minded creatives, and yet, the artist is lost in her own world – a world where she can recreate the beauty and solitude of nature. Like her muchcher ished mentor, Michael Jacques taught so many years ago, she is recording the feelings that the images awaken, and so when she works, she is at one with nature and herself.
Without sheetrock.
View Teri's work from September 17-October 23rd at The Laffer Gallery 96 Broad St, Schuylerville, NY 12871
See a representation of Teri's body of work at: www.terimalostudio.com (617) 997-6789
"Notes from a Winter Trail - The Clearing" 36 x 42 oil on panel
"Ode to an Early Snow"
panel
30 x 50 oil on
9
10
11
North Country's Force of Nature Barbara Linell Glaser
by Lawrence White
...Sigurd F. Olson
When Barbara Linell Glaser was a young child, she experienced cataracts in both eyes. This was well before laser surgery, so the doctor had to perform the procedure old school by hand with a scalpel. Before starting the delicate operation the surgeon gently whispered into her ear, "You are going to see stars." This filled Barbara with anticipation instead of fear, and the surgery was a complete success.
Since then, Barbara has only seen the wonderful possibilities in life and ha s gone forward without fear just as she did that day as a child in surgery. Through the years her positive approach led to a list of dazzling accomplishments which is long and getting longer. The following are some of the most notable examples:
• The preservation and restoration of Camp Uncas and Camp Sagamore in the Adirondacks.
• The creation of the Clarence Petty Fellowship in conjunction with the Adirondack Council to fund eco-internships for young people.
• Pitney Meadows Community Farm in Saratoga Springs raises and distributes food to those in need.
• Guided the creation of the Youth Squared organization in Saratoga Springs with Beverly Lazar-Davis which connects young people with global problem-solving skills and positive activism.
• President, Linell Lands, Inc. a real estate company formed to preserve rural properties.
• The restoration of the magnificent Spirit of Life statue in Congress Park.
• Formed Saratoga PLAN the highly effective group that is the spearhead of ecological pro-activism, preservation, and enhancement in our area.
• The restoration of three buildings on Spring Street in Saratoga Springs including a classic brick church and a school building that have been turned into spaces for several nonprofits and an art gallery plus a lovely Saratoga-style Victorian she lived in for all these years.
• The formation of the Nordlys Foundation, which funds a variety of conservation, education, and community development projects.
•
"The Women's Global Giving Circle" convenes quarterly to research and help fund international development programs.
•
The Open Space Project that she founded in Saratoga Springs advocates for the creation of trails and other open spaces for recreational use,
•
As a vocal advocate for palliative/ hospice care, Barbara became Chairperson of the Saratoga Community Hospice Board of Directors and coordinated the creation of the Foundation for Hospices in sub-Sahara Africa.
"In the wilderness, people can find the silence and the solitude and the noncivilized surroundings that can connect them once again to their evolutionary heritage, and through an experience of the eternal mystery, can give them a sense of the sacredness of all creation."
Main House Camp Uncas
Saratoga Plan Hiking Trail
Youth Squared Ukraine Day June 4, 2022
12
Barbara Glaser
13
Through the years, Barbara as a mentor has taken several children under her wing, many of whom have gone on to have outstanding careers. She adopted a baby girl, Kimara, in 1980 who
and end up getting so much ac complished?"
Barbara responds with a hearty laugh and offers an extended explanation concerning the necessity for the right project, the right support, the right outcome, and so on. She stresses the challenge to "remain focused on the issue at hand and avoid politics because these projects affect everyone, so everyone can participate and benefit."
Of course, all of this is com pletely true and in structional but that is not the root answer. T he answer is within Barbara her self which be gins with her childhood in Minnesota and the effect it played on her love
Barbara continues, "This is why I love Pitney Meadows Community Farm. We have an active farm right next door that offers the opportunity to so many people to experience a real connection to the land and farming and taking part in inter-generational action."
Barbara accelerated her environmental advocacy after she and her first husband moved from Minnesota to the Adirondacks to restore and operate a small conference center named Camp Uncas. After learning that old Camp Sagamore (Vanderbilt estate) was up for sale she inquired about it. The restrictions to purchase the property were severe enough that it kept prominent de velopers away but was perfect for the type of nonprofit, multi-generational, ecological retreat, and study center Barbara and her husband envisioned.
became an Assistant Professor in the Pediatrics Department at the University of Minnesota Medical School.
All of this was preceded by the wonderful work Barbara accomplished in Minnesota where she remains deeply involved on the board of the American Swedish Institute in Minneapolis.
Therefore, as we meet Barbara, m y first question is, "how do you maneuver through so many political and social quagmires
for the environment. "Farming is on all sides of my family. My grandfather's family farmed in Sweden. When they immigrated to America one became a doctor, another a dentist, and my grandmother became a teacher. But in Minnesota, my step-grandfather had a farm that I dearly loved and constantly visited."
This eventually led to Barbara being asked to join the board of the Adirondack Council. While there she met and studied with noted en vironmentalist Clarence Petty and formed the highly effective Clarence Petty Internship Program in his honor.
Pitney Farm
Pitney Farm Garden Party
Bob The Scarecrow
14
Barbara's tenure on the board extended 25 years, using this pulpit to raise awareness about air pollution, particularly acid rain, and advocated for the eventual approval of the Cross-State Air Pollution Rule. She was successful in strengthening zoning and environmental regulations in the Adirondacks while at the same time expanding membership in the Council to well over 10,000.
"It isn't important if you reach the summit. What matters is how you make the climb."
Clarence Petty
In researching this piece, one story stood out as a perfect example of who Barbara is and how she creates positive endings in trying situations. When Barbara learned that a large farm in Greenfield with meadows and forest land was being set aside for subdivision and development, she formed Linell Lands Inc. After negotiations, she purchased the property while at the same time helping to preserve the neighboring Carver Farm that be came the Fossil Stone Farm and Winery.
Since the 1980s, Barbara had become friendly with flower farmer Barbara Jefts who sold her floral arrangements weekly at the farmer's market on Spring Street. Barbara ended up using Ms. Jefts floral services for all her events through the years and they formed a bond. At one point, Ms. Jefts lost her farm in family separation, and somehow Barbara heard about it. Ms. Jefts explains, "Barbara invited me to visit a piece of property in Greenfield that she had divided with hopes of attracting small businesses just starting out."
She continues, "Upfront, there were restrictions involved like the size of the house, no subdivision, and more to maintain the land's character. Then we discussed my financials. At the time I owned a cabin on a lake in the
Clarence Petty and Barbara at Sagamore
Fossil Stone Farm and Winery
The Sagamore
16
Adirondacks that I was willing to part with to move forward. Bar bara wanted to ensure that I had something with enough value to take on the responsibility and that my situation was solid before she offered this openended invitation."
"When we visited my cabin, she saw the value so we made an arrangement with a three-year window that allowed me to use the land; and after that we would revisit the arrangement to see if I were still committed to the property. It was all done with a handshake"
I ask what sort of down payment was required, and Ms. Jefts responds, "Nothing. I was able to place all my resources into my plan for the land without worrying about a mortgage. The fact is that when nobody else believed in me, Barbara did, and it changed my life."
"I invested in a greenhouse and in preparing the field. For two years I drew water from the stream with a pump. I was finally able to hook up to elec tricity and put in a well so I could continue to build on my plan and eventually pay off the property."
Currently, Ms., Jefts' business, Native Farm Flowers, is well established. She has several greenhouses, a lovely home, and a workshop on the property. She also teaches floral growing and display methods at her farm while living in security and comfort during her senior years.
"When it's over, I want to say all my life I was a bride married to amazement. I was the bridegroom, taking the world into my arms."
...Mary Oliver
As stated, Barbara makes a point to avoid politics at every turn. Yet, she has very effectively dealt with countless civic structures, bureaucracies, and personalities in the political class. For that reason, I spoke to three previous Saratoga Springs mayors to gain their impressions and insights on how it was to work with her.
Scott Johnson, Mayor 2008-2013
"Barbara is a true leader. She is the first one to roll up her sleeves and get to work. She brings out the very best in people and gets them to rally for a common purpose. She personifies the positive spirit of volunteerism and advocacy in our community."
Joanne Yepsen, Mayor 2014-2017
"Barbara is incredibly well informed and in tune with policy and public engagement. She works with all people regardless of political affiliation or position and finds common ground that others miss. The acclaim and honors she has received for her work through the years are well deserved."
Meg Kelly, Mayor 2017-2021
"Yes, Barbara has a tremendous spirit, but it is her wealth of knowledge that is her most effective tool. She is better informed and has more resources concerning preservation than anyone I know. Barbara is willing to invest in the projects she believes in and that benefits and inspires everyone around her."
In closing, I ask Barbara what she feels is the most important attribute for a preservationist/activist to have. She answers with one word, "Longevity." After a long and hearty Barbara-style laugh she adds a final comment. "If you believe in something and want to get good things done, you must stay positive and keep going."
Saratoga Plan - (518) 587-5554
Linell Lands - (518) 587-6467
Native Farm Flowers - (518) 369-8713
Adirondack Council – (518) 873-2240
Pitney Meadows Community Farm - (518) 290 - 0008
Native Farm Flowers
17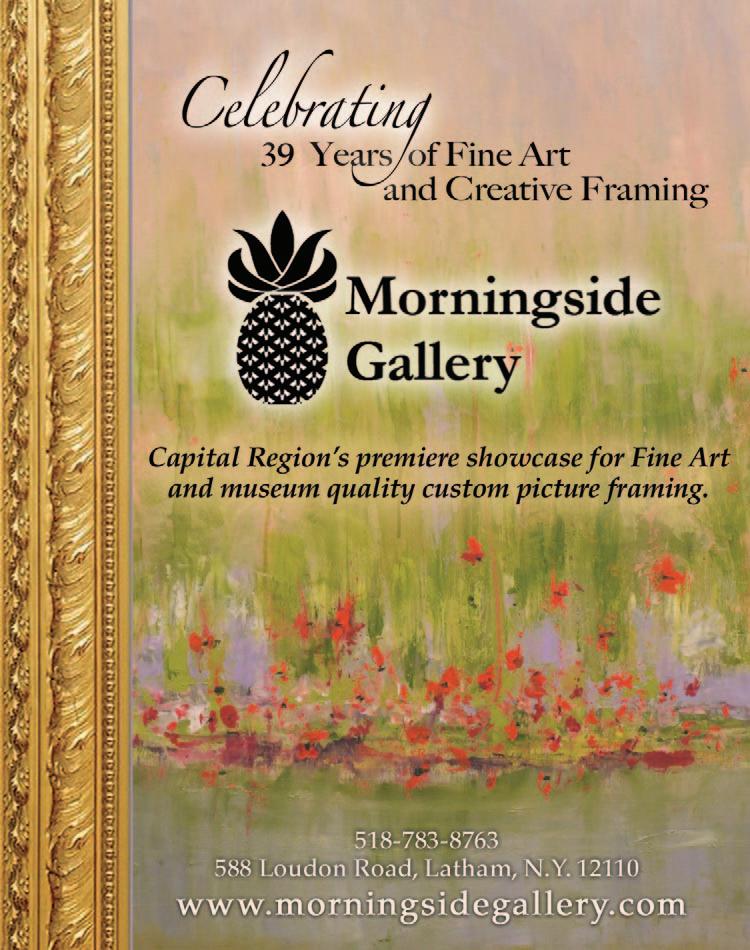 19
20
21
22
The Art of Espresso, The Espresso of Art And Coffee Artist, Ilona Zabolotna
by Rona Mann
She speaks softly, gently, but purposefully.
There is no shyness here. She is not a shrinking violet, but a veritable force of nature. Ilona Zabolotna is nothing if not resolute and driven to succeed. She knows exactly who she is and what she can do, and what she can do is posi tively amazing. So, come inside the world of this amazing fine artist and discover a medium you probably never knew existed.
A good barista will tell you that there is an artistry to making a fine cup of espresso from the selection of the right coffee beans to the temperature at which it's brewed. Former barista, Ilona Zabolotna understands espresso very well, but there was a time she did not understand English.
To begin at the beginning. Ilona had been born in Ukraine to a family of artists. She began studying as a young girl and became expert it every medium she at tempted. She earned her Master's degree in Art and admits without any braggadocio, "I can do everything." She began her career in the fine arts while still in Ukraine and exhibited her work successfully throughout the country. Then in 2011, she moved to the United States.
At the time she moved to the United States from Ukraine she settled in Ballston Spa; however, the one thing she had not mastered and needed was a command of the English language. But this is a woman of great resolve who always looks within herself to find a way. She knew she could not show her work if she couldn't speak to people ("I could not ask questions because I did not understand the
23
answer"). So she decided to get a job where there would be a lot of people all the time, where she would hear conversation day in and out, and where she could finally learn. "I knew I had to talk because that's how you learn English." All she needed was a chance.
Cliff Baum gave her that chance. He is the former owner of the highly successful cafe, Coffee Planet in Ballston Spa. He hired Zabolotna even though she couldn't speak English be cause he saw in her a drive, a deter mination, and a willingness to learn everything... and that's precisely what she did at Coffee Planet. For the next six years she learned to make coffees of all kinds, she made sandwiches, and all the while she was listening to chatter. Conversations, orders barked out from
both in front of and behind the counter, and she began to learn. "Cliff even let me decorate the cafe with some of my acrylic work, he was so good to me." In 2018 when Baum re tired and sold the business Ilona decided she wanted to give him a very special gift, "something to remember me, something that no one else could give him."
24
She decided she would give him a gift of a portrait... one that would be created using the unique and little-known art of coffee painting. Zabolotna had not attempted this before, but she knew she was a good artist who could do anything, so she began to research it and experi ment. "Coffee was always around me, so why not?" she thought. First, she chose several photographs from Cliff Baum's Facebook page and decided to use watercolor technique which essentially is wet-onwet. The brush is first dipped into water which is then brushed all over the paper, then dipped in paint, and then brushed all over the water wash. In this case, the paint is replaced by espresso, the paper by can vas. "I created my own method putting in more coffee grinds and always using fresh coffee "so it looks like it came out this way itself." For richer, darker colors she dries and bakes the brewed espresso, al ways experimenting with new processes for creating variations of color. She also concerns herself with what it must take to protect the paintings to ensure the longevity and durability of this fine artwork.
Not only was her gift a big hit and no doubt cherished by Baum, but the new owner of Coffee Planet, Kimberly Tribley, asked for an exhibi tion which was kept in the cafe for a long time. "She supported me and my art, and this was a great start for me." This led to more and more work which delighted Ilona. "At the time I had five low-income jobs to get by, and it had been three years since I had touched a pencil, but all I wanted was to do art."
25
Asked as to how coffee painting is done, Ilona gives a guarded answer. "The technique depends upon what I'm doing." She does portraits, horses, pets, whatever her clients ask of her, but portraits are her favorite. And what if too much coffee is used or it runs? Ilona is non-plussed. "I have tissue paper to absorb it if I have too much," but then she reasons, "Coffee always gives you surprises. It is like putting ceramics in a kiln. You don't always know what you'll get." But one thing is certain and Ilona is quick to state, "All my paintings are made with love and freely expressive splatter, that is why all of them are my favorites."
What people all over the Capital Region and across the country are getting is a unique art form perfected by Zabolotna even though the art of coffee painting can be dated back many centuries. Earlier, it was tea that was used in painting, primarily by the Chinese who used tea to color their paper giv ing it a sepia look. As coffee be came more widely used in Europe, the art of coffee painting moved with it. While there are not a lot of coffee artists today there are those who use the medium for ad vertising purposes, as a computer enhancement, even on stationery and personal items.
Ilona now teaches at both The Blooming Artist Gallery in Clifton Park and Art in Mind Creative Studio in Glenville where her offerings are among
26
the favorites, especially her Paint and Sip classes! She is a natural in every sense of the word. In her work, in her dedication to her art, and to her students and clients.
Since 2018 Ilona now exclusively uses coffee as her medium for fine art, and her work is much in demand. The once lonely woman new to America who felt so left out because she could not understand anyone now feels she has found her voice in this, and that voice is not only
speaking English beautifully these days but speaking through every painting she does.
Translation: Now I am happy!
Visit Ilona's website: www.art-by-ilona.com Facebook and Instagram: art-by-ilona.com You can contact her directly for any questions and orders (518) 879-0113
Тепер я знову щасливa
27
28 T H E L A F F E R G A L L E R Y . C O M 518.695.3181 | 96 Broad Street Schuylerville, NY The Laffer Gallery Poetic Transformation | September 17 - October 23 The Laffer Gallery is a contemporary fine art gallery and custom framing studio showcasing nationally and regionally recognized contemporary artists. Exhibitions ranging from realism to abstraction rotate every 4 to 6 weeks. J o h n V a n A l s t i n e | T e r i M a l o
29 Keira Lemonis Photography ENJOY FULL AND PRIVATE ACCESS TO OUR UNIQUE VENUE AND SERVICES Victorian Mansion, circa 1866  Rustic Barn  White Tented Deck  English Gardens & Boucolic Pond Le Cordon Bleu Executive Chef  Personal Event Coordinator TheMansionSaratoga.com  518.885.1607  Lori@TheMansionSaratoga.com onlyatTheMansion of Saratoga SAWICKI Photography
30
A "Destination" Restaurant Right Near Home Iron's Edge at Ballston Spa Country Club is OPEN TO THE PUBLIC!
By Chandler Stevens
When people talk about a "destination" wedding or "destination" restaurant they usually are speaking about a very special place involving a great deal of travel to get there and usually, at a great deal of expense.
Well, if you live, work, or play in the Capital Region, there's a destination restaurant awaiting your arrival without spending hours getting there and without a great deal of expense. However, once there, you may well want to spend a few hours because whether you're only having drinks and appetizers, burgers and salads, or fresh, delicious entrees, you'll want to stay awhile and savor the experience since Iron's Edge at the Ballston Spa Country Club is most definitely a "destination" restaurant. Just ask any golfer. Ask any Club member. Or ask anyone who comes back over and over and is neither golfer nor club member. They are repeat customers and come frequently. Why? It's just that good.
Yes, Iron's Edge is a destination restaurant, but "Destination" in this case does not have to mean it's necessary to travel a great distance either. Whether you're coming just 10 miles from Saratoga, 30 from Albany, 19 miles from Amsterdam, or even 26.5 miles from Glens Falls it's little more than a half hour's drive to enjoy a great experience, so why not get your money's worth? Please notice we say "experience" and not "meal." A meal is something perfunctory you eat every day or in a hurry or on the fly. A food and drink "experience" such as is offered every day by Iron's Edge is one in which everything from the ambiance of the place to the people who serve you to the very food itself is satisfying, delicious, relaxing, and memorable.
Chad Dorrough, owner of Iron's Edge along with his partner, Chris McCarthy, and talented Executive Chef, Jeremy Nichols opened the restaurant at the country club in April, but Dorrough is not new by
31
Lobster Ravioli
Caprese Spinach Salad
32
any means to the restaurant business. Along with two other partners he owns a sister restaurant, The Hideaway at the Saratoga Lake Golf Club, a wildly successful venue for great meals, parties, weddings, and banquets.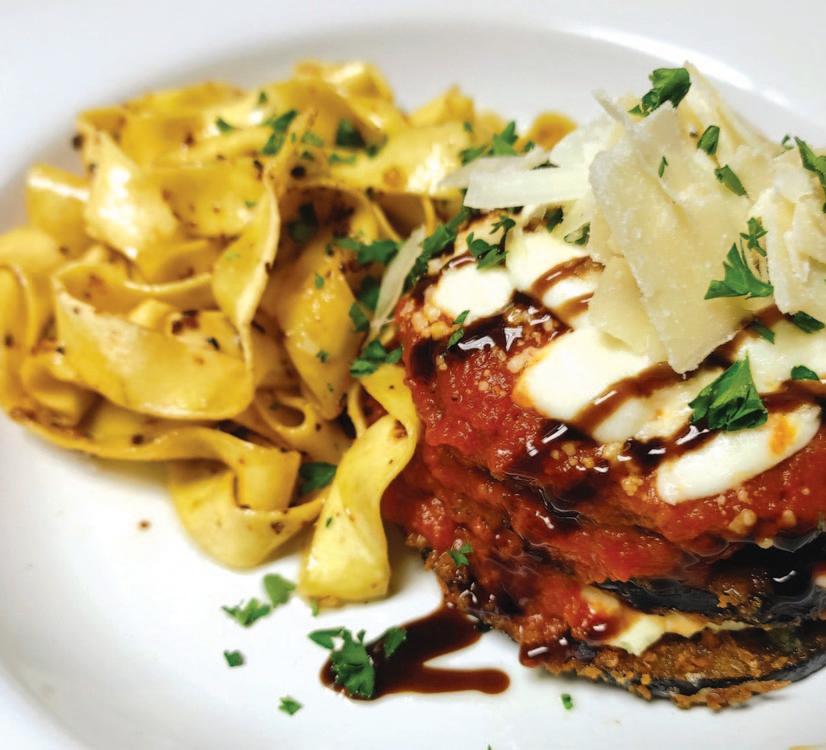 "The two restaurants have similar business models," Chad says, "and while we don't have a banquet room here, we have created a restaurant that is complimentary to the course and shares some of the more successful dishes that our Hideaway customers have made proven winners."
What Dorrough definitely wants people to know is that even though Ball ston Spa Country Club is a semi-private club owned by its large membership and only open to the public Monday through Thursday, Iron's Edge Restaurant is open 7 days a week year 'round to everyone. It
doesn't matter if you never picked up a club in your life, pick up this menu! You'll find more than 50 items on it from starters to Lite Fare, Wraps, Sandwiches, Build-Your-Own-Burgers, Soups, Salads, Entrees, 12 draft lines, creative cocktails, Sides, and signature dishes. One of the most popular not-so-coincidentally named after the restaurant itself is also one of the most popular offerings. It's the Flat Iron Steak, 12 oz. of prime beef sourced from the well-known and well-respected by those in the culinary field, Tiashoke Farms in Washington County. There are three preparations of this Flat Iron: BLACK & BLEU which pairs Cajun seasoned steak with a bleu cheese sauce; KOREAN, featuring a sweet and spicy sesame
Prime Rib
Eggplant Napoleon
33
Build-Your-Own-Burger
preparation glazed with seared shitake mushrooms; and AMERICAN, prepared with whipped garlic butter and caramelized onions. All are cooked to the diner's liking and served with your choice of potato and charred asparagus. And the price is roughly half of what other restaurants are currently charging for beef of this quality. It's one of many reasons that the Iron's Edge is gaining in popularity every day. Here are just a few more.
While many restaurants feature nachos and wings, and so does Iron's Edge, there are other inventive and mouth-watering Starters that beg to be tried with a beverage. Like Buffalo Rangoons incorporating shredded Buffalo chicken in a wonton wrapper blended with a combination of bleu and cream cheese and Buffalo sauce, then fried golden brown, topped with more Buffalo sauce and bleu cheese crumbles, then finished with bleu cheese dressing. You can bet there'll be a whole party going on in your mouth!
How about a famous Tater Tot Bowl? Either the Reuben with slow-roasted corned beef, Swiss cheese, and Russian; Tot-Chos which substitute tots for nacho chips and add queso, lettuce, tomato, jalapeno, and either chicken or pulled pork; or Loaded, which is absolutely loaded with queso, crispy bacon, sour cream, and scallions. Now that's a destination special!
There are those "predictable" delights as well for the discriminate diner who want their triple-decker club to be the club they've always craved as well as Cobb Salads, Build-Your-Own-Burgers, and more, but each has that little "extra," that little twist or a seasoning or a topping that just makes good, great!
Chad Dorrough said, "We wanted to create a place open 7 days, open all year, a place with a full bar and TVs, a place that had apps to sandwiches, salads, burgers, and entrees, and a place that was different." It appears that Iron's Edge is that place, giving people variety, comfortable old flavors, new flavors, a place to kick back, relax, and be with people that make you feel good, and enjoy food that tastes good. Kind of like going on a "destination vacation" except in this case it's just around the corner or up the Northway, or a short trip down Rt. 67.
What does the future hold for Dorrough? He's tight-lipped, but teases, "There's another expansion on the radar, probably in 2023."
In the meantime, Iron's Edge will quickly become your hometown bar and restaurant because even if Ballston Spa is not your hometown, Iron's Edge will soon become your destination. You won't need a passport, you won't need a map, you won't even need a full tank of gas. All you will need is an appetite...an appetite for good food consistently well made, an appetite for a well-constructed cocktail, a glass of wine, or a great beer, an appetite for friends, fun, good conversation all in one beautiful setting, and a place you can rely on time after time to never deliver a meal, but an experience.
So, who's hungry for a destination?
Iron's Edge is at Ballston spa Country Club, 1366 Amsterdam RoadNY-67 in Ballston Spa. www.ironsedgeny.com (518) 602-9995
Buffalo Rangoons
Flat Iron Steak "American Style"
35
Tater Tot Bowl
36
37
38
39
40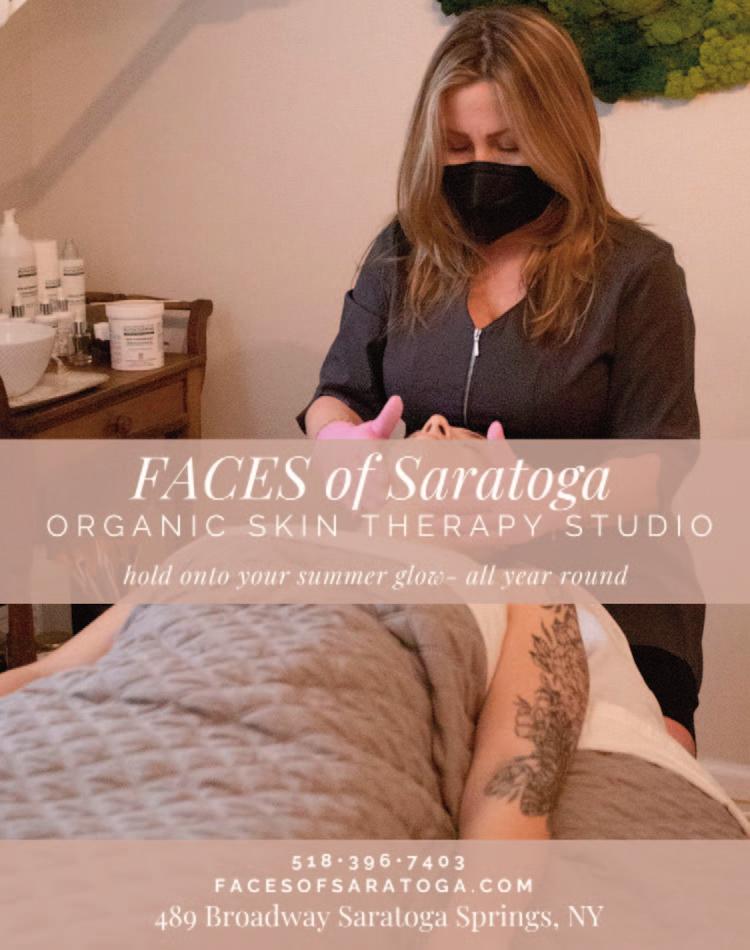 41 freshdonuts & friedchicken be sure to check out our seasonal creations on facebook @518DONUTSTROY our FRIED chicken is fresh, never frozen, non-gmo & 100% gluten free OUR TROY STORE IS NOW OPEN! 518donuts.com 518donuts.com (518) 93-DONUT 518Donuts 518MagAd indd 1 8/4/22 9:42 AM
by Karen Richman
In the 1950s, situation comedies, or sitcoms as we've come to know them, were all the rage on television. Nightly, America could sit down after dinner (in those days no one watched TV while they were eating, heaven forbid!) and feel comfortable watching Father Knows Best, Leave it to Beaver, The Donna Reed Show, or the fan favorite I Love Lucy to watch Lucy, coerce Ethel until she joined her in the zany plot of the week. Ralph Kramden would lose his cool and pretend to "bang, zoom!" send Alice to the moon with his closed fist on The Honeymooners. No one complained back then about implied domestic vio lence. They knew Ralph was a big softie, so they just laughed. They laughed every week at him, and at all the others that were welcome friends, members of the family. People they could count on to be in their living rooms week after week. Here we met on a weekly basis good, church-going, hard-working families with 2.3 children who dressed for dinner, never seemed to have a blemish, and never sweated even when it was hot.
One of those shows was The Adventures of Ozzie and Harriet which ran an astounding 14 seasons from 1952 through 1966. The show had actually begun in the '40s with just Ozzie and Harriet, he a bandleader and she a band singer and his wife in real life. Their nuclear TV unit was comprised of father Ozzie, his wife, Harriet, and their two sons, David and Ricky. Originally, the boys were too young to act on television, so their parts were played by actors, but at ages 12 and 8 they finally joined their parents onscreen. Harriet was the typical
housewife, complete with shirtwaist dress and every hair glued in place with Aqua Net. David was the older of the two boys, a good-looking, strapping young man. His kid brother, goofy Ricky, had a voice that
42
cracked at the end of nearly every sentence, yet he later went on to be a famous rock-'n-roller and teen heartthrob, Rick Nelson.
No one ever knew what Ozzie actually did on the TV show. He was not a doctor like Alex Stone on The Donna Reed Show, nor an insurance salesman like Jim Anderson on Father Knows Best. But he was always home, talking to the audience through the fourth wall of the camera, and one of his most annoying expressions was, "How 'bout that?" He uttered it so often and for really no reason, that his sons picked it up and the three of them would drone on with, "How 'bout that, Rick?" "How 'bout that Dad?' "How 'bout that, David?" Annoying as it was, it became a kind of signature for the program, and people across the USA would intone it at their workplaces, in social situations, or in school.
Those were the simple years, alright when we thought every problem could be solved in 22 minutes, and they were. No one mentioned drugs because we barely knew they existed; a time when the only tattoos you ever saw were on sailors, when children respected their parents, and when simple values were the only values.
There isn't one of those sitcoms that would make it off the network drawing board today. The dialogue would be perceived as corny, the people too white-bread, and with little or no diversity in the casts. The situations would be labeled banal, the plots predictable, yet those shows not only made it, they shaped a generation or two. They gave kids like me something to emulate, they reinforced the idea of respecting elders, of working hard, and saving money in order to buy the model car or
pretty dress for the prom. They instilled values that really were decent and solid and which I still hold today.
With few exceptions, today's sitcoms are not as memorable. They bang them out of Hollywood sound stages with little plot, populated with young actors with lots of cleavage, torn jeans, and little talent. Families don't watch TV together much anymore because we're all too busy ru n ning to our activities and events. Dinner is eaten on the run and usually not with the whole family at the table. It's probably safe to say Mom is not wearing a shirtwaist dress when she brings the Uber Eats delivery to the table because her job doesn't allow her to be home all day making from-scratch meals.
Dad is certainly not sitting there in a tie and jacket, and the art of conversation is drowned out by the Smart TV droning on with whatever you're trying to binge watch. Your "David" might have a late soccer practice and "Ricky" might have grabbed a Hot Pocket before heading for band.
It's not bad, it's not wrong, it's just how we evolved for better or worse. But looking back over my shoulder at the days of black and white sitcoms with simple, perfect people uttering simple lines, I kind of miss them all. Don't you?
How 'bout that?
43
44
Ayurveda is yoga's little sister. Estimated to be over five thousand years old, Ayurvedic medicine teaches us to see the world, and ourselves, as it relates to the elements ~ or doshas ~ of vata, pitta, and kapha.
The name Ayurveda is derived from two words in Sanskrit, ayuh = life or longevity and veda = science or sacred knowledge. So, in essence, it means the sacred knowledge of life, or the science of longevity.
Ayurveda encourages us to be an active participant in our own journey towards healing. It can help us figure out what our bodies need, sync up to our true nature and maintain balance.
Ayurveda recognizes five elements as the fundamental building blocks of nature:
• Earth • Water • Fire • Air • Ether
Ayurveda also identifies twenty qualities that can be used to describe every substance or experience. Examples are:
• Heavy/Light • Cold/Hot • Soft/Hard
• Oily/Dry • Smooth/Rough
These qualities are essential to understanding the principles that like in creases like and that opposites create balance.
For example, a person who tends to get cold easily, that lives in a naturally cold climate, in the middle of winter…will be really cold and uncomfortable. The remedy? Heat ~ in the form of warming foods, heating spices, hot drinks and warm clothes.
The Doshas and Vata Season
There are three doshas: vata, pitta and kapha. These doshas can be identified in various seasons, climates, plants, humans, and animals.
The fall, otherwise known as Vata season, is a time of transition. Many trees and shrubs are quietly undressing in preparation for the winter with brilliant orange, reds, and yellows. There is a subtle browning of the earth. Temperatures have dropped and are giving way to the tell tale crispness of autumn. Some characteristics include being cool, dry, rough, windy and erratic.
How do you know your dosha? Well, there are many free Ayurvedic tests available online to help you figure out your constitution or make up. It may feel a little overwhelming at first but the beauty of the Ayurvedic approach is that it can offer an illuminated path to improved wellness and vitality. In order to be fully prepared for the upcoming Vata season, it's important to understand vata's characteristics and how it affects us. Studying Ayurveda helps us understand the elements of nature while practicing Ayurveda helps us find ways to integrate and benefit from those elements for our health and well being.
The indications of the beginning of the Vata season include:
• Dry, cold air
• The earth element begins to dry up and becomes harder and harsher
• Intestinal issues, aches and pains in the joints, exhaustion, colds and flu, and allergies are all on the rise
• Decreased Immunity
• Increased agitation
Vata, or air, represents the ethereal energy of our being. Vata regulates the movement of air in and out of our lungs, and affects the flow of water in our bodies. Therefore, when Vata is imbalanced or aggravated, it could lead to several problems like dry skin, unpleasant body odors or breath, mood swings and an overall feeling of being unwell or feeling fatigued.
It is essential to make sure that Vata, or the air element, remains in balance. In harmony. Here are a few simple Ayurvedic remedies you can try this season to help keep yourself balanced.
Simple Rituals During the Vata Season
Vata doshas can just go, go, go until they crash. Here are ways to help keep yourself balanced:
•. Try to keep your sleep routine consistent and wake and sleep around the same time every morning and night.
• Plan time for exercise, but also for rest and relaxation.
• Keep warm and drink warm liquids. Eat foods that are fully cooked and nourishing. Time to skip the salads and go for the sautéd root veggies and fall greens instead. Soups, stews and heartier foods will help.
• Have you heard of tongue scraping? Try this once in the morning and again at night, after you floss and brush your teeth. It not only refreshes the tongue but also removes toxins accumulated in its surface. I promise…your breath will be fresher, your food will taste better and your kisses will be sweeter.
45
46
October 25 Clifton Park
The Blooming Artist Gallery warmly welcomes you to experience our upcoming exhibition: Holiday Salon Premiers October 25th. The Blooming Artist Gallery 675 Grooms Rd, Clifton Park, NY. www.thebloomingartist.gallery 518-280-4928
October 1- 8 Delmar
Local Art Exhibit and Sale. A view of our local artists' interpretations of "FOR THE SAKE OF BEAUTY", worked within the confines of a 5"x7" original, all mediums. September 9October 8 at Merriman and Pfister's Marketplace, 388 Kenwood Ave, Delmar 518-588-7268
www.merrimanpfister.com
October 1 - Nov 20 Troy
Kathy Klompas River Fragments and Lou Snitkoff photography. For a decade Kathy Klompas has been documenting the detritus below the Harmony Mills at Cohoes Falls, NY. The images influence her work in monotype, other print making techniques and digital ma nipulation. Lou Snitkoff Fog, Photographs. Opening reception, October 28th.Pause Gallery, 501 Broadway #106, Troy, NY
OCTOBER EVENTS
October 1 November 2
Solo Exhibit by Artist Victoria van der Laan: Remembered Geometries. Remembered Geometries presents works based on traditional housetop quilt patterns. The technical use of fabrics and thread, color, line, and texture co ntributes to the overall complexity and magnetism of the exhibit. Van der Laan shares her craft with brilliant sophisticated simplicity. In addition to the tradi tional sales, van der Laan presents "Pay What You Wish". She says, "These works are 8" x 8" stretched gallery wrapped textile sketches offered at whatever price feels good to the buyer, no floor, no ceiling. The intention of this project is to promote equitable access to art and to cultivate a spirit of generosity." Spring Street Gallery, 110 Spring Street, Saratoga Springs, NY 12866. Gallery Hours starting Wednesday, Thursday 11 am - 1 pm or by appointment.
October 1 - 29 Lake George Quilting in the Age of the Pandemic. Quilting in the Age of the Pandemic: Susie Brandt and The MICA Quilt Raffle Group. The MICA Quilt Raffle Group originated in 2015 at Maryland Institute College of Art (MICA), founded by Fiber Art Department faculty member Susie Brandt. Brandt organized a weekly gathering of students, staff, faculty, and alumni to work to gether on quilts that were eventually raffled to help fund student scholarships at the college.
October 1 - 25 Cambridge
October 1 Albany
Join the #CapitalWalls Team at 11am for a bike tour via CDPHP Cycle! Bikes of the "hidden treasures" of Albany. The tours are an opportunity to explore the vibrant #CapitalWalls murals in downtown Albany with insights from guest artists, program coordinators & curators, peers, and go for a fun guided bike tour all the while. Register via Eventbrite found on social media or website. Albany Center Gallery, 488 Broad way, Suite 107, Albany, NY 12207. 518.462.4775
Uncultivated is a series of macro botanical photographs of plants commonly considered to be "invasive" here in the Northeastern United States. In many ways this work is a coming together of my experiences in pho tography, conservation, herbalism, and deep ecology. These plants are vilified for the changes they produce within the landscape and local ecology. Terms like "invasive" or "weed" or "non native" and even "oppor tunistic" hold such negative connotations that suggest these plants provide little beyond the detrimental impacts of displacing that which is more desirable often the cultivated.
Opening reception Saturday, October 1, 3-5 pm. Gallery hours at VAM are Wednesday - Sunday 10 am - 5 pm. For more information, please call Valley Artisans Market at 518-677-2765. 25 East Main Street (Rte 372) Cambridge, NY 12816. The public is invited!
In 2017, their group expanded to include members of the African American Quilters of Baltimore. When the pandemic hit in March 2020, Brandt found herself teaching remotely from Lake Luzerne, NY. That May she used the tools she'd learned teaching online to reassemble the group. She posted step by step tutorials and other resources on a website, and distributed materials and tools via USPS. Members mailed finished hand-stitched quilt blocks to Brandt in Lake Luzerne, where she assembled the quilts.Oct 5 at 6 pm: Join us HERE for a Live Zoom Talk with Susie Brandt and participating artists. Lake George Arts Project, Old County Courthouse 1 Amherst Street, Lake George
October 1 - 21 Troy
Clement Art Gallery is happy to an nounce show No. 7 featuring the ceramic sculptures of Cheryl Horning and the intimate still life photos of Jill Baucom. September 27 - October 21. Reception Friday September 30, 6-8pm Clement Art Gallery, 201 Broadway, Troy, NY 12180. 518.272.6811 @clementarttroy
October 6 Saratoga Springs
H.O.P.E. 20 Year Anniversary Gala. The 2022 Annual H.O.P.E. Gala will be celebrating 20 years of helping people and pets find each other! It is at the spectacular Saratoga National and will include fantastic food, a wonderful silent auction, live auction, raffles, wine pull, and more! Dinner and dessert, along with wine, beer and non alcoholic beverages are included in the ticket price $100. Hosted By: The Saratoga National Golf Club. Thursday, Oct 6, 2022 6:30 PM to 10:00 PM at Saratoga National Golf Club, 458 Union Ave. Saratoga Springs, NY 12866
47
OCTOBER EVENTS
October 7-9 Lake George
Annual Lake George Oktoberfest & Fall Festival
Join us for the Lake George Village Oktoberfest and Fall Festival on Columbus Day Weekend on Canada Street across from Shepard Park! The heart of Lake George is transformed into a Bavarian-style street fair as we celebrate the arrival of Fall in the Adirondacks. Friday, Oct 7, 2022 until Sunday, Oct 9, 2022. Lake George Village, Canada Street & Shepard Park Lake George, NY 12845. Cost: FREE ADMISSION. See a list of vendors and more info: https://lakegeorgeoktoberfest.com/lake-george-octoberfest/
October 8 Saratoga Springs
2022 Saratoga International Flavorfeast. Flavorfeast is BACK after a two-year COVID hiatus! We invite you to take a culinary trip around the world at the Seventh Annual Saratoga International Flavorfeast. On Saturday, October 8th from 11am to 4pm you can enjoy an In ternational tasting experience in Saratoga Springs! The Saratoga International Flavorfeast is a celebration of the worldly culinary styles that give this area its unique flair. It presents a feast for the senses and reflects the multicultural diversity of the Region. And it's held in the heart of Saratoga Springs. Saturday, Oct 8, 2022 11:00 AM to 4:00 PM. Downtown Saratoga Springs, 413 Broadway Saratoga Springs, NY 12866
October 8 Glens Falls
A Night in HollyWOOD. Join us as we transform the Wood Theater into HollyWOOD for one night only to benefit the Wood! Featuring themed entertainment and food on the Venice Beach Boardwalk, Holly wood Boulevard, The Hollywood Bowl & More! All tickets include unlimited access to gourmet offerings at several different food stations as well as access to the evening's multiple forms of entertainment in our multiple venues within the theater. Showing additional support by purchasing a Celebrity Club ticket will get your name(s) on a Star in HollyWOOD Boulevard AND we'll reserve you the seat of your choice for the Main Stage concert portion of the evening! Enter tainment begins at 6:00PM. 207 Glen Street, Glens Falls, NY Box Office:(518) 480-4878. Us:boxoffice@woodtheater.org
October 8 Saratoga Springs
An Evening with Bettye Lavette. An R&B diva with a sharp, distinctive vocal style that balances passion, ferocity, and confidence. Five time Grammy nominee Bettye LaVette is no mere singer. She is an interpreter of the highest order. Lavette is one of very few of her contemporaries who was recording during the birth of soul music in the 60s and is still creating vital recordings today. Sat, October 8, 2022, 8:00 PM EDT. $36.11 – $71.16. Doors at 7:30 PM Caffe Lena, 47 Phila Street, Saratoga Springs, NY 12866
October 9 Troy
Taylor Tomlinson: The Have It All Tour. Comedian Taylor Tomlinson "demonstrates tight joke writing, carefully honed act-outs and a ruthless appetite for laughs" Taylor Tomlinson announced today she will play a second show at Troy Savings Bank Music Hall on Sunday, October 9 at 9:30pm. The Have It All Tour quickly sold out the 7pm performance. Tickets to the 9:30 show go on sale to the public on Friday,
October 9 Saratoga Springs
Hot Club of Cowtown. A hot jazz band with a global reputation for jaw-dropping virtuosity and unforgettable live shows. Lauded for its "down-home melodies and exuberant improvisation" (The Times, London), the Hot Club has always woven a combination of seemingly disparate styles together to its own magical effect, setting up camp "at that crossroads where country meets jazz and chases the blues away" Sun, October 9, 2022, 7:00 PM EDT Doors at 6:30 PM. Caffe Lena, 47 Phila Street, Saratoga Springs, NY 12866
October 11 - November 12 Albany
Albany Center Gallery (ACG) presents Ecosystems, featuring the work of 6 regional artists: Jay Lalonde, Stephen Mallon, Maeve McCool, Charlotte Schulz, Kathleen Vance, and Carolyn Watson. An Artists' Reception will be held on Friday, October 14, 2022, from 5 - 8 p.m. Ecosystems is free and open to the public; Tuesday – Saturday, Noon – 5 p.m. Ecosystems includes work that considers how human disturbances affect the evolu tions of the ecosystems they touch, and how ecologies bear the brunt of unsustainable human practices. Albany Cen ter Gallery, 488 Broadway, Suite 107, Albany, NY 12207. 518.462.4775
October 21 Glens Falls
The Park Theater Foundation 2022 Gala October 21 @ 6:00 pm - 8:00 pm $99. Join us for the inaugural gala of The Park Theater Foundation! Our first annual fundraiser will feature raffles, a silent auction, lite fare (provided by Doc's Restaurant | Park Street Hospi tality), and live entertainment in support of our 2023 arts education programming. Live entertainment will be provided by the Tyler Giroux Jazz Trio. 518.792.1150.The Park Theater 14 Park Street, Glens Falls, NY 12801
October 28 Glens Falls
Comedy After Dark: Chris Roach @ 8:00 pm - 10:00 pm $22 – $25 Chris Roach is a Comedian/Actor born and raised in New York. He has brought his unique sense of humor to some of the biggest and best-known stages in the country, such as Gotham Comedy Club, Comic Strip Live NYC, The Bor gata in Atlantic City and The Para mount in Huntington, NY. He recently toured as the opening act on Kevin James' 2021 tour all over the Northeast. 518.792.1150.The Park Theater 14 Park Street, Glens Falls, NY
The Laffer Gallery
October 29 - November 27
Schuylerville
10th Annual Upstate In vitational. Opening Reception: Please joins us Saturday October 29th from 5pm – 8pm to view this dynamic exhibition featuring the work of Emily Prosper, Deb Hall and Linda Bacon. Last years "Best in Show" recipients from The Laffer Gallery's 10th Annual Upstate Artists Juried Group Show, juried by Richard & Stephen Cutting-Miller. The Laffer Gallery, 96 Broad St, Schuylerville, NY 12871. www.thelaffergallery.com
10:00am
48
August 19, 2022 at
local. TROY SAVINGS BANK MUSIC HALL