COFFEE AND COMMUNITY
HAVE GRAIN, WILL TRAVEL
SWEET HOME ALGONA
FALL 2023
Welcome
IN THE FALL ISSUE OF FRESH PICKINGS MAGAZINE, YOU'LL FIND STORIES THAT CELEBRATE THE INCREDIBLE FOOD, FARMS AND FAMILIES THAT MAKE IOWA A SPECIAL PLACE TO LIVE.
THIS QUARTERLY PUBLICATION IS BROUGHT TO YOU BY THE IOWA FOOD & FAMILY PROJECT. WE ARE AN INITIATIVE THAT INVITES IOWANS TO EXPLORE HOW FOOD IS GROWN AND RAISED AROUND THE STATE AND MEET THE FARMERS WHO MAKE IT HAPPEN; 24/7, 365 DAYS A YEAR.
WE NETWORK WITH NEARLY 35 FOOD, FARMING AND HEALTHY LIVING ORGANIZATIONS THAT ARE PROUD OF IOWA'S HOMEGROWN FOODS AND HOMETOWN VALUES. YOU CAN LEARN MORE ABOUT OUR PARTNERS ON PAGE 5.
Features
14
SIGNIFICANT
SOY FOOD BENEFITS
Learn how adding soy foods into an everyday diet can benefit people young and old, and discover a new recipe to try.
18
SWEET HOME ALGONA
Discover how agriculture has shaped this charming and historically rich community, nestled in the heart of Kossuth County.
24
HAVE GRAIN, WILL TRAVEL
Once harvest is over, Iowa's crops go on an adventure. Find out where corn and soybeans end up and how they're turned into other products.
30
COFFEE AND COMMUNITY
Located along University Boulevard in Ames, just south of Highway 30, The Filling Station delivers more than the ordinary roadside stop.
36
STREAMING SERVICE
Can tiny fish point the way to better drinking water in Des Moines?
Yes, thanks to restored oxbows in rural Iowa.
2 | FRESH PICKINGS MAGAZINE 30 24
IOWAFOODANDFAMILY.COM | 3 FALL 2023 | ISSUE NO. 19 In Every Issue 40 ON THE COVER A young boy enjoys a pulled pork sandwich and fries at The Filling Station, a fourth-generation family-owned-andoperated business located in Ames. 7 EDITOR'S NOTE COOL TO BE KIND 8 FAMILY TABLE MAKE MERRY WITH DAIRY 11 HEALTHY BITES PACK THE PERFECT LUNCH 12 POINT OF INTEREST BACKBONE STATE PARK 48 FRESH PICKED FARMING IS FAMILY
clean
skillet meals
Iowa proteins
flavor-
ingredients.
'Q
pork ribs.
40 SIMPLE SKILLET MEALS Enjoy the benefit of fewer dishes to
with
that celebrate
paired with
packed
44 RIGHT ON
Iowa icon Speed Herrig of Wall Lake dishes on farming, food and fun. Plus, learn how to cook ridiculously good
Yeah, our highway
full
And we're proud of it.
Iowans understand the endless potential growing in these fields. Corn is renewable fuel, nutritious livestock feed, delicious food and is used in 4,000 everyday products we rely on.
Corn grows all this and more. Corn Grows Iowa.
Scan the code to join the Iowa Corn Fan Base.
Iowa Corn is a farmer driven organization working to unlock the potential of corn in a sustainable manner to meet local and global needs for food and energy while building long-term Iowa corn farmer profitability.
views are
of corn.
iowacorn.org/corngrowsiowa
BROUGHT TO YOU BY THE IOWA FOOD & FAMILY PROJECT
FRESH PICKINGS
MAGAZINE EDITOR
LYDIA ZERBY
PHOTOGRAPHER
JOCLYN BUSHMAN
DESIGNER
BRIANNA SCHECHINGER
WRITER
JOSEPH HOPPER
CONTRIBUTORS
APRIL PEARSON
April Pearson Creative
CRISTEN CLARK
Food & Swine
DARCY DOUGHERTY MAULSBY
Darcy Maulsby & Co.
HALEY BANWART
Farm Roots & Chore Boots
KELSEY RITCHEY
Wixted & Company
KERRI BELL CommonGround Iowa
MARK MESSINA
Nutrition Matters, Inc.
IOWA FOOD & FAMILY PROJECT
FOUNDERS
Iowa Soybean Association
Iowa Beef Industry Council
Iowa Pork Producers Association
Midwest Dairy
Iowa Corn Growers Association
Iowa Poultry Association
Iowa Egg Council
Iowa Turkey Federation
The Soyfoods Council
SUPPORTERS
Anderson Erickson Dairy
Cargill
Cookies Food Products
Corteva Agriscience
Earl May Garden Centers
Farm Credit Services of America
Heart of America Group
Hy-Vee
Iowa Grocery Industry Association
Iowa Machine Shed Restaurant
Iowa State Fair
Key Cooperative
Latham Hi-Tech Seeds
Live Healthy Iowa Subway
REQUEST YOUR MAILED SUBSCRIPTION AT IOWAFOODANDFAMILY.COM/MAGAZINE/SUBSCRIBE
Thank you to the Iowa Soybean Association, Iowa Beef Industry Council, Iowa Pork Producers Association, Midwest Dairy, Iowa Corn Growers Association, Iowa Egg Council, Iowa Turkey Federation, Farm Credit Services of America, Cargill, Corteva Agriscience, Key Cooperative, Latham Hi-Tech Seeds, Live Healthy Iowa and Earl May for the financial investment that makes this publication possible.
Fresh Pickings is published four times a year by: Iowa Soybean Association, 1255 SW Prairie Trail Parkway, Ankeny, Iowa 50023
For advertising information, complete the form at iowafoodandfamily.com/magazine/feedback
Advertising space reservations must be made through the above form. In consideration of the acceptance of the advertisement, the agency and advertiser must, in respect of the contents of the advertisement, indemnify and save the publisher harmless against any expense arising from claims or actions against the publisher because of the publication of the content of the advertisement.
Comments: iowafoodandfamily.com/magazine/feedback
IOWAFOODANDFAMILY.COM | 5
Presented by Produced by 8 AM – NOON Historic Court District Des Moines, Iowa Saturdays in October @ Hy-v Ha desmoinesfarmersmarket.com Winter Farmers' Market Nov. 17 - 19
Cool to Be Kind
kind is a constant theme in my interactions. You never know when you'll need a reference, resource or helping hand, and farmers seem to understand that better than most.
We recently featured Farm Rescue, a non-profit organization that provides assistance to farmers experiencing a major illness, injury or natural disaster. The kindness of the volunteers who give their time and talents to ensure farmers have a chance to continue their livelihoods is inspiring.
Farmers and those in the ag industry also work daily to show kindness to the soil, water and air. Respecting and protecting these natural resources ensure that future generations will receive the benefits of soil full of essential nutrients, water free from unnecessary chemicals and clean air to breathe.
Bob
Raising children is both a responsibility and an opportunity. Between activities, school, birthday parties and everyday grocery trips, there's no shortage of chances for growth and learning. And not just in academics, but in how to be a person who offers help and encourages others.
When I talk to adults about my children, whether it's teachers or family or friends, I hope that — more than anything — they're recognized as being kind to others. Of course, academics and gaining new skills are important too, but having a kind heart will always be in style.
Building relationships with individuals in the agriculture community, I see how being
In this issue, learn how restored oxbows improve water quality, take a trip to a rural community where kindness is displayed daily, meet a family who has redefined what a convenience store can be and go behind the scenes with Iowa's beloved unofficial barbecue promoter.
As my children grow older, I will continue to instill in them the importance of being kind and treating others the way they want to be treated. I hope they realize this virtue will continue to serve them well. Children are often asked what they want to be when they grow up. I offer them this advice: In a world where you can be anything, be kind.
Enjoy the issue,
WIN TWO GLASS FOOD-STORAGE SETS , one 30-piece set for you and one to give to a friend . Enter to win at iowafoodandfamily.com/contest/foodstorage
IOWAFOODANDFAMILY.COM | 7
editor's note
"UNEXPECTED KINDNESS IS THE MOST POWERFUL, LEAST COSTLY AND MOST UNDERRATED AGENT OF HUMAN CHANGE."
Kerrey, former governor of Nebraska
Cristen Clark is a pig farmer, creator of the Food & Swine blog, and an award-winning baker and cook. She lives on a farm near Runnells with her husband Mike and children Halle and Barrett.
Make Merry with Dairy
THIS DELECTABLE LEMON DESSERT WILL BRIGHTEN YOUR HOLIDAY TABLE
By Cristen Clark
The thought of a non-traditional spread over the holidays is exciting to me. In the past, my family has prepared barbecue for Thanksgiving and seafood or lasagna for Christmas. These meals are fun because they encourage creativity, and everyone tries new recipes. There's always a celebration that showcases the standard fare for each holiday, but in my book, challenging tradition is fun and lends a little excitement.
I'm the type of person who rarely watches the same movie twice, and my cooking and baking odysseys reflect that, as well. It takes a really good recipe to make my book. Those types of recipes usually come from family and friends, or trial and error in my own kitchen. Once in a while, an internet search will reveal something I want to try.
The dessert table is one of great pride at any holiday event. There, you will find treasured family heirloom recipes of pies, cakes and cookies. I love to challenge tradition and bring something outside of the standard pumpkin, pecan or apple pies. Plus, anything with a citrus kick reminds me of my grandma and her love of all things citrus during the holidays.
Holiday cooking and baking are better when using Iowa dairy products, and here are some tips!
• Milk fat makes gluten bond together more effectively, making baked bread and pastry products fluffy and tender. I use milk or buttermilk in most of my sweet roll dough and pastry for this reason.
• Shredded cheese from a block melts more smoothly than shredded cheese from a bag, which has ingredients that interfere with creaminess.
• Butter in pie crust is best for flavor but also helps the texture. The water in the butter evaporates as the crust cooks, creating steam pockets that make tiny flaky layers.
• Adding 2 teaspoons of full-fat sour cream to 1 cup of heavy cream will help stabilize whipped cream — keeping it stiff and less likely to weep. When whipping the cream, be sure the bowl, beaters and cream are ultra-chilled for best results.
Lemon mousse is a light, bright bite that's welcome after a big holiday meal. I love this dessert because it's tangy and rich, but also because it's easy to scale. Use smaller ramekins or antique sherbet glasses for smaller serving sizes.
8 | FRESH PICKINGS MAGAZINE
family table
Lemon Mousse Desserts
• 1 cup granulated sugar
• Zest of 1 lemon
• ¼ cup cornstarch
• 2½ cups whole milk
• 6 egg yolks
• ½ cup freshly squeezed lemon juice (2-3 lemons)
• 1/8 teaspoon salt
• 2 cups heavy cream
• 1/3 cup powdered sugar
• 1 tablespoon plus 1 teaspoon
sour cream
• 1 teaspoon vanilla extract
In a medium saucepan, rub sugar and zest together to perfume the sugar with the zest's essential oils. Add
cornstarch to saucepan and whisk well. Then add milk, egg yolks, lemon juice and salt to saucepan.
cornstarch to saucepan and whisk well. Then add milk, egg yolks, lemon juice and salt to saucepan.
Whisk almost constantly over medium heat, then switch to a silicone spatula and stir so the pudding doesn't stick to sides of saucepan. Cook for about 6-8 minutes, until it comes to a boil. Remove from heat. It should be thick and glossy.
Wisk almost constantly over medium heat, then switch to a silicone spatula and stir so the pudding doesn't stick to sides of saucepan. Cook for about 6-8 minutes, until it comes to a boil. Remove from heat. It should be thick and glossy.
Pour pudding through a fine mesh strainer into a mixing bowl to remove any small lumps, if desired.
Pour pudding through a fine mesh strainer into a mixing bowl to remove any small lumps, if desired.
Cover with plastic wrap, gently pressing the plastic directly
Cover with plastic wrap, gently pressing the plastic directly
onto the pudding so no skin forms. Refrigerate for 3-4 hours, until pudding is well chilled.
onto the pudding so no skin forms. Refrigerate for 3-4 hours, until pudding is well chilled.
To make the mousse, whip heavy cream, powdered sugar, sour cream and vanilla extract together until stiff peaks form. Gently fold 2/3 of the whipped cream into pudding base. Scoop into individual serving dishes and top with reserved whipped cream and lemon slices for garnish.
To make the mousse, whip heavy cream, powdered sugar, sour cream and vanilla extract together until stiff peaks form. Gently fold 2/3 of the whipped cream into pudding base. Scoop into individual serving dishes and top with reserved whipped cream and lemon slices for garnish.
Alternatively, this mixture can be added to a prepared pie crust and topped with whipped cream for an easy lemon mousse pie.
Alternatively, this mixture can be added to a prepared pie crust and topped with whipped cream for an easy lemon mousse pie.
IOWAFOODANDFAMILY.COM | 9
PACK the perfect LUNCH
Busy days at work and having kids in school can make planning a wholesome lunch challenging. Packing a meal for the day can help you meet nutrition goals and keep more cash in your pocket. Lunch prep is easy when you pair foods from different food groups — focusing on protein — and use options to maintain variety.
Protein is essential for your body to stay healthy and work at its best. Proteins are made up of amino acids that function as building blocks for bones, muscles, cartilage, skin and blood. Research shows that proteinrich food keeps you energized and full longer, boosts immunity, lowers blood pressure and helps maintain weight loss. Follow these tips for making lunch prep easy and fun.
Keep a Stocked Pantry
Variety Is Key
To avoid "mealprep fatigue," keep your lunches diverse by switching up the protein used. Try turkey tacos, pork in a pasta dish or hard-boiled eggs on a salad. Mixing and matching ingredients can be a great way to keep meals fresh while not spending too much time in the kitchen.
VARIETY AND FLAVOR HELP BOOST THE MID-DAY MEAL
By Lydia Zerby
Spice It Up
Another way to add different flavors without adding calories is to try various herbs and spices. These lend freshness to a dish without requiring a menu overhaul. Spices also enhance dressings and dips, switching things up while pleasing your palette.
Shop In-Season
Having a range of ingredients on hand will make the decision to prep lunches even easier. Knowing what food staples you and your family like is the perfect way to set yourself up for success when it comes to mixing and matching. Add in fresh fruits, vegetables and proteins, and you're set!
• Oats
• Whole-grain pasta
• Canned beans
• Spices and herbs
• Olive oil spray
• Low-sodium vegetable broth
PANTRY STAPLES
Quinoa
• Brown rice
• Sweet potatoes
Nut butters
• Raw nuts and seeds
• Olive oil
• Canned fish
• Canned chicken
When planning meals, consider using in-season produce to encourage yourself to try something new. Plus, produce harvested at the peak of its season is typically less expensive and at its peak for nutrition and flavor. However, if the fruits or veggies you want aren't in season, don't be afraid to use frozen. Produce frozen right after harvest retains its nutritional value and is an economical choice.
IOWAFOODANDFAMILY.COM | 11 healthy bites
Autumn in Iowa
SOAK IN THE FALL SEASON AT BACKBONE STATE PARK
By Haley Banwart
As the days grow shorter and the summer heat fades, Iowans don't have to go far to witness nature's breathtaking patchwork of autumn colors. There are many parks and recreational areas throughout the state you can visit to experience the magic and beauty of fall, but few can compare to the driftless region — the northeast quadrant of Iowa characterized by limestone bluffs, flowing rivers, and winding, scenic byways.
That's what makes Backbone State Park the perfect destination to savor the fall season.
Natural Treasure
With the passage of the 1917 state park bill, Iowa became a national leader in the state park movement, dedicating Backbone State Park as its first state park in 1920.
As one of the most geologically unique locations in the state, this natural treasure was named after a steep and narrow ridge of bedrock jutting out of the Maquoketa River known as the Devil's Backbone. The legendary landmark forms the highest point in northeast Iowa.
Located just three miles south of Strawberry Point in northwest Delaware County, Backbone State Park is home to 2,001 acres of heavily wooded land primarily made of oak and maple trees. In the fall, their foliage paints the skies and blankets the forest floor in a brilliant palette of burnt oranges and yellows.
The most recent glaciation missed the driftless area, resulting in a complex region of river bottoms, wooded slopes and dramatic rocky cliffs. The geological display was initially deposited as lime sediments
12 | FRESH PICKINGS MAGAZINE
Iowa DNR
Photo Credit:
in a shallow tropical sea that covered Iowa more than 430 million years ago.
Today, fossils of long-extinct plants and animals can be found in the shell-rich layers of Backbone State Park. The ancient life and cumulative history that shaped the rugged region are further amplified by stages of erosion and sedimentation.
In 2020, Iowa's state park system celebrated 100 years of preservation and stewardship while marking the anniversary of Iowa's oldest state park — Backbone — and highlighting its essential role in
ensuring future generations can enjoy this special area.
Adventure-Filled Fall
In addition to showcasing splendid scenery during peak viewing time for fall leaves, Backbone State Park offers a variety of outdoor activities for visitors of all ages to enjoy.
For hiking enthusiasts and avid mountain bikers, a 21-mile trail system features a trek along twisted windblown cedars and rocky staircases. Backbone Trail is the most popular path for rock climbers and rappelers.
Backbone is also home to some of Iowa's best trout streams fed by Richmond Springs. The backchannels can be explored by boat or through trails.
Other ways to experience the park include staying overnight in one of Backbone's popular campgrounds or four-season cabins; learning about its history at the Iowa Civilian Conservation Corps (CCC) museum near the park's west gate; or reserving a picnic shelter, outdoor auditorium or the Stone Lodge overlooking the lake for leisurely meals or family gatherings.
IOWAFOODANDFAMILY.COM | 13
point of interest
Backbone State Park and the adjoining Backbone State Forest have unique activities to offer such as rock climbing, trout fishing and rugged trail hikes.
Photo Credit: Iowa DNR
The iconic stone boathouse and castle tower.
By Mark Messina
• s i g nificant soy foodbene f i t S • WIN A $100 HY-VEE GIFT CARD to purchase soy-food products and other fresh groceries at iowafoodandfamily.com/contest/soyfoods . FROM POD TO PLATE, SOY FOODS HELP IMPROVE OVERALL HEALTH
14 | FRESH PICKINGS MAGAZINE
In Iowa, farmers grow two crops that put them first and second in the nation for production: corn and soybeans, respectively. Soybeans are well known for being used in animal feed and producing biodiesel, but the abundant legume has many other uses and benefits.
Soybeans are higher in protein and healthy fat than other beans. They're also one of the most environmentally friendly crops. And because of the range of foods produced from soybeans, they're easy to incorporate into your diet. Beyond all those attributes, soy foods offer significant health benefits.
Over the past 15 years, the scientific community has come to realize that our gut microbiota (the bacteria residing in our large intestine or colon) have a significant impact on our health — not only concerning our gastrointestinal system, but also concerning obesity, cancer and heart disease. So, your health depends, at least in part, on the health of your microbiota.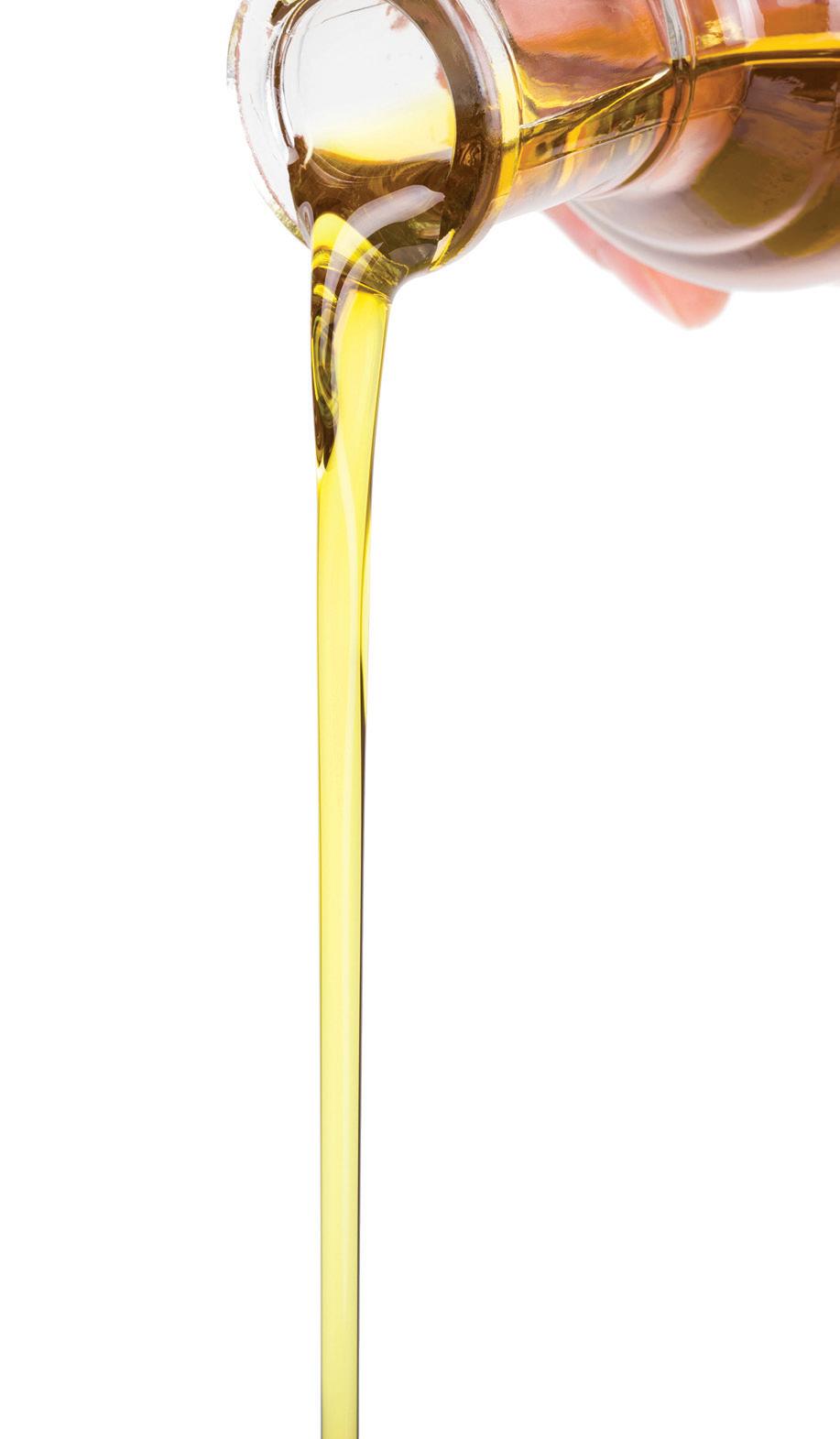 There are several ways soy contributes to microbial health. Fermented soy foods like miso, tempeh and natto contain
microbes that make their way down to the gut, directly contributing healthy bacteria. Soybeans contain sugars that are not easily digested (unlike table sugar), so they travel to the colon, where they stimulate the growth of friendly bacteria. In addition, the polyunsaturated fat in soybeans make a difference. One study found that when compared to coconut oil, soybean oil increased microbial diversity. Having a more diverse range of microbes is generally good for health.
More than 30 years ago, historically low rates of breast cancer in several Asian countries prompted scientists to investigate whether soy foods help prevent the risk
of developing this disease. Over the years, population studies led to inconsistent findings. New research by Chinese experts indicates that soy foods help protect against breast cancer and provides an explanation for the inconsistent findings: When all 24 population studies were included in their analysis, regular soy food consumers were 29% less likely to develop breast cancer than women who infrequently consumed soy. However, soy was protective only in studies
IOWAFOODANDFAMILY.COM | 15
• GUT H EALTH •
• r educi ngris k •
SOY FOOD CONSUMERS WERE
involving Asian women, because non-Asian women typically don't eat enough soy to derive its benefits. For reference, women in Japan typically consume about 1½ servings of soy foods daily.
As people age, most experience a dramatic loss in muscle and strength. This phenomenon is referred to as sarcopenia. Sarcopenia affects the ability to perform basic activities of daily living. It's metabolically harmful and increases the risk of some chronic diseases. A great way to maintain muscle and strength is to engage in regular resistance exercise, or weightlifting. You also need to increase the amount of protein you consume, such as soy protein. In fact, a recent study found that daily consumption of soy foods was related to higher handgrip strength, a general measure of frailty. In this study, which involved almost 30,000 older individuals, the more soy consumed, the greater the handgrip strength.
Soybean oil plays a huge role in the U.S. and world food supply. It provides 7% of our total caloric intake, and over 40% of our intake of essential fatty acids, which are required for survival. Despite its widespread use, many Americans may not realize they consume soybean oil, because it's typically marketed as vegetable oil. Soybean oil is comprised primarily of polyunsaturated fat, which is the type of fat that lowers blood cholesterol levels. Studies in humans show that when soybean oil replaces sources of saturated fat in the diet, blood cholesterol levels are reduced. The cholesterollowering ability of soybean oil was formally recognized by the U.S. Food and Drug Administration when it approved a health claim for the role of soybean oil in reducing the risk of coronary heart disease. Soybean oil is also high in vitamin K, which benefits your bones, and one type of vitamin E, a potent antioxidant.
TO DEVELOP
CANCER
Much of the interest in the health benefits of soy foods is because the soybean is a uniquely rich source of isoflavones, naturally occurring plant compounds. Isoflavones have been studied for several benefits, but one of the most intriguing is their proposed effect on the skin, particularly on reducing skin wrinkling. Isoflavones are commonly classified as plant estrogens, although they differ from the hormone estrogen in important ways. Because estrogen promotes skin health, scientists have begun examining whether isoflavones and soy foods have similar effects. The research conducted to date is quite encouraging. Furthermore, soon-to-be published research highlights this proposed benefit of soy.
16 | FRESH PICKINGS MAGAZINE
• H
•
EALTH Y AGIN G
• SOYBE
• • RW I NKLE R E DUCTI O ?N •
ANOIL
29%
LESS LIKELY
BREAST
than women who infrequently consumed soy according to new research by Chinese experts.
Edamame and Corn Salad
• 2 tablespoons balsamic vinegar
• 2 tablespoons cider vinegar
• 1 tablespoon brown sugar
• 1/2 teaspoon ground cumin
• 1/2 teaspoon onion powder
• 1 clove garlic, minced
• 11/2 cup cooked shelled edamame
• 11/2 cup cooked corn
• 1/2 cup chopped red bell pepper
• ¼ cup chopped red or white onion
In a small saucepan combine vinegars, sugar, cumin, onion powder and garlic. Heat until sugar is dissolved. Remove from heat.
Place edamame, corn, red pepper and onion in a medium bowl. Pour vinegar mixture over vegetables. Stir to mix. Cover and refrigerate 1-4 hours or until chilled, stirring once.
It's easy to add protein to everyday meals and snacks. Start today with these four easy ideas.
1 Try 8 ounces of soymilk with cereal or in smoothies.
2 Add ½ cup of shelled edamame to salads and soups, or eat as a side dish.
3 Snack on 1/4 cup of soynuts.
4 Enjoy 2 tablespoons of soynut butter with a banana or crackers.
IOWAFOODANDFAMILY.COM | 17
sweet home
Algona
A WARM AND WELCOMING NORTHERN IOWA COMMUNITY THAT CELEBRATES HISTORY AND TRADITIONS
By Kelsey Ritchey
Imagine a small, tight-knit community where folks know one another by name, come together annually to celebrate their town and its history, and enjoy the splendors of rural life with the luxuries of bustling local businesses.
Look no further than Algona.
Surrounded by the East Fork Des Moines River and settled among the expansive soybean and corn fields of northern Iowa, Algona, named after the Algonquin word for "Algonquin waters," is home not only to more than 5,000 residents but also to many charming and historical destinations. Its history is rich and unique, and its agricultural roots are strong and established.
"Living in Algona is the best of all worlds," says Vicki Mallory, executive director of the Algona Chamber of Commerce. "The folks in our community take great pride in their businesses and themselves; they work together and are committed to supporting one another. There is no doubt a strong sense of community in Algona."
As the beating heart of Iowa's largest county, Algona is a destination that checks all the boxes and welcomes tourists and passersby with open arms.
18 | FRESH PICKINGS MAGAZINE
A colorful mural painted by the Leadership Algona Class is located on an exterior wall in downtown Algona.
The State 5 Movie Theatre brings locals to the downtown area.
Founded in 1854, Algona sits 30 miles from the Minnesota state line in central Kossuth County. Well known for its fertile pastures and expansive views, Kossuth County boasts nearly 594,000 total acres of farmland, where corn and soybeans grow each year. With its flat terrain, the area is also home to multiple wind farm projects — making it an essential region for renewable energy in Iowa. Additionally, many of the area's more than 1,000 farms participate in livestock production, ranging from swine and cattle to poultry and sheep.
"Algona has positioned itself well and has a diverse economy," Mallory says. "We have a great mix of retail, manufacturing, agriculture, medical, service and professional industries. Being in the heartland, agriculture has always been an important area of business for us."
Like many picturesque Midwest communities, Algona is miles from some of Iowa's largest cities. This means the town is self-sustaining, with many industries, employment opportunities and diverse businesses serving its community and beyond. And because agriculture is such a dominant industry in the area, it only makes sense that some of agriculture's most prominent organizations have a presence within city limits.
IOWAFOODANDFAMILY.COM | 19
In 2022, nearly two-thirds of Iowa's total electricity net generation came from renewable resources, almost all of it from wind.
• Agriculture •
Corteva and Hormel •
Created through the combined strengths of DuPont Pioneer, DuPont Crop Protection and Dow AgroSciences, Corteva Agriscience is a global organization committed to bringing together knowledge and resources to move the world forward. Situated on the north side of town, the Algona location serves customers across several northern Iowa communities — providing various services and products ranging from seeds, crop protection and biologicals to vegetation management, pasture management and digital solutions. Surrounded by towns and communities with dense row crop and livestock production, Corteva Agriscience is effectively positioned amongst farmers and ranchers who appreciate it most.
Hormel Foods Corporation is a dynamic global food company with brands including Planters, SKIPPY, SPAM, Natural Choice, Black Label, Jennie-O and more. Nicknamed the Pepperoni Capital of the World, the Algona location opened in 1970 and is one of the community's largest employers, with approximately 250 individuals at its 150,000-square-foot plant on the north side of town. The company's mission is to make a difference through its products for its people and communities.
Originally established in Austin, Minnesota, Geo. A. Hormel & Co. found success by providing various fresh, high-quality pork products, including hams and bacon. As the business grew and additional sales branches opened in Minneapolis, Hormel's canned ham was created in 1926, later coined as Spam. The company's focus on innovation would eventually land new and daring ideas, including Dinty Moore beef stew and Hormel chili.
In 1938, Hormel's central focus turned to its employees and its commitment to creating a positive family environment. Guaranteed annual wages, a joint-earnings plan and an employee profit-sharing trust were created. More importantly, it created a culture of loyalty and longevity that's apparent even today in its plants worldwide — including Algona.
20 | FRESH PICKINGS MAGAZINE
•
There are three historical museums located in Algona.
Algona Plant employees celebrated Hormel Foods 125th anniversary in 2016.
Photo Credit: Hormel Foods
• Plum Creek Winery
Over a decade ago, Mary Haverkamp decided to open a winery where she could make and sell wine from the grapes her family grew and harvested on their farm just seven miles northeast of Algona. "I've always enjoyed wine," Haverkamp says. "Wineries are very popular around here, and starting a winery sounded fun; the idea was a win-win."
Her vision quickly became a reality. Today, the winery includes a 2-acre vineyard with a building for wine tastings and event rentals, as well as storage and production rooms for making wine. According to Haverkamp, the winery was named after the township in which it's located, and the wine label designs honor the history of the area. Some cleverly named delights include Cottonwood Corner, Elevator Red, Open Road and Starlight White.
Viniculture, or the cultivation and harvesting of grapes for winemaking, is a lesser-known type of agriculture in Iowa that provides many benefits to the community. Like many local, small-town wineries, Plum Creek hosts a variety of fun and exciting events for loyal customers and tourists alike — from painting parties and Sangria Saturdays to trail walking and live music nights, which offer refreshing tastes and enjoyment for all.
IOWAFOODANDFAMILY.COM | 21
Plum Winery grows several kinds of grapes to make their wine.
Most grapes grown in Iowa are harvested in late summer or early fall.
•
• Camp Algona •
At the height of World War II, as England was running out of room for prisoners of war, the U.S. responded by building more than 155 POW camps on American soil. From April 1944 to February 1946, Camp Algona housed 10,000 German POWs. After the war ended in 1946 and the POWs were shipped out, the camp's buildings were torn down or sold. Nothing from the camp remains, and the site is now the city airport.
The Camp Algona POW Project committee was organized in January 2001 and to collect photographs of POWs, camp buildings, American personnel and POW work sites, as well as letters, diaries, paintings, journals, drawings, records and other keepsakes — all scanned to create a permanent digital record. The committee's work has also included interviews with Americans and Germans.
Opened in July 2004, the Camp Algona POW Museum tells the story of Camp Algona and honors the 2,600 World War II veterans from Kossuth County.
ALGONA NATIVITY SCENE
The buildings from the Algona POW camp are lost to history, but one artifact remains.
On Christmas Eve 1945, a few months after the end of World War II, six German POWs presented to the public a nativity scene featuring 65 half-life-sized figures they had built over six months. It symbolized their connection to their families and the commonalities shared among their people.
Every year from Dec. 1 to Dec. 31, the Algona First United Methodist Church's Men's Club displays the nativity scene at the Kossuth County Fairgrounds.
22 | FRESH PICKINGS MAGAZINE
Vehicles used to patrol the POW camp have been restored and put on display.
• County Museum •
This small community offers a chance to learn more about its agricultural roots and the machinery that makes industry advancement possible. The Kossuth County Agricultural & Motorsports Museum has several unique exhibits, including agriculture displays with antique John Deere and International Harvester tractors, a motorsports hall of fame honoring Kossuth County's best and a detailed model train station from Arlen Benschoter. Measuring roughly 40 feet by 60 feet, this display showcases Benschoter's "O Scale" trains. It has them operating all at once — a unique and exciting sight to take in during your travels through Algona.
"I've found it doesn't matter where you go — everybody knows someone who is tied to Algona in some way," Haverkamp says. "We're blessed to have the community and businesses we do — we live in one of the best areas of the country."
IOWAFOODANDFAMILY.COM | 23
Agriculture displays and equipment educate visitors about the tradition, history and importance of Kossuth County agriculture.
Photo Credits: Kossuth County Agricultural & Motorsports Museum
Algona welcomes visitors with its strong heritage and slogan on a rail bridge.
HAVE GRAIN,
24 | FRESH PICKINGS MAGAZINE
WILL TRAVEL
SEASONS M OVEFAST ,
BUT IOWA'S CROPS MOVE FASTER
By Joseph Hopper
Each autumn, farmers jump into their combines to begin the harvest season. When harvest is over and farmers can finally take a deep breath, Iowa's landscape is transformed without crops in the fields. Where do all those billions of bushels of corn and soybeans go? Some of it is destined to stay within the state, but some will travel in trucks, on rails and across oceans to get to their final destination.
IOWAFOODANDFAMILY.COM | 25
The 2,340-mile-long Mississippi River runs through ten states and transports over 60% of the U.S.'s soybean and corn exports.
"The journey from farm to end customer starts with a truck or grain wagon over the road, and it's commonly going to a co-op or elevator," says Mike Steenhoek, executive director of the Soy Transportation Coalition.
The grain elevators run by Iowa's co-ops, or cooperatives, can be pretty easy to spot. Look for the trucks going to and coming from the big, iconic structures that make up the skylines of rural communities.
"You'll see big steel or concrete silos in the countryside. You can store all types of commodities in a grain elevator," says Zack Gardner, grain marketing and origination specialist at Key Cooperative. "Corn, soybeans, wheat, sunflowers — you name it."
Co-ops are more than just a location. Gardner says a co-op's philosophy is to help farmers in every facet of their operation.
Grain must be stored at a consistent temperature and meet moisture requirements.
"Storing grain is a predominant aspect of our business, so if a farmer doesn't want to immediately price their grain or ship it to the end user, they bring it to us and we store it for them throughout the year," Gardner says. "As they make sales, we turn around and ship it to the end user for them."
"YOU CAN STORE ALL TYPES OF COMMODITIES IN A GRAIN ELEVATOR."
ZACK GARDNER
26 | FRESH PICKINGS MAGAZINE
Semis are used to transport grain, like this one moving through Guttenberg along the Mississippi.
To keep the grain in good condition, it needs to stay at a consistent temperature while also meeting requirements for humidity and moisture levels. Just like getting food out of a grocery store freezer, there are a lot of logistics, labor and hands at work to ensure food is safely stored and transported.
"The big picture includes many people who care that things are done right for the consumer," he says.
Domestic or International
Iowa has a strong local market for its crops, thanks to demand from grain processing facilities and the many animals in the state that consume crops as part of their daily diet. There's also a strong demand for Iowa-grown commodities in countries all over the
TOTAL IOWA PRODUCTION IN 2022
2.48 BILLION bushels of corn
62.9 million metric tons
587 MILLION bushels of soybeans
15.9 million metric tons
Source: USDA National Agriculture Statistics Service
TOTAL U.S. EXPORTS IN 2022
58 MILLION metric tons of corn
world. Both corn and soybeans are often called "food, fuel and fiber" thanks to the growing number of different ways they can be used to create products.
A whole soybean isn't fed to an animal; it needs to be processed and crushed, making soy meal and soy oil.
Lyndsey Erb, director of industry relations at the U.S. Soybean Export Council explains, "When we're talking about foreign buyers, they're either going to commercial trading houses bringing soybeans in to crush, or to other markets importing the meal and introducing it directly into their ration. China, Europe and Egypt all have big crush markets; that soybean meal will end up in a feed ration, and the soybean oil will be used for other purposes," explains Erb.
57 MILLION metric tons of soybeans
12 MILLION metric tons of soybean meal
Source: USDA Foreign Agriculture Service
IOWAFOODANDFAMILY.COM | 27
Gardner notes this year a little over half of the bushels in Key Cooperative's elevators went via truck to the processor here in Iowa. For example, corn went to ethanol plants to produce fuel for cars and soybeans into crush facilities. The other half left via rail out of their Nevada co-op location. "The corn has gone into feed yards in Kansas, Texas, California and just west of the Rockies," Gardner explains. "The soybeans have gone either to Mexico to be crushed or to the export market — for example, China — where they are turned into hog feed."
Worldwide Enterprise
Iowa is uniquely positioned to export its grain because of an aquatic asset — the mighty Mississippi River. Many grain elevators are conveniently located next to the Mississippi to load huge barges with Iowa-grown commodities, which then head downriver to New Orleans. The river's not just for exports either. The fertilizer that farmers use to grow crops often travels up the Mississippi to Iowa the same way.
"All of the little rivers and tributaries to the Mississippi end up in New Orleans, and a massive amount of our soybean export is out of the gulf," says Erb. "Then those soybeans end up in dozens of markets all over the world."
"In a state that's located in the middle of a country but aspires to export, you have to move long distances in an economical manner; it's the secret to our success," Steenhoek says. "Brazil, which exports a lot of soybeans, is still making improvements to its infrastructure. It has disproportionally long, 1,000-mile truck trips, whereas we're able to use this maritime highway — especially in eastern Iowa. You wouldn't expect
Iowa farmers to be international entrepreneurs, but they are, because they're located next to an infrastructure that can accommodate what they grow."
Barge traffic carrying Iowa-grown cargo is eventually loaded onto much larger ships to reach destinations like China, Mexico, Egypt and the European Union. A Panamax-sized vessel, commonly used to move cargo across the ocean, holds 55,000-60,000 tons, or 590 rail cars worth of goods.
"At a high point, these assets down at the Gulf are loading a ship probably every 24-34 hours, and there are probably half a dozen export elevator assets down in New Orleans," Erb says. "That's a massive amount of soybeans that are moved, and Iowa is obviously a huge producer."
Erb adds, "I think farmers are the most international business professionals of anyone I've ever worked with. Whether they know it or not, the things they do and the marketing decisions they make affect people all over the world. We are a very international business."
28 | FRESH PICKINGS MAGAZINE
Barges are seen more frequently on larger rivers during harvest season.
IOWAFOODANDFAMILY.COM | 29
"I THINK FARMERS ARE THE MOST INTERNATIONAL BUSINESS PROFESSIONALS OF ANYONE I'VE EVER WORKED WITH."
LYNDSEY ERB
A rail yard in Dubuque loads rail cars that will transport soybeans and corn across the U.S.
By Haley Banwart
30 | FRESH PICKINGS MAGAZINE
HOW FAITH, FAMILY AND FARMING FUELED THE VISION OF THE FILLING STATION
Steve Burgason, owner of the Filling Station, has a passion for food and serving his community.
Coffee and Community
Coffee and Community
In Iowa, convenience stores have a unique way of becoming small-town staples. These seemingly modest markets are often a community gathering place, providing jobs and essential services for nearby residents and serving as a hub for locals to share coffee and conversation.
That's exactly what The Filling Station, a fourth-generation, family-owned-andoperated business, has been offering the Ames community since 1983.
Not Your Average Gas Station
Located along University Boulevard just south of Highway 30, The Filling Station delivers far more than the ordinary roadside stop inside and out.
The store's charming red roof and white shiplap exterior channel the quintessential farmsteads of rural Iowa, with a mini cupola and weathervane completing the effect. At the main entrance, strands of string lights cascade over a modern wood-slated pergola offering shade and an inviting atmosphere for patrons lounging on the patio.
The building is half restaurant and half convenience store, with full gas service available out front. Inside The Filling Station, attention to detail continues with fresh food options, elevated service, and a contemporary and curated environment that could rival any customer's favorite coffee shop.
IOWAFOODANDFAMILY.COM | 31
Pictured is three-year-old Verle Burgason, Steve's father, holding the hand of his father, Lawrence, on their family farm in Munterville in 1932.
The store's charming red roof and white shiplap exterior channel the quintessential farmsteads of rural Iowa.
Fresh-cooked breakfast and lunch meals are served daily for traveling customers.
32 | FRESH PICKINGS MAGAZINE
Design Credit: Casee Burgason Interior Design
Steve's son-in-law Spencer Cruise, manager of the Filling Station, with Steve's grandson Taesean.
A nostalgic gasoline can greets customers as they pull into the parking lot.
"Our vision was to capture café culture and create a space where people could gather, drink coffee and exchange ideas regardless of politics, religion or their world views," says entrepreneur and owner Steve Burgason. "We've always been drawn to the neutrality a coffee shop represents."
Steve and his wife Anne were inspired to open their coffee shop after living in Vienna and performing ministry work in Eastern Europe. The couple enjoyed visiting local coffee houses, including the famous Café Central, where historical figures like Freud and Trotsky used to frequent.
Eventually, Steve and Anne moved back to Ames, where they re-established their roots and started a small coffee kiosk called Burgie's Coffee at the North Grand Mall in 1992.
With Wisdom Comes Success
Around the same time Steve and Anne opened their coffee kiosk, Steve's parents — Verle and Jo — were considering selling The Country Store, a gas station they owned on the south edge of town.
"The site had no canopy, poor lighting and was located in an area that hadn't been developed yet," Steve shares. "The store was struggling to turn a profit."
Despite their doubts, Steve and Anne decided to buy The Country Store, which they would later remodel and rename The Filling Station.
"We shut off the self-talk holding us back and set out to find good mentors who could share their wisdom and teach us the business," he says.
One of those mentors was Jeanette Mesecher. Mesecher had previous management experience in the industry and helped Steve and Anne identify areas for improvement. She would become the first member of The Filling Station family, celebrating 30 years as a manager in 2023.
With hard work and persistence, Steve and Anne's business ventures and passion for quality food and service would leave a lasting impact on the Ames community.
Today, The Filling Station features unique offerings, including a scratch bakery, a famous tenderloin sandwich, catering services and more. For the past three decades, the Burgason family has continued operating Burgie's Coffee — expanding to two locations in Ames and a drive-thru/ walk-up site in Nevada.
Passing Down the Entrepreneurial Spirit
Steve credits his parents for playing a significant role in passing on the entrepreneurial spirit that runs in the Burgason family.
Having grown up on his family farm near Munterville, Iowa, Verle had always dreamed of raising his four children in
IOWAFOODANDFAMILY.COM | 33
"WE SHUT OFF THE SELF-TALK HOLDING US BACK AND SET OUT TO FIND GOOD MENTORS WHO COULD SHARE THEIR WISDOM AND TEACH US THE BUSINESS."
STEVE BURGASON
a rural setting. When a fire broke out at Verle and Jo's home in Ames on Christmas morning in 1965, the life-altering experience set that dream into motion.
The family moved to the south edge of town, resettling on 55 acres of farmland. Verle continued to work downtown at the Ames Tribune, where he was an advertising rep before becoming an owner of the paper.
A true businessperson, Verle instilled his trade skills in his children. The Burgasons
raised sweet corn on their acreage, and Steve recalls a summer his father asked him to negotiate the price with the local Fareway manager.
"Later on, I realized Dad had probably arranged the meeting and already agreed on a price, but the experience proved valuable. Little did I know, 40 years later, I would be negotiating the sale of our coffee beans at the very same Fareway location."
Now Steve and Anne are passing down the same legacy to their three adult children — Jordan, Andrew and Casee. Together with their spouses and children, the next generation continues to grow the Burgason family business, including a development project, Ansley Ames, that will sit on the same 55 acres Verle and Jo found refuge in almost 60 years ago.
34 | FRESH PICKINGS MAGAZINE
The recently-opened Burgies Coffee location in north Ames.
WITH HARD WORK AND PERSISTENCE, STEVE AND ANNE'S BUSINESS VENTURES AND PASSION FOR QUALITY FOOD AND SERVICE WOULD LEAVE A LASTING IMPACT ON THE AMES COMMUNITY.
Bakery items are moved in and out of ovens, packaged and then placed on shelves for hungry customers.
IOWAFOODANDFAMILY.COM | 35 OF A SUCCESSFUL FAMILY-OWNED-AND-OPERATED BUSINESS FOURTH GENERATION
The second and third generations of the family-owned-and-operated business. From left to right, Jordan Burgason, Andrew Burgason, Anne Burgason, Steve Burgason, Spencer Cruise and Casee Burgason.
STREAMING
OXBOW RESTORATIONS HELP PROTECT IOWA'S WATER QUALITY
By Darcy Dougherty Maulsby
Peace and quiet define the backroads of the Iowa countryside — until you reach the rolling terrain where Purgatory Creek flows through northern Carroll County between Lanesboro and Lohrville. A robust chorus of chirping birds and croaking frogs echoes through David and Kathy Law's pastures and fields in Jasper Township.
These creatures abound at the oxbows the Law family restored
SERVICE
in the spring of 2022. "The oxbows help remove nitrates and improve water quality," says Kathy, whose parents purchased the land more than 50 years ago. "We've also enjoyed fishing in the creek through the years and are excited to help improve the fish population and diversity in the creek."
Purgatory Creek is a small tributary that flows into the Raccoon River, which supplies drinking water to
Des Moines, notes Darrick
Weissenfluh, a private lands biologist with the U.S. Fish and Wildlife Service (USFWS). Like any stream or river, Purgatory Creek is a dynamic feature of the landscape that has changed course over time. This results in U-shaped meanders, known as oxbows, that are cut off from the stream channel.
By some estimates, some individual prairie streams have more than 400
36 | FRESH PICKINGS MAGAZINE
oxbows of varying size and condition. According to the Oxbow Restoration Tool Kit, an online resource funded by the Resource Enhancement and Protection (REAP) Conservation Education Program, it's conceivable that there are tens of thousands of oxbows across Iowa's landscape. Over time, oxbows naturally fill in with sediment from runoff and stream erosion, leading to barely detectable "scars."
"While oxbows hold about 1 million gallons of water per acre, once they fill up with sediments, they have no more water-collecting capacity," Weissenfluh says. "The Law family's oxbows in the pasture were former creek meanders cut-off naturally from the creek prior to the 1930s, so they've been filling in with sediment for a long time."
Removing that sediment is a vital part of oxbow restoration, allowing water to collect in these areas again. "Restored oxbows are multi-purpose conservation practices that help protect water quality, control flooding, provide wildlife habitat and more," says Brandon Iddings, a conservation services manager with the Iowa Soybean Association (ISA) Research Center for Farming Innovation.
Restoring Oxbows in Iowa for 20+ Years
The USFWS completed some of the first oxbow restorations in Iowa in 2002. Around 2020, the Law family started to consider restoring their oxbows near Purgatory Creek after they'd agreed to have an Iowa Conservation Reserve Enhancement Program (CREP) easement placed on one of their farms. (CREP provides
BRANDON IDDINGS
incentives to landowners who voluntarily establish wetlands for water quality improvement in the ag tile-drained regions of Iowa.)
"The CREP easement was important from an environmental perspective to help reduce nitrates in our water system," Kathy says. "Agencies were great to work with on that project. We were excited to learn more about the oxbow project when USFWS and ISA presented us with it."
Restored oxbows can play a crucial role in helping achieve the goals of the Iowa Nutrient Reduction Strategy. This science- and technology-based framework assesses and reduces excess nutrients entering Iowa waters and the Gulf of Mexico. "Oxbows capture nitrates in the water from the fields and reduce those nitrate levels by 35% to 54%," Iddings says. "Oxbows can also remove up to 100% of nitrates if the oxbows completely dry up."
IOWAFOODANDFAMILY.COM | 37
"RESTORED OXBOWS ARE MULTI-PURPOSE CONSERVATION PRACTICES THAT HELP PROTECT WATER QUALITY, CONTROL FLOODING, PROVIDE WILDLIFE HABITAT AND MORE."
Restored Oxbows Teem with Life
Restored oxbows provide vital habitat for fish, amphibians and other wildlife that prefer slow-moving water. This is important to the USFWS, which is trying to help the endangered Topeka shiner, a small, silvery minnow.
"While Topeka shiners are thought to have lived in approximately two-thirds of Iowa streams historically, this fish is now only known to live in the Rock, North Raccoon and Boon river watersheds in Iowa," Weissenfluh says. "The Topeka shiner is important because it's a good indicator of a healthy, functioning ecosystem."
However, Weissenfluh and his colleagues don't add Topeka shiners to restored oxbows. "We wait for the fish to recolonize the oxbows — and they do," Weissenfluh says.
Not only do restored oxbows provide essential habitat and water quality benefits, but the organic-rich soil removed during the restoration process can be spread on nearby farm fields. "Last year, our corn yielded 20 more bushels per acre in the areas where we spread soil from the oxbows," Kathy says.
Iddings enjoys working with conservation-minded landowners like the Laws. "Since Iowa's land
is 97.2% privately owned, leaders like David and Kathy make a huge difference by showing other landowners that conservation practices, like oxbow restorations, are feasible and successful."
Kathy is excited about the many benefits her family's restored oxbows provide. "This area of our farm now looks more like it did 50 years ago when my mom and dad bought the property," she says. "As Iowa farmers, we think it's essential to preserve and protect the land for the next generation."
38 | FRESH PICKINGS MAGAZINE
"LAST YEAR, OUR CORN YIELDED 20 MORE BUSHELS PER ACRE IN THE AREAS WHERE WE SPREAD SOIL FROM THE OXBOWS."
KATHY LAW
Restored oxbows provide vital habitat for fish, amphibians and other wildlife that prefer slow moving water.
IOWAFOODANDFAMILY.COM | 39
The Laws recently hosted a Practical Farmers of Iowa field day on their farm in northern Carroll County.
Simpl e kS i slaeM tell
By Lydia Zerby
Enjoy more time with family and friends when you simplify mealtime. Cooking your family delicious and flavor-filled recipes is easy when everything comes together in one skillet. These Iowa-inspired recipes, featuring nutritious proteins, are sure to become part of your regular meal plan.
Packed with flavor, skillet meals are the perfect way to combine proteins with vegetables, cheese, pasta, eggs and more to create a well-balanced dish. And with less to clean up, everyone wins! Knowing that Iowa's farmers had a hand in creating many of the ingredients featured in these recipes makes each meal even more satisfying.
40 | FRESH PICKINGS MAGAZINE
• 1 tablespoon vegetable oil
• 1 pound pork loin, cut into 1-inch cubes
• ¼ teaspoon salt
• ¼ teaspoon pepper
• 1 can (15 ounces) tomato sauce
• 2½ cups water
• 1 can (15 ounces) roasted red peppers, drained and diced
• 1 tablespoon sugar
• 1 teaspoon garlic powder
• 1 teaspoon onion salt
• 8 ounces cellentani pasta
• 4 ounces cream cheese
• 2 tablespoons chopped fresh basil
• Additional basil for garnish
+ Pork is rich in the B vitamins thiamin, niacin, riboflavin and pyroxidine (B6). The B vitamins help the body convert food into energy, are essential for brain and nervous system health, help make and repair DNA, and produce hormones and red blood cells.
ONE-POT PASTA SKILLET
Heat vegetable oil in a skillet over medium-high heat. Sprinkle pork with salt and pepper and sear in skillet; transfer to a plate and cover with foil.
Add tomato sauce, water, red peppers, sugar, garlic powder, onion salt and pasta to skillet. Bring mixture to a boil and cook for 14 minutes, stirring occasionally until pasta is soft.
Stir in fresh basil and cream cheese until smooth. Add pork and cook until pork reaches 145 degrees F.
Garnish with additional basil, serve warm.
Photo and recipe credit: Iowa Pork Producers Association
IOWAFOODANDFAMILY.COM | 41
EGG, CHICKEN AND ALMOND SKILLET
• 2 tablespoons butter
• 3/4 cup almonds, toasted and finely chopped
• 1/4 onion, finely chopped
• 14 ounces canned chicken, chopped
• 2 drops of Tabasco sauce
• 1/2 teaspoon chili powder
• 3/4 cup half-and-half cream
• 1 entire chicken bouillon cube dissolved in 1/4 cup boiling water
• 1/2 cup white wine
• 8 eggs
• 1/8 teaspoon pepper
Place butter in a skillet over medium heat. Add almonds and onion; saute until onion turns a light golden brown. Stir in chopped chicken. Add Tabasco sauce, chili powder, cream, bouillon cube, water and wine. Continue to cook over medium heat, stirring constantly, until the liquid has almost completely evaporated.
Whisk eggs until well blended. Stir beaten eggs into chickenalmond mixture. Continue to cook over low heat, stirring frequently, until eggs are set and slightly glossy. Sprinkle with pepper. Serve hot.
Photo and recipe credit: Iowa Egg Council
42 | FRESH PICKINGS MAGAZINE
+ Turkey sausage is versatile as its savory flavor pairs well with a wide range of dishes, from breakfast scrambles and omelets to pasta dishes, soups and stir-fries.
ORECCHIETTE AND SWEET TURKEY SAUSAGE
• 6 ounces orecchiette pasta
• 5 teaspoons olive oil, divided
• ¼ cup walnut pieces
• 8 ounces sweet Italian turkey sausage
• 3 garlic cloves
• 1 bunch (12 ounces) broccoli
• 1 tablespoon lemon zest
• 1 teaspoon lemon juice
• ¼ teaspoon crushed red pepper flakes
• 3 ounces goat cheese
Cook orecchiette pasta according to package directions. Reserve 1 cup cooking liquid; drain.
While pasta cooks, heat 1 teaspoon olive oil in a skillet over mediumhigh heat. Add walnuts and cook 2 minutes, stirring occasionally.
Transfer walnuts to a plate.
Add 4 teaspoons oil and sausage to skillet; cook 6 minutes, stirring to crumble sausage.
Add garlic cloves, broccoli and ½ cup reserved pasta water; cook for 2 minutes, stirring occasionally and scraping skillet to loosen browned bits.
Add remaining ½ cup pasta water, cooked pasta, lemon zest, lemon juice, red pepper flakes and toasted walnuts to skillet and toss to combine.
Sprinkle with goat cheese. Serve immediately.
IOWAFOODANDFAMILY.COM | 43
Photo and recipe credit: Iowa Turkey Federation
44 | FRESH PICKINGS MAGAZINE
RIGHT ON 'Q
SPEED HERRIG SHARES TOP BARBECUE TIPS
By Darcy Dougherty Maulsby
Where there's smoke, there's flavor, especially when Duane "Speed" Herrig is cooking. For more than 40 years, this Wall Lake native has been the face and voice of Cookies BBQ Sauce, the sweet, smoky stuff that's appealed to barbecue lovers since 1976.
"We really get into the sauce around here," jokes Herrig, 85, Iowa's beloved barbecue promoter.
IOWAFOODANDFAMILY.COM | 45
WIN A $100 COOKIES BBQ GIFT PACK to enjoy delicious sauces and seasonings on your grilled meats at iowafoodand family.com/ contest/ cookiesbbq
Thanks to decades of practice with all things food, Herrig was unfazed when Sinclair Tractor asked him to bring his crew to feed 10,000 people during a customer appreciation event at the Henry County Fairgrounds in Mt. Pleasant this summer. "We prepared about 3,000 pounds of pulled pork," says Herrig, a 1956 Wall Lake High School graduate and U.S. Navy veteran.
Great food and fun have long been a recipe for success for Herrig, who lives on the same Wall Lake-area Century Farm where he was raised.
"I've always liked to mess around in the kitchen," says Herrig, who learned a lot about cooking from his mother, Alma. "Because of food, I've met lots of great people and even got to cook for President George H. W. Bush during the World Pork Expo in Des Moines one year."
A Go-Getter From the Get-Go
Herrig learned the values of discipline, a strong work ethic and entrepreneurship growing up on his family's Sac County farm.
"We milked two or three Holstein cows by hand. I picked up about $2 a week from the cream check," he recalls.
When Herrig was around 12 years old, he figured he could earn extra money by weaning beef calves
and milking a few stock cows in addition to the Holsteins. "For a few weeks, I was earning up to $4 a check before Dad caught me," Herrig says.
While the cream scheme didn't last, Herrig's ambitious spirit endured. Today, his family's Century Farm is home to a corn and soybean operation, Speed's Golf Carts, Speed's Automotive Supply and Cookies Food Products' corporate office.
Herrig purchased his family's farm in the early 1970s from his father, Elmer. By that point, he had been running his own automotive supply business. "I wasn't really a farmer," says Herrig, who had returned to Wall Lake after serving in the U.S. Navy from 1958 to 1962. "I was more interested in mechanics."
He'd started his mechanic shop while stationed in Texas during his military service. He set up shop off-base and hired fellow soldiers to work part-time. "I'd open the shop from 4 p.m. to midnight to make extra money," he says.
When Herrig returned to northwest Iowa in 1962, he opened a repair shop in the machine shed on his family's farm. By the late 1970s, he also started working as a commissioned salesperson for a local barbecue sauce company. By the early
A young Speed Herrig who learned to love cooking from his mother, Alma.
46 | FRESH PICKINGS MAGAZINE
1980s, he purchased the business that would expand into Cookies Food Products and make him famous as "Speed the Sauce Man."
"There were some super lean times and a lot of long hours, but we made it," says Herrig, who built his businesses with his family, including his late wife, Judy, and their three children.
Always Busy
In addition to growing a business and raising a family, Herrig is also a founding member of the Iowa Barbecue Society (IBS). In years past, he volunteered with Refining Individual Barbecue Skills (RIBS) for Kids. He and his fellow IBS members teamed up with the Iowa State University Meat Lab and the Des Moines Public School District to provide a day of cooking classes at Cookies Food Products in Wall Lake for underprivileged youths from Des Moines.
In recent years, he has also partnered with the Iowa Food & Family Project to provide a tour stop for Expedition Farm Country, a two-day motorcoach tour that gives Iowans a firsthand look at how food is grown and raised.
Today, Herrig is as busy as ever. From spring into fall, you might spot him serving meals from Cookies' famous "rib wagon" at grocery stores across Iowa and beyond. He also makes time for charity events. On July 15, 2023, he taught a barbecue boot camp at BBQ & Brew at Principal Park in Des Moines. The Iowa Pork Producers Association hosted this inaugural event, which raised funds to help food pantries statewide.
Great barbecue doesn't have to be complicated, Herrig says. "People are scared to screw up ribs and pork loins. Just give it a try. You've got to start somewhere."
Herrig collected more than 350 of his favorite recipes for his 2005 cookbook, "Cookie's Best BBQ Recipes," which has sold thousands of copies. "Nearly all of the ingredients in my recipes can be found in any small-town grocery store," he says. "Keeping things simple is key. Don't drive yourself nuts."
Herrig, who has been inducted into the Iowa Barbecue Society's Hall of Fame, still loves to cook barbecue. Don't expect him to slow down anytime soon. He says, "I'm still having so much fun that I'm going to keep going."
HOW TO COOK
Ridiculously
GOOD RIBS
Love barbecue ribs? So do we! That's why we asked Duane "Speed" Herrig of Cookies BBQ Sauce for his best cooking tips.
When it comes to pork ribs, there are three types, including back ribs, St. Louis-style ribs and spareribs. Herrig prefers back ribs because there's less fat, and the meat is more tender than some other choices.
After selecting the ribs, you can cook them in an oven, grill or smoker. For several racks of ribs, prepare a marinade of 1 can of beer and 3 tablespoons of liquid smoke, if desired. Pour marinade over ribs. Place meat in the refrigerator overnight, or for a minimum of 4 hours.
Remove ribs from the marinade and place on individual pieces of tin foil. Season each rack of ribs with Cookies Flavor Enhancer All Purpose Seasoning & Rub.
Seal tinfoil tightly around each rack of ribs. Bake at 275 degrees F for approximately 1½-2 hours. Remove ribs from heat, open foil, and baste ribs with Cookies BBQ Sauce. Leave the foil open and cook the ribs at 250 degrees F for an additional 30-45 minutes to caramelize the sauce.
Instead of marinating the ribs in beer, you can use pineapple juice, if you like, since the juice contains an enzyme that helps tenderize meat, Herrig says. Follow the process above but marinate with pineapple juice and baste with Cookies
Sweet Hickory BBQ sauce instead.
Herrig's top tip?
Don't overcook pork. Remove ribs from the heat when they reach 185 degrees F.
"Cooking good barbecue isn't rocket science," Herrig says.
IOWAFOODANDFAMILY.COM | 47
Kerri Bell is a fourth-generation farmer who raises corn, soybeans, cover crops and alfalfa, as well as Hereford cattle in southeast Iowa. She farms alongside her husband Lance and twin daughters Ellie and Sophie, who returned to the family's farm after graduating college. Kerri works off the farm as a second-grade teacher at Mid-Prairie East Elementary in Kalona.
Farming Is Family
By Kerri Bell
My name is Kerri Bell, and I'm a fourth-generation farmer. My husband Lance and I have a diversified crop farm near Keota in southeast Iowa. We raise corn, soybeans, cover crops and alfalfa, and have a Hereford cow-calf operation with our twin daughters Ellie and Sophie. Our daughters are 2023 Iowa State University (ISU) College of Agriculture graduates who now hold ag careers on and off the farm.
Lance began farming with his parents when he returned from Ames after completing his farm operations program at ISU. I graduated from the University of Iowa College of Education and have been teaching for 29 years, 27 as a second-grade teacher at Mid-Prairie East Elementary in Kalona. It's so rewarding to share my passion for agriculture in my classroom.
Like Lance, I must plan, prepare and plant my "crop" (of students) so they can grow. Whereas I plant in the fall and harvest in the spring, Lance does the opposite, and we both put in countless hours, giving our best, as we are passionate about our careers. It's a give-and-take — my family helps me with special projects, and I help them on the farm when they need extra hands.
After the girls were born, it wasn't long before their love of farming
became evident — just like their dad and grandpa. Soon they were driving equipment, filling the planter, calculating chemical formulas and making decisions to move us forward. Our love of the land has kept us improving how we operate to be as efficient as possible as we work to conserve our natural resources for the future.
Growing up, I wasn't afraid to get dirty and help inside and outside on the farm. I was in 4-H for nine years, and actively involved in FFA, where I earned the highest award available: the American Farmer Degree (as it was known then). 4-H and FFA allowed me to share my passion for agriculture and gain confidence in myself. Those experiences helped shape who I am today.
Ellie and Sophie were eager to join 4-H, just like their parents, grandparents and great-grandparents had many years ago. From kindergarten on, they tried new project areas, held leadership roles and made the best better with their time in 4-H. We couldn't be prouder of their 4-H experiences and the countless memories we made together as a family. Time will tell if they choose to be on the Washington County Extension Council and Washington County 4-H Youth Committee, as I did during their years in 4-H. Or
48 | FRESH PICKINGS MAGAZINE
fresh picked
"IF YOU LOVE WHAT YOU DO, IT DOESN'T SEEM LIKE WORK, BUT INSTEAD A WAY OF LIFE."
maybe they'll be 4-H judges at the local, county and state levels, as I have for the past 33 years.
FFA is where the girls found their true passion for agriculture. Like me, they were hooked from day one. Not only did they compete in contests, participate in programs, serve on committees and hold officer positions — they discovered a career path back to the farm. There's nothing better than
learning from your children as they pursue their passions and push our family farm operation forward.
We believe it's important to give back and share your voice, no matter your career path. Our family has been involved with the Iowa Corn Growers and Iowa Soybean Associations at the local, district, state and national levels, as well as 4-H, FFA and our church. I also volunteer with CommonGround
Iowa, working with farm women to educate consumers about where our food comes from.
When you love what you do, farming isn't just a job; it's a way of life! We're proud to grow crops and raise livestock, providing consumers with food, fuel, feed and fiber. I look forward to sharing my farm family experiences and memories with you throughout the next year.
IOWAFOODANDFAMILY.COM | 49
WE BELIEVE IT'S IMPORTANT TO GIVE BACK AND SHARE YOUR VOICE, NO MATTER YOUR CAREER PATH.
Lance and Kerri Bell with their daughters Sophie and Ellie, and dog Cash, on the family's farm near Keota.
DID YOU KNOW?
DID YOU KNOW?
YOU'RE SUPPORTING
IOWA SOYBEAN FARMERS.
The Iowa Soybean Association works to build a thriving animal agriculture economy in Iowa and around the world.
1 OUT OF 5 rows of soybeans grown in the state are consumed by pigs raised in Iowa.
531,317 TONS of soybean meal is consumed by Iowa's laying hens per year.
SUSTAINABLE INGREDIENTS, including U.S. soy, are a great solution to the demand for domestically grown, sustainably raised fish and shrimp.
Iowa Soybean Association, 1255 SW Prairie Trail Parkway, Ankeny, Iowa 50023
By enjoying a pork chop, turkey burger or egg omelet,