SEPTEMBER/OCTOBER 2022 | COMPLIMENTARY COPY THE MAGAZINE OF ARCHITECTURE / HOME & INTERIOR DESIGN / WEST COAST LIVING Is a Modular Home a Good Long-Term ChrisConstructionInvestment?InsightsbyChristianson Home & Garden Tips for Fall
@Home on the Coast | 2
GRILL | ROAST | SMOKE | BAKE No other outdoor cooker can match the quality and versatility of a Big Green Egg –it truly is The Ultimate Cooking Experience! ® Indulge @Home on the Coast | 3
PUBLISHER & EDITOR
Copyright 2022 by Campaign Media. All rights reserved. Reproduction of any article, photograph, or artwork without express written permission of the publisher is forbidden. Publisher assumes no responsibility for unsolicited materials.
Darren Griffin MEDIA
fall issue of your favourite local magazine. In this issue we offer ideas, tips, and suggestions on autumn upkeep and maintenance for both your home and garden. We will also feature an insightful interview with local outspoken housing advocate and past Gibsons council member, 'Silas White' who is running for mayor of Gibsons in the upcoming election. All the best Silas!
because we think everyone, at every budget, deserves style, service and the peace-of-mind of the best warranty in the business. Call for your free home consultation! 604.304.4060 BudgetBlinds.com Graham Benjafield We're Budget Blinds, and we're North America's #1 provider of custom window coverings. We do it all for you — design, measure and install — because we think everyone, at every budget, deserves style, service and the peace-of-mind of the best warranty in the business.
Dear WelcomeReaders,tothe
FROM THE DESK OF THE PUBLISHER
Brad Ferguson, GRAPHICCONTRIBUTINGpublisher@homeonthecoast.caWRITERSBryanBrascoRussQureshiAngelaKoopJohnLeechChrisChristiansonLAYOUT
PhotoCOVERDISTRIBUTIONadvertising@homeonthecoast.caSALESMattPreusDolphVermeulen,homedesign by Tyler Schmidt - Architect, built by Acacia Homes For Marketing and Advertising advertising@homeonthecoast.cacontact
Also in this issue, an introduction to Chris Christianson of 'Vertu Construction' a welcome new addition to the custom home building community on the coast. Chris is a recent volunteer member of the 'Land and Resources Committee' of Habitat for Humanity SC and will also be penning a new regular column for this magazine. Stay tuned… Speaking of the changing of the seasons, there's something special about the onset of Autumn on the coast. Maybe it's the anticipation of all the upcoming events like the Sunshine Coast Art Crawl, trick-or-treating at Mossy Rock, back to school activities and Thanksgiving dinners. Or maybe it's because it's the perfect temperature to throw on a sweater and enjoy some crisp outdoor Whatevertime. your preferences and wherever your interests lie there's always something to do on the coast at this time of year so let's get out there and enjoy it before old man winter comes knocking. "Winter is an etching, spring a watercolor, summer an oil painting and autumn a mosaic of them all" — Stanley Horowitz Until next issue..
Brad Ferguson, Publisher @Home on the Coast | 4
@Home on the Coast | 5
September/October 2022 TALBOT Insurance Services Ltd. Peace of Mind, One Policy at a Time Talbot Insurance... for all your insurance needs on the Coast. Gibsons/IGA Park Plaza 112-1100 Sunshine Coast HWY, Gibsons Tel: 604-886-2555 Fax: 604-886-2563 Mon to Sat: 8:30am - 6:00pm Sun: Closed Email: ContactUs@TalbotInsurance.CAwww.talbotinsurance.ca Homes Under Cons truction or Renovation • Completed Homes, Owner or Tenant Occupied Vacation Rentals Proper ty in Storage, Shor t or Long Term AutoPlan , Private Auto, Collector & Recreational Veh icles Business & Commercial Insurance Pleasure & Commercial Marine • Events & Specialty Lines Discounts & Payment Plans Tiny Homes Stationar y or Transit • Completed Homes, Owner or Tenant Occupied • Vacation Rentals • Property in Storage, Short or Long Term • AutoPlan , Private Auto, Collector & Recreational • VehiclesBusiness & Commercial Insurance • Pleasure & Commercial Marine • Events & Specialty Lines • Discounts & Payment Plans • Tiny Homes –Stationary or Transit • Pedal Power – Special Insurance for High Valued Bicycles/e-bikes • Glass Polices with Nil/low Deductibles 232018118CONTENTSConstructionInsightsHomeMaintenancetodoinFallArtistsontheCoast-FrankHoggardLivability&GovernanceanInterviewwithSilasWhiteIsaModularHomeaGoodLong-TermInvestment? 27 Sunshine Coast Real Estate Statistics for July 2022 28 How to Prepare Your Garden for Winter 30 Habitat HomeBuildingHappenin'...isOneaYear @Home on the Coast | 6
@Home on the Coast | 7
@Home on the Coast | 8
@Home on the Coast | 9
747 North Road 604-886-3335Gibsons @Home on the Coast | 10
Use this time to get these fall maintenance and renovation projects done before it's too late!
11
If your furnace is 10 to 15 years old and is taking longer to heat up the house than usual, it may be time to replace it. Pay close attention to the ratings and choose an efficient fuel like natural gas to help save money.
Seal Any Air Leaks in the Attic
Clean Out Your Gutters
Check On Important Insulation
As the weather starts to cool down, you have the perfect opportunity to clean up summer messes and prepare your home for colder days.
Upgrade Your Old Furnace
Single-pane windows are poor insulators. If you have any of these windows, consider replacing them with double-pane windows. You can also upgrade doublepane windows to models sealed with neutral gas-like argon to improve insulation.
Specifically, check on weatherstripping around your doors, windows, and garage door. The felt strips seal these openings to prevent drafts, but they can wear down over time. Replace any faded weatherstripping and complete any other insulation tasks you've been putting off.
Home Maintenance to do in Fall @Home on the Coast |
If you see any light shining through chinks in your attic, you have air leaks (and pest entrances). Seal those off with foam insulation to keep your house warm over winter. Do not try to close off any attic vents, however, as you'll need those to get rid of humid air.
Your gutters work hard over fall and winter, and they need your help. Clean them out before it gets too cold. This will prevent gutters from overflowing with rain or snow and damaging your roof.
Replace Old Single-Pane Windows
Switch Your Ceiling Fan Direction
Clean and cover your outdoor air conditioning unit to protect it from rain and snow. Note, that this doesn't apply to heat pump models, which are designed to switch to a heating mode in winter and cannot be covered.
Spread mulch among your perennial flowers and plants. This will help insulate them from frigid temperatures and also provides a bit of extra protection against hungry creatures.
Spread Mulch to Protect Perennials
Replace Missing Shingles
Hibernate Outdoor AC Units
Clean Carpets
Fall is an excellent time to clean your carpet. They tend to be at their dirtiest after summer activities, and you want them clean for indoor winter activities. Be sure to open your windows and air out your house as the carpet dries.
Clean Up Your Lawnmower and Other Yard Tools
Your lawnmower and other yard tools are probably dirty after a spring and summer of use. Don't let that dirt and grime sit around all winter. Instead, clean and tune up these tools so they will be ready for the next heavy work season. on the
@Home
Coast | 12
Ceiling fans should turn clockwise in the colder months, which pushes warm air back down into the room. Most fans have a simple switch that reverses the direction.
Your roof needs to be in good shape to resist wind, rain and snow. Replace any missing shingles and fix other signs of damage before those eyesores turn into serious and expensive leaking problems.
@Home on the Coast | 13
$andofaMIXVEGGIEblendcompostmanure.5800/YARDMIXofcompostandmanure.YARD SOIL STARTING AT $30 A YARD GardenMix|TurfBlend|MushroomManure|FirBarkMulch Nodeaddiseasedfarmfishis inoursoil.Nobiosolids. recycledgreenwaste. OursoilmeetsBCLandscapeSpecs CALLUSTODAY! SimplyTheBest CustomBlendedSoilsSince1988 ProudSuppliertotheSunshineCoastBotanicalSocietyand40+Contractors Garden Mix | Turf Blend | Mushroom Manure | Fir Bark Mulch No dead diseased farm fish isOur soil is made of recycled green waste. Our soil meets BC Landscape Specs 604.740.7715CALL US TODAY! Simply The Best Custom Blended Soils Since 1988 Proud Supplier to the Sunshine Coast Botanical Society and 40+ Contractors Garden Mix | Turf Blend | Mushroom Manure | Fir Bark Mulch No dead diseased farm fish is in our soil. No biosolids. Our soil is made of recycled green waste. Our soil meets BC Landscape Specs 604.740.7715CALL US TODAY! TOP SOILTTOOP QUUALIT Y Simply The Best Custom Blended Soils Since 1988 Proud Supplier to the Sunshine Coast Botanical Society and 40+ Contractors Garden Mix | Turf Blend | Mushroom Manure | Fir Bark Mulch No dead diseased farm fish is in our soil. No biosolids. Our soil is made of recycled green waste. Our soil meets BC Landscape Specs 604.740.7715CALL US TODAY! Simply The Best Custom Blended Soils Since 1988 Proud Supplier to the Sunshine Coast Botanical Society and 40+ Contractors @Home on the Coast | 14


Winterize Irrigation Systems
Trim Problem Bushes and Trees
@Home
The last thing you want is branches to hit your house during a windstorm. Now is the time to inspect nearby trees and shrubs, and cut any low-hanging or dying branches before they can do damage. Don't go crazy, though. Trimming promotes new growth, so wait until your bushes and trees are truly dormant (after winter, or early spring) to do your annual pruning. on
Prepare Your Fireplace For wood fireplaces, clean them out thoroughly, check the chimney, and make sure that you have an ample supply of wood. Gas and electric fireplaces can also benefit from an annual inspection before winter begins. Clean and Cover Your Grill It's time to break out the cleaners and steelbristled brushes because your grill needs attention. Get rid of any remaining scraps of food, turn off the gas, and cover the grill to protect it from weather and pests.
the Coast | 15
In colder climates, your irrigation system should be blown out to remove any water and prevent freeze-ups that can ruin sprinklers. Make sure that you also store your garden hose and shut off the water to exterior faucets, if possible.
We licensed,are,insured & all employees are bonded. Scoka Gardens * design * hardscape/softscape installation * hedges - installation & maintenance * lawn installation, renovation & lawn cutting * artificial turf * redesign & revitalizing gardens * pruning - perennials, fruit & specimen trees * fences, pergolas * Allan Block certified * ICPI certified - pavers & flagstone * retaining walls & drainage * year round property maintenance scokagardens.com • 604-740-7770 • scott@scokagardens.com from installation to year leveldedicatedmaintenance.roundWEAREtothehighestofcustomerserviceandsatisfaction. @Home on the Coast | 16
@Home on the Coast | 17
Artists on the Coast - Frank Hoggard
It's not often that one fi nds their true calling in life at an early age, but Frank Hoggard a local Sunshine Coast artist, is one of those rarities. At the age of 13, Frank was accepted into the 'Nottingham College of Arts & Crafts' in the U.K (where he originally hails from) and he spent the next three years there honing his artistic skills.
He eventually landed here on the Sunshine Coast where he continues to exhibit and sell his original paintings as well as accepting commissions for custom pieces.
Frank will be participating in this year's Sunshine Coast Art Crawl in October. His works will be on display at the Marina Place Club House on Dougal Road in lower Gibson.
@Home on the Coast | 18
Watch for road signs in the area for directions. You can also view and purchase his work on Instagram @ Frank_Hoggard_Artist.
By the ripe old age of 16, Frank had won his first national painting competition and his work was exhibited at the prestigious 'Olympia Exhibition Hall in London. Upon completing his schooling, Frank pursued a career as a commercial artist working first in the art department of a national retailer before beginning his own design business which he ran successfully for over 35 years. After immigrating to Canada along with his family in 1993, Frank was soon accepted into the 'Federation of Canadian Artists.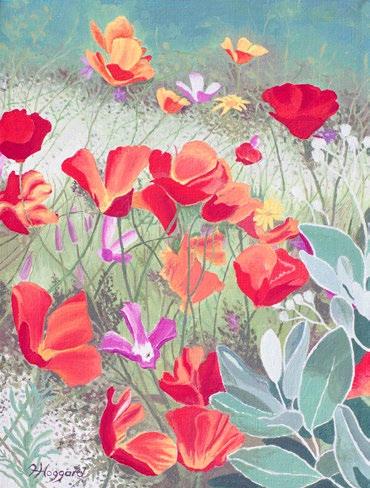 @Home on the Coast | 19
3 ere has been a lot of discussion recently in regards to allowing increased density in existing neighbourhoods in Gibsons in order to create a ordable rental units. What's is your stand on this issue?
Because of the high value or land here, but also the massive rise in construction costs, the Gibsons "starter home" I bought 18 years ago does not exist in the same way anymore. We need to build in more steps to the housing market in both a ordable ownership and especially rentals, including options for more rentals, modular/tiny/mobile homes and RV living, even if it is to support them regionally on larger properties outside of Town. In recent years I see all levels of government doing nothing but to increase the costs of housing, which will always be passed down to the buyer. We need to turn this around. is includes making rezoning to the O cial Community Plan much easier, or even automatic, to correct the long-time bias towards high-end housing— housing options for multi-million-dollar homebuyers are already more than su cient in the Gibsons area.
I do—this is referred to as "density bonusing" in planning lingo, and this system is already in place. However, Council needs to support this concept early in the application process to make such negotiations possible, as what I hear from developers these days is that they're usually discouraged from pursuing density.
I see the winding down of the pandemic as an opportunity to get our community, council and sta onto the same page. We've also got a lot of new people in our community with a lot to o er. is is going to be an exciting four years to bring everyone together, rebuild respect for the work of Town sta , update the O cial Community Plan to re ect current community concerns (especially housing), restart memorable community-building events such as Sea Cavalcade, and especially to make headway on provincial advocacy we can all agree on: improving BC Ferries service, housing, healthcare and transportation.
Even prior to the pandemic, there was a strong divisiveness in Gibsons that exploded less than a year into this past term and was never resolved.
&LivabilityGovernanceanInterviewwith
4 Would you support applications for increased density from property developers who o er concessions that would be inclusive of a ordable housing or increased rental units in the community?
Not enough discussion. Increasingly we're seeing Council oppose even modest requests for density. e economic outcome is always that the fewer, larger units go to market at higher prices, or that the property owners cannot make the entire project work, so there is no new housing at all. My stand is always in favour of making housing more a ordable.
We're in a housing crisis.
Silas White
When developers and Town sta end up taking all the abuse from opponents of density, and are not supported by Council, it understandably discourages sta and developers from pursuing a ordable housing in the rst place. is ends up being a tyranny of the minority, as I don't believe for a second that our community is against a ordable housing. Gibsons residents will have an opportunity to prove this in October by electing me as mayor.
@Home on the Coast | 20
Born and raised on the Sunshine Coast, Silas White moved to Vancouver and Toronto to attend university, build a business and start a rock band. He returned to Gibsons 18 years ago to raise his family. Silas has a master's degree in Public Administration from the University of Victoria, a bachelor's degree in English Literature from UBC, and International Association of Public Participation training. He was elected to Gibsons council in 2014 after serving as a school trustee for nine years, including six as Board Chair and five in provincial leadership positions. Silas has worked as a book publisher and editor for leading Canadian publishers, a contract negotiator for the provincial government, and a local government consultant in economic development, public engagement, Indigenous relations and housing. He lives in the Town of Gibsons with his daughters Simone (14) and Eloise (12).
I have a list of big changes, but livability in anywhere I've ever lived or travelled to comes back to mind-set and people enjoying their community on a daily basis. So, the biggest impact will be rebuilding a sense of community.
2 Given that so many of the problems we are currently facing here on the coast stem from a lack of a ordable housing, what steps would you take to help alleviate the problem?
In the upcoming October 15 municipal elections, few candidates in BC have the track record and credentials in supporting housing than Silas White, the front-running candidate for Mayor of the Town of Gibsons. We interviewed Silas shortly a er he announced his campaign.
1 If elected as the new mayor, what issues would you prioritize in terms of impacting the livability of the town?
Sunshine Coast Community Services is raising much-needed funds to develop a long-term and sustainable solution to help address poverty, homelessness, hunger and crime. The Building Together development will include 34 units of affordable housing, crisis response, support and prevention programs - all in one location. These resources will be accessible to all Sunshine Coast community members and will play a critical role in the health and wellbeing of our entire community. Please donate. Your donation today will help us build a healthy and thriving Coast for all. CRIME. POVERTY HUNGER. HOMELESSNESS. Together we make change. SOLAR POWER FOR INDUSTRY, HOME & VEHICLE GoSolarBC GoSolarBC.com.com BC'S LARGEST SOLAR INSTALLATION COMPANY! Alternative Power Systems SAVE MONEY. SAVE THE PLANET. E L E C T R I C ELECTRIC O L S O N OLSON L T D LTD ADIVISION OF SUNSHINE COAST•LOWER MAINLAND•FRASER VALLEY THE COMPANIESGROUPOFOLSON SUNSH NE FCOAST ire Protection Divisionof O son E ectricLtdO L S O N E L E C T R I C L T OLSONELECTRICD LTD Alternative Power Systems RENOVATINGBUILDING NEW?OR Talk to us now! ASK USABOUT LEVEL2 EV CHARGERS! CallToday for an On-Site 604.885.0599•1.855.888.0599Evaluation PLAN NOWFOR SUMMER!CLEAN, AFFORDABLERENEWABLE,ENERGY @Home on the Coast | 21
Your windowlocalfactory years of windowsmakingin Powell35BCRiver Improve your home this year with Modern windows and doors Get your quote today 604.989.0341 jamesf@modern.ca modern.ca @Home on the Coast | 22
@Home on the Coast | 23
Is a Modular Home a Good Long-Term Investment?
One of the most frequently asked questions
This concern is not misplaced because, as much as the home is a place to live, it is also an investment, and like all investments, we want them to appreciate in case we want to sell in the future. Knowing what will happen to your property's value over time can also help you stay on top of valuations for home insurance purposes. Unfortunately, there is a common misconception that modular homes depreciate over time. This belief, however, cannot be further from the truth. Modular homes appreciate at a similar rate, if not higher than traditional stick-built homes in the same neighbourhood Modular Homes Vs. Manufactured & Mobile Homes The association between modular and manufactured homes is one reason people wrongly think that modular homes lose their value over time. Therefore, it is essential to make the distinction between the two, for they are indeed very
modularfactory-builtaboutorhomes is how their value will change over time. Will they appreciate or depreciate?
@Home
Why Modular Homes Appreciate in Value
Availability of Financing Options
the Coast | 24
different. Manufactured homes— sometimes also known as mobile homes—like their name, are built to be mobile. They are assembled in factories and then transported(towed) to the site for use. Unlike stick-built and modular homes that are meant to remain in one location, mobile homes are relocatable. They, therefore, tend to depreciate over time like automobiles and fetch a low resale price . On the other hand, permanentlybuilt modular homes are manufactured in a factory but assembled on-site like traditional stick-built homes. With the advanced technology today, modular homes can be built in several styles and once assembled, they look like any other home. Just like on-site built homes, modular homes must also meet the local or state building codes.
The construction building of modular homes is done in the factory simultaneously with the site development reducing the time and labour costs. Therefore, it costs less to build a modular home than the same stick-built house. This cost advantage means your modular home will instantly appreciate from its actual cost to the market price. Superior Quality In most cases, the quality of modular homes is as good or better than that of stick-built homes. They are built to meet stringent CSA and local step code requirements. It is more efficient for manufacturers, who deliver modular homes to build to the most robust building codes of the combined regional building requirements.
One reason mobile houses have low resale prices is that many banks are reluctant to offer loans for their purchases. However, it is different for modular homes as they are treated the same by financial institutions as stick-built homes. They qualify for standard mortgages and home financing. Therefore, if you want to sell your modular home in the future, you are as likely to find potential buyers as anyone selling an on-site built house. on
Join us inside or on the patio at the Blue Ocean Bar & Grill 604.885.2700blueoceangolf.ca DRIVEMEMBERNEW • Up to 15 months for the price of 12 • Up to $100 off your membership fee • $50 Range Ball Credit • $50 Merchandise Certificate • "Gift of Golf" complimentary tee time for 4 with carts Join Blue Ocean for 2023 and receive signing bonuses*:OctoberStarting1,2022 *Conditions apply. For pricing and further detail, call or visit our website. tschmidtarchitect.com778-279-6268 We value thinking that goes beyond aesthetics, to a fundamental understanding of the needs of our clients. Serving The Sunshine Coast & Gulf Islands @Home on the Coast | 25
A local, family run disposal bin service, covering the entire Sunshine Coast and Islands. t bin r e n t a l s • Bins ranging in size from small 2 yard bins to large 50 yard bins and many in between • With 3 di erent sizes of trucks,we can t into any spot and handle the largest loads • No job too big, no job too small • Good for all projects: new construction, renovations, demolition, house and yard renovations, rock and concrete, drywall, roo ng or anything else Sunshine Coast 's Waste Removal CSpecialists oast Specialists SHIPPING CONTAINER & PERIMETER FENCE RENTALS AVAILABLE 604-740-2749 •  coastbinrentals.ca Call Tyler for a quote today @Home on the Coast | 26
Year to date is a bit more rosy with only a 23% reduction in dollar volume to $406,400,000 and a 34% reduction in unit sales to 342 homes sold. The average price for a detached home so far in 2022 has risen 16% to $1,188,000.
Buyers – This is a great market for you to achieve the kind of deal you want! Within reason one can create favourable terms through an o er on the "right one". On that note, don't let the lack of action frighten you. If you find "the perfect place" (and they are out there), don't flounder around with indecision. You know what you want so if you find it, buy it. Just do it on your terms. If you are looking but also "waiting and seeing" you will likely miss out and regret the indecision/fear.
Sellers – Competitive pricing is more important than ever. To get a sale done in 2022 may require a deeper cut to your asking price than you first imagined. If you have bought recently this can have a concerning, negative impact. However, if you bought prior to 2020 then you are likely still in a very good position when it comes to equity. My thoughts are that you deal with any deferred maintenance on your home and sharpen your pencil with regard to your bottom line and "what you need" to move forward.
There are many other factors at play and this legislation raises questions around the process of buying and selling. I will have answers as our industry is informed by government…. **Due to publishing schedules this market report does not contain the month of August. For a more detailed analysis contact me.
Great location 55+ and no rentals Asking $569,000 1 - 815 North Road - Gibsons Deck and storage Pad rent is $575 Asking $195,000 More at www.poplarestates.ca Walk to the beach Asking $1,599,000 More at www.robertscreekhome.ca 1453 Park Avenue - Roberts Creek 3 bed / 2 bath rancher 580 sqft studio • 120 sqft separate office .57 acre AskingFantasticpropertylocation$1,499,000 More at www.cedargroveroad.ca 1166 Cedar Grove Road - Roberts Creek Lovely views Fantastic location & easy to build Asking $599,000 More at www.gibsonsviewlot.ca 101 - 93 8 Gibson s Way, Gibson s BC V0 N 1V 9 Tw i t te r: @ Coa s t a lH o m e s BC Fa c e bo o k: Coa s t L i fe s t yl e s N e t wo rko f f i c e 6 0 4 8 8 6 2670 R u s s Q u r e s h i 604-741-7119 www.coastlifestyles.ca @Home on the Coast | 27
Land only sales – were down 91% in dollar volume to $700,000 and down 85% in unit sales to 2 lots sold in July. Year to date we have seen a decrease in dollar volume by 25% to $61,500,000 and unit sales by 39% to 100 lots sold so far in 2022. The average price for a piece of bareland has risen by 22% to $615,000.
Year to date we see dollar volume is down by 31% to $60,800,000 and unit sales are down by 34% to 113. The average price for a condo or town home is up 14% to $640,000.
Condo and Townhome sales – were down 94% to $480,000 in dollar volume and down 94% in unit sales to 1 unit sold in July. Our inventory fell 23% to 50 available attached homes on market.
Sunshine Coast Real Estate Statistics for July 2022
With regard to external factors we will see the BC Government introduce the buyer cooling o period as law moving forward on January 1, 2023. Rather late, and certainly inane tinkering, with citizens ability to transact with one another….
by Russ Qureshi Has the market fallen o a cli ?! Is the end nigh?!! I certainly don't think so. I believe we are seeing buyers and sellers adjusting to some new realities "out there". Usually change is accompanied by confusion or, at least, a wait and see attitude by those active in the market. We see this on the buyer's side, clearly, by the lack of completed deals. When we add the time of year to the mix, and the fact that many are simply opting for the beach and vacation mode over house hunting and selling, then we see the slow down as being even more pronounced. I believe we'll see a big jump in activity over the month of August and into September as many folks who are deferring their purchase today will only wait "so long". Let's see how July breaks out: Fully Detached home sales – were down by 87% in dollar volume to $10,050,000 and down 88% in unit sales to 9 units sold in July. Our inventory climbed 41%, compared to the same time last year, giving us 261 available homes on market.
The cooling o period will amount to 3 business days and, if a buyer backs out of a deal during that time, they will be on the hook for a .25% penalty (think $2500 on a million dollar home).
The first step is to take an inventory of your garden and identify which plants fall into the category of zone 8 + Plant zones will tell you exactly how much cold that specific variety of plant can survive in. The lower the zone, the colder temperatures the plant can handle. Zone 8 plants are hardy and can survive up to -12° Identifying the tender plants in your garden will help you prioritize the plants that need to be protected. Any plants that are classified as zone 8 or higher should be properly protected during cold snaps .
The most common way to protect your plants is to wrap them. This can be done using a burlap or a frost blanket. You should wrap the materials directly around the body of the plant, alternatively, you can stake around the plant and wrap the cover around the stakes to cover a larger area. For larger plants like bananas, windmill palms, etc. wrapping around stakes is recommended. Once staked and wrapped you will want to add straw or another form of insulation between the wrap and the trunk of the plant. You should then place a bag over the top to keep excess moisture out. The bag does not need to go all the way to the ground.
on the Coast | 28
How to Prepare Your Garden for Winter By
For the more tender perennials, you can ge st away with just covering them with mulch. Make sure you remove the mulch once it begins to warm up again. Mulching will help to insulate the plants sheltering them from snow and frost. Container plants should be moved closer to your house and wrapped with a frost blanket as well.
During the extended cold snap on the coast this past winter, I think we all learned a lesson about just how fragile some plants in our garden are. Here then are a few suggestions on how you can be better prepared this coming fall/winter.
If a cold snap is predicted in the forecast and you are not already prepared, you should immediately visit your local garden centre for supplies and additional advice on how to best protect your garden. Angela Koop @Home
1945604-885-8889TollFree:1-877-299-9492FieldRd.WilsonCreek VISIT OUR WEBSITE! WWW.SUNCOBUILDING.COM SUNco BUILDING MATERIALS LTD. Visit Our Warehouse Showroom with Your Measurements! 100'S IN STOCK • ALL SIZES& STYLES• GREAT PRICES CASH & CARRY or WE INSTALL! • FREE ESTIMATES We are the Sunshine Coast's #1 Source for &DOORS WINDOWS ALSO CUSTOM DOORS, WINDOWS & GLASS! Store Hours: Monday-Saturday 9-5 • Sunday & Holidays 10-4 5534 Sechelt Inlet Cresent, SecheltSHOPONLINE 24-7 CURBSIDEAVAILABLEPICK-UP www.deluxelandscaping.com 604 885 9070 @Home on the Coast | 29
by John Leech, Board Vice Chair, Habitat for Humanity Sunshine Coast
@Home on the Coast | 30
Habitat is Happenin'… Building One Home a Year
One home a year is a great legacy for Ed and Gwen Hawkins, the founders of Habitat for Humanity Sunshine Coast. Launched on the Coast in 2005 Habitat has 14 families in seven duplexes, six at the Sunshine Coast Village at Wilson Creek and one more duplex in Sechelt. Four more families will become Habitat families before the end of 2022, bringing the total families to 18. Quite the accomplishment for a very small society in a community with a relatively low population. Active with Habitat since its inception, Ed and Gwen were everywhere and doing everything for Habitat, from acquiring homes, and building the Village, to launching the highly successful ReStore and fundraising through events such as a community gala. Regrettably, and a great loss to Habitat and our community. both Gwen (2021) and Ed (2022) passed away within the past year. In memory of their significant contribution to Habitat and the Sunshine Coast, Habitat has established the Ed & Gwen Hawkins Fund, details to be released later this year. The final building at the Sunshine Coast Village, a fourplex, is nearing completion. With financial support from BC Housing, the Canadian Mortgage and Housing Corporation, a major gift from a community donor and net proceeds from the ReStore and our two refundables operations, the fourplex will complete the project at this site. Final landscaping, fencing, a community garden and a playground will nicely put a bow on this large undertaking. Ed and Gwen both witnessed the project launch and without a doubt would be pleased with this contribution to housing on the Sunshine Coast. The Habitat Board is now reflecting on future housing projects and will be looking to new fundraising initiatives as well as affordable land acquired through an outright donation, low-cost purchase or leasing arrangement. Habitat's Lands and Resources Committee, headed by Brad Ferguson, is actively exploring the land and building opportunities.
In 2021 and 2022 Habitat began a modest awareness-building initiative with plans to expand that work in 2023. A new Executive Director, Douglas Dunn, joined our team in May and is injecting a new vibrance to Habitat's work on the Sunshine Coast. With solid planning, the resourcefulness of the Habitat Board, volunteers and staff and the full support of the Sunshine Coast community, Habitat will continue to build at least one home a year.
Ed and Gwen Hawkins, founders of Habitat for Humanity Sunshine Coast, dress for the occasion at a gala to raise funds to help Habitat build affordable homes for working families
Working With You to Create Your Dream Home on the Coast Specialists In New Home Builds and ExactingRenovationsAndReliable Work Guaranteed Homeowners Participation and Opinions Always Welcome New Home Warranty Fully Licensed And Insured Twenty + Years Experience on the Coast. Serving The Sunshine Coast From Langdale to Pender Harbour & Everywhere In Between Building a new home on BC's Sunshine Coast or renovating an existing home? Call the Professionals at HWH Contracting Ltd. Quality Construction Materials for the SUNSHINE Coast STOCKWELL GROUP OF COMPANIES www.centralcoastconcrete.caREADY-MIX @Home on the Coast | 31
www.EcoFab.ca • 604 989-8184 Affordable / Modern Designs / Energy Efficient Laneway Homes / Cabins / Residences Sunshine Coast Proud Supporter ofecofabmodular