PENSACOLA • PENSACOLA BEACH • PERDIDO KEY
As a local Husband and Wife Real Estate Team we bring knowledge and expertise to the equation. This is crucial in any Real Estate Transaction. Building lasting relationships is our GOAL. 'WE BRING A PERSONAL TOUCH TO A PROFESSIONAL SERVICE' Thank you,Gene & Amanda Thank you for voting us... • Real Estate Professional Female • Real Estate Professional Male
THANK YOU for voting us Best Hearing Care in Pensacola ... Again! Helping Pensacola To Be The Best We are passionate about the future of Pensacola and Citizens of our beautiful communities along the Gulf Coast Pensacola Opera Council On Aging of West Fl American Cancer Society Arc PensacolaIndependenceCapstoneGatewayAcademyfortheBlindChildren'sChorus Serving Military's Fellow Veterans: Sponsors of Navy Military Ball Sponsors of Fallen Hero's Family Group Sponsors of Academic Scholarships for Military O cers Association Sponsors of UWF - Florida Veteran's Entrepreneurship We Believe That The Best Is In Giving Not Receiving Call 850-476-0700 or visit RiesbergInstitute.com

events departments contents Green IGiveCoastalSaveLocaleSwizzleStyleAdventurePerspectivesOuttheDateCuisineCareShareAmPensacola827367645856484122 Publisher Greg Alexander Associate Publisher Verla Price Publisher's Assistant Nicole Partridge Advertising Stephanie Alvarez Kristin Moffitt Verla Price Anna Stockton Graphic Designers Patti Hall Alicia Noble Art Director Priscilla Atkins Content Creator Anna Stockton ContributingPhotographersWriters/ Steve Black Patti Hall Kevin NicoleHoughtonPartridgeAnnaStockton VIP Founder Jeff Watson VIP PensacolaVolumeStaffVII• Issue IX Dancing Through the Decades Glitz & Glam B&T Bon Vivant Women's Night Out Heroes Among Us: US Coast Guard Cutter Night Gala Celebration of Gratitude and Community Recognition Business After Hours Sunbelt Title Grand Opening Pensacola Women's Alliance AFP Lunch and Learn with the Florida Nonprofit Alliance Good Morning Pensacola Transforming Baptist for the Future 807770615451464531251915 features Adam & Danielle Medley Transformingat Baptist for the Future on the cover Photography by Kevin L Houghton Business ProfileKeith Walther Roofing Leading Ladies3528 8 | VIPPensacola.com
Fixing thousands.coulditchimneyyourbeforebeginstoleaksaveyou certified • licensed • insured Chimney Sweeps Pensacola, FL Waterproofing is one of the most involved preventative measures you can take for your chimney. Using our rigorous 3 stage waterproofing technique, your chimney will be protected for years to come. Contact us today! 850.749.2279 arcchimney.com | /ARCChimney Thank you for voting us BEST Specialty Cleaning & Customer Service!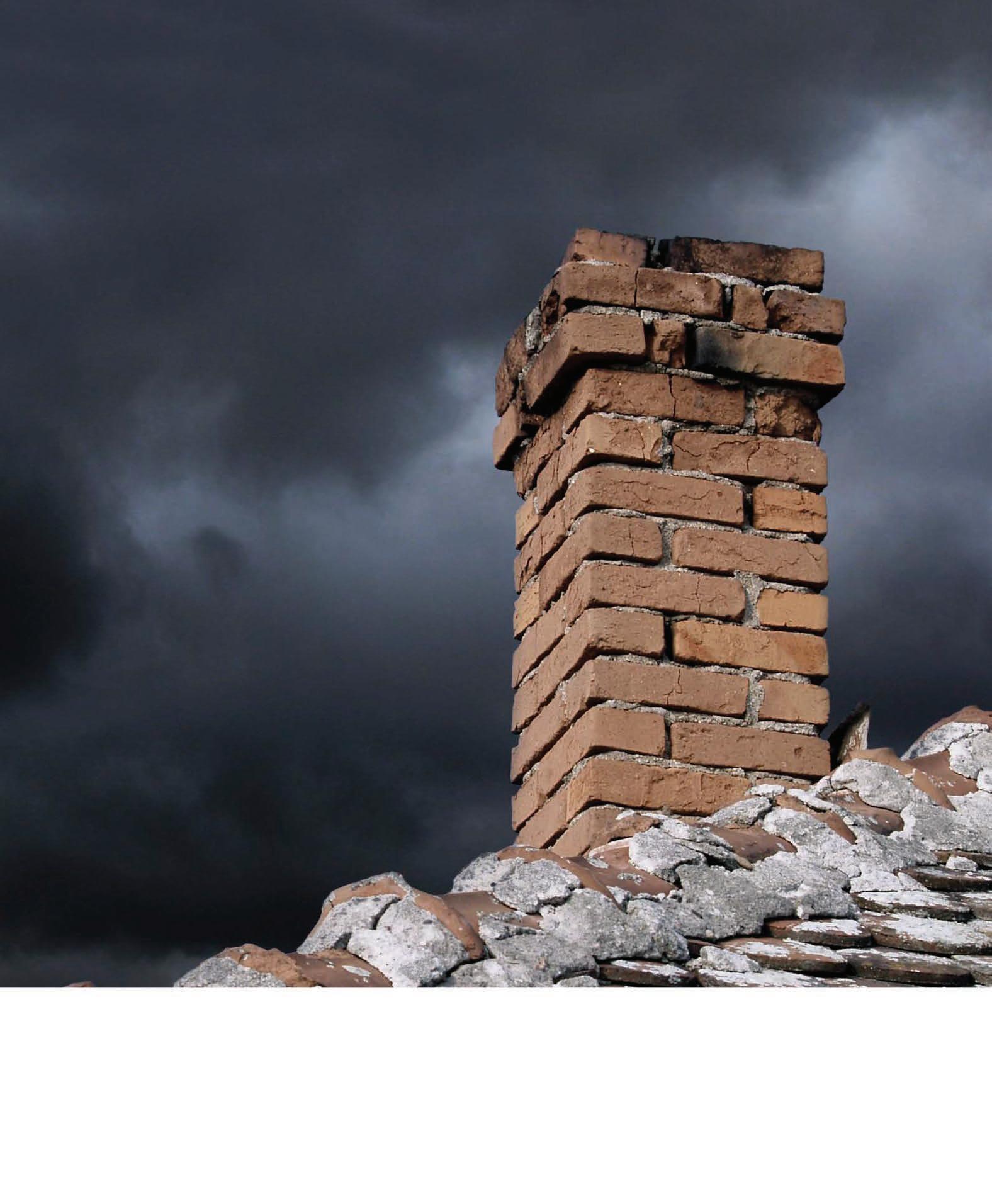 Be on the lookout for our VIP Pensacola Ambassadors, Shelley & Steve Black, at area events.
Greg Alexander Greg@VIPMag.comPublisher
Seeing good things happen through the various nonpro ts is always ful lling. We enjoy looking back throughout the year to see how many nonpro ts whose causes we shared with you, and it is always such a warm feeling to know we helped spread the word about what they are all doing.
letter from the Publisher 12 | VIPPensacola.com
While sharing about our area's proli c charities is paramount, we also love the various business and community events, many of which still tie into a charity in some way. The Pensacola area is so fortunate to have such great things to do and as we enter September, many of our annual outdoor events are getting into gear. We look forward to them more this year with a new sense of pride after having missed a few over the last couple of years. Be sure to look for our photographers when you are out supporting these events – our team will always identify themselves as a VIP photographer. Did you know our cover images are almost always organic shots from the people we photograph at events? Smile big and give them your best self. You may just land on the cover like Adam and Danielle Medley who attended the Transforming Baptist for the Future event at Berè Jewelers and ended up on our September cover.
Publishing an events magazine in the Pensacola area is such a rewarding experience. Because we highlight so many charitable events, we get the opportunity to learn about the many causes and the people who run them, who support them, and who started them.
This Leading Ladies Issue is lled with many things that salute the fairer sex. We explore the successes and celebrate the empowerment of women this month. Most prominently, see the pro les of some notable women who are leading businesses, families, and organizations in our area. Get to know them here and seek their expertise when you need someone in their respective eld.
Thank you for reading VIP Pensacola. We are glad you are here, and we are excited that our area is so rich with generosity, with ingenuity, and with success. Go get out this month and smile for our cameras.
Spreading Good Words
Family Owned and Operated 6235 N. Davis Hwy Pensacola, FL 32504 (850) PetlandPensacola637-1123THANKYOU FOR VOTING US BEST PET STORE 6 YEARS IN A415ROW!Mary Esther Cut Off NW Fort Walton Beach, FL 32548 (850) PetlandFortWaltonBeach796-2424 ROW! Come Play with Our Pets
photos & story by Kevin L Houghton
The Jean and Paul Amos Performance Studio was on re with dancers, staff, and students from Fred Astaire Dance Studio on July 23. The event titled, "Dancing Through the Decades," was an evening lled with beautiful costumes, fun music, and amazingly choreographed dance. It was an exciting night with over 20 students that performed to everyone's favorite hits through the decades from 1947 to 2022. The art of dance and the memorable music kept the entire audience captivated and clapping with their showcase of student and professional dancers performing a wide range of ballroom dances. Act 1 featured 12 songs with hits such as "Go Down Moses," "Suspicious Minds," and "Wicked Games" to name a few, while Act 2 had the dancers jiving to "Pretty Woman," "Born to be Wild," and "Sexbomb!" Ticket proceeds bene ted United Ministries, an organization that helps families in crisis. They offer nancial assistance for families with dependent children in the form of paying past due electric bills and/or rent or mortgage payments. As an agent in grace, they offer help in such a way as to exude hope, encouragement, and spiritual support.
VIP Pensacola at the Jean and Paul Amos Performance Studio
Dancing Through the Decades
September 2022 | 15
Tasha Roedl & Kelvis Coronado Judy Picker & Marte Picker Cody Davis & Stacey Rogers
Ona Gilbert, Norma Crooke, Linda Ayers & Pat Drlicka
VIP Pensacola at Dancing Through the Decades 16 |
Ford & Sidney Hossler Chapron, Cat Chapron, Breyanna Chapron, Shakiera Philpot & Tonya Laumann
Erica
AngieVIPPensacola.comO'Sullivan & Dave Ross Tom McElhany, Janelle Berger, Frances Wilkinson, Ashely Wilkinson-Meyer & Ashlee Brown
Maria Middleton & Austin Van Norman & Michael McCuaig
Carol & Barry Drinnon
Briquell
September 2022 | 17 Lunch: Tuesday - Friday: 11 am - 3 pm Dinner: Tuesday - Saturday: 4 pm - 9 pm Brunch: Sunday: 11 am - 2 pm Cordova Marketplace 4350 Bayou Blvd Pensacola, FL 850.477.9120 obriensbistro.net Large Wine Selection Full Bar NOW Open OutdoorThanksPatiofor voting us Best in Pensacola! Casual Dining & Locally Owned Restaurant Elsie Zhang, Rita Gu & Nancy Emery Armaghan Mahmovdian, Sara Rahgooy & Siavash Darvishmanesh Leah Yelverton, Kathy Minor, Penni & Charlie Broom Kathy Guy & Jane Crittenden
LOOK LUCKY, NOT DONE with a customized non-invasive Mommy Makeover targeting these areas to suit your desires: KAREN E. KENNEDY, MD 1118karenkennedymd.com/contactus850-916-7766GulfBreezeParkway,Suite201|GulfBreeze, FL 32561 7552 Navarre Pkwy | Navarre, FL 32566 • Options for Pelvic Floor Support & Labiaplasty • Body & Abdominal Shape • General Appearance • Pelvic Support & Function • Breasts • Scars • Face Check out Dr. Kennedy's profile with more information on surgical options in the Leading Ladies feature of this issue.
Claudia LeCroy & EdieGlover & Linda Petty
Cayla Moore & Shellie Isakson-Smith
Gina Boyleston & Kim Weaver
Barbara Dean, Tracy Morgan & Donna Dixon
Leslie Mc Guire, Babette Bell, Sharon Moore & Joyce Cobb
Kerri Smayda, Ashley Wilkinson Meyer, Frances Wilkinson & Dawn Faller
Glitz&Glam
FloricaSeptember 2022 | 19 Pam
T he Pensacola Yacht Club hosted Glitz & Glam, a sold-out luncheon for the Pilot Club of Pensacola, on August 24. The guests enjoyed a light sit-down lunch while they visited and caught up with friends. Many fabulous items were auctioned off by Auctioneer Gina Boyleston of Boyleston Realty & Auction. Over 20 beautiful items, like hand-painted framed portraits, baskets with jellies, Florida vs Florida State football tickets, Saenger Theater tickets to A Christmas Carol, and 10 lbs of Alaska's Best Sockeye Salmon, were all up for bid. Over $6,000 was raised for the nonpro t. The Pilot Club of Pensacola puts friendship and service rst while helping those within the community with brain injury and brain disorders through awareness and education. Pilot provides opportunities for leadership, growth, and networking. The club was organized over 100 years ago and is now working in partnership with the Westgate School, Pyramid, Search and Rescue, Gulf Coast Kids House, Ronald McDonald House, and the Anchor and Compass Clubs. photos & story by Kevin L Houghton VIP Pensacola at Pensacola Yacht Club
Louise Videau & Carolyn Reeder Clarie Mikko & Becky BrewingtonDee Wolfe Sullivan, Nina Fanfalone & Dee Seymour
BeverlyVIPPensacola.comBellVannoy, Kathy Jo Vallimont & Gretchen Patti Annette Massicotte, Elaine Sites & Catherine Humphreys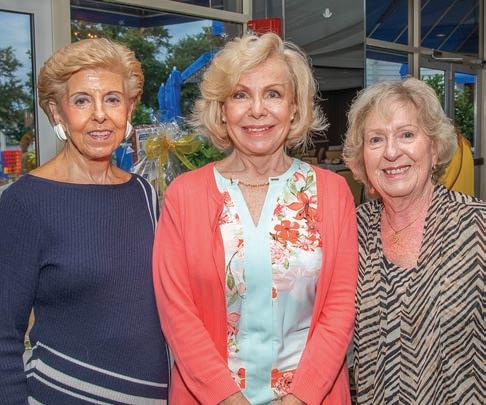 VIP Pensacola at Glitz & Glam 20 |
Martha Jones, Howard Johnson, Shirley Jacques, Tami Rose, Susanne Venditto & Carolyn Green Pam Rancifer & Shirley Bean Sheryl Morris, Toni Fabriani & Jeanne Clark James & Janet Fuller
For HONEST and DEPENDABLE Service that you can trust... There's only one number to call. COOLING • HEATING • PLUMBING LIC# CMC057110/CFC1431143 400 E. Lurton St., Pensacola servingProudly your: Air forPlumbingHeatingConditioning&Needs45years!THANKYOU FOR VOTING US www.airdesignhvac.com BESTAir Conditioning and Heating Company! NIGHT OR DAY Air Design Systems will be on the way! September 2022 | 21 4111 N Davis Highway • Pensacola 850-479-4100 www.Act1Flooring.com Thanks for voting us Best Flooring in Pensacola!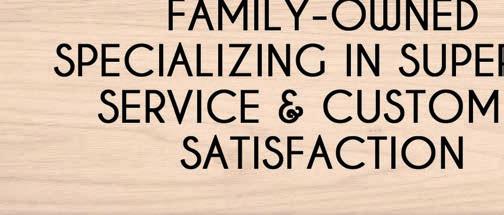 Green
TOO
THE BASICS OF IRRIGATION: A proper irrigation system will have a back ow device to keep potentially contaminated water from owing back into the drinking water supply. An irrigation control box turns the system on/o and determines when and how long each zone/station shall water an area. In the State of Florida (by Law) the Irrigation system must have a rain sensor. e most common and most reliable rain sensor is a synthetic hygroscopic disk that is cork-like and absorbs moisture in rainfall until it swells and triggers a switch that will interrupt an irrigation cycle. PVC piping carries the water to control valves. Large Lawn areas are mostly irrigated using rotor type heads that turn in circles or part circles back and forth. Smaller lawn areas and shrubs beds are mostly irrigated with smaller spray heads that spray a pattern the entire duration that the zone is operating. Shrubs beds should be separated from lawn areas since the water requirements are di erent. Since rotor heads and spray heads vary greatly in their water output in each area, rotor heads are to never be put on the same zone as spray heads since the result would be too much water for the spray zone and not enough for the rotor zone. Trees/Palms are often the recipients of bubbler style heads. is is a good practice since a bubbler style irrigation head set for the right amount of time will wet the entire root ball of a tree (could be 2-3 feet deep or more) which is extremely important in its ability to survive. Recently, to reduce water consumption, planting beds are seeing designs using drip type irrigation that is more precise. is type of irrigation has bene ts and drawbacks. e bene t is the reduced consumption and if you are not throwing water everywhere you will experience fewer weeds. e drawback is it is sometimes more di cult to know if drip irrigation is actually working since water is not being sprayed above ground. is can result in the dead plant being the sign that the system has an issue. Consider these options when you employ an irrigation contractor and make sure you get what you want.
TOOWATER…MUCH LITTLE Perspectives greenproceduresinc.comfrom article by Steve R. Black
I probably don't have to convince you, but Pensacola is number 2 (Mobile, Alabama, is number 1) as the rainiest city in the US. Our average is 66 inches per year, which is well above the national average of 39 inches. By August 20 of this year, we have o cially taken in over 50 inches. Unless things change a bit we will surely have an above average year. How does our landscapes handle this much water? Generally, our native sandy soils, with their rather large pore spaces, can allow water to quickly be in ltrated into the soil. Unless a serious rain event has occurred the water percolates rather quickly, the surface dries up, and we venture right back outside and into the sauna-like conditions.
Signs that you should water are evident in the plant world well before plant health is a ected. Grass blades stressing from lack of water will curl slightly and the lawn will look grayish in color. Shrubs/trees will often start by leaf curl or leaf drooping and nally will start shedding leaves in their e ort to conserve water. Proper Irrigation should start around midnight and nish soon after the time you awake. is allows you to see it operate right before it nishes its cycle. Starting just before or after midnight helps the grass stay dry longer thus alleviating disease pressure since after midnight typically grass is already wet from dew or fog. When the sun rises and the process of drying things out begins around noon, your lawn is dry and stays this way until midnight.
WATER USAGE:
HOW MUCH WATER IS ENOUGH?
WHEN SHOULD YOU WATER?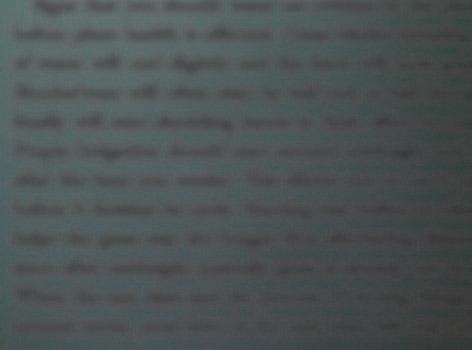 On the Gulf Coast we generally have sandy soil with low water holding capacity. One inch of irrigation/rainwater will wet down to ~1 foot below the surface of our soil. Rotor head zones will need approximately 45- 60 minutes and spray head zones 10-15 minutes to achieve the 1inch of water. Newly installed sod may require a minimum of daily watering (called syringing) for shorter periods of time since the roots are not yet penetrating the soil below. In this case you are simply wetting the sod and top of the soil to keep the new sod alive and encourage the roots to start reaching into the soil in search of moisture and nutrients. Once the sod is rooted, usually about 2 weeks, you can back o on the watering schedule to every other day.
Steve R. Black Practicing Agronomist and Landscape Design along the Gulf Coast for 36 years
Water is a primary consideration when developing a landscape design. Consider these practices for your best chance of having a beautiful landscape.
Water usage and its impact on your monthly bill: On average a typical home irrigation system uses 16 gallons of water per minute. If you want to gure out your usage, here is a simple method: • Number of minutes the zones are operating x number of Zones/ stations = Total Minutes • Total Minutes x Gallons per Minute = Total Gallons used per watering cycle • Total Gallons per cycle x number of days per month you water = Total Gallons per month Using this simple model you may see that a typical 8 station irrigation system that runs 2x/week for just 15 minutes per station/zone could use ~1900 gallons per cycle or ~15,000 gallons per month. is can translate to ~$150-200/month depending on your circumstance. Even running an individual sprinkler on the end of a 5/8" water hose will use ~1020 gallons per hour. Compare this to indoor water usage where a typical 3-person family will use ~165 gallons per day.
Renee Montalbano & Vikki Park
The Bread & Table Club hosted the 2022 Bon Vivant Chef Competition on August 13 at the Kitchenry at Bodacious Olive downtown. The Bread & Table Club (B&T) not only raises funds for a worthy cause, but also brings a modern twist to the old supper club by bringing food lovers together to share meals in unique and fun venues in our community. This was no exception for their Third Annual Bon Vivant event, which is French for "good living." Five teams competed by explaining, preparing, and plating a main food and a complementing drink for four judges and 55 tasters in less than 15 minutes. The plates ranged from butternut squash bisque and grits a-ya-ya to succulent short ribs, an Indian-inspired samosa chaat, and shepherd's pie. The winners, Nisarg and Katie Parikh, won with their samosa chaat and took home a beautiful Cangshan knife. This was a member-only competition; however, guests were welcome to join in on the fun of the evening and listen to the interesting and fascinating stories of the foods. This competition is a fundraiser for the Children's Backpack Program through Feeding the Gulf Coast.
photos & story by Kevin L Houghton
September 2022 | 25
Marty Stanovich & Alison Houghton
VIP Pensacola at Bodacious Shops
Lori & Perry Zeringue Bob & Melissa Sidoti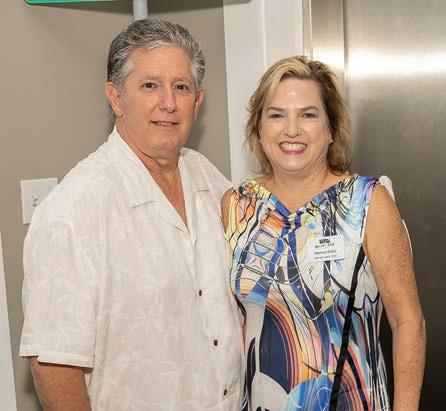 Daniel & Barbara Rogers Nisarg & Katie Parikh, Shelley & Steve Black
B&T Bon Vivant
Shawn & Tara Dominguez
Margaret & Jeff Thornton John & Gayle Wiley Caroline & Ken House
Beth Clark & April King Jimmy Bradley & Kathy Kellett Cheryl Nolan-Cazes & Sue Nast
RianaVIPPensacola.comJorgenson & Lisa Bradley Sarah & Jason Singletary, Brad Sweaney & Michele Morgan
April Davidson-Munn & Nelson MunnJason Cazes & Stefan Jorgenson
VIP Pensacola at B&T Bon Vivant 26 |
September 2022 | 27
Family is the most important thing to Keith and Teresa Walther, owners of Walther Custom Homes and Keith Walther Roofing. Whether it's with family, friends, clients, their subcontractors, or the people in their community, the couple prides themselves on creating a family-oriented business. So, it's no surprise when the Walthers decided to expand their business and start Keith Walther Roofing that they brought those same morals, values, and family atmosphere to their new business.
Business Profile
Keith, a native of Milton, and Teresa, from St. Mary's, Georgia, met the very first day of college at Pensacola Junior College and never looked back. After graduating from Florida State University and giving the fast-paced life in Atlanta a try, the couple decided to make the move closer to Keith's family and moved to Baldwin County in Alabama. While they both loved the area, their heart wasn't in the jobs they were in at the time. That's when Keith, whose parents and three brothers were all in construction at the time, decided to take a chance and start their own homebuilding business. He'd seen the good, bad, and the uncertainty of the construction business through the eyes of his family as his parents owned a Parade of Homes award-winning homebuilding company and his grandfather owned a successful roofing company. Keith and Teresa obtained their contractor's license in Alabama in 1996 and started developing subdivisions and building homes in the area. The downturn of the housing market in the mid-2000's gave the couple perspective and they moved back to Escambia County to shift their business and put down roots to raise their family. Today, family life is busy for the Walther family. Their daughter Jordan is in her last year at the University of West Florida and will be joining the ranks as a Marine Corps wife in May. Ashton has joined the family business and is bringing new and fresh ideas to the homebuilding and roofing businesses. Keith and Teresa's plans of soon being empty nesters were happily put on hold with the addition of Carol Mae (5 years old) and her brother Charlie (2 years old).
story by Anna Stockton
KEITH WALTHER ROOFING 000 Hwy 90, Suite E Pace, F 25 1 50- 0-0005 facebook.com KeithWaltherRoofingKeithWaltherRoofinggmail.com
With the ups and downs of the construction business, the Walthers have learned that besides expertise, dedication, and great customer service, in order to thrive, you must diversify your business. So, when the timing was right, they expanded and created Keith Walther Roofing. As roofing was already a component of the construction business they were familiar with, it was an easy choice for the couple. While starting a new business is always difficult, the couple relies on their 25 plus years of experience in the homebuilding business to help them navigate the challenges that come along with it. They are excited and eager to bring the same quality to the roofing business that they have in the homebuilding business all these years.
Family is everything to Keith and Teresa and they feel that Escambia, Santa Rosa, kaloosa, and Baldwin counties have taken them in and embraced their own family and business. Their closest friends have started out as clients and ended up as family. As their business grows, so does their sense of community, whether it's through volunteer work, financial contributions, or simply the blood, sweat, and tears they put into their business. Keith and Teresa hope that one day their own children will follow in their footsteps, pick up where they left off, and keep the family in their family business.
The Walthers recogni e that there are many excellent roofing companies out there and hope to find their niche within them. They aspire to grow their business based on quality craftsmanship and amazing customer service. They love working with their clients in building and creating their dream home and hope to develop the same rapport and relationship with their roofing customers. ne way in which they plan on doing this is Keith's ability to map out a plan of action and timeline that fits everyone's needs, by using his years of experience and organi ational skills. The Walthers understand that life is not 9-5 and their clients, just like them, are juggling family, home, and business obligations so they make a point of being available for their clients after hours to ensure their needs are met.
LocationNewOPEN! Auto Accident • Physical Therapy • Massage • Sports Injury • Healthy Living Thank you for your confidence and support! Thank you for voting us BEST Chiropractor 2022! From sports injuries to auto accidents… We've got your back! www.drcraighenry.com (850) 435-7777 New Address: 1823 N 9th Avenue | Pensacola, FL 30 | VIPPensacola.com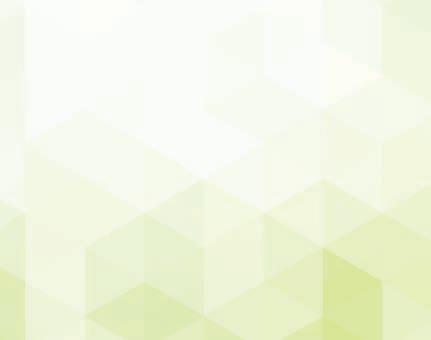 photos & story by Patti Hall
Angie Anderson & Lacy Kusy Melissa Schmiedeskamp, Maegan Leonard & Heather Moorer
The Women's Board of Baptist Health Care Foundation, established in 1976, provides consistent support for the community through its commitment to health care initiatives. This organization, consists of dedicated volunteers that support the health care programs at Baptist Health Care. These dedicated women sponsor the annual Stepping Out in Style Fashion Show, which has become the premiere fashion event for the area. This year's event will be in its 46th year and will be held on October 27 at Sanders Beach-Corinne Jones Resource Center.
VIP Pensacola at Grand Marlin
NightWomen'sOut Bode & Hayes
Dawn Stuckey & Cherri Eman Anna Kisor & Brittany Brown
Katie Meister & Catie Ronson Kim Staveley & Rachel Herman
The Women's Board of Baptist Health Care Foundation's Women's Night Out took place on August 23 at the Grand Marlin. It was a night of fellowship and fun with yummy hors d'oeuvres and cocktails. Anna Kisor, President of BHCF, welcomed everyone and introduced Mark Faulkner, President and Chief Executive Of cer for Baptist Health Care. Mr. Faulkner thanked everyone for their efforts and commitment to the foundation. He also announced the Behavioral Health Unit will open along with the new Baptist Hospital campus in the fall of 2023.
September 2022 | 31 Priscilla
Deb
32 | VIPPensacola.com
VIP Pensacola at Women's Night Out Carrie White & Jennifer Riggs Dina Linn, Kathy Andrade & Lori Pope
Claire Goss & Caroline Wolverton Becca Boles & Kelly MacLeod
Jennifer Smith & LeeAnn Ruffin Claire Holderman & Karen Brantley Eloise Spencer & KC Gartman
Abby Young, Heather Iring & Renee Montalbano Dozer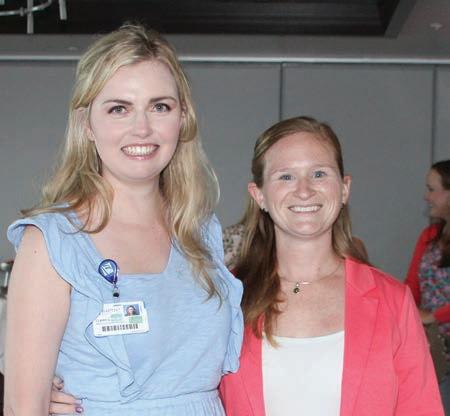 Carolyn Grawi, Mark & Olympia Faulkner
Mary Ann Krebs & Lesley Green
K imberley's job was totally a serendipitous experience. Regarding her position at Sunbelt Title, Kimberley notes, "After all, no one goes to college and says, 'One day I want to work in the title industry.' However, I've been lucky enough to land in title, and it has been the most rewarding field."
Nurse Practitioner Still Waters Day & Medical Spa MARY ANNE AANESTAD Leading Ladies 2022 | 35 NWFL Sales & Marketing Sunbelt Title KIMBERLEY ANDERSON If your actions create a legacy that inspires others to dream more, learn more, do more and become more, then, you are an excellent leader. -Dolly Parton
A fun fact about Mary Anne: She loves to dance, and if she doesn't have the opportunity, she dances in her head while she is cleaning, running, and even when she is working!
LEADING LADIES
Kimberley received a BA in Communications from USC. What Kimberley loves about her job and what her team portrays to clients is trust and communication. When a client works with the Northwest Florida team, they get the entire team working together to bring the client to closing. The team is built on trust, and they work to make each other and each client's transactions successful. Kimberley and her team listen to each client's needs and how they want to work and that has been a very important part of their growth. Seeing other people's success and knowing that her team played a small part in it is the best part of her workday. When she is not assisting in closing services, Kimberley loves to spend time with her family, especially on the water – fishing, boating, kayaking or paddle boarding.
Mary Anne is a good listener, she has a keen eye, and her constant training and practice guides her to suggest what may be best for the patient, but she still listens to their needs to provide the best results. Mary Anne is pleased when an employee develops the same kind of relationship with their customer/patient that she has –she loves hearing good news about their employees and it offers fulfillment.
Mary Anne often treats patients in transitional phases of life: change in job, relationships, or folks moving to new areas. These changes require confidence to ease the stresses of the transitions. She provides opportunities to improve a patient's appearance and remove any insecurity of appearance so it will no longer be a negative factor. Recently, Mary Anne had a patient who was a new manager who was having trouble making connections with her staff. Mary Anne and her team performed a little Botox to relax the patient's frown lines, which the patient reported led to her appearing more approachable, reducing barriers from her staff asking her advice or questions.
M ary Anne grew up the daughter of an Army Colonel and a schoolteacher in Montevallo, Alabama. She began a career in nursing and medicine because she enjoys helping people. She also loved the dynamic nature of medicine -- the always changing, improving, constant learning environment. She attended 4 years of undergraduate for nursing and 3 for graduate at University of South Alabama. She practiced nursing in ER, trauma, flight nursing, and home health prior to joining aesthetic medicine. Training and learning continues, keeping advanced certifications current in laser technology and aesthetic procedures.AtStillWaters,
36 | VIPPensacola.com
Dana graduated from Tate High School, attended Pensacola Junior College (now PSC), and then took a break for a few years. While expecting her son, Dana was waitressing. She decided then that it was time to get serious about her education, she took her parents' advice and pursued a bachelor's in accounting from UWF, receiving a BSBA in Professional Accounting in 2004. Her son was 3 years old at the time. Dana grew up in Pensacola as did her parents. She was blessed with one biological son and is proud of the young man he is becoming. She married her polar opposite and the love of her life, Damian Jacobs 7 years ago. They are perfect together and Dana feels blessed each day. Dana enjoys helping others and will do all she can when working with a client or coworker. She believes effective communication is paramount. She is an open book and enjoys explaining her reasoning, methods, etc. Recently, Dana helped several clients obtain Covid relief – who did not even know they quali ed. She reached out to them, and the relief prevented one client from going out of business.Businesses that are poised for rapid growth, startups, mom and pop shops, are all perfect for Avalon. Small to mid-sized business who prefer not to do their own payroll, child support deductions/remittances, state/federal payroll taxes, bene ts, and HR management, are the ideal clients for Dana. They have clients who started with 2 employees and watched and helped them grow into 50+ employees. It is rewarding being a part of those stories. When not working, Dana spends time with her family. She loves the outdoors, walking trails, visiting casinos, and swimming. A Fun fact about Dana -- she has never been beat in a round of thumb wrestling!
Restaurant Manager Scenic Hills Country Club RACHEL KOTKOFF
DANA
Fun Fact: Rachel loves home renovations and remodels. She would sky-dive every day, but she cannot climb a ladder. She treasures her time as a missionary in Barbados and Albania.
Rachel, her husband, and 2 children as well as her parents relocated to Pensacola in 2021 due to the impact of Covid in California. Before moving, as part of the quarantine/lockdown response, she was forced to completely reshape the restaurant business model where she was working. Their efforts led to new food and beverage menus, ordering processes, rebranding, and digital menus all while helping customers and training and developing staff. Rachel is always willing to go the extra mile and take on new tasks. Rachel finds inspiration as ideas come together through the leadership team at Scenic Hills. She sees restaurant, kitchen, and bar operations working hand in hand. Rachel's strength lies in problem-solving. You might find her improving a food dish, offering a fresh idea for the beverage cart, or responding to a request to rework an entire reception to accommodate a last- minute change for an amazing wedding experience.Onaday off you will find Rachel with her family at the beach or waterpark, and of course going out to eat and cooking.
R achel chose a career in hospitality because it allows her to work with people in a fast-paced environment. Each day is different, and she likes being creative and hands-on, keeping guests coming back. Her early days of serving and bartending on the side while owning and operating a salon in California led to increased responsibilities and management roles. Maintaining her food handlers and alcohol service license has been a priority for training and education. She studied journalism and communications in college and found cosmetology to be more her style. She uses communication knowledge with customers daily. With over 20 years of experience, Rachel is well qualified to lead and manage.
LEADING
Chief Financial Officer Avalon HR, LLC JACOBS, CFO LADIES
ana did not consciously choose her career at Avalon HR, but she is glad it worked itself out. After spending a large portion of her career promoting tourism and in the vacation rental industry before she was lucky enough to reconnect with the owners at Avalon HR. Dana feels she is nally where she needs to be. The company genuinely cares about their clients and staff. Many small businesses are struggling with day-to-day operations, and Dana loves that her rm represents a solution. Dana believes that Avalon offers a service that business owners need. "I never thought I would nd contentment in working for a 'payroll company,' but that is exactly what happened. I am happy at Avalon and proud to be a part of their team," notes Dana.
D
Leading Ladies 2022 | 37
As a student, she completed her fellowship year with the Cleveland Clinic. Originally from Cuyahoga Falls, Ohio, Star, her husband, and three children moved to Gulf Breeze in 2014. They added a fourth child in 2015. Later, both Star's parents and in-laws moved to the area. Star listens to her patients -- not just their case history, but how their lives are impacted. She empathizes with their frustrations and helps them imagine how life can improve with hearing loss treatment. She forms relationships with patients.
After earning a BA, Summa Cum Laude from the University of Akron, Star pursued her doctorate from the Northeast Ohio Audiology Consortium -- a joint program between Kent State University, The University of Akron, and is under the guidance of the Cleveland Clinic.
Seeing someone regain their life and communication through ampli cation makes Star happy. She has the joy to see patients who have stopped communicating because it is too dif cult and getting hearing aids makes them a vibrant, engaging new person. When not working Star and her family enjoy boating, shing, and lots of activities -- her 12th grade son is active in Air Force JROTC, her 8th grade daughter plays travel volleyball, and her youngest daughter cheers for Dolphin Youth football. of
RiesbergAudiologyInstitute STAR LANGE-RICHEY LEADING
LADIES
Doctor
Working in a medical practice, Star treats hearing care as overall health care. Besides treating hearing loss, she evaluates for balance disorders and treats tinnitus. She works with the physician to manage medical conditions affecting the ears and hearing. She is not there just as a hearing aid salesperson.
S tar Lange-Richey's career as an audiologist was unexpected - while an education major, a speech pathologist mentor referred her to the dean of the speech pathology department encouraging her to transfer. While watching a video of a child being tted with hearing aids she was inspired to become an audiologist when she saw the little girl's face after hearing her mother's voice.
Costello'sCo-OwnerButcherand Deli CHRISTIE COSTELLO
Doctor Karen Kennedy, MD KENNEDY, MD Chief Operating LandrumHROfficer KARA BLOOMBERG
When not working, Kara and her husband love to travel and are headed to Italy in the fall. With only three more years until all the kids are in college, they take advantage of every opportunity to be involved in their lives.
Kara went on to share that company operations are designed so that getting to know clients is critical. While Kara's daily work involves managing internal teams, she loves working with clients instilling that everyone at LandrumHR is accessible.
KAREN
C hristie and her WhenintoSheemployeesandbefore.peoplegetforhasMakingofwerepeoplevisionofneededandtoandCostello'sopenedhusbandButcherDelitogivebacktheircommunitybringsomethingtothewestsidePensacola.TheirwastomakefeelliketheyatanextensiontheCostellohome.thattransitionbeenalotoffunthecouple.TheytointroducethingshavenevertriedChristieencouragesshowslovetoallherandcustomers.puts110%ofherselfeverypersonshehelps.someonecomestoChristie
for help, they know she listened to them and that they can count on her. At Costello's, they put everything they do back into the local community and local youth programs. Their goal is not for a better bottom line but to help build a better community.
Christie's favorite part of her workday is when the children come in for the free lunch program excited to tell her about what is going on in their world. They bring in pictures and book reports for her to hang up on the wall. She never has a bad day when they come in to seeWhenher. not working, since they own a butcher shop and have access to exotic meats, cheese, and wine, the Costellos enjoy having friends over for dinner and great wine. Christie enjoys seeing people being able to try things they wouldn't normally have a chance to try.
Kara started her career in insurance business development after graduating from the University of Florida. She interviewed for a variety of business development roles but chose insurance because of the opportunities. At the time, not many women held those roles, and Kara liked the challenge of penetrating that field. She earned a license in Life/Health Insurance as well as a certification as a SHRMSCP.LandrumHR has been in Pensacola for over five decades helping people find jobs they love while providing mission-critical talent and unparalleled comprehensive HR services to companies. LandrumHR is in the business of all things people. They offer a full array of HR services that assist clients with benefits, payroll, timekeeping, compliance, risk management, and more focusing on their greatest assets, their people. When asked what a client might tell us if asked about the service at LandrumHR, Kara tells us she's confident they would say LandrumHR takes special care to meet their client's needs and that they can feel the company's urgency to serve them well.
r. Kennedy has been helping women with gynecologic services for 22 years. She has performed cosmetic gynecologic procedures for 20 years and is now focusing on more pelvic and cosmetic gynecology, especially office procedures to keep the treatments as simple and relevant as possible. She has been working with hormone therapy for 30 years and can medically manage hormone replacement in women and men. Problems with the pelvic floor, labia, urinary, bowel, and support are common and in need of repair. Dr. Kennedy uses noninvasive and surgical measures to manage pelvic prolapse, urinary urgency, urine leaking, bowel issues, and pelvic functionalLabiaplastyproblems.isoften done in the office, improving the appearance of external genitalia, and she has remedies, non-invasive and minimally surgical, to improve the appearance of any part of the genitalia. Sexual function diminishes over time but can be restored based on the cause of the problem. Dr. Kennedy has many measures to improve sexual experience in women and she treats ED and sexual function in Abnormalmen.fatdeposits cause changes in shape over time, and Dr. Kennedy uses minor surgical liposuction, laser and radiofrequency, and magnetic techniques with no recovery or down time. Time takes a toll on our face, skin, and appearance, and we have Botox, advanced microneedling, plasma and carbon dioxide laser therapy, pharmaceutical skin treatments, and more. Dr. Kennedy offers consultations to manage concerns in a private, comfortable, spa environment. She and Laura Sigler APRN still care for their gynecologic patients.
38 | VIPPensacola.com
D
M egan loves helping others but never saw herself in the funeral profession. After 7 years working as an RN, she needed a change. Her parents have owned Faith Chapel Funeral Home and Crematory since 2012 and the transition into the family business felt natural. Megan stepped into a role where she could still care for others, but on a more intimate and personal level.
Margaret, a Gulf Breeze native, is married to Juston Takacs, the GM at Drift. They have two cats named Jet and Pinot Noir. First Dance is a community of people supporting and encouraging each other, while having fun. Margaret believes the more you give back the better you get back so she donates time to perform at galas and local events. In Margaret's dance community, people have developed lifelong friendships. She has assisted with a wedding proposal or two, always making time, often at her own expense, to make sure all students get quality training.Eachlesson she teaches is a different style of dance with different goals to be achieved. She never gets bored at work. Half of her students are preparing for a wedding since she personalizes rst dances, bridal party dances, mother son dances, and father daughter dances. The other half of her students enjoy learning different styles of dance that they could use if they went out. She also puts on two large dance charity shows each year -- The Greatest Showcase and A Jolly Holiday. When not working, Margaret enjoys spending the day at the beach. Her favorite hobby outside of work is sur ng. Faith Chapel Funeral Home PEMENT Owner First Dance Ballroom Studio MARGARET TAKACS
& Crematory MEGAN
Sabrina grew up in Gulfport, MS, the oldest of 8. Her dad worked for the local waste management company, so she says that hauling trash is in her DNA. Her husband, Anthony, is a native Pensacolian and she has lived here since 2017.
Something Old Salvage is a customer service company that provides junk removal. Their core values focus on being transparent, honest, and dedicated to providing exceptional customer service at every level. They have an amazing team that supports each other and takes care of clients. Sabrina believes if you do right by people, everything else will come. Their slogan is be tting: "Stressed with Mess? Call S.O.S." Most of their clients are realtors, property managers, landlords, real estate investors, and homeowners who nd themselves with a project to tackle. Their expertise helps alleviate the daunting task of junk removal, providing clients with a sense of relief -- handing it off and knowing it will be done professionally, and ef ciently. Additionally, S.O.S. customers motivated Sabrina to recently became a licensed real estate agent. Overwhelmed clients now look to S.O.S. to not only help with the junk removal process but getting a property ready to be sold. The team's experience effectively sorts items to be donated, recycled or disposed and alleviates the burden from customers to clean out their Sabrinaproperty.enjoysspending time with her husband and their fur baby, Biscuit. They love traveling, visiting family, and playing poker. Sabrina notes, "I don't think my brain ever really shuts off from working as our company, employees, and clients are usually top of my mind."
Margaret wanted to do something that makes her happy and improves people's lives. The ability to dance, even just a couple of moves, can boost con dence. Although she studied political science/pre-law at the University of West Florida, dancing was what she loved so she started First Dance Ballroom Studio.
SomethingCOO/Co-OwnerOldSalvage SABRINA SIMPSON
Leading Ladies 2022 | 39 Vice President
Megan met Sam Pement at church at age 15 when she moved to Pace, FL, from Meridian, MS. They have now been married for 8 years. They attend Voyage Church and love spending time together as a Meganfamily.enjoys working with her team noting, "We give so much of ourselves to the public and it's so important to take care of ourselves to prevent burnout. We have coffee together and hearing how they're doing gives me insight on what their needs are and where we can improve as a company. We discuss our families, reminding me that family is what we're all about."Their slogan, "Where the personal touch means so much" shows that every aspect of the funeral planning process is personalized for families through personalized books, memorial videos, and tiny details within their service that only the family may notice. Serving the community while they battle the loss of a loved one is a delicate matter and Megan and her team are honored to help.
A Fun Fact – Megan has a set of Irish twins! Her boys are 3 and 4 years old and only 11 months apart.
40 | VIPPensacola.com
Fairhope, Alabama
P
Located on Mobile Bay, Fairhope has all the southern charm you'd expect from a small town in Alabama. With an enchanting, walkable downtown, along with a beautiful waterfront, it's no wonder tourists flock to this town for a day trip or weekend getaway. Whether you're shopping for clothing, antiques, gifts or just browsing around, Fairhope's downtown has it all. Walking amongst the beautiful buildings and interesting architecture, you'll find shops and shopkeepers eager to help you find what you're looking for. With everything from pizza to coffee shops to seafood restaurants, there's plenty of places to sit and enjoy the view and good food in Fairhope as well. Fairhope Pier is another attraction that draws tourists and locals alike. Built on the site of the original commercial pier from 1894, it was destroyed during Hurricane Katrina and was rebuilt and reopened in 2006. Offering fishing, dining, and a great place for strolling, the pier offers a place to gather and enjoy the views of Mobile Bay.While Fairhope's name is as charming as the city itself, the history behind the name offers a glimpse into the utopia settlers were hoping to find there. The eastern shore of Mobile Bay was chosen after a search of the South and November 15, 1894, was declared as "round-up day." The founders decided on the high bluff and purchased clear-cut land for $5.50 per acre. They thought using Henry George's single tax plan would give them at least a "fair hope" of succeeding.
story by Anna Stockton erhaps it's because of my small-town upbringing, or maybe my father's influence and love of all things back roads and o the beaten path, I love to visit and explore small towns. There's nothing like getting o the highway and driving through a charming downtown, past the old pharmacy, shops, and restaurants. Picturing the homecoming parade that floats down the main street every year, with the high school marching band playing while the homecoming queen sits atop a convertible. That community and history are what makes small towns great, and this area has no shortage of them.
September 2022 | 41
Small Town Charm
The Fairhope single tax colony was founded, and it attracted supporters and financial backers from around the country and drew a broad group of hardworking, creative, and freethinking people to the new city.
Apalachicola, Florida
Florala, Alabama Florala is a small town on the border of what else, but Florida and Alabama. It's the town everyone says, "Hey! I've driven through there," but few people stop. If you're coming from the north, it's right before you get to the beach, the last hour before vacation starts for those visiting the area, and the homestretch for people on the panhandle who are headedLocatedhome.onLake Jackson, the largest natural lake in Alabama, Florala is definitely more than ust a pass-through town. The lake offers a wide variety of outdoor fun with a swimming area, camping area, and multiple walking and biking trails. A boat ramp is available for the boaters and the Lake Jackson wetlands park and picnic pavilions are perfect for making a day of your Florala visit. For those who want to spend less time soaking up the sun and more time soaking up the culture, Downtown Florala is the place to be. With ictorian homes carefully kept and wellthroughoutdottedloved the city, there's no shortage of historic charm in Florala. The uaint main street boasts restaurants as well as many impressi e anti ue stores. Not only does this unassuming city have a lot to offer, but it also has an interesting history. Sitting on the sight of General Andrew Jackson's encampment in the reek War, the city was slowly filled with settlers in the years following the war. By the beginning of the twentieth century, Florala was officially a boomtown as the lumber, textile, and agriculture industries took off -- the population went from 00 to ,000 in a matter of ten years. By the Great Depression, these industries slowed down and Florala was left to depend on tourism surrounding Lake Jackson as their new industry, lea ing the uaint, charming town we see today.
42 | VIPPensacola.com
On the eastern part of the Florida panhandle, you'll find palachicola, a longer dri e but well worth it if you're seeking smalltown southern charm. This sportsman's paradise also has something for those who are fishing for great shopping, a cocktail, and a good meal. Apalachicola's downtown is nestled along Apalachicola Bay. Shrimp boats are docked along the seawall while once abandoned buildings have been revitalized as event spaces, restaurants, and shopping. Restaurants vary from seafood and waterfront dining to pizza and wings downtown. While there are some shops catering to tourists, many are also local shops that offer e erything from uni ue ewelry to neatly organi ed maritime sal age. Apalachicola has a long and impressive history dating back to ati e mericans, as early as 000 . The i il War brought the cotton shipping industry, followed by the lumber, railroad, and even briefly was in ol ed in the sponge industry. Howe er, seafood is king in palachicola, with charter fishing, shrimping, and of course, oysters leading the way.
September 2022 | 43 H I R I N G
44 | VIPPensacola.com BEST FUNERAL HOME Plan for Peace of Mind Pensacola: 100 Beverly 850.937.81181000Cantonment:850.432.6146ParkwayS.Highway29 www.fcfhs.com Why it makes sense to make choices about your future funeral now: •Family Matters- save your loved ones from ha ing to make difficult decisions while they are grieving •Personal Service- the kind of service you want for everyone you love •Financial Relief- fund your arrangements in advance so that costs are locked in Mark Bailey 1000Cantonment:S.Highway 29 850.937.8118 Cathy Paulsen To start the pre-planning process, you can fill out our pre-planning form on our website:
September 2022 | 45
ViglienzoneAlexzander
T he US Marine Corps League held its monthly speaker series on July 28. Seville Quarter downtown Pensacola hosted the "US Coast Guard Cutter Night," HAU - gathering. The Guest of Honor was CWO4 Keith Raisch (Ret) USCG, Senior Master Cutterman, who spoke about the importance of today's military on land and at sea. Raisch spent over 36 years as a Deck Navigation and Watch Of cer, 21 of those years were continuous years a oat where he taught navigation, rules of the road, and safety at sea, just to mention a few.
photos & story by Kevin L Houghton
VIP Pensacola at Seville Quarter
Robert Ball, Lonnie Jones, Keith Raisch & Walt
US Coast Guard Cutter Night
Ed & Mary Schaier
Myron Carter & Debbie Hovell Dawnell & Ted Spilker Bill Clark & Ed Rouse
The Pensacola detachment of the Marine Corps League is named in honor of Cpl. Jonathan Ross "JR" Spears. He was born June 30, 1984 and raised here in Pensacola. He lost his life in 2005 doing what he loved the most, protecting his Marines. He was the 2,000th service member killed in action in Iraq. The Heroes Among Us Series is held monthly from May through October. The speaker series is free and open to the public, although donations are accepted and appreciated.
Paiden, Rianna Walker, Phoebe Dela Cruz, Damien Roth & David Long
Peter & Charity Dublin Jim & Maddie Martin Carolyn & Michael Whetstone
he Center for Independent Living of Northwest Florida held their Gala Celebration of Gratitude and Community Recognition at Sanders Beach Corrine Jones Resource Center on July 29. The Center for Independent Living was also celebrating 42 years of helping support and empower people with disabilities and recognizing the 32nd Anniversary of the Americans with Disabilities Act (ADA). The evening's events included appetizers, live music, silent auctions, drinks, sweet desserts, and, best of all, well-known guest speakers. The speakers were: Elizabeth Bonker, a nationally known motivational speaker, featured on ABC and NPR, who communicates solely by using a text-to-speech computer program due to being affected by non-speaking autism, and comedian Josh Blue, winner of the NBC reality show "Last Comic Standing" and a nalist on "America's Got Talent." Three community members were also honored: Julian MacQueen (Joe Oldmixon Award), Tara Blackwell (Spirit of CIL Award), and Paul Viksne (Volunteer of the Year Award).
T
Willa
46 | VIPPensacola.com
Todd
Virgina Breen, Elizabeth Bonker, Jessika Lapen & Susan
photos & story by Kevin L Houghton Beach Corrine Jones of Gratitude and Community Recognition Licata & Thomson
Resource Center Gala Celebration
VIP Pensacola at Sanders
JamieByram&Danny Broxson, Karen Jackson, Carolyn Grawi, Dawn Shumaker Smith & Lee Smith
September 2022 | 47 tie the knot with us WWW.PENSACOLAYACHTCLUB.COMSCOTT@PYCFL.COM850.433.6773ADDRESS:1897CYPRESSST.,PENSACOLA,FL32502 Voted VIP Pensacola's Best Ceremony Venue 2018, 2019 & 2022 Best Reception Venue 2018, 2019, 2020 & 2021 Best Place for Rehearsal Dinner 2022 PENSACOLA YACHT CLUB
Diana Tift, Bridgett Johnson, Debbie Stanwood & Cheri Hofmann
Christopher
Paul
Logan
Dwight Davis & Allison Hill Viksne & Grimm Cannon

& Chevie Carter
hen you think of leather, you might think of bikers -- roaring down the road looking tough and maybe a little menacing. Or you may think of Sandy from Grease, whose leather pants were sexy, formfitting, and left you with questions like, how did she get those on? And how did seven-year-old me possibly think she passed for a high schooler. However, leather is more versatile and stylish than ever and with fall approaching, leather might be just what you need to add a little edge to your wardrobe. While this Fall's leather trend calls for head to toe leather, c'mon, we live in Florida so we must improvise. These leather pieces are perfect additions to your closet and will keep you looking fashionable, while still respecting Florida's tropical climate.
story by Anna Stockton W
LeatherWeather

Leather pants and leggings are a little bit harder to pull o , (literally!) but are also a bold and stylish fashion choice. When paired with a softer top, they can easily go from daytime fab and can be dressed up a bit with a fun top for nighttime glam.
Trendy Trimmings Leather accessories are a fun way to participate in the trend in a more subtle way and without the commitment of buying leather clothing. Leather clutches and handbags in bold colors or patterns are sure to make your outfit pop and can be paired with many di erent styles. While leather cu s and other jewelry polish o your perfect stylish look and add and sass you didn't know your outfit needed.
Co r me Stylish Want to soften or jazz up your leather look? Leather comes in many colors and options that are perfect for putting your own spin on this trend. Reds, blues, oranges, greens, and other lively options can spice up your handbag, jacket, or other leather duds. Another fun way to change up your leather look is prints. Croc e ect, snake print, or even embossed are all great options to add di erent textures to this stylish look and take your look to the next level.
Bold Bottoms Believe it or not, leather skirts and pants are a great addition to your wardrobe, ladies. You can go for a leather miniskirt, perfect for a night out, or a classy leather pencil skirt that'll take you from the o ce to a girls' night.
Leathered Layers Leather jackets are the coolest! No other outerwear can tie together an outfit quite like a nice leather jacket. There are options for every sense of style as well, so you can find the perfect fit and form for you. Traditional biker leather jackets are just that, classic lines and classic style. Moto jackets tend to be a little shorter and with more patterned stitching and padding that gives this leather jacket a more detailed look, however, it also serves a safety purpose as these jackets are made for sports bikes. If you like clean lines, the leather racer jacket is for you, it's a modern twist on a biker jacket but is made for looks rather than safety so it has a sleeker and form fitting style with less bulk.
Of course, flight jackets and bomber jackets are also options for leather jackets and since most leather jackets are sturdy, you can wear them for years to come.
DOESN'TSIZEMATTER•CleanOuts•DebrisRemoval•DemolitionStressedwithMess?CallS.O.S.info@SomethingOldSalvage.comSOSJunkRemovers.comWetakecareofBIGjunk&SMALLjunk850-758-9900 50 | VIPPensacola.com Best Dentist! 85 Nightingale Lane Gulf Breeze, FL 32561 (850) 934-3408 StarSmilesGB@gmail.com Modern methods. Caring approach. Dr. Nisarg Parikh
Mike Miller & José Welch Deanna Cheathem & Kelly Harris
VIP Pensacola at Woodlands Medical Specialists
Woodlands Medical Specialists was the place to be for business networking in Pensacola on August 18. Over 50 attendees were meeting and mingling at the North Davis Highway location. Chamber members and guests arrived and 'registered' with their business cards for door prizes. Todd Thomson, Chamber President/CEO, welcomed everyone and thanked the Woodlands for hosting. The evening was complete with music, beverages, and amazing individual charcuterie boxes from Olive to Nosh. Dr. Rami Owera provided an overview of Woodlands Medical Specialists' current physician specialties including Breast Health, Diagnostic Imaging, Gynecologic Oncology, Hematology-Oncology, Primary care, Radiation Oncology, Urology, and Weight Management & Wellness Center. The cliffhanger ending to the presentation included a picture of the former AMC Theatre on East 9 Mile Road where Dr. Owera announced they will be opening their newest location soon.
photoshttps://www.pensacolachamber.com/.&storyby Nicole Partridge
Business After Hours
Dr. Rami Owera & Kirk Waters
"Woodlands Medical Specialists is proud to host Business After Hours in August. We are so thankful to be a part of the Pensacola Chamber and appreciate everything that the Chamber does for our beautiful community" stated Laurel Lowery, Marketing & Credentialing Coordinator. The festivities drew to a close with the lucky door prize winners announced and thanks for the hospitality extended. To get involved visit
Megan Kennedy & Laurel Lowery Alex Liu, MD & Jordan Williams, APRN Barbara Dean, Gina Dickinson & Audrey Preston Andrea Turner & Marta Withers
September 2022 | 51
Rob Schell & Oren Powell
Tyler Windham, Tina Jenson & Jeff PowellApril Busby, Laurie Thompson & Tammy Horton
Willa Licata & April Bailey Najah Tran & Quinn Breaux Fran Crumpton & Patti Hall
DanaVIPPensacola.comBeck&John Jimenez
Jeremy Ruben & Christie Oliver Gabrielle Wood & Emily Phelps Courtney Radcliffe & Kyle Schoolar
VIP Pensacola at Business After Hours 52 |
Agency
VIP Pensacola at Sunbelt
Kimberley Anderson & Jimmy Stewart Katie & Ava Musick Sunbelt Team
Kayla Mount, Ryan Jacobs & Allison Hysmith Chelsey Jennings & Katie Lepord Paige Bryan & Rebecca McAllister
Sunbelt Title Grand Opening
54 | VIPPensacola.com
Sunbelt
photos & story by Kevin L Houghton Title
Scott Miller & Suzanne Pollard Spann
Sunbelt Title is a full-service title and settlement agency built on a tradition of excellence and guided by a spirit of integrity throughout all aspects of one's closing process.
Title Agency held their Grand Opening at their of ce on Woodbine Road in Milton on August 3. Sunbelt employees had the great pleasure of cutting the ribbon at the new venue, starting the evening off right. The event was held under a beautiful, crisp white tent with linen-covered pub and dinner tables. All 100 plus invited guests enjoyed cocktails, hors d'oeuvres, gourmet Sunbelt branded cookies, live music from GIBBS, and many cool door prizes. The delicious eats consisted of assorted cheeses and crackers, BBQ sliders, and a delicious charcuterie board with mixed fruits and nuts, all catered by Cutting Board from Milton Florida.
Sara
Denis
Stephanie Alverez with Zuzu & Stephen Rampersad Seegren & Rebecca McAllister McKinnon & Jacob Foreman
Denis McKinnon & Ben Mangrum
September 2022 | 55
French 75 story by Anna Stockton
story by Anna Stockton
French 75 Ingredients: 1½ oz gin ¾ oz fresh lemon juice ¾ oz simple syrup 2 ozs Champagne Long spiral lemon twist (for serving) Step 1 Combine gin, lemon juice, and simple syrup in a cocktail shaker. Fill shaker with ice, cover, and shake vigorously until outside of shaker is very cold, about 20 seconds. Step 2 Strain throughcocktailastrainer or a slotted spoon into a large flute. Top with Champagne; garnish with lemon twist.
FrenchCannon75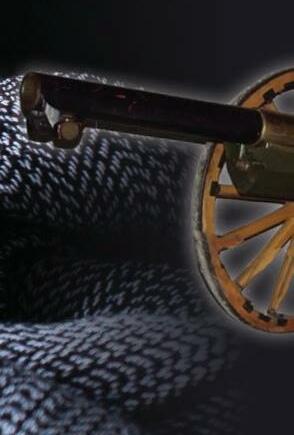 O ne of my absolute favorite things about being a writer is finding out the interesting history of topics, as most of the time, the history is a long and winding road that takes you on a journey you never expected. When I took on Swizzle for our Leading Ladies issue this month, I chose a French 75 because of its light, and slightly feminine appearance. I was shocked and amused to find out the tough, strong, and powerful history of this cocktail. And while upon discovering the not-so-feminine history of the French 75, I considered changing the story, until I thought, nopea tough, strong, and powerful cocktail is perfect for our area's Leading Ladies.
The French 75 story starts like the tale of many cocktails, with different versions told by people who may or may not have been there and may or may not have indulged in said cocktail while spinning a story brought together by bits and pieces of information. One thing everyone can agree on though is that the French 75 was named after the French Army's 75-millimeter light field gun, also known as the French 75 cannon. With over 20,000 of these guns, and over 200 million shells used during WW1, this gun is known as the one that helped the French make much needed progress against the Germans, as it allowed soldiers to shoot 15 rounds of ammo per minute. So, how does this seemingly delicate concoction get named after a powerful killing machine? It all starts with ingredients, the French 75 recipe we know today is a little different than the original. It was heavy on the liquor and included gin (or cognac), applejack brandy, grenadine, and absinthe. As years went on, different versions came about, some including champagne and different types of brandy. Its liquor forward nature is the reason for the powerful name, although there are a few stories of who takes credit for it. One such story is that a French bartender wanted to pay homage to the gun that made the French Army so successful and came up with a strong drink and named it the "Soixante-Quinze," or the 75. Spurred on by the name, this drink quickly caught on and became known as the "most powerful drink in the world" or much like the 75, "it hits with remarkable precision." While another story attributes the name to an Allied Fighter Squadron made up of French and American pilots, who would drink cognac and champagne after successful air raids. Legend has it they would make a toast and thank the French 75 cannon for their continued safety and triumph. While this cocktail lives on and continues to be a popular and well-known drink, the ingredients have changed a bit over the years, morphing into a concoction that's sippable and light, while still hitting with remarkable precision. The French 75 is tough, powerful, and gets the job done, perfect for relaxing after a long day at the office, a night out with fellow leading ladies, or even an air raid.
Pensacola State College celebrated the generosity of two donors – the family of Sharen Siefert and the Highpointe Hotel Corp. ─ who contributed significantly to student scholarships and institutional growth at a recent press conference.
Trauma Informed Care Therapy including individual and group counseling, music, art, and equine therapy. Life Skill Development including independent living, career development, GED, drivers ed, vocational rehabilitation, health and wellness, and spiritual development. Family Wraparound Support Services including family counseling and support. And Survivor Mentorship. Help by visiting utilizesprovided.andvolunteerthesecretplacehome.org/get-involved/https://orgivethroughdonations,gifts,talents.TrainingandscreeningareThesurvivorcenteredorganizationaholisticapproachforeachsurvivor
that comes forward. Their team collaborates and educates within the community, serving all 4 counties of circuit 1: Northwest Florida.
$50,000 commitment. Initial plans are for a 13,000-square-foot conference and training center that will house activities, as well as provide meeting space for faculty and serve as a host location for staff seminars and workshops. The facility also will be used by the PSC Nonprofit Center for Excellence and Philanthropy. "These generous hoteliers are investing in the College's planned training and conference center,'' said Andrea Krieger, PSC Executive Director of Institutional Development.
Lawyers® select attorneys using a patented multiphase selection process. Peer nominations and evaluations are combined with independent research. Each candidate is evaluated on 12 indicators of peer recognition and professional achievement. Selections are made on an annual, state-by-state basis. The objective is to create a credible, counsel.searchingandforascanattorneysofandcomprehensive,diverselistingoutstandingthatbeusedaresourceattorneysconsumersforlegal
58 | VIPPensacola.com
The Sharen Siefert Memorial Endowed Scholarship will give preference to students pursuing a vocational or nursing program and who do not have access to other financial aid sources. Preference also will be given to displaced homemakers, single parents, children of single parents, first-generation college students and graduates of female recovery programs. "The Sharen Siefert Memorial Endowed Scholarship honors Sharen's selflessness by serving students who would otherwise not be able to pursue higher education,'' said Mikenzie Francis, PSC Foundation Donor Relationship Manager.
all donated funds for:
Zarzaur And Bolton Are Once Again Named Super Lawyers®. Joe Zarzaur and Steve Bolton, both Board Certified Civil Trial Lawyers of Zarzaur Law, P.A., have once again been selected as one of Florida's Super Lawyers®. This distinction was based on nominations by peers, attaining certain honors, results, or credentials that indicate a high degree of peer recognition or professional competence, as well as independent research by the Super Lawyers research department and peer evaluations. The final published list represents no more than 5% of the state's lawyers. The lists are published annually in state and regional editions of Super Lawyers magazines and in inserts and special advertising sections in leading city and regional magazines and newspapers.TheSuper
LOCALE O
PSC Receives Financial Gifts To Fund Scholarship, Training and Conference Center
The Highpointe Hotel Corp. and four of its properties – Homewood Suites by Hilton, Hilton Garden Inn, Hampton Inn by Hilton and Residence Inn by Marriot – have committed $50,000 to the proposed PSC Training and Conference Center. Highpointe has already given PSC $25,000 of the Reboot and Co. Raises Funds and Awareness for the Secret Place Reboot and Co. has partnered with The Secret Place, both founded in Pensacola, Florida. Reboot's core mission has philanthropy at the forefront, and they are excited to foster this partnership. Amanda Clayton, Co-founder of Reboot & Co. stated, "I learned about human trafficking awareness while I was attending college. I worked for nonprofit, Restoration Project International (RPI) my freshman year. I learned more about human trafficking, mentorship, and educational programs for the victims and assisted in planning a community awareness event with an undercover FBI agent in Aurora, Colorado, opening my eyes to how human trafficking takes place in our own communities and neighborhoods. This awareness has led me to select my GIS Masters Capstone project as mapping Trafficking Corridors and Hot Spots in Florida and continuing to bring community awareness."TheSecret Place's mission is to provide a safe space for female child and young adult survivors of commercial sexual exploitation in Northwest Florida. The Christian-based center offers independent living life skills, health and wellness, therapeutic services, and onTheandthroughThePlacedonatedmentorship.RebootrecentlytoTheSecret$12,395.00.fundswereraisedGoFundMeattheMixingWithStarscharityeventJuly22,2022.TheSecretPlaceuses
The late Sharen Siefert committed $120,000 supporting education and her family is proud to see the College establish the Sharen Siefert Memorial Endowed Scholarship in her honor. Siefert, well-known in the community for her volunteer work and charitable spirit, died in September 2019.
MILITARY & $3.50/gameRESPONDERSFIRSTRATE&complimentaryshoes7days/week,365daysayear 2111 Airport Blvd. | Pensacola CordovaLanes.com | 850.477.2300 BEST PLACE FOR A DATE "Freedom is not free. If it wasn't for the U.S. Military, we wouldn't be able to sell fun for a living." - Steve Reynolds, Owner THANK YOU FOR YOUR SERVICE BEST PLACE TO TAKE THE KIDS/FAMILY VOTINGTHANKYOUFORUS September 2022 | 59 Thanks for voting us Best in Pensacola again! 670 Scenic highway, Pensacola | 850-332-5838 Your Neighborhood Pub Family & Locally Owned | Pensacola's go-to spot for great food & great views! check out our weekly lunch specials, Happy Hour & Live Music BEST BARTENDER | JOCELYN MORROW

60 | VIPPensacola.com
photos story by Kevin L Houghton
&
VIP Pensacola at Maserati of Pensacola
Pensacola Women's All iance
DarraECHOFlanagan & Sue Sue Sherrill Jessica Tucker & Laura Griffin
PWA's number one goal is to encourage the advancement of women through mentoring, networking, and education – including scholarship funding and advocacy. President Jan Miller stated, "Our mission is to enhance and promote the welfare of women."
Dr. Betty Smith & Jan Miller
Maserati of Pensacola hosted the Pensacola Women's Alliance on August 18, with over 60 members in attendance. This event was held to celebrate and promote the amazing services to their members and what they provide for women in the community, such as scholarships for women that attend Pensacola State College and the University of West Florida. PWA is an all-female group who contributes to the community either through their profession, their public service, either elected or appointed, or through volunteer services. Maserati is a prime location to hold such events due to its color, openness, and acoustics. The eleven-piece orchestra, better known as, The ECHO Foundation or Emerald Coast Honors Orchestra, led by conductor Virginia Clark, wowed the audience by playing soft and relaxing music. The group enjoyed food from Classic City Catering such as a charcuterie Board, consisting of delicious meats, cheeses, crackers, and fruits and nuts.
September 2022 | 61
Sally Fox & Alison Houghton
Darra Flanagan & Kate Treick
AllisonVIPPensacola.comJones,Tonya Dalhaus & Myra Van Hoose Noelle Turnbow, Michele Kobielnik & Meredith Bush
Lauren Green & Sabrina Simpson Magi Williams & Lisa Kirkman
VIP Pensacola at Pensacola Women's Alliance 62 |
Ericka Meyer & Gladys Scott
Paula Drummond & Rita RoneYana Titova & Dana Hill Andrea Gheen & Devin Fomberg Jade Hoy & Carolyn Grawi
September 2022 | 63 850-994-1078 Family Owned and Operated Since 1976 Licensed in Florida #RC005808 and Alabama #30269 FreemanRoofing.com 4201 Auckland Road | Pace, FL 32571 F R E E E S T I M AT E S COMMERCIAL AND RESIDENTIAL ROOFING •REROOF & COMMERCIAL SPECIALIST •GOVERNMENT CONTRACTS BEST Specialty Contractor 100 S Pace Blvd, Pensacola • www.AvalonHR.com850-475-1555 Services Offered: Time Clock/Time Tracking Payroll Services Employee Benefits Risk Management Safety Workers' Compensation nsurance Human Resources Solving issues in HR for companies with 5 to 5,000 employees. Our goals are to increase your profitability, mitigate your employment related liabilities, help attract and retain top talent, and maximize your employee productivity. Thank You for Voting Us Best Payroll/HR Firm 4 Years in a Row
Seville Quarter 130 E. Government Street | Pensacola 5:30-8:30pm Celebrating its 26th year, Emerald Coast Beer Fest returns to Seville Quarter with live music and beer from more than 200 microbreweries, distributors, and homebrewing clubs. Proceeds from the 2022 Emerald Coast Beer Festival ticket sales bene t Seville Rotary and the Alfred-Washburn Center. Tickets are required for this event. Visit EmeraldCoastBeerFest.com for tickets and information. Visit www.VIPPensacola.com for more events! 64 | VIPPensacola.com
The 5-2-1-0 Day of Play encourages participants to get up, get out and get active. By asking families to turn off their TVs and electronics to head outdoors for a day of fun. There will be exciting activities, games, sports, contests and physical challenges for the entire family to enjoy. Go to 5210nw .com for information.
The 45th Pensacola Seafood Festival, put on by Fiesta Pensacola, will have live music, arts and crafts vendors, kids area, and of course, some amazing seafood (and non-seafood for the land lovers). This event is free to the public. Go abouthomePensacolaSeafoodFestival.com/toformoreinformationthefestival.
5-2-1-0 Day of Play Community Maritime Park 301 West Main Street | Pensacola 10:00am-2:00pm
SEPTEMBER 23-25
SEPTEMBER 9
Seville Square 311 E. Government Street | Pensacola Friday SundaySaturday11:00am-11:00pm10:00am-11:00pm11:00am-5:00pm
Emerald Coast Beer Fest
Enjoy the brews and chews of Goal Lips while enjoying an educational series that explores how various topics impact Northwest Florida. The topic for September is city sustainability.
SEPTEMBER 30 A Night to Remember - 80's Prom Corinne Jones Sanders Beach Center 913 South I Street | Pensacola 6:00-10:00pm
SEPTEMBER 15 Science Hour Podcast
Pensacola Seafood Festival
Go back in time for this 80's themed prom night. Food and drinks are provided while you dance the night away to 80's jams. This event is like, way rad and bene ts Spread the Cheer USA Foundation. Like, totally go grab your Velcro wallet and go on this crazy internet thing to visit SpreadTheCheerUSA.org/prom and buy tickets.
SEPTEMBER 10
Goat Lips Chew and Brewhouse 2811 Copter Road | Pensacola 6:00-7:30pm
66 | VIPPensacola.com
Today, Georgia holds the crown as the largest peanut growers in America with 50%, and Florida and Alabama trailing behind with 11% and 10%, respectively. This crop has come a long way baby, from being dismissed as food for livestock and the poor to being respected and lauded as a versatile, well rounded (ha!), and an established pillar of cash crops.
story by Anna Stockton T
Get Ya Peanuts Here
his area is known for its beautiful white sand, crystal clear waters, laid back lifestyle, and awesome beach bars. But as we are enjoying the Panhandle paradise, our neighbors, not too far north of us, are growing a tasty and versatile crop that single handedly changed the farming and economy of the South... for the better. Although peanuts are believed to have originated in South America, the Spanish explorers fell in love with the tasty and nutritious nut and are considered to be responsible for spreading the word and this new food across the New World. After making their way to Europe, traders saw the value in peanuts and eventually brought them to Asia and Africa. Slaves are credited with bringing peanuts to North America on the sailing ships that brought them from Africa in the 1700s. However, peanuts were not as widely embraced in North America as they were in other regions. Considered a food suitable for only poor folks and livestock, the rest of the country turned their nose up at the nut and there was little demand for it. This, combined with the fact that growing peanuts was tedious and time-consuming work due to lack of harvesting equipment, there were few farmers willing to gamble their livelihood on something so finicky. The first peanuts grown commercially were in Virginia and didn't take place until the early 1800s. The crop was used for oil, food, and a substitute for cocoa. It wasn't until the Civil War that peanuts became more accepted as food for all when soldiers on both sides of the war turned to peanuts for their high protein content that helped sustain them. It was the Union soldiers though, whose love of this newfound food, that brought peanuts home with them and spread the peanut love throughout the north. By the late 1800s, P.T. Barnum's circus was selling roasted peanuts at their shows while peanuts became the all-American snack of choice at baseball games with vendors yelling "get ya peanuts here," especially in the cheaper sections. Something many may not know, these cheap seats and the fans that sat in them are credited with where the term "the peanut gallery" originated. While the peanut business was growing, it was hard to keep up with the demand as the harvesting process hadn't changed much over the years. By the early 1900s, advancements were made and harvesting became easier, resulting in a boom in the peanut business. But just when you thought peanuts wouldn't get any more popular, enter botanist George Washington Carver. Carver began to recognize the value and versatility of peanuts while experimenting with them at the Tuskegee Institute. He saw them as a potentially successful cash crop and found that they could be alternated with cotton crops to keep the soil enriched throughout both seasons and help combat the boll weevil problem that was plaguing southern farmers. Carver went on to develop over 300 uses for peanuts, and while some of these uses are questionable, such as peanut and prune ice cream (yikes), others are quite useful, such as laundry soap, ink, and gasoline. The botanist helped change the look of the Southern farm and at one time, peanuts nearly surpassed cotton as the South's premier crop.
Panhandle Peanut Brittle
INGREDIENTS: 1 cup sugar 1/2 cup light corn syrup 1/8 teaspoon salt 1 cup dry-roasted or shelled raw peanuts 2 tablespoons butter 1 teaspoon baking soda 2 teaspoons vanilla
Optional seasoning - 2 tablespoons Old Bay Seasoning, smoked paprika, shrimp boil mix
DIRECTIONS: Step 1 - Rinse the peanuts. Step 2 - Put water, salt, seasoning, and peanuts in a large stockpot. Bring to a boil. e - o e and ed ce e ea s eno o main ain a lo oil. oil o 2 o o s or longer, until peanuts reach desired level of Stepsoftness.4-Drain and eat up within a couple of days.
DIRECTIONS: e 1 - om ine e s in edien s in a la e lass bowl. Microwave on HIGH 5 minutes, add peanuts and microwave for 2-4 more minutes. Stir in remaining Stepingredients.2-Pour into a buttered 15- x 10-inch pan; shake an o s ead inl . ool n il m en ea in o pieces. Store in an airtight container.
INGREDIENTS: 1 pound of raw, fresh peanuts 1/4 cup kosher salt, preferably Diamond Crystal (or 2 tablespoons table salt) 4 cups water
Bayou Boiled Peanuts
September 2022 | 69 Do Not Miss Promoting Your Business in Our October Power Players Issue Various opportunities exist to showcase your product or service to the a ea's mos in en ial eo le. all . 2. mail e la P es in.com FIRST ONSITE IS THE ONLY PARTNER YOU'LL EVER NEED IN PROPERTY RESTORATION First Onsite is your trusted, full-service disaster recovery and property restoration company, serving North America and beyond. We partner with you to prepare for the threat of catastrophe and to be the first team on-site after disaster strikes. We are on call 24 hours a day, 365 days a year, and you can request our services at any time. 511 Wynnehurst Street Pensacola, FL 32503 Toll-Free: 800.622.6433 Local: 850.920.5662 Thank you for voting us BEST Restoration Company
Leah McDermott, Program Manager with the Alliance, shared innovative ways to engage volunteers and donors. The topic is timely as the nonpro t sector continues to deal with impacts of the pandemic and economic uncertainty.
photos & story by Nicole Partridge and with Alliance
the Florida Nonprofit
70 | JonVIPPensacola.comDancy&Carol Calfo
Elizabeth Gray & Tracie Hudson Stephen Rampersad & Maegan Leonard Farrah Hale & Lauren Clark Andrea Rosenbaum & Karl Schwelm & Trixy Quinto
Barbara Dean & Gina Dickinson
The West Florida Chapter of the Association of Fundraising Professionals (AFP) gathered at the Hyatt Place Pensacola Airport for a Lunch and Learn on August 16. The Florida Nonpro t Alliance was on hand to release the latest Giving in Florida research. Many local charities that the VIP readers know and love were there to learn about charitable giving trends in Northwest Florida.
Kayla Stanley & Robin Zimmern Veronica Seymour & Debbie Black
Veronica Seymour of AFP shared, "We are excited to have Leah come out and discuss trends in fundraising and how that may affect the local nonpro ts. AFP wants the members to have the best information so everyone can collaborate and move the missions forward."
Attendees enjoyed the hospitality and specially prepared individual lunch selections offered by Hyatt Place Pensacola Airport.
Learn
VIP Pensacola at Hyatt Place Pensacola Airport AFP Lunch
September 2022 | 71 Some of the greatest bourbon comes from a single barrel. Now you can cook with the unique flavors and aromas specific to the barrel you choose. SELECT FROM: Blanton's • Buffalo Trace Four Roses • Woodford Reserve 7400 Pine Forest Road, Pensacola 850-941-4444 | SouthernGardensFlorist.com Best Florist and Best Gift Shop 2022! Thank you for voting us Fire up your grills for tailgating with Barrel Down South Single Barrel Grilling Chunks.
72 | VIPPensacola.com
Women lifting themselves out of a cycle of substance abuse, domestic violence, homelessness, or overall distress often nd their situation very dif cult. When there are children who depend on you, lifting everyone out of the cycle might seem impossible. This is where the CALM Organization comes in. This faith-based organization helps single moms by providing transitional living for those moving forward from a crisis situation. They provide education, resources, and support to provide the best possible outcome for moms and their littles.
What are some future goals of CALM?
Interview with CALM Organization President Chanie Erb
story by Anna Stockton photos provided by CALM Organization
What impact has your organization had on the community?
I am the current President of CALM and have been involved in the organization since before we had the home in 2017. I came to the organization like most, searching for my purpose in life, knowing I wanted to serve those that are less fortunate and lost. I have served in several positions on the executive board, as project manager for the renovation of the old church and community building, and now as acting president.
CALM serves the community in a number of ways, mostly through giving a "hand up" to those who are considered a problem. Our priority is to get moms and children healthy through counseling, education, support, and guidance. We give them a safe home environment where they can learn and start to be a bene t to those in their community. Many of our residents come from homelessness, we have saved children from going into foster care by accepting their mothers and teaching them the right way to parent and be successful.
CALM stands for Crisis Aid for Littles and Moms. We are a transitional living facility for women and children that come from multiple crisis situations such as homelessness, domestic abuse, substance abuse, and more. We strive to provide them with the foundation they have lacked for most of their life through education, resources, guidance, love, and support. A typical time at CALM is up to 6 months. We have a 76% success rate. How did CALM come about?
What is the CALM Organization?
September 2022 | 73
CALM started as a weekly single moms' group by founder Grace Nuffer and Terri Steadman. They were meeting with some women who were realty struggling. Terri and Grace would help with their needs from their open pockets and homes. CALM was discovered through these women continuing to say, "If only I had known or been taught that." They wanted to step out in faith and have a permanent home they can come to and get what they need in a safe and supportive environment. What are some of the challenges CALM faces? Finding the residents daycare so they can get a good paying job is our number one problem, number 2 is affordable housing. Once we have them successfully in a job and have secured daycare, we look for housing but affordable housing in our area is almost nonexistent. We usually rely on other organizations, government systems, or HUD housing which isn't ideal when they are trying to get away from utilizing the government for their success.
GIVE | CARE | SHARE
CALM is looking to solve our own lack of affordable housing on our own land. We are building CALM Village. It will consist of 7 cottages complete with 2 bedrooms, 1 bathroom, kitchen/ living combination.
Tenants of CALM village will still fall under the protective canopy of CALM however with more of an independent style living.
What is your position and how did you get involved?
GIVE
CARE | SHARE
What else would you like our readers to know about CALM?
We host our annual fundraiser in April every year. We also participate in chili cookoffs, 5k fun runs, golf tournaments, trivia nights, scavenger hunts, and so much more. Our next big event is our Ground Breaking Ceremony for CALM Village on Sept 12, 2022. It will be in our VenYou parking lot at 4:30. We are excited to have community members, past residents, and government of cials there to celebrate such an amazing step for the Organization.
CALM is special, we are a one of a kind organization that exists in the panhandle of Florida, we are faith based and feel that everyone deserves the love of God and a second chance. We are all broken, and everyone can be pieced back together with the love and support of one another. CALM is exactly that – a place of peace to help these families piece their shattered lives back together. We help moms realize they're great, because we show them they are. How can our readers get involved or donate to your organization?
What are some events your organization hosts?
Please visit our website at NicevilleCalm.com and see what we are doing. Find the volunteer tab and get started. We have multiple opportunities such as teaching, babysitting, driving, cooking, gardening, and more. Our director will receive your application and then we can get you put into a position of serving. We also host a volunteer workshop quarterly. This helps our volunteers stay involved and up to date on the needs of the residents and organization. |
September 2022 | 75 A perfect groom for the perfect day. From beach weddings to country club affairs, Gent's Formal Wear has your style. CALL RICHARD FOR YOUR APPOINTMENT TODAY! 850-434-3272 • GENTSFORMALWEAR.COM Serving the Gulf Coast from Gulf Shores, Alabama to Destin, Florida TUXEDO AND SUIT RENTALS Thank you for voting us Best Place for a Tux FREEPIK.COMIMAGE: VEHICLE NOT RUNNING RIGHT? RUN RIGHT TO GARY! Thank you for voting us Best Automobile Repair Service 4 years in a row 20+ Years Experience 37 WorldCertificationsClassASE Master Auto and Truck Technicians 6806 Pine Forest Rd. | Pensacola, FL. 850-378-4157 | garysapp.com
76 | VIPPensacola.com
Craig England, Carol Knight, Laurie Guthrie & Alivia Kust Williams & Rob Engel
Nikki
Jeremy Ruben & Jeri Cox Frency Moore & Anna Goretski Ed Henning & Chris Munro 2022
September
Todd Thomson & Chris Taylor
VIP Pensacola at Pensacola Yacht Club GoodPensacolaMorning
| 77
Audrey Preston of Pensacola Parade People was sporting her Red Coat as part of the Greeters group welcoming everyone. Preston shared, "It's a great way to start the day in Pensacola. You can't beat the view while you are surrounded by the best and the brightest." Many thanks to the Pensacola Yacht Club for the amazing hospitality and always enjoyable breakfast selections.
Over 110 Chamber members and guests attended Good Morning Pensacola at the Pensacola Yacht Club on August 5. The Membership Breakfast offers a way for local businesses to connect with fellow Chamber members.
Stephen Rampersad & Willa Licata
Todd Thomson, President and CEO of the Pensacola Chamber welcomed Cox as the presenting sponsor. Emcee Matt Simpson led a spirited "Name That Tune" challenge that kept everyone guessing and laughing. Jo McArthur, Executive Director of the Escambia County Public Schools Foundation encouraged everyone to be "All In" for teachers and schools and recognized many local business partners and supporters. The featured program speaker was Michael O'Neal, Executive Director of Parent University. This collaborative, community-based non-pro t offers parent training and education including tools and resources to strengthen families and the community.
photos & story by Nicole Partridge
Monique Brown, Matt Simpson & Michelle Sauls
Abraham Scully, Angei Morris & Patti Easton
Quinn Breaux, LaTangela Newsome & Patrick Rooney
VIP Pensacola at Good Morning Pensacola 78 | RachaelVIPPensacola.comGillette& Myra Van Hoose Michael O'Neal, ShaQui Kamau & Jo McArthur
Lynn Coleman & Brandon Melton Dr. Marcus McBride & Thelma Manley
Fenoy Butler & LoLo Carlton
Jewelers was buzzing with excitement on August 17, as owners Barry and Laura Cole hosted an event to share their news that will bene t Pensacola's Baptist Hospital and the community, in their Transforming Baptist for the Future initiative. Beré Jewelers has always been an integral part of Pensacola by supporting the community and donating generously when and where it was needed, and this evening was no exception. Beré Jewelers, on behalf of Barry and Laura Cole, presented a $100,000.00 check to Baptist Health Care to help them in building a modern and more accessible approach to health care with their new campus. Baptist Health Care President and CEO Mark Faulkner shared that the, "$650 million investment project consists of a 57-acre campus, a 10- oor state of the art hospital, a Bear Family Foundation Health Center, and a behavioral health unit." This new campus, with a town square, chapel, café, pharmacy, and much more, is currently on track to open its doors in September of 2023, and with the help of philanthropists such as the Coles, they are on their way.
VIP Pensacola at Beré Jewelers Transforming Baptist for the Future 80 | SamanthaVIPPensacola.com&Larry
photos story by Kevin L Houghton Kuhn Mark Faulkner & John Peacock
&
Beré
Baptist's mission is, "helping people throughout life's journey," and with this donation from Beré Jewelers, and many of the others present at this event, they will be able to do just that.
Steve & Shelley Black Lisa & Jimmy Bradley Barry & Laura Cole
Lewis Bear III, KC Gartman, Lisa & Carlton Ulmer
Barry Cole & Dick Baker Jenn & Jay Bradshaw Victoria Mullet & Katie Kingsman
Brian & Christina Williams, James Rockhill
September 2022 | 81
Aaron & Meghin Barter
Elena
Peter & Julie Dyson, Tom Vaughn Tina McGhee & Cari Wilson Adam & Danielle Medley LauraRae & Mike Morette & Wadih Khoury
I grew up in a small town in NW Ohio and I married someone who was from the suburbs of Philadelphia. We moved to Conshohocken, PA, in 1966 where I raised my family. My daughter married in early 1990 and moved to Pensacola. I would visit often when she rst came here and I loved everything about the area. When I started to have grandchildren I wanted them to know me, so in 2001 I moved to Pensacola. We share a great love for each other, and my family is the most important thing in my life. I feel so fortunate to be living in such a beautiful place. I did a lot of volunteering with The Make-A-Wish Foundation in Philadelphia and when I moved to Pensacola I had the wonderful opportunity to work for them again.
I thank God every day for the wonderful life I am living.
Finish this statement, I AM PENSACOLA because… I am Pensacola because it is one of the most beautiful and incredible, places I have ever been. I love everything our city offers to each of us every day and I am so thankful I live and work here. I would not want to live anywhere else but Pensacola. photo by Nicole Partridge
I AM PENSACOLA Willa Licata
I also am out doing what I can to help some non-pro ts by volunteering, which is a passion of mine.
What is your profession?
How did you end up in the Pensacola area?
I am an administrative assistant at the Greater Pensacola Chamber of Commerce. I had the good fortune of Lindsay Money coming after me requesting I come in for an interview with the Chamber. I got the job and now I work with an amazing team led by Todd Thomson, our president. We strive every day to make sure our members know they are our top priority. I believe so strongly that our Chamber is great because of our committed staff and our great members. When your work is a job you love it is like you don't go to work.
What are some of your favorite things about Pensacola? Our beaches, Blue Angels, our history, our downtown and our restaurants. We have the best city to explore in the Panhandle. We also have so many wonderful organizations making a difference in this community, and I am so grateful for them. Three words that best describe you.
Positive, Committed, Loyal. Favorite places for going out? I love to go to The District, both upstairs and downstairs. I go upstairs with friends because we can sit on the sofas and enjoy the tapas, drinks, and the piano. On a good night you might get John Ripley and Mike Papantonio as the entertainment. We stay for hours enjoying the comfort of The District. Always great conversation with good friends. What is one thing that you do not go a day without?
Service with a Smile Pensacola Style! • Business built on trust • Great communication • Professional and savvy • Knowledgeable and unbeatablecompetitiveexperiencedpricingservice (850) 361-2044 | Pensacola@SunbeltTitle.com | SunbeltTitle.com 1510 Airport Blvd., Suite 4, Pensacola, FL 32504 Sunbelt Title Pensacola TeamNWFLKimberleyAnderson,Sales&Marketing Sarah Seegren, Escrow Officer Tori EscrowLaker,Assistant Erin Vaughn,NWFL Service Manager Natalie Blair, Escrow Officer RebeccaEscrowMcAllister,Officer Bella Flake, Escrow Officer 5563 Woodbine Rd, Milton 32571 | Pace@SunbeltTitle.com