November/December 2021 $3.95 HOMELESSNESSTACKLING BEST PLACES TO WORK ATTORNEYSTOP A ONFILMMAKERAMISSION ARLINGTON FALLS CHURCH MCLEAN What 35+ local nonprofits need right now and how you can help
START EXPLORING stop searching COOKOLOGY / MUSE PAINTBAR / REGAL CINEMAS / 5 WITS
WITS5/CINEMASREGAL/PAINTBARMUSE/COOKOLOGY
WITS5/CINEMASREGAL/PAINTBARMUSE/COOKOLOGY
EVERMAY WEALTH MANAGEMENT, LLC 1776 WILSON BOULEVARD, SUITE 520, ARLINGTON, VA 22209 | EVERMAYWEALTH.COM | 703.822.5696 Comprehensive expertise and unwavering commitment to your goals. When the path ahead is uncertain, you need both. at's why at Evermay, our advisors are dual-focused: on the investment world, and on your world.

Homeless in Arlington
4 November/December 2021 ■ ArlingtonMagazine.com VENTURAMICHAEL CON TENTS Vol. 11, Issue November/December6 2021
50WORKFORCE Best Places to Work
ON THE COVER: Gateway Park in Rosslyn.
Photo by Matt Mendelsohn. Marquee letters from Brightly Ever After, brightlyeverafter.com
36PHILANTHROPY Guide to Giving Make a difference in your community by supporting these local nonprofits. Here's what they need right now.
Need a lawyer? Here are our area's most respected attorneys, as nominated by their peers in the legal community.
During the pandemic, our homes have become offices, classrooms and safe zones providing sanctuary from a deadly virus. What if you don't have one?
62LAW Top Attorneys
■ 28COMMUNITYFEATURES
Sometimes the grass really is greener. Find out why these local employers made our inaugural list of the best places to work.
Owen Boucher (left) and bike repair instructor Raymond Duran at a Phoenix Bikes Earn-a-Bike workshop
A healthy community is your GREATEST GIFT.
Dedicated to protecting the health of our community, the Virginia Hospital Center Foundation ensures the needs of each and every patient are met with the very best level of care. Your generosity directly improves lives, fuels medical innovations, and provides the highest quality of care to our community — and beyond. Let's be healthy together.vhcfoundation.com/give
expensive home sales. Plus, real-estate trends by ZIP code. 98 Restaurant Review Can't travel to Greece right now? Our Mom Eugenia will at least give you a wistful taste of it. 98
6 November/December 2021 ■ ArlingtonMagazine.com CON TENTS Vol. 11, Issue November/December6 2021 ODETTE'S)ATHOUSE(RIVERVARNEYJASON(RASA);VEREENDIXIE(CAKE);LINDSEYDEB 102119 102 Home Plate Indian fast-casual fare, a satisfying soup for cold weather and divine desserts that taste as good as they look. 104 Places to Eat Bite-size write-ups on more than 250 restaurants and bars near you. 119 Get Away Escape to a cabaret-turned-boutique-hotel or a gleaming destination for glass art lovers. 120 Back Story Arlington's trendiest holiday shopping spot, circa 1951. SPECIAL ADVERTISING SECTIONS 23 Senior Services 69 Attorneys 86 Kitchen & Bath Showcase 114 Private Schools ■ DEPARTMENTS 8 Letter from the Publisher 10 Contributors 12 Around Town Celebrate the season with live theater, author talks, holiday markets and Arlington's annual Thanksgiving Turkey Trot fundraiser. 16 Good Stuff Beautiful art created in isolation, and sustenance for nurses. 17 My Life Amid century-old gravestones, a local dad finds a bonding moment with his daughter. 20 Familiar Faces Josh Leong had just graduated from high school when he went on a mission trip to Ethiopia. He made a friend, and a film. 79 Great Spaces This condo bathroom makeover is a case study in small space design. 80 Prime Numbers
The area's most
Thematic Investing examines how the world is changing, determines which companies will be advantaged, and invests accordingly. Ours is a unique approach. We invest in where the world is going, not where it has been. To learn more, call Stacy Murchison at 240.497.5008 or visit us online at ChevyChaseTrust.com.
While there are no calm seas in investing, it is possible to have a prosperous voyage.
8 November/December 2021 ■ ArlingtonMagazine.com
Giving Back letter from the publisher
Greg PublisherHamilton
"Homeless in Arlington" by Tamar Abrams explores what it's like to experience homeless ness in our community—including some of the causes, the number of people affected and our county's robust safety net. Due to the dedicated work of local organizations like PathForward (formerly A-SPAN), Bridges to Independence, Doorways and Arlington Thrive, and with criti cal support from the government and private donations, the homeless among us have a clear path to housing and a more stable future. As the holidays and the end of the year approach, I hope you will review our Guide to Giving. In it, we identify more than 35 local non profits, the work they do and how financial sup port will specifically help those in need—covering necessities ranging from groceries and emergency dental visits to financial and career counseling. Thanks to the Arlington Community Foundation for its help in assembling this useful resource.
Shifting gears, we are pleased to introduce "Best Places to Work," a new annual feature we've launched in partnership with Best Companies Group (BCG). The inaugural list highlights 11 winners from a variety of industries. BCG's sur vey process and requirements are rigorous, and making the list is difficult and prestigious. Con gratulations to our first class of top employers. I hope you find our November/December 2021 issue interesting, informative and useful. At the risk of completely burying the lede, I am proud to note that we launched Arlington Mag azine 10 years ago. Our inaugural issue was the November/December 2011 issue. I am grateful to our talented, dedicated team and the wonder ful support and enthusiasm from our commu nity. It's been a fun, wild ride for sure. If you have any questions, comments or feedback, please send them to me at greg.hamilton@ arlingtonmagazine.com. Story ideas should be sent to Thanks!jenny.sullivan@arlingtonmagazine.com.
I STILL REMEMBER my first encounter with a homeless person. I was 6 or 7 years old, and my family had tickets to The Nutcracker at the Acad emy of Music in Philadelphia. As we walked from the parking garage to the theater, we passed a man sitting on the sidewalk, wearing filthy clothes and asking for money. I remember ques tioning my parents about his situation and being floored to learn this man didn't have a home and that he probably slept outside. At that age, I just assumed everyone had a safe, secure home with their own bed. The thought of this man sleeping in the street, under a bridge or in an alley upset me. He must have been cold, wet, hungry, dirty and exhausted all of the time. Where was his family? Couldn't someone help him? It was sad and distressing. The encounter was burned into my young brain. Even in shiny, affluent Arlington, which is worlds away from gritty Philly of the 1970s, we have our share of people living on the streets.
WE WERE THERE WHEN THE OLD HOUSE GOT TOO SMALL. WE'LL BE THERE WHEN THIS ONE GETS TOO BIG. MORTGAGE LOANS Let's talk about your options. Call us at 800.399.5919 or visit sandyspringbank.com/mortgage. Member FDIC. Sandy Spring Bank NMLS # 406382. Sandy Spring Bank and the SSB logo are registered trademarks of Sandy Spring Bank. © 2021 Sandy Spring Bank. All rights reserved.
MA GA ZINE
CURRENTLY WORKING ON: "Writing more travel pieces, and stories about bicycling, eating at every Anita's in NoVA, and the ethics of giving money to panhandlers."
PUBLISHER & CO-FOUNDER Greg Hamilton CO-FOUNDER Steve Hull EDITOR Jenny Sullivan ART DIRECTOR Laura Goode PRODUCTION MANAGER Danny Ryan DIGITAL WRITER/WEB PRODUCER Eliza Tebo Berkon
Jeffrey Yeates LIVES IN: Arlington
FINANCE & CIRCULATION COORDINATOR Julie Rosenbaum
GOING OUT GO-TOS: Grand Cru Wine Bar and Bistro, TTT and L.A. Bar & Grill
contributors PHOTOSCOURTESY
IN THIS ISSUE: Shot the colorful photos of RASA and Lantern House Viet Bistro for our Home Plate column
ONLINE: dixievereen.wixsite.com/ddvp and @dixievereen on Instagram ■
CAREER FIRST: Vereen was one of the first staffers to join USA Today (as a photographer and photo editor) when it launched in 1982. She worked there until 2012. Her portfolio includes shots of Tina Turner, Mick Jagger, Barack Obama, George W. Bush, Liza Minelli and Nelson Mandela, among others.
ORIGINALLY FROM: Vienna, Virginia, with stops in Utah, Arizona, Williamsburg and London in his 20s IN THIS ISSUE: Writes about visiting cemeteries with his teenage daughter as part of a community service project— with some unanticipated side benefits
TRAVEL WISH LIST: "Inside the U.S.: Chattanooga, Tennessee, and Death Valley National Park. Farther afield, I'd like to see Malta, Oman, Uzbekistan and Madagascar."
ASSISTANT EDITOR Bette Canter DINING CRITIC David Hagedorn COPY EDITORS Sandy Fleishman, Barbara Ruben WRITERS Tamar Abrams, Christine Koubek Flynn, Sydney Johnson, Kim O'Connell, Stephenie Overman, Rina Rapuano, Jennifer Shapira, Jeffrey Yeates
ORIGINALLY FROM: Colorado (an Army brat, she also lived in Germany and Chicago before moving to New York City at 18 to work as a photographer for Newsday)
PHOTOGRAPHERS & ILLUSTRATORS Skip Brown, Ron Cogswell, CS3 Photography, Sarah Goldman, Tony J. Lewis, Deb Lindsey, Matt Mendelsohn, Albert Nimley, Don Pearse, Hillary Schwab, Jonathan Timmes, Joseph Tran, Jason Varney, Michael Ventura, Dixie Vereen, Jenn Verrier
ADVERTISING ACCOUNT EXECUTIVES
Dixie Vereen LIVES IN: Ballston
ARLINGTON MAGAZINE is published six times a year by Greenbrier Media LLC © 2021 Subscription price: $19.95 To subscribe, visit arlingtonmagazine.com. For advertising information: Call 703-534-0519 or arlingtonmagazine.com.visit
DURING THE PANDEMIC: "I finally read Tolstoy's War and Peace. It was wonderful."
10 November/December 2021 ■ ArlingtonMagazine.com
WHAT'S COOKING: She is also the chef at Argus House, an Arlington group home for at-risk boys ages 13-17. "I cook for the boys and staff five days a week. Those with an interest in culinary arts help me in the kitchen."
Traci Ball, Kristin Murphy
FAVORITE NONPROFITS: Arlington Food Assistance Center (AFAC) and the Washington Area Bicyclist Association (WABA) ONLINE: Visit arlingtonmagazine.com to see Yeates' stories about Arlington's toughest bike hills and captivating train rides on West Virginia's Potomac Eagle Scenic Railroad.
Letters to the Editor: We want to hear from you. Please jenny.sullivan@arlingtonmagazine.com.email
FAVORITE NONPROFIT: Arlington Food Assistance Center (AFAC)
How to contact us: Editorial: editorial@arlingtonmagazine.com Subscriptions and Customer Service: customerservice@arlingtonmagazine.com Advertising: advertising@arlingtonmagazine.com Website: Phone:P.Arlingtonwebsite@arlingtonmagazine.comMagazine/ArlingtonMagazine.comO.Box5510,Arlington,VA22205703-534-0519
MUELLERCHRISTOPHER
GO NOW NOV. 2-JAN. 2 Rent
AROUND TOWN
NOV. 4, 8 P.M. Harlem 100 The Barns at Wolf Trap
Signature Theatre stages a triumphant reopening with this reimagined take on the iconic rock musical by Jonathan Larson (which itself was a modern-day riff on Giacomo Puccini's La Boheme). The end of the millen nium finds a group of bohemians in the East Village struggling with gen trification, love, loss and legacies in the shadow of the HIV/AIDS crisis. Winner of the Tony Award and the Pulitzer Prize, Rent defined a genera tion and remains essentially relevant to today's world. A Pride Night per formance will be held on Nov. 19. See website for show times and ticket prices. Signature Theatre; 4200 Campbell Ave., Arlington, sigtheatre.org
MUSIC
The State Theatre Can't make it to see the piano man at Madison Square Garden this holiday season? You can still hear favorites like "New York State of Mind" and "Scenes from an Italian Restaurant" performed live at this tribute show in Falls Church City. Proof of vaccination or a negative Covid test required for entry. $17 in advance; $20 day of show. 220 N. Washington St., Falls Church, thestatetheatre.com DEC. 18, 7:30 P.M.
12 November/December 2021 ■ ArlingtonMagazine.com
NOV. 6, 7:30 P.M. Enchanting Elgar, the English Romantic Gunston Arts Center, Theater 1
Unitarian Universalist Church of Arlington Bring the whole family for an evening of classical and contemporary holiday favorites, including "Sleigh Ride," "Hanukkah Festival" and "Rejoice" from Handel's Messiah. Soprano Sharon Christman will perform along with winners of NCE's Piano Young Artists Competition. The show will conclude with a carols sing-along. $36 for adults; $18 for students. 4444 Arlington Blvd., Arlington, nationalchamberensemble.org
The National Chamber Ensemble opens its 2021-22 season with a tribute to British composer Sir Edward Elgar. The program includes a unique strings arrangement of Elgar's famous Enigma Variations and his Serenade for Strings. Gilbert and Sullivan's lively overture to the Mikado kicks off this sparkling evening of chamber music. $36 for adults; $18 for students. 2700 S. Lang St., Arlington, nationalchamberensemble.org
The Stranger: A Tribute to Billy Joel
National Chamber Ensemble Holiday Cheer Concert
Featuring the music of Fats Waller, Duke Ellington, Billie Holiday, Bessie Smith and Ethel Waters, performed by a ninepiece band with dance accompaniment, Harlem 100 celebrates one of America's most influential artistic movements, offering insights into the legendary New York neighborhood, then and now. Proof of vaccination or a negative Covid test required for entry. $52 and up. 1635 Trap Road, Vienna, wolftrap.org
NOV. 13, 9 P.M.
The Christmas Angel Creative Cauldron
Based on a little-known 1910 novel by Abbie Farwell Brown, this new musical, the tale of an elderly spinster's heartwarming transformation, suggests echoes of Dickens and Ebenezer Scrooge. "Preprofessional" students round out the cast of this Musical Theater Workshop performance. $35 for adults: $20 for students. 410 S. Maple St., Falls Church, creativecauldron.org
AUTHORS & BOOKS NOV. 18, 7 P.M. Gayle Jessup White: Reclamation: Sally Hemings, Thomas Jefferson and a Descendant's Search for Her Family's Lasting Legacy
NOV. 5-21
Aesop's Fables Creative Cauldron
■ November/December 2021 13
Paula Poundstone
ARTSPERFORMING
One More Page Books Gayle Jessup White, a Black descendant of Thomas Jefferson and Sally Hemings' family, explores America's racial reckoning through the prism of her ancestors— both the enslaver and the enslaved. Hear the author and genealogy enthusiast, a communications officer at Monticello, discuss her family lore and her remarkable journey to definitively understand and reclaim her heritage. This event is free, but advance registration is required. 2200 N. Westmoreland St., Arlington, onemorepagebooks.com
The Birchmere Need a good laugh? The quick-witted stand-up artist, a regular on NPR's "Wait, Wait, Don't Tell Me!," performs three nights. Don't miss the chance to see her onstage and in her element. Proof of vaccination or negative Covid test required for entry. $55. 3701 Mt. Vernon Ave., Alexandria, birchmere.com NOV. 29-DEC. 26 Cinderella Synetic Theater Led by an all-female team, Synetic's revamp of the fairytale classic is a fit for audiences of all ages. See website for show times and ticket prices. 1800 S. Bell St., Arlington, synetictheater.org DEC. 9-19
ArlingtonMagazine.com
The lessons behind tales such as The Ant and the Grasshopper, The Tortoise and the Hare and The Lion and the Mouse have stood the test of time. This familyfriendly Learning Theater production brings them to life with a 21st century twist, featuring music by Matt Conner and lyrics by Stephen Gregory Smith. $20 for adults; $18 for students. 410 S. Maple St., Falls Church, creativecauldron.org NOV. 19-21, 7:30 P.M.
The accelerating effects of climate change are posing multidimensional challenges to ecological, political, economic and social systems worldwide. Library director Diane Kresh speaks with novelist/ essayist Nathaniel Rich about his book, Losing Earth: A Recent History, during this free virtual event. library.arlingtonva.us/ arlington-reads DEC. 9, 7-8
McLean Community Center
ArlingtonNathanielArlingtonP.M.Reads:RichPublicLibrary
From the celebrated author of the New York Times bestseller Behold the Dreamers comes a wrenching story about the collision of a small African village and an American oil company. Novelist Imbolo Mbue speaks about her latest book, How Beautiful We Were, in this free online author talk with library director Diane Kresh. library.arlingtonva.us/arlington-reads
Botanical Gardens
ArlingtonImboloArlingtonP.M.Reads:MbuePublicLibrary
Stroll through a magical, half-mile wonderland of trees, shrubs and gazebos transformed with thousands of colorful lights. Timed tickets can be purchased online, and social distancing will be required. See website for prices. 9750 Meadowlark Gardens Court, novaparks.com/events/winter-walk-of-lightsVienna, NOV. 20, 9 A.M.-1 P.M. Jennifer Bush-Lawson 5K & Family Fun Day Knights of Columbus The seventh annual fundraiser includes a certified 5K course and kids' fun run, plus moon bounces, laser tag, a rockclimbing wall, balloon animals, face painting and children's performances. Proceeds support pediatric and maternal health care services for economically vulnerable women and their babies. $20$50. 5115 Little Falls Road, Arlington, jb-lf. org/5k-fun-day DEC. McLean3-5 Holiday Art & Crafts Festival
SEASONAL NOV. 11-JAN. Meadowlark2 Winter Walk of MeadowlarkLights
Find unique holiday gifts at this juried show featuring some 80 regional artisans. Works include pottery, glass, jewelry, mixed media, wood, fine art, artisanal foods, beauty products and more. $5 for adults; free for kids 12 and under. 1234 Ingleside Ave., McLean, nvhg.org DEC. 17-18, 5:30-8:30 P.M. Christmas Illuminations at Mount Vernon George Washington's Historic Mount Vernon Dress warmly for a dazzling fireworks display over the Potomac River set to holiday music. $48-$58 for adults; $26$36 for youth. Estate tours can be added for an additional fee. 3200 Mount Vernon Memorial Highway, Mount Vernon, mountvernon.org 2021–2022
14 November/December 2021 ■ ArlingtonMagazine.com ■ around town NOV. 18, 7-8
PAT McGEE BAND OCT 22 + 23 | 8 PM LAURA BENANTI OCT 30 | 3 PM + 8 PM WU HAN AND FRIENDS WU HAN, PIANO ARNAUD SUSSMANN, VIOLIN PAUL NEUBAUER, VIOLA DAVID FINCKEL, CELLO OCT 24 | 3 PM CHAMBER MUSIC AT THE BARNS HARLEM 100 NOV 4 | 8 PM KAYHAN KALHOR NOV 10 TRACEGUITARCALIFORNIATRIOBUNDY NOV 18 AN OVERCHRISTMASACOUSTICWITHTHERHINE DEC 2 WITHCHRISTMASCANTUS LESSONS AND CAROLS FOR OUR TIME CHAMBER MUSIC AT THE BARNS DEC 3 AN EVENING WITH BRANFORD MARSALIS JAN 26 + 27 MEYER/MEYERBUSH/MARSHALL/ SAM GEORGEEDGARMIKEBUSHMARSHALLMEYERMEYER FEB 2 + 3 ANA POPOVIC FEB 4 1964 THE TRIBUTE FEB 11 + 12 AND MANY MORE!
HOT
Got a calendar event we should know about? Submit it editorial@arlingtonmagazine.comto
Take a Number: Artists and Bureaucracy Arlington Arts Center
ArlingtonMagazine.com ■ November/December 2021 15 PHOTOSCOURTESY
Earn your stuffing and gravy while raising money for good causes. Proceeds from this annual Thanksgiving Day foot race through Lyon Park and Ashton Heights support a number of local charities. $50 for adults; $25 for kids 6-17; free for kids 5 and under. Christ Church of Arlington; 3020 N. Pershing Drive, Arlington, arlingtonvaturkeytrot.org
NOV. 25, 8 A.M. Arlington Turkey Trot
TO TROT
ART THROUGH DEC. 18
Curated by the arts center's Blair Murphy, this exhibit explores, co-opts and challenges bureaucratic systems and structures. Works by artists Sobia Ahmad, Maura Brewer, Chris Combs, Evan Hume, Stephanie Mercedes, R.L. Martens and Pau S. Pescador highlight bureaucracy's human impact—from nuanced relationships between artists and arts organizations to the obscure workings of financial systems, and the violent and deadly consequences wrought by global empires. 3550 Wilson Blvd., Arlington, arlingtonartscenter.org
A washy, figurative painting by Ian Graig, depicting police officers in masks during the Spanish flu outbreak of 1918, was overlaid with the phrase, "U.S. deaths near 1,000, an incalculable loss." Molly McCracken's mixed-media "Monochrome 2," meanwhile, presented the current health crisis in a modern context, with eight abstract collages pasted onto cardboard from Amazon grocery deliveries.
Then it partnered with business improvement districts throughout Arlington to widen the circle of participating restaurants and donors even further. The program ended in May of 2021, having raised more than $65,000 and delivered some 4,300 meals to frontline health care workers.
"These restaurants needed access to capital," says CPP program director Stephen Gregory Smith. "They didn't need their hand held, they didn't need a therapist, they needed money."
Jinny Isserow's mixed-media "Lean on Me" captured the raw emotion of the Black Lives Matter protests that erupted in the wake of George Floyd's death.
The week of the last delivery, Smith received a thick envelope filled with thank-you notes from nurses. "This is one of the proudest things I've done in my life," he says. "It shows the best of human beings. It helped sustain these businesses and also helped sustain these nurses' souls. It's been a bright beacon." columbia-pike.org
(LUNCHES)CPROCOURTESYSANDEEN);ELAINEBY"GRIEF"OF(PHOTOJOHNSONSYDNEY by Elaine Sandeen
"It [was] a really beautiful show," exhibitions coordinator Pamela Huffman says. And for many, very relatable. fallschurcharts.org
Lunch Line Arlington's mom-and-pop restaurants were hit hard by the shutdown orders at the start of the pandemic. So the Columbia Pike Partnership (CPP) found a way to support those beloved small businesses while also helping another heavily affected group: nurses. Through its Buy a Nurse Lunch program, donations from area residents began funding free lunches, prepared by struggling restaurants, for nurses at Virginia Hospital Center.
16 November/December 2021 ■ ArlingtonMagazine.com
"Grief"
Art in the Time of Covid
good stuff ■ by Sydney Johnson
Falls Church Arts was poised to unveil a new exhibit, A Woman's Journey, in March of 2020 when its opening night was spoiled by the statewide stay-at-home mandate. Sixteen months later, the nonprofit gallery staged what felt like a fitting comeback show—works created by 34 local artists during their year of isolation.
Debuting in July, A Year Apart captured the breadth of emotions brought on by pandemic life, and, in some instances, revealed how artists used art making as a coping mechanism. Upon entering the gallery on West Broad Street in Falls Church, visitors were confronted with "Grief," a large oilon-linen work by Elaine Sandeen, incorporating embroidery and beading, of a somber woman holding a bouquet of flowers. "Even the edges of this piece are raw and uncertain, reflecting the circumstances of the pandemic" read Sandeen's artist statement.
Café Sazón provided the first lunch drop, delivering 30 meals in April of 2020. With that order, the café was able to reopen after several weeks of being closed for business.
"[Our nurses'] morale was boosted ten-fold, knowing that they had this gift to look forward to each week," says Hilary Phillips, executive assistant to the president of Virginia Hospital Center, who coordinated the lunch deliveries with Smith.
Lunches for nurses
Peruvian Brothers, Pupatella, Dama Ethiopian Café and Rincome Thai provided meals in the weeks that followed, and CPP expanded the program, coordinating meal deliveries to nurses at Mary Marshall Assisted Living Residence, the Arlington Free Clinic and Arlington Pediatric Center.
That time I bonded with my daughter amid history and headstones
Meet Me at the Cemetery Gates
The author and his daughter documenting gravestones at Oakwood Cemetery in Falls Church stones at a modest roadside ceme tery not far from Mount Vernon, and I needed her younger, keener eyes to decipher the shallow marks from two centuries earlier. Why were we documenting head stones, you may wonder? A few weeks earlier, a lady in our church had chal lenged the congregation to do more community service, so I decided to look for some local projects on the JustServe app. Scrolling through the listings, I saw several references to BillionGraves. I clicked on one of the links and soon discovered a world of little-known cem eteries and the thousands of volunteers around the globe intent on photograph ing every headstone in them. BillionGraves is just what it sounds like—a free, searchable online database
I KNELT TO EXAMINE the weathered gravestone, scraping away moss and tilting myself sideways like a human Tower of Pisa to read its inscription. Squinting, leaning back, then lean ing forward again, I traced my fingers against the faint edges of the 19th-cen tury engravings. "In memory of D…? R…?" I called out to my 16-year-old daughter: "Hey, Sarah, I need your helpWeagain!"were taking pictures of grave
ArlingtonMagazine.com ■ November/December 2021 17 my life ■ by Jeffrey Yeates | photo by Michael Ventura
If you walk around long enough, you are bound to find a person with your same birthdate, which gave me pause. You also invariably come upon the graves of children and teenagers— wrenching ones like "1922-1923, Emily, our darling baby girl." You think about those parents and grieve a little with them, even 100 years later.
■ my life of millions (not a billion yet!) of head stone photos and transcribed informa tion from those grave markers. Using the app, anybody with a smartphone can document headstones, record the names and dates of their departed subjects, then upload those images to the database.
18 November/December 2021 ■ ArlingtonMagazine.com
We've all been in cemeteries—maybe, as teenagers, scaring ourselves and friends, and more likely since then, as mourners clustered around a coffin, paying our respects to the dead. But this outing cast the setting in a new light. Every stone contains a story—hun dreds of stories, really—now buried, and, as years pass, increasingly forgot ten. We noted veterans of various wars; inscriptions memorializing "Our Dear Mother," "Wife of Reverend Jamison," "Beloved Grampy" and "Fisherman."
As with so many hobbies, the digi tal age has transformed genealogy and family history research. Previously, if you wanted reliable information about your ancestors, you had to trek out to their final resting places—perhaps in another country—to confirm birth, marriage and death dates.
Now, from the comfort of your living room, you can enter the name of a dis tant relative into any number of data bases and find photos of that person's headstone in less than a minute. What a remarkable thing. I decided docu menting some burial sites and contrib uting to that cause could be my com munity service.
You'd be surprised at what a teen ager will say yes to. I doubt taking pic tures of tombs was at the top of her list, but when I asked Sarah on a sunny Sunday afternoon if she would come with me, she agreed. Any excuse to use her phone is a bonus—we held out on giving her one until halfway through her junior year at Washington-Lib erty—so that, combined with the fact that she had nothing better to do, and maybe with hopes of getting one of her custom, six-flavor, mixed Slurpees on the way home, prompted an okay.
We drove down the scenic George Washington Parkway listening to Dad's favorite alternative '80s music, then turned off into one of the neighbor hoods and found the small graveyard we'd identified on the app.
A teenager with a phone makes an adult with the same device look like a baseball rookie facing a Max Scherzer (speaking of the dearly departed—from D.C., at least) fastball. Sarah docu mented row after row of headstones in
Clarendon Dental Arts Caring for your Mouth, Mind and Body @ Market Common Clarendon 2700 Clarendon Blvd. Suite R480 Arlington • 703-525-5901 Oral Health Diabetes Alzheimers Pre-TermBabies StrokeHeartAttack Welcome back, Arlington friends! We grew stronger in our time apart. Let us help you lower your risk factors for optimal health. On a good day, we create beautiful smiles. On a great day, we save lives.
ArlingtonMagazine.com short order, expertly photographing the markers and transcribing them two or three times faster than I ever could. My excuse was that my section had older graves that took longer to decipher, but after an hour she had captured nearly three times more photos than I had, and already transcribed and uploaded them all. It took me more than a week to transcribe mine. Heading home, we got to talking about the people we saw on the grave stones: soldiers, husbands and wives, the old Reverend Jamison and his wife from the 1800s. We talked about what we'd want our own headstones to say. And would you believe she came to me a week later and asked if we could do it again?
■ November/December 2021 19
renata@thearlingtonexpert.com703-217-2077 Sell Your Home for More invested$6,500AFTERonlyBEFORE Sold for $20,000OVER asking! invested Renata will make your home look its best to maximize its value, so that you get the best price. Small investments can make a big difference, and expert staging is included in the listing fee. Best Real Estate Agent MORE before & after photos thearlingtonexpert.comat 703-224-6000
Research suggests that children with a strong "family narrative" enjoy bet ter emotional health. "The more chil dren knew about their family's history, the stronger their sense of control over their lives, the higher their self-esteem and the more successfully they believed their families functioned," writes Bruce Feiler, author of The Secrets of Happy Families. "[It] turned out to be the best single predictor of children's emotional health and happiness." I believe there is truth to this. At bedtime, when she was little, Sarah would frequently ask for a story about my family, or—her favorite topic—"Tell me about another time when Uncle Doug [my youngest brother] was bad." Sorry, Doug. You take your good memories when and where you can. It's bedtime stories when they are little, and maybe it is vis iting cemeteries when they're older. Someday my name will be on one of those stones. I've already decided noth ing too fancy—just a few inches high so the weeds won't cover the edges, and a very deep engraving that won't fade for a long time. My memories will be buried with me and slowly forgotten as time passes, until I'm not much more than a name and some dates. Or maybe not? Sarah's adult future is coming fast, but I've still got a little bit of her child hood left. I will remember these after noons with my daughter as long as I'm alive. Perhaps once I'm under a stone, she'll remember our outings and tell her grandkids about them. I like to imagine the little greatgreat-grandkids that I will never meet, knowing the story and pleading at bed time: "Tell us again about Grammy Sarah, when she was a little girl. Did she really go with her daddy and take pictures of gravestones?" ■ Jeffrey Yeates was born in Alexandria, not far from the cemetery in this essay. He works for the federal government and has lived in the Arlington Mill neighborhood since 2001. He and his family enjoy cycling and Virginia history. jeffyeates@gmail.com
JOSH LEONG HAD just graduated from McLean High School in July of 2018 when he embarked on a mission trip to Ethiopia with McLean Bible Church. One of his group's first stops was a government orphanage for boys in the capital, Addis Ababa. Trekking through the thick mud that covered the grounds during the rainy season, Leong and his peers were greeted by smiling kids. Some had just finished an intense game of tug-of-war with one of the dogs at the orphanage. Others took a break from playing soc cer to say hello. That's when Leong, a soon-to-be film student, met a 16-year-old named Abel wearing a Despicable Me T-shirt. Abel's English was good. They talked about the movie, about the hilarity of the antihero's minions, about their favor ite soccer "Suddenly,players.Ihad a tour guide," Leong says. "He showed me the library, the bathroom, the bedrooms, the lockers and cubbies they used. He showed me where his brother's name was scrawled into a cubby. I had more of a connec tion with him than anyone else there."
20 November/December 2021 ■ ArlingtonMagazine.com familiar faces ■ by Sydney Johnson
A church mission trip sent Josh Leong to Ethiopia. He made a friend—and a film.
Josh Leong and the real Abel in 2019
PHOTOCOURTESY
Abel was lively during that first meet ing, but by the end of the church group's three-day visit, Leong came to recog nize his cheerful demeanor as a guise.
"It was that joyful smile that caught me at first," Leong says, "which, if you unpack it, really is masking a lot of pent-up stuff. It's what stuck with me when I thought about him. This was a kid who seems happy outside but is really conflicted inside."
Orphans Abroad
In Ethiopia, some 5 million chil dren—nearly 5% of the population—are orphaned, according to the nonprofit Orphan Care Ethiopia (OCE), most hav ing lost their parents to disease, hunger, drought or war. But life under the care of the state is temporary. Once they turn 18, orphans are forced to live on the street, and many resort to pickpocketing or prostitution to survive. This, Leong realized, was Abel's likely future. He was less than two years away from aging out of the orphanage and having to leave his younger brother behind.
Weeks later, Leong started his first semester as a film student at NYU in Manhattan. He wrote a script inspired by his new friend. Then he told his church's global out reach division about the "little thing [he] was working on" and asked if he
A personal contact of Bara's led the team to Ethan Herisse, 21, an Ameri can actor and UC Irvine student who appeared in Ava DuVernay's 2019 Emmy Award-winning Netflix series When They See Us. Captivated by the script, Herisse agreed to play the role of Abel.
ArlingtonMagazine.com ■ November/December 2021 21 could return to Ethiopia with a small team to shoot a short film. The "yes" he received in response helped him acquire translators and travel visas, as well as access to the orphanages.
Soon, two of Leong's NYU classmates were on board—Tom Ingwersen as cine matographer and Sofia Bara, who would become assistant director and co-pro ducer of the short film, The Other Side. Some hurdles remained. How could a group of non-Ethiopian students plan a film production from 7,000 miles away? Enter Bemnet Yemesgen, an Ethiopian American director, pro ducer, writer and founder of the inte grated marketing firm Jegna Creative, who splits his time between D.C., San Francisco and Addis Ababa. Signing on as co-producer, Yemesgen began scout ing filming locations and building a team of Ethiopia-based talent. It helped that the D.C. area has the second largest Ethiopian population behind Addis Ababa (a diaspora that began in the 1970s when many Ethio pians fled their homeland in the wake of a military coup, and continued after the 1980 Refugee Act raised the ceil ing on the number of refugees admit ted to the U.S.). Several of the film's core investors are businesses in and around the nation's capital. The team partnered with OCE, which operates in both D.C. and Addis Ababa, to coor dinate embassy and orphanage visits.
"Josh is phenomenal," Herisse says. "It was amazing to see how his mind worked. From such a small team, we put together something really beautiful."
PHOTOCOURTESY TRIVISTAUSA.COM P. 703.243.3171DESIGN + BUILD inspiration DESIGN + BUILD YOUR
"As the film came together, the Ethi opia-DMV connection became more and more important," Leong says.
Wayna Wondwossen, a Grammy-nom inated Ethiopian singer from Silver Spring, Maryland, portrays one of the movie's main characters.
The Other Side finds Abel (as played by Herisse), just days before his 18th
"[Abel] was smiling the entire time," Leong says. "It was funny that the crew we worked with [to tell his story] ended up being the same crew that was gonna employ him." They continue to text each other almost daily. "It's not just a movie," Leong says. "It's real life." ■ Sydney Johnson also writes our Good Stuff column. Watch The Other Side at theothersideshortfilm.com.
■ familiar faces birthday, facing the reality that he soon must leave the orphanage and his younger brother, Kiya, behind. When a prospective adopting couple threat ens to break their relationship apart, the brothers wrestle with waiting for a dream that may never be fulfilled. Released in 2020, the short was fea tured in several Academy Award-quali fying film festivals and garnered a bevy of accolades, including Best Short at the 2020 Greenwich International Film Festival in Connecticut, a One to Watch award at the 43rd Asian Ameri can International Film Festival in New York, and nods for Best Screenplay (in the 19-24 age division) and Best Male Performance (for Herisse) at the win ter 2021 online Scout Film Festival. A fundraising page on the film's website invites donations to support OCE's work facilitating in-country adoptions, medi cal care, after-school programs, career development and transitional housing. And yet, amid all the fanfare, Leong recalls speaking to the real Abel—with whom he assiduously keeps in touch— and feeling like a fraud. "On the other side of the world, while we were raking up awards and raising money for orphan care, pretending like we were making a big difference, [Abel's] life was falling apart," Leong says. "He was graduating his orphanage and moving through a difficult season of transition. It felt like, 'Oh, this film was supposed to save lives and make a difference in his life' and really it wasn't actually doing anything." Leong, 21, graduates from NYU in December with a B.A. in film and TV production. He and Bara hope to pro duce a full-length film about Ethiopia's abandoned children in the not-so-dis tant future, to bring more attention to the crisis. "This short is just not enough," he says. The two are cur rently looking for investors.
22 November/December 2021 ■ ArlingtonMagazine.com
In the meantime, Leong is intent on being a good friend to the young man he sees as a brother. In August, he returned to Ethiopia to see Abel, now 19 and on his own, hoping to help him figure out his next move. When he got there, Leong was pleased to find Abel living in an apartment subsidized by an NGO. Later in the 10-day trip, the two met for dinner with the short film's Ethiopian-based crew members. All of them were eager to help Abel find work.
We look forward to welcoming you at our new location 1005 North Glebe Road, Suite 540 www.fdlderm.com | 703.310.7400 DR. COURTNEY R. HERBERT and her staff are dedicated to delivering the most effective, comprehensive treatments for children, adolescents and adults in a professional setting. FDL Dermatology offers services for Botox, moles, skin cancer, rashes, acne, and more.
Opening in early 2022, The Landing won't be the typical senior living community we've come to know—and that's the point, according to owner and developer Silverstone Senior Living, and operating partner Watermark Retirement Communities.It'sallabout renewal, as opposed to retirement, with a dash of five-star hotel service. Richard Ludlow, executive director, says, "I look forward to offering our residents an extraordinary lifestyle with impeccable service, pioneering programming and innovative care."
A Silverstone signature care level is called The Bridge, which is for those who need more than assisted living services but who are far from ready for memory care.
The Landing has 27 Bridge, 89 assisted living and 34 memory care residences. The 40 independent living residences include nine penthouses with expansive balconies for indoor/outdoor living.
Tall ceilings and floor-to-ceiling windows take advantage of the views. Open floor plans create flow and energy. The nine-story building is graced with outdoor sculpture gardens and landscaped verandas. It's an easy walk to neighborhood restaurants and retail, walking and biking trails by the Potomac River, and the soon-to-be-opened Potomac Yard Metro station.
The chef and staff of three restaurants will cater to the worldly tastes of future residents, collecting feedback and customizing menus as people settle in. Casual connections are likely to happen at the wine bar and lounge featuring a baby grand piano. Body, mind and soul are meant to thrive here, with a spa, salon, fitness center and enriching activities. Watermark University workshops will be created by the community life director based on residents' interests and the rich resources of the national capital area.
ArlingtonMagazine.com ■ November/December 2021 23 HELFERTLISA
Senior Services
SPECIALProfilesADVERTISINGSECTION
The Landing
The financial arrangements of The Landing are attractive to modern seniors. Residences are rented monthto-month and require no long-term commitment. 2620 Main Line Blvd. Alexandria, VA 22301
https://landingalexandria.571-577-6011watermarkcommunities.com/
PROFILES SENIOR SERVICES SPECIAL ADVERTISING SECTION 24 November/December 2021 ■
The Jefferson
"Any concerns that I had about moving into a retirement community quickly disappeared after I moved in. The staff is wonderful and so is the relationship between staff and residents. The Ballston location is one of Arlington's most desirable areas." After three years, Wilma Probst says, "I find The Jefferson to be an upscale, vibrant community offering many different activities and services that enrich one's life. Having moved from my Alexandria home nearly three years ago, I appreciate my spacious, beautiful apartment and the numerous learning opportunities. I recently started my very first art class and absolutely love it! I enjoy the inspirational in-house lectures and concerts. Jefferson transportation enables me to continue my lifelong passions for the theatre, music events, museums and restaurants."
HELFERTLISA
—Juli
"Peace of mind is walking down the hall to dispose of the trash and not having to roll out garbage cans. It's knowing there is maintenance available pretty much 24/7. It's not having to plan and cook meals, having someone clean your apartment weekly. It's planned outings and trips to grocery stores and medical appointments. That is The Jefferson," concludes Lucy Wofford, a four-year resident.
ArlingtonMagazine.comResidents at The Jefferson report a strong sense of community as well as individual happiness. More than half participate in Google Groups, a great communication tool that announces discount tickets or a nearby happy hour. Jeffersonians, as they call themselves, like to share what they love about their home.
"With all levels of senior living under one roof, The Jefferson offers for-sale condominiums with no buy-in fee beyond the price of the unit, with access to community meals, activities, housekeeping and transportation." K. Swanson, LNHA, CMCA, Executive Director and General Manager  900 N. Taylor St. Arlington, VA www.thejeffersoninva.com703-516-945522203
From the beginning, VHRC's values have been dignity, security and friendship. More recently, VHRC has enhanced its focus on mind, body and spirit, with a commitment to an active and engaged lifestyle.
Conceived of by the Navy Officers'
Wives' Club of Washington, D.C., Vinson Hall Retirement Community (VHRC) opened in 1969, welcoming military officers and their families to senior living.
Midge has also been instrumental in the development of VHRC's sports park, which includes space for bocce ball, pickleball, horseshoes and ladder golf. With a planned firepit and small clubhouse, the sports park will be about more than sports, it will also be a place for friendship and fun.
SPECIAL ADVERTISING SECTION PROFILES SENIOR SERVICES ArlingtonMagazine.com ■ November/December 2021 25
Vinson CommunityRetirementHall
HELFERTLISA
The VHRC Independent Living community is open to commissioned U.S. military officers and immediate family as well as leadership level government employees, GS-14 or higher. VHRC's Assisted Living, Skilled Nursing, Long-term Nursing and Memory Care communities are open to the public.
VHRC monthly events calendars are full of activities that engage the whole person.
Popular activities include meditation and yoga classes, outings to area restaurants, historical houses or wineries, and exercise classes in Vinson Hall's Fitness Center.
In an effort to ensure that the activities reflect residents' interests, residents play a big part in determining what will be on each month's calendar.
6251 Old Dominion Drive McLean, VA www.vinsonhall.org703-536-434422101
Resident Midge Holmes has been very engaged in developing new ideas to keep her neighbors moving. A few years ago, Midge began teaching a dance class focused on improving balance and coordination. Recently, Midge put her experience playing a snare drum in college to use and started a drum circle called Viva Rhythm. Residents gather outdoors and play bongos, bodhrans, maracas, rain sticks, tambourines and almost anything that has a beat.
PROFILES SENIOR SERVICES SPECIAL ADVERTISING SECTION 26 November/December 2021 ■ ArlingtonMagazine.com WILLIAMSSTEPHANIE
The reality is that health and needs will change as people age. GHI helps older adults plan for anticipated changes as well as those that are unforeseen. With a focus on the total health and wellness of older adults, GHI strives to ensure they can thrive and stay engaged at every stage of life. After careful research, Fred and Brenda Pang (pictured) chose to move to a GHI Life Plan Community. The Pangs felt it was important that any transition from independent living to assisted living, memory support or nursing would be as seamless as possible. They also chose a community setting because they knew they would continue to be surrounded by neighbors.Realizing that not everyone wishes to move in their later years, GHI offers a range of alternatives. For adults ages 55+ who plan to stay in their own homes as they age, Goodwin House at Home provides a long-term care solution that includes care management and ways to plan and pay for future care costs. For those who need specialized care, Goodwin House Home Health and Goodwin House Hospice are available to deliver care directly to people in their own homes.
Goodwin House Inc. (GHI) has been serving older adults in the National Capital Region since 1967. With a solid track record of providing the best in senior living and healthcare, GHI covers the entire aging journey with its full range of options—from an aging at-home program and two life plan communities to specialized services such as home health, therapy and hospice.
"For us, happiness matters—both for ourselves and our family! Our children say that our moving to Goodwin House was a gift to them. They know that we are happy here and will be well-caredfor should we need specialty care." —Fred and Brenda Pang 4800 Fillmore Ave. Alexandria, VA 22311 3440 S. Jefferson St. Falls Church, VA 22041 www.goodwinhouse.org703-578-7201
HouseGoodwinInc.
MARTA HILL GRAY, DIRECTOR PAUL TIMPANE, DIRECTOR OF PROPERTY 4435 N. Pershing Drive Arlington, VA www.culpeppergarden.org703-528-016222203
During the many challenges of 2020 and beyond, the residents of Culpepper Garden spent more time in its outdoor spaces, where they've been connecting to the peace and healing powers found in nature.
LIVING ADMINISTRATOR
Culpepper Garden is Northern Virginia's largest affordable rental community for people over age 62 and it is the only such community that includes assisted living. Residents have been enjoying the beautiful results of an extensive, two-year renovation that was completed last fall.
"The gardens have been a source of comfort and beauty for our residents, staff and the entire community during this difficult time. We hope that someday the annual spring Daffodil Walk at Culpepper Garden will be almost as well known as the cherry blossoms of the Tidal Basin!" —Executive Director Marta Hill Gray
OPERATIONS
HELFERTLISA
Each season The Daffodil Society at Culpepper Garden continues to plant additional daffodil varieties developed by Dr. Culpepper, making the garden a living tribute and seasonal display of beauty each spring when the Daffodil Walk is open to the Culpepperpublic.isinthe process of restoring and enhancing its historic gardens. This fall, over 5,000 daffodils will be added to the 28,000 bulbs that were planted last spring. The Daffodil Society was launched to raise funds to support the residents and garden renovations.Highlights include accessible walkways, a restored koi pond and garden, and new areas for residents to sit and enjoy the diverse and expansive gardens. Walking trails will be made more stable and weatherproofed. Many benches can be found along these Woodland Walk paths, giving residents and their guests places to rest, sit, reflect and visit.
GardenCulpepper
The gardens are a legacy of the community's namesake, Charles Culpepper (1888-1980), a botanist who loved and grew daffodils, daylilies and other plants. More than ninety years later, many of his original daffodils continue to bloom on the property.
SPECIAL ADVERTISING SECTION PROFILES SENIOR SERVICES ArlingtonMagazine.com ■ November/December 2021 27
KIMBERLY SEARCY, ASSISTED
EXECUTIVE
inHomelessArlington 28 November/December 2021 ■ ArlingtonMagazine.com PathForward's David Ordonez and Kasia Shaw deliver food and mobile medical care in CrystalAsCity. the pandemic rages on, home has become a workplace, a classroom and a refuge from a deadly virus. What if you don't have one?
BY TAMAR ABRAMS
|
PHOTOS BY MATT MENDELSOHN
ArlingtonMagazine.com ■ November/December 2021 29 A
nondescript van wends its way through Ar lington's streets in the predawn hours of what is shaping up to be another unbear ably hot summer day. The driver, David Or donez, pulls over to the side of Clarendon Boulevard after spotting a man pushing a shopping cart up a hill in Rosslyn. Ordonez is the assistant director of outreach and the day program at PathForward (for merly A-SPAN, it recently adopted a new name), the nonprofit that runs the county's Homeless Services Center and a host of related programs. The man with the shopping cart is one of his "regulars"—residents who sleep on the streets, mostly due to mental illness. Hopping out of the van, Ordonez calls to the man by name in Spanish. They talk for a minute or so, and the man accepts bottles of water and two bagged meals before resuming his trek up the hill. Ordonez climbs back into the van, secure in the knowledge that "Felix" is safe on this day, and heads toward a church where several homeless people sleep in the shadows of Turnberry Tower, one of Arlington's most luxeForproperties.millionsof Americans, "home" has become a sanctuary in the time of Covid—a safe place to work, study and retreat from the dangers of a killer virus. But for those living on the street, in temporary shelters or on the razor's edge of poverty, the pandemic has introduced new layers of hardship. At a time when our lives have contracted and we spend more time caring for ourselves and those we love, who is caring for those most at risk?
tem, which is designed to help people avoid homelessness and find shelter when they need it. The goal of non profits like PathForward is to transition those at risk of homelessness to tem porary housing, and ultimately, perma nent housing. Outreach efforts to vul nerable individuals and families are ongoing. There are supports for people in crisis; referral services for emergency food, rental assistance and health care; and, for those who need it, long-term housing solutions. Such services are a lifeline for coun ty residents like Russell Purrington, 47, who lives just off Glebe Road, across from the CVS where he works
"Yeah, I was looking at my path and knew something was really wrong," Alan says. "I had holes in my pockets. I was going to end up on the streets. I was so skinny. All I thought was that I really wanted a beer." Working toward sobriety and recov ering from surgery, Alan was shuttled to various medical appointments by PathForward staff and housed in the shelter's medical respite area. "Your needs are being taken care of," he says of his time there, "not your wants."
HOMELESSNESS IS NOT easy to measure, largely because the people who fall into that demographic are so transient. According to the National Al liance to End Homelessness, a nation wide point-in-time count found 580,466 people experiencing homelessness in America as of January 2020. Most of them (70%) were individuals, while the remainder were families with children.
"Alan," 65, was never a part of that long-term cohort, but the two months he spent homeless was an experience he won't forget. "I was miserable living on the streets," he says emphatically. "It was awful. You look in the windows of people's apartments and you see people having dinner, having fun. Sometimes I just wanted to knock on a door and ask to be let in." In August, Alan was preparing to move from PathForward's shelter in Courthouse to an assisted living home. A year had passed since he was taken by ambulance from his previous South Arlington apartment to the hospital, where he was diagnosed with conges tive heart failure, unable to walk three steps without gasping for air. Years of addiction to pills and alcohol had left him barely able to function and months behind on his rent. Though he had worked intermittently at Comcast and a photo developing company, Alan had reached a point where he was unable to do much more than drink and get high. After his arrival at the hospital, doctors implanted a defibrillator in Alan's chest and prepared him to return home, but he knew he couldn't go back to an apartment he couldn't afford, and he didn't want to face an early death.
30 November/December 2021 ■ ArlingtonMagazine.com
Some good news: Arlington Coun ty's latest point-in-time count, con ducted on Jan. 27 of this year, showed an overall decrease (14%) in homeless ness, from 199 people in 2020 to 171 in 2021. "This represents the lowest count seen over the past 11 years, and the lowest in the past four years for unsheltered persons," says Triina Van, Continuum of Care coordinator with the Arlington County Department of Human Services. The picture for those who are chron ically homeless in Arlington is less posi tive. That number rose from 20 people in 2020 to 35 in 2021. Chronic home lessness is defined as individuals with disabilities (including mental illness, physical impairments and/or substance abuse disorders) who have been contin uously homeless for at least a year, or who have experienced homelessness at least four times in the last three years.
"I was miserable living on the streets. It was awful. You look in the windows of apartmentspeople's and you see people having dinner, having Sometimesfun. I just wanted to knock on a door and ask to be let in."
Packing his few belongings for his next move, he shows off photos of his family, with whom he was recently re united. "They forgave me," he says with joy. "They are coming by and calling."
Opposite the snapshots of his smil ing children and grandchildren, one picture stands out in stark contrast. It's a photo of Alan propped against a fence, emaciated and clearly intoxicat ed. The look on his face is one of com plete surrender to his addiction. "I keep that there as a reminder," he says.
He asked a social worker for help and was referred to Franny Mack, a case manager at PathForward specializing in senior "[Alan]housing.isarare bird," Mack says. "He wanted the help. But when he first came in, I thought, Oh Lord!"
■ homeless in arlington
MOST ARLINGTONIANS ARE unfa miliar with the intricacies of the coun ty's expansive Continuum of Care sys
Once homeless, "Alan" is now living in an assisted living residence run by PathForward.
THE FEDERAL EVICTION moratorium was a welcome relief for many who lost their jobs or struggled financially during Covid. In the early days of the pandem ic, most evictions for unpaid rent were put on hold. But as of the end of July, only a fraction of the $46.5 billion in rental assistance approved by Congress had been disbursed, and on Aug. 26, the Supreme Court put an end to the federal eviction freeze. Nationwide, more than 15 million people are now living in households that collectively owe as much as $20 billion in back rent, according to the Aspen Institute. In August, Gov. Ralph Northam signed a budget bill that restored Virgin ia eviction protections through June 30, 2022. This was good news for those at risk of homelessness, but less so for owners of small apartment buildings or low-income houses. Many tenants are still months behind on rent, relying on the moratorium to stay housed while their landlords remain empty-handed.
Born in Alaska, Purrington moved to Arlington in the early '90s to be near his mother and sisters. He attended North ern Virginia Community College and worked as an arborist for many years until a combination of drugs, alcohol and mental illness led him to homeless ness. He barely survived two drug over doses in one day, but those events left him with short-term memory loss. "I was disabled by my own hands," says Purrington, an avid gamer in his spare time. Now he is proud of his job and the progress he has made. "I stay focused. I get enough sleep, show up to work on time and do my duties."
ArlingtonMagazine.com ■ November/December 2021 31 as a manager. The studio apartment he shares with his cat—a permanent supportive housing unit provided by PathForward—is decorated with fam ily photographs and a Kikkoman soy sauce bucket discarded by the Chinese restaurant across the street, now home to an aloe plant on the windowsill. "I couldn't let it go into the trash," he says.
Doorways president Diana Ortiz
Renters who are undocumented or un sure of how to access federal or local aid are falling even farther behind. Andrew Schneider is the executive director of Arlington Thrive, a nonprof it that provides "same-day, emergency financial assistance to county residents who experience sudden financial crisis such as temporary unemployment or illness." He says the need arising from the pandemic has been "unlike any thing we have seen in our 45 years, in cluding assistance during the Great Re cession and other challenges. "Not only was the scale different," Schneider says, "but the response was different, because we had additional funding from the county and the fed eral government. We were able to give more money to more people." Arlington Thrive has used county, state and federal funds to help strug gling renters pay down the back rent they owe, providing stopgap assistance to about 2,000 households since the start of the pandemic. Mindful of the strain on property owners, the nonprof it also reached out to individual land lords and the landlord association in Northern Virginia. "It's in our best in terest to work with the entire safety net," Schneider says, "so no one is fac ing financial catastrophe. Homeless ness is the failure of the safety net." Child care has been another pain point for families facing pandemic dis ruptions to their normal work, parent ing and school routines. "About 80% of our families became unemployed or had a reduction in hours in March 2020," says Christina Armstrong, chief philan thropic partnerships officer for Bridges to Independence, another local nonprof it focused on ending homelessness. Bridges operates Sullivan House, an emergency shelter that accepts both in dividuals and families, and provides services such as workforce and youth development, financial counseling and housing placement. "When the world shut down, [these families] were not in a position to work from home," Arm strong says. "Many more of them end ed up not being able to work because children were out of school. One of the biggest barriers to employment during Covid has been the lack of affordable child care."
32 November/December 2021 ■ ArlingtonMagazine.com
ACCORDING TO Michael Stewart, Ar lington's deputy chief financial officer, the county's crisis response to the pan demic has been robust. Arlington was allocated approximately $150 million in federal Covid-19 aid through a vari ety of grant programs, and by late Au gust had disbursed around $87 million. Of that amount, some $23 million was channeled to programs serving vulner able individuals with a demonstrated need. From July 2020 to June 2021, the ■ homeless in arlington Reports of domestic violence in Arlington have increased by 113% since Covid began. Social distancing makes it harder to shelter those fleeing abuse.
BETSY FRANTZ was only weeks into her new job as CEO of PathForward when Covid sent Arlington into lock down in March of 2020. "There were no protocols in place for [a pandem ic]," she says, looking back. "We literal ly built the plane while flying it. Every body played the role we needed them to play, and that's what got us through."
As the pandemic took hold, she says, the shelters set aside rooms for people to quarantine and initiated "head to toe" sleeping for those sharing rooms.
atPurringtonRussellhome county also spent more than $6 million in local funding on emergency hous ing support, food assistance and other Covid-driven forms of aid not covered by federal grant dollars. Most of those funds were allocated to partner organi zations like OperatingPathForward.inthetimeof Covid has forced the nonprofits serving our area's most vulnerable residents to change al most every aspect of their work. "In the early days of the pandemic, clients were taking it in stride. They were dealing with much more imme diate needs, such as where they were going to sleep," says Pam Mitchell, ex ecutive director of New Hope Housing, which provides a variety of housing and support services throughout Northern Virginia, including Bailey's Shelter and Supportive Housing in Bailey's Cross roads, and the Residential Program Center on Columbia Pike. "Covid just wasn't at the top of their list of con cerns. That changed as time went on."
ArlingtonMagazine.com ■ November/December 2021 33
The shift to hoteling has provided some takeaways, Ortiz says. Doorways discovered that hotel rooms are a bet ter setting for families with children be cause they offer more privacy and au tonomy. (Plus, she chuckles, the hotel Wi-Fi is admittedly better than the shel ter's.) But there have been downsides, too. "We lost some of the camaraderie that survivors gravitate toward," she says, "and a lot of our group program ming had to be paused. Our staff had to learn how to serve clients when they weren't all in one place."
Frantz and others point to Kasia
Doorways President Diana Ortiz, whose organization "creates path ways out of homelessness, domestic violence and sexual assault," says her team similarly had to recalibrate— moving to what she calls a "non-con gregateDoorways'setting."existing safe house and family home lacked adequate space for social distancing, so the nonprofit began housing clients in hotels or safe apartments, all the while noting a dis turbing uptick in domestic violence. "We were seeing much more danger ous examples of abuse," Ortiz says. "We paid for 12 hotel rooms for 365 nights." The county has seen a 113% increase in reports of domestic violence since the pandemic began, confirms Van, of the Arlington County Department of Human Services.
Arlington Thrive offers same-day emergency financial assistance to Arlington residents facing a financial crisis that could lead to eviction and homelessness. During its most recent fiscal year, Thrive provided just over $5.2 million to roughly 2,000 households. More than 90% of those funds were used for rental assistance. arlingtonthrive.org
It's been an unending pivot, Frantz says. Early in the pandemic when case counts were rising, PathForward's Homeless Services Center went into "decompression" mode. Residents no longer shared rooms. Some were moved into classrooms, or even the dining room. At times, there was no day program—meaning no outside shelter access for those wishing to shower, do laundry and receive other services. Meals were provided in bags or individual containers.
National Capital Treatment & Recovery (formerly Phoenix Houses of the MidAtlantic) provides transitional housing for individuals recovering from substance abuse. During its 2020 fiscal year the nonprofit served 1,225 patients in its residential programs. natcaptreatment.org
Sheridan P. Jackson in the garden behind her apartment building in Westover
34 November/December 2021 ■ ArlingtonMagazine.com Shaw, PathForward's senior direc tor of medical services, as a guiding light. A nurse practitioner who at tended West Point, Shaw has worked hard to educate clients about adjust ing their behavior to avoid contracting Covid. Many days, she can be found riding along with Ordonez on his early morning outreach calls.
The rise of the delta variant in late summer 2021 sent the shelter back into lockdown. Frantz was clearly unhappy with the adjustments, even ■
SafetyArlington'sNet
Lately, the emphasis has shifted heavily to Covid prevention and test ing. "High-risk individuals were sent to hotels provided by the county while we were busy with contact tracing and tracking test results," Shaw says. "It was all-consuming, seven days a week. We had to stop providing a monthly foot care clinic, and dental services were put on hold."
Doorways (formerly Doorways for Women & Families) provides support, shelter and safe housing for people impacted by domestic violence and sexual abuse. It helps more than 200 people per year, including parents and children. doorwaysva.org New Hope Housing offers various housing and support services throughout Northern Virginia, including Bailey's Shelter and Supportive Housing in Bailey's Crossroads, and the Residential Program Center (RPC) on Columbia Pike. In 2019, it served more than 1,632 people, including 450 in permanent or transitional housing. newhopehousing.org
"We connect people to cancer care, check sugar levels in diabetics, even take people to receive the Covid vac cine," Shaw says. "We address chron ic conditions that could be prevented if people were housed, including a lot of foot care because so many are on their feet all day."
homeless in arlington
The nonprofits below are part of Arlington County's "Continuum of Care" for people who are homeless or at risk of becoming homeless. For more information about each organization's mission and how you can help, see our Guide to Giving on page 36.
PathForward (formerly A-SPAN) runs the county's Homeless Services Center in Courthouse, offering emergency shelter, medical treatment, food assistance, job training, rapid rehousing, permanent supportive housing and other services. During its 2020 fiscal year, the nonprofit housed 159 people, served 29,850 meals, provided 810 medical visits and sheltered 422 individuals. pathforwardva.org Bridges to Independence (formerly the Arlington-Alexandria Coalition for the Homeless) operates Sullivan House, Arlington County's largest emergency shelter for families. It currently serves about 500 individuals, including children. bridges2.org
Over the course of her life, Sheridan P. Jackson has lived in her own place in Washington, D.C., been incarcer ated, had an apartment in Arlington, spent time in a shelter and bunked with a friend. Through it all, she raised five children who earned college degrees. At various times, she was an alcoholic and a victim of domestic violence.
ArlingtonMagazine.com ■ November/December 2021 35 though they were necessary. "These were the things we could provide that make people feel human," she says, "but we couldn't do it and keep them safe. That was just hard on all of us. We saw everyone's stress increase."
Today Jackson is taking online courses with hopes of landing a job as an administrative assistant.
"The church is what worked for me," he says. "It is stronger than my addiction." He still recalls his first night in his own apartment, which he secured with help from PathForward and New Hope Housing. He slept on the carpet in the bedroom and was happy. "It was the first place of my own, ever in my life," he says, "and a nonsmoking building, too!" These days Kevin walks through Arlington looking for people who are homeless, telling them where they can find shelter, food and other forms of as sistance. He's made it his personal mis sion. "I freely give back to the commu nity where I used to be," he says with conviction. "I have freedom now."
"This is a stepping-stone for me," she says. "I am learning to reaccli mate myself. I tend the community garden in back and do laundry right here in the building. It's really quiet. The neighbors are cool. I finally have a sense of peace." ■ Tamar Abrams is semiretired, working as a communications consultant, enjoying life in Falls Church City and worrying about mostly everything.
IT'S THE SUCCESS STORIES that keep Frantz and her colleagues motivated. Covid has made their jobs more diffi cult, but the end goal remains the same: Empowering people—to quote PathFor ward's tagline—from streets to stability Kevin, 44 (who shares only his first name), has made that journey. After years of substance abuse and living on the street, he's been in supportive hous ing in Arlington for nearly a decade.
A visit to PathForward in 2013 turned her life around. "They didn't have any beds available and I had to sleep on the floor, but that was okay," says Jackson, now 51. "They had clothes I could wear, a place to take a shower. I could eat regularly." Staff helped move her into an apart ment at Sibert House, a permanent supportive housing residence in Westo ver, designed to help individuals over come substance abuse and mental ill ness and attain their goals.
Complete Health Dentistry
Phoenix Bikes 36 November/December 2021 ■ ArlingtonMagazine.com
Dinbas Burka (left) and bike repair instructor Liam Vincent at an Earn-a-Bike workshop
Headquartered: Arlington Serves: D.C. metro area What a donation can do: ❱❱ $10 provides one rabies vaccination.
Headquartered: Arlington Serves: Arlington County What a donation can do: ❱❱ $35 provides literacy-building afterschool activities, including audiobooks, listening devices and vocabulary puzzles.
Headquartered: Arlington Serves: Arlington and beyond What a donation can do: ❱❱ $500 funds a small community grant.
ArlingtonMagazine.com ■ November/December 2021 37
Arlington FoundationCommunity Arlington Community Foundation (arlcf. org) helps individuals, businesses and organizations in Arlington carry out their charitable giving, both in the short term and through permanent legacy funds.
Want to make a difference? Consider a donation of time or money to one of these local nonprofits.
As a grant-maker, convener and leader of programmatic initiatives, the Com munity Foundation strives to strengthen local nonprofits, encourage better under standing of the needs of Arlingtonians, and address the most critical issues of our time. Since 1991, ACF has awarded thousands of grants and scholarships and created a source of diverse and flexible philanthropic capital that can address changing community needs.
VENTURAMICHAEL
❱❱ $150 provides emergency groceries to a family struggling with new hardships.
❱❱ $200 provides specialty care to a pet in need. Volunteer opportunities: Volunteers help educate future pet owners, match ani mals with adoptive families and keep animals happy during their shelter stay. Some train to work with dogs, cats or small companion animals. Others foster animals in their homes.
❱❱ $1,500 provides one college scholar
❱❱ $25 covers an animal's care at the shelter for one day. ❱❱ $100 funds a spay or neuter surgery before adoption.
Many thanks to the Arlington Community Foundation (arlcf.org) for its help in compiling this resource. SSL indicates the availability of college internships or student service-learning opportunities for local schools.
Guide GIVINGto
AHC Inc. AHC (ahcinc.org) provides quality afford able housing to more than 3,000 lowincome families. AHC also offers onsite educational programs and social ser vices to help residents build more stable and successful lives.
❱❱ $500 supports a college field trip or mobile tech devices for high school students. Volunteer opportunities: Volunteers pro vide homework and studying support to elementary and middle school students, and mentor college-bound high school students. They also teach life skills and SAT prep, and provide organizational sup port, including staffing AHC's food distri bution sites, delivering school backpacks and serving holiday dinners. SSL Animal Welfare League of Arlington The Animal Welfare League of Arling ton (awla.org) provides resources, care and protection so that animals and ani mal-lovers can stay happy, healthy and together at home. Amid the pandemic, AWLA has directed more resources to its Pet Pantry (which provides free pet food to families experiencing hardship), vet assistance grants and its H.E.L.P. (Hous ing Emergency Lifeline for Pets) program for families affected by Covid-19.
Arlington Neighborhood Village Arlington Neighborhood Village (arlnvil. org) allows older Arlington residents to continue living in their own homes and community, safely and independently, with assistance and social support from local volunteers. ANV's discounted mem bership program supports more than 80 seniors.
Headquartered: Arlington Serves: Arlington County What a donation can do: ❱❱ $250 procures 10 blood pressure cuffs for patients' at-home health moni toring, or five cases of liquid food sup plements for a cancer patient.
❱❱ $200 supports membership for a lower-income senior for six months.
A
❱❱ $1,350 provides groceries to an AFAC family for one year.
PHOTOCOURTESY
Volunteer opportunities: Volunteers orga nize food drives (all ages) and help with re-bagging bulk purchases of produce at AFAC's warehouse (12 and up).
SSL Arlington Free Clinic Arlington Free Clinic (arlingtonfreeclinic. org) provides free, high-quality medical and dental care to low-income, uninsured Arlington County adults. Since 1994, the clinic has been filling the gap in health care access for the community's most vulnerable residents. Covid-19 has made this mission more important than ever.
Volunteer opportunities: AFC is always looking for volunteer physicians (pri mary/specialty), nurse practitioners, nurses, dentists and Spanish inter preters. Psychiatrists/psychiatric NPs, licensed counselors, dental hygienists and exercise instructors are especially needed right now.
❱❱ $1,000 covers 16 emergency den tal visits for patients whose oral health needs cannot wait.
38 November/December 2021 ■ ArlingtonMagazine.com ■ guide to giving ship or a prompt-response grant (e.g., a replacement washer and dryer for a homeless shelter).
Volunteer opportunities: Volunteers assist with fundraising events, com munity outreach and professional ser vices, and serve on grant or scholarship review committees.
❱❱ $35 supports membership for a lowerincome senior for one month.
❱❱ $2,000 funds a technology class to teach seniors how to use computers for telehealth, secure online banking, enter tainment, and emailing family and friends.
Volunteer opportunities: Volunteers run errands, shop for groceries, pick up pre scriptions, provide transportation to medical appointments and connect with
Headquartered: Arlington Serves: Arlington County What a donation can do:
Animal Welfare League of Arlington puppy adoption at AWLA
❱❱ $10,000 covers three months of generic medications. Most medications (about $3 million worth each year) are donated to the clinic, but some can not be accessed for free. AFC patients, including those diagnosed with hyper tension, diabetes or cancer prior to the Covid-19 outbreak, still need access to life-saving medications.
Headquartered: Arlington Serves: Arlington County What a donation can do: ❱❱ $250 provides milk and eggs to 100 families in one month.
The youth-led Arling ton Youth Philanthropy Initiative (AYPI) awards grants to youth-initiated service projects and nonprofits. SSL Arlington Food Assistance Center (AFAC)
❱❱ $750 provides fresh fruits and vegeta bles to 55 families in one month.
❱❱ $10,000 or more can start a perma nent scholarship fund or charitable giv ing fund (to be named by the donor) to support the donor's charitable interests.
The Arlington Food Assistance Center (afac.org) feeds neighbors in need by providing dignified access to supple mental groceries. Since 1988, AFAC has remained dedicated to its simple but crit ical mission of obtaining and distribut ing groceries, directly and free of charge, to people living in Arlington who cannot afford to purchase enough food to meet their basic needs.
www.FalconsLanding.org | Potomac Falls, Virginia Falcons Landing is proud to be a non-profit Life Plan Community. The Terrace Homes are now open! With the best features of apartment and cottage living, The Terrace Homes offer a new take on Independent Living for military officers who have honorably served and senior level federal employees. No matter how you spend your days, Falcons Landing gives you the freedom to enjoy all of the activities that define who you are. ACT FAST, CALL (703) 223-8491 TO SCHEDULE A TOUR TODAY ! settle for
For more than 45 years, Arlington Thrive (arlingtonthrive.org) has been the finan cial safety net for Arlington County. By providing cash assistance to vulnerable households, Thrive prevents evictions, medical catastrophes and undue chaos giving La Cocina VA Founder & CEO Paty Funegra in La Cocina VA's new kitchen incubator, during the build-out
APAH offers internships and community service projects for student groups. SSL
seniors via friendly telephone and inperson visits to reduce feelings of social isolation and depression. Volunteers also help with IT, website maintenance, communications, marketing, fundraising, office support and special programs.
❱❱ $250 finances the co-pay for subsi dized child care for one child.
The Arlington Partnership for Afford able Housing (apah.org) is committed to developing innovative, attractive and safe apartment buildings. Currently, APAH provides more than 2,000 homes to lower-income individuals and families at 18 properties, with another 1,000 pipeline apartments in active prede velopment. The nonprofit is working to integrate health, workforce success, education, community engagement and housing to achieve better outcomes for all. The pandemic has brought added strain, and low-income neighbors are still disproportionately impacted by job and income loss. This summer, more than 400 households could not pay rent, and many struggled to put food on the table.
40 November/December 2021 ■ ArlingtonMagazine.com
APAH has committed to not evicting any families at its affordable properties for financial reasons during the pandemic, and is providing emergency financial assistance to residents. However, its Resident Emergency Fund has been stretched thin to meet immediate needs.
❱❱ $50 pays for a week of transportation to and from work for a parent.
❱❱ $500 pays the average monthly ledger for a household that has fallen behind on rent. ❱❱ $1,000 covers holiday expenses for a family of five.
TIMMESJONATHAN
❱❱ $100 buys emergency groceries for a single parent who is between paychecks.
Arlington Thrive
Arlington Partnership for Affordable Housing
■ guide to
Headquartered: Arlington Serves: D.C. metro area What a donation can do:
Volunteer opportunities: Assistance is needed with family engagement activi ties, grocery distribution, literacy pro gramming, affordable housing advocacy and volunteer management/recruitment.
❱❱ $5,000 pays the rent for five Arlington families facing eviction so they do not become homeless.
Volunteer opportunities: Thrive is currently seeking volunteers with experience in public policy (including housing policy), fundraising, communication strategies and graphic design. Opportunities exist for both one-time and regular service in the form of committee membership, office assistance and working directly with families in need of assistance.
Headquartered: Alexandria (with a location in Arlington) Serves: Arlington and the D.C. metro area
What a donation can do: ❱❱ $75 covers a peer mentoring support session for one individual. ❱❱ $550 provides Game on the Line immersion training (cognitive and somatic coping skills) for one individual.
Headquartered: Arlington Serves: Arlington County What a donation can do: ❱❱ $100 pays for a prescription for a homeless individual. ❱❱ $250 covers medical care or emer gency dental work for an uninsured Arlington resident. ❱❱ $1,000 restores utility service for six families who, due to temporary unem ployment, are unable to pay for their heat and/or electricity.
ArlingtonMagazine.com ■ November/December 2021 41 and crisis for neighbors in need. Since the onset of the pandemic, Thrive's Arling ton Emergency Relief Fund has provided more than 4,000 families with rapid finan cial assistance for acute needs—such as rent payments, medicine, uninterrupted power and water, internet access or trans portation assistance.
Arm & Arm Arm & Arm provides peer-to-peer behav ioral health services (support, training, mentoring) to individuals re-entering the community following incarceration, military service, homelessness, substance abuse recovery and/or mental health challenges.
❱❱ $750 pays for one individual to receive 72 hours of Peer Recovery Train ing (for state certification). ❱❱ $960 funds a focus group for 4-5 par ticipants struggling with severe traumatic experiences.
Volunteer opportunities: Volunteers are needed for outreach to raise awareness of social isolation, opioid addiction, men tal health issues and Covid-19 vaccina tion and testing, as well as connecting with at-risk youth. Arm & Arm facilitates a monthly Shop Talk forum on issues relating to community inclusion.
Volunteer opportunities: Aspire! offers full-time service opportunities for com munity members and students over age 18 through its AmeriCorps partnership. Volunteers are also needed to provide in-person reading and homework sup port for young learners.
SSL Borromeo Housing Inc. Borromeo Housing (borromeohousing. org) maintains an education-first, safe, transitional housing program for single homeless mothers (ages 16-22) and their children. BHI's mission is to break the cycle of poverty two generations at a time by empowering residents to achieve self-sufficiency through education. Fami lies living at BHI attend school and take part in life skills training, parenting classes and counseling, with the goal of being able to live healthily and indepen dently. BHI is more than 93% privately funded, relying heavily on donations, and is bracing for a surge in need due to pandemic hardships.
Headquartered: Arlington Serves: South Arlington What a donation can do: ❱❱ $30 provides one day of after-school and literacy support for one student.
❱❱ $60 provides a literacy learning kit for a new student.
Aspire! Afterschool Learning (aspire afterschool.org) provides daily afterschool and summer programs to under served students who are most impacted by the educational opportunity gap— which has widened amid the pandemic and school closures.
Headquartered: Arlington Serves: D.C. metro area with an emphasis on Arlington County residents What a donation can do: ❱❱ $50 provides a month's supply of dia pers for one child.
Volunteer opportunities: During normal operations, volunteers serve as guest chefs, infant care supply coordinators and skills presenters (weekly), and men tors. In this time of social distancing, BHI needs volunteers to do yard work, provide meals and drop off supplies. Individuals with skills that can be taught over Zoom can participate in one of BHI's "Virtual Group Nights." Grant writ ers and researchers are also needed to pursue funding opportunities. Student internships are available. SSL Bridges to Independence Bridges to Independence (bridges2.org) leads individuals and families out of homelessness and into stable, inde pendent futures. Its vision is to break intergenerational cycles of poverty by empowering today's struggling families Arlington A winter coat drive at the
❱❱ $250 provides educational supplies for two young mothers to attend school for one semester.
❱❱ $160 funds one week of after-school and literacy support for one student.
■ guide to giving NIMLEYALBERT YMCA
Y
❱❱ $100 covers one year of STEM learn ing supplies for one student.
❱❱ $100 provides a month's supply of groceries and toiletries not covered by federal assistance (WIC) for a family.
Aspire! Afterschool Learning
42 November/December 2021 ■ ArlingtonMagazine.com
❱❱ $1,000 funds a month of shelter care for one family, including utilities and household goods. ❱❱ $10,000 pays the safe home's resi dential mortgage for five months.
Capital Caring Health As the region's largest nonprofit provider of hospice and advanced illness care, Capital Caring Health (capitalcaring.org) is there for patients and families 24/7.
Headquartered: Falls Church Serves: Arlington County, as well as a broad swath of Virginia, Maryland and Washington, D.C. What a donation can do: ❱❱ $50 buys toys and games for a pediat ric patient and their siblings. ❱❱ $250 covers two registered-nurse vir tual visits to a hospice patient. ❱❱ $1,000 provides personal protective gear for 75 nurses. ❱❱ $10,000 covers 25 days of acute hos pice care for two patients at one of Capi tal Caring's inpatient centers. ❱❱ $50,000 buys a decontamination
ArlingtonMagazine.com ■ November/December 2021 43 to be tomorrow's successful community members. Bridges operates Arlington County's largest emergency family shel ter. It also maintains programs focusing on rental subsidies, workforce develop ment and financial empowerment, and youth programs that emphasize confi dence, skill-building and job readiness. Bridges recently merged with the Bonder & Amanda Johnson Community Develop ment Corp. and now provides referral ser vices through its community services cen ter in Green Valley. Current needs include gift cards (for food and personal sup plies), financial donations to cover utilities and rent, and job coaching support for those seeking employment opportunities.
❱❱ $100 provides materials for a youth skills-building workshop. ❱❱ $400 supports a college field trip and other educational trips for BYB students.
Headquartered: Arlington Serves: Arlington County What a donation can do: ❱❱ $50 provides snacks for weekly home work help and tutoring sessions.
❱❱ $500 helps a family avoid eviction by covering an unexpected auto repair or medical emergency.
❱❱ $1,000 pays one month's rent for a single mom and her two kids in an affordable housing unit. Volunteer opportunities: Bridges wel comes both in-person and virtual vol unteers of all ages to coordinate food drives and deliveries, organize storage spaces, serve on committees, move fur niture and tutor or mentor youth. Student internships and service opportunities are posted in the nonprofit's newsletter, social media feeds and online. SSL BU-GATA BU-GATA (bu-gata.org) partners with other community organizations to pro duce, preserve and advocate for afford able housing in Arlington County. It also encourages youth civic and leadership development through its Buckingham Youth Brigade (BYB) program, which is geared toward underserved teens ages 14-18.
Volunteer opportunities: Virtual and inperson tutors (18 or older) are needed assist with youth programs.
Headquartered: Arlington Serves: Arlington County What a donation can do: ❱❱ $100 provides dishes, linens and household items for a family moving out of the shelter and into a new home.
❱❱ $250 covers utility and phone bills for a family of three for one month.
Volunteer opportunities: Volunteers 18 or older who have graduated high school are needed to assist with shelter cover age, children's activities, interpretation, administrative support and fundrais ing. Individuals working directly with cli ents must complete at least 40 hours of training and a background check. Com munity groups, including youth and chil dren, can help by organizing collection drives and fundraisers.
❱❱ $2,500 funds a Dream Scholarship for one student.
Headquartered: Alexandria Serves: Arlington, Alexandria and Fairfax What a donation can do: ❱❱ $250 provides school supplies for 10 students. ❱❱ $1,000 covers supplies and snacks for an after-school serving 50 students.
Headquartered: Arlington Serves: Arlington, Alexandria, Fairfax and Falls Church What a donation can do: ❱❱ $100 covers one month of toiletries and incontinence products for residents.
Volunteer opportunities: Volunteers 18 and older are needed to provide technol ogy assistance to residents. Donations of face masks are also appreciated. Internships and service opportunities for middle school, high school and college students are available. SSL Doorways Every day in Arlington, thousands of fam ilies, youth and survivors live in unsafe and unstable environments. These vul nerable community members continue to be disproportionately impacted by the pandemic and its economic fallout. Door ways (doorwaysva.org) provides advo cacy, shelter, housing and services for survivors of domestic violence and sex ual assault, as well as for youth and fam ilies experiencing homelessness, helping our most vulnerable neighbors survive crisis and rebuild their lives.
❱❱ $2,500 funds one week of emer gency shelter for a family escaping domestic violence.
❱❱ $5,000 funds paid internships for high school students. ❱❱ $10,000 funds dental, hearing and vision exams for 500+ families.
❱❱ $1,000 provides academic, financial and career counseling to a young person transitioning from homelessness.
❱❱ $250 helps a family graduate from Doorways' shelter to its HomeStart sup portive housing program, funding essen tials like a new bed or kitchen supplies.
Headquartered: Arlington Serves: Arlington County and the City of Falls Church What a donation can do: ❱❱ $100 provides art and play therapy to children in Doorways' emergency shel ters, housing and counseling programs, fostering healing after trauma.
❱❱ $100 allows one Dream Scholar to attend the Dream Summit conference.
EcoAction Arlington EcoAction Arlington (ecoactionarlington. org) protects air, water and open spaces by promoting stewardship of our natu ral resources and by connecting citizens to sustainable lifestyle solutions. The work is community-based and designed to empower individuals with resources, training and collaboration. EcoAction Arlington offers regular education pro grams (both virtual and in-person) and volunteer service opportunities.
Headquartered: Arlington Serves: Arlington County What a donation can do: ❱❱ $250 buys and plants one tree.
Volunteer opportunities: Volunteers serve as mentors to Dream Project students, serve on committees and assist with fundraising events.
Volunteer opportunities: Tutors and homework buddies work with students at partner schools. Volunteers also serve as guest speakers at career events and assist with outreach, mar keting and development.
Volunteer opportunities: Essential ser vices include comfort and companion ship for individuals facing advanced illness; respite support for family mem bers; art or music therapy; and counsel ing for those facing the loss of a loved one. Volunteers also sort, price and sell donated items in the nonprofit's thrift store in Arlington. Capital Caring offers internships and opportunities for student service-learning hours. SSL Communities in Schools NOVA Communities in Schools (cisofnova.org) empowers students to stay in school and achieve in life. School-based coun selors bring resources into schools to remove barriers that put students at risk of dropping out.
❱❱ $500 allows one student to partici pate in a professional coaching program.
❱❱ $1,000 covers materials for energyand water-efficiency improvements in the homes of 25 low-income families.
❱❱ $10,000 provides hands-on environ mental education programs for 4,000 Arlington students.
Volunteer opportunities: Single-day proj ects include stream cleanups, invasive plant removal and storm-drain-marking. Service projects can be customized for business, community and school groups.
The Energy Masters program (a oneyear commitment for volunteers 16 and older) trains volunteers to make energyand water-saving building improvements in affordable-housing complexes. High school students also hold positions on the nonprofit's board of directors and can complete senior experience intern ships in May/June.
SSL Dream Project Founded in 2011, the Dream Project (dreamproject-va.org) empowers students whose immigration status creates barriers to education by providing access to college scholarships, mentoring, financial aid, fam ily engagement and advocacy. This year the nonprofit awarded 100 scholarships of $2,500 each, for a total of $250,000.
SSL Edu-Futuro Edu-Futuro (edu-futuro.org) empowers disadvantaged Latino and other immi grant children, youth, first-generation college students and families to suc ceed and fully contribute to their com munity. The nonprofit emphasizes edu cation, leadership, parent engagement and workforce development to break the cycle of poverty and overcome the ■ guide to giving
Culpepper Garden Culpepper Garden (culpeppergarden.org) provides quality affordable housing, assisted-living services and programs to lower-income seniors. It currently offers 273 independent-living units and 73 assisted-living units in a caring commu nity where older adults are able to age in place with dignity and independence.
❱❱ $250 provides one month of water and nutritious snacks for resident activi ties and events.
Headquartered: Arlington Serves: Virginia What a donation can do: ❱❱ $50 covers the cost of a college visit for one student.
44 November/December 2021 ■ ArlingtonMagazine.com machine to thoroughly clean patient rooms and centers.
❱❱ $500 provides household items and technology assistance to formerly home less seniors moving into the indepen dent-living residence. ❱❱ $700 provides seven days of support ive services for one frail, low-income, assisted-living resident who can no lon ger afford the cost of care.
ArlingtonMagazine.com 2021 45 achievement gap. Since the pandemic outbreak, Edu-Futuro has provided indi vidual case management to program par ticipants who have lost their jobs due to the health and financial crisis, including emergency financial assistance for rent, utilities, food and other needs.
Rob Ferguson is as local as they come. A lifelong Northern Virginian with more than 24 years of Arlington real estate expertise, Rob knows the neighborhoods and the local market. Let Rob show you how his clients become clients for life.
Headquartered: Arlington Serves: D.C. metro area What a donation can do: ❱❱ $100 covers one month of internet access for a student whose parents lost their jobs due to Covid-19. $300 buys a Chromebook for a stu dent who does not have a computer at home and needs it for distance learning. $500 covers a stipend for a lowincome high school student to hold an internship before beginning college. $1,000 provides two college scholar ships for underserved students. $1,500 covers the rental fees of two buses, enabling 90 underserved stu dents to tour a college campus.
❱❱
❱❱
❱❱
Headquartered: Arlington Serves: People 50 and older in the D.C. metro area What a donation can do: ❱❱ $175 funds an annual membership and one class per semester for a lim ited-income student. ❱❱ $850 buys a laptop for part-time staff. ❱❱ $5,000 covers the cost of one semes ter's catalog production, including graphic design, printing and postage.
Headquartered: Alexandria Serves: Virginia What a donation can do: ❱❱ $25 provides new underwear and paja mas for a woman just released from jail. ❱❱ $50 pays for one month of transporta tion to appointments and interviews. ❱❱ $100 funds one ticket home so a cli ent can visit with her children and family.
www.fergusonrealestateteam.com703-926-6139
Rob Ferguson GRI & Associate Broker
■ November/December
❱❱
Encore Learning Encore Learning (encorelearning.net) is dedicated to providing high-quality, lifelong learning at a reasonable cost for anyone over 50 in the D.C. metro area, via daytime college-level courses, clubs and special events. Courses are taught by working and retired scholars and business profession als. Demand for virtual activities during the pandemic has sparked a greater need for technical expertise. Encore and its donors also support the Arthur W. Gosling Schol arship, which awards $2,500 annually to an Arlington Public Schools graduate to attend George Mason University or Mary mount University.
Volunteer opportunities: Encore Learning is a volunteer-led organization, with adminis trative support provided by part-time staff. Volunteers serve as course instructors who develop and teach semester-long courses over a 4- to 10-week period, in weekly sessions of 1½ to 2 hours. Volun teers also recruit new instructors; seek speakers and performances for special events; write and edit course catalogs; initiate and maintain clubs; advise on office technology; organize social func tions; and recruit, train and support class aides. Encore welcomes volunteers of any age and has worked with college students on academic projects. SSL Friends of Guest House Friends of Guest House (friendsofguest house.org) helps women successfully reenter the community from incarcera tion. Its mission is to provide formerly incarcerated women with the structure, supervision, support and assistance they need to move beyond who they were and become who they want to be.
❱❱ $300 buys a week's worth of grocer ies for three families.
The Literacy Council of Northern Virginia (lcnv.org) teaches adults the basic skills of reading, writing, speaking and under standing English so they can access employment and educational oppor tunities and more fully and equitably participate in the community. LCNV is currently providing both in-person and live-streamed group instruction.
❱❱ $1,500 funds dental work for 2-3 homeless adults, or car repairs for par ents who need their cars to get to work.
Homestretch Homestretch (homestretchva.org) empowers homeless families to secure permanent housing and attain the skills, knowledge and hope they need to achieve self-sufficiency. The most press ing current needs are for food gift cards (Aldi, Giant, Safeway, Harris Teeter and Target), household cleaning products, toi let paper, large kitchen trash bags and dishwasher detergent.
❱❱ $300 funds culinary student prepa ration of 50 healthy meals, which are donated to local families in need.
❱❱ $100 trains two volunteer instructors.
Literacy Council of Northern Virginia
Volunteer opportunities: Technical advisers are needed to offer exper tise and support to aspiring culinary entrepreneurs.
Volunteer opportunities: Volunteers help with client intake (via phone), on-site reception, interpretation and translation services and legal casework. Immigra tion clinic volunteers (once a month in the evenings) help clients fill out docu ments and prepare their immigration applications. Office volunteers (TuesdayFriday, 9 a.m.-5 p.m.) help with case work and administrative tasks. Because cases require written translation of client statements, translators are occasion ally needed. Volunteer attorneys and law students provide face-to-face counsel for low-income immigrants and refugees. Covid-19 vaccination is required for all in-office staff and volunteers.
Headquartered: Arlington Serves: D.C. metro area What a donation can do:
❱❱ $5,000 funds one month of housing for all residential clients.
Legal Aid Justice Center
❱❱ $1,000 provides distance learning to 22 students.
Founded in 1967, Legal Aid Justice Cen ter (justice4all.org) seeks equal justice for all by solving clients' legal problems, strengthening the voices of low-income communities and rooting out the inequi ties that keep people in poverty. "We are both your neighborhood legal aid orga nization and a dragon-slaying civil rights organization, all in one."
Headquartered: Falls Church Serves: Falls Church City and Fairfax County What a donation can do: ❱❱ $250 buys shoes for 15 children or 10 gas cards or Metro cards ($25 each) for working parents.
Volunteer opportunities: Volunteers tutor adults or children, teach life skills classes, prepare apartments for incom ing families, organize donation drives, assist with property landscaping, help in the preschool or nursery, cook meals for the after-school teen program and provide pro bono expertise in their given professional fields. Service projects can be adapted to fit school service commit ments or learning credits. SSL Just Neighbors Just Neighbors supports immigrant com munities in the DMV by providing highquality immigration legal services to lowincome immigrants, asylees and refugees.
Volunteer opportunities: Mentors work one-on-one with residents, listening with out judgment to help them set goals, learn new skills and develop the con fidence, patience and perseverance needed to reenter the community suc cessfully. Volunteers in the Workforce and Life Development Program also provide instruction on topics such as substance use and strategies for long-term recovery, mental health, job readiness, job search and interviewing strategies, coping skills, grief counseling, parenting, CPR and first aid, and computer skills. The class commitment is at least one hour per week (classes held weekdays between 9 a.m. and 5 p.m.) and each session is 8 weeks. Volunteers receive orientation prior to teaching. Sessions are conducted in-person and masks are required. Volun teers must complete a background check and pay a one-time fee of $25.
Headquartered: Offices in Charlottesville, Falls Church, Petersburg and Richmond Serves: Low-income families and individu als throughout Virginia
What a donation can do: Gifts of all amounts are appreciated. Unrestricted gifts support the mission by funding ambitious programs, leader ship, internal equity, staff excellence and stability, operational support, technology, professional development, communica tions, fundraising, a healthy working envi ronment, and a strong, supportive pres ence in low-income communities and communities of color.
❱❱ $10,000 provides culinary training, uniforms, study materials, food manage ment certification and job placement for one student.
❱❱ $2,300 pays for licensing, certifica tions and a month of incubator services for a low-income entrepreneur (including counseling, commercial kitchen, equip ment and capacity building training).
46 November/December 2021 ■ ArlingtonMagazine.com
❱❱ $500 helps a refugee family apply for lawful permanent residency (green cards).
❱❱ $250 covers supplies, study materials and fees for one client to earn her GED.
❱❱ $1,500 covers the cost of dentures, giving one client the confidence to suc cessfully reenter the workforce.
Headquartered: Annandale Serves: D.C., Maryland and Virginia What a donation can do: ❱❱ $50 allows a DREAMer to renew their work permit.
❱❱ $15,000 covers nearly all of one fam ily's housing costs for one year.
❱❱ $100 reunites an unaccompanied youth with their family.
La Cocina VA La Cocina VA (lacocinava.org) trains, certi fies and places low-income immigrants in meaningful jobs in the food-service indus try. Through its new kitchen incubator just off Columbia Pike, the organization also offers business development training to low-income food entrepreneurs, and opportunities to rent kitchen space. Most clients are women who have suffered from domestic violence, human trafficking or chronic unemployment. The culinary program has an 85% job placement rate.
❱❱ $500 supports five families in LCNV's Family Learning Program.
❱❱ $10,000 covers an intensive survival and job readiness literacy class for 10 refugee women.
■ guide to giving
Volunteer opportunities: Volunteers are help with food distribution in Culmore and Annandale every Thursday morning.
Volunteer opportunities: Volunteer teach ers lead classroom instruction 2-3
The nonprofit builds community through education, advocacy and volunteerism.
Headquartered: Falls Church Serves: Northern Virginia What a donation can do:
❱❱ $85 provides a student scholarship.
What Monument Loans apart?
Headquartered: Arlington Serves: Greater D.C. metro region What a donation can do: Donations to the Patient Assistance Fund or Young Adult Treatment Fund in Memory of John Buck financially support treatment costs for those who lack insur ance or otherwise could not afford care. ❱❱ $250 funds therapeutic activities for residential patients. ❱❱ $500 pays for audiovisual equipment for telehealth sessions and residential patient education. ❱❱ $1,000 supports extended inpatient care for uninsured individuals.
ArlingtonMagazine.com ■
Home
For nearly 60 years, National Capital Treatment & Recovery (formerly Phoenix House Mid-Atlantic) (natcaptreatment.org) has provided high quality, evidence-based treatment to individuals suffering from substance use and related mental health issues. Patients gain the skills needed to manage their recovery and go on to lead independent, productive and drug-free lives. Services are offered regardless of a person's financial resources. The con tinuum of care includes residential treat ment facilities for adult men, women and young adults. The women's residential program accepts mothers with young chil dren. Outpatient programs include com prehensive patient services, individual/ group counseling and education. Fam ily involvement is encouraged through a weekly "Concerned Persons Conversa tions" group. The pandemic has imposed significant challenges for patients in treat ment and recovery, including social isola tion, lack of in-person support, sickness and/or death of loved ones, risk of unem ployment, loss of insurance, delays in testing and access to a vaccine.
November/December 2021 47 times a week per three-month semes ter. Class aides support learners in the classroom once or twice a week. Tutors provide supplemental instruction before or after class. Assessment specialists assess learners for appropriate program placement and measure their progress six times a year. Others help with class registration, outreach, office tasks and special projects. Unpaid internships are available to students over 18. SSL
sets
Arlington's Hometown Home Loan TEAM MONUMENT HOME LOANS A division of Mann Mortgage LLC NMLS#2550 nmlsconsumeraccess.org 4075 Wilson Blvd., 8th Floor, Ste 823 | Arlington, VA 22203 info@monumenthomeloans.com703.650.7431 www.monumenthomeloans.com Meetteam!our (clocwise from upper left)
❱❱
Our service. While our interest rates are quite competitive, our customer service is what sets us apart. From your first phone call until your final signature, our loan officers and processing team are fully accessible whenever needed, day or night, weekday or weekend. We also understand that mortgages should not be one-size-fits-all; that's why we offer one of the widest arrays of mortgage products in the DMV, and work closely with clients to identify the program that best meets their needs and goals. As a result, we enable people from all walks of life to experience a smooth, predictable process that results in the best mortgage for their circumstances – and to have an experienced loan officer with them every step of the way.
National TreatmentCapital&Recovery
Volunteer opportunities: Volunteers serve on NCTR's board and committees and assist with marketing and fundraising. Internships are available for students enrolled in counseling programs. SSL New Hope Housing New Hope Housing (newhopehousing.org) serves more than 1,600 people a year through its shelter, rapid rehousing, per manent supportive housing, support ser vices and outreach programs for home less individuals across Northern Virginia. Last year, NHH rehoused more than 250 people and worked diligently to protect homeless people from Covid.
Headquartered: Fairfax County Serves: Alexandria, Arlington, Falls Church and Fairfax What a donation can do: ❱❱ $250 provides a new bed for some one moving out of homelessness. $1,000 provides a month of rent to help get someone safely housed. ❱❱ $10,000 funds up to 30 employment scholarships to help homeless shelter guests get better jobs through special training and courses.
Colin Myers, Loan Officer, NMLS #1473250 Kelley Cannon, Loan Officer Assistant, NMLS #2095194 Anshal Rode, Loan Officer, NMLS #816658 Ru Toyama, Loan Officer NMLS #1528382 Scott Gordon, Processing Manager, NMLS #483765 Robert Martinson, Branch Manager NMLS #470762 Joe Prentice, Sales Manager NMLS #1610163
Volunteer opportunities: Volunteers are needed for data entry, special events and to serve as court volunteers. Inter ested candidates must attend a 10-week (three hours per week) racial justice and liberation cohort.
Headquartered: Arlington Serves: Arlington County What a donation can do: ❱❱ $100 provides four round-trip rides for clients to doctors' visits.
❱❱ $250 covers one month of free sup port group meetings. ❱❱ $500 covers a one-day nurse training session on how to talk about and screen for PMADs.
Volunteer opportunities: Volunteers help with meal prep and delivery, tutoring, résumé writing, job search assistance, virtual game nights, building repairs and maintenance, landscaping, yard work and office tasks. Commitments can be one-time or ongoing. Internships and ser vice learning hours available to students pursuing careers in social services, com munications and marketing.
❱❱ $250 covers ID retrieval for at least six participants, which is needed to secure housing and employment.
Volunteer opportunities: Volunteers are needed to supply and deliver bagged meals to the Homeless Services Center in Courthouse, where kitchen staff, in turn, distribute meals to clients. Meals must be prepared off-site and delivered to the center's open-air loading dock. Volunteers are also needed to knit blan kets, socks, gloves and scarves.
■ guide
❱❱ $500 covers up to three months of case management for one participant.
❱❱ $750 purchases medical and woundcare supplies, as well as portable equip ment for four medical mobile outreach backpacks.
PathForward PathForward (formerly A-SPAN) (path forwardva.org) envisions an inclusive and equitable community where all neighbors live stable, secure and inde pendent lives, free from the threat of homelessness. PathForward's mission is to transform lives by delivering housing solutions and pathways to stability. In July, the nonprofit launched its Medical Mobile Unit, combining street outreach with medical services to meet the needs of and build trust with those living on the street. PathForward currently needs sup plies for mobile medical backpacks, as well as blood pressure cuffs, transpor tation to doctor visits, medications and supplies for foot and diabetes care.
Northern Virginia Family Service (nvfs.org) empowers more than 35,000 individu als and families on their journey to selfsufficiency, providing the support and resources they need to thrive.
Headquartered: Arlington Serves: Arlington County, City of Alexandria and the City of Falls Church What a donation can do: ❱❱ $100 provides transportation for five participants recently released from incarceration.
❱❱ $1,000 provides up to one month of transportation for up to 15 participants.
Headquartered: Arlington Serves: All of Virginia, with 32 support groups statewide and training programs for nurses and mental health providers.
Volunteer opportunities: Phoenix Bikes is revamping its adult volunteer program this fall. Check the website and social media for updates.
❱❱ $100 covers health screenings for 50 children. ❱❱ $500 provides five nights of emer gency shelter for a family in need.
❱❱ $30 provides a new floor pump for youth learning how to fix flat tires.
Postpartum Support Virginia
❱❱ $120 provides new cables (for shifting and braking) for 15 Earn-a-Bike students.
❱❱ $2,500 provides up to a year's worth of reentry services for one participant.
SSL Northern Virginia Family Service
❱❱ $10,000 covers the cost of one parttime employment specialist for one year.
SSL OAR of Arlington, Alexandria and Falls Church OAR (oaronline.org) envisions a safe and thriving community where those impacted by the legal system enjoy equal civil and human rights. OAR journeys with individuals of all genders who are returning to the community from incar ceration and offers alternative sentenc ing options to youth and adults to reduce incarceration. It seeks to dismantle per sonal racism and systemic racism in the criminal legal system and all systems.
Headquartered: Oakton Serves: Northern Virginia What a donation can do: ❱❱ $50 provides a portable crib for one newborn.
Volunteer opportunities: Volunteers at the Clock Tower Thrift Shop in Falls Church help sort and organize donations, tag items for sale, restock the sales floor, accept and process donations and greet customers. Volunteers age 13-15 must be accompanied by a parent.
What a donation can do:
❱❱ $25 provides one U-lock and helmet for an Earn-a-Bike program graduate.
❱❱ $100 funds the operation of PSVa's Warm Line for one week.
❱❱ $1,000 provides a full-day training session for peer mentor and social sup port volunteers Volunteer opportunities: Trained volun teers lead support groups, serve as peer mentors and field calls to the PSVa Warm Line. Volunteers also assist with fundraisers, special events, community outreach, social media and administra tive tasks. Internships and service hours available. SSL PRS and PRS CrisisLink PRS (prsinc.org) provides behavioral health, crisis intervention and suicide prevention services to adults, youth and families. Its vision is to change and save lives by empowering hope, safety, recov ery, wellness, independence and com munity integration. Services include the PRS CrisisLink hotline, textline and chat, as well as Recovery Academy day pro grams, employment support services, peer services and supported housing.
to giving
48 November/December 2021 ■ ArlingtonMagazine.com
❱❱ $250 provides two clients with a month's supply of life-saving medication.
Postpartum Support Virginia (postpartum va.org) provides educational programs, outreach and recovery resources for women suffering from perinatal mood and anxiety disorders (PMADs). PMADs are the No. 1 complication of pregnancy and childbirth, affecting more than 20% of childbearing women, yet for many remain undiagnosed and untreated. PSVa works to ensure that women are screened for PMADs and provides free social support groups, peer mentors and access to spe cially trained mental health professionals.
Phoenix Bikes Phoenix Bikes (phoenixbikes.org) com bines youth education programs with a full-service bike shop. Its free Earna-Bike program (now available as an after-school club at local middle and high schools) teaches bike repair skills to youth ages 12-17 and enables them to earn a bike for themselves. The non profit also hosts a weekly Earn-a-Bike class at its Arlington bike shop on Tues day afternoons. Headquartered: Arlington Serves: D.C. metro area What a donation can do:
Headquartered: Oakton
Mindful Solutions, LLC offers various types of psychological assessments, including: ▶ Psychoeducational Testing – often used for those diagnosed with ADHD or learning disabilities
▶ School Admissions Testing – often used for students seeking acceptance into private schools
Virginia Hospital Center
▶ Psychological/Clinical Testing – often used for individuals who have struggled emotionally for some time
Volunteer opportunities: Translators fluent in Spanish, Amharic, Farsi, Korean and other languages ensure all residents have equal access to resources. Volunteers also facilitate the Holiday Help drive (sort ing, wrapping and delivering gifts), assist with youth after-school and summer camp programs, tutor children, serve as aides in adult education programs, and provide event and marketing photography.
SSL Wesley Housing Wesley Housing (wesleyhousing.org) sup ports some 3,300 low-income residents
What a donation can do: ❱❱ $60 covers a week of Metro fares to help a resident get to work. ❱❱ $200 provides a month of food assis tance for a senior. ❱❱ $500 covers a family of four's wish list for the holiday season.
What a donation can do:
❱❱ $500 provides five hours of skill-build ing sessions to uninsured clients needing assistance with medication management, housing and independing living skills.
Headquartered: Arlington Serves: Arlington, Falls Church, parts of Alexandria and Washington, D.C. What a donation can do: ❱❱ $1,750 covers five weeks of camp for one child.
YMCA Arlington YMCA Arlington (ymcadc.org) serves more than 4,000 Arlington youths annually with child care, summer camps, sports, aquat ics, tennis and other family programs. The Y offers wellness programs for all ages, and scholarships and financial assistance to those in need. Over the last decade, the Y has provided more than $950,000 in financial assistance to children, fami lies and seniors. Its current outreach includes blood drives in partnership with the American Red Cross and produce/ meal distribution in partnership with both Keany Produce and Child Care Resources.
❱❱ $250 funds OB Connect at-home care kits for economically vulnerable moms to receive prenatal care from home.
❱❱ $1,000 funds specialized certifica tion for a trauma nurse in the Emergency Department. ❱❱ $5,000 underwrites the cost of con tinuing medical education for one of the hospital's primary care practices. Volunteer opportunities: The hospital's Volunteer Services Group provides vari ous kinds of support to patient represen tative services, inpatient hospital units, outpatient services and specialized ser vices. Virginia Hospital Center Auxiliary members help with wheelchair transpor tation and gift shops, and staff informa tion desks.
❱❱ $250 sponsors training for one PRS CrisisLink hotline volunteer who can answer 450 calls per year.
❱❱ $5,000 provides one year of healthy living classes and activities for seven senior couples.
❱❱ $100 funds program supplies for music therapy, art therapy, health and wellness, and coping skills for clients in Recovery Academy day programs.
❱❱ $13,500 allows 25 teens to partici pate in the Model General Assembly.
A not-for-profit, independent teach ing hospital, Virginia Hospital Center (vhcfoundation.com/give) is a mem ber of the Mayo Clinic Care Network—a national network of independent health care organizations. The Virginia Hospital Center Foundation ensures that patient needs are met with compassion and the most comprehensive, advanced level of care possible.
ArlingtonMagazine.com ■ November/December 2021 49 by creating affordable housing commu nities that foster personal development and self-sufficiency. Headquartered: Alexandria Serves: D.C. metro area (nearly a quarter of its portfolio is in Arlington County)
❱❱ $2,500 provides nine months of before- and after-school care for a work ing parent.
❱❱ $25,000 provides free after-school enrichment programs at elementary schools in challenged neighborhoods throughout Arlington.
Volunteer opportunities: Volunteers assist with birthday parties, after-school programs and community wellness pro gramming. Individuals with 1-2 years of tennis teaching experience are needed to help with the after-school junior ten nis program. ■
Volunteer opportunities: Hotline/textline/ chatline workers provide crisis interven tion and suicide prevention services via phone, text or chat to community mem bers contacting CrisisLink. Volunteers must be 21 or older, undergo intensive training and make a weekly commitment for a minimum of one year via remote call center. Volunteer opportunities also are available in PRS Recovery Acade mies and the administrative office.
Headquartered: Arlington Serves: D.C. metro area What a donation can do: ❱❱ $100 covers prescription medications for 20 uninsured children.
Serves: Northern Virginia
50 November/December 2021 ■ ArlingtonMagazine.com A team-building exercise at Bowers Design Build
An annual employee survey finds staff citing teamwork, a positive work environment, highly skilled peers, good customers and high standards as the top things they like about their jobs, along with challenging work, the freedom to voice their opinions, strong company values and a culture of trust. They also list opportunities for growth (the company pays for con
WHAT'S TO LOVE: A foundation built on quality, trust and solid relationships When you build something, build it to last—whether it's a custom home or a small business. That mantra is the secret to Bowers Design Build's longev ity. Not only does the 31-year-old company receive high marks for crafts manship and customer service (as confirmed by GuildQuality, a group that conducts client satisfaction surveys for homebuilders), the warm fuzzies extend to employees, too.
BY STEPHENIE OVERMAN hat does the perfect job look like? For most of us, the ideal in cludes some combination of meaningful work, competitive pay, great benefits, work/life balance, a cool culture, flexibility and fun. Find out why these area employers made our inaugural list of coveted places to earn a livelihood. Bowers Design Build LOCATION: McLean EMPLOYEES: 23
WHAT THEY DO: Home design, remodeling and construction
Sometimes the grass really is greener.
BROWNSKIP
ArlingtonMagazine.com ■ November/December 2021 51
WHAT'S TO LOVE: Employees are encouraged to channel their inner superheroes. The "cape" in Black Cape is an allu sion to superheroes. The company logo even looks like the bat signal. That's no accident."It'sfun to keep it lighthearted," says co-CEO Al Di Leonardo, whose tech firm is intent on recruiting the best software engineers, data scientists, machine-learn ing practitioners and systems engineers in an extremely competitive playing field.
52 November/December 2021 ■ ArlingtonMagazine.com tinuing education and certification pro grams) and work/life balance as rea sons to stay.
SA is especially tuned in to the needs of employees who have active-duty spouses. The ability to work remote ly has allowed one staffer to stay with the company for more than 18 years, through more than five military moves and deployments. sainc.com
WHAT'S TO LOVE: Fun is fundamental to wellness. Homeland security is serious work.
Strategic Analysis seeks to counterbal ance that solemn duty with moments of levity, says president and CEO Lindsay Samora, via events such as ice cream socials and ice-skating outings.
WHAT'S TO LOVE: Legal cross-training, cornhole and crazy hat days
In addition to competitive health and retirement benefits, SA offers elder care assistance and wellness challenges, such as company-sponsored 5K races. An an nual employee survey helps determine which benefits are most appreciated and what improvements can be made.
StrategicAnalysis
That rounded experience also includes community service—every two weeks, company volunteers make sandwiches for Martha's Table, a D.C. nonprofit— and a little healthy competition, via of fice events like cornhole tournaments and scavenger hunts. Yes, it's a law firm, but not one that's too buttoned up for crazy hat days and holiday decorating contests. "We try to keep everyone's spir its up," Salce says. "We work so hard, we have to have fun." berenzweiglaw.com
LOCATION: Ballston EMPLOYEES: 200 WHAT THEY DO: National defense and homeland security services
■ best places to work
BerenzweigLeonard
LOCATION: Tysons EMPLOYEES: 18 WHAT THEY DO: Law firm
All employees are given the chance to expand their professional interests and skills through cross-training, work shops and formal leadership education. "If the training benefits themselves and the firm, we provide support," Salce says. "We will dive in."
CAPE)(BLACKBROWNSKIPLEONARD);(BERENZWEIGPHOTOCOURTESY
The firm prides itself on a program that allows law clerks to explore all of its practice areas, working with attor neys on substantive projects. Clerks provide support at court appearances, attend companywide social events and receive one-on-one mentoring, Salce says. "They get a rounded experience."
Berenzweig Leonard has many practice areas—cybersecurity and data privacy, government contracting, intellectual property, employment, entertainment, sports and media law among them— but it doesn't pigeonhole anyone, says Jenny Salce, director of operations.
Black Cape LOCATION: Ballston EMPLOYEES: 81 WHAT THEY DO: Software development
The link between employee and cus tomer satisfaction "is very purpose ful," says co-owner Wilma Cairns Bow ers. The company has a profit-sharing cash reward and each year celebrates its achievements with a gala awards dinner. bowersdesignbuild.com
Last year, the company celebrated its 35th anniversary with a virtual Oscarsthemed ceremony, producing a movie about its history and sending out gift cards to buy everyone lunch. "I was dressed up. There were swag bags," Samora says of the pageantry. "I'm cre ating a director's cut," she adds.
Black Cape employees after a friendly game of Hooverball (a volleyball-type game that uses a medicine ball)
ArlingtonMagazine.com ■ November/December 2021 53
(BIRTHDAY)CAPEBLACKOFCOURTESY
The message: This is not your grandpar ents' stuffy corporate office. Black Cape offers competitive com pensation, profit-sharing, stock options and "a safe and interesting work environ ment where people feel like they're con tributing," Di Leonardo says. Staff get one day off per quarter to volunteer for the cause of their choosing (recent picks include Black Girls CODE, which offers mentoring and computers to underpriv ileged girls in the D.C. area, and Wine to Water, which builds sustainable water systems in impoverished countries). As a company, Black Cape has also provid ed technical support, software develop ment, a computer lab and teams of riders to Face of America, an annual two-day, 112-mile bike ride fundraiser that unites adaptive and able-bodied athletes. Other soft benefits include NBA tick ets, escape room outings and an annu al charity auction in which employeemade items—ranging from paintings to pickled eggs—are placed for bid, with a company match. Employees choose where the funds are donated. The emphasis on culture and com edy pays off. While the average an nual industry turnover rate is about 25%, Black Cape has a turnover rate of about 5%, Di Leonardo says. And, in a field dominated by men, one-third of the project leads in this Service-Dis abled Veteran-Owned Small Business are female. blackcape.io
A birthday celebration at Black Cape
PHOTOCOURTESY A
Maxar LOCATION: Ballston (headquartered in Westminster, Colorado) EMPLOYEES: 3,900; 37 in Ballston office WHAT THEY DO: Space technology and intelligence
WHAT'S TO LOVE: Remote work, massages and a commitment to equity in hiring
If you've seen satellite photos of recent hurricane damage, you've probably seen Maxar's work. Satellite imagery is just one of the specialties of a tech company that bills itself as driving "the latest and greatest in space technology advancement by staying curious. We believe diversified minds drive better innovation."Inkeeping with that commitment, Maxar has a Diversity, Inclusion and Belonging (DIB) steering committee that provides support and resources for employees who are women, Black, company pool party for Happy Endings Hospitality ■ best places to
54 November/December 2021 ■ ArlingtonMagazine.com
WHAT'S TO LOVE: Mental health is a top priority. Happy Endings Hospitality was ahead of the game in recognizing what the pandemic has made painfully clear— restaurant work is mentally taxing. One recent survey of restaurant workers by Black Box Intelligence and Snagajob found 78% reporting that their mental health had been negatively affected in the past year. Many said the stress of the job, coupled with the higher chance of disease transmission, wasn't worth theWhilepaycheck.Happy Endings has received blowback for cheeky names that some find offensive—its innuendo-laden res taurant portfolio includes concepts like Chasin' Tails (crawfish), Lei'd (Hawai ian poke) and Teas'n You (milk teas)—its mental health benefits are no joke. Em ployees seeking therapy have access to an online counseling service (the com pany covers the first month and then pays half the cost thereafter). In May, it launched Mental Health Moooves, a program in which team members hold one another accountable for practic es such as meditation, journaling and sleeping well. Roughly 30-35 employees signedRecognizingup. the mind-body connec tion to wellness, the restaurant group also pays up to 50% of an employee's gym membership or a portion of the fees for fitness classes such as yoga or boxing. Other benefits include Bonusly, a peer recognition program in which points (accrued via shout-outs from colleagues) can be redeemed for priz es and gift cards. The company covers 100% of health care expenses for its general managers, and half of its exec utive team is female. hehfood.com
Happy HospitalityEndings
LOCATION: Vienna EMPLOYEES: 178 WHAT THEY DO: Restaurant group
work
LOCATION: Courthouse EMPLOYEES: 71 WHAT THEY DO: Law firm WHAT'S TO LOVE: They care about protecting the planet.
Tucked inside a LEED Gold building near the Courthouse Metro station with sweeping views from a rooftop deck, Bean, Kinney & Korman thinks a lot about its environment. Having a mod ern office in a prime location helps with hiring and retention, says Tim Hughes, the firm's managing shareholder. "It's an attractive place for talented folks in the information economy." But there's also a larger eco-mission at play. The building is green by design, and Bean, Kinney has a sustainability task force that sets procurement guide lines for everything from planet-friendly cleaning supplies to office equipment. The firm reduces trash by using glass ware and ceramics in lieu of disposable dishes, and offers filtered instead of bot tled water. Employees receive financial incentives to use public transportation.
From left: Jackie Moore, Tim Hughes, Juanita Ferguson and Jim Korman on the rooftop deck at Bean, Kinney & Korman ■ best places to work
56 November/December 2021 ■ ArlingtonMagazine.com
SOLUTIONSINTEGRATEDC3OFCOURTESYKORMAN);&KINNEY(BEAN,BROWNSKIP
Another guiding principle that sets the firm apart, Hughes says, is that "we are very entrepreneurial. People can find their own way within the different prac tice areas"—such as e-commerce, gov ernment contracting, construction, real estate development, and commercial and civil litigation. Fifteen of the firm's attor neys were selected for inclusion in The Best Lawyers in America 2022 Edition. Bean, Kinney offers flexible hours, an onsite fitness facility, weekly happy hours and group activities, such as kick ball tournaments and donation drives for local charities. beankinney.com
Hispanic/Latinx, LGBTQ+, military vet erans and those with differing abilities. When hiring to fill roles at the di rector level and above, the company requires consideration of at least two candidates from those underrepresent ed groups, with interviews conducted, in part, by hiring managers who are alsoDuringminorities.thepandemic, Maxar intro duced an equipment stipend (for desks, chairs and technology) for employees working from home and implemented a pilot program—WH@M (Work Hybrid at Maxar)—that traded conventional of fices for collaborative spaces and "ho teling" workstations that employees can use on days when they are on-site. Maxar offers an employee stock pur chase plan, spot bonuses for staff who exceed customer expectations, and In ternational Traveler Medical and Secu rity Coverage for employees who live abroad or travel internationally for work. Its executives anticipate a future in which remote work is common, but for now there is still one perk luring staff into the office: monthly massages by a professional masseuse. maxar.com Bean, Kinney & Korman
WHAT'S TO LOVE: A family-focused culture that embraces kids
LOCATION: Rosslyn EMPLOYEES: 20
C3 SolutionsIntegrated
When schools closed due to the pan demic, working parents everywhere had to figure out how to juggle the de mands of their jobs with distance learn ing for their kids. Karen Vasquez, di rector of marketing for C3 Integrated Solutions, says her company embraced the new normal. "As we were having Zoom meetings, kids and pets became special guests."
WHAT THEY DO: IT consulting and cybersecurity
A C3 outing (with interns)
About six years ago, Focal Point be gan offering four-week-long paid sab baticals to employees hitting the fiveyear mark.
■ best
58 November/December 2021 ■ ArlingtonMagazine.com Taking the idea a step further, the IT firm ceremoniously presented employ ees' children with T-shirts proclaiming them C3 interns. Though it was a small gesture, the kids felt like they were a part of the team, playing an important role as everyone weathered the crisis together, says President Bill Wootton. That family-friendly vibe—"it's in our DNA," he says. In recent years, C3 has been grow ing nearly as fast as those kids. In Au gust, the firm landed the No. 1,225 spot on the annual Inc. 5000 list of the fast est-growing private companies. Among U.S.-based IT management companies, it ranked 34th. C3 offers flexible scheduling, plus one or two "emotional health days" per year in addition to regular paid time off. "We know that everyone on our team has a life outside of work," Wootton says. "It's important to have a balanced life. It makes people happier, healthier, more productive. Everyone wants to work in a place where people care about them." c3isit.com
to work Be a part of one of Arlington's Best Places to Work Born and raised in Arlington, C3 Integrated Solutions is leading the way in securing our nation's defense industry. Come join our team and support our mission! www.c3isit.com
"It's a break—an extra month off," Murray says. They can do whatever they want; they are not supposed to check in with the Murrayoffice."sayshe initially worried that the return to the grind after all that time off might feel like a letdown, but that hasn't been the case. "People said they found it rejuvenating. They were more excited about work" when they came back. He practices what he preaches. Two years ago, he and his family took a monthlong trip to Asia. In addition to those sabbaticals, employees look forward to a few days of company-sponsored fun each year during an annual retreat in Miami Beach. Come summer, staff also get six (paid) half days off on Fridays. Other choice benefits include flexible scheduling, mentoring, a wellness plan and support for community service ini tiatives. focalpointhomes.com places
If Focal Point Homes employees start to feel burned out, they know relief is in sight. "Everybody here gives it their all," says president and founder Scott Murray, aware that the nature of the work (building custom and semi-cus tom new homes) sometimes requires staff to put in long hours and weekends.
Focal HomesPoint LOCATION: McLean EMPLOYEES: 18 WHAT THEY DO: Residential homebuilding WHAT'S TO LOVE: Paid sabbaticals
Over the last 5 years, we have intentionally pursued a renewed focus on open communication, collaboration, social responsibility, and growth mindset. Through this commitment, we have enhanced our ability to attract and retain the best talent in the industry, develop future leaders from within our ranks, and grow meaningful work relationships with our team members. Whether an employee has been with us for 40 years, or someone recently hired, valuing each person's contribution is a core value and helps make BM Smith a great place to work. We would like to thank our BM Smith team for their ongoing commitment to serving our local community and helping us continue the family legacy.
| BMSMITH.NET
703-920-2200 BM Smith & Associates, Inc. is an award-winning Property Management firm based in Arlington, Virginia, recognized for managing both multi-family and commercial properties for over a Century. Our team is so excited to now also be recognized as one of Arlington's Best Places to Work!
BRINGING SPACES ALIVE
60 November/December 2021 ■ ArlingtonMagazine.com ■ best places to work Decision Lens LOCATION: Ballston EMPLOYEES: 61 WHAT THEY DO: Software development
WHAT'S TO LOVE: Creative exploration is sanctioned and encouraged. Helping organizational leaders make tough decisions is all in a day's work at Decision Lens. Clients use Decision Lens software for budget planning, strategic prioritization and resource allocation, explains CEO and co-founder John Saa ty. The tech company has worked with the United Network for Organ Sharing, for example, to create tools that deter mine who gets organ transplants, and with the Commander, Naval Installa tions Command (CNIC) to prioritize military construction projects. Employees "get to be front-row par ticipants" in the planning, Saaty says, creating algorithms that help leaders make serious, data-driven determina tions. But they also get paid to geek out. During the company's annual or semiannual DL Labs, staff are encour aged to "explore the art of the possi ble," Saaty says, working on projects of their own choosing to enhance their skills and generate breakthrough ideas. Recent lab projects have involved gra vatars—globally recognized avatars— and artificial or simulated neural net works, a subset of machine learning. Meaningful work drives retention, says Saaty, who launched his start-up in 2002 with only a handful of peo ple, and still has some of those orig inal employees. Perks such as office snacks, ping-pong, bowling matches, a chili cookoff, winery trips and company outings to Nats games offer stress relief and build camaraderie. At the start of the pandemic, the entire company went virtual. Now the office has reopened on an optional basis for most employees. decisionlens.com
PHOTOCOURTESY Northern Virginia Alliance League (NVAL) salutes our 2021 FestivFall Sponsors Golden Sponsors Jim Connolly, Long & Foster Real Estate  District Angling  EC Home Collections  Leslie Ann Gerardo & David Smith Geva and Jane Real Estate  Home First Mortgage, Lari Ann & Greg Kundinger  The Leonard Group at RBC Wealth Management Janet & Timothy Mountz  Lorraine Barclay Nordlinger, TTR Sotheby's International Realty  NorthSide Veterinary Clinic Reinsch Pierce Family Foundation by Lola C. Reinsch  Tobi & Bobby Rozen  Nancy Snell Friends of NVAL Janice Burch & Michael Platner Ӏ Melissa & Ian Burris Ӏ Betsy Cooke Ӏ City & Suburban Homes Co., Inc. Ӏ CP Terry & Associates Ӏ Anne & Jamie Doll Harrison Edwards and Ryan Miller, Bright Bins Ӏ Beth Gouse & Jeff Beatrice Ӏ Suzanne & Ed Griesmer Ӏ Bettie Joy Ӏ Mary-Anne & Robert Liles Helen Lydon Ӏ Meany & Oliver Co. Ӏ Minuteman Press of Arlington Ӏ Melissa O'Gorman Ӏ Tina Papamichael Ӏ Susan & Matthew Pascocello Ӏ Kathy Seidel Anne Marie Strabo Ӏ Tyler Sylvestri, RLAH Real Estate Ӏ Diane Tomb Ӏ Linda Vandenberg Ӏ Andrea & Corbin Wilkes Ӏ Nan & Bob Woody nval-info.org NVAL is a non-profit 501(c)(3) organization of women committed to improving its community through raising funds for local organizations. All proceeds from this year's efforts benefit Bridges to Independence (bridges2.org). Platinum Sponsors Anonymous  Kelly Baker  Bloomingdale's  Jennifer Boeke Caterini, TTR Sotheby's International Realty Sue & George Covucci  Kim & John Heckler  Cyndi Duvall Simmons  Whittington Design Studio Presenting Sponsors MA GA ZINE Heidi Ellenberger Jones
BM Smith LOCATION: Columbia Pike EMPLOYEES: 33 WHAT THEY DO: Real estate WHAT'S TO LOVE: They've been a pillar of the community for more than a century. When an employee had to be rushed to the hospital from one of BM Smith's properties, the company vice presi dent's reaction was instinctual. "It was close to the end of the work day," recalls Tina Vandivier, director of real estate & HR systems. "Our V.P. knew her kids would need to be picked up from school and offered to bring them both home and took care of them until she Helpingreturned."hasbeen part of the Arling ton real estate firm's work ethic ever since its founding in 1908. That culture of caring extends to the larger commu nity, too. Through its volunteer pro gram, "BM Smith Gives Back," employ ees donate an average of 300 volunteer hours every year. Since 2016, they've helped orchestrate programs such as a casino night fundraiser for the Arlington Free Clinic, Bridges to Independence's Kickball for a Cause, a back-to-school drive with the Arlington Partnership for Affordable Housing, and food packaging at the Arlington Food Assistance Center. Last year, the company launched "Find Your Passion," a program in which two employees are chosen annu ally to receive $1,500 grants to spend as they wish. One winner used her grant to purchase an at-home boxing gym that kept her family active during the pan demic. Another used his grant to sup port a local nonprofit. bmsmith.net ■ Arlington Magazine partnered with the Best Companies Group to identify companies with locations in Arlington, McLean and Falls Church. To be con sidered for the "Best Places to Work" designation, organizations had to also have at least 15 employees and be in business for a minimum of one year. Winners were identified via an in-depth analysis of each company's workplace policies, practices and demographics, plus an employee survey that measured the employee experience inside each or ganization. Arlington Magazine was not involved in the research or selec tion process.
PHOTOCOURTESY
62 November/December
From left: Edward Isler, IslerDare; Pratibha Agarwal, Agarwal Law Group; Vera Golenzer, Hale Ball; Chidi James, Blankingship & Keith
GOLDMANSARAH 2021 ■ ArlingtonMagazine.com
ArlingtonMagazine.com ■ November/December 2021 63 APPELLATE
Jennifer Brust Bean, Kinney & Korman John Cottrell Cottrell Fletcher & Cottrell Raighne Delaney Bean, Kinney & Korman Ben DiMuro DiMuro Ginsberg Laura Dove Mullett Dove & Bradley Sally Ann Hostetler Odin, Feldman & Pittleman Juli Porto Blankingship & Keith Rip Sullivan Bean, Kinney & Korman
Our area's most respected attorneys as nominated by their peers in the legal community
Zinicola Blanch Overand & Hart
This feature reflects the results of a survey conducted by Arlington Magazine in which area attorneys were asked to nominate their peers in 21 practice areas. Participants were allowed to recommend attorneys in their own firms, provided they also recommended an equal number of attorneys (or more) in other firms. The list is limited to attorneys who are located in Arlington County, Fairfax County, the City of Falls Church and the City of Alexandria. Arlington Magazine administered the survey but was not involved in the selection process.
Gregory Wade Wade Grimes Friedman Meinken & Leischner BUSINESS CORPORATE Paul Abraham PJI Law Ryan Brown Arlington Law Group Tiffany Burton Rees Broome David Charles Rees Broome Ann Gillooly Gillooly Law Daniel Ingersoll Cameron McEvoy James Irving Bean, Kinney & Korman Kathleen Kelley Bean, Kinney & Korman David Kuhnsman Protorae Law Eric Lemmer Arlington Law Group William Porter Blankingship & Keith Tom Quinn Odin, Feldman & Pittleman Colin Smith Holland & Knight CONSTRUCTION Shannon Briglia Smith Currie Edward Cameron Cameron McEvoy Juanita Ferguson Bean, Kinney & Korman David Gogal Blankingship & Keith
Jennifer Brust Bean, Kinney & Korman Xue Connelly Wade Grimes Friedman Meinken & Leischner
Andrea Campbell Davison Bean, Kinney & Korman Marguerite DeVoll Watt, Tieder, Hoffar & Fitzgerald H. Jason Gold Nelson Mullins Alex Laughlin Odin, Feldman & Pittleman Stephen Leach Hirschler Brian Lee Lee Legal Rob Marino Redmon, Peyton & Braswell Madeline Trainor Redmon, Peyton & Braswell
Patrick Blanch
CREDITORS'BANKRUPTCY/RIGHTS
TOP
ATTORNEYS
Law Firm Mikhail Lopez Lee Lopez Law Lana
Cucinelli Geiger Vera Golenzer Hale Ball Elizabeth
Law Dennis
Wildhack Elizabeth
64 November/December 2021 ■ ArlingtonMagazine.com Timothy Hughes Bean, Kinney & Korman Steven Krieger Steven Krieger Law Alison Mullins Shannon Mullins & Wright John Purdy Fullerton & Knowles
The
Steve
John
Joshua Erlich Erlich Law Katie Lipp Lipp Law R. Doug Taylor Bean, Kinney & Korman EMPLOYMENT
DEFENSE James Abrenio Abrenio Law Aaron Book Webster Book Amy Bradley Briglia Hundley David Deane David Deane Law Nina Ginsberg DiMuro Ginsberg Peter Greenspun Greenspun Shapiro Carly Hart Zinicola Blanch Overand & Hart Matt Kapuscinski Odin, Feldman & Pittleman Manuel
(EMPLOYER) Maureen Carr Bean, Kinney & Korman Brian Chandler Protorae Law Edward Isler IslerDare Laurie Kirkland Blankingship & Keith Katie Lipp Lipp Law Tom Sawyer Odin, Feldman & Pittleman R. Doug Taylor Bean, Kinney & Korman Roya Vasseghi Vasseghi Law FAMILY LAW Carolyn Abbate Grenadier, Duffett, Levi, Winkler & Rubin Emily Baker Feldesman Tucker Leifer Fidell Jennifer Bradley Mullett Dove & Bradley James Cottrell Cottrell Fletcher & Cottrell Camille Crandall Hicks Crandall Juhl Laura Dove Mullett Dove & Bradley ■ top attorneys Bean, Kinney & BKorman ean, Kinney & Korman Congratulates Cour ongratulates our TWENTY-EIGHT TWENTY-EIGHT Attorneys Attorneys Named Top Attorneys for N2021! amed Top Attorneys for 2021! 703.525.4000 | beankinney.com Jennifer Brust David Canfield Stephen Caruso Maureen Carr Andrea Davison Raighne Delaney Timothy Dugan Juanita Ferguson Ronald Feuerstein Jonathan Harrison Lynn Hawkins Robert Hicks Timothy Hughes James Irving Kathleen Kelley Richard Kelley John Kelly Jonathan Kinney Kandis Koustenis Christian Lapham Jennifer McCammon Matthew Roberts Jennifer Schiffer Jill Seiferth Dusko Stojkov Richard Sullivan R. Doug Taylor Mark Viani
Lillard Catherine
CRIMINAL Leiva Leiva Manitta of Medvin Medvin Mersberger Cucinelli Gray McCandlish Schott Murray Feldman & Pittleman Robinson Gene Robinson
Gene
The Law Office
Kimberly
Kelly Thompson Thompson Wildhack Thompson Wildhack EMPLOYMENT (EMPLOYEE) Berry Berry & Berry Carla Brown Charlson Bredehoft Cohen & Brown Maureen Carr Bean, Kinney & Korman Cook Cook Craig & Francuzenko Broderick Dunn Cook Craig & Francuzenko
Weber Odin, Feldman & Pittleman A. Michelle West Smith Currie
Lana Manitta Marina
Law
Schmergel & Mersberger Jonathan Phillips LefflerPhillips Rebecca Wade Wade Grimes Friedman Meinken & Leischner ELDER Cary
Odin,
Sally Ann Hostetler, Appellate Alex Laughlin, Bankruptcy/Creditors Rights Tom Quinn, Business/Corporate Steve Weber, Construction Matt Kapuscinski, Criminal Defense Catherine Schott Murray, Elder Tom Sawyer, Employment (Employer) Kristina Cruz Skidmore, Family Law Lars Anderson, Government Contracts Nancy Lawrence, Immigration Kevin Oliveira, Intellectual Property Sara Mariska, Land Use/Zoning Jim Miller, Legal Aid/Pro Bono Craig Franco, Litigation Ben Kinder, Nonprofit Jennifer Banks, Real Estate Brian Abbott, Tax Pam Morand, Trusts & Estates For nearly 50 years, the attorneys of Odin, Feldman & Pittleman have shared a passion for the law and a commitment to collaborating with clients to find creative and cost-effective solutions for their legal matters. Whether you are seeking assistance for a business issue or a personal matter, we're here to help. We deliver efficient, practical, reliable solutions for every client. Every time. Since 1972. 1775 WIEHLE AVENUE, SUITE 400 RESTON, VIRGINIA 20190 (703) OFPLAW.COM260-9450 Congratulations to our 2021 Top Attorney Recipients
GOVERNMENT CONTRACTS
Ann Luu Kelly Byrnes & Danker Jennifer McCammon Bean, Kinney & Korman Grant Moher Curran Moher Weis
Nancy Lawrence Odin, Feldman & Pittleman Moona Shakil
Rebecca Wade Wade Grimes Friedman Meinken & Leischner
Carly Hart Zinicola Blanch Overand & Hart Sandra Havrilak
CiaraMastermanA.Miller Carolé MelissaKrogmannDragone
McCandlish Lillard
Alan Dobson DC Metro Immigration Law
Masterman and Krogmann are joined in practice by Ciara A. Miller and Melissa A. Dragone. Ciara A. Miller has over twenty years of experience in various litigation matters. She is a member of both the Virginia Trial Lawyers Association and the Northern Virginia Women Attorneys Association. Melissa A. Dragone, the newest attorney to the firm, is a recipient of the Family Law Student Book Award, given by the Family Law Section of the Virginia State Bar. Dragone is a member of Board of Directors of the Northern Virginia Women Attorneys Association and is heav ily involved in the work of Virginia Trial Lawyers Association's Family Law Section.
David D. Masterman is a graduate of the University of Virginia School of Law and has been practicing family law for over 35 years. He has been AVPreeminent rated by Martindale Hubbell. A fellow of the American Academy of Matrimonial Lawyers, he has held several bar leadership positions in the field of family law, and he now serves on the Board of Governors of the Diversity Conference of the Virginia State Bar.
Heather Mims Centre Law & Consulting Daniel Strouse Cordatis Stephanie Wilson Berenzweig Leonard IMMIGRATION Pratibha Agarwal Agarwal Law Group Ofelia Calderón Calderón Seguin
David
INTELLECTUAL PROPERTY Jill Browning Greenblum & Bernstein
Clyde Findley Berenzweig Leonard Michael Fortkort Protorae Law
The attorneys of Masterman Krogmann, PC pursue their clients' objectives in a variety of ways. They obtain desired results through court decisions, mediated settlements, and other types of negotiations. Their clientele in cludes a broad range, from couples facing struggles early in their marriage to those who have been married for decades. They regularly handle custody disputes, which are among the most difficult issues for clients to resolve.
The Havrilak Law Firm Lynn Hawkins Bean, Kinney & Korman Mary Huff Blankingship & Keith Karen Keyes Arlington Collaborative Law Rebecca Kinsel Protorae Law Carolé Krogmann Masterman Krogmann Christian Lapham Bean, Kinney & Korman Kara Lee Lee Lopez Law Jessica Leischner Wade Grimes Friedman Meinken & Leischner
Carolyn Grimes Wade Grimes & Leischner Hagan Wade Grimes Friedman Meinken & Leischner Haizlip
Charles Tievsky Tievsky Immigration Law
The Law Office of Moona Shakil
1760 Old Meadow Road, Suite 310 McLean, Virginia www.mastermanlaw.com703.827.550022102
Jennifer Mullett Mullett Dove & Bradley Nathan Olson Cooper Ginsberg Gray Sarah Piper Hicks Crandall Juhl David Roop Roop Law Jamel Rowe Livesay & Myers Sean Schmergel Schmergel & Mersberger Sara Leiner Schuler Law Office of Sara Leiner Schuler Jill Seiferth Bean, Kinney & Korman Kristina Cruz Skidmore Odin, Feldman & Pittleman Andrew Tank Livesay & Myers
Virginia
David
Timothy Hsieh MH2 Technology Law Group Kandis Koustenis Bean, Kinney & Korman Kevin Oliveira Odin, Feldman & Pittleman Ryen Rasmus Lipp Law LAND USE/ZONING
Carole' Collier Krogmann has been practicing family law for over two decades. Also holding an AV-Preeminent rating from Martindale Hubbell, she serves as Chair of the Virginia Trial Lawyers Association's Family Law Section and is a mem ber of the Board of Governors for the Family Law Section of the Virginia State Bar.
Friedman Meinken
Tim Dugan Bean, Kinney & Korman
■ top attorneys
66 November/December 2021 ■ ArlingtonMagazine.com
Lars Anderson Odin, Feldman & Pittleman David Black Holland & Knight James Boland Venable Raighne Delaney Bean, Kinney & Korman Devon Hewitt Protorae Law Richard Kelley Bean, Kinney & Korman
ArlingtonMagazine.com ■ November/December 2021 67 Jonathan Kinney Bean, Kinney & Korman Sara Mariska Odin, Feldman & Pittleman Andrew Painter Walsh Colucci Lubeley & Walsh G. Evan Pritchard Venable Matt Roberts Bean, Kinney & Korman P. David Tarter Tarter NoVa Law Mark Viani Bean, Kinney & Korman Martin Walsh Walsh Colucci Lubeley & Walsh Nan Walsh Walsh Colucci Lubeley & Walsh Kedrick Whitmore Venable LEGAL AID/PRO BONO Chidi James Blankingship & Keith Jim Miller Odin, Feldman & Pittleman Dipti Pidikiti-Smith Legal Services of Northern Virginia SimonMoshenbergSandovalLegal Aid Justice Center LITIGATION Amy Bradley Briglia Hundley Stephen Caruso Bean, Kinney & Korman Mikhael Charnoff Perry Charnoff Stephen Charnoff Rees Broome John Coffey Redmon, Peyton & Braswell Craig Franco Odin, Feldman & Pittleman Jonathan Harrison Bean, Kinney & Korman Robert Hicks Bean, Kinney & Korman Richard Holzheimer McGuireWoods James Kinsel Protorae Law Steven Krieger Steven Krieger Law Dirk McClanahan McClanahan Powers David Moon Lipp Law William Porter Blankingship & Keith Rip Sullivan Bean, Kinney & Korman Roya Vasseghi Vasseghi Law NONPROFIT Ryan Brown Arlington Law Group John Hale Hale Ball Timothy Hughes Bean, Kinney & Korman Kathleen Kelley Bean, Kinney & Korman Ben Kinder Odin, Feldman & Pittleman PERSONAL INJURY WORKERS COMP D. Cory Bilton Bilton Law Amy Bradley Briglia Hundley Tom Curcio Curcio Law Brandon Gladstone Becker, Kellogg & Berry Peter Greenspun Greenspun Shapiro Allyson Kitchel Kitchel Law Charles O'Donnell The Law Offices of Charles W. O'Donnell Scott Perry Perry Charnoff Juli Porto Blankingship & Keith Andrew Simpson Perry Charnoff REAL ESTATE John Altmiller Pesner Altmiller Melnick & DeMers Our goal is to help people and businesses solve problems and pursue opportunities. When you need a lawyer, Cook Craig & Francuzenko PLLC is there. Combining big-firm capabilities and small-firm practicality, we deliver sophisticated representation in employment law at a sensible cost. 3050 Chain Bridge Road | Suite 200| Fairfax, VA 22030 | 703-865-7480 www.cookcraig.comBRODERICK C. DUNN Arlington Magazine Top Attorneys List 2019, 2021 JOHN C. COOK Arlington Magazine Top Attorneys List 2019, 2021 to our attorneys selected by their peers for inclusion in Arlington Magazine's 2021 Top Attorneys: Teaming with Today's Business® 1921 Gallows Rd., 9th floor, Tysons 703.749.8507 | protoraelaw.com Congratulations Brian Chandler Employment (Employer) Devon Hewitt Government Contracts David Knasel Trusts & Estates James Kinsel Civil Litigation Michael Fortkort Intellectual Property David Kuhnsman Business/Corporate Rebecca Bricken Kinsel Family Law
Miriam Epstein Miriam Epstein | Attorney at Law Foster S.B. Friedman Wade Grimes Friedman Meinken & Leischner
Lauren Jenkins Offit Kurman Jonathan Kinney Bean, Kinney & Korman David Knasel Protorae Law
Gretchyn Meinken Wade Grimes Friedman Meinken & Leischner
Cucinelli Geiger
David Canfield Bean, Kinney & Korman Philip Chung Chung & Press David Hannah Hirschler
Vinson Hall Retirement Community Schedule an appointment or tour to discover what Vinson Hall Retirement Community has to offer, and check out our website for upcoming events! Hwy,
Burton Haynes Burton J. Haynes William Lowrance Surovell Isaacs & Levy
Cottrell Fletcher & Cottrell Congratulates JOHN K. COTTRELL 5845 Richmond
■ top attorneys
Paul Abraham PJI Law Alvi Aggarwal Yates Campbell & Hoeg James Anderson Arlington Law Group Kathi Ayers Vaughan, Fincher & Sotelo Brent Baxter Manning, Murray, Barnett & Baxter Ryan Brown Arlington Law Group
John Morgan Rees Broome Robert Nath Robert G. Nath Dusko Stojkov Bean, Kinney & Korman G. Christopher Wright Shannon Mullins & Wright
SCHOOLS & EDUCATION
Joan Proper The Law Office of Joan H. Proper R. Doug Taylor Bean, Kinney & Korman TAX Brian Abbott Odin, Feldman & Pittleman Tiffany Burton Rees Broome Scott Dondershine David, Brody & Dondershine Ronald Feuerstein Bean, Kinney & Korman
Theodora Stringham Offit Kurman
TRUSTS & ESTATES
68 November/December 2021 ■ ArlingtonMagazine.com
Michael Kieffer Walsh Colucci Lubeley & Walsh
Suite 800, Alexandria 703-836-2770 | www.cottrellaw.com for his peer selection as an outstanding appellate advocate. Also elected to Best Lawyers in America and Super Lawyers for family law, Mr. Cottrell offers experienced representation to resolve divorce and other legal issues through mediation, trials and appeals.
Jonathan Kinney Bean, Kinney & Korman Crystal Kramer Offit Kurman Steven Krieger Steven Krieger Law
Cary Cucinelli
Jennifer Banks Odin, Feldman & Pittleman
Independent Living at VHRC is open to U.S. Military officers and their families and GS-14 level and above government personnel from ALL federal agencies. All other levels of care in our community are open to everyone.
John Kelly Bean, Kinney & Korman
Jennifer Lucey Shannon Mullins & Wright
Cheri Belkowitz Belkowitz Law John Cafferky Blankingship & Keith Amanda DeFede McIntyre DeFede Joshua Erlich Erlich Law Juliet Hiznay J.D. Hiznay Grace Kim Law Office of Grace E. Kim Katie Lipp Lipp Law Melissa Little Melissa A. Little Consulting & Mediation Services
Pam Morand Odin, Feldman & Pittleman Elizabeth Morrogh Blankingship & Keith Jennifer Schiffer Bean, Kinney & Korman G. Christopher Wright Shannon Mullins & Wright
ArlingtonMagazine.com ■ November/December 2021 69 Attorneys SPECIALProfilesADVERTISINGSECTION LEWISJ.TONY Arlington Law Group See Profile page 73
• "Took the time to listen to my concerns. I was never treated like a number or a customer."
70 November/December 2021 ■ ArlingtonMagazine.com PROFILES ATTORNEYS SPECIAL ADVERTISING SECTION LEWISJ.TONY
• "Top-notch representation. Stuck to the relevant points, worked for a quick resolution, and kept me abreast of every step as we reached a favorable conclusion."
• "I have recommended MDB to my friends, which I think is the litmus test of their competency."
Q: How do you relate to your clients?
• "Always punctual when something needed to be addressed."
• "Honest and answered my questions based on the law and her experience, not just with an answer I wanted to hear."
Q: What do your clients say about you?
• "Kind, professional, knowledgeable, attention to detail."
• "Available at short notice, provided intelligent analysis/advice along the way."
Mullett Dove & FamilyBradleyLaw, PLLC Awards/Honors: Washingtonian Top Lawyers, 2018—2021 Best Law Firms™ 2015 - 2022 Best Lawyers™ 2013 - 2022 Best Lawyers™ 2022 Lawyer of the Year—Family Law Best Lawyers™ 2021 Lawyer of the Year—Collaborative Law Super Lawyers™ 2013 - 2022 Virginia Business Top Lawyers Northern Virginia Top Lawyers
A: "A class act. Competent, smart and tough when needed—yet unfailingly respectful and professional to everyone involved."
A: The number one complaint we hear from clients who come to us after working with other firms is that their calls and emails were rarely returned, which left them feeling as if they didn't know what was happening in their own case. We make client communication a priority, ensuring our clients are involved in developing a strategy for reaching the best resolution possible for their unique circumstance.
• "Superb work ethic and extensive knowledge of the law."
• "Prompt responses to my emails and phone calls."
Three Ballston Plaza 1100 N. Glebe Road, Suite 1100 Arlington, VA mdb@mdbfamilylaw.com703-522-810022201 | www.mdbfamilylaw.com
• "Incredibly responsive, offered excellent advice, and was an exceptional listener."
From Top Left: Christian Lapham tayLor KLauza
Bean, Kinney & Korman, P.C.
Jennifer
ArlingtonMagazine.com ■ November/December 2021 71 SPECIAL ADVERTISING SECTION PROFILES ATTORNEYS PHOTOSCOURTESY
James Korman mCCammon JiLL seiferth Lynn hawKins miCheLLe BieBer
Family Law Practice
Q: What kind of family law services does Bean, Kinney & Korman offer?
A: Divorce, child custody, support, marriage and adoption are all integral parts of the Bean, Kinney & Korman domestic relations practice. Our experience and familiarity with these issues that most intensely affect the lives of our clients makes us exceptionally responsive to both their emotional and legal needs. The breakup of a marriage is uniquely stressful, with emotion coloring choices at a time when important legal rights are at stake. Our attorneys, who have several decades (collectively, and in some instances, individually) of experience in representing clients in Virginia, suburban Maryland and the District of Columbia, help guide clients through this most difficult process. As courtroom veterans, we know the value and benefit of negotiation and mediation, providing objective counsel to our clients through separation and divorce actions of every nature, from uncontested through the most bitterly litigated.
A: First of all, we listen. The dissolution of a marriage is difficult, emotional, stressful and can be extraordinarily complicated, but above all, it is acutely personal. We want to understand your position, your needs and your objectives. And our lawyers want to help you understand your rights and your options. We will not compromise our ethical obligations as professionals, but our development of strategies and choices of action will be responsive to your direction—this is your life and future. We don't lose sight of that.
Awards/Honors: Best Places to Work in Virginia, 2020 Arlington Magazine Top Attorneys, 2019, 2021 Arlington Magazine Winner, Best Family Law Practice, 2018 Leadership Arlington Ethics Award, 2015 Arlington Chamber of Commerce Green Business of the Year 2311 Wilson Blvd., Suite 500 Arlington, VA www.beankinney.cominfo@beankinney.com703-525-400022201
Q: What would you say is the secret behind your success?
Carolyn Abbate
A: Our attorneys work as a team. We draw upon the experiences and skill of the members, and use our specialized knowledge of domestic relations law to help a client either settle their dispute without having to incur the emotional and financial expense of a trial, or to obtain a fair outcome at trial.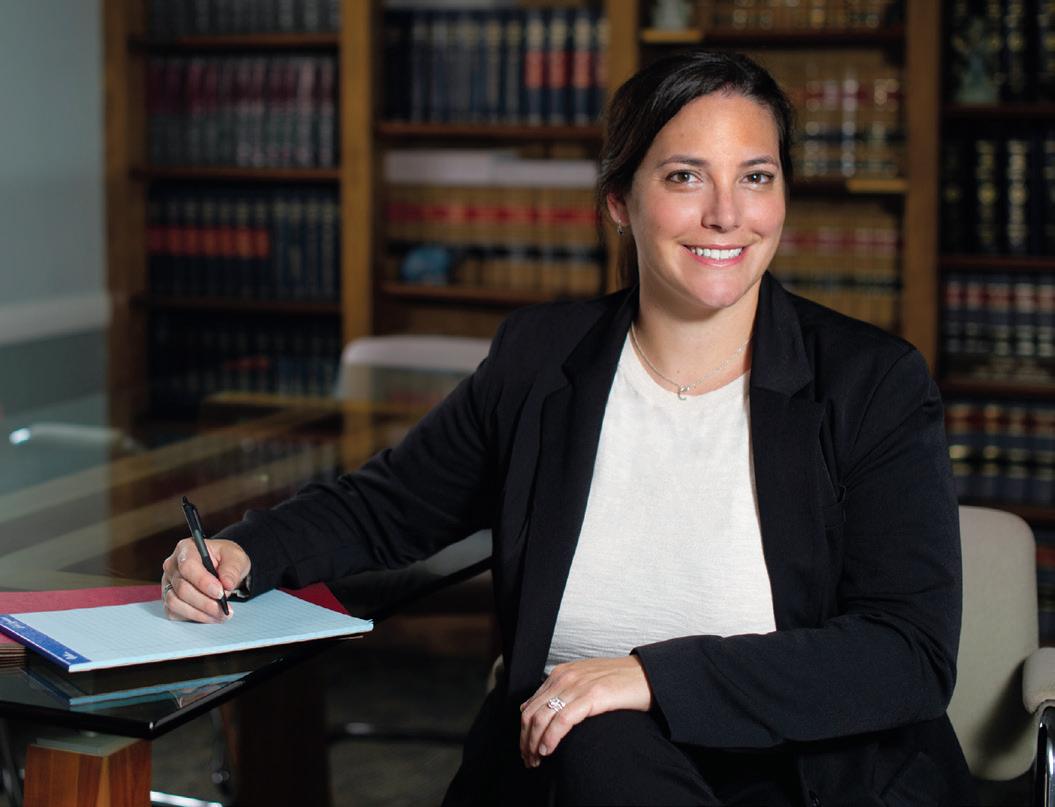 WINKLER
A: They can expect to be treated with empathy and compassion. We know that going through a divorce is one of the most stressful situations that someone can experience. Aside from all the emotional pain and struggles, there are countless legal components to the process as well. Our experienced family law attorneys understand what you're going through.
72 November/December 2021 ■ ArlingtonMagazine.com PROFILES ATTORNEYS SPECIAL ADVERTISING SECTION
649 S. Washington St. Alexandria, VA 22314
Q: How do you approach your clients' cases?
Specialties: Divorce, child custody, child and spousal support, property distribution, the negotiation of both pre-marital and postmarital agreements, and the drafting of qualified domestic relations orders.
Q: What is the most significant change in the legal profession during your career?
A: The use of technology has expanded exponentially. I take great pride in working with my clients to find the best possible solution for their particular situation. In order to be successful at that, it's important that I keep abreast of the latest changes in technology and the law in order to advise clients on best practices for storing their own data, and also to gain access to relevant information to assist in negotiating and litigating my clients' cases. It's absolutely critical that an attorney understand current technology in order to assist clients with their domestic issues.
BRAGGSTEPHANIE
Q: What can clients working with Grenadier, Duffett, Levi, Winkler & Rubin expect?
GRENADIER, DUFFETT, LEVI, & RUBIN, P.C.
www.vafamilylaw.comcontact@vafamilylaw.com703-683-9000
RYAN A. BROWN, ESQ. Awards/Honors: Arlington Magazine Top Attorney Business/Corporate (2019, 2021), Nonprofit (2019, 2021),  Tax (2019), Trusts & Estates (2019, 2021)
Q: But I already have a trust, so I'm all set, right?
Super Lawyers® Rising Stars, Estate Planning & Probate, 2016 – 2020 Northern Virginia Magazine Top Lawyer,  Financial Law, 2019 Leadership Center for Excellence, "40 Under 40" Recipient, 2018 Juris Doctor, Magna Cum Laude, George Mason University School of Law, 2006 1739 Clarendon Blvd. Arlington, VA www.arlingtonlawgroup.comclients@arlingtonlawgroup.com703-842-302522209
Q: Why is a team approach important for estate planning?
A: A well-drafted estate plan covers the assets, wishes, beneficiaries, and tax rules that the client and the planner know or that they can reasonably anticipate. If your estate plan is several years old, it may be time for a review. When clients bring in their old estate plan for us to review, I always ask: "What is in the trust?" Making sure your legal documents coordinate with the title and beneficiary designations on your assets, current tax laws and your other wishes can ensure your legacy primarily goes to your beneficiaries and not to unnecessary taxes or expenses.
Arlington Law Group
A: Everyone is different, but the goals of estate planning are usually the same: Our clients want to make sure they will be taken care of if they become incapacitated. They want their assets to be transferred to their chosen beneficiaries upon their death as quickly and efficiently as possible. My partners and I educate our clients on the legal rules, including how assets can be titled and transferred; how income, capital gains, and estate taxes apply; how government benefits work; and how beneficiaries can be protected from creditors. Each area overlaps with accounting, financial planning and insurance issues, so we coordinate our planning with the other professionals serving our clients. By taking this wholistic approach, our clients save time and money and are better prepared for the future, bringing significant peace of mind.
ArlingtonMagazine.com ■ November/December 2021 73 SPECIAL ADVERTISING SECTION PROFILES ATTORNEYS LEWISJ.TONY
A: Over the last two years, Virginia has completely overhauled its employee rights laws. New laws allow for Virginians to pursue wage and overtime claims. We have a paid leave law for home health care workers. Our discrimination laws now cover sexual orientation and gender expression. We've outlawed non-competition agreements for low-wage workers. And we finally have a private sector whistleblower law so you can't be fired for reporting illegal activity to your supervisor or to the government. We're busy every day fighting for rights that Virginians did not have eighteen months ago. We also have a busy docket of COVID-19 related cases that arise from workplaces not following safety standards or firing workers because they got sick. And we're always busy with endemic issues: workplace violence, sexual assaults, and racial discrimination and violence. We just try to help where we can.
74 November/December 2021 ■ ArlingtonMagazine.com PROFILES ATTORNEYS SPECIAL ADVERTISING SECTION TRANJOSEPH Joshua Erlich THE ERLICH LAW OFFICE Awards/Honors: Washingtonian–D.C.'s Best Lawyers Virginia Super Lawyers–Rising Stars Washington, D.C. Super Lawyers–Rising Stars Virginia Business Magazine–Virginia Legal Elite National Trial Lawyers–Top 40 Under 40 2111 Wilson Blvd., Suite 700 Arlington, VA www.erlichlawoffice.com703-791-908722201
Q: What is keeping you busy right now?
A: Originally, I was working at a class action firm, but I wanted more client contact. With a class action, you may represent 40,000 people, but you rarely speak to any of them. In 2012, I started my firm and I've worked closely with hundreds of clients since then. I get to spend my time talking to people about their problems and trying to use the law to get them some justice— whether they've been fired unfairly, subject to police violence, or otherwise hurt by individuals in power.
Q: How did you get started in civil rights law?
Q: What might satisfied clients say about you?
Q: What is the one thing that potential clients should know about you?
Hicks Crandall Juhl PC
ArlingtonMagazine.com ■ November/December 2021 75 SPECIAL ADVERTISING SECTION PROFILES ATTORNEYS
A: Our attorneys believe that gaining a client's trust is a privilege, and we are invested in you and your case.
For more than thirty years, Hicks Crandall Juhl PC has provided caring, committed representation to people throughout northern Virginia. Its attorneys have been recognized by Arlington Magazine, Washingtonian, Best Lawyers in America, Martindale Hubbell and Super Lawyers. We concentrate our practice exclusively in family law and appreciate the opportunity to practice in Arlington's courts. 3201 Jermantown Road, Suite 200 Fairfax, VA www.hcj-law.com703-468-019322030
The attorneys at Hicks Crandall Juhl PC have a reputation for being skilled practitioners who are reasonable at the settlement table but, should settlement prove untenable, are ready and prepared to thoroughly represent a client's interest in court. Whether a client is in active litigation or settlement, our objective is to use our knowledge and experience efficiently so as not to waste client resources.
A: Satisfied clients would say that we prioritize our client's goals and priorities and tailor our advice and strategy to those goals and priorities. We continually demonstrate thoughtful analysis of the law combined with the knowledge, experience and efficiency to manage the case, including working with financial or psychological experts in complex equitable distribution or custody matters. Additionally, we establish a respectful, compassionate rapport with our clients during an intensely difficult and stressful time. We consider ourselves to be not just attorneys, but also counselors at law.
TRANJOSEPH
LEWISJ.TONY
Amy L. PartnerBradley, BRIGLIA HUNDLEY, P.C.
Perry Charnoff PLLC
A: I'm an avid hiker. I also enjoy biking, kayaking and relay racing. These activities provide a great outlet for stress and time to strategize my cases.
A: During my eleven years practicing law, I have tried more than 100 jury and bench trials, and have gained the knowledge needed to maximize my client's recoveries. Through my prior work as an investigative journalist, I developed the ability to enhance my cases in unique and creative ways. I enjoy digging into cases in ways that other lawyers probably do not, and continually strive to make my client's case as compelling as possible to a jury.
Q: With so many lawyers in this area, what makes you stand out from the crowd?
76 November/December 2021 ■ ArlingtonMagazine.com PROFILES ATTORNEYS SPECIAL ADVERTISING SECTION
1921 Gallows Road, Suite 750 Tysons Corner, VA 22182 abradley@brigliahundley.com703-883-0880 | www.brigliahundley.com
needs: Each client is unique and each demands tailored representation. We recognize many of our clients are going through the most difficult time of their lives. We never lose sight of that fact as we advocate zealously for them.
A: 1) Results: Perry Charnoff is a premier litigation firm specializing in wrongful death, catastrophic injury and other litigation cases. With 85 years of combined litigation experience, our firm regularly obtains substantial settlements without trial. But such settlements are possible because of our proven courtroom skills, which have placed us on Virginia Lawyers Weekly's Annual Review of Top 10 Largest Verdicts in Virginia an incredible six years running. In 2019 alone, we secured jury verdicts of over2)$47,000,000.Sensitivitytoclient
TRANJOSEPH
1010 N. Glebe Road, Suite 310 Arlington, VA www.perrycharnoff.com703-291-665022201
Q: What are your interests outside of work?
Q: What differentiates you?
Offit Kurman FROM LEFT TO RIGHT: THEODORA STRINGHAM, LAUREN A. JENKINS AND CRYSTAL KRAMER
A: Theodora Stringham, Real Estate/ Labor and Employment: I am passionate about helping individuals and businesses achieve their goals. Learning about a client's vision is one of the things that I enjoy most about being a lawyer. It means that I am always part of "building" something. Further, knowing the "background" means that we can work together to successfully navigate every situation—no matter how contentious.
A: Lauren A. Jenkins, Estates and Trusts: My passion for estate planning began in law school when my professor said that estates and trusts was the "human" area of the law where we could help clients through difficult times. At that moment, I knew exactly what I wanted to do for the rest of my life.
A: Crystal Kramer, Landlord Representation: Helping my clients overcome a difficult challenge is my priority. I have witnessed how comforted clients are when they have the information they need to make informed and sound legal and business decisions. I want every client to have the tools and confidence necessary to succeed.
As one of the fastest-growing full-service law firms in the United States, Offit Kurman provides clients with a comprehensive array of legal services that cover virtually every area of the law. Theodora Stringham, Lauren A. Jenkins and Crystal Kramer are principal attorneys in Offit Kurman's Tysons Corner office. 8000 Towers Crescent Drive, Suite 1400 Tysons Corner, VA 22182 www.offitkurman.com703-745-1800
TRANJOSEPH
ArlingtonMagazine.com ■ November/December 2021 77 SPECIAL ADVERTISING SECTION PROFILES ATTORNEYS
Q: What is the one thing that potential clients should know about you?
SCHWABHILARY
78 November/December 2021 ■ ArlingtonMagazine.com PROFILES ATTORNEYS SPECIAL ADVERTISING SECTION
Specialities: Professional and Exceptional Legal Counsel for all of your Divorce and Family Law Matters: Consultation, Negotiation, Mediation, Collaborative Law, Litigation 3975 Fair Ridge Drive, Suite 275N Fairfax, VA 22033 105 Loudoun St., SW, Office #4 Leesburg, VA 703-224-088820175|www.kbdfamilylaw.com
Q: Why should prospective clients choose to work with Kelly Byrnes & Danker?
DRANITZKEELIZABETH
Kelly Byrnes & Danker PLLC
Kimberly H. Berry BERRY & BERRY, PLLC Plaza 11700AmericaPlazaAmerica Drive, Suite 305 Reston, VA 703-668-007020190| www.berrylegal.com
A: Since 2011, Kelly Byrnes & Danker, PLLC has been named a Tier 1 firm in Washington, D.C. for Family Law by U.S. News—Best Lawyers® "Best Law Firms," and is recognized by Super Lawyers and other distinguished publications. We exclusively handle family law and divorce matters in the circuit courts and juvenile courts throughout Northern Virginia. We possess the experience, dedication and skill to effectively represent you in resolving any family law dispute.
Q: How do Berry & Berry's attorneys serve their clients?
A: Berry & Berry provides exceptional employment law services to federal employees nationwide and private and public sector employees in Virginia, D.C. and Maryland. Managing Partner Kimberly Berry handles federal retirement, private sector employment agreement and public sector grievance matters. We further handle disciplinary actions, security clearance defense, administrative investigations and discrimination claims. After carefully examining and evaluating your matter and presenting workable solutions during the consultation, we then provide responsive, informative and experienced legal representation throughout your case. At Berry & Berry, we are proud of the quality legal representation we have provided to our clients for over 20 years.
CATHERINE ORR'S HIGH-RISE condo in Courthouse was brand-new when she bought it in 2006, but, as she describes it, rather basic. She finally renovated the builder-grade kitchen a couple years ago. Next up: the boring bathroom.Orrhad gotten to know Sarita Simp son, co-owner of the D.C. firm Interior Matter, over the years, and consult ed her on a few design decisions. The small bathroom was a puzzle she trust ed Simpson could solve.
PROJECT CREDIT Interior Matter interiormatter.com
Now and Zen
"I knew she got my design aesthet ic," says Orr, a lawyer whose tastes had been shaped by a stint in Japan. "I kind of like minimalist, sleek, linear—I don't really like traditional stuff." In March 2020, Simpson set about making the 45-square-foot bath seem larger within the confines of its exist ing footprint. It feels roomier now, thanks to a design that favors clean lines, tranquil tones, hidden storage and pieces that appear to float, such as a wall-mounted toilet with a slim and simple profile. "The more floor space you can see, the bigger a space feels," says the design er, who introduced oversize gray floor tiles from Stone Source in D.C., and carved a recessed linen closet—one deep enough to stash neatly folded towels— into the drywall above the commode.
ArlingtonMagazine.com ■ November/December 2021 79 great spaces ■ by Jennifer Shapira | photo by Jenn Verrier
A bright white Corian counter sits atop an espresso-hued, wall-mounted vanity with hardware-less drawers that provide even more storage. The vanity and the mirror above it (which conceals a large medicine cabinet) have built-in outlets and docks that keep electric toothbrushes and other appliances out of sight when not in use.
Orr is thrilled with her custom space. For years, she says, her old bathroom left her feeling drained. Now every day is like a rejuvenating trip to the spa. ■
Orr happily ditched the tub in favor of a stand-up shower with marbled por celain slab walls from Porcelanosa. Understanding that her client liked the functionality of shower niches, but disliked seeing shampoo bottles on display, Simpson camouflaged two nooks from Easy Drain behind tap-toopen squares that sit flush with the shower wall. She pressed for a fixedglass shower panel, knowing a swing ing door would cut into the room's precious square footage. "We stud ied that for a while—thinking about the best way to make that look kind of invisible," Simpson says.
This information, courtesy of Bright MLS as of Sept. 15, 2021, includes homes sold in August 2021, excluding sales in which sellers have withheld permission to advertise or promote. Information should be independently verified. The Bright MLS real estate service area spans 40,000 square miles throughout the mid-Atlantic region, including Delaware, Maryland, Washington, D.C., and parts of New Jersey, Pennsylvania, Virginia and West Virginia. As a leading Multiple Listing Service (MLS), Bright serves approximately 95,000 real estate professionals who in turn serve over 20 million consumers. For more information, visit brightmls.com.952 Mackall Farms Lane, McLean
Listing Office: Washington Fine Properties Neighborhood: Lyon Village Year Built: 2006 Bedrooms: 5 Full/Half Baths: 4/1 22202 (Arlington)
Listing Office: Classic Cottages Realty Neighborhood: Barcroft Year Built: 2021 Bedrooms: 5 Full/Half Baths: 4/1 22205 (Arlington)
List Price: $2.4 million Sale Price: $2.4 million Days on Market: 6
1546 N. Danville St.
■ prime numbers
Most Expensive Home Sales
MLSBRIGHTOFCOURTESY
AUGUST 's
1314 21st St. S. List Price: $1.39 million Sale Price: $1.45 million Days on Market: 3 Listing Office: Compass Neighborhood: Arlington Ridge Year Built: 1941 Bedrooms: 3 Full/Half Baths: 3/1 22203 (Arlington) 31 N. Trenton St.
List Price: $1.95 million Sale Price: $1.93 million Days on Market: 8 Listing Office: McEnearney Associates Neighborhood: Overlee Year Built: 2012 Bedrooms: 5 Full/Half Baths: 3/1 22206 (Arlington)
2227 N. Madison St.
3511 S. Four Mile Run Drive List Price: $840,000 Sale Price: $850,000 Days on Market: 3 Listing Office: Compass Neighborhood: Shirlington Crest Year Built: 2009 Bedrooms: 4 Full/Half Baths: 3/1
List Price: $1.14 million Sale Price: $1.14 million Days on Market: 2 Listing Office: Smith & Schnider Neighborhood: Buckingham Year Built: 2020 Bedrooms: 4 Full/Half Baths: 4/1 22204 (Arlington) 4713 Eighth Road S. List Price: $1.5 million Sale Price: $1.5 million Days on Market: 16
80 November/December 2021 ■ ArlingtonMagazine.com 22201 (Arlington)
82 November/December 2021 ■ ArlingtonMagazine.com 22207 (Arlington) 4055 40th St. N. List Price: $2.6 million Sale Price: $2.5 million Days on Market: 72 Listing Office: Cottage Street Realty Neighborhood: Arlingwood Year Built: 2001 Bedrooms: 8 Full/Half Baths: 6/1 22209 (Arlington) 1502 N. Colonial Court List Price: $1.3 million Sale Price: $1.29 million Days on Market: 0 Listing Office: Weichert Realtors Neighborhood: Highgate Year Built: 1992 Bedrooms: 4 Full/Half Baths: 3/1 22213 (Arlington) 3008 N. Rochester St. List Price: $2.1 million Sale Price: $2.14 million Days on Market: 39 Listing Office: Pearson Smith Realty Neighborhood: Williamsburg Year Built: 2021 Bedrooms: 7 Full/Half Baths: 6/1 22101 (McLean) 952 Mackall Farms Lane List Price: $6.75 million Sale Price: $6.7 million Days on Market: 137 Listing Office: Yeonas & Shafran Real Estate Neighborhood: Mackall Farms Year Built: 2020 Bedrooms: 5 Full/Half Baths: 5/3 22102 (McLean) 7845 Montvale Way List Price: $3.4 million Sale Price: $3.25 million Days on Market: 11 Listing Office: Samson Properties Neighborhood: The Reserve Year Built: 2001 Bedrooms: 6 Full/Half Baths: 6/1 ■ prime numbers Endless Possibilities 703-516-9455 TheJeffersonInVA.com 900 N. Taylor Street, Arlington, VA ©2016 Sunrise Senior Living, Inc. Live elegantly at The Jefferson, an active retirement community featuring an Arlington location, extensive amenities and maintenance-free living. Indulge yourself—and leave the rest to us. • Delicious cuisine • Diverse activities • Exercise room, classes and trainer available • Salon and barber shop • Café, library and lounges • Pool and gardens A SUNRISE SENIOR LIVING CONDOMINIUM TOUR TODAY! Call or just stop in. 16-64633_SUNRISE_TheJefferson_4-625x4-625_Dec.indd 1 11/22/16 11:53 AM
thrive! pictured above: ACFCU supporting Bridges to Independence Youth Account Holders ArlingtonCU.org
2132 Powhatan St. List Price: $1.9 million Sale Price: $1.85 million Days on Market: 30 Listing Office: Howard Brock Realty Co. Neighborhood: Sigmona Park Year Built: 2012 Bedrooms: 6 Full/Half Baths: 6/2 22044 (Falls Church) 3257 Juniper Lane List Price: $1.7 million Sale Price: $1.7 million Days on Market: 22 Listing Office: Re/Max West End Neighborhood: Ravenwood Year Built: 1941 Bedrooms: 5 Full/Half Baths: 5/1 22046 (Falls Church) 510 Lincoln Ave. List Price: $1.9 million Sale Price: $1.8 million Days on Market: 18 Listing Office: Keller Williams Chantilly Ventures Neighborhood: Oak Haven Year Built: 2017 Bedrooms: 5 Full/Half Baths: 6/0 all still in this together. are pleased to serve the that bank with ACFCU and to support the missions of many great for all you do to help our community
100+ local nonprofits
ArlingtonMagazine.com ■ November/December 2021 83 22041 (Falls Church)
7005 Lee Park Court List Price: $1.15 million Sale Price: $1.2 million Days on Market: 5 Listing Office: KW United Neighborhood: Slades Broyhill Park Year Built: 2020 Bedrooms: 5 Full/Half Baths: 4/0 22043 (Falls Church)
Because we're
We
Arlington charities. Thank you
3528 Pinetree Terrace List Price: $1.59 million Sale Price: $1.59 million Days on Market: 1 Listing Office: Re/Max West End Neighborhood: Lake Barcroft Year Built: 1963 Bedrooms: 4 Full/Half Baths: 3/0 22042 (Falls Church)
■ prime numbers
84 November/December 2021 ■ ArlingtonMagazine.com
Average Days on Market 16 23 Sold Above Asking Price 14 7 Sold Below Asking Price 11 15 Sold Over $1 Million 4 7
Real Estate Sales Trends
Number of Homes Sold 48 45 Average Sold Price $1.13 Mil. $1.19 Mil. Average Days on Market 16 22 Sold Above Asking Price 15 14 Sold Below Asking Price 23 19 Sold Over $1 Million 26 28 22209 Number of Homes Sold 29 20 Average Sold Price $649,976 $464,855 Average Days on Market 11 55 Sold Above Asking Price 5 2 Sold Below Asking Price 13 16 Sold Over $1 Million 8 2 22213 Number of Homes Sold 11 12 Average Sold Price $964,772 $970,250 Average Days on Market 26 20 Sold Above Asking Price 4 4 Sold Below Asking Price 5 6 Sold Over $1 Million 3 3 22101 Number of Homes Sold 37 52 Average Sold Price $1.55 Mil. $1.82 Mil. Average Days on Market 51 40 Sold Above Asking Price 10 24 Sold Below Asking Price 23 20 Sold Over $1 Million 32 46 22102
Average Days on Market 14 17 Sold Above Asking Price 17 9 Sold Below Asking Price 9 19 Sold Over $1 Million 1 3 22042 Number of Homes Sold 48 49 Average Sold Price $527,035 $592,402 Average Days on Market 10 16 Sold Above Asking Price 28 22 Sold Below Asking Price 14 22 Sold Over $1 Million 1 3 22043 Number of Homes Sold 42 37 Average Sold Price $811,139 $806,392 Average Days on Market 19 21 Sold Above Asking Price 15 10 Sold Below Asking Price 21 17 Sold Over $1 Million 12 10 22044 Number of Homes Sold 14 16 Average Sold Price $520,878 $561,487 Average Days on Market 9 30 Sold Above Asking Price 8 3 Sold Below Asking Price 2 11 Sold Over $1 Million 0 3 22046 Number of Homes Sold 29 26 Average Sold Price $704,658 $833,005
Number of Homes Sold 44 44 Average Sold Price $845,870 $802,212 Average Days on Market 41 39 Sold Above Asking Price 5 5 Sold Below Asking Price 33 32 Sold Over $1 Million 14 13 22041 Number of Homes Sold 33 35 Average Sold Price $489,924 $486,457
August 2020 vs. August 2021 2020 2021 2020 2021 2020 2021 22201 Number of Homes Sold 49 50 Average Sold Price $750,999 $689,824 Average Days on Market 16 30 Sold Above Asking Price 18 11 Sold Below Asking Price 18 30 Sold Over $1 Million 12 8 22202 Number of Homes Sold 19 14 Average Sold Price $707,894 $823,607 Average Days on Market 16 30 Sold Above Asking Price 8 5 Sold Below Asking Price 6 7 Sold Over $1 Million 5 3 22203 Number of Homes Sold 33 28 Average Sold Price $585,566 $651,059 Average Days on Market 13 15 Sold Above Asking Price 15 15 Sold Below Asking Price 11 9 Sold Over $1 Million 2 2 22204 Number of Homes Sold 47 65 Average Sold Price $596,936 $554,989 Average Days on Market 13 19 Sold Above Asking Price 24 25 Sold Below Asking Price 13 26 Sold Over $1 Million 3 5 22205 Number of Homes Sold 28 22 Average Sold Price $939,883 $1.09 Mil. Average Days on Market 14 6 Sold Above Asking Price 16 10 Sold Below Asking Price 10 4 Sold Over $1 Million 8 12 22206 Number of Homes Sold 31 43 Average Sold Price $564,679 $525,756 Average Days on Market 10 14 Sold Above Asking Price 17 18 Sold Below Asking Price 5 17 Sold Over $1 Million 0 0 22207
Let's work together. When our local banking experts help build your business, our whole community builds toward better days. VA703.277.2200EagleBankCorp.com | DC | community.buildingbankersBusinessMD
Cottages
SHOWCASE SPECIAL ADVERTISING SECTION KITCHEN AND BATH 86 November/December 2021 ■ ArlingtonMagazine.com
BIO Classic Cottages is a custom home builder that builds primarily in Arlington and provides turnkey solutions for families that are looking to build a beautiful model home or a custom home from scratch. Classic Cottages blends classic community culture with innovative architecture and design through its skilled inhouse acquisitions, sales, architecture, design and construction departments. PROJECT Working with Classic Cottages is a truly unique homebuilding experience. Whether a family is looking for a completely custom home built from scratch or is seeking a customized tried-and-true model home, Classic Cottages works hard to ensure that your wants, needs, design aesthetic and lifestyle are met within each step of the homebuilding process. No family is the same; therefore, no home is the same. Classic Cottages is passionate about building high-quality homes that meet modern lifestyle needs and consistently adapts to industry trends to meet market demand. Over the years, Classic Cottages has mastered the artful balance of incorporating timeless beauty with everyday functionality— demonstrating its overall mission of bringing classic elegance to modern living. Featured are photos from the Charlotte Model, which several home buyers in the past year have used as a starting point when designing the home of their dreams.
Classic 433 E. Monroe Ave., Alexandria, VA 22301 703-844-9936 | www.ccottages.comsales@ccottages.com
SPECIAL ADVERTISING SECTION SHOWCASE KITCHEN AND BATH ArlingtonMagazine.com ■ November/December 2021 87 PHOTOSCOURTESY
OUR WORK Much of our work is custom-made and creative, offering our clients a very artistic solution, maybe one they've never considered. We're constantly encouraging our clients to be bold, pushing away from the standard "white kitchen" by adding color and texture, or envisioning a simple detail, like a skylight, to add depth and serenity to a master bath. Our mission is to combine our clients' vision and budget into various innovative design solutions that remodel their existing home into an amazing and more functional space. The design should relate to our clients' needs, and we love delighting them with a custom-crafted solution that fits their lifestyle.
BIO TriVistaUSA Design + Build provides innovative award-winning designs to residences in Arlington, Falls Church, Alexandria and NWDC. Owners Michael and Deborah Sauri built their team around one mission: "Our thoughtful design builds fine living."
SHOWCASE SPECIAL ADVERTISING SECTION KITCHEN AND BATH 88 November/December 2021 ■ ArlingtonMagazine.com TriVistaUSA Design + Build 925 N. Garfield St., Suite 106 Arlington, VA www.trivistausa.com703-243-317122201|info@trivistausa.com
PHOTOGRAPHYROYNEWTONANGELA
OUR WORK McLean Kitchen Transformation: Our goal…100% client satisfaction! Our design/build process starts with understanding the client's needs. This McLean family wanted more storage, an island with seating space and a beverage center. Our creative design solution included stealing a little space from the adjacent garage to create the beverage center and expand the space for better circulation. Additional cabinet storage allows for a needed coat closet near the garage door and a convenient food pantry with pull-out shelving. The materials used are practical for cooking and cleaning, but also look beautiful in classic black, white and gray tones. The space was built by our talented carpenters who ensure high-quality work. Most important, the client loves the finished product and enjoyed the stress-free design and construction experience with our turn-key process. BEFORE
SMITHW.JOHN AFTER
SPECIAL ADVERTISING SECTION SHOWCASE KITCHEN AND BATH ArlingtonMagazine.com ■ November/December 2021 89 Bowers Design Build 6715 Whittier Ave., Suite 200 McLean, VA www.BowersDesignBuild.com703-506-084522101|info@BowersDesignBuild.com
BIO For 30 years, our on-staff architects, interior designers and construction professionals have focused on creating beautiful homes for each of our clients' unique needs. Creative designs married with our professional budget/project management approach have garnered a loyal client base. At any given time, 30% of our work is repeat business.
SHOWCASE SPECIAL ADVERTISING SECTION KITCHEN AND BATH 90 November/December 2021 ■ ArlingtonMagazine.com RestorationsCommonwealth 2902 N. Sycamore St., Arlington, VA 22207 703-525-5255 | www.commonwealthrestorations.comoffice@commonwealthrestorations.com
BIO Commonwealth Restorations has been a leader in the construction and remodeling industry in Arlington for more than 50 years. We are proud to be a locally owned and operated business here in Arlington and love that our clients are also our neighbors. Restorations, renovations, repairs, as well as new construction, are all part of our portfolio.
OUR WORK SHOWROOM NOW OPEN Commonwealth Restorations is proud to offer a beautiful new design center, conveniently located in the Williamsburg Shopping Center in Arlington. Homeowners can walk through our new showroom, appointed with two full-size kitchens as well as bathroom and mudroom vignettes. Customers will experience first-hand many of the appliances, fixtures, tiles, cabinets, countertops, hardware and other items that are available to them as they are inspired to fully customize their future home projects. Whether it is a whole-house build or a renovation/addition, customers can now see the latest trends in home design as well as the tried-and-true classic styles. Our design team will meet with clients at the showroom to get a better sense of how they envision their home space and make informed and confident decisions, allowing for a more seamless design experience. We invite you to stop by our Arlington showroom anytime or make an appointment to start on your home renovation path.
PHOTOSCOURTESY
SPECIAL ADVERTISING SECTION SHOWCASE KITCHEN AND BATH ArlingtonMagazine.com ■ November/December 2021 91 AjMadison 8500 Leesburg Pike, Tysons, VA 22182 202-892-5000 | www.ajmadison.comdcshowroom@ajmadison.com BIO AjMadison is the industry's foremost appliance authority offering an unrivaled selection of top-rated home and kitchen appliances. Our experts will help you find the best appliances for each project with thousands of in-stock products ready to ship. AjMadison was named the top Household Appliances retailer in Newsweek's Best Online Shops 2021.
PRODUCTS For nearly 40 years, Viking's industry-leading innovations in appliances set the American standard for the modern luxury kitchen. From cooking and ventilation to refrigeration and cleanup, Viking delivers professional performance and stunning design. Simply stated, Viking products have become the standard for both elite chefs and distinguishing designers alike. Before you decide what to cook for dinner, you'll have to choose an essential ingredient—the appliances. Viking brings commercial cooking equipment power, performance and durability into a beautiful and functional appliance, safe for in-home use. It offers exceptional performance that extends into every corner of the kitchen—even the backyard. Viking's extensive line of restaurantinspired products is enough to turn any cook into a chef.
Viking Professional 7-Series Ranges offer professional cooking performance for your home. Powerful gas burners deliver up to 23,000 BTUs. 7-Series also debuts Viking's first products with Wi-Fi connectivity for added convenience.
PHOTOSCOURTESY
BIO Mather is a unique not-for-profit organization headquartered in Evanston, Illinois, that is committed to developing and implementing Ways to Age Well.SM Founded 80 years ago, Mather maintains a constant focus on its mission and its strategic plan for the future, with an ongoing emphasis on impact, significance, and sustainability. PROJECT The Mather, projected to open in 2023, is a forward-thinking Life Plan Community for those 62+ where you can let go of worries and embrace opportunities. It's smack dab in the middle of it all, bordering a three-acre urban park and within walking distance of rail service, retail and restaurants. The Mather's apartment homes start from 850 square feet up to 3,300 square feet, featuring expansive views, luxury finishes and innovative smart home technology. Entrance fees start at $646,700. The Mather will feature 38,000+ square feet of amenities including multiple restaurants, fitness center, indoor pool, clubroom, library, art studio, meeting spaces and more! Kitchen finishes include quartz countertops, full-height backsplash, professional-grade Thermador appliances, quartz kitchen island with waterfall edge, LED lighting under upper cabinets and more! Renderings and information shown here are subject to change without notice.
SHOWCASE SPECIAL ADVERTISING SECTION KITCHEN AND BATH 92 November/December 2021 ■ ArlingtonMagazine.com The Mather Future Site Location: 7929 Westpark Drive, Tysons, VA 22102 703-348-8522 | www.themathertysons.cominfo@themathertysons.com
SPECIAL ADVERTISING SECTION SHOWCASE KITCHEN AND BATH ArlingtonMagazine.com ■ November/December 2021 93 PHOTOSCOURTESY
BIO We're a third-generation family business operating as a cabinet distributor and kitchen design firm throughout all of Northern Virginia and D.C. for over 50 years. Our business has evolved over the years but our focus on innovative and elegant design has remained the same. OUR WORK Most homeowners only get a chance to design one or two kitchens in their lifetime and we want our clients to enjoy the experience. Our team goes to great lengths to ensure that each customer receives exceptional service at every stage, from initial consultation to project completion. Each project is unique, so we don't have a one-size-fits-all approach to our design process. To create a truly bespoke kitchen requires a collaborative relationship where we take your ideas, vision and style and use our experience to create oneof-a-kind designs that balance aesthetics and functionality.
PHOTOSCOURTESY
SPECIAL ADVERTISING SECTION 94 November/December 2021 ■ ArlingtonMagazine.com SHOWCASE KITCHEN AND BATH St. Clair Kitchens 1900 Elkin St., Suite 220, Alexandria VA 22308 703-704-5752 | www.stclairkitchens.comzack@stclairkitchens.com
Alair Homes Arlington offers a unique approach with total transparency in pricing. Our highly trained and certified project managers empower clients with the authority over their project from start to finish, using our proprietary Client Control system which is setting the standard in residential construction management. Whether homeowners want new construction, an addition, a whole-house or partial renovation, our clients trust Alair Homes Arlington to provide high-quality construction and a transparent process. Alair Homes Arlington's industry experience, process and professional contractors ensure not only beautiful homes, but cost savings for our clients as well.
PHOTOSCOURTESY
Alair Homes Arlington Chad 202-409-1280Hackmann| www.AlairHomes.com/Arlingtonchad.hackmann@alairhomes.com BIO Alair Homes Arlington provides custom home building and renovation in Arlington, Alexandria, Falls Church and D.C. Having lived and worked in the Arlington community for over 20 years, Chad Hackmann, Regional Partner, has a deep appreciation and understanding of building in Arlington and the surrounding areas.
PROJECT Alair Homes Arlington takes pride in all our projects. From multimillion-dollar estates to 1940's renovations to budget-friendly starter homes, we approach each project with the same level of care, workmanship and top-notch customer service. We understand the constraints of Arlington's smaller home lots and love to help our clients create the home of their dreams.
SPECIAL ADVERTISING SECTION SHOWCASE KITCHEN AND BATH ArlingtonMagazine.com ■ November/December 2021 95
BIO Jordan Design-Build Group provides boutique, turn-key home renovations across Northern Virginia and the D.C. metro region. Founded in 2009 by David Jordan, P.E., JDBG's projects range from kitchen and bath remodels to full-home renovations and expansions. JDBG approaches each project with thoughtful design solutions, meticulous planning, quality craftsmanship and comprehensive oversight.
Jordan Design-Build Group 10856 Main St., Fairfax, VA 22030 703-595-2850 | www.jordandesignbuildgroup.cominfo@jordandesignbuildgroup.com
PROJECT A classic Arlington Colonial still had its original 1940's kitchen layout intact—it was a tight, awkward space isolated from the rest of the home. We removed the dining room wall to expand and reconfigure the kitchen, which enhanced both function and flow. The larger, open footprint allowed us to relocate major appliances and provide improved storage and prep space, including a custom butcher block counter. The subtly textured subway tile adds visual interest to the timeless white-on-white motif and touches of natural wood throughout bring added character and warmth to the space. Widening the window above the new farmhouse sink allows light to pour in, making the space feel welcoming, airy and bright. The newly remodeled kitchen and dining room are perfectly suited for this young family's vibrant lifestyle and the integrated design now complements the rest of their stylish home.
SHOWCASE SPECIAL ADVERTISING SECTION KITCHEN AND BATH 96 November/December 2021 ■ ArlingtonMagazine.com
GOLDBERGZARINSTACY
IMAGERYSOULNOVA
BIO Award-winning and trusted by designers, builders and remodelers for decades, ABW Appliances experts ease you through the appliance selection, delivery and installation process. Our consultants work together with trade partners, such as MarksWoods Construction Services, to ensure the best fit and ownership experience possible. OUR WORK Every well-loved kitchen has expertly chosen appliances at the heart of its design. Marks-Woods Construction Services, a full-service general contractor specializing in luxury residential renovations, trusted ABW Appliances to supply Bosch products for this soothing kitchen redesign. The stainless steel Bosch french door refrigerator, gas cooktop, hood, wall ovens and dishwasher are feature-packed and timeless.
SPECIAL ADVERTISING SECTION SHOWCASE KITCHEN AND BATH ArlingtonMagazine.com ■ November/December 2021 97 ABW Appliances Arlington Showroom 4748 Lee Highway, Arlington, VA 22207 703-879-7966 | www.ABWappliances.comquestions@abwappliances.com
98 November/December 2021 ■ ArlingtonMagazine.com Whole branzino, filleted tableside
Eugenia and her two sons, Phil and Alex (baby sister Barbara works for Marriott Corp.), opened the first Our Mom Eugenia in Great Falls in De cember 2016. It was so successful that Edens, the landlord-developer of the Mosaic District, came calling. After five months of pandemic delays, their sec ond taverna, which seats 60 inside and 54 in two outdoor dining areas, opened in Mosaic in August of 2020.
Mom THANKS,
ArlingtonMagazine.com ■ November/December 2021 99 restaurant review ■ by David Hagedorn | photos by Deb Lindsey
WERE IT NOT FOR the pandemic, I would have gone to Greece this past summer. Instead, I settled for the next best thing—lounging under a striped umbrella on the charming Aegean blue patio of Our Mom Eugenia in the Mo saic District, where I happily swiped grilled pita triangles through a smoky roasted eggplant spread while watch ing co-owner Phil Hobson debone a grilled branzino, tableside, with surgi calSippingprecision.crisp, cold Xinomavro rosé (all the wines and beers on the restau rant's list are Greek imports) and tast ing that ultra-fresh fish—dressed sim ply in olive oil, lemon, oregano and salt—almost transported me to those blithe days on Paros, Syros and Naxos. Hobson's mom, Eugenia (the restau rant's namesake chef), a native of Za kynthos, an island in the Ionian Sea off Greece's west coast, learned how to cook from her mother and grandmother and at boarding school in Athens. Her profes sional cooking career spans more than 40 years. In the DMV, her résumé includes stints at Athenian Plaka (now closed) and Mykonos Restaurant in Rockville, Mary land. She became the chef of Nostos Res taurant in Tysons in 2011.
If you aren't starting a meal with a Fix pilsner or a glass of Assyrtiko white wine from Santorini, sip a bracing mar tini made with ouzo (the anise-flavored spirit that is a Greek staple), vodka, pineapple juice and orange juice while
From left: Phil, Eugenia and Alex Hobson Our Mom Eugenia will put you in a Greek state of mind.
sopping warm, toasted bread in rose mary-infused Peloponnesian olive oil.
A deliciously winning appetizer strategy is to order the vegetarian plat ter for the table. The medley includes spanakopita (phyllo, spinach, dill and feta pie); gigante beans stewed in toma to sauce; marinated beets topped with pistachios and skordaliá, a garlicky po tato spread; and roasted eggplant with feta, raisins and pine nuts. Be sure to add an order of stuffed grape leaves— with or without ground beef—which are served on a lemony hollandaisemeets-vinaigrette dressing.
100 November/December 2021 ■ ArlingtonMagazine.com ■ restaurant review OUR MOM EUGENIA 2985 District Ave., Fairfax (in the Mosaic District) 434-339-4019 | ourmomeugenia.com HOURS Sunday through Thursday: 11 a.m. to 9 p.m. Friday and Saturday: 11 a.m. to 10 p.m. Free,PARKINGground-level garage parking is behind the restaurant on Merrifield Cinema PRICESDrive. Appetizers: $9 to $18 Entrées: $18 to $38 Desserts: $8 to $12
The chef does fried appetizers deftly. Nibble on zucchini fritters with tzatzi ki, or the delicate, batter-coated cod fin gers with skordaliá. (My Greek dinner companion thought the skordaliá need ed more garlic, but everyone has their own garlic threshold.) Hearty soups— especially the porridge-like avgolémo no made with chicken stock, rice and lemon—take the edge off a winter chill.
WHAT TO DRINK
The drink list includes 20 craft cocktails ($10 to $14), including classics (Kir Royale, Aperol Spritz, Cosmopolitan), plus a few with a Greek touch, such as the Aegean Fizz, made with Metaxa 7 brandy, orange juice, cinnamon and club soda.
Moving to entrées, a dish of tender lamb falls away from a braised shank with the mere touch of a fork, its to mato sauce melding nicely with a bed of toothsome orzo. It's a quintessen tial cold weather rib-sticker. The res taurant's rendition of moussaka, which finds layers of eggplant, zucchini, ground beef and potatoes baked with nutmeg-laced bechamel sauce, is bet ter than Eugeniamost.Hobson's skill is particu larly evident in the simplest dishes, such as the aforementioned branzino, or in a mixed grill whose elements—a thick lamb chop, skewers of chicken and beef filet, and asparagus spears— are cooked perfectly and kissed with lemon, olive oil and herbs. However,
Vegetarianappetizers
There are several Greek bottled beer options, too.
The mixed grill
The all-Greek wine list features 30 selections: 13 whites ($32 to $105, but most in the mid-$40s), 11 reds ($46 to $110), three rosés ($38 to $46), two sparkling ($66) and one dessert wine ($88), with most bottles also offered by the glass ($11 to $16).
One might easily conclude that the colorful painting on the rear wall de picts a Greek beach scene, but it's actu ally Jones Beach Island off Long Island.
ArlingtonMagazine.com ■ November/December 2021 101 an ensemble of mussels, shrimp and calamari in tomato sauce, served over orzo, proved lackluster. I love the subtle (rather than theme-y) island-chic vibe of Our Mom Eugenia. The 2,000-square-foot space feels airy and contemporary with its white bead board, brick accent walls, high ceilings, cement floor (stenciled with a blue-andwhite Greek key pattern) and large front windows that let the light pour in. A pas tel pink four-seater bar in the back has a mid-century modern sensibility.
And that chef is a darn good one, all the way down to the desserts—which isn't so surprising, given that Euge nia worked as a pastry chef in Astoria, Queens, in the '70s. Her sweets include the requisite bak lava and its bird's-nest version made with kataifi (shredded phyllo). But the standout finale at Our Mom Eugenia is her crumbly apple cake a la mode, topped with walnuts, cinnamon and drizzles of honey. After dessert (or as a dessert), knock back a rakomelo, a Greek hot toddy made with raki (Cretan anise-flavored grappa), honey, cinnamon, cloves and sliced orange. Mom would surely ap prove. ■ Apple cake
The artist is John Tsombikos, brother of Alex Hobson's wife, Marika Tsom bikos. She owns Vivid Chill boutique in Great Falls and designed the interi or of the restaurant's Mosaic location. The Hobsons have ties to both Greece and the U.S. Eugenia's husband, John Hobson, who is half-Greek, grew up in Washington, D.C., and entered the U.S. Air Force. He met Eugenia in Athens. They married and moved to New York City, where, post-military, he worked on Wall Street and opened mul tiple coffee shops in downtown Man hattan in the '70s. All three of their chil dren were born in New York. The entire family moved to Greece in the '80s, then back to the States in the '90s. Alex went to the University of Maryland, then returned to Greece to work in telecom. Phil was a profession al basketball player in Greece and Italy for 15 years before settling in Northern Virginia in 2011. Says Alex: "I had an early midlife crisis and moved back to the states in 2015. Phil was working in the front of house at Nostos and we thought, Why not do something on our own? We have the chef already!"
Cleverly named preset bowls ($10.55 to $12.50) pop with flavor and include creations such as Tikka Chance on Me (chicken tikka, tomatogarlic sauce, sauteed spinach, rice, mint-cilantro chutney) and Caul Me Maybe (tofu, cauliflower, beets, spinach, cucumbers, peanut-sesame sauce, pumpkin seeds).
RASA Dazzle
The menu also features snacks like mini samosas and chutneys with chips. Don't pass up the vegan soft serve for dessert—especially if the flavors du jour include mango or masala chai. From the cocktail list, try a cardamom mint julep or a masala gin and tonic.
The colorful, modern, 1,550square-foot space seats 24 inside (including two hanging chairs) and 10 outside, with retractable glass garage doors that open fully in nice weather. Designed, in part, by Rahman's aunt Nandita Madan, the walls are dotted with works by various South Indian authors and artists, and trinkets from the owners' travels. "We mean to pay homage to our Indian culture," Rahman says, "and add whimsy and joy." rasagrill.com Rahul Vinod (left) and Sahil Rahman
102 November/December 2021 ■ ArlingtonMagazine.com VEREENDIXIE home plate ■ by David Hagedorn
It is said that entering the restaurant business is so challenging, it has to be in your blood. If that's true, lifelong besties Sahil Rahman and Rahul Vinod, who opened a third location of their Indian fast-casual concept, RASA, in National Landing in July, have an advantage. Their fathers, Surfy Rahman and chef K.N. Vinod, who own Bombay Bistro in Rockville and Indique in D.C., have been running restaurants for 30 years. Growing up blocks away from each other, the younger Rahman and Vinod both earned business degrees from the University of Maryland and entered the corporate world in banking and consulting, only to eschew that path and pursue a dream that began in high school— to introduce Indian cuisine in an accessible way to unfamiliar diners. With their fathers as mentors, the young entrepreneurs opened their first RASA in 2017. (The name is a triple play on words: It means taste or essence in Sanskrit; references the nine rasas, or emotions, in literature and dramatic arts; and combines the first two letters of each of their names, RAhul and SAhil.)
RASA follows a familiar fast-casual model. Order a combination bowl or customize your own by choosing a base (such as basmati rice, spinach or rice noodles); a main (say, chicken tikka, turmeric-ginger shrimp or mixed vegetables); a sauce (tamarind chili or peanut sesame); a vegetable selection (try charred eggplant or chickpeas); and four toppings, among them masala beets, carrot slaw, lentil chips and pickled radishes.
Mah-Ze-Dahrvelous
Brother and sister Khao and Annie Tran opened Lantern House Viet Bistro in Falls Church in May, continuing a family tradition that spans two generations. Their grandparents, and then their parents, operated a pho shop in The Little City for years. As cold weather sets in, Annie Tran's rendition of the classic noodle soup ($13.85) is a winner. Her beef broth, scented with star anise, ginger and lemongrass, is packed with thick rice noodles, sliced brisket, beef tendon and shank, plus cubes of coagulated pork blood (a Vietnamese delicacy), sliced ham and green onions. Customize the enormous bowl to your liking with fresh herbs, shredded cabbage, squeezes of lime, and condiments such as chili sauce, homemade chili-lemongrass paste, and pickled garlic and jalapeños.
lanternhouseva.com
Craving fresh-baked pastries but don't want to make them from scratch? Stop by Mah-Ze-Dahr Bakery and stock up on frozen, ready-to-bake croissants ($60 for 12) and brioche cinnamon rolls ($30 for 4) to enjoy their intoxicating aroma at home. They also make terrific gifts for holiday hosts. Borrowing its name from an Urdu expression for that special something that makes a dish delicious, Mah-ZeDahr opened its National Landing location in June. A sampling of the goodies—including fudgy brownies, cream-filled brioche doughnuts, silken cheesecake and vegetable focaccia— suggests that founder/baker Umber Ahmad has figured out just what that special something is. Raised in Michigan, Ahmad has impressive bona fides: a genetics degree (MIT); a master's degree in public health (University of Michigan); and an MBA (Wharton). After embarking on a career as an investment banker and creating her own hospitality consulting firm, she turned her childhood passion for baking—inspired by her Pakistani family's Finnish nanny—into a growing empire. The kicker was when celebrity chef Tom Colicchio tasted one of her cakes and decided to back the first Mah-Ze-Dahr bakery, which opened in Manhattan in 2016.
■ November/December 2021 103
"I went from advising people on building global heritage food brands to building one of my own," says Ahmad, who last year partnered with KNEAD Hospitality + Design (Mi Vida, Succotash) to expand her brand to three D.C. area locations. Spanning 3,000 square feet, the Arlington bakery will serve as a test kitchen for new products (look for a line of eclairs in the future, plus more savory offerings) and a commissary kitchen for smaller imprints. Other holiday gift ideas include a browniemaking kit ($30), a curated collection of treats called Heaven in a Box ($65) and—rolling out for the first time this year—a chocolate Advent calendar and chocolate gelt. mahzedahrbakery.com
ORDER THIS now HOUSE)(LANTERNVEREENDIXIEBAKERY;MAH-ZE-DAHROFCOURTESY
ArlingtonMagazine.com
Bún bò hué at Lantern House Viet Bistro
Arlington Kabob 5046 Lee Highway, 703-531-1498, arlingtonkabob va.com. Authentic Afghan fare includes kabobs, wraps, shawarma and quabli palou (lamb shank with rice).
Assembly 1700 N. Moore St., 703-419-3156, assembly-va. com. The 29,000-square-foot food hall above the Rosslyn Metro contains a smorgasbord of din ing concepts, from oysters and cocktails to Asian street food, tacos and diner fare, plus a gourmet market with prepared foods.
B R L D G V $$ Baba s 2901 Wilson Blvd., 703-312-7978, baba.bar. This subterranean café, which transforms into a cock tail lounge at night, is a sister to Ambar next door.
L D $$ Aladdin Sweets & Tandoor 5169 Lee Highway, 703-533-0077. Chef Shiuli Rashid and her husband, Harun, prepare fami ly recipes of curries and kabobs from their native Bangladesh. L D $$ Ambar Clarendon s 2901 Wilson Blvd., 703-875-9663, ambarrestau rant.com. Feast on Balkan fare such as stuffed cabbage, mushroom pilav and rotisserie meats. An outdoor terrace with dining pods is available.
places to EAT
104 November/December 2021 ■ ArlingtonMagazine.com
L D $$ Arlington Rooftop Bar & Grill 2424 Wilson Blvd., 703-528-3030, arlrooftop.com. There's plenty of bar food to go with the games, from burgers and wings to oysters and flatbread.
A Modo Mio Pizzeria 5555 Lee Highway, 703-532-0990, amodomio pizza.com. Joe's Place Pizza and Pasta has rebrand ed with a new chef, a new menu (centering on woodfired pies) and an interior makeover.
B R L D G V $$ Bakeshop 1025 N. Fillmore St., 571-970-6460, bakeshopva. com. Hit this tiny storefront for coffee, cupcakes, cookies, macarons, icebox pies and other treats. Vegan sweets are always available. B V $ Ballston Local 900 N. Glebe Road, 703-852-1260, ballstonlocal. com. Pair your local brew with a plate of poutine or a New York-style pizza. L D V $$ Bangkok 54 2919 Columbia Pike, 703-521-4070, bangkok54res taurant.com. A favorite for Thai curries, grilled meats, stir-fry, noodles and soups. L D V $$ Bar Bao 3100 Clarendon Blvd., 703-600-0500, barbao.com. The trendy watering hole serves dishes reminiscent of Chinese and Taiwanese street food, plus sake, soju and Asian fusion cocktails. L D V $$ Barley Mac s 1600 Wilson Blvd., 703-372-9486, barleymacva.com. You'll find upscale tavern fare and more than 100 kinds of whiskey and bourbon. R L D A G V $$ Bartaco 4238 Wilson Blvd. (Ballston Quarter), 571-3908226, bartaco.com. A lively spot for tacos (13 kinds) and tequila. Feels like vacation. L D V A $$ Basic Burger 1101 S. Joyce Street, 703-248-9333, basicburger. com. The homegrown eatery (and food truck) cooks
O C R L D A G V $$
O R L D G V $$
PHOTOCOURTESY
C L D V $ Big Buns Damn Good Burger Co. 4401 Wilson Blvd., 4251 Campbell Ave., Arling Rogi
KEY: Price designations are based on the approximate cost per person for a meal with one drink, tax and tip. $ under $20 $$ $21-$35 $$$ $36-$70 $$$$ $71 or more b Outdoor Dining c Children's Menu B Breakfast R Brunch L Lunch D Dinner A After Hours/Late Night G Gluten-Free V Vegetarian s Best of Arlington 2019, 2020 or 2021 Winner with locally sourced, certified Angus beef and cagefree, antibiotic-free chicken. L D $$ Bayou Bakery, Coffee Bar & Eatery s 1515 N. Courthouse Road, 703-243-2410, bayou bakeryva.com. Chef David Guas' New Orleans-in spired menu changes often, but you can always count on beignets and gumbo. Breakfast all day on weekends. O C B R L D G V $ Bethesda Bagels 1851 N. Moore St., 703-312-1133, bethesdabagels. com. The popular D.C.-area chain is now in Rosslyn. Eat a sandwich! O L V $ BGR the Burger Joint 3129 Lee Highway, 703-812-4705, bgrtheburger joint.com. Top your dry-aged beef with add-ons like grilled jalapeño, pineapple or fried egg. Veggie and turkey burgers are options.
ARLINGTON
Build your own bowl with fillers such as chicken tikka, paneer, cha na masala and pickled onions. L D V $$ Bonsai Sushi at Crystal City 553 23rd St. S., 703-553-7723, crystalbonsai sushirestaurant.com. A go-to for sushi, sashimi, ya kisoba, tempura, teriyaki. Closed Mondays. L D $$ Bread & Water Company 1201 S. Joyce St., 703-567-6698, breadand watercompany.com. The cafe-bakery serves sand wiches, salads, soups and pastries. Grab a loaf of Markos Panas' addictive, rustic "M" bread to take home.
East West Coffee Wine 1901 N. Moore St., 3101 Wilson Blvd., 571-8009954, eastwestcoffeewine.com. The cafe with lo cations in Rosslyn and Clarendon serves espres so drinks, brunch (try the massive Turkish breakfast spread), sandwiches, tapas, beer and wine. B L D $ El Charrito Caminante 2710-A N. Washington Blvd., 703-351-1177. This bare-bones Salvadoran takeout counter hits the spot with tacos, burritos and pupusas.
L D V $ El Paso Café 4235 N. Pershing Drive, 703-243-9811, elpaso cafeva.com. Big portions, big margaritas and bighearted service make this Tex-Mex cantina a local favorite.
C L D G V $$ El Pollo Rico s 932 N. Kenmore St., 703-522-3220, elpollorico restaurant.com. A local institution, this rotisserie chicken mecca gained even more street cred after a visit from the late Anthony Bourdain. L D V $ Elevation Burger 2447 N. Harrison St., 703-300-9467, elevationburger. com. Organic, grass-fed beef is ground on the prem ises, fries are cooked in olive oil and the shakes are made with fresh-scooped ice cream. O L D V $
O R L D A G V $$$ Colony Grill 2800 Clarendon Blvd., 703-682-8300, colonygrill. com. The Stamford, Connecticut-based pizza chain specializes in ultra-thin-crust "bar pies" with a spicy, pepper-infused hot oil topping.
O R L D $$$ Cowboy Café 4792 Lee Highway, 703-243-8010, thecowboycafe. com. Cool your heels and fill up on sandwiches, burgers, brisket and chili mac. An outdoor beer garden features a mural by Arlington artist MasPaz. Live mu sic on weekends.
O B L D V $$ Circa at Clarendon 3010 Clarendon Blvd., 703-522-3010, circabistros. com. Bistro fare ranges from salads and small plates to steak frites and wild mushroom pizza. Sit outside if you can.
O B L D G V $
Endo Sushi 3000 Washington Blvd., 703-243-7799, endosushi. com. A go-to spot for sashimi, teriyaki, donburi and maki. L D V $$ Epic Smokehouse 1330 S. Fern St., 571-319-4001, epicsmoke house.com. Wood-smoked meats and seafood served in a modern setting. O L D G $$$ Essy's Carriage House Restaurant 4030 Lee Highway, 703-525-7899, essyscarriage house.com. Kick it old school with crab imperial, lamb chops and prime rib. B L D G $$$ Farmbird 4211 Wilson Blvd., 571-431-6158, farmbird.com. Grilled chicken is the main attraction at this health ful counter-service café. Order a plate and choose your sides. B L D G $
B L D A V $ Bollywood Bistro Express 4238 Wilson Blvd. (Ballston Quarter), 571-3121071, bollywoodbistroexpress.com.
L D G V $$ Copa Kitchen & Bar 4238 Wilson Blvd. (Ballston Quarter), 571-4830324, copakitchenbar.com. Watch sports and munch on Spanish comfort foods like chorizo-man chego flatbread.
O L D $$ Café Sazón 4704 Columbia Pike, 703-566-1686, cafesazon. com. A homey Bolivian café specializing in dishes such as silpancho and empanadas.
B L V $ Bronson Bierhall 4100 Fairfax Drive, 703-528-1110, bronsonbier hall.com. You'll find communal tables, 16 German and regional beers on tap, sausages, schnitzel and cornhole in this 6,000-square-foot bar ode to Mu nich.
Founded in 1969, the 24-hour eatery whips up pancakes, eggs, grits, meat loaf, shakes and pie à la mode.
The best bargain is the "mix and match" platter, which includes tandoori, seafood, a curry dish and a choice of rice or naan.
O R L D V $ District Taco s 5723 Lee Highway, 703-237-1204; 1500 Wilson Blvd., 571-290-6854; districttaco.com. A local favorite for tacos and gargantuan burritos.
C B L D G V $ Don Tito 3165 Wilson Blvd., 703-566-3113, dontitova.com. Located in a historic building, the sports bar spe cializes in tacos, tequila and beer, with a rooftop bar.
O L D G V $$ Detour Coffee 946 N. Jackson St., 703-988-2378, detourcoffee co.com. This comfy cafe has a college vibe and serves up locally roasted coffee, light bites and weekend brunch.
O C R L D V $$ Crafthouse 901 N. Glebe Road, 703-962-6982, crafthouse usa.com. Locally sourced bar food, plus Virginia beer, wine and spirits equals a good time.
O L D A $$ Crystal City Sports Pub 529 23rd St. S., 703-521-8215, ccsportspub. com. Open 365 days a year, it's a sure bet for big-screen TVs, pool tables and pub grub.
L V $ Café Colline 4536 Lee Highway, 703-567-6615, cafecollineva. com. Helmed by executive chef Brendan L'Etoile, the cozy French bistro in the Lee Heights Shops satisfies with dishes such as paté maison, duck confit and chocolate pots de creme.
C B R L D A G V $$ Crystal Thai 4819 First St. N., 703-522-1311, crystalthai.com. A neighborhood go-to for traditional Thai curries, grilled meats and house specialties like roast duck.
R L D G V $$$ The Celtic House Irish Pub & Restaurant 2500 Columbia Pike, 703-746-9644, celtichouse. net. The pub on the Pike serves favorites like corned beef and traditional Irish breakfast.
L D V $$ Dama Pastry Restaurant & Cafe 1503 Columbia Pike, 703-920-3559, damapas try.com. The Ethiopian family-owned business in cludes a breakfast café, market and dining room. B L D V $$ Darna 946 N. Jackson St., 703-988-2373, darnava.com. Grilled kabobs, mezze and traditional Lebanese comfort foods are served in a modern setting. The upstairs is a hookah bar. L D V $$ Delhi Dhaba Indian Restaurant 2424 Wilson Blvd., 703-524-0008, delhidhaba.com.
O L D A $$ Busboys and Poets 4251 S. Campbell Ave., 703-379-9757, busboys andpoets.com. Known for its poetry slams, onsite bookstore and social justice programming, the cafe offers an eclectic menu with oodles of op tions for vegetarians.
B L D V $$ Caribbean Grill 5183 Lee Highway, 703-241-8947. Cuban prepara tions such as jerk-style pork, fried plantains and black bean soup are mainstays. C L D G V $ Carlyle 4000 Campbell Ave., 703-931-0777, greatamerican restaurants.com/carlyle. The original anchor of Shir lington Village is a reliable pick for fusion fare, happy hour and Sunday brunch. O C R L D G V $$$ Cava 1201 Wilson Blvd., 703-652-7880; 4121 Wilson Blvd., 703-310-6791; cava.com. Build your own sal ad, wrap or bowl, choosing from an array of Greek dips, spreads, proteins and toppings. L D G V $$ Cava Mezze 2940 Clarendon Blvd., 703-276-9090, cavamezze. com. Greek small plates include octopus, roasted eggplant, zucchini fritters, souvlaki, briny cheeses and succulent lamb.
C R L D A $$ Chasin' Tails 2200 N. Westmoreland St., 703-538-2565, chasintailscrawfish.com. It's the place to go for a spicy, messy, finger-lickin' Cajun crawfish boil. Lunch on weekends only. L D $$ Cheesetique 4024 Campbell Ave., 703-933-8787; cheesetique. com. The cheese shop and wine bar offers small plates, cheese boards and more.
O R L D $$ Dudley's Sport & Ale 2766 S. Arlington Mill Drive, 571-312-2304, dudleyssportandale.com. The 13,000-square-foot sports bar has wall-to-wall TVs, a roof deck, a ball park-inspired beer list and pub food, plus weekend brunch.
B R L D A $$ Copperwood Tavern 4021 Campbell Ave., 703-522-8010, copperwood tavern.com. The hunting-and-fishing-themed saloon serves up steaks and chops, 24 draft beers and 30 small-batch whiskeys.
ArlingtonMagazine.com ■ November/December 2021 105 ton, 703-933-2867, eatbigbuns.com. Satisfy your cravings with "designer" burgers, shakes, beer and booze. L D $$ Bob & Edith's Diner 2310 Columbia Pike, 703-920-6103; 539 23rd St. S., 703-920-2700; 5150 Lee Highway, 703-5940280; bobandedithsdiner.com.
O C B R L D G V $$ The Café by La Cocina VA 918 S. Lincoln St., 703-596-1557, lacocinava.org/ café-main. This lunch spot operated by La Cocina VA, a nonprofit that trains immigrants for culinary careers, serves soups, salads, sandwiches, Dog Tag Bakery pastries and Swing's coffee.
O C R L D A $$ Earl's Sandwiches 2605 Wilson Boulevard, 703-647-9191, earlsinarling ton.com. Made-to-order sandwiches use prime ingredi ents, like fresh roasted turkey.
C R L D G V $ Fire Works 2350 Clarendon Blvd., 703-527-8700, fireworks pizza.com. Wood-fired pizzas and more than 30 craft beers on tap are mainstays. You can also build your own pasta dish.
B L V $$ Good Stuff Eatery 2110 Crystal Drive, 703-415-4663, goodstuff eatery.com. Spike Mendelsohn's Crystal City out post offers gourmet burgers (beef, turkey or mush room), shakes, fries and salads. L D G V $ Goody's 3125 Wilson Blvd., 703-351-7827, goodyspizzain arlington.com. A late-night go-to for New York-style pizza, subs, ice cream and breakfast sandwiches.
O L D $$ The Freshman 2011 Crystal Drive, thefreshmanva.com. Nick Freshman's neighborly dining concept has some thing for every appetite and every time of day, from coffee and breakfast sandwiches to oysters and negronis.
O C L D G V $$ Guapo's Restaurant 4028 Campbell Ave., 703-671-1701, guaposres taurant.com. Expect hearty portions of all the TexMex standbys—quesadillas, enchiladas, fajitas, ta cos and burritos.
C B L D A V $ Grand Cru Wine Bar and Bistro 4301 Wilson Blvd., 703-243-7900, grandcru-wine. com. This intimate European-style café includes a wine shop next door.
O L D A $$ Hot Lola's s 4238 Wilson Blvd. (Ballston Quarter), hotlolas chicken.com. It's all about Kevin Tien's Nashvillemeets-Sichuan hot chicken sandwiches.
L D V $$ The Italian Store s 3123 Lee Highway, 703-528-6266; 5837 Washing ton Blvd., 571-341-1080; italianstore.com. A cultstatus destination for pizzas, sandwiches, prepared entrées, espresso and gelato. O L D G V $ Kabob Palace 2315 S. Eads St., 703-486-3535, kabobpalaceusa. com. A Crystal City favorite for grilled meats, pillowy naan and savory sides. L D A G V $$ Kanpai Restaurant 1401 Wilson Blvd., 703-527-8400, kanpai-sushi.com. The STTR (spicy tuna tempura roll) is a must at this Rosslyn sushi spot. O L D G V $$ L.A. Bar & Grill 2530 Columbia Pike, 703-685-1560, labargrill.com. Regulars flock to this dive bar on the Pike (L.A. stands for Lower Arlington) for cold brews and pub fare.
O L D G V $ Guajillo 1727 Wilson Blvd., 703-807-0840, guajillo mexican.com. Authentic Mexican dishes such as carne asada, mole poblano and churros are favor ites.
O C L D A G V $$ First Down Sports Bar & Grill 4213 Fairfax Drive, 703-465-8888, firstdownsports bar.com. Choose among 20 draft beers and snacks ranging from sliders to queso dip. L D A V $$ Four Sisters Grill 3035 Clarendon Blvd., 703-243-9020, foursisters grill.com. Here, the family behind Four Sisters in Merrifield serves up banh mi sandwiches, papaya salad, spring rolls and noodle dishes.
L D V $$ Fettoosh 5100 Wilson Blvd., 703-527-7710, fettoosh.com. Overstuffed pita sandwiches and kabobs keep the kitchen fired up at this bargain-priced Lebanese and Moroccan restaurant.
L D $$ Heidelberg Pastry Shoppe 2150 N. Culpeper St., 703-527-8394, heidelberg bakery.com. Fill up on baked goods as well as Old Country specialties such as bratwurst and German potato salad. Closed Mondays. B L $ Highline RxR 2010-A Crystal Drive, 703-413-2337, highlinerxr. com. A Crystal City bar offering draft beers, draft wines, a whiskey menu and a retractable wall that opens up in nice weather.
O R L D G $$$ Green Pig Bistro s 1025 N. Fillmore St., 703-888-1920, greenpig bistro.com. Southern influenced food, craft cocktails, a daily happy hour and weekend brunch draw fans to this congenial neighborhood hideaway. Chef Tracy O'Grady helms the kitchen.
R L D G V $$$ Greens N Teff 3203 Columbia Pike, 571-510-4063, greensnteff. com. This vegetarian, fast-casual Ethiopian carry out prompts customers to choose a base (injera bread or rice) then pile on spicy, plant-based stews and other toppings.
Federico Ristorante Italiano 519 23rd St., 703-486-0519, federicoristorante italiano.com. Find pasta, chianti and red-checkered tablecloths at this Crystal City trattoria co-owned by Freddie's Beach Bar proprietor Freddie Lutz.
L D $$ Happy Eatery Vietnamese Kitchen 1800 N. Lynn St., 571-800-1881, thehappy eatery.com. Vietnamese comfort foods (think banh mi, noodle soups and rice bowls) are the stock-intrade at this Rosslyn establishment.
C R L D A V $$ Istanbul Grill 4617 Wilson Blvd., 571-970-5828, istanbulgrill virginia.com. Satisfy your craving for Turkish meze and kabobs at this homey spot in Bluemont.
O C L D G V $$ Le Pain Quotidien 2900 Clarendon Blvd., 703-465-0970, lepainquo tidien.com. The Belgian chain produces Europeanstyle cafe fare. B L D G V $$ The Liberty Tavern s 3195 Wilson Blvd., 703-465-9360, thelibertytavern. com. This Clarendon anchor offers a spirited bar and creative cuisine fueled by two wood-burning ov ens. O C R L D A G V $$$ Livin' the Pie Life 2166 N. Glebe Road, 571-431-7727, livinthepielife. com. The wildly popular pie operation started as an Arlington farmers market stand. B L V $$ The Local Oyster s 4238 Wilson Blvd. (Ballston Quarter), 844-7482537, thelocaloyster.com. Seafood lovers can feast on raw bar, steamers, crabcakes, lobster rolls and "sammies" at this outpost of the Baltimore original. L D G $$ Lost Dog Café 5876 Washington Blvd., 703-237-1552; 2920 Co lumbia Pike, 703-553-7770; lostdogcafe.com. Known for its pizzas, subs and craft beer selection, this deli/café and its multiple franchises support pet adoption through the Lost Dog and Cat Rescue Foundation. L D G V $$ Lucky Danger 1101 S. Joyce St., Unit B27 (Westpost), luckydanger. co. Chefs Tim Ma and Andrew Chiou put a fresh spin on Chinese-American takeout with dishes such as duck fried rice, lo mein and egg omelet with pickled radish. L D V $$ Lyon Hall s 3100 N. Washington Blvd., 703-741-7636, lyonhall arlington.com. The European-style brasserie turns out French, German and Alsatian-inspired plates, from charcuterie and sausages to mussels and pickled vegetables. O C R L D A V $$$ Mah-Ze-Dahr Bakery 1550 Crystal Drive, 703-718-4418, mahzedahr bakery.com. Café fare at this bright, new addi tion to National Landing includes La Colombe cof fee, pastries, cookies, focaccia, sandwiches and snacks. $ places to eat
D A $$ La Côte D'Or Café 6876 Lee Highway, 703-538-3033, lacotedorarling ton.com. This little French bistro serves standards like crepes and steak frites. O R L D G V $$$ Layalina 5216 Wilson Blvd., 703-525-1170, layalinares taurant.com. Lebanese and Syrian dishes aim to please at this family-owned restaurant. Closed Mondays. O L D A V $$ Lebanese Taverna 5900 Washington Blvd., 703-241-8681; 1101 S. Joyce St., Pentagon Row, 703-415-8681; lebanese taverna.com. A local favorite for mezze, kabobs, flatbreads and more.
O B L D
L D $$ Good Company Doughnuts & Café 672 N. Glebe Road, 703-243-3000, gocodough.com. The family- and veteran-owned eatery serves housemade doughnuts, Intelligentsia coffee and other breakfast and lunch fare.
O C R L D G V $$ Gyu-Kaku Japanese BBQ 1119 N. Hudson St., 571-527-0445, gyu-kaku.com. Marinated meats, veggies and seafood are cooked on tabletop grills. D $$ Hanabi Ramen 3024 Wilson Blvd., 703-351-1275, hanabiramen usa.com. Slurp multiple variations of the popular noodle dish, plus rice bowls and dumplings.
106 November/December 2021 ■ ArlingtonMagazine.com
■
C B R L D G V $$$$ Gaijin Ramen Shop 3800 Lee Highway, 703-566-9236, gaijinramen shop.com. Choose your broth and toppings, from pork shoulder to pickled vegetables. Gaijin makes its own noodles in-house daily. D V $$ Galaxy Hut 2711 Wilson Blvd., 703-525-8646, galaxyhut.com. Pair craft beers with vegan bar foods like "fricken" (fake chicken) sandwich melts and smothered tots with cashew cheese curds. L D A G V $$ Gharer Khabar 5157 Lee Highway, 703-973-2432, gharerkhabar togo.com. Translated as "home's food," this artfilled, 14-seat café serves Bangladeshi fare cooked by chef Nasima Shreen.
O B L D V $$ Fyve 1250 S. Hayes St. (inside The Ritz-Carlton Penta gon City), 703-412-2762, ritzcarlton.com/penta goncity. The hotel restaurant serves globally influ enced dishes. For a treat, go for afternoon tea.
L D $ Ireland's Four Courts 2051 Wilson Blvd., 703-525-3600, irelandsfour courts.com. Irish fare includes cider-braised short ribs, a Guinness-marinated burger and imported cheeses from general manager Dave Cahill's family farm in County Limerick.
O C L D G V $$ Mele Bistro 1723 Wilson Blvd., 703-522-0284, melebistro.com.
O R L D G V $$ Meridian Pint 6035 Wilson Blvd., 703-300-9655, meridianpint. com. The brewpub that John Andrade transplanted from D.C. to Dominion Hills is now under new own ership, but it still serves craft brews, burgers, sal ads and bar food.
Chef Robert Wiedmaier's Ballston eatery is known for mussels, frites, wood-fired pizza and more than 100 Belgian and craft beers. O L D $$ Nam-Viet 1127 N. Hudson St., 703-522-7110, namvietva.com. The venerable restaurant specializes in flavors of Vietnam's Can Tho region.
C R D A G V $$ Metro 29 Diner 4711 Lee Highway, 703-528-2464, metro29.com. Classic diner fare includes triple-decker sandwich es, mile-high desserts, burgers, roasted chicken and breakfast.
Mattie and Eddie's 1301 S. Joyce St., 571-312-2665, mattieand eddies.com. It's not just an Irish bar. Chef Cathal Armstrong's kitchen serves farm-to-table dish es like lobster pot pie, house-cured corned beef, black pudding and sardines on toast, and Irish breakfast all day.
C B R L D V $ Mexicali Blues 2933 Wilson Blvd., 703-812-9352, mexicali-blues. com. The colorful landmark dishes out Salvadoran and Mexican chow.
Mala Tang 3434 Washington Blvd., 703-243-2381, mala-tang. com. Chef Liu Chaosheng brings the tastes and tra ditions of his hometown, Chengdu, to this eatery specializing in Sichuan hot pot.
Mario's Pizza House 3322 Wilson Blvd., mariopizzahouse.com. Open into the wee hours, it's been cooking up subs, wings and pizza since 1957.
L D V $
O C B L D A $
Like to know where your food comes from? This farm-to-table Mediterranean restaurant cooks with fresh, organic, free-range, regionally-sourced, nonGMO ingredients.
R L D V $$$ Maizal 4238 Wilson Blvd. (Ballston Quarter), 571-3966500, maizalstreetfood.com. South American street food—arepas, empanadas, yuca fries, Peru vian fried rice, street corn and churros.
L D V $$ McNamara's Pub & Restaurant 567 23rd St. S., 703-302-3760, mcnamaraspub. com. Order a Guinness and some corned beef or fish and chips at this watering hole on Crystal City's restaurant row.
O R L D $$$ Maya Bistro 5649 Lee Highway, 703-533-7800, bistromaya.com. The family-owned restaurant serves Turkish and Mediterranean comfort food.
O L D G V $$
ArlingtonMagazine.com ■
Dine In - Carry Out- Delivery - cateringDine In - Carry Out- Delivery - catering Arlington's favorite bbqArlington's favorite bbq Visit UsVisit Us Real Real wood-fired bbqwood-fired bbq 5731 Lee Highway Arlington, VA 22207 & & Breakfast BiscuitsBreakfast Biscuits Wed Sat 8 am to 8 pm Sunday 8 am to 6 pm sloppymamas.com
O C R L D G V $$ Moby Dick House of Kabob 3000 Washington Blvd., 703-465-1600; 4037 Campbell Ave., 571-257-8214; mobyskabob.com. Satisfy that hankering for Persian skewers and fla vorful sides. L D $$ Mussel Bar & Grille 800 N. Glebe Road, 703-841-2337, musselbar.com.
O R L D A $$ Me Jana 2300 Wilson Blvd., 703-465-4440, mejanarestau rant.com. Named for an old Lebanese folk ballad, this Middle Eastern eatery offers prime peoplewatching in Clarendon.
O L D V $$ Napoli Salumeria 1301 S. Joyce St. (Westpost), 571-431-7903, napoli salumeria.com. Chef Antonio Ferraro's market/café offers pizza, pasta, panini, dolci and grab-and-go pro visions. O L D V $$ Northside Social Coffee & Wine s 3211 Wilson Blvd., 703-465-0145, northsidesocial arlington.com. The homey, two-story coffee and wine bar (with a big patio) is always busy...which tells you something. O B L D V $$ Oby Lee 3000 N. Washington Blvd., 571-257-5054, obylee. com. Crepes and quiche are the bill of fare at this European-style café, bakery, wine shop and coffee roastery. O B L D G $$
November/December 2021 107 Maison Cheryl 2900 Wilson Blvd., 703-664-0509, maisoncheryl. com. Seared duck breast, steak frites and made leines are among the offerings at this French-Amer ican bistro.
C L D V $$ Rebellion on the Pike 2900 Columbia Pike, 703-888-2044, rebellionon thepike.com. The irreverent tavern sports a deep list of craft beers and whiskeys, and serves burg ers (including one zinger called the "Ramsay Bolton"), six kinds of wings and other pub grub.
The large menu includes Thai and Chinese stan dards, plus sushi. L D V $$ Rocklands Barbeque and Grilling Co. 3471 Washington Blvd., 703-528-9663, rocklands. com. Owner John Snedden has been slow-cooking barbecue since 1990.
L D G $ Open Road 1201 Wilson Blvd., 703-248-0760, openroadgrill. com. This second location of the American saloon (the first is in Merrifield) is a solid pick for burgers and beers, or a proper entrée and a craft cocktail.
O L D G V $
R L D V $$ Rasa 2200 Crystal Drive, 703-888-0925, rasagrill.com. Enjoy big flavors at this Indian fast-casual eatery by co-owners Sahil Rahman and Rahul Vinod. Build a bowl with options like basmati rice, chicken tik ka, lamb, charred or pickled vegetables, lentils, chutneys and yogurt sauces.
O C L D G V $ Rogi 4238 Wilson Blvd. (Ballston Quarter), 703-5506220, eatrogi.com. Chef Ed Hardy's pierogi oper ation (formerly Zofia's Kitchen) stuffs the Polish dumplings with all kinds of fillers—brisket, brat wurst, beets, crab Rangoon and smoked whitefish, to name a few. L D V $ Ruffino's Spaghetti House 4763 Lee Highway, 703-528-2242, ruffinosarling ton.com. Mina Tawdaros bought this local institution in 2020, fulfilling a lifelong dream. The menu still in cludes classics such as veal Parmigiana and chick en piccata. C L D V $$ Rustico 4075 Wilson Blvd., 571-384-1820, rusticorestau rant.com. You'll find more than 400 beers to com plement dishes from pizza to grilled trout and pas trami pork ribs. O C R L D G V $$ RusUz 1000 N. Randolph St., 571-312-4086, rusuz.com. The family-run bistro serves hearty Russian and Uzbek dishes such as borscht, beef stroganoff and plov—a rice pilaf with lamb. L D $$ Ruthie's All-Day s 3411 Fifth St. S., 703-888-2841, ruthiesallday.com. Chef Matt Hill's Southern-inspired "meat and three" serves up wood-smoked meats, chicken and fish with creative sides ranging from kimchi dirty rice to crispy Brussels sprouts with fish sauce vinaigrette. Breakfast (with house-made biscuits) offered daily.
O L D $$ Origin Coffee Lab & Kitchen 1101 S. Joyce St., 703-567-7295, origincoffeeco. com. The industrial-chic coffee shop roasts its own beans and serves all-day breakfast, as well as bar munchies and dinner plates.
eat
O R B D A $$ The Renegade 3100 Clarendon Blvd., 703-468-4652, renegadeva. com. Is it a coffee shop, restaurant, bar or live mu sic venue? All of the above. And Patrick Crump's ad venturous menu includes everything from cinnamon lambchop lollipops to lo mein.
O B R L D G V $$ Saigon Noodles & Grill 1800 Wilson Blvd., 703-566-5940, saigonnoodles grill.com. The Rosslyn eatery owned by Arlington resident Tuan Nguyen serves pho, banh mi and oth er traditional Vietnamese dishes. L D G V $$ Salt 1201 Wilson Blvd., 703-875-0491, saltrosslyn. com. The speakeasy-style cocktail bar, which shares a kitchen with Open Road, serves tasty nibbles (cheese plates, oysters, carpaccio) with classic Saz eracs and Old Fashioneds, as well as nouveau craft cocktails. D $$ Samuel Beckett's Irish Gastro Pub 2800 S. Randolph St., 703-379-0122, samuel becketts.com. A modern Irish pub serving Emerald Isle recipes. O C R L D A G V $$ Sawatdee Thai Restaurant 2250 Clarendon Blvd., 703-243-8181, sawatdeeva. com. The friendly eatery (its name means "hello") is frequented by those craving pad thai or pad prik king. L D V $$ Screwtop Wine Bar and Cheese Shop 1025 N. Fillmore St., 703-888-0845, screwtop winebar.com. The congenial wine bar/shop offers tastings, wine classes, and small plates for shar ing and pairing.
108 November/December 2021 ■ ArlingtonMagazine.com
O R L D V $$ Pamplona 3100 Clarendon Blvd., 703-685-9950, pamplona va.com. Spanish tapas, paella, grilled fish, pintxos, cocktails, snacks and sangria.
O C L D V $$ Queen Mother's Fried Chicken 918 S. Lincoln St., 703-596-1557, queenmother cooks.com. Chef Rock Harper's celebrated fried chicken sandwich operation shares a kitchen and dining space with The Café at La Cocina VA. L D $ Quinn's on the Corner 1776 Wilson Blvd., 703-640-3566, quinnsonthe corner.com. Irish and Belgian favorites such as mus sels, steak frites, and bangers and mash, plus draft beers and a big whiskey selection.
B R L D A $$ Ragtime 1345 N. Courthouse Road, 703-243-4003, ragtime restaurant.com. Savor a taste of the Big Easy in of ferings such as jambalaya, catfish, spiced shrimp and oysters. Or feast on the waffle and omelet bar every Sunday.
O C R L D G V $$ Sense of Place Café & Roastery 4807 First St. N., 571-319-0414, senseofplacecafe. com. The "laptop free" café serves Enzymo coffee drinks, matcha tea, sweets and sandwiches. B L $ SER 1110 N. Glebe Road, 703-746-9822, ser-restau to
O L D V $$ Pupuseria Doña Azucena 71 N. Glebe Road, 703-248-0332, pupuseriadona azucena.com. Beans, rice and massive pupusas at dirt-cheap prices.
O R L D A V $$ Rako Coffee Roasters 2016 Wilson Blvd., 571-2312-4817, rakocoffee. com. Sister roasters Lisa and Melissa Gerben, whose beans are on the menu at Maketto and other D.C. hotpots, now have a cafe in Courthouse. Try a baklava latte or an espresso martini.
B L D A $$ Rhodeside Grill 1836 Wilson Blvd., 703-243-0145, rhodeside grill.com. Feast on chops, meatloaf, burgers and po'boys accompanied by every kind of hot sauce imaginable. O C R L D A V $$ Rice Crook 4238 Wilson Blvd. (Ballston Quarter), ricecrook.com. Korean-inspired rice bowls, salads and wraps made with locally sourced meats and produce. L D $$ Rien Tong Asian Bistro 3131 Wilson Blvd., 703-243-8388, rientong.com.
L D $ The Pinemoor 1101 N. Highland St., 571-970-2592, thepine moor.com. Reese Gardner's country-western saloon turns out steaks, burgers, local seafood and weekend brunch. O R L D G V $$ Pupatella s 5104 Wilson Blvd.; 1621 S. Walter Reed Drive, 571-312-7230, pupatella.com. Enzo and Anastasiya Algarme's authentic Neapolitan pies are considered among D.C.'s best.
■ places
O L D V $ Pie-tanza 2503-B N. Harrison St., 703-237-0200, pie-tanza. com. Enjoy pizza (including gluten-free options), cal zones, lasagna, subs and salads. C L D G V $$ Pike Restaurant (Pike Pizza) 4111 Columbia Pike, 703-521-3010. Bolivian dish es satisfy at this no-frills eatery. Try the salteñas stuffed with chicken or beef, olives and hard-boiled egg.
Ravi Kabob House 350 N. Glebe Road, 703-522-6666; 250 N. Glebe Road, 703-816-0222. Curries, kabobs and delec tably spiced veggies keep this strip-mall café plen ty busy.
B L $ Peter Chang Arlington 2503-E N. Harrison St., 703-538-6688, peterchang arlington.com. The former Chinese Embassy chef brings his fiery and flavorful Sichuan cooking to the Lee Harrison Shopping Center. C L D $$ Pho 75 s 1721 Wilson Blvd., 703-525-7355, pho75.res taurantwebexpert.com. The piping-hot soup at this local institution is all about fresh ingredi ents.
C L D V $ Quarterdeck 1200 Fort Myer Drive, 703-528-2722, quarterdeck arlington.com. This beloved shack has served up steamed crabs for 40 years.
O R D A V $$ Peking Pavilion 2912 N. Sycamore St., 703-237-6868. This fami ly-owned restaurant serves standbys such as moo shu pork and beef with broccoli.
Old Dominion Pizza 4514 Lee Highway, 703-718-6372, olddominion pizza.com. Order thin crust or "grandma style" pies named after local high school mascots.
O D G V $$$ O'Sullivan's Irish Pub 3207 Washington Blvd., 703-812-0939, osullivans irishpub.com. You'll find owner and County Ker ry native Karen O'Sullivan behind the bar, pouring pints and cracking jokes. L D A $$ Palette 22 4053 Campbell Ave., 703-746-9007, palette22.com. The gallery-café specializes in international small plates.
O B R L D V $$ Osteria da Nino 2900 S. Quincy St. (Village at Shirlington), 703820-1128, osteriadaninova.com. For those days when you're craving a hearty portion of spaghetti and clams, or gnocci with pesto.
L D $$ Peruvian Brothers at The Stand 1601 Crystal Drive, 703-413-8048, peruvianbroth ers.com. Can't catch up with their food truck? Stop by the Crystal City kiosk for empanadas, alfajores and Inca kola.
L D $$ South Block s 3011 11th St. N., 703-741-0266; 1550 Wilson Blvd., 703-465-8423; 4150 Wilson Blvd., 703-4658423; 2121 N. Westmoreland St., 703-534-1542; southblockjuice.com. Cold-pressed juices, smooth ies and acai bowls.
O B L V $ Spice Kraft Indian Bistro 1135 N. Highland St., 703-527-5666, spicekraft va.com. This contemporary concept by restaura teurs Anthony Sankar and Premnath Durairaj gives Indian classics a modern spin.
ArlingtonMagazine.com ■ November/December 2021 109 rant.com. Traditional Spanish and Basque dishes in a colorful, friendly space with outstanding service.
D G $$ Sushi Rock 1900 Clarendon Blvd., 571-312-8027, sushirockva. com. Play a little air guitar while sampling sushi rolls and beverages named after your favorite bands, from Zeppelin to Ozzy to Oasis.
C L D V $$ Sweetgreen s 4075 Wilson Blvd., 703-522-2016; 3100 Clarendon Blvd., 571-290-3956; 575 12th Road S., 703-8881025; 2200 Crystal Drive, 703-685-9089; sweet green.com. Locally grown ingredients and compost able cutlery make this salad and yogurt chain a hub for the green-minded. O C L D G V $ Sweet Leaf 2200 Wilson Blvd., 703-525-5100; 800 N. Glebe Road, 703-522-5000; 650 N. Quincy St., 703527-0807; sweetleafcafe.com. Build your own sandwiches and salads with fresh ingredients.
O C B L D $$ Taco Bamba Ballston 4000 Wilson Blvd., 571-777-1477, tacobamba.com. Every Bamba location tucks an homage or two onto its menu. Here, the taco options include the El Rico Pollo, stuffed with "Peruvian-ish" chicken, green chili
C D A G V $$ Stellina Pizzeria 2800 S. Randolph St., 703-962-7884, stellina pizzeria.com. Pay a visit for Neapolitan pies, fried artichokes, squid ink pasta and a deli counter that offers house-made pastas, sauces, antipasti and dolci to take home.
O B R L D $$ Smokecraft Modern Barbecue s 1015 N. Highland St., 571-312-8791, smokecraft bbq.com. Every menu item here is kissed by smoke, from ribs, crabcakes and spaghetti squash to the chocolate cherry bread pudding on the des sert list.
O C B R L D A G V $$ Slapfish 671 N. Glebe Road, 571-312-4610, slapfishrestau rant.com. Grab some clam chowder, fish tacos or a lobster roll and pretend you are beachside. L D $$ Sloppy Mama's Barbeque 5731 Lee Highway, sloppymamas.com. Joe and Mandy Neuman's barbecue joint offers woodsmoked meats galore— brisket, pork, chicken, ribs, turkey, sausage. Plus hearty sides and banana pud ding for dessert.
O L D $$ Supreme Hot Pot 2301 Columbia Pike, 571-666-1801, supreme hotpot.kwickmenu.com. This Pike eatery special izes in Szechuan hot pot, as well as skewered meats and a few Cajun seafood dishes. A sauce bar allows diners to choose and create their own dipping sauces.
O L D V $$$ Silver Diner s 3200 Wilson Blvd., 703-812-8600, silverdiner. com. The kitchen cooks with organic ingredients, many of which are sourced from local suppliers. Low-calorie and gluten-free menu choices avail able.
D A G V $$ Sushi-Zen Japanese Restaurant 2457 N. Harrison St., 703-534-6000, sushizen. com. An amicable, light-filled neighborhood stop for sushi, donburi, tempura and udon.
O L D $$ Spider Kelly's 3181 Wilson Blvd., 703-312-8888, spiderkellys.com. The "come as you are" bar offers a sizable beer list, creative cocktails, salads, burgers, snacks and breakfast at all hours.
O R L D V $$$ Sfoglina Pasta House 1100 Wilson Blvd., sfoglinapasta.com/rosslyn. Fa bio Trabocchi's Rosslyn outpost is a destination for housemade pasta (you can watch it being made), a "mozzarella bar" and Italian cocktails. Closed Mon day-Wednesday.
O L D G V $$ Smoking Kow BBQ 2910 N. Sycamore St., smokingkowbbq.com. At this Kansas City-style 'cue joint, meats seasoned with a rub of 15 spices are smoked over cherry and hickory wood for 18-20 hours.
O C R L D V $$ Toby's Homemade Ice Cream 5849-A Washington Blvd., 703-536-7000, tobys icecream.com. Owner Toby Bantug makes premium ice creams, floats and sundaes. Coffee, pastries and bagels available in the morning.
O B L $ Troy's Italian Kitchen 2710 Washington Blvd., 703-528-2828, troysitalian kitchen.com. Palak and Neel Vaidya's mom-andpop serves pizza, pasta and calzones, including a lengthy vegan menu with options like "chicken" tik ka masala pizza.
B L D V $$ Taqueria el Poblano s 2503-A N. Harrison St., 703-237-8250, taqueria poblano.com. Fresh guacamole, fish tacos, margar itas and mole verde transport patrons to the Yu catan.
O L D G V $$ Thirsty Bernie 2163 N. Glebe Road, 703-248-9300, thirstybernie. com. Wiener schnitzel, pierogies and bratwurst pro vide sustenance in this Bavarian sports bar and grill.
O R L D A G V $$$ World of Beer 4300 Wilson Blvd., 703-576-0395, worldofbeer. com. The beer emporium features 40 taps and a rotating roster of hundreds of brews to go with your German soft pretzel, parmesan truffle fries or pimento cheeseburger.
O C R L D A G V $$ Wilson Hardware Kitchen & Bar 2915 Wilson Boulevard, 703-527-4200, wilson hardwareva.com. Order a boozy slushy or craft beer and head the roof deck. The menu includes small plates, burgers and entrées like steak frites and duck confit.
110 November/December 2021 ■ ArlingtonMagazine.com puree, aji Amarillo aioli, salsa criolla, serrano chile and crispy potato.
L D V $$ Uncle Julio's Rio Grande Café 4301 N. Fairfax Drive, 703-528-3131, unclejulios. com. Tex-Mex highlights include mesquite-grilled fa jitas, tacos and margaritas.
L D V $$ Weenie Beenie 2680 Shirlington Road, 703-671-6661, weenie beenie.net. The hot dog stand founded in 1954 is still serving half smokes, bologna-and-egg sand wiches and pancakes.
L D G V $ True Food Kitchen 4238 Wilson Blvd. (Ballston Quarter), 703-5270930, truefoodkitchen.com. Emphasizing "anti-in flammatory" fare, the menu will convince you that healthy tastes good.
O C R L D $$$ Urban Tandoor 801 N. Quincy St., 703-567-1432, utandoorva.com. Sate your appetite with Indian and Nepalese fare, from tandoori lamb to Himalayan momos (dump lings). Lunch buffet daily.
L D V G $$$ FALLS CHURCH 2941 Restaurant 2941 Fairview Park Drive, 703-270-1500, 2941. com. French chef Bertrand Chemel's unlikely sanc tuary in a suburban office building offers beauti fully composed seasonal dishes and expert wine pairings in an artful setting. C L D V $$$ Abay Market Ethiopian Food 3811-A S. George Mason Drive, 703-820-7589, abaymarketethiopian.com. The seasoned grassfed raw beef dish kitfo is the specialty at this friendly, six-table Ethiopian café. L D $$ Al Jazeera 3813-D S. George Mason Drive, 703-379-2733. The top seller at this Yemeni cafe is oven-roasted lamb with yellow rice. L D $$ Alta Strada 2911 District Ave. (Mosaic District), 703-2800000, altastrada.com. Chef Michael Schlow's menu includes house-made pastas, pizza and modern Italian small plates. R L D $$$ Anthony's Restaurant 3000 Annandale Road, 703-532-0100, www.an thonysrestaurantva.com. The family-owned Greek and Italian diner serves standbys like spaghet ti, pizza, gyros and subs, plus breakfast on week ends. R L D V $$ B Side 8298 Glass Alley (Mosaic District), 703-676-3550, bsidecuts.com. Nathan Anda's charcuterie steals the show at this cozy bar adjoining Red Apron Butcher. The cocktails rock, too. L D $$ Badd Pizza 346 W. Broad St., 703-237-2233, baddpizza.com. Order a Buffalo-style "cup-and-char" pepperoni pie and a baddbeer IPA, locally brewed by Lost Rhino Brewing Co. L D $$ Bakeshop 100 E. Fairfax St., 703-533-0002, bakeshopva.com. See Arlington listing. B V $ Balqees Restaurant 5820 Seminary Road, 703-379-0188. Order Leb anese and Yemeni dishes like lamb in saffron rice, saltah (a vegetarian stew) and saffron cake topped with rose petals and crème anglaise.
O C L D $$ Yume Sushi 2121 N. Westmoreland St., 703-269-5064, yume sushiva.com. East Falls Church has a destination for sushi, omakase (chef's tasting menu) and a sake bar with craft cocktails.
L D A $$ Wild Tiger BBQ s 1201 S. Joyce St. (Westpost), wildtigerbbq.com. The pop-up concept by chefs Kevin Tien and Scott Chung does barbecue with an Asian flavor profile. Shin-shamen-rubbed proteins like pulled pork, ribs and brisket are served with kimchi pickles and five house-made sauces.
O B L D V $$ Whino 4238 Wilson Blvd., 571-290-3958, whinova.com. Part restaurant/bar and part art gallery, this latenight spot (open until 2 a.m. Thursday-Saturday) features cocktails, shareable plates and a dynamic interior featuring street-art murals and "low brow" art exhibits.
C R L D $$ Turu's by Timber Pizza 4238 Wilson Blvd. (Ballston Quarter), timber pizza.com. Neapolitan(ish)-style pizzas fresh from a wood-fired oven.
B L D $ Westover Market & Beer Garden s 5863 N. Washington Blvd., 703-536-5040, westo vermarketbeergarden.com. A local hive for burgers and draft microbrews. The adjoining market's "Great Wall of Beer" stocks more than 1,000 do mestic, imported and craft beers in bottles and cans.
O L D A $$ T.H.A.I. in Shirlington 4209 Campbell Ave., 703-931-3203, thaiinshirling ton.com. Pretty dishes include lemongrass salmon with black sticky rice. O L D G V $$$ Thai Noy s 5880 Washington Blvd., 703-534-7474, thainoy.com. Shimmering tapestries and golden Buddhas are the backdrop in this destination for Thai noodles, curries and rice dishes. L D $$ Thai Square 3217 Columbia Pike, thaisquarerestaurant.com.703-685-7040,Thesignature dish is No. 61, deep-fried, sugar-glazed squid topped with crispy fried basil.
C B R L D G V $$ Texas Jack's Barbecue 2761 Washington Blvd., 703-875-0477, txjacks.com. Brisket, ribs and pulled pork, plus sides like raw car rot salad and smashed cucumbers.
O B R L D $$ Tupelo Honey Café 1616 N. Troy St., 703-253-8140, tupelohoneycafe. com. The Southern fusion menu includes dishes like roasted snapper with sweet potato and farro.
O L D V $$ Bamian 5634 Leesburg Pike, 703-820-7880, bamianres taurant.com. Try Afghan specialties like palau (sea soned lamb with saffron rice) and aushak (scal lion dumpling topped with yogurt, meat sauce and mint). V $$
B L D V $ Trade Roots 5852 Washington Blvd., 571-335-4274, fairtrade roots.com. Lisa Ostroff's Westover gift shop and cafe serves fair-trade coffee, tea, pastries, salads, organic wine and snackable fare like mini empana das and Portuguese flatbread.
L D $$ William Jeffrey's Tavern 2301 Columbia Pike, 703-746-6333, william jeffreystavern.com. Brought to you by the owners of Dogwood Tavern, this pub on the Pike features Prohibition-era wall murals and mixes a mean martini.
O L D V $$ Taco Rock 1501 Wilson Blvd., 571-775-1800, thetacorock.com. This rock-themed watering hole keeps the margaritas and Micheladas flowing alongside creative tacos on housemade blue-corn tortillas.
C L D G V $$ Ted's Bulletin & Sidekick Bakery 4238 Wilson Blvd. #1130 (Ballston Quarter), 703848-7580, tedsbulletin.com. The retro comfort food and all-day breakfast place has healthier fare, too— which you can undo with a visit to its tantalizing bak ery next door.
O L D G V $$
TTT – Tacos, Tortas & Tequila 2900 Wilson Blvd., tttrestaurant.com. Ivan Iricanin's ode to Mexico has all the colorful options you'd ex pect—tacos, enchiladas, street corn, six kinds of salsa and fruity margaritas, plus a sprawling rooftop lounge with expansive views.
L D V $$ Yayla Bistro 2201 N. Westmoreland St., 703-533-5600, yayla bistro.com. A cozy little spot for Turkish small plates, flatbreads and seafood. Pita wraps avail able for lunch only.
C L D
B L D V $ Taco + Pina 4041 Campbell Ave., 703-567-4747, tacoandpina. com. Try an order of Fanta pork carnitas or the vege tarian "chile relleno" taco, and cool your heels with a frozen roasted pineapple margarita.
O C L D A $$ Which Wich 4300 Wilson Blvd., 703-566-0058, whichwich.com. A seemingly endless menu of sandwiches and wraps with more than 60 toppings.
■ places to eat
O R L D V $$ Duangrat's 5878 Leesburg Pike, 703-820-5775, duangrats.com. Waitresses in traditional silk dresses glide through the dining room, bearing fragrant noodles and grilled meats, in one of the D.C. area's most esteemed des tinations for Thai cuisine.
A family-friendly spot for fajitas, enchiladas, lomo saltado, combo plates and margaritas.
O L D $$ Fava Pot s 7393 Lee Highway, 703-204-0609, favapot.com. Visit Dina Daniel's restaurant, food truck and cater ing operation for Egyptian fare such as stewed fava beans with yogurt and lamb shanks with okra. And oh the bread!
■ November/December
O R L D V $$
ArlingtonMagazine.com 2021 111 Bartaco 2920 District Ave. (Mosaic District), 571-549-8226, bartaco.com. See Arlington listing. L D V A $$ Bing & Bao 7505 Leesburg Pike, 703-734-0846, bingandbao. com. Chinese street foods (crepes, steamed bun and fried rice) are the main attraction at this fast-ca sual eatery. Founders Rachel Wang and Mark Shen hail from Tianjin, China. L D V $ Caboose Commons 2918 Eskridge Road (Mosaic District), 703-6638833, caboosebrewing.com. The microbrewery that started along the W&OD Trail in Vienna has a second location serving house brews and creative eats, including plant-based options.
L D V G $$ Harvey's 513 W. Broad St., harveysva.com. Sidle up to chef Thomas Harvey's new neighborhood bar for a cheesesteak with IPA beer cheese, cedar-plank salmon, Russian honey cake, local beers and good company.
Elephant Jumps Thai Restaurant 8110-A Arlington Blvd., 703-942-6600, elephant jumps.com. Creative and comforting Thai food in an intimate strip-mall storefront.
L D G V $$ Elevation Burger 442 S. Washington St., 703-237-4343, elevation burger.com. See Arlington listing.
O L D V $$ Haandi Indian Cuisine s 1222 W. Broad St., 703-533-3501, haandi.com. The perfumed kabobs, curries and biryani incorporate northern and southern Indian flavors.
B R L D $$ Hong Kong Palace 6387 Seven Corners Center, 703-532-0940, hong kongpalacedelivery.com. The kitchen caters to both ex-pat and American tastes with an enormous menu of options.
C B L D G V $ Clare & Don's Beach Shack s 130 N. Washington St., 703-532-9283, clareand dons.com. Go coastal with fish tacos, coconut chicken or one of the many meatless options, and maybe catch some live outdoor music. Closed Mondays.
1110 N Glebe ArlingtonRd, Tired of missing Arlington building lots? Call Billy Buck (703) 524-9000 Buck & Associates, Inc. Realtors® Since 1976 2457 N Harrison St , 2457 N Harrison St , Arlington Arlington www.sushizen.com www sushizen com 703 534 76000 03-534-6000 Open Open for take-out fa or take out a nd nd limited ld imited d ine-in! Visit ithe ne in! Visit the website or call to wreserve ebsite or call to reserve a atable. table. F R E S H , D E L I C I O U S J A P A N E S E C U I S I N E & S U S H I
O L D V A $$ Café Kindred 450 N. Washington St., 571-327-2215, cafe kindred.com. Pop in for a yogurt parfait, avocado toast, grilled eggplant sandwich, or an espresso fizz. B R L V $$ Celebrity Delly 7263-A Arlington Blvd., 703-573-9002, celebrity deliva.com. Matzo-ball soup, Reubens and tuna melts satisfy at this New York-style deli founded in 1975. Brunch served all day Saturday and Sunday.
O C L D A G V $$ DC Steakholders 6641 Arlington Blvd., 703-534-4200, dcsteakhold ers.com. The cheesesteak truck has a storefront in the former Frozen Dairy Bar space, where propri etors Usman Bhatti and Lilly Kaur are carrying forth FDB's nearly 70-year frozen custard recipe. L D $$ District Dumplings 2985 District Ave. (Mosaic District), 703-884-7080, districtdumplingsfairfax.com. Asian-style dumplings, sandwiches and wraps. L D $$ District Taco s 5275-C Leesburg Pike, 571-699-0660, district taco.com. See Arlington listing. C B L D G V $ Dogfish Head Alehouse 6220 Leesburg Pike, 703-534-3342, dogfishale house.com. Microbrews, burgers, sandwiches, sal ads and wood-grilled pizzas.
O L D V $ El Tio Tex-Mex Grill 7630 Lee Highway, 703-204-0233, eltiogrill.com.
B L D G V $$ First Watch 5880 Leesburg Pike, 571-977-1096, firstwatch. com. Mainstays at this breakfast and lunch café include eggs Benedict, lemon-ricotta pancakes, housemade granola, power bowls and avocado toast.
SER
C L D $$ Hong Kong Pearl Seafood Restaurant 6286 Arlington Blvd., 703-237-1388. Two words: dim sum. L D A V $$ Huong Viet 6785 Wilson Blvd., 703-538-7110, huong-viet. com. Spring rolls, roasted quail and shaky beef are faves at this cash-only Eden Center eatery. C L D G V $$ Ireland's Four Provinces 105 W. Broad St., 703-534-8999, 4psva.com. The family-friendly tavern in the heart of Falls Church City serves pub food and Irish specialties.
C L D G V $$ Dogwood Tavern 132 W. Broad St., 703-237-8333, dogwoodtav ern.com. The menu has something for everyone, from ancient grain Buddha bowls to jambalaya, burgers and coconut-curry salmon.
O C R L D A V $$ Dominion Wine and Beer 107 Rowell Court, 703-533-3030, dominionwine andbeer.com. Pairings come easy when a café shares its space with a wine and beer shop. Or der up a plate of sliders, a cheese board or some Dragon shrimp to snack on while you imbibe.
O CB R L V $$ Four Sisters Restaurant 8190 Strawberry Lane, 703-539-8566, foursisters restaurant.com. Mainstays include clay pot fish, grilled meats, lettuce wraps and pho.
O C B R L D $$ Jinya Ramen Bar 2911 District Ave. (Mosaic District), 703-9927705, jinya-ramenbar.com. Embellish your tonkot su or umami-miso broth with more than a dozen toppings and add-ins. O L D A V $$ JV's Restaurant 6666 Arlington Blvd., 703-241-9504, jvsrestaurant. com. A dive bar (the best kind) known for its live music, cold beer and home-cooked meatloaf, lasa gna and chili. L D A V $$ Kamayan Fiesta 301 S. Washington St., 703-992-0045, kamayan fiesta.com. Find Filipino specialties such as chick serrestaurant.com703-746-9822
O C L D G V $ Sweetwater Tavern 3066 Gatehouse Plaza, 703-645-8100, great americanrestaurants.com. A modern alehouse serving seafood, chicken, ribs, microbrews and growlers to go. C L D G $$$ Taco Bamba 2190 Pimmit Drive, 703-639-0505, tacobambares taurant.com. Taco choices range from traditional carne asada to the "Iron Mike," a vegan rendition stuffed with roasted cauliflower, salsa macha and mole verde. B L D $ Taco Rock 1200 W. Broad St., thetacorock.com. At press time, Mike Cordero's rock-themed taqueria was poised to open a new location in the renovated Birch & Broad shopping center. See Arlington listing. B L D V $$
D A V $$ Sweetgreen s 2905 District Ave. (Mosaic District), 703-9927892, sweetgreen.com. See Arlington listing.
O R D $$$ Peking Gourmet Inn 6029 Leesburg Pike, 703-671-8088, pekinggour met.com. At this James Beard Award semifinalist for "Outstanding Service," it's all about the crispy Peking duck.
Come by in the morning for a breakfast sandwich and a latte. Return in the eve ning for a glass of wine and a plate of charcuterie, or a wood-fired pizza.
L D G V $$ MacMillan Whisky Room 2920 District Ave. (Mosaic District), 240-994-3905, themacmillan.com. More than 200 kinds of spirits are offered in tasting flights and composed cock tails. The food menu includes U.K. and American pub standards.
L D V $$ Rice Paper/Taste of Vietnam 6775 Wilson Blvd., 703-538-3888, ricepapertasteofvietnam.com. Try a combo platter of pork, seafood and ground beef with rice-paper wraps at this Eden Center favorite. L D G V $$ Settle Down Easy Brewing 2822 Fallfax Drive, 703-573-2011, settledowneasy brewing.com. The rotating beer list at this nano brewing operation is always fresh. Neighboring El Tio Tex-Mex Grill provides a taco stand and other food choices. Closed Mondays. O L D $ Sfizi Café 800 W. Broad St., 703-533-1191, sfizi.com. A fam ily-owned trattoria, deli and wine shop serving clas sic Italian fare—pasta, pizza, parm. L D $$ Silver Diner s 8150 Porter Road, 703-204-0812, silverdiner.com. See Arlington listing.
L D G V $$ Le Pain Quotidien 8296 Glass Alley (Mosaic District), 703-4629322, lepainquotidien.com. See Arlington listing.
O R L D $$ Mark's Duck House 6184-A Arlington Blvd., 703-532-2125. Though named for its specialty—Peking duck—it offers plenty of other tantalizing options, too, such as short ribs, roasted pork and dim sum.
R L D A V $$ Meaza Restaurant 5700 Columbia Pike, 703-820-2870, meazaethio piancuisine.com. Well-seasoned legumes and mar inated beef are signatures in this vivid Ethiopian banquet hall.
C L D G V $$ Pho 88 232 W. Broad St., 703-533-8233, pho88va.com. Vietnamese pho is the main attraction, but the menu also includes noodle and rice dishes. Closed Tuesdays. L D $$ Pizzeria Orso 400 S. Maple Ave., 703-226-3460, pizzeriaorso. com. Neapolitan pies and tempting small plates, such as arancini with chorizo and Brussels chips with shaved grana.
C B R G V $ Our Mom Eugenia 2985 District Ave. (Mosaic District), 434-339-4019, ourmomeugenia.com. Beloved for its real-deal Greek fare, from saganaki to souvlaki, the critical ly acclaimed family business that began in Great Falls has a sister restaurant in the Mosaic District.
B L D V $$ Koi Koi Sushi & Roll 450 W. Broad St., 703-237-0101, koikoiva.com. The sushi is fresh and the vibe is fun.
L D $$ Raaga Restaurant 5872 Leesburg Pike, 703-998-7000, raagarestau rant.com. Chicken tikka, lamb rogan josh and car damom-infused desserts.
O L D $$ Lantern House Viet Bistro 1067 West Broad St., 703-268-2878, lantern houseva.com. Satisfy that craving for pho, noodles and banh mi at this family-owned Vietnamese eat ery.
B L D V $$ Liberty Barbecue s 370 W. Broad St., 703-237-8227, libertyfallschurch. com. This 'cue venture by The Liberty Tavern Group serves smoked meats, fried chicken and all the ac companiments. Order a Grand Slam (four meats, four sides) and feed the whole fam.
O B R L D A $$ Nhu Lan Sandwich 6763 Wilson Blvd., 703-532-9009, nhulansandwich. com. This tiny Vietnamese deli at Eden Center is a fa vorite for banh mi sandwiches. L D V $ Northside Social Falls Church s 205 Park Ave., 703-992-8650, northsidesocial ■ places to eat turns out pupusas, fried yucca, chicharron, carne asada and horchata.
O B L D V $$ Oath Pizza 2920 District Ave. (Mosaic District), 703-688-6284, oathpizza.com. The dough here is grilled and seared in avocado oil (for a crispy texture) and the toppings are certified humane. L D G V $$ Open Road 8100 Lee Highway, 571-395-4400, openroadmerri field.com. See Arlington listing.
O L D $$ Padaek 6395 Seven Corners Center, 703-533-9480, padaekdc.com. Chef Seng Luangrath's celebrated Falls Church eatery, hidden in a strip mall, offers both Thai and Laotian cuisine.
112 November/December 2021 ■ ArlingtonMagazine.comva.com/falls-church.
L D $ Red Apron Butcher 8298 Glass Alley (Mosaic District), 703-676-3550, redapronbutchery.com. The premium butcher shop and deli sells hot dogs, burgers, charcuterie, prime steaks and sandwiches.
The Original Pancake House 7395-M Lee Highway, 703-698-6292, ophrestau rants.com. Satisfy your breakfast cravings with pancakes, crepes, waffles, French toast and more.
O B L D V $ Miu Kee 6653 Arlington Blvd., 703-237-8884. Open late, this strip-mall hideaway offers Cantonese, Sichuan and Hunan dishes. L D A $$ Moby Dick House of Kabob 444 W. Broad St., 703-992-7500, mobyskabob.com. See Arlington listing. L D $$ Mom & Pop 2909 District Ave. (Mosaic District), 703-9920050, dolcezzagelato.com. The little glass cafe serves light fare, snacks, gelato, coffee, beer and wine.
O L D G V $$ Rare Bird Coffee Roasters 230 W. Broad St., 571-314-1711, rarebirdcoffee. com. Lara Berenji and Bryan Becker's charming Lit tle City café roasts its own beans and recently ex panded its space.
O L D V $$ Parc de Ville 8926 Glass Alley (Mosaic District), 703-663-8931, parcdeville.com. Find French fare such as omelets, escargots, duck confit and boudin blanc at this spacious Parisian-style brasserie. Hit the rooftop lounge for cocktails.
O L D $$ Loving Hut Vegan Cuisine 2842 Rogers Drive, 703-942-5622; lovinghut fallschurch.com. The Vietnamese-inspired vegan eatery offers menu items like rice vermicelli with barbecued soy protein and claypot rice with vegan "ham."
L D V $ Pupuseria La Familiar 308 S. Washington St., 703-995-2528, pupuseria lafamiliar.com. The family-owned Salvadoran eatery en adobo, pork in shrimp paste, lumpia (egg rolls) and cassava cake.
O C R L D $$
R L D $$ Little Saigon Restaurant 6218-B Wilson Blvd., 703-536-2633. Authentic Vietnamese in a no-frills setting.
O C L D G V $$ Mike's Deli at Lazy Sundae 112 N. West St., 703-532-5299, mikesdeliatlazy sundae.com. Fill your belly with homemade corned beef, cheesesteaks, breakfast and scratch-made soups. Save room for ice cream!
O C L D G V $$ Plaka Grill 1216 W. Broad St., 703-639-0161, plakagrill.com. Super satisfying Greek eats—dolmas, souvlaki, moussaka, spanakopita. L D V $$ Preservation Biscuit 102 E. Fairfax St., 571-378-1757, preservation biscuit.com. Order the signature carb with a sam pler of house-made jams, or as a sandwich with fill ers ranging from fried chicken, hot honey and can died bacon to guacamole and egg with lemon aioli.
C B R L D A G V $$ Sisters Thai 2985 District Ave. (Mosaic District), 703-280-0429, sistersthai.com. The Thai restaurant has a vibe that feels like you're dining in your cool friend's shabbychic living room. L D $$ Solace Outpost 444 W. Broad St., 571-378-1469, solaceoutpost. com. Filling the former Mad Fox space, this Lit tle City microbrewery serves house-brewed suds, plus fried chicken, five kinds of fries and woodfired pizza. D A V $$ Spacebar 709 W. Broad St., 703-992-0777, spcbr.com. The diminutive bar offers 24 craft beers on tap and 18 variations on the grilled cheese sandwich.
L D G V $$ Panjshir Restaurant 114 E. Fairfax St., 703-536-4566, panjshirrestau rant.com. Carnivores go for the kabobs, but the vegetarian chalows elevate pumpkin, eggplant and spinach to new levels.
November/December 2021 113 Takumi Sushi 310-B S. Washington St., 703-241-1128, takumiva. com. The sushi and sashimi here go beyond basic. Think tuna nigiri with Italian black truffle, or salmon with mango purée. Closed Sundays and Mondays.
L D V $$ Ted's Bulletin 2911 District Ave. (Mosaic District), 571-830-6680, tedsbulletinmerrifield.com. See Arlington listing. C B R L D $$ Thompson Italian s 124 N. Washington St., 703-269-0893, thompson italian.com. Gabe and Katherine Thompson's cel ebrated kitchen turns out house-made pastas (in cluding cook-at-home meals and supper trays) and some of the best desserts around.
O C L D G V $$$ Eddie V's Prime Seafood 7900 Tysons One Place, 703-442-4523, eddiev. com. Total steakhouse vibe, except with an empha sis on seafood (and steaks, too).
Simply Fresh 6811 Elm St., 703-821-1869, simplyfreshva. com. A local favorite for pulled pork, chicken and brisket. Plus Greek diner fare and breakfast.
B R L D $$$ Han Palace 7900 Westpark Drive, 571-378-0162, hanpalace dimsum.com. Pay a visit to this all-day dim-sum emporium for made-to-order buns, dumplings, crepes, roast duck and noodles.
O C R L D $$$ Uncle Liu's Hotpot 2972 Gallows Road, 703-560-6868, uncleliushot pot.com. Customers do the cooking in this eatery inspired by the ubiquitous hot pots of China's Sich uan province.
O C L D G V $$ Lost Dog Café 1690-A Anderson Road, 703-356-5678, lostdog cafe.com. See Arlington listing. L D $$ Masala Indian Cuisine 1394 Chain Bridge Road,703-462-9699, masa lava.com. A specialty here are "momos," Nepal ese dumplings with meat or vegetable fillings. The menu also includes tandoori biryani and Indian cur ries. L D V $$ McLean Family Restaurant 1321 Chain Bridge Road, 703-356-9883, themcleanfamilyrestaurant.com. Pancakes, gy ros and big plates of lasagna hit the spot, and you may stumble upon a politico or two. Breakfast served until 3 p.m. daily. C B L D V $$ Miyagi Restaurant 6719 Curran St., 703-893-0116. The diminutive sushi bar gets high marks for its friendly service and fresh maki and nigiri. L D $$ Moby Dick House of Kabob 6854 Old Dominion Drive, 703-448-8448; 1500 Cornerside Blvd., 703-734-7000; mobyskabob.com. See Arlington listing. L D $$ Mylo's Grill 6238 Old Dominion Drive, 703-533-5880, mylos grill.com. Enjoy spanakopita, souvlaki and American classics. Friday is prime-rib night. O B L D $$ Pasa-Thai Restaurant 1315 Old Chain Bridge Road, 703-442-0090, pasa thairestaurant.com. Go for a classic Bangkok cur ry, or a chef's special such as spicy fried rockfish with chili-basil-garlic sauce. O L D $$ Patsy's American 8051 Leesburg Pike (Tysons), 703-552-5100, pat sysamerican.com. Find greatest-hit dishes from other Great American Restaurants properties in a space resembling a vintage railway station.
R L D $$$ Founding Farmers 1800 Tysons Blvd., wearefoundingfarmers.com. The farm-to-table restaurant features Virginiasourced dishes and drinks.
L D V $$ AgoraMCLEANTysons 7911 Westpark Drive, 703-663-8737, agoratysons. com. The Dupont Circle mezze restaurant brings its Turkish, Greek and Lebanese small plates to a sec ond outpost in Tysons. R L D G V $$$ Amoo's Restaurant 6271 Old Dominion Drive, 703-448-8500, amoos restaurant.com. The flavorful kabobs and stews are crowd pleasers at this hospitable Persian es tablishment.
O C D $$$ Trio Grill 8100 Lee Highway, 703-992-9200, triomerrifield. com. Treat yourself to steaks, chops, raw bar, craft cocktails and cigars. The patio opens daily at 4 p.m. for happy hour. O D $$$ True Food Kitchen 2910 District Ave. (Mosaic District), 571-3261616, truefoodkitchen.com. See Arlington listing.
O L D G V $$$ Café Tatti French Bistro 6627 Old Dominion Drive, 703-790-5164, cafetatti. com. Open since 1981, the kitchen whips up classic French and continental fare. Closed Sundays.
L D G V $$$ Capri Ristorante Italiano 6825-K Redmond Drive, 703-288-4601, capri mcleanva.com. A chatty, family-friendly spot known for tried-and-true Italian dishes such as spaghetti carbonara and veal Marsala.
O L D V $$ Asian Origin 1753 S. Pinnacle Drive, 703-448-9988, asianorigin va.com. Liu Chaosheng's restaurant hits all the stan dards (kung pao chicken, beef with broccoli) plus twists like pumpkin with steamed pork. L D V $$ Assaggi Osteria & Pizzeria 6641 Old Dominion Drive, 703-918-0080, assaggi osteria.com. Enjoy a date night over plates of orec chiette with artichoke and veal paillard. The adjoining pizzeria serves wood-fired pies. O L D G V $$$ Badd Pizza 6263 Old Dominion Drive, 703-356-2233, badd pizza.com. See Falls Church listing. L D $$ Café Oggi 6671 Old Dominion Drive, 703-442-7360, cafeoggi. com. Choose among classic Italian dishes such as mozzarella caprese, beef carpaccio, spaghetti with clams and tiramisu.
L D $$ Ichiban Sushi 6821-A Old Dominion Drive, 703-48-9117, ichiban sushimclean.com. A neighborhood go-to for su shi, udon, tempura and teriyaki. Closed Sundays.
O C L D G $$ Roots Provisions & Grocery 8100 Old Dominion Drive, 703-712-7850, roots provisions.com. Part café and part gourmet mar ket, it's got sandwiches, smoothies, acai bowls, salads, coffee, cocktails and grab-and-go snacks and pantry staples. B L G V $ Silver Diner s 8101 Fletcher St., 703-821-5666, silverdiner.com. See Arlington listing. C B R L D A G V $$
L D V $$ Fogo de Chao 1775 Tysons Blvd., 703-556-0200, fogodechao. com. The upscale chain showcases the Brazilian tradition of churrasco—the art of roasting meats over an open fire.
L D $$$$ El Tio Tex-Mex Grill 1433 Center St., 703-790-1910, eltiogrill.com. See Falls Church listing. L D $$ Esaan Tumbar s 1307 Old Chain Bridge Road, 703-288-3901, esaanmclean.com. This tiny eatery specializes in northern Thai dishes—papaya salad, larb, nam tok. A good bet for those who like heat. L D $$ Fahrenheit Asian 1313 Dolley Madison Blvd., 703-646-8968, fahren heitasian.com. A no-frills destination for Sichuan spicy noodles, dumplings, mapo tofu and other Asian comfort foods.
O C B L D G V $ Tachibana 6715 Lowell Ave., 703-847-1771, tachibana.us. Stellar sushi aside, the chef's specials here in clude starters such as clam miso soup, monkfish paté and savory egg custard. C L D $$ Wren 1825 Capitol One Drive S., thewatermarkhotel. com. Topping the new Watermark Hotel at Capital One Center in Tysons, this tony izakaya helmed by former Zentan chef Yo Matsuzaki promises Japa nese American small plates (picture hamachi tar tare, ocean-to-table sashimi and beet salad with yuzu vinaigrette), a roving cocktail cart and sweep ing views. D G V $$$
ArlingtonMagazine.com ■
O C R L D A G V $$ Pulcinella 1310 Chain Bridge Road, 703-893-7777, pulcinella restaurant.com. A stop for classic spaghetti and meatballs, linguine and clams and wood-fired pizza since 1985. L D $$ Randy's Prime Seafood & Steaks 8051 Leesburg Pike (Tysons), 703-552-5110, randysprime.com. Randy's (named for Great Ameri can Restaurants co-founder Randy Norton) serves prime cuts, duck-fat fries, seafood towers and oth er steakhouse standards. L D G $$$$ Rocco's Italian 1357 Chain Bridge Road, 703-821-3736, roccos italian.com. The Juliano family makes everything in-house from family recipes.
L D $$ J. Gilbert's s 6930 Old Dominion Drive, 703-893-1034, jgilberts. com. Everything you'd expect in a steakhouse and lots of it—prime cuts of beef, lobster, wedge salad, steakcut fries and cheesecake. C R L D G V $$$ Kazan Restaurant 6813 Redmond Drive, 703-734-1960, kazanrestau rant.com. Zeynel Uzun's white-tablecloth restaurant, a fixture since 1980, is a nice spot for kebabs, bak lava and Turkish coffee. L D V $$ Lebanese Taverna 1840 International Drive, 703-847-5244, lebanesetaverna.com. See Arlington listing.
O C L D G V $$ Aracosia 1381 Beverly Road, 703-269-3820, aracosiamclean. com. Score a table under strings of white lights on the covered patio and order savory Afghan specialties such as braised lamb shank and baadenjaan chalou (roasted eggplant with saffron rice).
114 November/December 2021 ■ ArlingtonMagazine.com Beauvoir, the National Cathedral Elementary School PK-3 Co-ed Washington, D.C. 374 20 6:1 BASIS Independent McLean Age 2-Grade 12 Co-ed McLean 470+ 20 8:1 The Brooksfield School Ages 2-6 Co-ed McLean 135 20 Toddlers 5:1 PreK/K 10:1 Burgundy Farm Country Day School Age 4-Grade 8 Co-ed Alexandria 280 15 6:1 Commonwealth Academy 3-12 Co-ed Alexandria 150 Lower School 5 Upper School 8 6:1 Congressional School Infant-Grade 8 Co-ed Falls Church 400+ 18-20 varies by age Oakwood School 1-8 Co-ed Annandale 110 11 6:1 The Langley School PS-8 Co-ed McLean 500 14 7:1 St. Stephen's and St. Agnes School Age 3-Grade 12 Co-ed Alexandria 1,130 12-16 7:1 St. Timothy's School 9-12 Girls Stevenson, Md. 175 9 8:1 The Sycamore School 5-12 Co-ed Arlington 60 10 6:1 Westminster School PK-8 Co-ed Annandale 220 12 varies by age •SCHOOL • GRADES • GENDER • LOCATION • TOTALPOPULATIONSTUDENT•AVG. CLASS SIZE•STUDENT/TEACHERRATIO PRIVATE SCHOOLS PRIVATE SCHOOLS SPECIAL ADVERTISING SECTION
ArlingtonMagazine.com ■ November/December 2021 115 EpiscopalNN$38,350 N/ASpanishbeauvoirschool.org202-537-6485 NoneNY $23,700 $31,400 Spanish, French, Latin, Mandarin mclean.basisindependent.com 703-854-1253 NoneN Y (for bef/aftFCPScare) Toddlers Preschool$16,263$15,012 N/ASpanishbrooksfieldschool.org703-356-KIDS NoneNN$32,143 N/ASpanish, Frenchburgundyfarm.org 703-329-6968 NoneNN$40,700 $40,700 SpanishCA-Empowers.org 703-548-6912 NoneYY $26,000 N/A Spanish, French, Latin congressionalschool.org703-533-1064 NoneNN$40,100 N/A oakwoodschool.com703-941-5788 NoneNY $19,500 N/ASpanish, Frenchlangleyschool.org 703-356-1920 Episcopal CodeDress Y $34,500 $43,420 Spanish, French, Latin, Mandarin SSSAS.org 703-751-2700 EpiscopalYN Day students $35,800 Boarders $62,900 Spanish, MandarinFrench, stt.org 410-486-7401 NoneNN $1,000 financial(need-basedaid) $29,000 Spanish, French, Latin, German, ASL thesycamoreschoolva.org703-717-5360 NoneYY $19,950 (full time preschool) (8th$30,021grade) French, Latinwestminsterschool.com703-256-3620 • RELIGIOUSAFFILIATION•UNIFORM • BUS • LOWEST TUITION(5DAYS) • ANNUAL(GRADETUITION12)•LANGUAGESOFFERED • WEBSITE • PHONE Essential Information on 12 Independent Schools SPECIAL ADVERTISING SECTION PRIV ATE SCHOOLS PURSUING GOODNESS AS WELL AS KNOWLEDGE Age 3-Grade 5: 703-212-2705 | Grades 6-12: 703-212-2706 Alexandria, VA Age 3-Grade 12 Coed Episcopal Small Class Sizes (12-15) Extensive Bus Service Apply Now for Fall 2022 Offering a robust blend of in-person and virtual events, including select weekend campus tours on our three campuses, Curriculum Info Sessions, Shadow Days, and more. Plan your visit at SSSAS.org/Arlington Setting the highest academic standards through a demanding college preparatory curriculum. Developing each students' ability to think and write creatively, critically, and independently. Come learn and explore and dream big.
PRIVATE SCHOOLS SPECIAL ADVERTISING SECTION 116 November/December 2021 ■ ArlingtonMagazine.com EDUCATING TOMORROW'S PROFESSORS,ENGINEERS,ARTISTS, AND LEADERS. Where can students master STEM and also develop passions for writing, literature, and more? BASIS Independent McLean is an age 2–grade 12 private school where students are inspired to learn at the highest international levels. OPEN HOUSE Saturday, October 23 | 10 AM mclean.basisindependent.com ACCEPTING APPLICATIONS FOR FALL 2022 All-girlsInternationalWithoutTruthFearstt.orgBaccalaureateboardinganddayGrades 9-12 145 rural acres One hour from D.C. (571) 313-5163hello@illuminos.cowww.illuminos.co IN-HOME ASCHOOLMAKEFORFUNCTIONEXECUTIVECOACHINGYOURCHILDTHISYEARSUCCESS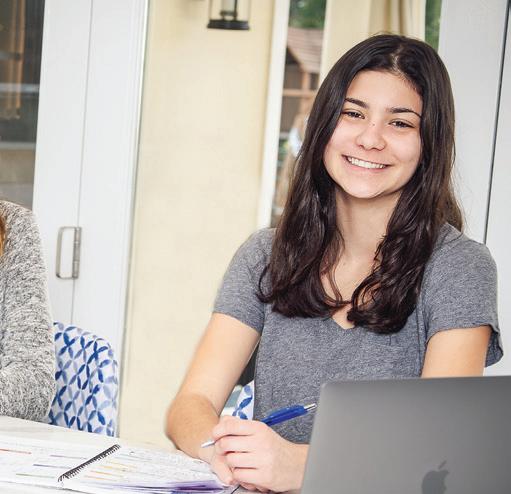 SPECIAL ADVERTISING SECTION PRIVATE SCHOOLS ArlingtonMagazine.com ■ November/December 2021 117 TSS-ArlMag-July.indd 14 9/14/21 4:02 PM Where vital academics meet a deep respect for childhood Preschool through grade 8 in Northern Virginia At Langley, we create a curriculum that develops every child's intellect and emotional acuity in equal measure. Balanced learning prepares students to think critically, tackle challenges, and make good decisions. Learn more at www.langleyschool.org Join us for an information session this fall! Yes. Your child's school can be balanced. E xpanded Facilit y Opens 202 2 O A K W O O DSC HO O L . C O M TRANSFORMING LIVES... REALIZING POSSIBILITIES Providing an exceptional education to bright students with Dyslexia, Dysgraphia, Dyscalculia, ADD/ADHD and other language-based learning differences.
PRIVATE SCHOOLS 118 November/December 2021 ■ ArlingtonMagazine.com D I S C O V E R B U R G U N D Y 3 7 0 0 B u r g u n d y R o a d A l e x a n d r i a , V A 2 2 3 0 3 b u r g u n d y f a r m . o r g An independent JK through 8th Grade school A t B u r g u n d y , w e b e l i e v e c h i l d r e n l e a r n b e s t i n a n i n c l u s i v e , c r e a t i v e , a n d n u r t u r i n g e n v i r o n m e n t t h a t e n g a g e s t h e w h o l e c h i l d . J o i n u s f o r a n u p c o m i n g O p e n H o u s e t o l e a r n m o r e b y r e g i s t e r i n g a t b u r g u n d y f a r m . o r g / a d m i s s i o n / o p e n - h o u s e . Reserve Space in Arlington Magazine's ATTENTION PRIVATE SCHOOLS KRISTINcontact MURPHY at 703-966-9826 kristin.murphy@arlingtonmagazine.comorJanuary/February IssueDEADLINE:11/17/21 McLean, VA • 703-356-5437 • www.brooksfieldschool.org Now Enrolling Ages 2 to 6 Toddler Program • Before & After Care EXPLORE • WONDER • GROW Montessori Kindergarten & Preschool Advanced Academic Curriculum EXPANDINGPRIMARYPROGRAM COMMONWEALTH ACADEMY 1321 LESLIE AVENUE ALEXANDRIA, VA 22301 CA Empowers org 703 548 6912 A college preparatory school that embraces students of average to gifted ability who have ADHD, executive functioning challenges, and mild learning differences. Please RSVP to: Admissions@CA Empowers org
ArlingtonMagazine.com ■ November/December 2021 119
Norfolk, Virginia's new Glass Light Hotel & Gallery, housed in the historic 1912 Royster building, features elegant ironwork, intricate crown molding—and more than 100 works of glass art by prominent artists such as Dale Chihuly and Nancy Callan. Acclaimed Dutch sculptor Peter Bremers is the creator of the striking glass rabbits that reside on the hotel's first floor. Additional works include a chair made of bricks titled "Impossible Is Only an Opinion."
Live music (ranging from electric violin to piano and acoustic guitar) is available nightly and during Saturday and Sunday brunch. Odette's Restaurant has a beautiful stone fireplace, indoor and outdoor seating and an eclectic menu of seasonally inspired cuisine, such as the popular blackberry glazed duck breast. Don't miss the signature cocktail, "The Double Kiss," made with sparkling Brut crémant, Aviation dry gin and a lemon twist. Rates begin at $349, plus $20 valet parking.
Public spaces feature a mix of bold murals, plush fabrics, leather sofas and vintage lighting. The 36 guest rooms and suites include Frette sheets and robes, and Keurig coffee machines with coffee from Philadelphia's Ellis Coffee roasters. Many rooms and suites have floorto-ceiling glass doors that open to a private veranda.
Escape for a romantic retreat to River House at Odette's, located along the Delaware River in artsy New Hope, Pennsylvania. Opened in September 2020, the boutique hotel takes its design cues from the building's previous life as Chez Odette, a boisterous cabaret owned by actress and Ziegfield Follies dancer Odette Myrtil, which for decades was a hub of New Hope's nightlife.
Glass Menagerie
Registered hotel guests have complimentary access to the exclusive, members-only rooftop bar and lounge, Roof (reservations are recommended as it tends to book up). River House at Odette's, 274 River Road, New Hope, Pennsylvania, 215-682-2022, riverhousenewhope.com
The art is courtesy of arts patrons Doug and Pat Perry, whose son Chris Perry is the hotel's developer and CEO. With the opening of Glass Light, Norfolk now boasts one of the world's largest concentrations of free, public glass art when you also factor in works in the city's Chrysler Museum of Art, Barry Art Museum, Perry Glass Studio and other galleries.
HOTELLIGHTGLASSOFCOURTESYODETTE'S);ATHOUSE(RIVERPEARSEDON get away
■ by Christine Koubek Flynn
The hotel takes its thematic inspiration from Pat Perry's nickname, "Bunny"—a nod to the children's book Pat the Bunny, which she loved to read to her kids, and to the name her grandchildren now call her. Each guest room includes a small glass carrot and a coffee-table-style "Bunny" book that details the Perrys' art collection. Glass Light's 113 guest rooms and suites also feature Frette bedding, beautiful spun glass basin sinks, Illy coffee, rocking chairs and vintage Frigidaire mini refrigerators. The hotel's restaurant, created with a Michelin-starred French chef, serves seasonal cuisine and small plates, including a winning dish of crispy octopus and beef carpaccio. Rates in November begin at $219 per night. Selfparking is $19. A "Will you accept this rose?" package includes a glass rose and bottle of champagne. Glass Light Hotel & Gallery (Marriott Autograph Collection), 201 Granby St., Norfolk, Virginia, 757-222-3033, glasslighthotel.com
Norfolk's Glass Light Hotel & Gallery
A guest room at River House at Odette's
French Twist
In the decades that followed, the store became famous for turning its façade into a giant message board, with community announcements such as "School's Open…Drive Safely," "Our Friends Don't Play With Matches" and "Let's Stick Together…Use Christmas Seals." For local teenagers and young adults, Hecht's was a popular place to work, too; students could walk from nearby Washington-Lee High School (now Washington-Liberty) to start their shift or grab a Parkingtonsnack.was redeveloped as Ballston Common Mall in 1986, and in 2006, Hecht's was rebranded as Macy's. Plans are now underway to replace the Macy's with a glass-walled apartment tower with ground-floor retail—draw ing shoppers to the very same corner where Hecht's showed everyone how it was done.
"One of the concerts that drew long lines was Led Zeppelin in 1974," recalls Cano, who now lives in Colombia. "When I got to the store there were so many people. Those tickets sold out in threeHecht'shours."was already a well-known mid-Atlantic retail empire when it opened the Arlington store to great fan fare on Nov. 2, 1951, as the crown jewel of Parkington, a $15 million shopping center that helped usher in an era of cardependent convenience. As the compa ny's second suburban venture (the first was in Maryland), the new Hecht's transformed what had previously been a sandlot ballpark into a five-level shop ping hub, complete with a 2,000-spot parking garage. "Magnificent Vista of Fashion!" boasted an ad the company placed in The Evening Star. On opening day, an estimated 60,000 shoppers rushed in to sample the store's 147 departments—including furnish ings, luggage, a candy counter, mater nity shop, bridal consultant and a large
■ back story
■ by Kim O'Connell Hecht's in 1951, during construction
120 November/December 2021 ■ ArlingtonMagazine.com
basement restaurant known as the Vir ginia Room. In his remarks, company president Samuel M. Hecht declared the Arlington store "the most magnifi cent and certainly the largest suburban department store in the East."
LIBRARYPUBLICARLINGTONHISTORY,LOCALFORCENTERTHEOFCOURTESY
IN THE MID-1970S , if you lived in Arlington and wanted to see a concert, there's a good chance that Ana Maria Cano sold you the ticket—and probably for less than 10 bucks. Long before fans could open a Ticketmaster app, Cano worked the ticket counter inside The Hecht Co. department store in Ballston, a predecessor to the Macy's that now bookends Ballston Quarter.
Anchor Store
Seventy years ago, The Hecht Co. helped transform Arlington's retail landscape.
Helping home buyers and sellers in the DMV since 2001. Compass is a licensed real estate brokerage that abides by Equal Housing Opportunity laws. Information is compiled from sources deemed reliable but is not guaranteed. All measurements and square footages are approximate. This is not intended to solicit property already listed. Compass is licensed as Compass Real Estate in DC and as Compass in Virginia and Maryland. 1313 14th Street NW, Washington, DC 20005 | 202 386 6330 Hans Wydler voted Best Real Estate Agent 2021 Wydler Brothers voted Best Real Estate Team 2021 Steve Wydler voted Best Real Estate Agent 2020 When navigating the most competitive market in a generation, your agent matters.