JANUARY ISSUE | 22-2023 THE FROZEN KITCHEN TO COOK, OR NOT TO COOK WARM HANDS FUN DAY FINESSE TACTICS FOR PERCH NEW OPTIONS OLD MEMORIES FIVE TIPS FOR NEGATIVE NELLIES THE ORIGIN OF CHRONICLES BIG ABITIBI PIKE'S FATAL ATTRACTION PLUS
Full line of products at mrheater.com • 800.251.0001
Whether it's fresh from the lake or straight from the store, your favorite meals are even better with Shore Lunch. Try our breading, batters, soup mixes and more today for a taste of the shore, no matter where you go.
Whatever the catch, we've got it covered.
shorelunch.com
DIGITAL Magazine TABLE OF CONTENTS 10 FINESSE TACTICS FOR PERCH 06 WARM HANDS FUN DAY Ice Team Magazine Editors: Matt Johnson Contributing Writers: Felix Goulet, Jason Mitchell, Jason Durham, Ryan Pinkalla, Jerry Carlson, Mike Hungle Adam Bartusek, Steve Scepaniak The True Center of the Ice Fishing World PH: 763 - 231 - 4126 FAX: 763 - 231 - 4121 Email: info@iceteam.com Website: iceteam.com Ice Team Manager Matt Johnson facebook.com/ IceTeamRevolution twitter.com/IceTeamNews youtube.com/IceTeamVideos Advertise with Ice Team Call MSPN at 800 - 989 - 6776 or email sales@iceteamfishing.com Blue42 Agency 17 2nd Street NW Osseo, MN 55369 PH: 612 - 584 - 1395 Email: support@goblue42.com Website: goblue42.com Editorial Director: Matt Johnson Art Director: Brian Lindberg Design: Jeff Bibbs 12 NEW OPTIONS OLD MEMORIES 16 THE ORIGIN OF CHRONICLES 20 BIG ABITIBI 22 PIKE'S FATAL ATTRACTION 26 THE FROZEN KITCHEN 30 FIVE TIPS FOR NEGATIVE NELLIES
When out ice fishing our hands are vital to our success as they allow us to dig holes, bait hooks and feel the bites of the fish inhaling our lures as we jig them.
Warm hands make these tasks easier and much more enjoyable. Where as cold hands and fingers can make the outing uncomfortable and, in the end, potentially ruin an outing if the hands and finger tips start to freeze forcing us to head home early.
When fishing I like to carry 3 different pairs of gloves for myself. The first pair is used while driving my ATV to get on and off the ice and when moving from area to another. My choice of handwear for this purpose is the Clam Renegade Mitts or Gloves.
This is my warmest pair of gloves and since they are so warm and bulky, they aren't ideal for fishing but they sure do cut down on the cold and windchill impact of moving across the open ice on a motorized vehicle.
My second pair of gloves are lighter gloves that I'll use while drilling ice holes with a gas auger. The thinner gloves allow me to feel the controls of the ice
auger as I operate it. For auger gloves I like to wear the Clam Waterproof Tactical Gloves or a pair of Clam Edge gloves that are designated as auger gloves. That way my hands stay clean if any gas gets on them as it stays on the outside of the gloves. Additionally, the gas gloves are taken off before I touch any of my fishing rods, ice scoops,
fishing tackle or bait as I firmly believe the that gas odors spook fish.
When fishing I try to fish bare handed as much as possible. However, once my hands start to cool off or I leave the warmth of my ice shelter, I will wear a pair of gloves that allow me to feel my fishing rod while still keeping the cold and wind off my hands. The Clam Fleece Grip gloves are great on chilly days as they cut the wind and provide a comfortable, skin-tight fit that ensures a firm grip and lots of finger movement and feeling. On colder days, I upgrade to a pair of Clan Edge Gloves as these insulated gloves are flexible and allow me to feel what's happening. In addition, they are waterproof so I can reach into the water or handle fish with these gloves on and not worry about getting cold fingers.
On super cold days, I will wear the Fleece Grip Gloves as liner gloves
WARM HANDS MAKE THESE TASKS EASIER AND MUCH MORE ENJOYABLE. iceteam.com >> Ice Digital January 2023 Issue >> 7
inside a pair of Edge Gloves. The benefit of wearing liner gloves is they wick moisture away from your hands, provide and extra layer of insulation and don't add a lot of extra bulk in the process.
When fishing carry a small fishing towel and use it dry your hands off if you remove your gloves to handle a fish, bait a hook or reach into a hole to grab a fish that spit the hook. Doing so will ensure the insides of your gloves stay dry and continue to work to keep your hands and fingers warm all day long. I say this as I know from personal experience how uncomfortable it can be to put wet hands into your gloves early in the day and then over the course of the outing slowly have the gloves freeze from the inside out.
After a day of fishing, I will always take my gloves inside the house or cabin and not leave them stuffed in my jacket pockets. Instead, I will put them on a mitt dryer or a furnace register vent to ensure they properly dry out overnight and ready for action the next day.
When my fishing gloves start to smell fishy, I will run them through the washing machine on a normal wash cycle. However, I will not wash my auger gloves with my fishing gloves for fear of getting a gasoline scent on those gloves. When washing lined gloves I put the gloves into a mesh washer bag designed for delicate items. Doing so prevents the liners on the gloves from slipping and ensures the fingers and thumbs stay put and don't have to be forced back into place. Once the gloves are
washed, I will toss the bag of gloves into the dryer and run on a lower temperature. Every few minutes I will stop the dryer to check the progress of the dryer. When the gloves are damp, I take them out of the dryer, put my hands into the gloves to form them back to my hand and fingers and then finish drying them on a glove dryer or furnace vent.
Chemical hand warmers are also a good product to help keep your hands and fingers warm. They can be placed in pockets when fishing bare handed and you can periodically put your hand into your pocket to heat up your fingers. As well, they can be worn right inside a pair of gloves or mitts. If you plan to use these products remember that they have warm up period before they will reach their effective temperature. With this in mind, you need to activate them prior to needing to use them so you they are warm when some heat.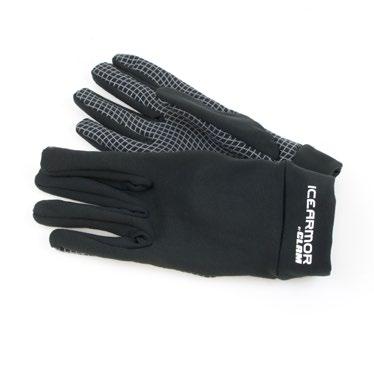 Perch can have a reputation for fast action. The fish that requires moving and drilling holes. Perch can be aggressive and landing on a hot hole is one of ice angling's most exciting opportunities. Windmilling perch where fish are racing up as you drop down… a fish on before you can close the bail on the reel. A hot perch bite is fun, but fantasy isn't always reality.
The reality is that as we travel across the upper Midwest and beyond, there are many fisheries and many days where the bite can demand much more finesse. The reality is that perch aren't always ultra-aggressive. From the shallow backwaters of the Mississippi River to prairie pothole lakes in the Dakotas, there are so many situations where we have to scale down with finesse or dead stick presentations to catch fish.
There are many factors that can contribute to these adjustments. There are days when the fish are in a funk… could be unstable weather or cold snaps but some ecosystems just require added finesse. Even when we fish renowned perch water, we often have to resort to finesse. There is also another reality. Fisheries that can produce big jumbo perch often have lower densities of fish or off the charts forage bases that seem to dictate more finesse.
What is finesse when dealing with perch? Might be the necessity to scale down to small jigs and live bait instead of using a larger spoon and full minnow. Might be the importance of using dead sticks or tip downs with a small minnow pinned off the bottom in one place. Spring bobbers and light line combined with a more toned-down jig stroke might be necessary. Many finesse bites require a certain touch and if anglers are not keyed into these finesse tactics, they can often struggle. Scaling down and developing this touch
can count for a lot more perch on many fisheries.
Besides fishing with more touch, finesse can sometimes slow you down to fish more methodically. To spend more time on spots where you need to have fish pass under you where you essentially run traffic. You might not be able to run and gun with dead sticks or tip downs as effectively for example as these extra rods slow you down. There are days however on many well-known perch fisheries however where this is exactly what you have to do to catch fish.
Small compact tungsten jig designs can be really beneficial when finesse is required. The extra weight of tungsten makes the overall presentation much more sensitive which is an advantage when you do have to scale down. Tungsten also drops back down faster which can mean the difference between three fish and six fish when a school of fish moves underneath you. On the very toughest bites, live bait like a couple of crushed waxworms or a minnow head is often necessary. Other bites enable you to use soft plastics on the jig. What we find is that these small profiles really shine when perch are keying on invertebrates like wigglers, blood worms or freshwater shrimp. With small tungsten jigs, another adjustment that can aid this type of bite is dropping down in line diameter like a three-pound monofilament or six-pound braid. We often use braid particularly over deep-water basins like where we often find perch on Devils Lake. Because of the mouth on a perch, I personally like tungsten that has a wider gap hook that is larger than many of the jigs designed for bluegill or sunfish. The Drop XL from Clam Pro Tackle has this perfect, oversize hook.
Another adjustment is using dead sticks. Dead sticks are often paired with small minnows or
sometimes wigglers depending on where you fish. The Mississippi River backwaters are famous for the "rosy" bite where anglers believe that the bright colored pink or orange color mutation on fathead minnows produces more fish. Tip downs are popular for perch set lines in many regions. Either way, a small minnow on a set line can produce perch when nothing else will. Set lines can be as simple as a number six plain hook and a single split shot. Gogebic Lake and the use of wigglers on dead rods comes to mind. There are times on Devils Lake where a tiny minnow below a dead stick will count fish when nothing else works.
The reality in our travels, we probably encounter more perch fisheries that demand different levels of finesse versus fisheries where the bite is overly aggressive. This level of intensity can also change from day to day or even by the hour. Especially when there is a lop-sided forage base where fish have ample opportunities to eat, finesse more often than not saves the day.
Perch 1: Perch don't always demand an aggressive run and gun style of fishing. Many ecosystems require various levels of finesse.
Perch 2: Dead sticks with small minnows or wigglers will trigger tough perch that won't lift off the bottom or accelerate towards your presentation.
Perch 3: Your Vexilar will tell the story. When perch are aggressive, they often move fast and will lift off the bottom. When you see fish following the fish you are reeling in and they rise up in the water column… these fish will respond to more aggressive presentations and much larger lure profiles. When fish won't rise in the water column or scatter as you reel in a fish, rely on finesse.
iceteam.com >> Ice Digital January 2023 Issue >> 11
Every year I have a list of lakes I frequent on a regular basis. I know these lakes fairly well and have my goto spots locked in on my GPS.
It is always amazing to me how the panfish in these lakes have a tendency to return to the same locations year after year. That is a good thing for me as I make use of this pattern to consistently put fish on the ice.
A classic example of this concept can easily be seen by looking for a cluster of houses on a lake. These ice fishing shanty towns crop up in the same spots year after year. Granted, some years are often better than others in terms of fish production, but the basic concept of returning to the same deep basin does have some merit.
With that said, I am not always satisfied with fishing the same spots over and over. This is especially true during some years when the quantity or quality of the fish is not up to my standards. Even on really good years, I feel the need to wander a bit. It's the "grass is greener" concept.
Last year was a classic example of my need to check out something different. I guess it was due to some old memory that had me recalling a winter of quality fishing on a lake that is not usually on my radar.
My memory served me well as I located the deep basin on this particular lake. I even recalled the part of the basin that the panfish liked to frequent.
As I went through my routine for locating fish, I stumbled across a good school of suspended something that showed up on my Vexilar. After drilling out a half dozen holes in the vicinity, I dropped a jig down to see what would bite. It didn't take long before I had a ten-inch crappie flopping on the ice.
The mixture of gills and crappies kept me busy for a while. As I sorted through the eager biting fish for ones to take home, the predicted snowstorm arrived. When I could no longer see the shore or much of anything else, I packed up and headed home.
This lake that I had not fished for years turned out to be my breadand-butter spot for the entire winter. Although I certainly found fish on other lakes, there was not another place that was as consistent as my "old memory" lake.
This is not the first time I have had ice fishing seasons like this. Lakes do cycle through good and bad years. This is especially true when talking about crappies. For this reason, it is always a good idea to occasionally sort through those old memory lakes to see what the current conditions might happen to be.
It does take time to for this exploration process to take place, but if you plan your travels right, more than one lake can be on your radar for some of your outings. If your explorations don't pan out, hit one of your go-to lakes next.
If you are like me, you may be surprised how many times new ice fishing options materialize from chasing down old memory lakes.
iceteam.com >> Ice Digital January 2023 Issue >> 13
LAKES DO CYCLE THROUGH GOOD AND BAD YEARS. THIS IS ESPECIALLY TRUE WHEN TALKING ABOUT CRAPPIES.