5 minute read
Poinsettias on social media
F i v e w a y s t o w o r k p o i n s e t t i a s f o r s o c i a l m e d i a s u c c e s s i n t h e r u n u p t o C h r i s t m a s
Stars for Europe (SfE), the leading marketing initiative of European poinsettia breeders Dümmen Orange, Selecta One, Beekenkamp Plants and Syngenta Flowers, has created an image database of specatacular lifestyle images that will make your social media scheduling a doddle in the main run up to Christmas. This fantastic resource is filled with beautifully styled, aspirational shots that are sure to generate Instagram likes and will help inspire customers to feature this classic Christmas plant in their own festive décor displays.
1Advent Inspiration
Once Advent begins on November 28th, the warm colours integrate seamlessly with Christmas cards and decorations. This is when you can really start going to town on social media, as consumers start feeling the festive spirit and Christmas shopping gets well underway.
Whilst red and green will always be the classic colours of Christmas, other combinations have become nearly as popular over the years. Whether Nordic-cool in blue, silver and white, Byzantine opulence in purple, red and gold, dreamy and romantic in delicate pastel shades, or edgy and urban in metallic petrol, copper and black, the modern colour combinations at Christmas time know no limits.
Thanks to its incredible diversity and versatility, the poinsettia makes a perfect companion in any colour world, meaning it is ideal for showcasing on Instagram as a foil for gifts, home accessories and other decorations.
Trade tip: By December, or even November, people will be thinking about how to set the perfect Christmas table and dress their trees, so give them a steady stream of trend-led ideas that will help entice them into your store. Schedule regular posts that go live in the evenings, postdinner, when many people will cosy up on their sofas to scroll through Instagram feeds for inspiration. Trade tip:
Show your customers how floral details and displays can be the anchor for their entire table setting and needn't be limited to floral arrangements in pots and vases.
2Tree Techniques
Nothing spells Christmas like a beautifully decorated, evergreen tree. This is the ultimate Christmas symbol, cherished by children and adults all over the world. As living Christmas ornaments, poinsettia bracts can be cut and strung from the tree to team up with golden stars, pine cones and baubles to bring festive radiance to the Christmas tree. Alternatively, miniature poinsettias can be hung inside glass holders or strung-up using a Kokedama method. Trade tip: Encourage customers to get their tree early and experiment with different sorts of decorations, especially free flowers. The use of fresh blooms also taps into the sustainable trend!
3Wreath Workshops
We can't be the only ones who've noticed that wreaths are firmly back in fashion, and not just at Christmas, with many people adorning their front doors with beautiful floral decorations throughout the seasons. Such a natural decoration is the height of green-living chic for a sutble Christmas atmosphere. Add poinsettia bracts for beautiful, festive displays. Trade tip: Show your customers how to create a series of beautiful DIY poinsettia-based wreaths, which is a lovely advent activity that can be shared by grandparents, parents and children. The Stars for Europe website features many great wreath-making ideas you can share, check out the online image database where you can filter for step-by-step photos of DIY and wreath designs. Find two of them at the end of this article. Stars for Europe also offer a range of step-by-step videos that you can embed or download directly for use on your own platforms.
4Beautiful Bouquets
Just because they have the best-looking table in town, this is no reason for your customers to neglect their key floral displays. Poinsettias can be used as cut flowers to stunning effect around the house, from hallway through to living and dining room, with coordinated themes that will really help bring Christmas to life.
Trade tip: There's a secret tip to making sure poinsettias survive as cut flowers. Share it with your customers via social media to offer something memorable: cut poinsettias will stay fresh for up to two weeks if, immediately after cutting, the stems are first dipped briefly into 60-degree hot water, then placed in cold water.
With such an extensive bank of images to choose from, Stars for Europe can provide enough content for you to make your Instagram feed into an instant go-to solution for shoppers in search of the perfect Christmas style.
Trade tip: As all good garden centres and nurseries know well, there is no limit to the style appeal of fresh plants and flowers. Encourage customers to give more plants and bouquets as gifts, complemented by beautiful planters.
5The Natural Choice
In times of environmental challenges and a worrying health crisis, it's important to emphasise nature and natural elements. Plants offer relaxation and wellbeing, which can be found with a "Dive into the festive forest". At the same time, Christmas should bring light, joy and colour into the home. Encourage families to get creative together with DIY decoration to celebrate the "Colourful joy of Christmas". Christmas is also associated with spirituality and purity – a safe haven in contrast to the world's unbalance - which can be visualised as delicate botanical Christmas decorations and a sophisticated, "Less is more" style. Trade tip: Give your customers more ideas for festive family craft activities by showing them how to create a display using upcycled items, from wooden boards and old cans to drinks cartons and glass bottles. For lots of step-by-step guides visit the Stars for Europe website.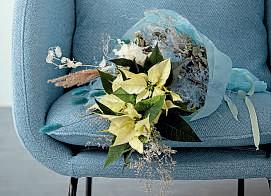 New Stars for Europe trade website now live!
The new site - https://sfe-trade. com/ offers retailers a wealth of useful content and material to help drives sales of poinsettia both in-store and online. Retailers are welcome to log on to download point of sale and merchandising materials, press releases, as well as useful printable material regarding the right care to help poinsettias bloom.