14 minute read
Thinking outside of the box 1 – Little Dobbies
Reaching a different audience with Little Dobbies
For the first of our "Thinking outside the box" articles GTN caught up with Dobbies Horticultural Director, Marcus Eyles, in their Chiswick store in West London to find out more about what has driven the development of Little Dobbies
This year saw the introduction by Dobbies of Little Dobbies, their brand new format of store into Chiswick, Westbourne Grove and Richmond in London, bringing the total number of stores in the Dobbies estate to 74. This follows on from the successful launch of Little Dobbies stores in Edinburgh (November 2020) and Bristol (May 2021). GTN met with Dobbies Horticultural Director, Marcus Eyles, in their Chiswick store in West London to find out how the Little Dobbies format differs from that in the rest of their estate and the opportunity the stores present in terms of reaching the growing number of gardening and houseplant enthusiasts that are city-based.
So what has driven this move into urban conurbations and what does the future look like for further developments? Marcus Eyles explains,
"We have a further store in Richmond, which opened in November, with other sites in the pipeline for 2022. Whilst London is great and there is a gap here we are looking to move into other cities too to help raise brand awareness amongst city dwellers that have an interest but wouldn't necessarily visit a garden centre. It is interesting as for many people their local Dobbies isn't necessarily on their doorstep but they call in when they are visiting family and friends, commuting etc.
The addition of Little Dobbies has been the obvious next step in the development of the company, following the expansion of the estate through the purchase of Wyevale stores. In terms of a traditional garden centre, it is difficult to find suitable sites within cities and so a different format was required. With the events of the last couple of years finding suitable sites has become a little easier with our agents being very good at finding ideal locations, such as
There's just room for a small range of relevant gardening products in Little Dobbies this one, situated on a junction with brands like Waitrose and Boots, on our doorstep.
In the past, there was always the question of whether there was a market for our products amongst city dwellers. Now, we know that there is what with the massive resurgence of interest in houseplants and the addition of new gardeners to the market through lockdown. The desire to shop locally has become key in everything and people are changing their shopping habits in line with this. Little Dobbies stores help fulfil that need within the urban conurbations.
Houseplants are the stars at Little Dobbies where staff are constantly asked for advice as the shop attracts new customers
Over the past couple of years, we have seen an increase in brand awareness. We found a real difference between exhibiting at Chelsea in 2019 and this year. In 2019 we had a small stand and used it as a vehicle to talk to people. The stand featured a map showing all the Dobbies branches (it came not long after Dobbies acquired the Wyevale Centres). Visitors to the stand were less familiar with the brand but the map provided a great way of starting a conversation by asking where their nearest Dobbies was.
This year everyone coming to the stand was saying My local Dobbies is… and especially those London based visitors to Chelsea with many of them having been to our Chiswick or Westbourne Grove stores. We were getting comments such as 'We just dropped in, amazing store, just fantastic', which is hugely encouraging.
We just didn't expect this level of growth of awareness to happen so quickly – given the nature of Dobbies being a Scottish brand and then developing into a national brand. You would think it would take years to develop that level of brand awareness in the south. But we have been pushing all the right buttons in the right place… with very strong PR pushing our message out there.
It is about the authority in what we are doing, helping to re-establish the brand and doing things like Chelsea, and then with these stores as well – awareness has stepped up hugely.
We have also been refitting the stores capita spend on houseplants as they have in Holland, where houseplants are treated like cut flowers. After usually being at the bottom of the per capita spend table we are now rising up the ranks which is fantastic and we are seeing consumers, especially in the younger market, not just buying a single plant but collecting them- everything from airplants to Monsteras.
This younger audience, along with the 3 million-plus additional gardeners that have come on board through lock down are helping to drive design-led gardening. There is a high visual expectation of this audience. The product needs to look good as well as fulfilling the whole nurturing/ wellbeing aspect as well.
This applies to other products too, such as pots. Consumers are looking to change the look of their outdoor area across the seasons through the use of different pots. They have more of a clue of the look they are trying to achieve and want to spend the right money to make it look good. We help with this by providing inspiration and combining products, such as plants and pots, adding value with a 1+1 = 4 approach. We have invested in our social media activity and lifestyle imagery to assist with this.
Marcus Eylees, left, with Little Dobbies colleagues who are a mix of staff from existing Dobbies garden centres plus newly trained Little Dobbies staff.
The range of plants in Little Dobbies meets the needs of new gardeners and houseplant enthusiasts looking for something special
that we acquired from for Wyevale to give them a totally different look and feel. Our Little Dobbies stores are styled in a similar way to provide a joined-up look across our estate.
Changing Trends
Now that we have left the EU weirdly it seems that we are becoming more European in our approach to gardening! It has always been the case in the past that when we have seen trends at the European shows you take inspiration from it but you always have to tone it down for a UK audience.
Now you can pretty much lift these trends directly – largely a result of social media, especially Instagram. People are now looking to all sorts of countries and styles for inspiration.
The renaissance of interest in houseplants continues to be incredible – and this is reflected in our Little Dobbies stores with around 70% of sales being based around this trend. We once dreamed of having per
Guiding the consumer
We have seen a huge increase in the number of customers that want to garden but don't necessarily know how to do it. Whether they have an indoor space, balcony, window box or small terrace – it is our role to help them satisfy that urge –that is what it is all about.
Customers are keen to do the right thing and when it comes to customer service in Little Dobbies it is key that we don't use jargon and keep it simple. We make sure that we simplify the messaging and make great use of QR codes to take them to our website to tell them just 2 or 3 points about what they need to do. If customers want more
advanced advice they can go to the next level for further information. Our staff get far more questions in the Little Dobbies setting than they do in a typical garden centre setting and there is much more customer contact.
The Little Dobbies way
Little Dobbies feature a curated range of products found elsewhere across the estate, with a focus on design-led items. Houseplants are extremely dominant, making up around 70% of sales. This is a really strong area which the consumer is looking for and we try different mixes in terms of that space to keep it fresh and interesting. This is key, especially when customers will be walking past regularly. Seasonality is important and we are learning and adapting all the time when it comes to our product mix, refreshing stock every month.
We are bringing in different fixtures to suit the plants stocked in each store as we go. For instance, we have seen a huge demand for trailing plants, as well as for different plants such as Monsteras. This enables us to look at products in a slightly different way from which we can learn. Ideas around small space gardening apply elsewhere too and so we can take that back to our larger stores – it works both ways. Short, fun projects such as growing microgreens, planting seeds, windowsill gardening, collecting cacti have universal appeal.
Ten years ago we stocked a very narrow range of houseplants. Now we have proven there is demand we can allocate more space and put more of a range in. Now it is the case of asking the growers for as many varieties as they can provide – better colour, greater variety, easier to manage, something new etc. There is great demand for foliage plants but those with flower still have a place. It remains to be seen whether our Little Dobbies customers will have the same desire for poinsettias or whether they will want something more contemporary in nature. Whilst we aim to provide a good value offer we can't compete with the supermarkets on price but we can provide range.
By its very nature Little Dobbies is little. The Chiswick store is less than half the size of a typical garden centre houseplant department.
Garden centre retailing at its best delivers customer satisfaction with relevant related products and that's not been missed at Little Dobbies.
With no back of house storage on the Little Dobbies sites, all stock goes straight onto the shop floor. This is a good discipline but can also be quite challenging to keep stock at the right level. We use just one supplier to bring houseplants in from the Continent which enables us to bring stock into a single location. We then split it down and use smaller vehicles to transport it into our London locations.
What will Christmas bring?
We anticipate that we will have strong Christmas sales ahead in these locations. We are learning every season about what people want and it is a more contemporary market that we are dealing with. People are buying houseplants for Christmas – foliage plants, cacti, air plants, Citrus – the whole range –because it is such a trend that everyone is getting on board with. We anticipate that pot grown Christmas trees will also be popular in providing doorstep décor.
A Sustainable approach
We have been dealing with the same issues in horticulture for decades and we have needed an exterior force (consumers) to help drive this forward. There is recognition that we need to come together as an industry to work on creating solutions and Dobbies have been working with suppliers on this feeding back insight from consumers about what they want. There are ingredients and materials that are out there that just aren't available to the consumer yet because they haven't been retail packaged. This area offers a huge amount of opportunity and that is really exciting.
Dobbies have been making progress on a number of environmental fronts. Peat is going, going, gone with the estate being peat-free next year for compost and progress being made on the plant side.
We have been doing pot recycling for a long time but we have just installed new bins in partnership with Elho in 10 of our stores. This has smartened this area up and we are looking to roll it out across our stores next Spring.
On compost bag recycling we have been working with Evergreen which has been a huge success and proved popular with consumers. This is something we need to do and we will also be rolling this out to our stores next Spring. It is an important part of what we do – we need to do the right thing for the environment. We must have no dirty secrets. If we have a product that we need to sell and it needs to be packaged in a certain way then we need to provide a solution with regard to recycling. The compost bags are being recycled into garden furniture which is then used by Greenfingers in childrens' hospice gardens.
In conclusion…
This latest development for Dobbies of a series of urban shops ticks so many boxes. There is such a huge opportunity with the huge density of population walking past the shops every day that don't usually come into contact with this green stuff that we live our lives being so close to. It is wonderful as it is now not just something that an elderly relative used to do. Now it is something that people want to engage with and do. At Little Dobbies they can do this, step across the threshold and step into plant paradise!
Wildlife World was started life on a West country Farm, in 1997 when the farming industry was under considerable pressure, fast forward 20 years, and they are now an award-winning designer and manufacturer of environmentally friendly and sustainable wildlife products, based in Tetbury, Gloucestershire. They work together with renowned animal experts, designing and testing all their products at the workshop and office site, their farm in Devon, and even in staff members gardens.
They pride themselves in designing products that are fit for purpose using sustainable materials and supply a wide portfolio of customers in the UK, Europe, and USA, from garden centres, high street retailers, online sellers, major hardware and DIY chains, supermarkets, charities and housebuilders
Protecting the environment is part of their DNA, and their mantra of not destroying a habitat to create another rings true. They use recycled materials in their products and packaging, FSC-certified wood, and the offices and workshop are supplied with renewable energy. They support numerous charities and animal welfare associations, making monthly donations and subscriptions. They are justifiably proud that their products contribute to the conservation and conservation of endangered species in the UK, Europe, and the US.
AWARD WINNERS Over the years, they have won 16 design, product , and packaging awards and most recently at the Garden Industry manufacturing awards in November 2021, won 4 awards, 2 for sustainable packaging and display materials, an export award, and their popular Fair Trade Artisan Nesters won Best Pet Care, Aquatics and Wild Bird Care Product , as well as coming runner up in the Sword of Excellent for best overall product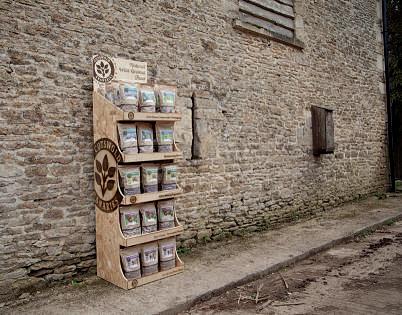 Pet Care, Aquatics and Wild Bird Care Products Winner: Wildlife World – Artisan Bird Nesters
These are fantastic products for a few reasons: They are ethically produced – both in the sense of materials used – natural and recycled – and the fact that these products support woman in very poor parts of Bangladesh. These social enterprises transform local communities, pioneer upcycling, empower women, champion refugee rights and practice organic farming.
What the judges said: "Important social and environmental values embedded into goodlooking, well made, practical products." Best Sustainable Consumer Product Packaging Winner: Wildlife World – Cotswold Granaries Wild Animal Food, launched in January 2021
No other wild animal food company has produced products in fully 100% home compostable packaging, even down to the re-sealable zip. It's a top quality, nutritionally dense range of feeds that will a ttract and sustain wildlife in the consumer's garden.
What the judges said: "Attractive and well executed packaging with clear sustainable credentials. Everything, even the resealable zips are fully compostable!" GIMA AWARDS 2021 – MARKETING AWARDS Best Point of Sale Material Winner: Wildlife World – Cotswold Granaries FSDU
The Cotswold Granaries FSDU is a completely custom design, cut out of OSB using Wildlife World's in-house CNC machine. The laserengraved header, logo and shelf stripes offer a unique design, whilst cutting the environmental impact of printing! The unit is also made from 100% FSC and PEFC Timber.
What the judges said: "An attractive piece of point of sale that's natural, rustic, simple and not over-engineered."