Avaluable source of referencefor theUKGardenTrade NEW PRODUCT DIGEST AUTUMN 2023
Welcome to the2023Autumn Edition of the GIMANew Product Digest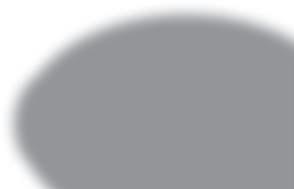 2023 gave us plenty of opportunity to talk about the one thing the British love the most–the weather.Orthe lack of it in this case.With alater than normal season, we'vebeen busy playing catch-up and catch-up we did as when the season did begin, we saw gardeners come out in their droves, desperatetoadd atouch of green to their windowsills, balconies, courtyards, and gardens. Even when facedwith a cost-of-living crisis, gardening remains apopular hobby. Whether connecting with nature, attracting wildlifetoeven the smallestspace, or wanting to minimise food miles, gardening could be perceived as bulletproof.Nomatter whatthe world throwsatus, gardening remains abeautiful constant.
Within this GIMA Digest, youwill see 50 reasons whygardenretail continues to thrivewhilstwehavewaved goodbye to manyofthe high street's bestlovedbrands. As destination centres or hubs of their communities, garden retailers have the opportunity –and space–toshowcase more, including different ways to create aspirational
ways
living that shoppers canrecreate at home.The suppliers featured over the coming pages arereadyand willing to arm retailers withnew innovation, fresh thinkingand trend-led content to meet this expectation. Think of this as your essential guide to curating atruly unique and exciting product offering, backed by carefully designed merchandising support andpackaging solutions, throughout autumn2023and well intothe next season
Elsewhere,our industry is alsohelping to set thestandardfor sustainable practices. Howcoulditnot?
Everything we do is about nature. Throughout the following pages you'll see multiple neweco-friendlyproducts, practices andpromises. There'sstill alongway to go,but we'recertainly ahead of thecurveand proudlyso.
On behalf GIMA and the garden retail sector, I'dliketoextendahuge thank youtoeveryonethathas contributed to this editionofthe GIMADigest. Your endless passionfor innovationand ensuring our market continuestoset the benchmark for service, quality and variety will neverfail to impress. We lookforwardtoworking with youagain in 2024 and beyond!
Jenny Douthwaite GIMAPresident2023/24
022issues of theGIMA Digesthavebeenviewedon-line over 20,000 times by readers over 50 countries around the world with an averageread time of over 7minutes. This combined with the 9,953 pages read of thee-newsletter version means the GIMA NewProduct Digesthelped around 30,000 potential buying opportunities during the past12months.
gardentradenews.co.uk Advice &information for garden centreprofessionals 2GIMA NEWPRODUCT DIGEST AUTUMN2023 INTRODUCTION
e 2022 issues of the GIMA Digest have been viewed on-line over 20 00 readers in over an average read over 7 minutes.
GIMA networking to support and drivea powerful voiceinthe gardening industry
CO NTENT S
GIMA Ltd
TheWhiteHouse,High Street, Brasted, Kent TN16 1JE Tel: 01959 564947 info@gima.org.uk www.gima.org.uk
RegisteredinEngland No.3734025
GIMA Director VickyNuttall vicky.nuttall@gima.org.uk
GIMA Membership ad Marketing Co-ordinator Anngie Lloyd angie@gima.org.uk
TheGIMA NewProductsDigest Autumn 2023 has been produced and published on behalf of GIMA by the GTNteamatPotting Shed Press Potting Shed Press Ltd
DairyDrove Thorney Peterborough PE6 0TX Tel01733 775700 www.gardentradenews co.uk
THE GTNTEAM Editor
Trevor Pfeiffer trevor@pottingshedpress.co.uk
Advertising Sales Alan Burdon Alan@pottingshedpress.co.uk
Features Editor AnisaGress anisa@pottingshedpress.co.uk
Digital Editor Neil Pope neil@pottingshedpress.co.uk
Design &Production AT Graphics Ltd www.atgraphicsuk.com
KirstyCraner –Design Alun Jones–Production Manager
Abacus Cards 4 Altico. 5 AMES 6 AMES -Apta 7 AMES -Tools 8 Auto PotGlobal 9 Azpects 10 BIP -UK 11 Burgon &Ball 12 Carbon Gold 13 Durstons 14 EKJU 15 elho 16 EPBarrus 17 Evergreen Garden Care. 18 Fandango 19 Fiskars 20 Forest Garden 21 Gardena. 22 Germie 23 Glee 24 Glee 25 GreenKey 26 Handy Distribution 27 Henry Bell 28 HexLiving 29 Hozelock 30 Johnsons Lawn Seeds 31 Kleen-Tex. 32 LBC Boots Co 33 Museums &Galleries 34 Pelsis 35 Phoenox. 36 PlantWorks 37 Primeur 38 ProTek 39 Qwickhose 40 Rocket Gro. 41 Rollins Bulldog 42 Sipcam 43 Smart Garden Products 44 Sorbus...............................................................45 Spear &Jackson 46 TheNatural Plant Food Company. 47 Tramontina 48 Vitavia 49 Vitax 50 WHM PetGroup............................................51 Woodlodge 52 Woodmansterne 53 Zest 54 GIMA Awards 2023 55
3 GIMA NEW PRODUCT DIGEST AUTUMN 2023 CONTENTS
Improve your cardsales with BBC household names from Abacus Cards.
Capturegreater sales from 'Fans' of these three legendary BBC television programs.
These very special greeting cards are supported by ahuge U.K. fan base following the decades of programming by the British Broadcasting Corporation, they areall 'household' names and watched weekly by millions of avid fans and followers.
BBC Springwatch astunning photographic collection capturing nature at its best, featuring stunning shots of British wildlife. BBC Springwatch first hit our TV screens in 2005 and had been a huge hit in Spring, Autumn and Winter ever since! 18 years on our televisions.
BBC Gardeners' World astriking collection of photographic gardenthemed cards inspired by the longstanding TV programme. Presented in asquareformat, the designs feature relevant information, facts, or gardening
tips on the reverse of each card. BBC Gardeners' world first hit our screens in 1968! That's55years of BBC programmingand gardening excellence for gardening fans.
BBC Countryfile,a rangeofstunning, country-themed photographic cards inspired by the BBC TV programme. Each design features interesting information on the reverse of the card, written by the Countryfile team. BBC Countryfile hit our screens in 1988 so that's35years of programming promotingcountry,farming, produce and more! Creating ahugefan base that the TV show now even has physical country shows across the U.K!
The full collection and display stand is only available exclusively from Abacus Cards. We launch fresh new bestsellers every six months to ensureyoursales and interest from your customers is high. Our nationwide area manager team offer UK wide full support.
What our customers say; "Animal cards already sell well for us. However,sales of the BBC Springwatch brand aresignificantly higher than others in this type of card"
"One of our best-selling spinners. Customers often pick up four or five designs at atime...great price too!"
As afamily business based in Suffolk Abacus arecommitted to using sustainablepractices.
•All our cards areprintedinthe UK in Nottinghamand distributed from Suffolk keeping our carbon footprint low •Our cardsand envelopes aremade from FSC sustainable forests.
•Wepack our cards without the use of plastic.
•Weplant atreefor everyorder received using Ecologi. Further reinforcing our commitment to the environment.
Get in touch, we'd be excited to work with you to increase your cardsales.
Abacus Cards
T01638 569 050
www.abacuscards.co.uk
4GIMA NEW PRODUCT DIGEST AUTUMN 2023
ABACUS CARDS
ALTICO PUSH LANDSCAPE &GARDEN PRODUCT BOUNDARIES FOR 2024
At Altico we have the ambition to present Garden CentreRetailers with even morechoiceand have brought together some of the brightest industry minds to help us deliver on our promises. We arecommitted to maintaining high service levels, guaranteed same-week delivery and having a98% minimum stock holding. We continue to invest in state of the art machinery,moderninfrastructureand exciting new products to diversify our offer,and here'sjust ataste of some of the 60 new products we've launched for 2024…
Freshly washed, A-grade natural Pebbles and Cobbles available in three sizes and with eyecatching bespoke POS. Each product is presented in innovative mesh packaging that allows the consumer to see the product's natural qualities through the bag whilst remaining ecofriendly,being widely recyclable too.
Acollection of stunning natural Cobbles and Rockery lines presented in spacesaving 'quad baskets' to maximise sales per square metre. Available in Gold, Black, Red and Green.
Our new-to-market Drilled Natural Monoliths and Stone FeaturePieces created such an impact at Glee 2023, we've added them to our 2024 lineup. These beautiful, high quality pieces in Marble and Natural Slate create areal statement and allow Garden Centreretailers to push the boundaries in the Landscape category with their customers.
Altico
01302 354500
email: salesoffice@altico.co.uk or visit: www.altico.co.uk
We've 'Naturally' enhanced our Paving range for next season, introducing awhole host of Natural Paving, Stepping Stones and Edgings to provide afully comprehensive retail offer. What'smore, we've realigned pricing in tune with market conditions, whilst retaining multi-buy offers across the category
With over 15 years of experience in the Water Feature category,weunderstand the importance of bringing to market acompelling range solution that drives and stimulates new sales opportunities. That's why we've tailored our range to include all the key volume sales drivers retailers need, with lower commitments on best-selling promotional products, plus new and unique trend-led designs for 2024.
5 GIMA NEW PRODUCT DIGEST AUTUMN 2023
ALTICO
The AMES Companies –your partner of choice for season 24
From tools and planters to outdoor furniture and an aggregate brand that remains amarket leader season after season, thereamillion reasons to make the AMES Companies your partner of choice as the 2024 garden season approaches, but let'sstart with six…
The AMES Companies family of brands
NEW-FOR-2024 –AMES Tools –Combining morethan 250 years of worldwide, market-leading tool expertise, the all-new AMES Tool brand –made up of essentials for digging, cultivating, planting, lawn careand so much more –represents one of the most comprehensive and carefullycurated lawn and garden tool portfolios to hit the market in several years. Look out for carbon and stainless-steel collections, plus exclusive design details that set this range apart.
NEW-FOR-2024 –Apta Lightweight –The Apta Lightweight range consists of super sleek lightweight, frost and UV resistant. 100% recyclable pots and planters that can be used both indoors and out. Each pot is made using recycled materials and offers a10-year guarantee.
Apta Lightweight joins the wider Apta portfolio, which includes glazed, composite, terracotta, and indoor plants, plus the J. Chamberlain and outdoor collections. New additions elsewherewithin the Apta brand include the Granito Cube, Troughand Egg Planters, extensions to Cotswold Stone, and new trend-led Tamworth Two-Tone Egg Planters.
Kelkay –Kelkay'shugely popular offering, made up of paving, decorative aggregates, and landscaping accessories, will see new introductions join the line-up 2024. Look out for two new aggregate products, plus anew line of paving that will start new conversations around sustainable material usage. Elsewhere, Kelkay'sbest-in-class merchandising solutions will welcome new updates to make products work even harder on the shopfloor.Akey highlight will be anew multi-product merchandiser,which combines the presence of 'horti grits' from the Kelkay Horticultural Collection, plus Apta pots and plants to create the ultimate in crossmerchandising excellence.
La Hacienda –Fromfirepits and firebaskets to chimeneas, pizza ovens and an electric heating offer like no other,La Hacienda is the go-to brand for all things outdoor living. For season 24, watch it bring to market merchandising solutions never beforeseen within garden retailing. New parasol heater FSDU'swill drive sales of this great pick-up line, whilst aspirational 'room set' displays will highlight anew way to display products in-store. Finally,new lifestyle imagery and
The AMES Companies www.ames-uk.com
updated digital assets will be made available to help retailers educate and inspireconsumers via social media and in-store.
Woodshaw –
From table sets, garden seating, arbours, shelters and essentials, such as awheelie bin shelter and log store, all Woodshaw products are backed by traditional techniques, expert knowhow,modern manufacturing facilities and a20-year guarantee against rot. Additionally, with Kelkay'scomplementary ranges available for crosscategory ordering, retailers can access everything they need to create lifestyle-driven sales instore.
Easy Fountain –Easy Fountain is perfectly positioned to support retailers that arelooking to maximise water featuresales. Ahead of season 24, Easy Fountain will see further extensions to its four unique collections –Modern, Traditional, Natural, and Distinctive –including eight new plug-and-play solutions, including new monolith designs, and aproduct hierarchy that will increase impulse sales potential.
6GIMA NEW PRODUCT DIGEST AUTUMN 2023
AMES
Anew chapterApta Lightweight
Apta Lightweight, the newest chapter for the much-beloved heritage planter brand, is hereand ready to create new retail sales opportunities.
Exclusively launched ahead of the 2024 season, Apta Lightweight comes to market following aperiodofsignificant research and development by the AMES Companies.
The new Lightweight portfolio has been created to fill agap in the current product hierarchy of, not just the Apta offering, but the planter market in general. In doing so, the brand is making container gardening more accessible, affordable and is opening up the category to moresustainable and innovative solutions. Moreover,the trend-led designs have been carefully curated to offer planter solutions that meet consumer demand and suit various gardening styles; from urban
balconies to sprawling quintessential English gardens.
Caroline Elliot, Product &Marketing Director, said: "After evaluating everything, from consumer purchasing behaviour to favoured retailer for planter shopping, we built aclear vision of how and why certain planters continue to hit the mark. Through this, we could see an obvious gap and we wereonlytoo happy to fill it! Apta'sheritage speaks for itself, and through 'Lightweight' we can create a new direction for the brand, bringing it to moregardeners and helping our retail partners to offer amore comprehensive and profitable planter proposition."
Created in partnership with rotational moulding specialists, formwerk, Apta Lightweight represents a new generation of plastic pots. Exceptionally lightweight, packed with user benefits and supported by a five-year guarantee, Apta Lightweight offers two trend-led collections for the 2024 season: Weben and Beton.
Apta Lightweight –key information
•10-year guarantee
•100%recyclable and manufactured from recycled materials
•Ultra lightweight
•Available in three colourways: grey, black and sand
•Weben –meaning 'woven' offers three pot styles, including bowl and tall planter designs
•Beton –meaning'concrete' offers four pot styles, including tall planters, cube and cone designs
•Suitable for indoor and outdoor usage
•UVand frost-resistant
•Manufactured using first-class, energy-efficient production methods
7 GIMA NEW PRODUCT DIGEST AUTUMN 2023 APTAUK
www.apta.co.uk
AMES -APTA
AMES Tools –the new 'musthave' tool brand
Combining morethan 250 years of worldwide, market-leading tool expertise, the all-new AMES Tool brand epitomises style and function and is set to reignite gardeners' passion for their beloved tools.
Launched exclusively ahead of the 2024 season, this latest offering from the AMES Companies –made up of essentials for digging, cultivating, planting, lawn careand so much more– represents one of the most comprehensive and carefully-curated lawn and garden tool portfolios to hit the market in several years.
Featuring both carbon (24 SKUs) and stainless-steel (26 SKUs) options, AMES Toolsispoised to become synonymous with incredible quality and breadth of range. Careful consideration and
Digging spade/fork –Border Spade/
Fork –SquareMouth Shovel –
Planting Spade –Round Pointed
Shovel –Bow Rake –Flat Tine Leaf
Rake –Round Tine Leaf Rake –Lawn
Edger –Dutch Hoe –Draw Hoe –
Oscillating Hoe –Cultivator –Poly
Leaf Rake -Bulb Planter –Aerator
–Weed Knife –Midi Hand Fork/
Trowel –Hand Fork/Trowel –Hand
Transplanter –Dibber –Daisy
Grubber –Small Bulb Planter –Hand
Bulb Planter –Potting Scoop
AMES Tools
www.ames-tools.co.uk
https://ames-uk.com/
in-depth market research have created an offering that combines value, performance, and functionality to create atool suitable for afull calendar of lawn and gardening jobs.
Through advanced manufacturing processes, AMES Tools has also created anew vision for carbon steel tools. Previously considered the entry-level material, carbon will be repositioned by the brand as the new go-to for consumers who want atoolthat looks great but promises alifetime of use for alower price tag –aretail proposition that no other manufacturer can boast.
Elsewhere, the newly appointed AMES Tools brand ambassador,TV'sDavid Domoney,will help to inspireand educate consumers through thoughtful multi-platform marketing and sales support. Innovative point of sale –from back wall displays and freestanding solutions to promotional FSDUs –will provide retailers with multiple configurations, creating displays that best work within the available footprint.
THE AMES TOOLS DIFFERENCE
Thereare many reasons why AMES Tools represents such an exciting prospect for the garden and lawn tool market. Key highlights include:
•BUILTTOLAST: Within the carbon steel range, stamped heads made from one piece of tempered steel say goodbye to weld points to increase rigidity and longevity
•MARKETFIRSTS: Look out for the UK'sfirst Comfort Step™ for increased power and leverage when digging, whilst FSC-certified ash wooden handles offer the ultimate permanency.Maximum Capacity: 45% moreleavescan be collected, thanks to the unique arch design of the Extra Wide Leaf Rake.
•STRENGTHWHERE IT'S NEEDED MOST:Double rivets and longer shank not only create an improved head-to-handle ratio but, more importantly,add up to 45% additional strength* for forks and spades in both ranges.
•REPEATSALES& OPTIMISED
GIFTING: The styling also lends itself well to creating amorecollectable offering –with the stamped AMES logo taking centrestage –ideal for encouraging repeat sales through the seasons, with particular emphasis on critical gifting periods.
•15-YEAR GUARANTEE: Every product comes complete with a15year guarantee and on-tool batch stamping, representing AMES' assurance in what it is bringing to market.
8GIMA NEW PRODUCT DIGEST AUTUMN 2023
AMES -TOOLS
AutoPot Keep Growing!
Unchecked horticultural adventurism wherever you grow.Agarden of your very own, capable of raising flowers, fruit, and veg without the need for in-earth outdoor space. Amess-free, powerfree means of feeding and irrigating that liberates you to cultivate what you want, when you want.
AutoPot Watering Systems aim to bring growers all this and more, regardless of their past experience.
4Pot. easy2grow.Tray2Grow.These three products from our 2023 range reflect ouraspirations for watering systems perfectly.All aresimple, sustainable, and affordable enough for beginners to master,but also provide sufficient scope for growers to develop their horticultural techniques, allowing them to experiment endlessly with interesting new varieties.
The 4Pot System combines ease of use with the capacity to grow exquisite, fruitful, and even prizewinning plants. It comes complete with four 15 litrepot-and-tray modules, a47litrereservoir and all the fittings required to create a layout to suit your space.
Trusted by our closest friends, esteemed hobby growers, and national champions alike, the easy2grow Kit is great for short bushy varieties and tall vine crops. As it combines two pots in asingle module tray,easy2grow is afantastically spaceefficient option. Ideal for those with limited room in which to grow.
Automatic watering at its versatile best, Tray2Grow supports amultitude of cultivation methods From grow bags to seed trays, planters to pots and microherbs, Tray2Grow can be configured to suit every conceivable growth stage and every plant type.
All AutoPot Watering Systems arefully-automated, power-free, and gravity-fed -requiring no electricity or running water.This is thanks to the AQUAvalve5, our patented water control device, which is present in every one of our systems. Once the systems areconnected to areservoir it is the AQUAvalve5 that controls the inward flow of water and nutrient solution in responsetoplant consumption.
Such 'Plant Controlled Irrigation' allows growers to relax, enjoy their plants, and spend their time honing their horticultural skills, safe in the knowledge that watering is always taken careof.
As the systems requirenoutilities practically any space becomes viable for growing and you can leave them running unattended in confidence for extended periods, whether in the greenhouse, in the garden, on apatio,oronabalcony.
9 GIMA NEW PRODUCT DIGEST AUTUMN 2023 AutoPot Global T: +44(0)127 653 4900 E: mail@autopot.co.uk W: www.autopot.co.uk
4 ki kiit t AUTO POTGGLOBAL
Revolutionising Porcelain Patio Installation with Azpects
Azpects, the trade and DIYers favourite, offers innovative products that transformaporcelain patio installation: EASYPrime, EASYTileAlign, and EASYGrout. Together,the fullproduct range makes the installation process more efficient.
The installation journey begins with EASYPrime, ahighstrength bonding agent perfect for laying natural stone and porcelain paving. This easy-to-apply,polymer-modified cementitious slurry primer ensures full and permanent contact with the aggregated mortar in the bedding layer.Suitable for various environments, its coverage is dependent on the application rate, but as aguide, a single 5kg sachet of EASYPrime covers aminimum of approximately 8.0 sq.mtr
Following priming, EASYTileAlign comes into play.This innovative levelling system offers astraightforward'FitSpin -Snap' approach, ensuring asmooth and even surface. Designed to be user-friendly,itincorporates atilespacer and levelling cap, plus optional protective shields. Notably,
some components can be reused,providing excellentvalue for money.
The final step is to use EASYGrout, ahigh-quality slurry grout designed specifically for ceramic and porcelain. It provides afine, non-permeable, finish. Packaged in 3x5kg bags per tub, EASYGrout ensures minimal waste and caters to avariety of aesthetic requirements, available in arange of colours.
In summary,with Azpects' innovative products: EASYPrime, EASYTileAlign, and EASYGrout, ahigh-quality installation can be achieved. These products symbolise Azpects' commitment to simplify complex construction tasks, save time, and ensureprofessional results. With such practical, efficient solutions at hand, you can create alonglasting, visually appealing porcelain patio in atime saving manner
Discover the full range of Azpects products that will keep your porcelain patio looking great all year round. Visit azpects.co.uk.
10 GIMA NEW PRODUCT DIGEST AUTUMN 2023
Azpects www.Azpects.co.uk/easycare-mini AZPECTS

11 GIMA NEW PRODUCT DIGEST AUTUMN 2023 BIP -UK
FOUR NEW RHS RANGES FROM BURGON &BALL
This year has seen the launch of four new RHS ranges from Burgon &Ball
RHS Growing Gardeners: anew concept in family gardening
RHS Growing Gardeners is anew family gardening concept that builds on the passion for gardening together that families discovered during lockdown. The range includes unique and innovative products for gardening indoors as well as outdoors, and has been designed to make gardening with children easy and fun. It'sbacked by an online resource with family-friendly ideas and inspiration from the RHS. The combination of exciting products and guiding knowledge aims to make the child'sfirst experience of gardening apositive and successful one, creating gardeners for life -and growing gardeners for the future.
New RHS Gifts for Gardeners: 'Asteraceae'
Aclean sweep: New RHS-endorsed brushes
Extending Burgon &Ball'sRHS-endorsed tool offering into anew category,this range of garden brushes consists of sweeping brushes with heads up to 18 inches (45cm) in width, as well as small hand brushes. Offering solutions for all kinds of cleaning and clearing jobs around the garden, shed and greenhouse, all brushes have atwo-year guarantee. Created with sustainability in mind, the range includes awide choice of brushes with natural fibres, as well as plastic elements which areeasily recyclable or made using recycled content.
This autumn sees the launch of an elegant new design collection in Burgon &Ball'stop-selling 'RHS Gifts for Gardeners' range of gardening gifts. With new twists on the most popular lines from previous RHS Gifts design collections, the collection also adds exciting new gifting options to refresh the much-loved series. Featuring plastic-free and easily recyclable packaging, the eye-catching new design is entitled 'Asteraceae' and showcases flowersfromthe daisy family.These resilientlate-season flowers give gardeners late-season colour as summers become longer and autumns get warmer
for Gardeners' range of
Planting is a universal and favourite activity across all types of and it continues to be the top-selling category of stainless with trowels the way. Six new
Perfect for planting: new RHS-endorsed stainless tools is auniversal and favourite activity oss all types of gardening and it continues to be the top-selling category of stainless tools, with trowels and spades leading the way.Six new planting tools join Burgon &Ball's flagship RHS-endorsed range this year,all with the reassurance of a lifetime guarantee. Gardeners may have kitted themselves out over the last few years at home, but these new RHS-endorsed planting tools offer design so stylish, shoppers will want add them to their collection -even if they already own planting tools.
so will want to to - even they own tools.
12 GIMA NEW PRODUCT DIGEST AUTUMN 2023
&Ball 01202 684141
Burgon
sales@burgonandball.com
BURGON &BALL
The Gold Standard
Discover Carbon Gold'saward-winning range of Biochar-based planting aids, perfect for professional greenkeepers, crop growers, tree carespecialists, home gardeners and allotmenteers alike. Its products areSoil Association-approved, proudly made in Britain, and holders of aRoyal Warrant from the Prince of Wales.
As we enter the Autumn planting season, explore Carbon Gold'sTreeSoil Improver,ideal for revitalising new and established trees, woody plants and shrubs, and the perfect medium to enhance root development and defend against transplant shock.
Scientifically proven, Carbon Gold's100% chemical-free Biochar range promotes aresilient soil microbiome for healthier plant growth, retains up to six times its weight in water and adds nutrients after just one application, minimising the need for constant watering and fertiliser application, resulting in moreproductive plants and crop yields.
Biochar also sequesters carbon into the ground, which would otherwise be released into the atmosphere, helping to mitigate climate change and reduce your carbon footprint—a win for the garden and the planet.
Carbon Gold Ltd info@carbongold.com, +44 (0)117 244 0032
PO Box 270, Clevedon, BS21 9DN
13 GIMA NEW PRODUCT DIGEST AUTUMN 2023
CARBON GOLD
Hit the right mark next season with Durstons' heroes
As the 2023 season winds down and range reviews areinfull effect, Durston Garden Products highlights its heroproducts, with plenty of time to get orders in for 2024.
For retailers keen to hone their growing media offer and stimulate sales in the category,look no further than Durstons' best sellers; products that arealready proving firm favourites amongst UK garden centres.
Multi-purpose to drive volume sales
Durston'srange of Multi-purpose Composts is astaple line for its retail customers, many of which swear by the unique 'GRO BOOST' additive –exclusive to Durston'sforprovidingplants withalong-lasting nutrient boost and helping to ensurefantastic growing performance. Dan said: "Our collection includes Multi-Purpose Compost, Multi-Purpose Compost with John Innes,and MultiPurpose Compost Peat Free,allowing retailers to offer a premium product that provides excellent nutrient content and delivers consistently impressive results.Garden centres tell us that the growing success achieved with Durstons' products keeps their customers coming back for more."
Value for money
Durston'sManor Farm Multi-Purpose Compost is afirm favourite with garden retailers, who hail the range as an excellent value multi-purpose compost that promotes healthy growth for all plants and vegetables. "Competitively priced and packed full of all the essential nutrients needed to help cuttings, seeds, young plants, flowers, and vegetables become established and grow to full maturity Manor Farm is the ideal solution for those new gardeners or those wanting to minimise spend without compromising on quality."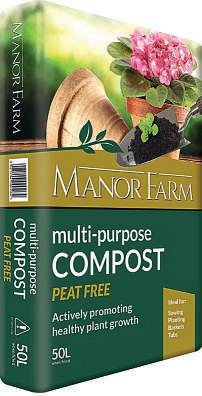 Durstons
www.durstongardenproducts.co.uk
01458 442688
Boosting the offering is Manor FarmPeat-Free MultiPurpose Compost,which allows stockists to offer apeatfree compost at agreat-valueprice point, making greener products moreaccessible to awider cross section of consumers.
Helping gardeners make better choices
Dan Durston concluded by saying: "Growing media is an overwhelming category for some gardeners. Our stockists love that, with our products, they can present gardeners with aquality comprehensive compost offering that cuts through the confusion, is suitable for all gardening uses, and can satisfy all customers, whatever their expectations.
"As the new season starts to build momentum, we will keep garden retailers' tills ringing and their compost sales soaring. Durstons prides itself on outstanding service, as well as top-quality products, so it'snot too late to get your orders and give your compost offer the boost it needs for what we all hope will be afantastic gardening season ahead."
Find out more
Durstons has been established for over 150 years. Find out moreatwww.durstongardenproducts.co.uk or call 01458 442688.
14 GIMA NEW PRODUCT DIGEST AUTUMN 2023 DURSTONS
NewContemporary Garden Furniture from
EKJU
The Relax chair has been afirm favouriteofEKJU customers for over 25 years and now thereisan exciting new bench design to match, suretogodown well with families looking for contemporary garden furniture.
The Relax Bench range is acollectionoftwo and threeseater benches that arespace-efficient, ergonomically designed, and ideal for people to enjoy the great outdoors together.Retailers have achoiceoftwo styles –The Relax Bench Split and Relax In One.
Relax Bench Split
The Double and Triple Relax Bench Split is aspaceefficient garden bench design with an ergonomic construction that enables users to fully unwind and enjoy their garden. The longevity of these garden benches is upheld not only by sourcing from professionally managed forests, but also by using durable timber from northern European forests, proven to be ideal for garden furniture. To protect each product from wood rotand decay,all components aresupplied pressure-treated in achoice of subtle colours that suit any garden style.
Relax In One
The Relax TwoinOne Bench and Relax Three in One Bench featurea seamless back support, perfectly angled to ensurecomfort in use. As well as this, the benches featurerobust integral legs to support the bench seat throughout years of use. The simple modern look and colours available gives style that is timeliness, suiting any garden type, with three pressuretreatment colour options. Seating up to three people these cosy garden benches have asolid FSC timber construction meaning couples and families can relax on this space-efficient furnitureintheir favourite outdoor space with peace of mind, be it garden, courtyard, or balcony
NEW! PressureTreated Grey
Pressuretreatment is designed to protect EKJU products from wood rotand decay once in outdoor environments. Pressuretreatment is available in a choice of on-trend colours that will suit any garden type. This includes natural green, brown and the new pressuretreated grey colour option. Now retailers can buy the EKJU range in Grey,apopular colour particularly in contemporary garden settings.
EKJU areknown formanufacturing high-quality garden furnitureand have been supplying products into the UK for anumberofyears. EKJU have an assortment of products British consumers will love including Picnic Sets, Table &Bench Sets, Garden Benches &Chairsaswell as fantastic 'Grow Your Own' products, Raised Beds andPlanters. To discuss your requirements, get in touch today!
Email -eduards.bremers@ekju.lv
For moreinformation visitwww.ekju.com.
15 GIMA NEW PRODUCT DIGEST AUTUMN 2023
EKJU eduards.bremers@ekju.lv www.ekju.com
Relax Bench Split
Relax In One
EKJU
PressureTreated Grey
elho'snew indoor innovations set to help customers bring the outdoors in this autumn
As theautumn/winter season sets in, customers will undoubtedly be spending moretime indoors than outside -but elho believes that this doesn'tmean they should miss out on all the benefits of being amongst nature.
The sustainable plant pot brand has launched two new innovations –the vibes fold orchid pots and the jazz collection -offeringretailers even moreoptions to help people bring the great outdoors in.
Designed in partnership with specialist orchid growers, the new vibes fold orchid pot makes it easy for customers to carefor this much-loved flower.With the sameontrend ribbed textureaselho'swider vibes collection, it is available in three pastel colours –silky white, frosted pink, and transparent. Each is slightly translucent to allow light to reachthe rootssothat they can photosynthesise, and features araised bottom to prevent rootsfrombeing sat in damp soil.
Witha stylish natural texture, thejazzcollection has been created to evoke feelings of positivity and joy,justlike jazz music! The range is available in four colours –silky white, Tuscan red, amber yellow and lavender lilac -and comesin five sizes from 14cm to 26cm, so thereisthe perfect size and style pot for every customer.This eye-catching and on-trend range provides broad appeal and is suretobea popular choice for those looking to bring moregreenery into theirhomes while making considered, ethical choices.
Having launched aunique range of indoor grow-yourown products earlier this year, including the bouncy basil pot, amazing avocado pot, and magic microgreens pot, the latest launches expand elho'sextensive offering for retailers, as well as its shareinthe ever-popular houseplant market.
elho
Website: https://www.elho.com/en/
Contact: david.nicholson@elho.nl
As aB-Corpbusinessonamission to help people introduce morenatureinto their lives while finding the beauty in waste, the new launches aremade from recycled plastic using sustainable wind energy.Aswithall elho products, while they arebuilt to lastalifetime and come with athree-year guarantee, they arealso 100 per cent recyclable.
For January 2024, elho will be introducing several new lines for boththe home and outdoors. To find out moreabout elho, its products and its commitment to sustainability,please visit www.elho.com
RRP
Vibes fold orchid pot –RRP £6.49
Jazz fold collection –RRP from £5.99
Bouncy basil –RRP £21.99
Amazing avocado –RRP £14.99
Magic microgreens –RRP £16.99
16 GIMA NEW PRODUCT DIGEST AUTUMN 2023
ELHO
AWalk in the Park for Town
&Country
Dog walkers around thecountry willhave another reason to visit their local garden centres, as Town &Country has launched abrand-new range designed especially for them.
The trendy collection consists of two styles of hats with abuilt-in light, torch which dispenses doggy bags, sturdy thermal and water-resistant gloves in four sizes, and an olive-green walking pocket flask with ahandle.
Not only that, but Town &Country hasalso created an enticing display solution for the'Go Walk' range, which will encourage shoppers to pick up some dog-walking goodies on their way around the garden centre.
Both themen'sand women'shats have arechargeable, built-in L.E.D light withthree brightness settings, ideal for darker summer evening walks and keeping hands free for other tasks. Cosy,comfortable and warm, the thermal insulation traps in heat for longer,keeping walkerssnuginall conditions. The ingenious combined torch and doggie bag holder allows users to light up paths, while also storing aroll of 20 bags. It comes with 2additional rolls. Thethermallined and water repellentall-weather gloves help to keep hands warm in unpredictable weather conditions and featureadditional padding on the palms and fingers to ensureextra comfort and protection. Available in four sizes, from small to extralarge, there'ssuretobea glove to fit everyone.
Lastly,the moderndesignofthe olivegreen walking flask with ahandle makes this product asure-fire winner. Designed to fitinto your pocket or bag, this slim and stylishstainless steel water bottle is ideal for dog walks, hiking and everyday life.
Town &Country
For moreinformation on products by Town &Country,visit https://www.townandco.com/. Town &Country is adivision of Barrus Ltd.
17 GIMA NEW PRODUCT DIGEST AUTUMN 2023
EPBARRUS
NOTALL PEATFREE COMPOST IS CREATED EQUAL
Evergreen Garden Careismoving rapidly towards becoming 100% peat-free within the growing media category alongside making industry-leading changes whilst focussing on the needs of its customers.
In 2023, we announced our new partnership with SED Services, leading to the acquisition of a100% peat free manufacturing site in Kirkby,Liverpool. Working with SED has enabled us to develop the highest quality peat free compost mixes on the market, made using sustainably sourced ingredients from reliable suppliers.
This, combined with our rigorous R&D testing allows for our confident statement: Not all peat free compost is created equal, and Evergreen Garden Care'sproducts lead the category on quality
We would love to take you on our peat free journey,solookout for our exciting campaigns coming in 2024 and get in touch if you'd like to learn more about our peat free range.
New for 2024
In addition to ourupcoming move to
Evergreen
Tel: 01276 401300
peat free for both our compost brands: Miracle-Grobythe end of 2023, and Levington in 2024. We also have an exciting selection of new product launches for 2024 including top-quality soils for Miracle-Gro® and Levington®, expansion of the Levington® bark range, new Peat-Free offerings and new product sizes.
We look forwardtoworking together in thefutureand enabling all gardeners to keep growing.
To find out moreabout Evergreen Garden Care'sproduct range visit evergreentrade.co.uk
Miracle-Gro® is aregistered trademark of OMS Investments and is used under license from OMS Investments.
18 GIMA NEW PRODUCT DIGEST AUTUMN 2023
Garden Care info@evergreengarden.com
EVERGREEN GARDEN CARE
New Scandinavian outdoor living products added to Fandango FireTools range.
In 2023, Espegard'srange of firepits and outdoor living accessories has been added alongside the Kindling Cracker firewood splitter to the offering from Fandango FireTools.
For morethanthree decades, Espegard has been aNorwegian household name, offering an exceptionally highquality range of firepans, braziers and accessories. In that time, it has become alegacy brand earning a reputation for producing exclusive products that blend the finest materials and functionality to make outdoor life inviting and accessible.
All made in Europe, morethanhalf a million of Espegard'ssignatureFirePan 60 have sold in Norway alone.
Fandango FireTools had avery busy Glee 2023 and have already supplied existing and new dealers with products that werea hit at the show.This year, they've expanded their inspiring range so gardeners, campers and outdoor lovers can stay outside and do moreof what they love for longer.Whether it's for cooking or anatural heat source, new introductions from Espegardallow everyone to keep warm outside.
This year,joining the traditional line up arenew,contemporary firepits and pans, of which four aredesigned withREIN -clean burn technology
Customers love the new FirePan
Fandango FireTools info@fandangofiretools.co.uk
www.fandangofiretools.co.uk
Pilar 50 and its larger cousin, the Fire Pan Pilar Premium 50 which comes with ahandy space for storing logs and areally useful ash drawer for easy cleaning. Contemporary and compact, they areeasy to transport to different outdoor places, and like everything in the range, have the option of a protective cover when not in use. Also new in 2023 is the FirePan Rein Premium 60 with firebowl suspended on atripod and the FireBowlRein
Premium 60 supported by three sturdy legs.
Kindling Cracker -strength to strength
Thanks to the love for areal flame and two hugely successful years selling in the UK, Fandango FireTools hasnow sold over 21,500 Kindling CrackerTM firewood splitters in the UK. This quality and safe-to-use tool has now been added to the outdoor entertaining and wood fuel offering of many garden centres. Stockists onboardinclude Longacres Garden Centres in the South East, BurfordGarden Co in the Cotswolds, Langlands in Yorkshire,
|07702409748
Beetham Nurseries in Cumbria, Fire Pits UK, Kadai and groups like Blue Diamond.
With moreand more homes and gardens having numerous products that burn wood -the Kindling CrackerTM is the perfect accessory for owners of log burners, firepits, pizza ovens, grills, hot tubs and saunas.
It'snot just in theUKwheretrade is brisk. Across Europe sales are passing 50,000 units ayear and crucially,the Kindling CrackerTM now has aEuropean and UK patent helping to secureits design against inferior copies and give confidence to both retailers and consumers.
19 GIMA NEW PRODUCT DIGEST AUTUMN 2023
FANDANGO
NEW FISKARS RANGE BRINGS QUALITY COOKING TO THE GREATOUTDOORS
Fiskars, the UK'sleading gardening tool supplier,isoffering retail partners brand-new business building opportunities thanks to the introduction of astylish and practical range of outdoor cooking products; the Norden Grill collection.
Inspired by the pureNordic nature, the new Norden Grill range is Fiskars' first outdoor cooking collection, helping to open moreopportunities for retailers to attract new consumer groups.
Comprising versatile products to embrace the adventure and rising trend of open-firecooking,the collection combines thoughtfully designed and hard-wearing cookwareand utensils. These deliver premium performance for those cooking on outdoor kitchens and firepits.
Fashioned from cast iron with auniqueThermium™ mineral treatment, the durable and attractive Norden Grill Chef Pot is low maintenance and easy to carefor.Paired with the optional Grill Chef Basket/Steamer and Grill Chef Plate, it brings flame-kissed or wood-fired flavour to nearly any dish, whether grilled, simmered, fried, steamed, or roasted. All items in the Norden Grill Chef system arestackable for easy and compact storage and have been crafted from long-lasting materials. The range further enhances Fiskars' ongoing commitment to the delivery of truly sustainable, carbon neutral tools, as the products' environmental impact has been considered throughout the design process. The raw materials used have been sustainably sourced to ensurepremium performance and also treated to provide durability and longevity
In addition, thanks to the new launch from Fiskars, the brand is offering consumers the opportunity to do more
Fiskars www.fiskars.com
ukinfo@fiskars.com
in their outdoor space. It'snow morethan just gardening, as, by using the breadth of Fiskars products available, Brits can enjoy their garden in anew way by harvesting their own produce for their outdoor cooking, too.
Products in the portfolio to help create anew lifestyle in the garden include the Fiskars Herb Snips, which maximises the power of the user'sthumb and index finger to improve control, making it easy to harvest herbs, fruit, and vegetables from the garden. These can then be used to add homegrown food into their Fiskars Norden Grill Chef Pot during consumers' outdoor cooking.
Fiskars continue to support retail partners with direct delivery,display solutions and in storedemosoftheir garden tools range, get in touch to arrange avisit from your local Field Sales Representative.
For moreinformation visit www.fiskars.com and contact ukinfo@fiskars.com
20 GIMA NEW PRODUCT DIGEST AUTUMN 2023
g FISKARS
Forest Garden, the UK'sleading manufacturer and distributor of wooden garden products, are extremely proud to launch their new range of Beckwood Sheds, designed to accommodate far morethan garden equipment.
What makes aBeckwood Shed?
25 Year Life Anti-Rot Guarantee
•Pressuretreated timber –provides a25year anti-rot guarantee, the longest guarantee in the market.
Maintenance Freedom
• Beckwood Sheds arecompletely maintenance free –annual preservative treatment is never needed.
•Most other sheds requireimmediate treatment once built –then yearly treatment thereafter
Robust, Interlocking, PressureTreated Shiplap Cladding
•Weather-beating, interlocking cladding –giving a watertight seal.
•Modular panels –adds moretimber to the shed with the framing around each panel increasing overall shed strength.
•Robustand long-lasting construction –thick timber framing increases shed structural stability,with over 30% moretimber content than most other sheds on the market.
•Strong, interlocking T&G floor –floor sections lock together to give added strength and stability.Available as standardonall models.
•Metal roof truss brackets –making the shed roof structure stronger,stable andeasier to build*.
Highly Adaptable and Security Enhanced
• Fully modular panels –means that the same size panels are fully interchangeable
•Modular panels aresmaller –meaning sheds arequicker and simpler to build
•Hidden door security hinges that can'tbeunscrewed from the outside
•Traditional door pad bolt
•Acrylic glazed windows –moresecurethan traditional glass that won'tyellow or become brittle over time
For moreinformation,head to: https://www.forestgarden.co.uk/beckwood/
T: 0333 321 3142
W: forestgarden.co.uk
E: info@forestgarden.co.uk
21 GIMA NEW PRODUCT DIGEST AUTUMN 2023
FOREST GARDEN
Reach new heights with the GARDENA StarCut pruning lopper
The GARDENA StarCut lopper is perfect for pruning and cutting back high trees from the ground. The lopper is extendable up to 4meters high, so you can keep your trees pruned to perfection while keeping two feet safely on the ground. With atiltable cutting head and integrated branch hook, you can cut even the most awkwardbranches and bring them down to the ground safely.The StarCut lopper features powerful gear transmission and high-quality, non-stick coated blades for aclean, healthy cut. With the StarCut lopper you can keep your ladders safely stored away this season. GARDENA is the trusted gardening brand for millions of passionate gardeners across the globe. With an outstanding 25 year warranty on all cutting tools, you can rest assured GARDENA will be by your side season after season.
22 GIMA NEW PRODUCT DIGEST AUTUMN 2023
www.gardena.com/uk @gardena_uk on Instagram /GARDENA.UK on Facebook.
GARDENA
GARDENA
GERMIE'S EFFORTLESS SEED STARTING KITS
Say hello to abumber crop every time for decades!
Germie has made significant strides in the gardening landscape in 2023, redefining the entireexperience with its game-changing seed starting kits. This year,Germie's commitment to premium quality and pioneering spirit was recognized when it was awarded the esteemed GIMA Seed Corn Fund Winner for 2023, atestament to its remarkable achievements.
The hallmark of Germie'srange lies in itsunique seed starting kits, designed to revolutionize conventional gardening practices. These kits give even themost novice gardener the power to yield impressive results,all while contributing positively to our planet witha reusable range that lasts for morethan30-40 years.
At theheartofGermie'sinnovation is thecreation of an idealenvironmentfor seed growth. The ingenious design of these kits provides perfect conditions, resultingin higher germination rates and plant health. But what truly distinguishes Germie is its simple extraction feature, which safeguards rootsduring transplantation and eliminates the necessity for careful thinning, making your gardening journey entirely effortless.
But theGermiestory doesn'tstop at the initial purchase. Customers aresodelighted with the product that they frequently return for morekits of different sizes to cater to avariety of plant needs. This recurring cycle of orders is atestament to Germie'seffectiveness and high customer satisfaction levels.
Retailers and customers alike adoreGermie'scompact size and reusable nature. With low shipping costs and minimal space requirements, Germie offers acompetitive edge over other brands in themarket.
Germie'spath to success is not solely about creating outstanding gardening products. It'sa comprehensive approach thatfusesinnovation, sustainability,and customer happiness. As Germie continues to receiveaccolades for its commitment to environmental improvement, our seed germination kits aim to be every gardener'sfirst choice for lush and prosperous gardens.
For thoseseekingarevolution in gardening and a sustainable option, Germie'sseedstarting kits offer an unparalleled solution. Each kit, though compact with dimensions of just 16cm X12cm, hasthe potential to bring about incredible results.
Germie
UK: 0203 026 0188 |FR:+33768751000
e.baudouin@germie.eu
Depending on the sizeofthe kit chosen, gardeners can cultivate amultitude of plants. The large (L) kit allows for the growth of up to 13 plants, themedium (M) size accommodates 25, and the small(S) sizecan host an impressive 41 plants. Despite the size, theoutcomes are extraordinary gardens that embody the perfect balance between innovation and nature.
To learn moreabout Germie'srevolutionary products and join the gardening revolution, visit germie.eu. There you'll find detailed technical data, customer testimonials, and everything else you need to fully embrace the Germie experience.
So come along, let'ssow theseeds of success together with Germie.
23 GIMA NEW PRODUCT DIGEST AUTUMN 2023
GERMIE
24 GIMA NEW PRODUCT DIGEST AUTUMN 2023 GLEE
GLEE
NEW Greenkey products for 2024
Greenkey Garden &Home areexcited to announce new products for 2024, adding to their "Growing Range", the new Pea and Bean frames areagreat accompaniment to theexisting raised beds.
Discover easy,sustainable gardening withthe Pea Hoop andBean Frame –the effortless and eco-friendly gardening solution Ideal for experienced gardeners or those wishing to try home growing for the firsttime.
The Greenkey Pea Hoop and Bean Frame
Constructed from 12mm aluminium steel canes, coated in recycled plastic, not just durable but environmentally friendly too. Thanks to therecycled plastic clip joints, assembly is quick and easy.And when it'stime to retireyour Pea Hoop or Bean Frame, the biodegradable Jute netting can be composted.
Pea Hoop -W100x D30 xH100cm Bean Frame -W100x H180cm
Greenkey areexpanding theirrange of sprayers with two new products aFeedGun andaFoam Sprayer
This high-quality Feed Gun is made from acombination of metal andrubber.Itfeatures athumb-operated flow regulator and an adjustable spray nozzle with eight different settings. The reservoirhas acapacity of 100cc, making it suitable for various applications. It is compatible withall recognized snap-fit hose fittings.
Greenkey 01594 560 200
sales@greenkey-garden.co.uk
The Foam Sprayer,anew addition to the Greenkey product lineup. This 2ltr pressuresprayer comes with interchangeable nozzles, allowing it to function as both a traditional pressuresprayer and afoam pressuresprayer When used as aFoamSprayer,it'sperfect for cleaning garden furniture, BBQs, tools, and even your car!!
Luckily for us we arebased in the stunning Royal Forest of Dean whereour Customer Service team areonhand to answer any queries you may have on 01594 560 200, all calls answered by areal human! Alternatively email us on sales@greenkey-garden.co.uk
26 GIMA NEW PRODUCT DIGEST AUTUMN 2023
GREENKEY
Out Now! Handy 2024 Pre-Season Catalogue for 2024
Bringing Retailers Exciting Benefits and Promotions
In amovethat showcases commitment to its valued retailers, Handy is thrilled to unveil its Pre-season catalogue for 2024 -designed to rewardretailers who commit to stock in advance, additional monthly discounts, and extended payment terms to help you preparefor the season ahead. Gear up for success and be stock-ready for next season! Handy presents an extensive array of Garden and DIY machinery,accompanied by complete trade pricing for renowned market-leading brands such as:
Improved Margin &Earnings
In addition to our supported promotional activity,wehave reduced prices on selected products including garden trolleys, and rollers plus introduced stocking dealer margins on all Classic Webb petrol lawnmowers.
Dealer Monthly Promotions Boost your profit margins on selected products each month!
Extended Split Payment Terms
Retailers can take advantage of early sales and benefits from extended split payment terms from improved margin earnings.
Orders placed beforethe 31st of December 2023 will qualify for 3equal split payments aredue on or beforethe followingdates:
•22ndMarch 2024
•22ndApril 2024
•20thMay 2024
Handy
Telephone: 01793 333220
email: sales@handys.co.uk Website: www.handys.co.uk
Throughout the catalogue Lookout for apromotion icon next to the product supply price. This special icon signifies an exceptionally discounted trade price, designed to help drive incremental sales whilst maintaining your margins. For your convenience, each of our brands features adedicated promotional price calendar.This calendar allows you to secureunit sales at special rates during the designated promotional periods.
Ask Handy to email the 2024 Pre-season Catalogue
For moreinformation about the pre-season catalogue, please contact your local Handy Sales Manager or contact the Sales Desk via telephone 01793 333220 -email sales@ handys.co.uk or visit www.handys.co.uk
27 GIMA NEW PRODUCT DIGEST AUTUMN 2023 HANDY DISTRIBUTION
NEW for
Award-winning
2024
Wild birdcaretakes flight with Henry Bell
Set your customers' spending aflutter with atempting array of accessories from the Henry Bell Wild BirdCareCollection. We have afantastic range of feeders, birdbaths andnesting boxes to suit all budgets.
Essential Resin BirdBath (RRP £29.99)
Introducing abirdbath into the garden is agreat waytomake outside spacemorewelcoming to wild birds, as well as creating astylishfeature. Allproducts in this range aremadefromweatherresistant materials, easy to clean and allow your customers to provide birds with fresh, clean water for drinking and bathing.
Select Seed Feeder (RRP 4.99)
Henry BellSelect Feeders are new to our extensive range and have been developed with wild birdwellbeing in mind. Fully recyclable, the feeders are 20cm high and 6.5cm wide, and featureaneasy-to-use push-down opening system. Ring perches areincorporated in the design to make feeding easier and safer
Contemporary Grey Nest Box (RRP £15.99)
Henry Bell nest boxes are made from FSC timber and designed to encourage different birds. This Contemporary Grey Nest Box, with its sloping roof andon-trend colour,makes a style statement in the garden while providing insulation from the cold and extremes of weather.The nest box offers good drainage and top opening for easy cleaning, and securelocks to protect birds from predators.
Solar Copper Seed Feature(RRP £29.99)
Beautifully decorated with ahigh-quality finish, this feeder is agreat addition to the garden. Warm LED lights collect solar energy during the day and release power at night, generating an ambient glow.Itcomes complete witha metal loop for easy positioning.
Select Plus Fat Ball Feeder (RRP 6.99)
Asize step up from Henry Bell's Select Range, products in theSelect Plus collection stand 25cm high and 7cm wide. They also offer customers an upgrade to our Essential Range and arefully recyclable, robust, easy to use, clean and fill. This sturdy Fat BallFeeder is perfect for our nutrient-rich suet balls, which are made with high-quality raw ingredients, including fats and amix of seeds and grains.
Get
Henry Bell &Co
Email enquiries@henrybell.co.uk
28 GIMA NEW PRODUCT DIGEST AUTUMN 2023 HENRYBELL
or call 01476 565761 to find out moreabout becoming astockist.
in touch today to find out moreabout our quality products, manufacturing capabilities and family of wellrespected brands.
HEX Living –UKManufacturing at it'sbest
Since bursting onto theoutdoor storage and furniturescene in February 2022, HEX Living continues to build on its innovative collection of contemporary and premium metal products.
As aBritish manufacturer,weare uniquely placed in the market to offer retail partners complete flexibility when it comes to stock supply.Our ability to manufactureand hold large volumes of stock means we can immediately supply the exact quantity of product when you need it and release valuable cash flow and space. Our service eliminates theneedfor forecasting and purchasing minimum quantities to fill ashipping container
HEX Living areexcited to launch new products into the 2024 season designed to make the most of outdoor living and entertaining.
New for the 2024 season
New –SANDON FurnitureSet
Distinctively and beautifully designed, SANDON comprises five different lounge and seating sets and combines contemporary styling withtraditional materials for amodern take on garden furniture. Enhanced by oak effect panelling, the durable aluminium frame is stylish and sturdy and ideal for yearround use.
New –SANDONFirePit Tower
Perfect for when the temperature drops, the SANDON fire pit tower is gas-powered and completely portable, designed for convenient placement amongst our furniture sets.
Quick and easy to operate, featuring astylish glass surround ensuring heightened safety and protection from the wind.
New –FARLEY Deck Box
The FARLEYhas a sleek aesthetic that blends seamlessly into its surroundings. Available in 600L and 1200L capacities, it is the ideal solution for storing many everyday items such as outdoor cushions, garden tools, toys or even sports equipment and providing year-round protection. Available to order now
New –HANBURYPlanters
The modernised HANBURYplanters are stylish and versatile, offering arange of modular planters. Suitable for spaces of all shapes and sizes, thestackable planters areavailable in nine heights andlengths, facilitating an endless array of configurations. Expanding Hanbury'sappeal, innovative seat and coffee table attachments arealso available, enabling users to create additional relaxation areas. Available to order now
HEX Living –aBritish manufacturer you can trust to deliver thebest of British.
HEX LIVING
Website: www.hexliving.co.uk
Email: rupert.king@hexliving.co.uk Tel: 07793 967534
29 GIMA NEW PRODUCT DIGEST AUTUMN 2023 HEX LIVING
HOZELOCK TO INTRODUCE KNITTED HOSE RANGE
MADE FROM UP T0 70% RECYCLED MATERIALS
Hozelock'scommitment to increasing the sustainability of its products, packaging and manufacturing processes will see the entireknitted hose range made from up to 70% recycled materials by 2024. This will be achieved through the construction of the hose layers and swapping to recycled PVC materials.
The knitted hose range, which includes the popular Ultimate, Ultramax and Ultraflex hoses, has been part of Hozelock'scoreproduct range for over 60 years.
Extensive testing has been conducted to ensurethisdoes not compromise on quality or performance for the end user, and the change willremove morethan900 tonnes of virgin PVC material from the range, the equivalent of 45 million plastic bottles'.
The enhanced range will be available for garden centre retailers to stock from January 2024.
For further information, please contact your Hozelock sales representative.
Hozelock Contact -watering@hozelock.com

30 GIMA NEW PRODUCT DIGEST AUTUMN 2023
HOZELOCK
Superior seed for asuperior lawn -Johnsons'
Quick Lawn with Accelerator® is the best lawn seed formula yet
Johnson'sQuick Lawn with Accelerator is the most popular seed on the market and is considered the very best in its category.Itcombines fine-leaved amenity ryegrass and high-quality red fescue offering tolerance to wear,close mowing and wet or dry shaded areas. But that'snot the only thing in the box…
The grass seed
When consumers look for lawn seed, they want aformula that will guarantee fast results,optimum nutrition, resilience against the rigours of everyday life, and easy maintenance. With over 100 years of experience in plant breeding and seed production under parent company, DLF Seeds is atrusted name in the seed industry.Through theseresearch programmes, Johnsons Lawn Seed is able to carefully select, cultivate, and rigorously test all of its grass species beforecombining them into suitable mixtures for domestic use that will tolerate the UK climate.
The drought-tolerant fine-leaved dwarf perennial ryegrass and an element of fescue, arethe key grass seeds in Quick Lawn and will give lawns ahealthy,strong improved appearance. The quality and versatility of their ryegrass have been modified to have twice as many chromosomes than normal (diploids), giving them adeeperrooting and making the blades harder wearing. This also makes the grass drought tolerant -requiring just athirdofthe amount of water that'susually needed for lawn establishment -with 38% moregrowthwithin the first seven days, compared to anon-coated seed
TheAccelerator® coating
Quick Lawn'sseed coating is in fact afertiliser, appropriately named Accelerator®. Accelerator®contains
nutrients and trace elements essential to the health and strength of the grass plants, including nitrogen, magnesium, potassium, iodine, and phosphate. As anatural tonic and soil conditioner,the extramagic ingredient is seaweed extract is also well known for its beneficial boosters for lawns. Grass seeds treated with Accelerator® contain awetting agent that also improves moistureabsorption and accelerates seed growth by helping water penetrate the waxy surface of the seed. As aresult, lawns stay thick and green, and your tills ring as satisfied customers come back again and again.
Helping the consumer
Have acustomer in the store that isn't sureor confident about sowing alawn? Johnsons keep it simple with QR codes added to packages, which, when scanned by asmartphone ensures customers can access information and clear instructions as quickly and efficiently as possible. Not only this, the Johnsons' packaging was given arevamp last year with enhanced visual elements as well as making concerted efforts to improve its sustainability credentials, with its recyclable cardboardboxes.
31 GIMA NEW PRODUCT DIGEST AUTUMN 2023 JOHNSONS LAWN SEEDS Johnsons www.johnsonslawnseed.com
(01386) 791113
|info@johnsonslawnseed.co.uk
Discover Kleen-Tex: Your Ultimate Source for Premium Matting Solutions!
Kleen-Tex is not just asupplier; we areyour strategic partner in elevating your garden center'sofferings. With afocus on sustainability,innovation,and customer satisfaction, we provide eco-friendly matting solutions that will set your garden center apart and attract discerning buyers seeking quality and responsible choices.
Discover Dune: Your Ultimate Outdoor Mat Solution. These mats aredesigned to catch mud at your doorstep with their coarse sculpted piles. They come with a solid 2-year guarantee and featureananti-slip backing for added durability.Whatsets Dune apart is its ecofriendliness, as these mats contain recycled materials, making them asustainable choice for your customers.
Introducing Kleen-Car: Protect Your Vehicleand thePlanet. Kleen-Car offers premium car boot and bumper protector mats crafted from 100% recycled material with an antislip rubber backing. These mats have been designed to absorb mud, dirt, and moistureleft behind by pets, keeping your vehicle'sinterior new.Available in two sizes, they arespacious enough to accommodate even the largest pets. The detachable bumper protector rolls out to keep paintwork free from paw prints and scratches. Easy to install and remove, combined with being machine washable up to 30°C, the Car Boot &Bumper Protector mat is agreat solution to keep your customers' vehicles clean from the elements.
Meet Revive: MoreThanJustaDoormat. Revive is not your ordinary doormat—it is asustainable solution with a compelling story.Byincorporating Renycle™ 50 yarn, we actively contribute to reducing energy consumption, water usage, and emissions during the production process. Our innovative approach involves transforming high-quality nylon waste into new yarn, ensuring excellent properties while conserving valuable resources. By choosing Revive, your customers arenot just enhancing their space; they arealso making apositiveimpact on the environment.
Explorethe Benefits of Turtle Mats. They arecrafted with environmental responsibility in mind. Their cotton topping, made from 100% recycled cotton from the clothing industry,reduces waste and supports sustainability.These mats aretumbler dryersafe for added convenience. The multi-grip backing is also 100% recycled nitrile rubber, helping to reduce post-industrial waste that would otherwise go to landfill. Turtle Mats can be machine washed at 40°C, and their performance improves with washing. Plus, they come with a5-yearguarantee, providing quality and longevity that your customers can rely on.
Kleen-Tex
Bronagh Reid
breid@kleen-tex.com
32 GIMA NEW PRODUCT DIGEST AUTUMN 2023
KLEEN-TEX
Get Autumn ready with the NEW colours from LBC Boots
It'sbeen yet another busy year for LBC Boots and Autumn will no doubt be even bigger for the UK'slightest weight wellies! LBC Boots have expanded their most popular Lightweight Ankle Boot range with the launch of their new Autumn colours, Berry and Purple, allowing retailers morechoice of Ultra-comfortable footwear.
The LBC Ultralight Ankle Boots, with an RRP of only £39.99, have been ahuge success with garden centres and customers since their launch in 2021. Following the great feedback at GLEE 2023 across the whole range, these new colours areset to make LBC Boots acustomer favourite no matter what colour they LOVE to wear! Whether it be the moretraditional green, black, and navy or the morestand out colours of yellow,fuchsia or red, the Ultralight Ankle Boots offer something for everyone.
LBC Boots love to take customer feedback on boardand by popular demand have also added the addition of amen's range to their Lightweight Ankle Boots, with an RRP of £44.99, to complement their Women'sand Kids ranges. The kids range also comes in avariety of colourful options and the lightweight material makes it perfect for kids who love to be outdoors come rain or shine. Don'tjust take their wordfor it,hereis4-year-oldElsie who came back to see them for the second year at Gardeners World Autumn Fair, to replace her 'favourite' wellies she had outgrown!
LBC Boots Co
Email: kevin@leonbootsco.com or charlie@leonbootsco.com
Website: www.lbcboots.com Phone: 01934 315386
The three reasonswhy we know
you'll love LBC Boots…
1) Ultra-lightweight: weighing only 219g, the LBC ankle boots reallyare thelightest wellington boot on the market today! Each boot is made from amoresustainable EVA polymer material making it suitable for any everyday activity,fromgardening to horse riding, and from walking to climbing.
2) Ultra-durable: the injection moulded design alleviates the common wear and tear issues that so often plight rubber boots made from multiple components. Polymer is 100% waterproof, split and crack resistant, making for aboot built to last. Forget the notion that heavy wellies equal quality
3) Ultra-comfortable: the lightweight material makes them morecomfortable than standardheavy wellies. They also come paired with awarm and washable liner,providing insulation up to temperatures of -30c.The socks can be removed for use in warmer weather and additional socks are available to buy separately
Ready boxed in their 100% recyclable branded boxes, LBC Boots arethe perfect go-to solution and when paired with the wide range of FREE POS showcasing their unique benefits, they aresuretobeselling themselves during key gifting periods.
33 GIMA NEW PRODUCT DIGEST AUTUMN 2023 LBC BOOTS CO
Drinking in Style
Museums &Galleries Ltd has been developing its table top offer for some time, and this season sees the fruits of all this work coming together in acompellingly coordinated way.
M&G'sbottles range has been expanded this season to 10 designs, all double wall insulated stainless steel with secure-seal screw tops with silicone seals. The bottles aresuitable for either hot or cold drinks, retaining heat for about 12 hours and keeping contents cold for 24 hours. Technological innovations allow the new generation of bottles to be fully printed across the bottle contour,displaying the designs to their full potential. Catherine Rowe'sstunning 'Honey Bee' pattern covers one of the new bottles, and Dee Hardwicke's'Hares and Berries' a second. One of the stand-out designs is avisually ravishing 'Ulysses Butterflies and Lemons' design from the Natural History Museum. Thereare twoWilliam Morris designs from the V&A, as well as EdwardLear's perennially popular comic 'Birds' and an orientally inspired 18th-century design by William Kilburn. Hokusai's'Cranes in Flight' comesfrom
Museums &Galleries Ltd
www.museumsgalleries.co.uk
Tel: 01373 462165
the British Museum and an Amethyst closeup from the NHM covers the last bottle. The bottles have asuggested retail price of £22.99.
New for this year are12double wall insulated stainless steel Travel Tumblers, designed to hold 450ml liquid in a perfectly cylindrical tumbler with a push-top for access and asliding seal designed for on-the-go drinking (SRP £19.99). Four of the mugs feature V&A designs -the wondrously flaming Japanese Kimono Cranes; two richly textured and deeply blue-green William Morris favourites; and anew DutchDelft blue-and-white tile design depicting the glorious age of sail. Mary Delany'sintricate and delicate paper collage flower pieces featureonone of theBritish Museum mugs; the other is awitty recreation of Hokusai'sfamous Great Wave print -possibly appropriate for adrinking cup! Vincent VanGogh's
|Email: sales@mgml.co.uk
famous Almond Blossom rounds out the classic art on offer,with the remaining five mugs featuring M&G's contemporary designers -two breathtaking designs from young star designer Catherine Rowe (a yellow and blue Cornflowers and her best-selling black, green and yellow Honey Bee pattern); Helen Ahpornsiri'swistfully delicate collaged Hareand Flowers; Dee Hardwicke'sHares and Berries; and veteran designer Sarah Campbell's stunning Coffee Break.
34 GIMA NEW PRODUCT DIGEST AUTUMN 2023
MUSEUMS &GALLERIES
Eco-Conscious Pest Control
Eco-conscious pest control brand Green Protect provides a range of products centred around keeping your home pest free, both inside and out. The range is insecticide-free, in recyclable packaging, and is safe around children and pets.
Green Protect has launched two new repellents to eradicate crawling and flying insects in thehome and garden without the use of chemicals like insecticides.
The new products from the brand areCitronella Coils and the All-Natural Insect Spray,both of which help deter insects.
The Citronella Coils work by burning acoil made from 95 per cent recycled materials and is free from chemical burning agents. The product, which has an RRP of £5.99, uses natural essential oils that releases ascent of lavender, lemon and eucalyptus.
With 10 citronella coils and one reusable metal stand per pack, the repellent provides up to 45 hours of protection and has been designed for outdoor use.
The All-Natural Insect Spray is a chemical-free ready-to-use insect trap in liquid form. Made using aplantbased polymer, the spray forms afilm around insects, preventing them from moving and breathing.
Working on crawlinginsects such as cockroaches, spiders, bed bugs, ants and fleas,the spray is free of any active biocide substance and can be used both indoors and outdoors. The product has an RRP of £10.99.
Green Protect is part of the Pelsis Group, agloballeader in pest control and garden carefor commercial and retail customers. For moreinformation visit www.greenprotect. co.uk.
Green Protect (a Pelsis Group Brand) is an eco-conscious pest control range for the home and garden. Our broad range of chemical-free products arechild and pet friendly. The range consists of indoor,outdoor,and greenhouse pest control solutions.
Packaged in recyclable packaging, Green Protect always has the environment in mind. Our goal is to educate and help consumers live sustainably alongside animals and insects, ensuring public health and peace of mind.
We deliver this through our brand promise; to constantly evolve by finding ways to be kinder to the environment, while keeping families safe from pests.
Pelsis
sales@pelsis.com
www.green-protect.com
35 GIMA NEW PRODUCT DIGEST AUTUMN 2023 PELSIS
Hug Rug
Designed and manufactured in Yorkshire, Hug Rugs arethe perfect barrier mats for any home. Made using recycled cotton tufts, recycled plastic bottles in the webbing and recycled plastic in the non-slip backing. All made at our mills in Yorkshire! Not only can a Hug Rug bring style to aliving space with our huge range of designs, but they help keep it clean and hygienic too. Machine washable at 30°C and traps up to 95% of dirt, dust and mud, the ideal addition to any doorway.
We havejustlaunched lots of newdesigns, from beautiful busy florals to new buzzy bees. We arealso very excited to have just launched anew collection of Herdy Hug Rugs in collaboration with The Herdy Company Ltd, two great British companies coming together to bring you colourful and fun designs.
So, if like us, you hate waste but love great products, then our eco-friendly Hug Rug mats arefor you. Get in touch with our friendly sales team today! Call: 01484 863227
Email: info@phoenox.co.uk
phoenox
Call: 01484 863227
Email: info@phoenox.co.uk
36 GIMA NEW PRODUCT DIGEST AUTUMN 2023 PHOENOX
BIOFERTILISERS
The new generation
Over many years the team at PlantWorks Ltd have educated UK gardeners to the value of mycorrhizal fungi in the form of rootgrowTM, morerecently we have introduced beneficial soil bacteria into our ranges, these microbes areadopted from our extensive research into increasing nutrient use efficiency in plants for farming and in food production. More frequently growers arereferring to these products as biofertilisers which defines anew method to deliver plant nutrition.
Biofertiliser is used to define a product that: Contains living microorganisms which, when applied to seeds, plant surfaces, or soil, colonise
the rhizospheretoimprove nutrient use efficiency (NUE), plant health, establishment, and growth.
Culturally,gardeners aremoving away from traditional chemical feeds and seeking out alternatives for effective plant nutrition. –The empathy range is the solution.
BIOFERTILISER –Acer &Olive Natural Plant Feeds 1KG
The natural ingredients within BIOFERTILISER for ACERS and OLIVE TREES has been carefully selected and blended to give plants the nutrients they need while encouraging and supporting the development of the mycorrhizal fungi and beneficial soil bacteria. Seaweed extracts supply plant growth hormones to stimulate top growth and root development Alfalfaprovides anatural source of plant derived nitrogen for healthy foliage. Sulphate of potash, anaturally occurring mineral form of potassium, encourages strong budding and flowering.
Organic, free from peat and animal derivatives, the microbes inside will improve compost performance making this perfect for use with peat free compost.
Carrying the RHS endorsement with Empathy'sstriking white livery, the packaging is also recyclable with carrier bags at your local supermarket.
Compost Improver –Launching
Spring 2024 (available for Preseason)
Growing in peat-free compost can be difficult given its lack of essential microorganisms. Our new bio-active Compost Improver provides the solution. Infused with beneficial bacteria, this blend is specifically designed to address peat-free compost challenges. The living micro-organisms inside which, when applied to seeds, plant surfaces or soil, colonise the rhizospheretoimprove nutrient use efficiency,plant health, establishment, and growth.
rootgrow™ mycorrhizal fungi
The ultimate BIOFERTILISER rootgrow™ mycorrhizal fungi can be used all year round, oneapplication per plant is all that is needed and the clever fungi will provide alifetime of benefits to plants, shrubs, trees and even vegetables. The completely natural formula is one of the most cost effective plant support products available thanks to its ability to increase nutrient and water uptake by forming ahighly efficient secondary root system.
To find out morecontactsales@ rootgrow.co.uk or call 01795 411527.
Simon Taylor Simon.taylor@plantworksuk.co.uk sales@rootgrow.co.uk
01795411527
37 GIMA NEW PRODUCT DIGEST AUTUMN 2023 PLANTWORKS
Primeur –entering anew chapter in sustainable products
OPPORTUNITIES FOR SUSTAINABLE GARDEN RETAILERS
2024 will see Primeur launch an exciting new recycled material innovation alongside new additions to its multiaward-winning ranges.
As the new season approaches, Primeur will continue to provide retailers with awealth of opportunities for the new wave of ethical consumers with sustainable solutions that arebotha moral imperative and acommercial necessity.One of the most exciting developments is the manufacturer'sexpansion into other recycled materials as it seeks to repurpose morewaste than ever beforewhilst maintaining the USPs that have become synonymous with its products, including weatherproof, UV-stable, lightweight, and virtually indestructible.
Launching for season 2024 will be an addition to the ever-popular Tierra Verdeplanter collection. These new planters will be made from recycled polymer,and through this unique material innovation, fresh new colourways will join the line-up of this bestselling range.
Managing Director,Jenny Douthwaite said: "With continuous development in sustainable technology,we can bring araft of new eco-friendly gardening products to market. Our ranges areconstructed from recycled waste materials which help 'green' consumers find some of the most truly environmentally conscious products available on the market today."
Arange of recycled rubber paving tiles is also set to launch in the new year.These will be available in three colour options –black, redand green, and two sizes, 100x100cm and 50x50cm, to provide versatility and choice dependent on consumer usage.
Primeur'sexisting deck tile range will also grow with a
new,thicker tile -Arista tiles –made available in aparquet or wood grain design.
Finally,based on retailer feedback, the recycled rubber planters will also see new larger designs added with the allnew Cello Serenity,Whiskey Barrel and Alto designs.
Primeur – additional support
Primeur'sretail customers can also rest assured that the company is focused on supplying products when they are most needed, supported by sufficient UK-based stock and short lead times throughout the season.
Retailers seeking in-storemerchandising solutions will also enjoy the company'scarefully curated merchandise units, including wooden displays with waterproof signage, pallet skirts showing features and benefits, and indoor display units for planters and BBQ mats.
With some areas covered by asales rep, wholesaler availability and dedicated account managers, someone is always available to help create abespoke range to suit any customer base.
38 GIMA NEW PRODUCT DIGEST AUTUMN 2023 Primeur Ltd www.primeur.co.uk sales@primeur.ltd.uk
(01274) 518800
PRIMEUR
Protek packs acolour punch.
Protek know athing or two about paint. They have been making water-based paints from their factory in Somerset for forty years. The family business was set up in 1983 by Eric and Janet Thornborough who had avision to sell quality waterbased wood paints, decorative timber treatments and wood preservatives.
Today the business is run by their daughters –Becky and Harriet who werebrought up with paint!The environment is stillatthe heart of Protek. All thepaints arewater based contain low VOC (Volatile organic compounds), low odour,low toxicity and free from Formaldehyde. All the products arenon-flammable and safe to use on exterior cladding on buildings.
As the paints arewater based, theyare child, pet, plant, bird, and bee friendly allowing you to paint with confidence. Cleaning up is hassle free too as all the brushes can be washed in warm water and the tins areeasy to dispose of as they aremadefromrecycled materials and can be recycled.
Thereare 6ranges to choose from including Royal Exterior,Wood Stain and Protect, Shed and Fence, Timber Eco Shield, Stable Coat and Decking Stain. With over 100 colours to choose from, across the ranges, there is something to suit allcolour palates, tastes, trends, and budgets. From classic wood colours, modern greys and blacks, tonal greens, or bright rainbow colours for children the paint ranges offer great choice and excellent coverage.
Protek can support retail outlets to maximise sales. Using sales histories from similar sized businesses, current trends, and futurepredictions the Protek sales team will create aunique display plan that makes the most of the space available. Bespoke displays can be provided along withPoint of sale and colour swatches making it hassle free and easier to sell to customers.
Space and stock holding can often be aproblem, but Protek areable to offer various stock options that can be tailored to your business including a drop ship model.
Protek offers stafftraining to upskill sales teams ensuring that they are awareofall the product details, benefits, colours, and prices. This training has proved to be invaluable giving confidence to sales staff.
For moreinformation, please contact our sales manager Darren Stanley darren@protekproducts.co.uk or sales@protekproducts.co.uk
Tel: 01749 344697
www.protekwoodstain.co.uk
39 GIMA NEW PRODUCT DIGEST AUTUMN 2023
sales@protekproducts.co.uk |Tel: 01749 344697 www.protekwoodstain.co.uk
Protek
PROTEK
Qwickhose® -The unique Wing-Lock hose connector that won'tpop off!
The Qwickhose range, sets acompletely new standardfor hose fittings, connectors, and accessories. Our innovative re-designed universal Wing-Lock connectors offer quick and easy connection with greater hose grip, eliminating any unexpected pop offs and reducing water wastage.
The Wing-Lock system replaces the typical fiddly 'teeth' of traditional models for aquick but robust hose connection -simply push your hose all the way over the inner tube, clamp the wings shut and securewith the nut. This method of attachment gives acompletely newand unique user experience, making the process smooth, fluid, and effortless. The extra-long connector then acts as a handle while providing increased hose grip for preventing frustrating pop-offs.
Our Wing-Lock connectors fit½"garden hose and are universally compatible with any existing spray guns, sprinklers, and other accessories that utilise the quick connect system, simply pull thegreycollar back while inserting for securelockonthe attachment.
Alongside hose connectors Qwickhose offer an expanding range of high-quality products such as the Starter Set which includes two awardwinning Wing-Lock connectors, one Original and one No-Flow (prevents water flow when changing attachments), ascrew-on TapConnector, aNozzle Spray End –with three adjustable patterns, and aspace saving Wall Mount to keep your accessories neat and tidy, with capacity to drape your hose, keeping everything off the ground.
Starter Set components areall available individually alongside theother products in therange. These include aDouble Male Joiner and Extend &Repair Wing-Lock Connector –bothdesigned to connect 2lengths of hose together.The newest addition to the Qwickhose range is our brand-new Mini'sspray heads, consisting of 4quality spray nozzles, all contained in one simple storage solution, for all watering needs on the go.Plus, we have moreunique and quality products currently in development that will be following soon.
The Qwickhose range is designed to be stored neatly in the Wall Mount keeping allaccessories offthe ground and in one place. Our products aremade in the UK from UV Stabilised premium-grade plastics to prevent deterioration of quality and colour
40 GIMA NEW PRODUCT DIGEST AUTUMN 2023
Website: www.qwickhose.co.uk |Email -Sales Enquiries: sales@qwickhose.co.uk Email -all other Enquiries: hello@qwickhose.co.uk |PH: 023 8001 3549
Qwikhose
qwickhose.co.uk for moreinformation. QWICKHOSE
Visit
RocketGroexpands portfolio with exciting new launches
Game-changing peat-free brand RocketGrodebuted 11 exciting new additions at Glee, taking its portfolio to 24 products for the 2024 season and providing garden retailers with acomprehensive offer of peat-free growing media and associated products.
The sustainable Somerset manufacturer –with an eco-story that'shardtobeat –launched a brand-new range of liquid plant feed, alongside 6new bagged products; all of which garnered a great response from the industry
RocketGrohas plugged agap in the market and created further opportunities around organic growing with its launch of five quality liquid concentrate feeds offered at acompetitive price point and designed to sell through fast.
Supplied in 1.5 litrebottles (RRP £6.99), including 50% extra free during 2023/2024, the liquid plant feed range, which was shortlisted for aNew Product Award, comprises: Tomato Food, Rose &Shrub Plant Food, All-Purpose Plant Food, Ericaceous Plant Food, and Lawn Feed.
The new range has already secured several major listings and is expected to fly out the door in 2024.
Meanwhile, the 6new additions
RocketGro
07936 928981
to RocketGro'sbagged offering comprise Premium Bark Chunks, FarmyardManure, Rose Compost, Chicken Manure, TopSoil, and a 50-litrebag of RocketGroMultiPurpose Compost.
The manures and new speciality composts contain bio-active microbes and feed plants for up to three months, whilst the Premium Bark Chunks offer asuperior finish, with quality bark pieces and absolutely no shredded cheap wood! As well as being decorative, the bark chunks also improve soil biodiversity and arepet and child friendly.
hello@rocketgro.co.uk www.rocketgro.co.uk
These new RocketGro's existing – including its
and impressive River Cottageendorsed collection of composts – meaning RocketGro can provide a

These exciting new products join RocketGro'sexisting organic, peat-free line-up –including its flagship Magic Mulch, the UK's biggest Tomato &Veg planter, impressive River Cottageendorsed collection of composts eaning RocketGrocan now ovide garden retailers with a truly comprehensive offer
All are chemical free, 100% organic British grown, and are the
products arechemicalfree, 100% ganic approved, British grown, sourced and manufactured, and ethe by-product of renewable energy production. Packaging is also 100% recyclable. Vibrant packaging across the range, with impactful imagery and clear messaging, is guaranteed to catch the eye of consumers in store.
RocketGrohas teamed up with EP Barrus and now benefits from an increased number of territory representatives –currently 21 in number –who will provide garden centres across the UK with handson support for the ongoing sales of RocketGroproducts.
With pre-season orders going strong, RocketGroassures retailers it has stock ready to go and has capacity to meet an uptick in demand for 2024.
If you want to learnmoreabout RocketGroorare keen to discuss adding its product portfolio into your 2024 offering, please contact Toby Thomas (hello@ rocketgro.co.uk /07936 928 981) or Andy Abraham (andy@ rocketgro.co.uk /07446 937902). View thefull range and discover moreabout the RocketGrostory at www.rocketgro.co.uk
to RocketGr s bagged
41 GIMA NEW PRODUCT DIGEST AUTUMN 2023 ROCKET GRO
Strength, British Heritage and Reliability reflect the traditions upon which the Bulldog Toolname has been built. We have been n manufactuuring and suupplying British made gardening and farming tools since 1780, from our factoryand 'state of the artt' warehhousing g facility in Wigan, Lanncashire.
All our solid forged gardenspades and d forkshave h heads s made from a single piece of steel, with no weldsorweak points and aretested to surpass British StandardBS3388 typically taking a load in excess of 9kg (200lb).
Tool heads areforged from high quality carbon steel and arepaired with the finest quality timber from sustainable sources to make the shafts, burying each one deep within the socket. Every tool that we produce is backed by a"Lifetime Guarantee ".
We have three gardening ranges, our famously strong Premier,our lightweight, 'easy to clean' stainless steel range –Pedigree Garden, and our Evergreen range which offers ergonomically designed and soft grip tool handles.
Wealso offer our latest Pedigree Garden hand trowel and fork featuring deesigns fromthe world famous heritage archive at the Victoria and Albeert Museum, designs s are etched across each tool head annd reeplicated acrossthe luxurious and d sustainably packagedgiift boxes
To findout moreabout our ranges go to: www bulldogtools co uk
Contact: Sarah Cottle, Brand Manager
Email: sarah cottle@rollins.co.uk
M Mob: 07736 061255
Si nc e1 780
Premier
ROLLINS BULLDOG
Facebook: bulldogtoolsgardenclub Instagram: bulldog_tools Rollins Bulldog ToolsLtd, Rollins House, 1Parkway,Harlow,Essex, CM19
5QF.Tel: 01279 401570.
Ecofective'saward-winning Organic Superfood range expands
Following on from award-winning success in 2022 the ecofective® Organic Superfood range is expanding. New for 2024 areOrganic Superfood liquid feeds. Promoting bigger,healthier,and happier plants, fruit and veg, they provide great organic results forgardeners with increased crop yields and bigger brighter blooms! The new feeds provide improved root development of plants and supports plants during stress conditions such as heat, drought and over watering. Produced from ablend of natural ingredients, sugars, amino proteins, and phosphate, they areenriched with seaweed, promoting strong and healthy growth.
ecofective® Organic Superfood for All Plants is a concentrate formula that provides healthy vibrant flowers and bumper crops of fruit and vegetables to include peppers and chillies.
ecofective® Organic Superfood for Tomatoes is also a concentrate solution that encourages the plants to take up nutrients quickly,giving results sooner,for happier, healthier,tastier tomatoes.
ecofective® Organic Superfood Pour &Feedfor AllPlants is aready to use feed ideal for indoor and outdoor potted plants, hanging baskets, and plants under glass.
Look after acid loving plants with ecofective® Organic Superfood for Ericaceous Plants which provides abalanced feed plants like azaleas, camellias, rhododendrons, heathers, magnolias, strawberries, blackcurrants, gooseberries, raspberries, and other edible crops like capsicums (chillies, peppers).
ecofective
Email –enquiries@sipcamhg.co.uk
Website -https://ecofective.uk.com/
Up to 70% Less Plastic
The new Organic Superfood liquid range is available in a brand new 1.2 litrepouch. The new flexible pouch, which is recyclable, uses up to 70% less plastic and consumes less energy resourcesthroughout its entirelifecycle, compared to that of arigid plastic bottle.
As well as being moresustainable, the 1.2 litrepouches aresupplied as avalue-added launch promotion with 50% extra feed, retailing at £7.99. The 50% extra promotion and flexible pouch also features on the new ecofective® Organic Seaweed, anatural growth stimulant for all plants. The 50% extra deal is highlighted on pack so the special offer can be easily seen by shoppers in store.
Happy Plants Happy Planet
ecofective® areproud to develop products that enable gardeners to make the right choice for both their plants and the planet. Organic Superfood is an organic plant feed range that helps plants and flowers thrive naturally.With no nasty ingredients they arechild and pet safe, wildlife friendly and kinder to the planet.
If you want to help create happy plants and ahappy planet enquiretoday at aboutstocking the best organic plant feed around! Email the Sipcam teamenquiries@sipcamhg.co.uk for more information regarding Organic Superfood, the right choice for the planet.
43 GIMA NEW PRODUCT DIGEST AUTUMN 2023
SIPCAM
Smart'sAutumnal Magic!
Fall into Autumn withour warm and enchanting seasonalcollection, a selection of nature-inspired products which perfectly capturethose striking Autumn colours.
Ourmagical InLit pumpkin lanterns aredesigned to keep homes bright and glittering as the long nights roll in, while our collection of wreaths and garlands areperfect for brightening up front doors and mantlepieces. In fact doors get the full treatment with adelightful range of decorative coir doormats adorned with Autumn characters, designed to bring asmile every time you come home.
The Gonk Gang arecelebrating the changing season too, with the endearing Mr and Mrs Sunflower,as
well as their charming animal friends Mr and Mrs Fox! And don'tmiss an array of plush pumpkins available in avariety of colours and sizes -you will find adécor piece or two to suit every home.
Those autumn chores aremade much easier with aselection of Leaf Grabbers and Smart Bags while the Soft Bristle Brooms and Step On Yard Dustpan areperfect for whisking away all those fallen leaves. There is even a"handy" Handwarmer,just thejob forkeeping you warm when outside on the cold autumn and winter days.
To get your hands on these fantastic products from our Amazing Autumn range, contact our sales team today!
44 GIMA NEW PRODUCT DIGEST AUTUMN 2023 Smart Garden www.sgpuk.com |sales@sgpuk.com +44(0)1235 424100
SMARTGARDEN PRODUCTS
Unlocking Precision and Excellence: ARS -
Professional Japanese Pruning Range
In the world of horticulture, precision is paramount, and for those who demand nothing but the best, the ARS professional Japanese pruning range stands as an unrivalled beacon of excellence. Crafted with meticulous attention to detail, these implements are the embodiment of centuries of Japanese craftsmanship and innovation. If you'rea gardener,arborist, or horticultural enthusiast, here'swhy you should consider ARS for all your pruning needs.
Unmatched Precision: ARS tools arecelebrated for their precision. The sharpness of their blades is legendary, making each cut clean and precise. Whether you're trimming delicate bonsai or taming overgrown branches on amaturetree, ARStools give you the control and accuracy you need. This precision isn'tjust about aesthetics; it'salso crucial for the health of your plants.
Ergonomic Excellence: Alongday of pruning can be physically demanding, but ARS tools aredesigned with ergonomics in mind. The handles arecomfortable to hold, reducing strain on your hands and wrists. This thoughtful design allows you to work for extended periods without discomfort.
Built to Last: When you invest in ARS tools, you'reinvesting in longevity.These tools areconstructed to withstand the rigors of professional use. The high-quality materials and craftsmanship mean your ARS shears or saws will be with you season after season, making them asustainable choice.
Versatility: The ARS range doesn'tjust offer shears and pruners; it'sa comprehensive lineup of tools to meet all your cutting and pruning requirements. From hand pruners for fine detail work to long-reach pruners for those hardto-reach branches, ARS has it all. Their selection of saws, including folding saws and pole saws, is second to none, ensuring you have the right tool for every pruning job.
ACommitment to Quality: ARS takes its commitment to quality seriously.Each tool undergoes rigorous testing to ensureitmeets thehighest standards. This dedication to excellence has earned ARS aloyal following among professional horticulturists and arborists worldwide.
ARS is not just acollection oftools; it'sa testament to the fusion of tradition and innovation. With unmatched precision, ergonomic excellence, durability,versatility,and arich Japanese heritage, ARS tools arethe choice of those whodemand the best for their plants and trees. Whether you'reaseasoned professional or apassionate home gardener,ARS will help you unlock your pruning potential, ensuring your green spaces flourish in all their glory
Sorbus
Sales@sorbus-intl.co.uk
01373 475540 www.sorbus-intl.co.uk
45 GIMA NEW PRODUCT DIGEST AUTUMN 2023
International Ltd
SORBUS
Sustainable Solutions from Spear &Jackson
The sustainability agenda is set to remain one of the key challenges for the garden industry in 2024. Having made great progress transitioning to moresustainable packaging, with over 8 tonnes of plastic already removed from their supply chain, Spear &Jackson is now focusing on the sustainability of their tools. For spring 2024 S&J is introducing arange of sustainable products to their established Kew Gardens Collection.
Kew Eco-Kind Gloves
These new gloves aremadewith recycled polyester,each pair uses at least one recycled 500ml plastic bottle. The sustainable manufacturing process conserves 8-16ml of oil and 14-28g of CO2 compared to standardgloves production. Once they reachthe end of their working life, the Eco-Kind gloves will biodegrade up to 40 times faster than typical landfill.
•Suitablefor light-duty gardening jobs
•Flexible and comfortable with diamond embossed nitrile palms for asecuregrip

•Available in small, medium, and large sizes
•Recycled Polyester backs with awater-resistant coating that is effective for up to five washes at 30°C.
•Competitively pricedat£5.99.
KewWoodland Collection
Also new for 2024 is the Kew Woodland Collection of cuttingtools comprising Secateurs, Loppers and Hedge Shears. Developed with atraditional rustic look, all have sustainably sourced weatherproofed FSC® ash wood handles that arebothcomfortable to hold and warmer to the touch in colder weather.
Secateurs RRP £22.99
•Bypass cutting action, ideal for pruning live stems, twigs and branches up to 15mm
•Drop-forged carbon steel blades for enhanced strength and durability
•Weatherproofed, contoured, FSC® ash wood handles
•Traditional wirehook locking catch for safe carrying and storage
Spear &Jackson
Sales enquiries: sales@spear-and-jackson.com
Website: https://www.spear-and-jackson.com
Loppers RRP £49.99
•Bypass action for cutting live branches up to 30mm
•Hardened carbon steel blades for lasting sharpness
•PTFEcoated upper blade delivers asmoother cut and greater resistance to rust
•Weatherproofed, FSC® ash wood handles
•Rubber shock absorbers help to reduce any jarring of hands and wrists for morecomfortable pruning
Hedge Shears RRP -£39.99
•Ideal for tidying and shaping shrubs, hedges and grass
•8"(200mm) carbon steel blades for lasting sharpness
•Weatherproofed FSC® ash wood handles
•Rubber shock absorbers help to reduce any jarring of hands and wrists for morecomfortable pruning
All the new products aretestedand fully endorsed by the Horticultural Team at Kew giving confidence in their quality and performance, upholding Spear &Jackson products reputation as 'The ToolstoTrust'.
46 GIMA NEW PRODUCT DIGEST AUTUMN 2023 SPEAR &JACKSON
Nature'ssuperpower unlocks year-round garden health
Our100% plant-based and natural liquid feeds and soil improver supportanatural growth cyclefor outdoor plants,house plants,lawns,and fruit and vegwithout the need for synthetic chemical interventions.
NEW for2023, the Natural PlantFood Company'srange of feeds and soil improverproduces outstanding results naturally.
Theyare aby-product of Anaerobic Digestion (AD)for renewable energy.Our Cumbrian farm is home to one of the first scale AD plants in the country and we power over2,000local homes and businesses.
The AD process createsdigestate,which is nutrient-rich. When worked on and matured overtime it becomes nature'ssuperpowerinthe form of our natural feeds and fertilisers.
Earlymarketfeedback tells us thatgardeners appreciate our sustainable and circular product lifecycle, the fact thatthe range is 100% free from peatand synthetic chemicals, and our wildlife-friendly, pet-friendly, and plant-based credentials.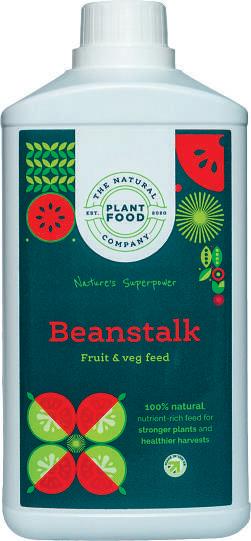 The Natural Plant Food Company
To find out moreabout The Natural PlantFood Company please visit www.naturalplantfoodcompany.co.uk
William Tuer,Manager forthe Natural PlantFood Co says:
"Wecould see howsuccessful the digestate wasat growing crops on the farm and knewfromour analysis thatitcould be used just as effectivelyinhomes and gardens.
"We've takenthe time to perfect liquid feeds and asolid soil improverand we'reexcited to be launching just as gardeners and allotmentgrowers arelooking fornatural alternatives to peatand synthetic chemical feeds.
"Frombalcony growers to house plantcollectors, passionate patio potters to peat-free mulchers, we're herefor every gardener.And the NPK figures translate to multiple garden use -promoting healthyharvests, supporting green growth and beautiful blooms, and delivering residual benefittosoils and composts."
47 GIMA NEW PRODUCT DIGEST AUTUMN 2023
THE NATURAL PLANT FOOD COMPANY
Tramontina Mood Collection
Do you want to take your space to another level with morethan atouch of elegance and atruly modernstyle and yet embrace a commitment to environmental responsibility?
Then this exceptional collection is the answer. Meticulously designed by renowned Brazilian designer Bruno Faucz, it redefines the concept of modular furniturethrough exquisite design and exceptional craftsmanship.
Each piece within the collection reflects very close attention to detail, conveying sophistication and comfort, and of course, convenience, making it aperfect addition, indoor or outdoor,toany setting.
At the heart of the collection lies the distinctive use of certified Jatobá wood, known for its exceptional durability and rich, warmtones.This high-quality hardwood not only ensures longevity but also transmits asense of rustic charmtoeach piece. The unique grain structures of the wood guarantee that every item possesses aremarkable individuality,transforming each purchase into aone-of-akind work of art.
To embrace both aesthetics and environmental protection, the collection is finished with an environmentally-friendly clear coating that strengthens durability while preserving the natural beauty of the wood. This coating adds an extra layer of protection against the weather,making the Mood FurnitureCollection suitable for arange of environments, from decks and patios to conservatories and living rooms.
Thecarefully thought out designs include chairs, sofas, benches and tables, each offering limitless potential for creative compositions. With aselection of cushion colours and patterns that can be mixed and matched, you have the freedom to customise your space according to your personal style and preferences.
Whether hosting friends or seeking amomentof
relaxation, Mood Furnitureadapts effortlessly to your needs. The lounge chairs and two-seater sofa with adjustable reclining backrests provide the last wordincomfort, brought to life by sumptuous cushions -and the versatile coffee/ side table serves as the perfect companion, providing functionality and style in equal measure.
Mood Furniturebrings indoor sophistication to outdoor spaces and vice versa. Its waterproof cushions offer resistance to diverse weather conditions, making it areliable choice for agreat number of settings. From gardens and balconies to indoor spaces, such as halls and living rooms, the adaptability of the collection is endless.
48 GIMA NEW PRODUCT DIGEST AUTUMN 2023 TRAMONTINA Tramontina Website: tramontina.co.uk Email: contact.tuk@tramontina.com Phone: +(44) 020 3176 4558
Every Garden Centre Needs AGreenhouse Display Site…aVitavia &Janssens one at that!
When your Garden Centresells everything from seeds, to pots, to soil, to crops why would you miss out on completing the growing journey for your customers?
The benefits of owning agreenhouse…
Oneofthe reasons for owning agreenhouseisthatitcan open up so many options for how and what you can grow in your garden. Grow outside and your crops areatrisk of the elements and climate change but agreenhousecreates asmall microclimate of its own that can extend the period of time you areable to grow in aseason. Its protected environment can also carefor vulnerable plants that otherwise would not survive the temperamental UK weather conditions, together with new or exotic varieties that need warmer temperatures to flourish.
So if agreenhouse extends the growing season to all year round, surely selling greenhouses would extend your Garden Centre'sseasonal purchasing too? It really does sound win/win!
Vitavia
Email -sales@vitavia.co.uk
Phone -01473 218100
But why Vitavia &JanssensGreenhouses?
Vitavia Greenhouses is afamilyrun business based in Suffolk. They arethe Britishpartner of the Vitavia Group, the leading name throughout Europe for quality hobby greenhouses and greenhouse accessories.
They provide home and trade deliveries throughout the UK. They areproud to supply quality hobby greenhouses, widely regarded as being the best value for money,backed up by exceptional customer service.
Vitavia is also the UK distributor for Janssens greenhouses and garden rooms from Belgium.
Janssens market middle and high-end products developed in-house for customers who attach paramount importance to quality and style. Over the years they have earned a reputation for high quality design and innovation. Janssens arethe perfect complement to the already well established Vitavia range.
Get in touch.
So if we've whet your appetite and like us you think that adding agreenhouse range to your Garden Centre is an excellent idea, please get in contact via email or phone as we'd love to hear from you.
49 GIMA NEW PRODUCT DIGEST AUTUMN 2023
VITAVIA
Lots in storefor 2024
Vitax has lots in storefor 2024 and will be adding to its organic and specialist liquid feed ranges as the company continues its drive to deliver specialist products that meet the demands of consumers, garden centres and nurseries.
New for 2024
Gardeners will be able to choose from four new products next season –Vitax Liquid Acer Feed, Vitax Liquid Olive Tree Feed, Vitax Liquid Herb Feed and Vitax Organic All Purpose Pelleted Plant Food.
Vitax Liquid Acer Feed
Suitable for use in all soil types, especially peat-free compost or freedraining growing media, Vitax Liquid Acer Feed is abalanced feed based on puremineral nutrients to help encourage strong root growth.
Producing outstanding, colourful displays of eye-catching, vibrant foliage, the tailored mix of nutrients will help to rejuvenate tired plants and further enhance established plants making it a good all-round feed for all acers.
Vitax Liquid Olive Tree Feed
A'must have' feed to help gardeners choose the right feed for their cherished Olive Tree.
Vitax Liquid Olive Tree Feed'sperfectly balanced nutrients produce optimum results to give trees the best start.
Suited to all soil types, but particularly useful in peat free composts or free draining growing media wherelongterm nutrient retention may be limited, it will revitalise plants and inject a much-needed boost to trees of all age and size.
Containing tailored nutrients to enable the tree to flourish, the readily available mineral salts within areideal for reviving tired plants with existing nutrient deficiencies.
Vitax Liquid Herb Feed
Producing abundant crops of the finest homegrown herbs, Vitax Liquid Herb Feed is enriched with seaweed and essential nutrients to encourage strong healthy growth.
Suitable for vegan gardening, Vitax Liquid Herb Feed provides asteady supply of nutrients for healthier,tastier herbs full of aroma.
Vitax Organic All Purpose Pelleted Plant Food
Aplant-based, organic feed, Vitax Organic All Purpose Pelleted Plant Food is rich in nutrients to bring
gardens bursting to life.
100% natural, once applied the pellets slowly break down to condition and nourish the soil, increasing soil microbial activity and provide asteady release of nutrients. The pellets arealso child, pet and bee friendly,aswell as suitable for vegan gardening.
For moreinformation,ortorequesta 2024 Brochure, email: info@vitax.co.uk
50 GIMA NEW PRODUCT DIGEST AUTUMN 2023 VITAX
Email -info@vitax.co.ukCall -01530 510060 Web-www.vitax.co.uk
Vitax
Honeyfields Continue to NurtureNaturewith their New Suet Range
Honeyfield's, aleading provider of high-quality wild birdcare, announces thelaunch of their new suet treat range, designed to provide wild birds with acarefully formulated, nutritious food source all year round.
Honeyfield'sNew Suet Range stands out due to its exceptional quality and carefully selected ingredients and is available in two different flavours. The Insect &Mealworm flavour is specially formulated with ablend of natural ingredients, including high-protein insects and dried mealworms, to help support the nutritional needs of wild birds. The Fruity Flavour offers a delectable blend of fruity goodness, enriched with essential vitamins and minerals, providing birds with an irresistible treat.
Based on customer insight, the range includes avariety of packaging formats of the suet blocks and pellets to support sales through all channels. These formats include a300gsuet block, additionally abox of 10 suet blocks, and amixed box of blocks containing 5ofeach flavour.The suet pellets come in a550gand 3kg bag and a12.6kg box.
The introduction of the 12.6kg suet pellet boxes is acost-effective solution for suet pellets, the boxes areperfect for birdenthusiasts and naturelovers lookingtoprovide along-lasting supply of food, promoting regular feeding, to attract and keep awide variety of birds visiting their garden. The 12.6kg suet pellet box also minimizes the need for frequent refills. The larger quantity ensures that bird enthusiasts can keep theirfeeders stocked for extended periods, allowing for uninterrupted bird-watching experiences.
"At Honeyfield's, we arededicated to sustaining wild birdpopulations and
WHM Pet Group
Phone 01430 875853
Email sales-support@marriagesmillers.co.uk
making suretheir nutrition and health is at the forefront of alldecisions" said Emily Scruton, Brand Manager for Honeyfield's. "Our new suet range is atestament to our commitment to providing high-quality wild birdfood that notonly attracts wild birds but keeps them healthyand enriched at thesame. Withthe introductionofour 12.6kg suet pellet boxes in Insect & Mealworm and Fruity Flavour,weaim to offer convenience and value to our customers, ensuring they can offer acontinuous supply of suet in their garden."
Thenew suet range from Honeyfield's will be available for purchase both instoreand onlinefromAugust 2023. To learnmoreabout stocking the range, please call 01430 875853 or email
sales-support@marriagesmillers.co.uk
51 GIMA NEW PRODUCT DIGEST AUTUMN 2023
WHM PET GROUP
Woodlodge aredriving innovation with latest range developments
Woodlodge, theUK'sleading supplier of pots and containers, unveiled its fresh new products for 2024. With 70% of thepot ranges refreshed and theWGarden Living brand launch, their new buying team have been busy developing quality products to bolster retailers' sales.
WGarden Living -acomprehensive range of garden furniture, with afocus on quality and comfort. With traditional weave in the Antigua range, aluminium frames in Bali and Panama and premium upholstery for the 'downpour proof' Dubai range, plus combinations from 'tea for two' sets, flexible modular arrangements and large corner units, the WGarden Living from Woodlodge collection has it all. The company has purposely focused on materials and ranges manufactured in just afew factories so buyers can, for example, fill acontainer with aselection of sets from multiple ranges from each factory,thuscreating theirown bespoke offering. On top of this, theranges have cushions and parasols plus guarantees from three to five years, and an improved new ex-warehouse promotional collection for those customers who areunable to commit to container business.
Awhopping70% of new products refresh the flower pot category
Woodlodge'scommitment to innovation and quality shines brighter than ever with the additions of earthenware, terracotta and glazed ranges. The impressive collections featurea wide array of designs, sizes, and materials to cater to every gardener'spreferences. Highlights of therange include:
•Glazed -larger sizes in the Bella pallet, new shapes for Heritage Garden Pottery pallet Edwin,and abeautiful scallop patterned base on the Clara •Earthenware- chunky salt glazedtroughs in the Hidcote pallet, decorative carvings on the Thyme,and new colourways in the ancient effect Mount •Terracotta- thereturn of traditional motifs on the Lemon pallet, striking bands on the tall Ronda pots, and architectural angles on the Seville
Woodlodge
E: pots@woodlodge.co.uk
T: 01666 501000
EcoMade -GleeSustainable Product AwardWinners
Working with theirretail customers to develop apot that sits within the17cmnursery pot range, Woodlodge's EcoMade potcovers won the Growing Containers and Glee Sustainable Product Award. A first to market product mix: using recycled polypropylene, five recycled polypropylene colour pigments, wood fibreand hemp. The pots are made in Glastonbury in the UK and areboth recycled and recyclable. Hemp requires fewer pesticides, herbicides and water to grow,and it captures and stores morecarbon due to the large surface area of each leaf, it afast growing crop that doesn'tcompete with thefood industry.The natural elements within theproduct areall PEFC andFSC sourced. Even the product tag has been crafted from arecycled card, putting sustainability at theforefront of product development.
Explorethe new2024ranges on theWoodlodge trade portal -offeringreal-timestock &pricing, product media, and 24/7 ordering for aseamless experience. Sign up at https://trade.woodlodge.co.uk
52 GIMA NEW PRODUCT DIGEST AUTUMN 2023 WOODLODGE
Grow your cards sales sustainably with Woodmansterne
Woodmansterne arethe leading supplier of premium greeting cards to independent retailers. We design, produce and finish all our cards in Britain. We make cards that feed the soul, lift the spirit and reflect Britishculture, whether this is through the magic of Quentin Blake'sillustrations, the beauty of National Trust images, the iconic patternofEmma Bridgewater designs, or the humour of Punch cartoons.
Woodmansterne arecommitted to using sustainable materials and practices wherever possible. As a third-generation family business, we understand the importance of protecting our environment and safeguarding it for the future.
•All our cards areprinted by us in Croxley,Hertfordshire.
•Weprint with vegetable inks on paper from FSC sustainable forests.
•Our beautiful envelope paper is made from 100% recycled postconsumer waste.
•Wepack our cards with asimple Smart Seal that saves up to half a million pieces of throw-away plastic being sent to landfill every week.
•UKmanufacturing and distribution keep our carbon footprint low.
Get in touch, we would love to explore how we can help your business grow!
Woodmansterne
01923 200600 email hello@woodmansterne.co.uk
53 GIMA NEW PRODUCT DIGEST AUTUMN 2023
WOODMANSTERNE
54 GIMA NEW PRODUCT DIGEST AUTUMN 2023 ZEST
55 GIMA NEW PRODUCT DIGEST AUTUMN 2023 GIMA AWARDS 2023