INVESTING IN EACH OTHER TO BE THE VERY BEST WE CAN BE
2
WELCOME
Park High is an extremely popular school and has a national reputation for academic excellence, exceptional pastoral care and for providing a positive environment in which young people thrive.
At Park High School we aim to inspire young people to be confident successful learners who contribute positively to society as responsible citizens.
Character at Park High is caught, taught and sought, it is the responsibility of all who are involved in the lives of our students.
Our school virtues can be learned in the classroom and beyond, through intentional character programs, the school culture and its ethos and through the role modelling of positive behaviours.
Parents know that if their children come here, they will be joining a strong, caring, respectful community with an emphasis on high achievement for all, alongside dedicated support, and encouragement at all times.
Mrs Colette O'Dwyer Headteacher
3
CHARACTER
Central to our ethos are the school's Five character virtues. They represent the core values that we are committed to developing at Park High.
TEAMWORK
"The ability to work with others effectively and efficiently."
COMPASSION
"The ability to show care and concern for others."
RESILIENCE
"The ability to able to recover quickly from struggles and setbacks."
CURIOSITY
"The ability to be eager to know or to learn something new."
INTEGRITY
"The ability of having and following strong moral principles."
4
5
PARK HIGH SCHOOL
TEAMWORK
6
Teamwork is actively encouraged both inside and outside the classroom. Students collaborate with each other and help others with problem solving.
"Pupils take part in a range of extracurricular activities and educational visits. For example, they enjoy playing sports or taking part in school plays."
7
OFSTED 2022
Students at Park High show kindness and respect for each other, within the school community and the wider community.
8
"Pupils were highly respectful when interacting with their peers."
POLARIS 2022 (Nss)
PARK HIGH SCHOOL
COMPASSION
9
PARK HIGH SCHOOL
CURIOSITY
10
Students are given the opportunity to continue to develop curiosity through asking reasonable and relevant questions or by trying something new.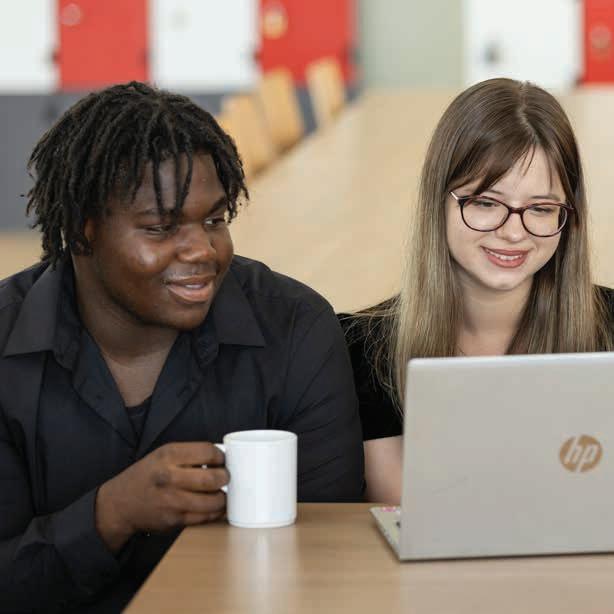 "Some students in the Sixth Form complete a qualification to extend and develop their knowledge beyond the A-Level curriculum."
11
OFSTED 2022
Students are provided with the occasions to develop strong character strengths in which students bring credit to themselves and make positive choices.
12
"Pupils demonstrate high levels of self-regulation."
POLARIS 2022 (Nss)
PARK HIGH SCHOOL
INTEGRITY
13
PARK HIGH SCHOOL
RESILIENCE
14
"Leaders have planned an ambitious personal, social, health, citizenship and economic education curriculum for pupils in Years 7 to 13. This promotes pupils' knowledge of important areas such as healthy relationships and democracy."
OFSTED
2022
We offer a range of experiences and opportunities to students to develop resilience. We encourage students to push themselves beyond their comfort zone.
15
TEACHING & LEARNING
All students are encouraged to embrace every learning opportunity within and beyond the classroom.
Challenge, independence, engagement and creativity are at the heart of our curriculum and can be seen across all subjects, in all classrooms and, most importantly, in the learning that takes place. Students are challenged to think hard, to acquire knowledge and apply this with confidence in a range of situations. We pride ourselves on developing every individual for their future and this is apparent throughout all subject areas and the wider curriculum.
"The "Park Way" framework for quality teaching and learning encourages staff and students to be the "best they can be". Leaders are ambitious both for the academic progress of students and for their development as citizens."
CHALLENGE PARTNERS 2023
16
RECOGNISING & REWARDING
At Park we believe that we should provide students with the opportunities to develop strong character strengths in which students bring credit to themselves and make positive choices.
We use an achievement points system that celebrates the success of our students. This could be for academic achievement, effort, outstanding behaviour, or many other positive behaviours.
"There is a healthy balance between rewards and sanctions. Students are proud to display achievement points on their blazers, while assemblies were seen to provide opportunities to celebrate students' achievements."
CHALLENGE PARTNERS 2023
17
GUIDANCE & SUPPORT
We give all students support to settle into our school and develop as individuals.
All year groups are provided with a dedicated pastoral staff team that remain with the year group on their journey towards our Sixth Form. This includes a Form Tutor, Head of Year and a Pastoral Assistant, to help them succeed at Park.
"There is a carefully planned careers programme in place to support pupils with their next steps. This includes external speakers as well as one-to-one careers guidance for pupils."
OFSTED 2022
OPPORTUNITY
All students are fully supported and guided through the process of planning and preparing for their futures.
Our programme of personal, social, health and citizenship education helps our young people prepare for adult life, and this starts as soon as they arrive at Park High. We have a full time careers and employability coordinator, a professional careers adviser and a programme of education, information, advice and guidance for all.
18
T 020 8952 2803 F 020 8952 6975 E info@parkhighstanmore.org.uk www.parkhighstanmore.org.uk Designed & Produced by FSE Design Tel: 01933 303520 www.fsedesign.co.uk Park High School Thistlecroft Gardens, Stanmore, HA7 1PL