ACTIVITYGUIDE
Graehl Park has been renovated! Learn about the process and key featuresofthepark
UPCOMING EVENTS
See what we have planned for the Fall! Winter Lights Walk, Halloween Trick or Treat Town, and so much more!
Looking for trails in the Fairbanks North Star Borough? Check out the trails section of this guide for map information.
"Park-A-Year"
Page13
FAIRBANKS NORTH STAR BOROUGH PARKS AND RECREATION FALL
2023 Startson
Page29
Page55 TRAILS
IN THIS GUIDE
MainOffice:1920LathropStreet,Fairbanks,AK Hours:Monday-Friday,8:00AM—5:00PM
Website:parks.fnsb.gov
Phone:(907)459-1070
FairbanksNorthStarBoroughParks&Rec
FNSB_Parks_and_Rec
FNSBParksandRecreation
OUR MISSION
The Fairbanks North Star Borough Parks and Recreation Department preserves and creates an inclusive community culture by providing places and programs designed to enrich the quality of life.
HEAR FROM US
Sign up for our Parks and Recreation Newsletter and FLiP program. A fun way to know about all the events happening in your parks and facilities! Receive VIP access to various park events and special coupons in our monthly e-newsletter! Don't miss out! Sign up online at parks.fnsb.gov or at the Parks and Recreation office in the Big Dipper Ice Arena.
FNSB PARKS AND RECREATION ACTIVITY GUIDE: Activity Guide is published three times a year in January (Winter/Spring), in April (Summer), and in August (Fall) by the Parks and Recreation Department, 1920 Lathrop Street, Fairbanks, Alaska 99701, (907) 459-1070, parks.fnsb.gov. Contents © 2023 Fairbanks North Star Borough Parks and Recreation Department, all rights reserved.
FEES, CHARGES & CLASS TIME DISCLAIMER: Fees set in this activity guide are subject to approval by the Fairbanks North Star Borough Assembly. Fees are subject to change at any time. Class dates/times are subject to change. The FNSB Parks and Recreation Department reserves the right to cancel activities due to lack of registration.
REFUND AND CANCELLATION POLICY: Please see page 7.
Aquatics Community Programs Senior Recreation Adaptive Recreation Pioneer Park Rec Areas Trails Library Programs Community Resources 9 14 19 23 31 40 43 49 55 59 Carlson Center 37 Big Dipper 1 Fairbanks North Star Borough Parks and Recreation | fnsb_parks_and_rec WELCOME TO PARKS & REC
SUPERINTENDANT'S
BrianCharlton
BrianCharlton FNSBParksandRecreation RecreationSuperintendent
Dear Community Members:
On behalf of the Fairbanks North Star Borough, I'm excited to welcome and invite you to explore the Fall 2023 Parks and Recreation Activity Guide!
Fall is a beautiful season, especially in the interior, with many enjoyable activities. Whether you are looking for outdoor adventures, seasonal events, or cozy indoor pastimes, there's something for everyone! Engaging in community activities allows individuals to connect with others with similar interests and builds social networks.
I encourage you to engage with the community and actively participate in the activities and events outlined in this guide. Participation will enhance your personal growth and create meaningful memories that will last a lifetime!
Bryce J. Ward Mayor Fairbanks North Star Borough
As we wrap up another busy summer in Fairbanks, we would like to thank those of you who came out to our many events. It's always exciting to host our regular activities as well as try out some new ones. Fall is a time of transition, where we wrap up summer projects and get a few more adventures in before the snow flies. When the snow comes, it means skiing, fat biking, snow machining, and ice fishing for some, and retreating to our indoor spaces for swimming, ice skating, gym time, and the PlayZone for others while of course some of us want it all!
The Borough Parks and Recreation Department strives to fill every season with fun community events for all ages and abilities. Throughout this guide you will find an abundance of indoor and outdoor activities. There is fun to be had throughout our parks and facilities every day of the year!
Some of the big events we have planned for this fall include Halloween Trick-orTreat Town, Spooky Trail at Tanana Lakes, the Trails Challenge, and the Downtown Winter Solstice Festival Winter Lights Walk. Our Senior, Adaptive, and Community Programs offer many smaller activities each week as well. If you haven't already, sign up for FLiP (Fairbanks Loves its Parks) to receive our monthly e-newsletter to keep up with all the exciting programs and Parks and Rec news.
Last of all, don't forget our facility-based programs including open swims, lap swimming, and swim lessons at Hamme, Mary Siah, and Wescott Pools; open skate, rec hockey, and stick-n-puck at the Big Dipper Ice Arena, Grandparent/Grandkid crafts at Joy Community Center, and the PlayZone at the Carlson Center. If the weather holds you might even be able to squeeze in a little pickleball or tennis. There really is so much going on that we had to create THIS amazing Activity Guide. We can't we to see YOU!
MAYOR'SWELCOME
WELCOME TO FNSB PARKS
REC
&
BryceWard
FairbanksNorthStarBoroughMayor
BryceWard
2 ACTIVITYGUIDEFALL2023 PARKS.FNSB.GOV/(907)459-1070
FAIRBANKS NORTH STAR BOROUGH PARKS AND RECREATION
FACILITIES
Big Dipper Ice Arena 1920 Lathrop Street (907) 459-1104
Hamme Pool 931 Airport Way (907) 459-1086
Wescott Pool 300 E. 8th Avenue
North Pole (907) 488-9402
Pioneer Park 2300 Airport Way (907) 459-1087
Birch Hill Rec Area 101 Wilderness Drive (907) 457-4488
Tanana Lakes Rec Area 4400 S Cushman St Ext (907) 459-1070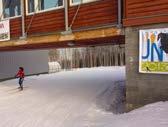 Chena Lake Rec Area 3780 Laurance Rd
North Pole (907) 488-1655
Carlson Center 2010 2nd Ave. (907) 451-7800
John Haas Parks Superintendent john.haas@fnsb.gov
Brian Charlton Recreation Superintendent brian.charlton@fnsb.gov
Lee Williams Riverside Superintendent lee.williams@fnsb.gov
Linda Handeland Aquatics Manager linda.handeland@fnsb.gov
Terrell Echols Carlson Center Manager terrell.echols@fnsb.gov
Jessica Prince Chena Lake Manager jessica.prince@fnsb.gov
Michelle Leonard Programs Manager michelle.leonard@fnsb.gov
David Jones Maintenance Manager dave.jones@fnsb.gov
STAFF
3 Fairbanks North Star Borough Parks and Recreation | fnsb_parks_and_rec WELCOME TO PARKS & REC
FAIRBANKS LOVES ITS PARKS
Designedtohighlighttheparks,services, programs&facilitiesthatFNSBParks& Recreationprovidestothecommunity.
Membership is and the benefits are endless! FREE
BenefitsofFLiP:
A FREE FLiP window cling
A monthly newsletter filled with upcoming events, signup deadlines, fun programs and valuable FLiP discounts. VIP perks & early access to community events throughout the year. Increased pride in our beautiful parks & playgrounds; and all of the recreation facilities and programs in the Fairbanks North Star Borough
IT'SENOUGH TOMAKEYOU FLIPFORJOY!
PARKS.FNSB.GOV VISIT OUR WEBSITE TO SIGN UP:
4