We believe in building a quality product that will outlast and out perform any other rolling stock on the market.
Our expertise in all aspects of the baking industry gives us special insight into your needs.
It's the high standard and work ethic of our team members that have made our company an industry leader for over 30 years.
Located in the city of Irwindale in Los Angeles. Our 60,000 square foot plant offers a full range of services to meet the needs of today's baker.
Make a smart investment in the company that knows this industry from the inside out.
Prices and Product Specifications
Prices shown are list prices and are subject to change without notice. Prices may also be changed without notice due to unforeseen cost increases of imported products, raw materials, or currency fluctuations. We carefully check pricing and product specifications, but occasionally errors can occur, therefore we reserve the right to change both without notice. We are not responsible for customer pricing errors. Some variations between picture and product may occur. Some products listed may be non-stock items.
We Guarantee: Industrial Quality • Long Lasting Frame • Fastest Delivery
Order our optional double welds on all slides for superior strength and we will guarantee these welds for life. Imagine… a rack with no broken welds…ever !
JUST SAY NO to cheap racks
The second installment in our HEAVY DUTY LINE OF RACKS is our industrial, oversized red casters. Our 5"x 2" can support 750 lbs. per Caster. It is this strength that keeps our rack rolling.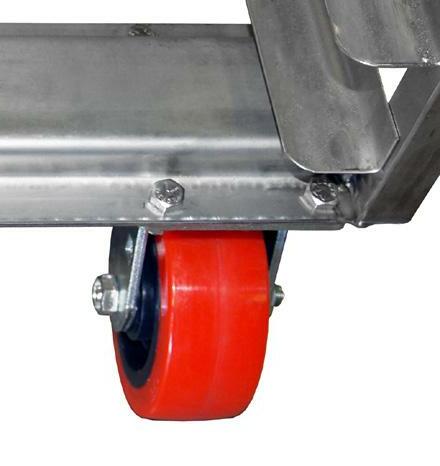 WELDS NEVER BREAK
Lastly our heavy duty base plate design takes all the weight off the welds, making this a LIFETIME rack frame…no broken welds ever…nothing else compares.
Food Makers Bakery Equipment 844-207-0923 | www.FMBE.com