APRIL 2023 Keep Pests Under Control With Armand Platinum New Logo, Same Mission For Two Local Chambers Ear, Nose And Throat Expert Dr. Deborah Loney Enjoy Fine Dining In Your Home With Duo Cucina Plus IT'S ALL ABOUT THE MISSION
Sunday Brunch Doors open at 10:30 a.m. Join us for a lavish Sunday brunch with friends and family during our 1.50 Grand Prix Jumper Classic Series. at Wellington International Scan the QR code for ticket information
GRAND PRIX
ROYAL INN • 166 ROOMS & SUITES (WITH KITCHENS) • • 7 RESTAURANTS FOR BREAKFAST/LUNCH/DINNER WITHIN WALKING DISTANCE OF YOUR ROOM/SUITE • • HAIR SALON & BARBERSHOP ON PREMISES • (561) 793-3000 CENTRALLY LOCATED WITHIN 5 MINUTES DRIVE OF WELLINGTON • ROYAL PALM BEACH • LOXAHATCHEE • ACREAGE N.W. CORNER SOUTHERN BLVD. & ROYAL PALM BEACH BLVD. www.royalinnhotel.com Dog Friendly Rooms Available Your Safety is our Concern • Our Staff wear Masks and Gloves • Practice Social Distancing • Continuous Sanitizing of Rooms & Common Areas LAKEFRONT HOTEL RESORT
PIERSON ROAD • $18,900,000
Rare Opportunity With Direct Access to Wellington International Showgrounds
• Newer Build and Meticulously Maintained on 5+ Acres • 24 Stalls With AllWeather Arena and Grass Field • 6 Large Paddocks and Walker • Owners' Lounge, 2 Offices, 2 Dog Runs • 4-Bedroom Apartment: Each Bedroom has Private Bath and Kitchenette
JUSTLISTED
WELLINGTON, FL
PALM BEACH POLO CLUB • $1,299,000
4-Bedroom, 5-Bath Townhouse • Updated, Spacious and Bright • Remodeled
Kitchen • Open Floor Plan • Facing Dunes Preserve • Heated Pool and Jacuzzi
• Downstairs Office and Powder Room • Hurricane Impact Doors to be Installed
PALM BEACH POINT EAST • $8,200,000
Scenic 10 Acres on Stables Way • 16-Stall Barn • 4-Horse Walker • Round Pen
• 5 Large Paddocks • 3-Bedroom, 2.5-Bath Pool Home With Garage • CustomBuilt 4-Bedroom, 5-Bath Staff House • Bermuda Grass Grand Prix Field • Easy Access to Wellington International Showgrounds
ST. ANDREWS • $399,500
2-Bedroom, 2-Bath Condo in Gated Community • Updated Kitchen and Floors
• Light and Bright • 1-Car Garage • Furnishings Included • Community Pool and Clubhouse Amenities • Make This Affordable Home Yours for Future Seasons!
Home is Where Your Horse Is
MARTHA W.
Director of Luxury Sales 561
www.MarthasProperties.com 1111 LINCOLN RD, MIAMI BEACH, FL 33139. 305.695.6300 © 2023 DOUGLAS ELLIMAN REAL ESTATE. ALL MATERIAL PRESENTED HEREIN IS INTENDED FOR INFORMATION PURPOSES ONLY. WHILE, THIS INFORMATION IS BELIEVED TO BE CORRECT, IT IS REPRESENTED SUBJECT TO ERRORS, OMISSIONS, CHANGES OR WITHDRAWAL WITHOUT NOTICE. ALL PROPERTY INFORMATION, INCLUDING, BUT NOT LIMITED TO SQUARE FOOTAGE, ROOM COUNT, NUMBER OF BEDROOMS AND THE SCHOOL DISTRICT IN PROPERTY LISTINGS ARE DEEMED RELIABLE, BUT SHOULD BE VERIFIED BY YOUR OWN ATTORNEY, ARCHITECT OR ZONING EXPERT. EQUAL HOUSING OPPORTUNITY.
JOLICOEUR, PA
797 8040
FARMS & ESTATES
SHOPWELLINGTONGREEN.COM FOLLOW US MACY'S | DILLARD'S | TOMMY BAHAMA | PANDORA | BRIGHTON CMX CINEMAS | LEMONGRASS | SUNGLASS HUT
• Breach of Contract • Shareholder Disputes • Real Estate Litigation • Partnership Disputes • Trademark Litigation • Copyright Litigation • Equine Law The attorneys at the law offices of Pike & Lustig, LLP represent accident victims, and their families, throughout the State of Florida. • Auto Accidents • Motorcycle Accidents • Bicycle Accidents • Trucking Accidents • Michael J. Pike, Esquire • Daniel Lustig, Esquire • Talina Bidwell, Esquire • Robert C. Johnson, Esquire • Andrew J. Boloy Esquire • Stuart L. Hartstone, Esquire • Jesse Fulton, Esquire • Meagan McCarthy, Esquire Turn to Us For Your Legal Needs 561-855-7585 www.pikelustig.com Además, le podemos ayudar en Español Offices in Palm Beach County (WPB) and Dade County (Miami) MAIN OFFICE: 1209 N. Olive Avenue, West Palm Beach, FL 33401 | 561-291-8298 | Fax: 561-855-7710 WELLINGTON: 12008 South Shore Blvd., Suite 200, Wellington, FL 33414 MIAMI: 777 Brickell Avenue, Suite 500, Miami, FL 33131 | 305-697-9799 | Fax: 305-809-8009 The attorneys at the law offices of Pike & Lustig, LLP, a full-service law firm, understand our clients' business litigation needs, in both State and Federal Courts. Business & Equine Litigation: Personal Injury Litigation: NEED HELP? We are here for you. TRIAL ATTORNEYS BUSINESS AND EQUINE LITIGATION PERSONAL INJURY LITIGATION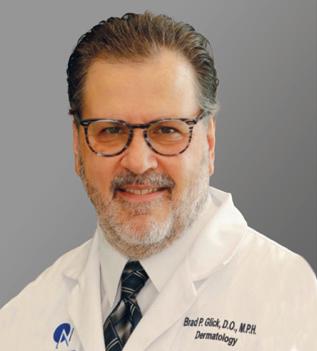 SPECIALIZING IN MEDICAL, SURGICAL & COSMETIC DERMATOLOGY Skin Cancer • Dermatologic Surgery • Mohs Surgery • Hair & Nail Diseases Pediatric Dermatology • Laser Surgery • Botox, Fillers & Chemical Peels 1447 Medical Park Blvd., Suite #107, Wellington, FL (561) 798-3494 3275 N. State Rd. 7, Margate, FL (954) 974-3664 25 OVER Brad P. Glick, DO, MPH, FAAD L. Zaulyanov Scanlan, MD, FAAD Irina Milman, DO, FAAD Paloma Reiter, DO Emily Edmunds, PA-C Tomeka Fleming, LA, MA (Licensed Aesthetician) Sheril Campbell, LA, MA (Licensed Aesthetician) Brad P. Glick, DO, MPH and Associates
MHS
Paloma Reiter DO,
L. Zaulyanov Scanlan MD, FAAD
Beautiful, Healthy You!
Irina Milman DO, FAAD
24
THE GAY POLO LEAGUE ADVANCES THE GOAL FOR INVESTMENT IN LGBTQ+ SPORTS
Chip McKenney, founder and president of the Gay Polo League (GPL), knew he had created something special when he received a simple, but powerful compliment. BY JENNIFER MARTINEZ
THE GAY POLO LEAGUE IS AN OPEN FIELD FOR INCLUSION AND SUPPORT
24
JENNIFER MARTINEZ
When Chip McKenney reflects on why he founded the GPL, memories of exclusion and isolation come rushing forward. Polo became the vehicle for McKenney to create belonging. BY
THE STARS ARE ALIGNING FOR THE GAY POLO LEAGUE'S TOURNAMENT SET FOR APRIL 6-9
If you have ever attended the Lexus International Gay Polo Tournament, presented by Douglas Elliman Real Estate, you know it is equal parts celebration and serious competitive play.
BY JENNIFER MARTINEZ
THE GAY POLO LEAGUE RELIES ON SPONSOR SUPPORT TO IMPACT CHANGE
In a world of philanthropy and impactful work, sponsors are vital in supporting change. No organization recognizes this as well as the Gay Polo League. Sponsors have helped to grow the GPL's event in attendance size, notoriety and dollars raised.
BY JENNIFER MARTINEZ
KEEP SOUTH FLORIDA PESTS UNDER CONTROL WITH ARMAND PLATINUM
Veteran pest control specialists Scott Armand and Jim Bartley at Armand Platinum Pest Control Services have the experience, expertise and know how to protect your home and business. They have many years of experience providing all types of pest control.
BY MIKE MAY
NEW LOGO, SAME MISSION AS LOCAL CHAMBERS UNVEIL NEW BRANDING
The Central Palm Beach County Chamber of Commerce and the Hispanic Chamber of Commerce of Palm Beach County recently held a launch party at Wellington International to celebrate the unveiling of new logos and branding for the jointly run organizations.
STOREYBROOK FARM ADVOCATES FOR AMERICA'S FORGOTTEN HORSES
You don't have to be a large-scale operation to make a difference, you just have to be passionate enough to facilitate change. Olivia Alcorta, founder and owner of Storeybrook Farm Sanctuary Inc., works to do just that every day. BY
SYDNEY JONES
HORSES FOR MENTAL HEALTH READY TO LAUNCH 2023 CAMPAIGN IN MAY