Nominate a Hero See Page 6 for More Information. See story on page 7. - Fire News photo by William McFarland PRSRTSTANDARD U.S. POSTAGE PAID HICKSVILLE NY PERMITNO. 298 April 2023 Volume17, No. 11 NEW JERSEY NEW JERSEY
Hackensack Rescues at 3 Alarmer
Crews save people off the fire escapes as well as two children dropped to FFs.
See story on page 12
Heavy Fire at Ewing Twp. Blaze
Fire blowing out all windows, a collapse, and more keep FFs busy.
See story on page 14
Paterson
Warehouse Blaze
Firefighters are kept on overnight fire watch after battling a 4-alarmer.
See story on page 16
Egg Harbor City
3-Alarmer
Despite firefighters'efforts, a fire breaks trhrough the roof of a multi-use structure.
See story on page 18
Princeton Career Staff Officially Sworn
Nine firefighters who make up the career divison of the Princeton FD were sworn in on February 4, 2023.
See story on page 22
13 Displaced by Trenton Blaze
Firefighting efforts were hampered by a ceiling collapse and a damaged hoseline.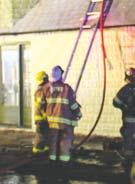 See story on page 23
AService for New Jersey Firefighters and EMS Heroes
146 South Country Road, Bellport, NY11713
FRANK C. TROTTA, Publisher
TIM EDWARDS, Chief Operating Officer
DENNIS WHITTAM, Editor
GARYP. JOYCE, Managing Editor
MARIE TROTTA, Vice President, Production/Sales
LYNN SEDLER, Art Director
CLIFF CHIESA, Production Manager
BARBARACONNOLLY,Vice President National Sales
BRYAN LOPEZ,Editorial Assistant
GREGORYJONES, Graphic Artist
FIRE NEWS NEW JERSEYPHOTOGRAPHERS
Chad Aaronson, John Axford, Keith Addie, Adam Alberti, Ted Aurig, Kenneth E.Badger, Dick Berry, Tommy Bilancia, Thomas Bischoff, James Bonner, Joseph Brecko, John Buttino, Bob Chester, John Clark, Alex Coulter, Carl Crossman, Damien Davis, Chris Denton, Alan Dumoff, Brian Duddy, Brett M. Dzadik, Dan Eckert, Doug Fenichel, Tom Finnegan, Joe Fortunato, Liam Glinane, Israel Goldstein, Thomas Hayden Jr., David Hernandez, Robert Halberstadt, Roman Izaryk, Erica Jacoby, Jeffrey Konya, Kevin Maloney, Robert Munson, Paul Newborn, Robert F. Newkirk, Denis Niland, Mike Nowacki, Elvin Padilla, Ed Pinkevicz, Dane Policastro, Michael Ratcliffe, Joe Repici, Paul Rodriquez, Mark Rosetti, Chris Saraceno, Robert Scollan, Dennis C. Sharpe, Steve Sperlak, Steve Skipton, Matt Spadaro, Danielle Tagerty, Tim Sullivan, Robert Tallaksen, Wayne Tasaki, Giuseppe Tartaglia, Jim Trepeos, Gregory Taylor, Ron Trout, Ken VanPelt, Kevin Umbach, Jose Vazquez, Ronnie Viola, Tom Vogel, Tom Walker, Mike Wallace, Chris Whitam, Wells P. Wilson, Gerald Wyhopen, Jr., Peter Danzo. Columnists: Bruce Johnson, John Salka, Billy Goldfeder.
COPYRIGHT2023, THE FIRE NEWS LLC., LONG ISLAND, NEWYORK. ALLRIGHTS RESERVED For advertising rates and information, call (631) 776-0500 Press 3
Editorial: (631) 776-0500 Ext 281 Fax number: (631) 286-6866
Internet: http://www.firenews.com
e-mail: nj@firenews.com
Thirteen Editions, Sixteen States Serving Long Island, New York, New Jersey, Delaware, Connecticut, Maine, Massachusetts, New Hampshire, Rhode Island, Vermont, Kentucky, Maryland, North Carolina, Ohio, Pennsylvania, Virginia, Washington DC, West Virginia, and Wildwood, NJ
Proud Member Of: Official Publication of the NJState Firemen's Convention
PLUS: Editorial . . . . . . . . . . . . . . . . . . . . . . . . . .
. . . . . . . . . . . . . . . . . .
Special Feature . . . . . . . . . . . . . . . . . . .
Industry News . . . . . . . . . . . . . . . . . . . .
In this issue...
page 4 Fire News Awards
page 6
page 22
page 24
Letters to the Editor, byline articles, and columns represent the opinions of the writers and photographers and are not necessarily the views of the Fire News. We reserve the right to edit all of the above. We are not responsible for errors in advertisements beyond the cost of advertising space. Copy submitted is subject to editing for space requirements. The placing of an advertisement in this publication does not constitute endorsement. Contents are copyrighted. Editorial and advertising copy cannot be reproduced without written permission from the publisher. Fire News is published monthly by Fire News LLC, with corporate offices at 146 South Country Road, Bellport, NY11713.
FireNews.com Fire News, April 2023, Page 3