STEP AHEAD OF FOOTPRINTS TO FACE YOUR HIDDEN SELF…
They say, "What sets you apart can sometimes feel like a burden and it's not. And a lot of the time, it's what makes you great." Being different and stand away from the crowd is always a complex thing to do but that's exactly what makes us the greatest version of our self. Every single of us is unique in some or the other way with some special talent that help us not only survive in our space but also make us excel the hurdles. All we need is consistent hard work and dedication into that space.
Business Connect is completely driven by this thought of uniqueness as we differentiate ourselves in the market with our exclusive editions comprising the journey of some outperforming ventures out there. And here again, we are back with our latest edition of the month centric towards some exemplary stories. We truly hope and desire that this fascinating read will inspire our global readership panel and will encourage them to chase their dreams.
In this exclusive series of the month, we have Go Green Warehouses on the cover which is leading the Warehousing and Logistic arena with tech-driven solutions. The Co-founder and Executive Director of the company, Mr. Santosh Sahu had an interesting virtual meet with our editorial board in which he shared numerous hidden facts about the company and his journey so far. Let's just dive into the read and give ourselves some food for thought.
At last, I would like to bid farewell with some of my favorite words, "Always remember that your present situation is not your final destination. The best is yet to come!"
Keep shining!!!
www.businessconnectindia.in | Vol. 5 | Special Edition November 2022 INDIA 4
Gulshan Parveen gulshan@businessconnectindia.in
Vol - 5 | Special Edition | November 2022
Publisher & Editor : Abhishek Kumar Dubey
Editorial Team
Indranil Roy | Kajal Dobhal | Sugandh Bahl | Gulshan Parveen | Dr. Amit Mishra Avishek Singh | Kriti Anand | Sanjay Kumar
Business Head ASHISH KUMAR
Senior Marketing Manager Sonia Tiwari
Senior Relationship Manager Reshmi Mishra
Corporate Team
Satyam Singh | Sunny Pathak | Asha Dudeja | Pradeep Pandey | Reetu Chauhan | Komal Verma Sudha Gupta | Javed Khan | Vikash Kumar | Archna Pawar | Mohit Rathee | Abhishek Mishra | Kazim Barati Co-ordinator (Business Connect-Clients)
Anita Kumari | Priyanka Gupta Data Research & Analysis
Satyam Tiwari | Amit Kumar | Anita | Ravinder Singh | Rahul Kumar | Sweta | Shweta Kumari Prince | Virat Tiwari | Ritika | Rekha | Simran | Khusboo | Hitesh | Raja
Finance Team Monika Aggarwal | Gaurav Singhal | Jyoti
Creative Director ASHUTOSH OJHA
Creative Team
Rajat Pathak | Sakshi Negi | Vishant Saroj | Pawan Yadav Legal Affairs Mukesh Kumar Human Resources Nivedita Basu
Digital Marketing Manager Anurag Tiwari
Registered Office
RZC 4, A/2, Street No. 21B, Sadh Nagar - II, Palam Colony, New Delhi-110045 Ph. 011-42636209
Email: info@businessconnectindia.in
Corporate Office
804, DDA 2, District Centre, Janakpuri, New Delhi - 110058 Ph. 011-41065208
Email: corporate@businessconnectindia.in
Printed and Published By Abhishek Kumar Dubey on Behalf of FanzineIndia and Printed at Tanuj Process, A 21/27 Naraina Industrial Area, Phase-II, New Delhi - 110028 and Published at RZC 4, A/2, Street No. 21B, Sadh Nagar - II, Palam Colony, New Delhi-110045
Publisher & Editor : Abhishek Kumar Dubey RNI No.: DELENG/2018/76695
Copyright © 2018 FanzineIndia, All rights reserved. Reproduction in whole or part of any text, photography or illustrations without written permission from the publisher is prohibited. The publisher assumes no responsibility for unsolicited manuscripts, photographs or illustrations, Views and opinions expressed in this publication are not necessarily those of the magazine and according no liability is assumed by the publisher.
We are also available on:
Follow us on:
Vol. 5 | Special Edition November 2022 INDIA 5
www.businessconnectindia.in |
10 18 20 22
Leading The Way As India's Premier Corporate Leasing Brand In Gurugram – Trueseed The Torchbearer of Top Notch IT Solutions
STORY TRUESEED HITACHI SYSTEMS MICRO CLINIC GO GREEN WAREHOUSES A REVOLUTION IN THE WAREHOUSING SEGMENT WITH A BLEND OF EXPERIENCE AND MODERNIZATION COVER STORY
Mukesh Ambani: An MBA Dropout Who Took Reliance Industries to New Heights
SUCCESSS
www.businessconnectindia.in | Vol. 5 | Special Edition November 2022 INDIA 6
Santosh
Sahu Director, CEO & Co-Founder
50 Aesthetic Kitchens That Portrays Your Passion ULTRAFRESH MODULAR SOLUTIONS 44 5 Top stocks to buy before 2023 GROWTH 40 Aayush Saini A Bigwiz Redefining The Bastion of Background Screening Services IVERIFY RESEARCH SERVICES PVT LTD 34 Raising To Prominence With Digitally Transforming The Businesses IDBI INTECH 28 Top 10 Largest Employers in India WORK CULTURE 52 New Tech Arrivals That Can Easy Your Life LAUNCHPAD 48 Crafting Children's Brighter Future… THOUGHTS ON CANVAS 42 Venturing into Organic Food Terrain OFLIV.COM 36 Top 10 Largest Employers in the World 2022-2023 LIFESTYLE 32 The "Next Big Thing" For Fitness In India FITKUBE www.businessconnectindia.in | Vol. 5 | Special Edition November 2022 INDIA 7
Incr ease Your Business Visibility, Reach & Brand Impact For any queries please email us on info@jio.sh Create one for your Business on www.jio.sh Re ine & Rede ine your Links Scan & Check Everything
GO GREEN WAREHOUSES
A REVOLUTION IN THE WAREHOUSING SEGMENT WITH A BLEND OF EXPERIENCE AND MODERNIZATION
They say, "To succeed, you have to believe in something with such a passion that it becomes a reality," and our today's star of the show justifies this very well. When passion meets to plan, amazing things take place. All it takes is the right guidance from experienced and enthusiastic leaders.
www.businessconnectindia.in | Vol. 5 | Special Edition November 2022 INDIA 10
Gulshan Parveen | Business Connect
Business Connect is a great platform renowned for its impeccable monthly editions centric towards some great business leaders and their brainchildren. And here again, we are back with our brand new October edition that comprises some untold stories of remarkable entrepreneurs and their journey in the business world. Our editorial team had an interesting and joyful session with the leadership panel of Go Green warehouses. The Founder and CEO of the company, Mr. Santosh Sahu shared numerous lesserknown facts about the company and also shined some light on his insights on the corporate world. We truly hope and desire that this fascinating read will add some extra value to the lives of our global readership panel and will encourage them to chase their dreams.
Santosh Sahu Director, CEO & Co-Founder
www.businessconnectindia.in | Vol. 5 | Special Edition November 2022 INDIA 11
www.businessconnectindia.in | Vol. 5 | Special Edition November 2022 INDIA 12
COMPANY PREFACE
Mr. Santosh presents the company's unique business model and says, "We solve our customers' biggest problems from farm to fork. So basically you serve on the one hand the farmers who produce the grain and on the other hand also concerning the consumer side such as retailers, processors, exporters, importers, etc. who are the end users of the commodity. Go Green provides farm warehousing services, commodity-backed financial facilitation through and NBFC banks, quality testing and certification, warehouse inspection, and auditing services, any asset management required from farm to fork.
We try to offer all services for the agricultural value chain under one roof. Moreover, I have initially worked with Godrej Aadhaar, Reliance Retail, and Spencer's Retail, which operates on the consumer side. I first spent about 10 years in this sector and then worked in the warehousing and logistics sector for the next 10 years before founding Go Green. Mr. Maulik Bhai Shah registered this company in 2012 and met with me in 2018 to discuss co-founding the company in Agri Warehousing the idea for this company was born at that time only.
We believe that you are a leader who has to suffer a lot to motivate employees to maintain the company's success. We believe that trust and transparency are key areas that have been lacking in the industry, and we enable organizations around the issue by being a trusted and reliable service provider in this area. We started the process in 2018, originally planning to focus on the specific geography of the country, but customers have shown tremendous response to the new company, and now, we are present in 25 states. We are currently active in more than 400+ locations and with more than 3500 customers.
Furthermore, when we talk about the mission and vision behind this massive growth company, the company moves forward with the primary vision of being the biggest supporter of farmers and the number one in agricultural storage space in India. Through its creative solutions, the Go Green team works to increase the reach of growers and FPOs for the best quality products while attempting to increase the number of buyer connections with their warehouse to create market connections for farm products."
R&D APPROACH
"If you have a closer look, you will observe that the entire industry only focusing on handling the bulk side because of the margin profit otherwise it will be very difficult for them to survive. Nobody was looking at the micro site. So, we have a separate team who is looking into micro sites. So, instead of asking farmers to bring the produce to 150 kilometers away to our warehouse, we go nearer to the farmer and set up a small sun center in the farm gate levels using the windows and link to the pilot so that the transition can happen if somebody wants to store for some time. Then we were required to some kind of warehousing facility so we have done a lot of research on that. We have a broad automatic storage technology which is a portable structure. It can be taken to the farmland itself and store the commodity for certain times. So, similarly, we are taking a lot of cold storage and a solar base for storage to the farm that level where the perishable commodities can be stored if the buyer is not going to buy on the same day they can buy on transit." – Mr. Santosh Sahu.
He further adds, "As we are handling a lot of commodities, hence we are doing a lot of R&D to find how we can automate the entire management site because right now, it is oriented business where a lot of manpower is required. So, we are trying to have different kinds of technology like for example, earlier the samples were drawn in the warehouse and it was sent to the laboratory then it was tested and then the result was coming. At present, with IoT devices, we can give the resolution and the handling can be easy."
www.businessconnectindia.in | Vol. 5 | Special Edition November 2022 INDIA 13
MEET THE RESEARCH TEAM
•
Mr. Premchand Motta
Mr. Premchand Motta is well known not only in India but in more than 125 countries across the world for his spices annual reports, which contain his forecast of the market trends for the coming months. Through this, all leading sellers and buyers of spices benefitted very much. At the age of 23, Mr. Premchand Motta became famous in more than 150 countries of the world as one of the best spices analysts. His analysis report has given a profit of multi-million rupees to leading spices powder manufacturers, spices traders of the entire world, and especially in India.
• Mr. Biren Vakil
Mr. Biren Vakil is a veteran of trading and risk management in the Indian commodity markets. He is associated with key exchanges, intermediaries and large broking houses, and business media. He has worked as a consultant for The Multi Commodity Exchange of India, The National Multi Commodity Exchange - NMCE during their initial commissioning. He regularly appears in popular electronic media such as CNBC, Times Now, Zee Business, Zee Gujarati, E TV, and VTV. He has also appeared as a Gold Analyst at the international news channel Al-Jazeera. He is a columnist with the largest-selling Gujarati daily Divya Bhaskar, Commodity World, Phool Chaab, and Gujarat Guardian.
BRAINS BEHIND THE BRAND
• Mr. Maulik K Shah (Promoter & Managing Director)
Mr. Maulik Shah is the founder and brains behind the Go Green Group. With over 25 years of experience in the International Agri Commodity Business, Real Estate, Foreign Exchange - Risk Management, IT-Infrastructure Development, and Modern Warehousing, he established Go Green to provide state-of-the-art services to businesses of all kinds. He is also the founder of more than 5 other startups in India. Mr. Maulik Shah is a Commerce Graduate with an M.B.A. in Finance and Marketing from ITM, Mumbai.
www.businessconnectindia.in | Vol. 5 | Special Edition November 2022 INDIA 14
• Mr. Santosh Sahu (Executive Director & Co-founder)
Mr. Santosh Sahu is an Agri-business professional with extensive experience in developing Agri Value Chains in sectors like Warehousing, Commodity Financing, Trade Facilitation Business, Rural Retail, Fresh Food, Agri Inputs, and Cold Chain. Before joining the Go Green Group, he was the Director & Head - Business Development at Kunvarji Group, AVP - Business Development at NBHC, and has also worked with organizations such as NCML, Krishdhan Seeds, Worlds Window, RPG Spencer Retail, Reliance Retail, and Godrej Agrovet. Mr. Sahu is an M.B.A. in Agri-Business from DAIICT, Gandhinagar, and an Agriculture graduate from OUAT, Bhubaneshwar.
WHY GO GREEN?
•
Edge Over Others
"The secret of the market is very basic, if you see the Indian market is very big. I don't think competition is there, it's time to see the opportunity to take and excel on our own. So, it is in the mind itself. In India, 300 million metric ton of production of food grain is there and we have only 130 metric metric ton of agri warehouse is there. So, I think if you focus on yourself and your team then there is a clear path to growth in the same way. As far as Warehouse receipt finance, the latent potential is more than Rs. 2 Lakh Cr. where as all WSPs put together are not able to reach to Rs. 50,000 Cr mark also in any of the previous years. So the potential is huge. I don't think competition is there it is only how you manage your team as well as underlying assets well to grow smoothly that is very important."- Mr. Santosh says.
• Bond With Tech
Mr. Santosh says, "Technology is very much essential because we are operating 1200+ warehouses and we do spread across 25 states with more than Rs. 8000 crore worth of value of commodities in our warehouses in India. Here comes the importance of technology to manage such big volume of business with real time information and transaction at every place of your supply chain network. So, there are three aspects in the businessnumber one, we are responsible for a quality and quantity of the goods, we are managing agri commodities , it is not just like non-agro or any FMCG good, which varies in quality and quantity bag to bag and grain to grain. The quality of the grains is very important as these are live entity where grains have an embryo which continuously respires and is live. So if you are not opening the warehouse on daily basis, then the grains quality will deteriorate to have huge losses in terms of value of the commodity. So, we try to follow through our automatic monitoring system. We are monitoring the opening and closing of warehouses on daily basis to ensure the grains are OK and also monitoring security system via central control room with CCTV surveillance. We have also got AI/ML based Quality assaying instrument for fast results which can give you results instantly within 30 seconds earlier."
PARTING WORDS
Before signing off, the visionary shared some words of wisdom for our budding leaders out there by quoting, "Building a right team is the key for any business and to any event. Many people have ideas, but they fail sometimes, but the first and foremost thing is that you have to have a very good team to try your idea that is parking. Second thing is that there is 1000 days of struggle in the initial stage whenever we were entering into any entrepreneurship. So, we need to have a lot of presence and a good faith on self is required in order to build a big business."
www.businessconnectindia.in | Vol. 5 | Special Edition November 2022 INDIA 15
Mukesh Ambani
to New Heights
An MBA Dropout Who Took Reliance Industries
www.businessconnectindia.in | Vol. 5 | Special Edition November 2022 INDIA 18
The 8th richest person in the world Mukesh Dhirubhai Ambani is an Indian business magnate. He serves as chairman and managing director of Reliance Industries Ltd. (RIL), a Fortune Global 500 corporation and the most valuable firm in India based on market value. According to Forbes Magazine, Ambani has a net worth of US$95.7 billion as of September 6, 2022.
Quick Facts
Name: Mukesh Ambani
Occupation: Chairman and MD, Designations: Chairman and Managing director of Reliance Industries Limited (RIL) Age-65 years of age.
Place of Birth: Aden (present day Yemen)
Marital Status: Married Spouse's Name: Nita Ambani Children; 3, Anant Ambani(son), Isha Ambani(daughter) and Akash Ambani(son)
Zodiac Sign: Aries Spoken Languages: Gujarat, Hindi, English Hobbies: Reading books, swimming, watching movies, listening to old Hindi songs, , doing long-walks, hanging out with friends,
Early life
Mukesh Dhirubhai Ambani was born on April 19, 1957, into a Gujarati Hindu family in the British Crown territory of Aden (current-day Yemen). He is the son of Dhirubhai Ambani and Kokilaben Ambani. His sisters are Dipti Dattaraj Salgaonkar and Nina Bhadrashyam Kothari, and he has a younger brother named Anil Ambani.
Because of his father's 1958 decision to return to India and launch a trading company specialising in textiles and spices, Ambani only spent a small amount of time in Yemen. Initially the name of the company was "Vimal," however it was later modified to "Only Vimal." Until 197o, his family lived in a modest two-bedroom home in Bhuleshwar, Mumbai. Even though the family's financial situation significantly improved once they relocated to India, Ambani continued to live in a communal society, commuted in public transport and never received an allowance. Later on, Dhirubhai bought a 14 floor apartment building with the name of Sea Wind in Colaba where Ambani and his brother resided with their families on different floors until recently. Ambani, along with his brother, attended the Hill Grange High School in Peddar Road, Mumbai. He attended St. Xavier's College in Mumbai after finishing his secondary education. After that he studied BE in The Institute of Chemical Technology and received a BE degree in chemical engineering.
Later, Ambani applied to Stanford University for an MBA programme but dropped out in 1980 to work with his father to establish Reliance, which at the time was still a young but rapidly expanding company. His father sent his son back to India from Stanford to take charge of a yarn manufacturing
project in his company because he believed that real-life skills were developed through experiences and not by sitting in a classroom.
Career
After returning to India in 1981, Mukesh Ambani helped his father in establishing Reliance Industries Limited. By now, the family company had started dealing in the telecommunications, retail, petrochemical, and refining industries. The enterprise also offered goods and services to the retail and telecommunications sectors.
The PFY (polyester filament yarn) manufacturing facility in India was made available to the commercial sector in 1980, thanks to India's then PM Indira Gandhi's leadership. When Dhirubhai Ambani sought for the permit to build a PFY facility, he was up against Tatas, Birlas, and other fierce competitors. In spite of the opposition, Dhirubhai was awarded the "License Raj." He contacted Mukesh Ambani again in 1980 to aid in the expansion of his company. Mukesh Ambani reported to Rasikbhai Meswani, who was the company's director at the time.
Rasik bhai passed away in 1985, and Mukesh Ambani's father had a stroke the following year, in 1986. Being the oldest son in the family, Mukesh Ambani was given full authority at this point. Ambani was entrusted with the responsibility of building the Patalganga petrochemical plant at the age of 24.
Mukesh's father passed away on July 6, 2002, after suffering a second stroke. Due to Dhirubhai's lack of a will designating how the empire should be divided, this increased tensions between the brothers. By dividing the business in half, their mother Kokilaben Ambani was able to settle the conflict. Reliance Industries Limited and Indian Petrochemicals Corporation Limited were given to Mukesh Ambani. Mukesh Ambani oversaw the construction of the largest communitybased petroleum refinery in the world, which can produce 660,000 barrels per day by the year 2010.
In order to establish a digital infrastructure for the 4G network in India, Mukesh Ambani and Bharti Airtel established a joint venture in December 2013. He introduced an investment of Rs 1.8 trillion across enterprises on June 18, 2014, and on December 27, 2015, he internally launched 4G broadband services. In 2016 under the leadership of Mukesh Ambani, Jio unveiled its own line of 4G smartphones under the LYF brand. The smartphone ranked third in terms of sales in India for that year. Jio 4G was formally introduced in September of that year.
Moreover, Mukesh Ambani is the originator of the Indian Super Competition, a football league in India, and he also owns the Mumbai Indians of the Indian Premier League through Reliance. He was included among the world's wealthiest sports owners by Forbes in 2012. He dwells in the Antilia Building, one of the most expensive private homes in the world with a $1 billion market value.
Personal life
In 1985, he was married to Nita Ambani. Dhirubhai considered setting up the two of them for marriage after witnessing a dance performance in which Nita took part. They initially met in this manner. They have a daughter named Isha as well as two sons named Anant and Akash. They live in the upscale 27-story Antilia building. In Antilia, the maintenance department employs 600 people. There are also 160 parking places, a private movie theatre, a fitness centre, and a swimming pool in addition to the three helipads.
www.businessconnectindia.in | Vol. 5 | Special Edition November 2022 INDIA 19
LEADING THE WAY AS INDIA'S PREMIER CORPORATE LEASING BRAND IN GURUGRAM – TRUESEED
| Business Connect
Entrepreneurs in this thriving entrepreneurial ecosystem of India end up extensively investing in their effort to scout a space coping with the difficulties of traditional offices as they transition from a business idea into a viable business structure. Here, corporate leasing emerges as a prominent and affordable solution.
Right from deciding the space's size and the capital required for interiors, furniture, AC, and other overheads, there are various challenges with traditional spaces. All these problems are resolved by the leading brand – TrueSeed.
As one of the "Most admired" & "Highly Recommended" brands for corporate leasing in Gurgaon, the company has been successfully supporting enterprises. Since its inception in 2009 by two innovative minds, Damanpreet Kochar (Co-founder & Director, Trueseed) and Simranpreet Singh (Co-Founder & Director, TrueSeed), TrueSeed has been a key solution provider backed by their exceptional experience in fulfilling the client's needs and mitigating their problems.
TrueSeed is amongst the top three commercial real estate players in the Gurgaon Market. There is a team of nine architects & in-house interior designers, Project Managers etc who extraordinarily execute plans and turn the client's vision into reality.
SINGH CoFounder & Director
The Leading Men behind TrueSeed Simranpreet Singh is the visionary behind TrueSeed, who is striving hard to manifest the dream of people into reality. Since 2009, he has worked as a versatile leader in a variety of sectors. He has served in executive and advisory capacities on the boards of several top Indian businesses, including TS Enterprises, Premco Auto Pvt Ltd, Darius Logistic Park Pvt Ltd, TrueSeed Investment
www.businessconnectindia.in | Vol. 5 | Special Edition November 2022 INDIA 20
SIMRANPREET
Puja
Consultants Pvt Ltd, and TrueSeed Wealth Services Pvt Ltd. In academics, he has done Post Graduate Diploma in Business Administration (PGDM) from Leeds Business School, United Kingdom which has helped instill leadership, excellent communication, strategic decision-making, and troubleshooting skills.
Damanpreet Kochar, Co-founder & Director, TrueSeed is one such dynamic business leader who is known for his integrity, honesty, and commitment. He is a believer in living life with integrity. Keeping up with such ideology & mantra in life, he has always been true to his businesses and has been piloting his venture toward prosperity & success.
Innovative Solutions
TrueSeed offers customised services with various operational virtues to each client, depending on their unique needs. They have a range of services in Expansion, Renovation, Shifting, and Changing an office into your reimagined and modern workplace.
TrueSeed's core solutions are:
Commercial: TrueSeed boasts about completing interior and fit-outs of 700+ clients. They take on entire office interior & fit-out work orders in addition to build-to-suit offices. A thorough discussion of the client's vision and thought process results in a distinctive and durable design. Prior to implementation, 3D drawings are produced so that an objective view can be seen before they begin the on-site work.
Warehouse: Having identified the importance of logistics & supply chain management, based on research & knowledge team TrueSeed have ventured into the segment in 2018. It has since then, been accumulating suitable land parcels across India.
TrueSeed is coming up with two Warehousing & Logistics Parks, the first one under the brand Awadh Warehousing & Logistics Park on the Lucknow-Kanpur Road, Lucknow & second one under the brand name Darius Warehousing & Logistics Park in Farukh Nagar, Gurugram. This arm of the business would offer customized warehouse solutions and services which include Land Acquisition, Compliance, Leasing, Asset Management and Facility Management.
Residential: TrueSeed offers residential buyers "Value Buy" residential floors. Everything is managed internally, from plot purchases to construction and sales. This method is widely used and provides buyers with security. The entire procedure aids in maintaining a quality check, producing projects of the highest calibre in terms of appearance and safety.
The Tale of TrueSeed's Success Journey
In 2009, Team TrueSeed saw the growth opportunities in the real estate industry and decided to plunge into the sector. They established TrueSeed with the common goal of providing clients with stunning business and residential environments. They soon came to the conclusion that there was no organised corporate player to cater to the MNCs looking for Built to suit spaces. Organisations frequently required office space, but there were not many players wellorganized enough to offer such comprehensive solutions. In order to fill the void, they began buying commercial property. With more than 200 tenants, they were able to accomplish one million transactions by 2014. They were able to offer prominent international clientele 700 corporate offices. They have expanded for well-known projects like Lucknow-Awadh Warehouse & Logistics and GurugramDarius Warehousing & Logistics by getting involved in the construction of residential floors as well as logistics and warehousing spaces.
www.businessconnectindia.in | Vol. 5 | Special Edition November 2022 INDIA 21
Hitachi Systems Micro Clinic
THE TORCHBEARER OF TOP NOTCH IT SOLUTIONS
Jha | Business Connect
Technology and Innovation are two facets of one coin. The curiosity to see a novel and better world often lead to innovation and give the desired shape to a long cherished vision. Utilization of Technology plays an instrumental role in the mushrooming of futuristic ideas. India post-LPG (Liberalization, Privatization and Globalization) became a hotbed for Tech-based companies to usher a new world that was meant to offer opportunities and optimism. A brandnew era of IT was penning down the story of a new India.
The abrupt rise in the usage of Computer systems and other IT equipment in the early 1990s germinated the need for IT services provider. In such circumstances, an idea to provide seamless IT solutions & services was given final shape in the form of Micro Clinic. The foundation of the New Delhi based company was done in 1991. The Company, in a couple of years, went on to become the epitome of one stop solutions for all the IT based solutions and services.
In 2014, the company was acquired by global tech conglomerate Hitachi Systems Ltd. Hitachi Systems has, ever since the dawn of the Japanese IT industry, been at the forefront of a changing business and has been providing IT support to customers of diverse sectors and sizes to assist them in their day-to-day decision-making and operations. Reaching a major goal together with the combined force of teamwork has been one of the key aspects of the company.
Improved and more powerful
The amalgamation of two tech behemoths gave birth to Hitachi Systems Micro Clinic that became synonymous with brilliance and state-of-the-art services. The focus of the company is to create new values through co-creation with customers. By combining deep industry &functional expertise of Micro Clinic and the brand power of Hitachi Systems, it brings an entire gamut of expertise to manage the digital ecosystem from cable to cloud.
"We believe that every organization has a unique DNA and as we continue to advance our unified corporate vision of Social Innovation, we help amplify this uniqueness by bringing business aligned IT services and solutions through customized and flexible engagement and operating models", proclaims Anuj Gupta, the CEO of Hitachi Systems Micro Clinic.
www.businessconnectindia.in | Vol. 5 | Special Edition November 2022 INDIA
22
Vikas
Company offerings are as follows:
• IT Solutions – Digital Workplace solutions, Security Solutions, Automation and Orchestration solutions, Server, Storage Network solutions
• IT Services – Infrastructure Managed Services, Datacenter Services, Managed Security Services, Cloud Services, Device as a service
Hitachi Systems Micro Clinic is uniquely positioned to provide best in class IT services and Solutions. When Hitachi took over the business, the company had four verticals: end user computing, server storage network, security and services. Now the company has added Network Operations Centre (NOC) services and Security Operations Centre (SOC) services to their portfolio for 24 hours by 7 days support.
The undisputed leader in IT services
The Company has pan India presence that keeps it notches above its peers. Moreover, it has a tried & tested ability to execute large scale projects. Apart from this, it has diversified resource pool, trained in multiple technologies. It devises vertical specific strategy (focusing on government and PSU in North, West, BFSI, Pharma and Manufacturing and in South Manufacturing, IT/ ITES). The strategy helped it in capturing the system integration market. The association with Hitachi has helped it in registering significant growth (50% YoY) in India.
Hitachi Systems Micro Clinic provides cable to cloud solutions. Indian CIOs work with it because of its agility and technical capabilities. The size (presence across India and capability for big IT projects) and brand (under Hitachi Systems) plays to its advantage.
The Company never lags in the race of acquiring latest tech-oriented solutions by constantly investing in building workforce capabilities thereby strengthening its relationship with technology partners. It provides customers with higher touch points through service centers spread across length and breadth of the country. It has over 2000 employees in organization that corroborates its aptness to handle vast workforce with an efficiency at par with top MNCs.
Hitachi Systems Micro Clinic believes in the mission of Hitachi contributing to society through development of original technology and products.The exponential growth of technology advancement requires organizations to embrace digital transformation to become more efficient and sustain their competitive edge. Hitachi Systems
Micro Clinic has embraced cutting edge technologies in line with Digital India initiatives. It has undertaken projects on eGovernance, Smart cities and safe banking leveraging on new technologies.
Making India the global IT hub
Hitachi Systems Micro Clinic has emerged as leading systems integrator actively contributing towards Digital India initiatives by offering mature OT and IT strategy. It aims to enable enterprises and governments create efficiency and convenience and provide advanced social infrastructure for improved quality of life. It has executed some prestigious projects such as State Data Center and enabling government services accessible to citizens through common service delivery outlets.
The company is being a catalyst in the Banking services by leveraging digital technologies by undertaking projects such as financial inclusion and encouraging safe banking by redefining the cybersecurity operations for a digital world. These initiatives are empowering citizens with world class services leading to the economic development.
Talking about its future trajectory, the company aspires to become billion-dollar enterprise by2021. With the recent launch of SOC services they are expected to grow IT services and solutions business in India and globally. It will continue to undertake projects which contribute towards Digital India initiatives penetrating the untapped markets of India.
Meet the CEO
Anuj Gupta is assigned with the key responsibility to evolve the strategic direction for the company and its portfolio of offerings while nurturing a strong leadership team to drive its execution. He has a proven executive management track record and over 15 years of experience in driving sales growth in the technology industry. Driving growth and transformation in an age of connected assets and connected experiences, Anuj is also responsible for devising a robust strategy and overseeing meticulous execution. He has been playing the role of a guiding star to the company for more than six years. He is also influential in aligning business associations with leading OEM vendors and partners.
www.businessconnectindia.in | Vol. 5 | Special Edition November 2022 INDIA 23
November 2022 INDIA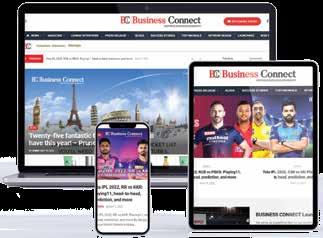 www.businessconnectindia.in | Vol. 5 | Special Edition November 2022 INDIA 26 EDITION NEVER MISS OUR Follow us on BUY NOW FOLLOW NOW SUBCRIBE NOW I would like to subscribe* Business Connect for one year at Rs.1000 (12 issues) I am enclosing the Cheque/DD no. _________________________ dated ___________________ of Rs. ________________ of bank __________________________________________ Branch ______________________________________________ drawn in favour of FANZINEINDIA. My Personal mailing details (IN BLOCK LETTERS): NAME _____________________________________________________ Company Name _____________________________________________ Designation _____________________________________ Address _________________________________________________________________________________________________ _________________________ City _________________________ State ______________________ PIN ____________________ Telephone _______________________________ Email (Required*)__________________________________________________ Age in years _______________ Experience _______________ Industry ___________________ Education __________________ Your feedback about the magazine ___________________________________________________________________________ How did you come to know about Business Connect? ______________________________________________________________ Now you can also subscribe through credit card: visit - http://www.businessconnectindia.in All the payments are accepted in Cheque/DD favouring: FANZINEINDIA, 701, DDA 2, Janakpuri District Center, new Delhi-110058 *This offer is valid in India only. Please mention your name and address on the back side of your Cheque/DD. Cancellation and refunds are not allowed. If you have any query, please send us the email to corporate@businessconnectindia.in or call to 011-41065208. Business Connect offers you amazing business stories along with multiple interesting and motivational stories written by our
rienced editors. You may grab an opportunity through our special offer : Get 12 Issues by paying just Rs. 1000. INDIA'S FASTEST GROWING BUSINESS MAGAZINE
expe
Top 10 Largest
The development of technology and rising automation is changing the way people work. While it is eating up the traditional jobs, it is also creating new jobs at the same pace. According to the Hurun India 500 list from 2021, at least 139 Indian companies have a workforce of more than 10,000. One of Top 10 Largest IT companies in India is Tata Consultancy Services (TCS). With 5.06 lakh employees, the IT behemoth TCS is followed by Quess Corp, which has 3.63 lakh. According to Hurun, despite the fact that thousands of individuals lost their employment in the last two years owing to an unanticipated pandemic, these Indian enterprises continue to employ a sizable workforce. Here, in this blog article, we brought to you the biggest employers in India. Read on!
Employers in India
• WReliance Industries Limited: 1.94 lakh people
India's favourite company, Reliance Industries Limited, ranks 10 on our list. RIL, one of the most prosperous businesses of India, is headquartered in Mumbai.
Currently Reliance employs more than 2,30,000 people which makes it one of the largest private employers in India. During the pandemic years, it helped the Indian economy create over 75,000 new employment. Being a top employer, Reliance works to provide its staff with a just, welcoming, emotionally fulfilling, and professionally supportive environment. The Company's efforts led to its inclusion on LinkedIn's list of the Top 25 workplaces in India.
• Quess Corporation: 3.83 lakh
Although this staffing solution provider employs more people than TCS in India, most engineers have never ever heard of it. Despite this, it is the second-highest private sector employer in India. Because TCS has a greater overall staff strength than Quess Corporation, including TCS personnel abroad, it is the reason why it is not before TCS in the largest employers' list. In India, 3.83 lakh people are employed by the Bangalore-based Quess Corporation.
• Larsen & Toubro: 3.6 lakh With operations in engineering, construction, manufacturing, technology, and financial services, Larsen & Toubro Ltd., also known as L&T, is an Indian multinational company with headquarters in Mumbai. The business is ranked among the top five construction firms worldwide. The corporation had 55,332 permanent employees as of the end of January 2022, of whom 2,822 (5.29%) were women and 90 (0.1012%) had impairments. In the same time frame, the corporation employed 293,662 people on a contract basis.
www.businessconnectindia.in | Vol. 5 | Special Edition November 2022 INDIA 28 Work Culture
• State Bank of India (SBI): 2.50 lakh
With its corporate office in Mumbai, Maharashtra, State Bank of India (SBI) is a statutory organisation for financial services and a global public sector bank. SBI, the sole Indian bank on the Fortune Global 500 list of the largest firms in the world in 2020, is the 49thlargest bank in the world by total assets and is rated 221st overall. It is a public sector bank and the biggest bank in India, with a 25% percent of the overall loan and deposit market and a 23% market share for assets. With approximately 250,000 workers, it ranks as India's 9th largest employer on this list. State Bank of India crossed the $5 trillion market capitalization threshold on the Indian stock exchanges for the first time on September 14, 2022, becoming the third lender (after HDFC Bank and ICICI Bank) and eighth Indian firm to do so. Employing a huge number of people, SBI ranks among the largest employers in the world. The workforce of female employees is close to 26%. Officer, Associate, and Subordinate staff percentages were 44.28%, 41.03%, and 14.69%, respectively. Throughout the fiscal year 2020–21, each employee contributed a net profit of 828,350 (US$10,000).
• Infosys: 2.59 lakh
A multinational information technology firm based in India, Infosys Limited offers business consulting, IT, and outsourced services. The business's headquarters are in Bangalore; however, it was formed in Pune. Infosys, One of The Top 10 Leading Companies in India, employs 2.59 lakh people at present and is 8th biggest employer of India. Business consulting, information technology, and outsourcing services are all offered by Infosys Limited, a multinational information technology company based in India. Though the company was established in Pune, its headquarter is in Bangalore. According to 2020 revenue estimates, Infosys is the second-biggest Indian IT business after Tata Consultancy Services, and it is ranked as the 602nd largest public company in the world by Forbes Global 2000. On August 24, 2021, Infosys became the fourth Indian company to have a market valuation of $100 billion.
• India Post: 4.66 lakh
Government-run postal service India Post is a branch of the Department of Post under the Ministry of Communications. It is the most widely used postal system in the entire globe and is commonly referred to as the Post Office. Over 4.66 lakh people work for the government-run postal service known as India Post. In 1766, Warren Hastings undertook the initiative on behalf of the East India Company to launch the nation's first postal service. When it first started, it was known as "Company Mail." In 1854, Lord Dalhousie changed it and made it a Crown service. The India Post Office Act of 1854, which considerably improved upon the 1837 Post Office Act, which had established regular post offices in India, was passed with Dalhousie's assistance and included the introduction of standard postage rates (universal service). For the entire nation, it created the role of Director General of Post. Delivering mail (post), sending money via money orders, accepting deposits for Small Savings Schemes, offering Postal Life Insurance (PLI) and Rural Postal Life Insurance (RPLI) life insurance coverage, and offering retail services like bill collection and the sale of forms are all included in its scope. The DoP also represents the Indian government in providing various services to its inhabitants, such as payment of old age pensions and wage distribution under the Mahatma Gandhi National Rural Employment Guarantee Scheme (MGNREGS). The largest postal network in the world is India Post, which has 154,965 post offices (as of March 2017).WW
www.businessconnectindia.in | Vol. 5 | Special Edition November 2022 INDIA 29
•
•
Paramilitary: 8.90 lakh
A paramilitary is an organisation that resembles a professional military in terms of structure, tactics, training, subculture, and (often) function, but it is not an official or legitimate member of a nation's armed forces. Paramilitary units perform tasks that a nation's military or police forces are unable or unwilling to perform. Even though they lack weapons or a combat function, other groups may be classified as paramilitaries based solely on their organisational structure. In times of peace, paramilitaries are frequently tasked with guarding important locations like government buildings, infrastructure, airports, seaports, or borders. They might also be assigned to perform counterterrorism or VIP protection duties. They might be temporarily transferred out of the paramilitary depending on the organisation they work for; for instance, police tactical unit members might be given patrol responsibilities until they are required again.
Tata group:9.35 lakh
The Tata group, a multinational corporation with its headquarters in India, was established by Jamsetji Tata in 1868. With the goal of "improving the quality of life of the communities they serve globally through long-term stakeholder value creation based on Leadership with Trust," the organisation operates in more than 100 countries across six continents. Tata Sons, the promoter holding firm, has charitable trusts holding 66% of its equity, giving back money to the community. Due to its 150-year commitment to upholding moral principles and ethical business practices, the Tata name has long been revered throughout India. One of the Top 10 Largest Companies in India, Tata group's businesses only hire the best and brightest, supported by a culture of ethics and integrity. With 702,454 current personnel, the organisation stands strong.
•
Indian Railways: 12 lakhs
The government of India's Ministry of Railways owns Indian Railways (IR), a statutory organisation that manages the country's entire train network. As of the end of March 2022, its total route length was 68,103 km (42,317 mi), making it the fourth largest national railway system in the world by size. By the first day of April 2022, electrified 25 kV 50 Hz AC electric traction will be used on 52,247 km (32,465 mi), or 83% of all broad-gauge railways. Rolling fleet for Indian Railways as of March 2020 included 12,729 locomotives, 76,608 passenger coaches, and 2,93,077 freight waggons. At many places across India, IR owns production facilities for locomotives and coaches. As of March 2020, it employed 1.254 million people, ranking as the eighth-largest employer globally. The government has pledged to electrify all of India's train lines by 2023–2024 and transform them into "net zero (carbon emissions) railways" by 2030.
Indian Armed Forces: 14 lakhs
•
The Indian Armed Forces, often known as the Republic of India's Armed Forces, are the country's largest employer. Three professional uniformed forces make up this group: the Indian Army, Indian Navy, and Indian Air Force. The Indian Armed Forces are supported by the Central Armed Police Forces, Assam Rifles, Indian Coast Guard, Special Frontier Force, as well as a number of inter-service commands and organisations such the Strategic Forces Command, the Andaman and Nicobar Com mand, and the Integrated Defence Staff. While the President of India is the Supreme Commander of the Indian Armed Forces, the Prime Minister of India and their chosen Cabinet Ministers are in charge of executive decisions regarding national security. The Ministry of Defence of the Government of India is in charge of the Indian Armed Forces. It is the second-largest military in the world and has the biggest volunteer army, with a strength of over 1.4 million active personnel. Additionally, it has the third-largest defence budget worldwide. It is ranked as the fourth-most powerful military according to the Global Firepower Index assessment.
www.businessconnectindia.in | Vol. 5 | Special Edition November 2022 INDIA 30
Mallikarjuna Reddy K Founder, Director
CREATING THE PITCH TO EXCEED FITNESS GOALS
In 2020, Mallikarjuna launched FitKube to help Indians refocus on their fitness objectives, which had been severely disrupted by COVID. The time was characterized by a financial crisis, and as businesses cut back on staff, going to the gym became an indulgence. On the contrary, gyms began shutting down because of lockdowns and social distancing. As time passed, he observed people eschewing an active lifestyle due to a lack of immunity and fitness. While he was doing well abroad as a Senior Consultant at a reputed firm, he couldn't stand the distress. Being a fitness enthusiast, he sought to change the scenario. He left his lucrative job and returned to India, pondering different ideas. His efforts finally brought forth the concept of micro-gym, which was already making waves abroad. He planned on redefining fitness in India with this innovation, thus launching FitKube, the first smart Micro gym in the subcontinent.
THE "NEXT BIG THING" FOR FITNESS IN INDIA
Indranil Roy | Business Connect
From traditional akharas to well-furnished gyms, the fitness industry in India has traveled a long road. Poised at an inflection point with stupendous potential for market growth, several business models are emerging to disrupt this industry. The question here is: How can fitness be made available to all kinds of people at a minimal cost, with flexible hours, and without sacrificing cleanliness and hygiene? "Micro-gym" is a groundbreaking concept that can address this concern. While the concept is yet to become generalized in India, one brand has taken the responsibility to provide this dynamic workout environment with a flexible setting. This is the story of FitKube, a Bangalore-based, first-of-its-kind Microgym in India, showing a high potential for rapid growth.
Our captivating edition, "Brand of the Year 2022," honors the brands that are striking new ground to redefine existing settings. And FitKube arrived for us like a beautiful puzzle piece. To learn more about the brand and its underlying mission, we spoke with the brand's curator, Mr. Mallikarjuna Reddy K (Founder & Director). Here's a summary of the conversation.
FitKube is not a typical go-to gym; it is a unique fitness studio stacked with the latest equipment's, fully customizable, private, pay-per-workout, unmanned, and completely automated. With a vision to make individuals of all age groups "fit & fine," it's offering everyone, irrespective of financial status, a private gym to workout in peace, stream their own music, and get their sweat on without being judged. It delivers a targeted and distinctive personal fitness experience and promotes a sense of community among its members, in contrast to standard gyms that don't expressly focus on tailored training but instead have a floor meticulously designed to maximize fitness for all.
SUPERSEEDING THE "BIG GYM" MODEL
Since the pandemic, the fitness scene in India has undergone a drastic upheaval. Financial difficulties during this time caused people to cut back on their exercise. Gym operations became more challenging and expensive as
they needed a large space, the requisite tools, and all the overhead costs like insurance, first aid, technology, staff, and so forth. Even though things are better now, the setbacks have affected mental and physical wellness, stimulating chronic disorders such as diabetes, cardiac diseases, hypertension, and so on. FitKube is an all-encompassing answer to all these setbacks. It is built on the premise that physical activity is the most effective approach to combat many ailments and foster a sense of autonomy and reliance. It is purposefully small to preserve cleanliness and hygiene and keep users' attention on training priorities.
FitKube is also dispelling the myth that private gyms and fitness are just for the elite. Instead of the existing exorbitant subscriptions, obstinate mobility, fixed costs, cluttered, not targeted to individuals, and so on, the brand offers a ROI-driven experience. Its dynamic pricing model throughout the day caters to Rich, mid-to-low-income
www.businessconnectindia.in | Vol. 5 | Special Edition November 2022 INDIA 32
individuals, and students - all while giving them a chance to exercise and have fun. To put it together, FitKube is offering the best of both worlds: a quiet and professional space for fitness enthusiasts to push their limits with the benefits of a high-end gym.
YOUR OWN TIME, YOUR OWN GYM
Another aspect that makes FitKube stand out is the focus on privacy. Indians, especially women, are always concerned about their privacy during workout sessions. While gyms generally foster a sense of respect and harmony, women avoid going to gyms due to fear of criticism. On top of that, a trad gym setting might be overwhelming and daunting for a beginner. FitKube takes privacy inside the gym to the next level. "As a human-free facility," Mallikarjuna says, "every woman will find the full seclusion she needs in her session." This will motivate them to focus on their fitness goals with the correct tools and in a lively setting.
The limited floor area also enables women to train using a range of creative exercises centered on different aesthetics, creating a more definitive workout experience.
A STATE-OF-THE-ART FITNESS STUDIO
Technology has become an intrinsic part of our way of life, from connectivity to education and entertainment. FitKube has therefore elevated itself above the typical technological bastion of gyms. It's supervised via an app that oversees everything from entry to payment for each
session. The facilities are equipped with IoT to facilitate each session properly, i.e., it automatically switches power on/off before and after the user session, respectively. This fosters transparency and helps build solid business fundamentals.
On the other hand, each FitKube is fitted with world-class equipment. Although they vary from one FitKube to the next, there are around 500 exercises that can be done, like HIIT, cardio, resistance, and strength training, as well as free weight workouts, circuit training, compound exercises, yoga, and so on, covering the entire body.
FitKube emphasizes functional training rather than working out individual portions because today's fitness enthusiasts prefer exercising their bodies as an integrated unit. In a minimal space, it offers a chance to practice high-intensity exercises, cross-fit, resistance training to develop strength and endurance, and more.
EXPLORING NEW LIMITS TO CONQUER
FitKube is on a mission to make Indians prioritize fitness like every other key aspect of their lives. In light of that, the brand is already making a name for itself in Bangalore. Satisfied customers are the best marketers, and FitKube has achieved an outstanding rating. It's seeing a steady increase in users and strives to reach more and more people, helping them
realize its benefits. As the founder explains, "Once they know about FitKube, they fall in love with it."
"We aim to spread the message that exercising in a healthy setting can help people avoid getting sick and dealing with unpleasant treatments."
In the end, FitKube aims to establish a precedent for innovative "Made in India" brands.
Even though it is in the early stages of continuous revenue generation, the brand has ambitious goals. For instance, they want to expand into children's sports & fitness, giving their FitKube Community a new feather. Given this, it is logical to assume that Mallikarjuna, a modern-day fitness lover, has a unique aim. By transforming the standard gym model into something extraordinary, he has given the maxim "Start small, remain small" a new charm. Over a billion people's lives are expected to be impacted by FitKube eventually, especially in rural India, where fitness is a delusion.
As ambitious as this may sound, the nation has seen a rise in digitalization, which will help the FitKube concept take off.
INSPIRING ADVICE FROM THE LUMINARY
"Never be hesitant to take calculated risks for the good of society. Even if you might fail, failure is a better teacher than success. Keep your attention on the now and relish each step of your entrepreneurial journey. Recall that you only have one life. Don't settle for mediocrity or you'll likely be one of a billion people."
www.businessconnectindia.in | Vol. 5 | Special Edition November 2022 INDIA 33
IDBI intech
RAISING TO PROMINENCE WITH DIGITALLY TRANSFORMING THE BUSINESSES
We are a technology-led business transformation service provider, specialising in the Banking, Financial services and Insurance industry. With our unique approach to digital transformation, we continue to drive innovation and design agile solutions to accelerate value creation. Our expertise in advanced technology enables us to deliver seamless user experiences, making way for smoother digital transformation journeys. IDBI Intech is a company with strong foundation in the Banking and Financial Services sector. We have developed a strong portfolio of solutions & services catering to the Financial Services landscape. These are our growth enablers in the Digital Transformation of our customers & in their evolving need to meet the changing business & regulatory demands.
We see a strong demand for innovative solutions delivering business outcomes. We continue to drive strongly a culture of innovation, agility, time-to-value & collaboration, which are critical enablers for our growth. This has ensured that as a team, we are entrepreneurial in our thoughts & action in our journey of being a trusted partner to our customers.
To help our customers achieve these high standards of customer delight, we have pioneered a wide range of Digital Innovations that leverage AI, ML, API & Microservices. Our innovations include market-leading Digital Banking Fintech Products, Innovative Financial Crime & Compliance Solutions, PCI- PA DSS certified Enterprise-wide Reconciliation & Settlements System among others
OUR VERTICAL
• Solution & Services
• Contact Centre
• Training & Certification
• Data Centre Services
INTECH- COMPLIANCE & REGULATORY PRODUCTS
• Anti- Money Laundering
• Real-Time Transaction Monitoring
• Early Warning Signals
• Reconciliation and Settlement Solution • ADF & CIMS
INTECH – BANKING SOLUTIONS • NPA and Asset Classification Solution • Digital Transformation for Audit Process • WhatsApp Services • Comprehensive Surveillance System • Aadhar Data Vault • Locker Management
INTECH – PARTNERS SOLUTIONS
Lexis Nexis
Cheque Truncation System
Board Pac
IRIS XBRL Solution
OUR PARTNERS
Wipro
Redington
Veritas
Origin
At IDBI Intech, core values of Integrity, Ingenuity and Intelligence are the foundation of our collective culture and character. These define our customer value creation and shape our individual behaviours, decisions, and actions., This has been a successful framework on which we continue to deliver customer satisfaction.
www.businessconnectindia.in | Vol. 5 | Special Edition November 2022 INDIA 34
•
•
•
•
•
•
•
•
•
•
•
•
•
•
•
Oracle
Dell
IBM
Microsoft
Pixdynamics
VMware
Linux
TOP 10 Largest Employers in the World 2022-23
As governments in industrialised nations cut spending and the private sector prepares for another slump, the global economy is once again in a dangerous position. There is a jobs crisis as a result of double-digit unemployment rates in several wealthy nations. In the middle of this, many biggest businesses in Western and emerging markets are actually increasing the number of employees on their payrolls.
Based on data from Reuters, international stock indices, corporate websites, annual reports, and other publicly available information, we've compiled a list of the biggest employers in the world. Except for a few instances where the business primarily relies on part-time workers, we have only used fulltime staff. In these instances, we have made it clear that the number includes part-time employees. The largest employers on the planet are engaged in a
number of sectors, including finance, telecommunications, energy, military and retail. Keep reading to know "Top 10 Largest Employers in World 2023".
10. Foxconn: 1.3 million
China's largest private employer is Foxconn, a subsidiary of Taiwan's Hon Hai Precision Industry Company (commonly known as Foxconn). The contract manufacturer, which has caused a lot of controversy due to claims of bad worker standards, produces technology for Apple, Samsung, and other businesses. The company still employs 1.3 million people despite having replaced 50% of its workforce with robots by 2016. As Hon Hai Precision Industry Co. Ltd., it was established in 1974. It was started by Terry Gou, and it has headquarters in Taiwan's New Taipei's Tucheng District. It makes more than $132.19 billion in revenue every year.
www.businessconnectindia.in | Vol. 5 | Special Edition November 2022 INDIA 36 Lifestyle
Unlike other companies, Amazon launched a significant hiring drive during the pandemic. This led to an expansion in Amazon's employment from 800,000 to 1.3 million individuals. This number includes both part-time and full-time employees, as well as freelancers and temporary employees. It was once known as Cadabra and was founded in 1994. Jeff Bezos created it, and Seattle, Washington, in the United States, is home to its headquarters. The company generated a net income of approx. $21.331 billion last year.
Amazon has built a reputation for upending long-established sectors through technical innovation and "aggressive" reinvestment of revenues into capital expenditures. In terms of revenue and market share, as of 2021, it was the biggest online retailer and marketplace, supplier of smart speakers, cloud computing service through AWS, and Internet firm worldwide. Amazon Prime, a paid subscription service with more than 200 million subscribers globally, helped the company overtake Walmart in 2021 to become the largest retailer in the world outside of China. In terms of private employment, it ranks second in the country.
8. National Health Service of the UK: 1.34 million
The National Health Service (NHS), the oldest public health care institution in the world, is also one of the largest employers on the planet. The workforce is now projected at 1.34 million individuals, ranging from clinical staff to emergency contact centre employees, according to NHS statistics from May 2021. There are 1.5 million individuals employed by the NHS in England, and personnel costs make up about two thirds of the money spent by NHS providers. The NHS is one of the major employers worldwide and the largest employer in the nation.
Despite having a large labour force, it is becoming more and more clear that the NHS cannot keep up with demand. Here, we provide information on the size and composition of the present NHS staff, to the extent that the data available permit. We describe the severity of the current shortages, their impact, and some impending workforce challenges.
www.businessconnectindia.in | Vol. 5 | Special Edition November 2022 INDIA 37
7. Indian Railways: 1.4 million
India's state-owned railway network employs over 1.4 million people and is renowned for its punctuality and staggering size. A whopping 8.1 billion passengers travel on the vast network, which runs both suburban and long-distance services, every year, covering hundreds of thousands of km. Indian Railways (IR), a statutory organisation owned by the Indian government and in charge of running the whole nation's rail system, is a part of the Ministry of Railways. Its overall route length as of the end of March 2022 was 68,103 km (42,317 mi), ranking it as the fourth largest national railway system in the world in terms
of area. On 52,247 km (32,465 mi), or 83% of all broad-gauge railways, electrified 25 kV 50 Hz AC electric traction will be in use by the first day of April 2022. Indian Railways had a rolling fleet of 12,729 locomotives, 76,608 passenger coaches, and 2,93,077 freight waggons as of March 2020. IR owns production facilities for locomotives and coaches in numerous locations around India. It had 1.254 million employees as of March 2020, making it the sixth largest employer worldwide. By 2023–2024, the government has promised to electrify every train line in India, and by 2030, it hopes to have created "net zero (carbon emissions) railways."
6. Indian Armed Forces: 1.45 million employees
There are 1.2 million reserve soldiers and little over 1.45 million active members of India's Armed Forces, which include the Army, Navy, and Air Force. The nation's military expenditures have significantly increased in recent years, rising from $56.64 billion in 2016 to $71.12 billion in 2019.
The Ministry of Defence of the Government of India is in charge of the Indian Armed Forces. It is the second-largest military in the world and has the biggest volunteer army, with a strength of over 1.4 million active personnel. Also, it has the third-largest defence budget worldwide. It is ranked as the fourth-most powerful military according to the Global Firepower Index assessment.
5.
China National Petroleum Corporation: 1.5 million
Oil and gas production in China is solely controlled by China's National Petroleum Corporation (CNPC). Azerbaijan, Canada, Venezuela, Iran, and Canada are just a few of the 30 nations where the massive company's 1.5-million-person workforce runs drilling rigs and refineries.
The largest integrated oil and gas corporation in China is the CNPC, which holds this title. In nations including Iraq, Iran, Syria, and Uzbekistan, it is presently engaged in work or creating projects. Since 2005, six people have died in accidents or incidents, and many rivers and oceans have been contaminated.
4. McDonald's:1.7 million
One of the most valuable brands in the world and one of only three American businesses to rank among the top ten employers is McDonald's.
McDonald's, the largest chain of fast-food hamburger restaurants in the world, was established in 1955 by American entrepreneur Ray Kroc. More than 33,000 of the company's restaurants—of which more than 80% are operated by independent franchisees—are located
in 118 different countries.
On "national hiring day" in April of this year, McDonald's made news when it hired a staggering 62,000 Americans in a single day. That was more than the 50,000 employees it had expected to hire that day to increase its American headcount by 7%. Europe accounted for 41% of McDonald's global sales in 2010, making it the company's largest market. The rest of the globe contributed about 21%, while the United States accounted for 34% of its revenue.
www.businessconnectindia.in | Vol. 5 | Special Edition November 2022 INDIA 38
3. People's Liberation Army (PLA): 2.185 million
The People's Liberation Army (PLA), which has 2.185 million active and reserve members, is the biggest army in the world. The Ground Force, Navy, Air Force, Rocket Force, and Strategic Support Force are the five divisions that make up the People's Liberation Army (PLA), the largest-growing military in the world. It has undergone considerable refurbishment recently.The People's Liberation Army has its origins in the communist-led
Nanchang Uprising against the Nationalists in 1927. Initially known as the Red Army, it rose from 5,000 men in 1929 to 200,000 in 1933 under Mao Zedong and Zhu De. Only a small portion of this force made it through the Long March in retreat from the Nationalists. After regaining its strength, the Eighth Route Army fought alongside the Nationalists against the Japanese in northern China. Following World War II, communist forces called the People's Liberation Army defeated the Nationalists, allowing the People's Republic of China to be established in 1949.
2. Walmart: 2.2 million
With 2.2 million employees across the United States and a few foreign nations, Walmart is the largest private-sector employer in the world. It has an estimated $559 billion in market capitalization and the largest company in the world by revenue. Massmart in South Africa is one of the many significant affiliates that Walmart also owns. The largest retailer in the world, Wal-Mart Stores, has more than 9,600 locations in 28 countries and is considered the world's best employer. Sam Walton, an entrepreneur from Arkansas, launched the
corporation in 1962. With a 48 percent ownership stake in the business, the Walton family continues to rank among the richest families in the world. The number of workers at Wal-Mart increased by almost 17% from 1.8 million in 2005 to 2.1 million in 2010. The business has been successful in producing high revenues and profits per employee at that time. When compared to 2005, its yearly sales per employee increased by around $27,000, and its profit per employee increased by $900.
About 1.4 million of its 2.1 million employees worldwide are based in the United States. Wal-Mart is one of the biggest employers in Canada and Mexico outside of the United States. The same quarter saw $109 billion in international sales.
1. The US Department of Defence: 2.86 million people
The United States Department of Defence is the largest employer in the world, employing 2.86 million people in total. Both civilian employees and serving personnel are included in this group. The United States military not only has the most personnel of any armed force, but it also has the greatest defence budget in the world, which totalled $738 billion in 2020.
The United States Department of Defense is a federal executive branch department tasked with organising and supervising all government departments and services directly related to national security and the United States Armed Forces. The Department of Defense is the world's largest employer, with about 1.34 million active-duty service members (soldiers, marines, sailors, airmen, and guardians) as of June 2022. The Department of Defence also employs over 778,000 National Guard and reservists, as well as over 747,000 civilians, for a total of over 2.87 million people. The Department of defence (DoD) is headquartered in the Pentagon in Arlington, Virginia, just outside Washington, D.C., and its declared objective is to provide "the armed forces required to deter war and ensure our nation's security."
www.businessconnectindia.in | Vol. 5 | Special Edition November 2022 INDIA 39
Saini
AAYUSH SAINI
A BIGWIZ REDEFINING THE BASTION OF BACKGROUND SCREENING SERVICES
Any firm must hire the right people if it is to develop and flourish. It plays a meaningful role in building a secure environment encased in ethics and cultural values. Given the possibility of fraud, deception, or other risks in hiring, companies must exercise extreme caution. Pre-employment and employment screening solutions are a silver lining in this matter. Background screening tools have been vital for hiring staff because of how big, diverse, and dynamic India is. With digitalization, screening practices have morphed, becoming an area for entrepreneurs to explore.
The criticality of this service also attracted the attention of our editors. In our entrancing edition, "CEO of the Year 2022," we sought to feature entrepreneurs/leaders exploring areas that ensure a company functions seamlessly. Our search got us in touch with Aayush Saini, Founder & Director of iverify Research Services. We interviewed him to find out about his journey, his mission, and what he seeks to achieve. Given below is a holistic version of our discussion.
A VISION TO INNOVATE
Aayush is a seasoned entrepreneur and business development professional with a vast background in human resources, as well as direct sales, client acquisition, business analysis, team management, and public relations. Of all the avenues, it was while he was in the catering business that the concept for iVerify first struck. Aayush used to organize high-class parties, which required a sophisticated ensemble of people. But most of them came from unverified areas and were paid as daily wagers. He says, "Even if their IDs were verified, I desired a more systematic model." I felt that professional and well-screened personnel should do such a responsible duty. "
"Hiring the right talent for the right task"
www.businessconnectindia.in | Vol. 5 | Special Edition November 2022 INDIA 40
Aayush
Founder & CEO
Gulshan | Business Connect
After thorough research, he discovered a big market that is simply waiting to be discovered and has the potential to be applied in every industry. The realization sowed the seed for digitized screening services, and iVerify was born. With a focus on reducing risk while elevating growth, he has introduced intelligent hiring services for businesses of all sizes and shapes. iVerify is an ISO 9001:2015 & 27001:2013 certified firm with a pan-India presence and with a global presence in 170+ countries.
WELL-DEFINED & INNOVATIVE
iVerify's pre-employment and employment screening services promise clients a safer, more productive workplace. People are a company's principal asset, and finding resourceful people is onerous in today's dynamic market and mobile workforce. The widely used techniques cannot meet the growing demand. iVerify gives a business the ability to stay up with technological advances. One of its noteworthy USPs is that it speeds up the screening process. The platform uses predictive technologies like AI &ML to assess the background data of candidates and forecast their behavior in the future with a certain degree of accuracy.
iVerify also enables firms to conduct continuous monitoring. People and their circumstances both change. However, iVerify makes sure that nothing is overlooked that might affect a company's success. It ensures that clients are informed of a candidate's shifting circumstances or life events, such as criminal cases, compliance checks, financial status, and so forth. In other words, iVerify is redefining the entire hiring process and giving businesses the advantage against reckless hiring practices. Aayush adds, "We are pleased to state that we are the pioneers in adapting AI and ML algorithms for background screening." They have a solid technological backbone and employ ML algorithms for both internal and external deliveries and background checks.
ATTUNED TO MARKET CHANGES
Aayush launched iVerify in 2019, just before COVID-19 hit the nation. People were getting fired rather than getting hired. The scenario also escalated the potential for fraud and employee theft. The prevailing screening systems often took over a month to run a background check on one individual. iVerify is packaged with a portfolio of automated solutions, including drug abuse testing, background screening, leadership screening, criminal record monitoring, and case management, in response to the problems. The offerings promise a quicker turnaround time and make the documentation phase quicker and easier. "Clients need to initiate a case on the platform, and the rest will be taken care of by iVerify," says Aayush.
Additionally, it has an in-house team who also gets in touch with applicants to request missing paperwork and monitor the entire process. The platform is secured by many levels of tech parameters so that all paperwork is kept secure and clients can get the final results within a certain time frame. iVerify is industry-agnostic, even though most of its iterations happen in the IT sector. It also serves many blue-collar sectors like manufacturing, media, telecom, and government sectors, among others.
AAYUSH'S VIEWS ON LEADERSHIP
"Where others were seeking direction, I sought to create a path"- Aayush Saini. This inherent desire has been the basis of his entrepreneurial career. Before starting iVerify, Aayush attained an MBA in International Business from Stanford University and worked for a time there. On his return to India, he no longer wanted to work for someone or fall for a mediocre lifestyle. He is objective-driven and wanted to do something exemplary that keeps him ahead of the market. The opportunity came with iVerfy. While he has had over a decade of an entrepreneurial career, it is his biggest breakthrough. The platform truly reflects what Aayush seeks to achieve as an entrepreneur – to set a benchmark. This core focus has made the platform an essential tool for optimizing hiring procedures for many big names.
Simultaneously, entrepreneurship has enabled him to lead and be an example to an ensemble of young and dynamic team members. iVerify is a product of dedication and passion, and Aaysuh ensures every team member is energetic enough to retain its value. Unquestionably, they are very collaborative, and result-oriented and strive to go to every extent to make iVerify a cut above the rest. The CEO also reveals that they host engagement activities to keep the team enthusiastic about work, especially on Saturdays. All the efforts add to forming an affable work culture where work and engagement are both prioritized.
A SAVORING JOURNEY
Aayush's journey as an entrepreneur hasn't been a walk in the park, especially over the past three years. However, an entrepreneur is known to thrive on risks and challenges. His and his team's determination allowed them to onboard a Fortune 500 and a Global Fortune 500 client within a year of inception. "I'd like to congratulate our sales team for this milestone and our sales manager, whose exceptional support helped us onboard eminent clients and arm us with advancements," exalts Aayush. That being said, he and his team are working on launching their flagship product in the market. As per Aayush, it will focus on automated background verification for clients and will be a critical feather in their cap. They are also planning to establish themselves as a prominent brand within India and rise to become an MNC in the next few years.
PEARLS OF ADVICE
For the aspirers: "If your mind is set on entrepreneurship, then go for it. No matter how many efforts it takes, your progress will improve you as a person." For the new buds: "Find a trusted mentor to act as your leader. Read books, and take notes on what they did wrong. Although mistakes are inevitable, knowing the strategies used by the successful will increase your odds of success."
www.businessconnectindia.in | Vol. 5 | Special Edition November 2022 INDIA 41
OFLIV.COM
Venturing into Organic Food Terrain
Malhotra | Business Connect
With each passing day, people are becoming well-aware of the aftereffects of consuming food prepared using unfavorable chemicals. Accordingly, there has been a volatile shift in the rise of the organic food industry. There is an immense increase observed in the understanding of organic food methods. The progressing growth of the e-commerce sector has accelerated the organic food industry to expand its horizon and reach out to a vast consumer-base. Natural and healthy food is available to people with just a tap on their smartphones. Many startup ventures have entered the industry with their exclusively innovative ideas to serve society with a desirable lifestyle.
In this edition, we are going to throw light on OFLIV.COM, a coherent firm with a sight to become an authentic company delivering organic food.
OFLIV Agrotech is your one-stop destination for fresh and organic groceries delivered at the doorstep. It is the solution to all the daily essentials like vegetables, fruits, dairy, bakery, packaged food, and other grocery variants. The company also proffers a huge range of natural, chemical-free cosmetics and nature-friendly utility products like soaps, handbags, etc. Everything that they serve is categorically organic. This makes OFLIV stand tall against its peers in the industry. The online grocery mart provides an integrated and user-friendly platform to customers and vendors.
Founded by Rajeev Ranjan, bestowing expertise of more than 20 years in the sale and real estate industry. Hailing from a family with agricultural background, he has an impressive command of the field.
The company is commendably supported by the two key officials, the Operation Head, Sonali Sharma with an experience of over 8 years in human resource and client management, and Chief Marketing Officer, Yashveer Tomar holding his strong hand in offline and online marketing for around 12 years. The firm aspires to accomplish the name of an economical establishment that assures all the grocery needs by delivering top-grade premium quality organic products.
EXCLUSIVE LINE OF SERVICES
The kind of services that a company renders is what makes it different from others. Likewise, OFLIV offers an exclusive range of services that are not observed elsewhere. An insight into them is highlighted below :
• While there is an abundance of companies delivering organic food along with their regular products, OFLIV is a solitary platform that only provides organic deliverables and nothing more.
• The platform only deals with vendors that bring veritable organic items for the firm.
• The products are economical and reliable. Most people live with the pre-determined notion that the organic industry is excessively expensive. The company aids this issue and provides everything at prices that fall under the rational budget of a common man.
www.businessconnectindia.in | Vol. 5 | Special Edition November 2022 INDIA 42
Rajeev Ranjan | Founder
Mehak
SPLENDID ENTREPRENEURIAL JOURNEY
Upon the inception of OFLIV, many milestones were waiting at the door. There was a multitude of vendors ready to step in but the company was not content with the quality being offered. As indicated earlier, ensuring that all the products are organic and cruelty-free holds paramount importance for the firm. Consequently, there were numerous parameters in terms of quality assurance. The entire team had a hard time finding genuine organic vendors. However, with persistent time and effort, they managed to collaborate with vendors who were certified to sell organic products. In this day and age, the business fraternity has become fairly welcoming for innovative startups. The risk-taking ability has heightened and that has led to a promising start for the aspiring entrepreneurial firms.
VIGOROUS MARKETING STRATEGIES
The firm has a unique approach to key advertising strategies. They target potential customers through various courses of action. A few of them are enlisted below :
• Offline marketing strategy – The well-versed marketing team attempts to boost the sale outcomes by engaging in offline activities like publishing advertisements in newspapers, magazines, pamphlets and spreading the word in societies.
• Online marketing strategy – By creating online footprints through social media search engines, article/blog sites, organic search, etc.
Building dynamic strategies to escalate the business is imperative for every organization, especially the new entrants. OFLIV has shown thoughtfulness in this matter and works efficiently to keep shaping influencing marketing strategies. Besides, the company sustains well-timed research and development, working with the utmost integrity to keep up with the changing market trends.
A COHESIVE WORK CULTURE
The company firmly believes in nurturing a home-like environment for its employees. It incessantly encourages everyone to put forth their thoughts and ideas without any emotion of hesitance or fear. A rational leader is the one
who forges ahead while taking his teammates all together. It is all about walking the company through the ethical path of success. The leaders at OFLIV, have the same outlook. They safeguard the health and happiness of each employee working for the growth of the venture. To promote equality at work, there is no descending flow of hierarchy followed within the work premises. The decision-making is also all-embracing by considering everyone's perspective. The prestigious firm is guiding the change in the organic food industry by focusing on a competitive online marketplace.
FLOURISHING FUTURE PROSPECTS
At the outset, OFLIV centralized on promoting organic groceries, dairy, fruits, vegetables, etc. As they enter phase 2, the company is eyeing to nourish the nature-friendly products in the fashion and cosmetic segment. They procure a strong set of vendors and partners for the same. In like manner, the team has a vision and plan prepared till the fifth phase that will be engrossed to widen the vendor base, customer base, and market share. With the tremendous effort and diligence of the employees, the venture has managed to acquire more than 500 organic farmers and 60 certified vendors of natural products in collaboration. For such a short
span of time, this is nothing less than an accomplishment in itself. Likewise, the company strives to grow and effectuate all its future endeavors.
ATTRACTING THE READERS
"Live life organically" is the key mantra quoted by Rajeev Ranjan for the readers of the magazine. He further believes that going entirely chemical-free is the finest choice that we can make today. We have no idea how dreadfully a contaminated food can affect our immune system. The foremost thing that the global pandemic has taught us is to keep up good health and immunity to withstand any disease. To that concern, refining the standard of living by adapting the organic way is the only means that can help us and our future generations.
www.businessconnectindia.in | Vol. 5 | Special Edition November 2022 INDIA 43
Sonali Sharma - Operation Head
Yashveer Tomar - Marketing Head
www.businessconnectindia.in | Vol. 5 | Special Edition November 2022 INDIA 44
Growth
www.businessconnectindia.in | Vol. 5 | Special Edition November 2022 INDIA 45
www.businessconnectindia.in | Vol. 5 | Special Edition November 2022 INDIA 46
THOUGHTS ON CANVAS
Crafting Children's Brighter Future…
We are back with yet another success story, our star this month is a visionary entrepreneur - Garima Govil. What made us highlight her would unfold in this inside story and hopefully would prove to be a motivational booster to our global audience. Let's dive in-
INTRODUCTION
Thoughts On Canvas is focussed on building a culture of Early Design for children so that they can satisfy their wish to become anything they want – an architect, designer, or visual artist. At present, the best teachers from national design institutes such as NIFT and NID are nurturing children in art and early design.
The foundation of the organization was laid in 2008 in Gurgaon, India as a school for fostering early design skills in children. The organisation has extended its reach across USA, Canada, Singapore, Dubai, Australia, and every significant city in India.
The founder, Garima Govil, has pioneered a teaching methodology that relies on numerical ideas, block techniques and colour theory. Via her uniquely curated methodology, she is teaching art virtually to her students across the globe.
MEET THE BRAINS BEHIND THE COMPANY
Garima Govil has developed early design as a concept, establishing the largest virtual teaching art institute in India today. Hailing from the 2003 batch of National Institute of Fashion Technology (NIFT) Delhi and 2005 International Academy of Design Toronto, she has shown extraordinary expertise in her teaching techniques.
Garima began the endeavor from her drawing room quite a while back, taking art interest classes for neighborhood Gurgaon kids. She built a loyal base of students who would swear by her ability to "teach anyone to draw" using block techniques, fashion design principles and color theory. Her hobby classes started to take the form of a formal school with 3-4 regular classes daily and she converted a basement facility close to her residence into a makeshift school.
In 2015, she collaborated with her closest friend, Shilpa Golwalkar Bakshi. With Shilpa taking care of sales and marketing and Garima focussed on teaching, the school thrived locally building a 200+ student base across Gurgaon. It expanded into granting junior art diplomas in collaboration with accredited art colleges, conducting corporate art events, art therapy for adults as well as children's national level art competitions and exhibitions.
In mid-2020, the coronavirus pandemic resulted in worldwide lockdowns. Garima and Shilpa saw the opportunity and shifted the whole educational program to online Zoom based tutorials. The establishment quickly spread its presence across the art student community in US, Canada, Singapore, Dubai, Australia and practically every city in India from Vadodara to Srinagar. The school today has over 1000+ students from just 6 years of age to grown-ups who view art as therapy.
Thoughts On Canvas is increasing its student base by nearly 50% annually, the 15-member organisation includes faculty from NIFT and NID, with Garima herself taking up to 100 hours of classes each month, every week from Monday to Sunday. She aspires to go public soon but insists that the only real capital the business has is children's goodwill!
www.businessconnectindia.in | Vol. 5 | Special Edition November 2022 INDIA 48
Currently, the school conducts: 1. Weekly design classes for age group of 6-18 years and grown-ups 2. Diploma courses in art 3. National level art competitions for students
COURSES AT THOUGHTS ON CANVAS
Garima Govil Principal - Director
Renu
| Business Connect
In the Junior School for younglings ages 5 and above, the Beginner Art program teaches basic sketching and coloring to increase creativity and confidence. The young ones draw simple objects, landscapes, animals, birds and develop an early appreciation for visual art which is both enjoyable for them and builds creative skills for future.
The Middle School is targetted to age group from 8 – 12 years. There are two award-winning programs in the Middle School - Youngling Art and Creative Design Art.
The objective of Youngling Art program is to develop appreciation for art and improve drawing abilities with skill and imagination. The intent is to achieve confidence to further one's artistic or design learning in future.
The objective of Creative Design Art program is to learn how to draw advanced drawings, improve observation skills and different views. It is an advanced sketching program for students wishing to continue further studies or make a career particularly in any type of design.
B.DES Tutoring is a study program towards national institutes such as IIT, NIFT and NID based on the pattern of UCEED / DAT entrance examination. Covers both General Ability and Creative Ability and Design Aptitude.
THOUGHTS ON CANVAS NATIONAL ART COMPETITIONS
Over the years, Thoughts on Canvas has also been a frontrunner in holding children's national level art competitions and exhibitions.
For the current year, Thoughts on Canvas is proud to present the first ever children's art exhibition to be held at the prestigious National Academy of Art under Ministry of Culture Lalit Kala Akademi, Delhi on December 18th, 2022.
For the first time in Indian history, children under 18 years of age across India will be given the opportunity to showcase their art skills @Lalit Kala Akademi as part of TOC Art Festival 2022. It promises to be mega showcase of the best that children can do, with over 300 participants from across India. The exhibition is open to the public from Dec 16th – 22nd at the main galleries at Rabindra Bhawan, Mandi House- Delhi.
The school is also known for holding the well-known national art competition Youngium. Youngium has seen excellent participation over the years with the last edition results declared
in July 2022 where children won exciting prizes ranging from Alexa's to air pods!
Earlier events include exhibitions at HUDCO Art Gallery at Bikaji Cama Place Delhi, Art Abode Gurgaon, and other locations across the country.
THOUGHTS ON CANVAS WORK WITH UNDERPRIVILEGED CHILDREN
Thoughts on Canvas is committed to nurturing children from all backgrounds so that they can fulfil their ambitions of being anything they want – an architect, a fashion designer, an engineer or an interior or jewellery designer – whatever their heart desires.
With that endeavour in mind the school works closely with NGOs, in holding workshops and classes for various underprivileged student communities. Thoughts on Canvas also provides free art supplies for many students enrolled in the institute. The institute also nurtures budding talent by teaching art and early design free to students from weak economic background.
www.businessconnectindia.in | Vol. 5 | Special Edition November 2022 INDIA 49
GARIMA & SHILPA
Indranil Roy | Business Connect
We have all heard, "Kitchen is the heart of the home". And, keeping the heart healthy and beautiful is indispensable, which drives the need for modular kitchens. A well-assembled kitchen, with distinct drawers, kitchen cabinet, cupboards, etc. portrays an organized picture of a person and ensures better functionality as well. Modular kitchens address several challenges of the prevalent ones. It makes the everyday tasks easy, gives the home a vibrant feel and can be customized to convenience. India is a developing nation and with the growing urbanization, people are seeking aesthetic designs in every nook and corner of their home.
Ultrafresh Modular Solutions is an exceptionally seasoned kitchen designer, providing interna tionally acclaimed designs for your home. The Company has 2 decades of experience and is a one-stop-shop for engraving your passion in your kitchen.
AT A GLANCE
Ultrafresh is the kitchen renovator for Newage India. It designs, manufactures and installs varieties of modular solutions like kitchens, wardrobes, and other storage cabinets. The Company operates in 120 exclusive showrooms across the country and has a state-of-the-art manufacturing facility to foster the entire supply chain, therefore, making Ultrafresh a common umbrella for hassle-free solutions and value for money. Modular Kitchens are widely perceived to be imported luxurious solutions, making the home improvement sphere significantly decentralized. And it creates a clear gap for an Indian Brand that can place itself in customers' heart through value-added products. With this analogy in mind, Ultrafresh is gauging to become the cloud border in Kitchen Modular solutions while adding new products to its trove.
LEADER WITH STRONG BUSINESS ACUMEN
While the seeds were sown back in 1992, by Mr Dinesh Sharma (Executive Director ION Exchange), Ultrafresh saw an astronomical growth, with the arrival of Dhruv Trigunayat (CEO). In 2017, he took over the mantle and ushered the Company to a new era while assuring
www.businessconnectindia.in | Vol. 5 | Special Edition November 2022 INDIA 50
Kitchens That Portrays Your Passion ULTRAFRESH MODULAR SOLUTIONS DHRUV TRIGUNAYAT CEO, Ultrafresh Modular Solutions
Aesthetic
it of its core values. He is having previous experience in financial consultancy. With his experience, he explored the potential available in, home improvisation solutions. Despite the digital transfigurations across the industry, he believes space still calls for a touch-and-feel factor. Hence, he fosters the use of its 'brick and mortar infrastructure' while striving for techinsertion for operational efficiency. Under his leadership, Ultrafresh has enlisted several new kitchen designs and further expanded to kitchen chimneys, Built-in hobs and cooktops. As Dhruv is carrying ahead the legacy, Mr Sharma remains as its evergreen advisor.
CREATING CUSTOMIZED EXPERIENCES
Strong emphasis on R&D is the keystone of renovation in the landscape of any industry. At Ultrafresh, R&D is focused on two areas: Launching new designs every quarter ensuring a vibrant product base and continuous product development to optimize the functionality of the end-user or to ease the installation process. Ultrafresh also works extensively on standardizing and
product mix. This ensures a uniform experience amongst the customers despite their location. Dhruv affirms, " While we bring an extensive variety to the table, we ensure same customer experience, product offering, design, commercial terms etc. no matter which Ultrafresh studio across India you walk into".
Ultrafresh has generated a huge demand for steel kitchens in the residential space. All its efforts are focused on contriving superior customer experience. It understands Indian kitchens are subject to tropical weather conditions; hence, it works with internationally acclaimed materials like marine ply from GreenPly and lacquered glass, but its steel kitchens are widely preferred for their durability to keep off termites or excess moisture. All its kitchens come with a 10-year manufacturing warranty. By maintaining such standards, Ultrafresh sleeps well at night knowing it has provided a long-lasting product to customers.
A DREAM TEAM ON BOARD
"For us, every recruit must be a cultural fit as much as a skill-set fit," states Dhruv. Ultrafresh's experience, versatility, and other outstanding features reflect the hard work and commitment of its employees. It has a very young team with leaders below 35 years of age. The team propels its core valuescollaboration, proactive accountability, and integrity in commitment. In a broader sense, individuals are punctual and share a common vision, to make Ultrafresh the #1 kitchen brand in the country. The Core values ensure an outstanding retention rate and keep everyone hungry for more. "In 2018 we were less than 20 employees, and today we are close to 300", shares Dhruv. The team's collaboration has rewarded Ultrafresh with several milestones and drives it to reach new heights.
SET MARK TO BE THE BEST
Within a short stint, Dhruv has driven significant growth, but he believes this is where the real test starts. Ultrafresh aims to grow from the fastest-growing to the best and the biggest kitchen company in India in the next 2-3 years. The Indian market is sprawling with national and international players and it's important to keep improving to
www.businessconnectindia.in | Vol. 5 | Special Edition November 2022 INDIA 51
Apple TV 4K launches at INR 14,900 in India: Price, availability, specifications, and more
Apple launched several products, including a redesigned iPad and iPad Pro M2 chip. Along with iPads, Apple also announced the next generation of Apple TV 4K (TV box), which delivers faster perfor mance and offers endless entertainment options.
It is powered by the A15 Bionic processor (which also powers the iPhone 13 series) that Apple claims improve overall performance, video decoding, and audio processing. It comes in two models: Wi-Fi-only and Wi-Fi + Ethernet along with the Siri Remote.
The A15 Bionic chipset, powers the Apple TV 4K (TV Box). Both Dolby Vi sion and HDR 10+ are supported by the Apple TV which comes with more improvements than the last edition.
Apple Technology Company
• CEO: Tim Cook (24 Aug 2011)
• Headquarters: Cupertino, California, United States
• Founded: 1 April 1976, Los Altos, California, United States
• Products: iPhone, Apple Watch, iPad, Apple TV, Macintosh, iOS, and MORE
• Founders: Steve Jobs, Steve Wozniak, Ronald Wayne
• Subsidiaries: Apple Store, Beats Electronics, Itunes K.K., Beddit, MORE
Apple TV 4K (TV box) price
There are two variants of the Apple TV 4K: Wi-Fi (64GB) and Wi-Fi + Ether net (128GB). The Wi-Fi-only model costs INR 14,900, while the Ethernet-sup ported model with higher storage costs INR 16,900. The device comes with AppleCare+ and has No Cost EMI options available. It is already available to order from Apple.com and authorized resellers in India and will be available from November 4.
www.businessconnectindia.in | Vol. 5 | Special Edition November 2022 INDIA 52
Apple TV 4K specifications and features
The new Apple TV 4K is the same Apple TV box as be fore, except it now supports 4K video playback. In ad dition to 4K video, HDR streaming is supported. It now supports Dolby Vision and up to 60 fps playback on the highest resolution i.e. 2160p. Dolby Atmos and Dolby Digital 7.1/5.1 surround sound are supported. It boots on the tvOS 16 which enables SharePlay and adds "Hey Siri" features. Additionally, it contains Apple Arcade for TV, which enables you to play arcade games right on your television. The new Apple TV 4K also comes alongside an updated Siri Remote with a USB-C port. It has Wi-Fi 6 with 2×2 MIMO and Bluetooth 5.0 for connectivity. The Ethernet model (128GB) has a dedi cated Gigabit Ethernet port, while the Wi-Fi model has an HDMI 2.1 port and a power supply.
www.businessconnectindia.in | Vol. 5 | Special Edition November 2022 INDIA 53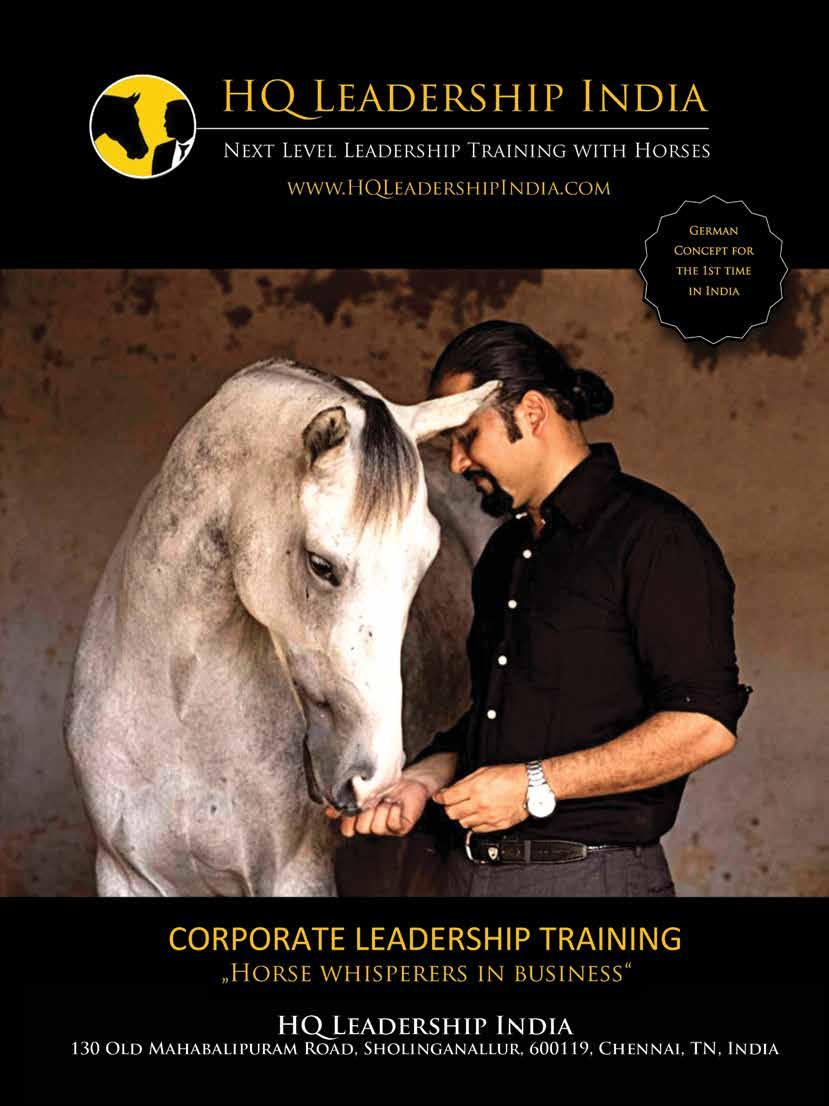 RNI No.: DELENG/2018/76695