PURE LIFE
PURE CLEANING, PURE WORLD
WWW.ENJO.COM
CLEANING PRODUCTS FOR A SPOTLESS WORLD
WHO
Johannes Engl, visionary SINCE 1990 WHERE
In Austria. Here, the cleaning products that make the world cleaner are developed and handcrafted. They inspire customers, ENJOpreneurs and employees all over the world.
WHY
Johannes' father Friedrich, a tinkerer and inventor, observes an oil spill on Lake Constance in Austria. The fire brigade sets about its arduous task of removing the environmentally hazardous oil sludge.
HOW
At home, Friedrich begins to use special textiles to filter oil out of water. He discovers that one of the test fibres has the power to clean deep into pores. It is the unique ENJOtex fibre.
ENJO TODAY
ENJO products are available in over 26 countries worldwide. 1.700 ENJOpreneurs help people in their neighbourhoods to enjoy a clean and healthy home. And they do it directly: Honest, brave and high-value.
ENJO has some exclusive product patents. Contact your ENJOpreneur for information.
ENJO 02 ENJOPURE 04 – 07 BEING A HOST 08 – 09 BECOME AN ENJOPRENEUR 10 – 11 ENJOTEX FIBRE 12 – 13 KITCHEN 14 – 17 BATHROOM 18 – 21 LIVING 22 – 27 FLOORS, WINDOWS & SURFACES 28 – 35 OUTDOOR 36 – 39 SKIN CARE 40 – 41 HELPERS 42 – 43 ENJO LIFE CYCLE 44 – 45 CARE & FIBRE REFRESH 46 – 47 We assume responsibility:
People´s Choice Austria 2022 Winner Vorarlberg 2022
For more than 30 years, we have been proving all over the world that cleaning has nothing to do with chemicals. We have developed special ENJOtex fibres to clean a wide variety of surfaces and types of dirt, and we clean only with cold water. This is 6 times more hygienic than cleaning with detergents. Well, that's truly amazing. We call it ENJOpure. Your home becomes both clean and healthy at the same time. You won't bring pollutants into your home, you won't breathe in toxic fumes and you won't flush chemicals down the drain into nature.
If you fall in love with our products and can no longer hold back your enthusiasm, the ENJOlife is our offer to you. Work in a meaningful and independent way, get started and make the world a cleaner place with us.
YOURS, JOHANNES ENGL
HONEST BRAVE HIGH-VALUE
ENJO 03
Enjopure
VALUE YOUR HEALTH CLEAN SIMPLY AND EFFICIENTLY HELP THE WORLD AND THE CLIMATE CLEAN 6X MORE HYGIENICALLY SAVE THROUGH QUALITY 6X ENJOPURE 04
CREATE A CLEAN AND HEALTHY HOME
Cleaning pure with ENJO is easy. Fewer steps are involved because there's no need to apply cleaning products or wipe up. So, you're done faster and have a sparkling clean result without leaving behind residues of cleaning products and pollutants. We took a look at how much a household of 4 saves in 3 years when cleaning ENJOpure.
50L chemicals 15L laundry detergent 75 plastic bottles 1,500 cloths & sponges 50% water 20% money ENJOPURE 05 THIS IS HOW MUCH YOU SAVE IN YOUR ENJOPURE HOME
CHEMICALS
Savings in a 4 person household in 3 years
CLEANING WITH
CLEANING WITH ENJO
WE PURIFIED CLEANING
one, two, pure ENJOPURE IN ONE STEP, OR TWO ENJOPURE 06 ENJOPURE SET consists of ENJOpure Set ONE and TWO Art.-No. 15999 ONE, TWO, PURE ENJOPURE SET TWO Art.-No. 15996 ENJOPURE SET ONE Art.-No. 15995 ENJOPURE SET ONE 15000 Kitchen Set 15100 Bathroom Set with Sanitary Flexi Set 25cm or Bathroom Sponge and Citrus Blossom. Calcium Dissolver 300ml 15200 Living Set with Dust Glove 1 Glove of own choice (Soft, Textile/Soft, Medium/Strong) 51300 Spraybottle 500ml 15903 Lavender Blossom. Laundry Liquid 300ml 15902 ENJO Hook (Set of 2) ENJOPURE SET TWO 15400 Floor Set with 2 Floor Fibres of own choice 15307 Window & Surfaces Set with Multi Tool Fibre Strong and 1 Multi Tool Fibre of own choice 51320 Pumpbottle 1000ml FREE Laundry Bag, 2 pcs. FREE Laundry Bag, 1 pc. Option
ENJOPURE 07
SET TWO Art.-No. 15994 50060 Kitchen Sponge 50021 Kitchen Allpurpose Cloth 50025 Kitchen Cutlery & Glass ENJOfil 50220 Living Soft Cloth or 50221 Living Medium Cloth 15202 Dust Flexi Set 55cm or 15201 Living Flexi Set 55cm UPGRADE SET ONE Art.-No. 15993 1 Floor Fibre of own choice 1 Multi Tool Fibre of own choice 50320 Window ENJOfil
Floor
Dust
Floor
Glove: 50200 Living Glove Soft 50201 Living Duoglove Textile/Soft 50202 Living Duoglove Medium/Strong
CHOOSE YOUR FAVOURITE FIBRES CHOOSE YOUR FAVOURITES FREE Laundry Bag, 1 pc. FREE Laundry Bag, 1 pc. WHICH ITEMS DO YOU WANT IN YOUR BATHROOM SET? or 15101 Sanitary Flexi Set 25cm 50160 Bathroom Sponge plus 52003 Citrus Blossom. Calcium Dissolver 300ml EXPAND YOUR ENJOPURE SET
UPGRADE
Floor Fibre: 50404
Fibre
50407
Fibre Soft 50408 Floor Fibre Medium 50402 Floor Fibre Strong 50403 Floor Fibre Extreme
Multi Tool Fibre: 50253 Multi Tool Fibre Dust 50250 Multi Tool Fibre Soft 50251 Multi Tool Fibre Medium 50252 Multi Tool Fibre Strong 50168 Multi Tool Fibre Bathroom
You as a Host Book an ENJO Demo with an ENJOpreneur near you. Invite a small group of family, friends or neighbours to your home and share new experiences together.
As a Host, you benefit from personal advice at your home and can choose products for free.
An ENJO Demo consists of at least 3 guests plus Host.
BEING A HOST 08 Take your pick
TURNOVER VALUE OF FREE PRODUCTS
200 EUR 20 EUR
400 EUR 40 EUR
600 EUR 70 EUR
800 EUR 95 EUR
EUR 130 EUR UP TO 130 EUR FREE PRODUCTS being a host ENJO IN YOUR HOME
available in
The Host can choose from all products on the current price list except sets and special offers.
Host Gift, the price will be the original price, not the discounted set price.
Valid until 31.12.2023.
DEMO
from
from
from
from
from 1.000
Only
Vorarlberg (Austria) and Germany.
If the Host wants to choose a Set as a
This offer is applicable for Demos with 3 guests or more plus Host.
Do you want to experience Enjo at home?
We are delighted! Make your home a pure experience. Invite family and friends and choose free products for your hospitality or book your Personal Appointment.
BEING A HOST 09
ENJO WITH FAMILY AND FRIENDS OR CHOOSE A PERSONAL APPOINTMENT DISCOVER THE POWER OF THE ENJO FIBRE PUT THE PRODUCTS TO THE TEST LOOK FORWARD TO YOUR ENJOPURE HOME
EXPERIENCE
BOOK YOUR ENJO
We provide you with your own business including all the support that you´ll need for a safe start and sustainable success. You enjoy comprehensive trainings and marketing tools and get connected to learn from experienced ENJOpreneurs. Through your work, people in your community will benefit from a clean and healthy home. Meaningful and independent work – that´s your ENJOlife.
BECOME AN ENJOPRENEUR 10
BUSINESS
Enjolife START YOUR
DO A CLEAN JOB
Just like us, you love the feeling of your sparkling clean rooms and surfaces, without the residue of toxic detergents?
Are you able to devote at least 15 - 20 hours per month to your success as an ENJOpreneur?
Do you want to start your own business and enrich the lives of many people around you as well as your own? Is now the time?
BECOME AN ENJOPRENEUR 11
Are you passionate about our ENJO products?
5X YES? YES, YES, YES, YES AND YES? START UP AS AN ENJOPRENEUR ENJOlife Online Event every second Tuesday of the month, 7:00 - 7:30 p.m. WORK WHENEVER YOU WANT EARN FANTASTICALLY HELP THE WORLD AND THE CLIMATE RECEIVE TOOLS AND SUPPORT UNFOLD AND EVOLVE YOUR POTENTIAL
Enjotex
THE CLEAN FABRIC
We draw on a wide range of combinations and technologies to develop our ENJOtex Fibres. This makes every ENJO cleaning product unique.
handmade in Austria
www.bit.ly/ENJOmade-in-austria
Here in the Vorarlberg textile region in Austria, we have the best possible production conditions. We use five different fabric technologies to produce tailormade fibre qualities. From super fine fibres for sensitive surfaces to extremely robust types with a strong cleaning performance.
ENJOTEX FIBRE 12
OEKO-TEX® CERTIFIED
Our ENJOtex fibres are made of highquality, ecologically certified raw materials and have a long service life.
WE ARE AT THE SOURCE
We produce in the heart of the Austrian textile region and benefit from knowhow, technology and pioneering spirit.
ENJOTEX FIBRES
Our standard collection includes 29 ENJOtex fibres for a variety of surfaces and types of dirt.
CONVENTIONAL CLEANING
Conventional
CLEANING WITH ENJO
1 2 3 4 ENJOTEX FIBRE 13
PRODUCTION With love, passion, craftsmanship and talent, our ingenious textiles
29
The ENJOtex Fibre and water loosen, lift and trap dirt from the pores until it is washed out with warm water.
are handcrafted.
cleaning cloths
PROCESSING INTO FIBRE MATERIAL
RAW MATERIALS Monofibre Microfibre Long pile knitted fabrics/ jacquard Flat knitted fabrics Tufted fabrics Woven fabrics Warp knitted fabrics PROCESSING INTO FIBRE STRANDS Single fibre strands Multiple fibre strands Splitting (washing out) Coating Printing Napping Heat treatment Dyeing * We have scientific proof that our fibres clean 6x more hygienically. MORE HYGIENIC* 6X
do not reach into the fine pores of the surfaces. The dirt stays there and the cleaning agent leaves a film on the surface.
FINISHING
KITCHEN
A SIMPLER WAY OF CLEANING
START UP AS AN ENJOPRENEUR
Work whenever you want Decide for yourself how much time you invest in your business and how much you earn.
Enthusiasm leads to success Manage your own team and earn even more.
14
www.bit.ly/ENJOcleans-6-times-better KITCHEN 15 ENJO + WATER = 6x MORE HYGIENIC THAN CLEANING WITH DETERGENTS
KITCHEN ALLPURPOSE CLOTH
Ideal for lightly soiled surfaces such as kitchen cabinets, tables and worktops as well as for washing up. To achieve the best cleaning results with the fibre, apply a modest amount of water using the Spraybottle. The Kitchen Allpurpose Cloth replaces conventional cloths in all kitchen areas.
Art.-No. 50021
KITCHEN ENJOFIL
Highly absorbent, our recommendation for streak-free drying. Fold the cloth 2-3 times in the middle to obtain 8-16 cloth surfaces that you can use for drying.
KITCHEN TEA TOWEL
Ideal for drying dishes, pots, pans etc. The waffle design of the Kitchen Tea Towel provides the perfect surface for absorbing large amounts of water. This means many dishes can be dried with only one towel.
Art.-No. 50033
Art.-No. 50026
powerful
KITCHEN 16 KITCHEN SET Kitchen Duoglove, Kitchen Duocloth, Kitchen Allpurpose Cloth, Kitchen ENJOfil and Kitchen Tea Towel Art.-No. 15000 FREE Laundry Bag, 1 pc.
BECAUSE WE KNOW THE POWER OF OUR FIBRE
KITCHEN DUOGLOVE KITCHEN DUOCLOTH
Suitable for use on everything from ceramic hobs and worktops to ovens, refrigerators and any dirt that requires more abrasive action. The striped side can be used to loosen stubborn dirt. The green ENJOtex fibre loosens grime, fat deposits and oil before removing it all from the surface. For best results, use with cold water.
Art.-No. 50000/50020
KITCHEN SPONGE
For washing dishes, pots, pans etc. The grey and black side of the Kitchen Sponge can be used to loosen stubborn dirt. The green ENJOtex fibre removes grime, fat deposits and oil from the surface. Our hygienic replacement for hundreds of disposable sponges.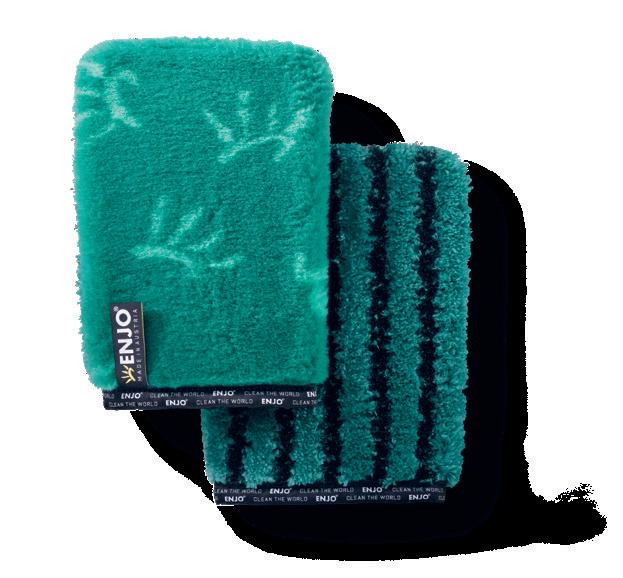 Art.-No. 50060
KITCHEN CUTLERY & GLASS ENJOFIL
Our polishing and drying cloth for glasses, cutlery, wine carafes etc. Please take care when cleaning sharp edges to avoid damaging this cloth. Shake out before use to ensure a lintfree, streak-free application.
KITCHEN FRUIT & VEGGIE CLOTH
This double-sided cloth reliably cleans fruit and vegetables, making sure they are really healthy. The rough side removes dirt, pesticides, preservatives and wax from the skin of fruit and vegetables. The light green side can be used to dry food and remove smaller dirt particles.
Art.-No. 50025
Art.-No. 50022
Caution: The kitchen fibre will remove protective wax, oil and grease from surfaces, so be careful when using on wood or delicate surfaces. Remove large quantities of oil from frying pans or fryers with a paper towel before cleaning. www.youtube.com/ ENJOInternational
KITCHEN 17
BATHROOM
ALL THAT GLITTERS IS NOT HEALTHY
Using ENJO you won't bring pollutants into your home, you won't breathe in toxic fumes and you won't flush chemicals down the drain into nature.
18
50l BATHROOM 19 LESS CHEMICALS IN 3 YEARS CLEANING WITH ENJO =
Hansgrohe recommends ENJO for bathroom and sanitary cleaning. What convinced them was the long service life and hygienic cleanliness. Our fibres are gentle on sensitive surfaces and fittings and protect against wear and tear.
BATHROOM 20
Dissolver 300ml Art.-No. 15100 or FREE Laundry Bag, 1 pc.
fresh
BATHROOM GLOVE
SANITARY GLOVE
Our practical Glove for the bathroom ensures hygienically clean laundry rooms, bathtubs, wellness areas, tiles, joints, shower walls, ceramic washbasins and much more. The Sanitary Glove is used for cleaning toilets, urinals and toilet tanks and is, unlike the Bathroom Glove, marked with a red label. Art.-No. 50101/50102
BATHROOM DUOCLOTH SANITARY DUOCLOTH
Its use ranges from the bathroom to the bathtub, tiles, joints, washbasins and much more. Use the white side with yellow ENJO suns for cleaning, and the speckled side for drying and for cleaning delicate surfaces made of marble, acrylic etc.
The Sanitary Duocloth is used for cleaning toilets, urinals and toilet tanks and is, unlike the Bathroom Duocloth, marked with a red label.
Art.-No. 50120/50123
BATHROOM SPONGE
Our all-rounder for the bathroom, also suitable for cleaning tiles and grout. For heavy limescale deposits, we recommend using the Bathroom Sponge together with a few drops of Calcium Dissolver.
Art.-No. 50160
Caution:
BATHROOM ENJOFIL
SANITARY ENJOFIL
Ideal for wiping surfaces dry and everyday use in the bathroom for very smooth materials such as chromeplated items, glass panels and mirrors. ENJO recommends lightly moistening surfaces using the Spraybottle and wiping dry with the Bathroom ENJOfil. After cleaning toilets, urinals and toilet tanks with the Sanitary Glove/Duocloth, the Sanitary ENJOfil (red label) is used for follow-up drying.
Art.-No. 50121/50124
SANITARY FLEXI SET 25CM
Perfect for cleaning your toilet bowl or cleaning those hard to reach places like behind the faucets and toilet. A must have tool in your bathroom. If the fibre does not deliver sufficient cleaning power, we recommend applying a few drops of undiluted Calcium Dissolver to the fibre tip and using this to clean the spray rim of the toilet bowl. Leave to act and then rinse in order to remove even stubborn dirt from the rim.
Art.-No. 15101
BATHROOM 21
With very hard water, calcium deposits may act like sandpaper on surfaces and cause scratches. ENJO Calcium Dissolver is recommended in such cases. www.youtube.com/ ENJOInternational
HYGIENIC AND RADIANTLY FRESH TO FEEL GOOD
JOIN THE ENJO TEAM
Learn from the best and flourish together If you want to learn more about the ENJOlife, please contact your ENJOpreneur or visit our next ENJOlife Online Event. We will answer all your questions.
LIVING
BREATHE IN, BREATHE OUT
ENJOlife Online Event every second Tuesday of the month, 7:00 - 7:30 p.m.
22
LIVING 23
PURE
ENJO
100%
AIR
+ WATER =
www.bit.ly/ENJOstudy-on-air-hygiene
LIVING 24 pure www.youtube.com/ ENJOInternational PURE CLEANING, PURE LIFE ENJOpure helps you create a healthy environment for you and your loved ones. You clear your living space from dust and dirt and breathe pure air. LIVING SET Dust Glove and Living ENJOfil plus 1 Glove of own choice (Soft, Textile/Soft, Medium/Strong) Art.-No. 15200 FREE Laundry Bag, 1 pc.
LIVING DUOGLOVE MEDIUM/STRONG
Ideal for tackling medium to heavy dirt in all areas of the home. For all surfaces except naturally waxed wood and high gloss, including indoor and outdoor window frames, where our Multi Tool cannot be used.
Art.-No. 50202
LIVING ENJOFIL
Our specially designed cloth for cleaning lightly soiled surfaces such as glass, picture frames, lamps etc. Ideal for drying and leaving your surfaces streak-free.
LIVING MEDIUM CLOTH
The perfect tool in all areas of the home for tackling light and medium dirt on all surfaces – except naturally waxed wood and high gloss. The Living Medium Cloth replaces conventional cloths in the living area.
Art.-No. 50221
LIVING DUOGLOVE TEXTILE/SOFT
Our answer for tackling dirt and stains on non-sensitive textiles such as carpets, sofa covers, clothes, shoes and car seats. Do not rub excessively when cleaning. If too much water is used, the soft fibre (light blue side) can be used to dry areas with a blotting action. To avoid limescale deposits, we recommend using distilled water.
Art.-No. 50222
Art.-No. 50201
LIVING GLOVE SOFT LIVING SOFT CLOTH
We have developed this tailored fibre especially for use on waxed and unsealed surfaces made from natural materials such as stone, wood ceilings and wood walls as well as for high gloss. Also ideal for wiping dry sealed or delicate surfaces.
Art.-No. 50200/50220
LIVING FLEXI SET 55CM
This slim tool is perfect for cleaning hard to reach areas like indoor blinds, behind radiators and underneath furniture. Please note that vigorous scrubbing can cause the metal insert to damage the fibre.
Art.-No. 15201
LIVING 25
Our Flexi 25cm / 55cm is unbeatable in its flexibility. Made of high-quality shapememory stainless steel, it can be flexed in all directions, remains stable in any position and allows you to clean dust and dirt from narrow and hard-to-reach places.
dust free
DUST GLOVE
Our classic dust fibre, suitable throughout the home wherever dry dusting is performed. Ideal for furniture, plants, pictures, car interiors and much more. Tip: We recommend washing the Dust Glove at no more than 40°C.
DUST FLEXI SET 55CM
Ideal for removing dust from hardto-reach or inaccessible areas such as roller blinds and shutters, radiators, ceiling lights, towel rails, gaps around electrical appliances, air vents, rotating carousels and pull-out cabinets, skirting boards etc.
LINT GLOVE
Puts an end to lint on clothing, upholstery, soft furnishings, fabric shoes and musical instrument cases. Especially useful for removing pet hair. Also removes lint from ENJOtex fibres. Brush against the grain to collect lint in the fibre or work with the grain to remove lint from the fibre.
Art.-No. 50204
Art.-No. 15202
Art.-No. 50203
LIVING 26
LENS ENJOFIL
FLEXI 25CM // 55CM
Art.-No. 51200/51201
(SET OF 3)
For crystal-clear results on all types of spectacles and sunglasses, lenses, cameras and mobile phones. The delicate cloth can be damaged by sharp edges. Tip: remove larger particles of dust first by blowing or rinsing. This is a safe way to prevent scratches. Only then should you clean surfaces in a circular motion without excessive pressure.
Art.-No. 50226
POLISHING GLOVE POLISHING CLOTH
Our best products for the perfect polishing of mirrored surfaces such as silverware, trophies and brass railings. The are also the perfect choice for antique furniture, painted and varnished furniture, suede and leather as well as cars and motorcycles. Please never polish with polishing agent in direct sunlight. Test on a hidden area when treating antique items such as jewellery or furniture.
Art.-No. 50206/50225
ENJO cooperates with the Finnish Allergy, Skin and Asthma Association. The allergy label indicates that the product generally does not irritate the skin, cause symptoms of hypersensitivity or cause other allergic and asthma reactions.
www.bit.ly/ENJO-studyon-dust-pollution
LIVING 27
FLOORS, WINDOWS & SURFACES
CLEANING WITHOUT CLEANER IS A WIN
ENJO makes cleaning easy and efficient and saves you money by ensuring quality. This gives you extra resources for the nicer things in life. We think this is an excellent reason to become ENJOpure.
28
ENJO =
100% PURE
LIFE
FLOORS, WINDOWS & SURFACES 29
floorclean
FLOOR FIBRE DUST
The ideal choice for wherever dry dusting is required: smooth floors, walls or ceilings of any kind. Tip: after using this fibre, shake it out outdoors to remove dust or clean with a hand held vacuum cleaner. Note: very oily or waxed surfaces may cause the fibres to stick together, reducing their effectiveness. We recommend washing the Floor Fibre Dust at no more than 40°C.
Art.-No. 50404
FLOOR FIBRE MEDIUM
Suitable for a range of surfaces, from sealed floors such as laminate and PVC to tiles. Not suitable for oiled wood floors. With a few drops of our Real Soap in the water used for cleaning, old tiles that have lost their shine and dull parquet floors will look new again and regain their original sparkle. By the way, our Floor Fibre Soft is the perfect solution for wiping dry.
FLOOR FIBRE SOFT
Perfect for the gentle cleaning of smooth and shiny flooring - especially waxed, oiled and unsealed surfaces. Recommended for use on lino, laminate and rubber flooring, or walls made from stone, ceramic or wood. Caution! Loops of fibre may catch and snag on rough wooden floors. Also ideal for wiping dry sealed or shiny floors that have been cleaned with our Floor Fibre Medium or Floor Fibre Strong.
Art.-No. 50407
FLOOR FIBRE STRONG
The Floor Fibre Strong can be used on durable floor surfaces, both indoors and out. Take care! This fibre will remove any wax or oiled layer from floors, ceilings or walls so do not use on oiled surfaces. Since the Strong fibre absorbs only a limited amount of water, we recommend using a dry Floor Fibre Medium after your clean to absorb any excess water and shine up your floor. The same applies for very hard water on other surfaces.
Art.-No. 50408
Art.-No. 50402
FLOOR FIBRE EXTREME
This Floor Fibre really stands its ground when it comes to tough applications both indoors and out such as heavyduty tiles, stained concrete slabs, garages, workshop floors and industrial concrete floors. It should not be used on any delicate surfaces. Perfect for removing algae from around swimming pools and decking and for cleaning brick facades.
Art.-No. 50403
FLOORS 30
FIRM STAND
FLOORS 31
The Floorcleaner stays upright by itself.
BENEFIT Our Telescopic Pole can be combined with other ENJO tools and makes the Flexi and Multi Tool even more versatile. 100% RECYCLED MATERIAL Our Telescopic Pole is made from recycled high-quality components. CONTINUOUSLY ADJUSTABLE It is quick and easy to change the height for each user and cleaning task (96cm to 172cm). FLOORCLEANER PLATE Art.-No. 51020 CLEANS EVEN LONGER Every part of your floor fibre will maintain contact with your flooring, giving you a perfectly even clean. PATENTED LOCKING SYSTEM For more stability in the upright and working positions, our award winning system allows you to lock upright and release for cleaning, all in one easy movement. 360° QUALITY JOINT A must for ergonomic handling and flexible, effective cleaning. TELESCOPIC POLE Art.-No. 51000 STAYS UPRIGHT BY ITSELF Our Floorcleaner Plate is made from more than 50% recycled material. FREE Laundry Bag, 1 pc.
MAXIMUM
VERY EASY TO COMBINE
ENJO's Telescopic Pole and Twister give you even more room to manoeuvre in places that are difficult and hard to reach.
multi cool
TWISTER
This practical attachment for the Multi Tool, the Flexi 25cm/55cm and Telescopic Pole extends the capabilities of these tools even further. The articulated joint makes it possible to clean areas that are beyond the reach of standard cleaning equipment. The yellow valve head can be pushed to angle the Twister in four different positions.
WINDOWS & SURFACES 32
Art.-No. 51160
fast and ergonomic. The Multi Tool allows you to clean large and hard-to-reach surfaces, high places and ceilings. We think our Multi Tool is multi cool. ALL ENJO TOOLS FIT TOGETHER PERFECTLY
Simple,
PERFECT GRIP
FLEXIBLE PLATE
WINDOWS & SURFACES 33 OUR TOOLS ARE COMPATIBLE AND ALLOW YOU TO BE SUPER FLEXIBLE
Ergonomic, non-slip handle for a firm grip.
POWERFUL Wide and even cleaning area dissolves dirt on large surfaces very easily with water only.
EXTREMELY
For relaxed, flowing movements and protection of the wrist. ADJUSTABLE ALUMINIUM CHANNEL AND EXCHANGEABLE RUBBER For drying hard to reach surfaces. Flexible, continuously adjustable.
SOFT EDGES Made from anodised aluminium to prevent surface scratches.
ROUNDED,
www.youtube.com/ ENJOInternational
MULTI
TOOL FIBRE DUST
Ready to use throughout the home where large areas and high or hardto-reach places need dusting. Ideal for walls, ceilings, fronts, doors, as well as sun rooms and mobile homes. We recommend washing the ENJO Dust Fibre at 40°C only.
MULTI TOOL FIBRE SOFT
Ideal for gentle cleaning of large, smooth and glossy surfacesespecially suitable also for waxed, oiled, non-sealed, matt or high-gloss surfaces. When used mildly damp, the surfaces dry quickly without drying off and provide a perfectly shiny cleaning result. Also ideal for wiping dry sealed surfaces that have been cleaned with our Multi Tool Fibre Medium.
Art.-No. 50253
Art.-No. 50250
MULTI TOOL FIBRE STRONG
Our first choice for hard-wearing surfaces indoors and outdoors, from walls, windows, ceilings, sun rooms and swimming pools to car roofs and mobile homes. Its intensive cleaning power allows the strong fibre to clean even tough dirt quickly and effectively. Use the fibre wet and either dry off with the dry Multi Tool Fibre Medium, or remove the water with the Aluminium Channel and Rubber.
Art.-No. 50252
MULTI TOOL FIBRE BATHROOM
Our practical bathroom fibre guarantees hygienically clean tiles, shower cabins, walls and ceilings. Thanks to the special fibre structure, the surfaces are cleaned deep into the pores. Also ideal for handy and easy cleaning of floors in very small sanitary rooms.
MULTI TOOL FIBRE MEDIUM
Its range of use extends from sealed walls, doors and fronts to hard-to-reach or narrow areas, ceilings and high surfaces. Use the fibre moist without drying behind. If used wet, you can either dry the surface with the dry Multi Tool Fibre Soft, or remove the water using the Aluminium Channel and Rubber. Also ideal for wiping dry hard-wearing surfaces that have been cleaned with our Multi Tool Fibre Strong.
Art.-No. 50251
WINDOW ENJOFIL
Our expert cloth for drying windows and glass surfaces without leaving streaks. Also ideal for drying the Rubber of the Multi Tool. Tip: Fold the cloth 2-3 times in the middle to obtain 8-16 cloth surfaces that you can use for drying.
Art.-No. 50168
Art.-No. 50320
WINDOWS & SURFACES 34
WINDOWS & SURFACES 35 WINDOW & SURFACES SET clear WITH ENJO NO TOXIC RESIDUES REMAIN ON YOUR Our fibres for windows and surfaces allow you to clean clearly and streak-free with water only. FREE Laundry Bag, 1 pc.
OUTDOOR 36 ULTRA-FINE MEETS EXTREMELY ROBUST GET IN TOUCH! BECOME AN ENJOPRENEUR Our offer doesn´t just sound good, it is tried and tested. Just give us a call or send an email – we look forward to meeting you! 05576 77777, office@enjo.at
OUTDOOR 37 50% WATER SAVING CLEANING WITH
=
ENJO
TOP SHINE AT TOP SPEED
Extremely robust fibres allow you to easily remove dirt, oil and grease residues from vehicles, garden tools, garden furniture and the barbecue. The ultra-fine fibres keep sensitive parts looking their best.
OUTDOOR 38
FIBRES ARE EFFECTIVE TOOLS WITH AN IMPRESSIVE SCOPE OF PERFORMANCE
ENJOTEX
OUTDOOR DUOGLOVE
Reliable cleaning power for sports equipment, boats, children's toys, gardening tools, patio furniture, flowerpots and planters, barbecues, swimming pools and much more. However, not suitable for paintwork! The stronger fibre means it is easy to clean even the hull of a boat covered with a thick layer of algae. Also excellent for cleaning sooty windows on wood burners and similar. To remove stubborn dirt, first loosen with the wet extreme side and then wipe clean with the wet grey fibre side.
Art.-No. 50501
OUTDOOR GLOVE
A gentle yet effective way to clean your car, bikes, children's trikes, go-karts, pedal cars, helmets, caravans, garden furniture, tents, tarpaulins and much more. Before washing the car, thoroughly hose off dirt with plenty of water to prevent residual dust from being rubbed into the paintwork.
OUTDOOR SPONGE
Cleans everything from sports equipment and garden tools to trainers, hiking boots, patio furniture and almost anything else. To remove stubborn dirt, first loosen with the wet extreme side and then wipe clean with the wet grey fibre side. The Outdoor Sponge is also ideal for grooming pets. Caution: not suitable for paintwork!
Art.-No. 50540
OUTDOOR ENJOFIL
Our specialist outdoor cloth for everyday use - perfect for use on smooth surfaces such as car paint, car interiors and exteriors, motorcycles, bicycles and tools as well as for drying outdoor surfaces. Ideal when used like a chamois on freshly washed cars.
Our tip: Before washing the car thoroughly hose down the car and use plenty of water to prevent dust remains from being rubbed into the paint surface. Dead insects on headlights or bonnets can be removed more quickly if you first spray warm water on the area to be cleaned using the Spraybottle and allow it to soak. www.youtube.com/ ENJOInternational
OUTDOOR FLEXI SET 25CM
The expert tool for hard to reach areas such as car wheel rims, bikes, ventilation grilles, car grilles and guttering. To prevent damage to the fibre, the opening should always be large enough for the Flexi 25cm to move in and out easily. Simply wet the top third of the Outdoor Flexi Fibre in cold water and adjust the Flexi 25cm to the shape of the object to be cleaned. Such incredible flexibility makes light work of cleaning those alloy wheels!
Art.-No. 50500
Art.-No. 50520
Art.-No. 15501
OUTDOOR 39
SKIN CARE
LESS IS MORE AND BEAUTIFUL
GENTLE AND CLEAN SKIN
DOWN TO THE PORES
Use the power of clear water to keep your skin fresh and radiantly beautiful and help the environment by using washable face and body care products.
GENTLE WAVE
BODY DUOGLOVE
Be kissed by gentle waves. Our Body Duoglove thoroughly cleanses your skin pore-deep. Perfect for softening rough skin. Cleanse the skin in gentle circular movements, using your favourite shower gel if desired. Thoroughly cleanses your skin, activates your blood flow and in this way stimulates the oxygen-exchange. The light fibre is suitable for sensitive skin and the dark fibre for regular skin.
Art.-No. 50670
SUN KISS FACE DUOGLOVE
For beautiful skin that shines like the sun.
Use the light lilac fibre with ENJO sun to clean regular skin. When used damp, the fibre has an additional exfoliating effect. The soft, mottled lilac fibre is for the daily, wet cleansing of sensitive skin. Use the wet Duoglove to clean your face and décolleté in gentle, circular movements. However, it is not recommended for skin rashes or couperose.
Art.-No. 50671
SHOOTING STAR
FACE MINIGLOVE
DELUXE
Dive into a sea of stars and pamper your skin with our Miniglove Deluxe. The glove-shape (perfect opening for 2 fingers) allows facial cleansing without applying any pressure. Opens the skin pores and cleanses them thoroughly. Activates the blood flow, leaving your skin with a fresh, natural and radiant complexion.
Art.-No. 50673
40
MAKE IT FRESH AND HELP THE WORLD AND THE CLIMATE
You are beautiful.
BALMY BREEZE FACE PADS (SET OF
2)
Gentle as a breeze yet powerful. Our Face Pads for the facial skin and eye area are used damp to wet and cleanse the skin deep into the pores. Dead skin cells, make-up and excess skin oil are gently removed. Wash off with a little soap after use. Do not use on skin rashes or couperose.
BALMY BREEZE FACE PADS IN VARIOUS COLOURS (SET OF 6)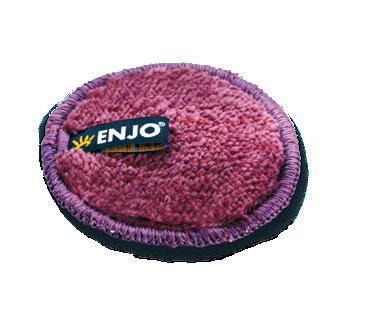 This colourful set replaces a huge amount of cotton pads. Our classic pads for daily facial cleansing and make-up removal. Use our Face Pads damp to wet and enjoy your poor deep cleansed skin. Wash off with a little soap after use. Do not use on skin rashes or couperose.
Our ENJO skin care products were tested by Dermatest ® and have received the 5-star premium seal. For more information on Dermatest ® , visit www.dermatest.com
www.youtube.com/ ENJOInternational
Art.-No. 15621
SKIN CARE 41
Art.-No. 15601
HELPERS
HANDS-ON HOUSEHOLD SUPPORT
ECOLOGICAL, EFFICIENT AND NATURALLY NATURAL
For
ORANGE BLOSSOM. REAL SOAP 300ML // 1000ML
The all-rounder for deep cleaning removes greasy soiling in the kitchen and stains on textiles. Also ideal for polishing up surfaces. Put a drop of Real Soap on the damp to wet ENJO Fibre and clean the desired surface. Then wipe with the wet ENJO Fibre and dry with the ENJOfil. Do not allow to act on Corian.
CITRUS BLOSSOM. CALCIUM DISSOLVER 300ML // 1000ML
When it comes to removing calcium, we trust in well tried household remedies like citric acid and plant based lactic acid. Apply a few drops of Calcium Dissolver with the damp to wet ENJO Fibre to the surface to be treated and leave to act for a few minutes. Wipe off with the wet ENJO Fibre and dry with an ENJOfil. Do not use on Corian.
LAVENDER BLOSSOM. LAUNDRY LIQUID 300ML // 1000ML
With full plant power, ENJO's Laundry Liquid deep cleans your clothes and at the same time protects the fibres. Ideal for your coloured laundry as well as natural fibres including cotton, linen, wool and silk. Recommended also for those with sensitive skin, as well as allergy sufferers and babies. Suitable for all common washing machines and programmes (except machines with automatic dosing). Use our Pump Attachment (Art. No. 51517) on the 1000ml bottle to dose your Laundry Liquid easily.
Art.-No. 52002/52024
Art.-No. 52003/52025
Art.-No. 15903/15904
42
washing dishes, laundry, wood and leather care and for stubborn dirt, we offer helpers. Naturally with natural ingredients.
WHEAT POWER. DISHWASHER LIQUID 300ML // 1000ML
For sparkling clean dishes, we rely on powerful washing substances derived from wheat bran, sugar beet and corn. Our Dishwasher Liquid removes even stubborn dirt and grease residues. The environmentally and health-friendly ingredients are sustainably produced. Suitable for household dishwashers. For best results, we recommend a 50°C standard program. No eco or quick wash cycles.
MARBLE POWER. CLEANING PASTE 500G / 300ML
Finely ground marble and chalk combine to make ceramic/stainless steel, ovens etc. sparkle. Apply using a damp ENJO Fibre and clean the surface. Wipe off with the wet ENJO Fibre and dry with an ENJOfil. Do not use on delicate or finely coated surfaces. Do not leave to act on Corian.
Art.-No. 52102
Art.-No. 52005/52027
LAUNDRY BAG
Our Laundry Bag is the optimal solution for preventing fibre lint. It can be used to wash fibres separately so that they do not attract lint from other materials. Tip: It is also suitable for gently washing delicate items of clothing with a hook or zip fastener (bras, sports shirts etc.).
Our Laundry Bag is very versatile. You can use it for fruit and vegetables when shopping instead of using plastic bags or you can collect you dirty laundry in it when on holidays.
BEESWAX. LEATHER & WOOD BALM 240ML
A high quality recipe formulated with natural waxes. The basis for the caring and impregnating effect is genuine beeswax and valuable carnauba wax. ENJO's Leather & Wood Balm is a gentle way to nourish and protect leather and wood items as well as car fittings. Apply balm sparingly with ENJO's Polishing Fibre and buff to a high sheen.
Art.-No. 52103
SPRAYBOTTLE 500ML PUMPBOTTLE 1000ML
The Spraybottle is the perfect helper for conveniently wetting fibres and smaller areas. The Pumpbottle features a pressure pump and is designed for cleaning larger areas. Do not put highly concentrated or harsh chemicals nor our Calcium Dissolver nor fragrance oils into the Bottle. The Pumpbottle should be stored without pressure.
Art.-No. 51420
Art.-No. 51300/51320
HELPERS 43
truly Enjo, truly eco
MADE CLEAN TO MAKE CLEAN
ENJO really makes hearts beat faster. For more than 30 years, we've championed health and quality of life and demonstrated that a great product can be eco without sacrificing anything except chemicals.
OLD IS NEW
Return your used ENJO cleaning textiles to us and we will recycle them professionally. Old fibres are used to make new insulating materials, fillers for car seats and upholstered furniture, as well as fleece for use in agriculture.
ENJO LIFE CYCLE 44 From our
to you FIBRE REFRESH EVERY 3 YEARS 100% RECYCLING 70% delivery by ship and train 0 waste
production
* Details on the savings on page 5
HIGH-VALUE REGIONAL RAW MATERIALS
80% of suppliers from the Vorarlberg region, Austria
Oeko-Tex® certified
CLIMATE positive
We rely on high-value, environmentally friendly raw materials. Our production is climate positive and used fibres are recycled. We deliberately choose to work with regional suppliers, deliver our products by ship and train whenever possible, and take responsibility for the environment with our zero waste system. More and more ENJOpure Homes are saving many litres of cleaning agents and waste every year with ENJO. In this way, we enable you to have a healthy, pollutant-free home and ensure pure living space for future generations. We are convinced that we are changing the world with our way of cleaning and with you.
CLIMATE POSITIVE PRODUCTION IN AUSTRIA
ISO certified for high-value environmental management
Green power and clean production
Environmentally aware employees
ENJOpure production facility
ENJO LIFE CYCLE 45
Enjopure CREATE A CLEAN AND HEALTHY HOME
Enjolife YOU WILL BE SERVICED DIRECTLY BY YOUR ENJOPRENEUR
HOW TO CLEAN ENJOPURE
USE COLD WATER
Dampen the fibre with water from the Spray-/Pumpbottle.
Or dampen one third of the fibre under the tap and squeeze out the excess water.
Clean in circular wiping motions without applying pressure.
In case of wet cleaning, dry with the appropriate fibre.
HOW TO KEEP YOUR ENJO PRODUCTS IN GREAT SHAPE
THE RIGHT CARE
Wash ENJO fibres before first use (except for Polishing and Dust fibre, Lint Glove and Lens ENJOfil. Please shake these out briefly before first use).
If lightly soiled, rinse the fibre with warm water and, if necessary, a drop of Real Soap or some washing soda.
Machine wash fibres at 40-60°C with similarly coloured textiles (all ENJOfils and the Kitchen Tea Towel in one laundry bag and all others in a second laundry bag).
In case of heavy soiling, add a little washing soda. If very heavily soiled, soak the fibre before washing in approx. 60°C warm water and 10ml Orange Blossom. Real Soap or washing soda.
Do not wash fibres with fabric softener or whitener.
Air-dry fibres, not on a radiator or in a tumble dryer. Heat can cause the fibre tips to stick together and impair their function.
Always store fibres clean and dry.
IMPORTANT NOTES
There is a risk of abrasion with delicate materials. Therefore, test the fibre on an invisible spot beforehand.
Fold cloths like the ENJOfil 2-3 times in the middle. This results in 8-16 cloth surfaces.
Our gloves are very practical and additionally protect your hands from injuries caused by sharp edges or similar.
Do not run the fibre over hot surfaces (hot stove top, ceramic hobs or grills). First let the surfaces cool down or rinse with cold water.
Fine fibres can easily tear from sharp or rough surfaces and edges. Small holes may appear. This does not impair the function of the products.
CARE INSTRUCTIONS
Do not use on hot surfaces
Optimum washing temperature 40-60°C
Do not bleach
Do not iron
Do not tumble-dry
No fabric softener
Do not dry clean
Colour Indicator = Service Life
Wash in the Laundry Bag
CARE & FIBRE REFRESH 46
1 2 3
40-60°C
DAMPEN CLEAN
DRY
SERVICE LIFE HYGIENIC CLEANING
YEARS
YEAR
YEARS
YEARS
ENJO fibres perform very well for a period of 3 years. However, from that point on, the performance decreases and you might want to consider buying a new one.
COLOUR INDICATOR
The colour indicator ensures that your ENJO product cleans perfectly. It indicates when the ENJOtex fibre loses its cleaning power.
THE FIBRE IS GOOD FOR USE
The colours of the test field and the wear field are very different.
THE FIBRE IS WORN OUT
The colours of the test field and the wear field have aligned. It's time to renew your products.
Depending on the application and place of use, your ENJO fibre will have an optimal cleaning performance for three years. After this time, the cleaning performance decreases considerably. After the 4th year, the cleaning performance has reduced to 44%. We recommend that you replace the fibre after the 3rd year. DROP SYMBOL for correct use
CARE & FIBRE REFRESH 47
I-CODE for in-house quality control MATERIAL COMPOSITION with international abbreviations 1
2
3
4
www.bit.ly/ fibre-refresh Use dry Use damp – no need to dry afterwards Use wet – dry afterwards
HANS HIRSCHMANN, HYGIENE EXPERT OF THE FEDERAL HYGIENIC DEPARTMENT OF VORARLBERG (AUSTRIA)
Our labels and seam bindings are made from over 50% recycled PET bottles.
ENJO INTERNATIONAL GMBH Achstrasse 40, 6844 Altach, Austria Phone: +43 5576 777 77 office@enjo.com | www.enjo.com This Brochure may not contain the product range and Host Gift of your country. Please contact us to find out the product range and Host Gift details of your country. Your ENJOpreneur: ENJO on Social Media YOUTUBE www.youtube.com/ENJOInternational LINKEDIN www.linkedin.com/company/enjo-international Catalogue version 6.3 // Copyright by ENJO INTERNATIONAL GMBH // We print climate neutral on FSC-Mix certified paper in Austria.