2022 ANNUAL IMPACT REPORT
2
3
4
5
ELV's Depth of Services
Tier 1
Shared Resource Platform
Access to over 2,000 resources to support a child care program
Discounts, savings, tools, and templates
Marketing and hiring tools, assessments, and toolkits
Individual support
Tier 2
Child Care Management System
Organizations at this level implement our cloud-based Alliance CORE system with individualized ongoing support Efficiencies include:
Online enrollment, child/staff check-in, parent engagement
Food program tracking, billing, and reporting
Recordkeeping for compliance and licensing
One-on-one support and coaching
Tier 3
Early Head Start - Child Care Partnerships
Our partnership with Early Head Start allows us to bring a deeper level of shared services to providers serving income-eligible children and families in Colorado
Comprehensive services include:
Technical support and coaching, quality enhancement support
Family engagement, enrollment and billing support, funding support
ELV strives for breadth as well as depth of services. Child care providers benefit at all levels from vetted resources, trainings, office hours, policy updates, and more.
Powered by CCA for Social Good, ELV holds the contract for the ECE Knowledge Hub in Colorado, providing local content and resources, including:
6
Strengthening ELV's Entire Network
Early Learning Ventures is committed to sharing resources, amplifying our ECE expertise, and connecting our network with opportunities and resources that enable them to navigate the many facets of running a successful, high-quality child care business ELV connects with the greater ECE community by hosting "What's Up Wednesday" live and Family Engagement Fridays podcast weekly, free webinars, and other programs–covering a variety of topics, such as: licensing; tax navigation; food program; diversity, equity, and inclusion; policy updates; and active supervision.
Donor Highlight: CIRCLE Grant
ELV was proud to be one of only a few organizations selected to receive two grants through the Colorado Department of Early Childhood and Early Milestones Community Innovation and Resilience for Care and Learning Equity (CIRCLE) Initiative We delivered free webinars to 368 providers, explaining tax credit opportunities through the Employee Retention Tax Credit and Families First Coronavirus Response Act, as well as free one-on-one business coaching completed by 19 providers to determine eligibility and support their applications. Additionally, ELV purchased ASQ-3 and ASQ:SE-2 starter kits in English, Spanish, Arabic, and French for EHS child care partners to support the diverse population served by being able to offer developmental screenings in each family's primary language.
Shared Resource Platform
In Colorado, Early Learning Ventures provides access to the Shared Resource Platform, powered by CCA for Social Good and available to all early childhood providers in the state.
ELV's Shared Resource Platform equips providers with a variety of resources, such as:
HR & Labor Laws
Compliance & Quality
Toolkits, Templates, and Forms
Finance Management
Nutrition, Health & Safety
Trainings & Professional Development
Job Board featuring open ECE positions
Donor Highlight: Daniels Fund
Thanks to the Daniels Fund grants program that focuses on supporting highly effective nonprofit organizations that achieve significant results, ELV was able to maximize the reach of the Shared Resource Platform and increase users by 10% across the state of Colorado.
7
8
9
Early Head Start Child Care Partnerships
Early Head Start-Child Care Partnerships (EHS-CCP) integrate EHS's comprehensive services and resources into child care settings, improving outcomes for underserved infants, toddlers, and families Child care providers are uniquely able to respond to the needs of families by offering more flexible services
and are often more in-tune with the cultural, linguistic, and social needs of the families and their local communities. ELV provides EHS-CCP in six underserved counties in Colorado but continues to leverage programming and expertise to the wider ELV network.
Counties Served:
Director of Child Care Partnerships Colorado Early Head Start Association President
EHS-CCP work has focused on federal, state, and local collaboration to foster ELV's Shared Services approach. We continue to leverage the EHS services by extending 156 of the program activities and resources to the wider ELV network, increasing the impact of the federal dollars.
ELV's Model Improves Quality
While the entire state of Colorado lost 9.4% of all licensed providers in the pandemic, ELV's Colorado network of providers lost only 2.8% percent of its members. ELV-associated providers in Colorado also scored higher on quality measures. On average, the QRIS score for all non-ELV sites in Colorado is 1.77; for ELV network sites it is 2.57, a difference of 45%.
https://earlymilestones.org/wp-content/uploads/2021/03/COVID-Wave-1-Report-Web.pdf
Arapahoe Mesa Morgan Garfield Pueblo
Adams
CO QRIS scores for ELV network sites CO QRIS scores for non-ELV network sites Fewer Child Care Providers Lost in Pandemic Gains in QRIS Scores 1.77 2.57
10
"We are dedicated to positive outcomes by embracing a culture of continuous improvement to ensure we are offering the highest quality support for the children and families we serve."
TIM GARCIA
CO QRIS scores for ELV EHS sites 3.85 LicensedProvidersLost 10% 75% 5% 25% 0% 9.4% Statewide 2.8% ELV Network 1 1.
Early Head Start Child Care Partnerships
Sites Served 2021-2022
Adams County
Little Boots Early Learning Center
Step by Step Child Development Center
DeeDee Overton (Tumbleweed)
Bree Andreen (Spark of Imagination Childcare)
Bernice Martinez (Nurtured Journey Preschool)
Discovery Time Kids
Arapahoe County
Roger & Stephanie Olson (Kids' Castle)
Rising Star Early Learning Center
The Baby Haven
New Legacy Charter School
Children's Chalet
Bright Academy
Parker Learning Infant/Toddler Discovery
International Learning Center
Garfield County
Faith Lutheran Child Care Center
Caring Kids Preschool
Rebecca Fuller (Fuller Childcare)
Yampah Mountain Children's Center
Mesa County
Brittany Hasemann (Little Imaginations)
Denesha Gibbs (Country Care)
Kristine Edmunds (Country Kids)
Patty Garner (Aunt Patty's Childcare)
Jennifer Freed (Lil' Peaches)
Dana Shepple
Stacey L. Tonozzi (Lil Kurtain Klimbers)
Jennifer Renteria (Jennifer's Childcare)
Wishes and Dreams Childcare
District 51 Young Parent Program
Landmark Christian Preschool
Little Blossoms Early Learning Center
Rebecca Roxanne Johnson (Roxie's Childcare)
Morgan County
Sarah Neal (Caterpillar Clubhous)
Rio Marquez (Sips & Giggles)
Donna Araujo (Nana's Kiddo Kastle)
Pueblo County
Life Center Academy
Children's Palace Learning Center
Erica Cisneros (Erica's Home Child Care)
Southside Children's Center 1 (Sprague)
Southside Children's Center 2 (Prairie)
Donor Highlight: The Buell Foundation
Thanks to the support of the Buell Foundation, ELV has been able to deepen its EHS-CCP practice as well as extend our services to non-EHS teachers. The Buell Foundation partners with programs and organizations to ensure that there is a quality system in place that allows all children to be valued, healthy, and thriving
11
Mesa 333% Arapahoe 205% Adams 154% Pueblo 128% Garfield 103% Morgan 77% EHS-CCP Enrollment
by County
Promoting Lifelong Learning Through Professional Development
Early Learning Ventures continues to increase access to professional development resources for EHS-CCP teaching teams to support meaningful and engaging learning experiences for young children. ELV supports the application of the Head Start Early Learning Outcomes Framework along with coaching to support young learners in all areas of their development:
Cognitive Social and Emotional Language and Literacy
Physical Approaches to Learning
The intention is to enhance teachers' awareness of the developmental progression of what young learners are beginning to do and what they will be able to do as they learn and grow in their learning environments ELV provided digital devices and technical support to teachers to download the Head Start Early Learning Outcomes Framework for easy access and to increase success for implementation. We worked creatively with partnerships to sustain a hybrid presence with technology to continue coaching all teachers without disruption. There were 187 recorded observations and 5% were live-streamed, with coaches supporting te
ELV's team of state-credentialed coaches invested 1,655 hours of coaching in 2022. This coaching had a positive impact on teacher-child relationships as measured through the Classroom Assessment Scoring System (CLASS). In ELV-supported learning environments the average score in Responsive Caregiving for Infants was 5.51, and ELV-supported toddler environments scored 5.90 in Emotional and Behavioral Support and 4.02 in Engaged Support for Learning.
ELV supports its partners' teaching teams by aligning providers' kindergarten readiness goals with ELV's kindergarten readiness goals. Through ongoing professional development and coaching, teachers are able to fully integrate the Colorado Early Learning and Development Guidelines, Early Learning Outcomes Framework, and Creative Curriculum (for Infants, Toddlers & Twos and Family Child Care). This approach positions teachers and families to collaboratively support lifelong learning. In 2022, ELV utilizes Teaching Strategies Gold Online to measure the growth and learning objectives for all children served, and 86% of young learners were meeting or exceeding widely held expectations.
ELV's Impact on Teaching Practices
A survey regarding ELV Coaching and Professional Development demonstrated the following outcomes:
12 87% 93% 87%
The delivery method that most impacted teaching practices were the TLC's.
Peer supported discussion and feedback from coaches improved professional development overall.
Professional development had a positive influence on teaching practices.
Teacher Retention and Workforce Development
In 2022, Early Learning Ventures made great strides in our workforce retention strategies, including retention and coursework completion bonuses and teacher coaching.
72% of teachers have remained in participating EHS programs throughout the entire calendar year 84% of EHS teachers received their Child Development Associate's degree or other comparable coursework
Each relationship we have supports the mobility of our mission and vision. It is within these diverse bonds that every child, family, educator, and director is held in high regard, and we are grateful for the opportunity to grow stronger together. By investing in the growth and development of others and ourselves, we create and expand the capacity to sustain one another to invest in the growth and development of the next generation. It is through this parallel process we are able to mobilize our efforts towards continuous improvement and nurture a reviving workforce
Children are not only our future; they are our right now, our present! Families are the safe haven communities look to be bases to build from and within, and the work that we get to do allows us to be a circle of support to help children and families sow the present in a way that supports shaping their future. We believe you alone can do it, though you cannot do it alone and here at ELV we can do it stronger together!
TY JOHNSON Early Education Manager
Did You Know?
The ELV team is available for 'Office Hours' to anyone who would like to tap into our team's expertise. Possible topics include: training and development; researching a complex problem; child care tax support; organizing data; family engagement; community development; health and safety; fiscal support; operations feedback; strategic planning; goal setting; staff recruitment and retention; and reflective listening and practices.
Donor Highlight: Dodge Family Fund
Dodge Family Fund supports organizations with innovative approaches to high quality programing and strengthening ECE professionals Thanks to their generosity, ELV has provided in-depth coaching, expanded access to professional development opportunities, and provided direct incentives to boost retention and continuous credential efforts.
13
Leadership Development
Leadership Development programming at Early Learning Ventures focuses on providing leaders of child care businesses with training and growth opportunities targeting program quality improvement, financial management, human resources, marketing, and business operations. ELV believes that strong business practices are central to success in child care and improves outcomes for children and families
In 2022, ELV had an opportunity to focus on internal leadership skills with a manager training for all supervisors within the organization We completed a research-based series of six workshops through Life Labs, a national company that focuses on interactive skill building and teaching tipping point behaviors – the easiest changes to make that will have the largest impact All eleven supervisors on staff received training in coaching, feedback, productivity and prioritization, effective one-on-ones, managing distributed employees, and practiced these skills in an intensive training.
ELV supported thirteen renewals of the Aim4Excellence National Director Credential. Individuals could meet renewal requirements through completion of relevant college courses, or complete additional coursework through the McCormick Institute around the Program Administration Scale (PAS) or Business Administration Scale (BAS) plus Continuous Quality Improvement (CQI).
ELV continues to offer robust professional development to site leaders. Communities of Practice were made available to site leaders as an opportunity to build community, share wisdom, and seek counsel from peers. For center-based programming, discussion focused on staff recruitment and retention. For family child care homes, content centered around marketing, Alliance CORE, and specific tax deductions known as the Time / Space
Thanks to W.K. Kellogg Foundation's support, ELV was able to focus on providing intentional, in-depth coaching and support to early childhood providers, expanding access to in-person and hybrid professional development opportunities. This support allowed ELV to strengthen engagement, support child outcomes, and deepen effective teaching and learning practices.
Donor Highlight: W.K. Kellogg Foundation
Percentage 14
Health Screenings
ELV supports children and families enrolled in Early Head Start with identifying medical and dental homes to ensure children have access to ongoing health care throughout their time while enrolled in the program and beyond. Having a source of continuous, accessible health care helps monitor a child's growth and development and identify concerns early on Currently, 69% of children enrolled in Early Head Start have an identified medical home and 76% have an identified dental home Barriers and challenges to establishing a medical and/or dental home for children include: access to health insurance; transportation to a medical or dental exam; availability of appointments; clinicians unable to see a child until a certain age; distrust of health care providers; and more
In addition to supporting the identification of medical and dental homes, Early Learning Ventures also supports children enrolled in Early Head Start in accessing developmental, hearing, vision, and dental screenings. Developmental screening tools include Ages & Stages Questionnaires®, Third Edition (ASQ®-3) and Ages & Stages Questionnaires®: Social-Emotional, Second Edition (ASQ®:SE-2).
Developmental screenings are conducted by staff at the child care partner program in collaboration with each child's family. ELV utilizes Otoacoustic Emissions (OAE) machines to conduct hearing screenings and GoCheck Kids technology to conduct vision screenings Hearing and vision screenings are conducted by a combination of internal staff and contractors ELV contracts with local dental providers to complete dental screenings for children enrolled in Early Head Start
Did You Know?
Screenings are important in identifying children with potential concerns related to their growth and development and help determine whether the child should be referred for further evaluation. It is important to conduct screenings on a regular basis to identify possible concerns early so children and families can access support in a timely manner.
Delta Dental Foundation is dedicated to developing and enhancing partnerships and programs to improve health equity in oral and overall health. ELV's partnership with Delta Dental has helped increase dental access to underserved and high-risk populations, reaching more families across Colorado
Donor Highlight: Delta Dental Foundation
Screenings Completed: Percentage of Children 84% Developmental 89% Hearing 89% Vision 88% Dental 15
Family Engagement
Family engagement is an interactive process through which program staff, family members, and their children build positive and goal-oriented relationships. It is a shared responsibility of families and professionals that requires mutual respect for the roles and strengths each has to offer. Family engagement means doing with not doing to or for families
At the program level, family engagement involves parents' engagement with their children and with staff as they work together toward the goals that families choose for themselves and their children It also involves families and staff working toward goals to improve the program Head Start and Early Head Start staff work together with families, other professionals, and community partners in ways that promote equity, inclusiveness, and cultural and linguistic responsiveness
599 Total number of children and families served 100% Average monthly enrollment
83% of ELV's total enrollment were eligible for EHS services
156
Family Engagement Events
1026 Participants
ELV launched a family focused podcast, Family Engagement Fridays Episodes are bite-sized bits of information for families and other caregivers who are short on time but want to learn a new strategy to support all things "adulting " Podcast episodes cover a wide range of topics from picky eaters to building your credit score
Donor Highlight: Caring for Colorado Foundation
Thanks to the generous support of Caring for Colorado, ELV was able to provide an additional year of our parent curriculum Conscious Discipline Conscious Discipline is a proven, comprehensive approach that empowers parents and providers with skills that increase socialemotional learning, discipline, and self-regulation of children We offered an online self-paced course, with a total of 650 participants in the 22-23 program year In addition, we offered a live webinar series called "Powers of Conscious Discipline" with 92 participants. We are grateful to partner with a foundation that works with communities to create programs, policies, and systems that support every child in Colorado.
16
Community Assessment
Early Learning Ventures completes an annual community assessment in order to outline the strengths and needs of ELV EHS service delivery areas and ensure that programming remains responsive across the six Colorado counties.
Did You Know?
In 2022, the minimum wage increased statewide ($12 56 per hour), however, the living wage in each county for one adult and one child remains almost 4 times more than the federal poverty guidelines A full-time working adult with one child who is making minimum wage earns just between 32% and 40% of the living wage The living wage is the hourly rate that an individual in a household must earn to support themselves and their family
ELV has seen a steady increase in the percentage of our children qualifying through the McKinney Vento Homeless Assistance Act over the past few years In 2020, 11% of families served by ELV CCP qualified under McKinney Vento and that rose to 15% in 2022 ELV is also tracking the children who were living in a foster care situation. In 2022, 11% of ELV's cumulative enrollment were foster children. ELV will continue to monitor these key indicators and build partnerships with appropriate resources in the communities we serve.
In 2022, the number of preschool slots increased in all counties within Early Learning Ventures' EHS service delivery area, four-year-olds comprised the largest proportion of children (69.3 percent), followed by three-year-olds (25.3 percent). ELV is also watching the impact of Colorado's implementation of Universal Pre-Kindergarten to determine the overall impact to access to high-quality preschool environments in Colorado. Finally, ELV was chosen as the Lead Coordinating Organization for Morgan County helping shape our understanding of the work.
4-year-olds 733%
3-year-olds 267%
11% in 2020 15%
in 2022
Percentage of ELV-CCP Families Who Qualified under McKinney Vento Homeless Assistance Act
17
Percentage of EHS Preschool Slots, 3-Year-Olds vs. 4-Year-Olds
Colorado's Universal Preschool
After much hard work from early care and education advocates, providers, employers, policymakers, and others, the state of Colorado announced the launch of Universal Preschool in Colorado (UPK) Although some
states across the nation have some form of Universal Preschool, what is so unique about Colorado's approach is a commitment to a mixed-delivery of these services Mixed delivery means that families can choose what type of preschool setting works best for them, whether it be a licensed communitybased, school-based, or home-based setting
UPK is administered by the newly-created Colorado Department of Early Childhood (CDEC) and will allow families in Colorado to receive at least 15 hours per week of free, voluntary preschool for fouryear-olds and three-year-olds with qualifying factors are eligible for 10 free hours per week.
To support this important initiative, Early Learning Ventures has shared its expertise during the planning phases and leveraged our local and trusted presence in Morgan County to serve as the Lead Coordinating Organization (LCO). As an LCO, ELV assists families and providers in navigating the enrollment process and supports them with finding local access and equitable delivery of quality early childhood and family support programs.
"One of the most positive aspects of this undertaking is that we finally have many facets of the ECE sector at the table. Although the process has been challenging, this is a huge step toward making a system that properly serves a variety of families and their unique needs. Family childcare providers are being empowered and finally have a voice.
Home-based childcare providers and faith-based programs have always been crucial components of the care system. They have been an extremely strong thread for inclusion and family choice. We need more service providers, more available seats, and more highquality programs, and these providers are essential to addressing those gaps.
UPK will allow us to identify children earlier, connect families to available resources, and implement early interventions. This will have an enormous impact on outcomes for these children."
Childcare Partnership Coordinator Universal Preschool Coordinator - Morgan County LCO
BARB WACKER
18
National Expansion
As pioneers in Shared Services, ELV has seen the industry change immensely. We have learned so much and continue to improve processes and redefine best practices to best meet the needs of those we serve. Although these insights elevate those in our direct network, as a nonprofit, we are also continuously evaluating our role and impact on the larger Early Care and Education ecosystem We have ample evidence that ELV's model works to increase the quality of care, which is why we are dedicated to sharing our experience and solutions so all children and families can benefit from high-quality care As child care entrepreneurs see the returns of their investments, we also see the crucial supply of available slots increase, proving that ELV's services need to be scaled nationally to help address our nation's child care crisis.
"As a leader in shared services in Michigan, we utilized ELV Core to automate child care data Our shared services model automated billing and collecting, child records, and staff records. The automation of these core areas decreased cost, increased revenues, and created more working space for ECE leaders in our membership network. ELV's customer service begins with the end in mind; customer support builds the use of the database components systematically, and creates customer behaviors to efficiently use the software for the long-haul. As a new model of shared services in our region, the training methods of ELV were consistent, predictable, and applicable to the work of data automation and this was essential to Battle Creek Shared Service Alliances' eventual success of decreased administrative cost among its member centers "
The generosity of the David and Laura Merage Foundation has created many opportunities for ELV to dream big and maximize our impact As our model proved successful, the support of the David and Laura Merage Foundation has catapulted our national expansion efforts allowing us to serve more children and families
Donor Highlight: David and Laura Merage Foundation
19
KATHLEEN MOORE Battle Creek Shared Services Alliance
Early Learning Ventures Team
ELV Board of Directors
David Merage, President
Laura Merage, Vice President
Sue Renner, Assistant Vice President
Early Head Start Governing Board
Cindy Bernal
Community Outreach Coordinator, Executives Partnering to Invest in Children- Pueblo
John Goetz
Garfield County Community Representative, EHS Governing Board Chair
Mary Gross
Executive Director, Morgan County Family Center
Kristin Habicht, M.A.
Department Chair Early Childhood Education, Arapahoe Community College
Laura Hazen
Licensed Attorney, HK Law LLC
Shawna Jewell
Certified Public Accountant, Enumerate Accounting & Bookkeeping, LLC
Sue Renner
Vice President, David and Laura Merage Foundation
Teresa Ribble
Licensing Supervisor, Colorado Office of Early Childhood
Policy Council
Nancy Ketchum, Chairperson
Susan Lawman, Vice Chairperson
Lisa Aiken-Jillson
Kelly Esch
Christi Golden
Unnique Gonzales
Arabella Miera
Victoria Muldovan
Dominique Mundt
AnnaMarie Neal
BriAnna Ortiz
20
Early Learning Ventures Management Team
Judy Williams
CEO
jwilliams@earlylearningventures.org
(303) 789-2664 x225
Christian Andrade
Chief Operating Officer
candrade@earlylearningventures org
(303) 789-2664 x286
Cassie Leyva
Strategic Business Development Director
cleyva@earlylearningventures org
(303) 789-2664 x284
Tristan Clerihew
Product Manager
tclerihew@earlylearningventures.org
(303) 789-2664 x275
Eva Nagel
Client Support Manager
enagel@earlylearningventures.org
(303) 789-2664 x292
Tim Garcia
Child Care Partnerships Director
tgarcia@earlylearningventures.org
(303) 789-2664 x232
Ty Johnson Early Education Manager tjohnson@earlylearningventures org
(303) 789-2664 x272
Jennifer Garcia Rosendo Family Engagement Manager jrosendo@earlylearningventures org
(303) 789-2664 x281
Kailee Smith Health and Safety Manager ksmith@earlylearningventures.org
(303) 789-2664 x285
Elsa Sackett Warren Leadership Development Manager esackett@earlylearningventures.org
(303) 789-2664 x236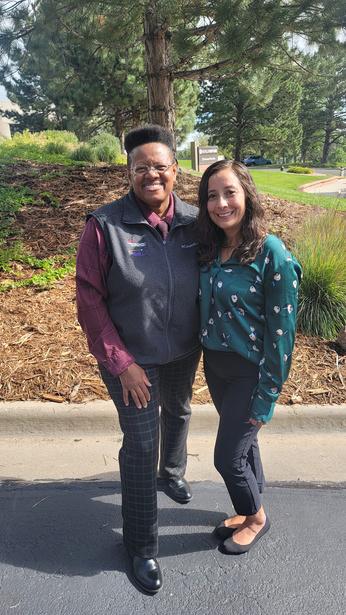 21
2022 Financials
ELV Fiscal Year Financials (Jan 1-Dec 31, 2022)
EHS Grant Year Financials (Mar 1, 2021-Feb 28, 2022)
22
BUDGET ACTUALS Program $6,428,209 $6,470,915 Administration $571,396 $457,477 Fundraising $142,849 $55,497 TOTAL $7,142,454 $6,983,889
BUDGET ACTUALS Federal $5,936,242 $5,605,670 COVID Relief - $200,464 Non-Federal Share $1,484,061 $1,511,692 TOTAL $7,420,303 $7,317,826 Cash $521,814 In-Kind $989,878 TOTAL $1,511,692 Federal/PublicFunding $5,605,670 Non-Federal/PrivateFunding $1,511,692 COVIDReliefFunding $200,464 In-Kind $989,878 Cash $521,814
Non-Federal Share
Total EHS Program Funding
"When it comes to my business, Early Learning Ventures is like my best friend. Their training and support are amazing.
ELV is truly invested in the success of my business and there to help me when I need it.
23
LUIZA OPREA Aurora Kids Learning Center
18 Inverness Pl E. Englewood, CO 80112 earlylearningventures.org @EarlyLearningVentures @ELVCARES