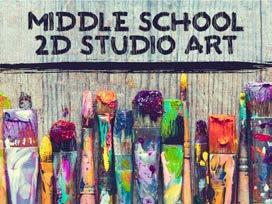 Course Catalog Guide Passion to Purpose
2023 Middle School Library
Interactive
A Letter from the Founder, Kevin Viau
As a high school teacher, I was frustrated with the limited number of quality career and elective course options available to my students. I wanted to create a learning system that would engage students and encourage them to take increased ownership in their overall education.
In 2008, I founded eDynamic Learning. Over the last ten years, we have become the largest provider of CTE and elective courses in North America. Our catalog has grown to nearly 250 high-interest courses, which offer exciting and unique options for middle and high schools. Our catalog includes subjects as varied as Forensic Science, Culinary Arts, American Sign Language, and Game Design.
eDynamic Learning serves a unique role in secondary education. We give teachers the ability to offer flexible and engaging curriculum that helps students find their passion and prepare them with the knowledge and skills needed to make life-shaping college and/or career decisions.
A Letter from the Founder
Mobile | Responsive | Accessible 2 www.edynamiclearning.com
Table of Contents Middle School 2D Studio Art 5 Middle School Animation 5 Middle School Career Explorations 1 5 Middle School Career Explorations 2 5 Middle School Coding 1a 5 Middle School Coding 1b 5 Middle School Critical Thinking 1a: Introduction 5 Middle School Critical Thinking 1b: Training Your Brain 5 Middle School Digital Art & Design 5 Middle School Exploring Business 5 Middle School Exploring Health Science 5 Middle School Exploring IT 5 Middle School Exploring Music 6 Middle School Fitness 6 Middle School Game Design 1a 6 Middle School Game Design 1b 6 Middle School Health 6 Middle School Journalism 6 Middle School Photography 1a: Introduction 6 Middle School Photography 1b: Drawing with Light 6 Middle School STEM: Tools for the Future 6 Middle School Tech Apps, Grade 6 6 Middle School Tech Apps, Grade 7 6 Middle School Tech Apps, Grade 8 6 Learning in a Digital World: Digital Citizenship 6 Middle School Accelerated Courses (High School Level) Business Information Management 1a: Introduction 7 Business Information Management 1b: Data Essentials 7 Careers in Criminal Justice 1a: Introduction 7 Careers in Criminal Justice 1b: Finding Your Specialty 7 Concepts of Engineering and Technology 7 Foundations of Game Design 1a: Introduction 7 Foundations of Game Design 1b: Storytelling, Mechanics, and Production 7 Health Science Foundations 1a: Introduction 7 Health Science Foundations 1b: Professional Responsibilities 7 Hospitality and Tourism 1: Traveling the Globe 7 Human and Social Services 1: Introduction 7 Manufacturing: Product Design and Innovation 7 Principles of Agriculture, Food and Natural Resources 8 Principles of Business, Marketing, and Finance 1a: Introduction 8 Principles of Business, Marketing, and Finance 1b: Targeting Your Business Insight 8 Principles of Information Technology 1a: Introduction 8 Principles of Information Technology 1b: Working with Computers 8 Principles of Public Service: To Serve & Protect 8 Introduction to Programming 1a 8 Introduction to Programming 1b 8 EDL_PC_01-12-2023 9 Middle School Financial Literacy Middle School Robotics 1a New Middle School Courses Coming for 2023! 3 877 585 2029 | sales@edynamiclearning.com