4 minute read
Delaware Renaissance
from Downtown Magazine NYC Spring 2020
by Downtown Magazine NYC
The famed Hotel Du Pont and the gems of the Brandywine Valley make for a perfect weekend getaway
byNicole Haddad
FROM SNOWFLAKE-LADEN winter getaways to spring-inspired weekend jaunts, there are endless options to escape the concrete jungle New York City dwellers call home. And as the temperature heats up and work life slows down, the need to escape becomes priority one.
Enter Wilmington, Delaware, an under-theradar locale a mere hour-and-a-half away by DuPont family's historic Nemours Estate. The hotel itself, a twelve-story, Italian Renaissancestyle structure built in 1913, features incredible architectural craftsmanship that has been preserved for over a century. From handcarved wood details to mesmerizing mosaic and terrazzo floors, and grandiose chandeliers imported directly from Europe, Hotel Du Pont is train and less than two hours by car, in the midst of the beautiful Brandywine Valley.
Consider the iconic Hotel Du Pont, a gilded-age architectural jewel of a hotel located in the heart of downtown Wilmington. The Brandywine Valley is home to some of the East Coast's most beautiful nature-and-art-filled attractions such as Longwood Gardens, Winterthur, and the famed
DOWNTOWNNYC THE REFORMERS 2020 PHOTOGRAPHY COURTESY OF BOB LEITCH (WINTERTHUR MUSEUM). OPPOSITE PAGE: LARRY ALBEE (FOUNTAIN); HOTEL DU PONT (GOLD BALLROOM).
The Gold Ballroom is an opulent draw for weddings and conferences. Winterthur comes into bloom as spring approaches.
a glamorous escape into another era, with all of the amenities and comforts of today. With 217 ultra-comfortable guest rooms and suites boasting luxuries such as deep soaking tubs and soft-to-the-touch linens, Hotel Du Pont is all about modern comfort with a nod to history. Visitors entering the hotel are confronted with the splendor of the lobby and its ornately carved ceiling. Lovers of history and couples interested in a wedding venue often take a tour of the Gold Ballroom—a stunning addition to the hotel that was part of the 1918 expansion. The impressive entrance is framed by intricately carved twelve-foot-tall wooden doors revealing gorgeous stone details and sgraffito walls—a dwindling Italian art that originally took thirty Italian artisans more than a year to complete. Opulent rooms aside, Hotel Du Pont's muchanticipated, and soon-to-open new French brasserie, Le Cavalier at The Green Room, speaks to the Brandywine Valley's deeply-seated love for equestrian sport. Helmed by chef-partner Tyler Akin, the name of the restaurant took inspiration from Caesar Rodney—the President of Delaware during the Revolutionary war—whose figure is depicted on horseback in a statute overlooking the adjacent Rodney Square. The adjoining Green Room Bar offers the perfect place to unwind with pre-dinner or after-dinner drinks. Foodies can also indulge in the delectable creations by Hotel Du Pont's decorated Executive Pastry Chef, Leah Steinberger, both at the hotel's Bake Shop and in Spark*d Creative Pastry (an extension of the former), housed in the connected DE.CO food hall. Hotel Du Pont's legendary history and modern conveniences make for the perfect weekend getaway, and a great base of operations to explore the beauty of the Brandywine Valley. hoteldupont.com DT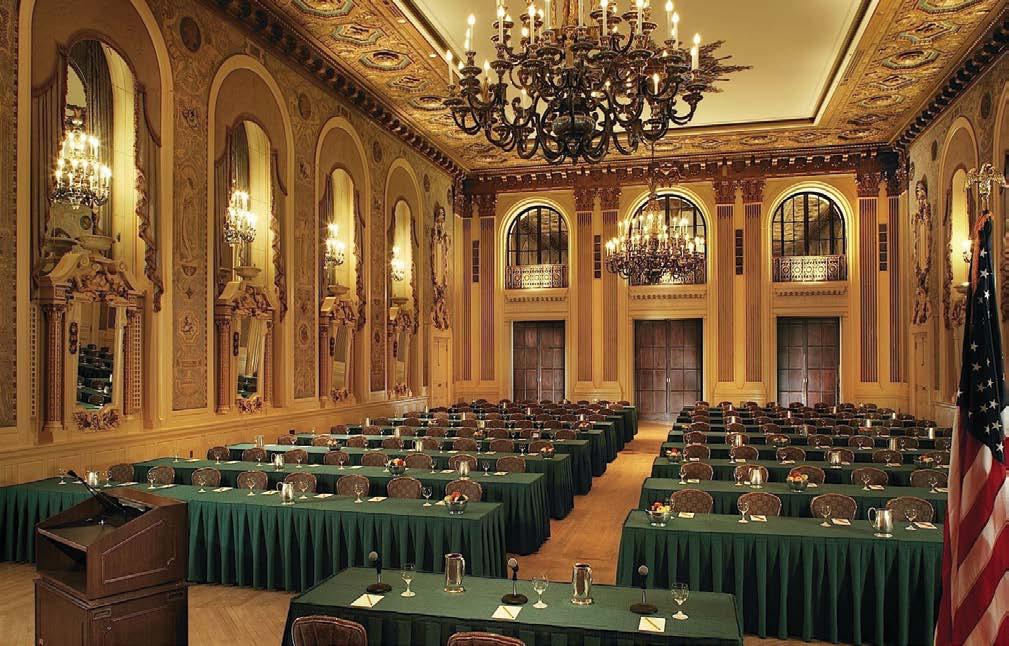 Wilmington, Delaware's largest city, is not only chock-full of art galleries, live music venues, and a burgeoning downtown foodie scene, but is just miles away from some of the most lauded museums and attractions in the U.S. Two in particular, horticultural jewel Longwood Gardens, and Winterthur—known as the premier museum of American decorative arts—are some of the Brandywine Valley's biggest draws. These, along with the Nemours Estate, are a few of the lasting gifts from the area's famed DuPont family. Originally an arboretum, Longwood Gardens was saved from the lumber mill in 1906 by conservationist and engineer Pierre S. du Pont. Today, thanks to the philanthropic family member, Longwood Gardens is a 1,100-acre botanical paradise replete with 20 indoor gardens, 20 outdoor gardens, a four-acre Conservatory, and meadows and woodlands displaying more than 11,000 types of plants. The Gardens are also home to the most significant fountain collection in North America. Visitors from far and wide travel to view the Festival of Fountains—a gorgeous show of water, music, and sometimes fire. Not to be outdone, the Winterthur Museum, Garden and Library is Henry Francis du Pont's legacy—the collector and horticulturalist opened up his home to the public almost 70 years ago. The 1,000-acre preserve features a 60-acre naturalist garden and a museum with nearly 90,000 Americana designs dating to between 1640 and 1860. Not far from Wilmington is Chadds Ford, the location of the Brandywine Conservancy and Museum of Art, which holds an extensive collection of art by three generations of the Wyeth family, N.C., Andrew, and Jamie, who lived in the area, as well as the works of Howard Pyle, influential teacher at the Delaware Art Museum, and renowned painter and illustrator.