Toddler Instruction Manual INSIDE! JANUARY 2023 BIRTH ORDER: HOW IT AFFECTS YOUR KIDS WINTER FUN: THINGS TO DO INSIDE OR OUT KEEP KIDS SAFE ON ALL OF THEIR NEW TABLETS & CELL PHONES EVERY. FAMILY. MATTERS. SUMMER CAMP ADVENTURE FAIR FEBRUARY, 25 DETAILS INSIDE! 2022
Trusted by Maryiah's mom.
From the moment she learned she was pregnant, Brittany dreamed of what her daughter would become. What she didn't know was that Maryiah was already a fighter. Diagnosed before birth with a form of congenital heart disease called hypoplastic left heart syndrome as well as a genetic disorder called Turner syndrome, Maryiah would need highly specialized care from the moment she was born.
To give her daughter the best possible chance at survival, Brittany turned to the experts at Monroe Carell Jr. Children's Hospital at Vanderbilt.
With comprehensive teams in neonatal intensive care, cardiology, cardiac surgery, transplant and more, Monroe Carell's pediatric specialists did more than care for Maryiah. According to Brittany, they also became like family.
After several surgeries including a heart transplant, 5-year-old Maryiah is active and happy, which was her mother's hope all along.
Our story is best told through theirs. Learn more about other inspiring patients like Maryiah's.
Ranked nationally. Caring locally. ChildrensHospitalVanderbilt.org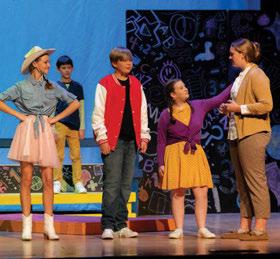 619 W DUE WEST AVE. | MADISON | TN 37115 goodpasture.org Building Confidence, Intellectual Growth, and Spiritual Strength GOODPASTURE CHRISTIAN SCHOOL Great Beginnings n Skilled teachers in a nurturing environment n Year-round program and daily meals n Camera access for parent viewing n Age-appropriate learning opportunities Preschool n Qualified, certified and trained teachers n Camera access for parent viewing n School schedule followed n Curriculum promotes foundational skills in areas of intellectual, physical, emotional and social growth K-5th Grade n STEM, Art, Music, Spanish, Computers, Library n Fine Arts Productions n 17:1 average student to teacher ratio n Physical Education every day 6th-8th Grade n Advanced Classes n Fine Arts and Athletics n Clubs and Organizations n Robotics, Art, World Language, Jr Achievement, Coding, Science Lab, Journalism 9th-12th Grade n 13 million offered in college scholarships n Award-Winning Athletics and Fine Arts n 70 hours of college credit offered n Engaging Student Life Campus-Wide n Daily Bible study n Local Community Outreach n Service Opportunities n Reading Specialist n Speech Therapist admissions@goodpasture.org
www.ChildrensDentistryofMurfreesboro.com Voted #1 Orthodontist by Rutherford Parent Readers! 615.494.5437 2910 Old Fort Pkwy. Murfreesboro
with a beautiful smile!
Ring in the New Year
SUMMER'S COMING Let's talk camps! SUMMER CAMP A D VENTURE FAIR20 2 3 SATURDAY FEB. 25 Learn more at nashvilleparent.com/campfair23 CoolSprings Galleria, Franklin parent nashville Got a Camp? We are accepting booth reservations NOW! Email Stewart at stewart@daycommedia.com
www.academychilddevelopment.com 2008 2009 2010 2011 2012 2013 2014 2015 2016 2017 2018 2019 2020 2021 2022 Many convenient locations in Middle Tennessee! WINTER SPECIAL The Academy FREERegistration! Bring this in for
Baby Pages: How Birth Order Affects the Kids
Oldest, middle or baby of the family, where a child sits in the family order is a big determinator for behavior and more.
Keeping your wild child safe and understanding what makes him tick is the key to managing his behavior.
25 New Device, New Rules
For kids, being trusted with a new smartphone, tablet or computer is exciting. For YOU, approach it thoughtfully, so the device isn't a source of conflict or harmful influences.
january 20237 VOLUME 31 | NUMBER 06 JAN. Inside:
18
21 Toddler Instruction Manual
28 Things to Do!
Month The best of January! You might think there isn't alot to do this month,
you'd
31 Daily Events 47 On Your Radar The Award-Winning Family Calendar:
Best of the
but
be wrong!
BEST OF PARENTING UPDATE!
Missing from our November, 2022 issue's Best of Parenting results' page, Pack Orthodontics was voted one of the Favorite Orthodontist Practices by the readers of Rutherford Parent. Congratulations to Pack Ortho!
Editor's Note
Saying no without saying no is so helpful to a toddler.
Introducing children to religion, one parent asks, "Where do I begin? Where did YOU begin?"
How do you begin to teach your kids about a higher power?
Parent News
Bump City Nashville boasts stylish maternity wear; our 2023 New Year, New You contest and local news briefs just for parents.
The Adventure Gallery, located inside the Adventure Science Center in Nashville, includes eight, unique climbing elements.
Play #WINSday on Wednesday, Jan. 4 and you just may win four admission tickets to The Adventure Science Center in Nashville. (Hint: "Like" and "Share" the WINSday post to up your chances!)