THE NEW TEXTILE ARTISTS / INSIDE MAISON SCHIAPARELLI COUNTRY CLUB LIVING / A PARIS PROMENADE
In 2022 You Put Your Trust In Our Experience,
Stability,
and Expertise.
Our results show your instincts were right.
$167B GLOBAL SALES VOLUME IN 2022
26,000 SALES ASSOCIATES
1,075 OFFICES WORLDWIDE 81 COUNTRIES & TERRITORIES
Sotheby's International Realty and the Sotheby's International Realty logo are registered (or unregistered) service marks used with permission. Sotheby's International Realty Affiliates LLC fully supports the principles of the Fair Housing Act and the Equal Opportunity Act. Each Office Is Independently Owned And Operated. If your property is listed with a real estate broker, please disregard. It is not our intention to solicit the offerings of other real estate brokers. We are happy to work with them and cooperate fully. sothebysrealty.com
WELCOME
THERE IS OPPORTUNITY IN ANY MARKET
There's an undeniable energy that spring brings—fresh blooms in bright colors and pastels, the chirping of birds, a break in the weather bringing warmer and longer days that just make you want to go outside and enjoy all that nature has to offer.
Our spring edition of RESIDE is brimming with exciting content to help kick off the season! For the travel enthusiast, you'll want to read more about some of the hottest destinations of the season—the stunning Château la Coste in Provence, the reimagined St. Regis hotels in Venice, and Milan's new Luigi Rovati Foundation. Discover more about Moutai, a Chinese distilled liquor that is having a major moment, jewelers that are turning their hand to beautiful pieces for the home, and a cohort of women artists breathing new life into contemporary textile art.
Much like the season of transformation, the real estate market also experiences periods of change and evolution. In such a market, having a trustworthy partner is crucial. At Daniel Gale Sotheby's International Realty, we have a proven track record of adapting to market changes for over a century. We excel in all markets, and clients and customers trust our professional advisors and know that our
commitment to quality service sets us apart. We continue to reach new heights with our exceptional service, bold innovation, and luxury marketing strategies. With our extensive global relationships and exceptional local expertise, we are well-equipped to assist you in finding the right town, community, and lifestyle.
As the world awakens to spring, there's no better way to complement the season than by diving into the latest issue of RESIDE.
PATRICIA J. PETERSEN
President & Chairman
Daniel Gale Sotheby's International Realty
DEIRDRE O'CONNELL Chief Executive Officer
Daniel Gale Sotheby's International Realty
Welcome
1 Dupont Court, Brookville, NY 11545 | $38,000,000 8-bedroom / 9.5555-bath / Lot 21.86 acres
A timeless treasure defined by grace and style, Shangri-La is an unparalleled Gold Coast estate that impeccably captures sophisticated elegance. Located on 21.86 captivating acres of emerald green lawns with curated specimen trees, flowering gardens and woodlands, the estate is a symphony of artistry and design.
Up front
06 Travel
Put Provence, Venice and Milan on the agenda to see new subterranean galleries for Etruscan art and an expansion for Europe's top art destination
08 Luxury
Bauhaus rugs from Christopher Farr; five black Ferraris at Villa Erba; an anticipated edition of Salone del Mobile
10 This season
An insight into the latest Sotheby's collaborations, panels, previews and galas
12 Trends
How jewelers are turning their hand to beautiful objects for the home
13 Spirits
Chinese moutai has become the spirit of the moment
14 Architecture
Sensitivity rules for Ferguson & Shamamian and an exceptional renovation in Maine
Features
16 Leveling up
The cohort of women artists breathing new life into contemporary textile art
24 Acquired taste
East Coast tastemakers Chris Mitchell and Pilar Guzmán discuss their manifesto for American elegance
28 Rooted in Africa
Ethiopian-American designer Jomo Tariku is mapping out a modern aesthetic outside the western canon
32 Ahead of the pack
How one couple amassed an astonishing collection of American art and design
36 Happy place
Take a tour of a corner of Paris that boasts a glittering cultural past and equally impressive present
46 Keeping it surreal
As artistic director of Schiaparelli, Daniel Roseberry is keeping the brand founder's spirit alive, inspired by her collaborations with the stars of Surrealism
52 Thought and feeling
How eastern art and ideas have inspired a sumptuous approach to home decor for gallerist, collector and aesthete Axel Vervoordt and his wife, May
Contents
Photos: Paul Raeside; François Dischinger and Adrian Gaut; Mark Sampson
Reside magazine is published three times per year by Sotheby's International Realty.
Sotheby's International Realty
Publisher Kristin Rowe
Cultureshock
Editor Rachel Potts
Editorial Team
Alex McFadyen, Alexander Morrison, Deniz Nazim-Englund
Head of Creative Tess Savina
Art Director Alfonso Iacurci
Designer Ieva Misiukonytė
Production Editor Claire Sibbick
© Sotheby's International Realty. 2023. Information here within is correct at the time of printing.
Living
58 Extraordinary properties
The golfing lifestyle and clubhouse living are experiencing a renaissance
65 Gallery
Exclusive properties across Long Island, Brooklyn, and Queens
5
Spring 2023
Cover photographed by Josh Goetz
Clockwise from top left: The exterior of a house by architects Ferguson & Shamamian, from A House in Maine by Nina Campbell with Giles Kime, published by Rizzoli; The Steenberg Golf Estate, in Cape Town's Constantia Valley; the New York dining room of Chris Mitchell and Pilar Guzman from their book Patina Modern, published by Artisan Books
DESTINATIONS
Escape to the château
About a 30-minute drive from Aix-en-Provence in southern France is the 500-acre wine estate Château La Coste. The Irish businessman Paddy McKillen bought the land in 2002 to create an unmissable destination for wine, art, architecture and gastronomy. Sleek pavilions and galleries designed by Tadao Ando, Frank Gehry and Jean Nouvel complement the original 17th-century buildings, with works by major artists shown throughout the 28-suite luxury hotel Villa La Coste and its grounds.
McKillen is expanding this year, with a new hotel opening on the domaine—La
Ferme at La Coste will offer 76 rooms with a traditional aesthetic. There will be a restaurant and bar alongside a dairy and bakery, complementing the four existing epicurean options on site. The team produces excellent reds and whites in a region that is usually reputed for its rosé.
New artworks are also being installed, with a piece by Prune Nourry to be unveiled this month. Projects by artists and architects including James Turrell and Sou Fujimoto are in development for the future. In April, France's first solo show for Nabil Nahas opens in Renzo Piano's sublime pavilion.
The Lebanese artist is known for his rich surfaces that combine Islamic decoration with organic forms and occasionally materials including starfish.
These join more than 40 works by Louise Bourgeois, Sophie Calle, Jenny Holzer, Jean-Michel Othoniel, Tracey Emin and others, to view on the site's art and architecture walk. Maps are available at the art center, the starting point for daily guided tours, but visitors are recommended to go without one. Sarah Belmont
Up front
Scarpa in the city
St Regis Hotels has added to its global portfolio with a stylish makeover of Venice's old Europa hotel, located on the Grand Canal opposite the magnificent Basilica di Santa Maria della Salute. The focus is smartly cultural, with commissions by contemporary artists, a cocktail menu inspired by the likes of Helen Frankenthaler and Claude Monet (a guest in 1908) and a spectacular glass chandelier by Ai Weiwei, made in collaboration with Berengo Studio on Murano.
Most impressive is the homage paid to the Venetian architect Carlo Scarpa throughout. Scarpa died in 1978 but lives on in the buildings he designed and restored in Venice and the Veneto. Among the most sensual of Modernists, he celebrated layers of historical detail enhanced by marble, Venetian polished stone, concrete, wood, brass, mosaic and glass.
The redesign plays with his trademark clarity of line and form, and the hotel offers visitors bespoke tours and visits to his Venetian interventions. Architects adore Scarpa, but most cultivated visitors to the city do not know his work. The St Regis Venice is trying to redress that balance. Phil Allison
Far left: Château La Coste's Tadao Ando Art Centre.
Left: Inside the St Regis Venice.
Below: The subterranean galleries of the Luigi Rovati Foundation
Underground culture
How can a museum find more exhibition space for a growing collection in a crowded city? One option is to dig down. Milan's Luigi Rovati Foundation museum, housed in a grand 19th-century mansion on Corso Venezia, hired Mario Cucinella Architects to build subterranean galleries 14m (46ft) below street level to display its collection of Etruscan art. Three interconnected cave-like spaces, which opened at the end of 2022, add exhibition space for the Foundation's collection of ancient
cinerary urns, vases, jewelry and bronzes. Above ground, more Etruscan sculptures are shown in dialogue with modern works by artists such as Alberto Giacometti, Pablo Picasso, Andy Warhol and Giulio Paolini.
Giovanna Forlanelli, president of the Luigi Rovati Foundation, says: "Visitors expect to see an Etruscan museum, but that's not the case. We offer unexpected juxtapositions." Helen Barrett
7 Reside — Spring 2023
Photos: © Tadao Ando Chateau La Coste/Andrew Pattman; Courtesy of The St. Regis Venice; Courtesy of Foundation Luigi Rovati and Mario Cucinella Architects/Duccio Malagamba.
LUXURY
A need for speed
In 1984, Ferrari launched the Testarossa, a 12-cylinder mid-engine supercar, which became a beloved model and was featured prominently in the popular TV series Miami Vice. On 20 May, a rare single-owner collection of five black Ferrari Testarossas and 512s with black leather interiors will be featured in Sotheby's marquee Villa Erba sale.
The biennial sale is returning to the stunning waterside of Lake Como, Italy after a three-year hiatus. It is being organized in collaboration with the vintage and classic car event Concorso d'Eleganza Villa d'Este, which takes place annually in Cernobbio.
The collection is led by the 1996 Ferrari F512 M the final model of the Testarossa powered by a flat-12 Testarossa engine, which can achieve 434 horsepower. Other featured Testarossas include a 1986 'Monospecchio', a 1987 'Monodado' and a 1989 model, as well as the much-rarer 1992 Ferrari 512 TR a direct redesign of the classic silhouette that is 100lb lighter than its predecessor and is able to achieve speeds of up to 195mph.
Car specialist Stephen Knobloch says, "Black Ferraris are not only fewer in number, but it is also a color that gives Ferraris a highly purposeful look. For me, a black
Testarossa is the ultimate specification, and these five cars present a rare opportunity."
Other highlights include an innovative 4x4 twin-engine off-road Citroën 2CV Sahara. Elsewhere in Europe, the annual 24 Hours of Le Mans sports car endurance race is the most highly anticipated event of its kind. This year, it turns 100. To celebrate, RM Sotheby's is hosting an auction on the track itself. Held in partnership with Le Mans and the Automobile Club de l'Ouest, it will feature 24 cars, including a 1984 Lancia LC2, which appeared in the race that year, and is estimated at €2.2–2.4 million. Deniz Nazim-Englund
Up front
Salone's return lights up Milan
For serious collectors and creators, Salone del Mobile—the comprehensive showcase of new lifestyle products and ideas—is the year's foremost event. The 2023 edition of the Milan fair, running from 18–23 April, includes the return of the lighting exhibition Euroluce after a four-year hiatus. For art enthusiasts who arrive in the city early, the modern and contemporary art fair MiArt
will run from 14–16 April and display artworks that straddle several genres and periods. Coinciding with both events, Sotheby's Milan will present highlights from its Contemporary Auction from 15–19 April at Palazzo Serbelloni, located between the districts of Porta Venezia and Brera — the beating heart of Milanese design.
Milena Lazazzera
Bringing back Bauhaus
Sotheby's is partnering with contemporary interiors brand Christopher Farr for the auction house's global Classic Design sales, which kick off in March with an exhibition in the New York galleries. Continuing the legacy of the pioneering women textile artists of the Bauhaus, Christopher Farr has created a series of exclusive wallpapers, textiles and rugs translated from original artworks of Anni Albers—produced in association with the Albers Foundation—and rugs by her mentor Gunta Stölzl. Both are considered to be among the most influential textile artists of the 20th century, despite Stölzl not receiving as much fame as her trainee. Christopher Farr co-founder Matthew Bourne says:
"She was the first and only female Master at the Bauhaus—no mean feat in that era." These designs will form the backdrop for the sale series' global preview exhibitions and will be displayed in the Story Café in Sotheby's London headquarters until mid-May.
Christopher Farr has a long history of working with artists and their estates— most recently collaborating with Sotheby's and wildlife charity WWF UK and Artwise Curators on the exhibition Tomorrow's Tigers, which featured specially commissioned art rugs designed by artists such as Ai Weiwei, Peter Doig and Rose Wylie. ML
Reside — Spring 2023
Clockwise from left: A 1992 Ferrari 512 TR; lighting exhibition Euroluce; an installation view of Anni Albers' Child's Check wallpaper in Grass
Photos: Christopher Horwood; courtesy of Salone del Mobile/Diego Ravier.
THIS SEASON
Record-breaking results at the Hospices de Beaune
On 20 November, Sotheby's held its annual Hospices de Beaune wine auction in the saleroom at the Halles de Beaune in Burgundy. The 162nd edition of the charity sale raised €31 million – more than twice its previous record and the highest total for a charity wine auction. The seven-hour sale was attended by about 700 people in person, online and on the phone. The proceeds were donated to the two organizations that were supported in 2022: Team Margot, which provides support to the families of children suffering with cancer, and World Vision, which aims to protect vulnerable children around the world.
Old Master paintings get a new scent
This winter, Lyn Harris, founder of Perfumer H, co-hosted an intimate collectors dinner for 35 guests at Sotheby's London ahead of the Old Masters Evening Auction on 7 December. Harris partnered with Sotheby's on a series of exclusive candles in containers by glassblower Michael Ruh, inspired by works from the Juan Manuel Grasset collection. The collection contained works by Old Master painters including Jan Brueghel the Elder and Jan Davidsz de Heem. Each candle –Bird and Lemon, Rose with Insects and
Smoke in Woods – was created in response to a painting. Smoke in Woods, for example, mimics a distant fire in Abraham Govaerts' A wooded river landscape with travellers and peasants on a path, men in a boat and a village beyond. During the dinner, Harris spoke on the inspirations behind her candles and her creative process.
10 Up front
Left: Presidents of the 162nd Hospices de Beaune auction, Flavie Flament and Benoit Magimel.
Below: Lyn Harris presenting to guests at a Collector's Dinner at Sotheby's London
A royal visit to the Queen's Green Canopy exhibition
In December, the Princess Royal visited The Queen's Green Canopy Ancient Woodlands and Trees exhibition at Sotheby's London. Her Royal Highness was there to view the magnificent artworks of the Ancient Canopy – consisting of a nationwide network of ancient trees and woodlands – dedicated to the late Her Majesty Queen Elizabeth to mark the Platinum Jubilee. Her Royal Highness met the exceptionally talented artists – nature
photographers Adrian Houston and Charles Sainsbury-Plaice and artist Mary Anne Aytoun-Ellis – who were involved in capturing the ancient trees and woodlands across the UK. Works from the public exhibition are now available to purchase through The Tree Art Gallery, with a donation from each sale going to support the Queen's Green Canopy nationwide tree planting initiative. Visit thetreeartgallery.com
The Extraordinary Life of M aka Michael Chow
On 21 November, Sotheby's Talks held a panel on "The Extraordinary Life of M aka Michael Chow" at the London offices for its Modern British and Irish Art Week.
Frances Christie, deputy chairman of Sotheby's UK, moderated the conversation with Jacob Twyford, senior director at Waddington Custot, in which M discussed making work in the late 1950s and 1960s, his early friendships with artists Peter Blake and Richard Lin and the abstract paintings that he creates today. The anonymous conceptual artist Pandemonia was among the high-profile attendees at the event, which is available to stream at sothebys.com.
Defining the future of American art
A panel exploring the definition of American art was held at Sotheby's New York on 15 November.
Journalist Derek Blasberg moderated the discussion and panelists included Alice L Walton, founder of Crystal Bridges Museum of American Art and Art Bridges Foundation; Paul R. Provost, chief executive of Art Bridges Foundation; Linda C Harrison, director and chief executive of The Newark Museum of Art; Charles Stewart, Sotheby's chief executive; and Hank Willis Thomas, artist and co-founder of For Freedoms.
The conversation emphasized the importance of questioning the boundaries of the category, and also explored new approaches to collecting and exhibiting artworks made in the US.
11 Reside — Spring 2023
Clockwise from above: Derek Blasburg, Alice Walton, Paul R Provost, Linda Harrison, Charles F Stewart and Hank Willis Thomas at the Expanding Access to American Art panel; The Princess Royal with landscape painter Mary Anne Aytoun Ellis; M aka Michael Chow speaking at the panel in Sotheby's London
TRENDS
Jewelers branch out
From classic heritage labels to contemporary brands, designers turn to adorning houses as well as customers
Although different in scale, jewelry and homeware are both mainstay adornments that come to define us, and are often charged with sentimental value. As such, it is not surprising that jewelers will often try their hand at creating homeware.
Since its founding in 1847, Cartier has supplied stylish objects for the home, such as a practical inkstand and desk clock from 1908 in beautiful lilac enamel with diamond and sapphire details. To celebrate the successful moon landing mission in 1969, the firm produced a gold, lacquer and enamel replica of the "Eagle" module used by the Apollo 11 astronauts. Today, Cartier customers can find dainty musical boxes or a panther-shaped piggy bank.
The Italian fine jewelry brand Buccellati has long presented refined silverware—or, as creative director Andrea Buccellati says, "been involved in the Art de la Table world". At Milan Design Week 2022, the brand unveiled a new collaboration with the historic Florentine porcelain manufacturer Ginori 1735, and the resulting collection "has been crucial to offer a complete range of tableware articles with a true Buccellati style," says Buccellati. The range continues the Double Rouche decorative motif of repeated curves, which appears across the brand's jewelry and silver table accessories.
Homeware also provides jewelers with a larger canvas for their craft. Brazilian designer Silvia Furmanovich—whose fresh aesthetic is created using the wood marquetry
technique across jewelry—has extended her range to homeware.
At PAD London in fall 2022, Furmanovich presented mirrors and jewelry boxes made using her signature technique, featuring evocative nocturnal skies and natural motifs. Furmanovich's output also extends to stools and tables.
The Greek jeweler Lito has had a successful collaboration with US-based artisanal homeware brand L'Objet. The line includes vases, trays, bookends, and more, bearing Lito's distinct evil eye motif. Jewel-bright porcelain plates feature resin and gold detailing, and a bronze magnifying glass is inlaid with resin "lashes".
For Paris-born, London-based jewelry designer Anissa Kermiche, homeware has become a solid second pillar for her brand after intense online interest during lockdowns in the pandemic. Her wares are all infused with her tongue-in-cheek humor, from the Breast Friend vase, which takes the form of a female bust, to the Can Candlestick (pictured left), in the shape of two dancing legs.
For Kermiche, the transition was a no-brainer: "It is jewelry for the house." ML
12 Up front
Left, from top: Can Candlesticks and Breast Friend vase, both by Anissa Kermiche; bronze magnifying glass from L'Objet's collaboration with Lito; stool and jewelry box, both by Silvia Furmanovich
SPIRITS
Tasting tips
What should I look out for when buying moutai?
Seek expert advice for rarer bottles and buy from a reputable source, as counterfeit bottles are widespread. Check that the seal is clean and intact; because the bottle is opaque, weighing it is the best way to discover any loss through evaporation or leakage, especially with older bottles.
How should I serve it?
Toast of the town
As Chinese baijiu gains popularity in the west, the spirit is becoming a real contender against whisky and cognac at auction. Here's the lowdown on moutai, its refined iteration
The world's most popular spirit is not, as you might expect, whisky. Nor is it vodka, rum, tequila or gin. It is actually baijiu—made primarily from the cereal grain sorghum but also from rice, wheat, millet and maize—and it accounts for around 40% of the alcohol market in China. In 2021, it generated sales of $86.5 billion, more than every other spirit combined.
Just like the finest whiskies and cognacs, baijiu can command stratospheric prices at auction: a 24-bottle case of "Sun Flower"
Kweichow Moutai from 1974, for example, sold at Sotheby's London in 2021 for £1 million.
There are several varieties within the baijiu market, based on style and origin. Some are very prestigious indeed, and none more so than moutai (also spelt maotai), which has to come from a designated area around the town of Maotai, Guizhou province,
southwest China. "If you think of baijiu as brandy, then moutai is like cognac [a refined, barrel-aged brandy named after the region in which it is produced]," explains Paul Wong, Sotheby's head of wine and spirits, China. "The brand we see in auction houses, Kweichow Moutai, is on the level of Hennessy XO or above."
So, what does it taste like?
It has a flavor profile unlike anything that a drinker of western spirits will have previously encountered. Wong explains that moutai has notes of "mushrooms and umami-rich soy sauce" and it fits into the saucefragrance category of baijiu. (The strong-fragrance variety is more fruity and floral.)
He adds: "Typical notes on the palate might include aromas of pear drops or even nail polish remover and a long, earthy, pungent finish." Bill Knott
Above: "Sun Flower" Kweichow Moutai.
Below: Friends toasting with baijiu
Serve moutai at room temperature in small, tulipshaped glasses. Common baijiu is usually consumed in glazed cups filled to the brim—and often downed in one amid a raucous chorus of "gānbēi!" ("dry cup"). However, rare, high-priced moutai deserves a little more respect, so sniffing and sipping it is perfectly acceptable.
What food goes well with moutai?
Wong takes his lead from Guizhou's local cuisine, "which is often salty, spicy and quite rustic, and goes very well with the local spirit," he says. "Moutai is strong, so it can easily overwhelm delicate food, but it is becoming popular throughout Asia to partner spicy dishes, and it is even starting to crop up in cocktails."
13 Reside — Spring 2023
Photos: Courtesy of Anissa Kermiche; Courtesy of L'Objet; Courtesy of Silvia Furmanovich; Anton Hazewinkel/Alamy Stock Photo.
ARCHITECTURE
Blending in
An estate in Maine has been given a new lease of life—in a truly traditional style—thanks to the sensitive efforts of architects
Ferguson & Shamamian
There could not be a more perfect spot for happy family vacations than this 350-acre estate in Maine, set in a deep cove overlooking two miles of ocean shoreline. Three generations relished sailing, swimming, and picnicking under their favorite tree, though the white clapboard house—built for the family in 1910, in the Greek Revival style—became somewhat dilapidated; there were no showers, and work needed doing. So the family's fourth generation called in award-winning architects Ferguson & Shamamian to set the house to rights and preserve it for future generations.
The practice, founded in 1988, is known for its thoughtful, traditional approach to design, and for its sensitive response to regional architectural character. "We try not to put our ego or personal stamp on a project," says partner Scott Sottile, who led the team. "We shy away from doing anything that feels discordant."
The family wanted to be out of the house for just one summer, so work began with the farm buildings on the estate. Local inspections of old barns provided inspiration, and an existing ancient farm wall was taken apart. "We looked at how its stones had been laid and copied that for the farm buildings," says Sottile. These, while looking suitably bucolic, house a tennis pavilion, a pool house with guest rooms and the Play House: a gym and bowling alley that converts into a nightclub.
As you enter the estate, you drive through an orchard and farmland, weaving through woods that lead to a stream with a stone bridge—its design was inspired by the bridges constructed as new byways through the Acadia National Park by John D Rockefeller Jr as a gift to the inhabitants of Maine.
14 Up front
"To get the DNA of the house, we salvaged all we could of the old building and stored the pieces in a warehouse so we could exactly replicate its details, including the clapboard exterior, the millwork on the pillared porch and the yellow cedar shingles on the roof—now nicely weathered, which are traditional to this part of Maine," says Sottile. The old house was torn down, its footprint moved 12ft for a better view of the ocean and enlarged to 20,000 sq ft.
The "picnic tree" was, of course, carefully preserved, and distinguished landscape architect Deborah Nevins gave the estate an air of having developed slowly over time. Elegant interiors by British designer Nina Campbell are celebrated in a new book, A House in Maine Campbell reprises her role as the designer of London members' club Annabel's with the Play House, which, by night, is entered through a traditional British telephone box, painted purple—simply dial 007.
Ferguson & Shamamian undertakes the same intense research for projects in sunnier climates; in Florida, Texas or California, the initial inspiration might be a Tuscan villa or a Provencal Mas. "Our work is rooted in history. It is important
To the farm
to give everything the appropriate level of attention," says Sottile. "So it feels like a piece of art." Elfreda Pownall
Collaborations: Architecture, Interiors, Landscapes: Ferguson & Shamamian Architects by David Masello and A House in Maine by Nina Campbell (Rizzoli) are out now
Look out over the High Peaks of Maine from this gorgeous compound in the west of the state, set on 308 acres. Windledge Farm features a 4,500 sq ft main house designed by renowned architect Frank Robinson, in homage to Frank Lloyd Wright, and is a perfect retreat for those seeking serenity and privacy. Equine enthusiasts are served by a handsome stable, with state of the art facilities and second-floor living quarters with expansive views. Outdoors there are paddocks, large turnout pastures, acres of hay pasture and access to miles of trails.
Freeman Twp, Maine $5,800,000
sothebysrealty.com/id/LD2WS9
Legacy Properties
Sotheby's International Realty
15
Photos: Courtesy of Ferguson & Shamamian.
Clockwise from far left: The façade of the estate; the garden fountain; the living area of 402 Baker Hill Road
LEVELING UP
A new generation of women is putting textile art back on the map. Design writer Emma Crichton-Miller investigates the genre's resurgence
Mary Little, Anderson (from The Double Series), 2022
When the powerful traveled in pomp between the windswept castles and drafty churches of medieval and Renaissance Europe, tapestries were the preeminent visual art form. Weavers in Flanders and France produced portable masterpieces from the cartoons of leading artists, including Raphael and Peter Paul Rubens. When Henry VIII's collection of more than 2,450 tapestries was valued for sale during the English Civil War, many were priced at thousands of pounds, well beyond the value of any other item in the inventory.
Since then, textiles have slipped down the hierarchy of art forms. As houses have become warmer, paintings and sculpture have generally taken center stage as decorative and cultural objects. Textiles became synonymous with carpets, curtains and clothing. However, the past century has seen a resurgence of interest among artists in textiles as a creative medium, largely led by women.
When German Bauhaus student Anni Albers was diverted to weaving from glasswork and painting, she transformed the potential and reputation of thread. She fled Nazi Germany in 1933, traveling with her artist husband Josef to the USA, and was honored in 1949 with a show at MoMA (Museum of Modern Art) in New York—the first solo exhibition for a textile artist. As she wrote in her 1971 book On Designing, "Besides surface qualities, such as rough and smooth, dull and shiny, hard and soft, textile also includes color, and, as the dominating element, texture, which is the result of the construction of weaves. Like any craft, it may end in producing useful objects, or it may rise to the level of art." Her compelling explorations of the limits of the medium take their place in the history of 20th-century abstract art.
Albers became a key figure in the evolving American Fiber art movement, which included pioneering figures such as Claire Zeisler, who produced towering sculptures from knotted and braided threads, and the influential Lenore Tawney, whose free-form installations subverted the typical weaving grid to create fluid patterns. The movement peaked in the 1980s, but an Albers retrospective at London's Tate Modern in 2018 was just one sign of revived interest in her legacy.
In Europe, meanwhile, Polish sculptor Magdalena Abakanowicz, barred from exhibiting her paintings by the Communist leadership for failing to conform to the Socialist Realist style, was offered a place to work in the studio of weaver Maria Laszkiewicz. She went on to develop groundbreaking 3D works called Abakans, made from coarse sisal, a plant fiber used to make rope and carpets. Initially confusing to critics and collectors, these powerful sculptures, with their enveloping dimensions and visceral textures, have come to be appreciated as fine art. In a 2010 interview, Abakanowicz said: "The Abakans irritated people. They came at the wrong time. In fabric, it was the French tapestry; in art, Pop art and Conceptual art; and here was a huge, magical thing." In 2016, Abakan Rouge III, 1971, sold for nearly €75,000 at an auction in Poland, while a major Abakanowicz retrospective is taking place at Tate Modern until May 21.
"
LIKE ANY CRAFT, TEXTILE MAY END IN PRODUCING USEFUL OBJECTS, OR IT MAY RISE TO THE LEVEL OF ART
"
Photos: Mary Little Studio; The Estate of Magdalena Abakanowicz and Marlborough Gallery; Courtesy of Bea Bonafini/Bosse & Baum;
Cecilia
Charlton;
Leveling up
Artiq; © Fundacja Marty Magdaleny Abakanowicz Kosmowskiej i Jana Kosmowskiego, Warsaw; Courtesy of the artist and Spazio Nobile/spazionobile.com
Bea Bonafini, Slick Submissions, 2018, installed at the Palazzo Monti in Brescia, Italy.
Left: Magdalena Abakanowicz
Cecilia Charlton, Somerset [passage of time, sunset], 2021
Contemporaries of Abakanowicz are also finding new fame. Olga de Amaral, who lives and works in Bogotá, produces shimmering gold textiles, partly inspired by the pre-Columbian examples that also influenced Albers, as well as mixed-media hanging works and floor sculptures combining wool and horse hair, linen, gesso, and acrylic paint. She was the focus of the recent touring exhibition Olga de Amaral: To Weave a Rock , which began at the Museum of Fine Arts Houston before moving to Michigan's Cranbrook Art Museum in 2021. Through their intensity, her works reflect the focus and time required to create them. She has said: "As I build these surfaces, I create spaces of meditation, contemplation and reflection… Tapestry, fibers, strands, units, cords, all are transparent layers with their own meanings, revealing and hiding each other to make one presence, one tone that speaks about the texture of time."
Sheila Hicks, meanwhile, studied under Josef Albers at Yale and, aged 84, she delighted audiences at the 2017 Venice Biennale with her mountain of multicolored balls of yarn in the former Arsenale. She says: "Textile is a universal language. In all cultures of the world, textile is a crucial and essential component." As she points out, the expressive power of the medium is embedded in our language; both text and textile trace their etymology to the Latin word "texere"—to weave.
Behind these pioneers there is a new generation of artists drawn to textile for its potential to communicate. Jacqueline Surdell, who trained as a painter, works with heavy cotton rope and brightly colored yachting cord to create wall sculptures. Building them is physically demanding: she uses her body as a weaving shuttle, carrying kilos of industrial weft in and out of the warp. While her works honor the history of industrial labor in her home city of Chicago, they also explore social constructs. Surdell says she is influenced by "iconic feminist artists who were using textile to question gender binaries and things like that". These include Harmony Hammond, co-founder of New York's first women's cooperative art gallery in New York, and the Indian artist Mrinalini Mukherjee, whose biomorphic forms in hemp and jute often evoke unconventional sexualities.
New York-based Sagarika Sundaram similarly tackles cultural shifts and new identities. Using raw natural fiber and dyes, she engages with the past and present of felted textiles in Central Asian nomadic culture. Her handmade forms often mirror those found in nature, from blood vessels to rivers. She began her career at the National Institute of Design in Ahmedabad, western India, where design was embedded in social awareness. Today, Sundaram combines commercial work—on rugs, for instance—with her fine art practice (on show in Narrative Threads: Fiber Art Today at Houston's Moody Center for the Arts until May 13). The difference is that "art opens up questions, it opens up a conversation. It's almost a probe, a gesture that creates a space for something around it," she says.
In London, the Royal College of Art (RCA) has emerged as an important center for experimentation with textiles. Like Sundaram, Northern Irish artist
22
Mary Little trained in design—specifically furniture. After a move to California, she now works with cut-and-stitched, unbleached cotton canvas to craft evocative pleated and curved hangings. Their pockets of light echo the hills of her native island. Also in London, American Cecilia Charlton enrolled on the RCA's painting MA in 2018, though it was in embroidery and weaving that she found the most fertile outlet for her interests. Charlton's layered pieces call on the history of formal abstraction, folk pattern, math, and the cosmos.
Italian artist Bea Bonafini enrolled on the same course in 2014—"to react to the painting world"—and was encouraged to be interdisciplinary. "I had performance, food, and textiles. I had machines from the fashion department. I was getting into ceramics, I was painting on leather. I was making sculptures out of salty bread dough and staining them. I was trying to figure out how to manipulate materials in different ways and not narrow myself down," she says. Most recently, she has been working with commercially produced domestic carpets, creating densely allusive images using an inlay technique. She is fascinated by the transformation of her material, "because it goes from being something with a horizontal surface to a vertical surface, from something that could be domestic to something of the fine arts—elevating it to this other realm". 0
Emma Crichton-Miller writes about art, craft and design
Reside — Spring 2023
Clockwise from top left: Cecilia Charlton in her studio; Jacqueline Surdell, Melancholy of Always: Sunset in the Rockies (after Albert Bierstadt) (detail), 2020; Magdalena Abakanowicz, Brown Textile 21 (Tkanina 21 brązowa), 1963
ACQUIRED TASTE
Don't be scared of using black" is one tip in Patina Modern , a new book by Chris Mitchell and Pilar Guzmán that sets out nine principles for designing "warm, timeless interiors". Their instructions are clear, attainable and sometimes a little offbeat: "Take a bird's-eye view of the room," is another. The couple talk readers through their own taste, and the covetable interiors of their houses in Brooklyn and Long Island, though neither trained as interior designers, and they describe themselves as auto-didacts. Guzmán, an editor, has long worked with America's chief lifestyle experts Martha Stewart and Oprah Winfrey, and Mitchell is also from a publishing background. ("Our first love is storytelling: magazines and content," he says.) Their skill lies in mixing their refined lifestyle with chatty, upbeat and forthright advice. Do the couple ever break their own rules? "All the time," says Mitchell. "But I would liken them to the rules of grammar. You can break 'em if you know 'em. And the thing that separates people who are a little at sea with interior design, and people who knowingly veer, is taste."
In Patina Modern , they set out to make anyone—even those who might feel at sea—think they can achieve such nebulous ambitions as "taste" and "style", with a few simple rules.
Guzmán grew up in LA in an artistic family and a house full of antiques. She describes waking at dawn to be first at the flea market and taking out a subscription to Architectural Digest at the age of eight. Mitchell, who says he is a "modernist by instinct" grew up "in the most conventional of American homes". "Then we arrived at something in our intersection," says Guzmán.
"'Good taste' has been democratized with social media," she adds. To counter blandness, they advise us to expand our design knowledge and hone our eyes by pursuing curiosities, accumulating what Mitchell calls "rabbit-holes of discovery".
What are their current obsessions?
"Sixties lighting that I would describe as 'soviet bureaucracy'", says Mitchell. "Nineteenthcentury geometric rugs," says Guzmán.
But in Mitchell and Guzmán's world, every object is given space to breathe. The one trend they avoid is maximalism: the piled-on clutter and pattern-upon-pattern so fashionable in
25 Reside — Spring 2023
Left: With neutrals reinforced in the couple's New York dining room, black accents in Arne Jacobsen chairs and a David Weeks chandelier punctuate the space. Right: Earth tones feature throughout
How one stylish couple created a recipe book for successful interiors. It involves embracing the wine spills
Photos: Excerpted from Patina Modern by Chris Mitchell and Pilar Guzman (Artisan Books), © 2022, photographs by François Dischingerand Adrian Gaut
Clockwise from right: In the Bridgehampton kitchen, a minimalist Gaggenau cooktop and sink fit into the island and fridges hide behind panels; Chris Mitchell and Pilar Guzmán; A shallow, hanging oak credenza saves space below mirrors by Uno & Östen Kristiansson; Patinated leather on an Arne Jacobsen Swan chair in the New York living room, where a framed boro textile fragment counters the ornate pier mirror
recent years. "A lot of Americans have taken cues from the UK, and the layering in ancestral homes," says Guzmán. "It's a harder thing to manufacture in the US in a meaningful way, and our eyes have gotten a little tired of it. I think it has run its course, especially in the American adaptation."
"There's a terrific quote by [US architecture critic] Paul Goldberger," says Mitchell. "He says the problem with humor in architecture is that the joke gets old but the building remains. And that's true in interior design. Exuberant florals are super fun. But you might get tired. Our approach is to have fun, absolutely. But do it with accessories. Change is easier."
"Or in a smaller room, like a powder room," Guzmán suggests.
The book's title refers to the couple's guiding principle to mix old and new: sharp, sculptural ceiling lights with art deco brass side-lamps, say, or custom leather banquettes with curvilinear, Victorian woodwork. It is not an entirely original trick, but they had to learn it themselves, the result of years of trial and error over several renovation projects.
They also advise learning to live with patina—the scars and the imperfections that showcase the history of a home: scuffs on furniture legs, spilled-wine splotches on leather upholstery, the torn edges of a framed vintage poster. They even suggest buying broken or damaged antiques and collectibles, to be restored if necessary.
Guzmán and Mitchell's book is an admirable attempt to transcend the fleeting trends and advice of the digital age with a set of solid, consistent principles. It is, I suggest, a design book that follows a cookery book format. "That was our inspiration!" says Mitchell.
"Imagine if cookbooks showed only perfect photographs of food without recipes," he says. "Many interior books are like that: they give you rooms and houses but don't give you the formula to get there. We insist on utility." 0 Helen Barrett writes about architecture, design and the arts
27
" OUR EYES HAVE GOTTEN A LITTLE TIRED OF MAXIMALISM. I THINK IT HAS RUN ITS COURSE "
Africa ROOTED IN
Industrial designer Jomo Tariku is rewriting the rulebook for African design in the western context. Vaishnavi Nayel Talawadekar finds out more
Growing up in Ethiopia in the 1970s, Jomo Tariku was always surrounded by beautiful things. His father—a US-educated colonel in the Ethiopian army, designated the first military attaché to Kenya—collected glassware, furniture, rugs, and objets d'art, acquired on his travels in Africa and beyond.
"I believe that left a lasting impression on me and what I do now for a living," says the industrial designer, who was born in Nairobi and is now based in Virginia. At the behest of his father (who wanted to keep his two sons out of trouble), Tariku did a summer apprenticeship with a local furniture builder in Addis Ababa before moving to the US in 1987 to pursue a degree in industrial design at the University of Kansas. While he was completing his thesis on contemporary African furniture, he began developing his own design practice. But it took 30 years for the world to take notice.
"In 1992, I knew I had the daunting task of trying to change an industry that mostly celebrated the western ideals of design, or defined works from Africa as those meeting only stereotypical definitions: animal prints, leopard skins, masks," Tariku says. At the time, he adds, African design was treated as a novelty, "like that one mask or stool you could put in the corner as a signature piece", rather than a concept to apply across a full interior. Today, the output of his company, Jomo Furniture, borrows not from westernized tropes, but his cultural heritage—often East Africa, specifically. The MeQuamya chair evokes a T-shaped prayer staff used in Ethiopian Orthodox church ceremonies, while the Boraatii stool reimagines the wooden headrest often found in the Oromia region, used to preserve intricate hairstyles (boraati in Oromiffaa means "tomorrow-you"). The shape of the Nyala chair is an homage to the East African mountain antelope, and the Mukecha stool is inspired by a mortar and pestle.
Though contemporary in its aesthetic, Tariku's visual cues often reflect the traditions of anonymous artisans from Africa, who make homeware for their communities. "They are my unsung heroes," he says. "They dissociate with the western sense of branding, so I can't attach a name to their creations." In contrast, naming his pieces after things that inspire him is a way for him to encourage future owners to learn more about the story behind the designs, beyond his own interpretation. The Ashanti stool, for example, is named after the ancient Ashanti Kingdom of Ghana. "Maybe they will gain knowledge I did not communicate or simply don't know," says Tariku. When a furniture-making enterprise that Tariku started in 2005 did not take off, he segued temporarily into a full-time job as a data scientist at the World Bank, all the while sketching and modeling in his spare time. His watershed moment came when a dozen of his Watatu stools were ordered for the set of Black Panther: Wakanda Forev er, Marvel Studios' 2022 superhero sequel set in a fictional sub-Saharan country. Marvel
29 Reside — Spring 2023
Left: Jomo Tariku's Nyala chair in the online exhibition Provenanced, curated by New York design brand TRNK in 2020; Above: The Qwanta Totem Chair
clearly found Tariku's pieces a fitting addition to the afrofuturist aesthetic developed by production designer Hannah Beachler, the first African-American woman to win an Oscar in her category. The studio later included the black Nyala chair and Mukecha stool.
The movie catapulted him into the limelight but, even then, Tariku was troubled. For years he'd suspected that his slow rise to success was due to being a person of color. In 2019, he decided to test this theory by calculating the number of Black designers being licensed and branded by the 150-plus most prominent furniture companies in the US. Of the 4,417 collections he considered, only 14 were by Black designers—less than 1%. In late 2018, he co-founded the Black Artists and Designers Guild, a nonprofit organization devoted to advancing a community of Black makers in creative industries, as a reaction to the lack of minority-led design in the west. This enterprise led his work to gain wider currency, and left him confident enough to work on Jomo Furniture full-time.
Tariku's focus now is on designing functional, artistic seating and, though artisanal heritage is key, his work has a sleek modernity. He uses computer modeling to finesse concepts, a practice underscored in Craft In The Laboratory at the Mint Museum, North Carolina, in which he appears. "3D modeling helps get the first prototype right," says the designer, who is represented by Wexler Gallery. His work is also on show as part of the Metropolitan Museum of Art's display Before Yesterday We Could Fly: An Afrofuturist Period Room , co-curated by Beachler. The exhibit is a fictional room owned by an imagined African-American resident of Seneca Village, a predominantly Black neighborhood that was razed in 1857 to create Central Park. It represents how the room may have looked in the 19th century, how it might look now, and in a time yet to come.
Tariku's own future looks bright—his work appears in the permanent collections of LACMA, the Denver Art Museum and the Baltimore Museum of Art, with the Philadelphia Museum of Art and Smithsonian's National Museum of African American History and Culture to follow this year. He is currently on the hunt for a space to create larger pieces, such as tables and bookcases, after his high-end seating collections were exhibited by Wexler Gallery at Design Miami in December 2022. Every piece sold out. "The attention is well-deserved, and Jomo is definitely a designer to watch," says the gallery's owner, Lewis Wexler, adding: "He is tireless in his pursuit of creating an equal playing field for designers of color."
Recent attention has led Tariku to wonder whether his designs might be a passing preoccupation. But more museums are dedicating funds to incorporate Black art and, by extension, Black design into their permanent collections. Tariku is certain that this will improve representation of Black designers and under-served communities on the global stage, as well as encouraging young designers to consider it as a viable career. "If my fears are not realized, I see a day where the western design canon will embrace us as part of the conversation."
30
0
Vaishnavi Nayel Talawadekar is a journalist based in New Delhi
"
JOMO IS TIRELESS IN HIS PURSUIT OF CREATING AN EQUAL PLAYING FIELD FOR DESIGNERS OF COLOR "
Photos: Jomo Tariku; Julia Lehman Photography; Courtesy of Wexler Gallery.
Clockwise from far left: the Meedo Chair; the Mukecha Stool, which appeared in Marvel's Black Panther: Wakanda Forever in 2022; the Nyala Chair, which also featured in the movie
William Merritt Chase, In the Studio, 1892, displayed above the Wolfs' mantelpiece.
Below right: Erving and Joyce Wolf
AHEAD of the PACK
The Wolf Family Collection, coming to auction this spring, celebrates American creativity and one couple's extraordinary eye for detail
Erving and Joyce Wolf lived the American Dream to the fullest. He was a young man from Cheyenne, Wyoming, and she was a girl from Brooklyn, New York, when they met in Denver, the summer of 1951. Seventeen days later—after she proposed—they were married. Over the next 66 years, they assembled a collection that celebrates American design and craftsmanship from the 18th to the 20th century. When Sotheby's offers The Wolf Family Collection: The Spirit of America this April, it will be the most important auction of its kind to date.
Spanning painting, sculpture and decorative arts, this is a sale filled with "legendary treasures", says Jodi Pollack, Sotheby's senior vice president and co-worldwide head, 20th century design, and is estimated to realize in excess of $50 million. It ranges from the greatest examples of colonial furniture and bronzes by Paul Manship, to art nouveau silver by the Gorham Manufacturing Company, paintings by Winslow Homer and jewelry by Van Cleef & Arpels.
Brief as their courtship was, the Wolfs' partnership was enduring. After a quick trip to Brooklyn for their wedding, they returned the following day to Cheyenne, where their three children were born. Erving—who had served as an officer in the Navy while stationed in Guam during the Second World War, then earned a law degree from Northwestern University—set his sights on the oil and gas industry. His discoveries (including Wyoming's 200-million-barrel Hilight Oil Field and its four-trillion cubic-foot Madden Gas Field) became the stuff of legend.
Meanwhile, Joyce put her boots on. She was instrumental in building and overseeing the couple's vast cattle ranch in Ridgway, Colorado, where the family continued to spend summers after they relocated to New York City.
As they began their life together in the American West, the couple's collecting journey began close to home. They acquired rugs, pottery and jewelry from trading posts in the Four Corners region, the rugged meeting point between Colorado, Utah, Arizona and New Mexico, and home to Navajo, Ute, Hopi and Zuni tribal nations. Propelled by curiosity, the Wolfs later broadened their scope to include every aspect of American art and design. With their three children often in tow, the family became fixtures in Sotheby's salerooms. Nearly every weekend, they could be found scouring New York's 26th Street Flea Market for hidden gems.
33 Reside — Spring 2023
"My parents both had incredible collecting genes. When they saw something of beauty, they respected it and often purchased it," their son Mathew explains. "They didn't have to look to other countries, because they saw the exquisite things that Americans produced. Their collection encompasses the history and talent of America."
The Wolf Family Collection will be offered in a series of landmark single-owner live and online sales at Sotheby's New York. These start with an evening sale on 19 April, The Spirit of America , showcasing a selection of the Collection's masterworks in fine art, sculpture, furniture, Chinese export porcelain, silver and 20th-century design.
The paintings acquired by the Wolfs are exceptional. There are quintessential works by the preeminent portraitists of federal America, Gilbert Stuart and John Singleton Copley; majestic landscapes by Hudson River School artists Worthington Whittredge and Sanford Robinson Gifford; Impressionistic pictures by artists who drew on European influences, such as Winslow Homer and John La Farge; and protean examples of American Modernism by Charles Demuth and Maurice B Prendergast. The centerpiece of this treasure trove is In the Studio, executed in 1892 by Impressionist William Merritt Chase. It depicts the artist's wife in his summer studio on Long Island. Showing a sumptuous tapestry and items of silver and bronze, the richly decorated space that he depicts highlights the artist's success by this point in his career.
34
From left: Greene and Greene, lantern from the Robert R Blacker House, Pasadena, California in the Wolfs' library; Chinese exports "Tiger and Fox Hunt" punch bowl, circa 1775, and a pair of "Landscape" urns and covers, circa 1780, on a Chippendale Serpentine chest of drawers, circa 1790, on display in the Wolfs' home
Erving and Joyce Wolf also gathered furniture by the finest makers of their time, including the Gibbs Family Chippendale Block-and-Shell Carved Mahogany Kneehole Bureau Table, circa 1770. Expertly carved in Newport, Rhode Island, it is one of the very best examples of its form. Descended through five generations of the Gibbs family, the piece has only ever been offered at auction once before, when it was last sold at Sotheby's 40 years ago.
In the earliest years of the American art and design market, the Wolfs had the vision and foresight to acquire some of the most defining and historically important works ever created by artist Louis Comfort Tiffany, plus architects Frank Lloyd Wright and Greene and Greene, who were heavily influenced by the Arts and Crafts movement. Among the showstoppers here is a monumental hanging lantern, crafted with iridized and opalescent glass, mahogany, ebony, abalone, copper, fruitwood and silver inlays, designed by Greene and Greene for their masterpiece, the Robert R. Blacker House in Pasadena, circa 1908. It took pride of place in the house and is one of the most complex pieces of lighting the company ever created. Its mahogany frame recalls the Japanese-inspired architecture of the rest of the building, while the iridized glass shade features delicately rendered images of vines and birds in flight against a sunset.
Spanning more than 1,000 lots, this deeply personal collection articulates a unique narrative of American history. It's a real love story, too. 0
James Reginato is a writer and editor based in New York
35 Reside — Spring 2023
"
" THEY SAW THE EXQUISITE THINGS THAT AMERICANS PRODUCED. THEIR COLLECTION ENCOMPASSES THE HISTORY AND TALENT OF THE COUNTRY
HAPPY place
Get to know the Parisian neighborhood
Saint-Germaindes-Prés, and the artists, gallerists, and boutiques that already call it home, with local resident and art writer Sarah Belmont
Moved suddenly today " wrote the artist Eugène Delacroix in his diary on December 28, 1857. He had grown tired of commuting from Paris's 9th to its 6th arrondissement while decorating the chapel of the Saint-Sulpice church. "My accommodation is indeed charming. I felt some melancholy after dinner, finding myself transplanted Woke up the following day with the most gracious sun rising above the houses opposite my window. The view over my little garden and the smiling aspect of my studio convey a feeling of pleasure."
His new home was in the Place de Furstemberg—a peaceful, unassuming square in the neighborhood of Saint-Germain-des-Prés. After a glittering career at the vanguard of French Romanticism—he had "a sun in his head and thunderstorms in his heart" according to one obituary—he died here, holding his maid's hand, in 1863. Delacroix heavily influenced the Modernists and, thanks to campaigning by Maurice Denis, Paul Signac and Édouard Vuillard, among others, in the 1920s, his apartment and studio became a museum, which holds over 1,000 of Delacroix's works and overlooks a quiet garden.
This central spot, a 10-minute walk to the Louvre across the Seine, hints at a bucolic past. Before becoming the glamorous cultural center of the Left Bank, astride the 6th and 7th arrondissements, Saint-Germain-des-Prés was a small medieval town. It was named after the bishop who co-founded the church of Saint Vincent, now known as the church of Saint-Germain-des-Prés.
This was later the district where 17th-century enlightenment thinkers and future revolutionaries gathered. After the Second World War, intellectuals and creatives took over, and jazz began drifting from basements on rue de Rennes. From the writer Marguerite Duras to philosophers Jean-Paul Sartre and Simone de Beauvoir, singers Léo Ferré and Juliette Gréco, directors JeanLuc Godard and François Truffaut, the sculptor Alberto Giacometti, they were
Reside — Spring 2023
Left: Eugène Delacroix's former apartment, now a museum dedicated to his work. Below: Detail of mural by Delacroix in Saint-Sulpice church. Below right: La Palette, one of Picasso's favorite bistros
all to be spotted drinking and/or smoking on the terrace of Café de Flore. Luxury boutiques began surfacing in the 1970s. Families who have been here for generations call themselves germanopratins —they are the historical inhabitants of Saint-Germain-des-Prés.
The area naturally still draws newcomers. "I decided to open here in 2004, because the neighborhood is filled with niches in various fields, such as gastronomy, fashion, crafts… Saint-Germain-des-Prés is a cradle for the arts," says the artist and chocolatier Jean-Charles Rochoux, to be found at 16 rue d'Assas, and who casts ambitious confections as a sculptor might use bronze. "It was the obvious choice. The proximity of the Académie des beaux-arts and the galleries all around are a source of inspiration for me."
Before you explore delectables by Rochoux and others, the ideal way to begin a tour of these streets is after a good night's sleep at Pavillon Faubourg Saint-Germain. The boutique hotel spans three 17th-century buildings on rue du Pré aux Clercs. (When this area was still a meadow, it was a popular dueling spot.) A winter garden—with its green walls and sculpted chimney—provides another oasis in the city center. Renovated in 2021 by the Chevalier group, the hotel pays homage to Irish author James Joyce, who stayed in the 1950s to finish his Modernist masterpiece Ulysses, with a suite taking his name and the restaurant named Les Parisiens as a nod to Joyce's Dubliners. TS Eliot was also a visitor. And what better way to get ready to explore than with a quick dive into the spa's indoor pool?
Once refreshed, take a left, a right, and another left onto rue de Luynes. Here, behind a navy-blue-framed window display, is a fashion must. Boutique owner Julie de Libran was born in France and grew up in California before studying fashion in Milan and Paris, where she started her career working for Gianfranco Ferré at Dior, then for Gianni Versace and at Prada, Louis Vuitton, and Sonia Rykiel. In 2019, the designer launched her own label and, more recently, this atelier, where she fits customers. Each dress is made and sold in limited quantities, ensuring their quality, rarity, and sustainability. "All my friends and favorite spots are in Saint-Germain, where I live and enjoy biking around. It is like a village to me", she says.
While its cafe culture is historic, Paris's coffee culture is not. Ten years ago it was hard to find a good cup of joe but, somehow, bitter hot water served by grumpy waiters has turned into refined brews and lattes to go. Located
39 Reside — Spring 2023
Top: Singer Juliette Gréco in the 1950s, with the Saint-Sulpice spire behind her. Above: The Pavillon Faubourg Saint-Germain hotel; and its James Joyce Suite (left)
" SAINT-GERMAINDES-PRÉS IS A CRADLE FOR THE ARTS "
immediately to your left after leaving de Libran's boutique, Noir is famous for rotating and roasting a short selection of beans. The Saint-Germain venue was the second branch to open from this young brand, which was founded in January 2021. The interiors are by Batiik Studio, a Paris-based firm created by Rebecca Benichou in 2014. The earthenware crockery is custom-designed by Atelier Maen. Their bestselling cookies, with a pinch of fleur de sel, are to die for.
If time allows, walk along boulevard Raspail—or through its food market—up to Square Boucicaut, named for a founder of renowned department store Le Bon Marché, which overlooks the square. The store's name translates to "good deal"—deceptive, considering it is one Paris's chicest stores, and has its own art collection. While the main building of Le Bon Marché features fashion and interiors, an art deco extension—La Grande Épicerie de Paris—is dedicated to global gastronomy. On that topic, neighborhood newcomer Hando is a few minutes' walk away, and the Japanese restaurant is as beautiful visually as its handrolls are to consume. The interior is inspired by renowned minimalist architects Tadao Andö and George Nakashima, and its chef Lee Cheng insists seaweed is sourced from a particular village in Japan's Chugoku region.
Tradition still reigns, however, and most cafes in the area serve bread from Poilâne. The bakery was established in 1932 and, three generations later, is an institution known for its sourdough-based recipe and its Punitions ("punishments") shortbreads. The line outside suggests they are nothing of the sort. Lionel Poilâne, the son of founder Pierre, believes in "retro-innovation"—making the best of tradition and modernity. In 1993, Lionel was named chevalier de l'ordre national du mérite (Knight of the National Order of Merit) for services to the economy. Apollonia Poilâne, a Harvard graduate, now keeps the love for her grandfather's loaves alive.
Nearby is Place Saint-Sulpice, the beating heart of Saint-Germain-des-Prés. It is home to one of the oldest Saint Laurent boutiques (there is a fragrance named after the square). Café de la Mairie is a meeting place for those in the movie industry, and Delacroix's murals still stun in their ambition and dynamism in the church of SaintSulpice—the second-largest in Paris.
Returning full circle, art-gallery-filled rue Jacob is just off Place de Fustemberg. This leads to Ladurée and its mouth-watering macarons at the corner of rue Bonaparte, and, in the direction of the Seine, Éditions Diane de Selliers. This publishing house issues illustrated literary masterpieces, such as Dante's Divine Comedy featuring 92 exquisite drawings by Botticelli based on the poem, which were lost until the 17th century, or Baudelaire's iconoclastic poetry collection The Flowers of Evil paired with paintings by symbolists such as Munch and Moreau, whom he inspired.
"
"
ALL MY FRIENDS AND FAVORITE SPOTS ARE IN SAINT-GERMAIN, WHERE I LIVE AND ENJOY BIKING AROUND. IT IS LIKE A VILLAGE TO ME
Happy place
Photos: Musée du Louvre/Nicolas Guiraud; Hemis/Alamy Stock Photo; Ian Pilbeam/Alamy Stock Photo; ©Jerome Galland; Robert DOISNEAU via Getty Images; Courtesy of Kaj Lehmer; Courtesy of Pierre Musselec; Buly 1803; Alex Crétey Systermans; © Alexandra de Cossette Courtesy of Galerie Kreo
Storefront of Noir Coffee Shop & Torréfacteur on rue de Luynes.
Left: Fashion designer and boutique owner Julie de Libran at home
Officine Universelle Buly 1803, founded as an apothecary at the start of the 19th century, is now a luxury beauty store
Just along the river is the glorious Académie des beaux-arts, which remains a prestigious art school. Would star alumni such as Jean-Auguste-Dominique Ingres or Jacques-Louis David have visited the nearby Officine Universelle Buly 1803? Founded as an apothecary at the beginning of the 19th century, it retains its wood-paneled interior and offers intriguing products, such as La Victoire de Samothrace soap—made with tuberose, magnolia, jasmine and myrrh—and dried peony petals for the bath. Gifting options even include a calligraphy service.
In the parallel rue de Seine opposite square Gabriel-Pierné—a park named after a 20th-century French musician—lies Galerie Jacques Lacoste. This gallery specializes in decorative arts, with a strong focus on French pieces from the 1930s and 1950s—in particular designer Jean Royère, who injected a shapely sense of fun into Modernist interiors. Meanwhile Galerie Kreo, on the nearby rue Dauphine, represents 21st century decor. Founders Clémence and Didier Krzentowski worked in the sports industry before showcasing limited-edition works by figures from Virgil Abloh to Hella Jongerius. The couple is also known for their expertise in 20th-century French and Italian lighting. Karl Lagerfeld was a long-time client, and both dealers were made Officers dans l'Ordre des Arts et Lettres
Look out for La Palette, a listed historical monument on the rue de Seine. The legendary bistro was a favorite of Cézanne and Picasso, and it is still a place to spot writers typing away, or artists engrossed in conversation. The entrepreneur Thierry Bourdoncle bought the premises in 2009. "This place is unique, and has always reflected to me the soul of the Parisian lifestyle," he says.
Another fan of the area is gallerist Kamel Mennour, who now has three locations in the Saint-Germain-des-Prés area. Representing Daniel Buren, Alicja Kwade, Ugo Rondinone, Camille Henrot, Lee Ufan and Anish Kapoor, among others, the star dealer has just convinced Sylvie Patry, former deputy director for collections and curatorial affairs at Musée d'Orsay, to join his team as artistic director.
"This is where I live and work, when I don't travel the world," says Mennour. "Though imbued in culture, Saint-Germain was still a sleeping beauty when I first opened the gallery, at 60 rue Mazarine, and the idea then was to put it back on the map. Now I am glad to say that contemporary art, including my curatorial work, has contributed to its revival".
Heading back towards the river and bearing left, you'll find the Musée d'Orsay, home to the world's greatest collection of Impressionist art. Or, bearing right, Île de la Cité is home to Place Dauphine, one of Paris's quaintest squares. It may feel like a village, but city living doesn't get much better than this. 0
Sarah Belmont is a Paris-based writer
"
"
THIS PLACE IS UNIQUE, AND HAS ALWAYS REFLECTED TO ME THE SOUL OF PARISIAN LIFESTYLE
Happy place
Above: Gallerist Kamel Mennour, who has three locations in the Saint-Germaindes-Prés area. Below: The living room of this triplex apartment opens out onto a private garden and terrace. Left: Galerie Kreo, where founders Clémence and Didier Krzentowski champion 21st-century decor
A city idyll
Direct access to the historic Monceau Park, painted by both Gustave Caillebotte and Claude Monet, is one perk of this luxurious triplex apartment in Paris's 8th arrondissement. The elegant four-bedroom home forms part of a building dating to 1905 and provides 5,984 sq ft of living space, with an impressive living room opening onto a magnificent garden and terrace. It also features a rotunda dining room decorated by the acclaimed firm Jansen, known internationally for its grandeur and style and which included British royals among its clients in the 20th century. There is also garage parking and three cellars. Just around the corner is the charming Musée Nissim de Camondo, a Belle Epoque mansion featuring 18th-century French furniture and decorative arts.
Paris, France 17.500.000 € sothebysrealty.com/id/29GMQ7
Propriétés Parisiennes Sotheby's International Realty
45
KEEPING IT surreal
Schiaparelli's artistic director Daniel Roseberry on how he is breathing new life into the house's Surrealist legacy
46
Daniel Roseberry at Maison Schiaparelli, overlooking the Place Vendôme
Daniel Roseberry, the artistic director of Schiaparelli, has long been fascinated by Elsa Schiaparelli's collaborations with the leading lights of Surrealism. After establishing her venerable fashion house in the 1930s, Schiaparelli became one of the first couturiers to collaborate with artists, working with Salvador Dalí and Man Ray, among others.
"I'm always so nostalgic for that period," Roseberry says. "I think of those collaborations as ones that were happening between people who were creating culture around them, and who found themselves in real relationships. I often wonder if they had any idea that their work would be romanticized and fetishized for generations after. Even if it was transactional in some way, those creative partnerships feel so deeply natural compared to most of what we observe today."
Texas-born Roseberry has been reinterpreting Schiaparelli's historic vision through his dramatic collections since taking the reins of the house in 2019. This March, the Surrealism and Its Legacy sale at Sotheby's Paris brings together works by artists associated with the movement, including René Magritte, Francis Picabia, Salvador Dalí and Max Ernst, and works from those influenced by it—such as Lucio Fontana and Alexander Calder. The sale reflects a period of renewed interest in Surrealism, with recent auctions and international exhibitions including last year's Venice Biennale adopting it as a central theme. For Roseberry, the enduring appeal of the Surrealists is obvious. "Generations and times shift and change, but the urges of the subconscious feel timeless and truly inescapable. They were able to tap into this and exploit it," he says.
Elsa Schiaparelli was born into a family of intellectuals and aristocrats in 1890 in Rome, and her encounter with the Surrealists was utterly fortuitous. Sailing on an ocean liner in 1916 to North America with her husband, she met Gabrièle Buffet-Picabia, first wife of the Dada artist Francis Picabia. Buffet-Picabia introduced her to New York's avant-garde art scene via Soci é t é Anonyme, an arts organization founded in the city by the painter and collector Katherine Dreier, Marcel Duchamp and Man Ray. Returning to Paris in 1922, Schiaparelli made her foray into fashion, encouraged by a new acquaintance: preeminent designer Paul Poiret. Her first success was the now-renowned trompe-l'œil bow jumper, a design hand-knitted by Armenian women in Paris. Schiaparelli then went on to set up business in a garret on Rue de la Paix and, in 1935, moved to a boutique in the prestigious Place Vendôme. Her connections with artists became central to the brand's success.
It is her work with Dalí that stands out most.
"From my point of view, it is the most striking and influential [collaboration] in the history of the house of Schiaparelli," says Marie-Sophie Carron de La Carrière, head curator of the fashion and
49 Reside — Spring 2023
Photos: Christophe Coënon; Matthieu Salavaing;
©
Archives Snark; ullstein bild/ullstein bild via Getty Images; courtesy of Schiaparelli; courtesy of the Philadelphia Museum of Arts.
Left: Marcel Vertès, Schiaparelli, 21 Place Vendôme, 1953, on display in the salon of Maison Schiaparelli
Below: Elsa Schiaparelli with Salvador Dalí, 1949
textile collections after 1800 at the Musée des Arts Décoratifs in Paris, which hosted the exhibition Shocking! Les mondes surréalistes d'Elsa Schiaparelli (July 2022–January 2023). Among other pieces, Schiaparelli and Dalí worked together on the Shoe Hat, 1937–38, absurdly fashioned from an upside-down black shoe, and the Lobster dress, 1937, for which Dalí designed a crustacean to appear on a white organdy dress, which was interpreted into a fabric print by silk designer Sache.
After returning to Paris from the US after the Second World War, Schiaparelli commissioned the Catalan artist to design the crystal bottle for her new fragrance, Le Roy Soleil, in homage to the "Sun King", Louis XIV. The resulting bottle comprised a golden sun painted with swallows above a gold and blue sea.
Other memorable creations include two pairs of spiral spectacles that Man Ray made for Schiaparelli in 1936. Jean Cocteau, the Surrealism polymath, brought his passion for optical illusion and metamorphosis to Schiaparelli's collections in 1937 and 1938. Designs include a linen evening jacket featuring a woman in profile, her hair rendered in gold thread, shimmering down the right arm with two hands encircling the waist. On a silk jersey coat, Cocteau designed two facing profiles to form the shape of a vase, filled with a bouquet of pink taffeta flowers. Surrealist artist Leonor Fini designed the bottle for Schiaparelli's fragrance Shocking, inspired by the hourglass torso of Hollywood film star Mae West, one of Schiaparelli's clients. Artist Meret Oppenheim traded Schiaparelli a design for a piece of jewelry: a brass bracelet covered in animal fur that Schiaparelli included in her Fall/ Winter 1936 collection.
Schiaparelli held these collaborations close to her heart. "Working with artists like Bébé Bérard, Jean Cocteau, Salvador Dalí, Vertès, Van Dongen; and with photographers like HoyningenHuene, Horst, Cecil Beaton and Man Ray gave one a sense of exhilaration," she wrote in her autobiography, Shocking Life. "One felt supported and understood beyond the crude and boring
Clockwise from right: Schiaparelli's Shoe Hat, 1937–38; a nod to Jean Cocteau's evening dress for Fall 2021 Couture; Salvador Dalí, Dream of Venus, 1939; Schiaparelli coat designed in collaboration with Cocteau
Keeping it surreal
" HER WORK WITH DALÌ IS THE MOST STRIKING AND INFLUENTIAL "
reality of merely making a dress to sell." They helped her to become one of the most important designers of the 20th century, rivaling contemporaries such as Coco Chanel.
Today, the Surrealists' influence is carried forward by Roseberry through his own designs for the house, which closed in 1954 and was relaunched in 2012 by Diego Della Valle, the founder of Italian luxury group Tod's. Roseberry had not worked in a couture atelier before, joining from upmarket fashion brand Thom Browne, but his eye for tailoring and experimentation has made him a perfect fit, and he has resurrected iconic Schiaparelli motifs in bold new ways. Pink silk roses, a nod to Cocteau's evening dress, cover the billowing arms of a black mini dress from his Fall 2021 Couture collection. For Spring 2022 Couture, he presented a "cage" dress exquisitely crafted from gold leaf and vintage gemstones, which resembles more of a giant brooch than a garment.
To keep the founder's intentions alive in a new century, Roseberry has "learned to stay loose". "When you look at Elsa's process, it feels free and unburdened, and spontaneous," he says. "It's like the shower principle: that the best ideas come to you when you're not thinking about them, or when you're in the shower. I think her work has this free-wheeling intelligence that feels so ahead of its time. It wasn't just about beauty, or of the 'line' of a dress. It was about a concept, an idea, a notion of reality. She would take this notion and bend it to her will."
Roseberry's love of Surrealism extends to his own art collection, too. He has "just bought a small painting by the Belgian surrealist Marcel Delmotte", who drew from a range of sources, including the Italian Mannerists to contemporaries such as Giorgio de Chirico for his dreamlike works. "French Surrealism in the 1950s has something I love. I am repeatedly drawn to French and Italian art from the 1920s and the 1930s, such as Gaston Lachaise [known for his exaggerated bronze nudes], and I'd love to one day own an important piece of American art from the 1950s or 1960s, like a giant Helen Frankenthaler." Like Schiaparelli, Roseberry is eager to collaborate with artists of his time: "I love Katie Stout"—the artist and furniture designer who pushes the boundaries of functionality, and often references organic matter and female figures. "The photographer Nadia Lee Cohen, and my friends—the sculptor F Taylor Colantonio, and the writer and playwright Jeremy O Harris [his Slave Play made waves on Broadway in 2021]," he adds. "I would love to make a short film with Janicza Bravo [her work includes the movies Lemon and Zola]. Tilda Swinton would make an amazing Elsa Schiaparelli one day in a film, and I'd love to be involved in that."
In the meantime, Roseberry's eyes are firmly focused on his work with Schiaparelli and, just like the house's imaginative founder, "creating things that people might remember, and that might last more than a moment". 0
Anna Sansom is a writer and editor based in Paris
51
THOUGHT and FEELING
Axel Vervoordt is a man with many hats: art and antiques dealer, interior designer, initiator of groundbreaking exhibitions and an impresario of musical, artistic and architectural experiences. Central to all this activity is his long marriage to his wife, May. Their evolving interests have been the guiding thread in their esteemed family business. Whether in their private home, the 12th-century Kasteel van 's-Gravenwezel, outside Antwerp, or in their impressive business headquarters, Kanaal—a restored late-19th-century distillery and malting complex on the nearby Albert Canal—their shared aesthetic and philosophical values are expressed in every atmospheric interior and the juxtaposition of carefully selected artworks. It is appropriate, therefore, that as Axel and May celebrate their 50th wedding anniversary this spring, they have created a book about their collecting. What has interested them above all on this journey has been a dialogue between traditions—the exchange between east and west—which is reflected throughout their home and in their exhibition-making. It is also expressed in this new book, which celebrates artworks from contrasting traditions to emphasize continuities of thought and feeling. For Axel, his touchstones include works by Kazuo Shiraga and the numinous Fontana sculpture Concetto Spaziale, Natura, 1959–60. May has a favorite painting— Urbino, 1978, by Belgian artist Jef Verheyen, known for his exploration of light, color and geometry. She also loves the Japanese Head of a Lohan, or Buddhist monk on the edge of enlightenment, in their library: "Every time I see them, I learn something new."
This interest in Asian art can be traced to their friendship with Dr Jos Macken, a neurologist who was a great friend of Verheyen and a passionate collector of eastern art. Through Macken, Axel became interested in eastern philosophy, especially the Japanese concept of wabi-sabi: the wisdom of imperfection. Axel explains that his mother instilled in him a feeling for "the beauty of simplicity—she liked very humble things".
Axel and May had visited Japan before they married and, from their late twenties, traveled through Thailand, China and Japan, developing a passionate understanding of Zen philosophy, ceramics, sculpture and calligraphy. Furthermore, Axel eagerly discovered the East Asian idea of the "void"—a potent emptiness; a latent creative energy beyond human comprehension.
Through Verheyen, the couple discovered the broad network of European artists connected to the Zero movement in Germany, including the Argentine-Italian Lucio Fontana and the German Günther Uecker, who were exploring similar
Reside — Spring 2023
Axel and May Vervoordt are marking 50 years of collecting together, guided by traditions from both the east and west
Left: Axel and May Vervoordt in their home near Antwerp; Below: A collection of figurines in the library
The "Oriental Salon" at Kasteel van 's-Gravenwezel, with a 17th-century Japanese folding screen by Tan'yu Kano (left) and Fusta i Marró Forodat by Antoni Tàpies, 1972 (right)
THE THINGS WE LOVED AND BOUGHT, THEY HAD A SENSE OF SILENCE. THEY WERE NEVER AGGRESSIVE "
"
ideas. Axel remarks: "After the terrible destruction of the Second World War, the idea of starting again from nothing was very appealing."
These ideas were all percolating in the Vervoordts from the beginning of their relationship. They met when they were very young. May reports that Axel, then aged 21, "was a young antiques dealer," while her interests, as a student of graphic design aged 18 or 19, "were more contemporary." One of Axel's early purchases—an oil painting by René Magritte of his famous motif, La Mémoire, 1948—suggests that he was always looking for a sense of "timelessness, the universal". In addition, what was evident in their shared preferences was that, "the things we loved and bought, they had a sense of silence. They were never aggressive," says May.
Axel Vervoordt seized upon dealing as a means of exploring his own interests in art. What he bought was always something that he and May loved: "I had to feel it in my breast," he says.
In 2005, Axel discovered the Gutai artists in Japan. Alongside Fontana, Shiraga in particular is an essential reference for them both. May comments: "You feel strength in this art, but with that, a meditative feeling. You see the movement in a Shiraga painting, but recognize the stillness that came before."
Both agree that they will never stop collecting. May refers to one of her favorite works, a six-fold Japanese screen from the 17th century, decorated with round stepping stones, black and white, with the motto: "By this way, bring you luck." Collecting has become a series of steps, May explains. "There is an evolution. You continue to look and to buy." 0
Written by Emma Crichton-Miller
57 Reside — Spring 2023
Left: The loft in the outer buildings of the castle. An Artempo disc by Axel Vervoordt hangs above painted works by Gutai artist Sadaharu Horio. Signal by Takis, 1958, is on the table.
Above: Kazuo Shiraga, Suiju, 1985
Photos: © Mari Luz Vidal for Openhouse; © Laziz Hamani; courtesy of Axel and May Vervoordt.
EXTRAORDINARY PROPERTIES
For golf enthusiasts, living the links lifestyle rivals getting a hole-in-one
"Some want to be on the fairway with their morning coffee and watch the golf carts go by," says Jason Becker, chief executive of Golf Life Navigators, a site matching people with golf memberships and homes. Others crave a garage with room for a golf cart "to take the grandkids to the pool".
Many also delight in the amenity-laden communal living and security country club enclaves provide. In Palm Springs, Scottsdale, Naples, Palm Beach and Hilton Head, most private clubs are gated and guarded.
Golf homes are also designed for entertaining. At Desert Mountain, a double-gated golf and active lifestyle community in Arizona, a newly remodeled house has a round Great Room with picture windows overlooking the 15th hole of the Geronimo, one of seven golf courses. "It's a riff on contemporary Pueblo-style," says Daniel Wolski of Russ Lyon Sotheby's International Realty. A roof deck with a fire pit is "set up for mountain and golf course views with sunsets and city lights on the wide horizon".
In the backyard, there's a putting green, saltwater pool and spa. The outdoor kitchen has a smoker and an Evo griddle for alfresco cooking—when there's time to dine at home amid the whirl of communal activities.
"Golf is the common theme, but socialization comes with the lifestyle," Becker says. "You see your neighbors for dinner and play golf with them." Desert Mountain has seven clubhouses, each with at least one restaurant. Activities include book, fishing and hunting clubs and "Yappy hour" at the dog park. Twenty miles of private hiking trails are at Desert Mountain's northern end.
Golf community developers worldwide incorporate familyfocused amenities, Becker says. Golf homes in Jamaica enjoy lush greenery, beach clubs, and other top Caribbean resort amenities. In Chile, a private estate home has its own nine-hole course. A golf condominium includes an equestrian club. The all-inclusive Eagle Canyon Golf and Lifestyle Estate in Johannesburg has entry-level to multi-million dollar residences, 13 parks, fishing dams, a car wash and dry cleaning services.
Opening this year near Palm Beach, Panther National is upping the ante. Its custom homes include garages with a golf cart space, electric car chargers and private pools. Besides the golf course, a training facility features the latest ball-tracing technology, an indoor simulator and a putting room. A family wellness center has a spa with rejuvenation and beauty services and a yoga studio.
After all, golf is more than a sport. It's a lifestyle.
Marcelle Sussman Fischler
58 Living
Scottsdale, Arizona
A contemporary interpretation of Pueblo-style architecture, this home has been transformed to make the most of today's indoor/outdoor lifestyle. The elevated location straddles a hill on the 15th hole of Geronimo, offering sunset views with mountain silhouettes in the backdrop. The home itself uses water, metal, glass,
stone and wood to create an elegant, serene ambiance. The metal courtyard gates open to porcelain tiles, desert vegetation, a babbling brook feature and an outdoor fireplace. Step inside the massive circular Pueblo great room, with a linear fireplace and picture windows, and admire the views through the sliding glass doors.
Reside — Spring 2023
$7,600,000 Property ID: 64WPL4 russlyon.com Russ Lyon Sotheby's International Realty Dan Wolski 480.266.7557
Wellington, Florida
Nestled on Blue Cypress Lane in the coveted subdivision of Palm Beach Polo Golf and Country Club, this four-bed, 4.5-bathroom property features some of the best lake and golf course views in the Polo Club. The residence sits a wedge shot away from the famous island-green par-three 11th hole on the Cypress Course.
Windrush Villa, Tryall Club, Hanover, Jamaica
With high-end finishes including hardwood floors, enjoy the summer kitchen, spacious patio and sleek pool.
$4,699,999
Property ID: 8T3VK9 sothebysrealty.com
Equestrian Sotheby's International Realty
Adam Blauweiss 561.846.1935
Oak Bluffs, Martha's Vineyard, Massachusetts
This recently updated modern retreat is situated at the end of Tylers Creek Road just past the putting green. The private estate overlooks Farm Neck Golf Course, and the living room's floor-to-ceiling windows give impressive views of Sengekontacket Pond. The first-floor primary bedroom
leads seamlessly out to the hot tub and outdoor shower. Farm Neck Golf Course is known for its beauty, and has a reputation for being one of the premier golfing experiences in the Northeast.
$9,750,000
Property ID: JYPPX4 wallacemv.com
Wallace & Co. Sotheby's International Realty
Thomas C. Wallace 508.627.2777
Fall in love with Jamaica at Windrush Villa. Situated in the exclusive Tryall Club, the villa sits on the historic golf course, offering enthusiasts a chance to engage with the sport. Sitting across five acres, this stunning villa has six ocean-view bedrooms over three buildings. With a private
wine cellar, 1,300 sq ft pool and overlooking the Caribbean Sea, enjoy lush landscapes and ethereal ocean views.
$3,500,000
Property ID: Y6DWXR sothebysrealty.com.jm
Jamaica Sotheby's International Realty
Keody Thompson 876.417.9819
Hurricane, Utah
Located on the 11th hole of the Copper Rock Golf Course and set among the iconic sandstone desert landscape of Southern Utah, this new custom home features three bedrooms, three bathrooms and comes fully furnished. This community allows for nightly rentals, making this move-in ready property a perfect primary
home or vacation rental. Copper Rock Golf Course is located in Southern Utah's Hurricane Valley, and offers an adventurous 6,901-yard course.
$1,375,000
Property ID: NGTJ8X summitsothebysrealty.com
Summit Sotheby's International Realty
Jim Lyman 714.794.8311
60 Living
Kapalua, Maui, Hawaii
Perched 100ft above sea level, this secluded ocean view residence and guest house are situated next to the Plantation Golf Course in the exclusive Kapalua Resort. An architectural stunning masterpiece designed to maximize Pacific Ocean views and Maui sunlight, the home incorporates a traditional floor plan with modern living influences. It includes an infinity-edge pool and champagne spa fronting a private panoramic ocean view. An avid golfer's dream, the estate sits across the street from the first hole and includes a more than four-acre undeveloped lot paralleling the sea from the 12th fairway on Kapalua's Plantation Golf Course.
$24,900,000
Property ID: 9R4FZY islandsothebysrealty.com
Island Sotheby's International Realty Scott Carroll 808.495.6236
Naples, Florida
The open floor plan of this 6,000 sq ft masterpiece exudes Old Florida charm. Located along the widest canal in Aqualane Shores, the residence has hardwood floors and shiplap siding, and is enhanced by mesmerizing water views. The main living areas include a two-story great room, a gourmet kitchen with two islands, and a spacious family room, which opens to the covered, screened porch with outdoor kitchen, fireplace and pizza oven. The private master wing has separate dressing spaces, as well as a study that can serve as a guest suite.
Outside, there is an infinity-edge pool and putting green, and a boat slip with 34,000lb lift, offering direct access to the canal. The 500+ bottle wine room, wet bar, safe room and 12-car garage make this truly a one-of-a-kind wonder.
$17,495,000
Property ID: 5JPHNJ sothebysrealty.com
Premier Sotheby's International Realty Bill Frantz +1 330.329.0077
61 Reside — Spring 2023
Queensland, Australia
This golfer's dream is located in one of the most desirable suburbs in the Sunshine Coast, surrounded by a championship golf course and just minutes away from beaches and fine dining. There's even a putting and chipping green to hone in your skills before hitting the course. Positioned perfectly on the seventh fairway, this four-bedroom, two-bathroom home is great for entertaining, with plenty of space for wining and dining.
Price Upon Request
Property ID: PR5ZQW sothebysrealty.com
Queensland Sotheby's International Realty
Richard Bowen +61 401 734 586
Roodepoort, South Africa
With one of the best positions in Eagle Canyon, this property has sweeping views over the course. The impressive entrance has a koi pond, bridge and tropical gardens—adds an ethereal element. On the entrance level, the formal lounge and guest suite has its own cloakroom. The open-plan living area includes a delightful kitchen with breakfast bar. When you return from a day of golf, savor the wine cellar, games room, jacuzzi and bar, with doors that open to a spacious patio.
R11,700,000 sothebysrealty.co.za
Lew Geffen Sotheby's International Realty
Debby Woodward +2782 889 7903
Cape Town, South Africa
This peaceful sanctuary incorporates four en-suite bedrooms, a farmhouse kitchen and undercover patio. Nestled behind established trees for complete privacy, there are still glorious views across the fairway and access to the 18-hole course. The Steenberg Golf Estate is in the heart of Cape Town's Constantia Valley vineyards, and adjoins the Steenberg winery, hotel and spa. Owners receive an exclusive golf club membership.
$1,240,000
Property ID: CCCVK5 sothebysrealty.com
Lew Geffen Sotheby's International Realty
Steve Thomas +2784 471-4722 / Dave Burger +2783 458-3333
62 Living
Cornelius, North Carolina
Nestled on the Peninsula Golf Course next to Lake Norman, this remarkable brick estate has a stately exterior with timeless details. The curved staircase sits in the two-story foyer, which is open to the dining and living rooms to create comfortable luxury. The great room, with dual verandas, offers breathtaking views of the golf course for year-round enjoyment. Escape to the owners' private wing on the main level, with an executive office, morning wet bar, opulent bedroom and bathroom and a sunroom with private deck and hot tub. The Peninsula Club and Yacht Club offer memberships creating resort-style living with plenty of amenities, including a golf course, club house, pool, fitness center, playground and tennis court.
$3,650,000
Property ID: W2FCFC sothebysrealty.com
Premier Sotheby's International Realty Ben Bowen +1 704.572.6070
Golf Lomas, La Dehesa, Chile
Unique design and architecture are just two features of this house in the exclusive Club Lomas condominium in La Dehesa. Designed on three levels, the property's entrance hall has large windows giving panoramic views of the golf courses and the Andes Mountains. With natural wooden floors and stone walls giving a special warmth to the interiors, the living and dining rooms connect to a large terrace, which functions as a second living area. The beautiful garden, pool and barbecue area add to the reasons this is a modern and welcoming place to live.
US$2,318,128
Property ID: WJFGWD chilesir.com
Chile Sotheby's International Realty Alejandra Borrás +56 9 9251 3455
63 Reside — Spring 2023
SOTHEBYS.COM/BUYNOW Shop Sotheby's Discover our marketplace of luxury objects, art and more
65 AN EXCLUSIVE COLLECTION OF FINE HOMES GALLERY Frances Covello Associate Real Estate Broker | Cold Spring Harbor Office c.516.359.7779 | francescovello@danielgale.com Brookville, NY MLS# 3458192 | $2,749,000
Matinecock, NY
A custom built 6-bed and 10-bath French Country estate on 7 rolling acres, located in the heart of The Village of Matinecock. Featuring an unparalleled, prime piece of property, with a private pond, tennis/ basketball court, in-ground pool, spa, and a prolonged pebble and bluestone driveway.
MLS# 3450669 | $5,450,000
Jason Friedman
Real Estate Salesperson
Great Neck O ce c.516.236.6226 jasonfriedman@danielgale.com
Kings Point, NY
Sarah (Rudi) Friedman
Real Estate Salesperson
Great Neck O ce c.516.643.0630
sarahfriedman@danielgale.com
Swan Landing, a custom build by award-winning architecture rm, Shope Reno Wharton Associates, was created to exemplify luxury living at the highest caliber. Featured in Architectural Digest and House & Garden, at 23,000 +/- sq. ft. and situated on 5.3 pristine acres of land; this unparalleled Estate embodies the essence of strategic architecture and design.
MLS# 3334706 | $40,000,000
Jason Friedman
Real Estate Salesperson
Great Neck O ce c.516.236.6226 jasonfriedman@danielgale.com
Lloyd Harbor, NY
Sarah (Rudi) Friedman
Real Estate Salesperson Great Neck O ce c.516.643.0630
sarahfriedman@danielgale.com
A magni cent 6-bedroom and 8.5-bath, redesigned Modern Coastal Farmhouse tucked away in a serene North Shore setting. Embrace Estate Style Living on 3+ acres of park-like property with an in-ground heated gunite pool and jetted spa, with neighborhood rights to a sandy Lloyd Harbor beach and dock.
MLS# 3439048 | $6,500,000
Jingwen (Susanna) Ding
Real Estate Salesperson Great Neck O ce c.929.365.2185 jingwending@danielgale.com
Centre Island, NY
Jason Friedman
Real Estate Salesperson Great Neck O ce c.516.236.6226 jasonfriedman@danielgale.com
Sarah (Rudi) Friedman
Real Estate Salesperson Great Neck O ce c.516.643.0630
sarahfriedman@danielgale.com
The pinnacle of Long Island, North Shore living. Welcome to 203 Centre Island Road, a beautiful custom-built residence with a picturesque, waterfront landscape located in the esteemed Eastover Community in Centre Island, NY. Enjoy panoramic vistas from nearly every room, balcony, and terrace from this exceptional 4-bedroom, 3.5-bath home.
MLS# 3440694 | $2,950,000
Jason Friedman
Real Estate Salesperson
Great Neck O ce c.516.236.6226 jasonfriedman@danielgale.com
Sarah (Rudi) Friedman
Real Estate Salesperson Great Neck O ce c.516.643.0630
sarahfriedman@danielgale.com
66
COVER LISTING
Brookville, NY
A thoughtfully conceived renovation sets this home apart from the rest. The open floor plan design and multi levels allow for comfort and privacy throughout. Top-of-the-line materials and state-of-the-art finishes enhance every aspect, from the gleaming kitchen and baths to the artfully enhanced principal rooms.
c.516.359.7779
francescovello@danielgale.com
Centre Island, NY
This one-of-a-kind 1913, 6-bedroom Colonial with breathtaking water views over Oyster Bay Harbor includes the Lodge, an entertainer's paradise with two fireplaces, kitchen, wet bar, and full bath with sauna and a separate, completely renovated, 2-bedroom, 1.5-bath Cottage. The rolling lawn leads to an oversized heated pool on the water with a large deck that opens out to your private dock.
Great Neck, NY
Locust Valley Office
c.516.446.4845
antjedolido@daniegale.com
This beautiful Tudor is nestled within the tranquil Village of Great Neck Estates on the North Shore of Long Island. Residents of Great Neck Estates enjoy a waterfront park that is located on the scenic Little Neck Bay. Conveniently located close to fine dining and shopping, and the area offers a luxurious suburban lifestyle just 18 miles from the center of Manhattan.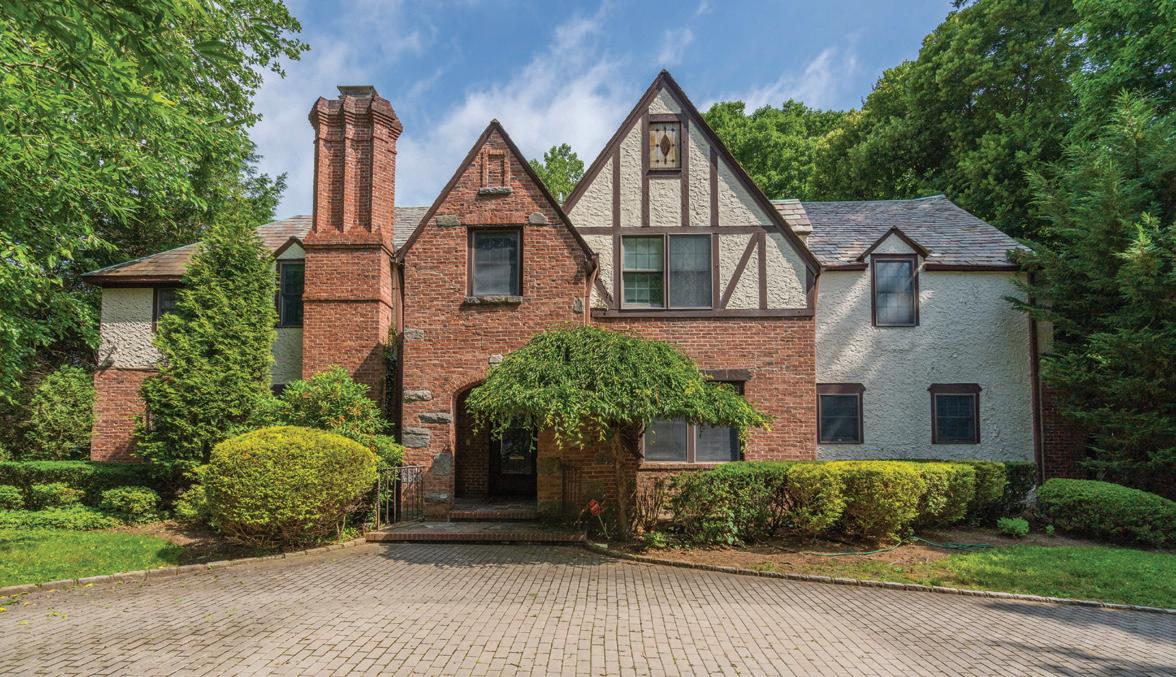 Real Estate Salesperson
Locust Valley Office
c.917.859.7718
huailingdeng@danielgale.com
67
MLS# 3458192 | $2,900,000
Frances Covello Associate Real Estate Broker
Cold Spring Harbor Office
Huailing (Helen) Deng
MLS# 3450366 | $4,988,000
Antje Buelte Dolido
Associate Real Estate Broker
MLS# 3444696 | $5,295,000
Great Neck, NY
Sun-drenched gem on a quiet treelined street features 4 bedrooms and 3.5 baths. Conveniently located near the LIRR. Village of Kensington with dedicated police and pool club.
MLS# 3456297 | $1,298,000
Old Westbury, NY
Uncompromising quality abounds in this 7-bedroom, 7,500 sq. ft. brick Georgian Colonial. Generously scaled rooms are detailed with gleaming hardwood oors, custom moldings, millwork, built-ins, 4 replaces and marble ooring. A dramatic 2-story entrance foyer features a winding architectural staircase. The principal rooms o er a seamless ow with all that one could desire for entertaining. Luxurious primary suite encompasses an exquisite bedroom with a replace, tted dressing room, and marble bath. Resort setting surrounded by gardens with an in-ground pool, hot tub, multiple patios, covered porch, built-in grill, and cabana bath. Generator and 3-car heated garage.
MLS# 3352692 | $5,900,000
Lois Kirschenbaum
Associate Real Estate Broker Wheatley Plaza O ce c.516.526.7425
loiskirschenbaum@danielgale.com
Muttontown, NY
Sarit Elias
Real Estate Salesperson Great Neck O ce c.516.445.7636 saritelias@danielgale.com
Remarkable brick Georgian Revival Mansion situated on Long Island's Gold Coast set on 9.7 acres. The 2-story bowed portico welcomes you to a grand 13-bedroom, 9-bath home with 6 replaces, superior workmanship and materials. Chef's kitchen, in-ground saltwater pool. 3-car garage for today's modern commuter. Also available for rent.
MLS# 3410272 | $5,980,000
Huailing (Helen) Deng Real Estate Salesperson Locust Valley O ce c.917.859.7718 huailingdeng@danielgale.com
Kathleen Pisani Associate Real Estate Broker Syosset/Muttontown O ce c.516.359.9499 kathleenpisani@danielgale.com
Rui (Raymond) Zhang Real Estate Salesperson Syosset/Muttontown O ce c.917.602.5868 ruizhang@danielgale.com
68
Local Expert, Global Reach.
As your real estate advisor, I will strive to exceed your expectations by delivering luxury client service at all price points. I am driven by a true passion to counsel buyers and sellers on the acquisition or sale of real estate, starting with a complete understanding of my client's needs and dreams.
I am so fortunate to be affiliated with Sotheby's International Realty, empowering me to deliver their phenomenal worldwide branding and their technology-driven marketing platform for my clients' benefit. Nothing Compares.
I am proud to share this Westhampton Beach home is in contract, and I am so thrilled for my buyers.
Kathleen Dodd | Real Estate Salesperson c.516.504.8771 | kathleendodd@danielgale.com
21 Carwin Lane Westhampton Beach, NY
69
Locust Valley Office | 1 Buckram Road, Locust Valley, NY | 516.759.4800 | danielgale.com PENDING
MLS# 3365002 | $2,999,999 New Construction. Under Contract.
Lido Beach, NY
Welcome to The Dunes. Lido Beach's most prestigious beach community with your own private beach rights. Enjoy the ocean sounds from your multiple decks, the water is just yards away. This is a home not to be missed. Come experience all The Dunes has to o er.
MLS# 3454947 | $2,050,000
Long Beach, NY
Imagine this, 43 picture windows facing the open bay show you beautiful sunsets right from your living room. 30 ft. ceilings, formal dining room, saltwater sh tank, custom eat-in kitchen, 100 bottle wine fridge, butler's kitchen, indoor BBQ, 5 bedrooms, 3 full baths, radiant oor heating, saltwater in ground pool, jacuzzi, outdoor granite kitchen, marine bulkhead, 2 oating docks for 4 boats, multi-level outdoor decks for entertaining, underwater up lighting, boat lift, and so much more. One-of-a-kind home.
MLS# 3424007 | $3,385,018
Hewlett Harbor, NY
This luxury oasis o ers unparalleled grandeur, panoramic bay views, and exceptional amenities. Top-of-the-line kitchen, with onyx and Calcutta marble touches throughout. Elevator leading to the elegant primary bedroom and en suite. Relax in the indoor lap pool or outdoor saltwater pool. Showcase your boating prowess, play a round of golf or take the short trip to Manhattan. Come experience this one-of-a-kind Long Island palace.
MLS# 3455811 | $4,995,000
70
Leah Tozer Associate Real Estate Broker Long Beach O ce c.516.860.5784 leahtozer@danielgale.com
Leah Tozer | c.516.860.5784 leahtozer@danielgale.com
Leah Tozer | c.516.860.5784 leahtozer@danielgale.com
Leah Tozer | c.516.860.5784 leahtozer@danielgale.com
Andrea Ciminera | c.203.887.7742 andreaciminera@danielgale.com
Andrea Ciminera | c.203.887.7742 andreaciminera@danielgale.com
Andrea Ciminera | c.203.887.7742 andreaciminera@danielgale.com
Andrea Ciminera Real Estate Salesperson Long Beach O ce c.203.887.7742 andreaciminera@danielgale.com
Long Beach O ce | 516.670.1700 350 National Blvd Suite 2E, Long Beach, NY
71 One real estate brand gives you that feeling. The feeling that you're in the presence of the world's best. When only the best will do. Bold. Community Minded. Effective. Judy Cohen Liman Real Estate Salesperson c.917.681.4893 judyliman@danielgale.com Great Neck Office | 42B Middle Neck Road, Great Neck, NY | 516.466.4036 | danielgale.com
Old Westbury, NY – "The Bagatelle"
Located on the North Shore of Long Island just 25 miles from Manhattan, "The Bagatelle" is a magni cent and historic 4.35-acre Estate with beauty that has spanned a century of extraordinary living. Newly updated with chic, sophisticated style and modern amenities that complement and expand the exceptional luxury and gracious living this enduring estate has to o er. Manor residence newly renovated kitchen and baths with 9-bedrooms and 3-Cottages. Swimming pool. 3-bay garage. A Masterpiece Collection Listing.
MLS# 3446945 | $6,850,000
Karen Sharf
Associate Real Estate Broker Wheatley Plaza O ce
c.516.972.7647
karensharf@danielgale.com
Shahla (Golie) Oheb
Associate Real Estate Broker Wheatley Plaza O ce
c.516.790.9925
golieoheb@danielgale.com
72
Oyster Bay Cove, NY
Seldom does a property with such character come on the market. Formally the Wrexleigh Estate, this residence was originally designed by Stephenson & Wheeler for John A. Garver. The 3-story 14,000 sq. ft. Tudor-style home sits prominently overlooking the beautiful 12-acre property. This 16-bedroom, 11-bath classic Mansion is complete with 11' 9" ceilings on the 1st floor, original wood detailing throughout, plus a brick carriage house, 4-stall barn, and greenhouse.
MLS# 3448944 | $4,750,000
Julia Blaker
Associate Real Estate Broker
Syosset/Muttontown Office
c.516.971.4747
juliablaker@danielgale.com
Kim Luneburg
Real Estate Salesperson
Syosset/Muttontown Office
c.516.361.4633
kimluneburg@danielgale.com
Roslyn Estates, NY
Exceptional 5-bedroom clapboard Colonial radiates quality and style. Refined mill work, reclaimed wood floors, 10 ft. ceilings, fireplace. Seamless flow, handsome home office, chic lower-level, gym, and media room. Manicured .82 acres with a captivating view of the Roslyn Pond.
MLS# 3454852 | $4,288,000
Allyson Shapiro
Real Estate Salesperson
Wheatley Plaza Office
c.516.639.9699
allysonshapiro@danielgale.com
Sheri Friedman
Real Estate Salesperson
Wheatley Plaza Office
c.516.524.0658
sherifriedman@danielgale.com
Lois Kirschenbaum
Associate Real Estate Broker
Wheatley Plaza Office
c.516.526.7425
loiskirschenbaum@danielgale.com
73
Taking the ordinary and making it an extraordinary experience!
"Cheryl was great to work with! Very responsive, listened to what we wanted, made knowledgeable and productive suggestions. Stood by us through difficult situations, none of which related to her. I moved from the South to Long Island and could not have been happier to have found such a wonderful agent. This market is crazy, and it took quite a bit of searching. My family and I are very happy with our new home. Thank you, Cheryl for making things clear and providing great information."
– Buyer Relocating from North Carolina –
"Cheryl is the consummate professional and it was a pleasure to work with her. Cheryl was the agent on both the purchase of a condo and sale of my house. She is diligent, forthright and her judgment is totally reliable. We had a difficult contract negotiation that ultimately required walking away and starting with a new buyer. Cheryl never lost momentum and negotiated an even more favorable deal. Cheryl also handled most of the purchase and sale while I was working overseas. I highly recommend her."
Seller and Buyer in Garden City
Cheryl A. Trimboli, CBR Associate Real Estate Broker Gold Circle of Excellence
Garden City Office 102 Seventh Street, Garden City, NY 516.248.6655 | c.516.647.9971 cheryltrimboli@danielgale.com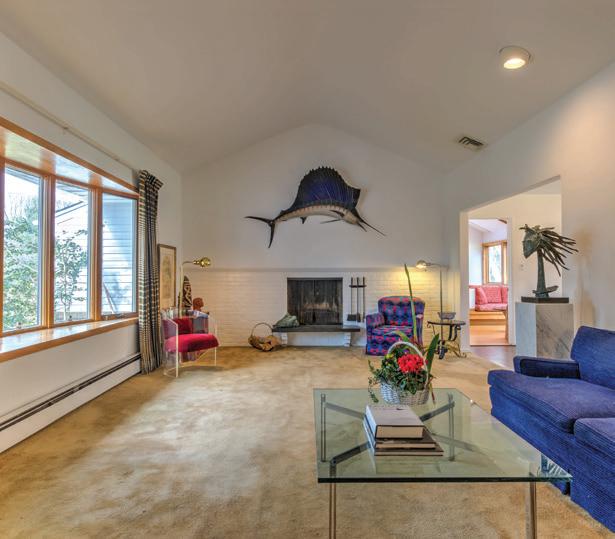 75 BONNIE'S LISTINGS TAKING THE HELM THROUGH THE REAL ESTATE MARKET YVONNE (BONNIE) DORAN Gold Circle of Excellence Hall of Fame Associate Real Estate Broker 516.627.4440, c.516.729.5663 bonniedoran@danielgale.com My treasure throughout the past 50 years is BECAUSE OF YOU. I am grateful for the special relationships we've shared along the way. Manhasset, NY | MLS# 3457319 | List Price: $1,650,000 Sands Point, NY | MLS# 3412020 | List Price: $2,999,000 Sands Point, NY | MLS# 3314053 | List Price: $6,800,000 Sands Point, NY | MLS# 3397349 | List Price: $9,500,000
Old Westbury, NY
MLS# 3254685
Last Asking Price: $22,000,000
Old Brookville, NY
Build your dream home in the Village of Old Brookville's only gated community with a total of 5 lots. 2 sold and 3 still available. Enter this 23+ acre community and proceed down a lushly landscaped 2-lane drive to a quiet sanctuary with 3 buildable lots ranging from 3 to 4 acres. Conveniently located just 25 miles from Manhattan and close to ne dining and shopping. Adding to the beauty and ambiance of the area, across from the Chatwal Estates is a 60-acre parcel forever preserved in its natural state.
Upper Brookville, NY
Welcome to this elegant and stately 5-bedroom, 4.5-bath New Construction Colonial. Ready for spring occupancy and perfectly situated on 2 at, beautiful acres in the Village of Upper Brookville. Approximately 5,800 sq. ft. of stunning New Construction with an easy and expansive oor plan. Conveniently located near parkways, golf courses, beaches, shopping, and ne dining. Enjoy Gold Coast living just 45 minutes from Manhattan.
MLS# 3412339/3412349/3412359 3 Parcels starting at $2,350,000
Neena Chowdhary Real Estate Salesperson Syosset/Muttontown O ce c.516.643.0076 neenachowdhary@danielgale.com
Neena Chowdhary Real Estate Salesperson Syosset/Muttontown O ce c.516.643.0076
neenachowdhary@danielgale.com
Roslyn Heights, NY
MLS# 3400164 Last Asking Price: $3,100,000
MLS# 3390671 $3,498,000
Neena Chowdhary Real Estate Salesperson Syosset/Muttontown O ce c.516.643.0076 neenachowdhary@danielgale.com
Neena Chowdhary Real Estate Salesperson Syosset/Muttontown O ce c.516.643.0076
neenachowdhary@danielgale.com
76
SOLD SOLD
77 You Don't Last 100 Years Without Being Committed To: Expert Guidance, Exceptional Service, and Remarkable Results. Only 1 Company Can Say That – Daniel Gale Sotheby's International Realty. Service Focused. An Individually Tailored Experience. Process Driven. Jennifer Levy Real Estate Salesperson c.516.582.3397 jenniferlevy@danielgale.com Huntington Office | 263 Main Street, Huntington, NY | 631.427.6600 | danielgale.com
Syosset, NY
Exquisite new construction. Rare opportunity to own a newly constructed home in the Hathaway Downs area of Syosset. A fresh approach with superior materials and fine finishes, this 5-bedroom, 3.5-bath home will have an open floor plan built with quality craftsmanship and will feature a dramatic two-story entry foyer. Custom kitchen, designer baths, flawless trim-work and filled with additional amenities. Fireplace, front portico and basement with outside entrance. 2-car garage.
MLS# 3457690 | $1,549,000
Coleen Farraday, CP
Associate Real Estate Broker
Cold Spring Harbor Office
c.631.258.8500
coleenfarraday@danielgale.com
Upper Brookville, NY
Located in the prestigious Village of Upper Brookville, this impressive Estate is incredibly designed and offers the utmost luxury living just 27 miles east of Manhattan. The sophisticated style showcased throughout this residence features lush, private 10 acres hosts multi-tiered gardens, swimming pool and pool house, tennis/sport court, golf hole with three tee boxes, apple orchard, trellis, expansive terraces, and patios.
MLS# 3424582 | $9,750,000
Pierce Dellafera
Real Estate Salesperson
Locust Valley Office
c.516.660.2110
piercedellafera@danielgale.com
Amy Tansill
Real Estate Salesperson
Locust Valley Office
c.516.318.2397
amytansill@danielgale.com
78
Builder Reference Photo
3
79
Integral
Getting your home prepped and creating interest requires a strategy. With an eye for staging, high-quality photography that stands out, and the ability to determine the right pricing, I ensure buyers see your home's greatest potential, get an excellent rst impression, and are eager to take a look. Call Beth Catrone to experience her special touch! Beth Catrone Associate Real Estate Broker | Gold Circle of Excellence c.516.647.1729 | bethcatrone@danielgale.com MLS# 3457298 | $1,099,000 MLS# 3460014 | $1,289,000 Port Washington O ce | 350 Main Street, Port Washington, NY | 516.883.2900 | danielgale.com Don't Just Put It On The Market, Give It The Attention It Deserves ANNETTE DRIVE PORT WASHINGTON, NY ROGER DRIVE PORT WASHINGTON, NY 26 50
Parts to Selling Your Home.
Upper Brookville, NY
Brand new luxurious architectural treasure located on the North Shore of Long Island just 25 miles east of Manhattan. Gated, stone entry opens to a tree-lined driveway arriving at this impressive 7 bedroom estate with over 5 acres of lush lawns, gardens, and woodlands. The residence spares no expense in its superior construction and features all of today's state-of-the-art amenities. A fabulous oor plan with 3 levels of living space is enhanced by spacious rooms, high ceilings, and beautiful details throughout. Entertainer's pool house, heated salt-water swimming pool, expansive patios, elegant wine cellar, inviting theatre, gym, elevator, 3 replaces, and so much more.
MLS# 3461469 | $9,990,000
Janet Andreoni
Real Estate Salesperson
Port Washington O ce
c.516.359.9262
janetandreoni@danielgale.com
Debra Quinn Petkanas
Associate Real Estate Broker
North Shore O ce
c.516.359.3204
debrapetkanas@danielgale.com
Emily Quinn Edelman
Real Estate Salesperson
North Shore O ce
c.516.761.9417
emilyedelman@danielgale.com
80
Home Is Where My Client's And Customer's Stories Begin
Hard work, perseverance, studying the market trends, sacri ce, the power of the Daniel Gale Sotheby's International Realty brand and most of all, love of what I do has led me to a successful career in real estate. My clients and customers can expect a full service, awless, and stressfree experience. Choose me to help you complete your story of home!
"I would highly recommend Lois Kirschenbaum, real estate broker, to represent you when looking for a high end home in the exclusive neighborhoods of Old Westbury, the Brookvilles, Roslyn, Muttontown, and North Shore properties. We found her on the Internet and she exceeded our every expectation. Her experience in the area and home transactions in general, thoughtful and most of all accessible; available and always willing to help. Her knowledge of the area and all the homes we looked at was amazing and made us feel fully informed and comfortable with our evaluations and decisions. She was completely supportive. If you're looking for the best broker, look no further, Lois is the best."
NY
Lois'
Groton Place, Old Westbury | SP $18,000,000
17 Spring Hill Lane, Old Westbury | SP $12,450,000
28 Applegreen Drive, Old Westbury | SP $4,500,000
10 Glenby Lane, Brookville | SP $3,000,000
85 Pound Hollow Road, Old Brookville | SP $3,650,000
24 The Serpentine, Roslyn Estates | SP $2,750,000
Stonehouse, East Hills | SP $2,595,000
#1 Top Team Wheatley Plaza Office 2023 | 3rd Year In A Row
#2 Top Teams Company-Wide 2023 | 3rd Year In A Row
Lois Kirschenbaum Associate Real Estate Broker
Wheatley Plaza O ce
c.516.526.7425 | 516.626.7600
loiskirschenbaum@danielgale.com
– Dr. IK | Old Westbury,
Notable Sales:
Jericho, NY
Magni cent pre-construction with incredible sweeping golf course vistas. Cedar and stone Colonial on 2 bucolic acres to-be-built to the highest standards with extraordinary craftsmanship, exceptional design, and exquisite architectural details throughout. Close to ne dining, shopping, and country clubs. Extraordinary location convenient to Manhattan and the Hamptons.
MLS# 3241653 | $4,200,000
John Messina
Associate Real Estate Broker Cold Spring Harbor O ce c.516.241.0761
johnmessina@danielgale.com
Upper Brookville, NY
Phenomenal home on 2 gorgeous acres features a formal living and dining room, home o ce, stunning Chef's kitchen, 2-story great room, luxe master suite with a replace, incredible walk-out lower level with a kitchen, guest suite, gym, home theater, and wine cellar. Tiered patio ideal for al fresco entertaining. Highlights include an elevator, Smart Home tech, and so much more.
MLS# 3442290 | $2,690,000
John Messina
Associate Real Estate Broker Cold Spring Harbor O ce c.516.241.0761
johnmessina@danielgale.com
Muttontown, NY
Exceptional property on 13+ acres set up to accommodate a variety of equestrian disciplines. Features a 12-stall barn with a bath, tack and feed room, 4 paddocks, a hay barn, track, and a duplex Ranch with two 2-bedroom Apartments. Development potential includes possible subdivision. Just minutes to shopping and dining.
MLS# 3448087 | $3,995,000
John Messina
Associate Real Estate Broker Cold Spring Harbor O ce c.516.241.0761
johnmessina@danielgale.com
82
Cold Spring Harbor, NY
Luxurious furnished Estate on 6+ gated acres boasts a modern yet timeless aesthetic throughout. Tailor-made for entertaining with a stunning kitchen that has every amenity, it also features a great room, home office, and a sumptuous master suite. Highlights include a movie theater, wine cellar, Smart Home tech, sparkling pool, covered patio, outdoor kitchen, tennis/sports court, and beach/mooring rights. Truly a Gold Coast lifestyle that is second to none.
MLS# 3401247 | $11,500,000
johnmessina@danielgale.com
Cove Neck, NY
Waterfront home on 2 beautiful acres with nearly 10,000 sq. ft. of living space and 2,500 sq. ft. of deck and terraces offering picturesque views of Cold Spring Harbor, a great room, dining room, exquisite kitchen, idyllic master suite with harbor views, home office/ library, gym, indoor pool with spa, separate 1-bedroom guest Apartment with a kitchen and living room, tennis court, gazebo, and a 4-car garage. Extraordinary opportunity to enjoy your own waterfront paradise.
MLS# 3428556 | $8,995,000
c.516.241.0761
johnmessina@danielgale.com
83
John Messina Associate Real Estate Broker Cold Spring Harbor Office c.516.241.0761
John Messina Associate Real Estate Broker Cold Spring Harbor Office
Huntington, NY
Pack your bags and move right in. Renovated in 2019 with no detail left undone, including marble bath, custom kitchen cabinetry, marble counter tops, and architectural details and moldings. Close to shopping and restaurants, and the LIRR. Enjoy everything Huntington Village has to o er. Amenities include in-ground pool and playground.

MLS# 3436748 | $535,000
Valerie French
Real Estate Salesperson Northport O ce c.516.652.4096
valeriefrench@danielgale.com
Northport, NY
Virginia Regan
Real Estate Salesperson Northport O ce c.631.327.8908
virginiaregan@danielgale.com
Noreen Sweeney
Real Estate Salesperson Northport O ce c.631.327.2844
noreensweeney@danielgale.com
Wonderfully maintained Ranch with 3 bedrooms and 1.5 baths. Inviting sun-lit foyer, living room with replace, dining room, kitchen, family room leading to a level backyard with in-groun pool. Full basement and 1-car garage. Don't miss this one.
MLS# 3460597 | $759,000
Jane Snyder
Real Estate Salesperson Northport O ce c.631.988.6142 janesnyder@danielgale.com
Northport, NY
Northport Village gem. All the charm of yester-year and all the modern upgrades of today, top-of-the-line Lakeville Kitchen with thick Quartz Countertops, vaulted ceiling, Viking Appliances and new hardwood oors. Heated in-ground saltwater pool boasts new liner and mechanicals. Whole-house hardwired Generac Generator, along with all new gutters, driveway, furnace, and hot water tank.
MLS# *1416505 | $1,149,000
Catherine Zimmermann
Associate Real Estate Broker Northport O ce c.516.768.3595
catherinezimmermann@danielgale.com
Syosset, NY
Beautiful 4-bedroom, 3-bath Hi-Ranch tucked away on a quiet cul-de-sac. This home o ers excellent privacy with many updates including newer roof, skylight, Pella sliding doors, and Nicolock stone driveway and patio. Eat-in kitchen with newer cabinetry, granite countertops, farmhouse sink, and updated appliances. Spacious 2-car garage and outside entrance on the lower level. Near LIRR, restaurants, and shopping.
MLS# 3455695 | $935,000
Leana Visalli
Associate Real Estate Broker Northport O ce c.631.560.5445
leanavisalli@danielgale.com
Catherine Zimmermann
Associate Real Estate Broker Northport O ce c.516.768.3595
catherinezimmermann@danielgale.com

84
Northport O ce | 77 Main Street Northport, NY | 631.754.3400 | danielgale.com
Nothing Compares.
With my extensive knowledge of the local real estate market, I am con dent in my ability to help you nd the perfect property or attract the right buyers for your home. I am a skilled negotiator and will work tirelessly to ensure that you get the best possible deal.
I understand that buying or selling a home can be a complex and emotional process, which is why I prioritize clear communication and honesty with my clients. Whether you are a rst-time homebuyer, seasoned investor, or looking to sell your current property, I am here to help.
So, if you're looking for a dedicated and trustworthy real estate agent to guide you through your next property transaction, look no further. Contact me today to schedule a consultation and let's make your real estate goals a reality.
85
Veranika Johnston Real Estate Salesperson | c.631.901.4519 | veranikajohnston@danielgale.com Huntington O ce | 263 Main Street, Huntington, NY | 631.427.6600 | danielgale.com
Nissequogue, NY
This magni cent custom-built Hampton's Shingle-styled Estate overlooking the greens of the Nissequogue Golf Club is a rare nd. The Estate, which is comprised of the main residence, Carriage House, 2 garages that can hold 12 cars and in-ground gunite pool with pergola is an entertainer's delight and a horse person's or car enthusiast's dream. Nestled on 4.07 acres of verdant lawn and lush plantings that accent di erent features of the property the residence seamlessly blends with the natural beauty surrounding it. The property is truly a tranquil retreat.
MLS# 3372867 | $2,900,000
Marianne J. Koke Associate Real Estate Broker Smithtown O ce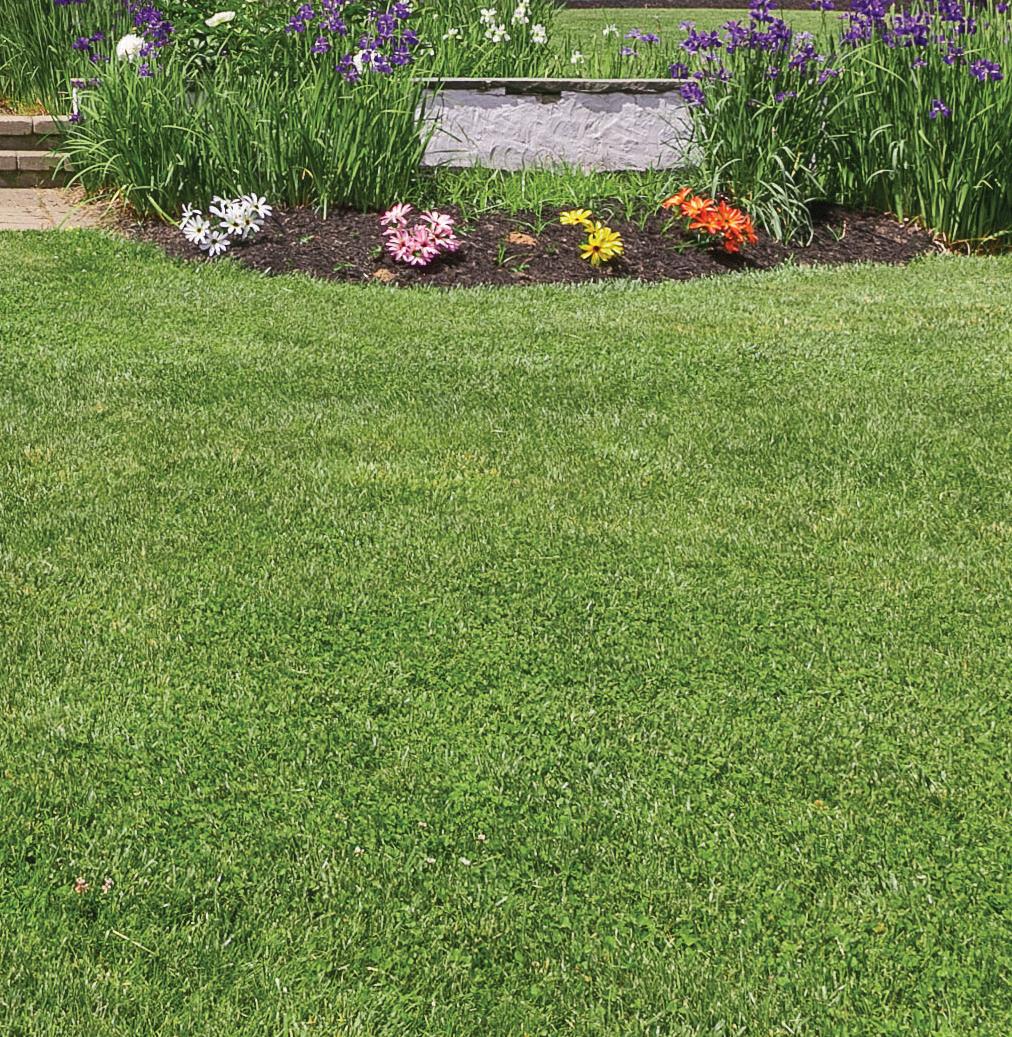 c.631.335.7111
mariannekoke@danielgale.com
86
Saint James, NY
Rare opportunity to own a newly constructed luxurious home on a private court of similar quality homes in the hamlet of St. James. Talented high-end builder has a fresh approach which delivers a nished product that goes beyond the standard "cookie cutter" design by using superior materials and ne nishes. This 5-bedroom 4.5-bath Post Modern sided in Hardy board will have a dramatic 2-story entry foyer, Andersen 400 series windows, hardwood oors on 1st & 2nd oors, spacious chef's kitchen with top-of-the-line appliances, quartz countertops, and so much more.
MLS# 3452987 | $1,699,000
Marianne J. Koke Associate Real Estate Broker Smithtown O ce
c.631.335.7111
mariannekoke@danielgale.com
87
Baiting Hollow, NY
A new private enclave of luxury homes overlooking the prestigious Baiting Hollow Country Club. Thoughtfully designed and engineered to be net zero energy and smart home ready, leveraging some of the most cutting-edge technologies available, The Estates at Baiting Hollow is the first sustainable development in the area.
MLS# 3405752, 3405753, 3405764, 3405765, 3405767
$1,627,500 – $2,100,000
Denice Lara
Real Estate Salesperson
Cutchogue Office
c.631.523.7870
denicelara@danielgale.com
Jennifer Arena
Real Estate Salesperson
Cutchogue Office
c.914.774.9376
jenniferarena@danielgale.com
Jamesport, NY,
Traditional Nantucket-Style home beckons with dramatic architectural design and careful attention to detail. This expansive home is over 4,300 sq. ft. on .75 acres situated on Miamogue Lagoon with unobstructed views and access to the Great Peconic Bay. An entertainer's dream, featuring a guest retreat and the perfect work from home space. This is an impeccably landscaped home with panoramic water views and a community beach.
MLS# 3452846 | $2,700,000
Stephanie Hunter
Associate Real Estate Broker Rockville Centre Office
c.516.610.6975
stephaniehunter@danielgale.com
88
Complete terms are in CPS-7 documents filed with the Attorney General's Office. File No. HO22-0002
Manorville, NY
This premier Equestrian facility is sited on 53.25 acres of farm land with development rights remaining. The property boasts the original 19th century 3-bedroom, 2-bath Farmhouse, a 3-bedroom 2-bath Ranch house and 1-bedroom 1-bath cottage. Included is an indoor arena with 7 10x10 ft. stalls, 2 12x12 ft. stalls, 4 20x10 ft. stalls and additional o ce/lounge space. Outdoors include a 25x50 ft. run-in shed in a 10 plus acre pasture and 3-stall barn set in a 5 acre pasture.
Westhampton, NY
This 5,000 plus, sq. ft. haven is the builder's own residence. It includes 16 rooms of incredible architectural detail, sited on 1+ acres. The home features double crown molding, 10 ft. ceilings, solid mahogany doors and Brazilian cherry ooring. A chef's kitchen and formal living and dining spaces comprise the main living area. The kitchen o ers granite surfaces, pizza oven, double sinks and dishwashers. A Dacor gas stove, double ovens, cozy breakfast nook, and replace provide incredible warmth. The main oor continues with an additional primary en suite and separate entrance. 4 upper level bedrooms, sitting area, and un nished bonus room o er exquisite comforts and incredible natural light. Over-sized Anderson windows bring outside living in, throughout this home. Grounds include in-ground heated pool with stunning stone surround, outdoor replace, and a 3-car garage. A true year-round or summer haven.
A resident of the East End, Deborah brings extensive business and sales knowledge to Daniel Gale Sotheby's International Realty. Deborah is the top producer for 2021 and 2022, in the Hamptons o ce, listing and closing 22 signi cant transactions for the year. She recognizes, whether you are buying or selling, it is imperative to work with an agent that understands the market, the nancial implications of the sale, and the importance of a client's goals.
Deborah is quick to identify the needs of her clients, ensuring they are promptly met. She has built an extensive network of professionals always eager to work with her and has an understanding of what it means to work e ectively to complete a transaction.
Her experience in residential real estate investment, as a licensed CPA and small business owner has enabled her to develop the strong nancial acumen necessary in negotiating an advantageous deal for her clients.
Deborah Pirro Real Estate Salesperson Hamptons O ce c.516.637.5786
deborahpirro@danielgale.com
89
Deborah Pirro
MLS# 3432159 | $8,495,000
MLS# 3374440 | $2,150,000
So. Jamesport, NY
Welcome to your one-of-a kind South Jamesport Bayfront home, where luxury and comfort converge. This exquisite 5-bedroom, 5-bath (3 full, 2 half) waterfront Estate with nearly 200 ft. of direct bayfront access and just shy of an acre of land is the ultimate luxury retreat. Step inside and prepare to be wowed with a wall of windows looking out to stunning views of the Peconic Bay and an expansive lawn.
MLS# 3460952 | $3,799,000
Denice Lara
Real Estate Salesperson
Cutchogue O ce c.631.523.7870
denicelara@danielgale.com
Jennifer Arena
Real Estate Salesperson
Cutchogue O ce c.914.774.9376
jenniferarena@danielgale.com
Mattituck, NY
This newly renovated waterfront home o ers access to the majestic Peconic Bay. Includes new dock, 3 bedrooms and 2 full baths. Located on ½ acres.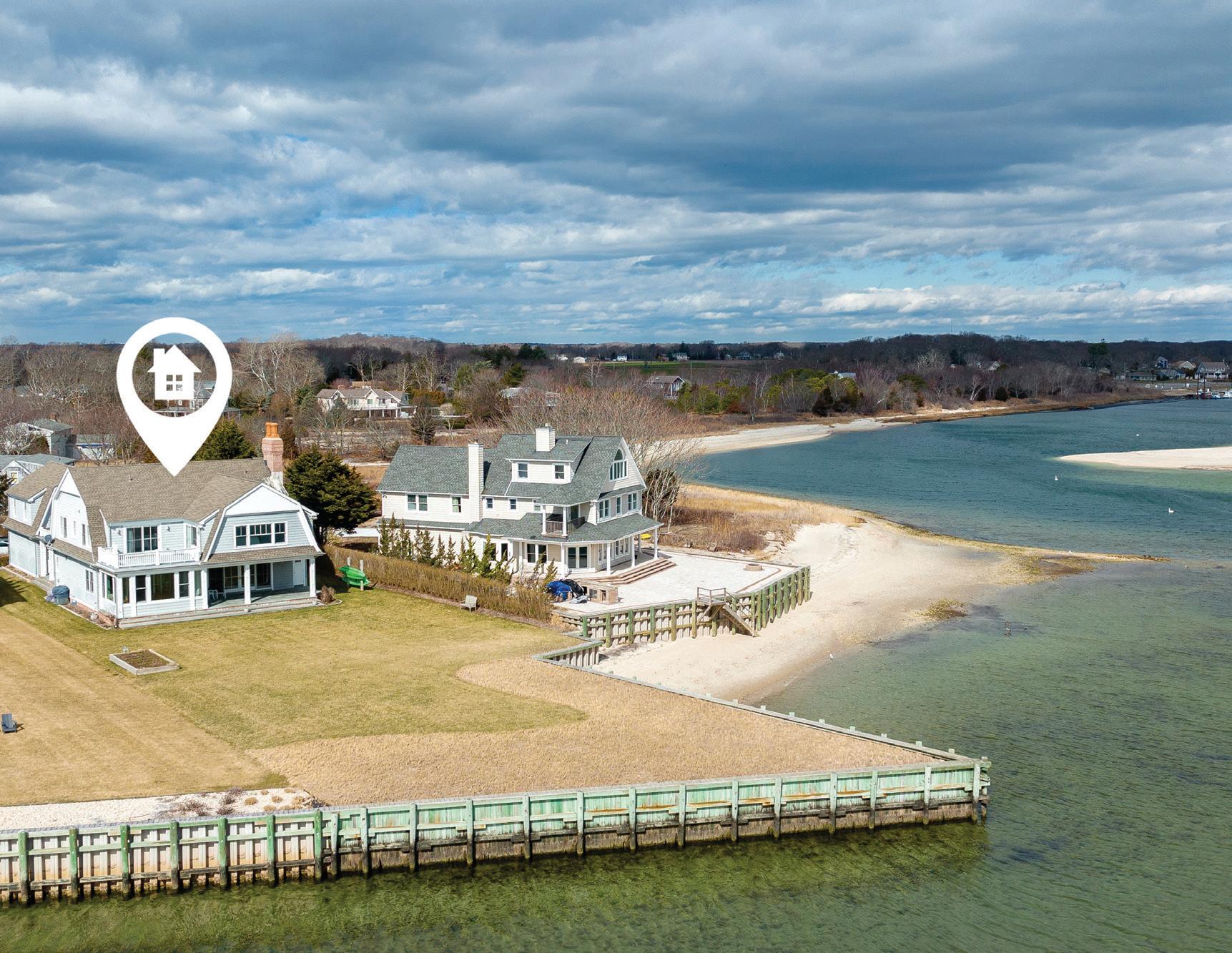 MLS# 3457632 | $2,100,000
Denice Lara
Real Estate Salesperson
Cutchogue O ce c.631.523.7870
denicelara@danielgale.com
Jennifer Arena
Real Estate Salesperson
Cutchogue O ce c.914.774.9376
jenniferarena@danielgale.com
Ann Hance
Associate Real Estate Broker Manhasset O ce c.516.660.1680
annhance@danielgale.com
Mattituck, NY
This stunning and turnkey waterfront home boasts deep-water dock with 101 ft. bulkhead, and boat slip. Bay beach access. O ering 3 bedrooms and 2.5 baths, it is wonderfully situated on ½ acre lot with a at backyard.
MLS# 3455803 | $2,300,000
Erica Kelly
Real Estate Salesperson
Mattituck Love Lane O ce c.516.527.7589
ericakelly@danielgale.com
90
Westhampton Beach, NY
Desirable bay front beach Cottage, waiting for you to enjoy the breathtaking sunrises and sunsets. On the property sits a main Cottage with a spacious deck and guest house. Within the main Cottage there is a bright kitchen, dining room, and living room looking directly out to the water. Also included are 4 bedrooms and 3 full baths. The guest house o ers a full bath and perfect space to keep company/extra bedroom, o ce etc. Outside on your spacious deck sits a hot tub, re pit, and plenty of room to entertain, leading down to your own sandy beach, and a fantastic deep water dock for your boat/water toys. R.O.W to the ocean. 100 ft. frontage on Moriches Bay.
Victoria Reynolds has over 30 years of Real Estate experience and previously owned Norma Reynolds Sotheby's International Realty in Westhampton Beach for many years. She is a 4th generation "Hamptonite" raised in Remsenburg, and never wants to live anywhere else.
Victoria is knowledgeable in ocean and bayfront zoning and has been celebrated as part of Daniel Gale Sotheby's International Realty Gold Circle of Excellence for multiple years.
Victoria has two amazing children, Carly and Austin, one dog, Bonnie, and her husband Philip. Victoria loves what she does and wants to help you nd your dream home in the Hamptons.
Westhampton Beach, NY
In a fabulous location, this well-maintained Post Modern home is just minutes from the best beaches and main street restaurants and shops. Cathedral ceilings and an open oor plan; included is 6 bedrooms and 4.5 baths. The main oor has a spacious kitchen, dining and living area, a great o ce/den, and one primary suite. The upper level o ers an additional primary suite along with 2 other bedrooms and bath. Down to the lower level you have 2 bedrooms, a large media area, a sauna and full bath with walk-out access to your heated pool, jacuzzi, and all weather tennis court outside.
Victoria Reynolds Associate Real Estate Broker Hamptons O ce
91
Vicky Reynolds
c.631.834.3440 victoriareynolds@danielgale.com
MLS# 3459046 | $3,495,000
MLS# 3457965 | $4,299,000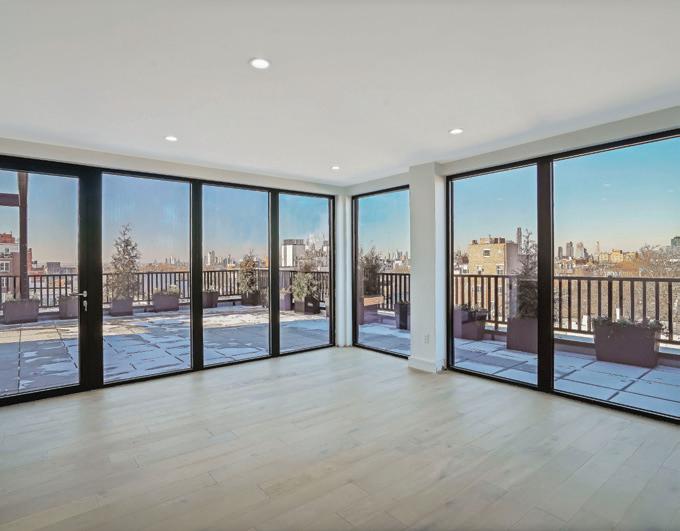 92
COBBLE HILL OFFICE 211 Court Street, Brooklyn, NY 718.689.6400 PARK SLOPE OFFICE 89 Seventh Ave, Brooklyn, NY 718.638.6500 WILLIAMSBURG OFFICE 299 Bedford Ave, Brooklyn, NY 718.689.8400 Visit our three beautiful offices in Brooklyn whether you're moving to, from, or within the Brooklyn area, where exceptional service is provided by our outstanding agents. 625 2nd Street MLS# 5202291 | $5,400,000 Terry Baum, c.718.208.7029 18 1 Place MLS# 4304259 | $5,499,000 Joseph Aliotta, c.718.404.6839 129 4th Place MLS# 3985518 | $2,800,000 Allison Boggio, c.718.638.6500 Saul Retig, c.917.865.5903 316 22nd Street, 4A MLS# 5209460 | $2,483,000 Aroza Sanjana, c.917.930.6500 Jose Nunez, c.516.650.5339 500 Waverly Avenue, PH3 MLS# 3801584 | $2,100,000 Steve Sallion, c.917.482.4863 83 4th Place MLS# 3846919 | $3,115,000 Susan DiSalvio, c.347.405.1650 Park Slope, NY Carroll Gardens, NY Carroll Gardens, NY Greenwood, NY | NEW CONSTRUCTION Clinton Hill, NY | SOLD Carroll Gardens, NY | SOLD WE ARE BROOKLYN.
BROOKLYN ESTATES
Corporate 631.423.1180
Relocations & Referrals 800.445.4460
DGNY Commercial 516.402.3469
Astoria 718.650.5855
Bay Shore 631.647.7013
Bayside/Flushing 718.762.2268
Carle Place/Westbury 516.334.3606
Cobble Hill 718.689.6400
OUR OFFICES
FIND US LOCATED ACROSS LONG ISLAND FROM BROOKLYN TO THE EAST END
Cold Spring Harbor 631.692.6770
Cutchogue 631.734.5439
Garden City 516.248.6655
Great Neck 516.466.4036
Greenport 631.477.0013
Hamptons 631.288.1050
Huntington 631.427.6600
Locust Valley 516.759.4800
Long Beach 516.670.1700
Manhasset 516.627.4440
Mattituck 631.298.0300
Mattituck Love Lane 631.298.4130
Northport 631.754.3400
North Shore 516.759.6822
Park Slope 718.638.6500
Port Washington 516.883.2900
Rockville Centre 516.678.1510
Shelter Island 631.749.1155
Smithtown 631.584.6600
Stony Brook/Port Jefferson 631.689.6980
Syosset/Muttontown 516.677.0030
Wheatley Plaza 516.626.7600
Williamsburg 718.689.8400
93
94
Real
c.718.638.6500
Real
Janet Andreoni
Estate Salesperson c.516.359.9262 Miriam Ainbinder Associate Real Estate Broker c.631.988.9200 Allison Boggio Real Estate Salesperson
Susan DiSalvio
Estate Salesperson c.347.405.1650 Julia Blaker Associate Real Estate Broker c.516.971.4747
Frances Covello Associate Real Estate Broker c.516.359.7779
Real
c.718.404.6839
Joseph Aliotta
Estate Salesperson
Lois Kirschenbaum Associate Real Estate Broker c.516.526.7425
Real
c.516.761.9417
Beth Catrone Associate Real Estate Broker c.516.647.1729 Emily Quinn Edelman
Estate Salesperson
Real
c.516.524.0658
Sheri Friedman
Estate Salesperson
Real
c.516.643.0076
Real
c.516.652.4096
c.929.365.2185
Real
c.516.527.7589
Real
c.914.774.9376
Real
Real
c.516.446.4845
Real
Neena Chowdhary
Estate Salesperson
Valerie French
Estate Salesperson
Jingwen (Susanna) Ding Real Estate Salesperson
Erica Kelly
Estate Salesperson
Jennifer Arena
Estate Salesperson
Andrea Ciminera
Estate Salesperson c.203.887.7742 Huailing (Helen) Deng Real Estate Salesperson c.917.859.7718 Pierce Dellafera
Estate Salesperson c.516.660.2110 Coleen Farraday Associate Real Estate Broker c.631.258.8500 Antje Buelte Dolido Associate Real Estate Broker
Kathleen Dodd Real Estate Salesperson c.516.504.8771 Jason Friedman
Estate Salesperson c.516.236.6226
Real
Veranika Johnston Real Estate Salesperson c.631.901.4519 Terry Baum Associate Real Estate Broker c.718.208.7029 Sarit Elias
Estate Salesperson c.516.445.7636 Bonnie Doran Associate Real Estate Broker c.516.729.5663
Real
Sarah (Rudi) Friedman
Estate Salesperson c.516.643.0630 Ann Hance Associate Real Estate Broker c.516.660.1680 Stephanie Hunter Associate Real Estate Broker c.516.610.6975
95
Real Estate
c.516.650.5339
Real Estate
c.516.637.5786
Associate Real Estate Broker c.917.930.6500
Real Estate
c.917.681.4893
Real Estate Salesperson c.516.639.9699
c.516.241.0761
Associate Real Estate Broker c.631.560.5445 Kim
Real Estate Salesperson c.516.361.4633
c.516.359.3204
Associate Real Estate Broker c.516.860.5784
Associate Real Estate
c.516.647.9971
Associate Real Estate
c.516.972.7647
Real Estate
c.631.834.3440
Real Estate Salesperson c.631.327.2844
Real Estate Salesperson c.631.523.7870
Associate Real Estate Broker c.917.865.5903
Associate Real Estate
c.516.790.9925
Real Estate Salesperson c.631.327.8908
Real Estate Salesperson c.631.988.6142
Real Estate
c.516.582.3397
Real Estate
c.631.335.7111
c.516.768.3595
Real Estate
c.516.359.9499
Associate Real Estate Broker c.917.482.4863
Real Estate Salesperson c.516.318.2397
Real Estate Salesperson c.917.602.5868
Jose Nunez Associate
Broker
Deborah Pirro
Salesperson
Aroza Sanjana
Judy Cohen Liman
Salesperson
Allyson Shapiro
John Messina Associate Real Estate Broker
Leana Visalli
Luneburg
Debra Quinn Petkanas Associate Real Estate Broker
Leah Tozer
Cheryl A. Trimboli
Broker
Karen Sharf
Broker
Victoria Reynolds Associate
Broker
Noreen Sweeney
Denice Lara
Saul Retig
Shahla (Golie) Oheb
Broker
Virginia Regan
Jane Snyder
Jennifer Levy
Salesperson
Marianne Koke Associate
Broker
Catherine Zimmermann Associate Real Estate Broker
Kathleen Pisani Associate
Broker
Steve Sallion
Amy Tansill
Rui (Raymond) Zhang
Boca Raton, Florida
Make lifelong memories in this Mediterranean waterfront estate! Located in the exclusive gated community of Long Lake Estates, this custom estate designed by renowned architect Dan Caroll was built in 2007 and includes incredible furnishings by Alexandra Karram. Situated on 1.1 acres, this home is on a prime cul-de-sac point lot with southern exposure and 300 feet of waterfrontage.
As you enter this magnificent home, you will be greeted by an abundance of natural light and an awe-inspiring David Willis glass art installation in the two-story entryway. The large windows in the formal living area reveal the lush, magical landscaping and stunning water views.
The fabulous chef's kitchen showcases a full butler's pantry, three Sub-Zero refrigerators, Viking double oven, built-in Miele coffee machine
and much more. The kitchen opens to the incredible living room, which is ideal for family game nights and entertaining at its finest. No expense was spared in the amenities of this home, including the 10-seater, Gatsbyinspired movie theater. In addition, there is a fully equipped gym with a dry sauna and walk-in wine room with a 1,200-bottle capacity. The exceptional backyard also features an infinity pool with custom mosaic tile, a hot tub, putting and chipping green, extensive outdoor lighting, screened patio with gas fireplace, BBQ area, along with space and plans for a pickleball court.
96
8808twinlakedr.com $8,500,000 Jeff Miller ONE Sotheby's International Realty +1 305.610.4509 jmiller@onesothebysrealty.com
Sotheby's International Realty and the Sotheby's International Realty logo are registered (or unregistered) service marks used with permission. Sotheby's International Realty A liates LLC fully supports the principles of the Fair Housing Act and the Equal Opportunity Act. Each O ce Is Independently Owned And Operated. If your property is listed with a real estate broker, please disregard. It is not our intention to solicit the o erings of other real estate brokers. We are happy to work with them and cooperate fully. danielgale.com Muttontown, NY | MLS# 3381199 $4.07B 2022 SALES 950 SALES ASSOCIATES 29 OFFICES $1,135,051 AVERAGE SALES PRICE We Appreciate Your Trust. Your con dence in our bold innovation, exceptional local expertise, luxury marketing strategies, and extensive global relationships has earned us our second most successful year in company history.
A legacy of real estate. A mastery of real estate marketing. Nothing compares. At Daniel Gale Sotheby's International Realty, we ensure your property gets the maximum exposure to the most relevant audiences locally, nationally, and around the globe. 1.877.869.2487 | danielgale.com Each Office is Independently Owned and Operated.