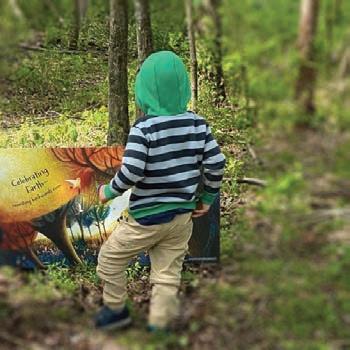 21 August 1622, 2023 c-ville.com facebook.com/cville.weekly August 17th is National Nonprofit Day! Support our local nonprofits by volunteering, donating or attending fundraisers. Visit reimaginecva.org to find ways to help. Donate, Volunteer, Grow with us. Visit piedmontgarden.org to find out how! Inspiring connection, learning, and joy through nature. Building an urban oasis and discovery center to celebrate the natural world of Central Virginia. Visit us at: 950 Melbourne Rd, Charlottesville, VA 22901 Mailing address: P.O. Box 6224, Charlottesville, VA 22906 piedmontgarden.org
from
Throughthegenerosityofvolunteertutorsand financialsupporters,LiteracyVolunteersof Charlottesville/Albemarleprovidesfree, one-to-oneEnglishandCitizenshiptutoring foradultlearnersinourcommunity.
City Schoolyard Garden
Urban Agriculture Collective Food Justice Network
Cultivate Charlottesville engages with youth and community to build a healthy and just food system.
Food is a human right, and we aim to create food equity—personally, in community, and across systems and structures.
Our 2023 Community Engagement Cohort is currently amplifying the voices of their neighbors and advocating for increased urban agriculture land in Charlottesville.
Charlottesville's Booker T. Washington Park has a legacy as a thriving hub of the African American community. For decades, Black Charlottesville residents played a key role in transforming the land from a history of injustice to a history of reclamation. Let' s come together to build an urban farm, bring back land lost, and move food justice forward!
Donate and learn more at www.cultivatecharlottesville.org
22
Idiscoveredthatengagingwithastudentontheirlearning journeyopensupaworldofpossibilities,forbothofus. —Judy,volunteertutor Learnmore&joinusinsupportofadultlearners www.literacyforall.org•434-977-3838 volunteers@literacyforall.org
370 adultstudentslearningatLiteracyVolunteers, 48 43
differentcountries,speaking firstlanguages. Thereare CHANGINGLIVES, ONEWORDATATIME.
23 August 1622, 2023 c-ville.com facebook.com/cville.weekly
Piedmont CASA
Kate Duvall, President and CEO
Piedmont CASA provides best-interest advocacy for children in the courts of the 16th Judicial District of Virginia. We strive to make sure that every child experiencing possible abuse and/or neglect is safe, has a permanent home, and has the opportunity to thrive.
What is the best way for community members to become more involved in your cause?
Become a Piedmont CASA Volunteer, or support the work they do. No special background, work experience, or education is required to become a CASA. We encourage individuals from all cultures, professions, and educational backgrounds to volunteer.
League of Women Voters of the Charlottesville Area
Meg Heubeck, President
The League of Women Voters of the Charlottesville Area is an all-volunteer, non-profit organization whose mission is to inform, educate, and advocate for the voters of Virginia. We do not endorse nor oppose any political party or candidate. Our positions on issues are seen through the lens of diversity, equity, and inclusion. Our service area includes the counties of Albemarle, Fluvanna, Greene, Louisa, and Nelson and Charlottesville City.
How does your nonprofit represent and support the Charlottesville area?
The Botanical Garden of the Piedmont is a growing community resource bringing people of all ages and backgrounds together to celebrate and nurture our native flora and fauna. BGP embraces inclusion by inviting everyone to participate in the Garden to further our goal of being a place that promotes human and environmental well-being. In nature and in society, diversity matters—we welcome and celebrate it!
Foothills Child Advocacy Center
Hannah Hoffman, Executive Director and Team
Foothills Child Advocacy Center provides a coordinated system of effective response and intervention to children who have been victimized. Our goals are to minimize trauma, promote healing, and ensure child safety by offering forensic interviews, family advocacy, medical exams and mental health therapy. What's your most successful program and how has it made an impact in your field?
Our forensic interviewers open the door for children to share their stories and disclose abuse without judgement. Children can also have a trauma-informed medical exam with our Medical Director where they receive assurance that their body can be healthy despite what has happened to them.
24 August 1622, 2023 c-ville.com facebook.com/cville.weekly
www.pcasa.org lwv-cva.org FoothillsCAC.org 2nd Annual Wild & Scenic Film Festival Join the Living Earth School for an evening of community and inspiration on October 11th at Violet Crown. Proceeds from the event will help LES provide everyone with a feeling of home in nature through scholarships, gear, and transportation.