Inside. Outside. Home.
A kitchen renovation was just the start for a 1980s Locust Avenue endeavor
Hello, sunshine!
In Rugby Hills, a classic Cape Cod lightens up (even as its exterior turns moody matte black)
SUMMER 2023 WOW WALLS Muralist David Currier's fine art ICYMI Why SRECs may be your new bestie IN THE MIX Blending pre-war with
day
modern
CRAFTING your VISION 506 Locust Avenue Charlottesville 434.202.8500
@bramantehomes
We combine over 45 years of homebuilding expertise with a proven design/build process to ensure your experience building with us is as wonderful as the final product. Let us translate your wish list into a personalized home that effortlessly reflects your unique style, wants, and needs. Home by Bramante Homes, Dana Moore & Taylor Bates Design | Photography by Millpond Photography
bramantehomes.com
ADAVEN
$3,250,000 | MLS 642598
Tucked away in one of Somerset's most bucolic valleys and adjacent to Keswick Hunt country, this thoughtfully designed turn-key private estate and family compound boasts a stunning 5-bedroom residence constructed with the finest materials in 2006. Designed with the patina and proportions of a historic house, this new residence epitomizes Virginia country living at its best. Elegant yet practical rooms filled with reclaimed heart pine and beams spill out to thoughtfully designed outdoor spaces accentuated by a salt-water, gunite , framed by a pool house with ½ bath and dressing room plus a 2 bed guest house with full kitchen, living and dining. Across the mature grounds, a restored bank barn serves as an additional 2-3 bedroom guest house ensuring ample space for family and guests. Numerous impressive landscaping and improvements include a center aisle 6 stall barn, full court dressage ring with fiber/sand footing, custom irrigation system, mirrors and 10 paddocks with 5 run in shelters. The 144 acres includes a scenic second building site, all privately nestled up against the SW range. 5 minutes to groceries and amenities in Gordonsville and 30 minutes to C-ville.
JUSTIN H. WILEY | 434 981 5528
PETER A. WILEY | 434 422 2090
DEVONHURST
$1,895,000 | MLS 643392
A breathtakingly beautiful 86-acre Keswick area farm nestled up against the Southwest Mountains. The well-proportioned residence and accompanying outbuildings are sited to take in views in every direction. The home was thoughtfully renovated in 2001, retaining its original character including floor-to-ceiling wormy chestnut paneling in the study. There is a guest cottage, small stable, gym on the property as well as impeccably maintained fields, and fencing. Not under conservation easement but surrounded by protected land. 25 minutes from Charlottesville.
JUSTIN H. WILEY | 434 981 5528
PETER A. WILEY | 434 422 2090
SPRINGDALE
$ 6,950,000 | MLS 641125
A 100-acre estate on the edge of Charlottesville in the heart of protected Keswick, Springdale is a true opportunity to own a beautiful private farm across Keswick Hall and minutes to downtown Charlottesville. The 6,241 square foot, wellmaintained residence sits perched on an elevated site overlooking a beautiful pond and the surrounding countryside. The mostly open, fenced property with stable, numerous paddocks, six run-in sheds, a riding ring, and a manager's house is well suited for horses or other agricultural pursuits. The main house, a well-proportioned colonial-style brick residence with hardwood floors and good proportions is complemented by a charming guest cottage, pool, and clay tennis court. The farm is surrounded by large estates and is an excellent candidate for a conservation easement. A rare opportunity to own a substantial estate in the center of beautiful Keswick.
JUSTIN H. WILEY | 434 981 5528
PETER A. WILEY | 434 422 2090
GREYLEDGE
$6,500,000 | MLS 634509
Exceptional 739-acre estate exuding sophistication and allure, gifting the esteemed with panoramic views of the Blue Ridge & Allegheny mountains. A verdant tree lined driveway makes your acquaintance before revealing Greyledge, a Virginia Landmark which was US President Calvin Coolidge's second choice for a Summer White House home. Boasting 9,723 SF, this 2 story Greek Revival is one of the finest ever built, meticulously cared for, and recently renovated to a pristine level rarely seen. Soaring, 12-foot ceilings offer spectacular views in every direction, bearing witness to the majesty of the mountains, lush landscaping, and massive sparkling 6-acre lake with Koi, trophy size Bass, and Catfish. Greyledge offers complete privacy, majestic views, and an unparalleled lifestyle.
JUSTIN H. WILEY | 434 981 5528
PETER A. WILEY | 434 422 2090
VERULAM FARM
$9,995,000 | MLS 622844
One of Virginia's preeminent estates, Verulam is nestled on 503 acres in the breathtaking foothills of the Blue Ridge Mountains, conveniently located just 4 miles from the University of Virginia and modern amenities of Charlottesville. The Classical Revival manor offers an easy elegance with both formal and informal spaces that flow seamlessly to bucolic grounds, formal Charles Gillette designed gardens and handsome pool complex. Additional amenities include a charming guest house and restored dairy barn turned grand event venue. The farm abuts 1,000+ additional acres of protected land including the Ragged Mountain Reservoir Natural Area.
JUSTIN H. WILEY | 434 981 5528
PETER A. WILEY | 434 422 2090
MIDLOCH FARM
$2,250,000 | MLS 640108
Midloch Farm is situated at the center of the Green Springs Historic District, which is one of the most protected scenic areas in all Virginia. The 200 acre, mostly open property has not been available in over 50 years. The 1885 late Victorian farm house sits on a high point over looking pastoral, and mountain views. Improvements include the 3 bedrooms, and 2 baths manor house, which retains much of its original details such as wooden floors, mantels, transoms, and doors. Close to the main house are two cottages, a 1920 guest house with 2 bedrooms, and a 1790 cottage, ideal as a studio, or office.. Farm buildings include two barns, equipment/garage shed, and garden shed. A rare opportunity to own a significant farm in a protected area, with a view that will never change. Property is protected by a conservation easement.
JUSTIN H. WILEY | 434 981 5528
ORANGE VA 540 672 3903 CHARLOTTESVILLE VA | 434 293 3900 WILEYPROPERTY.COM
New Price
4 C-VILLE ABODE Ruth Ellen Outlaw, AIA reoutlawdesign@gmail.com outlawdesigncompany.com 434 996 7849 Designing for families since 1999 outlaw design company
A unique art gallery located in the heart of historic Gordonsville. 109 S. Main Street, Gordonsville, VA • (540) 832-6352 anniegouldgallery WALK TO DOWNTOWN 210 NE 10TH ST CHARLOTTESVILLE, VA 2 BEDS | 2.5 BATH 1780 SQ. FT. MLS#636568 $969,000 JANICE KAVANAGH | ASSOCIATE BROKER 434.760.0739 | JANICE@NESTREALTY.COM NEST REALTY
Annie Gould Gallery
308 E. Main St. Charlottesville, VA 22902 (434) 817-2749 n c-ville.com c-ville.com/abode
C-VILLE ABODE
Piecing it together 26
Andrea and Brian Hubbell had their eye on the Rugby Hills neighborhood for a while before buying a 1940 Cape Cod there in 2016. They loved their home, but after living in it for three years, they realized that—as owners of a design studio who regularly help clients rethink their spaces—they could make a few improvements.
ABODE, a supplement to C-VILLE Weekly, is distributed in Charlottesville, Albemarle County and the Shenandoah Valley. No part of this publication may be reproduced without the written permission of the publisher. ABODE Editor Caite Hamilton. Contributors Carol Diggs, Shea Gibbs, Claudia Gohn, and Rachael Kesler. Copy Editor Susan Sorensen. Art Director Max March. Graphic Designer Tracy Federico. Account Executives Lisa C. Hurdle, Brittany Keller, Gabby Kirk, Stephanie Vogtman, Theresa McClanahan. Production Coordinator Faith Gibson. Publisher Anna Harrison. Chief Financial Officer Debbie Miller. A/R Specialist Nanci Winter. Circulation Manager Billy Dempsey. ©2023 C-VILLE Weekly
5
ANDREA HUBBELL
IN THIS ISSUE
6 C-VILLE ABODE
E-mail us at caite@c-ville.com. 19 COURTESY J.P. HORTON BLUEPRINT 11 In the mix Getting old and new to work together. Q&A 15 Muralist David Currier on permanent art. Play place 16 Piedmont CASA's unconventional fundraiser. Designer's designer 19 J.P. Horton goes straight to the source. Opening up 22 On Locust Avenue, a low kitchen soars. Real Estate 35 Hot tip: Harness the power of the sun. HOME SWEET HOME 38 Party in the back at this Mill Creek addition. c a v a l l o g a l l e r y . c o m c a l l o a e r y . c o IG • @cavallo.gallery • @shop.cavallogallery • @lovegordonsvilleva Design Appointments/Gallery • (540) 832 3701 Visit our new expanded boutique gallery this Summer to shop our artisan favorites Wednesdays through Saturdays, or call ahead for a design appointment to explore our extensive custom frame options without a wait or any interruptions! Fabulous fine art custom framing on one side... A C'Ville favorite in historic Downtown Gordonsville, VA ... artisan favorites & inspiration on the other side!
Cover photo by Andrea Hubbell Comments?
503 Faulconer Drive
Charlottesville · VA · 22903
p: 434.295.1131 f: 434.293.7377
e: homes@mcleanfaulconer.com
MCLEAN FAULCONER INC.

Farm, Estate and Residential Brokers
NORTHWOODS
Magnificent 16.5 acre estate with stately circa 1860 main house only 8 miles west of UVA. Renovated in 2017 with stunning kitchen remodel, expanded great room, updated bathrooms. Complemented by guest cottage and carriage house with 5-bay garage. Gracious porches, brick terraces, and stone retaining walls surrounded by lovely gardens. MLS#642190 $4,950,000 Court Nexsen 646.660.0700
4-BR, 4.5 BA home situated on over 2 pristine and landscaped acres only 5 miles west of the City of Charlottesville. MLS#641366
$1,295,000 Jim Faulconer, 434.981.0076 or Will Faulconer, 434.987.9455
10 miles from town, near Free Union, 100+ acres, division rights, no conservation easement! Spectacular Blue Ridge views from many homesites, several barns, stable, 2 ponds, creeks. MLS#638858
$4,400,00 Jim Faulconer, 434.981.0076
454 acre estate that has it all, location, views, water, 5-BR residence, event center and more! 15+ acre lake and unparalleled views exists. 25 minutes west of Greenwood. MLS#642925
$9,395,000 Steve McLean, 434.981.1863
Delightful 5-BR, 3 full BA, 2 half BA home on 130 acres. Thoughtfully renovated with modern updates. Guest house, pool, equipment shed. Located on Totier Creek. MLS#639196
$2,745,000 Steve McLean, 434.981.1863
STONY POINTE
A spacious and meticulously maintained 4-6BR, 5.5-BA Manor home on 57 acres of tranquility, and beautiful panoramic mountain views 6 miles from Charlottesville. MLS#638292
$2,475,000 Jim Faulconer, 434.981.0076
FAIRWAY DRIVE
Wonderful 3.5 acre waterfront parcel behind Keswick Hall in gated, picturesque Keswick Estate. Bring your own architect, builder. 5 miles from Hospital, 10 from UVA. MLS#641712 $540,000 Court Nexsen, 646.660.0700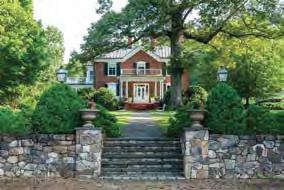 RUNNING DEER DRIVE
MEADOWLARK FARM
22-acre equestrian property with renovated 8,575± fin. sf home overlooking pool and Mechums River. Views of the Blue Ridge Mtns. and only 12 miles from Charlottesville. MLS#640137 $3,195,000 Steve McLean, 434.981.1863
BELMONT LOFTS
3-BR, 3.5 BA condo features, modern & open floor plan with huge windows and doors, and large rooftop terrace with views of the Downtown Mall all the way around to Monticello. MLS#634149
$1,790,000 Jim Faulconer, 434.981.0076
One-level brick home on 3.25 acres featuring 3 bedrooms, 2 bathrooms, and a convenient and flexible floor plan including family room with fireplace and updated kitchen. An oversized deck overlooks the private back yard, part of a level and partially fenced lot. Easy access to Charlottesville, UVA, and I-64 for points east. MLS#643033
$489,000 Charlotte Dammann, 434.981.1250
WWW.MCLEANFAULCONER.COM
PEA RIDGE FARM
MILL HOUSE
HIDDEN FOX FARM
WOODLANDS ROAD
8 C-VILLE ABODE Spring Creek offers brand-new homes with a luxury lifestyle at an affordable price… and so much more! Low-Maintenance Villa Homes from the $400s Coming Soon to the Charlottesville Area MORE FUN Clubhouse, pool, walking trails & more MORE CHOICES Personalized, low-maintenance homes MORE POSSIBILITIES Close to golf, wineries, mountains & UVA MORE WE KNOW YOU WANT Join The VIP List SpringCreek55.com | 434-200-8322 Charlottesville's favorite spot for antiques, vintage décor, and one-of-a-kind treasures. Local Furniture Store WE'RE HIRING! 1327E.HighSt| 296-8131 1327E.HighSt| 296-8131 M-F8-5:30 www.cssvac.com M-F 8-5 www.cssvac.com
We See The Bigger Picture
Experience matters during real estate transactions. Under tight timelines, you're faced with making big decisions while managing important details. At Montague, Miller & Co., we've seen it all, and we take pride in our ability to guide clients to successful, satisfying outcomes through professionalism and honest counsel. As a threegeneration family company, we've been serving Charlottesville and surrounding communities for seven decades. With deep roots in Central Virginia, we've been a part of the region's evolution and growth, helping to develop some of the area's established residential communities.
CONSIDERING A CAREER IN REAL ESTATE?
LOOKING TO BEGIN A NEW AND DYNAMIC CAREER? Sign up for our Principles of Real Estate class. Come learn from the experienced and talented teaching staff of Montague Miller - Barbara McMurry, Rives Bailey and Pat Sury. This course is for those looking to begin a career in Real Estate who want to learn from from the best. Find out when the next session starts: MONTAGUEMILLER.COM/REAL-ESTATE-ACADEMY | 800.793.5393
10 C-VILLE ABODE
Design in all its many forms
Power blenders
Downtown homeowners mix old and new by necessity
By Claudia Gohn
11 C-VILLE ABODE Blueprint
MICHAEL STAVARIDIS
When a new home popped up in 2016, a married couple took advantage of the opportunity.
"There's a very specific area of north downtown that we were interested in buying a house in, and of course, nothing's ever on the market in our little target area," says one of the new homeowners. "This house came on and we jumped on it."
The home, located on Altamont Street, is more than a century old, so when the couple wanted to give it a fresh look, they had their work cut out for them. They recruited Formwork Architecture and Element Construction to help achieve their vision of blending old with new. But there were obstacles to overcome, including the challenging shape of the lot and the existing structure they needed to reconfigure to suit their list of must-haves.
Formwork's Cecilia Nichols helped the couple efficiently realize their goal. "We added very little, actually," she says. "Essentially a stacked room, a living room space, and their bedroom space above it. But we really reconfigured the house radically to suit a more sort of fluid floor plan."
The new floor plan required changes to existing spaces in order to create even more room, like taking advantage of connecting rooms to
12 C-VILLE ABODE
IMAGES: MICHAEL STAVARIDIS
create a singular large one, and removing a closet above the main stairwell to make more vertical space. Other alterations to the structure included a new addition to the back of the house, as well as remodeling the bed and bath upstairs. "All that new construction was gonna be a very contemporary style," one of the homeowners says. "They did an amazing job blending the two—the old and the new—together."
One favorite detail of the home is the kitchen. Made of walnut and featuring both a spacious table area and a long island, both the color and cabinetry make this a sophisticated feature of the home. "That room—that is a whole cabinet, like a bento box or something," Nichols says. "You connect to these other rooms that are very quiet. They're light-filled, they're bright, white walls with special pieces of art and very few pieces of furniture. Not overstuffed, not busy or anything, because the walnut is sort of the richness."
The backyard, on the other hand, was a whole new hurdle to clear: The area was narrow and quite steep, which made for a troublesome remodeling process. Anna Boeschenstein, of Charlottesville landscape architecture firm Grounded, joined the team to help with this step of the journey. Boeschenstein took on the challenge of working with the alley behind the house to create a driveway for two cars, space for the owners' dog to run, screening from neighbors, an entertainment space, and an outdoor kitchen. "Cecilia [Nichols] and I worked together," Boeschenstein says, "looking at solar orientation and how we might use the building and site retaining walls to push the grade back and create these leveled spaces."
In all, despite the challenges, the home came together in about a year. The team transformed an approximately 1,300 square-foot pre-war house into more than 2,300 finished square feet. Now, 108 years after its initial construction, the building lives well in its new look.
13 C-VILLE ABODE
BLUEPRINT
"You connect to these other rooms that are very quiet. They're light-filled, they're bright, white walls with special pieces of art and very few pieces of furniture. Not overstuffed, not busy or anything, because the walnut is sort of the richness."
Walnut cabinetry in the kitchen lends a richness to the space that juxtaposes the bright, white walls elsewhere in the house. Outside, Grounded LLC's Anna Boeschenstein created a driveway for two cars, space for the owners' dog to run, screening from neighbors, an entertainment space, and an outdoor kitchen.
14 C-VILLE ABODE SERVING C-VILLE FOR 20+ YEARS "As a Real Estate attorney, I worked with literally hundreds of Realtors. In terms of prompt service, invaluable assistance, consummate professionalism, and sincere concern for the clients, Trey ranks among the very best I have seen." -Home Buyer 2022" Sellers | Buyers | Investors Call/Text Trey: 434-409-8308 each office is individually owned & operated This is our town. .com
Wall of a kind
Local painter finds creative outlet in custom interior murals
By Shea Gibbs
David Currier moved to Charlottesville as a working artist 30 years ago. Making a living on fine art alone is a tough gig, and Currier soon added interior painting to his repertoire.
He found a way to lend creativity to the practice by offering interior murals as part of his painting services. Currier recently talked to Abode about the unique work, his process, and where it all fits with current design trends.
Abode: How did you get into interior muraling? David Currier: Before I moved to Charlottes–ville, I was working in New York for an art foundry. At the time—this was in the '80s—it was a pretty big foundry. We handled most of the big New York artists. And so I just started a sculpture studio of my own here and continued making art and working for other artists. Mostly I was making large-scale pieces, but it wasn't a full-time gig. I met the painter Greg Webber, and he gave me a job doing mostly decorative finishes and murals. I worked for him for a couple years and then started on my own. I've done a little bit of everything since then.
Who is the typical interior mural client?
A large part of it is for families, often in kids' rooms. But I've done everything from bathrooms to living rooms—anywhere people want a special space in the house. I do a lot of landscape motifs. People like to have something to look up at that isn't just a painting.
What are some of the more unique murals you've done?
The last large mural I did, by which I mean not a simple wall graphic, was something we were calling the space room. We created the universe in the room, with planets and stars—the idea was for it to be like one of the pictures from the Hubble telescope spanning the walls of the room. I also did a somewhat related mural for the aerospace engineering department at UVA.
What's your process for completing a mural?
I try to get an idea of what the client wants and then embellish it. For example, one client wanted a "Chinese landscape." I went to the fine arts library, took out a ton of books, went through them, and showed the client some of what I liked. He found some he liked, and then I filled in the gaps. Other pieces might start with a photograph—one family wanted portraits of their own horses in the mural. In another one, the client wanted a fox-hunting scene. So the scene sort of goes around the room with the fox hunters and ends
with some well-hidden foxes. That was a big one— took me maybe two and half months. Generally, they don't take more than a couple of weeks.
How much do you prepare beforehand?
A lot of times, we have vignettes that are going to be incorporated, so I will do the drawings large enough and tape them around the wall to help figure out how they'll fit together. Then I start painting. Generally, I work with acrylics and brushes, but for some I might use spray equipment to get that sort of atmospheric look. I've also done murals with just regular wall paint. I did a job for the UVA hospital where I just painted directly on canvas in my studio, and it was applied by a paper hangar.
How much should folks expect to pay for an interior mural?
I really don't charge more than I would for any interior painting job. It just takes longer. I'll say this, doing a mural in your house is probably not as expensive as you might imagine, and it adds a lot of value.
15 C-VILLE ABODE
BLUEPRINT
STEPHEN BARLING
Interior mural artist David Currier says he starts by getting an idea of what his client wants and then giving it his own embellishment.
Kids' choice
Raffle for a children's playhouse supports
Piedmont CASA
By Claudia Gohn
In April, the folks at Piedmont CASA were looking for a way to raise money that didn't involve simply collecting donations. What they came up with—a professionally designed playhouse chosen by kids—was an unconventional approach, but right in line with their mission.
"It's something that just seemed like a really fun idea, and it also really just spoke to the work that we do as CASAs [Court Appointed Special Advocates], which is to advocate for safe, loving, and permanent homes for children," says Kate Duvall, Piedmont CASA founder and CEO. "And the playhouse really represents in a fun way that mission and that focus of our efforts."
Piedmont CASA is one of many locations of the nationwide nonprofit. CASA aims to support children in the foster care system. Money raised through the fundraiser would go toward supporting the infrastructure that houses the nonprofit.
To pull it off, the organization partnered with local architecture firm Bushman Dreyfus, as well as Peter Johnson Builders, then went straight to the source: If the playhouse were to be used by kids, why not let the kids have a say? Each architect at Bushman Dreyfus designed their ver-
sion, then the firm hosted an event for kids to come vote on which one looked most fun.
They settled on a design consisting of a roughly 7x7-foot base, a nearly 12 foot-tall frame, and wooden façade with a yellow outward-facing wall and a red slide. With portholes and peepholes peppering the side, as well as a skylight, light floods the interior levels. From the inside, there is netting and structures to climb and reach the top of the playhouse. "You can look out at the sky while you lay in the hammock," architect Lisa Moran says. "It's got fun primary colors. It's beautiful."
The playhouse was created thanks to the donated time and resources of neighboring businesses. The structure was assembled at Peter Johnson Builders under the guidance of Morgan Reitz.
In total, the playhouse helped Piedmont CASA realize their goal of $30,000, and now lives on a farm outside of Charlottesville, part of a multigenerational family homestead where it will get plenty of use.
"Not only was it a fundraising success," Duvall says, "it was also a success in just helping us to spread the word about the good work that our volunteers do and the work that we do on behalf of kids and families in our community."
16 BLUEPRINT
IMAGES: VIRGINIA HAMRICK
Piedmont CASA's recent fundraiser netted the nonprofit $30,000—and a very lucky raffle winner the coolest playhouse on the block.
17 your comfort… their future! Call for your FREE energy saving consultation today. Improving your comfort and ensuring their future since 1988! 434-979-4328 www.airflow-hvac.com Your Green HVAC Company FREE FINANCING THIS WINTER WITH SAME-AS-COLD-CASH Replace that old heat pump or invest in a Geothermal System and save money this winter. Scan the QR code to find out how you can save money and energy with no-finance charges, or give us a call to speak with an energy consultant today. Call today for a no-cost consultation on how Airflow Heating and Air can improve your comfort and ensure their future! Be comfortable & save — High Efficiency Heating & Cooling Systems Lower energy bills — Home Energy Diagnostic Audits Reduce carbon & 30% Tax Credit — High Efficiency Geothermal Systems Improving your comfort and ensuring our future since 1988! "Tune-Up" Program... & never pay full price either! Call today and save 10% off your HVAC scheduled maintenance and start saving money on energy bills too! Never worry again with our Improving your comfort and ensuring our future since 1988! "Tune-Up" Program... & never pay full price either! Call today and save 10% off your HVAC scheduled maintenance and start saving money on energy bills too! Never worry again with our 434-979-4328 www.airflow-hvac.com Your Green HVAC Company
18 C-VILLE ABODE replacement Licensed & Insured Class A Contractor Visit Our Showroom in the Rio Hill Shopping Center! WINDOWS • DOORS • SIDING • BLINDS BestPricePromise! NOT YOUR TYPICAL WINDOW REPLACEMENT COMPANY! NO PRESSURE CONSULTATIONS! NO SUBCONTRACTORS! NO INTEREST FINANCE OPTIONS! *on approved credit Sales • Service • Locks • Safes Alarm Systems • Access Control • Video Surveillance Since 1950 SECURING YOUR WORLD FOR OVER SEVEN DECADES 434-295-2171 210 W Market St. Sponsor of UVA Sports "Lock It Down!" DCJS Lic # 11-1821 "Changing the locks" is not difficult or expensive. Most knobs and deadbolts can be quickly and easily re-keyed by our trained professionals! We also provide other options to "Secure Your World" including alarm installation and monitoring as well as access control. We make security as easy as 1, 2, 3. Sponsor of UVA Sports "Lock It Down!" "Changing the locks" is not difficult or expensive. Most knobs and deadbolts can be quickly and easily re-keyed by our trained professionals! Call us for all your security needs!
Southern charm
A returning designer takes a traditional approach
By Caite Hamilton
Growing up in Charlottesville, J.P. Horton says he couldn't help but be influenced by the ubiquitous Southern design and architecture. ("I was always rearranging my childhood bedroom and helping my parents with the house," he says.)
Horton became interested in filmmaking, and practiced his hobby throughout high school, and then at Savannah College of Art & Design. But he noticed that one of the reasons he liked filmmaking was because he got to redesign the homes in which his movies were being filmed. He changed majors, enrolled at Virginia Commonwealth University
for interior design, then returned to Charlottesville to train at Stedman House.
In 2017, Horton launched his eponymous design studio in Charleston, South Carolina, before coming home once again in 2022. He says his style leans traditional, but he tailors his choices to the needs of his clients, paying special attention to the details, which sometimes requires thinking outside the box.
"I was working on a living room for a client and could not find a fabric in the colors I wanted," he says. "I had heard of a textile printer in North Carolina and decided to design a custom fabric of my own for the project."
It turned out great, and a few of his designer friends even caught wind of his new venture and started ordering.
Since launching J.P. Horton Fabrics in 2019, and a grasscloth line in 2023, Horton has used his own textiles in multiple clients' designs— skirted hall tables in a Greek Medallion print, a chair with a Pomegranate Stripe seat, curtains with Passionflower Vine.
Mixing textiles and styles of furniture helps achieve his ultimate goal, he says. "A room [should feel] collected and naturally evolved. I do not want my clients' homes to look like a showroom or 'decorated.'"
19 C-VILLE ABODE
BLUEPRINT
J.P. HORTON
Interior designer J.P. Horton designs his own line of textiles, available to the trade, and uses them in many of his clients' projects.
IMAGES COURTESY
PRISTINE, TURN-KEY KESWICK ESTATE JUST 10 MINS FROM CHARLOTTESVILLE
ON 5 ACRES OVERLOOKING ROLLING VISTAS OF FOXFIELD
ARABELLE FARM at 464 CLARKS TRACT • $5,945,000
Magnificent custom residence on 5+ acres with breathtaking landscape gardens and hardscaping, four-falls water feature with goldfish pond and lush garden. Borders the 175-acre Foxfield property, in conservation easement, within viewing range of the Foxfield races. The home features exquisite crown molding and heart pine floors, copper roof and gutters, high ceilings, and creative blend of formal and informal spaces. Spacious 1st-floor master suite with 2 baths and walk-in closets, 4 fireplaces, updated kitchen, generator, and 800sf unfin. 2nd-floor bonus space. Marcela Foshay (540) 314-6550.
Comprised of 216 acres in the heart of Keswick Estate Country, Arabelle Farm offers a rare opportunity: A turn-key equestrian property & farm w/ recently refurbished farm improvements & renovation of the impressive, c. 1910 5 bed/5 full/2 half bath residence. Lovely pastoral views in all directions & shaded by massive oak trees. Add'l improvements incl' 23 stall, center aisle barn w/ 2 apts, 5-bay car garage as well as a 2-bay, oversized machinery garage w/ renovated, 2 bed apt above, 10 paddocks w/ run-ins, & 2 beautiful ponds. The 125' x 250' outdoor arena has new footing & there is a 5 acre jumping field. Rebecca White (434) 531-5097 or Loring Woodriff (434) 466-2992. MLS#
OAKLEIGH
Circa 1856, Oakleigh is a beautifully renovated, turn-key country estate incl' 149 manicured acres with 2 ponds. The home enjoys total tranquility and has been carefully modernized and renovated to incl' 3 bedrooms, 2.5 baths, and endless charm. Other structures incl' a smokehouse, barn, chicken coop & large shed. All dependencies have water and electricity. Wonderful boxwood ringed vegetable garden. Under conservation easement with 1 division right. An excellent building site with mountain views is tucked well away from the main residence. 25 minutes to Charlottesville & 40 to Richmond. Fiber optic! MLS# 627792
Tre Sorelle was conceived w/ great attention to detail w/ no expense spared. From the cobblestone approach & circular courtyard w/ tiered Italian fountain, visitors are immersed in the otherworldly ambiance of classical design, authentic stucco, Honduran mahogany, heated limestone floors & soaring ceilings. Rooms are bathed in bright, indirect light w/ lovely garden views from every window. Adjoining the courtyard are the saltwater pool overlooking spring-fed pond, kitchen garden w/ charming potting shed, & garage w/ attached greenhouse & inviting guest suite above. 40 mins from Cville & 90 mins from DC. Julia Parker Lyman (540) 748-1497. MLS# 640215
401 Park Street Charlottesville, VA 22902
(434) 977-4005 lwoodriff@loringwoodriff.com
• $3,975,000
1480 GARTH GATE LANE • $2,475,000
MLS# 633816
c . 1856 TREASURE IN THE GREEN SPRINGS HISTORICAL DISTRICT
1674 N. JAMES MADISON HIGHWAY • $1,800,000
640549
2022 HISTORIC GARDEN WEEK TOUR PROPERTY
A Selection of Spring 2023 Sales
WWW.LORINGWOODRIFF.COM
DISTINCTIVE PROPERTIES IN CHARLOTTESVILLE & THE SURROUNDING COUNTRYSIDE REPRESENTED BUYER & SELLER REPRESENTED BUYER REPRESENTED SELLER REPRESENTED BUYER REPRESENTED BUYER AND SELLER REPRESENTED SELLER Someday Farm Sold for $3,700,000 1410 Brook Road Farmington • Sold for $4,750,000 1515 L ondon R oad Sold off Garth Road 921 R ugby R oad Near UVA • Sold for $1,200,000 1680 o Ld b aLLaRd R oad Ivy • Sold for $1,785,000 2730 H unt C ountRy L ane Off Garth Road • Sold for $1,800,000
REPRESENTING
Something old, something new
Getting a dream kitchen to fit an old house
During the pandemic, a young Fry's Spring couple went shopping for a larger house. They thought they'd found a suitable place, but decided—just for comparison—to check out another option, an 1890s house on Locust Avenue. This house had been lived in by the same owner for a long
time. "It felt well-loved," says the homeowner, "but was in disrepair."
As someone who had grown up in an old house, and loves the way they look and feel, that closed the deal for her. "We thought, 'We'll redo the kitchen and the bathroom,' promising ourselves a three-month renovation," she says.
By Carol Diggs
But the scope of the project got bigger and bigger. The couple finally moved in a year later, after replacing the baseboard heat with radiators, redoing the master bedroom, reconfiguring the first floor, and landscaping the backyard.
Project architect Scott Weiss suggested giving the low kitchen added height by removing its
22 C-VILLE ABODE
BLUEPRINT
IMAGES: BETH MONACO
ceiling, which revealed the original floor joists above. Taking out the wall between kitchen and dining room created a larger family living area. The adjoining full bath was converted into a powder room, freeing up space for a small pantry. Weiss also suggested replacing the outside wall with a sweep of glass to bring both more light and the backyard green space into the kitchen. California-based Pinkys Iron Doors custom-built the floor-to-ceiling glass wall and two glass Dutch doors to fit the space. Kate Sedgwick at Snow's Garden Center designed the freeflowing garden, now enclosed in a high wooden fence along the alley behind the house.
The client, who has a background in real estate development and project management, took on the original project: redoing the kitchen. She brought in Dovetail Design & Cabinetry's Amy Hart, whom she had previously worked with on
renovating her Fry's Spring kitchen. The wish list: "a big island, deep drawers, cabinets that extend right to the countertops, and a neutral color—my dad always says that my favorite color is not a color," says the homeowner.
The focus of the redone kitchen is the large central island, with its storage drawers and overhang for stool seating. The wall-long counter behind the island, with Wellborn cabinets at each end and a Wolf range centered between two windows, provides plenty of working space and lots of storage. Hart helped figure out where to put a built-in refrigerator, and suggested a wealth of other details, from the sink's push-button garbage disposal to the Calacatta Sponda marble countertops and backsplash behind the double-oven range. (That range, the client jokes, is "my engagement ring.")
The client also knew from their previous project that Hart would keep an eye on costs. "I love mar-
ble in the kitchen, but Amy found a less expensive stone—a black pearl granite—that we could use instead in the pantry," she says. "And the kitchen flooring from Morris Tile—it's porcelain, made to look like soapstone, and really affordable."
Many of the decorative touches are the client's own. "One thing I like in old houses is making new amenities look like they could have been here," she says. She found the old-fashioned brass light fixtures with their filament light bulbs on Etsy—"they're custom, but were really affordable"—and she picked up the 19th-century country landscape paintings at thrift stores.
While there are still plans for further projects, the couple—along with their old dog and their new daughter—appreciate how this old home has been adapted to fit its new family: "This kitchen is really functional—we had 16 people for Thanksgiving last year, and it was no problem."
23 C-VILLE ABODE
24 C-VILLE ABODE 28 Draft Avenue Stuarts Draft, VA 434-244-3556 www.dutchway.com Established 1995 Established in 1995 27 White Picket Trail Mt. Crawford VA. 540-564-1322 www.dutchway.com Free estimates • Vinyl • Fences Fences | Decks | Railings | Porches Arbors & Pergolas | Handicap Ramps Vertical Cable Railing gives you a clearer view
BUYING or SELLING? CALL US!
616 Elizabeth Ave
CHARLOTTESVILLE, VA | .18 ACRES | $489,500
Nicely Updated 4 bed, 2 bath, home on a CUL-DE-SAC. Hardwood floors in Living Room and Bedrooms. White Cabinets, Stainless Steel Appliances, Tile Flooring in the Eat in Kitchen. The finished walk out level basement has a Rec Room, Bedroom, Full Bath and Laundry Room. Nice Patio and partially fenced yard provides a private backyard that looks to wooded area. Located just 5 minutes from Charlottesville High School, 5-10 minutes from Pen & McIntire Park, UVA, and the Downtown Mall!
Midway Road
CHARLOTTESVILLE, VA |
MLS# 621439 | $1,850,000
66 acre parcel. One of a kind property in Western Albemarle; less than 30 minutes to Charlottesville & UVA. The land is gently rolling and about 20-25% hardwood with the balance in pasture. Two streams come together at a potential pond/lake site. There are several building sites that each offer a unique perspective on the glorious mountain views & the surrounding countryside. This is an opportunity to create a fabulous estate, in a rural area, but close to shopping, schools, medical facilities, the town of Crozet & only minutes to the Blue Ridge Mountains & the Shenandoah Valley. High Speed Internet available from Firefly Fiber Broadband. Several airports are nearby along with easy access to major arteries. Bring your architect, builder, and imagination to create a place to call home that you will never want to leave.
1460 Monterey Drive
CHARLOTTESVILLE, VA |
MLS# 641951 | $585,000
Spacious, 5 bedroom/3 full bath home in the convenient, established Four Seasons neighborhood near everything! This well maintained home offers a first floor bedroom with access to a full bath along with a large living room, two story foyer, dining room, kitchen with breakfast area & a family room with a wood-burning fireplace. The second floor offers 3 more bedrooms with a full hall bath & an Owners Suite with a full bath, a fireplace & a small balcony over looking the private backyard. A 3 car attached garage, gas heat/water, Central AC, a spacious rear deck & a fenced backyard complete this move-in ready home. Recent improvements include new luxury vinyl plank flooring (2023), fresh paint through out (2023), roof (2021), windows (2020), new quartz kitchen counters (2022), dishwasher (2023), stove (2023), refrigerator (2022) newer shed & leaf guards.
525 Reas Ford Road
EARLYSVILLE, VA | MLS# 640849 | $795,000
Well built brick home set on a private lot close to Charlottesville, the airport, shopping & only 15 minutes to downtown/UVA! Enjoy first floor living inan open living design. Living room, with a fireplace, dining area, kitchen, mudroom & office/workout/studio room to go with Owners Bedroom & Bath, Bonus Roomthat can be used as office/den & full bath. Upstairs offers an additional two bedrooms & full bath. Recent improvements include, new carpeting & Ceramic Tile. A full basement with a 2 car garage offers plenty of options to add more finished square footage along with storage. The back terrace deck is a lovely outdoorliving space with mature landscaping all around. Seasonal Mountain Views from the front porch, fenced yard area for gardening, pets, etc.
Langdon Woods
Build and enjoy your custom home in Langdon Woods, a preservation community located just minutes from the Airport, Route 29, Hollymead Town Center and the Blue Ridge Mountains. Langdon Woods offers wooded, private lots from 2 acres to 4.4 acres with a walking/running trail and a community lake with a dock. Bring your builder and come see why you should be living in Langdon Woods. Tranquil, country living with amenity & convenience in beautiful Northwest Albemarle County.
19 Courtenay Glen Way
CHARLOTTESVILLE, VA | 21.25 ACRES | $239,500 | MLS: 526218
LAST LOT AVAILABLE
The Farms at Turkey Run - a unique enclave of 40 private country estates within an 800 acre haven surrounded by 5000 acres of protected rural area that is Mount Ida Reserve. This 21.25 acre lot features rolling pasture with beautiful mountain views of the Blue Ridge Mountains, streams, ponds, and wooded areas. Turkey Run is within minutes of area attractions and less than 20 minutes from Charlottesville.
mls ??????? $Pricemls ??????? $Price 434.220.5656 real estate partners sloanmanis.com mls 499612 floor (2 offices,reception area,bathroom)and a 1 bedroom apartment on the 2nd floor • New roof,wall heat/ac units • Great front porch, private fenced yard and off-street parking. mls 496870 $495,000 • First floor master suite and a finished terrace level • Quiet country living, great mountain views • 25 minutes to the heart of Charlottesville
434.220.5656 | sloanmanis.com | 415 Fourth Street N.E. Charlottesville, VA 22902
When two designers renovate their own home
26
THE NEVEREN
27
By Carol Diggs | Photography by Andrea Hubbell
NDING STORY?
28
f you know an architect or a designer, you're probably familiar with the phrase "What if we …?" This marks the beginning of endless discussions about moving walls, changing materials, rearranging layouts, enlarging windows, adding dormers or skylights or patios in a neverending creative search for the design.
But what if two architectural designers were married, and decided to renovate their own home? Would that creative process ever stop? Would their house ever be done?
Meet Andrea and Brian Hubbell of HubbHouse Design Studio.
With what Andrea and Brian bring to the table, they couldn't not be house-crazy. Brian grew up in construction—his father, uncles, and grandfather were builders. The couple met as bench partners at the University of Florida's architecture school. Andrea came to UVA for graduate studies and they both worked at Charlottesville design firms. Soon, the pair had a side hustle buying, renovating, and re-selling houses in the city. Andrea discovered that she loved the real estate angle, and began studying for her real estate license. In 2016, Brian launched HubbHouse so the couple could work as a team on spec renovation projects.
In the midst of all this activity, the Hubbells were also searching for a place to live and raise their son. They homed in on Rugby Hills ("We stalked this neighborhood before we lived here," Andrea says). They loved the trees, the sense of quiet so close to town, the pedestrian feel, kids on bikes and neighbors out walking their dogs. When a classic 1940 Cape Cod house on a corner lot with tall trees came on the market in 2016, they snapped it up.
The young family lived in the house as-is for three years. They knew from the start that some aspects would have to change—it was small, boxy, with not much light. "It had a tiny little kitchen, and we needed more room for entertaining," Andrea says. "We loved the spot, but the house just wasn't working for us." Being designers, they spent hundreds of hours over those three years on redesign ideas.
In the meantime, they were renovating a house nearby. "At some point," Andrea says, "we knew we had to just start." Brian adds, "[The house's systems] started dying. The house was telling us it was time."
The Hubbells moved into their reno and hired a general contractor to take their Cape Cod down to the studs—new HVAC, new plumbing, new roof. They had the white aluminum cladding
CONTINUED ON PAGE 31
29
The Hubbells loved the large screened porch of the original house, so they enclosed the space to create a spacious new kitchen, with large windows to the front and side. The original kitchen was segmented to create a dining room and laundry room.
CONTINUED FROM PAGE 29
stripped off to reveal sound redwood siding underneath. The couple loved the large screened porch on one end, where they waved and chatted with neighbors walking by—so they enclosed that space for their new kitchen, with huge windows facing the street so interaction could still go on. The tiny original kitchen got cut in half to add more area to the dining room and create a laundry room on the first floor.
The renovation posed two big hurdles, one of which the Hubbells knew about going in: The fireplace was placed in the center of the house, not on the end, with the central staircase behind it. "We didn't want to move the fireplace, we liked it being the center of the space," Andrea says, but the staircase made the dining room unusually narrow. "So we enlarged the window in the dining room, and had the table made custom so it fit this space."
The unexpected problem was that a former owner had enlarged the second-floor back dormer without providing the needed structural support. The back roofline was sagging, right above where they had removed the wall between the living room and the new kitchen space. Knowing that they would need a reinforcing steel column running down through the first floor, Brian had it placed as a free-standing design element at the end of the staircase railing. Above it, in the primary bedroom suite built over the new kitchen, they added collar ties that link the roof slopes and help support the structure, while adding an interesting decorative touch.
"These are the only things in the house painted a high-gloss white, because in this space it helps to have more reflective light bouncing around," Brian says.
The finished interior has the signature elements of a HubbHouse design: a modern yet simple look made of clean lines, lots of light and white, and touches of wood and metal. White walls and ceilings create a spacious feel (the house is 2,300 square-feet); wood floors plus fabrics and accents provide warmth and texture. There is walnut throughout: the built-in bookcases and pocket doors setting off the family room, the living room's floating mantel, the opening and steps leading into the kitchen, the kitchen island and a floating panel above, and the recesses around the kitchen windows.
Outside, the redwood siding has been painted a matte black—"We liked the feel of the house being surrounded by trees, like a cabin in the woods, rather than sticking out," Brian says. The kitchen addition is set off by cypress rain screens, and the free-standing garage has been remodeled into Brian's office and workout space. Every entry has its own mudroom—a spot, inside or out, with coat pegs and a mat for dirty footwear.
How did it work, designing for themselves as clients? Andrea says, "We met and worked together in design school, so our process is really rooted in collaboration. I'm more conceptual, he's the detail guy."
"Our styles are very similar, and we gave ourselves time to figure out what we needed," Brian says. "But there are always things that come up; it's still an iterative process."
And is the renovation done? The Hubbells love their new home—but during the pandemic, they did add a hot tub to the backyard, which meant changing the garden design in that area. And it would be nice to turn the play area under the trees in the side yard into a woodland garden. And what if...
30
The primary bedroom, built over the new kitchen, features a decorative touch—collar ties—that also adds structural support. Outside, landscape architect Anne Pray helped to reimagine the backyard, which now includes an outdoor grill, fireplace, and (a pandemic addition) hot tub.
For their new home, the Hubbells called on several local artists and artisans.
Anne Pray: A UVA-trained landscape architect, Anne created the hardscaping and landscaping around the renovated house. She also worked with Brian on the metal backsplash for the outdoor grill and the metal surround for the outdoor fireplace.
Tate Pray: A carpenter who has evolved into a furniture designer (and yes, Anne's husband), Tate created the Hubbell's custom dining table out of two lovely old white oaks that had to be removed for the added kitchen. (That wood also went into other features around the house.)
Lauren Danley: An architectural metal fabricator who started her career as a plumber and pipefitter, Danley designed the freestanding steel beam that helps support the renovated primary bedroom, the floating metal-and-walnut mantel, and the stairway's custom handrail.
Local artists: "Almost all of our art—except one painting done by my grandmother—is by local artists," says Andrea. "We really want to support local people where we can." Their living and dining rooms feature work by photographer Sarah Cramer Shields, as well as paintings by Abby Kasonik, Cate West Zahl, Lara Call Gastinger, and Molly Reeder.
31
When you're in the know
Being in the design business really helps you know who to go to for that special detail.
32 C-VILLE ABODE CONTACT US TODAY! CALL CANDICE VAN DER LINDE! NEW LISTING BUY AND SELL CVILLE TEAM REALTORS 1ST CLASS MARKETING FULL MOTION VIDEO TOURS SUPERIOR NEGOTIATING SKILLS ABOUT CANDICE : Coming from a large family of contractors; my "job" growing up was to be the "helper" which gave me a "hands on"approach from building walls, demolishing old structures, designing layouts etc. This foundation is part of what drives me to be who I am today! I provide my clients the best of my time, devotion and attention. Every single person has an individual need and desire; and I enjoy being the voice they need to accomplish their goals in Real Estate! PERSONAL PLANNING MARKET ANALYSIS INDIVIDUALIZED CUSTOMIZED SERVICE WWW.BUYANDSELLCVILLE.COM OUR SERVICES VirginiaTractor We'll Keep You Running.
34 C-VILLE ABODE
Hot topic
How to make the sun work for you
If you're like most homeowners (or humans in general), you may be thinking of ways to cut costs, reduce your overall impact on the environment, or disentangle yourself from massive, greedy for-profit utility companies. Good news: Installing solar power at your residence or business can achieve all of these goals. Here's how to pull the ultimate power move by harnessing the energy of the sun.
Ian Ayers, vice president of aggregation at Sun Tribe Solar, says there are basically three buckets of benefits when it comes to installing solar energy systems.
Federal tax credit(s)
Thanks to the Inflation Reduction Act, which President Joe Biden signed into law in August 2022, homeowners and business owners who install a solar energy system, such as solar panels or storage batteries (as long as they're above 3 kilowatts), can claim a 30 percent federal tax credit for those systems through the end of 2032. Businesses operating on Tribal land, in low-income neighborhoods, or in "energy" areas (places where other nonrenewable energy production facilities are operating) can also qualify for additional tax credits.
Credit for selling energy to your utility company
The next benefit you'll reap after installing solar power at your home or business is the reduction in your power bill when you start producing your own energy. Says Ayers, that's essentially the "credit" you'll get on your energy bill when it's calculated and sent to you every month.
Solar renewable energy credits
SRECs are a bit more murky to the average consumer.
"We all agree that renewable energy is valuable, in some ways more than burning fossil fuels or using other non-renewable types of energy, right?" says Ayers. "So how do you quantify the renewable value in energy? SRECs are the way you measure the renewable value of solar energy in this situation."
When you sell excess energy back to the grid— as you do when you see that credit on your util-
By
Rachael Kesler
ity bill every month after your solar power system is up and running—you're only cashing in on the straight-up energy you've created. When you create and trade SRECs, you're cashing in on the renewability of the energy you've created.
"SRECs don't compete with the other two benefits [listed here]," Ayers says, "but if you don't cash them in, you're missing out on a key renewable benefit of the solar system."
The fate of an SREC is to be retired. The party who retires an SREC gets to count it toward a goal. Virginia's two large utilities, Dominion and Appalachian Power, are mandated to acquire SRECs under the 2020 Virginia Clean Economy Act in order to prove that they're meeting annual goals for clean energy production. If they can't meet the yearly SREC target put forth by the VCEA, they have to pay a $75 fine for each SREC they're short. For this reason, many people put a $75 value on an SREC.
Not so fast, Ayers says. Like other commodities that are traded, the price of an SREC varies depending on a number of factors.
"When the SREC market first came online in Virginia, there weren't enough SRECs to meet demand, so the price stayed near that ceiling of $75," he says. Now, there's an oversupply of SRECs on the market due to more solar power systems being added to the grid, so the value of
a certificate has declined. The approximate SREC market price at press time was $50.
Energy is tricky to track and value because of its nature. The energy grid we're all hooked up to is like a pond: There are numerous streams of energy flowing into that pond all the time, via both nonrenewable and renewable sources of energy production. Once those streams of energy are mixed up in the pond, you can't differentiate what originated via solar production and what originated otherwise. SRECs allow businesses, homeowners, and the government to quantify solar energy production so it can be precisely tracked and traded.
Now that you have a better understanding of SRECs, you also need to know that system owners have the right to choose which aggregator they use to sell their SRECs, if they choose to sell them at all.
Sun Tribe Trading is a Charlottesville-based company, and the biggest aggregator of SRECs in Virginia. If you're looking to install solar and reap some of the many benefits of producing passive energy through sunshine, most companies are booked several months in advance. Once you're in line and ready for your new solar energy system, the actual installation, permitting, and net-metering (which allows your utility meter to be bi-directional, measuring both energy production and consumption) can take several weeks.
REAL ESTATE
FILE PHOTO 35 C-VILLE
ABODE
503 FAULCONER DRIVE SUITE 6 CHARLOTTESVILLE VA 22903 434.293.3900 132 EAST MAIN STREET P. O. BOX 430 ORANGE, VA. 22960 540.672.3903 Listed with John Ince 434-981-3011 WWW.C-VILLE.COM VOLUME 29, ISSUE 1 FRASCATI C. 1823 An historic landmark property on 62 acres in the heart of the Somerset estate area See Page 19 For More Information Taking LUCKY KIDS A custom Hinge-build playhouse with style BRIGHT BOX Letting the light in at this city garage project Virginia meets Africa at a globetrotter's Batesville home At the former Scottsville Switching Station, a boutique rental gets the luxe treatment SPRING 2023 inspiration THIS VS. THAT How to choose: condo or townhome? Quintessential Virginia farm with magnificent countryside views! Circa 1837 Farmhouse, tucked away and sits on 84.88 acres. A private, peaceful and serene oasis easily accessible to Charlottesville and the Washington DC region. For more information, see our ad on page 11 WWW.C-VILLE.COM VOLUME 28, ISSUE 4 Jack Samuels Realty, inc. Donna Waugh-Robinson 540-661-2263 donna@dewrmedia.com John Faulconer 540-661-7923 johnfaulconer65@yahoo.com Hickory Hill Farm www.jacksamuels.com • jacksamuelsrealty@gmail.com• (540) 672-3233 Our Fall issues of Fine Properties and Abode will be featured at the 2023 Parade of Homes! Get your home listing, business, or self promotion advertisement seen by Parade of Home visitors Please contact Gabby for details, deadlines and pricing. gabby@c-ville.com
Your dream. Our passion. Exceptional experience.
Thank you for voting us #1 Home Builder.
We are always so grateful to be recognized for our work, but above all else, your satisfaction and support mean the world to us.
Building custom homes in the Charlottesville Area since 1984
#cvillebuilders info@cvillebuilders.com
The backstory
Though the homeowners had raised a family in their Mill Creek home for more than 15 years, when their neighbors' house came up for sale, they couldn't resist making an offer. They moved across the street, eager to drink in the woodland view that their previous house lacked. They hired Alloy Workshop to create a screened porch that would meld inside and outside.
"We really wanted to open the space up to the trees and views," says Alloy owner and architect Dan Zimmerman. "We wanted it to both be anchored and attached to the house, but also feel like it projected into the woods."
The roof angles up to maximize the view, the walls are screened on three sides from floor to ceiling, and there's very little else to interrupt the mountain view.
Says Zimmerman, "Simple detailing allows for the quiet enjoyment of nature."
38 C-VILLE ABODE Home Sweet Home
GORDON BEALL
ANDREW SHURTLEFF
434.529.6000 • specializedins.com • contact@specializedins.com 2250 Old Ivy Road, Suite 5, Charlottesville Business - Home - Auto - Life INSURANCE SERVICES Building Trust since 2002
Upgrade your smart home Take your home from smart to smartest with Ting fiber internet Everything just works better with fast, reliable internet. Future-proof your smart home and transform your entire online experience with Ting Internet and Whole Home Wi-Fi.  @tinginternet  tingcville  ting.com/cville Why Ting Internet? • Share files instantly • Crystal-clear video calls • High-speed cloud storage • Symmetrical speeds up and down $89/mo Home Fiber 1000 Gigabit Internet Up to 1,000 Mbps download and upload speeds Connect 20+ devices seamlessly Unlimited data