4 minute read
Alumni Spotlight
From the Ground Up
Linda Hayles '11 believes the biggest reason women leave money on the table in the professional world is their own mindset, but not if she has something to say about it. From real estate to health care, clients turn to her Texas-based firm, Unlimited Success Consulting Worldwide, for a no-holds barred honesty that gets results. Her infectious energy and quick wit leave no room for self-doubt.
In the spring of 2020, when it felt like the world hit pause and the threat of the COVID-19 virus stunned local and national economies, Hayles turned up the dial. She launched a new 90-day coaching series and secured seven clients in eight days. By May, she hired a coach of her own to help restructure her business plan. Hayles believes she is in a unique position to help others.
It wasn't until she hit rock bottom 15 years ago that Hayles found her inner strength. She found herself suddenly homeless and the locks to her home changed by an abusive husband. Unsure of what to do next, she drove to her night class and told her professor that she was going to withdraw. Her professor urged her to stay in school – encouragement that made all the difference.
"Getting my degree in psychology as an adult gave me the skillset to help my clients overcome their limiting beliefs so they can make the money they want to make in their own businesses," Hayles says. "I don't make all this money in my business because I'm such a great salesperson. I make this money because I'm great at developing people — thanks to my degree."
For people to choose the right school, especially as an adult learner, Columbia College was that for me.
Hayles attended Columbia College- Orlando, where she earned straight A's and made the Dean's List. She believes the right education can change lives: case in point, "I went to school at 36 years old with a GED and graduated at 40 with a bachelor's degree."
Columbia College's location in Orlando was established in 1975 to fill an educational gap for non-traditional students in that corner of the country. Today, in addition to its main campus, the college has more than 30 locations nationwide and an expansive Online Program. Like many adult learners, Hayles balanced evening courses while providing for family.
Never a fan of the term "side hustle," Hayles laid the ground work for her business plan while at Columbia College. In 2013, she relocated to Houston for a fresh start. Her initial goal of becoming a therapist didn't satisfy the craving for a high-energy platform to share her skillset. Instead, Hayles became as a relationship coach for women. She wrote a book and even flew to the Cayman Islands to host a TEDx talk for females in business. By 2019, she was determined to turn her skills into financial stability, culminating in the launch of her own personal and business development firm.
Hayles leverages her success to teach others how to maximize their professional performance both independently and financially. It is her understanding of human behavior – traits and habits she learned during her college studies – that keeps her focused.
"My biggest passion is teaching women to make their own money," she says. "They can change generational cycles of poverty, the mediocrity of homelessness." Hayles knows firsthand the fear of being left out alone and wants to give women the tools to secure their financial independence.
"I should have been a statistic," she says, but with young children to care for, Hayles knew a good education was vital to her long-term goals. "For people to choose the right school, especially as an adult learner, Columbia College was that for me."
Her book, "Girl, Get Your Courage Factor," is a compilation of stories about overcoming adversity to become an entrepreneur. Hayles pulls from her own life experiences, proving that she could simultaneously raise strong, capable children and make a place for herself. Now thriving young adults, her younger son is in the Army and her daughter is in college.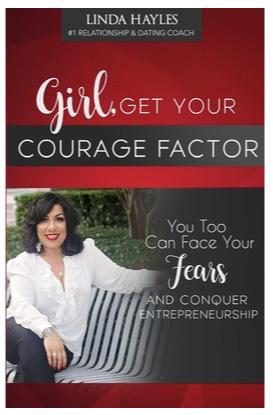 She believes breaking the limited mindset of the minority — that being a strong woman takes away from your femininity and ability to nurture — is paramount to moving forward. "For most Hispanic women, our culture is so deep that it doesn't matter if your parents are second-generation Americans," she says.
Over the last year, Hayles has expanded her client base to include men. She trains clients how to position their services, speak to management and make the sale. She now employs two women and aspires to lead seminars.
"The older I get, the more I realize every thought I have is just a perception," she says. "Every time I have a limiting thought, I ask myself 'Where did that come from?'" And then she's on to the next big thing.