8 minute read
Cover Story: Big Data
Computer science program prepares graduates for the workforce straight out of college
Julia Collins wasn't sure what she wanted to major in when she was first accepted to Columbia College. Coming out of Hannibal High School, she had already taken college-level Calculus I and II courses, so she knew she had a knack for mathematics. She gravitated toward the Computer and Math Sciences Department on registration day and, as luck would have it, Associate Professor of Computer Science Dr. Yihsiang Liow was staffing the room at that time.
If you do the math on return on investment for your college degree, the computer science degree at CC has to be the best in the region.
"I just remember Dr. Liow and I hitting it off right away," Collins says. "We had a great conversation. I knew that I just wanted to get a job after college. He said, if you come to the computer science program at Columbia College, you will have a job after you graduate. I was like, 'sold.'"
Collins graduated in May 2014 and started her first job at a data analytics consulting firm in Chicago the next month. Now, she works as a product manager for WorkMarket, a startup company under the ADP umbrella based in New York City.
She is not alone. Columbia College computer science graduates currently work for such internationally known companies as Google, Amazon, Facebook, Lockheed Martin, Bayer, Cerner, Intel and Microsoft, as well as companies such as MidwayUSA, Veterans United and Carfax that are integral to the Columbia community.
It's a relatively small department that is carving out quite a reputation of producing highly qualified and competent graduates.
"If you do the math on return on investment for your college degree, the computer science degree at CC has to be the best in the region," Collins says.
Unlike Collins, Sam Luebbert '14 had been exposed to computer programming before he started at Columbia College. Still, he wasn't sure he wanted to jump straight into the computer science program.
It didn't take long before he realized that was the place for him. "At times the program was tough, but I appreciated it and never again wavered in my growing passion for computer science," Luebbert says.
Luebbert spent a year as an application developer intern at MidwayUSA while he was still attending Columbia College. He had a job waiting for him as an application developer upon graduation. After a few years, he was promoted to his current position, where he manages a team of three developers.
Liow says that the mission of the Columbia College computer science program is to not only prepare its graduates for their first job out of school but to equip them with the necessary skills to put them in prime position for promotions down the line.
"When they join a company, they understand how to talk to people and what the requirements are for their software, that they have the ability to analyze a problem, design solutions and produce or program a solution for their client. That's the minimum," Liow says. "It's not enough to just know your textbook."
Columbia College computer science courses emphasize project-based learning and collaboration with fellow students. That way, graduates are wellprepared to move beyond the theory when they enter the workforce.
"The instructors often emphasized to students that the skills within computer science were not the only ingredient for success out in the real world," Luebbert says. "This is absolutely true, as most software development supports a business. You can get ahead if you care about and understand the business versus just your coding."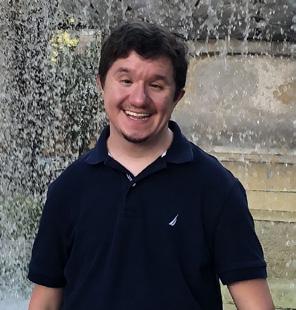 The first time Ryan Frappier '17 heard about the Columbia College computer science program was from Nathaniel Graham, his teacher at the Columbia Area Career Center (CACC). Frappier started out at the Career Center learning graphic and web design tools such as Photoshop and Illustrator before moving on to programming.
"I thought it was really cool I could just type some random stuff and have a webpage after it," Frappier says. "In a professional setting, you're often given code to work with. You need to be able to step through it and understand it. That was something that was really emphasized by Dr. Liow and the program. Understanding how that was so directly applicable was a really good thing for me."
Frappier completed two summer internships at Google during his time at Columbia College and earned a full-time job with the multibilliondollar revenue corporation after graduation.
Liow places a premium on the sort of community outreach that helps prospective students uncover the hidden gem that is the Columbia College computer science program. The college has run a programming contest for high school students since 2015, a high school internship program through Partners in Education and coding events with middle school students. Liow has also served on the advisory board at the CACC.
These sorts of events and connections have helped the program grow in enrollments and recognition since Liow first started at the college in 2003. They have also helped students such as Frappier gain awareness of the program and grow in their interpersonal skills while completing the coursework.
"I would not be where I am without the experiences I had at CC," Frappier says. "Being a tutor to other CC students and high school students for Dr. Liow made a pretty big impression on me as a whole. Having the opportunity to understand students and help them helped me grow."
After nearly four years in the Columbia College computer science program, senior Michael Fisher has a deep appreciation for the critical thinking and problem-solving skills that Liow and the faculty emphasize.
Fisher was working at Central Bank when, at 23, he decided to go back to school for computer science. He thought that, even if he never made a career out of it, he'd at least have a cool hobby.
"Then I got into it and really fell in love with the entire discipline," Fisher says. "I thought I had critical thinking skills until I got into it and realized that I might actually be dumb. They trained us to think in a totally different way."
Fisher has used his passion for computer science to take part in a National Science Foundation program called Research Experiences for Undergraduates (REU) over this past summer. He gained acceptance to the highly competitive program in part because of glowing recommendation letters from Liow and Professor Dr. Suzanne Tourville.
Fisher is looking into pursuing a Ph.D. in computer science. "It teaches you about perseverance," Fisher says. "The people who are successful are the ones who realize early on that it's going to be difficult and who just keep persevering forward and accepting that it's going to be challenging."
The faculty and students have helped cultivate a tight-knit computer science community at Columbia College, all the way down to the Discord server where students can gather to ask questions, play games and stream movies, among other activities.
"Students just jump in and ask questions all the time," Liow says. "We can look at one another's work and the seniors can help the freshmen through the program. You get immediate feedback and, especially for programming, it's really important."
At some point during Collins' time at Columbia College, she and Liow came to an important understanding. He would assign exceedingly difficult programming challenges, which could take up to 12 hours to solve. She would come back to him with a steady stream of questions during the challenge to help her innovate a solution.
So Liow eventually loaned Collins some of his office real estate. "He would just put a desk in the corner of his office," Collins says. "I would work from the desk sometimes and, if I had a question, he would be right there. That type of availability was invaluable to my growth and learning. He really wanted me to make it. I felt that."
The program's small size allows students to maintain personal connections with the faculty, both while they are at Columbia College and after they graduate. Collins, for example, still calls upon Liow when she's seeking career advice.
One-to-one attention is invaluable for students pursuing an intensive course of study like computer science, Liow says.
"If you're sitting in a lecture with 400 other students, it's a difficult environment for learning," Liow says. "Having a small class makes it easy for students to learn and interact with one another. Most people are not aware of how strong our program really is. It's just that, being a small school, we don't make as much noise."
Count Collins in as one of the noisemakers. "I hope over time people can understand how rigorous this program is and wellprepared the graduates are. People see that in me now that I'm out in the field," Collins says. "I'm always happy to be a hype woman for the Columbia College computer science program." Dr. Yihsiang Liow became interested in software development in high school. His first project was a just-in-time scheduling software for a U.S conglomerate. Since then he has worked in the government and public sectors. He also conducts research and development work, including the development of an encryption chip for Motorola.