FREE FRANCHISE OPPORTUNITIES AVAILABLE WORLDWIDE COASTALANGLERMAG.COMVOLUME 27 • ISSUE 331 OCTOBER 2022 PHOTO COURTESY OF SKYE BURKHARDT IG: @BRASSYANGLER87 @CAMTAMagazine OCTOBER 26-30 • FLIBS.COM &SWORDFISHRECORDFISHINGBOTTOMBOUNTIFULGROUPER MULLET-EATING REDS NORTHEAST FLORIDA EDITION
Experience Home of world class fishing on the beautiful Watauga Lake, rugged Doe River and designated trophy trout stream, Watauga River PLAN YOUR TRIP TOURCARTERCOUNTY.COMAT Watauga River Watauga Lake Doe River
Shhhhh. No wake zone. Protect your baby (and their toys) with coverage for shing gear and personal property too. 1 800 PROGRESSIVE / PROGRESSIVE.COM buy.youhowonbasedvaryPricesapply.maychargeAdditionalliates.af&Co.InsuranceCasualtyProgressive
PENN ® Slammer ® IV
© 2021 Pure Fishing, Inc.
DEEP.RUNSTHATREPUTATIONWITHREELANEEDYOUSHALLOWS,FISHINGWHENA
Packed with more fish stopping features than ever before, the PENN ® Slammer ® IV takes a tradition of excellence to a whole new level. An 8+1 sealed stainless steel bearing system with Hydrophobic Line Roller Bearing makes the reel as smooth as it is tough. The Slammer IV drag system was upgraded to provide wider range. And the reel body and spool are now even more perfectly sealed. Just like the fate of the fish. PENN. LET THE BATTLE BEGIN.
Secrets of a Billionaire Revealed
CLIENTS LOVE STAUER WATCHES… êêêêê "The quality of their watches is equal to many that can go for ten times the price or more." — Jeff from McKinney, TX Stauer…Afford the Extraordinary ® You must use the offer code to get our special price. 1-800-333-2045YourOfferCode:JCW 494-01 Please use this code when you order to receive your discount. Rating of A+ Jet-Setter Chronograph $299† Offer Code Price $29 + S&P Save $270 TAKE 90% OFF INSTANTLY! When you use your OFFER CODE
— wisdom from the most successful investor of all time
"Price is what you pay; value is what you get. Whether we're talking about socks or stocks, I like buying quality merchandise when it is marked down."
Time is running out. Now that the secret's out, we can't guarantee this $29 chronograph will stick around long. Don't overpay to be underwhelmed. Put a precision chronograph on your wrist for just $29 and laugh all the way to the bank. Call today!
We agree with this thinking wholeheartedly. And, so do our two-and-a-half million clients. It's time you got in on the secret too. e Jet-Setter Chronograph can go up against the best chronographs in the market, deliver more accuracy and style than the "luxury" brands, and all for far, far less. $1,150 is what the Jet-Setter Chronograph would cost you with nothing more than a di erent name on the face.
going to let you in on a secret. Billionaires have billions because they know value is not increased by an in ated price. ey avoid big name markups, and aren't swayed by ashy advertising. When you look on their wrist you'll nd a classic timepiece, not a cry for attention–– because they know true value comes from keeping more money in their pocket.
Your satisfaction is 100% guaranteed. Experience the Jet-Setter Chronograph for 30 days. If you're not convinced you got excellence for less, send it back for a refund of the item price.
We're
Absolute best price for a Absolutewithchronographfully-loadedprecisionaccuracy...ONLY$29!bestpriceforafully-loadedchronographwithprecisionaccuracy...ONLY$29! • Precision crystal movement • Stainless steel case back & bracelet with deployment buckle • 24 hour military time • Chronograph minute & small second subdials; seconds hand • Water resistant to 3 ATM • Fits wrists 7" to 9" Stauer ® 14101 Southcross Drive W., Ste 155, Dept. JCW494-01, Burnsville, Minnesota 55337 www.stauer.com † Special price only for customers using the offer code versus the price on Stauer.com without your offer code. Limited to the first responders1900tothisadonly. "See a man with a functional chronograph watch on his wrist, and it communicates a spirit of precision." — AskMen.com®
With over two million timepieces sold (and counting), we know a thing or two about creating watches people love. e Jet-Setter Chronograph gives you what you need to master time and keeps the super uous stu out of the equation. A classic in the looks department and a stainless steel power tool of construction, this is all the watch you need. And, then some.
The Florida Keys ONLY Tournament Series IslamoradaTournamentSailfish Dec. 1 Kick Off Dec. 2-4 Fishing Dec. 4 Awards Islamorada Fishing Club TournamentSailfish Jan. 17 Kick Off Jan. 18 Fishing Cheeca Lodge & SpaTournamentPresidential Jan. 20 Kick Off Jan. 21 & 22 Fishing www.islamoradasailfishtournament.com Call Dianne Harbaugh for more information at 305-522-4868 Gold Cup Awards Banquet • Jan. 22 F lorida K eys G old C up s eries I S LAMORADA SAILFI S H TOURNAMENT
For more information, go to Barefootcatsandtackle.com.
'a -
Starting this month, the larger gags will be so close in that it'll shock you. Don't run too far, or you'll run over some of the biggest fish of the year. Go wherever you jig up your cigar minnows and sardines, and the gags will be right there. When you get a few baits in the well, it's a good idea to have at least one person put a bait right back down.
the possibilities of spawning. The same places will hold large seabass, as well. I love to eat grouper, but the way I grouper fish also produces large seabass, which I think are even better than grouper in texture andScampsflavor.
'a - Ahi
This is the time of year that can make even me look good. The large male gags have started staging up on nearshore structures, wrecks and traditional bait-holding bottom. The scamps and large snappers have started a transitional move to their deeper wintering grounds. Water temps will soon draw a line in the water that clearly shows you where to fish.
FORFAMILYscotthawaii.comRUNINHAWAII90YEARS
After all, that is why the gags are there. They are eating the same baits that you're catching. They come inshore to a place that holds bait, so all the smaller females have plenty to eat while they are discussing
Hanapa Marlin
I also like to take pinfish from the marina as a "bird in hand" for bottom fishing. The beauty of putting a live sardine on a jig and sending it to the bottom is that EVERYTHING down there eats them. The beauty of sending a pinfish, grass grunt or sailors choice to the bottom is that everything down there would love to eat them, but can't. They can't get their mouths around the bigger baits, but the ones that can are the fish you want to catch. Go enjoy the bounty of the season!
Ahhhh, yeah! This is the time of plenty. Now is the time of year to have a community-sized fish stew to clear out all the vacuum-sealed stuff in the freezer. You've got to make some room for freezer-stuffing grouper, snapper and seabass.
COASTALANGLERMAG.COM • THEANGLERMAG.COM OCTOBER 2022 NATIONAL 7
Once onshore you can take it a step further showing your fellow anglers your catch of the day wearing "slippahs" from Scott Hawaii.
Tim Barefoot
BIG BOTTOM FISH ARE THE BOUNTY OF FALL
I
and snappers hold a special place in my heart. Starting right now, they should be going off! It's time consuming to stop on the way out a jig up bait. However, a 15- or 20-minute bait stop could make the difference between a good day and a great day. When you find bait in numbers, it doesn't take long to rack up. I like to keep a Sabiki angler on each side of the boat handing me baits to dehook into a bucket in the center of the boat. Once I get 20 or so baits in the bucket, I pour them into the livewell and repeat until there's enough.
love spring and summer fishing, but let me say this loud and clear: I live for fall and winter fisheries!
You raise the flags of the fish just caught to show you weren't skunked.
Hanapa
8 NATIONAL OCTOBER 2022 COASTALANGLERMAG.COM • THEANGLERMAG.COM www.MitziSkiffs.com • www.CHawkBoats.net TO FIND YOUR NEAREST DEALER, VISIT US ONLINE: 25' C-Hawk CC .comwww.ORBACKCOUNTRYOFFSHORE? LET'S GO!
THE ALTERNATIVE TO Request a quote! • suzukirepower.com • 1-800-545-4574 Mastry Engine Center Clearwater COMING SOON Volsuia County McKenzie Marine St. Augustine Atlantic Marine Store Hialeah Calusa Certi ed Marine Cape Coral Bayfront Yacht Works Siesta Key On-Site Marine Ruskin Innovation Marine Corp. Sarasota Lou's Marine, Inc. Gulf Breeze Marina One Deerfield Beach Boat Services Group Key West Twin MarineScrewsService Fort Myers MarineCustomService Panama City Oyster City Suzuki ApalachicolaMastry Engine Center has received the 2018 Suzuki Marine Super Service Award and has been ranked #1 in Suzuki Marine US Sales! 58 YEARS OF REPOWER EXPERIENCE! Repower packages designed to best fit your needs and not stretch your budget. Financing available. All Suzuki repowers come with the new Suzuki 5-year factory warranty. Suzuki RePower Centers are stationed around the southeast to help with your Suzuki service and repower needs. Performance Bulletin Available

Optimize Your Drift Drift-It Point Target Your Spot Fish-ItRangePointRings Track Your Distance Drift-It, Fish-It...Catch It! Stop wasting time and fuel. Furuno's exclusive Fish-It and Drift-It features remove the guesswork and keep you on the fish! Determine your best drift the first time, so you'll hit your favorite spot every time. Standard feature for all NavNet TZtouch3 MFDs Pick the best spot with help from your chart, Fish Finder, or DFF3D Multi-Beam Sonar Drift hot spots like the pros Also can be used to set anchor Select drift times from 3-20 minutes Go on a power trip with Get the whole story at NavNet.com Scan me to see it in action!
• Bait Chucker: Always derogatory term used by y shers to describe any other type of angler. "I think that bait chucker was jealous of my tweed cap."
Bank of Despair: e opposite of honeyhole, this is an area known for not producing sh. "Man, I wasted three hours over there pounding away on the bank of despair."
• SALE
• Damn Carp: A sh caught by an angler that is any species other than the intended target. "I thought it was a big largemouth, but it's just a damn carp."
THE LANGUAGE OF ANGLERS
Dink: Synonymous with peckerhead, a dink is a very small sh. "Look at this dink. It's smaller than the plug it ate."
• SAVE • CALL NOW • SPECIALS
KEENSBUILDINGS.COM
Dreaded Frustrations: e downward spiral of being so ustered by your poor angling performance that you seemingly can't do anything correctly. "I was slaying them until I hung my lure on the bottom. en I broke my rod tip trying to get it loose and the dreaded frustrations set in. I couldn't do anything right the rest of the day."
Easy Release: A sh that shakes the hook right at the boat. Counts as half a sh in informal shing competition. "Oh, well. Easy release. It was a little peckerhead, anyway."
nglers have their own languages. We make up words or phrases to describe situations we frequently encounter on the water. Some of these phrases are quite amusing, and some are too colorful to be used in print. Like regional dialects, they vary from location to location and even from boat to boat. Without further ado, here are some of our favorite angler idioms.
Yahoo: Refers to anyone on the water other than the anglers in the group using the term. "We went to our honeyhole, but there were a bunch of yahoos already in it."
Reef Donkey: Derogatory term for greater amberjack. "We were dri ing baits for kings, but all we caught were reef donkeys."
• STEEL
Pellet Pig: Derogatory term for sh that reach large size because of a feeding program. " at yahoo thought he caught a trophy, but those pellet pigs are trained to eat hooks."
• SALE
• STEEL BUILDING
• SAVE • STEEL BUILDING
4 FLORIDA OCTOBER 2022 COASTALANGLERMAG.COM • THEANGLERMAG.COM
• Mud Dart: A bill sh that dies when released and sinks nose down,
presumably to stick in the mud on the bottom of the ocean. "Keep hauling sail sh in the boat for photos, and you're going to keep throwing back mud darts. "
• Bucket Sitter: Sometimes derogatory term for someone who shes bait from the shore. "Look at those bucket sitters over there sitting on their buckets and drowning worms."
Share your favorite angler idioms with us on our Facebook page: Coastal Angler & e Angler Magazine.
By Nick Carter
• SALE
• NEW HABITABLE SINGLE AND TWO STORY TINY HOMES
A
Leroy Jenkins: Derived from an Internet video game meme, this exclamation is used in kayak shing when you race ahead of your shing buddies to be the rst one on the water. "Y'all can keep mucking around on the boat ramp. I'm going shing! Leeeroooy Jenkiiins!"
• CARPORTS
REPOWERThereisaReasonMoreProfessionalsChooseSuzukiRePower – It Simply Makes Sense When you purchase a new Suzuki outboard from an authorized Mastry RePower Center you qualify to become a member of the Mastry Suzuki Owner's Edge. Owners receive an identification card that provides them with important information about their Suzuki outboard motor as well as a passport to additional benefits during ownership. Members enjoy a detailed engine maintenance schedule, Mastry Suzuki RePower Trade Program and special pricing from Mastry Suzuki Partners. THE ALTERNATIVE TO BUYING A NEW BOAT When Considering A Repower, Consider These Factors: •Mastry Suzuki RePower Centers have decades of repower experience providing proper rigging, controls, propeller matching and in water testing •With a Mastry Suzuki RePower, owners gain improved performance, less noise and greater reliability •Options that will fit most any budget, financing available •Mastry Suzuki RePower's exclusive Owner's Edge Program* •All Suzuki RePowers come with Suzuki's 5-years of protection suzukirepower.com | 1-800-545-4574 *Get with the Program! With 13 Locations Across Florida There is a Mastry Suzuki RePower Center Near You • With Why are More Professional Mariners Choosing Mastry Suzuki RePower - Power, Reliable, Durable & Best Value • Mastry • Options • Mastry • All
Le shes topwaters with a size 4000 Stradic CI4+ with a 7'6" G. Loomis GCX Inshore spinning rod with medium power and extra fast action. is set-up casts heavy topwater lures well and o ers excellent control for walking the dog.
DOUGHERTYSTEPHENOFCOURTESYIMAGE
the Indian River Lagoon for years, G. Loomis ambassador Capt. Willy Le can't help but reminisce of the days when the Banana River was brimming with seagrass.
Once a red sh is spotted, it's important to be patient and accurate. Nothing will spook a red sh faster than an improperly placed bait falling from the sky.
track a topwater lure and overtake the o ering a er several failed attempts.
Anglers imparting the appropriate snap of the rod tip can mimic distressed bait sh on the surface, but it's important to choose a lure with proper action for the conditions. When the Banana River becomes moderately choppy, loud topwater lures draw in predators. On calm days, it is better to sh a quieter walking lure.
Since these reds aren't tailing, spotting them means you're looking for wakes. Mature red sh push wider wakes at a steady pace in a straight line. Mullet make those darting V-shaped wakes.
COASTALANGLERMAG.COM • THEANGLERMAG.COM OCTOBER 2022 FLORIDA 7 "Hey Guys, get your hair back with HairClub!" ©2022 HairClub. All rights reserved. NO PURCHASE NECESSARY TO WIN. Open to 18+ residents of the contiguous U.S. and Washington, D.C. Promotion is void in Alaska, Hawaii and where prohibited. Consultation must be completed in order to be enter for a chance to win. Promotion ends on 12/1/2022 at 11:59 p.m. EST. Subject to Official Rules at www.hairclub.com/darcizzle Schedule a FREE consultation for a chance to win a fishing charter with Darcizzle.* Call 800.293.5641 or Visit hairclub.com/darcizzle for complete details. HairClub is the leading provider of total hair loss solutions. If you are looking to get the hair you want, schedule a FREE consultation to receive your personal TrichoView® Hair and Scalp Analysis plus a customized plan to get you the hair you deserve. Check out these real clients and results. Gordon M. regrew his hair with the custom at-home and in-center treatments. Tommy R. replaced his hair with the latest in integrated hair replacement solutions. Nolan W. chose the surgical option to restore what he lost. Over a lifetime, red sh might feed along shallow estuarine waters, brackish creeks, grass ats, mangroves, oyster beds, bridges, inlet jetties and beaches from Texas to the Chesapeake Bay. ey know no boundaries and are not particular about water depth or clarity if forage is present. Yet, red drum in Florida's Banana River don't ever leave.
Shimano's Current Sniper topwater baits o er anglers a lure for every scenario. e Current Sniper Walk 110F Silent is a walking bait that lacks internal rattles and excels in calm conditions. e Current Sniper Walk Hi-Pitch emits a high-pitch rattle for rougher water.
FOR
e 31-mile-long Banana River is an isolated lagoon. Here, marsh and mangrove ecosystems ourish in a complex landscape where there is uniquely no tidal ow. ere are no freshwater tributaries, no saltwater inlets, and the only outlet to the Atlantic Ocean is through a lock at Port Canaveral.ACocoa Beach local who has been guiding
Visit coastalanglermag.com for more.
"We can sight during all hours of the day and in all weather conditions, but since red sh are focused on feeding early and late in the day this is when you will encounter the most cooperative topwater bite. With overcast conditions the topwater shing can stay strong throughout the day," said Le.
" is at right here was so lush, the grass was thick as could be. But with water quality issues fueling massive seagrass die-o s, miles of underwater vegetation have been reduced to barren sand ats. ere are still giant red sh, though they've changed behavior and where they would once tail and search out the sea oor, they now just cruise around looking for bait sh," re ected Le.
Throw Topwater BANANA RIVER REDS
With a blunt snout and downturned mouth, red sh are designed for rooting. ey aren't wellequipped for attacking prey on the surface, but they certainly display thrilling surface strikes as they
When you're casting into the wind, you should also adjust the way you cast. In long-casting lingo, I use the term "banner" to refer to the section of line between the rod tip and the lure. You should limit the banner when you're shing in wind. Instead of using an overhand cast, try a sidearm cast, which limits the lure's exposure to the wind.
Again, we all love to sh topwater, but distance-dedicated lures are in many cases the better option. In windy conditions with breaking waves and ripping currents, I de nitely prefer a 3-ounce plug or a 4-ounce darter over a topwater, which weighs half as much.
Legendary angler Patrick Sebile is a world record holder and an award-winning designer of innovative lures and shing gear. Check out his creations at abandofanglers.com.
8 FLORIDA OCTOBER 2022 COASTALANGLERMAG.COM • THEANGLERMAG.COM CATCH SALES • PARTS • WWW.ATTRAILERCENTER.COM407-892-1100SERVICE4820E.IRLOBRONSONMEMORIALHWYST.CLOUD,FL34771 SERVICE Preventative Maintenance • Complete Rebuilds All Trailer Types Serviced PARTS Marine Grade Stainless Steel Parts Custom Axles • Accessories Large Parts Inventory For All Trailer Types. SALES We Have Aluminum Boat, Pontoon, PWC Trailers Available as well as Utility, Equipment, Dump And Enclosed Trailers. Serving Your Trailer Needs For Over 35 Years 150 PLUS TRAILERS IN STOCK READY FOR DELIVERY!
PATRICK SEBILE
A long banner also reduces your control of the lure once it hits the water. A line belly in the water pulls your lure sideways on retrieve. You also won't be in direct contact with the lure. is a ects the lure's action, and you might also miss bites.
the past few months, we've discussed almost everything concerning long-distance lures. We've touched on elements an angler can control such as lure choice and the proper rod, reel and line con guration. Now I want to discuss the uncontrollable elements of weather and water conditions. ey play a big role in how far you are able to cast and how e ectively you can sh a lure.
Give it an honest try. I'm sure you'll be convinced that distance lures are superior to lighter models of similar dimensions in many situations.
LURES
LURESLONG-CASTINGINTHEWIND
If the wind is full force into your face, this adds drag on the lure and line during a cast. A high-density lure cuts through wind more e ciently than a oating lure. Everyone loves shing topwaters, but in windy conditions they are not the best choice. A denser lure always casts farther than a oating lure.
On a beach, with the lure on the sand, allow a banner of 50 to 70 percent of the rod's length. is shorter banner limits the size of the belly in the line when you cast. e larger the line belly is, the more casting energy is taken from the lure's ight, resulting in reduced distance.
Typically, a long-distance model weighs 30 to 100 percent more than a oating one of similar dimensions. If a oating lure weighs 2 ounces, a similar sized distance-dedicated lure will weigh 3 to 4 ounces. at's really a big deal, especially in wind.
Water conditions are another factor worth consideration. Big waves, whitewater and strong currents limit your control. ese conditions are also o en the best conditions for sh to bite. When you cast, engage the reel before the lure hits the water and reel up slack. is gives you a straighter line for better control of the lure, better swimming action and more direct contact with the lure. When you can feel the lure, you can feel the bite and ultimately increase your hook-setting ratio.
Over
PONTE VEDRA BEACH
WEST PALM BEACH
814 A1A N., Suite 103 Ponte Vedra Beach, FL 32082 904-285-0014
CORAL GABLES 2320 Salzedo St. Coral Gables, FL 33134 305-461-8360
LAKE MARY 80 Colonial Center Pkwy. Lake Mary, FL 407-804-822032746
SOUTH FLORIDA
ST. PETERSBURG 131 2nd Ave. N. St. Petersburg, FL 33701 727-821-4139
TAMPA 1700 N. Westshore Blvd. Tampa, FL 813-282-111833607
BOCA RATON 225 NE Mizner Blvd., Suite 100 Boca Raton, FL 33432 561-392-6746
WINTER PARK 480 N. Orlando Ave. Suite Winter100BPark, FL 32789 407-622-2444
ORLANDO 7501 W. Sand Lake Rd. Orlando, FL 407-226-390032819
NORTH FLORIDACENTRAL FLORIDA
FORT LAUDERDALE 2525 N. Federal Hwy Fort Lauderdale, FL 33305 954-565-2338
AVENTURA 2980 NE 207th St. Aventura, FL 305-912-126633180
Make steak the catch of the day with a celebratory stop at Ruth's Chris. After a day on the water, join us for signature sizzle, hand-crafted cocktails and legendary hospitality.
BONITA SPRINGS 23151 Village Shops Way Suite 101, Coconut Point Mall Bonita Springs, FL 33928 239-948-8888
CATCH OF THE DAYFROM SEA TO SIZZLE
651 Okeechobee Blvd. West Palm Beach, FL 33401 561-514-3544
SARASOTA 6700 S. Tamiami Trail Sarasota, FL 941-924-944234231
JACKSONVILLE 1201 Riverplace Blvd. DoubleTree by Hilton Hotel, Jacksonville, FL 32207 904-396-6200
10 FLORIDA OCTOBER 2022 COASTALANGLERMAG.COM • THEANGLERMAG.COM ALL REAPER RODS FEATURE THE www.americantackle.us BRAND FEARTHEREAPER AS WELL AS OTHER AMERICAN TACKLE COMPONENTS FOR ONE OF THE MOST DURABLE RODS ON THE MARKET WWW.FACEBOOK.COM/REAPERRODS
Normally, blacktips leave Florida in the
I personally use a 5/0 extra strong circle hook with 2 feet of wire leader attached to 5 feet of 80-lb. test. e largest IGFA recorded blacktip shark weighed in at 270 pounds, 9 ounces. It was caught out of Malindi Bay, Kenya in 1984.
On slow days when the bite is dead and you're catching nothing but cat sh, swim one out or cut into chunks. If there are any blacktips around, they will eat it. A lot of anglers use huge hooks and long wire leaders, which will require you to get a shore-based shark shing permit to legally sh for sharks in Florida.
BLACKTIPSCATCHING fromBeachthe
Blacktip sharks can be found year-round in the Atlantic from Virginia through Florida. ey have been known to migrate up to Cape Cod, Massachusetts. ough they do prefer more tropical temperatures, a little cold won't deter them from their mission. Blacktips are de nitely not picky when it comes to hunting grounds. ey can be found in bays, estuaries, coral reefs and mouths of rivers.
shing in strong current, simply walk down the beach as the bait dri s. On days when they are hanging out too far for casting, swim a live bait out. Blue runners, jack crevalle and palometa work well for this.
ese sharks are viviparous, meaning the pups develop inside the female's body, unlike other sharks that lay egg sacks. Most pups will be le in shallow nurseries due to the high amount of prey and few predators, which increases their chances of survival.Fishing for blacktip sharks is fairly easy; however, there are days when they can be nicky. Paying attention to speci cs can increase your number of bites. On clear-water days, sharks tend to stay just on the backside of the last sandbar. On milky water days, they can literally be at your feet as they patrol up and down the rst drop.eyde nitely will eat dead bait, but will hit live and fresh-dead bait without hesitation.
By Emily Rose Hanzlik
D
e most productive way to catch blacktips is to use a 6- to 8-inch chunk of whatever fresh sh you have. Toss it out without a weight. If you are
uring the mullet run on Florida's east coast, plenty of blacktip sharks cruise past our beaches with huge schools of bait. Even if you plan to sh for blacktips outside of mullet-run season, you are still in luck. Finding a blacktip shark de nitely isn't an issue due to a large and growing population of these big sharks.
spring to travel up the coast to Georgia and the Carolinas to mate in summer. Blacktips participate in internal fertilization, meaning that each female is separately impregnated, which will then result in 4 to 11 pups every two years.
Before blacktips begin migrating for the mating season, they will actually be in gendersegregated schools that come together only for mating. Blacktips tend to be separated due to the male's highly aggressive drive towards the females, which could result in serious injury.
Emily Rose Hanzlik holds 51 IGFA world records in various categories. She hails from West Palm Beach, where she has a part time Bow n Guide Service as well as shing classes for Jr. Anglers. Find her on Social Media @emilyhanzlikoutdoors.
Photo courtesy of Je Tomalo
COASTALANGLERMAG.COM • THEANGLERMAG.COM OCTOBER 2022 FLORIDA 11
Tilapia… blue tilapia, to be exact, are one of more than a hundred species of cichlid native to the Middle East and Africa that are all called tilapia. is is similar to the way U.S. anglers refer to multiple species of sun sh as bream.
waters o Key West to the many famous bass shermen that made Lake Okeechobee a destination for anglers from around the world, Florida has a rich angling history and amazing shing for everyone.
e blue tilapia (Oreochromis aureus) is the most popular of the tilapia and the species most commonly found here in Florida. It is also a very important species in the sh-farming world due to its fast growth, salinity tolerance and the fact that it can be stocked densely. Tilapia have a long history. Farming of Nile tilapia goes back to ancient Egypt, and its importance is noted by the ancients using the sh as a symbol of rebirth.
e Blue Tilapia is considered invasive to the United States. It was introduced to Florida in the 1960s by stocking and experimental studies by both private and state entities. Tilapia are here to stay and can be found in a wide variety of locations, from lakes and ponds scattered around the state to many freshwater and brackish rivers and streams. For anglers, canals found in almost every neighborhood can be shing paradise.
is species is very fast growing for the rst few months, and then they settle in and grow to the 5-pound class by three to ve years of age. e Florida state record was caught by Pamela Henry, of Stuart, from of a dock on the St. Lucie River in 2011. e 9-pound, 6-ounce beast is also recognized by the IGFA as the all-tackle world record.
By Rex Hannon
Perhaps a lesser-known draw to the Sunshine State are the exotic species that have taken hold here. ese are the non-native, sometimes invasive species that would otherwise require expensive travel for anglers to target. ey are here, so we might as well sh for them.
It's 8:17 p.m. Been out on the lake for hours. But there are more fsh in the water. And my LBP batteries are still going strong. Maybe One More Cast . . . the offcial battery of "One More Cast..." Visit lithiumbatterypower.com Or call us at 727-233-9831
I'm sure everyone reading this can target blue tilapia within a short distance of home. ey are great ghters that stand toe-to-toe with any species of similar size.
ere is no minimum size or bag limit for tilapia. e FWC encourages anglers to catch and eat them like any other invasive species. e white akey meat is mild, and wild-caught tilapia are superior to the farm-raised tilapia sold in grocery stores.
Blue Tilapia
Exotic Species in Your Backyard:
F
Tilapia can be nicky eaters, which poses a puzzle for anglers. eir diet consists mainly of green algae, diatoms and small invertebrates. I have witnessed other anglers catching this species on corn, dog food, hot dogs and bread balls. I have caught good numbers and some very large examples with a y rod. I caught most of these sh on Clouser Minnows and other similar small bait sh patterns.
Rex Hannon is a regular contributor to Coastal Angler Magazine. See more from Rex at coastalanglermag.com.
TAM Staff
FWC is considering changing regulations to protect large striped bass in the lower Ochlockonee. These large broodfish are important for striped bass breeding programs, and they are also used to breed the sunshine bass stocked in Florida waters.
With
COASTALANGLERMAG.COM • THEANGLERMAG.COM OCTOBER 2022 NORTH FLORIDA 1 Family Owned & Operated for 45 Years Largest Ship Store in Lake & Sumter Counties Leesburg 352787-5792 Crystal River www.NoblesMarine.com352795-1119 437 N Palmetto St. Leesburg 1931 NW Hwy 19 Crystal River
so much awesome Florida fishing to go around, it's rare to hear much about striped bass fisheries in the sunshine state. It's amazing to think that stripers once thrived across much of the Gulf Coast, making spawning runs up freshwater rivers from the Suwannee River west to the mighty Mississippi.Thesedays, Gulf striped bass fisheries are propped up by multi-state stocking programs. Stripers require as much as 100 miles of free-flowing freshwater river for successful reproduction, and that doesn't really exist on the Gulf Coast anymore. Through damming and other habitat alterations, people have pretty much wiped out the potential for a natural life cycle for Gulf stripers. Some successful reproduction takes place in different locations, but it is
PHOTO BY NICK CARTER
Therelimited.are,however, some pretty good Florida striped bass fisheries thanks to breeding and stocking programs. One of these exists at Lake Talquin, west of Tallahassee, and in the Lower Ochlockonee River, which it feeds. This system is the primary source of adult broodfish for Gulf striped bass breeding programs across the Southeast, according to a report from the FWC, and in the last seven years numbers of these adult breeders have declined.
By
Ochlockonee downstream of the Jackson Bluff Dam at Lake talquin.
For more information, go to MyFwc.com.
Currently, Florida striped bass from the Suwannee River west, which includes the Ochlockonee, are managed under a three fish per day limit with an 18-inch minimum length.
The proposed regulation change calls for a daily harvest limit of three fish person, with no minimum size limit and only one of the three fish may be longer than 24 inches. These regulations would apply to the lower
REGS CHANGES PROPOSED FOR OCHLOCKONEE STRIPERS
Dear FishingReader,magazines
Just give us a call. We are interested in expanding throughout the U.S. and abroad.
A RARE MEDIUM WELL DONE Franchise.CoastalAnglerMag.com Franchise Opportunities Available Worldwide ✓ Read the latest issue ✓ Daily updates ✓ Latest in fishing industry ✓ New contests every month ✓ Epic videos ✓ Submit photos to our bragboard and much much more! CoastalAnglerMag.com
Coastal Angler and The Angler's franchise publishing system have produced a field of co-publishers united in their mission of giving the best local fishing information possible. By working with the local fishing guides and charter captains, these copublishers have their fingers on the pulse of what's happening across the different fishing areas every month—month in, month out. If your plans have you traveling to a new area this summer, check out www.coastalanglermag.com and review the same quality of fishing information that you are used to reading in your area from any area in the magazine's current footprint.
Want more information about joining Coastal Angler or The Angler Magazine's team of local fishing magazine publishers?
For more detailed information, give us a call at (321) 777-2773, email info@coastalanglermagazine.com or visit franchise. coastalanglermag.com.
2 NORTH FLORIDA OCTOBER 2022 COASTALANGLERMAG.COM • THEANGLERMAG.COM Franchise AvailableOpportunitiesNationwide! If you love the outdoors and dream of being in business for yourself, now is the time to choose a Coastal Angler or The Angler Magazine Franchise. Established Brand • Proven Systems Training & Ongoing Support Work From Home • Be Your Own Boss • Alabama - SOLD • Connecticut/Rhode Island • Charlotte, NC • Destin/Pensacola, FL - SOLD • (Coastline,Georgia Savannah) • Lake Erie, Ohio - SOLD • Lake Michigan • Long Island, NY • New Jersey • Okeechobee, FL - SOLD • Miami, FL - SOLD! • Panama City, FL - SOLD! • Tallahassee, FL/SW GA • New Hampshire • New Orleans, LA • North (Raleigh,CarolinaWilmington) • South (HiltonCarolinaHead,Myrtle Beach) • Texas (Coastal, Houston) • ...YOUR HOMETOWN! 321.777.2773 info@coastalanglermagazine.com Don'tfranchise.coastalanglermag.comseeyourlocation? Ask one of our specialists about franchise availability in your area. MAGAZINE!YOURPUBLISHOWNFISHING
are not really that common, but Coastal Angler Magazine and its interior freshwater publication, The Angler Magazine, are changing the landscape of the publishing industry. Today, these localized fishing magazines are available for the marine enthusiast throughout the continental U.S. and Costa Rica. These publications are distinctly different, but all provide great information for anyone interested in the pursuit of fishing.
bEN MARTIN EDITOR IN CHIEF
COASTALANGLERMAG.COM • THEANGLERMAG.COM OCTOBER 2022 NORTH FLORIDA 3
1. An independent assessment of the red snapper population is now underway – CCA is
recreational data in the South Atlantic, CCA is urging South Carolina, North Carolina and Georgia to join Florida in creating state-based systems to provide more timely and accurate data for management of the recreational sector. Nothing in NOAA Fisheries management history of the recreational sector indicates a federal permit will produce the desired results or be used entirely as originally intended. Given recent comments from federal managers, CCA is concerned such a permit in federal hands will eventually be proposed to limit entry in the recreational fishery.
The
2. Recreational discard data is perhaps the least reliable in the entire management system, relying solely on angler recall and interpretation. New data collection systems – designed and managed by the states – are desperately needed for more timely and accurate estimates.
The meeting was held as this magazine was going to press, so results of the Council's decision were not yet available.
CCA SPEAKS OUT ON POTENTIAL ATLANTIC BOTTOM FISHING CLOSURES
urging the Council to delay any decisions until the results of that assessment are known and verified. A similar assessment in the Gulf of Mexico produced a completely new understanding of the red snapper population there.
While the red snapper population is now regarded as abundant as it has ever been in modern times, NOAA Fisheries is insisting that more severe restrictions are necessary to rebuild the population to a fully recovered status. According to NOAA Fisheries, that status cannot be bestowed until older fish – 30, 40 and even 50 years old –are present in the population, which means these severe restrictions could be in place for decades.
4 NORTH FLORIDA OCTOBER 2022 COASTALANGLERMAG.COM • THEANGLERMAG.COM
Coastal Conservation Association has urged caution during the recovery of red snapper from historic lows, but is objecting to the massive closures as completely misguided in the face of a booming red snapper population. Among the many objections to the current proposal:
If a mechanism is needed to improve
3. Federal fisheries management must be reformed to address the absurdity of a stock being declared above historic abundance, yet still being classified as overfished and undergoing overfishing, and therefore subject to wildly inappropriate regulations.Theother related item up for discussion is Snapper Grouper Amendment 46, which is exploring implementation of a federal reef fish permit. CCA has long supported better data and efforts to define the universe of anglers for improved management. As noted above, there is a critical need for more accurate and timely estimates of the recreational catch and discards. However, NOAA Fisheries track record of recreational management is exceptionally poor.
South Atlantic Fishery Management Council met in mid-September in Charleston, S.C. Two items on the agenda were of particular significance to offshore anglers. In Snapper Grouper Fishery Regulatory Amendment 35, NOAA Fisheries is attempting to force massive time and area closures that would result in severe, negative economic and cultural impacts to recreational fishing, boating and coastal communities in the South Atlantic in order to prevent red snapper mortality even as bycatch.
See our New & Pre-Owned Inventory at atlanticcoastmarine.com AtlanticCoastMarine.com(904)-221-079313748AtlanticBlvd. Follow Us On: CUSTOMER SATISFACTION IS OUR ONLY GOAL! ATLANTICCOASTMARINE ANGLER DRIVEN
Jacksonville Marine Charities concluded the 42nd Greater Jacksonville Kingfish Tournament with a BANG! We want to give a big thank you to all of the anglers and participants that came out to make this a special community event. We also want to give a huge shoutout to our operating committee and volunteers. You are the backbone that helps make it all come together. Here is a rundown of the top winners,   Junior Offshore winner , Hayden Wildes from Hilliard Fl with a 36.03 lb King  Our Lady Angler winner, Kaylee Canady
2 NORTHEAST FLORIDA OCTOBER 2022 COASTALANGLERMAG.COM • THEANGLERMAG.COM
from Jacksonville with a 27.49 King  Our Aggregate winner Tommy Rady from Neptune Beach with a two fish total 71.63  The Grand Prize large fish, Joe Shugart from St. Augustine with a 49.77 king.Congratulations to all of these anglers and to all that placed. We were proud to extend the large fish and aggregate payouts by 4 spots each because of the increased support this year.  Let's do It again in 2023.
Thank you again to this great community. With your help we are able to do good things all year long. Next up is a dock event for the Child Cancer fund September 24th and then a dock event for the Head on Youth impact November 12th. If you would enjoy helping some deserving children have a great experience come out and volunteer for a couple of hours and load up the smiles. You can reach us thru our office 904 251-3011.  www.kingfishtournament.com
Kingfish wrap-up - The 2022 GJKFT is in the books
PRESS RELEASE
Jacksonville Cannon Marine
Company
Palm Cove Marina Phone, www.jaxboatsales.comJacksonville,14603904-330-0433BeachBlvd,FL32250
Boat Sales - a
Since 1931 (Yes – 91 years), the Adamec family has proudly fulfilled dreams on the road with their Harley-Davidson dealerships and inventory of all powersport products. The Adamec name is quickly associated with the place-to-go for people desiring a customer experience that far-surpasses what is expected of powersport dealerships. What makes us different? We go beyond customer satisfaction. We want to give you an experience you'll never forget. For 4 generations, the core principle remains the same:
Go above-and-beyond for the customer. Regardless of what it takes –MAKE THEIR DAY.
After years of looking at the boating market, Alec Adamec realized there was a huge need in the North Florida area – A boat dealership that will put the customer first.
Come and see us today!
PRESS RELEASE
Adamec - Beyond Bikes
After 90 years of delivering the ideal customer experience to customers in the powersports market, the Adamec family thought it was about time for a splash.
Adamec Marine is a full-line, Authorized Mercury Marine dealership carrying new and pre-owned vessels, ranging from jetskis, pontoons and tritoons, flats boats, bay boats, to offshore boats and more! We have boats in stock year-around and receive them weekly.Weare the Northeast Florida dealer for Blackfin, Crownline, Finseeker, Starcraft, K2, and Turner Boatworks. On top of the new boats currently in stock, we are also more than happy to place custom orders that you will be fully in-tune throughout the build process. We are here to make your dreams become reality – When you decide what boat you want, we deliver your boat with a full tank of fuel, polished with a Coast Guard safety kit inside, ready for you to turn the key, and go make memories!
Adamec Marine was launched in 2021 in Orange Park, FL. Regardless of what you're looking for – Sales, Service, Parts, Fiberglass Work, Electronics Installation and more – We're here to make it happen for you.
4 NORTHEAST FLORIDA OCTOBER 2022 COASTALANGLERMAG.COM • THEANGLERMAG.COM
6 NORTHEAST FLORIDA OCTOBER 2022 COASTALANGLERMAG.COM • THEANGLERMAG.COM Marine Fabrication at its Finest!! 912 439-3609 office • 904 891-8997 mobile • info@CCTFAB.com www.CCTFab.com 979 Point Peter Road St Marys, GA 31558 10% off on T Tops with this ad… offer good until Nov 31st 2022 52' Viking Sportfish 904 . 206 . www.bluewaterssportfishing.com6798 NE Florida Premier Offshore Fishing Charter * Out of beautiful Amelia Island fl * Satellite Wi- Fi/Phone and Email Avail * All inclusive full day trips fishing the blue waters of the Gulf Stream * Full complement of Tournament gear * For Trolling, bottom fishing and deep dropping *Lunch and Beverage and Fish cleaning with packed travel coolers DayTime Swordfish trips upon request.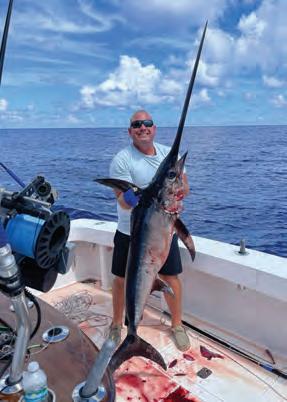 8 NORTHEAST FLORIDA OCTOBER 2022 COASTALANGLERMAG.COM • THEANGLERMAG.COM The Marine Battery Designed for the Professional Sportsman & the Serious Boater Put a Barracuda in your boat! Sizes and types specifically designed to fit virtually any marine Starting,application:Deep Cycle, Dual Purpose, 8 Volt, AGM and GEL batteries, Gas Engine Starting, Diesel Engine Starting, Multi-Battery Systems, House Power, Trolling Motors, Auxiliary Power, GenSet, Communications, and many more Heavy BatteriesDuty Nationwide Warranty Toll free: 1-800-341-7109 Web: www.barracudabattery.com
A SALES AND SERVICE DEALERSHIP
October ends another year of tournaments, Captain of the Year, and all of the boards will get a fresh start. The Club Banquet will move new faces and fresh ideas onto the board of directors as well as celebrate our accomplishments and year together. It has been a great year for us all.
October 22, 2022- annual JOSFC Club OctoberBanquetClub TournamentsNo Tournaments scheduled for
September was great for the Jacksonville Offshore Sport Fishing Club. We have finally transitioned into our beautiful new clubhouse in Mayport. Our meetings are getting back on track. We are working on new guest speakers. The past president's meeting fish fry that was amazing.
make your voice be heard.
our website to keep up with upcoming events, schedules, or any changes. www.JaxFish.com
We open the doors around 6:00 if you want to come early to visit, dinner is at 7:00, and we generally try to get started with the meeting at about 7:30, and we will have a great raffle. All of our meetings are open to the public, you do not have to be a member to attend. We are family friendly so feel free to bring the kiddos!
COASTALANGLERMAG.COM • THEANGLERMAG.COM OCTOBER 2022 NORTHEAST FLORIDA 9
Authorized Release Dealer
Authorized Key West Dealer
Upcoming Events:
JOSFC Board Meeting- Monday, October 3rd Meeting- October 6th Meeting- October 20th speaker TBD
JOSFC - October
Lee Bowman
OUTBOARDOCEANMARINE
In the last couple of weeks, the club has been focused on spreading the word about the SAFMC/NOAA proposed closures, the NOAA proposed slow speed zones, and just trying to get any additional information, links, and email addresses out to make sure we keep our fisheries open and accessible. Watch for updates and please speak up and
CheckOctober.out
NOAA Fisheries is attempting to force massive time and area closures that would result in severe, negative economic and cultural impacts to recreational fishing, boating, and coastal communities in the South Atlantic in order to prevent red snapper mortality even as bycatch. While the red snapper population is now regarded as abundant as it has ever been in modern times, NOAA Fisheries is insisting that more severe restrictions are necessary to rebuild the population to a fully recovered status. According to NOAA Fisheries, that status cannot be bestowed until older fish –30, 40 and even 50 years old – are present in the population, which means these severe restrictions could be in place for decades.  We must not allow our Rights to fish to further be destroyed by a bunch of bureaucrats. On a good note. We will be publishing the kick-off date for the Annual Don Combs Wahoo Tournament soon. It will be in early December.
10 NORTHEAST FLORIDA OCTOBER 2022 COASTALANGLERMAG.COM • THEANGLERMAG.COM larry@redmondyachts.com904-440-1728 NO HASSLE NO WORRIES, WE DO ALL THE WORK. YOU JUST PICK UP A CHECK. WE COME TO YOU: YOUR MARINA,YOUR DOCK,YOUR STORAGE YARD, YOUR HOME LET US SELL YOUR BOAT. OVER 30 EXPERIENCEYEARS REDMONDYACHTS.COM Northeast Fl and Southeast GA
-By Paul Dozier
Have you noticed lately that our Government seems to be taking more of our rights away. ? For example they want to further restrict where you can fish, how you can fish and how fast you can go to get to your fishing spot. The extension of the Snapper closure to include large areas of NO FISH zones is a good example. See next paragraph. What about restricting areas from Maine to Melbourne to a 10 mph speed limit during much of the year to protect Right Whales ? When will this stop, how far will we let them go ? The Marlin Club has participated in and supports the efforts to fight back. I recently participated in Right Whale NOAA Webinar where I could speak/ask a question. I was given 1 minute !  The first question was dodged very nicely. The second question was if the Right Whale regulations proposed go into effect how long do you think it would take  before we could get back to normal. The answer, decades !!! Just like Snapper, once they close something good luck getting it back.
NEFMA A BETTER WAY TO STORE YOUR TRAILERBOAT Sign up now and get first month's rent for $1* * We Pick up and Deliver * Secure Indoor Facility * Washed and Inspected STACKMSTORAGE.COM904.962.9605 * offer good until 10/31/2022 Coupon code: STACK2
TIDE CHART - October Mayport Degaussing Structure 30.3967° N, 81.3950° W ADVANCE MARINE of JACKSONVILLE wE SERViCE ALL MAKES & MODELS OF OUTBOARD EnGinES REPAiRS & REPOwERS YOUR LOCAL AUTHORIZED REPOWER DEALER FOR SUZUKI & TOHATSU, ENGINES / O.E. PARTS SALES 9451 Craven Road Jacksonville, FL 32257 (904)730-3332 SUZUKI AWARD WINNING SERVICE DEALER TOHATSU
JAX
St.
10 Mon 02:48 AM -0.03 L 09:10 AM 6.18 H 03:20 PM 0.13 L 09:36 PM 5.64 H
03 Mon 02:35 AM 4.99 H 08:41 AM 0.90 L 03:15 PM 5.91 H 09:39 PM 1.09 L
TimeHgt Time Hgt Time Hgt
21 Fri 05:56 AM 4.99 H 11:58 AM 1.35 L 06:14 PM 5.42 H
St. Augustine Beach: H: -:07 L: -:15 A City Dock: H: -:04 L: +:09Landing: H: +2:57 L: +2:44
31
Palm Valley ICW: H: +2:20 L: +2:00 Beach: H: -:29 L: -:20
02 Sun 01:33 AM 5.05 H 07:34 AM 0.87 L 02:09 PM 5.93 H 08:35 PM 1.12 L
22 Sat 12:22 AM 1.16 L 06:40 AM 5.29 H 12:46 PM 1.06 L 06:58 PM 5.51 H
26
28 Fri 04:27 AM 0.17 L 11:03 AM 6.35 H 05:17 PM 0.43 L 11:28 PM 5.33 H Sat 05:18 AM 0.35 L 11:56 AM 6.25 H 06:13 PM 0.63 L Sun 12:21 AM 5.21 H 06:16 AM 0.56 L 12:53 PM 6.11 H 07:15 PM 0.81 L Mon 01:19 AM 5.11 H 07:21 AM 0.74 L 01:54 PM 5.97 H 08:19 PM 0.90 L
18 Tue 03:12 AM 4.50 H 09:20 AM 1.81 L 03:38 PM 5.16 H 10:05 PM 1.89 L
01 Sat 12:37 AM 5.16 H 06:32 AM 0.76 L 01:08 PM 5.98 H 07:31 PM 1.05 L
05 Wed 04:49 AM 5.15 H 10:52 AM 0.67 L 05:28 PM 6.03 H 11:38 PM 0.72 L
09 Sun 02:06 AM 0.03 L 08:25 AM 6.09 H 02:34 PM 0.05 L 08:52 PM 5.87 H
17 Mon 02:14 AM 4.51 H 08:23 AM 1.76 L 02:40 PM 5.18 H 09:12 PM 1.93 L
24 Mon 01:41 AM 0.50 L 08:03 AM 5.92 H 02:13 PM 0.48 L 08:22 PM 5.60 H Tue 02:20 AM 0.25 L 08:45 AM 6.16 H 02:56 PM 0.30 L 09:05 PM 5.58 H Wed 02:59 AM 0.10 L 09:28 AM 6.32 H 03:40 PM 0.23 L 09:50 PM 5.52 H 27 Thu 03:41 AM 0.08 L 10:14 AM 6.38 H 04:26 PM 0.28 L 10:37 PM 5.43 H
+/-
Bings
06 Thu 05:51 AM 5.38 H 11:54 AM 0.46 L 06:25 PM 6.10 H
29
14 Fri 05:39 AM 0.95 L 12:06 PM 5.65 H 06:27 PM 1.34 L
Date Day Time Hgt
19 Wed 04:11 AM 4.57 H 10:16 AM 1.75 L 04:35 PM 5.21 H 10:54 PM 1.73 L
07 Fri 12:32 AM 0.45 L 06:47 AM 5.66 H 12:51 PM 0.25 L 07:17 PM 6.11 H
08 Sat 01:20 AM 0.20 L 07:38 AM 5.91 H 01:44 PM 0.10 L 08:06 PM 6.03 H
13 Thu 04:54 AM 0.59 L 11:21 AM 5.86 H 05:38 PM 0.99 L 11:47 PM 4.92 H
04 Tue 03:42 AM 5.01 H 09:48 AM 0.83 L 04:23 PM 5.94 H 10:41 PM 0.95 L
23 Sun 01:02 AM 0.81 L 07:22 AM 5.62 H 01:30 PM 0.75 L 07:40 PM 5.57 H
11 Tue 03:30 AM 0.06 L 09:54 AM 6.16 H 04:06 PM 0.33 L 10:20 PM 5.39 H
30
16 Sun 01:22 AM 4.60 H 07:25 AM 1.58 L 01:44 PM 5.28 H 08:16 PM 1.84 L
25
20 Thu 05:07 AM 4.74 H 11:08 AM 1.59 L 05:27 PM 5.31 H 11:40 PM 1.48 L
12 Wed 04:11 AM 0.28 L 10:38 AM 6.04 H 04:51 PM 0.63 L 11:03 PM 5.14 H
15 Sat 12:33 AM 4.73 H 06:30 AM 1.30 L 12:53 PM 5.44 H 07:21 PM 1.64 L
COASTALANGLERMAG.COM • THEANGLERMAG.COM OCTOBER 2022 NORTHEAST FLORIDA 11
Approximate Correction Times for Other regional Locations
Serving Up More. Fuel up. Cast out. WE ARE YOUR ONE STOP SHOP FOR ALL YOUR BOATING NEEDS SALES SERVICE CLUB RENTALS www.staugustineboatsales.comwww.carefreeboats.comwww.ameliaislandboats.com 904-342-2851 sales@staugustineboatsales.com ST AUGUSTINE BOAT SALES AT THE SHIPYARDS AND AMELIA ISLAND YACHT BASIN
9540 San Jose Blvd., Jacksonville 570 Busch Drive, Jacksonville 4100 Heckscher Drive, Jacksonville 200, Yulee son St., Jacksonville wn Center Parkway, Jacksonville
3210 U.S. Highway 17 S., Orange Park
1900 Mizell Road, (SR312), St Augustine
2520 S. 3rd Street, Jacksonville Beach
12548 San Jose Blvd., Jacksonville
01 Monument Road, Jacksonville McCormick Road, Jacksonville ate Road 56, Wesley Chapel County Road 136, White Springs Valley Road, Ponte Vedra Pavilion Drive, St Johns
10970 U.S. Highway 1 N., Ponte Vedra Beach 2350 State Road 16, St Augustine
5000-60 U.S. Highway 17, Fleming Island 7099 Collins Road, Jacksonville 686 Blanding Blvd., Orange Park
1605 Race Track Road, Jacksonville
10980 U.S. Highway 1 N., Jacksonville 4511 San Juan Ave., Jacksonville 450 Park Street, Jacksonville
12705 Durbin Lake Drive, Jacksonville
COASTALANGLERMAG.COM • THEANGLERMAG.COM
3011 International Golf Parkway, St Augustine
Ethanol-free gasoline is available at these GATE locations.
0 Baymeadows Road, Jacksonville Center Drive, Jacksonville tic Blvd., Jacksonville Ponte Vedra Beach
Put all the slices of the 1lb of bacon in hot oil
2 1/4eggscup whole milk
Southern Gentleman (Kick it up a notch) fried fish secret recipe
Next put fish into egg wash and then back into corn meal mix to double coat fish. When all fish is double coated put fish on large plate and cover with plastic wrap and put in refrigerator to cool.
1 lb package of bacon
24 oz package of corn meal
10 oz package white flour
Put fish into bag of mix and shake to coat fish.
2 tablespoons of Texas Pete hot sauce
until fish floats to surface. Remove fish from oil to a large platter lined with 4 or 5 paper towels to soak excess oil from fish. As soon as fish is taken out of oil and on platter then sprinkle just a bit of salt to season.
Kacie Olsen is a 3rd generation Florida native raised in Stuart, Florida, the sailfish capital of the world. A strong passion for the outdoors lead her to pursue wild game and offshore Regardlessfishing.of
the season, Kacie enjoys traveling across the US and aiding in conservation while creating lifelong memories with likeminded folks.
Put peanut oil in deep well fish cooker
Start placing fish into hot oil and cook for about 3 to 4 minutes or
Ingredients
Cut fish into 3 to 4 inch pieces.
Cook for about 5 minutes or until bacon turns brown and floats to top. Remove bacon. This will season the oil to a taste that is special.. Bring oil back up to 380 to 400F
5 lbs of sheepshead or similar fish skinned and filleted. Dash of salt and pepper to taste
ServesEnjoy. 5 to 8 people.
Kacie Olsen
Put the corn meal and flour into a 1 gal size plastic bag. Shake to mix.
Cooking:
COASTALANGLERMAG.COM • THEANGLERMAG.COM OCTOBER 2022 NORTHEAST FLORIDA 13
2 Gallons peanut oil
Crack the eggs and add to 1/4 cup whole milk into a medium size bowl. Mix with fork until well blended and mix in 2 tablespoons of Texas Pete hot sauce.
Heat oil to 380F
Is it a trick or a treat you'll be offering the fish this month… Whether live bait or an artificial lure is your thing, October is an awesome month to be on the water. The air temps will start to cool down a bit and the fish will be chewin! Tons of finger mullet will be invading the inshore waters in Northeast Florida this time of year and just about every predatory fish that swims will be chowing down on them. It's a great time to use any type of lure that resembles a mullet with top-water and suspending plugs being the go-to for many anglers. We also have a couple good flood tides left so if you missed out on the earlier ones get out there as the flood tide fishing has been great this year.
With the influx of bait, the local inlets will be a great place to fish over the next couple of months. Huge bull reds will be found at all the area inlets. I like to fish an hour or two around either side of the slack tides. Some favorite baits are mullet, pogies, or blue crab. Cut the baits in half to allow the scent to get into the water. Use a fish-finder rig with enough weight to hold
By Capt. Tommy Derringer
The flounder bite has been great all summer long and should only continue to get better as it cools off. Some of the areas biggest flounder come in October and November. Don't be afraid to use some big bait for the "doormat flatties". A 6" mullet seems like a huge bait but a big flounder has a giant mouth and will have no problem getting it down. Just remember to wait a bit after the bite before setting the hook. Patience pays off big time in flounder fishing. Happy Fall and tight lines!
Up shallow the redfish and trout will be on the feed big-time, especially around the concentrations or finger mullet. On the lower tide stages the finger mullet will gang up and when you find an area that is holding the mullet you can be sure there's something underneath them waiting to attack. I really like to fish the low tide along the ICW this time of year. The area where the water last exits a big flat is going to be where the mullet, and the reds, trout, and flounder will be hanging out. A few of my favorite fall lures are any top-water or subsurface plug that resembles a finger mullet and the Saltwater Assassin Sea Shad. Of course, a live or cut mullet will work wonders as well.
14 NORTHEAST FLORIDA OCTOBER 2022 COASTALANGLERMAG.COM • THEANGLERMAG.COM Free Bait! Bring this card to: Genungs Fish Camp (291 Cubbedge Rd. St. Augustine) For any one of the following: 1 doz. live shrimp, 1 doz. Mud Minnows, 1/2lb dead shrimp, any pack of frozen bait. LET US SELL YOUR BOAT! SINCEWWW.JAXBOATING.COM2001•904-249-6225
the bottom and a good-sized circle hook. Just remember to really revive these big reds, as they are the ones responsible for making the future generations of Northeast Florida's favorite inshore fish. There will also still be a few tarpon around at the inlets so it's a good idea to have a freelined bait ready to go as well.
&
ST AUGUSTINES LARGEST BAIT AND TACKLE STORE WE SELL ALL MAJOR BRANDS OF TACKLE 2101 N. Ponce De Leon Blvd. St. Augustine, FL 32084 (904) 824-8322
• www.InshoreAdventures.net
Capt. Tommy Derringer 904-377-3734
Fishing Report Forecast St. Augustine Inshore
You Can Trust Your Local Mastry Suzuki RePower Center – It Simply Makes Sense REPOWER When you purchase a new Suzuki outboard from an authorized Mastry RePower Center you qualify to become a member of the Mastry Suzuki Owner's Edge. Owners receive an identification card that provides them with important information about their Suzuki outboard motor as well as a passport to additional benefits during ownership. Members enjoy a detailed engine maintenance schedule, Mastry Suzuki RePower Trade Program and special pricing from Mastry Suzuki Partners. THE ALTERNATIVE TO BUYING A NEW BOAT When Considering A Repower, Consider These Factors: •McKenzie Marine has decades of repower experience providing proper rigging, controls, propeller matching and in water testing •With a Mastry Suzuki RePower, owners gain improved performance, less noise and greater reliability •Options that will fit most any budget, financing available •Mastry Suzuki RePower's exclusive Owner's Edge Program* •All Suzuki RePowers come with Suzuki's 5-years of protection suzukirepower.com | 1-800-545-4574 *Get with the Program! With 13 Locations Across Florida There is a Mastry Suzuki RePower Center Near You In the Saint Augustine area - McKenzie Marine is your certified Mastry Suzuki RePower Center McKenzie Marine 100 Douglas Park Drive Saint Augustine, FL 32084 mckenziemarine.com904-770-2488 • All • McKenzie • With • Options • Mastry McKenzie Marine is Northeast Florida's premiere marine service center and storage facility. Located on a private road in the heart of St. Augustine we offer over 12 acres of well maintained space. We can accommodate the storage of boats, boat trailers, RVs, travel trailers, and more. Our NEMA Certified technicians are highly experienced in all aspects of marine installations, upgrades and repair. We are a Suzuki Marine Outboard RePower Center with Mastry Engine Center providing the best options, information and package pricing for excellent performance in repower. At McKenzie Marine, you can expect the best! We have all of the credentials you should require when selecting a company to service your boat. When you are in need of boat repair, maintenance, storage or Suzuki RePower, McKenzie Marine is the best choice!

Your Local COSTA Store! Strike-Zone Fishing • 1 Block East of 295 • 11702 Beach Boulevard • Jacksonville, FL 32246 Store Hours: Monday – Friday 9:00-7:00 Saturday 9:00-5:00 Sunday 11:00-4:00 • 904-641-2433 www.strike-zonefishing.com ® Huge selection. over 700 to choose From.
GETTING INTO FLY FISHING THE SALT
most humbling or the most rewarding experience in fishing. Many anglers new to the sport have a hard time adjusting to the techniques and know-how specific to the salt. Here are a few things to think about to help shorten the learning curve during your first few outings.
With the fly pinched in the fingers of your off hand, keep the head of your line, at least 10 feet or so, outside of the top guide of your rod. This allows you to load the rod immediately, so you'll need fewer false casts before letting the fly fly.
Also, know how you'll fight a fish. Saltwater species are much stronger than what you'd encounter on a stream or in a pond. With too much drag, they'll break you off with a quick blistering run. If there's too little drag, you'll never get that fish to the boat. Learn how to apply drag manually by palming the reel. This allows you to adjust pressure on the fish more carefully and instantly.
If you think you'll need a 60-foot cast, you should have 60 feet of line off the reel and either on the deck or in a stripping basket. If it's on the deck, make sure there isn't anything else down around your feet, including your feet, for your line to snag on.
• CASTS: Hopefully you've already spent some time working on your double haul. Google it. This technique increases line speed and delivers long accurate casts, which is necessary with the bulky flies and windy conditions inherent to the sport.Yet there's more to fishing effectively than long-distance casting. You'll also need quick casts, quick second casts, backhand casts and the dreaded short casts so many people muff when they've spent weeks practicing to sling 60 feet of line. You should work on these casts, as well.Learn to flip quick 10- to 20-foot casts to either side of the boat. Utilize water resistance to load the rod when the fly is already in the water. Limit false casting, which wastes time in the limited window of opportunity you'll have with moving fish. Don't try to muscle casts. A loaded rod imparts much more line speed than the strength of your arm.
Sthe
By CAM Staff
• CLOSE THE DEAL: When you get a fish to eat, don't ruin the moment by lifting the rod tip. Train yourself to strip-set and to strip-set hard.
Familiarity with your gear and figuring out how to present flies quickly and accurately is all that matters. Get out on the water somewhere and get used to slinging line around.
for your shot, your chance to cast at a fish that either you or your guide/poling partner sees. Be ready to capitalize on your opportunity, which means paying attention to yourself.
For more information, go to coastalanglermag.com.
• BE READY: Saltwater fly
COASTALANGLERMAG.COM • THEANGLERMAG.COM OCTOBER 2022 NORTH FLORIDA 5
Deal with these things as soon as you step up on the casting deck, and you can turn your attention to looking for fish.
For more information on lionfish, go to MyFWC.com/Lionfish.
• Second place Commercial Division: Alex Fogg – 1,090 pounds of lionfish
fall has been one of the best times of year to catch flounder as they run offshore through the inlets and passes to spawn. If you had plans to load up on some flat fish during this annual migration, you better do it fast. Flounder harvest in Florida will close Oct. 15 and remain closed through Nov. 30.
6 NORTH FLORIDA OCTOBER 2022 COASTALANGLERMAG.COM • THEANGLERMAG.COM
This year's tournament boasted a total of 707 registered participants, the most in the program's history. A total of 196 divers conducted 676 trips throughout the state during the three-month tournament. They brought in a whopping 25,299 lionfish. This is the highest tournament total since 2018. In the end, though, two participants prevailed. Here are the winners of the 2022 Lionfish Challenge:•Lionfish
The 2022 Lionfish Challenge was sponsored by FloGrown, a Florida-based fishing and outdoor apparel company. FloGrown designed, printed and
donated custom tournament T-shirts that were awarded to all participants who reached the first prize tier of the tournament.
The Lionfish Challenge is a summer-long tournament that rewards divers for their lionfish harvests. The tournament is open to everyone, is completely free to enter and participants can compete from anywhere in the state. Divers receive prizes based on the amount of lionfish they harvest and compete for the title of the Lionfish King/ Queen or Commercial Champion.
2022
The event is intended to draw attention to the threat of lionfish on Florida reefs and to promote removal of this nasty invasive species statewide.
King (First place Recreational Division): Isaac Jones – 1,018 lionfish
• Third place Commercial Division: Isidoro Bedoya – 1,008 pounds of lionfish
Traditionally,
FWC made this regulations change last year along with other Gulf of Mexico and Atlantic states to address a declining trend in flounder stocks. The idea was to protect these tasty fish ahead of the spawn during a movement in which they are subject to a lot of angling pressure. Along with the closed season, Florida increased the minimum length limit from 12 to 14 inches and decreased the daily bag limit from 10 fish to five fish per person.
• Third place Recreational Division: Helen Rodney – 800 lionfish
The seventh-annual Lionfish Challenge came to a close on Sept. 6, and the competition was stiff until the very end. Participants in this year's tournament broke several records in their quest to earn the title of Lionfish King or Queen and Commercial Champion.
• Second place Recreational Division: Baye Beauford – 863 lionfish
FLOUNDER HARVEST CLOSES OCT. 15
• Commercial Champion (First place Commercial Division): Paul DeCuir –1,092 pounds of lionfish
For more information, go to myFWC.com.
RECORDSBREAKSCHALLENGELIONFISH
So, unless you've already got some in the freezer, don't plan on having stuffed flounder for Thanksgiving.
The IGFA all-tackle world record hogfish weighed 21 pounds, 15 ounces. It was caught out of Charleston, South Carolina in 2011 by Wesley Covington.
farther south in Florida. But there he was, and I went toward him right off."
Summerville took his shot from about 10 feet and hit the fish in the jaw, just under the eye, according to Outdoor Life. He didn't realize he had a potential new record until they reached cell service on the way in. The fish measured 35. 5 inches in length and had a girth of almost 26 inches.Summerville's huge hogfish was 2.5 pounds heavier than the previous Florida record of 21.7 pounds. James Michaelin speared the previous record last September in the Gulf. He actually gutted it before weighing it on certified scales, so there's no telling how much it would have weighed intact.
By CAM Staff
For more record fish, go to coastalanglermag.com.
Summerville is a captain and dive master with Panama City Diving. He was on his day off from work and diving the Gulf of Mexico with some buddies from the center's 36-foot boat Steel Slinger. According to Outdoor Life, Summerville dropped to about 100 feet on an area of live bottom called "Three-to-Five" by locals."The water was really clear, and I looked down and saw a big hogfish," he told Outdoor Life. "I was shocked to see him, because usually we don't see many hogfish off Panama City. There are more of them to the east near Carrabelle or
COASTALANGLERMAG.COM • THEANGLERMAG.COM OCTOBER 2022 NORTH FLORIDA 7
DIVER RECORDSPEARSHOGFISH
oly moly, what a hogfish!
Florida diver Josh Summerville speared a 24.2-pound hogfish about 40 miles out of Panama City Beach on Aug. 2. The big fish set a new state record for the species.
Spearfishing Association, weighed 24.5 pounds. Diver Bruce Elliott Mock, Jr. stuck that fish off the coast of North Carolina on Aug. 3, 2017.
Hogfish are excellent to eat. They are prized by spearfishers and conventional anglers. Traditionally, they were pursued only with spearguns because their diet of crustaceans made them a difficult target on rod and reel. However, Gulf Coast anglers have begun to figure them out in the last few years. There aren't too many fish in the sea that will turn down a live shrimp when it's presented to them in just the right way.
The world spearfishing record for hogfish, according to the International Underwater
H
8 NORTH FLORIDA OCTOBER 2022 COASTALANGLERMAG.COM • THEANGLERMAG.COM
Nationally recognized and promoted, this show will attract advanced collectors from across the country—all attending to buy, sell and trade vintage fishing tackle. More than 4,000 square feet of angling antiquities will be on display—including rare lures, reels, rods, creels and other fishing-related memorabilia and ephemera.
you ever wondered about the value of that old tackle box your grandpa left you? What about that old rod and reel combo gathering dust in the attic or the vintage outboard in the back of the garage? Well, here's your chance to find out.
The first annual Savannah Southern Classic antique tackle show, cohosted by the Florida Antique Tackle Collectors and the Carolina Antique Tackle Collectors, will be held Nov. 11-12. This first-time show will take place in the Savannah Conference Center inside the Embassy Suites, 145 West Mulberry Blvd., Savannah, Georgia 31407.
Although requirements for barotrauma-mitigation tools differ between Gulf and Atlantic federal waters, Florida is proposing anglers be allowed to choose which device works best for their circumstances. Proper use of such tools is a concern, and outreach has been proposed to educate anglers on their use as well as to increase regulatory compliance.
ANTIQUE TACKLE SHOW OPENS NOVEMBER 11-12
The proposed Florida-waters gear requirement would mirror federal regulations and require those fishing from a vessel that are harvesting or attempting to harvest reef fish in state waters to have a descending device or venting tool rigged and ready for use.
times are Friday, Nov. 11 from 10 a.m. to 4:30 p.m.; and Saturday, Nov. 12 from 10 a.m. to 4:30 p.m. Those interested in becoming a member and exhibiting at this and future shows should visit www.FATC.net or www.CarolinaAntiqueTackleCollectors.com.
The public is welcome to attend at the nominal cost of $5 per adult (accompanied children under 12 admitted free). Once inside, visitors can either browse or buy from the show's many exhibitors, or receive free appraisals for their old tackle and other fishing-related items. Those interested in selling can consign their items to our Saturday auction, where hardcore collectors will bid aggressively.Publicshow
FOR FLORIDA STATE WATERS
For press passes and additional information, contact Bernie Schultz at (352) 284-2972 or bernie@bernieschultzfishing.com.
For more information, go to MyFWC.com.
Release
RELEASEREQUIREMENTDEVICEPROPOSED
Have
These devices are designed to mitigate the effects of barotrauma, which is a pressure-related injury that fish sustain when being reeled up from depth. It is thought that requiring such gear helps improve survival rates of released reef fish. Mortality rates for catch-and-release of reef fish is a management challenge in waters off the Southeastern United States.
devices are required for reef fish anglers in federal waters of the Atlantic and the Gulf of Mexico. Florida is looking at making them a requirement in state waters, as well.
Designed to work smarter than the competition, the 1 Series Compact Tractors maximize your yard without breaking the bank. From the comfort of your seat, you'll appreciate big performance and convenient sizes.
The way we spend our time defines who we are.....
Let us help you get the perfect machine for your "ME" time.
e a ordable 1023E is easy to use and provides plenty of muscle for jobs around the Fromyard. mowing and loading to tilling and digging, these compact tractors are built to make a long day of chores feel simple. When you turn the key of a John Deere 1 Series, you'll quickly see why these tractors are the one. www.EFE1963.com
FOR MORE INFORMATION ON RECORD FISH, VISIT IGFA.ORG.
TWO RECORDWORLDGROUPER
Star-studded grouper are a species that inhabits the eastern Paci c Ocean from Southern California down to e previous all-tackle world record was a 31-pounder caught by Chris Wheaton out of Loreto, Mexico.
Izquierdo's sh weighed 15.38 kilograms, which is 33 pounds, 14.5 ounces and some change. On the same trip, Robert Navarro boated another star-studded grouper that weighed 15.51 kilograms, or 34 pounds, 3 ounces and some change. Both sh will be recorded as all-tackle world records in the books.
oastal Angler Magazine contributor Ryan Izquierdo was on a really hot bite on April 28 while shing out of San Carlos in Sonora, Mexico. e boat he was on landed not one, but two IGFA all-tackle world records for star-studded grouper. With just a fraction of a kilogram separating the weights of the two sh, IGFA recently named them both a tie for the all-tackle world record.
Caught on the Same Trip!
Both sh were caught slow-pitch jigging with JYG Pro jigs.
14 FLORIDA OCTOBER 2022 COASTALANGLERMAG.COM • THEANGLERMAG.COM
• Strike Zone Fishing in Jacksonville and Melbourne
Fin-Nor sunglasses are sold in 25 Florida-based retailers, spanning 22 di erent cities. Retailers include:
FIN-NOR SUNGLASSES
WWW.FIN NOR.COM
• Aqua East Surf Shop in Neptune Beach
• Deep Six Dive Shop in Vero Beach and Stuart
• Captain Harry's and Crook & Crook in Miami
• Sunglass World in Tallahassee, Destin, Pensacola, Panama City, Panama City Beach, Lutz and Daytona Beach
• Salty Dog Surf Shop in Ormond Beach
Styles come in both glass and plastic lenses and feature two lens colors: gray and copper, and three mirror options: blue mirror, green mirror and silver mirror.
• Outcast Bait and Tackle in Pensacola
• Lake and Trail in Okeechobee
One of the most iconic brands in the shing industry, Fin-Nor has announced that its premium availablesunglassesangler-focusedarenowatpremierretaillocations throughout Florida.
Earlier this year, Fin-Nor debuted 20 styles which are purpose-built for anglers and life on the water. Fin-Nor sunglasses are equipped with cuttingedge Lateral Line lens technology, which allows for maximum protection from the sun while giving anglers the best visibility into the depths. e lenses feature premium polarization and coatings on both sides that prevent smudges and scratches and provide optimal clarity. e frames are made from lightweight and durable materials.
COASTALANGLERMAG.COM • THEANGLERMAG.COM OCTOBER 2022 FLORIDA 15 Ladies, fish Friday & Sunday, inshore or offshore, on charter boats or your own boat! Win prizes! Perfect for beginners or those who don 't fish a lot. Full-day seminar on Saturday, inshore & offshore. We will team you with others. No experience or boat necessary! Charter fishing additional to registration. Ladies, Let 's Go Fishing!® Fis hing Fe v e r To u r n a m e n t October 15- 17 • Islamorada, FL Go fishing & win in the Florida Keys! Register in advance to hold your fishing spot at www. LadiesLetsGoFishing. com October 7-9 • Islamorada, FL
e angler, Ryan Hernandez, caught his "leopard" red sh while shing with Capt. Danny Alvarez in the Upper Laguna Madre near Corpus Christi, Texas on Aug. 27. Hernandez said the sh had more than 300 spots per Leopardside. red sh are rare, but they do show up from time to time. Fisheries biologists believe this rare color pattern is caused by both parents having a recessive pigmentation trait. e wild coloration leaves the o spring particularly susceptible to predation early in its life. Not only is it rare for a leopard red sh to be hatched, it's rare for them to reach catchable size.According to SaltWater Sportsman, Hernandez kept his leopard red sh to have it mounted. It'll make a heck of a conversation piece.
TEXAS CATCHESANGLERSTRIKING LEOPARDREDFISH
R
ed sh have black spots. Some of them have several black spots. is red sh caught on the Texas Gulf Coast had so many black spots that it doesn't even look like a red sh.
16 FLORIDA OCTOBER 2022 COASTALANGLERMAG.COM • THEANGLERMAG.COM •99%•ENHANCED•SUPERIOR *LIFETIME GET THE LOWEST RATES! SAVE50% up to on $37,000 $75,000 $100,000 $250,000 $500,000 $264/yr $474/yr $586/yr $2,975/yr $5,985/yr BOATS & JETSKI From: InsuranceBoat BOAT INSURANCE SINKING YOU? Your #1 Source for Boat Insurance GET A QUOTE! Covering Boaters throughout the South Since 1988 ( 888 ) 977 - 4500 ( 954 ) 785 - 5000 BradleyBoatInsuranceFlorida.comInsuranceGroup
For more weird catches, go to coastalanglermag.com.
Discount Marine Supplies MELBOURNE 557 N. HARBOR CITY BLVD MELBOURNE, FL 32935 (321) 254-2535 JACKSONVILLE 5615 BLANDING BLVD. JACKSONVILLE, FL 32244  904  778  7775 MarineOEMPartsSuppliesMarine SamePricesSameLocationsLowLow JacksonvilleMelbourneMelbourne • AUTOMOTIVE • COMMERCIAL • RESIDENTIAL CTX NANO-CERAMIC TINT •SUPERIOR HEAT REJECTION •ENHANCED STYLE •99% UV PROTECTION *LIFETIME WARRANTY Certifed DepartmentService Authorized OEM Marine Engine & Parts Dealer Trailer SalesTrailer Parts BoathouseDiscountMarine.comBOATHOUSE
Here's my disclaimer: I invented Knockin Tail Lures. e paddletail I use for snook is the Knockin Tail Lure in the Halloween is lure, like the Rat-L-Trap, has a built-in rattle. Trust me,
By Capt. Michael Okruhlik
W
Capt. Michael Okruhlik is the inventor of Knockin' Tail Lures, Controlled Descent Lures and the owner of www.MyCoastOutdoors.com.
Now for methods you may not have tried while targeting snook. Let's visit our friends in the freshwater aisle and pull out an old favorite: the Rat-L-Trap! Pick up a few of these in chrome and blue, buy some stout saltwater-grade treble hooks, stainless steel split rings, and you're set. ese noisy, rattling hard baits drive big snook crazy. I sh these on a fast and steady retrieve. e simplicity, in itself, is enticing. Among the advantages are the castability of these lures, their bullet-proof construction, and best of all there is not much skill required in this tactic. Simply cast and reel at a fast pace and hold on tight. When a hungry, or mad snook nails a Trap as you burn it through salty water, they will try their best to take the lure and the rod from your hands. ere is nothing like a 40-inch snook hammering a fast-moving Rat-L-Trap!
I hope this new look at snook shing helps you catch your next e theme here is sound attracts sh. So, tie on some noisy lures and get hooked up!
My other tip involves a color I haven't seen pictured with many, if any, snook other than those anglers in my circle. e color is in the orange family with gold glitter and a chartreuse tail. is little gem has produced numerous snook over the years. I sh this color in a 5-inch paddletail lure, typically on a heavier jighead. I like a heavy head because I burn these swimbaits through the water.
Photo courtesy of Knockin Tail Lures
CATCH BIG SNOOK
hen it comes to snook shing with lures, I typically see the same color patterns and lure styles displayed in the jaws of caught sh as the angler proudly presents their catch to the camera. I'd like to share some new colors and lures that I have found to be very e ective when targeting solid-lined trophies.Let's start with what you might already know. Feather jigs are popular among those who pursue line-siders. Some may tip their jig with a grub of some sort, while others take the simple approach of feathers, lead and a sharp hook. More o en than not, when I see these jigs pinned in the jaws of magni cent sh, the colors are typically white, red, chartreuse or a combination of all three. I don't typically throw a feather jig, but when I do I prefer to tip it with a paddletail to give it extra vibration. Find one with a rattling tail, and you just increased your odds of hooking up!
#CBC1255391 Experienced and Reputable Fully Licensed Free Estimates Free 2nd Opinions SEAWALL EROSIONCONTROL SAFE FOR ENVIRONMENTTHE 1. Cracks in the seawall vertical panels or seawall cap 2. Depressions in your yard 3. Water bubbling up from the ground 4. Small sinkholes along the wall 5. Leaning or bowing of a seawall SIGNS OF SEAWALLGuaranteedFamilyEROSIONOwnedWorkCompetitive Pricing Serving All of www.FloridaSeawallSolutions.com888.426.1002Florida "This company and its employees are awesome, can't say enough nice things about them. Great job and neat and tidy!" - Kevin O. OurStrengthensSealsFillsPolyurethanevoidscrackssoils
20 FLORIDA OCTOBER 2022 COASTALANGLERMAG.COM • THEANGLERMAG.COM STONE CRAB HARVEST
OPENS OCTOBER
Diving and snorkeling for stone crabs is also popular. Look for crushed shells in front of holes in the rocks or reef where a stone crab has been feeding. Use a tickle stick with angle of less than 90 degrees to pull them out of the hole and grab them by the claws with gloved hands.
Recreational harvesters age 16 and older who plan to use traps are required to complete an annual no-cost trap registration at GoOutdoorsFlorida.com. rough this process, they will obtain trap registration numbers that must be included on each trap along with the owners name and address.
stone crab season opens Oct. 15 and runs through May 1. e minimum claw size is 2 7/8 inches, and recreational harvesters may take a daily bag limit of 1 gallon of claws per person or 2 gallons of claws per vessel, whichever is less.
Whether diving or trapping, it is illegal to harvest claws from eggbearing females. It is permitted to take both claws if they are of legal length, but most people choose to take just one so the crab is le with something to feed and defend itself with.
Trapping is the most e cient method of collecting the legal limit. Each harvester is allowed ve traps. ey may be baited and placed in the water as early as Oct. 5, but traps may not be pulled and claws may not be harvested until the Oct. 15 season opener.
15
For more information, go to myfwc.com.
Recreational
COASTALANGLERMAG.COM • THEANGLERMAG.COM OCTOBER 2022 FLORIDA 21 Donate A Boat or Car Today! Phone Orders Can Be Shipped (561)Custom758-8758Spliced Dock Lines & Anchor Rodes
To enter in our monthly drawing visit CoastalAnglerMag.com/Contest
COASTAL ANGLER AWARDS GEORGIA MAN A SUZUKI OUTBOARD!
Congratulations to Sam Winton of omasville, Ga. for winning a Suzuki DF2.5 Portable Outboard Motor from Coastal Angler Magazine and Suzuki Marine. Winton picked up his prize on Labor Day Weekend from Southeastern Marine and Repair in Douglas, Ga. When Winton arrived at the dealership, Kevin Stone presented Winton with a huge winning check and his outboard.
When Sam returned home he used his new outboard right away and was pleasantly surprised by how well it worked with his boat. ank you to over 10,000 people who entered the contest. We've got some more great prizes every month on CoastalAnglerMag.com, so please keep checking back for more!
22 FLORIDA OCTOBER 2022 COASTALANGLERMAG.COM • THEANGLERMAG.COM Nestled on six lush tropical acres of pristine waterfront directly on the Indian River Lagoon, take a step back in time to experience the very best of Old Florida charm with modern conveniences and services to make your stay truly memorable and unforgettable. The Perfect Vacation Getaway for Fishing, Boating & Outdoor Enthusiasts Re-Discover Old Florida Waterfront Charm • FULLY FURNISHED 3 ROOM COTTAGES WITH FULLY EQUIPPED KITCHENS Kingfsh Lodge includes a wide screenTV and bar for small gatherings Sailfsh House features a wide covered wrap-around porch for larger groups • Boat Trailer Parking on site w/ Water and Power • 250 Foot Dock w/ Covered Area • FREE Ice / FREE Guest Dockage • Cable TV, Hi-Speed Internet • 2 miles to the Ft. Pierce Inlet • 12 miles to the Gulf Stream • Laundry, BBQ Grilles and FREE use of our Kayaks NIGHTLY • WEEKLY • MONTHLY • SEASONAL RATES 3011 N. Indian River Dr., Ft. Pierce, FL 34946 www.indianriverlagoonwaterfrontcottages.com Reservations and Information: (772) 349-2206 Cover Your Vacation with Travel Insurance TRAVELPROTECTION FORYOURRESERVESTAY28DAYSORLONGER&RECEIVE50%OFF STAY 7 DAYS, GET 2 FREE!!! Your Health and Safety are our utmost concern. COVID-19 CDC Guidelines are in full e ect. All accommodations are completely cleaned and sanitized prior to guest arrival COOLING PERFORMANCE LONG SLEEVE coastalanglermag.com/contestCREW Enter To Win! SWAGFROMCOASTALANGLER!
Watch the world wake up
wildlifeflorida.org/world-wake
Like fishing, hunting is for early risers — those who find contentment and peace in getting out into nature early. But that's not all you'll find in wild Florida. From the Panhandle to the Everglades, we have some of the most accessible and affordable public hunting lands in the country. Six million bountiful and beautiful acres are closer than you think. So if you're already an early riser, rise to the exciting challenge of hunting today.
CONSERVING NATURE AND OUR OUTDOOR HERITAGE
.
return,
expects nothing
Stauer
e point? You deserve to treat yourself once in a while. You do so much for the people you care about. Now it's time to focus on you for just a few minutes. at's where the Men's Due Volta Watch comes in. is astonishing innovation provides a digital readout that's powered by a precise quartz engine, combining both analog and digital a stopwatch, alarm, a.m./p.m. settings, and day, date and month complications, this timepiece stands out from the crowd. With its large face and handsome, masculine design, this watch is perfect for the back nine and the happy hour afterwards. Water-resistant up to 3 ATM, this timepiece won't wimp out if you have a run-in with a water hazard.
got you covered.
gives everything
treat yourself. Watch Speci cations: •Complications: stopwatch, alarm, a.m./p.m. settings, and day, date and month • Precision movement chronograph • Stainless steel caseback and crown • Water-resistant to 3 ATM Men's Due Volta Watch $399 $59* + S&P Save $320 *Special price only for customers using the offer code. Stauer, 14101 Southcross Drive W., Ste 155, Dept. DVW145-02, Burnsville, MN 55337 www.stauer.com Stauer® | AFFORD THE EXTRAORDINARY ® For the Man Who Gives Everything and ExpectsYour1-800-333-2045NothingInsiderOfferCode:DVW145-02Stauer®Impossible Price ONLY 59 Join more than 1 million smart people who own stauer watches
Outtimekeeping.ttedwith
Act quickly! is one-of-a-kind watch has been one of our fastest sellers this year. Of our original run of 2,872, we only have 389 left for this ad! In the last couple of years there's been a watch shortage, but has If you're the kind of man who and in it's time to
Other hybrid watches can sell for thousands of dollars, but because we've built more than 1 million watches, we know how to create real value. at's why we can o er this timepiece for just $59! If you're not completely satis ed with this watch, return it for a full refund.
If you're anything like my dad, you give your family everything. Your name, your time, your values — the people in your life know they can depend on you for practically anything. In exchange for imparting all of this energy and experience, you expect nothing in return.
Why not re-create that special toes-in-the-sand moment with our Blue Topaz Dolphin Pendant? The beloved sea mammal has been captured mid-jump in sterling silver. And, tucked into its fins is a full two carats of shimmering blue topaz. Nothing captures the shimmering color of the ocean in the midday sun like blue topaz. With its sparkling clear blue color and high refractive index, blue topaz is one of the top-selling blue gemstones. And with our special price, you have quite the catch. Satisfaction guaranteed or your money back. Enjoy the Blue Topaz Dolphin Pendant for 30 days. If it doesn't pass the test swimmingly, send it back for a full refund of the item price. Limited Reserves. A full two carats of genuine blue topaz set in sterling silver for this
Here's a memorable beach moment: You're basking in the warm sun, toes in the sand, letting the gentle turn of the foam-capped waves lull you into a state of complete relaxation. As your eyes scan the endless horizon of blue on blue, you're rewarded with a school of dolphins making their way across the sea. There's no denying their signature shape as they leap from the water. If you don't see anything else extraordinary the rest of the day, you can take solace knowing you've witnessed one of nature's most playful and intelligent creatures in their natural habitat.
Stauer… Afford the Extraordinary ®
price is as rare as a dolphin sighting. We cannot guarantee availability for long. Call today! Flip Flip Hooray! • 2 ctw blue topaz; ½ ctw Ultimate Diamond Alternative®, DiamondAura® • .925 sterling silver setting • Sterling silver chain sold separately 14101 Southcross Drive W., Ste 155, Dept. DPP338-03, Burnsville, Minnesota 55337 www.stauer.com Rating of A+Stauer ® A perfect symbol of fun in the sun for only $79 † Special price only for customers using the offer code versus the price on Stauer.com without your offer code. You must use the insider offer code to get our special price. Your1-800-333-2045InsiderOfferCode:DPP338-03 Please use this code when you order to receive your discount. Blue Topaz Dolphin Pendant non-offer code price $395 † Offer Code Price Only $79 + S&P Save $316! Limited to the first 1900 responders to this ad only! To show exquisite details, pendant shown is not exact size. Chain sold separately. A full two carats of sterlingblueshimmeringtopazsetinsilver "Enormously popular, significantly intelligent and scientifically sophisticated, dolphins are amidst the most beloved animals among people." — Dolphins-World êêêêê "This sterling silver dolphin is absolutely beautiful and the blue topaz is like the color of the ocean" — Vivian, Cabool, MO
Catch Amazing Action on Alaska's Kenai Peninsula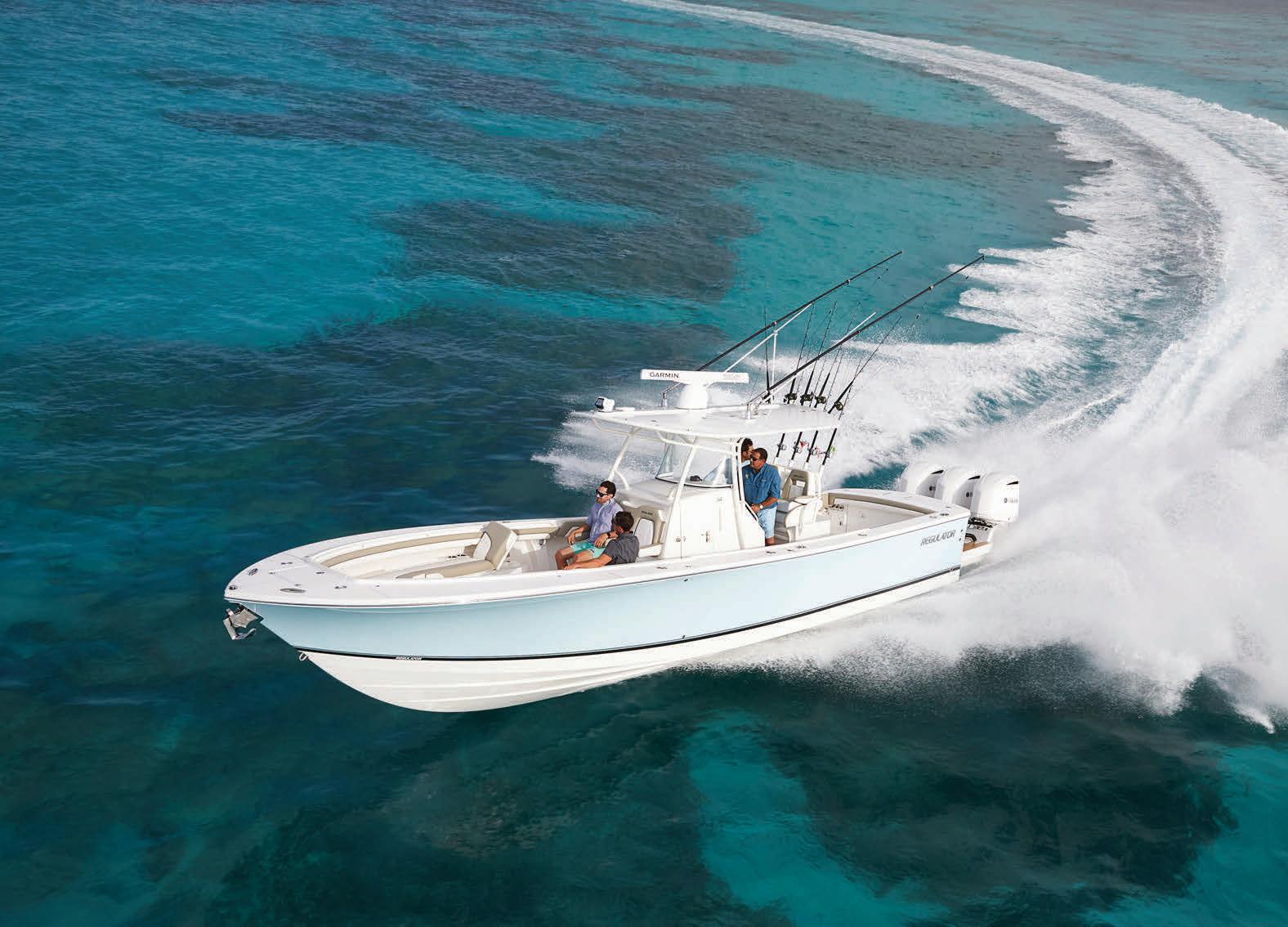 Second only to the Kenai's fishing is the scenery. There is a majestic feel to this area. The views are beautiful, there is amazing wildlife and tons of stuff to see. We saw it all as we drove all over the place chasing fish.
again. It was so fun!
Last, but not least, we fished Skilak Lake, which feeds the Kenai River from the center of the peninsula. This was my favorite place to fish. It is as beautiful as it is full of fish. We stayed 18 days in Alaska and spent our 17th on Skilak, where we slayed the fish. We landed and released more than 100 reds, silvers and trout that day! It was a great note to end our trip.
If you ever get the chance to fish the Kenai Peninsula, you will love it. Get a group of friends, do some research and go. Fish with a guide or on your own. There are so many options and so many fish that it's hard not to have an amazing adventure.
COASTALANGLERMAG.COM • THEANGLERMAG.COM OCTOBER 2022 NATIONAL 11 904-701-9726 • GAUGESAVER.COM SPECIALIZING IN RESTORATION OF AGED, SUNBURNT, OR FADED LIQUID CRYSTAL DISPLAYS. WE SERVICE MORE THAN JUST GAUGES! CHART PLOTTERS, VHF'S, RADARS, SOUNDERS, AUTOPILOTS, JET SKI CLUSTERS, AND MUCH MORE. 5049 HIGHWAY 17 SOUTH, GREEN COVE SPRINGS, FL 32043 If your device has an LCD that has faded over time, or want to inquire aboutrepairpossibleoptionsforyourunit,giveusacallorvisitourwebsite!
By Gary Turner
Our lodging was in Soldotna, near the mouth of the Kenai River on Cook Inlet. That's where we fished the Kenai River for red (sockeye) salmon. The famous king salmon season closed before we arrived this year, or we would have been fishing for them. We "flossed" for reds, which is a technique used in rivers to catch salmon that are more interested in their spawning run than they are in feeding. Basically, you use a weighted leader. As pods of fish swim upstream, the line threads an open mouth and you snag the fish when the hook pulls tight. This was combat-style fishing. We stood a rod's length from other anglers, and it was mayhem when someone hooked up.
Twice, we traveled northeast by van to Hope, Alaska, where we fished for pinks in Resurrection Creek. They were so thick that we stayed busy catching and releasing them after we all caught our limits. On our second trip to Resurrection, we went in search of silvers but they had not arrived yet, so we caught pinks
We also ventured south from Soldotna to the Kasilof River and caught salmon and trout. We crossed the peninsula to Seward and fished the Resurrection River for silvers, pinks and dog (chum) salmon. The river was full of fish, so we fished until it was too dark to see the bears and called it a day at midnight.
We also fished from a boat on the Kenai River, where anchored to deploy small Kwikfish. These lures settle into the current near the bottom and vibrate. Fish swimming upstream see them and attack. Unlike the red salmon, which aren't interested in eating, the pink (humpback) and silver (coho) salmon jumped all over this setup.
Gary Turner is a long-time contributor to The Angler Magazine. Contact him at gary@purgeright.com.
laska's Kenai Peninsula is a world-renowned fishery, known for all of its salmon runs, of which the Kenai River king salmon run is the most famous. The saltwater fishing out of Homer, Deep Creek and Seward are also amazing. I've been to Alaska fishing several times, and this year I fished the fresh and the salt with five friends who were all on their first trip. Here's a quick look at what we did in freshwater. I'll write about our saltwater adventures in the future.
Alex McCrickard has a go-big or go-home attitude when it comes to fall browns. He's a former fly fishing guide and the current aquatic education coordinator for the Virginia Department of Wildlife Resources. As the days grow shorter, McCrickard breaks out his heavy 6- and 7-weight rods to sling big streamers.Onsmaller streams, he'll fish floating line with a 9-foot leader that tapers down to no lighter than 2x tippet. The long leader allows a weighted streamer to get down in the water column, and 2x has a breaking strength of about 10 pounds. It's more than enough to handle the 14- to 20-inchers you might encounter in a creek or stream.
FOR AGGRESSIVE FALL BROWN TROUT
While the females become preoccupied with cutting nests, called redds, on shallow gravel bars in moving water, the males put on bright colors to
"A productive day is relative. When you're throwing a 10-foot 7-weight and a 250-grain full sinking line with 3 feet of 20-lb. monofilament, you're not really going for numbers anymore," said McCrickard. "You're looking for one, maybe two fish. You kind of have to go out there with the mentality of, 'I might get skunked today, but I might catch my best fish of the year… or the best fish I've caught in the last five years.'"
12 NATIONAL OCTOBER 2022 COASTALANGLERMAG.COM • THEANGLERMAG.COM
Across the East, brown trout spawn in a window that runs from midSeptember into December. Males and females of the species leave their summer lies to strike out upstream in search of spawning habitat. They are on the move and more visible to anglers than at any other time of year.
On large or small water, pre-spawn browns will hit bigger flies than you'd think they would. This could be a 2- to 3-inch-long Woolly Bugger on a mountain stream or a 6-inch-long articulated pattern on a big river. Either way, it's a game of covering water persistently and presenting the fly to as many fish as possible.
On a big tailwater, McCrickard gears up with 250-grain sinking line and runs a short 3-foot leader of 0x tippet. If the water is dingy, he'll fish 3 feet of straight 20-pound monofilament.
advertise their suitability as mates. The big boys spar with each other for the opportunity to fertilize eggs. They become ornery, and are cocked to lash out at anything that catches their eye.
AggressiveTactics
Nick Carter is author of "Flyfisher's Guide to North Carolina & Georgia." It is available on Amazon or by contacting the author at nsc8957@gmail.com.
L
ust and jealousy make males of many species do stupid things they wouldn't normally do. This is true for humans and whitetail deer, and it's also true for brown trout, which grow aggressive this time of year as they gear up for the spawn.
By Nick Carter
The timing is different on every piece of water, but October is thought to be the peak of pre-spawn behavior for most streams and rivers. Since big browns are more aggressive than they are at any other time of year, anglers who target them should fish aggressively.
"If I have that fish that's two feet or larger, I'm feeling really confident having that fish on 20-pound as opposed to having it on 2x," he said.
100% Valuable Coins—GUARANTEED!Collector
Millions of these vintage Buffalo Nickels have worn out in circulation or been recalled and destroyed by the government. Today, significant quantities can often only be found in private hoards and estate collections. As a result, these coins are becoming more sought-after each day.
NOTICE: Due to recent changes in the demand for vintage U.S. coins, this advertised price may change without notice. Call today to avoid disappointment.
• 1920-1929—"Roaring '20s" Buffalo
ONE FULL POUND Bag (91 coins) Plus FREE Stone Arrowhead and Liberty Head Nickel $149 + FREE SHIPPING SAVE $47
Supplies of vintage Buffalo Nickels are limited as the availability of these classic American coins continues to shrink each and every year. They make a precious gift for your children, family and friends—a gift that will be appreciated for a lifetime.
of the most beloved coins in history is a true American Classic: The Buffalo Nickel. Although they have not been issued for over 75 years, GovMint.com is releasing to the public bags of original U.S. government Buffalo Nickels. Now they can be acquired for a limited time only—not as individual collector coins, but by weight—just $49 for a full QuarterPound Bag.
today
1-877-566-6468 Offer Code VBB587-07 Please mention this code when you call. Released to the Public: Bags of Vintage Buffalo Nickels Historic 1920-1938 "Buffalos" by the Pound StoneFREEArrowheadwitheverybag LOW AS $49 plus shipping & handling FREE Liberty Head Nickel with One Full Pound GovMint.com® is a retail distributor of coin and currency issues and is not a liated with the U.S. government. e collectible coin market is unregulated, highly speculative and involves risk. GovMint.com reserves the right to decline to consummate any sale, within its discretion, including due to pricing errors. Prices, facts, gures and populations deemed accurate as of the date of publication but may change signi cantly over time. All purchases are expressly conditioned upon your acceptance of GovMint.com's Terms and Conditions (www.govmint.com/terms-conditions or call 1-800-721-0320); to decline, return your purchase pursuant to GovMint. com's Return Policy. © 2022 GovMint.com. All rights reserved.
Order More and SAVE
Every bag will be filled with collectible vintage Buffalos from over 75 years ago, GUARANTEED ONE COIN FROM EACH OF THE FOLLOWING SERIES (dates our choice):
• FREE Stone Arrowhead with each bag
• 1930-1938—The Buffalo's Last Decade
Every vintage Buffalo Nickel you receive will be a coveted collector coin—GUARANTEED! Plus, order a gigantic full Pound bag and you'll also receive a vintage Liberty Head Nickel (1883-1912), a valuable collector classic!
HALF POUND Bag (46 coins) Plus FREE Stone Arrowhead $79 + s/h SAVE $19
VBB587-07,
One
THE BEST SOURCE FOR COINS WORLDWIDE ®
Supplies Limited— Order Now!
30-Day Money-Back Guarantee
You must be 100% satisfied with your bag of Buffalo Nickels or return it within 30 days of receipt for a prompt refund (less s/h).
• Mint Marks (P,D, and S)
QUARTER POUND Buffalo Nickels (23 coins) Plus FREE Stone Arrowhead $49 + s/h
FREE SHIPPING over $149! Limited time only. Product total over $149 before taxes (if any). Standard domestic shipping only. Not valid on previous purchases.
For fastest service call toll-free
Long-Vanished Buffalos Highly Coveted by Collectors
• ALL Collector Grade Very Good Condition
GovMint.com • 1300 Corporate Center Curve, Dept. Eagan, MN 55121
8-ounce swordfish caught 55 miles off Morehead City, North Carolina was recently certified as a new state record.
The angler, 59-year-old Cary Carney, was fishing aboard the 32-foot Willow B, which was captained by his son Brandon Carney. They were fishing in about 1,300 feet of water on Aug. 21, when the big broadbill ate a strip of albacore belly. They had the fish on an electric Diawa MP3000 reel, but a blown fuse rendered it inoperable. Carney buckled down and cranked the fish in by hand on 65-pound test line.
Custom Built Quality Outdoor BBQ Products Since 1989 For More Info www.BQGRILLS.com1-252-236-4464 6043 Hwy 301N, Elm City, NC Pig BBQPatioCookers,Grills,Smokers,CustomizedTrailers
"He's one of those old-school guys," Brandon Carney said of his father for an article in the Raleigh News & Observer. "His arm might be hanging off, but he won't let you know it. After about 30 minutes, it rose to about 20 feet below the surface and we could see how big it was."
14 NATIONAL OCTOBER 2022 COASTALANGLERMAG.COM • THEANGLERMAG.COM
Carney's swordfish crushed the previous state record by more than 60 pounds. The old record of 441 pounds had stood since 1979. The thing is, if they had hauled it in with the electric reel, it would not have qualified for the record.The
A504-pound,
HAND-CRANKS 504
Two hours later, the big fish was boatside. They roped its tail and used the T-top as a pulley to bring it onboard. It measured 104 inches fork length and had a 53-inch girth.
The Return of a
ANGLER POUND RECORD SWORDFISH
IGFA all-tackle world record swordfish weighed 1,182 pounds. It was caught off the coast of Chile in 1953 by Louis Marron.
For more information, visit deq.nc.gov.
ComplimentaryAmberAdjustable "You'll besmitten with this kitten..."

Remember
This feline is sitting pretty. Fashioned from sterling silver, plated in 18k yellow gold. Two bright Baltic Amber stones form the body of this purr - fect kitty. Complete with a bow tie collar. A charming design that everyone will love. Beautifully crafted 925 sterling silver, lavishly plated with yellow gold to compliment the oval cognac Baltic Amber that has been precision handset into each piece. Order today as we have limited stock available.
The beauty of Amber comes from the fossilized resin of trees. 40 million years ago, this resin was exuded by trees to heal damage to a branch or trunk. Endowed with the ability to produce negative ions, amber has been made into a variety of decorative objects; used in jewelry, and as a healing agent in traditional folk medicine. Baltic Amber from around the Baltic Sea also contains a higher percentage of succinite, which acts as an anti-inflammatory and an analgesic when worn against the skin.
PRICELIST$249 $99ONLYNOW PLUS SHIPPING BALTIC AMBER DESIGNED BY NATURE OVER 44 MILLION YEARS .... ORDER YOURS TODAY! TOLL FREE 24/7 ON or order online at timepiecesusa.com/ca2kbc ENTER PROMO CODE CA2KBC FOR $99 PRICE! • Genuine Baltic Amber • Sterling Silver • 18k Yellow Gold Plate • Complimentary Adjustable Chain QUOTE OR ENTER PROMO CODE: 1-800 733 8463 CA2KBC price
he Baltic region is home to the largest known deposit of amber, dating from 44 million years ago (during the Eocene epoch). Amber is a unique gem; not only is it simply beautiful but also equips mankind with valuable data through its capacity to show us the past. It can preserve organic tissues of life forms, something both valued by scientists and gem collectors alike.
PAY BY CHECK: Timepieces Int Inc, 10701 NW 140th Street, Suite 1, Hialeah Gardens, Florida, 33018
rder this exceptionally beautiful piece today at the exclusive offer price of $99 plus S&H by simply calling us toll-free or by visiting our online store. Remember to quote or enter your promo code to obtain the offer price. We'll ship directly to your door making this the perfect, hassle-free gift for yourself or others. If you're not completely satisfied with 30 days simply return to us for a full refund of the offer price.
Berkeley County, South Carolina & No Other!
Experience History, Culture
Adventure Like
Learn more about Berkeley County at: exploreberkeleycounty.com
Berkeley County is a wonderland for outdoor enthusiasts, sports buffs, adventure seekers, and water lovers.
From exemplary fishing for striped bass, or a trophy largemouth bass, to our hiking trails and water activities, along with scenic outdoors where you can catch a glimpse of white tail deer and gators, Berkeley County has activities to fit all visitors and families.