We're Here for Everyone, Everywhere
I have been fortunate to spend the last 40 years as a reproductive endocrinologist helping couples and individuals have the babies they so desperately want.
I've treated tens of thousands of patients, assisted in creating thousands of babies, and throughout this time, I've learned a couple of truths:
1. While western medicine offers many effective treatment solutions, it does not hold ALL of the answers to fertility challenges. Eastern medicine and alternative therapies have the ability to successfully pick up where western medicine leaves off.
2. Every person's path to parenthood looks a little different. Their histories, both personal and medical, are unique, and their treatment plans need to be as well.
3. What we eat and how often we eat have a major effect on every organ system in our bodies, including the reproductive organs and endocrine system—and may hold the key to overcoming infertility for so many.
Knowledge is power, and sometimes what you think is true isn't. That's part of the reason I believe it's so important to share all of the information contained in this Family Building Guide with people trying to conceive and anyone focused on living healthier, more balanced lives.
Controlling inflammation and its many sources –food, stress, the environment, exercise – is one of the best ways to improve your health and fertility. Inflammation is at the root of so much disease. All of our body systems are interconnected. There's a domino effect throughout the body. Inflammation in the G.I. tract inevitably spills over to the reproductive organs. Reproductive health goes hand in hand with total body health and this includes positive thinking in the mind as well.
CNY Fertility is here to help all patients, no matter where they live or what they've been through. We don't look at age, weight, AMH level, or number of previously failed treatment cycles. We're proud to be the fertility center so many turn to when they feel they've run out of options and (too often) hope. We pride ourselves on being the voices saying "YOU CAN DO IT" when the rest of the world seems to be saying it's impossible.
CNY Fertility is a special place. You'll receive encouragement from our team of doctors, nurses, PAs, nurse practitioners, embryologists, and lab techs. Not to mention our support groups and other "fertile friends". Whether or not you have the opportunity to meet all of the people involved in your care and that of your future child(ren), you can rest assured that our commitment to helping you achieve your dreams runs deep. This starts with 24/7 access to a nurse who can answer your questions, explain your protocol, and reassure you that how you're feeling or what you're worried about is completely normal.
Patients near and far have around the clock access to CNY Fertility. We know it's the little things that can make all the difference, which is why CNY takes an integrative approach to fertility treatment, examining what you're eating, how you're thinking, how you're moving, and all of the ways you can enhance your fertility.
We look forward to sharing this incredible journey to parenthood with you and supporting you every step along the way.
2 3
4 5 6 Meet Our Team 84 The Fertile Spirit 22 The Human Reproductive Story 86 Fertile Hope Yoga 24 Your First Consultation 90 Virtual Support 26 The Basic Fertility Evaluation 92 Pregmune 28 PCOS 94 Carrier Screening 30 Unexplained Infertility 98 Reproductive Immunology 32 Treatment Options 100 The Keto Carnivore Food Plan 34 IUI 104 Why Carnivore? 36 IVF 110 The B.E.B.B.I.S. Diet 40 Preimplantation Genetic Testing 116 Fatty, Flavorful and Filling 42 ZyMōt™ Sperm Processing 120 Kiltz's Full-Fat Ice Cream 44 Egg Freezing 122 Intermittent Feasting 48 Sperm Freezing 127 Keto Carnivore Resources 50 Minimally Invasive Surgery 130 Keto for Fertility Recipes 52 Vasectomy Reversal 136 Glycation 53 Tubal Ligation Reversal 140 Tips for Vegans & Vegetarians 54 LGBTQ+ Family Building Options 144 Success Stories 56 The Donor Decision 156 Medicines for Treating Inflammation 58 Using a Surrogate 160 CNY Healing Arts 60 Destination CNY 164 Massage 66 Travel Success Stories 166 Acupuncture 68 Adoption 168 Feel the Light 72 Making Priceless Affordable® 170 Mind Body Smile 74 CNY Fertile Financing 172 What Are You Breathing? 76 Preparing for Treatment 174 CNY Locations 82 Patient Support at CNY Fertility
TABLE OF CONTENTS
Meet Our Team
OUR FERTILITY SPECIALISTS
EDWARD C. DITKOFF, MD
MARIBELLE VERDIALES, MD
GENNADIY IVANOV, MD
Dr. Kiltz is Founder and Director of Central New York's first successful IVF center. He is a Diplomate of the American Board of Obstetrics and Gynecology and Fellowship trained and Board Certified in Reproductive Endocrinology and Infertility. A Graduate of the University of Southern California, Dr. Kiltz completed medical school training at the University of California, Davis.
He interned in Internal Medicine at UCLA, and in Obstetrics and Gynecology at USC Los Angeles County Women's Hospital. After residency at the University of Colorado Health Science Center in Denver, he practiced for one year at Kaiser Permanente in California. He then went to Harbor UCLA Medical Center for a twoyear fellowship in Reproductive Endocrinology and Infertility.
Dr. Corley has been helping couples with fertility issues have families for over 24 years. He is board certified in both Obstetrics & Gynecology and Reproductive Endocrinology and Infertility (REI). He is a graduate of Clemson University and obtained his medical degree from the University Of South Carolina School Of Medicine. He completed his OB/GYN Internship and Residency at Portsmouth Naval Hospital. After serving in the Navy at Guantanamo Bay Cuba and Charleston Medical Center, he continued his fellowship training in Reproductive Endocrinology and Infertility at the University Of Louisville School Of Medicine.
Dr. Grossman is a graduate of Michigan State University. Dr. Grossman's residency was in Saginaw, Michigan, after which he worked at a private infertility clinic in southeast Michigan. He completed his fellowship at the University of Louisville and joined CNY Fertility as our Albany physician. He is a Diplomate of the American Board of Obstetrics and Gynecology, and board certified in Reproductive Endocrinology and Infertility.
Dr. Ditkoff is a native New Yorker and attended college at Emory University before continuing on to Chicago Medical School. Following his residency training in OB/GYN at the George Washington University Medical Center, he successfully completed a fellowship in Reproductive Endocrinology at USC Medical Center in Los Angeles from 1990-1992.
Dr. Verdiales was born in Puerto Rico, where she graduated with honors from University of Puerto Rico School of Medicine. She completed her residency at Jamaica Hospital Medical Center (Jamaica, NY) where she discovered her passion for women's health. After graduation, she continued to practice in New York and pursued further training in the areas of Robotic Surgery and pelvic reconstruction with and without mesh implants. In 2009, Dr. Verdiales relocated to Georgia with her family. She took advance training in bio-identical hormone therapy, nutrition, weight loss and integrative medicine. She believes that in order to achieve health, there must be a balance between body, mind and soul. Dr. Verdiales is dedicated to the health and wellness of women and all couples and clients interested in growing their families. In addition to being a doctor, she is also a speaker and wellness coach.
Dr. Ivanov is a Fellow of the American College of Obstetrics and Gynecology (FACOG), a member of the American Medical Association (AMA) and American Association of Gynecological Laparoscopists (AAGL). He is boardcertified in obstetrics and gynecology in the U.S. and Ukraine. Dr. Ivanov completed his OB/GYN studies and medical residency in 1999 at Kharkov State Medical University in the Ukraine, where he subsequently practiced as a university faculty physician. In 2009, he completed his U.S. medical residency at the University of Buffalo in New York.
Dr. Ivanov focuses on Gynecology and Women's Preventive Health. He is passionate about using minimally invasive procedures in gynecology to avoid major surgeries. Dr. Ivanov joined CNY Fertility in 2020 and has received extensive training from some of the nation's leading experts in fertility care. In addition to being the head physician at CNY's Philadelphia clinic, he is an active staff member at St. Mary and Holy Redeemer Hospitals and fluent in English, Russian, and Ukrainian.
SYRACUSE • ALBANY • BUFFALO • ROCHESTER • ATLANTA COLORADO SPRINGS • PHILADELPHIA • SARASOTA
OUR FERTILITY SPECIALISTS
"Creating miracles for over 20 years"
ROBERT J. KILTZ, MD
MICHAEL P. GROSSMAN, MD
DAVID R. CORLEY, MD
6 7
Born in Calcutta, India, Dr. Banerjee completed his medical school and residency in Obstetrics and Gynecology at Calcutta National Medical College and Hospital. He moved to the United States in 2004 as a research fellow at the Cleveland Clinic Department of Reproductive Medicine. Dr. Banerjee completed a second residency in Obstetrics and Gynecology at the University of Toledo Medical Center in Toledo, Ohio followed by a Reproductive Endocrinology and Infertility Fellowship at Wayne State University in Detroit, Michigan.
Dr. Banerjee is Board Certified in Obstetrics and Gynecology and Board Eligible in Reproductive Endocrinology and Infertility. He is a member of the American Society of Reproductive Medicine, American College of Obstetricians and Gynecologists, American Medical Association, and the Society for Gynecologic Investigation.
His fertility interests include preservation of oocyte quality, IVF, and recurrent pregnancy loss. He has also published numerous peer reviewed publications. Dr. Banerjee and his wife are parents to two children. In his spare time, he enjoys writing poetry, painting, and is a member of an amateur theatre group.
Dr. Faruqi is a graduate of Université de Montréal and currently teaches gynecology at McGill University. His expertise is in assisted reproductive technology and minimally invasive gynecological surgery. He takes a comprehensive approach to fertility treatment that focuses on medical interventions as well as improving the overall health and well-being of the client.
Dr. Faruqi has a certificate in Reproductive Endocrinology and Infertility and is a fellow of both the Royal College of Surgeons of Canada and the American Board of Obstetrics & Gynecology.
Dr. Chang is a Diplomate of the American Osteopathic Board of Obstetrics and Gynecology. He is a graduate of Penn State and obtained his medical degree from Des Moines University. Following his OB/GYN residency at Cooper University Medical Center, he practiced obstetrics and gynecology for seven years before entering a fellowship in Reproductive Endocrinology and Infertility at the Philadelphia College of Osteopathic Medicine. He credits his osteopathic training for having encouraged his life-long interest in Asian medicine and alternative therapies, and he takes great pride in treating people as a whole, rather than as a set of lab values.
Dr. Trussell is a urologist specializing in treating conditions affecting the urinary tract in men and women. He is a 1992 graduate of Temple University School of Medicine, did his residency at SUNY Upstate Medical University and internship at Balboa Naval Hospital.
Dr. Trussell has a clinical interest in Andrology, Erectile Dysfunction, Peyronie's Disease, and Male Infertility. He is a member of the American Urological Association (AUA) and an Associate Professor of
Dr. Walinsky is a graduate of Drexel University College of Medicine in Philadelphia where she also did a research fellowship in the Division of Reproductive Medicine at University of Pennsylvania. She completed her OB/GYN residency in Baltimore and then taught residents there for five years before moving to New Mexico where she was a Laparoscopic Specialist for ten years. She is a diplomate of the American Board of Obstetrics and Gynecology and an active member of the AAGL (American Association of Gynecologic Laparoscopists). Dr. Walinsky is happy to return to her roots
Dr. D'Souza was born in London, England but has called Buffalo, NY home for many years. She is a graduate of Canisius College and obtained her medical degree from Jagiellonian University.
Dr. D'Souza completed her residency at Hutzel Women's Hospital at Wayne State University in Obstetrics and Gynecology. She is a practicing Ob/Gyn and is dedicated to the health and well-being of women of all ages.
Dr. D'Souza has a particular interest in fertility and nutrition. She seeks a holistic approach to helping patients in addition to western medicine practices and has completed a certificate program with the Institute of Integrative Nutrition.
Dr. Luthringer serves as chief surgeon at the CNY Fertility International Surgical Institute. He joined the team in 2016 and brings 30 years of experience assisting fertility patients to achieve their goals. His passion is the development and advancement of techniques to better the surgical outcomes of his patients. This has led to his expertise in the treatment of endometriosis utilizing both advanced minimally invasive and da Vinci robotic surgery. He routinely performs surgery on patients from across the country and around the world in addition to teaching all aspects of gynecologic surgery.
Dr. Luthringer completed both medical school and residency at SUNY Upstate Medical Center. He also served as the Felix Rutledge Fellow at MD Anderson in Houston, Texas. He is Board Certified in Obstetrics and Gynecology, a Fellow of the American College of Obstetricians and Gynecologists, and a member of the American Association of Gynecologic Laparoscopists.
OUR FERTILITY SPECIALISTS
JC TRUSSELL, MD
DENISE WALINSKY, MD
CAROLINE A. D'SOUZA, MD MYRON O. LUTHRINGER, MD
JASHOMAN BANERJEE, MD
OUR FERTILITY SPECIALISTS Call to book your appointment today! 844-315-2229 CNYFERTILITY.COM 8 9
FAEZ FARUQI, MD ERIC CHANG, DO
OUR FERTILITY SPECIALISTS OUR FERTILITY SPECIALISTS
Elizabeth earned a bachelors degree in Biology from SUNY Geneseo in 2010. She went on to graduate Suma Cum Laude from D'Youville University with a Master's degree in Physician Assistant. Elizabeth worked in emergency medicine for seven years prior to working at CNY. Elizabeth is an active member of the American Society of Reproductive
RANDY A. FINK, MD R. CHARLES WELLIVER, JR., MD
Dr. Fink completed his Obstetrics & Gynecology training at Brown University/ Women & Infants' Hospital of Rhode Island and medical school at the Medical College of Virginia. He attended graduate school at the University of Pennsylvania and received his undergraduate degree from The American University in Washington, DC.
Dr. Fink is a Fellow of the American College of Obstetricians & Gynecologists. He has been named one of "America's Top Obstetricians & Gynecologists" and is an honored recipient of the Patient's Choice award. His clinical interests include women's wellness & sexuality, sexually transmitted infections, bio-identical hormone management, menopause and peri-menopausal concerns, and hysteroscopic surgery.
Dr. Fink and his wife Stephanie have three wonderful children who light up their lives.
Dr. R. Charles Welliver, Jr. specializes in treating a variety of urologic disorders affecting men. He is fellowship-trained in Andrology and male factor infertility and works closely with CNY Fertility through his office at Albany Medical Center.
He has received awards both regionally and nationally for his research. He performs journal article reviews for many urologic journals and has twice been named reviewer of the year in the Journal of Urology for article reviews involving men's health/infertility. He is a member of the American Urological Association (AUA), American Society for Reproductive Medicine (ASRM), Sexual Medicine Society of North America (SMSNA), a founding member of the Society for Benign Prostatic Diseases (SoBPD), and an Associate Professor in Urology.
JAMES D. KONDRUP,MD WERNER NEUHASSER, MD
Dr. Kondrup is board certified in Obstetrics and Gynecology and is recognized both nationally and internationally as a leader and trainer in Minimally Invasive Surgery for women. He is the past Chairman of the Lourdes Hospital Robotics Committee and present Chairman of the Lourdes Hospital Minimally Surgery Committee (now encompasses the Robotics Committee). He is dedicated to providing women with the latest options in Minimally invasive Gynecologic Surgery, Infertility, and Hereditary Cancer screening and treatment.
Dr. Kondrup specializes in the areas of endometriosis, fibroids, adhesions and pelvic pain. Dr. Kondrup brings with him over 35 years of infertility evaluation and treatment experience and is committed to helping anyone who needs assistance achieving their dreams of creating a family.
Dr. Werner Neuhausser received his medical degree from Oxford University followed by an academic internship at Imperial College in London (UK). He completed his residency in Obstetrics and Gynecology at Columbia Presbyterian Hospital in New York and a fellowship in Reproductive Endocrinology and Infertility at Beth Israel Deaconess Medical Center/Boston IVF in Boston.
He graduated Summa Cum Laude with a Master's degree in Physics from Vienna Technical University and, as a Fulbright Fellow, went on to receive a PhD in Biomedical Sciences working with Dr. David Julius at the University of California, San Francisco (UCSF). He was a faculty member at Beth Israel Deaconess Medical Center and Harvard Medical School where he was an instructor and continued to pursue research focusing on early human embryonic development and human gametogenesis.
He is a member of the American College of Obstetricians and Gynecologists (ACOG), the American Board of Obstetrics and Gynecology (ABOG), the American Society for Reproductive Medicine (ASRM), and the New England Fertility Society (NEFS). He is also a Fellow with the American Congress of Obstetricians and Gynecologists (FACOG).
In his spare time, Dr. Neuhausser enjoys mountaineering, climbing, skiing and wildlife photography. He is a certified ski instructor.
ALEXIS SEWARD, FNP-BC
Nurse Practitioner, Buffalo
Medicine and the American Academy of Physician Assistants. Elizabeth has always had an interest in Women's
Health and has been an advocate for women seeking help from the healthcare system. She has found her calling with CNY Fertility. Elizabeth prides herself in guiding her patients through their own unique infertility journey by taking a holistic approach to patient care. Elizabeth is proud to be part of the CNY team and looks forward to a long career of helping make others' dreams come true.
Alexis earned her Baccalaureate of Science in Nursing from Roberts Wesleyan College and worked in the operating room for seven years as lead nurse for OB/GYN surgical services. She completed the Family Nurse Practitioner Program and received her Master's Degree from D'Youville University and found her home with CNY Fertility in 2021. She is board certified by the American Nurses Credentialing Center. Alexis
is a member of the Sigma Theta Tau the National Honor Society of Nursing. She has always been interested in Women's Health and reproductive health. She loves providing care to all her patients,educating, and empowering them throughout their journey. Alexis lives in Buffalo with her husband and daughter.
KRIS ZIEGLER, RNC, MSN, WHNP Nurse Practitioner, Buffalo
Kris earned her Baccalaureate of Science in Nursing from Niagara University. She completed the Women's Health Nurse Practitioner Program and received her Master's Degree from The State University of New York in Buffalo. Kris is an active member of ASRM and has been NCC certified in Reproductive Endocrinology since 1989. She has taught at D'Youville College as an adjunct faculty member and has been a Nurse Practitioner and Physician Assistant student preceptor at SUNY Buffalo, Daemen College, Dyouville College and St. John Fischer College.
Kris was the Clinical Director of the Department of Reproductive Medicine at St. Francis and Kenmore Mercy Hospital, until entering private practice in 1994.
Kris joined CNY Fertility in 2012, working part time out of the Rochester office, and then became fulltime in 2016 when the Buffalo office opened.
She loves providing care to couples trying to achieve a pregnancy and is honored to be part of the CNY Fertility team, working with Dr. Kiltz and a talented group of compassionate professionals
Rebecca is a graduate of Binghamton University with a BS in Nursing and a BA in Psychology and Biology. She worked for eight years as a Labor and Delivery Nurse at Bellevue Woman's Hospital and then chose to fulfill a lifetime career goal and graduated from Baystate Medical Center becoming a Nurse Midwife and OB/
GYN Nurse Practitioner in 1999. She has spent most of her career working as a Nurse Midwife, helping women deliver their babies. She was excited to make a slight career change when she joined CNY Fertility and enjoys helping clients achieve their dreams of becoming parents.
Physician Assistant Buffalo
ELIZABETH HALL, PA-C
Everyone has a different journey. We can't wait to be part of yours.
Nurse Practitioner, Albany 10 11
REBECCA ESKIN, CNM , NP
DAVEY,
Nurse Practitioner, Albany
Niccole earned her nursing degree at Samaritan Hospital School of Nursing in Troy, NY in 2012 and started her career at CNY Fertility in 2013. She received her Bachelor of Science in Nursing from the State University of New York at Delhi in 2014. While continuing her work at CNY Fertility as a Registered Nurse, Niccole completed the Family Nurse Practitioner program through the State University of New York Polytechnic Institute. Niccole
is board-certified by ANCC and a member of Sigma Theta Tau, The National Honor Society of Nursing. She serves as a preceptor for nurse practitioner and physician assistant students. Niccole has spent her entire career in reproductive health and finds nothing more rewarding than helping people become parents.
OUR FERTILITY SPECIALISTS
Jessica is a board-certified Family Nurse Practitioner. She received her MSN from Bradley University and her BSN from East Carolina University. She has worked in surgery for the last 26 years in the areas of OB/Gyn and laparoscopic, robotic, general, and vascular surgical procedures.
JESSICA WOOD, APRN, FNP-C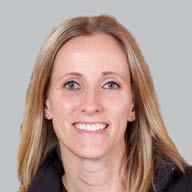 Ashleigh Rausch joins CNY Fertility with an extensive clinical background as a Physician Assistant with over 10 years of experience in Emergency Medicine, Interventional Radiology, and Primary Care with a focus in Women's Health.
Ashleigh earned her PA degree from Rochester Institute of Technology, where she completed specialized clinical
training in Reproductive Endocrinology and Infertility. She also completed a Medical Immersion Program in Guanajuato, Mexico where she became fluent in Spanish. Ashleigh enjoys reading, traveling and spending time with her family and friends.
MARGARET MARNELL, MS, FNP- BC Nurse Practitioner, Syracuse
Leigh completed her Bachelor of Science degree in Nursing at Binghamton University in 1999 and her Nurse Practitioner degree from the University of Rochester in 2004.
She joined the CNY Fertility team in 2011 and has worked in the women's health arena for the past 18 years. She lives in Rochester with her husband and two daughters.
LEIGH HOUGHTON, RN, NP
Nurse Practitioner Rochester
Katy graduated from Loyola University Chicago with a Bachelor of Science in Nursing and worked as a Labor & Delivery nurse for nearly 10 years prior to pursuing her Master's degree. In 1994, she completed her Master's Degree in Women's Health at the University of Rochester and worked in OB/GYN private practice as a Nurse Practitioner.
CATHERINE FALCON, WHNP
Nurse Practitioner Rochester
Jessica enjoys spending time with her children and grandchildren and enjoys helping countless couples and individuals on their family building journeys.
Katy joined CNY Fertility in 2013 and couldn't be happier.
She has spent her entire career in women's health and finds it to be tremendously rewarding.
GRACE MICHEL, RN, MSN, FNP - BC
Nurse Practitioner, Syracuse
Margaret earned her Baccalaureate of Science in Nursing from Niagara University, completed the Community General Hospital Family Nurse Practitioner Program, and received her Master's Degree with Distinction from Upstate Medical University.
Board certified by the ANCC and an active member of ASRM and ANCC, Margaret is a preceptor faculty member at Le Moyne College and Upstate Medical University, assisting Nurse Practitioners and Physician Assistant students.
Margaret has been practicing with Dr. Kiltz for over 15 years. She completes initial client consultations and is an active member of the clinical team. Margaret is responsible for initiating the CNY Fertility's office-based surgery centers in our Syracuse and Albany locations, manages the centers through the American Association for Ambulatory Surgery Facilities. Margaret loves working with Dr. Kiltz and is proud to be part of the CNY Fertility family.
Grace is a graduate of LeMoyne College, where she received a Bachelor of Science Degree in Nursing with a minor in Psychology. While working at CNY Fertility Center as a Registered Nurse, she completed the Le Moyne Family Nurse Practitioner Program.
Grace is a Board Certified Family Nurse Practitioner and licensed in New York State. She works primarily with patients undergoing Reproductive Endocrinology and Gynecological care. An active member of several
professional organizations, including the American College of Nurse Practitioners, the American College of Nursing, and the International Honor Society of Nursing, Grace was inducted into Sigma Theta Tau, the National Honor Society of Nursing.
Through many years of hands-on experience, hard work and professional study, Grace has gained substantial knowledge and experience with fertility patients.
Kelly received her Bachelor's Degree in Nursing from Syracuse University at Utica College and her Master's Degree in Nursing from Stony Brook University.
She is Board Certified by the National Certification Corporation and an
active member of the American Society of Reproductive Medicine (ASRM).
Kelly specializes in Women's Health and has spent more than 13 years practicing in that specialty.
OUR FERTILITY SPECIALISTS
Nurse Practitioner, Sarasota
Nurse Practitioner, Syracuse
KELLY TESTA, RNC, MSN, WHNP-BC
NICCOLE
FNP-BC
ASHLEIGH RAUSCH, PA-C
12 13
Physician Assistant, Rochester
Jennifer has a degree in Psychology from the University of Colorado at Boulder as well as a Bachelor of Science in Nursing from the University of Alaska at Anchorage. She worked in Labor & Delivery for 6 years before joining CNY Fertility in 2013 as an OR
Nurse. Jennifer recently completed her Master of Science in the Family Nurse Practitioner Program at Le Moyne College and is honored to be a part of the CNY Fertility team helping couples achieve their goals of parenthood.
Nurse
Chelsea graduated from Le Moyne College's Master's Degree Family Nurse Practitioner Program. Prior to that, she earned a BA in Communications and a BS in biology from Le Moyne and was a summa cum laude graduate of Utica College's BSN program. She is a member of Sigma Theta Tau, the National Honor Society of Nursing.
FNP-C
Nurse
She has over a decade of healthcare experience as a paramedic and an RN working in pre-hospital, emergency department, and surgical settings.
As a grad student, Chelsea had the good fortune to intern at CNY Fertility and was immediately captivated by the specialty and impressed by the professionalism and passion of the staff there. She was even more fortunate when she was hired to Dr. Kiltz's team and offered the opportunity to help clients achieve their dreams of parenthood.
MARTHA JARAMILLO, APRN
Nurse Practitioner, Atlanta
Martha graduated from Felician College in Lodi, NJ with an ADN in nursing. She worked in family planning, fertility practices, and labor and delivery prior to pursuing her Masters of Science.
Martha then worked in a private OB/ GYN practice, gynecologic oncology, and breast health prior to joining CNY. She is fluent in Spanish and has spent her entire career in women's health.
BRANDIS MONTEZ, AGACNP-BC, FNP-BC
Nurse
Amy recently joined CNY Fertility as a board-certified family nurse practitioner. She has worked in primary care and women's health for 5 years. She is a graduate Mercy College of Health Sciences nursing program and the of University of Hawaii at Manoa Masters program.
She started her nursing career in 2004 in the United States Navy and continues
as a Naval Reservist. She has experience in Emergency/Flight Medicine and Labor and Delivery. She has always had a passion for women's health and is very fulfilled in helping women with fertility and family planning. Amy lives in Colorado Springs with her husband, daughter, and two dogs.
KIMBERLY MATHIS, NP
Nurse Practitioner, Atlanta
Kimberly has dedicated her career to women and women's health. She graduated from Mercer University with a Bachelor of Science in Nursing. She was a Labor & Delivery/Antepartum nurse at Piedmont Hospital for over 10 years. She received a Master of Science in Nursing degree from Georgia State University, majoring in the Women's Health Nurse Practitioner/Perinatal Clinical Nurse Specialist program.
She worked as a Nurse Practitioner in Gynecology/Urogynecology prior to joining CNY Fertility.
Kim enjoys helping women of all ages address whatever gynecologic challenge they may be facing. Whether it is heavy or painful periods, difficulty getting pregnant, or pelvic floor weakness postpartum and beyond, Kim is an expert in women's issues.
Brandis is a double-board certified adult/gerontology acute care and family nurse practitioner by the ANCC. She was born and raised in Pueblo, Colorado. She received her Bachelors of Science in Nursing from Colorado State University-Pueblo in 2016, and she was a part of the Sigma Theta Tau Honor Society of Nursing. As a registered nurse, Brandis worked in the wellness centers in the high schools around Pueblo, and she also spent some time working in pediatric care.
In 2017, Brandis returned to Colorado State University-Pueblo to complete
the nurse practitioner program and graduated with honors in 2019. As a nurse practitioner, she has worked in orthopedic trauma and urgent care. In 2021, Brandis found her work home with CNY Fertility Center and Healing Arts in Colorado Springs as a fertility nurse practitioner. She feels that there is truly nothing more rewarding than getting to help people build their family, and to see women, men and couples empowered in the process
MELISSA SCAPARO, MSN-Ed, RN, FNP-C
Nurse Practitioner, Atlanta
As a veteran nurse in critical care medicine and bariatric services, Melissa has a passion to see people succeed where they were told only failure possible. She has over 15 years of experience with the acute care population and brings insight into the more complex medical patient. Melissa is a wife and mother to two boys, who has a deep understanding of the joys children can bring to life. She enjoys
research and stays abreast of current information and guidelines for optimal body, mind, and spirit for whole care.
OUR FERTILITY SPECIALISTS
Nurse Practitioner, Colorado Springs
AMY JENKINS, RN, MSN, FNP-BC
JENNIFER ANDERSON, FNP-C
CHELSEA HOLTMAN,
Practitioner, Syracuse
Practitioner, Syracuse
Practitioner, Colorado Springs
SPECIALISTS 14 15
OUR FERTILITY
OUR FERTILITY SPECIALISTS
Donna has been working in Reproductive Medicine since 1995. She has been at CNY Fertility Center since its inception and has significantly contributed to its growth and development. Earlier in her career, she was the IVF and Oocyte Donor Program Coordinator. She transitioned to the Clinical Nurse Manager for the Syracuse location as the business expanded.
Realizing that she was able to assist clients from across the country and beyond to
achieve their dreams of having a family, she established the Global Fertility Program. Donna understands the challenges faced by those experiencing infertility, particularly those coordinating cycles from afar, and supports them throughout their journey. She continues to enhance her fertility knowledge by attending Post Graduate courses at ASRM on a yearly basis and staying up-to-date with assisted reproduction publications and articles.
HOLISTIC FERTILITY SPECIALISTS
Donald has been helping couples build families for over 22 years as an Acupuncturist. He joined the team at CNY Fertility/ He aling Arts
14 years ago. Donald is a graduate of Bastyr University, where he completed his training in Chinese Medicine.
DONALD CLARKE, L.Ac
Justine is a graduate of Samaritan Hospital School of Nursing and received a Bachelor's Degree in Nursing from the State University of New York at Utica/Rome. She began her career in women's health at Bellevue Women's Hospital as a labor and delivery nurse and later assisted with the development of an IVF program. In January 2006, Justine joined Dr. Robert Kiltz and the CNY Fertility family with the opening of the Latham location.
Justine has been working in Reproductive Medicine since 1994 and feels very fortunate to love the role she is in today. Helping couples and women to achieve their dreams of parenthood is incredibly rewarding. It is a privilege and honor to support CNY Fertility's clients as they navigate one of the most difficult times in their lives. It is also Justine's sincere pleasure to lead a team of professionals who provide the most compassionate, advanced care to each and every client.
JENNIFER WATERS, L.Ac, DIPL.AC
Jennifer has a degree in Traditional Chinese Medicine (TCM), is a Certified Arvigo Therapist trained by Dr. Rosita Arvigo, and completed the Integrating Functional Medicine with TCM Program with Dr. Jake Fratkin. She lives in Upstate NY where she has practiced Zen Buddhism with Shinge Sherry Chayat Roshi for over 30 years.
Jennifer is a regular contributor to Acupuncture Today with her column, "Talking with Masters", which led her to author "Welcome The Pain: The Life and Work
Donald helps clients navigate their fertility journeys using Chinese Medicine, Meditation, and Lifestyle adjustments. His specialties include follicular, endometrial, and sperm cell development. When not sitting with clients, you can find Donald at home in his garden with his daughters.
of Master Acupuncturist Zion Yu" with Balboa Press. She incorporates Photobiomodulation/ LED Light Therapy in clinical practice and was featured in the Oriental Medical Journal with her compelling article, "Does LED Light Have a place in TCM?", Earth/Late Summer 2018. She has a no-nonsense, common sense approach to real health which integrates the highest quality Functional and Chinese Medicine supplements on the market today.
Muhua is a graduate of Beijing University of Traditional Chinese Medicine (one of the top Acupuncture Schools in China) and specializes in acupuncture therapy that is a combination of modern anatomy and kinesiology, including
Pre- and Post- IVF Transfer Treatment. She has over 20 years of clinical practice and has treated over 100,000 patients.
Ronda graduated from the Finger Lakes School of Acupuncture and Oriental Medicine. She is also an herbalist and has a passion for planåts and nature. Ronda was born and raised in the Finger Lakes. She is especially
excited to serve the community she grew up in with Acupuncture and Chinese Medicine. Ronda specializes in treating anxiety, pain, and fertility. She also offers herbal consultation/ herbal therapies as well as dietary therapy.
JUSTINE TAYLOR, BSN, RN Nurse Manager, Albany
DONNA MILLER POLITO, RNC
Global Team Nurse Manager
MUHUA QIU, BTCM
RONDA DARBY, L.Ac
16 17
Our team approach means every client gets the very best care and the support they need on this journey.
Heather has been an acupuncturist for more than 20 years, specializing in the treatment of women's health (including fertility/pregnancy), men's fertility, chronic conditions, and mental health support. Utilizing Traditional Chinese Medicine and Saam Acupuncture, she has many paths to find a treatment plan to optimize your health.
After earning an MS in Acupuncture and Chinese Medicine from American College of Oriental Medicine, she worked with Randine Lewis, acupuncturist and founder of The Fertile Soul, and returned to Rochester in 2006 to help others achieve their best health.
HOLISTIC FERTILITY
SPECIALISTS
Amanda graduated from the Finger Lakes School of Massage. She learned Craniosacral therapy in 2000 through the Upledger Institute, and fell in love with energy work. She is trained in Reiki(I+II), Meridian Massage (Cindy Black), Aromatherapy (Aromahead), and Herbalism (7song).
The infertility journey can cause tremendous stress on the body. Amanda's aim is to reduce that stress through massage to bring the body back to balance and create a safe, healthy, and happy home for new life.
Michael Serrano is an award winning NYS Licensed Massage Therapist with 17 years' experience. Michael provides a customized blend of therapeutic massage techniques and reiki to relax the body. This includes 6 years at a world class resort and spa where Michael provided over 4,000 treatments to satisfied guests, 5 years providing in home palliative care for children with life shortening illness throughout central NY and 2 years providing in home Massage Therapy for the elderly. He has 3 years' experience working in chronic pain management prior to massage therapy.
His direct patient care training started in the United States Air Force 18 years ago as a dental surgery assistant.
Michael's soothing hands combined with extensive experience makes him a great massage therapist for aiding patients going through infertility. He is a healer at heart
Amy is a graduate of the Onondaga School of Therapeutic Massage and was as valedictorian of her class. Amy was drawn to massage therapy by her passion for holistic health, aspiring to help people achieve optimal wellness in a way which facilitates the body's ability to heal itself. She is skilled in the art of transporting clients to a state of deep relaxation as well as utilizing a variety of massage techniques to relieve pain and
discomfort in the body caused by muscle tension, injury, trauma and stress. Amy is proficient in Swedish, deep tissue, hot stone, prenatal and fertility massage. She has been practicing therapeutic massage since 2010.
LMT
Using an integrative massage that's nurturing, Kathy looks forward to helping clients increase their body awareness to better identify and alleviate sources of pain, tension and stress.
The body is more than just the sum of its parts! She believes massage therapy is a valuable tool physically and mentally and encourages it as a vital part of every health and wellness plan. Achieving an overall sense of well-being is the ultimate goal of every
massage session. Kathy's beliefs on nurturing the body makes her able to connect with each client to increase body awareness and have a clear mental state to open the chances of fertility.
Jessica is a graduate of Onondaga School of Therapeutic Massage. While Jess thoroughly enjoys practicing deep tissue massage because of the benefits clients receive from it, she also understands the perspective of those going through the infertility journey.
Jess went through it herself and feels as though it helps put patients at ease knowing that she understands everything they are going through.
Heather is a passionate bodyworker. She has been a Reiki Master Teacher since 2006. Her ability to combine the healing properties of Reiki with her massage takes the experience to a whole new level. Helping clients to relax and unwind or helping with a problem area is why Heather became a Massage Therapist.
Her passion for helping people heal and her mothering instincts makes her a great addition to the Healing Arts team in helping CNY Fertility patients achieve their goals of having a child.
HOLISTIC FERTILITY SPECIALISTS
KATHY SCHOLL, LMT
HEATHER SMITH, L.Ac
MICHAEL SERRANO, LMT
JESSICA KNAPP, LMT
HEATHER CACCIONE, LMT
AMY LARATTA,
18 19
AMANDA WELLS, LMT
HOLISTIC FERTILITY SPECIALISTS
Dr. Wang is a graduate of Beijing University. She is NCCAOM certified in Acupuncture, Herbology, and Chinese Medicine.
Dr. Wang has written many books, has been practicing for 32 years, and with CNY for 15 years.
Warren is a NCCAOM Board Certified acupuncturist. He graduated from Southwest Acupuncture College in Santa Fe, NM in 1999 and received further education at Chakra Traditional Tai Massage School in Hadrin, Thailand.
Warren has also apprenticed in Chengdu, China and has formally studied with Tibetan monks at the Litang Monastery. He has worked at CNY for 12 years.
Leah is an acupuncturist and Chinese herbalist who is excited to introduce you to a new approach to whole body health. Using the Eastern understanding of the body, she looks at each person as an individual with their own unique set of symptoms. She will work with you to develop a wellness plan specific to
your needs. Together, you can move towards a healthier and more comfortable life. As a graduate of the leading Chinese medical school, the Oregon College of Oriental Medicine, Leah is happy to be part of fostering a community of wellness in the Capital Region.
CREATING MIRACLES FOR OVER 20 YEARS
Karen is a graduate of Finger Lakes School of Oriental Medicine and furthered her education at the Zhejiang Provincial Hospital of Chinese Medicine in Hangzhou, China with an emphasis on Gynecology and pediatrics.
She received her Doctorate at Pacific College of Health and Science in San Diego, CA. Karen is also a certified Reiki practitioner.
LEAH RAINER, L.AC, MAOM
KAREN WILLIAMS, DACM, L.AC
WARREN MCNAUGHTON, L.AC
20 21
DR. YARONG WANG, OMD, PhD
The Human Reproductive Story
CONSIDER THE CHALLENGE
When you consider the complexity involved in human reproduction, you begin to realize it's a miracle that we exist at all. That a tiny oocyte (the egg) – a cell the size of a grain of sand –and a mature human sperm cell (which is one hundred times smaller than the oocyte) manage to find each other and combine to create a human child is one of the most amazing creations of the universe. The average chances of conceiving naturally and delivering a baby are about 20% per cycle in the first 6 months of trying, rates go down to 1-5% after about 18-24 months, and significantly diminish after age 40.
INFERTILITY FACTORS
Our ability to answer the question why couples struggle to conceive or carry a baby to term is somewhat limited. Factors such as hormonal, anatomic, immunologic and genetic/ chromosomal dysfunction are just a few of the causes we may identify. Since a woman is most fertile in her teens and early 20s, we know that the postponement of childbearing is a major cause of infertility. Failed implantation and repetitive early and late pregnancy loss are
also likely related to infertility and have similar and overlapping causes. In general, there are four main contributing factors to infertility: Ovulatory factors, Tubal and Uterine factors, Male factors, and Unexplained factors. A couple facing infertility may be experiencing one or more of these obstacles in both the male and female partner. But, you are not alone. Nearly 1 out of every 8 couples of reproductive age is affected by infertility.
OUR MISSION
Our mission at CNY Fertility is to guide you on your journey with a comprehensive evaluation and treatment options while integrating both eastern and western methods. Increasingly, we are seeing that our food is both a medicine and a toxin. By incorporating functional medical ideas to healing, you can enhance your chances of success for both natural conception and assisted techniques.
"You are not alone. Nearly 1 out of every 8 couples of reproductive age is affected by infertility."
22 23
"OUR MISSION AT CNY FERTILITY IS TO GUIDE YOU ON YOUR JOURNEY"
Your First Consultation
Telefertility, Video Chat, or In-Person
Whether in person or over the phone, your initial fertility consultation is an important one. We want you to feel comfortable and able to ask any questions you may have. For many, your initial consultation with one of our physicians, nurse practitioners, or physician assistants is really just a discussion The primary goal is for us is to listen and understand your hopes and expectations so that we can collectively create a suitable plan of action.
A provider will review your chart and discuss your medical history. Those coming to our office for an in-person consultation often take advantage of the opportunity to have bloodwork, a semen analysis, HSG, or other female and male testing done during their consultation.
You can expect your initial consult to last around 30-60 minutes. If you suspect or know that you are suffering from infertility, it is best if both partners (if applicable) are able to be present during the office appointment or phone consultation. The focus of this initial consultation is you, and ultimately you are in control of every decision that is made. With the incredible online resources available these days, many clients come to us already knowing what treatment they want. Others, however, require more guidance. Regardless of where you are in your understanding of your fertility issues, we are here to answer any and all of your questions as well as educate you on all of your treatment options.
After discussing your medical history and goals, we may recommend a certain course of action, but we will never force anyone away from the treatment they desire.
At CNY Fertility, our focus is always YOU. We don't focus on boosting our "success rates," and have never found the need to artificially inflate our numbers by denying treatment to those with "lower chances of success". Remember, odds and chances of success are merely statistics. Statistics are based on populations, but you are a unique individual.
A Financial Counselor will also be available to review your insurance coverage and the costs involved in any agreed-upon treatments. If you don't have insurance coverage, financing options can be explored as well. You will also have the opportunity to learn about Eastern holistic therapies that can improve your chances of conceiving—Yoga, Acupuncture, Massage, and Meditation.
PREPARING FOR YOUR CONSULTATION
Here is a list of things we recommend you have prepared for your initial consultation:
• A copy of your medical records from your OB/GYN, primary care physician (PCP), or any other fertility center.
• Insurance cards for both partners (if applicable) if your consultation is in office.
• Insurance authorizations (if applicable)
• A list of questions: many couples and individuals find it helpful to write down a list of questions beforehand so they don't forget anything during their consultation. We are happy to answer your questions at any time, but your consult is a great time to get as many of them answered as possible
24 25
The Basic Fertility Evaluation
RECOMMENDED DIAGNOSTIC TESTING FOR FEMALE
• Preconception baseline blood work (yearly) includes CBC (complete blood count), CMP (complete metabolic panel), Hepatitis, HIV, Cystic Fibrosis, Estrogen, FSH (follicle stimulating hormone), Progesterone, HCG (pregnancy hormone), TSH(thyroid), Testosterone, Rubella, Varicella, LH (lutenizing hormone), and Prolactin.
• If you have recurrent pregnancy loss or continuous failed implantation, additional testing will included: Lupus, NKC (natural killer cells), Karyotype (male and female), and ANA (antinuclear antibody).
• Autoimmune testing for recurrent pregnancy loss (if necessary).
• Hysterosalpingogram/Saline
FEMALE
At this first visit, the woman will be asked about the regularity of her periods, if she experiences severe menstrual cramps, pelvic pain, vaginal bleeding, her method of contraception, any history of surgeries and infections. If previous fertility evaluation and treatments have been performed, these will be reviewed and the results evaluated. A painless vaginal ultrasound will be performed as well. There is no need to reschedule this appointment if you are currently menstruating. Preconception baseline bloodwork will also be drawn at your first visit.
Sonohysterogram (HSG/SHG yearly) –to check condition of fallopian tubes and uterus.
• Physical exam and pelvic ultrasound (monthly).
• Hysteroscopy / Laparoscopy (diagnostic) –A surgical procedure done under anesthesia (general) to evaluate uterus for polyps, fibroids, endometriosis and adhesions.
MALE
The man will be asked questions regarding current and past medical conditions, past surgeries, infections, drug and medication use. A semen analysis should be performed to determine the likelihood of the man's ability to reproduce. This analysis can also help to determine appropriate next steps.
Semen Analysis: A typical semen analysis will evaluate all of the following:
Total Volume: 2-5 milliliters is a normal volume. A very low volume indicates that the seminal vesicles may not be making enough fluid or that these ducts may be blocked. It may also indicate a problem with the prostate gland.
Sperm Count: 40 million to 300 million is the normal range for the number of sperm per milliliter. Counts below 10 million are considered poor; counts of 20 million or more may be fine if motility and morphology are normal.
Motility and Velocity: 2 aspects of motility will be evaluated:
• The number of active cells as a percentage of the total number of cells (rated from 0-100%, at least 50% should be active)
• The quality of the movement of the sperm (rated from 0-4. A score of 2 or more is satisfactory.)
Morphology: examines the shape and size of the sperm head. Normal results are when 14% or more of the sperm have normal shaped heads. Men with less than 4% of normal shaped sperm may have a significant infertility problem.
RECOMMENDED DIAGNOSTIC TESTING FOR MALE
• Semen analysis (yearly)
• Chromosome testing / male hormone blood work (if necessary)
• Possible testicular/scrotal ultra sound to rule out varicocele
• Preconception baseline blood work drawn at consultation (with male factor infertility) TSH (thyroid), Testosterone, Prolactin, LH (lutenizing hormone), and FSH (follicle stimulating hormone)
SPERM COUNT SPERM MORPHOLOGY SPERM MOTILITY Normal Low Normal Abnormal Normal Abnormal
26 27
Polycystic Ovarian Syndrome (PCOS)
PCOS TREATMENT SUCCESS RATES
Treatment for PCOS
Injectable gonadotropins
IVF,
Many may be overweight and have difficulty with weight control, although you can be lean and still have PCOS.
PCOS cannot be diagnosed with one test alone, and symptoms vary from woman to woman. Additional warning signs include:
• PMS or pelvic pain
• Weight gain
• Acne
Polycystic Ovarian Syndrome or PCOS is one of the mostcommon hormonal endocrine disorders in women. Many women have it, and yet we don't know why, nor do we know the cause. In general, PCOS is really just that –polycystic ovaries. The basic difference between polycystic and normal ovaries is that although the polycystic ovaries contain many small follicles with eggs in them, the follicles do not develop and mature properly, so there is no ovulation.
Women suffering from PCOS may experience high testosterone levels, which cause other signs and symptoms such as Hirsutism (excessive hair growth), male pattern baldness and acne. This high level of testosterone can prevent the ovaries from releasing an egg each month causing irregular menstrual cycles and, ultimately, infertility.
Many women struggle with PCOS for years, and it's only when they have difficulty conceiving and seek fertility assistance that they learn the reason for so many of their symptoms. In fact, it is estimated that more than 50 percent of PCOS cases remain undiagnosed.
PCOS is one of the leading causes of infertility among women and is responsible for 70% of infertility issues in women who have difficulty ovulating. It affects nearly 10 percent of women before they hit menopause. Postmenopausal women can also suffer from PCOS. There is some degree of heredity with PCOS. Some studies have found that if a mother has PCOS, there is a 50% chance that her daughter will have PCOS.
SYMPTOMS OF PCOS
Although many of its symptoms are unnoticeable, PCOS can affect a woman's fertility, menstruation, hormone levels, and physical appearance. Infertility can result from low levels of the hormones necessary to create an egg. If ovulation doesn't occur, progesterone, a hormone that thickens the lining of the uterus, is not produced. A woman's cycle will be irregular or absent without progesterone.
Women with PCOS are at additional risk for insulin resistance, type 2 diabetes, high cholesterol, high blood pressure, and heart disease.
• Increased hair growth on face, back or chest
• Sleep apnea
• Thinning hair/baldness
• Dandruff
• Elevated cholesterol
• High blood pressure
• Type II Diabetes
Women with PCOS often have higher levels of insulin in their blood than normal. Insulin regulates the amount of sugar in the bloodstream. Researchers believe that the overproduction of this hormone causes women's bodies to respond by producing excessive amounts of the male hormone androgen. In a healthy body, the ovaries make a tiny amount of androgen. But with PCOS, they start producing too much. This often causes you to stop ovulating, grow excessive facial and body hair, acne, and makes it difficult to sustain a healthy body weight. That is why proper diet is critical to those who suffer from PCOS.
TREATMENT
There is no known cure for PCOS, although it is possible to manage its symptoms medically and through lifestyle modifications.
The Ketogenic diet has produced very good results in managing the symptoms of PCOS. By reducing or eliminating carbohydrates altogether and increasing consumption of saturated fats, a ketogenic diet can lead to significant reductions in
body weight, and lower percent free testosterone, LH/FSH ratio, and fasting serum insulin in as little as six months.
CONCEIVING WITH PCOS
The good news is that your chances of getting pregnant with PCOS using fertility treatments are very good. The great majority of women with PCOS will be able to have a baby. Women with PCOS generally need ovulation induction in order to get pregnant. This can be accomplished through the use of oral medications such as metformin, Clomid or Letrozole (Femara). These medications can be effective in stimulating ovulation in some women with polycystic ovaries and anovulation. Metformin is used to reduce high insulin levels and stabilize your hormones. It can be used alone or in combination with Clomid or Femara.
Some women do not respond and ovulate with Clomid, but will respond well to letrozole. Injectables can also be used. For women who do not ovulate with Clomid or Femara, the traditional next step is to use injectable gonadotropins. The woman takes daily shots of FSH hormone for about 10 to 12 days in order to stimulate mature follicle development.
Progressing to IVF is usually recommended after ovulation induction with intercourse and induction with IUI have not resulted in pregnancy.
There are also some surgical interventions, including ovarian drilling. This is when a doctor punctures the ovary with a small needle carrying an electric current to destroy a small portion of the ovary. This surgical procedure may lower male hormone levels and help with ovulation, but it also carries a risk of developing scar tissue on the ovary and the benefits may only last a few months. Both the risks and the benefits of ovarian drilling should be discussed with your doctor to determine if it is the right treatment for you.
Metformin Alone Clomid Femara
15%
20%
In vitro fertilization Expected "Monthly" Success Rate About 1-2% 15% - if ovulating
- if ovulating
50%
28 29
Inflammation = Unexplained Infertility
A diagnosis of unexplained infertility or idiopathic infertility is usually made when all of our testing is complete and there is not an obvious source of the problem. The man's sperm count looks reasonably normal in volume, motility, concentration and morphology. The woman has regular menstrual cycles which indicate she is likely ovulating. The hysterosalpingogram shows that the fallopian tubes and uterus are in normal condition. And, there are no obvious, systemic diseases (such as autoimmune diseases, diabetes, or previous history of cancer, radiation or chemotherapy) that may explain a history of infertility. Ovarian reserve is good and the woman has an AMH (Anti-Müllerian Hormone) level of greater than 1. It is important to understand what unexplained infertility really means:
The diagnostic testing we have available will only identify the major reasons why a couple may have a difficult time getting pregnant and staying pregnant, but it certainly cannot identify all of the reasons.
About 20-30% of couples will have no definitive diagnosis after completing a standard infertility evaluation. True unexplained infertility may be related to egg and sperm dysfunction, among other causes. These conditions are difficult to establish through conventional testing. If the fallopian tubes are blocked or there is no sperm, these are obvious major obstacles to becoming pregnant.
Unfortunately, there are no tests available for more subtle infertility factors such as inadequate egg quality which could result in fertilization failure.
In today's fast-paced treatment paradigm, some patients prefer to move forward with treatment without further clarification. Although oftentimes appropriate, this strategy should not be applied to every patient/couple. Laparoscopy and hysteroscopy are minimally invasive, out-patient surgeries that can provide a diagnosis and sometimes even offer improved pregnancy rates if scar tissue or endometriosis is found and treated at the time of surgery.
It is humbling to put into perspective that even among fertile couples who have no issues getting pregnant, they only have a 20% chance of achieving pregnancy any given month they try. In otherwords, they are unsuccessful 80% of the time!
Dr. Kiltz believes that unexplained infertility is likely related to our daily environment, major and minor stress factors, and diet. Stress and our environment are known to affect cortisol and epinephrine levels, and have a significant effect on the immune system.
There is considerable evidence that diets high in carbohydrates have not only created the significant obesity problem in our modern world, but also an explosive number of autoimmune issues that affect every organ system, including both the female and male reproductive systems.
It is our belief that inflammation is probably the number one source of fertility dysfunction. This means reduced chances of conceiving and implanting, and a significant increase in miscarriages. It may even be related to spontaneous chromosomal abnormalities with DNA damage due to chronic or acute inflammation.
"Unexplained Infertility is complex and likely related to our daily environment, major and minor stress factor, and diet"
30 31
Treatment Options
After thorough testing of both partners and identifying potential factors contributing to a couple's infertility, treatment options will be recommended based on their individual needs.
If my uterus/fallopian tubes/ovaries are normal, with normal sperm and I appear to be ovulating, my per cycle success is:
DONOR EGGS / SPERM
For couples and individuals who experience a lack of eggs or sperm, or whose eggs or sperm will not allow development into viable embryos, using donated eggs or sperm (or both in some cases) is a course of treatment worth consideration. Donors are usually anonymous, though not necessarily so– as in cases using family members or significant others. Egg donation is a viable option for women whose ovaries no longer produce eggs or whose eggs cannot develop into viable embryos. It is also an option for those couples who wish to maintain a biological link by using the partner's sperm. Sperm donation has been around for many years and has been socially acceptable for some time. Not only can a single woman, or women who do not have male partners, become pregnant using donated sperm, but males who have severe sperm abnormalities or no sperm
OVULATION INDUCTION
For those women with ovulation disorders, Polycystic Ovarian Syndrome, or irregular menstrual cycles, an oral hormone medication such as Letrozole (Femara) may be prescribed. These medications are designed to stimulate ovulation. Letrozole is often combined with ultrasound to monitor the ovaries and blood tests to monitor hormone levels. Letrozole can be used in conjunction with both timed intercourse or intrauterine insemination.
Gonadotropins are injectable fertility medications that work directly on the ovaries to produce follicles/eggs. The injections are given daily for approximately 10-12 days. During gonadotropin treatment, frequent monitoring with ultrasounds and blood hormone levels is necessary to closely monitor egg/follicle development. If a couple does not conceive after 3-6 cycles of gonadotropins, it is time to reevaluate and move on to alternative treatments.
INTRAUTERINE INSEMINATION (IUI)
For those women whose tubes are not severely damaged and have a normal HSG, intrauterine insemination (IUI) may be an option. In this fairly simple procedure, sperm is placed within the uterus around the time of ovulation. The woman's eggs are allowed to travel down her tubes on their own. Ovulation induction combined with IUI is often the first course of treatment. IUI alone offers a 3-6%* conception rate per cycle while combining Letrozole with IUI may boost this up to 9%*. Gonadotropins combined with IUI offers a 15-20%* per cycle conception rate (*minimal to mild tubal damage, normal to mild sperm abnormalities and women less than 40 years old.)
IVF
In Vitro Fertilization (IVF) offers a much higher chance of success per cycle for tubal damage than surgery. Tubal scar tissue is often inside the fallopian tube, but laparoscopic surgery can only repair the outside of the tube. During IVF, ovaries are stimulated to develop eggs and then the eggs are collected. The eggs are injected with sperm and incubated overnight to fertilize. The resulting embryos are incubated for up to 5 days and are placed in the woman's uterus.
at all, or even potentially serious genetic traits they do not wish to pass on, can benefit. Donors are screened for STDs, heredity and genetic diseases and blood disorders. Donors can be found who are a close physical and mental match of the recipient.
Embryo Donation is now another option available to our clients seeking to either create, or expand their families. Often when families undergo IVF treatments, they are left with remaining fertilized eggs (embryos). This can place the parents in a difficult position when they begin to discuss what to do with the remaining embryos. Previously, the only options available have been to donate the remaining embryos to research, keep them frozen indefinitely, or to dispose of them. We are now able to add a fourth option, Embryo Donation.
Fertility Treatment Options
OPTION DESCRIPTION
Trying Naturally Trying naturally for a further number of months
SUITABLE FOR
• When there is no diagnosed cause for infertility
• The woman is relatively young
• Seek help after 6-12 months of trying without success, sooner if there's a known cause for infertility
Ovulation Induction
• May use drugs to promote egg production
• May or may not include injections
• Have sex to become pregnant
• May or may not be part of a monitored cycle
Intrauterine Insemination (IUI)
• Preparing sperm in lab
• Selecting best sperm for implantation in uterus
• May be combined with fertility drugs such as Clomiphene to increase the number of eggs available
• Can be conducted over course of several cycles
IVF
• Drugs to increase number of eggs that mature
• Eggs collected
• Sperm added in lab
• Best embryo selected to replace (Any additional can be frozen for later use)
Donor Egg IVF IVF as per the above, using eggs from a young. fertile donor and partner or donor sperm.
• Women who don't ovulate
• Women with short cycles
• Women with short duration of unexplained infertility
• Mild male factor infertility
• Short duration of unexplained infertility
• Nearly any cause of infertility- tubal damage, endometriosis, unexplained infertility, ovulation problems
• Repetitive IVF failure
• Woman of advanced age or with Diminished Ovarian Reserve (DOR)
• Cancer survivors
• Male couples/single men using a surrogate
• Genetic reasons
trying on own/month 1-5% per cycle Intercourse Cycles with Fertility Medications 1-5% per cycle Intrauterine Insemination (IUI) with Fertility Medications 10-20% per cycle In Vitro Fertilization (IVF) with Fertility Medications 20-50% per cycle Donor Eggs 40-60% per cycle
Continued
32 33
Intrauterine Insemination(IUI)
INTRAUTERINE INSEMINATION
IUI is one of the least invasive fertility treatments available and can be pretty successful in certain situations. It's a good starting treatment for many women and couples, particularly those with mild male factor infertility, ovulatory dysfunction, or unexplained infertility. If diagnosis allows, it is usually tried before proceeding to IVF. While IVF generally achieves pregnancy much faster, speedier results come at a higher cost, and IVF is a more complicated process.
IUI is primarily a facilitator of natural conception. The goal of IUI is to increase the number of sperm that reach the fallopian tubes and subsequently increase the chance of fertilization. IUI provides sperm with a head start in that they don't have to travel from the vagina and through the cervix, but it still requires a sperm to reach and fertilize the egg on its own.
IUI circumvents the vagina and cervix by placing concentrated sperm right into the uterus where it's closer to the egg. IUI can be used with women who ovulate normally as well women who don't. And it can be used with medication and without as long as there's adequate sperm from a partner or donor. IUI generally has a success rate of around 10-20% per cycle, however, like
most fertility treatments, success rates depend on a lot of different factors and will vary for every patient based on age, medical history, and diagnosis. Statistically, IUI becomes a less successful treatment option as patients get older. And if IUI is going to work, it usually happens in the first few cycles of treatment.
Who Should Consider IUI: The most common reasons for IUI are low sperm count or decreased motility.
IUI may be a good fit for those with the following circumstances:
• Ovulatory Factor Infertility –those with no or irregular periods or PCOS
• Mild Male Factor Infertility
• Ejaculation Dysfunction
• Cervical Factor Infertility
• Sperm Allergy
• Single and Lesbian Women needing donor sperm
• Unexplained Infertility
Who Shouldn't?: Fertility providers don't typically recommend IUI to patients with fallopian tubes that are completely blocked, partially blocked, or open but diseased. In
these cases, conception is challenging and can result in an ectopic pregnancy. If the male partner has a low sperm count (e.g., less than 10 million motile sperm) or the couple has been attempting to conceive for a long time with a male partner who has a normal semen analysis, IUI is usually not the first treatment of choice.
TYPES OF IUI
There are four different "types" of insemination cycles, categorized by the medications that can be used. Your preferences, fertility testing results, and medical history will help decide which type of IUI cycle is best for you.
• Natural Cycle – No medications are used.
• Trigger Cycle – Medication is used to trigger ovulation at a specific time in order to optimally time insemination, further increasing odds of pregnancy. IUI typically occurs 12-36 hours after the trigger medication has been taken orally or injected.
• Oral Medication Cycle – Clomid or letrozole is given to enhance egg development and ovulation. Oral medication decreases the risk of multiples when compared to injectables.
• Injectable Medication Cycle – Injectable gonadotropin medications stimulate the ovaries further than oral medications can, however, the risk of multiples is greater with injectables. No matter what type of IUI cycle you choose, your cycle is monitored either with regular blood work and ultrasounds or at home via an ovulation predictor kit. If your IUI cycle includes medications, you can plan to be monitored with bloodwork and ultrasounds to ensure a safe and effective cycle.
THE IUI PROCESS:
IUI Preparation – Before your IUI procedure, men and women can make many to their diet, add beneficial supplements or medications, and utilize holistic therapies like acupuncture and
massage to ensure the best possible outcome. Taking this time to focus on improving the quality of your eggs pays off exponentially because it's something you have the power to change. Best results are seen if these changes are adopted for 90 days prior to treatment.
Egg Development – This step is either part of the woman's natural egg development or stimulated with medications and lasts roughly 10-14 days. Once your follicles are optimal size, a trigger medication may be given to finalize egg maturation and trigger ovulation. This phase of egg development may or may not be accompanied by ultrasound and bloodwork monitoring.
INSEMINATION
The insemination is performed as close to the day of ovulation as possible. Concentrated sperm from a partner or donor is injected into the top of your uterus through a small catheter inserted through your vagina and into your cervix. Doing this increases the odds of conception by reducing the distance the sperm must travel to meet the egg. Once injected, the catheter is removed. The insemination itself takes just a few minutes. It's possible to experience mild cramping post-procedure. The sperm used in your IUI can usually be collected at the office performing the IUI (preferred if possible), frozen and shipped to the center, collected fresh at your home and shipped to our centers using our sperm shipping kits (not advised), or ordered and sent to our office from a donor agency. Fresh sperm samples are prepared in our laboratory to obtain a concentration of active sperm.
If the IUI is successful, a blood pregnancy test will be positive in two weeks. Once a heartbeat is detected via ultrasound, the pregnancy has a 90-95% probability of resulting in a live birth.
Statistics show that 90% of IUI pregnancies occur in the first three cycles of IUI. Knowing when to move on to more advanced treatment like IVF is important for the emotional and financial well-being of both partners.
34 35
STEP ONE: Ovarian Stimulation
During a woman's normal ovulation cycle, only one egg matures each month. With IVF, it is best to have multiple mature eggs available, as this increases your chances of success. To do this, the ovaries must be stimulated to release additional eggs.
IVF:
WHAT'S REALLY INVOLVED?
In Vitro Fertilization (IVF) is the process during which a physician removes one or more eggs from a woman's ovaries and then, in an embryology laboratory, uses sperm to fertilize, or inseminate, them.
In recent years, IVF has become synonymous with fertility treatment due to its high rate of use by fertility clinics and its success rate. First performed successfully in 1977, IVF is now the most commonly used assisted reproductive technology (ART) procedure, with data indicating nearly 1.5 million ART cycles are performed globally each year.
Estimates suggest between one and two percent of all births in the United States now occur as a result of IVF, and that number only appears to be growing due to significant technological advances. IVF is commonly indicated for a variety of diagnoses, including:
• Advanced maternal age
• Unexplained fertility
• Fallopian tube damage or tubal ligation
• Male factor infertility
• Endometriosis
• Recurrent pregnancy loss
• Genetic abnormalities. At CNY Fertility, IVF is performed as an out-patient procedure in our offices. A Typical IVF Calendar (based on 28-day menstrual cycle). See diagram on page 31.
THE PROCESS
An IVF cycle begins with the onset of your menstrual period. You will need to call our office on the first day of your menstrual cycle to schedule a baseline exam for days 2, 3 or 4 of your cycle. Your appointment will also include blood work and a trans-vaginal ultrasound. At this appointment your treatment protocol will be outlined, and we will give you oneonone instructions about administering your medications that you will begin taking that evening.
Your appointments for follow-up monitoring will be scheduled, and we will monitor your progress every 2-4 days during your stimulation.
During the stimulation phase of an IVF cycle, you will use injectable medications to stimulate the ovaries to produce eggs. Follicle-stimulating hormone (FSH) and luteinizing hormone (LH), which are both produced naturally within the body, may be used. During this part of your cycle, you will need to come into the office several times for regular monitoring, which allows us to track the progress of follicle development using an ultrasound and adjust medication as needed. Stimulation typically occurs for 10-12 days.
Once your follicles grow to approximately 13 mm and/or your estrogen level reaches a certain level, the staff will instruct you to begin your antagonist injection (Cetrotide or Ganirelix). The final step in the stimulation phase of treatment is the trigger shot.
The trigger shot helps the developing eggs complete the maturation process and begins ovulation. You will use either a human chorionic gonadotropin (hCG) or Lupron trigger shot. Egg retrieval will be scheduled 35 hours after this injection. You should not have intercourse during the time between the trigger injection and egg retrieval.
STEP TWO: Egg Retrieval
Egg retrieval is an office procedure that requires a sterile environment, which is why partners are not allowed to be present in the room. During the procedure, you will be temporarily put to sleep, and you will not experience any discomfort. Prior to your retrieval, you will meet with your doctor and an anesthesiologist, who will review your medical history and administer intravenous fluids.
Egg retrieval can take anywhere from 5-20 minutes. Using ultrasound as a guide, a thin needle is passed through the top of the vagina and into the ovarian follicles. This nonsurgical
procedure is possible because the ovaries are located directly next to the vagina. The needle enters the follicles and removes the follicular fluid which contains the eggs. The fluid is then examined under a microscope to identify the eggs.
Recovery takes about 30 minutes, and you will be able to walk out on your own. A responsible adult should drive you home after the procedure as it is unsafe to drive after receiving anesthesia. Egg retrieval is a very safe procedure and serious complications are rare.
STEP THREE: Fertilization
The number of eggs retrieved will depend upon your age and response to hormones. But on average, 6 - 12 eggs are developed. As soon as the eggs are identified under the microscope, they are placed in Petri dishes which contain a culture medium that very closely resembles your own body's fallopian tube secretion. The eggs, and subsequently the embryos, will develop in the Petri dishes just as they would in your own body. The dishes are kept in an incubator at a constant temperature of 37ºC, 100% humidity and 5% CO2 concentration.
36 37
At the time of egg retrieval, the male partner will collect his sperm by masturbating into a clean cup. If you're using a frozen sperm sample or donor sperm that was previously collected, the technician will verify those details with you. The semen is then washed and processed to remove the seminal fluid to get the highest quality sperm possible for fertilization.
It takes about four to six hours after retrieval for the eggs to finally mature to the point that they are ready for insemination. There are two ways that fertilization can occur: conventional insemination or intracytoplasmic sperm injection (ICSI).
In conventional insemination, an embryologist isolates the healthiest sperm and then combines the eggs and sperm in a Petri dish. They are left together in an incubator for about 18 hours, giving them time to combine on their own and fertilize.
During ICSI, a single sperm is directly injected into the center of an egg using an extremely small glass needle under a microscope. Although ICSI was originally developed to help couples with male factor infertility or previous low or failed fertilization, we are using ICSI even in normal cases to ensure that the best eggs are indeed fertilized.
The fertilized eggs, now called embryos, continue to grow in our IVF laboratory. In three to five days, you will return for embryo transfer.
STEP FOUR: Embryo Development
It's our goal to transfer the highest-quality embryo(s) in order to give you the greatest chance of reproductive success. Embryo development begins immediately after fertilization. An embryologist will examine each developing embryo during the 5 to 6 days following insemination, looking for progressive development. They look for a two- to four-cell embryo on day 2 and a six- to eight-cell embryo on day 3. After the eight-cell stage, rapid cell division continues and the embryo enters into what is called the blastocyst stage around day 5 or 6.
STEP FIVE: Embryo Transfer
One of our practitioners, along with the embryologist team, will examine the embryos before transfer to determine the likelihood that any given embryo will implant. The quality of the embryos is very important. We generally transfer one embryo to avoid the risk of multiple pregnancies. Additional healthy embryos can be frozen for future use.
The actual transfer is a brief procedure. The embryos are "loaded" into the tip of a catheter along with a very small amount of transfer medium. The catheter is then gently passed through the cervical canal and into the uterus. You usually won't feel this. The embryos are slowly expelled near the top of the uterus. This transfer only takes a few minutes. You will rest in our office for approximately 15 minutes and be discharged home to rest the remainder of that day.
STEP SIX: Establishing Pregnancy
To help your body prepare itself for the embryos, you will be given daily progesterone to supplement your own. This additional progesterone starts the day after egg retrieval and continues for at least two weeks. Progesterone is a hormone which transforms the lining of the uterus to be an ideal receptor for the embryos, increasing the odds of implantation, and assisting in establishing pregnancy.
After the embryo transfer, it's now up to nature. The front and back walls of the uterus gently squeeze the embryos and keeps them in the uterine cavity. Your embryos cannot fall out, so there is no need to restrict physical or sexual activity. Even so, it is wise to wait a few days before resuming any strenuous activity.
STEP SEVEN: The Pregnancy Test
Two weeks after embryo transfer, you will need to have blood drawn so that a blood pregnancy test can be performed. Because the hormones used to trigger ovulation can still be in your system, at-home pregnancy tests can yield a false positive and should not be used. Often called a "beta" because it measures the beta chain portion of the hCG hormone emitted by
the developing embryo, a blood pregnancy test will give a reliable indication of whether you are pregnant or not. This can be done at any lab of your choice. Your results should be available the same day.
If the pregnancy test is positive, we will repeat this test in 2-3 days to ensure an appropriate rise. An ultrasound will be scheduled for one week later to determine the implantation site and to detect a heartbeat, if possible. The heartbeat should be seen by four weeks after a positive pregnancy test. At this time, you will be given instructions regarding progesterone or other medication use.
Once a heartbeat is detected, there is a 90-95% probability that the pregnancy will continue to a live birth. There is only a 5-10% chance of miscarriage. IVF pregnancies are no higher a risk than natural pregnancies. Around 12 weeks into your pregnancy, you can return to your obstetrician for routine prenatal care. If the pregnancy test comes back negative, you can stop taking progesterone. Your period should start in a few days. You can begin another IVF cycle as soon after as you desire.
There are several factors to consider before deciding on how many IVF cycles you will try before moving on to other treatments. These factors include your response, age, previous number of IVF cycles, and the number of years you have been infertile. Just because you do not become pregnant after one, two or even three tries, does not mean your chances of becoming pregnant are slim.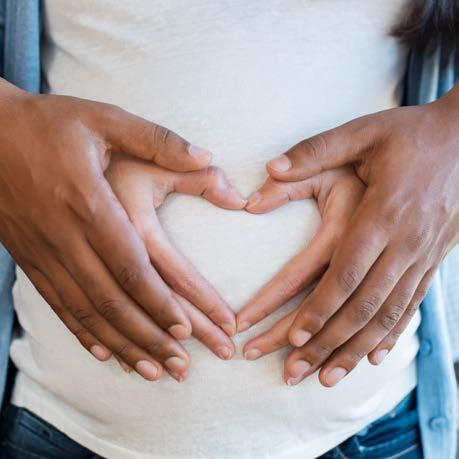 38 39
Preimplantation Genetic Testing (PGT)
has been determined that what's on the inside— the embryo's genetic makeup—may be an even better predictor of an embryo's chance of implanting and leading to pregnancy. PGT-A is a test performed on embryos prior to transfer to determine the number of chromosomes present, providing important information about their genetic health. This information can help your care team decide which embryo has the best chance of success.
Why Are Chromosomes Important?
Is PGT-A Right for Me?
PGT-A is appropriate for the vast majority of patients undergoing IVF. You may consider PGT-A if:
• You want to increase the chance of IVF success and potentially reduce the number of cycles required to achieve success
• You have previously had a miscarriage or failed IVF cycle
• You are 35 years old or older PGT-A is an IVF add-on that does not require any extra medications or procedures other than an embryo biopsy to collect the samples for the lab.
PGT-M: PREIMPLANTATION GENETIC TESTING FOR MONOGENIC/SINGLE GENE DEFECTS PGT-A & PGT-M-
What's the Difference?
because the PGT-M test is created uniquely for each family. First, the family will speak with a genetic counselor to determine if PGT-M is appropriate for them. If they decide to move forward, the PGT-M laboratory will begin to build the family's unique PGT-M test. Sometimes this involves getting DNA samples from other family members. Then, the couple will undergo IVF and a small sample of cells will be taken from the resulting embryos and sent to the laboratory for testing. Once the PGT-M procedure has been performed and embryos free of the genetic condition have been identified, an unaffected embryo is transferred to the uterus. Any additional unaffected embryos may be frozen for future use.
WHAT IF YOU COULD FIND OUT ABOUT THE HEALTH OF YOUR BABY BEFORE YOU WERE EVEN PREGNANT?
Preimplantation Genetic Testing (formerly known as PGS and PGD) are genetic tests that can be performed alongside IVF to provide important information about your embryo's health.
PGT-A: PREIMPLANTATION GENETIC TESTING FOR ANEUPLOIDIES
Which Embryo Should I Transfer?
After egg and sperm collection, fertilization, and several days of growth, IVF embryos are ready for transfer. Traditionally, embryos are graded based on morphology (shape, size, and appearance) as well as other visible characteristics; then, the one(s) with the best grade is transferred. However, in recent years, it
Chromosomes are the structures within our cells that hold our genetic information. Humans typically have 46 chromosomes divided into 23 pairs. One chromosome in each pair is inherited from the egg and the other from the sperm. Because chromosomes are essential to development, embryos with missing chromosomes (referred to as monosomy) typically fail to implant, while embryos with extra chromosomes (referred to as trisomy) typically result in a miscarriage. There some cases in which embryos with extra or missing chromosomes can lead to a live birth, but often the child will be affected with a genetic condition that impacts their health and well-being. One trisomy that can result in a liveborn child is trisomy 21, also known as Down syndrome. While everyone is at risk of producing embryos with the incorrect number of chromosomes, this risk increases as a woman gets older.
How can PGT-A Help?
By identifying embryos with the correct number of chromosomes (also called euploid embryos), PGT-A can:
• Increase the chance of implantation
• Reduce the risk of miscarriage
• Reduce the risk of having a child with a genetic condition
Unlike PGT-A, in which all of an embryo's chromosomes are screened, PGT-M involves testing embryos for an already known chromosomal or genetic abnormality. While PGT-A is appropriate for almost any IVF patient, PGT-M is an option for families who know they are at risk of passing on a specific inherited genetic disease.
This includes families in which:
• Both partners are carriers of an autosomal recessive condition
• The female partner is a carrier of an X-linked condition
• One partner has an autosomal dominant condition
• One or both partners carry a chromosome rearrangement
Couples undergoing PGT-M often decide to add on PGT-A testing as well to gain even more information about their embryos' health.
What Diseases can PGT-M Test for?
PGT-M can be performed for almost any condition in which the specific mutation or alteration is known, including cystic fibrosis, Fragile X syndrome, Huntington's disease, and inherited cancer syndromes (e.g. BRCA).
How is PGT-M Performed?
PGT-M is a more involved process than PGT-A
While PGT-M helps reduce the chance of conceiving a child with a genetic disorder, it cannot completely eliminate this risk. Prenatal testing is recommended for any resulting pregnancies to confirm the health of the pregnancy.
PGT-SR: PREIMPLANTATION GENETIC TESTING FOR CHROMOSOMAL STRUCTURAL REARRANGEMENTS
PGT-SR is a genetic test designed to detect inherited rearrangements and increase the chance of a successful pregnancy. Chromosomal rearrangements are due to changes in the arrangement and/or size of the chromosomes. These types of rearrangements result in an increased risk of producing embryos with the incorrect amount of genetic material. If you or your partner are a carrier of an inversion, reciprocal translocation or a Robertsonian translocation, PGT-SR can be performed to improve the chance of a healthy pregnancy. If you think PGT may be right for you, talk to your care team about getting started. CNY Fertility partners with CooperGenomics, the leading reproductive genetics laboratory, to offer the highest quality Preimplantation Genetic Testing to our patients.
--Content for this article provided by
40 41
ZyMot ® Sperm Processing
CNY Fertility is now offering ZyMōt™ Sperm Processing as an add-on service for IUI and IVF patients. As part of both fertility procedures, semen must be processed to find sperm that can fertilize an egg to form an embryo. Using your healthiest sperm increases the likelihood of creating a healthy embryo and having a successful pregnancy. ZyMōt offers a new approach that may be healthier for your sperm.
THE NEED FOR HEALTHY SPERM
Using healthy sperm for IUI and ICSI procedures is more important than ever. In new research from scientists at Imperial College London, recurrent pregnancy loss was directly connected to the presence of elevated sperm DNA fragmentation and reactive oxygen species, along with a lower percentage of normal morphology. This follows a growing body of
evidence that links improved sperm health to better pregnancy outcomes. ZyMōt devices may help in the identification of sperm with the lowest levels of DNA fragmentation and oxidative stress.
BETTER SPERM SELECTION BY MIMICKING NATURE
ZyMōt Multi Sperm Separation Devices prepare motile sperm from semen for use in IUI and ICSI procedures. These revolutionary tools simulate the natural barriers of the cervical and uterine pathway that sperm must overcome to fertilize an egg and enables the separation of functional sperm without the use of density gradient centrifugation. ZyMōt Sperm Separation Devices help ensure you are using healthy sperm.
AVOIDING DNA FRAGMENTATION AND OXIDATIVE STRESS
ZyMōt ICSI Sperm Separation Devices have been shown to separate sperm with very low levels of DNA fragmentation compared to traditional sperm separation techniques. In an independent study from Midwest Fertility Specialists, ZyMōt Sperm Separation Devices showed statistically significant improvements in three DNA- and stress-focused indicators of sperm health and function, when compared to traditional, centrifugation-based methods.
DELIVERING SUPERIOR MOTILITY AND MORPHOLOGY
ZyMōt Sperm Separation Devices were designed and developed to aid reproductive medicine professionals in the selection of healthy sperm for use in assisted reproductive technology (ART) procedures. ZyMōt helps specialists select sperm with the lowest possible levels of DNA fragmentation and oxidative stress which may help increase fertilization and euploidy rates. Processing with ZyMōt has also been shown to increase the proportion of sperm with normal morphology. Using ZyMōt devices shows statistically significant improvements in sperm motility and progression, enriching a sample for improved sperm performance and better clinical outcomes.
Interested? Discuss ZyMōt™ Sperm Processing with your fertility provider. To learn more, scan to watch this video or visit zymotfertility.com.
Select Your Champions! ZyMōt devices offer your fertility team a new option for selecting healthy sperm and improving your odds of success.
SCAN HERE
42 43
Egg Freezing
Many people aren't ready to start a family during their most fertile years, and there are lots of reasons to preserve your fertility until the time is right. Freezing your eggs or embryos is a way to protect and insure your family-building options for another time. We are further empowering women to take charge of their future. Whatever your reason – the opportunity to pursue other goals, military service, or medical treatment -we're creating options for those who might not otherwise have them.
High quality doesn't have to mean high cost.
CNY Fertility offers affordable care starting with a complimentary consultation.
WHEN SHOULD YOU CONSIDER FERTILITY PRESERVATION?
There are a number of situations and reasons why someone might consider freezing their eggs or embryos. Some of the most common are:
• Wanting or needing to delay childbearing in order to pursue educational, career or other personal goals
• After receiving a cancer or other serious medical diagnosis
• Prior to military service
• You have diminished ovarian reserve and may need extra stimulation over time in order to get the number of eggs or embryos needed for the highest chances of future pregnancy.
When Delaying Childbearing
Many women focus on building careers not families during their prime reproductive years, ultimately delaying parenthood until egg quality is not optimum. Failure to find an ideal partner with whom to have and raise children can also be a factor. Choosing to preserve eggs or embryos while in your 20s or early 30s is a way of ensuring that the family of your future can become a reality.
Before Medical Treatment
When you receive a cancer diagnosis or any serious medical diagnosis, your focus is likely on treatment, success rates, and processing the emotions of what it all means. It's easy to overlook future fertility preservation. But if you haven't started a family yet or have dreams of growing the one you have, it is an important consideration. For women who are about to begin medical treatment, time is of the essence. An unfortunate side effect of many chemotherapy drugs, radiation treatment, and surgical interventions is infertility. It's important to investigate all of your options prior to beginning any treatment. CNY Fertility will work with your medical team throughout the process to ensure your treatment and fertility goals do not negatively impact each other.
Prior to Military Service
Serving in the military can sometimes result in injuries or other impairments that negatively affect your ability to have a family. Freezing eggs or embryos prior to deployment is a wise choice for many military personnel who may be in harm's way while serving our country and want to protect and preserve their future ability to have children.
HOW DOES IT WORK?
To give you the best chances of conceiving after treatment is completed, we recommend egg or embryo freezing. In order to freeze eggs (also called oocytes) and/or embryos, the eggs must first be retrieved. This part of the process is identical to IVF and can be completed in as little as two weeks.
Women not currently in a committed relationship may opt to have the eggs frozen unfertilized. Later, when the patient is ready to attempt pregnancy, the eggs will be thawed, injected with a single sperm in a process called Intracytoplasmic Sperm Injection (ICSI) to achieve fertilization, and transferred to the uterus as embryos.
Embryo Freezing
If a patient wishes to freeze embryos, eggs are removed from the patient and fertilized in a test tube with the sperm from a partner or donor. The resulting embryos are then frozen approximately 3-5 days after fertilization and stored as long as necessary.
We are proud to provide discounted egg freezing for oncology patients.
Patients take hormone injections to stimulate the ovaries and allow a greater than normal number of eggs to develop. Once the eggs have adequately matured, they are removed with a needle using ultrasound for guidance. This procedure is done under sedation and is not painful.
To give you the best chances of conceiving in the future, we freeze eggs and embryos in a flash freezing process called vitrification. Oocytes and embryos are immersed in a series of solutions which dehydrate the cells and replace water molecules with cryoprotectant or "anti-freeze" to prevent the formation of ice crystals and protect the integrity of the cells during the freezing process. The eggs or embryos are loaded into specially designed straws and placed in liquid nitrogen tanks for storage.
CNY PRESERVE
44 45
Once you decide to move forward with treatment, it generally takes 10 to 14 days to complete stimulation of the ovaries for the egg retrieval.
Pregnancy rates from frozen eggs depend on the women's age at the time they are frozen and not the age at which she thaws, fertilizes, and transfers the resulting embryo. We see the best results for women younger than 35 at the time of egg freezing.
Preservation of embryos has a higher success rate of future pregnancy than preservation of eggs, so if you have a partner or might consider a sperm donor, this is a great option to discuss with your provider.
If you're about to begin cancer treatment, we will work directly with your oncology team to ensure your fertility preservation is expedited so your treatment can begin quickly and to ensure
CNY SUCCESS STORY
that any hormones used in the process do not stimulate unwanted cell growth. Due to the time sensitivity, you can expect an accelerated treatment plan.
How Many Eggs Should I store?
As a general rule, we recommend women store at least 10 eggs for each pregnancy attempt. Studies indicate that egg thaw survival rates average around 75% and fertilization rates are expected to be 75% in women 35 years old and younger. In real terms, if 10 eggs are frozen, 7 are expected to survive the thaw, and 5 to 6 are expected to fertilize and become embryos. We generally transfer one embryo in women 35 and younger.
Plans & Pricing
CNY Fertility provides the highest quality fertility care at a cost that is less than one-third of the national average.
"CNY made it possible for me to freeze my eggs at a time in my life when it otherwise wouldn't have been an option. I am so grateful that it is their mission to make this process affordable for women like me who might not have the resources to make this choice. Egg Freezing has allowed me to invest in my future so that I can invest in myself today. Thank you CNY." – Julia, Venice, CA
CNY Fertility provides the highest quality fertility care at a cost that is less than onethird of the national average.
46 47
Sperm Freezing
PRESERVING FERTILITY IN MEN
Fertility preservation in men is generally much easier and quicker than with women. It involves collecting a sample of semen and freezing it. In men about to begin medical treatment, sperm must be banked before any chemotherapy or pelvic radiation therapy begins in order to avoid damaging the sperm. Sperm can be frozen the same day you contact us. Once vitrified, the sperm can be stored indefinitely. Sperm can be thawed later and used for intrauterine insemination or in vitro fertilization.
Even if a man has only a few live sperm in his semen, they can be used for in vitro fertilization (usually ICSI) and offer a good chance of pregnancy. In this situation, when the sample is thawed, the healthiest sperm are captured and injected into the woman's harvested eggs in the laboratory.
For men storing sperm, a single ejaculation sample will produce an average of 5 vials of sperm. It is typical to use 1-3 vials for each artificial insemination attempt. For best results, we recommend men store multiple samples.
HOW LONG CAN SPERM REMAIN FROZEN?
Sperm are stored in a liquid nitrogen tank at -196° C for long-term storage. Our experience is that long-term storage does not affect sperm quality and when stored correctly, they can remain frozen indefinitely.
48 49
CNY Fertility International Surgical Institute
PROVIDING MINIMALLY INVASIVE SURGERY FOR OUR FERTILITY PATIENTS
Specializing in Minimally Invasive Surgery (MIS), our expert surgeons at the CNY Fertility International Surgical Institute are recognized as leaders in the fields of laparoscopic and da Vinci robotic surgery. Sometimes referred to as "keyhole" surgery, MIS utilizes small incisions, tiny fiber optic lights and high definition monitors which allow our surgeons to correct many conditions without requiring patients to undergo major surgery or large incisions. Patients go home the same day and recovery time is generally shorter and less painful with minimal scarring.
We perform:
• Diagnosis and Treatment of Endometriosis
• Treatment of Fibroids (Myomas)
• Tubal Reversal
• Vasectomy Reversal
We Know Endo
The scientific community has yet to establish the exact cause and progression of endometriosis. Though many questions remain, we are able to identify and successfully treat this common disease. Endometriosis (or "Endo") is a leading cause of infertility and may run in families. Up to 50% of affected patients may experience fertility issues. There is also a great variety of symptoms that may or may not be present in each patient. Many symptoms are not normal and should raise suspicion for endometriosis.
These include:
• crippling menstrual pain
• pelvic pain lasting throughout the month
• chronically heavy or long menstrual periods
• painful sexual activity (particularly with penetration)
• significant lower back pain with menses
• bowel or bladder disorders associated with periods
• allergies, migraines, or fatigue that tends to worsen around menses
Many women experience no symptoms and are affected by "silent endometriosis". There is no definite non-surgical diagnostic test to confirm the presence of endo. Occasionally, an ultrasound or pelvic exam can raise the suspicion if there are fixed, tender, nodular, or enlarged pelvic organs. Surgical observation and biopsy are the gold standards for diagnosis and treatment. Endometriosis starts when endometrial cells gain access to the abdominal cavity establishing a blood supply for survival.
This causes a local inflammatory response leading to adhesions and scarring. There exists a poorly understood association with infertility at the chemical and immunologic levels. The pelvic reproductive organs (uterus, tubes, ovaries) are affected most often. Severe disease may involve the bowel, bladder, and distant parts of the body.
Endometriosis can influence fertility in multiple ways:
• distorted anatomy of the pelvis
• adhesion formation
• scarred fallopian tubes
• inflammation of pelvic structures
• altered immune system functioning
• changes in the hormonal environment of the eggs
• disrupted fertilization
• impaired implantation of a pregnancy
Many different patterns of endo may be observed in the operating room. The surgical treatment will vary depending on the type and degree of the lesions encountered. The main goal of minimally invasive surgery (MIS) is to restore normal anatomy and function, leading to an increased pregnancy rate. One treatment plan does not fit all patients. Medical therapy to suppress hormones and regrowth may be used in combination with surgery. Even with the best medical and surgical treatment, reoccurrence may require repeat surgery in the future. Patients are encouraged to see their gynecologic provider should they demonstrate any of the above-mentioned symptoms.
Endometriosis
Solitary endometriosis nodule
causing ovarian and pelvic adhesions
50 51
Vasectomy Reversal
When a man undergoes a vasectomy, it is most often used as a permanent form of birth control. However, life changes and many men decide they would once again like to have children. In this situation, a vasectomy reversal is often the preferred solution, however, another option includes a TESA/PESA in combination with IVF. In short, a vasectomy reversal is a surgery that reconnects the vas deferens, which was surgically severed during the vasectomy, once again allowing sperm (male gamete cell) to enter the semen (ejaculate). The vas deferens are the tubes that bring sperm from the testicles to seminal vesicles where they are allowed to mix with semen and become part of the ejaculate. By severing this tube, sperm is still produced in the testicles, but during orgasm, they can no longer be transported, mixed with semen, and ejaculated.
The Surgery
Very simply, during a vasectomy reversal, the surgeon will surgically reconnect the two halves of each vas deference, thereby allowing sperm to once again travel freely and mix with semen prior to ejaculation.
Recovery
Surgery usually takes about 2 to 4 hours, and you are able to go home the same day. Recovery takes about 2 weeks. Men should not have sex or ejaculate until your doctor tells you it is okay. Most doctors recommend that you wait 2 to 3 weeks to have sex.
How will i know if it was successful?
You'll know your vasectomy reversal was successful if sperm appear in your semen after a few months. Your doctor will collect semen samples and examine them regularly for 4 to 6 months after surgery, which is usually enough time for your counts to stabilize, although sometimes it takes longer.
Cost
The self-pay price for a Vasectomy Reversal is $7,900 and includes: the cost of anesthesia, the surgery itself, a 2-week post-operative check-up, and regular sperm analysis/testing post-surgery. There may be additional fees based on your unique situation. After your initial consult, a $4,000 down payment is required prior to scheduling surgery. In-house financing is available.
Other Alternatives
Men who have undergone a vasectomy and now wish to father a child have other options besides Vasectomy Reversal. if you hope to conceive naturally through intercourse, then having a vasectomy reversal is your only option. However, for those who this is not a concern, a Percutaneous Epididymal Sperm Aspiration (PESA) and Testicular Sperm Aspiration (TESA) coupled with In Vitro Fertilization (IVF) is also an effective option and offers a high chance of success at a more affordable cost. Consult with your doctor to decide which is the best option for you.
Tubal Reversal with IVF
Many women decide to forgo the continuous and prolonged use of birth control and elect to have a tubal ligation after giving birth and completing their families. Having your "tubes tied", as it's commonly called, to prevent pregnancy is a fairly common procedure, but sometimes the unexpected happens or circumstances change within a family or with a partner, and a woman wishes to re-establish her ability to have children.
If you've had a tubal ligation procedure and wish to reverse it, CNY Fertility can perform tubal ligation reversal surgery on an out-patient basis at our Center of Superior Surgical Care using laparoscopic techniques that enable us to restore your fertility in a minimally invasive way. A tubal ligation reversal (TR), medically known as the Tubal Anastomosis, is the procedure by which a surgeon repairs a woman's fallopian tubes, thus restoring her natural fertility so that she will be able to again become pregnant. This microsurgery procedure enables us to reduce recovery time, makes the procedure affordable, and allows women to achieve high pregnancy rates post-surgery.
The Surgery
During a TR, our surgeon will reconnect both your left and right fallopian tubes by making careful incisions to reopen the surgically closed portion of your tubes. After ensuring that each tube is open by flushing them with colored water, the surgeon will then use sutures to reconnect the tubes. Once again, the surgeon will flush both tubes with liquid to ensure that each reconnected tube allows for sperm, egg, and embryo to flow freely through each tube without obstruction.
The surgery itself takes approximately 90 minutes. Tubal reversal enables most women to conceive naturally and without the use of fertility medications. Our medical team will consult with you to see if you're a good candidate for tubal reversal surgery or if you should choose In Vitro Fertilization (IVF), and to discuss the pros and cons of both options.
Success Rates
TR surgery at CNY Fertility offers our clients a fantastic opportunity to restore their natural fertility, with roughly a 60-80% chance of
attaining a natural pregnancy within two years of their surgery date. Your chance of becoming pregnant and delivering a baby is highly dependent on your personal fertility health and history. Our doctors will be happy to discuss your individual situation further during your consultation.
Recovery
Most women can resume walking the day of their operation and return to an exercise free version of their normal daily routine the next day. Still, we generally recommend those undergoing this surgery take off at least a week of work and abstain from all exercise for at least two weeks post-surgery. Recovery time is generally 10-14 days.
Costs
Because tubal reversal is considered an elective procedure, it is unlikely to be covered by health insurance, Medicare or Medicaid.
THE SELF-PAY PRICE OF $4,995 FOR TUBAL REVERSAL INCLUDES:
• The cost of anesthesia
• The surgery itself
• A 2-week post-operative check-up
• A discounted IVF cycle ($2,995) if you are unable to achieve pregnancy within 12 months of the surgery if under 35, or 6 months if over 35
There may be additional fees based on your unique situation. In-house financing is available. Prior to surgery, patients are required to consult with one of CNY Fertility's doctors and have an ultrasound. We also require all surgical patients to have preoperative bloodwork. You will be given prescriptions for an antibiotic, pain medication, and possibly antinausea medicine.
Insurance may cover some of these additional fees.
After your initial consult, you will be required to make a deposit or first month's payment prior (if financing) prior to scheduling your surgery. We can usually schedule your surgery within a few months of your initial payment.
52 53
LGBTQ+ Family Building Options
CNY FERTILITY IS FOR EVERYONE
At CNY Fertility, we believe families are defined by love, not gender, sexual orientation, or gender identity. We work every day to ensure that all of our clients have the opportunity to love, nurture, and grow the family of their dreams. We are proud to serve the LGBTQ+ community and couples who are seeking to become parents. We are committed to helping you find the family-building option that best suits your unique circumstances and is as inclusive and encompassing as possible.
GAY MEN
The path to parenthood for same sex male partners requires a surrogate or gestational carrier along with an egg donor. In this process, we use an egg from a donor and sperm from either male partner to create an embryo, which is then placed inside the uterus of a gestational carrier.
When gay men choose to have a baby using a surrogate or gestational carrier, pregnancy is usually achieved through in vitro fertilization (IVF). During the IVF procedure, sperm (usually
from one of the male partners, but sometimes from a donor) is combined with the egg to produce one or more embryos. To produce multiple eggs for use in this procedure, the donor's ovaries are stimulated with the help of fertility medications. The eggs are harvested and combined with sperm to produce embryos, which are then transferred into the woman's uterus to achieve a pregnancy.
In some cases, gay men choose a woman they know to be their carrier. Others are able to find a surrogate by using an agency or attorney that specializes in this service, or even via websites that link prospective parents with women who want to be carriers.
The decision to have a baby using a surrogate or gestational carrier should be made thoughtfully and after careful consideration. We also strongly recommend all patients work with an experienced reproductive attorney who can provide legal counsel and prepare the necessary agreements, even in cases where a friend or relative serves as the gestational carrier.
LESBIAN WOMEN
After a thorough fertility evaluation, some lesbian couples will proceed with a natural intrauterine insemination (IUI) with donor sperm, where we follow the progression of your natural menstrual cycle but help time the IUI so that it falls within the window during which you are most fertile. Some couples will proceed with an IUI but also utilize gentle stimulating medication. These medications will usually generate more than one egg, giving the couple a greater chance of fertilization and implantation during that cycle. Other couples might proceed with IVF or reciprocal IVF.
Lesbian couples may choose to proceed with an in vitro fertilization cycle (IVF) in order to retrieve the eggs from one partner, inseminate the eggs with donor sperm, and then transfer the embryo(s) into the other partner's uterus, who then carries the pregnancy. This is called reciprocal IVF and allows both partners to play an active role in the conception process.
FERTILITY PRESERVATION PRIOR TO TRANSITIONING
Transgender people planning a medical transition face an important decision about future family planning and fertility preservation.
Fertility preservation options may include sperm, egg, embryo, ovarian tissue or testicular tissue cryopreservation.
For transgender females, the process of fertility preservation is actually relatively straightforward. Before starting hormones, these patients can freeze their sperm at CNY Fertility and store it indefinitely for potential use in the future. Transgender males have a slightly more complicated process, because they have to consider whether to freeze their eggs before starting hormones like testosterone that will make it much less likely, and even impossible, to retrieve eggs in the future. Egg retrieval does require certain medications to ensure an adequate number of eggs are available along with a short surgical procedure.
We advise our transgender clients to carefully consider how important a biological connection to future children might be to them down the road before proceeding with any treatments.
54 55
The Donor Decision
SELECTING AN EGG DONOR
At CNY Fertility, our goal is to make the egg donor selection process as smooth as possible for our clients. One way we do this is by ensuring all of our donors have been through a rigorous screening process before they ever appear in our donor database. CNY Fertility actively recruits and screens young, healthy fertile women between the ages of 20 and 32. Although egg donors are compensated financially, we have found that the majority of women who donate their eggs are motivated by a strong altruistic desire to help others have families.
Making the decision to use donor eggs, sperm or embryos is a complex and important one. When a couple decides to move forward with donor egg treatment, we provide them with a specialized donor care team featuring the following members:
• Donor nurse
• Clinical assistant
• Recipient liaison
• Financial coordinator
• Psychologist/social worker with expertise in fertility and third-party reproduction
Though the patient will not be using her own eggs, she will still be carrying the child, so she must undergo the same screening as all infertility patients (the same goes for her partner). After you have completed all testing and the physician has reviewed your results with you, you will then need to decide on a financial program. This is a situation unique to donor egg treatment, in that the financial program chosen can directly impact the treatment schedule.
The recruitment process includes medical, genetic and psychological screening as well as personal interviews, routine bloodwork and lab tests. In addition, all donors must test negative for the AIDS virus, Hepatitis B and C, Syphilis, CMV and STDs such as gonorrhea and Chlamydia. All ethnic donors are tested for Tay Sachs (Jewish donors), Thalassemia and Hemoglobinopathies (Mediterranean descent), and Cystic Fibrosis. These tests are repeated every six months or before any donation for as long as the donors participate in the program.
Donors are screened and selected according to the regulations of the New York State Department of Health, standards of the AATB and guidelines of the American Society of Reproductive Medicine. Our donor process is anonymous, but completely transparent, and the donor database provides patients with a wealth of information. Each donor has a profile featuring demographic characteristics (eye color, race, ethnicity, etc.)
Additionally, some recipients may opt for a known donor (i.e., a friend or family member) or go through an agency. In either instance, donors will still undergo the same medical and psychological screening as donors recruited by CNY Fertility.
DONOR SPERM
If you experience infertility due to a low sperm count, a complete lack of sperm or are a same sex couple or single parent, you can often still achieve a pregnancy using donor sperm. We can recommend several reputable sperm banks so you have a choice of donors. The sperm banks we recommend follow FDA guidelines when testing for infectious disease prior to releasing the sperm. Donor sperm can be used for insemination (IUI) or in vitro fertilization (IVF).
Choosing a sperm donor is a very important decision, and each person brings their own perspective to this challenge. You will select your sperm donor using the sperm bank's website. Sperm donors may or may not be anonymous, but donors often provide a childhood picture. The donor database offers personal demographics (i.e., hair color, height, ethnicity, etc.), and sometimes essays written by the donor. Some sperm banks even offer voice recordings of interviews with the donor. In some cases, recipients can find out if previous pregnancies have resulted from that donor's sperm. In the case of a known donor (i.e., a friend or family member), you will still need to have an
infertility work-up and the required FDA testing. From there, you will undergo an intrauterine insemination (IUI) or in vitro fertilization (IVF) cycle using the donated sperm. Additional frozen sperm specimens can be stored at our center for future use.
DONOR EMBRYOS
Often when families undergo IVF treatments, they are left with remaining embryos. This can place parents in the difficult position of deciding what to do with them. Previously, the only options available were to donate the embryos to research, keep them frozen indefinitely, or dispose of them. There is now offer a fourth option: embryo donation. Because of these parents' generosity, we are able to provide other clients the opportunity to use donor embryos for their cycle(s). While it can be difficult to come to terms with the emotions of not having your own biological child, using donated embryos can eliminate the imbalance of only one-half of the couple having a genetic connection to their child. Using donated embryos can also be less expensive than using donor eggs. And, since the embryo is already created, another step in the process is eliminated.
56 57
Using a Surrogate
The terms surrogate and gestational carrier are often used interchangeably for a woman who carries a baby for someone else. While very similar, they actually refer to something slightly different. A surrogate is someone who in addition to carrying the pregnancy also acts as the "egg donor," meaning the child is genetically related to her. A gestational carrier uses eggs from the intended parents or a donor and is not genetically related to the child she is carrying. Gestational surrogacy is the most common type of surrogacy today. In either situation, some type of reproductive assistance is required: IUI, IVF, or Donor Egg IVF.
Surrogacy is a complex medical and legal process, as well as an emotional one, and the path to surrogacy looks a little different for everyone who decides to pursue it.
WHY CONSIDER SURROGACY?
Parents who wish to have a biological connection to their child may prefer surrogacy over adoption where there is no genetic link
between your child and you or your partner. For couples who want a child but are unable to give birth, surrogacy is a viable solution. Surrogacy is an ideal option for women who have had a hysterectomy or endometrial ablation and want to have a child. Women who've experienced numerous miscarriages with unsuccessful immunological treatment may also consider using a gestational carrier, along with women who have preexisting medical conditions like diabetes or a heart condition that make pregnancy dangerous or those who have a nonfunctioning uterus. Same sex male couples will also need to use a surrogate to have a child of their own.
USING AN AGENCY
Most intended parents choose to work with a full-service surrogacy agency to help them find a gestational carrier and guide the entire process. Using an agency can actually save time and money by avoiding legal problems and potential pitfalls that could derail your surrogacy journey.
CNY Fertility can assist you in finding a reputable agency to help you find a suitable surrogate.
HOW IT WORKS
When working with an agency to find a surrogate, the process is designed to go smoothly and accommodate all of your needs. Here's how it works:
• The intended parents have a consultation with a provider at CNY.
• Parents connect with surrogacy agency
• Receive surrogate profiles and meet your surrogate in person or via video call
• Escrow is opened
• Psychological examination of surrogate
• Medical screening/fertility evaluation of surrogate
• Legal documents are finalized and signed
• Preparation for embryo transfer including mock IVF cycle
• Embryo transfer
• Regular post-transfer/OB appointments
• Pregnancy is achieved
• Pre-Birth order
• Delivery
• Birth Certificate issued
• Passport and travel documents issued
• Baby comes home!
FINDING YOUR OWN SURROGATE
Intended parents can also choose to locate a surrogate on their own and pursue independent surrogacy with the help of an attorney specializing in third-party reproductive law. When searching for a surrogate, many parents consider using close friends or family members. While this sounds appealing, you should take into account how this incredible undertaking will change your relationship. Each relationship is different. Some people find that surrogacy strengthens their bond with their friend or loved one. Others find surrogacy puts a strain on their relationship. This can happen particularly when you do not clearly spell out your
expectations from the start, which can lead to misunderstandings and frustration on both sides.
Due to the legal complexities involved in surrogacy, we highly recommend contacting a reproductive lawyer who will help you find answers to questions you didn't even think about asking. As much as you may feel this isn't necessary, it is, and it will protect all parties involved.
FIND OUT MORE
The timing for all of the stages of surrogacy can vary significantly. Ready to learn more? Your first official step is setting up a consult by calling us at 844-315-2229. But if you'd simply like more information on surrogacy, feel free to contact us at surrogacy@cnyfertility.com.
58 59
Destination CNY:
TRAVELING FOR FERTILITY TREATMENT
Many people hear about CNY Fertility, our affordable pricing and flexible payment plans and wonder "Too good to be true?". Then they do some research about CNY Fertility, discover our patients receive incredible care, our providers are dedicated to every client with 24/7 on-call nurses to answer urgent questions or resolve critical matters, and CNY Fertility is among the top 10 fertility clinics in the nation. The next question is usually "Can I travel to CNY for an IUI, IVF, Tubal Reversal or other fertility treatment?"
The simple answer is yes. In fact, over one-third of our clients come from outside the State of New York and about 3-5% from outside the United States.
Fertility treatment can be a stressful time, and certainly traveling for care can add an additional stressor, but most clients find the benefits of traveling to CNY Fertility far outweigh any additional inconvenience. Most of your treatment and all of your monitoring can be done remotely, so you only need to travel to CNY for your actual fertility procedures (insemination, egg retrieval, embryo transfer, tubal ligation reversal, etc.).
In fact, CNY Fertility makes the process as simple and smooth as possible through our dedicated travel team. Our dedicated travel
team will guide your remote treatment every step of the way from beginning to end. Even though your monitoring is done elsewhere, we will always be in control of what's happening. Our team will instruct you as to what tests are needed, make any necessary medication changes, answer your questions, and closely guide your treatment.
HOW IT WORKS
You might be asking, how does this even work, how often/when do I travel, how do I plan? To help explain it all, here are CNY Fertility's 9 Steps for Traveling to CNY Fertility for IVF.
Step One: Schedule Your Consultation
This may seem like a no-brainer, but the first step toward becoming a travel client at CNY Fertility is to schedule your initial consultation. We typically schedule appointments multiple months in advance, so we recommend you schedule your consultation as soon as you know it's something you'd like to pursue.
You can schedule your phone consultation by calling us at 844-315-2229 or by filling out an online appointment request form. If you leave a message or fill out the form, please allow up to one week for our team to respond. After you have scheduled your appointment, you can focus on writing down a list of questions you and your partner have so you don't forget to ask anything during your consultation.
In preparation for any fertility treatment, we recommend women begin a high-fat/low carbohydrate (keto) diet as well as a host of supplements, including: Peak Prenatal, Ovarian Bloom, VIVOMEGA Fish Oil, Fertile Guard Immunoglobulin IgG, and Myo-D-Chiro Inositol.
For men, we recommend the same high-fat/low carbohydrate diet, Male Preconception (if no diagnosed male factor), Male Preconception+(if male factor or attempting IUI), VIVOMEGA Fish Oil, and Fertile Guard Immunoglobulin IgG. These supplements are available for purchase on the Molecular Fertility® website.
Additionally, if you have any medical records from prior treatment (including but not limited to blood work, ultrasounds, HSG, or semen analysis), it is very helpful to fax them to our office. Fax numbers can be found on our website at the bottom of every page.
Step Two: Your Phone/Video Consultation
Your initial consultation will most likely be over the phone. While you are welcome to come for an in-person consultation, the vast majority of our travel clients opt to have a phone/Facetime/ Skype consultation and forego the additional expense of travel. This is your time to ask all of those questions you've written down. You may also find it beneficial to record your consultation so that you don't have to worry about taking notes or remembering everything that was said (of course, we will be taking notes on our end, but your own record will be beneficial for referencing in the weeks and months to come). After your initial consultation, a nurse will call you within a week to review your treatment protocol, order your medications, answer any other questions, and prepare you for the beginning of your treatment cycle. If you don't hear anything after one week, please message or call us to check in and get started.
Prior to starting your treatment cycle, you will need to have all of your medications and an established relationship with a local fertility clinic, OB/GYN, hospital, or other laboratory capable of providing same-day blood and ultrasound results. After your medications and
monitoring facility are in order, you can start treatment at the beginning of your next cycle. You will be instructed to call our offices with the first day of your cycle. If you do not have regular cycles, you will just need to have all of your meds and a monitoring facility lined up to get started. During this time, our financial team will review your insurance coverage and determine what costs are covered and which will be out of pocket. We are happy to share details about our interest-free financing options as well.
Step Three: Begin Local Monitoring
Monitoring refers to the appointments you will need to have at your local fertility clinic or OB/GYN in order to check on your blood hormone levels as well as follicle and uterine lining development. You will receive a call the day of your baseline appointment to go over your medications, injection instructions, answer any new or remaining questions, and provide you with a rundown of what your monitoring schedule might look like. Most patients need to have monitoring done every few days once they start taking medications right up until their trigger. During this time, our team will be continually reviewing your results, updating any medications, instructing you on next steps, and answering all of your questions.
60 61
Step Four: Booking Travel to CNY
We encourage you not to book your flights until you have a date scheduled for retrieval. Usually a retrieval date is scheduled about halfway through your stimulation as we need to see how your follicles/eggs are developing. The number of and duration of your trips to one of our offices in Syracuse, Albany or Colorado Springs depend on whether you are doing a Fresh Transfer or a Frozen Embryo Transfer (FET). You'll need to be in the area the day before any procedure and should not leave until the day after any procedure. If someone else is driving you, it is okay to begin your drive home the same day as your procedure.
Step Five: Egg Retrieval
Your egg retrieval will take place in either our Albany or Syracuse office. You must be in the area the day prior to your egg retrieval in order to avoid any travel delays and to make your day as stress-free as possible. You can not have anything to eat or drink from midnight on starting the evening before your surgery. Before your retrieval, you will have some basic bloodwork performed as part of your pre-op work up, as well as meet with a nurse, embryologist, doctor, and anesthesiologist. You will be placed on monitors and put under MAC anesthesia (no tube down your throat
like general anesthesia) for the duration of the procedure. The procedure itself only takes around 10-15 minutes from start to finish. You will likely wake up afterward thinking "That was it?"
Most clients take around 30 minutes to recover from their egg retrieval (of course, this varies, but you will never be rushed or pushed out of our office before you are fully ready to go). After your retrieval, you will be given instructions, and we'll discuss your options of having a fresh or frozen transfer. If your hormone levels are off or if your uterine lining is not prepared for a transfer on the day of your retrieval, we will highly recommend proceeding with a frozen embryo transfer (FET), thereby allowing your body to reset and providing a more comforting home for your embryos. During this discussion, we will review any medications you will be taking prior to and after your transfer.
We encourage you to rest and relax as much as possible following your retrieval. The following day, you may resume your normal daily routine (minus any intense exercise). If you are flying, we urge you not to leave the area until the day following your procedure to avoid any complications. If you traveled by car, you may have someone else drive you home the same
day (NOTE: you can NOT drive yourself). If you are staying in the area for a fresh transfer, then the day is yours to rest and relax.
Step Six: Embryo Transfer
How far away you live and whether you are doing a frozen or fresh transfer will dictate many of the logistics surrounding your embryo transfer. If you're doing a fresh transfer, many clients within driving range return home, while those requiring air travel often stay locally for another 3-5 days to complete their transfer in the same trip as their egg retrieval. If doing a frozen transfer, nearly everyone returns home for FET monitoring, choosing to return to CNY the day before their transfer. If this is the case, we again recommend not booking any flights until a transfer day is determined.
Similar to the Egg Retrieval, you will need to be in the area at least one day prior to your transfer. If you are driving, you may return home the same day. If you are flying, we recommend you wait until the day after your transfer. The embryo transfer itself is a simple procedure that takes only a few minutes. No anesthesia or recovery time is needed. To help your body prepare itself for the embryos, you will be given daily progesterone to supplement your own. Many clients also choose to do acupuncture and/or intralipids prior to transfer. The day of your transfer, one of our practitioners, along with the embryology team will examine the embryos to determine the best embryo to transfer.
By the time of your transfer, we will have reviewed the quantity and quality of embryos as well as the number of embryos that you would like to have transferred. During the transfer, the embryos are "loaded," into the tip of a catheter along with a very small amount of transfer medium. Your physician, a member of the embryology team, and a nurse will confirm your identity to ensure the embryos are properly matched. The catheter is then gently passed through the cervical canal and into the uterus using an abdominal ultrasound to provide visual guidance during the transfer. The embryos are slowly expelled near the top of the uterus. After
carefully removing the catheter, an embryologist will double check that the embryos indeed left the catheter using a microscope. At this time, a nurse will provide you with instructions for the two-week wait.
Step Seven: The Two-Week Wait (TWW)
This is quite an exciting time, but it can be very stressful and anxiety provoking as you (and your partner) await the results of your first pregnancy test. We recommend abstaining from any intense exercise and instead focusing on spending time with your partner. Light exercise like yoga and walking is recommended.
Step Eight: Your Pregnancy Test
Your pregnancy test will be done at a local lab near your home two weeks after your transfer (hence the two-week wait). We highly recommend patients not use over-the-counter pregnancy tests. Trigger shots and fertility meds can produce false positives. After a BFP (Big Fat Positive), you will continue to be monitored by your OB/GYN with CNY overseeing your care for 6-8 weeks.
62 63
Step Nine: Discharge from CNY Fertility
At 6-8 weeks of pregnancy, you will officially be discharged from CNY Fertility and continue care for the rest of your pregnancy with your local OB/GYN. By this time, you will likely have seen your OB/GYN already for your first prenatal appointment, but this marks your official release from CNY Fertility's monitoring and care.
Last but not least, we do have some ADDITIONAL NOTES REGARDING COMMUNICATION: We have a 24/7 on-call nurse that can truly be used 24/7 for urgent matters and questions. The patient portal web correspondence is for general questions and will be replied to within 24 hours. If you are having an emergency, you need to go to your local emergency department or urgent care facility.
WHY TRAVEL TO CNY?
There are many reasons to come to CNY for your treatment, but it mostly boils down to the incredible care you receive at CNY Fertility for a fraction of the cost of most fertility centers in the country. According to FertilityIQ, the average IVF cycle costs $23,474. That includes $5,000 for genetic testing (which is an additional service and at CNY Fertility costs substantially less – roughly $300/embryo tested) and $5,000 for medications. Subtracting the costs of both of these, the average IVF cycle costs around $13,500.
At CNY Fertility, IVF is only $3,995 while still maintaining the highest industry standards. When factoring in $1,500 for potential travel expenses (air travel and hotel accommodations), you are still looking at a cost of only $5,400. That translates into savings of $8,000 or an extra IVF cycle and a half, which can make the difference between walking away after a failed cycle or having the opportunity to do multiple cycles and ultimately walking away with a baby in your arms.
Making Priceless Affordable
You could receive a FREE IVF Cycle!
Here's how:
Our monthly CNY Fertility IVF Grant is our way of giving back to those suffering from infertility. As part of our dedication to providing accessible and affordable high-quality fertility care, it's our pleasure to also provide an opportunity for those in our community to receive a once-in-a-lifetime grant for fertility treatment.
Every month, CNY Fertility announces the opening of a grant application period on our Facebook and Instagram pages. Some months, the grant will focus on and be restricted to those who fit certain criteria (PCOS, LGBTQ, recurrent pregnancy loss, military, etc.) to help bring awareness to specific issues. Other months, the grant is open to everyone. Because the rules change monthly and grant applications are only open during a specified time, it is important that you follow CNY Fertility's Facebook or Instagram page or subscribe to our newsletter.
What the Recipient Gets
®
"At CNY Fertility, IVF is only $4,275 while still maintaining the highest industry standards".
Treatment Credit $4,275 in treatment credit, which covers everything in our $4,275 IVF Package or can be put towards any other treatment of choice, Fertile Hope Yoga 3-month access to Fertile Hope Yoga. Hotel Accommodations Up to 7 nights stay courtesy of the Holiday Inn & Suites in Syracuse NY. The Fertile Spirit $100 gift card to Fertile Spirit. Medication Gift Card $4,500 gift card for IVF medications courtesy of VFP Pharmacy Group. $100 gift certificate to Molecular Fertility.
CREATING HOPE FOR OVER 20 YEARS CNY Fertility is not responsible for the delivery of goods promised by our partners. Hotel accommodation is available only for those living outside the area of our offices offering retrievals and transfers and is subject to hotel availability. MOLECULAR FERTILITY 64 65
Destination CNY: Travel Success Stories
knew someone at her church who knew someone, who knew someone that had used a fertility clinic out of New York, CNY Fertility.
I started doing some research. They were much more affordable than the clinics in Columbus and Atlanta, and their success rates were just as good! So, we gave it a shot! We did a retrieval in February of 2019 and followed that with two unsuccessful transfers. To say we were devastated both times is an understatement! You try to hold onto your faith, but you start to question will we ever be parents? Will we ever know that feeling? We started looking into other options.
To all the couples out there struggling with infertility, don't give up! The hundreds of shots, the meds, the sleepless nights, the worry, and the many, many tears will all be worth it! Just lean on God and he will provide.
the holidays, I really buckled down. I started keto. And WOW... my body started ovulating on its own... my skin cleared, my mood improved, I lost some extra weight. We had decided after saving some more money for medication that we'd go back for a frozen transfer.
Ronnie started a new job, so I made the drive to Syracuse myself and went through the frozen transfer (I also did the acupuncture). It was great! I knew this was it. I felt it!
I couldn't wait for the blood test. I just had to take an at home one. There it was: a faint positive. I cried. I felt so much happiness. My pregnancy was great, but anytime I was unsure or scared something wasn't going right, CNY staff were there to answer any of my questions and ease my mind.
AMANDA AND DANIEL'S STORY:
Thanks to CNY, we have our little miracle! Wanted to share our journey with you all and a few pictures of our precious baby!
Four and a half years ago when Daniel and I got married, we knew right away we wanted to start a family. So, we started trying! Fast forward a year nothing had happened, so my OBGYN recommended that we go see a fertility specialist. Not the words you really ever want to hear, but we took her advice and went!
We were told our only option was IVF. IVF is extremely costly, and that was just not in our cards at the time. We tried a few other things. I spent periods of time on clomid; we did two rounds of IUI and lots of home remedies. Nothing seemed to help! My grandmother
We went to a couple of local meetings about fostering and adopting. That seemed like it was going to be our next step. My doctor at CNY called me in October of 2019 and said he wanted me to go get tested for Endometriosis. So, in December, I had surgery and sure enough, I had endo. My local doctor performed my surgery and considered it a successful surgery! In January we went ahead with another transfer (this time transferring 2 embryos) and praise God, WE ARE PREGNANT!! I cannot even begin to explain the emotions we felt on January 30th when we got the call! Still to this day, it doesn't even seem real!
On September 12, 2020 our precious Wills made his arrival a month early! 5 pounds, 12 ounces, and healthy as can be. This journey has taught us both so much about ourselves! It has brought Daniel and I closer together. We have become so much closer to God. I have never prayed and talked to God so much in my entire life. Looking back, I would ask God, WHY?? Why us? Will we ever have a baby? What are you waiting on? I will never know why he waited four years, but I do know his timing is perfect and I really am thankful for our journey! I have met some wonderful women and created beautiful friendships, and for that I am so thankful! Our friends and family have been so wonderful, loving and supportive during this long journey! We couldn't have done it without them! Truly!
KRISTEN & RONNIE'S STORY:
Ronnie and I married in 2012 and had always talked about having a baby together. He had a vasectomy in his previous marriage and because of the length of time that had passed the success rates of a reversal were low. I had always thought I had PCOS - hair growth, weight gain, etc., so we made an appointment with a local facility, and it was confirmed by ultrasound that I did have PCOS.
With the price of IVF, I thought it was all just a dream . that is until I stumbled across CNY in 2016. The rates seemed unreal! The thought that we could have a baby of our own together seemed possible. I followed Dr. Kiltz and CNY. I attended all of his Fireside Chats and joined some amazing Facebook groups of other women going through treatments with CNY. In June of 2018, we made the trip to Syracuse, and Ronnie underwent PESA. In November of 2018, we made another trip to Syracuse, and I had my egg retrieval and a fresh transfer. We had so much hope and happiness. Unfortunately, our first attempt didn't take. I was pretty upset but powered through. After
Fast forward to January 2020, and I was in the hospital delivering our beautiful baby girl. She's almost 8 months now, and I can't believe our dream came true. She's amazing, and I feel so honored and blessed to be her mommy.
Never give up. Keep pushing forward, and keep dreaming. We've met some amazing couples along our journey and some strong women. Thank you, CNY for making my dream come true. She's more than I could have ever imagined.
66 67
Adoption
CNY Fertility Center is committed to offering information about each family building option. Some of our clients have found adoption to be their most promising path for creating a family. There are many things to consider when planning to adopt: eligibility, financing, domestic or foreign, adoption provider, and if embryo adoption is a possibility. There are many children who need loving homes.
Adoptions can be performed by a private agency, public agency or through an adoption lawyer. Choosing a reputable adoption provider is important for a positive adoption experience.
When deciding to adopt a child from the US, there are many avenues available. There are different types of agencies which provide domestic adoptions. You may choose to use a private agency or to use an adoption attorney for an independent adoption . Adopting a child from a foreign country is another way to build your family. International adoptions must comply with the laws of the adoptive child's country, and typically require travel to that country.
There are also many children in foster care awaiting safe and happy homes. The parental rights of many children who are placed in foster care will eventually be terminated, allowing them to then be adopted. The majority of these children are older and have special needs, however infants are sometimes available.
EMBRYO ADOPTION
Couples who have completed their family building after fertility treatments may have extra frozen (cryopreserved) embryos. Some couples decide to give their extra embryos to an embryo adoption agency. Following a screening and qualification process, a recipient couple can adopt the embryos and have a frozen embryo transfer. Legal documents and agreements will be signed by all, the embryo adoption agency will step couples through this process.
CNY Fertility is happy to provide additional information about all of these alternatives.
CREATING HOPE FOR OVER 20 YEARS
68 69
The CNY Fertility Alliance is a network of Reproductive Endocrinologists and OB/ GYNs that have partnered in their mutual commitment to providing top-quality family building options priced well below the national average. Alliance members are committed to every patient and working in cooperation to ensure quality care for everyone.
Choosing to receive care from the CNY Fertility Alliance and its members means choosing the nation's most innovative fertility care network. Alliance members provide local testing and cycle monitoring, minimizing the inconvenience and expense of travel to Central New York for IVF or other procedures.
If you or your care provider would like additional information on becoming a patient or member of the Alliance, please call 844315-2229 (patients) or 530-400-3864 (providers).
BUILDING FAMILIES, BUILDING DREAMS FOR OVER 20 YEARS
70 71
At CNY Fertility, we provide the full spectrum of reproductive services, including IUI, IVF, Egg Freezing, Donor Egg IVF, PGT, cutting-edge immunological protocols for treating failed implantation and recurrent pregnancy loss, and more. CNY works with and accepts dozens of For those lacking fertility coverage, we are proud to offer affordable fertility
Unfortunately, fertility care is not universally covered by insurance. Even in states with mandates like NY and CO, as many as 50% of people are left uncovered due to how the mandate laws are written. Even so, approximately 50% of our patients have coverage (either partially or in full). Remember, your specific insurance plan is more important than your insurance provider as each company has many plans (some cover treatment and others do not). It is also important to note that even if your insurance covers your treatment, treatment pricing is still important as many plans have lifetime maximums that can be quickly exhausted at clinics Our team will run an insurance check prior to the start of your treatment and upload our findings in your patient portal, but we
Aetna, ALL Blue Cross Blue Shield Plans (ie. Empire Blue Cross Blue Shield, Bluecard, Healthnow Blue Cross Blue Shield, Excellus BCBS Northeastern NY, Excellus BCBS Western NY, etc), Federal Blue Cross Blue Shield, CDPHP (Capital District Physicians Health Plan), Champva, Cigna, Emblem Health, Empire Plan of United HealthCare, Independent Health, NOVA Health, Lifetime Benefit Solutions, Martin's Point, MVP, Oxford of United HealthCare, 1199 SEIU, Progyny (except at Buffalo office) Tricare/Humana Tricare, UMR (United Medical Resources), United Healthcare, Univera, HealthCare, US Family Health, and WINFertility. We do not accept: any Marketplace, Medicaid, Managed Medicaid Plans, or other plans not listed.
$9,453
When paid in full
Freezing $100 $995
Monitoring
In-house monitoring $150 Remote Cycling Management
With stand-alone treatment, medications are billed separately and are highly variable. See our website (scan the QR code) for more detailed price estimates.
Each Treatment Medication Bundle combines a state-of-the-art fertility treatment (IVF or Egg Freezing) with medications in the first-ever package of its kind in Each bundle allows CNY Fertility patients to receive care for approximately $1,000 less than purchasing their treatment and medications separately. Because of the convenience and significant saving opportunity, over 99% of our self-pay patients pursuing IVF or Egg Freezing purchase a Treatment
Package #4 Egg Freezing
$5,090
If financed, package price is $5,265 with $2,632.50 down + additional fees.
TREATMENT INCLUDES
Retrieval + Anesthesia
Egg Culture
Cryopreservation
Standard Dose Egg Freezing Medication Package
Each IVF bundle includes Follistim, Ganirelix, Micro-dose hCG, Lupron Trigger, Pregnyl, Letrozole, Prometrium, PIO, and Estrace. The Egg Freezing Bundles include the same medications, excluding Prometrium, PIO, and Estrace, which are unnecessary for egg freezing. Quantities of each medication are dependent upon the specific stimulation package. The medication packages are based on stimulation of 10 days. Additional medications may be needed based on individual responses or medical protocols and will need to be purchased outside of the package.
Every month, we announce our IVF Grant on Facebook and Instagram. Recipients receive a FREE IVF treatment credit along with medication, hotel accommodations, and more! Check rules and application period as they change each month.
SCAN TO EXPLORE ALL TREATMENTS AND PRICING SCAN TO APPLY
72 73
CNY Fertile Financing®
MAKING PRICELESS AFFORDABLE®
There is the overwhelming impression that fertility treatment is cost-prohibitive and only celebrities and the very wealthy can afford to pay for this type of medical care. At CNY Fertility, this is not the case. Dr Kiltz founded CNY Fertility with the mission of making fertility treatment affordable to all. You will find that most fertility centers around the country are 2-3 times more expensive than CNY Fertility. CNY Fertility Center provides affordable and compassionate fertility care without sacrificing quality. In addition to participating with and accepting most insurance plans, we offer multiple cycle discount plans, Fertile Financing options that are interest free, and an IVF Refund Plan. Our goal is to provide affordable fertility care, so that your dreams can come true. Prior to your first visit, a CNY Fertility financial counselor will evaluate your insurance coverage so you have a better understanding of which costs are covered and which will be out of pocket. We strive to work with clients to find the financial arrangement that best suits you.
PAYMENT PLANS
CNY Fertility offers payment plans for most treatments, including IVF, FETs, Donor IVF, Tubal Ligation Reversals, Vasectomy Reversals and more. As part of our mission to provide accessible, state-of-the-art fertility care, we allow all of our clients to establish very simple payment plans for up to two years.
What You Need to Know:
• All of our payment plans, whether for IVF or other fertility treatment, have the same payment structure. Once you understand how it works for one treatment, you understand how it works for all treatments.
• There is a $250 fee for every 6 months you finance. This equates to approximately $40 a month. There are no other fees or interest payments.
• There is no credit requirement.
• You must have an active credit or debit card.
• A 25% deposit is required for each treatment cycle.
• Vasectomy Reversals and Tubal Reversals require a 50% deposit prior to scheduling.
• You can pay any amount up front and finance the remaining balance. For example, if you want to pay $2,000 toward your IVF treatment upfront and then finance the rest for two years, you would need to pay off $2,900 over two years (that is a $1,900 balance from the IVF treatment and $1,000 in account management fees)
• If you pay off your balance before your agreement is over, you do NOT have to pay the monthly management fee for any months remaining.
How to Estimate Your Monthly Payment:
Step 1: Add up the total for your treatment.
Step 2: Add the account management fee to the number above.
Step 3: Divide the number obtained by adding the first steps together by the number of months you want to finance payments over (up to 24 months).
Step 4: You should now have an estimate of your expected monthly payment.
Example using IVF:
Step 1: $4,500 (IVF) + $995 (monitoring) $5,495 total treatment cost
Step 2: $5,495 + $1,000 because I want to finance for 24 months, so that is $41.66 x 24 months=$6,495 total amount to be financed
Step 3: $6,495x 25% = $1,623.75 required down payment
Step 4: $4,871.25/24 months =$202.97 monthly payment to CNY
THE FERTILE GUARANTEE PROGRAM
Having a child is one of the most significant decisions you will make in your lifetime. At CNY Fertility, we understand that the price of IVF treatments can be a barrier for couples that are struggling with infertility. That's why Dr. Kiltz and his team are working every day to continue Making Priceless Affordable® However, some people want more assurance that their investment will result in a successful pregnancy. That is why CNY Fertility offers The Fertile Guarantee.
The Fertile Guarantee program includes all of these services:
• 75% refund if you don't bring a baby home in your arms
• Up to 6 IVF cycles (must complete all Frozen
• Embryo Transfers before moving on to the next fresh IVF)
• Cryopreservation of embryos from those 6 cycles
• 1 yr storage of embryos
• Egg Retrieval
• Anesthesia
• ICSI
• Assisted hatching
• Embryo Transfer
• FET's of embryos created during these cycles
Excludes: Medications, Monitoring ,IVF screening tests prior to the initiation of medications, such as, hysterosalpingogram, and non-IVF surgeries. Initial pregnancy test and early pregnancy bloods and ultrasounds.
It is important that you understand the total cost of treatment up front. Many IVF centers advertise a low cost estimate that does not include many essential aspects of treatment such as monitoring, retrieval anesthesia, ICSI, assisted hatching, cryopreservation of embryos and FET's. Our guarantee program price varies depending on the age of the patient. Patients must apply for the Fertile Guarantee Program prior to beginning treatment.
AFFORDABLE MEDICATIONS
CNY Fertility also works with several outside programs and pharmacies to bring you the best pricing for your medications. The Compassionate Care Program is designed to help uninsured, income eligible patients overcome financial barriers and better afford fertility medications. Eligible patients may save 25%, 50% or 75% off the self-pay price of Gonal F, Cetrotide and Ovidrel.
WE STRIVE TO WORK WITH CLIENTS TO MAKE CARE AFFORDABLE AND TO FIND THE FINANCIAL ARRANGEMENT THAT BEST SUITS YOU.
74 75
Preparing for Fertility Treatment
30-90 Days Prior to Scheduled Treatment
Through decades of clinical experience, CNY Fertility has discovered that our external environment often creates a hostile internal environment that causes inflammation and leads to infertility. Inflammation and the subsequent infertility it creates are pervasive opponents that are best treated with a multipronged approach. Treatment can include dietary changes, nutritional supplements, pharmacological immunology, mind-body and "eastern" therapies, along with surgical interventions for both men and women.
We recommend clients begin to prepare for fertility treatment 30-90 days prior to their scheduled treatment. We have seen many clients adopt some of these recommendations and call the following month to cancel their appointment because they became pregnant naturally. If this happens, it is important to stay on the inflammation-reducing plan. There may
also be other treatments we can recommend to reduce the chances of miscarriage and premature delivery.
Inflammation likely originates from many of the foods we eat. We are unknowingly placing an excessive amount of these environmental toxins into our bodies in the form of fruits, vegetables, fiber, and lean meats. We don't realize that they are all converted to simple sugar and that plants have defense systems too. They are foreign particles to the human body and cause a constant inflammatory response. Excess glucose causes glycation and fermentation in the belly, creating heat, methane gas, alcohol, and acetyl aldehyde (similar to the compost pile in your yard that steams with a foul smell), which are destroying the gut and sending this destruction throughout the entire body including the ovaries, testis, and all reproductive organs.
To learn more about how plants can damage our bodies and reproductive systems, please read the following articles: Phytochemical Mimicry of Reproductive Hormones, Dietary Pesticides, and Poisonous Plant Research.
When it comes to food, less is best. By not putting these inflammation-causing food groups into your body in excess variety and frequency, you allow your body to heal and do what it naturally wants to do. Fasting and intermittent feasting is an ideal solution. By eating once or twice a day at most and allowing 12 to 24 hours between feedings, you provide the body with time to rest and digest. Eating the B.E.B.B.I.S. Diet (pronounced "babies") - bacon, eggs, butter, beef, Kiltz's ice cream, and salt - is one lifestyle adjustment so many CNY clients have embraced with incredible success.
Maria Emmerich is our keto food guide. We recommend following her and considering having a one-on-one coaching session via her website.Modern medicine is still an effective complement to the natural healing and wellness practices that have been available for thousands of years. CNY suggests adding an immune protocol, which may include
Intralipids, Lovenox, Prednisone, Low-dose aspirin, and Plaquenil to your treatment plan. Some more aggressive treatments may include IVIG, Humira or Paternal Leukocyte Immune Treatment (LIT), also known as the male immunization treatment. We often recommend 1.5 to 4.5 mg of Low Dose Naltrexone (LDN) a day. LDN is known as the "miracle drug" because of the way it simply reduces inflammation. Similarly, cannabidiol or CBD is an ancient herbal remedy that can also play an important role in reducing inflammation.
MIND SET
Your faith and belief in a positive outcome will guide you and help you on the way. Keep the faith! Know and imagine you are already fertile and a beautiful child is coming into your life. Joining a supportive community like those in our support groups and fertility mentorship program can be an important part of your success. Yoga for fertility in person at our centers and online at Fertile Hope Yoga, can be another great way to improve fertility. Join a supportive community and foster your belief in a positive outcome. If you have not read The Secret by Rhonda Byrne, you should check it out. Dr. Kiltz's book The Fertile Secret is also a good resource.
76 77
The simple guide to improving your fertility in preparation for care at CNY Fertility
Welcome to CNY,
My hope is that we can be helpful, and want you to know that the CNY Fertility team is here to assist you in every way possible. Through decades of clinical experience, CNY Fertility has discovered that our external environment often creates a hostile internal environment that causes inflammation and leads to infertility.
Inflammation and the subsequent infertility it causes are pervasive opponents that are best treated with a multi-pronged approach that can incorporate dietary changes, nutritional supplements, pharmacological immunology, mind-body and "eastern" therapies, along with surgical interventions for both males and females.
The origin of inflammation is best understood through the recognition that we are unknowingly placing an excessive amount of these environmental toxins into our bodies in the form of fruits, vegetables, fiber, and lean meats. We don't realize that they are all converted to simple sugar and that plants have defense systems too. They are foreign particles to the human body and cause a constant inflammatory response. Excess glucose causes glycation and fermentation in the belly, creating heat, methane gas, alcohol, acetyl aldehyde (similar to the compost pile in your yard that steams with a foul smell), which are destroying the gut and sending this destruction throughout the entire body - including the ovaries, testes, and all reproductive organs. To learn more about how plants can damage our bodies and reproductive systems, highly suggest reading the following articles: Phytochemical Mimicry of Reproductive Hormones, Dietary Pesticides, and Poisonous Plant Research.
In my opinion, when it comes to food, less is best. By not putting certain food groups into your body in excess variety and frequency, you allow your body to heal and do what it naturally wants to do. Fasting and intermittent feasting is my solution. By eating once or twice a day at most and allowing 12 to 24 hours between feedings, you allow the body time to rest and digest. The B.E.B.B.I.S Food Plan - bacon, eggs, butter, beef, and ice cream (Kiltz's ice cream), pronounced "babies", is one of those "opposites" that have seen so many clients embrace with incredible success. Maria Emmerich is our keto food guide. We recommend following her and considering having a one-on-one coaching session via her website
Still, modern medicine is a great complement to the natural healing and wellness practices that have been with us for thousands of years. I recommend adding some level of an immune protocol (see below) which may include Intralipids, Lovenox, Prednisone, Low-dose aspirin and Plaquenil to your treatment. Some more aggressive treatments may include IVIG or Humira. We often recommend 1.5 to 4.5 mg of Low Dose Naltrexone (LDN) a day. LDN is known as the "miracle drug" because of the way it simply reduces inflammation.
To further assess your fertility, a laparoscopy and hysteroscopy can be done to look for intraabdominal endometriosis and scar tissue that may be impeding your fertility due to the inflammation in and around the ovaries, tubes and uterus. This is a silent disorder and can be present without you knowing. Often the only symptoms are infertility, miscarriage, or failed implantation.
Additionally, the use of donor eggs, sperm, embryos or gestational surrogacy may assist your journey significantly. CNY Fertility's donor team is happy to discuss these options with you further if desired. Attached to this document is a quick reference guide with links for more information on all of the things I recommend for preparing your body for fertility treatment. I have seen many clients adopt some of these recommendations and call the following month to cancel their treatment because they became pregnant naturally. If this happens, it is important to stay on the inflammation reducing plan. There may also be other treatments we can recommend to reduce the chances of miscarriage and premature delivery.
Your faith and belief in a positive outcome will guide you and help you on the way. Keep the faith! Know and imagine you are already fertile and a beautiful child is coming into your life. Seeking fertility specialized counseling or joining support groups like that offered at The Fertile Spirit can be very helpful. Yoga for fertility in person at our centers and online at Fertile Hope Yoga can be another great way to improve fertility Join a supportive community and foster the belief in a positive outcome. If you have not read The Secret by Rhonda Byrne, you should check it out. My book, The Fertile Secret is also a good resource. Please visit CNY Fertility's website for blog posts and information on lots of fertility topics, and take a look at our Family Building Guide
Thank you for sharing your journey. look forward to helping your dreams become your reality.
Ideally begin 30-90 days prior to the start of treatment
Preparing for Treatment: for Everybody
The simple dietary and supplement guide in preparation for treatment at CNY Fertility
Women
BEBBIS (bacon, eggs, butter, beef, ice cream, salt). See Dr. Kiltz's Keto for Fertility Cookbook.
Peak Prenatal VivoMeg Fish Oil Ovarian Bloom, and Immunoglobulin IgG supplements by Molecular Fertility CBD can also be helpful.
Peak Prenatal and Fish Oil can be taken continuously through pregnancy and lactation.
Low Dose Naltrexone LDN 1.5 to 4.5 mg per day
HGH 6-24 units per day (for low egg reserve or poor quality) or topical HGH (Somaderm gel or serovital for OTC form)
Avoid high impact exercise, keep it cool
Men
BEBBIS (Kiltz's keto, bacon, eggs, butter, beef, ice cream, Salt). See Dr. Kiltz's Keto for Fertility Cookbook.
Male Preconception+ and VivoMega Fish Oil Immunoglobulins IgG and CBD may also be helpful
Low Dose Naltrexone LDN 1.5 to 4.5 mg per day
Clomid 25 mg per day (may help sperm production and function)
hCG 250 units per day (may help sperm production and function)
Human Growth Hormone (HGH) 6-24 units per day (may improve testosterone levels and sperm concentration, motility, and maturation) or topical HGH (Somaderm gel or serovital for OTC form)
Avoid high impact exercise, keep it cool
*LDN, HDH, Clomid, & hCG are prescription medications that can only be prescribed by your local provider or by CNY after your consultation.
Helpful Resources
Dr. Robert Kiltz 315-416-9872 (cell) www.cnyfertility.com
*LDN and HGH are prescription medication that can only be prescribed by your local provider or by CNY after your consultation.
SHOP SUPPLEMENTS SH O P SUPPLEMENTS
78 79
Sample Stimulation Protocols
Letrozole
Letrozole 10 mg x 5 d fsh 150 x 10 d
antag/hcg 10k trigger
antag/hcg lupron trigger
antag/hcg lupron trigger
antag/hcg lupron trigger
antag/hcg lupron trigger
antag/hcg lupron trigger
Sample Immune Protocols (in addition to stimulation protocol)
LEVEL 1
Aspirin 81 mg qd*
Prednisone 5 mg bid
Z pack or doxy
Antihistamine (Pepcid, Claritin, Benadryl)
Dietary and supplementary support
LEVEL 2
Aspirin 81 mg qd*
Prednisone 5-10 mg bid
Z pack or doxy
Antihistamine (Pepcid, Claritin, Benadryl)
Dietary and supplementary support
Intralipids, weekly Lovenox 30 mg qd*
LEVEL 3
Aspirin 81 mg qd*
Prednisone 10-15 mg bid
Z pack or doxy
Antihistamine (Pepcid, Claritin, Benadryl)
Dietary and supplementary support Intralipids, weekly Lovenox 30 mg bid*
Plaquenil 200 mg qd/bid or Prograf 0.5 - 1 mg bid
Neupogen sq 60 mcg qd
hCG Boosters 250
PRP / HCG wash
HGH 6u, Somaderm, or SeroVital
LEVEL 4
Aspirin 81 mg qd*
Prednisone 15-20 mg bid
Z pack or doxy
Antihistamine (Pepcid, Claritin, Benadryl)
Dietary and supplementary support
Intralipids, weekly
Lovenox 40 mg bid*
Plaquenil 200 mg qd/bid or Prograf 1 mg bid
Neupogen sq 60 mcg qd
hCG Boosters 250
PRP / HCG wash
HGH 6u, Somaderm, or SeroVital
IVIG 20-40 grams
q 4 weeks
Humira 40 mg x2
q 2-4 weeks
Aspirin 81 mg beginning after retrieval or with start of FET
Prednisone, 5-20 mg qd or bid, start of cycle or before
Doxy 100 mg bid for 3 days or zpack, start of cycle for 5 days
Weekly intralipids, 100ml 20% may be given to 12 weeks or onger
Lovenox 30-40 mg qd or bid, beginning after retrieval or with start of FET
Neupogen 60 mcg qd, with stim or with transfer preparation
HGH 6u, Somaderm, or Serovital per day pre stim or with stim or transfer
Plaquinil 200 mg qd or bid
Prograf 0.5 to 1 mg bid
Humira 40 mg x 2, 2 weeks apart
IVIG 20-40 grams q 2-4 weeks
Hysteroscopy d and c (scratch) / +/- era
Laparoscopy for endo adhesions myoma, or empiric use of orilissa / lupron for 30-60-90 days
PRP (platelet rich plasma) wash
hCG (Human Chorionic Gonadotropin) wash
hCG sq boost 250 qd
Neupogen wash
Metformin, 500 mg to 2000 mg per day
Orilissa 150-200 mg qd and letrozole 5mg 1-3 months
Antihistamine protocol (claritin - 10mg am / pepcid 20 mg / benadryl 25 mg)
Female Supplements: Peak Prenatal, Fish Oil Ovarian Bloom Myo + D-Chiro Inositol Immunoglobulin IgG CBD, Somaderm gel/serovital
Male Supplements: Male Preconception+ Fish Oil Immunoglobulin IgG, CBD Somaderm gel or serovital and consider additional CoQ10 or Ubiquinol and Vitamin D
LDN, low dose naltrexone, anti inflammatory 1.5 to 4.5 mg per day night best CBD Hemp Oil (Broad spectrum/TH C-free), 15-30-60 mg per day, anti-inflammatory
Keto look at doctorkiltz.com for full advice and start immediately best food plan for health and wellness for all, even with pregnancy
Yoga / Tai Chi / light easy workout
Meditation / prayer / positive vision practice
Slow down and cool down
Acupuncture / massage
Natural / mini stim / standard stim / moderate stim / high stim
Gestational carrier / donor oocytes / donor sperm / donor embryo
Guys, hCG 250 boosters, clomid 25 mg, keto, LDN, CBD oil, slow down, cool down, massage
*only to be started after egg retrieval or with start of FET
acupuncture viagra vaginal suppositories to improve blood flow to uterus
ICIUI IVF FET
NS Oral Low Mini Low Standard Moderate High Super High FET Medicated Estrace / Progesterone fsh/hcg 100-200/20 300/20 400/20 600/20 900/20 fsh/menopur 25-125/75 225/75 250/150 450/150 450/450
Natural stim
or Clomid with trigger
80 81
Check List of preparatory nutrients/supplements, lifestyle factors & implantation treatments.
You're Not Alone
SUPPORT AT CNY FERTILITY
It goes without saying that infertility can be a stressful experience. Experts often say that infertility is a life crisis for some couples. The emotions that arise are very real and can be difficult to navigate. Caring for your emotional well-being is as important as treating your infertility, and we understand that each couple's experience and needs are different.
CNY Fertility provides the support you need to help you and your partner through all stages of your fertility journey. Often couples struggling with infertility find it difficult to confide in friends and family. And sometimes wellintentioned comments such as "When are you going to start a family?" or "Just relax and it will happen" only make the situation more stressful. Sharing your frustrations, anxiety, and sadness with others enduring the same struggle can help. Whether you're more comfortable in a group setting, one-on-one or as an observer, CNY Fertility has the support you need to reduce the stress associated with infertility from a medical, emotional, and financial perspective.
Fertile Friends One-On-One Program Fertile
Friends pairs clients together based on their experiences with infertility. This program was created because many clients have said that friends and family who have helped them cope with other life issues just can't compare to the understanding and support provided by another person who is going through the same struggle to conceive.
Circle of Hope Support Group
The Circle of Hope Support Group meets monthly at each CNY Fertility Center/CNY Healing Arts Center location. The group is
moderated by one of our team members, and is open to all clients. During the group session, clients are invited to share their personal experiences, seek support, and gain helpful tools for coping with the emotional ups and downs of infertility. Guest speakers will also occasionally join the group to share knowledge and their own personal journey.
Fertile Hope Yoga
Fertile Hope Yoga offers comprehensive online yoga courses and private coaching for women who believe in aholistic approach to fertility wellness. It is a sacred space to share stories, focus on the power of positive thoughts, and expect miracles. It is a wonderful gift and resource for women no matter how you're trying to conceive. Visit www.fertilehopeyoga.com for additional information.
Monthly Support Webinar
We recognize that some of our clients are unable to make it to in-office support meetings. Luckily, we are able to offer an Interactive Fertility Support Webinar. This allows clients to listen in and ask questions from the comfort of their own homes. Additional information and calendar can be found on our website www. cnyfertility.com.
Private One-On-One Support
If you are looking for a more private one-on-one support situation, CNY Fertility can recommend several counselors who have successfully worked with fertility clients in the past.
Whether you're more comfortable in a group setting, one-on-one or as an observer, CNY Fertility has the support you need to reduce stress associated with infertility from a medical, emotional and financial perspective.
82 83
The Fertile Spirit Membership
The Fertile Spirit
The Fertile Spirit's growing team of fertility coaches and doulas is here to support you by providing a spectrum of care options to meet your unique needs. We work with you and your goals to bring insight, healing, growth, and transformation to your path.
We believe that caring for your total wellbeing—body, mind, and spirit—is essential to achieving a fertile life. Our expert team of care providers specializes in all stages of women's health, to guide, educate, and inspire you on your path towards wholeness, healing, fertility, pregnancy, birth, motherhood, and beyond.
A TRUSTED GUIDE
Doulas & Coaches
Our patient support specialists are wellness professionals and trusted companions who support you in every part of your journey. They offer skillful and compassionate guidance.
We offer help with:
✓ Understanding the Process
✓ Client Advocacy
✓ Creating a Plan
✓ Stress Management
✓ Resources & Education
✓ Balancing Work, Life, and Fertility
✓ Seeing the Bigger Picture to Achieve Goals
✓ Setting and Meeting Nutrition Goals
✓ Breaking through Obstacles to Greater Fulfillment
Fertility Treatments Coaching Health & Wellness Support Prenatal Support
As a member of The Fertile Spirit, you'll receive daily inspiration and access to weekly groups led by a trained coach. This is an opportunity to truly envision and create a fertile life with the circle of support from our team of coaches, doulas, and others going through a fertility journey.
Your monthly Fertile Spirit Membership includes:
• Weekly Facilitated Group Coaching Session
• Weekly Support Circle
• Guided Meditations
• Journaling Prompts
• Access to Private Events & Workshops
• Access to Group Support Platform
Danielle specializes in an in-depth approach to transformational growth and change. Weaving imaginal psychology, somatics, self-inquiry, creativity, and mindfulness, she helps individuals, couples, and groups connect to their most fertile spirit so they can live from a more realized, embodied, and authentic place. Her background in trauma and creativity brings a unique lens to her work with clients.
Danielle believes that our biggest obstacles reveal profound rewards when we orient to ourselves and our dreams with awareness, trust, and love. Danielle has a Masters in Counseling Psychology, is a Group Counseling Facilitator, a Somatic Mindfulness Practitioner, and an Expressive Arts Specialist.
Hope & Heal Couples Coaching Postpartum Support
Contact us (800) 738-4297 support@thefertilespirit.com www.thefertilespirit.com FOLLOW US! PATIENT SUPPORT AT CNY FERTILITY
DANIELLE SARA Director of the Fertile Spirit
84 85
Fertile Hope Yoga
YOUR PATH TO FERTILITY STARTS HERE
But it's more than just yoga . . What if releasing your emotions and sharing your fertility story meant you could go from 1 in 5 women to 1 in 2 women who become pregnant?
Statistics from a Harvard research study show patients who participated in a mind-body program for a 10-week period (which included yoga and meditation) conceived 3 times more often. If you've been keeping your fertility journey private (outside of a few close friends), you're in good company. Holding in your emotions and trying to avoid the pain by not being too optimistic may feel like a safe choice, but releasing your emotions and opening up to share your story is one of the best things you can do for your health.
Fertile Hope Yoga is a sacred space where mamas-tobe can expect miracles.
Fertile Hope Yoga is the brainchild of CNY Fertility's resident fertility Yogi, Erin McCollough. Born from her in-person yoga for fertility classes she has taught for over a decade in Rochester, New York. Fertile Hope Yoga is the first-of-its-kind online platform serving and supporting clients of CNY Fertility from around the globe. It is a comprehensive yoga fertility program for women experiencing IUI, IVF, ICSI, egg donor cycles, ovulation induction, frozen embryo transfer (FET), or any reproductive assistance or procedure during their fertility journey. CNY Fertility has partnered with Fertile Hope Yoga as another way to support our clients both near and far.
Stop stressing and start loving your fertility journey! Fertile Hope Yoga includes comprehensive online yoga courses and private coaching for women who believe in a holistic approach to fertility wellness. It is a sacred space to share stories, focus on the power of positive thoughts, and expect miracles. It is a wonderful gift and resource for women no matter how you're trying to conceive (natural cycle or receiving IUI/IVF or FET treatments with the help of a doctor), and an opportunity to build an unshakable foundation while supporting your unique fertility journey. You'll hear from women who have been in your shoes and see how other women's Fertile Hope stories have transformed their lives. We support women in all types of partnerships: single moms by choice, mom and mom couples, mom and dad couples, and couples experiencing secondary infertility.
The support you'll experience will set you up for lifelong success as a mother, partner and woman. You'll become so much bigger than your fertility story.
Fertile Hope Yoga will help you learn about getting pregnant, how to reignite your hope, and everything else your doctor doesn't discuss with you. Western medicine might be one part of your equation, but just as important is -Addressing and rewiring your underlying beliefs… Embracing who you are, where you are right now... Shoring up support, love, and a net of people to catch you…
That's how you overcome any obstacle, persist, and succeed in your fertility journey.
Working hand in hand with a reproductive endocrinologist and fertility clinic, Erin is the only yoga teacher to develop a program that addresses all of this. Her methods are proven and safe. This is where your new Fertility Story begins. Let Erin and Fertile Hope Yoga show you the way.
Fertile Hope Yoga offers three program levels with access to the FHY app, live Zoom yoga classes
NURTURE IGNITE VIP
$27 /mon $69 /mon $297 /mon
NURTURE is for you no matter where you are at in your fertility journey. It is for you if you do not desire peer support or fertility coaching.
IGNITE is for you if you are experiencing known fertility challenges & desire a small, intimate support network + group fertility coaching.
VIP is for you if you desire 1-1 fertility coaching sessions in addition to everything in NURTURE + IGNITE.
What You Get: NURTURE IGNITE VIP
Ever Growing On-Demand Yoga for Fertility and Meditation Library
On-Demand Yoga for Pregnancy Library
Live Zoom Yoga for Fertility Classes
Mobile App
Downloadable Resources
Member Only Facebook Community
Group Fertility Coaching New Monthly ThemeBased Content
Afinnity Peer Group Access
All-Access Pass 24/7 Support from FHY team
Wisdom Chat Fertility Coaching Oneon-One
86 87
"Go from hopeless to hopeful while boosting your fertility"
Fertile Hope Yoga Founder Erin McCollough
Here's What Other are Saying About Fertile Hope Yoga
Nobody wants to sign up for this, and I didn't think I needed yoga. It's the best club I never wanted to join. I was also really uncomfortable opening up to all of these women I didn't know and uncertain with how I would feel about it. I was harboring so much grief that I couldn't even effectively communicate with my own husband and family. I was angry. I honestly thought the first or second IUI would get me pregnant and little did I know it would be 4 failed IUI's before turning to surgery, IVF and yoga to get our miracle baby. I was able to better connect with my center and find grounding.
I consider myself a pretty balanced person, but my experience with infertility was crushing and debilitating. My self-worth was so low and I felt I was having trouble succeeding in other areas of life. I became overwhelmed with despair when friends and close family members announced pregnancies— and then experienced overpowering guilt for not being able to celebrate their happy news.
My own journey fractured my relationships with very close friends— and even my loving sister— because people had such trouble relating to my situation while they enjoyed their own paths to parenthood. The yoga group was always there, eternally patient and always encouraging— always understanding and never judgmental. The friendships and closeness grounded me and enabled me to make clear decisions to find my way to my wonderful son.
The Fertile Hope Yoga program is transformative. It's a safe space that not only allows you to realize that you are not alone, but also gives you the time and place to begin sharing your journey. It has given me the chance to find my voice.
I'm not overly emotional or communicative by nature, so dealing with infertility and loss was difficult Fertile Hope Yoga helped me find the words to talk about the plethora of emotions I was feeling. When I started the program, I was talking about my journey with only a select few and keeping mum.
Now I talk to everyone about our fertility journey (when appropriate— not the cashier at the grocery store. That teen probably doesn't really care.) I have become more open with my emotions and words. I loved hearing everyone's stories.
FREE 14-DAY FERTILE HOPE YOGA MEMBER TRIAL
Get off the emotional roller coaster of anxiety and develop a sustainable sense of inner strength and faith regardless of the many unknowns, imperfections and no guarantees.
Try Fertile Hope Yoga for free. No risk and no credit card required. You'll receive immediate access to the tools that will help you rewrite your fertility story.
To get started, simply visit: fertilehopeyoga.com/free-trial or scan this
"Ferile Hope Yoga is the best club I never wanted to join."
Sasha Tulgan | New York, NY FET Success Story + Fertile Hope Yoga Graduate
"I found my voice and have become more open with my emotions and words."
"This was one of the best experiences of my life and I will be forever grateful to Erin and all of the women who supported us on our journey."
Katya Metidieri | Rochester, NY FET Success Story + Fertile Hope Yoga Graduate
89 88
Virtual Fertility Support & Education
The fertility journey can be overwhelming. There's so much to learn: names of hormones, anatomy lessons, what to take when, and when to just wait. It's confusing. Like a whole other language, and you're already on an emotional roller coaster. Whether you're currently a patient or just starting to tip your toe into the fertility pool, we're here to help No question is off limits or too absurd. Pull up your comfiest chair (and your phone or lap top) and join us in real time for some information, inspiration, and affirmation.
Fertile Conversations
Hosted by CNY Fertility
TUESDAY
Fertility with Fink & friends
6:00-7:00PM EST with Dr. Randy Fink
Hope & Heal Support Group
7:30-8:00PM EST with Fertile Spirit Coaches
WEDNESDAY
Natural Fertility
9:00-9:30AM EST with Jennifer Waters LAc.
EVERY OTHER THURSDAY
Traditional Chinese Medicine for Fertility
2:30-3:00PM EST with Donald Clarke, L.Ac.
SUNDAY
The Fertile Fireside Chat
10:00-11:00 AM EST with Dr. Kiltz, MD.
SUNDAY
Fertility 101: Q&A
7:00PM EST with Justine Taylor, RN Nurse Manager
SUNDAY
40+ Fabulosa y Fértil
8:00-8:30PM EST (en español) with Dr. Maribelle Verdiales
*Weekly schedule subject to change
91 90
Get Answers for Your Unexplained Infertility, Miscarriages and IVF Failures
DISCOVER HOW PREGMUNE'S REPRODUCTIVE IMMUNOLOGY ASSESSMENT REPORT CAN HELP GUIDE YOUR FERTILITY TEAM & CLINICAL CARE
CNY Fertility has been on the forefront of treatment innovation since its inception. When it comes to infertility, we refuse to accept a formulaic approach to IVF where protocols are one size fits all. Dr. Kiltz is one of the first reproductive specialists to study and apply the principles of reproductive immunology. The medical field of the immunology of pregnancy--reproductive immunology--has made great progress in recent years, and there are medical journals dedicated just to this topic.
Implantation of a pregnancy is a complex immunological process. In order for a pregnancy to implant normally in the uterus, the body has to block the natural process of rejection of a foreign body (aka, the baby).
So, when it comes to recurrent implantation failure or pregnancy loss or even infertility of long duration, it is imperative that women seek specialists who are familiar with these issues and who can help them.
To guide CNY's world-renowned reproductive immunology program, CNY Fertility partners with PREGMUNE, a state of the art reproductive immunology testing company.
The Pregmune PGM-1 Reproductive Immunology Assessment Report helps identify potential causes of your infertility, estimates your chances for successful live birth based on our customized artificial intelligence algorithm, and provides your CNY Clinical Care Team with expert guidance for follow-up treatment for improved chances of success. The Pregmune PGM-1 identifies often-overlooked immunological causes for reproductive failure — and provides expert guidance for individualized treatment with your own doctor.
Scan the QR code below or head to www.pregmune.com/cnyfertility/ to schedule your complimentary consultation with Pregmune to learn how including their testing in your treatment can help you on your fertility journey.
Parental Compatibility (HLA mismatches) Natural Killer Cell Cytotoxic Activity Systemic Inflammation Thrombophilia Regulatory T-cell) Autoimmunity Results Summary Above Average Live Birth Success Rate Below Average Average Above Average What you need to know The predicted Live Birth Success Rate tells you the likelihood of a successful full-term delivery assuming the implementation of all recommended follow-up care. The calculation is generated using a customized algorithm based on source data set of over 1000 patient observations (patient using own egg and <45 years old). Fetal HLA-C and maternal KIR (uterine NK cell) interaction HLA Mismatches HLA Homozygosity Anti-HY Immunity Anti-HLA Antibodies Embryo MTHFR prediction and Risk for implantation failure Chromosome Analysis Thrombophilia Autoimmunity Thyroid Serological Inflammatory Metabolic Nutritional Analysis Ch omosome Analy is Th om ophilia MTH R Anal sis Nu it ona Anal sis Female Assessment Male Assessment Parental Compatibility Lower Risk Lower Risk Lower Risk Lower Risk Lower Risk Lower Risk Normal Medium Risk Medium Risk Lower Risk Lower Risk Medium Risk Medium Risk Higher Risk Normal Lower Risk Lower Risk 4 Reproductive Immunology Assessment Report Jane Doe DOEJ010283F-PGM1 11/04/2021 Table of Contents Higher Risk Find out if any of these are a problem for you: 92 93
Shining a new light in the most challenging times ReceptivaDx – a path forward for unexplained infertility, failed IVF, and recurrent pregnancy loss
What is ReceptivaDx?
One of the most common causes of unexplained infertility, failed IVF and RPL (Recurrent pregnancy loss) is inflammation on the uterine lining. For women trying to conceive, inflammation associated with endometriosis is often the cause and for many women, endometriosis is silent, meaning there are no obvious symptoms.
ReceptivaDx is the only test that can identify leading causes of unexplained infertility in a single sample including endometriosis, progesterone resistance, and endometritis. ReceptivaDx includes BCL6, a marker that identifies uterine lining inflammation most often associated with asymptomatic (silent) endometriosis. BCL6 is found in more than 50% of women with unexplained infertility and over 65% of women with two or more IVF failures.
The ability to identify progesterone resistance via the BCL6 marker has been previously linked in published data to both implantation failure and recurrent pregnancy loss. Progesterone resistance is a condition that causes unfavorable changes on the uterine lining, blocking the important hormone progesterone from carrying out its vital role in embryo survival.
IVF Failures Highly Associated with BCL6 Presence
Retrospective analysis of 4,000 patients with prior implantation failures showed a statistically significant difference as the number of prior failures increase, highlighting the decision to test women after even one failure.
ReceptivaDx can also be used to identify endometritis, a chronic bacterial infection of the uterine lining, using a different marker called CD138. The good news for both providers and patients is that either a positive BCL6 or CD138 both have successful treatment options, significantly improving the chances for a successful pregnancy and live birth.
HOW DO THE TEST RESULTS HELP ME?
Without treatment, women testing positive are 5x less likely to succeed in IVF.
If positive for BCL6, current published data recommend two equally effective options:
1. Surgical laparoscopy to remove any visible endometriosis
2. Hormone suppression therapy for 60 days which reduces the inflammation caused by endometriosis and provides a stable and viable surface for the embryo to grow.
If BCL6 is negative, provides assurance that uterine lining inflammation is not the primary cause of failed implantation and improves the probability of a successful transfer.
USEFUL FACTS
Published studies show that women testing positive for BCL6 and left untreated have just an 11% chance of a successful live birth. Once treated, the probability goes up to over 60%. If negative, the probability is also above 60%.
N 1-2 Failures 2963 3-4 failures 808 5 or more Failures 200 BCL6 Positive 1511 (51%) 452 (56%) 142 (71%) BCL6 Negative 1452 (49%) 356 (44%) 58 (29%) Published: March 2022 PCRS https://receptivadx.com/wp-content/uploads/2022/04/poster-PCRS-2022.pdf
Table 1: BCL6 results by prior implantation failure history
94 95
Carrier Screening
CNY Fertility is pleased to offer Sema4 carrier screening services to our patients. If you are interested or wondering if carrier screening might be a good option for you, please discuss it with your provider as soon as possible.
What is carrier screening?
If you are pregnant or planning for pregnancy, carrier screening can help you understand your risk of passing on a genetic condition to your child.
Carrier screening is a test that analyzes your DNA to see if you are a carrier of a genetic variant (or change) that could cause an inherited disease in your children. Medical experts, such as the American College of Obstetricians and Gynecologists, recommend that carrier screening be offered to all women who are pregnant or planning for pregnancy.
Carrier screening plays an important role in family planning and is ideally performed before you get pregnant. This gives you the most reproductive options if you test positive as a carrier for a genetic condition. If you or your partner are already pregnant, carrier screening is still important to help
you better understand your reproductive risk and prepare for a healthier future for your family.
What does it mean to be a carrier of a genetic condition?
Every person has two copies of each gene. Carriers have one normal copy of a gene and one copy with a disease-causing variant (or change). Most carriers are healthy and do not have a family history of genetic conditions. There are two ways that a carrier may pass on a genetic condition to their child:
• Autosomal recessive inheritance, when a child inherits a gene with a disease-causing variant (or change) from both the mother and the father
• X-linked inheritance, which typically occurs when a male inherits an X chromosome with a disease-causing variant from the mother
Sema4 Elements® Expanded Carrier Screen (ECS) tests for both autosomal recessive and X-linked diseases.
Why should I undergo carrier screening?
The doctors and staff at CNY Fertility do our best to ensure that you receive optimal care and attention to improve your chances of having a healthy pregnancy and family. An important part of family planning is being informed about your testing options. Carrier screening is one test that may help you better understand the chance to have a pregnancy or a child affected by a genetic disease.
Nobody in my family has any history of a genetic disease, so why should I be screened?
Carriers of certain genetic diseases are usually healthy individuals and may have no family history of genetic diseases. Most people do not know they are carriers until they have a child born with the disease. Carrier screening can help identify this risk prior to the birth of your baby. If both you and your partner are carriers for the same autosomal recessive disease, each of your pregnancies typically has a 1 in 4 (25%) chance of having that disease. If a woman is a carrier of an X-linked condition, she has a 1 in 2 (50%) that her male pregnancies will have the disease.
What are my options if I am a carrier?
If you are a carrier of a genetic condition, carrier screening may also be recommended for your reproductive partner. If you and your partner are identified as a high-risk couple, your healthcare provider or genetic counselor can provide information and support to help you understand your reproductive options and make important family planning decisions.
Reproductive options may include Pre-Implantation Genetic Testing (PGT), using an egg or sperm donor, or simply understanding the risks.
If I am a carrier, what is the risk that my children will inherit the condition?
If both you and your reproductive partner are carriers of the same autosomal recessive condition, with each pregnancy you have a:
• 1 in 4 (25%) chance of having a child affected with that disease
• 1 in 4 (25%) chance of having a child who is not affected by the disease and not a carrier
• 2 in 4 (50%) chance of having a child who is a carrier of the disease
If a woman is identified as a carrier of an X-linked condition, she has a 1 in 2 (50%) chance with each pregnancy to pass on the variant to her child. If a male child inherits the disease-causing variant, he will be affected with the X-linked condition.
If I receive a negative result, does that mean I have zero risk of being a carrier?
A negative result does not guarantee that you are not a carrier, due to the possibility of residual risk. Residual risk is your chance of being a carrier even though you received a negative result. It is based on your ancestry, as well as the ability of genetic testing technology to identify disease-causing variants in a particular gene.
Sema4 Elements® ECS can identify ancestry information from your DNA, which is used to calculate the most accurate personalized residual risk. Based on your specific ancestry, Sema4 can determine how likely we are to detect diseasecausing variants in a particular gene and provide you and your provider with your personalized residual risk information. Your specific ancestry information, however, is not visible to your provider.
96 97
What options are available for carrier screening?
While a comprehensive carrier screen is recommended if you are pregnant or planning for pregnancy, carrier screening can also be customized for your unique family planning needs. CNY has chosen to offer an Expanded Carrier Screen which tests for more than 500 genetic conditions to help guide your family planning.
Sema4 also offers other carrier screening panels, including a custom carrier screen that can test for one or more diseases. To learn more about which carrier screening panel may be right for you, please talk to your healthcare provider.
About Sema4 Elements® Expanded Carrier Screening (ECS)
If you are pregnant or planning for pregnancy, the Sema4 Elements® ECS with Personalized Residual Risk is designed to give you a comprehensive and accurate understanding of your likelihood of passing a genetic condition onto your child.
• Simple
o With a simple blood or saliva test, find out if you and your partner are carriers of genetic variants (or changes) that could affect your children.
• Accurate
o When assessing risk, precision matters. The Expanded Carrier Screen uses advanced sequencing technologies that are >99% accurate.
• Personalized
o The Expanded Carrier Screen can identify ancestry information from your DNA, which is used to calculate personalized residual risk.
• Comprehensive
o Screens for up to 502 genes to give you the information you need to plan for a healthier future for your family.
How does Sema4 Elements® ECS work?
1. To get started, talk to your healthcare provider about requesting a carrier screen.
2. Your healthcare provider will take a blood draw or saliva sample and send it to our lab.
3. Sema4 analyzes your DNA sample using state-of-the-art sequencing technologies. This usually takes about 2 weeks.
4. Once your carrier screen is complete, your healthcare provider or a genetic counselor from Sema4 may contact you to explain your results and answer any questions you have.
How does a genetic counselor help with my test results?
Genetic Counselors are available to discuss your carrier screening results if testing finds you are a carrier of a genetic condition.
By discussing your carrier screening results with a Genetic Counselor over the telephone, you will learn more about your test report, the genetic condition(s) you are a carrier for, the chance to have an affected pregnancy with a genetic condition and discuss the reproductive options available. Genetic Counselors can also help coordinate your reproductive partner's testing if not previously performed.
Billing
and Insurance
Carrier screening is covered by most insurance plans, however, copays, co-insurance, and/or deductibles may vary by health plan.
To determine what your out-of-pocket expenses may be, please contact a Sema4 billing specialist at 800-298-6470 or your insurance provider by calling the number on the back of your insurance card.
If you need help covering the cost of carrier screening, please contact a Sema4 billing specialists to learn more about financial assistance options and payment plans.
98 99
The Reproductive Immunology Story
While other fields of medicine have understood for some time that our immune system is a common cause of many diseases, Reproductive Endocrinologists are only in the very nascent stages of grasping how important the immune system is to unlocking the mysteries of unexplained infertility.Our immune system is what keeps us alive, but it is also the source of numerous problems.
Reproductive Immunology is a field of medicine that studies the interactions between the immune system and the reproductive system. The current area of study in reproductive medicine is the role of the immune system in relation to recurrent pregnancy loss and repeated IVF failures. The immune system may react to an embryo as an "invader" and thus attempt to stop the growth of these cells.
Many treatments are being utilized in the field of reproductive medicine to reduce inflammation and suppress the immune system to support successful pregnancy outcomes.
For couples experiencing recurrent miscarriages, late pregnancy losses and repeated IVF failures, research and treatment in the area of immunology shows real promise, particularly in treating unexplained infertility. There are many different immunologic problems that can cause pregnancy loss, IVF failures and infertility.
Immunologic dysfunction is just one of a wide variety of problems that may lead to infertility and pregnancy loss. Indeed, a large number of pregnancies fail because of chromosomal abnormalities resulting in fetal demise. While we believe that these defects account for a very substantial portion of pregnancy losses, the defects occur randomly and thus are unlikely to be significant causes of recurrent pregnancy losses and repeated IVF failure, especially in younger patients.
Some of these problems can be measured with antibody testing: looking at anti-thyroid antibodies, rheumatoid factors or C-reactive protein, and looking at many other cytokines and white cell dysfunction, such as elevated natural killer cells. We can also take an endometrial sample to look at the pathology of the endometrial tissue to determine if there is abundant evidence of inflammation.
CNY Fertility offers the latest diagnostic testing and treatment options available for immunological conditions. Our oocyte enhancement and implantation enhancement protocols, in conjunction with our standard protocols, provide our clients with the very best opportunity for a successful pregnancy.
Recently, we have achieved success treating inflammation pharmacologically with low-dose steroids like Prednisone, Humira, intravenous immunoglobulins and intralipids which are made up of egg protein and soy fat. The fat appears to be a successful method of reducing the inflammation in our bodies.
However, since the source of inflammation is likely related to the food we eat, it only makes sense that making dietary changes can and will reduce inflammation. There is ample evidence that excessive amounts of carbohydrates, sugars, grains, fruits, fiber and vegetables along with milk products are very inflammatory to our bodies and increase the number of antigen/ antibody interactions. These white cells and cytokines that are enhanced in our bodies, in many cases, are not specific to a certain area. You might feel it in your joints, your skin, bowel, head, eyes, or you may not even feel it at all. But, you have a problem that results in repetitive pregnancy loss, failed implantation from IUI, IVF or natural cycles, or simply not conceiving.
FAT IS WHERE IT'S AT
The mitochondria of our cells need saturated fat (beef fat, pork fat, butter fat, and coconut fat). These are areas of research we are only beginning to study because we've had such a societal fear of fat. We've believed that fat gets us fat, but it's really fruit, fibers, vegetables, grains and milk that make us fat and chronically inflamed.
Increasing saturated fat intake and significantly reducing (or eliminating) carbs as part of a carnivore or ketogenic food plan has yielded some eye-opening results. Our clients have many success stories to share. More than a few "keto-babies" have been born as a result of making these diet changes, many with no or limited reproductive assistance.
"At CNY Fertility, we've been increasingly focusing on diet as being therapeutic and as a way to improve fertility."
"It is our belief that diet is the number one source of chronic inflammation and fertility dysfunction."
100 101
The Keto Carnivore Food Plan
For anyone experiencing infertility, recurrent pregnancy loss, or repeated fertility treatment failure, we believe immunologic dysfunction is the root cause of many diseases and can contribute to infertility and recurrent pregnancy loss.One of the easiest ways to improve immunologic function is to reduce inflammation by eating fats, reducing carbs, and eating less frequently.
What we choose to put into our bodies can create inflammation and dysfunction, or it can be a source of wellness and healing. For years and years, most of us believed what we were being told by health professionals, nutritionist and dietitians. Fat is bad. Eat low-fat. Eat plenty of fruits and vegetables. But in treating infertility, we have discovered the opposite to be true.
"FAT IS HEALING. FAT IS THE BUILDING BLOCK OF EVERY CELL IN OUR BODIES. FAT CAN REDUCE INFLAMMATION AND HELP OUR BODY TO REPAIR ITSELF."
The human body was built for survival, requiring fat and protein to provide the energy needed to bear the elements and go about the necessary functions of the day. The potential to eliminate our biggest health problems and concerns —including issues of fertility— has proven itself to be possible by going back to a basic diet, the one man first followed when he hunted the earth for sustenance. Increasing your saturated fat intake, limiting protein consumption, and significantly reducing (or eliminating) carbohydrates reduces inflammation throughout the body.
For those looking to conceive, Dr. Kiltz recommends an inflammation-fighting carnivore or ketogenic of eating.
We use the term "ketogenic" to represent ketones. Ketones are supposedly built when the body converts to burning fat instead of sugar. Dr. Kiltz believes we never burn glucose as fuel. Rather, we must convert amino acids and simple sugars to fat in the liver via insulin for energy storage in the liver and adipose tissue. Fat provides fuel for the mitochondria and thus ATP. ATP is the chemical energy produced by the mitochondria to keep the cells alive. Therefore, we are always burning fat (acetyl Co-A that comes from fatty acids) 24/7/365 regardless of what we're eating.
Our bodies can either make fat by converting carbohydrates and amino acids in the liver via insulin, or use the animal fat we eat for fuel.
Acetoacetate, beta-hydroxybutyrate, and acetone are ketone bodies that can be measured. People perceive the elevated level of ketone bodies in the blood to be evidence of our bodies replacing glucose as a fuel source, but the presence of ketone bodies is really just a reflection of lower glucose levels. Ketone levels appear to be higher when glucose levels are lower. It's simply a matter of ratios. More fasting lowers glucose and ketones show up.
EAT TO LIVE, NOT LIVE TO EAT. 103 102
The 3 Keys to Optimal Health & Longevity
The Dr. Kiltz Way
High-Fat Low-Carb Eating Carnivore, Carnivore, Carnivore!
Mind, Body, Smile
Walking, Yoga, Art, Tai Chi
1 2 3
Intermittent Feasting (Fasting)
One Meal A Day
Join Kiltz's Mighty Tribe
This is a community where Ketovores, Carnivores, Fatovers, Carnicurious, and anyone/everyone can connect with one another, share ideas, learn, and stay inspired. Conversations within the community are supported by those actually eating the Keto/Carnivore Diet. Our tribe will help members to foster new relationships, build connections, share habits, and learn to become the lion within. We are here to inspire and create leaders
Sign up here:
105 104
KILTZ MIGHTY TRIBE
Why Carnivore?
For decades we've been told that a plant-based diet is the ticket to health and that meat will kill you. In a world that blindly accepts these stories, the carnivore diet is as nutritionally extreme as you can get. The thing is, when we consider the historical evidence for human carnivory, the incredible abundance of nutrients (and avoidance of antinutrients and plant toxins) in a carnivore diet, along with high-quality emerging science questioning the old anti-meat studies, the carnivore diet begins to sound, not just normal, but optimal.
For the vast period of human evolution, almost none of the vegetables and fruits you see today at the grocery store were eaten or even existed, and grains are only recent additions to our diets.
And where have they gotten us? Since the invention of agriculture, human metabolic health has taken a nosedive. In the early centuries of agriculture, we see human brains and skeletons shrink, and periodontal disease ran rampant.
Study by Harvard University
2021 Carnivore Diet
Findings from 2029 Participants over 6+ months on a Carnivore Diet
Diabetics came off injectable medications
Diabetics came off insulin completely
84%
Fast-forward a few thousand years to modern life, and we see skyrocketing incidences of diabetes, heart disease, cancer, osteoporosis, along with other "diseases of civilization" linked directly to modern diet and lifestyle.
100% 92% 90%
Diabetics came off all oral medications
Inflammatory marker decreased significantly
Improvement in all diseases
Therefore, by eliminating the foods our ancestors didn't eat and consuming only nutrient-rich animal foods, the carnivore diet may just be the most effective way to improve your overall health and wellbeing.
CRP 106 107
FATTY RUMINANT MEAT NON RUMINANT MEAT EGGS HIGH FAT DAIRY ANIMAL FATS SALT ORGAN MEATS Butter, Tallow or Ghee Hard Cheeses Cream Duck Elk Beef Lamb Goat Deer Fish Pork Shrimp Salmon Roe Chicken Liver, Hearts and Brains Carnivore
Diet Food Pyramid
Average Weight Loss 20lbs
Why Carnivore?
If you're still wondering what's so special about carnivore eating that makes it preferable to other food plans, let's break it down to the basics.
IT'S NUTRIENT DENSE.
Carnivore eating sticks to the most nutrient-dense foods available to us and eliminates all of the foods that cause GI problems, inflammation, brain fog, and bloating. Nutrients are more bioavailable in meats, which means your body has an easier time absorbing and using the vitamins and minerals it takes in.
IT REDUCES INFLAMMATION.
Eating an all-meat diet (and eliminating sugar and carbs) regulates circulating insulin, thereby removing the mechanisms that break down the prostaglandin inflammatory process. Carnivore eating causes the inflammatory process to turn off and on as needed, which is how it supposed to function.
IT SUPPORTS MENTAL HEALTH.
Serotonin dysfunction, low cholesterol, and zinc, DHA, Vitamin B12, iron and vitamin B6 deficiencies have all been associated with depression. The body requires amino acids, vitamins B3, B6, and B9 to make serotonin and vitamin D to release it. Because meats are nutrient-rich in all of these and have a high fat content, they can boost mood. The carnivore diet tackles nutrient deficiencies that are known to exacerbate mental health issues.
IT REDUCES CIRCULATING INSULIN.
When you're consuming sugar and carbs (both break down to glucose and fructose) three to six times a day, the pancreas is constantly releasing insulin to handle the demand (and can lead to hyperinsulinemia). On a carnivore diet, your sugar and carb intake is nominal, so there's no demand for insulin and insulin levels in your bloodstream fall giving your body a chance to rest and heal.
IT IMPROVES ENERGY LEVELS.
Inflammation and nutritional deficiencies can contribute to fatigue. Some studies have found that people with chronic fatigue have low levels of carnitine. Red meat is an abundant source of carnitine. Fat helps to fuel your cell's mitochondria. A bump in vitamin B also helps provide additional energy.
IT SIMPLIFIES MEAL TIME & SHOPPING.
There's nothing too complex about carnivore eating. Bacon, eggs, butter, beef, ice cream, salt gets it done! It's a simple and short shopping list and easy prep and cooking. There's no counting calories. That's free time you can use to do just about anything – read a book, listen to a podcast, take a walk, paint a picture, learn photography.
IT REDUCES GLUCOSE INTAKE TO NEAR ZERO.
By eliminating sugars and carbs, you reduce glucose levels and your intake of the sugars that feed glycation and glycated protein clusters call AGEs (Advance Glycation End Products).
IT IMPROVES GUT HEALTH.
Carnivore eating removes food categories that are destructive to your gut health, namely fiber, plant toxins and triggers like glutens and lectins that feed gut bacteria, irritate the delicate biome, and can lead to leaky gut.
IT CAN INCREASE WEIGHT LOSS.
Science has shown that we gain weight because our insulin levels are always elevated which cues our bodies to go into fat storage mode. And, eating processed foods throws off our ability to be satiated, therefore we keep eating to excess. Switching to a carnivore plan eliminates both of these issues. Many people begin to drop weight once they switch.
IT SUPPORTS LIBIDO & TESTOSTERONE LEVELS.
There are many studies which show that saturated fat intake correlates with increased testosterone levels. Because the carnivore diet has high intake of good-quality fats, it can help increase the testosterone levels. Additionally, the elimination of sugar, carbs, and vegetable oils also positively impacts testosterone production. Zinc, Magnesium, vitamin D, and Boron play a large role in your body chemistry and how it creates testosterone. The carnivore diet is rich in these vitamins and minerals.
IT'S GOOD FOR YOUR SKIN.
Your skin is a byproduct of what you eat. Because the carnivore diet reduces inflammation and balances insulin levels (eliminating two major acne triggers), it improves acne and other skin conditions like psoriasis and eczema.
IT SUPPORTS IMMUNE FUNCTION & HELPS PREVENT DISEASE.
Zinc, vitamin A, and vitamin D are critical nutrients for your immune system and most people are deficient in them.
IT IMPROVES SLEEP.
Sugar wrecks the quality of your sleep and increases inflammation. High sugar consumption is linked to more restless, lower quality sleep. Diabetes and hyperglycemia are also associated with insomnia. Ketones have been shown to improve REM sleep. Balanced hormones are a side effect of carnivore and hormonal balance also plays a role in sleep quality. Better sleep has a positive impact on a number of health and quality of life metrics.
IT ELIMINATES PLANT TOXINS.
When you say good bye to fruits and veggies, you also eliminate the various toxins and triggers that come along with them. Research shows that plants may not be as nutritionally beneficial as scientists once thought given their lectins, oxalates, phytates, etc.
IT PUTS YOU IN KETOSIS
Which is a good thing. Ketones, like beta- hydroxy butyrate, help to reverse inflammation. And the carnivore diet puts you into ketosis.
108 109
Top High Fat / LowNo Carb Foods
Fatty Cuts of Lamb
High Fat- Low Carb Eating Provides Superior Nutrition
Due to the incredible marketing efforts of various agricultural and food-processing companies, we've all been convinced that plant foods are loaded with vitamins and mineral and are the healthiest foods out there.
Truth is, fatty animal-based foods are far more nutritious and loaded with the vitamins and minerals shown to improve nearly all aspects of health, including male and female fertility.
As the graph below shows, the nutrient-density of kale and blueberries, which are widely regarded as superfoods, pales in comparison to rib-eye steak and beef liver. Combine this with the fact that kale and blueberries come packed with plant toxins and anti-nutrients, and these animal-based superfoods become a nutrient nobrainer.
Eggs
Fatty Fish
Ribeye/ Fatty cuts of steak
Full-Fat Dairy
Tallow & other animal fats like butter, lard, & duck fat
Foie Gras/ Liver
Pork Belly
0 20 40 60 80 100 Blueberries 1 cup Kale 4 cups Beef Liver 3 0z Rib Eye 8 oz B3 (Niacin) B6 (Pyridoxine) Folate Potassium Iron Selenium Zinc Vitamin D Protein Fat 45g 4.5g 1.3g 0.5g 1.1g 2.5g 0% 0% 2% 0% 3% 1% 5% 9% 13% 9% 6% 25g 7% 41% 56% 70% 9% 54% 67% 93% 41g 2% 97% 96% 51% 15% 2% 70% 65% 17% 3% 2% 6% 4% 110 111
What is the B.E.B.B.I.S. Diet?
Pronounced "BABIES", the B.E.B.B.I.S. Diet is a high fat (80%), medium protein (20%), zero carbohydrate food plan that focuses on bacon, eggs, butter, beef (or other fatty meat), Kiltz's full-fat ice cream on occasion, and salt. It's also referred to as The Lion King Plan or the Carnivore Plan, because you're eating like the king of the jungle—high fat, a small amount of protein, and no carbohydrates. This means eliminating all fruits and vegetables as well, as they are carbs and contain sugar and phytochemicals.
In combination with intermittent feasting, the B.E.B.B.I.S. Diet has been shown to help boost fertility in both men and women by naturally reducing inflammation throughout the body.
Why B.E.B.B.I.S.?
Diet is the number one source of chronic inflammation and fertility dysfunction. Making changes to what, when, and how frequently you eat can heal your body and reduce inflammation. The excessive and repeated consumption of carbohydrates, sugars, grains, fruits, fiber and vegetables is very inflammatory to our bodies. Constant sugar in the bloodstream, along with plant phytochemicals and antigens cause an immunologic response. White cells and cytokines are enhanced. You might feel it in your joints, your skin, bowels, head, eyes, or you may not even feel it at all. Heat in the gut and bowels carries over to the reproductive organs in both men and women damaging the uterus, tubes, and testes. Untreated, chronic inflammation can result in repetitive pregnancy loss, failed implantation during IUI, IVF or natural cycle, or simply not conceiving.
Fat is essential… Carbs are NOT! (All Sugar)
Contrary to what we've been told and what many of us believe, fat is healing. Fat is the building block of every cell in our bodies. Fat can reduce inflammation and help our body repair itself. It's really fruits, fibers, vegetables, grains and the constant ingestion of carbs that make us fat and chronically inflamed.
Our bodies require fat for energy. If we can't eat fat or make fat, we die. The mitochondria of our cells need saturated fat (beef fat, pork fat, butter fat). Unfortunately, the majority of fat we consume is industrial, man-made fat. What we really need to be eating is nature's fat—that stuff that surrounds the animal or is intertwined and marbled in every nook and cranny of the meat.
Excessive sugar leads to inflammation. All carbohydrates and all plant material (that's fruits, veggies, and fiber)
The single best way to reduce inflammation throughout the body is to adopt a high fat, low protein, near zero carbohydrate diet, such as the B.E.B.B.I.S. Diet.
112 113
The B.E.B.B.I.S. Diet
Bacon, Eggs, Butter, Beef, Intermittent
Feasting,
Ice Cream, Salt
Eating a meat-based or carnivorous diet provides all of the essential nutrients your body needs. A vegetarian diet—even with "super foods" and their antioxidants—cannot deliver some of these essential vitamins and minerals. This is why most vegetarians must take supplements.
WHAT TO EAT
Beyond bacon, eggs, butter, beef, Kiltz's full-fat ice cream (as a treat from time to time), and salt. I recommend that you stay very narrow in your selection of foods. Minimize the variety and simplify your meals. Eliminate pasta, bread, yogurt, milk, seeds, and nuts. Stay away from lean meats and try to choose grass-fed, all-natural meats. B.E.B.B.I.S. is about streamlining and simplifying.
You want to consume fatty meats like a rib-eye steak, not lean, fat-free chicken breast. You need to eat the fat. By adding fat, cream, butter, and eggs, you reduce inflammation; you reduce your appetite; you reduce your glucose levels; your energy is so much better; and your body begins to heal itself.
Fat in its best and purest, most natural form comes from animals (lard, tallow, butter, ghee, duck fat). Secondarily, there are several fruits and vegetables that are high in fat, like coconut oil, cocoa butter, and hemp seed oil. Stay away from vegetable oils like soybean, canola, vegetable, sunflower, and corn oil.
WHEN TO EAT
Once per day is best. Intermittent fasting (or intermittent "feasting" as I refer to it) is highly recommended with the B.E.B.B.I.S. Diet. This involves eating just one meal a day and allowing 12-24 hours between feedings. We're not meant to eat 3-6 meals a day with snacks in between, constantly filling the gut with fiber and carbs that ferment and feed the bacteria and yeast in our gastrointestinal tract causing more disease. Our bodies are well-designed to go without food, yet most of us consume excessive calories that add fat to our bodies. It's best to eat just before bedtime, giving your body time to rest and digest while you sleep.
WHAT TO DRINK: Water, Coffee, Tea, Bone Broth
Getting Started on the B.E.B.B.I.S. Diet
• GET RID OF ALL SUGAR
• GET RID OF ALL GRAINS —(Wheat, corn, rice, oats)
• GET RID OF ALL HYDROGENATED OILS (AKA VEGETABLE OILS)—Most vegetable oils contain Polyunsaturated Fatty Acids (PUFAs) and are very inflammatory
• GET RID OF ALL FRUITS, VEGETABLES, AND FIBER.
Good Meal Choices:
• Rib Eye Steak or other cut with good marbling
• Pork Belly
• Liver/organ meats
• Pork/Lamb Shoulder, Chops, Ribs, Brisket
Be sure to include enough salt in your diet. Your body needs salt to help regulate fluid balances. As you're eating fewer processed foods and your body begins to shed electrolytes and fluids while in ketosis, your body also loses salt. Even transitioning from regular keto to the B.E.B.B.I.S. Diet, you will lose extra water from inflammation. Brain fog, muscle cramps, headaches, dizziness, and similar symptoms are all likely signs you need more salt.
• Skin-on Chicken thighs and wings fried in own fat
HOW MUCH TO EAT
What you eat is far more important than how much you eat. You will find that fatty meats are more filling than lean meats, and you will likely feel full before you finish your meal.
Have a cup of coffee or tea with cream or butter and a glass of water (still or bubbly with no added sugar) when you need it. Avoid alcohol in all forms. Alcohol is toxic to your body. Purchased or homemade bone broth is another great addition. It's a great snack and a soothing way to start or end the day.
EXERCISE
Intentional movement is key, but avoid excessive exercise. Activities like high intensity running or spin class create additional friction, heat, trauma, and damage in the body. We are meant to walk, take in the sites, not run or churn away on the elliptical. Yoga and Tai Chi are ideal options. Slow movements accompanied by mediation and quiet thinking are great for your mind, body, and soul. I urge clients to slow it down. That doesn't mean stop moving, but be cognizant that strenuous exercise heats up the body and takes the blood flow away from your core where it's needed.
• ADD THE FAT! Add full-fat heavy cream to your coffee. Eat rib-eye steak, fatty bacon, eggs, and butter. Don't trim the fat, eat it!
• PRACTICE INTERMITTENT FEASTING
(1-2 meals per day spaced out) Intermittent feasting or longer periods of fasting reduce glucose in the blood stream and reduce glycation.
Helpful Resources:
DoctorKiltz.com
Dietdoctor.com
Livinlavidalowcarb.com
Kendberrymd.com
Carnivoreaurelius.com
Kevinstock.io
Shawn-baker.com
Mariamindbodyhealth.com
Butter Bacon Beef Salt Ice Cream Eggs
115 114
Health Conditions That May Benefit from a High-Fat Low-Carb Diet
• Hypertension
• Diabetes
• Crohn's Disease
• Irritable Bowel Syndrome
• Anxiety
• Depression
• Polycystic Ovarian Syndrome (PCOS)
• Colitis
• Asthma
• Migraine Headaches
• Dementia
• Infertility
• Multiple Sclerosis (MS)
• Epilepsy
• Metabolic Syndrome
• Some Cancers
• Autism
• Parkinson's Disease
• Alzheimer's Disease
• Nonalcoholic Fatty Liver Disease
Foods to Eat on the B.E.B.B.I.S. Diet
Find the Fat
MAKE BACON, EGGS, BUTTER, BEEF, & ICE CREAM THE MAINSTAYS OF YOUR REGULAR DIET
Anyone who has spoken to me has heard me repeat these five foods like a mantra. They are the basis of Dr. Kiltz's B.E.B.B.I.S. Diet. They point back to this simple truth: Our bodies require fat for energy. If we can't eat fat or make fat, we die. Unfortunately, the majority of fat we consume is industrial, man-made fat. What we really need to be eating is nature's fat—that stuff that surrounds the animal or is intertwined and marbled in every nook and cranny of the meat.
Common
Staple Meal
Beef Lamb Pork
Chicken
Ruminant Poultry Fish Seafood Wild
Beef Bison
Goat Lamb
Moose
Elk
Deer
Water Buffalo
Chicken Duck Goose
Game Hen
Turkey
Quail
Pheasant
Salmon
Halibut
Mahi Mahi
Trout
Tuna
Cod
Sardines
Anchovies
Mackarel
Oysters Shrimp
Lobster
Langostino
Mussels
Scallops
Crab Clams
Snail
Elk Moose Venison
Antelope Bear
Rabbit
Boar
Rattlesnake
Kangaroo
Eggs Fats Dairy Organs Spices Drinks
Chicken Eggs
Duck Eggs
Goose Eggs
Ostrich Eggs
Quail Eggs
Tallow
Lard
Butter
Ghee
Duck Fat
Cream
Butter
Ghee Cream
Creme Fraiche Cheese
Full-Fat Yoghurt
Liver Heart Brain
Kidney
Sweet Breads
Pancreas
Tongue
Tripe
Bone Marrow Testicals
Salt Pepper Other Spices
Water
Coffee Tea
Whole Milk
Cream
Bone Broth
Stay away from lean meats and try to choose grassfed, all-natural meats. You want to consume fatty meats like a rib-eye steak, not lean, fat-free chicken breast. You need to eat the fat. By adding fat, cream, butter, and eggs, you reduce inflammation, you reduce your appetite, you reduce your glucose levels, and your energy is so much better. All of the bowel problems go away, the skin problems and the joint problems are gone.
Minimize the variety and simplify your meals. Eliminate pasta, bread, yogurt, milk, seeds, and nuts. Plant oils which harden when exposed to oxygen likely contain a multitude of plant antigens, which are harmful.
Eating fat in its purest form is the simplest energy source for our bodies. There are a lot of different food plans out there that focus on high fat / med-low protein / low carbs. They are pretty similar, but tend to differentiate themselves by their recommended fat and carb consumption. Paleo is about 20% protein, 70% fat, 10% carbs. The B.E.B.B.I.S. Diet is 80% fat, 20% protein, zero carbs. This is the key to health and wellness.Any combination of bacon, eggs, butter, and beef (or fatty meat) is crucial to reducing inflammation. We call this The Lion King Plan. To eat like the king of the jungle means eliminating all fruits and vegetables that produce sugar and phytochemicals, and focusing only on high quality, high fat foods.
THINGS TO AVOID:
• Sugar
• Carbohydrates
• Alcohol
• High-intensity exercise
• Probiotics
• Fiber
• Seeds & nuts
116 117
Fatty, Flavorful, and Filling
WHY RIB-EYE STEAK IS THE PERFECT CARNIVORE
Iconsider a rib-eye steak to be the perfect carnivore meal, and it's one I eat quite often. Here's why: A rib-eye steak is cut from the rib section of beef cattle. Known for their tenderness, rib-eyes also have a high fat content. Generally, the higher the grade of meat, the more fat it contains. It's half fat and half protein in a delicious package and contains no carbohydrates, sugar, or fiber.
All that beautiful marbling in a rib eye means fat— great for flavor and your body.
GENERAL NUTRITION
A 242-gram serving, or about 8.5 ounces, of grilled, boneless, choice rib eye steak with its fat trimmed contains 520 calories, 133 percent of the recommended daily intake of protein, 44 percent of the fat and 6 percent of the sodium. I recommend you don't trim the fat and eat it instead.
PROTEIN
Protein makes up about half of the calories in rib eye steak. Your body breaks proteins down into amino acids. Amino acids are essential to the creation, repair and maintenance of cells. There are three types of amino acids: nonessential, conditional, essential. Your body can produce nonessential amino acids and conditional amino acids, but may need supplemental sources in times of illness or stress. Your body cannot make essential amino acids, which come only from the food you eat. Rib eye steak offers both conditional and essential amino acids.
FAT
Fat comprises the other half of rib eye steak's calories. About 40 percent of that fat comes from saturated fat. The body needs dietary fat for energy and for the essential fatty acids it contains that the body can't produce. These fatty acids reduce inflammation, control blood clotting and aid in brain function. Fat also allows the body to absorb vitamins A, D, E and K.
VITAMINS
A serving of rib eye steak offers 239% of the recommended daily intake of vitamin B12 for an adult male. Vitamin B12 helps red blood cell formation, neurological health, DNA synthesis, and may play a role in reducing the risks of dementia and age-related cognitive decline. A rib eye also provides 84% of daily recommended intake of niacin, which helps in red blood cell formation, neurological function and maintaining healthy digestion, skin and nerves.
MINERALS
An 8.5-ounce serving of rib eye supplies 153% of the daily need for zinc. Zinc is integral to energy production, protein and nucleic acid synthesis, healthy immune function and cell division. The same serving of rib eye has 145% of the daily requirement for selenium. Selenium combines with proteins to form antioxidant selenoproteins that help prevent cellular damage from free radicals, which may help lower cancer and heart disease risks. Selenium may also play a role in alleviating arthritis.
"Fat is the fuel for cells in the muscles. Muscles always need energy."
MEAL 119 118
More Than Beef
Many people mistakenly believe that steak is the only acceptable food on the Carnivore Plan. Not the case. Though beef is certainly a mainstay of carnivore eating, you've got lots to choose from, including all ruminant meats (hoofed, herbivorous grazing mammals), like goat, buffalo, and lamb, plus seafood and shellfish, poultry (skin-on thighs and wings preferred), fullfat dairy, eggs, liver and other organ meats.
CARNIVORE PROTEINS
Choose humanely-raised meat and eggs and wild-caught seafood when available and affordable. Grass-fed meat is preferred if you can afford it, but the nutritional differences are slight.
Carnivore Food Options
CREAM IS THE NEW ORANGE JUICE.
GOOSE EGGS OSTRICH EGGS QUAIL EGGS
FISH AHI/MAHI
CATFISH
HALIBUT
HERRING
MACKEREL SALMON
SARDINES
SNAPPER
SWORDFISH TROUT TUNA
WALLEYE
WHITE FISH (COD BLUEGILL)
SHELLFISH CLAMS CRAB
LANGOSTINO
LOBSTER
MUSSELS OYSTERS
PRAWNS
SCALLOPS
SHRIMP SNAILS
Adding full-fat heavy cream or butter to your coffee or tea is an easy way to add fat back in to your diet, and it tastes great too! Give up the non-dairy creamers, sugary flavored mix-ins, almond or soy milk. Go with full-fat heavy cream to fight inflammation.
GOAT LAMB PORK WILD MEAT BEAR BOAR ELK RABBIT VENISON
GOOSE OSTRICH
BEEF BUFFALO
POULTRY CHICKEN DUCK GAME HEN
PORTRIDGE PHEASANT QUAIL SQUAD TURKEY EGGS CHICKEN EGGS DUCK EGGS
120 121
Kiltz's Full-Fat Ice Cream
With a high-fat, low-carb lifestyle, even "treats" are full fat, that includes my guilt-free ice cream which can be enjoyed from time to time. Yes, there's a little bit of sugar in there, but that small amount of pure cane sugar in that much heavy cream isn't a concern. This is the most delicious ice cream you can imagine and it's packed with all of that healthy fat your body needs.
WHAT YOU'LL NEED:
• 1 Pint of Heavy Cream (ideally locally sourced and grass-fed)
• 1 whole egg (or 5 egg yolks)
• 1 vanilla bean pod (or 1 tbsp vanilla bean paste/ vanilla extract)
• 1-2 tbsp of sugar (optional not required) or honey/maple syrup/ or alternative sweetener
• 1-3 pinches of salt- optional and to taste
NOTE:
Recipe can be doubled depending on the capacity of your ice cream maker.
DIRECTIONS:
Shake cream and pour into a large bowl. Add sugar and egg. Split vanilla bean(s) lengthwise and scrape the tiny seeds from inside the bean using the edge of a knife. For maximum flavor, steep the bean and seeds in the cream mixture for about 10 minutes. Remove the bean pod(s). Whisk until well combined and frothy. Pour into an ice cream machine and follow the manufacturer's instructions.
"Eating fat in its purest form is the simplest energy source for our bodies."
123 122
(Something sweet to be enjoyed from time to time)
Intermittent Feasting:
Fasting between meals gives your body time to rest and digest, heal and repair, and allows the glucose levels in the bloodstream and throughout the body to go down. Some refer to this as "intermittent fasting", but I find the term "intermittent feasting" to be more accurate. I believe your best health comes from eating one meal a day in the evening and giving the body time to clear the bowels of food by allowing 12-24 hours between feedings. This is in line with how prehistoric man lived: going for days to weeks without eating, not knowing where or when his next meal was coming, feasting and then fasting, fasting, fasting while on the hunt for food.
Our bodies were not designed to eat 3-5 meals a day with snacks in between like a grazing animal. Eating several meals a day fills the gut with fiber and carbs that ferment and feed the bacteria and yeast causing more disease. The more we eat, the more we fill "the bucket" that is our digestive system. We fuel the fire of inflammation; we fill our intestines, never allowing them to diminish their contents because of the continuous supply of food.
Intermittent feasting allows time for digestion, reduces glucose and insulin levels in the bloodstream, thereby reducing the damage that causes foggy brain, digestive issues, and aches and pains throughout the body.
Our bodies are well- designed to go without food, yet most of us consume more calories than we could ever burn through in a day. This adds fat to our bodies. Fat is meant to be there to help ensure our survival during times of famine and drought.
Dr. Jason Fung has a lot of good information on incorporating intermittent fasting into your lifestyle.
"Carbo-caine" When I talk to patients or friends about eating bacon, eggs, butter, and beef and removing carbohydrates and sugar from their diets, most worry they won't be able to do it. Carbs and sugar have a real grip on most of us, you're not imagining it. I actually call carbs "carbo-caine". Like cocaine, they are addictive. Eating carbs affects the pleasure centers in the brain just like a drug. High carb consumption spikes insulin which allows tryptophan to enter the brain and make serotonin, the feel-good neurotransmitter.
Eating carbs quite literally makes us happy, but only temporarily. A steady diet of high carbs and sugar will create a host of problems that affect your daily enjoyment of life and can shorten your lifespan.
LONGER FASTING LEADS TO MORE LASTING!
Intermittent Feasting Benefits
While there are likely dozens of health benefits to intermittent feasting, we'd like to highlight a few that are especially important for impacting fertility.
BENEFIT #1: Keeping the Bowels Clear and Cool
Many people do not recognize that in the female body, the bowels sit directly on top of the reproductive organs.
This is problematic as digestion (particularly fermentation if you are eating vegetable products) creates a tremendous amount of heat, and the female reproductive system is finetuned to function at a very specific temperature, 98.6.
This isn't a problem if we space out meals and limit them to around once a day. But if we are eating 3 meals a day and snacking in between, the ovaries may be operating in elevated temperatures nearly 24/7, which could seriously alter egg quality and other aspects of female reproductive health.
BENEFIT #2: Increases Human Growth Hormone -> Improves Egg and Sperm Quality
We frequently prescribe human growth hormone or recommend supplements designed to increase HGH levels as a way of improving egg quality. But all of that may not be necessary if you're intermittently feasting.
A recent study looking at the effects of IF on 200 people found that fasting for just a 24-hour period increased HGH by 1300% in women and 2000% in men.
BENEFIT #3: Reduces Inflammation
Fasting has been shown in numerous studies to reduce inflammatory activities and reduce chronic inflammation. This gives IF the power to improve nearly every marker of physical and mental health while reducing the risk of disease and infertility.
BENEFIT #4: Improved Blood Sugar, Insulin, and Hormone Levels
It is believed that PCOS, the leading cause of infertility, is largely driven and caused by chronically elevated blood glucose levels which keep insulin levels consistently high and lead to disruption of normal hormone function.
Fasting is the most foolproof way to reduce blood glucose and insulin levels, and reduce the symptoms of metabolic syndrome and PCOS, including ovulatory dysfunction.
SIMPLE BONE BROTH RECIPE INGREDIENTS
• 2–3 pounds of beef bones.
• 4 liters (1 gallon) of water.
• 2 tablespoons apple cider vinegar.
• 1 onion (optional).
• 4 garlic cloves (optional).
• 1 teaspoon of salt and/or pepper (optional).
DIRECTIONS
Put bones and vegetables in a big, stainless steel pot*. Pour cold water into the pot so it covers the contents. Add the vinegar, and then raise the temperature to bring to a boil.
Reduce heat, add salt and pepper, and then let simmer for 4–24 hours (the longer it simmers, the tastier and more nutrient-dense it will be).
Allow the broth to cool, and then strain the solids out. Now it's ready.
You can also add other meat, veggies or spices to your broth. Popular additions include parsley, bay leaves, carrots, celery, ginger, lemon rinds and liver, but they are not required.
Broth may be stored in an airtight container in the refrigerator for up to 5 days, or in the freezer for up to 3 months.
For those who prefer to multi-task (cook and sleep), you may also want to use a pressure cooker, slow cooker or Crock-Pot. You can use a Crock-Pot to make bone broth overnight.
*For extra flavor, roast the bones before adding to pot. Preheat oven to 450°. Roast bones on a parchment-lined rimmed baking sheet for 30 minutes.
TRUE FASTING: EAT ONCE PER DAY (OR LESS)
FEAST FAST 124 125
Carnivore Snacks
Interested in getting started with the carnivore diet, but worried about the cost of all that meat? You'll be happy to learn that it's possible to go carnivore without breaking the bank. Here are some tips and strategies for eating carnivore on a budget.
Top Whole Food
Carnivore Snacks
Steak Leftovers
Eggs
Cheese
Butter
Pork Rinds
Freeze Dried Beef Organs
Beef Jerky & Biltong
Kiltz
Ice Cream
Bone Broth
The Simple Guide to Dr. Kiltz's Fertile
Lifestyle
1. Eat one meal & one snack per day
2. Higher fat, lower protein & carbs
3. Eat less frequently- reduce your bowel contents by fasting 18-23 hours
4. If eating carbs, cook them wellsimplify your carbs to speed up absorption. Eat less complex carbs. This delivers sugar (glucose) to the liver to be converted to fat fast, reducing serum glucose levels.
127 126
How Do I Get Started?
It's helpful to "buddy up" when starting Keto. Adopting the Carnivore lifestyle with a partner or friend allows you to share, learn from and support each other. Many of our client couples go Keto together and find they are both happier and healthier. When it comes to fertility, both the man's and woman's
Buy organic when possible and grass-fed beef. Farmers markets are a great place to find locally grown/raised foods.
And don't expect to be perfect. None of us is. You will have days when you don't stick to your goals and you make bad food choices—you have a glass of wine with a friend or eat a couple French fries. That's okay. Just get back on track and stay focused.
The good news is that a carnivore diet is generally more fulfilling than one heavy in carbs and sugar.
Fats are filling. Even though you are eating less, you will feel fuller faster and not get hungry as fast because your sugar levels aren't on a roller coaster anymore.
GETTING STARTED ON DR. KILTZ'S CARNIVORE
Get rid of all sugar— Any type.
2. Get rid of all grains — wheat, corn, rice, oats.
3. Get rid of all hydrogenated or partially hydrogenated oils (e.g. vegetables oils)—canola oil, grapeseed oil, corn or sunflower oil, and most vegetable oils contain Polyunsaturated fatty acids (PUFAs) and are very inflammatory. These should be eliminated (or kept to a minimum like peanut or sesame oil).
4. Get rid of all fruits, vegetables, and fiber.
Practice intermittent feasting. Narrow your eating window to 1-2 hours per day with 1 meal and 1-2 snacks.
Keto/Carnivore Resources
Making the decision to go keto can seem overwhelming at first. You wonder, "Where do I even begin?" Fortunately, there are lots of resources to reference: websites, articles, books, cookbooks, etc. At CNY Fertility, we are very fortunate to have Keto-experts Maria and Craig Emmerich as a CNY Fertility special consultants. Their books, website, blogs, and seminars are a priceless resource for anyone wishing to boost fertility and achieve countless other health benefits by going keto.
MARIA EMMERICH is a wellness expert in nutrition and exercise physiology. She has a passion for helping others reach their goals of optimal health. She struggled with her own weight throughout childhood and decided enough was enough. She decided to study health and wellness so she could help herself and others stop wasting time feeling discouraged with their outward appearance and not feeling their best mentally. Maria is an international and best-selling author of several books and cookbooks. She understands the connection between food and how it makes us all feel on the inside and out and shares answers to lots of nutrition questions at her website www.mariamindbodyhealth.com.
AVAILABLE NOW!
What do you get when a leading fertility expert and a best-selling keto-expert/speaker get together to write a cookbook that will help improve your fertility? The Keto for Fertility Cookbook, that's what. Dr. Robert Kiltz and Maria Emmerich share the why, what, how, and when of eating to reduce inflammation and promote fertility when trying to conceive.
Maria's Books
Other Resources:
DoctorKiltz.com
Dietdoctor.com
Livinlavidalowcarb.com
drberry.com
Carnivoreaurelius.com
Kevinstock.io
Shawn-baker.com
Infertility can take an enormous toll on anybody struggling in its throes. But the secret to success may be as simple as changing your diet. Together they'll show readers how a diet low in carbs, moderate in protein, and high in fat can boost your fertility, improving your overall health and odds of conception (with and without additional fertility assistance). Includes delicious, easy recipes and helpful tips to keep your pantry stocked with fertility-friendly ingredients. This HFLC (high-fat, low-carb) food plan has worked for patient after patient, even when modern fertility techniques failed.
Together, Dr. Kiltz and Maria Emmerich hope to inspire a HFLC fertile lifestyle while guiding readers on the many ways it can improve how you feel, how you look, and ultimately your ability to conceive the child you've been longing for.
Purchase Keto for Fertility Cookbook at https://ketoforfertility.co/.
129 128
Carnivore Resources:
Great minds! Dr. Kiltz has interviewed or been interviewed by many of the top Carnivore thinkers. Lots of great videos to watch and information and tips to absorb.
KELLY HOGAN
Instagram: @kelly_hogan91
YouTube Handle: @myzerocarblife BRIAN SANDERS
Website: nosetotail.org
Instagram: @foodlies & @eatnosetail
AMBER WENTWORTH
Website: Lone-Star-Keto.com
Instagram: @lonestarketogirl
Youtube: Lone Star Keto
Facebook: @lonestarketogirl
Twitter: @lone_star_keto
DR. SARAH ZALDIVAR
Website: https://drsarahzaldivar.com/
UDEMY instructor page: https://www. udemy.com/user/sarah-zaldivar/
Instagram: https://www.instagram. com/cnyfertility/
YouTube: https://www.youtube.com/ channel/UCBXm-oCTNdJdbD65gK5lEQ
Facebook: https://www.facebook.com/ drsarahzaldivar/
Twitter: https://twitter.com/ DrSarahZaldivar
Carnivore Resources:
ALEXIS COLANTONIO
Website: purenaturalkitchen.com
Website: purenaturalmind.com
DR. GARY FETTKE
Website: lowcarbdownunder.com.au
YouTube: Low Carb Down Under
Twitter: @FructoseNo
Instagram: @isupportgary
DR. TRO KALAYJIAN
Website: doctortro.com
Podcast: https://podcasts.apple. com/us/podcast/low-carb-mdpodcast/id1441557261
Instagram: https://www.instagram. com/doctortro/
Twitter: https://twitter.com/ DoctorTro
Facebook: https://www.facebook. com/DoctorTro/
Youtube: https://www.youtube.com/ channel/UCCZoglf1EL7upJgmb_
KaFLQ
DR. ANTHONY CHAFFEE
Instagram: @anthonychaffeemd
Podcast: "The Plant Free MD
SHAWN BAKER, MDAmazon best-selling author of The Carnivore Diet
Website: https://carnivore.diet/ dr-shawn-baker-md/
Instagram: @shawnbaker1967
YouTube: Dr. Shawn Baker
Podcast: Revero Podcast
Instagram: @purenaturalkitchen
Facebook: @purenaturalliving
Twitter: @purenaturallife
DR. JAIME SEEMAN
Website: .doctorfitandfabulous.com
Instagram: @doctorfitandfabulous
YouTube: Doctor Fit and Fabulous
Podcast: humanperformanceoutliers.libsyn.com/
ZACH BITTER
Website: https://zachbitter.com/
Instagram: @ZachBitter
Podcast websites: https://zachbitter.com/hpo
BELLA
Website: https://sbg-s-meat-up.mn.co/
Youtube: Steak and Butter Gal
Instagram: @steakandbuttergal
ROBERT ORION SIKES
Website: https://ketosavage.com/
AUSTIN CAVELLI, MS, PA-C
Website: QualityCarnivore.com
Instagram: @qualitycarnivore
Facebook: qualitycarnivore
YouTube: Quality Carnivore
PAUL SALADINO
Website: https://carnivoremd.com
Instagram: carnivoremd2.0
Podcast: https://carnivoremd.com/ category/podcasts/
DR. KEN BERRY
Website: drberry.com
Instagram: KenDBerryMD
Facebook: KenDBerryMD
MARIA EMMERICH
Website: mariamindbodyhealth.com
Instagram: mariaemmerich
Vimeo: Maria Emmerich
JUDY CHO
Website: https://nutritionwithjudy.com/
Instagram: @nutritionwithjudy
130 131
Recipes from the
Keto for Fertility Cookbook
By Dr. Robert Kiltz & Maria Emmerich
NUTRITIONAL INFORMATION
Calories: 379
Fat: 30g
Protein: 23g
Carbs: 2g
Fiber: 0.5g
Easy Chicken Confit
Prep: 7 minutes
Cook: 45 minutes
Yield: 4 servings
INGREDIENTS
• 4 bone-in skin on, chicken thighs
• 2 teaspoons Redmond Real salt
• ¼ cup diced onion
• 3 cloves garlic, minced
• 4 springs fresh thyme
• 1 lemon, sliced
• 1 cup melted duck fat or olive oil
INSTRUCTIONS
1. Preheat oven to 325 degrees F.
2. Season the chicken with salt. Place them in a baking dish so they fit snuggly in one layer. Top with onions, garlic, thyme and slices of lemon. Cover with melted duck fat or olive oil.
3. Bake for 45-55 minutes or until chicken is cooked through and no longer pink inside. Discard excess oil from the dish.
4. Turn oven to broil and place the chicken in the oven with skin side up for 3 to 5 minutes or until skin is crispy. Best served fresh.
132 133
NUTRITIONAL INFORMATION
Calories: 571
Fat: 47g
Protein: 34g Carbs: 1g
Fiber: 0.3g
NUTRITIONAL INFORMATION
Calories: 379
Fat: 30g
Protein: 23g
Carbs: 2g
Fiber: 0.5g
Seared Porterhouse Bacon Ice Cream Cones
Prep: 6 minutes
Cook: 8 minutes
Yield: 2 servings
INGREDIENTS
• 1 (16-ounce) porterhouse steak, about 1 inch thick
• 1 teaspoon fine sea salt
• ½ teaspoon fresh ground black pepper
• 1 tablespoon duck fat
• 3 tablespoons unsalted butter
• 1 tablespoon fresh thyme or tarragon leaves.
INSTRUCTIONS
1. Remove the steak from the fridge about 20 minutes before you plan to cook it. Pat it dry and season with the salt and pepper.
2. Place the duck fat in large skillet over medium-high heat. Once hot, sear the steak for 2 minutes, without moving it, then flip it over and sear it for another 2 minutes.
3. Lower the heat to medium-low and add the butter and herbs. Using a spoon, constantly pour the "liquid gold" (aka butter) over the steak. Continue to baste and cook the steak for about 4 more minutes per side for medium-rare. The exact timing will depend on how thick your steak is.
4. Once cooked to your desired doneness, remove the steak from the pan and allow to rest at room temperature for 5 minutes before cutting to make sure that the juices stay in the steak. Pour the butter into a small serving dish for dipping the steak. Best served fresh.
Prep: 5 minutes
Cook: 15 minutes
Yield: 12 servings
INGREDIENTS
• 12 slices thick cut bacon.
INSTRUCTIONS
1. Preheat oven to 400ºF.
2. Line a large baking sheet with defined edges with unbleached parchment paper.
3. Using cone-shaped metal (we made our own with sheet metal), wrap one slice of bacon around each. Wrap the bacon tightly, overlapping the edges so the bacon totally covers the cone.
4. Bake for 15-20 minutes or until bacon is crisp. Remove from oven and allow to totally cool.
5. Meanwhile make Kiltz's Keto Ice Cream (see recipe on page 112)
134 135
NUTRITIONAL INFORMATION
Calories: 283g
Fat: 17.5g
Protein: 27.5g
Carbs: 1.6g
Fiber: 0g
Beefy Breakfast Muffins
Prep: 7 minutes
Cook: 32 minutes
Yield: 6 servings
INGREDIENTS
• 1 pound ground beef
• ¼ pound ground liver (or more ground beef)
• 1 ¼ teaspoon Redmond Real salt
• 6 small eggs
• 4 slices bacon, cut into thirds crosswise
INSTRUCTIONS
1. Preheat oven to 375 degrees F. Grease a large 6-well muffin tin (or 6 large ramekins) and set aside.
2. Place the ground beef, ground liver into a medium bowl. Season with salt and combine well with your hands.
3. Divide the meat mixture between the muffin tin (or ramekins)
4. Use your thumbs to create a large enough well in each meat muffin so that it can hold an entire egg. Crack one egg into each well of the meat muffin.
5. Top each egg with 2 pieces of the bacon, making an "x."
6. Place in the oven and bake for 30 minutes. Turn the oven to broil and continue cooking for 2 minutes to crisp the bacon.
7. Remove from oven and allow to cool for about 10 minutes before removing from the muffin tin. Feel free to eat right out of the ramekins.
8. Store extras in an airtight container in the fridge for up to 4 days. To reheat, place in a 350 degree F oven for 3 minutes or until heated through. Then increase oven to broil for 1 minute to crisp the bacon.
Keto for Fertility Cookbook
Want more recipes and information about how and why a HFLC food plan works scientifically to improve your fertility?
Keto for Fertility Cookbook is available for sale at https://ketoforfertility.co/.
137 136
Glycation
WHAT IT IS AND WHY YOU SHOULD BE CONCERNED
Another way carbs and sugars damage our bodies is through glycation. Glycation is the process during which glucose molecules circulating in the bloodstream attach to proteins, damaging them and making them unusable. Once the proteins are damaged, they can't be easily removed from the body, and they start to accumulate. This accumulation is proven to cause disease and accelerated aging. Glycation also reduces the number of available proteins the body can use to create healthy cells, and it produces harmful molecules called advanced glycation end products (or AGEs).
Ultimately, glycation causes inflammation that damages mitochondria, while mitochondrial dysfunction exacerbates glycation. This results in an age-accelerating cycle as glycated proteins accumulate in tissues throughout the body.
The acronym AGE is entirely appropriate, considering these toxic protein reactions are a root cause of premature aging. Your skin is one of the first and most obvious places you see signs of aging in the form of wrinkles and sagging skin. Glycation is a normal and natural part of aging, but higher blood sugar levels can speed up the damage and mitochondrial dysfunction. This is one reason the tissues and organs in people with diabetes tend to age and
degenerate faster than in a non-diabetic. It's also why we begin to move and think more slowly as we age. The mitochondria are the power source for every cell in our bodies. As they become damaged, they produce less energy. It also takes longer and becomes more challenging for cells to repair themselves.
One study showed that fructose, or fruit sugar, which is found in honey, tree and vine fruits, flowers, berries, and most root vegetables, accelerates glycation within the body at a rate ten times faster than simple blood glucose. And worse, this study also showed that even a single episode of higher postprandial glucose levels (AKA after meal blood sugars) is associated with the formation of AGE precursors.
HOW DO YOU STOP GLYCATION?
Good question. It's impossible to prevent glycation completely, but the good news is that a ketogenic diet can help reduce oxidative damage (think RUST) within the body. It also helps the body to produce potent antioxidants that help slow down the aging process. Ketones have also been found to provide relief from and even reverse several neurological disorders believed to be caused by oxidative stress at the cellular level. These include: Alzheimer's, ALS, traumatic brain injury, Parkinson's disease, and
stroke. Another study demonstrated that one ketone body (beta-hydroxybutyrate) can slow down aging by triggering gene expression, which modifies factors associated with aging.
A ketogenic diet reduces baseline blood sugar levels, which in turn reduce glycation rates and the formation of AGEs. A high-fat / low-carb diet controls blood sugar and reduces hunger as it mimics the effects of fasting. Several studies have shown that consuming fewer calories decreases oxidative damage within the body.
Ketosis improves mitochondrial function by increasing mitochondrial glutathione, an important antioxidant that works directly within the mitochondria. This is particularly important because antioxidants in our food don't easily make it into the mitochondria.
Low carb diets reduce triglycerides, which are fatty acids in the bloodstream Elevated triglyceride levels are markers for increased risk of heart disease and inflammation.
Following a keto diet reduces your blood sugar, which reduces blood insulin levels, AGEs, and inflammation. These three factors are closely linked to higher mortality rates from all sorts of diseases.
Remember, an often-overlooked source of sugar and carbs are plants, which may contain extra toxins that we don't usually consider harmful, but they can be.
138 139
Can I Go Keto If I'm . . .
VEGAN/VEGETARIAN?
Yes, but I recommend cooking the vegetables down to reduce the effects of phytochemicals and add the fat. The key is to simplify the carbs and cook the vegetables down with some avocado oil, hemp seed oil, or coconut oil. Don't consume them in the raw form. Raw fruits and vegetables contain lots of bacteria, yeast, and plant antigens which are dangerous. Vegetarians will have an easier time doing this if they're still consuming eggs, butter, and cream. Vegan is a little harder. Look to add more fat. Ideally butter fat and cream are best, but avocado oil and coconut oil can work. Really separate out the meals to one every 12-24 hours. We're not a grazing animal. Limit the greens, fruits, and vegetables, and keep variety to a minimum.
Make sure you're getting enough protein from eggs (if vegetarian) or soy/beans or vegan-friendly protein powder (if vegan). You might need to consider supplements for vitamins you're not getting from meat.
PESCATARIAN?
Focus on fatty fish like salmon, mackerel, and herring that are high in omega-3s, known to be antiinflammatory. Be careful about eating too many varieties with high mercury levels (swordfish and Ahi tuna). Salmon, anchovies, and sardines canned in oil are a great source of fat, tasty right from the can, and provide on-the-go protein.
DIABETIC?
Before starting a keto diet, it's best to have a conversation with your doctor and continue to maintain your diabetes management plan prior to making any dietary changes. The keto diet can be very helpful for people with are prediabetic or have type 1 or 2 diabetes by decreasing the body's demand for insulin and helping to keep blood glucose levels at a low yet healthy level. Many diabetics who switched to a keto diet found they were able to reduce their medications because they were consuming far less sugar and carbohydrates.
140 141
Keto for Vegetarians & Vegans
Can vegetarians and vegans still reap the benefits of keto? They can, but it takes a little more work when you're not eating animal proteins and fat. Because of this, there's a tendency to feel hungry more often and there's the potential for deficiencies in some essential fats, vitamins, and minerals. Here's some insight on how to do it successfully.
KETO FOR VEGETARIANS
Reduce Your Carb Consumption
To get into ketosis, start by limiting your carb intake to a maximum of 20 grams per day. This means cutting out most of the most popular vegetarian protein and carbohydrate sources including:
Alternative wheat flours like spelt
Legumes, including beans, soy, peas, and lentils
Starchy vegetables like potatoes Fruits (except for small amounts of berries)
Choose low carb fruits and veggies like leafy greens and cruciferous vegetables like Brussels sprouts and broccoli. Many vegetables are high in carbs, so make sure you keep track of your carb intake.
You're looking to consume 70-80% of calories from fat, 15-30% calories from protein, and just 0-10% of calories from carbohydrates on a vegetarian keto food plan.
ADD HEALTHY FATS & PLANT OILS
Fats are the cornerstone of every keto diet, accounting for between 70% and 80% of your calories. The type of fats you chose is critical to the success of your vegetarian keto plan and your overall health.
The best fats for a vegetarian keto diet include:
Fatty fish (Pescatarians)
Salmon, tuna, anchovies, herring, mackerel, and sardines are rich in highquality protein and essential omega-3 fats. Salmon, herring, and sardines also provide substantial amounts of vitamin D, a nutrient that can be hard to get naturally for most vegetarians. Vitamin D is critical for immune function, bone health, among other important functions.
Whole Eggs
Eggs are one of the most nutrient dense foods on earth. A single 56gram egg is loaded with 5 grams of fat, 7 grams of protein, and 80 calories. When eating eggs, especially on a vegetarian diet, its crucial to eat the whole egg. The yolk is rich in B vitamins and crucial antioxidants including lutein and zeaxanthin which are important for eye health.
Butter
Getting enough fat can be a challenge on any keto diet and even more difficult for vegetarians. Butter is the perfect carb-free, fat-boosting vegetarian keto staple.
Though victim to decades of misinformation and bogus links to poor heart health, high-quality current research shows only a small to neutral association between butter and heart disease. When part of a keto diet where your body burns fat for fuel, butter is likely very healthy. Butter is also a rich source of the fatty acid butyrate, which research suggests may play a significant role in promoting brain health. But not all butters are created equal. Research indicates that organic butter from grass-fed cows may have healthier fats than conventional butter.
Cheese
For vegetarians who can tolerate dairy, cheese is another great high-fat, lowcarb staple. One of the best things about cheese is that there are so many varieties to choose from. This can help keep a keto vegetarian diet more interesting after cutting out many of the familiar staples. Many kinds of cheese offer optimal ratios of fat and protein. And varieties of fermented cheeses like creme fraiche, cheddar, and gouda provide probiotics.
Avocados
Avocados are loaded with healthy fats while offering a decent rundown of essential vitamins and minerals. One avocado can provide 30% of your daily potassium intake, which can be hard to get on a keto diet. Avocados have also been shown to balance blood sugar and support heart health along with healthy aging.
Coconut Oil
Popular in both vegetarian and nonvegetarian keto diets, coconut oil is a natural source of medium-chain triglycerides (MCTs). This type of fat is easily absorbed and turned into energy. That's why people often use MCT's to help with the transition into ketosis.
Olives and Cold Pressed Olive Oil
One of the most researched sources of healthy fats, olives and olive oil contain hard-to-get vitamin E, along with compounds that reduce inflammation and associated diseases including heart disease, osteoporosis and cancer.
A note when cooking with oils: Many vegetable oils including olive oil contain polyunsaturated fatty acids (PUFAS). For example, olive oil is 73% monounsaturated, 11% polyunsaturated and 14% saturated. These fats can be destabilized and "oxidized" when exposed to high heat. Though fairly heat stable when compared to other vegetable oils, it's still best to avoid heating olive oil. When overheated, PUFAS form toxic compounds, including lipid peroxides and aldehydes that can contribute to cancer.
143 142
EAT HIGH-QUALITY PROTEINS
Though it's true that animal foods contain all of the nine essential amino acids, non-meat animal sources like eggs and dairy can round out protein needs for most vegetarians.
Because bodies and activity levels vary from person to person, we recommend aiming for 1.2 to 2.0 grams of protein per KG of body weight. This averages out to around 70 grams of protein per day, accounting for roughly 25% of your total calorie intake.
Top Vegetarian Protein Sources:
Fish (Pescatarians):
An excellent source of protein for nearly every type of fish. For instance, a 3.5 oz portion of wild-caught sockeye salmon offers 27 grams of protein. A 3.75 oz can of sardines provides 14 grams of protein.
Eggs
High quality and easily digestible. Two eggs provide 14 grams of protein and 1 gram of carbs.
Greek Yogurt:
In addition to calcium and vitamin D (if fortified), Greek yogurt offers 15 to 20 grams of protein per 6 ounces.
Cheese
Different cheeses offer different protein profiles. Generally, the less fat a cheese has, the higher its protein. So it's good to incorporate different cheeses into your keto vegetarian diet. Some high-protein cheeses include:
• Hard cheeses like cheddar, gouda, Swiss, and provolone: 7-8 grams of protein per ounce.
• Soft cheese like Brie, feta, Camembert: 4-6 grams of protein per ounce.
• Cottage cheese: 20 grams per 6 ounces.
Hemp Seeds:
9 grams of protein per one ounce. Hemp seeds are also a good source of magnesium, potassium, and omega-3 fatty acids.
Almond Butter:
Though we generally recommend against nuts and seeds due to high levels of plant toxins and anti-
nutrients, they can provide supplemental proteins when needed, but should be used sparingly. Almond butter offers 7 grams of protein per ounce.
CHOOSE LOW-CARB VEGETABLES
We believe that one of the key factors that makes keto diets so healthy is that they cut out most plant-foods. Plants are loaded with plant toxins and antinutrients. They protect plants from pests (including humans) and environmental threats like fungus and mold. These toxins include naturallyoccurring pesticides, mineral chelators, and antibiotics. They can also prevent our bodies from absorbing nutrients properly, leading to a net nutrient loss when absorption rates are considered. Researchers estimate that the average American eats about 1.5g of naturally occurring plant toxins per day. Many of these toxins are potent natural pesticides. We all know that synthetic pesticides sprayed on plants are a big deal, but the level of natural pesticides we consume is 10,000 times greater.
Many plant foods are also high in specific toxins called oxalates. They're one of the mains reasons your body does not absorb nearly all the iron and K1 found in leafy greens like spinach. Grains and legumes are also high in antinutrients, including phytic acid, which can reduce the absorption of crucial minerals including iron to calcium. Additionally, plant foods contain phytoestrogens which can increase infertility and developmental disorders. That's why we don't recommend soy as a protein source for vegetarians who are trying to get pregnant.
That said, we know how tough it can be to cut plant foods for anybody, and especially vegetarians. Here's a list of low-carb vegetables that we recommend consuming sparingly along with correct proportions of healthy fats and proteins. I also recommend cooking down vegetables with a little bit of fat (avocado, coconut, or hemp seed oil). This helps to reduce the levels of toxins and is a chance to add fat to your diet.
Note that most vegetables also contain some protein that needs to be factored into your ratios.
5 LOW-CARB VEGETABLES
Asparagus
1.78 grams carbs per serving. A source of folate and vitamins A, C, and K.
Zucchini
2.11 grams carbs per serving. A source of vitamin B6, vitamin C, and potassium. Can also be used as a noodle substitute.
Mushrooms: 2.26 grams carbs per serving. A source of zinc and selenium. Mushrooms grown under UV light can also provide vitamin D.
Cauliflower: 2.97 grams per serving. A source of antioxidants and choline.
Cabbage: 3 grams carbs per serving. A source of vitamin C, D, and K.
Seed and Vegetable oils
Seed and vegetable oils are modern processed foods. Even olive oil only came onto the scene 4,000 years ago, a mere blip on the timeline of our dietary evolution.
There are two kinds of vegetable oils that should be avoided or reduced. The most inflammatory fat is Trans Fatty Acids, which should be completely removed. Numerous studies link them to inflammation and heart disease.
Almost all highly processed foods contain trans fats in the form of:
x Margarine
x Vegetable Shortening
x Ingredients that list Hydrogenated (fully or partially) Oils
The second kind of fats to avoid or reduce are called polyunsaturated fatty acids (PUFAs). They are easily oxidated and can increase inflammation and cardiovascular disease.
If one of your goals is to eat less processed foods and stay metabolically closer to human evolutionary eating patterns, we strongly recommend getting your fat from whole foods, including oily fish, eggs, butter, cheese, with olive oil as an exception.
AVOIDING NUTRIENT DEFICIENCIES
When following a vegetarian keto diet that restricts legumes and fortified grains and eliminates animal meats, it's important to make sure you're getting adequate amounts of omega-3 fats, vitamin D, iron, vitamin B12, calcium, zinc, magnesium, and potassium. In some cases, supplementation may be necessary. Vitamin D is difficult to get enough of on any diet, so we recommend taking a supplement. As with any dietary changes, it's crucial to pay attention to how you feel and adjust accordingly.
A vegetarian keto diet is not only possible, but healthy, and sustainable. Making fat the primary source of fuel for your body has tremendous benefits, and the good news is that there are plenty of vegetarian-friendly, non-meat sources of healthy fats and proteins to meet your essential nutrient needs.
NUTRIENT-DENSE VEGETARIAN OPTIONS
Nuts and Seeds Vegetables
Almonds
Chia Seeds
Flax Seeds
Hemp Seeds
Pumpkin Seeds
Walnuts
100% Dark Chocolate
Unsweetened Cocoa
Artichokes Broccoli
Brussels Sprouts
Kale
Mushrooms
Spinach
Swiss Chard
Fruits Dairy
Avocado Olives
Plain Greek Yoghurt Cheese
144 145
CNY Success Stories
Kimberly & Jill's Story
During all this waiting time we connected with other women going through fertility, tried to keep active, joined Fertile Hope Yoga, and did our best to keep a hopeful mindset. As anyone reading this probably already knows, time moves in strange ways while you are trying to get pregnant!
Unique Moments:
Highs -- I did my first FET at another clinic and had a fine outcome, 4 embryos. But at my second one at CNY I got 23 embryos!
I was a big believer in "endo scratches" and liked that CNY also believed in them.
As two women, we didn't think our journey would be so long, after all there were two of us that could potentially get pregnant. We started our journey at another clinic in 2015 and by the time we got to CNY in 2019, we had gone through many IUIs, a loss, a retrieval, and two canceled FETs. We really needed a fresh set of eyes and some hope.
I thought PCOS and age were going to be my biggest obstacles to get pregnant, but my lining also ended up being a complication. I had another retrieval at CNY, which I had a great response to but had several canceled transfers because my lining was never right.
We explored lots of different things to try to encourage my lining to be suitable for transfer. It was so frustrating to have embryos but to still not be able to move forward. The team at the Rochester office was so supportive while we tried to figure out how I could get the point of having a transfer.
Finally, I was able to transfer for the first time ever in 2019. We were hopeful that the transfer would work, but we still were amazed when it did! Unfortunately, that pregnancy also ended in a loss. We decided to try again right away, and this time one of the embryos stuck and stayed! We had our baby girl in June of 2020 and credit the expertise, patience, and support of the providers at CNY.
Favorite Team Member at CNY:
Katy Falcon who took me under her wing. Dr. Corley for doing both my retrieval and the FET that gave us our baby. Also he did my repeat HSG which I was so nervous about but it wasn't bad at all compared to my first one I had years earlier. All the staff at Rochester was wonderful, really!
Helpful resources Kimberly & Jill found:
I had this deck of positivity-type cards I would look at every night. I would write down a few things I was grateful every day. I went to Yoga for Fertility at the Rochester office. Erin always said something that resonated with me each week and I loved her yoga instruction. I loved seeing the strength of the other women in the group.
I think my story is different because I didn't have just one issue going on, it was several. Unfortunately, I didn't know too many women with thin linings, to most women that meant something in the 7-range. For my second FET my lining was either a 6.8 or 6.9 and it still worked!
Hope, Inspiration & Advice
The journey has lots of ups and downs, to say the least. One of the things I struggled with most was feeling guilty that other's pregnancy announcements sometimes made me feel a little sad [because it wasn't me that finally got to celebrate]. The biggest shift I had was saying to myself "Of course feel a little sad. That is something I really want with my whole heart and I don't have! I can be happy for that person, and also a little sad for myself at the same time.
HER OWN WORDS:
IN
Kimberly
"The team at the Rochester office was so supportive."
146 147
Rebecca & Phillip's Story
us. It was in that moment that I decided to find a doctor who would take my concerns seriously and help me come up with a solution. In February 2018, I was told that on paper, I have the classic PCOS symptoms. Blood work and an ultrasound confirmed this. I was prescribed Clomid which miraculously worked on the first round and we conceived our Rainbow Baby Boy who was born December 2018 after 3 years of trying.
Talk about meant to be! I had my phone consultation with Martha in May 2020. I knew I was in great hands when she put me on the best supplement plan and wanted to run all of the tests on my husband and me to give us the best possible chance at conceiving.
I can't thank Kim enough because in November 2020, after one year of constant fertility treatments and 6 months after finding CNY, we got the amazing news that this method worked and I was pregnant with our daughter who was born August 2021!
Martha and Kim who listened to my wants and concerns and came up with the best treatment plans for me.
I always had a feeling that my fertility journey would be a difficult one. It started around the time I was 13 years old, when all of my friends started getting their periods and I did not. In fact, I didn't get my first one until I was 16 years old. Then I didn't get another one for several months.
I was told that it was normal considering I was what was called a "late bloomer" and that I would eventually regulate. I never regulated, and I would continue to be brushed off for about 10 years.
I fell pregnant with twins completely naturally in July 2017, after almost 2 years of being off birth control. It, unfortunately, ended in a miscarriage which devastated
When our son turned a year, we decided to try for one more. I was prescribed Clomid again and it didn't work. I tried it again for two more cycles and it was the exact same outcome. Nothing. I was extremely discouraged because I didn't understand how it worked perfectly the first time but not now. I didn't realize how lucky we were to have our son from oneround of medication until that moment. I decided that I didn't want to wait around. I didn't want to be prescribed Clomid and sent away without digging deeper.
I was in a few PCOS support groups on Facebook, and I noticed that CNY Fertility was coming up a lot within the group I knew that they were a New Yorkbased fertility clinic but to my surprise I found out that they had recently opened up a location in Atlanta about 45 minutes from me.
We got everything done by July 2018, and we were in the clear. I was set to start my first monitored cycle of Letrozole with a trigger shot until Covid picked up again and I was forced to do an unmonitored cycle that month and the next month. Neither of which worked. We decided once monitored cycles were back on in October 2020 to give an IUI a try just to try something different. That unfortunately didn't work either, which took a huge emotional toll on me. I decided that I would do one last round of treatment before we took a break for a while.
I got on the phone with Kim and told her that I wanted to try something that gave me at least 1 more good-sized follicle before I triggered. Because of my PCOS, I wasn't a candidate for injectables, so she recommended I increase my letrozole to the max dose, skip the IUI this time as my husband's analysis was good, and trigger when at least one follicle was 19mm as opposed to 17mm from the previous month.
Katie and Lilian, the ultrasound techs who accommodated my crazy schedule, let me bring my son to some appointments and were so kind and informative throughout each appointment.
Helpful resources Rebecca & Phillip found:
Facebook groups for PCOS and TTC helped keep my sanity in place. Also venting to my family and being open about what we were going through helped a ton.
Surely enough, I took another test the next day and it was way darker, meaning HCG was rising which a trigger shot wouldn't do that. I was still in disbelief until the blood test the next day told me I was indeed pregnant!
who you are most comfortable with. If you choose to keep it private, let it out in a journal. You are not alone!
IN HER OWN WORDS:
Unique Moments:
We did not have that classic pee on a stick and "oh my gosh, it's positive" moment. I took a pregnancy test at about 10 days after ovulation and 12 days after my trigger shot. I saw the faintest of lines and was convinced it was leftover HCG from the trigger shot. My husband being the optimist that he is told me I was pregnant and that it shouldn't be the trigger shot at that point.
Hope, Inspiration and Advice:
Do not give up! My fertility journey was by far the hardest thing I had every gone through, but I honestly wouldn't change a thing if I could. I'm a stronger person than I was before and I've grown more empathetic towards every person going through something similar. Take it one day at a time. Vent about it to those
"Do not give up! Take it one day at a time... You are not alone!"
—Rebecca
Favorite Team Member at CNY:
148 149
Malissa & Andrew's Story
My OB started me on a round of progesterone and Clomid since I was not ovulating. We started this around mid-September. Three rounds later and still nothing. At this point, was on the highest dose of Clomid and we knew it wasn't going to do the trick. It was a few weeks before Christmas and we were devastated and exhausted. My OB told me "You need to go to a fertility clinic."
I did research and talked to a lot of friends and was told about CNY. I had heard so many success stories, we knew that this was the place God wanted us to go. I called and got an apt set for January 14th, 2020.
We felt so comfortable as soon as we walked through the doors at CNY. The staff was amazing and so optimistic that we would get pregnant. They did more testing and ultrasounds and found out that I have PCOS. It all started to make sense.
They got me on the supplements
If it wasn't for us taking a leap of faith and trusting that God had a plan for us and leading us to CNY, we wouldn't be where we are today. We welcomed our beautiful healthy miracle baby boy, Cameron, on November 25th, 2020, the day before Thanksgiving. To say we were extra thankful that Thanksgiving, is an understatement.
Thank you, CNY for never giving up on us, even when we weren't sure how this would all work out.
drawn on the first try every time. Thank you for making all the pokes a little less trying!
Helpful resources Malissa & Andrew found:
Hope, Inspiration and Advice:
My husband Andrew and always knew we wanted to start a family. We got married in the fall of 2017 and decided to wait a few years before trying for a baby. Originally, we planned to start trying in the beginning of 2020, but when 2019 rolled around, we knew we didn't want to wait another whole year to get things rolling.
We started trying for a baby in February of 2019. I got off my birth control and right away something wasn't right. I was on day 60 with no sign of my cycle starting. We tracked it like crazy, but still, nothing.
I went and saw my OB again in July and expressed my concerns. She sent me for bloodwork and discovered that I have a hyperactive thyroid which was making it impossible for me to get pregnant. She started me on meds to get my numbers in a safe range.
Once my thyroid number was looking good, we did a bunch of more blood work, an HSG test, and had my husband checked out. Everything came back normal, which then made us think, well then why can't I get pregnant?
I needed and we did our first IUI in February 2020. Unfortunately, that one did not take. We started preparation for our second IUI. And then, COVID 19 hit. We were two days away from our second IUI in March and our cycle had to be canceled because of COVID. It was heartbreaking. But we didn't give up hope. We knew God had a plan for us and we didn't want to throw a whole cycle out the window. So, we did a trigger shot and timed intercourse. Two weeks later on April 5th, 2020 we got our BFP!!
Dr Kiltz- Thank you for your kindness and helping me get through another HSG test. You gave me the confidence I needed and were amazing.
Ashleigh Rausch- Your hugs were one of my favorite things at every apt and I always looked forward to seeing your happy face! You were there whenever I had questions and never made me feel like a burden. Thank you for everything!
Katy Falcon- My vein whisperer! You were the only one able to get my blood
Continued prayer. God can do anything. We didn't know what was wrong and why I couldn't get pregnant, until CNY. When our second IUI was canceled, I was a wreck. I felt everything fall from beneath me. We were so close, and it was devastating. Covid 19 definitely made our journey difficult. I'm so grateful that CNY allowed my husband to be in the room for all ultrasounds, as that wasn't possible moving forward the rest of the pregnancy at my OB office due to Covid.
There is hope and a light at the end of the tunnel. Don't give up. God has a plan. It wasn't what we thought our plan looked like, but we trusted and God never failed. He will always be there for you. Just call out to Him.
Unique Moments:
IN
HER OWN WORDS:
Favorite Team Member at CNY:
—Malissa
150 151
"There is hope and a light in the end of the tunnel. Don't give up."
Josephine & Joshua's Story
Eventually, we moved on to choosing a sperm donor and went through two rounds of IUI before COVID swept the nation. Our local clinic kept missing my ovulation window as well, so to do two rounds of IUI took over 6 months. By this time, I was 39 and Josh was 44, and each month that passed without even "getting to try to fail" was nearly killing me. A friend I had met at a RESOLVE summit told me about CNY and I was thrilled!!
When Josh and I met, he already had two children from a previous marriage as well as a vasectomy. He also had testicular cancer, and I had my right tube and ovary removed after a cyst grew into a 5-lb tumor on my ovary. We knew we would have hurdles on our fertility journey, but we held out hope!
We reversed his vasectomy the year we got married after waiting for the two-year post-
cancer treatment mark. We tried naturally for about two years while I finished graduate school. When nothing happened, we started with our local OB and fertility clinic and discovered that Josh's sperm count, motility and morphology had all tanked since his vas reversal two years prior. We were devastated and waited another nine months while he tried natural methods, diet changes, and homeopathy to try to improve his numbers.
I watched a FB Live with Dr. Kiltz and asked the question about my hubby's situation since we still held out hope for a miracle baby with his sperm. He gave us hope when he mentioned the TESA/PESA procedures and we called to get a consult immediately. We couldn't believe our luck that we were able to get in for an egg retrieval and his procedures the following month! We got 12 eggs and of those, 8 matured. We fertilized 6 with Josh's sperm and 2 with donor sperm. Unfortunately, only the donor-fertilized eggs made it to embryos, and we transferred both in a fresh transfer on July 10th, 2020. Our little Avianna Nada Mae was born on April Fool's Day 2021!! We are so beyond grateful to CNY and are looking forward to doing another round of IVF this summer to hopefully give Avi a sibling.
We loved Dr. Kiltz, and we were so happy to have him do our transfer But really, Nurse Ashley was a rockstar. She was so compassionate and gave us space to grieve when we found out none of Josh's fertilized eggs made it to the embryo stage.
Helpful resources Josephine & Joshua found:
I did religious daily yoga using the Glo app and this kept me sane during the long years of TTC.
Unique Moments:
I had a dream at the beginning of our TTC journey in 2017 where Avi's little soul talked to me and told me she was coming.
She told me "You will call me Avi". I could feel her determination and utter force of will, and somehow this gave me hope in all the dark nights after the failed pregnancy tests. She was coming… just in her own sweet time. When we left CNY to drive back to our AirB&B after we transferred, I saw what looked exactly like a baby in an ultrasound in the clouds and a rainbow right over it. I wept because a part of me just knew Avi was coming.
Hope, Inspiration and Advice:
Research, research, research!! In the end, only you and your partner will know what the right path is for you, so listen to your loved ones only to the extent that they support your journey.
Favorite Team Member at CNY:
IN HER OWN WORDS:
—Josephine
152 153
"We are so beyond grateful to CNY and are looking forward to doing another round of IVF this summer to hopefully give Avi a sibling."
Brianna & Adam's Story
a reproductive endocrinologist and our appointment wasn't until December 2017. Once we met with the RE we were assured that though my husband had abnormal sperm he should be able to father a child and that they wanted me to start on letrozole with timed intercourse.
Our journey to becoming parents began in 2016. In March of 2016 I had my implant birth control removed. We were getting married in December of 2016, but I wanted to get my body adjusted to not having the birth control hormones in my system and my cycles have always been unpredictable so I figured it would take us some time to conceive.
Fast forward to March June 2017 and we had not had any success. My gynecologist ordered a basic fertility work-up for both my husband and me, I had already been diagnosed with PCOS but we needed to see if there were any additional factors. My husband's semen analysis came back showing he had a high percentage of abnormal sperm and I was not ovulating. We were referred to
In the first cycle, the medicine dose wasn't strong enough. For the next cycle, my dose was bumped up and my blood work did show ovulation but no pregnancy happened. We tried 2 more cycles of letrozole and TI with no success before moving on to IUI. We did 3 IUI cycles with no success and then my body stopped responding to the letrozole. The RE suggested IUI with injectable or moving to IVF. We decided IVF was the best step for us but could not afford to do it at our local clinic.
I had researched CNY prior to this point and made an appointment for a consultation. Our initial consultation was in November 2020 and I started my meds for IVF in January 2021. My egg retrieval was on February 9th 2021 at the Syracuse location and my FET was on March 9th 2021. On March 13th, I got my first ever positive pregnancy test
and on November 7th 2021, I gave birth to our beautiful baby girl. Each day I am still in awe that our very first transfer resulted in my daughter after trying for so long.
Favorite Team Member at CNY:
Dr. Kiltz did our transfer. I was so nervous about using our best embryo first but he told us that we had a beautiful embryo that was going to stick. And it sure did!
Helpful resources Brianna & Adam found:
I fully believe the acupuncture before and after the transfer helped our success.
Hope, Inspiration and Advice
It took a few increases of meds before my ovaries finally started responding but once they started the follicles took off. And we did our cycle during the winter and a shipment of medication was delayed due to a snow storm, but luckily, I was able to get my meds and we still had a positive outcome.
Unique Moments:
My advice would be to trust the doctors. I would get anxious because my protocol seemed to differ from others, but in the end, I put my full trust in the doctors and medical team and everything was successful for us in the end.
IN HER OWN WORDS:
—Brianna
154 155
"I put my full trust in the doctors and medical team and everything was successful for us in the end."
Samantha & John's Story
performed a hysterosonogram. Everything on paper again looked good!
surgery, and he made me feel so at ease going into this procedure! Although, again the results were "normal". Our three providers had all recommended either trying an IVF cycle with preimplantation genetic testing or trying treatment with Lyrica and all previous medications 3-months prior to another pregnancy.
My husband and I got married in the fall of 2016, and just a few months later we decided we wanted to try for a baby. We got pregnant very quickly, we were so excited! Unfortunately, we experienced a miscarriage at about 10 weeks. Our healthcare providers encouraged us to try again and explained that most people go on to have perfectly healthy pregnancies.
We decided to try again, and a few months later we got pregnant quite easily again! I began the pregnancy by taking progesterone as a precaution. Leary this time, and although we were hopeful, we miscarried again around 9 weeks.
My doctor felt it would be a good idea to speak with a high-risk
specialist going further with pregnancy. So, we met with a local high-risk OBGYN, who ran many, many blood tests & cultures. He recommended treatment with Heparin, baby aspirin, and progesterone. We followed this protocol with a third pregnancy.
I felt so different that time and finally experienced some nausea!! I was excited to think the treatment was working. Again, another miscarriage around 8 weeks. The high-risk specialist had done all he could for us and recommended we go to a fertility specialist out of the area.
We discovered CNY, and after hearing some testimonials, we decided to set up an appointment.
Dr. Kiltz and other providers ran more blood tests, cultures, and
My husband and I decided to take a little bit of time off from our fertility journey to have some fun and regroup. About 5 months later, we were surprised with a fourth pregnancy. We immediately called Dr. Kiltz, who quickly ordered prescriptions for me. I proceeded with a keto diet, Lovenox injections, progesterone injections, Plaquenil, Low Dose Naltrexone, and weekly intralipid infusions. We were very happy that CNY monitored me very closely with weekly ultrasounds and bloodwork. Unfortunately, my body began to miscarry again around 11 weeks. This time we decided it was time to have a D&C with some testing on the fetal tissue...and hopefully get some answers.
Dr. Corley performed the D&C. He was amazing! However, the pathology read "normal" and unfortunately, the tissue was insufficient for genetic testing. Usually, you want results to be "normal" but we were just hoping to get a diagnosis at this point.
At that time, Dr. Kiltz and Dr. Corley recommended a Laparoscopy and Hysteroscopy. We decided to move forward with this, as we thought there may be something going on inside that could not be seen with the testing that had already been done.Dr. Luthringer performed the
My husband and I were unsure whether we wanted to go through with an IVF cycle due to cost (although CNY is the most affordable around). And I was unsure if I wanted to take the Lyrica knowing some of the side effects that could happen. We were so mentally exhausted that we decided to take another short break from the fertility journey.
About 9 months later we got pregnant for a fifth time and had thought that since we gave it some time, maybe we should let my body do what it naturally was going to do. We prayed and prayed for a healthy pregnancy and for my body to stay healthy, however, we did miscarry again around 10 weeks.
Feeling defeated, exhausted, and angry, I had a "fight" with God while I was praying one day. I asked, "why???" "Why is this happening to us and why have we had to experience so much sadness for these 5 long years?!". That is when we decided to explore fostering, adoption, or possibly but everything seemed so expensive and so out of reach financially. Just a week or so later and as soon as we started to accept the fact that we may live a life without children, God blessed us. Our long-time friend had come to my husband's birthday party with his fiancé Shannon. We had only met
Shannon a couple of times, and that day she told me that she had heard what we were going through and that every good person deserves to be a parent. She said that she wanted to carry a baby for us. We were very appreciative and planned to discuss it more, but inside it really felt too good to be true. It wasn't. The next day Shannon followed up with me to tell me how serious she was and that she wanted to get the show on the road as soon as possible!
Over the next month or so, I began an IVF cycle with CNY, had my egg retrieval and was blessed with 20 eggs! Most of which were able to be fertilized with my husband's sperm. Shannon completed her pregnancy screening and transfer medications, and became pregnant after the first transfer! We were so excited, nervous, in disbelief, etc. Here we are, 9 months later with our beautiful baby girl.
I've realized that I had prayed, cried, begged, and fought with God for all the wrong reasons. I use to pray that the pregnancies would sustain, or the medication would work, when all along I needed to trust I'm God's plan. His plan brought us Shannon, and this sweet girl of ours.
Helpful resources Samantha & John found:
Yoga really helped me stay energized and focused to keep going on our journey.
A high point in treatment was that CNY watched me closely (weekly) early during pregnancy. This made us feel hopeful. A low point was when the medications and treatments did not work for us.
Unique Moments
Our story is unique because although after all of our treatment I didn't end up physically birthing our baby, CNY still made the impossible, possible for us.
Hope, Inspiration and Advice:
Trust that your visualization of what should be happening for you is not always the answer. You could pray and hope for things to go your way until you're blue in the face, but at the end of the day your higher power or universe has a better plan for you.
Dr. Kiltz took time out of his busy OR schedule when he saw me crying in the hall walking out of the building. He sat with us and answered questions. Dr. Corley was very sympathetic and encouraging when I had to have my D&C. Dr Luthringer was so knowledgeable, funny, and really put me at ease when going into my surgery.
Favorite Team Member at CNY:
IN HER OWN WORDS:
—Samantha
156 157
"At the end of the day your higher power or universe has a better plan for you."
Medicines for Treating Inflammation
LOW DOSE NALTREXONE (LDN)
Because infertility may be due to the immune system's overreaction to one's own hormones, we may try prescribing low dose naltrexone (LDN). LDN is a therapy that has shown promise in a variety of health issues including infertility. Although originally developed decades ago for the treatment of heroin/opioid addiction because of its ability to bind with opioid receptors in the brain thereby blocking the effects of the drugs, it was discovered that in very low doses, naltrexone was helpful in treating autoimmune disorders, HIV/AIDS, cancer, and central nervous system disorders. Because it can balance and regulate the immune system without over-stimulating it, any condition that involves immune dysregulation may benefit from LDN. Since auto-immunity is a potential cause of infertility, LDN therapy is a useful treatment option.
infertility in general. In the treatment of infertility, the goal is to stop any process in the body where the immune system is attacking its own tissues, which could hinder the fertility process, thereby improving one's ability to get (and stay) pregnant.
TAKING LDN
Inflammation is the cause of all of our diseases. Infertility is just another list of diseases caused by acute and chronic inflammation. Whether it's a bug—a microorganism—or it's due to glucose and glycation or other phytochemicals or plant antigens that actually damage and create an inflammatory response from our own body, we don't yet know.
Exactly why it happens in the uterus, tubes, ovaries or in the male reproductive organs, we're not completely sure, but it likely has to do with blood flow that deposits these microorganisms or plant phytochemicals and antigens in those areas. Plus, it's secondary to the excessive heat in the G.I. tract—the colon and small intestines. As the fermentation of these particles (fruits, fibers, vegetables) occurs, it creates an exothermic reaction which heats the local organs and damages all of them. Inflammation is the body's reaction to these insults.
We're constantly looking for ways to reduce inflammation. Reducing the quantity of plant molecules you put into your body as food and reducing the heat in your body by slowing it down can help.
Recently, we have achieved success treating inflammation pharmacologically with low-dose steroids like Prednisone, Humira, and intravenous immunoglobulins and intralipids, which are made up of egg protein and soy fat. The fat appears to be a successful method of reducing the inflammation in our bodies. We also use aspirin, NSAIDs, steroids, and antibiotics. Using low dose naltrexone and CBD oil or Cannabidiol in conjunction with acupuncture, massage, meditation, light therapy, and visualization is beneficial as well.
In lower doses, naltrexone still causes a very mild blockage of endorphin receptors throughout the body. The body's response to this binding is to compensate by increasing production of endorphins and enkephalins (our natural opioids). The brief blockage every night appears to be enough to effect a prolonged change in many aspects of the immune system and increases the body's ability to heal itself. In addition to treating Lyme disease, fibromyalgia, chronic fatigue syndrome, multiple sclerosis, Parkinson's, Hashimoto's thyroiditis, Crohn's disease, autism, and rheumatoid arthritis, LDN can also be helpful for depression because of its endorphin-boosting effect.
LDN boosts the immune system, the mechanism for which we do not entirely understand. LDN makes the immune system begin working at optimum levels again which includes the correction of the many imbalances which plague our body. Studies have also helped to uncover some relationships between the immune system, the hormonal imbalance of the body and the problems experienced by women with PCOS and
Patients who are prescribed LDN typically begin taking 1.5 mg – 4.5 mg by mouth once daily at bedtime. Although LDN is noted for being side-effect free because it stimulates the body's own mechanisms, there are clients for whom it is not well-suited, especially those being treated for addictions. LDN should not be used if you are taking Methotrexate or any narcotics. Some people do report vivid dreams, sleep disturbances, nausea (usually for the first 2 weeks), dizziness, headache and mild dry mouth, but sleep issues typically resolve themselves spontaneously. It is recommended that patients take LDN prior to beginning a cycle and continue, when recommended, throughout pregnancy. It will be temporarily stopped 4 days before oocyte retrieval and resumed the following day.
"Inflammation is the cause of all of our diseases."
158 159
OTHER MEDICINES FOR TREATING INFLAMMATION
The following medications enhance implantation and reduce inflammation in conjunction with our standard protocols.
Prednisone: This low dose steroid is taken orally. There is evidence that empiric treatment with low dose steroids may be beneficial in repeated pregnancy loss, even when the autoimmune testing has been negative. Side effects generally are minimal and mild when given in low dose, short term use.
Lovenox: A blood thinner, has been successfully used in promoting embryo development and preventing small blood clots from forming at the site of embryo implantation. It is administered by injection and has been an effective form of treatment for recurrent pregnancy loss. Although recommended for clients with known blood clotting disorders, Lovenox has been widely used empirically with infertility treatments to prevent miscarriage and for those with repeated unsuccessful fertility treatments.
HCG: Low dose HCG injections or HCG uterine wash. The corpus luteum provides the main source of progesterone support. The corpus luteum maintains its activity for 14 days. If an embryo fails to implant and HCG is not secreted, the activity of the corpus luteum will decline. The normal development of pregnancy depends on proper corpus luteum activity. Providing HCG, along with Progesterone, supports the luteal phase in infertility treatments.
Neupogen: Given either by injection or uterine wash, causes the body to generate neutrophils, a type of white blood cell which plays an important role in the immune system. You may benefit from Neupogen if you have experienced recurrent miscarriages or failed IVF treatments.
IVIG: Intravenous Immunoglobulin has been established as one of the most effective treatmentsfor multiple miscarriages. IVIG helps protect the embryo from the mother's immune system by suppressing many of the immune responses which commonly attack the embryo. It is administered via IV in our office.
Intralipids: Intralipids are a liquid emulsion of fat. They are mainly composed of soybean oil and egg fats. It is similar in effectiveness to IVIG, but significantly more affordable for couples who are seeking success after multiple miscarriages. Researchers believe it acts to suppress the body's natural killer cells and prevent embryo rejection. This is an IV infusion that is performed in our office and generally takes approximately 20-30 minutes. The recommendation is to infuse intralipids before IUI/Egg Retrieval/Embryo Transfer and weekly thereafter to 12-14 weeks gestation.
Prograf (Tacrolimus): Prograf is an immunosuppressant that was studied in woman with elevated Th1/Th2 cells. Prograf was studied and shown to improve reproductive outcome of women with repeated implantation failure. Prograf is taken orally twice daily beginning 2 days before embryo transfer and stops with pregnancy test. Patients with a history of skin cancer or any type of cancer should not take Prograf.
Metformin: Metformin is an insulinsensitizing drug primarily used to treat Type 2 diabetes, but it is also used for fertility. Women with PCOS may benefit from taking metformin alone, along with letrozole, or during IVF treatment. Exactly how metformin improves fertility is unclear. Many women with PCOS have insulin resistance, where the body's cells stop reacting to normal levels of insulin. As a result, the body thinks that there is not enough insulin
and triggers the production of more insulin than your body actually needs. Higher insulin levels seem to lead to higher levels of androgens, which lead to PCOS symptoms and problems with ovulation. Metformin lower excess levels of insulin in the body, which may then help regulate the reproductive hormones and restart ovulation. Research shows that menstrual cycles become more regular and ovulation returns with the use of metformin.
Humira: Originally developed to treat rheumatoid arthritis, Humira is now frequently prescribed to treat many autoimmune disorders, inflammation, and to decrease the number of natural killer cells. Humira is an injectable medication used for clients who have not been able to achieve a successful pregnancy with other treatments by reducing the risk of immune system reactions that may cause embryo rejection. Plaquenil: Plaquenil is also used most commonly for the treatment of rheumatoid arthritis. We have introduced this medication to our clients in order to enhance implantation and
prevent embryo rejection. Plaquenil inhibits the stimulation of cells that induce inflammatory responses in the body. Minimizing inflammatory responses in turn minimizes embryo rejection. Plaquenil is an oral medication taken twice daily.
HCG Booster
Injections:
HCG booster injections may be prescribed for use immediately following IUI or Embryo Transfer to help sustain a possible pregnancy. An HCG booster signals the corpus luteum to keep secreting progesterone, which in turn keeps progesterone levels up to help maintain the endometrium and help with implantation. Clients are prescribed daily injections of HCG to support a pregnancy.
160 161
CNY Healing Arts
EAST MEETS WEST
It's easy to believe that fertility treatment is strictly a modern day science made possible solely through the advances of high-tech medicine. But as good as modern science is, many couples trying to get pregnant find the results they are after with the assistance of ancient medical treatments such as acupuncture and massage. Sometimes acupuncture and massage are that something extra that help ensure the success of a fertility treatment over and above what typical western protocols alone can accomplish. At CNY Fertility, we've found that the best and most effective fertility treatment plans are created by incorporating both eastern and western medicine ideas. Dr. Kiltz was so impressed with the results achieved through massage, acupuncture and yoga, that he created CNY Healing Arts so that these services could be provided under the same roof to CNY Fertility clients.
OUR PHILOSOPHY
The Fertile Secret is within each of us. By finding our place of peace and balance amidst the demands of life and the stress of infertility, we renew our lifegiving potential. Dr. Kiltz sees this potential in all of his clients. Recognizing the toll that infertility was taking on their lives, he felt a deep desire to offer a more balanced approach to treating infertility. By reconnecting his patients with the power of positive thinking, he sees men and women improve the quality of their lives on their journey to conception.
OUR TREATMENTS
With inner peace comes deep healing. Our holistic approach is designed to support the physical, emotional and spiritual aspects of
your fertility. Acupuncture, massage, nutritional counseling, yoga and specialized workshops, alongside assisted reproductive technology, returns your body to a place of balance from which conception can occur.
THE FERTILITY BENEFITS OF MASSAGE
CNY Healing Arts offers traditional massage techniques as well as techniques focused specifically on the treatment of infertility.
Fertility Massage
The Fertile Secret Massage is a relaxing and enjoyable way to increase blood flow to the reproductive organs, properly position the uterus, remove blockages and open the pelvic and hip region. Our fertility massage combines the principles of Maya Abdominal Massage, acupressure and breath work to balance the hormonal system and support conception.
The Fertility Massage combines deep therapeutic touch with soothing abdominal massage. Your practitioner will customize your bodywork according to the stage of your menstrual cycle, using deeper abdominal work during the follicular phase (before ovulation) and focusing on relaxation during the luteal phase (after ovulation). In women, the pelvic region and reproductive organs tend to hold a lot of emotions. Expect your massage to be cleansing and detoxifying, physically and emotionally, leaving you with a deep sense of mental peace. Physical touch encourages the body to release oxytocin, contributing to increased pleasure. This Fertility Massage is perfect for anyone desiring to conceive and can also be customized for pregnancy and postpartum care.
163 162
BENEFITS OF FERTILITY MASSAGE
For Women :
• Increases blood flow to the reproductive organs
• Nourishes follicles with fresh blood supply (oxygen and other nutrients)
• Helps break down scar tissue and adhesions
• Re-aligns the uterus
• Helps cysts dissolve and resolves blockages in fallopian tubes
• Relieves stress and anxiety
• Improves digestion and absorption of nutrients
• Helps regulate the menstrual cycle (addressing cramps, heavy bleeding, irregular cycles, reduced clotting)
• Reduces inflammation due to PCOS, cysts, and fibroids
• Helps prepare the body to prepare to carry for pregnancy
For Men :
• Increases blood flow to the reproductive organs
• Regulates enlarged prostates
• Improves sperm count motility and morphology
• Improves digestion
165 164
Many couples trying to get pregnant find the results they are after with assistance of ancient medical treatments such as acupunture and massage.
Massage
Customized Massage
Allow our highly skilled therapist to create the appropriate session to fulfill your needs. This massage is designed to aide with any of the following conditions: Stress reduction, improve relaxation, increase circulation, relieve pain and discomfort from injuries, headaches, back pain, whiplash, carpal tunnel/thoracic outlet syndromes, plantar fasciitis, fibromyalgia and multiple sclerosis.
Hot Stone Massage
Heated basalt lava stones are massaged into the muscles, warming the tissue while melting tension away. Our oil is applied with long flowing strokes throughout the body incorporating the warmed stones for deep ease and warmth. Emerge feeling renewed, relaxed and rejuvenated.
Hot Poultice Massage
The poultice we use combines organic green tea and lavender, herbs that are specific for relaxing and relieving tight, sore muscles. The herbs are wrapped in traditional Thai fashion, creating a wonderful massage tool that is steamed and applied to the body using specific, purposeful massage techniques (techniques which are mostly compressive, broaden the muscles, inducing them to relax more readily). Massage with the hot, moist herbal ball softens tense muscles, decreases inflammation, calms the nervous system, and improves circulation. The combination of the heat, herbal properties and massage technique make the tissue more receptive, while inducing a more profound relaxation. The aroma of the steamed herbs has a relaxing effect as well.
Prenatal Massage
Prenatal massage can help moms-to-be find relief from the aches, pains and stresses of pregnancy. Regular massage sessions can help maintain health, reduce swollen ankles by increasing circulation throughout the body, as well as relieve lower back pain and sciatica. Our experienced therapists will use special positioning and cushioning for comfort and safety. The massage is done in a side-lying position with a pillow gently supporting the back and stomach.
Dry Brushing Massage
This is a 90-minute service that includes 30 minutes of dry brushing followed by a 1-hour full body massage. One benefit for fertility is improved circulation. Circulation helps the blood flow go to the reproductive body areas. This service should be performed around ovulation. Other benefits include the clearing of toxins and lymphoid. What's even better, after your massage, you get to bring the brush home with detailed instructions on how to perform dry brushing on your own to continue the benefits long after your treatment! Not recommended
if you have sensitive skin, body acne/rosacea or eczema, or have a recent tattoo. We suggest you select a regular, custom massage instead to not cause further irritation.
Reiki Treatments
Reiki is a gentle hands-on healing technique to reduce stress, relieve pain, and facilitate healing. Your therapist will energize various body systems on levels that promote healing, clarity, and focus.
Foot Reflexology
Bring strength and balance to your body through foot reflexology and gentle massage. Foot reflexology restores balance within your system. The treatment starts with a warm foot soak to promote circulation and blood flow to your pelvic organs. Next, we examine the feet to look for clues regarding what might be happening in the rest of your body. Finally, experience a relaxing foot massage aimed at the areas of your body on which you want to focus. This treatment can stand alone, or be added to any other treatment selection.
166 167
Acupuncture
EMBRACE THE RESTORATIVE POWER OF ACUPUNCTURE
Acupuncture is one part of a complete system of healing known as Traditional Chinese Medicine, or TCM, that has its roots in China dating back several thousands of years. TCM also includes dietary therapy, herbal medicine, body work and other adjunctive techniques. Acupuncture uses small, almost hair-thin, surgically sterilized and disposable needles that are placed in certain points on the body. These points are located on energetic channels. In TCM terms, it is the strategic use of these points that regulates and balances the flow of energy and blood in the body, thus allowing for symptom relief.
Laboratory and clinical studies have shown Acupuncture to have an effect on the central and peripheral nervous systems. It causes the brain to release opioids, the body's natural pain killers, as well as other endorphins that moderate the stress response and help to balance hormone levels in the body. Acupuncturists at CNY Healing Arts are extensively trained in assisting those attempting to achieve pregnancy naturally and those who are undergoing fertility treatments. Each day, they work together with the staff at CNY Fertility Center to assist couples in achieving their dream of pregnancy. And, they continue to work with women, once pregnant, to moderate symptoms and help to prepare a woman's body for labor and delivery.
BENEFITS OF ACUPUNCTURE FOR INFERTILITY
• Regulate menstrual cycle
• Improve sperm count and motility
• Reduce stress and anxiety associated with infertility
• Normalize hormone and endocrine systems
• Improve blood flow in the uterus
• Decrease chance of miscarriage
• Increase the chance of pregnancy for women undergoing in vitro fertilization (IVF)
Research has revealed that women doing invitrofertilization treatments were 65% more likely to conceive when they used acupuncture in conjunction with their western medical treatment.(1) Additional studies support the significance of acupuncture for the outcome of assisted reproductive medicine,(2) and that acupuncture administered on the day of embryo transfer significantly improves the reproductive outcome of IVF/ICSI.(3) Acupuncture is also associated with higher clinical pregnancy rates and live birth rates.(5)
1. Manheimer, Eric, Grant Zhang, Laurence Udoff, Aviad Haramati, Patricia Langenberg, Brian M. Berman, and Lex M. Bouter. "Effects of acupuncture on rates of pregnancy and live birth among women undergoing in vitro fertilisation: systematic review and meta-analysis." British Medical Journal (2008). BMJ medical publications of the year. 7 Feb. 2008. 9 Apr. 2009 <http://www.bmj.com/cgi/content/full/ bmj.39471.430451.BEv1>.
2. Dieterle, Stefan, Gao Ying, Wolfgang Hatzmann, and Andreas Neuer. "Effect of acupuncture on the outcome of in vitro fertilization and intracytoplasmic sperm injection: a randomized, prospective, controlled clinical study." 7 Apr. 2006. 9 Apr. 2009 <http://www.ncbi.nlm.nih. gov/pubmed/16616748/>.
3. Westergaard, Lars G. M.D., Ph.D, Mao, Qunhui M.D, Krogslund, Marianne, Sadrini, Steen, Lenz, Suzan M.D., Ph.D, Grinsted, Jorgen M.D., Ph.D. Acupuncture Improves pregnancy rates in IVF treatments. 2006
4. Udoff, L.C., G. Zhang, S. Patwardhan, Z. Wei, and H.D. McClamrock. "The effect of acupuncture on outcomes in in-vitro fertilization (IVF)." 20 Apr. 2006. 9 Apr. 2009 <http://clinicaltrials.gov/ct2/show/NCT00317317>.
5. http://www.ncbi.nlm.nih.gov/pubmed/21297382
168 169
"Research has revealed that women doing in-vitro fertilization treatments were 65% more likely to conceive when they use acupuncture in conjuction with their western medical treatments"
Feel the Light
LED LIGHT THERAPY
Over the past ten years, CNY Fertility has been very successful at improving outcomes for our clients by incorporating eastern medicine with hightech western protocols. A new therapy we are recommending is LED Light Therapy, which has myriad benefits for our fertility patients, but also helps improve overall wellness in anyone. LED Light Therapy is a useful tool for improving circulation throughout the body by increasing the formation of new capillaries, stimulating the production of collagen, and stimulating the release of adenosine triphosphate (ATP) which is the major carrier of energy to all cells.
How Light Therapy Can Enhance Your Fertility:
LED Light Therapy (or Light Emitting Diode Therapy) is a very effective, non-abrasive, noninvasive, and restorative treatment. Our skin has the ability to absorb and utilize light which
creates a therapeutic response. Light therapy uses specific color wavelengths to penetrate different levels of the skin, providing a wide range of benefits.
Light may be able to enhance your fertility by returning you to balance. By working directly over your eyes, we can affect your entire endocrine system by sending light frequencies to your hypothalamus.
By elevating nitric oxide levels in the body and increasing the formation of new capillaries that replace damaged ones, Light Therapy increases vascularity (circulation). New capillaries accelerate the healing process by carrying more oxygen and more nutrients required for healing. They are also able to carry away more waste products. This can be an essential component in preparing your body for pregnancy, especially if you have endometrial lining issues.
Collagen is an essential protein used to repair damaged tissue and to replace old tissue. It is the most common protein found in the body and is the substance that holds cells together. LED Light Therapy can stimulate the production of collagen. By increasing collagen production, less scar tissue is formed. There are studies that prove collagen is an essential nutrient for the ligaments that support your uterus. If you have any prolapse concerns, collagen induction may help you reverse this pattern.
ATP, or adenosine triphosphate, is the major carrier of energy to all cells throughout the body. Increases in ATP allow cells to accept nutrients faster and get rid of waste products more quickly by increasing the energy level in the cell. All food turns into ATP before cells utilize it. ATP provides the chemical energy that drives the chemical reaction of the cell.
Light Therapy is able to stimulate the release of ATP. Increased ATP helps support your fertility by giving you the cellular energy you need to maintain a healthy pregnancy. A lack of energy can be a contributing factor to recurring miscarriage and may be an underlying cause of chronic inflammation and immune disorders.
Edema, the swelling or natural splinting process of the body, has two basic components: liquid and protein. Research has shown that the lymph vessel diameter and the flow of the lymph system can be doubled with the use of Light Therapy. The venous diameter and the arterial diameters can also be increased. This means that both parts of edema (liquid and protein) can be evacuated at a much faster rate to relieve swelling. A well-functioning lymphatic system is an essential part of your overall fertility. A sluggish lymphatic system can contribute to chronic inflammation and immune disorders.
Light Therapy Pre-and Post Embryo Transfer:
New capillaries can increase blood flow which assists in a more rapid and greater healing response. An IVF transfer can be considered an "invasive" procedure and improved healing may help ensure implantation. Photons of light energy enter the body as negative ions. This requires the body to emit positive ions, like calcium among others, to go to the area being treated. These ions assist in firing the nerves, thereby relieving pain and reducing the excitability of nervous tissue. This may assist your fertility especially after embryo transfer when you want a calm, assimilating environment for implantation.
170 171
LED light therapy is a useful tool for improving circulation throughout the body by increasing the formation of new capillaries, stimulating the production of collagen and stimulating the release of adenosine triphosphate (ATP) which is the major carrier of energy to all cells.
Mind Body Smile
WITH DR. ROB
15 Things You Should Do Every Day to Feel More Connected to Your Mind, Body, Spirit and the Universe as a Whole:
1. COUNT YOUR BLESSINGS
Start the day by counting your blessings and saying THANK YOU to God for this day. As they say, if you want to find happiness, find gratitude.
2. CONNECT WITH NATURE
This can be as easy as sipping your coffee outdoors on your deck in the quiet morning, breathing in the fresh air and listening to the birds. Or, try taking a walk in the woods.
3. UNPLUG
Don't forget to turn off your computer, phone, tablet, and TV. Detach yourself from these distractions so that you can relax and tune into what's happening on the inside.
4. MOVE
Go for a walk, a swim, take an easy bike ride, paddle your kayak. It's best if it's not too strenuous.
5. SLOW I T DOWN
Your body doesn't need to work so hard. Stay off the elliptical. You don't need to churn out 10 miles on the treadmill or on the roads. Less is more. Strenuous exercise causes inflammation, but don't just sit still.
6. FLEX YOUR ARTISTIC MUSCLES
Whether this involves writing a poem or short story, or just recording your thoughts in a journal, painting a picture, making pottery, playing an instrument, or dancing. Tap into your creative side every day.
7 . PRACTICE MEDITATION, DEEP BREATHING, AND/OR YOGA
You will find yourself more connected to yourself as a result.
8. READ OR LISTEN TO A BOOK
Whether it's in your car to and from work or in a quiet corner during lunch, make sure you are reading and continuing to learn every day. There are so many wonderful authors to learn from.
9. SHARE AN ACT OF KINDNESS
It can be as simple as holding a door, giving blood, or buying a coffee for the guy behind you in the line at Starbucks.
10. KEEP A JOURNAL and spend time writing in it every day. Record your thoughts and feelings. Your entries don't have to be long.
11. LISTEN TO YOUR INNER GUIDE
To do this, sit quietly and comfortably. Close your eyes, breathe in deeply, and exhale. Focus your attention on your breathing. Let thoughts come and go. Allowing yourself to live in the moment will reduce anxiety and stress, and you will have the wisdom to listen to your inner guide. You will suddenly find that things in your life have a beautiful flow and you feel you are exactly where you should be at each moment in time.
12. BE
MINDFUL & PRESENT
Being mindful means being aware of one's present moment and all of the senses, functions, and delights associated with that moment. It may sound simple, but it is not something that comes easily to most of us. Use your senses to describe each moment that you are experiencing. Repeat to yourself what you are doing "I am sitting on my couch under a warm blanket." Don't allow your mind to take you to the past or the future.
13. BE FORGIVING
The act of forgiveness is one of the most noble and loving things we can do. Forgiveness is a choice, and it is very much an internal decision. When we forgive, we are choosing peace and emotional wellness over anger, resentment and emotional immaturity. When we deny forgiveness, we are holding ourselves hostage to negativity. Choosing forgiveness allows us to move out of pain and into peace. It will add balance to our lives and create deeper relationships with others.
14. LEARN TO LET GO
Attachment to desire is one of the primary
reasons for human suffering. We easily attach ourselves to ideas, fantasies, expectations, and hopes. When we let go of attachments, we close the door on suffering. Letting go doesn't mean throwing away or giving up. It simply means that we are happy with who we are and what we have at this very moment, and that we do not put all of our happiness into an external desire. Letting go enables us to tap into our inner strength and healing.
15. DANCE WITH LIFE
Learning to seek out joy in life is the goal here. Trust that the river of life will provide you with a magical dance. Let your feelings be your guide. It may seem impossible if you are in a place where external events are having a negative effect on your energy and vibration, but when you change the way you view the negative events, the events themselves will change in response to your renewed way of thinking. One way to start experiencing joy right now is to try to hold your smile for as long as you can. Think about things that make you smile. Don't let negative thoughts creep into your mind. If they do, simply envision yourself pushing them back out and maintaining your position of joy.
If you're interested in reading more encouraging thoughts and ideas from Dr. Kiltz, pick up copies of his latest books: Daily Inspirations and The Fertile Feast.
In Daily Inspirations, Dr. Kiltz shares the inspirational quotes and contemplations that lifted his spirit and guided his personal reflection. He shares his lessons for learning to slow down, breathe deeply, and look inward for the strength and inner guidance you need to feel connected with the universe, achieve your goals, and live the life of your dreams.
Since learning the simple, yet radical truth that our bodies and brains run most optimally on high-quality fats, Dr. Kiltz successfully recommended Kiltz's Keto Lifestyle to countless patients who had previously been unable to conceive. He has witnessed the power of keto to bring new life into the world and to transform the lives of his patients, friends, and colleagues. The Fertile Feast weaves accessible and lively explanations of keto's healing power.
Both books are available at Amazon.com.
For more from Dr. Kiltz, please visit DoctorKiltz.com
Feast
HOW TO CREATE A POSITIVE CHANGE IN PERSPECTIVE, ATTITUDE, AND OUTLOOK. Daily Inspirations By Dr. Robert Kiltz, M.D.
By Dr. Robert Kiltz, MD. DR. KILTZ'S ESSENTIAL GUIDE TO KETO WAY OF LIFE
The Fertile
172 173
What are You Breathing?
PROTECTING YOUR HOME'S AIR QUALITY:
A recent global study on the effects of air pollution concludes that toxic air may be damaging every organ and virtually every cell in the human body, causing harm from head to toe, including dementia, heart and lung disease, fertility problems, and reduced intelligence. In fact, there are more than 70,000 scientific papers demonstrating that air pollution is affecting our health.
Perhaps the most disturbing impact of air pollution is the damage to reproduction and children. Fertility is reduced and miscarriages increased by exposure to air pollution. How does it happen? Ultrafine particles pass through the lungs, are readily picked up by cells, and carried via the bloodstream exposing virtually every cell in the body.
The main reason for the far-reaching damage from air pollution is systemic inflammation. Immune cells think pollution particles are bacteria, so they go after it and try to kill
it by releasing enzymes and acids. These inflammatory proteins spread into the body, affecting the brain, the kidneys, the pancreas and every organ system. From an evolutionary perspective, our bodies have evolved to defend against infections, but not pollution.
There is also evidence that poor sleep can be a consequence of breathing toxic air, which has its own lasting effects on day to day living.
And while the possibility of controlling the air we breathe 24/7 boggles the mind, we can control the air we breathe in our homes and while we sleep. Intellipure has an air purification system that can provide the highest level of air cleaning performance while eliminating more than 99% of particles in the air.
CNY Fertility is proud to have partnered with Intellipure to offer the same air purification systems we use in our offices to our clients for use in their homes. Please visit www.intellipure. com for more information, and don't forget to use the code CNYFERTILITY to save 20% on your Intellipure home air purifier.
Air Quality & Fertility
• Ultrafine particles can be especially dangerous for pregnant women. Ultrafine particles can penetrate into the lungs and extra-pulmonary organs which can transfer toxic compounds to the fetus and placenta.
• Women exposed to air pollution while pregnant have a higher risk of developing cardiometabolic diseases later in life, such as heart disease, diabetes, and stroke due to increases in oxidative stress, inflammation and endothelial dysfunction.
• Exposure to high levels of pollution can result in sperm DNA damage, leading to male-mediated infertility, miscarriage, and other adverse reproductive outcomes.
• Emerging studies suggest air pollution is also closely related to various birth complications, low birth weight, and increased risk of still birth.
Infants & Air Quality
• A fetus exposed to air pollution during pregnancy has an increased risk of can cers, such as leukemia and Hodgkin lymphoma, respiratory diseases, allergic disorders and anemia as an infant
• Children exposed to air pollution early on in life can also develop structural and volumetric abnormalities in the brain, as well as auditory, vestibular, and cognitive deficits.
• According to the World Health Organization, more than 50% of premature deaths due to pneumonia among children under 5 are caused by the particulate matter (soot) inhaled from household air pollution
The Environmental Protection Agency Recommends:
• Eliminate the source of pollution
• Use chemical-free cleaning products
• Clean the air with a high efficiency, portable air cleaner
The Intellipure Difference
• Effectively eliminates >99% of all particles
• Reduces mold, bacteria, virus, fungi, heavy gases and odors
• Each unit is individually tested and certified to provide the highest level of air cleaning performance
DFS TECHNOLOGY: TESTED TOUGH
Laboratory test research shows that DFS system significantly reduces airborne bioburden in clean-rooms. It trapped and inhibited bacteria, and also improved the filtration performance of a filter media by two to three orders of magnitude. (Control and Monitoring of Bioburden in Biotech / Pharmaceutical Cleanrooms Jaisinghani, et al)
Exposure of bacteria on the surface of the internal filters in the DFS Air Cleaner can significantly reduce their survival rate. (Effect of the DFS Air Cleaner on the Survival of Microorganisms Fannin)
The DFS system units can remove all particles passing through the system with near-zero count at the exhaust side of the DFS system of all particles larger than 0.007 micron. (Supporting case study by University of Buffalo IUCB, Baier, Ciriano, et al)
Bring healthy air to your home with the world's best air purifier. CNY Fertility has partnered with Intellipure to offer a 20% discount to our clients. Use code: CNYFERTILITY
174 175
SYRACUSE
CNY Fertility Center – Syracuse
195 Intrepid Lane
Syracuse, New York 13205
315-469-8700
Our Syracuse office is just a short drive from the heart of the city. In your free time, catch an SU game or spend a couple hours at Destiny USA, New York's largest shopping, dining, and entertainment center.
Before or after your appointment, relax at our Healing Arts Wellness Center & Spa located just upstairs from our CNY Fertility offices. Enjoy a massage, take a yoga class, have an acupuncture session, or a nutrition consultation while you're here.
Grab a healthy drink at our Fertile Grounds Café and take a moment for yourself in our comfortable surroundings.
BY AIR
Nearby Syracuse International Airport offers convenient flights from all major cities and airlines.
BY TRAIN
Amtrak's Empire Service offers frequent daily trains between NYC and Syracuse, departing
from Penn Station and arriving at Syracuse Regional Transportation Center.
BY CAR
Our offices are located just off of Rts. 81 and 481, easily accessible from points east and west on the New York State Thruway. Take exit 1 (Brighton Ave.), toward Nedrow. Then turn left onto East Brighton Ave. Take a left onto Intrepid Lane. Our building is up on your left.
WHERE TO STAY
Holiday Inn & Suites Syracuse Airport
315-451-1511
400 7th North Street
Liverpool, NY 13088
5 miles to office (offers airport shuttle, discounted rate when you mention CNY Fertility, free breakfast)
CNY Fertility
Center – Albany
38A Old Sparrowbush Road Latham, New York 12110 518-690-0700
Our Albany office is conveniently located near major cities like Boston and NYC, just a few hours drive away and even closer by plane or train. With comfortable and reasonably priced lodging options, affordable fertility care at CNY Fertility is easily accessible to patients on the east coast. While you are in the area, be sure to schedule a treatment at our Healing Arts Center located upstairs from our CNY Fertility office. You can enjoy a relaxing massage, take a yoga class, or have an acupuncture session. Our offices are not far from world-class shopping and many fine dining options.
BY AIR
Nearby Albany International Airport offers convenient flights from all major cities and airlines.
BY TRAIN
Amtrak's Empire Service offers frequent daily trains between NYC and Albany, departing from Penn Station and arriving in the AlbanyRensselaer train station.
BY CAR
Our offices are located just off of the New York State Thruway / Rt. 87. Take 87N toward Albany International Airport / Montreal. Take Exit 7 and merge onto NY-7E toward Troy / Cohoes. Take exit onto US-9 toward NY-9R. Continue onto Sparrowbush Road, then turn right onto Old Sparrowbush Road. Our building is up on your right.
WHERE TO STAY
TownePlace Suites Latham Albany Airport 518-362-8990
5 Forts Ferry Road, Latham, NY 12110
Less than 1 mile. Offers CNY discount, shuttle to office, breakfast, and in-room kitchen
176 177
ALBANY
ROCHESTER
CNY Fertility Center – Rochester
2244 East Avenue
Rochester, NY 14610
585-244-1280
Located in the heart of the Finger Lakes Region, our Rochester office is within an hour of several nearby Finger Lakes—Canandaigua (45 min.), Conesus (40 min.), and Keuka (1 hour). Depending on the season, there is always something to see and do. And don't miss a chance to schedule a treatment at our Healing Arts Wellness Center & Spa located upstairs from our CNY Fertility office. You can enjoy a relaxing massage, take a yoga for fertility class, or have an acupuncture session. Grab a healthy smoothie, pressed juice, or cup of coffer or tea at the Fertile Grounds Café while you visit. Spend a few minutes relaxing in our comfortable atmosphere between spa treatments or just catch your breath.
BY AIR
Nearby Greater Rochester International Airport offersconvenient flights from all major cities and airlines.
BY TRAIN
Amtrak's Empire Service offers frequent daily trains between NYC and Rochester, departing
from Penn Station and arriving in the Rochester station.
BY CAR
Our offices are located just off of the New York State Thruway. Take Exit 45 and merge on I-490 toward Rochester. Take Exit 25 toward Fairport/ East Rochester and merge onto NY-31F. Turn left onto Fairport Road/NY-31F. NY-31F become East Ave/NY-96. Our offices are approximately 2 miles ahead on the right.
WHERE TO STAY
Rochester Plaza
585-546-3450
70 State Street Rochester, NY 14614
3.8 miles from our office
BUFFALO
CNY Fertility Center – Buffalo
835 Hopkins Road Buffalo, NY 14221 716-688-5131
Our Buffalo office is conveniently located near major international cities like Toronto, Ontario, and all points in Western New York. Enjoy some of Buffalo's world-famous foods or take in a game or two with one of Buffalo's professional sports teams. Beautiful Niagara Falls is just a short ride away.
BY AIR
Nearby Buffalo Niagara International Airport offers convenient flights from all major cities and airlines.
BY TRAIN
Amtrak's Empire Service offers frequent daily trains between NYC and Buffalo, departing from Penn Station and arriving in the Depew station.
BY CAR
Our offices are located just off of the New York State Thruway. Take Exit 25A and merge on I-290 toward Niagara Falls. Take Exit 6 (NY-324/
Sheridan Drive) toward Harlem Rd/NY-240 and merge onto NY-324. Turn right onto Sheridan Drive/NY-324. Turn left onto Hopkins Road/87. CNY Fertility's offices are approximately 2 miles ahead on the right.
WHERE TO STAY
Residence Inn by Marriott Buffalo Amherst
716-632-6622
100 Maple Road
Amherst, NY 14221
3 miles from our office
178 179
ATLANTA
CNY Fertility Center – Atlanta
924 West Spring Street
Monroe, Georgia 30655 770-266-0933
Our Atlanta office is located 35 minutes east of downtown Atlanta and 45 minutes from Hartsfield Jackson International Airport. Before or after your appointment, be sure to enjoy an organic coffee or tea and a local artisan treat at our wellness center/coffee shop where you can learn from a certified herbalist or discover the power of essential oils and aromatherapy.
There's lots to see and do while visiting Atlanta: visit the Georgia Aquarium, Centennial Olympic Park, tour the Jimmy Carter Presidential Library; Museum, or grab a bite at the Krog Street Market.
BY AIR
Nearby Hartsfield Jackson International Airport offers Convenient flights from all major cities and airlines.
BY CAR
Our offices are located just off of GA-138. Turn right onto West Spring Street/US78 Bypass East/ GA-10 Business. Our Offices are ahead on the left.
WHERE TO STAY
Please call our office for lodging suggestions.
COLORADO SPRINGS
CNY Fertility Center – Colorado Springs
265 S. Parkside Drive
Colorado Springs, CO 80910 877-475-BABY
There's no shortage of things to do—indoors and out—when visiting our Colorado Springs office. With more than 300 days of sunshine per year and over 30 natural attractions, including the famous Pikes Peak, Garden of the Gods Park, Seven Falls, and Cave of the Winds, you'll have difficulty narrowing down your list. Hiking, walking, or just relaxing, there are lots of beautiful vistas to enjoy.
BY AIR
Nearby Colorado Springs Airport and Denver International Airport (about 75 min away with 20 shuttles per day to Colorado Springs) offer convenient flights from most major cities and airlines.
WHERE TO STAY
Residence Inn Colorado Springs South (719) 576-0101
2765 Geyser Drive Colorado Springs, CO 80906
180 181
5922 Cattlemen Lane
Sarasota, FL 34232
CNY Fertility Sarasota is a full-service facility center offering IVF, Egg Retrievals, and Embryo Transfers.
Soak up the sun (and boost your vitamin D) on Sarasota's white-sand beaches. Just an hour south of Tampa, CNY Sarasota is CNY Fertility's southern-most office serving the fertility needs of patients along Florida's Gulf Coast. As the nation's most affordable fertility clinic and the only to offer in-house payment plans, CNY makes top-quality care possible for all.
CNY Fertility Center – Philadelphia
520 Bustleton Pike Feasterville, PA 19053
CNY Fertility Philadelphia is a monitoring-only office for those traveling to other CNY Fertility locations for IUI, IVF, Donor Egg IVF and more.
The City of Brotherly love is the birthplace of life, liberty and the pursuit of happiness. You can begin your family journey here as well. Thousands travel to CNY every year for fertility treatment. Every member of our staff is passionate about treating the whole person and supporting you in every way possible.
If you don't live near one of our full-service office locations, but do live a short drive from Philadelphia, scheduling your cycle monitoring appointments in Philadelphia can save you time and money.
Have your ultrasounds and bloodwork performed closer to home. Your CNY provider will review the results and call you with updates, next steps, and tell you when to schedule your next monitoring appointment.
CNY Philadelphia plans to offer additional fertility services in the future.
PHILADELPHIA
CNY Fertility – Sarasota
182 183
SARASOTA