by Fun House Furnishings & Stephanie Larsen
communityfootprint American Made & Locally LovedVol. 02Charleston Forge by DESIGN
the power collaborationof
Why Designers Love Beth Singer Photography before & transformationsafter
28
a charleston forge publication
A custom Charleston Forge Hudson Cocktail Table with an inlaid Facet Glass top at a Novi, MI residence. Interior design by Ellwood Interiors, Birmingham, MI. Photograph by Beth Singer.
Ethos Design Collective
Award-Winning Design
Community Footprint Home Office Solutions Hospitality Design
by DESIGN 2
Collaboration 6
table of contents
18
The Power of
16
by DESIGN
17
At right: Crawford Cocktail Table. contact us
12
WildBoone,251www.CharlestonForge.cominfo@charlestonforge.com828.264.0100IndustrialParkDriveNC26807AboutCharlestonForge 4
Before & After Transformations
On the cover:
24
forge
our mission
3
about charleston forge
Our products are sold by a network of furni ture stores and interior designers throughout the United States and Canada.
which range from dining and occasional tables, to consoles, chairs, bar stools, étagères, desks, and beds, are all built in our Boone, North Carolina factory. Every piece of furniture is built by hand every step of the way, from cutting the steel through forg ing, welding and painting, all the way to the assembly department. This approach makes customization of our product easy, something that makes us a go-to resource for designers.
The company was founded in 1984 with a commitment to provide innovative design, superior quality, and outstanding customer service — something we're proud to say we have been doing for all of our nearly 40 years in Ourbusiness.products,
charleston
By Design is a periodic publication produced by Charleston Forge. The goal of this publica tion is to highlight the many outstanding in terior designers around the country who use Charleston Forge in their work. We hope that by showcasing some of those projects we can inspire others in the work they do.
To learn more about us or find a dealer near you please visit www.charlestonforge.com.
"We use animal prints a fair amount" says Elisabeth Becker, Design Director at Margaret Donaldson Interiors in Charleston, SC. "But it's used sparingly as an accent piece."
Springhouse Lounge Chairs (top) and a Naples Barstool (left) . Shown with natural hair-on-hide upholstery.
Margaret Donaldson Interiors shared an ex ample of this, the Emmitt Lounge Chair and Ottoman, seen opposite, which was specified for one of their recent residential projects.
Wild About Charleston Forge
Elisabeth points out that one of the great benefits of hair-on-hide pieces (which are almost always a cow leather that has had the pattern printed on it) is how durable and easy to clean they are.
4
by DESIGN www.charlestonforge.com
in-line chair or a customized bench, every up holstered piece Charleston Forge makes has a COM option, and animal patterns are a great way bring out your wild side.
To that end Margaret Donaldson Interiors are using hair-on-hide animal prints as rugs in foyers and entryways, she says. She points out that the rugs are not asymmetric hides, but cut pieces that are sewn into more traditional rug shapes and sizes.
unique custom upholstery
From lounge chairs to barstools, Charleston Forge frequently sees a variety of animal prints and hair-onhide leathers being specified by design ers. Whether it's an
Emmitt Chair and Ottoman with a faux zebra hair-on-hide leather from Bellaire Dynamik in Charlotte, NC. Design by Margaret Donaldson Interiors. Photography by Julia Lynn Photography.
important thing is to find a photographer with whom you can share ideas and who understands what you're trying to achieve," says Amanda, adding, "She's so fun to work with, which is important to us too."
sometimes simply bringing fresh eyes to a design project, especially one that may have been many months long, can be very valuable. "That's the kind of teamwork that I love, that makes the project shine".
There are many factors that play into making great images of an interior design project, says Beth Singer, a Franklin, Michigan-based architectural photographer. While creativity is one of the most important components, close collaboration between photographer and de signer is essential too, she says. And with more than four decades spent photographing architec tural interiors and exteriors, Beth is speaking from experience.
Amanda says that when looking for a photographer to partner with, the three primary things a designer should focus on are the qual ity of the photographer's work, their professionalism, and their willingness to col
The majority of Beth's work is in central and northern Michigan but she has also done jobs in such places as Florida and the Caribbean. Shoots generally take two days of on-location photography, she says, though some of her more involved projects take as much as five. Generally there is also at least one additional day of editing and post-processing of the im ages for each day of photographing.
The Power of Collaboration
Continued on page 11
Beth's portfolio of work ranges from large commercial architec tural projects to small residential locations. For the past 15 years however, Beth has focused en tirely on the high-end residential market. Along the way she has amassed a long list of repeat clients, including Ellwood Interiors and Jones-Keena & Co., both located in Birmingham, MI. She says she especially likes building on existing relationships with clients who already understand how she approaches her work, and vice versa. Amanda Sinistaj, own er and Principal Designer of Ellwood Interiors, echoes those thoughts. Beth has been pho tographing Ellwood's design projects for the majority of Amanda's 18-year career, including the decade since she started the company.
Architectural photographer Beth Singer talks about the importance of the relationship between interior designer and photographer
by DESIGN 6 www.charlestonforge.com
"I love the designer being part of the creative process," Beth says, adding that understand ing the designer's vision for the project is key to a successful collaboration. She finds that
"Thelaborate.most
Beth says she usually works with the lead de signer of a project and one or two design assis tants, as well as her own assistant. "One of the
Interior design by Jones - Keena & Co. Photograph by Beth Singer
Charleston Forge Springhouse Lounge Chairs
7
8
Charleston Forge Cooper Round End Tables grace the airy living room at a Brighton, MI residence. Interior design by Ellwood Interiors. Photograph by Beth Singer.
9
10
With new clients who don't have a lot of experience staging projects, she always offers walkthroughs prior to photography. She'll make sugges tions on styling and give them ideas on how to add depth to a scene by adding or removing pieces of furni ture, or how to layer using fabrics and
"The walk-through is so important for new clients — to have a discussion and make sure they are going to get the variety of shots they need," she says. "I'm very meticulous and it's got to be perfect."
"I don't like to just shoot a single room — I like my images to tell a story, to show the layout of a house," Beth says of her process. She likes to build a lot of depth into her images and so rather than photograph just one room, she will often look for oppor tunities to make photographs that show elements of two or three rooms.
Lucy sees top quality photogra phy as an investment. To that end Jones-Keena uses Beth's work on a variety of platforms, including social media and the company's website, as well as for submissions to design contests and magazines, and for publication when they do secure ed itorial
immediately impressed by the style of her work," said Lucy of when they met. She currently uses Beth for 6 to 10 projects per year.
See more of Beth's work atLearnatLearnwww.bethsingerphotographer.comatmoreaboutEllwoodInteriorswww.ellwoodinteriors.commoreaboutJones-Keena&Co.www.jones-keena.com
"I love the creative challenge of each project," she says. "I still get behind the camera and I can't believe how lucky I am that I get to do this."
"I'lltextures.tellthem
reasons I absolutely love working with interior designers is that they're the best stylists," she says, and working as a group enables the design team to set up one or two rooms ahead of the photography team.
Whethercoverage.working with a new client or one she has known for years, Beth focuses her process on making sure her clients are happy.
A Charleston Forge Triumph Dining Table is featured at a Brighton, MI residence. Interior design by Ellwood Interiors. Photograph by Beth Singer.
what it's going to take to get ready for the shoot and what each area will need to look its best," she says, teaching them the tricks of the trade like how to borrow props, and that you shouldn't photograph a library with paperback books in it.
Lucy Earl, president and owner of Jones-Keena & Co., has been using Beth as her photographer since the "I1980s.was
11 charleston forge
Before (above) and after the renovation: Stephanie incorporated a Charleston Forge Cooper Drink Table with a Riverside Glass top into her update.
by DESIGN 12 www.charlestonforge.com
stephanie larsen interior design
"There is nothing more valuable than creating a space that truly feels like home," says Sedona, AZ designer, Stephanie Larsen. "While the ideal living space looks different for all of us, taking the steps to shape our homes around our unique needs, tastes, and lifestyles, enables us to create the environments that we need to grow, recharge, and reconnect with loved ones."
Tasked with transforming a dated interior, Stephanie took the opportunity to use Sedona's famed red rocks as a counterpoint to this interior. To do so Stephanie chose cool neutral tones for the floors, walls, and furniture.
"We took out the outdated fireplace, put in wood floors, and added some quality furniture," she says. "The decor completely warmed up the space."
For more information, visit www.stephanielarseninteriors.com
Transformation Before & After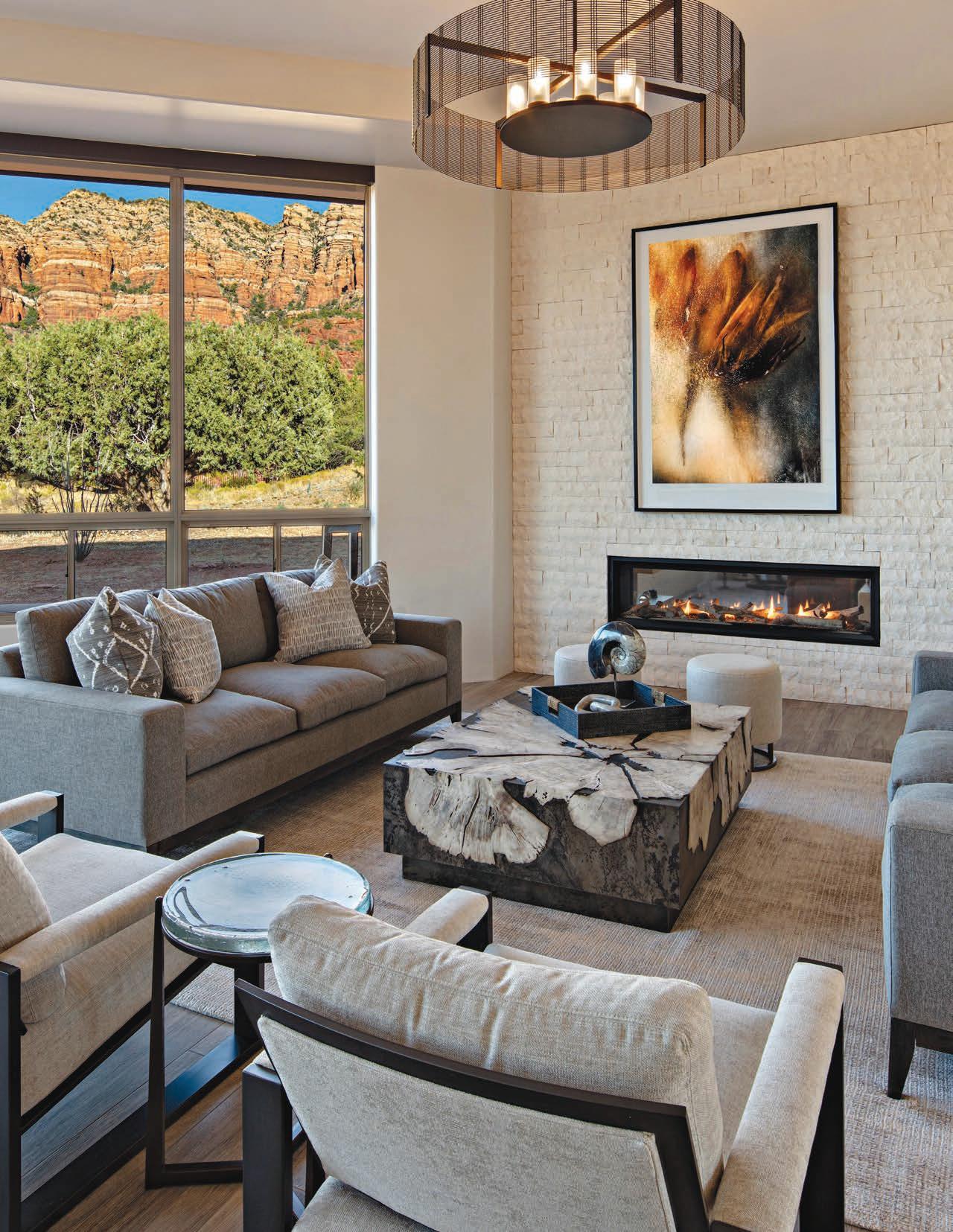 fun house furnishings
Transformation Before & After
Before the renovation.
For this kitchen renovation Jane replaced the traditional white cabi nets with more contemporary black upper cabinets and wood grain under-counter cabinets. All are from Alexandria Como Design of Morristown, NJ. White countertops create a striking counterpoint, as does the graceful sweep of the Charleston Forge Naples Barstools that contrast with the rectilinear elements of the kitchen. The up date also included the addition of a coffee bar, a custom steel range hood, floating shelves in front of the window, and a galley sink.
"Designing and decorating is our passion," says Jane Connell, Founder and Head Designer of Fun House Furnishings in Mendham Township, NJ. Fun House Furnishings provides clients with person alized design services, which range in capability and can adapt to each client's unique style. "It is important that we get to know the needs and lifestyles of our clients in order to focus on functionality as well as aesthetics".
by DESIGN 14
Jane says that she enjoys mixing styles and color and feels a home should be a mixture of beautiful things that reflect personal style.
For more information, visit www.funhousefurnishings.com.
15
Ethos has mostly been finding designers through word of mouth, often from those who are already members of the group. Designers can also apply to join the col lective. The vetting process is thorough, says Kelly, even to the point of scrutinizing the applicant's social media
posts to get a sense of their relationships with custom ers and colleagues alike. She's looking for designers who are of such a caliber that they are influencers in the Fundamentallyindustry.
"TheCollective.members
To learn more about joining Ethos or becoming a cor porate sponsor visit www.ethosdesigncollective.com.
In 2017 Kelly Schellert, ASID, came up with the idea of creating an online platform to help consumers find high-end interior designers. The concept was to create a collective of vetted, luxury interior designers that consumers could turn to, confident that they are looking at the top echelon of the interior design busi ness. Together with co-founders Julia Molloy and Leslie Carothers, Kelly launched the platform at the Fall 2021 High Point Furniture Market, calling it the Ethos Design
Amalie Barstools
by DESIGN 16 www.charlestonforge.com
Kelly, who co-owns Ceanii Artful Interiors in St. Louis with her husband Ron, screens designers wishing to join the collective. She says she has been careful to en sure she is creating a group that represents a variety of styles and covers a geographically diverse area. The more than 50 designers she already has on board are spread across eight different countries and represent nearly $80 million in annual sales. Kelly notes that the membership is made up mostly of individual designers as opposed to large design companies.
ethos design collective
Ethos requires members to have at least five years ex perience in the design industry with a minimum of two years as the principal of their current design company. They also need to have an up-to-date website with editorial-quality, professional photography, and if they use social media their site must showcase current, real world projects completed by them or their firm.
Charleston Forge is a sponsor of the Ethos Design Collective
Luxury Design — Curated
though, Kelly says that Ethos aims to deliver to consumers, designers who are closely in volved with all their projects.
truly need to be luxury designers and they need to be hands-on and that they also handle project management," Kelly says. "So that way they are offering the complete package for the consumer."
Wilson Keel heads up our product develop ment team, and has been recognized in the design community for his talents. Wilson has twice received one of the furniture industry's highest accolades — the Inter national Society of Furniture Designers' Pinnacle Award.
17 charleston forge
"To be recognized in such a way is a tremendous affirmation of our de sign effort," said Keel of the awards.
"We're a small design team, and it is really special to receive such validation from ISFD".
The collections that have caught the eye of ISFD, both through nominations and awards, are the Emmitt Lounge Chair, the Spring house Collection, and the Calico Bay Collection.
wilson keel, lead designer
Charleston Forge prides itself on recognizing that it takes our entire team to make each piece of our furniture, but there's no denying it all begins with inspiration and design.
Award - Winning Furniture Design
18
Above right: Aries Barstools, as well as a variety of custom tables, at Booneshine Brewing Company in Boone.
Community Footprint
American Made. Locally Loved.
This page and at right: Charleston Forge benches dot the Middle Fork Greenway, a multi-use recreational trail that links Boone, NC to nearby Blowing Rock.
charleston forge all around
19
Continued on next page
As a furniture manufacturer there are few greater affirmations of one's work than to see it used in your own community. Our hometown of Boone, North Carolina has a population of 20,000 and Charleston Forge furniture can be found in many places around town and the surrounding commu nities. And we don't just see it in residential settings, there are many local businesses that use our products too.
20
A 2-inch thick Fusion Glass countertop at a private residence in Blowing Rock, NC. The glass is produced by Andrew Pearson Custom Glassworks, a Charleston Forge affiliate.
been building Community Tables for Starbucks stores around the country since 2015 — so nat urally we have one at the Boone location. In fact, thousands of these tables can be found around the US, so next time you're in a Starbucks keep an eye out for our tables.
We are especially proud of the benches that dot the Middlefork Greenway Trail, a multi-use trail that winds along the New River between Boone and the nearby town of Blowing Rock. We've also
You can find a variety of tables, chairs, and bar stools at our local restaurants and breweries. The local Holiday Inn Express chose Charleston Forge in both the front lobby and guest rooms, and the spa at one of the nearby resorts features our tables and chairs in its lounge.
Our local community footprint is what we are most proud of. If you can envision Charleston Forge becoming a part of your local community, bring your vision to us!
Appalachian Mountain Brewery in Boone boasts a variety of custom barstools and tables, including two 10-foot long community tables. The barstools feature laser cut seatbacks with the company's logo. The only other modification from the standard Astor Barstool is a wood seat replacing the usual upholstered seat.
Continued from previous page
21 charleston forge www.charlestonforge.com
Top row: A Community Table at the Boone Starbucks and the team who built it. Charleston Forge has been building community tables for Starbucks restaurants around the country since 2015.
Bottom right: A custom wine console at the Chetola Resort in Blowing Rock, NC.
by DESIGN 22
Bottom left: Custom tables and chairs at the Chetola Resort Spa in Blowing Rock, NC.
Opposite page: Naples Barstools and a custom Facet Glass bartop at The Peddler Steak House in Boone, NC. The bartop is backlit using a blue LED lightstrip. Glass by Charleston Forge affiliate Andrew Pearson Custom Glassworks.
23
Whitney Sturge
BasedDesk.in
Charlotte, NC, Whitney has always had a passion for interior design and has a back ground in advertising at such popular home magazines as House Beautiful, Veranda, and Elle Decor. She says she found that this exposure to exceptional talent and high design inspired her to pursue her true passion — interior design. This home office is a perfect example of her focus, which is creating homes that are classic and fresh, yet durable and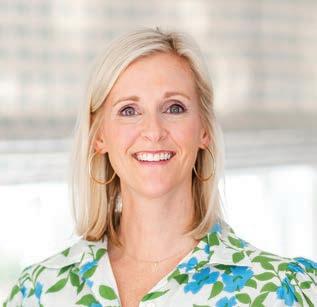 Tolivable.see this project in its entirety or more of Whitney's work, www.whitneysturgeinteriors.com.visit
Home Office Solutions
by DESIGN 24 www.charlestonforge.com
Seen at far right is Whitney Sturge's fresh twist on the tradi tional home office. Rich in color, depth, and comfort, the inspiring workspace features a custom, 84-inch Charleston Forge Coo per
Bottom: The home office pre-transformation.
Top: A standard Cooper Desk is 50" wide and 30" deep.
whitney sturge interior design
25
Post transformation with a custom, 84-inch Cooper Desk. Photo by Dustin Peck Photography.
26
Home SolutionsOffice
One of the designers who is a leader in helping customers realize their dream spaces is Kim Casson, ASID, owner of Salmon-Casson, Ltd in Oxford, MD. The company focuses almost entirely on residential design serving the greater Washington, DC area. She says she likes to explore the interplay of light, color, shape, and texture in her projects. She displays all of these elements in the fresh office renovation seen here.
The centerpiece of this home office proj ect is a custom 60" x 30" Sutton Desk, an adaptation of Charleston Forge's Sutton Dining Table. The office is one of several rooms Salmon-Casson has renovated in the home.
Kim Casson holds a degree in Interior Design from James Madison University and has led SalmonCasson, Ltd since 1988. Learn more about the company at www.salmocasson.com.
27 charleston forge www.charlestonforge.com
The recent move away from a traditional office setting has given many the oppor tunity to work from home. The impact for interior designers has been a noticeable growth in customer requests to help cre ate a solution for the home office that will inspire productivity.
salmon-casson, ltd
by DESIGN 28 www.charlestonforge.com
Photographer: Kathy Peden Photography
Builder: Elder Construction
pam sunderman design the group real estate
Hospitality Design
Architect: VFLA
The office for The Group Real Estate in Timnath, CO reflects the company's motto, "Build Amazing Things". Featuring 28-foot-high ceilings and rich wood finishes, elegant lighting fixtures, and even an in-house coffee shop, The Group's Timnath office redefines how real estate business gets done in northern Colorado. The design thoughtfully combines the comforts of home with the capabilities of the latest customer-service technology.
Two Westglass-toppedEndCocktail Tables complement the luxurious seating in the company's Timnath office.
29
30
Pammarket.Sunderman
31 charleston forge www.charlestonforge.com
At left and above: Fillmore 36" Round Cocktail Table
.
Design is an interior design company based in Fort Collins, CO focused on creating personal, curated spaces that speak to each client as an individual. Projects range from clients who simply need help arranging their existing furniture and décor, have pieces that need to be reimagined and refurbished, or have full-service design needs for a new home or renovation. The mission of Pam Sunderman Design is to translate each individual's unique personality into a home they love spending time in.
Pam Sunderman is a Col orado native and an Allied Member of the American Society of Interior Design ers (ASID). Her background includes receiving a resi dential design degree from the Art Institute of Fort Lauderdale, working for the Pottery Barn Brands at the Williams-Sono ma headquarters in San Francisco, California, and management of numerous residential and commercial design projects. She believes that inspiration is all around us, and her personal design aesthetic is influenced by traveling and time spent living in Thailand, as well as frequent trips to the Colorado mountains and Santa Fe.
To learn more, visit www.pamsdesign.com.
The office is much more than a meeting place with a coffee shop. It is a space primarily for Group brokers to help homebuyers and sellers achieve their real estate goals. At approximately 3,000 square feet, the new location is outfitted with meeting rooms, staff training rooms, and high-tech communications and mapping tools used for staying in touch with the local housing
Seen at right is a piece of Gray Facet Glass, a 3-layer laminated glass in which the middle layer has been fractured to create a faceted look. You can see the wide variety of specialty glass we have to offer at www.charlestonforge.com.
Our glass can also be used in a variety of other applications such as kitchen and bathroom countertops and back splashes, in hospitality settings such as bars and restaurants, and for use as vertical room dividers in both residential and commercial environments.
Charleston Forge
As an affiliate of Andrew Pearson Glassworks, Charleston Forge is able to offer a wide variety of truly unique glass products as both in-line and custom tops.
For more information, please email us at glass@charlestonforge.com.
tel: www.CharlestonForge.cominfo@charlestonforge.com828.264.0100
All That Shimmers