Bucks County Weddings
Wedding Celebrations
Lumberville 1740 House Country Inn
Along the Delaware River in the quaint village of Lumberville you will find the historic Lumberville 1740 House Country Inn. Originally a working farm in the 1700s, it was later purchased by Harry Nessler in 1968 and turned into a motor lodge, with rooms having views of the river and the Lumberville-Raven Rock Pedestrian Bridge. In 2010, new owners Joe Luccaro, owner of HollyHedge Estate, and his partner Dr. Neil Cohen purchased the 1740 House. The partners have restored and preserved the lengthy two-story inn—and established the 1740 Club on site at the Inn. The private Club is open to members only five days a week for private, riverfront dining and cocktails. But, can also be made available for private functions like bridal showers and rehearsal dinners to non-members.
According to General Manager Tim Luccaro, the 1740 House is ideal for small intimate parties, particularly riverfront rehearsal dinners. "We have recently overhauled our menu, partnering with great local purveyors like Shady Fox Farms in Solebury, to create some amazing catering menus under Executive Chef John McGrath. The biggest draw of the property, though, continues to be the gorgeous views of the Delaware River from throughout the dining room, bar and patio areas.
While the 1740 House has a limited capacity, in the winter (the maximum party size outdoors is 32 people), when we can make use of the patio and outside area, it can go up to as many as 65 people for a cocktail style event. We think the space and staff offer a really exceptional Bucks County experience for small private events," Luccaro says
The 1740 House is a sister property of HollyHedge Estate. Meaning the wedding coordinators at HollyHedge work with the 1740 House to plan all rehearsal dinners and private events. The 1740 House has its own catering staff, and executive chef John McGrath has overseen the recent menu updates. Both properties offer wedding packages that include the cake, ceremony, reception, flowers, and linens.
Bridal showers and rehearsal dinners at the 1740 House are currently booking four months to a year out, according to Luccaro. Brides and grooms can get a tour of the historic country inn by appointment only. The 1740 House also offers 24 guest rooms with full-service breakfast for its guests.
Lumberville 1740 House Country Inn is located at 3690 River Road in Lumberville, PA. Their phone number is 215-297-5661. For more information, you can visit www.1740house.com or like them on Facebook.
124 B U C K S C O U N T Y M A G . C O M
Holly Hedge Estate Bed & Breakfast
Built in the 1780s and originally part of the William Penn land grant, HollyHedge Estate is situated on 21 bucolic acres just north of downtown New Hope. The estate's rustic charm has become a premier Bucks County wedding destination.
According to General Manager Tim Luccaro, his family has been committed to preserving the elegance and natural beauty of their 18th-century farm and estate since taking over in 1994. "We are really proud of our historic and environmental stewardship at the estate. We really believe that we are responsible for mitigating the ecological impact of our weddings, and ensuring that the rich history of the property is preserved for future generations," Luccaro says. His family has refurbished many of the historic buildings, restored the estate's architectural features, and rejuvenated its land. They have a number of acres of land that were put under cultivation to grow various items that they can use in the preparation of food for weddings and their inn guests. "We are taking farm-to-table and sustainability to a new level. Really striving to be an industry leader in corporate responsibility. The food we can't grow on site, we try to obtain from local sources," Luccaro says.
The estate has several areas of interest for brides and grooms to utilize during their weddings. There is a classic fieldstone bank barn, which is popular for wedding ceremonies and cocktail hours. "The Old Barn's" original construction highlights exposed fieldstone and wood beams with
massive vaulted ceilings. Adjacent to it is a classic English garden. On the property there also are two small ornamental ponds, seasonal gardens, wildflower preserves and various historic outbuildings that offer unique backdrops for wedding pictures. A newer pole barn was constructed for receptions in 2002. This space has all of the modern amenities needed for a celebration. The estate's original manor house has 15 guest rooms. Inn guests are invited to enjoy a full-service breakfast on weekends from Chef Krystal Weaver.
HollyHedge Estate has garnered numerous awards over the years including annual Couple's Choice Awards from Wedding Wire and The Knot. They were recently inducted into The Knot Hall of Fame. The estate can host up to 200 guests for a wedding. Couples have access to their full-time onsite wedding planners. All of the catering at HollyHedge Estate is done in-house. Executive Chef Jose Calderon and Sous Chef David Fry offer a large menu characterized as Nouveau American cuisine with French, Asian, and Spanish influences. Pastry Chef Janine Harrison does all of the baking on site as well. There are several wedding packages as well as completely customizable options.
You can contact the wedding coordinators at HollyHedge Estate today to reserve your wedding date or schedule a tour by appointment only. The historic venue is located at 6987 Upper York Road in New Hope, PA. Their phone number is 215-862-3136. For more information, see them on Facebook or visit www.hollyhedge.com.
S P R I N G 2 0 2 3 125
For those couples seeking a destination wedding experience without the need to renew passports and manage international travel arrangements, The Reeds at Shelter Haven offers an unparalleled waterfront backdrop. Offering everything you need to host your special day within the quaint seaside community's hospitality corner at 96th & 3rd, it is no surprise that The Reeds is ranked a Knot Best of Wedding Venue. From the intimate and unique bayfront settings featuring the simple elegance of chic coastal design to the team of experienced planners, culinary creatives, and wedding coordinators, the luxurious guestrooms, suites, and amenities, understand elegance is the cornerstone of every aspect of South Jersey's most sought-after wedding destination.
Begin your most special day primping & popping champagne with your closest family and friends in the private Bridal Studio at Salt Spa, with professional hair styling and make-up application by the experts. Then, when the big moment finally arrives, tie the knot at a bayside or seaside ceremony, the details of which our team of coordinators will help you arrange to eliminate any pre-wedding worries. As the stunning natural landscape of Stone Harbor sets the stage for your debut as a married couple, the anticipation will build for your open-air cocktail reception on The Reeds sundeck as you view the sunset dipping below the horizon of the Shelter Haven Basin. Guests can mix and mingle as they enjoy your signature cocktail along with stationed and butlers hors d'oeuvres, a perfect time for you to sneak away for a few moments of solitude together, and to capture sunset portraits on the docks.
As cocktail hour winds down, make your grand debut in the indoor-outdoor, open-concept Sweet Grass Ballroom, spacious enough to accommodate dinner and dancing for up to 220 guests. During your plated dinner, indulge in a delicious meal crafted with locally sourced ingredients, then make your day your own with stationed displays of favorite desserts, such as the 96th Street Display, stocked with Jersey shore staples like saltwater taffy and caramel corn to compliment your custom cake, crafted by The Reeds' inhouse Pastry Team. End the evening dancing and drinking cordials under the stars before retreating to your luxurious
suite for a restful night's sleep on a plush throne of triplesheeted Egyptian cotton sheets by Frette as newlyweds.
And, for those who wish to celebrate all weekend long, The Reeds offers a diverse collection of customizable event spaces designed for Rehearsal Dinners, After-Parties, and Post-Wedding Brunches, establishing an all-encompassing setting in which to embark on a lifetime of your own traditions and memories.
Visit reedsatshelterhaven.com or call (609) 368-0100 for additional details, availability, and package inclusions. A Refined Hospitality Property.
126 B U C K S C O U N T Y M A G . C O M
The Reeds at Shelter Haven
Photo: MLE Pictures
BUCKS COUNTY WEDDING GUIDE The Lake House Inn 1100 Old Bethlehem Road Perkasie, PA • 215.258.2556 THELHI.com S P R I N G 2 0 2 3 127 We only host one event at a time. Because today is your day. PineCrest Country Club 101 Country Club Drive | Landsdale,PA www.pcrestcc.com banquetmanage@pcrestcc.com 215-855-4113 ext. 1
Lake House Inn
Located on scenic Lake Nockamixon is a Bucks County premiere waterfront wedding venue, The Lake House Inn. Honored with the AIA Award for Excellence in Architecture and Design, The Lake House Inn features a spa-like decor. Its rustic chic architecture and design can be the contemporary backdrop for your special day.
Owner Glenn Stevens describes some wedding day highlights at The Lake House Inn. The wedding day begins with the ladies dressing and toasting in the terraced bridal suite. Meanwhile, the gentlemen are enjoying their own private billiard lounge. The stage for the ceremony is an award-winning terraced landscape leading to gardens and overlooking the lake. A massive indoor and outdoor cocktail area welcomes the guests following the ceremony. During the cocktail hour, your guests are invited to enjoy a wine tasting guided by the on-site sommelier. Then it is off to the brand new 5,000-square-foot Boathouse Ballroom, complete with its 1,000-square-foot lake-
front terrace, 27-foot draped ceilings, lit copper bar, and contemporary Murano glass chandeliers. An exposed stone wall and stunning water vistas provide a memorable setting for both dining and dancing. After the reception, the overnight guests can retreat to an after party at the fire pit and billiard lounge for drinks and gourmet bites until the wee hours.
There are 14 luxuriously appointed guest rooms to sleep up to 40 family members. And, there are 2 rental houses for additional guests to stay overnight. Nearby hotels are located 20 minutes away for reception guests. A deluxe Continental breakfast is served to your overnight guests in the morning.
The Lake House Inn is a full-service, all-inclusive venue for a dream wedding. You can work with their bridal planner to create a package, excluding music, photography, and flowers. The Lake House Inn is located at 1100 Old Bethlehem Road in Perkasie, PA. Their phone number is 215-258-2556. You can visit them online at www.thelhi.com or like them on Facebook.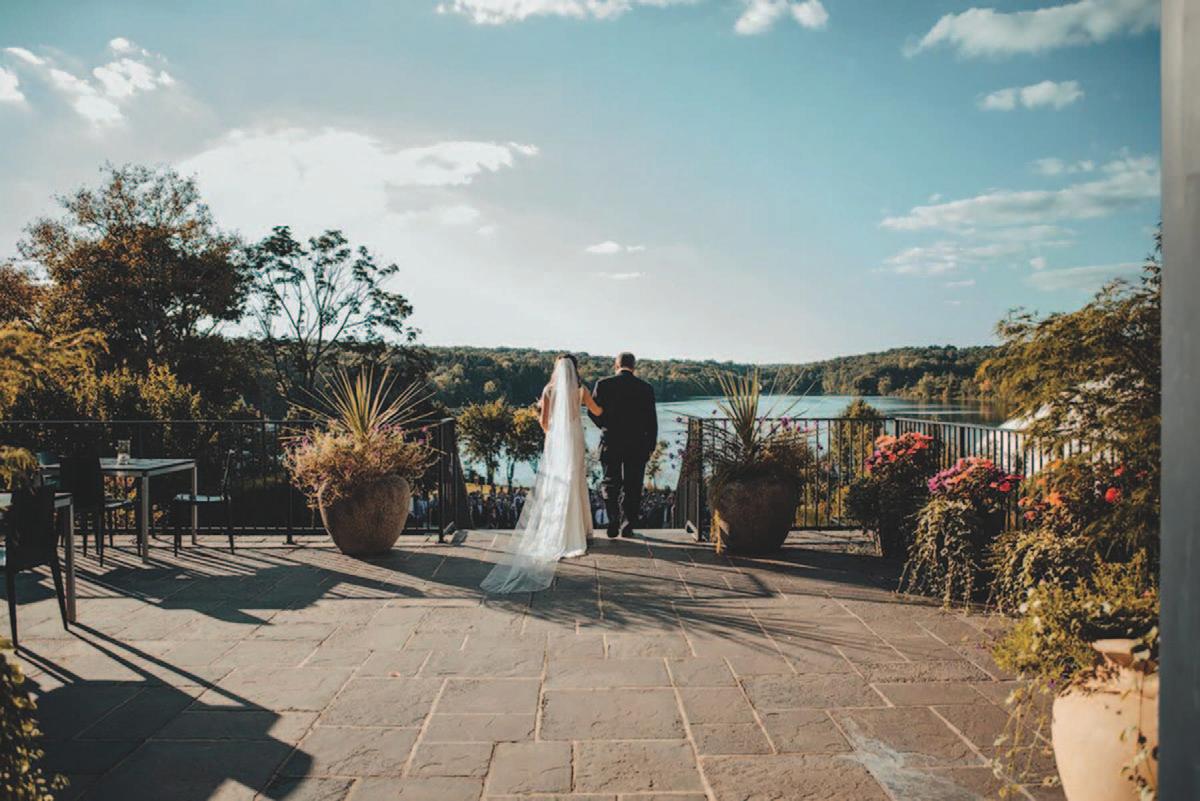 128 B U C K S C O U N T Y M A G . C O M
River House at Odette's
The edgy yet elegant new venue that rivals most luxurious wedding destinations across both city and countryside settings, The River House at Odette's creates an unparalleled luxury lifestyle experience like no other.
As you embark on your bold beginning at River House, say "I do," in the romantic riverfront ceremony garden overlooking the historic Delaware River amidst the seasonal foliage of quaint New Hope, PA. Following your nuptials, join family and friends in a highly stylized cocktail space featuring plush, curated furnishings, bold murals, layered antique architectural elements, and floor to ceiling glass doors spanning the space that offer breathtaking river views and breezes for cocktail hour.
Then flow into the open-concept ballroom that is romantically spirited with dreamlike sophistication, complete with whimsical fixtures, flowing fabrics, and elegant custom wall coverings featuring embedded musical scores and love letters inspired from the properties' renowned predecessor's, Chez Odette's past. Here, your guests can enjoy regionally sourced, farm-to-table cuisine prepared by our expert culinary team, and signature cocktails featuring both
locally produced and internationally acclaimed spirits, beers, and wine. As dining winds down and the party heats up on the dance floor, the ballroom leads out to a covered veranda where you can cool down with refreshing river breezes.
When the evening's celebrations are through, the couple of honor and your guests can retreat to the reverie of your residentially inspired guestrooms and suites. Complete with beautiful views of the Delaware River and Lambertville skyline, high-end amenities including triple-sheeted Egyptian cotton Frette sheets, bold floral murals & tufted leather headboards, and spa-worthy on-suites with seamless glass showers, deluge rain showerheads, and Malin + Goetz bath products in a highly stylized, urban-inspired space. River House guestrooms are an ideal place to rest your head and allow the natural landscape to soothe you to sleep. Offering a variety of delectable on-site dining options, the River House experience is unlike that of any wedding and events destinations you've seen before.
A lifetime of tradition starts with your bold beginning at River House. Visit riverhousenewhope.com or call 215- 6822022 for additional details, availability, and package inclusions. A Refined Hospitality Property.
S P R I N G 2 0 2 3 129
Photo: Toni Marie Photography
The Woolverton Inn
Called by Fodor's "One of the loveliest settings in the valley… romantic and secluded,"
The Woolverton Inn is an ideal country setting for elopements, micro-weddings, and large-scale outdoor weddings for up to 200 guests. This secluded Inn near Lambertville, New Jersey and New Hope, PA, perched high above the Delaware River, sits on ten acres of bucolic Hunterdon County landscape and is surrounded by 300 acres of preserved rolling farmland and forest. A 1792 stone manor, the Inn is elegant and relaxed, allowing you to feel like you are at your own home in the country.
Elopements and small weddings are offered Sunday—Thursday, for 3-4 hours, including time for photos, ceremony and a champagne toast. Large-scale weddings require a full rental of the inn's 14 guest rooms, providing the opportunity to extend your wedding experience before and after the event. If you wish, you may have your wedding ceremony on the Inn's grounds in the beautiful horseshoe garden, with a lovely arbor perfect for an outdoor wedding ceremony. An outdoor cocktail hour follows the ceremony, before gathering in a stunning platform tent for a catered dinner and dancing. Your wedding ceremony, cocktail hour and reception will be planned as a six -hour affair.
The Woolverton Inn is the ideal location for a romantic proposal, and disguising your proposal behind another occasion, such as a weekend getaway, or birthday leaves it a surprise. Take a trip to the country and get out of town for the weekend or any day of the week.
Whether it is an elopement, a micro wedding, or a larger affair, the Woolverton Inn is uniquely suited to delivering warm, welcoming and romantic ambiance. Have your ceremony in the Parlor of the 1792 Stone Manor House, on the covered porch overlooking the Great Lawn, in the Horseshoe Garden surrounded by abundant flowers or on the wishbone bridge entrance to a historic stone barn, with acres of farmland as the background vista.
The Woolverton Inn is also the perfect place to begin your first days as a married couple. You'll find luxurious private cottages, nearby fabulous dining and entertainment, lots to see and do, and exceptional, welcoming hospitality. It is the ideal place for your honeymoon or mini moon.
Bring your wedding party to the Woolverton Inn and enjoy the delicious gourmet breakfast, the bucolic surrounding and luxuriously appointed country guest rooms. See why it is listed in 1000 Places to See Before You Die in the USA and Canada
The Woolverton Inn is located at 6 Woolverton Rd., Stockton, New Jersey Bring your wedding party to the Woolverton Inn and enjoy the delicious gourmet breakfast, the bucolic surrounding and luxuriously appointed country guest rooms. See why it is listed in 1000 Places to See Before You Die in the USA and Canada.
The Woolverton Inn is located at 6 Woolverton Rd., Stockton, New Jersey 08559. For more information, call 609-397-0802 or visit www.woolvertoninn.com.
130 B U C K S C O U N T Y M A G . C O M
Makefield Highlands
Steeped in history dating back to the original Penn Grant of 1718, the property now offers modern elegance in a lush outdoor setting with endless natural beauty. Step back in time as you drive down the sweeping entrance past The Manor House.
This stone estate, built in 1766, is one of many picture perfect settings on the pristine grounds ideal for photographs. The garden paths, stately tree lines, and beautiful vistas make this the perfect wedding site.
The Manor tent complex will comfortably accommodate up to 200 of your guests, with French doors, and floor to ceiling windows for amazing sunset views. Enjoy cocktails overlooking the lush, rolling
18th green and fairway in the shadow of the Silo Bar. Preserving the feel of the original farm is important to us; the granite and stone features of the Manor's Silo Bar, which is built into the original grain storage silo, typifies this. This area is also one of the ideal locations for on-site ceremonies. Exchange your vows under the majestic pines or next to the garden pergola with many options showcasing the property's endless natural beauty.
The Manor at Makefield Highlands is located at 1418 Woodside Road, Yardley, PA. For more information call 267-321-7000 or visit www.makefield highlandsgolf.com.
Overlook at Five Ponds
Your fairytale ending starts here. We can accommodate your day from a Micro Wedding all the way up to 175 guests. We have our beautiful ballroom indoors in addition to our whimsical tent positioned overlooking the beautiful views of our golf course. We offer many different options and backgrounds for your special day. Want the best of both worlds? Host your ceremony under the trees overlooking the golf course and come inside for dinner and dancing! We have you covered from the Rehearsal to the Wedding and the post wedding brunch. Our property offers
hundreds of locations for photos to capture your special day. Our Event Coordinator has 6+ years of experience coordinating weddings & events all over. She will work with you every step of the way to give you the best experience from the time you choose us all the way through your big day. Leave the stress at the door and let our event staff assist you in floor plans,
The Overlook at Five Ponds is located at 1225 West Street Road, Warminster, PA. For more information please contact us at 215-956-9727 or visit www.5pondsgc.com.
S P R I N G 2 0 2 3 131
PineCrest Country Club
PineCrest Country Club is where your wedding dreams become reality. Celebrate your marriage in an elegant and sophisticated country club setting with beautiful scenic golf course views, exclusively yours. Where the grandeur and splendor of your day flourish, moment by cherished moment … Nothing less will do.
PineCrest welcomes all of our guests, friends, and family with exceptional hospitality and thoughtful attention to your social distancing needs. Whether you are looking for an intimate, small outdoor wedding ceremony and reception, private party room with luxurious décor, or a customizable reception hall space—PineCrest hosts weddings of all sizes. Our LGBT-friendly wedding venue offers perfect event spaces for inclusive ceremonies, and
our Ballroom is an excellent choice for traditional and contemporary Indian weddings. Enjoy our private bridal suite as well as an event supervisor who is focused on you and you alone.
PineCrest Country Club in Lansdale, PA is nestled in the heart of Montgomery County near King of Prussia and Plymouth Meeting, just a short drive from Doylestown, PA and Bucks County. Come see everything PineCrest has to offer! Take a tour of our romantic deck, envision the perfect photo under the exquisite chandelier in our foyer, and discover where you'll have your first dance in the middle of the Veranda.
The PineCrest Country Club is located at 101 Country Club Drive, Lansdale, PA. Call 215-918-8410 or visit pcrestcc.com..
132 B U C K S C O U N T Y M A G . C O M
IN STOP SE T GREAAT OUR FOR HOLID OF LECTION GIFTS! Y AY A O R ON AST 812 N. E Graduate Ge Custom Jewe OWN G DOYLEST • 215-345-6630 • A , P OWN OYLEST • D AD mologist • Buying and Selling Gold & Silver • E elry & Engagement Rings • Expert Jewelry & W COM OLDEXCHANGE state Jewelry atch Repairs
Historic Doylestown Inn
If the words historic, unique, creative, boutique and personal come to mind as you search for your perfect wedding venue, you have come to the right place!
Here at The Historic Doylestown Inn and The Hattery Restaurant, each wedding is a celebration from start to finish. Our gorgeous historic venue combines fullservice amenities, a dedicated and attentive staff and fantastic food to make each and every wedding a most momentous event. Whether your guest list is fifteen or one hundred and fifty, we will meet every expectation and make you glad you said yes to The Doylestown Inn!
There are many reasons to choose The Historic Doylestown Inn right in the heart of the cultural center of Bucks County.
Lower Cost: Today's weddings can dwarf the down deposit on your first home or even exceed your college loans. But couples are savvy. They know what they want, and they don't want to break the bank doing it. Here at The Doylestown Inn, we can offer you that boutique wedding for exceptional value without sacrificing all those special touches, with packages for every size and budget.
Unique: Aside from the cost, celebrations at "wedding venues" can often be formulaic, with a laundry list of rules and a standard protocol. If you're hosting here
with us, you have the flexibility to tailor your wedding celebration and make it unique, just like you! It can be formal or casual. You can go traditional, employ a theme, or create a celebration that's completely your own. You can honor family traditions or create new ones. Whatever you choose, it's all about you from beginning to end.
Location: Finally, hosting your wedding at an all-inclusive venue, in a picturesque historic location like Doylestown in Bucks County, offers many of the same perks as a destination wedding without the extensive travel expenses. From check in to check out, our wedding couples and their guests enjoy comfortable and wellappointed guestrooms, including a bridal suite, a full-service restaurant, banquet services and a staff that aims to meet every expectation. You'll feel like family because that's what you become, when you host here with us!
The Doylestown Inn is a charming, 17 guestroom boutique hotel located at 18 W. State Street in the heart of historic Doylestown, Pennsylvania. In addition to the beautifully appointed guestrooms, the inn features The Hattery Stove & Still, a cutting-edge restaurant and bar with an "antique industrial" design that offers a modern-American tavern menu seven days a week. Call 215-345-6610 or visit us at www.hatterydoylestown.
S P R I N G 2 0 2 3 133
Wedding & Engagement Rings—Custom & Stock
Michael's
Jewelers is Bucks County's premier destination for all your bridal needs.Their experienced staff will make this an easy and enjoyable experience. For engagement rings and wedding bands they have the area's largest selection with top brands like Coast, Sylvie, Noam Carver, and Artcarved Bridal.
All their engagement rings are custom made. You get to hand select your center stone in either natural or lab grown certified diamonds. Michael's builds the ring around your center stone so that there are no compromises, and you get a one-of-a-kind ring.
If you have a specific design in mind or do not see the exact setting that you are looking for, Michael's Jewelers can create the perfect ring with their custom design.
Michael's uses state of the art CAD (computer aided design) software so you can see exactly how the ring is going to look from all angles. Once the CAD is approved, they can always have a wax mold sent in to view so you can see the ring in person.
If you are looking for a wedding band now is the perfect time with Michael's Jewelers' annual wedding band sale from April 1st through April 29th.Take 25 % off all in stock wedding bands including custom design. We carry the area's largest selection of men's and ladies wedding bands.
For 47 years Michael's Jewelers has been helping couples create the perfect rings.You are welcome you to read the reviews to see why we have been voted Best of Bucks:
Jewelry Store, and Best place to buy rings. Interest free financing is available.
Michael's Jewelers has two locations to serve you in Yardley and Fairless Hills: 1619 Big Oak Rd, Yardley, PA; 215-944-5900 & 445 S Oxford Valley Rd, Fairless Hills, PA; 215-608-4664 For more information, visit www.jewelrybymj.com.
S P R I N G 2 0 2 3 135 Embellishments
Top right, Sylvie diamond rings and below are CAD (computer aided design) software so you can see exactly how the ring is going to look from all angles.
Embellishments
Wedding Cakes
McCaffrey's bakeries can make just about any cake you deisre. If you see something in a magazine or eslewhere, just take a picture of it with your cell phone and bring it in. Trends are away from the traditional buttercream cakes and toward cakes with fondant molds and inedible decorations like rhinestones and jewels. A dedicated staff of bakers and decorators in the McCaffrey's stores produce high quality custom baked goods for all occasions. McCaffrey' supermarkets are located in Yardley, PA; 215-493-9619, Newtown, PA; 215-579-1310, New Hope, PA; 267-741-8001, Simply Fresh in Doylestown, PA; 215-3481000, Princeton, NJ; 609-683-1600 and West Windsor, NJ; 609-7993555 or visit www.mccaffreys.com.
136 B U C K S C O U N T Y M A G . C O M
Embellishments
Come visit our store in Frenchtown! HAWK + FLORET 40 Bridge St Frenchtown, NJ 08825 @hawkfloret Events | Design | Inspired Flora
Be a Guest at Your Own Party
Whenit comes to catered events, Fancy Fig Catering and Cafe makes sure you are a guest at your own party. They have been specializing in offsite catering for over 15 years and opened the Fancy Fig Cafe in 2016. Owner, Lisa Brymer says, "We are delighted to be working with such wonderful clients in our surrounding communities. Our goal has always been to plan your event from start to finish."
Fancy Fig takes care of event design, rentals, staffing, decor, food, set up, and clean up. They care for your every need, so you don't have to. The staff starts by planning a menu with you, tailored to your party and dietary needs. They execute the food with the freshest and best products available and use as many local vendors as possible. No party is too small or too large. They have catered
events from 2 people to 600. Fancy Fig Catering would love to be a part of your next special occasion. For more infor-
mation, please contact The Fancy Fig Catering & Cafe at 267-396-6905 or visit https/fancyfig.wixsite.com/fancyfig.
S P R I N G 2 0 2 3 137
Sanctuary Camelback Resort Mountain
within the picturesque landscapes of Camelback Mountain, Sanctuary is a famed Scottsdale,Arizona luxury resort set upon 53 acres of lush desert featuring manicured grounds, gardens, pools and award-winning facilities. Located eight miles north of Phoenix Sky Harbor International Airport and a mere fiveminute drive from the Scottsdale attractions, Sanctuary Resort is built within the spectacular landscapes of the terraced Camelback Mountain.The luxury resort provides the guests a tranquil hideaway with fabulous views of the Paradise Valley. Spread over 53 acres, the resort offers its guests an opportunity to experience upscale luxury and enjoyment coupled with glorious reinvigoration in their own private haven.
Nestled
The resort, an architectural marvel, stands apart from all other luxury resorts in Scottsdale. It features a unique range of residences, which are gorgeously embedded within the fabulous landscape of Camelback Mountain. The panoramic views commanded by the resort create a feeling of magnificent escape from the nerve-wracking hustle bustle of life left behind. It provides an excellent opportunity for the honeymoon couples to reconnect with each other as never before while exploring the stunning scenery of the terrain. For information visit www.gunneysresorts.com.
138 B U C K S C O U N T Y M A G . C O M Embellishments E N T V O GREA WEDDINGS CATERING TW EDDINGS i i The M Makefiieeld UES • W ERS • SPE C W i i anor at d Hiigghlands • SHO SIONS A SPECIAL OCCASIONS IAL OCC T 215.321 Offe s vent r e Ou 1418 WOODSIDE R The Overlook etnqu 0 x115 | ba .700 packag custom ring plannin ke ma llwi ff ta ARDLEY AD • Y O YA Y, , PA • 215.3 at Five Pon kat Five Pond ndkefieldhighla mats@ s ll a of groups for es occasio l specia your ng 21.7000 • MAKEFIELDHI ds olf.comsg izes. pleasure a on GHLANDSGOLF.COM 1225 WEST STREET ARMINSTER, P AD • W marleyh@s or em y at Call Marle RO 215.956.9727 • 5P A • spiritgolf.net mail at 317.1314 . 26 ONDSGC.COM Spirit Go Managed lf by
Wedding Gowns Uniquely Yours
Fabulous Catering for Easy Entertainment
•Intimate Affairs
•Corporate and Social Events
• Weddings
Tailored Menu For Your Special Occasion
Casablanca Bridal is committed to designing and manufacturing bridal gowns that reflect superb quality, original design, and attention to detail. Their privately owned factory allows them to ensure all phases of production from start to finish are to our exact standards. Every Casablanca gown is made to order one at a time. Casablanca takes great pride in the fact that they do not mass-produce their bridal gowns. Each gown is unique from the hand beaded designs and exquisite laces, to the fit and customization for every bride's specific needs.
Chic elegance and modern romance come to life in the shape of exquisite Style 2460 Skylar! If a simple, striking gown that allows for two looks in one is what you're looking for, this absolute stunner is designed with you in mind. The loveliest sequined floral lace pattern adds dimension to the bodice on this fit-and-
Lisa Brymer is the owner and creative director behind The Fancy Fig. Lisa personally ensures the success of your catered event from first time meeting to execution of the party. We care about all our clients like they are family, and we personalize and design each event to make sure it is perfect for you and your guests.
2310 Second Street Pike • Newtown, PA • 267-396-6905
fancyfig@icloud.com | fancyfig.wixsite/fancyfig
flare gown, supported by spaghetti straps and a classic V-neckline with a V-back to match. Stretch chiffon underneath silky chiffon makes the skirt an extra-comfortable, minimal masterpiece, extending into a lacy scalloped edge 59-inch train. For an even more picture-perfect moment, the
optional detachable skirt with matching scalloped lace trim ups the drama, extending the train all the way to 88 inches! Your walk down the aisle wearing this versatile style will be one for the ages. Select your store at www.casablancabri dal.com.
S P R I N G 2 0 2 3 139
EventRoostr's Online Conciege Service
TC Cuthbertson has come up with a novel solution to help brides plan a wedding. It is an online wedding concierge service that takes the anxiety out of the overwhelming process of coordinating this very special event.TC says, "Our concierge service is an online wedding coordinating and booking platform. Brides can come to the EventRoostr website and book wedding packages that include vendors that the bride needs, such as caterers, DJs, photography services and florists, which takes the randomness out of planning her wedding.
The process is simple and easy. TC explains, "The bride would go to EventRoostr.com and see the venue and experience packages that she wants, and she would procure those services with a 10 percent deposit on the platform, so it is an e-commerce platform with payment plans to make affording wedding expenses more comfortable.
The bride's investment is protected. TC says, "Every single event that is booked through our platform are 100 percent insured. All of the vendors, even down to the wedding itself is insured. In other words, she can get complete insurance coverage for every aspect of her wedding."
The bride also has lots of options and there are different varieties of experiences that a bride can choose. "For example, maybe a bride already has the DJ but needs décor and photography, she can select a specific package that only includes décor and photography and once she has that package, she puts a deposit on the platform, and she has photography and décor locked in."
EventRoostr takes the hassle out of event planning. The bride has more buying power and can compare vendor prices. Booking vendors is enhanced by the process being completely organized, having an integrated billing process and much less legwork. Also, she can earn rewards and cash vouchers online to use towards booking vendors directly from the platform.
There is no fee for using the platform, only for booking a service through the platform, and payment plans are available. The full bridal concierge service will be launched in the summer of 2022, but the platform can be used now. Just go www.EventRoostr.com, and click on Book An Event, then fill out the form and an event coordinator will reach out to you, making sure the vendors on file are satisfying all your requests.
609-397-0802
Gorgeous Weddings & Elopements, On-site Lodging. Ranked a Top Ten B&B in the US 6 Woolverton
Road, Stockton, NJ
woolvertoninn.com Embellishments
140 B U C K S C O U N T Y M A G . C O M 7 BRIDGE STREET LAMBERTVILLE, NJ 609.460.4803 Bridal Boutique House Plants Containers Landscaping Garden Design Homegoods Florals & More!